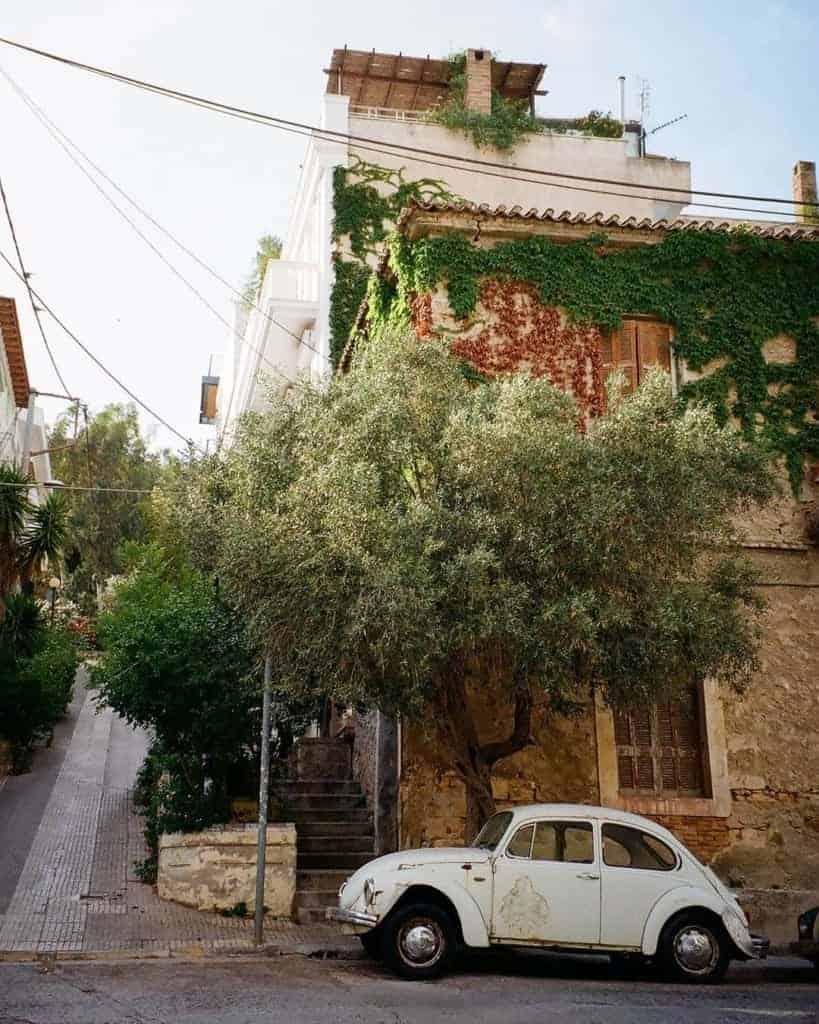 There are plenty of places to visit in Athens. Living in Athens for the past two years has taught me that there is far more to this gritty, edgy city than just the Acropolis and a small scattering of ruins.
Most visitors to the Greek capital stay for only a day or two to cross off the main sights before travelling onwards, however, there is plenty of opportunity to immerse yourself further in local life and culture if you are willing to look a little farther afield.
Whether you consider yourself a culture vulture or you prefer a little rest and relaxation when you travel, there are plenty of off the beaten path things to do in Athens, so you will surely uncover one of the city's hidden secrets that suits you.
Athens is the perfect destination for those visiting Europe for the first time, with cheap flights to the Greek capital available through budget airlines to many other European city destinations.
Off the Beaten Path Places to Visit in Athens
Sip Coffee at Quirky Spots in Koukaki and Pagrati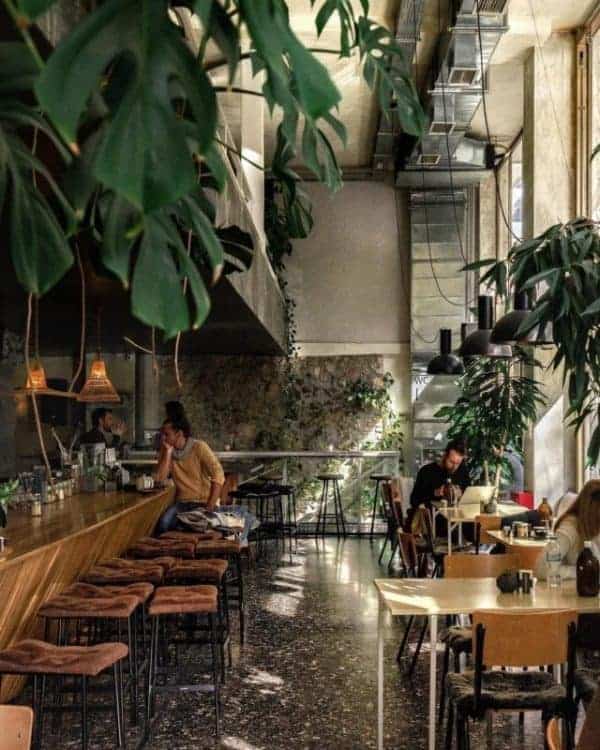 Coffee culture is huge in Athens. You could even say that coffee drinking is the national sport of Greece! Consequently, there are dozens of cute eclectic coffee stores scattered throughout the city. The only caveat? Most of these places are not in the centre. Instead, they are tucked away down unsuspecting alleyways, or in the midst of leafy residential areas.
Koukaki and Pagrati are two Athenian neighbourhoods that are well worth your time in visiting. Both boast an array of themed coffee stores and authentic local bars and tavernas – perfect for people watching and getting off the beaten path in Athens.
Sing and Dance until the Early Hours at a Bouzoukia
If there were to be a quintessential Greek experience that everyone ought to have while travelling here, visiting a bouzoukia would be it. Bouzoukias are essentially Greek music halls. These establishments have been given their names based on the Greek instrument that is played during musical performances (the bouzouki). Local singers recite traditional Greek music and ballads as the locals sing, dance, and drink oinomelo.
If you are interested in visiting a bouzoukia while in Athens then there are two options. You can either opt to visit a smaller, more intimate bouzoukia where local singers perform as people are eating. (These are popular in Plaka and Anafiotika Plaka).
Alternatively, you can go one step further and visit one of the larger bouzoukia clubs. The most popular among locals are Posidonio and Gazi Live.  Bouzoukia places are among the best places to visit in Athens if you want to get a feel of Greek culture.
Swim at a Secluded Cove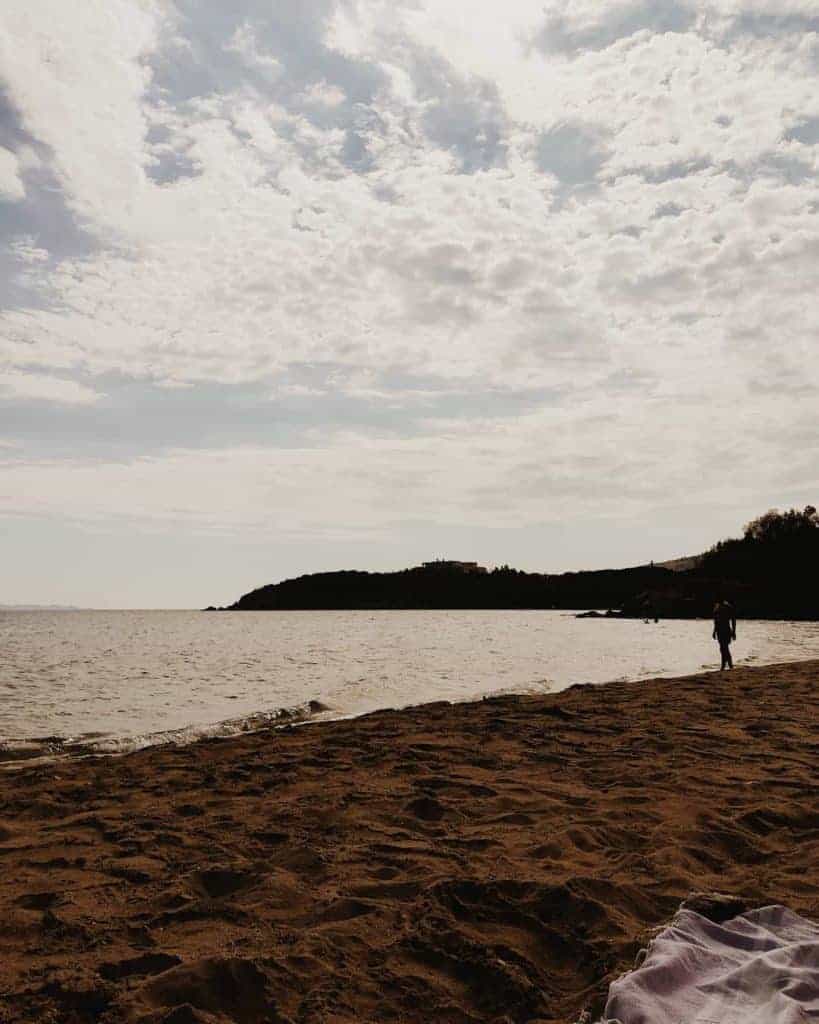 If you didn't know where to look for KAPE beach, you would probably drive right past it. That is the precise reason why the beach is seldom crowded and is never filled with tourists – so few people know about it.
KAPE beach is accessible from a dirt path that leads off from the main road between Athens and Sounio. Nestled in a secluded cove, the beach is a nice alternative to the crowded beaches of Glyfada and the Athenian Riviera. KAPE is one of the best places to visit in Athens if you want to spend a lazy day in the sun.
Kape beach is one of many stunning Athens beaches that can be reached within just an hour or two's drive from central Athens. The beaches encapsulating the Greek city offer something for everyone – whether you prefer catered exclusive beach clubs, or more rugged, isolated wonders.
Admire the Island Architecture at Anafiotika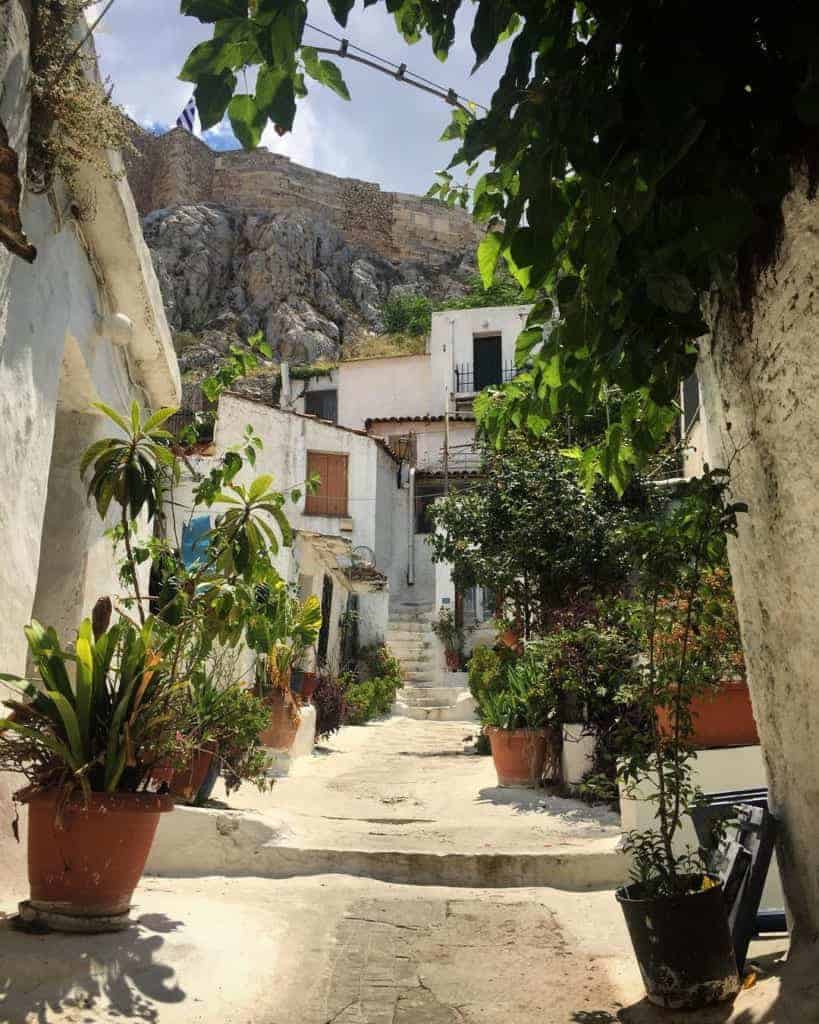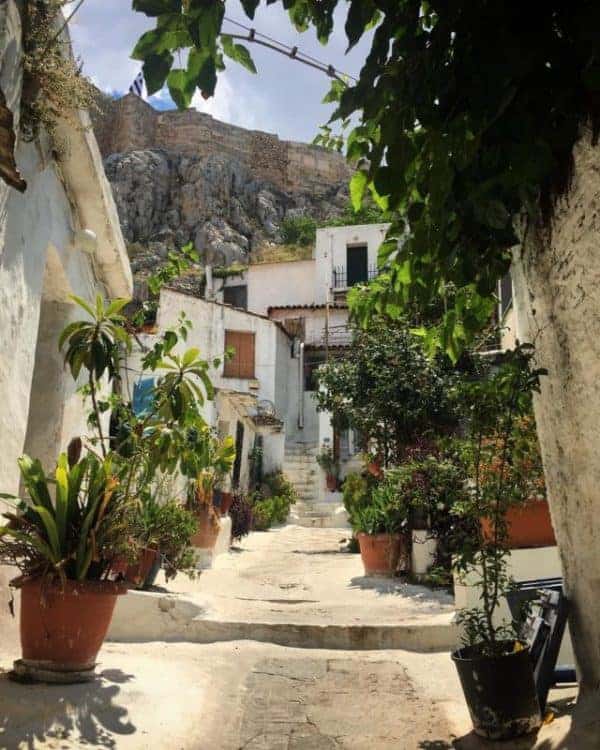 Anafiotika is a quaint area within Athens' Plaka neighbourhood whose narrow winding passageways and white-washed, blue-roofed architecture look out of place among the rest of the city. Strolling through Anafiotika transports you to Santorini and the picturesque pathways of Oia.
This small neighbourhood was constructed and designed by islanders who moved to mainland Greece and wanted the area to possess an appearance that reminded them of home. If you will not have the opportunity to explore any Greek islands while travelling in Greece, Anafiotika could well be the next best thing.
Anafiotika is also one of the best places to visit in Athens to enjoy views of the city. From up here you can watch a beautiful sunset over the Acropolis.
Hike Mount Lycabettus at Sunset
Situated 277 meters above sea level and surrounded by a dense cover of forest, Mount Lycabettus is the tallest point in Athens and offers incredible views over the city and the Acropolis – which lies just opposite. The hike to the peak is pleasant and easily manageable even for those who consider themselves as not being at their peak of physical fitness – the route ascends around a steady circular path.
At the peak of Lycabettus awaits a church and a giant Greek flagpole that blows in the wind. Though this route can be enjoyed at any time (be wary of the midday sun in the height of summer), it is best at sunrise or sunset – when the city of Athens, the Acropolis, and the Panathenaic stadium are illuminated with twinkling lights and the atmosphere is almost ethereal.
Enjoy Cocktail Hour in Kolonaki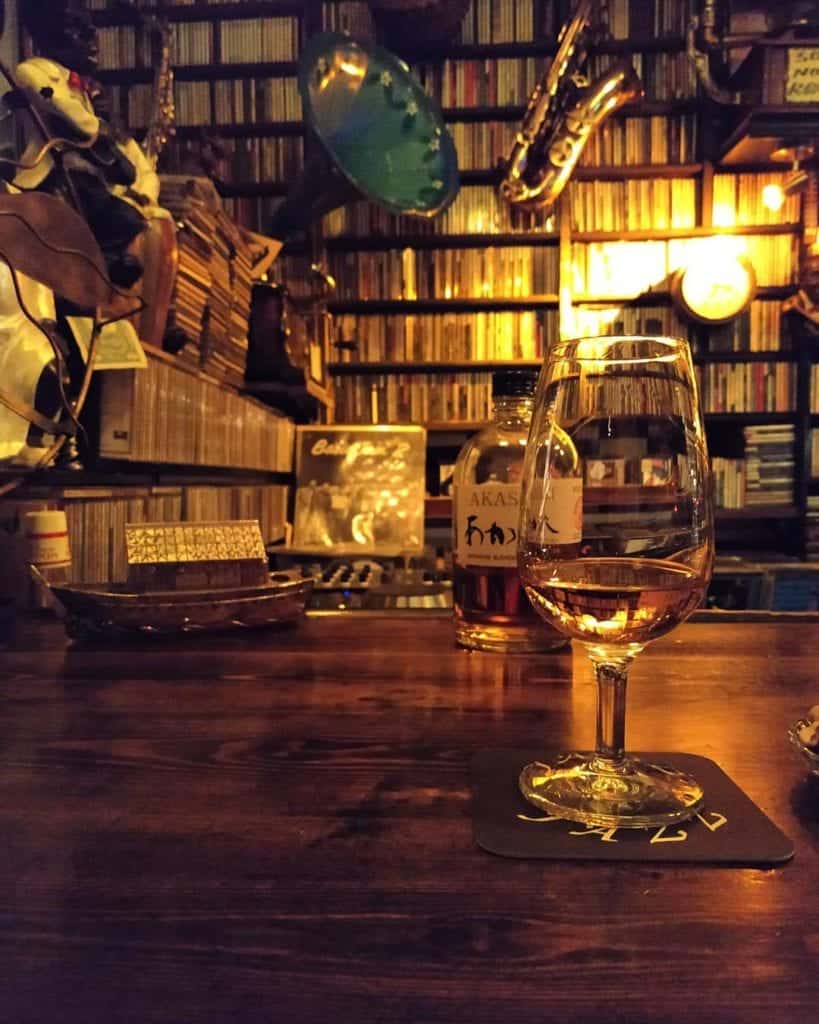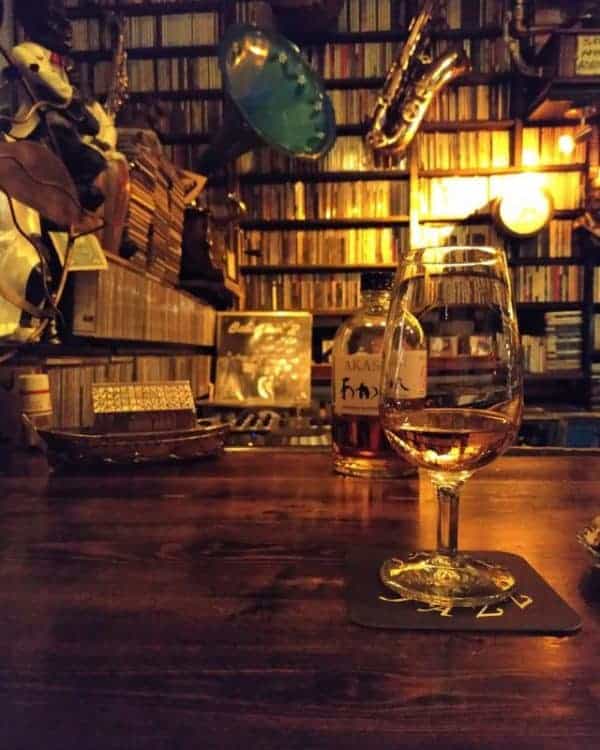 When you are travelling through Athens on your Athens itinerary, don't restrict your evening tipples and entertainment to staying within the central areas of Monastiraki, Plaka or Syntagma. If you want to see a more off-the-beaten-path side to Athens night-life, then head to the glamorous district of Kolonaki. Don't feel deterred by the fact that this is one of Athens' most exclusive neighbourhoods, often the price tags at the bars here are no different to in the city centre.
Start your evening off with a Negroni (or seven) at the quirky Jazz in Jazz, a tiny New Orleans themed Jazz bar situated in an unsuspecting residential area on Dinokratous, Kolonaki. Minnie the Moocher is another favourite with its swing music and unique blends of cocktails.
Enjoy the Walking Routes in the Athenian Riviera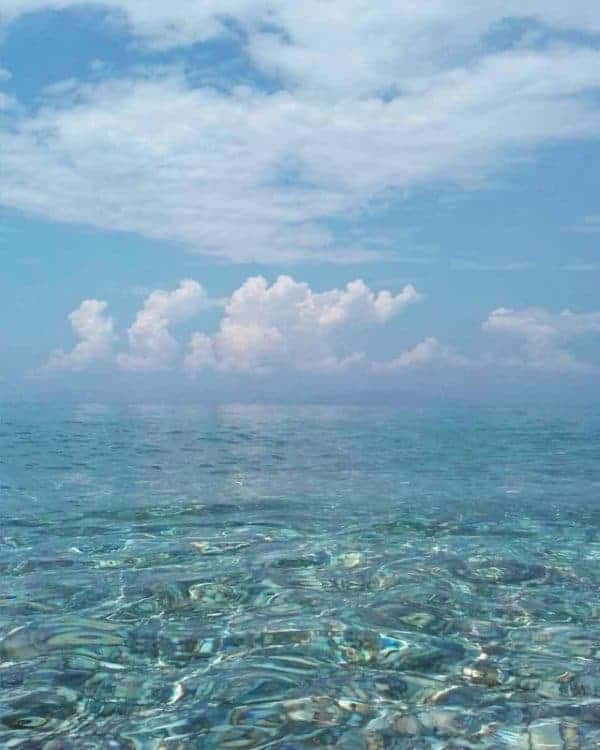 Athens is far from being just another concrete jungle. The sandy white beaches and cerulean waters of the Athenian Riviera can be reached in just thirty minutes from the city centre. The city's coastal neighbourhoods boast exclusive beach clubs, charming tavernas, and numerous walking routes.
A popular walking route to follow is the route from Flisvos Marina in Paleo Faliro to Alimo The route is popular with hikers and joggers. There are two separate walking and cycling lanes that run alongside the sea. The route is parallel to Poseidonos Avenue, yet away from the noise and dangers of the busy road.
This route passes by neoclassical mansions, elegant neighbourhoods, charming tavernas, and beaches before coming to its conclusion at the quaint church at Alimos. Those looking to continue the walk can venture on to Voula and Vouliagmeni.
Board the Flying Dolphin to Hydra and the Saronic Gulf
While it may be Greek islands such as Santorini, Mykonos, and Zakynthos that most international tourists flock to, there are several equally beautiful alternatives that await just one hour away from Athens. 
If you have a little extra time to spend in Athens during your Greece travel itinerary, consider hopping on board the flying dolphin to Hydra, Poros, Spetses, or one of the other islands in the Saronic Gulf.
Hydra is especially charming. The quaint island is comprised of small fishing villages, a historic port, and numerous hiking trails that twist and turn through beautiful countryside. There are no vehicles on Hydra, and people get around on horseback, making a trip to Hydra feels like a journey back in time.
Hang Out at the Stavros Niarchos Cultural Centre
The Stavros Niarchos Cultural Centre is actually a pretty awesome place to hang out, especially during the summer months. The impressive modern culture park boasts a library, an art exhibition hall, and several cafes that line a man-made stream.
The highlight of the SNCC though is the breathtaking views that can be enjoyed from the second floor. The building's location means that you have a 360-degree view of the most notable places to visit in Athens. 
From the second floor of the building you can look across the ramshackle Athenian apartment buildings to The Acropolis, Mount Lycabettus, and Piraeus port. You can even see as far as the Saronic Gulf islands. During the summer months, the SNCC hosts several free festivals and cultural events.
Sip Cocktails While Overlooking the Acropolis
At the top of the Hilton Hotel, Athens' Galaxy Bar has been named as one of the best rooftop bars in the world time and again. From up here, travellers have incredible views of the Acropolis by night, in addition to views over Mount Lycabettus and the Athenian neighborhoods of Syntagma, Kolonaki, and Pagrati.
The vibe is chic and classy and though the Galaxy bar is a little pricey, the experience is worth it. Locals consider the Galaxy Bar as one of the best places to visit in Athens for elegant evening drinks.
Search for Borondo Street Art in Exarchia
Exarchia is essentially the punky, "alternative" neighbourhood of Athens. On Valtetsiou street, virtually every spare square inch of wall space is filled with graffiti. The street art here is some of the most intense in the city and tends to depict political scenes. The works of popular European artists such as Ino and Borondo can be found here.
Fall in Love with Exarchia's Edgy Vibes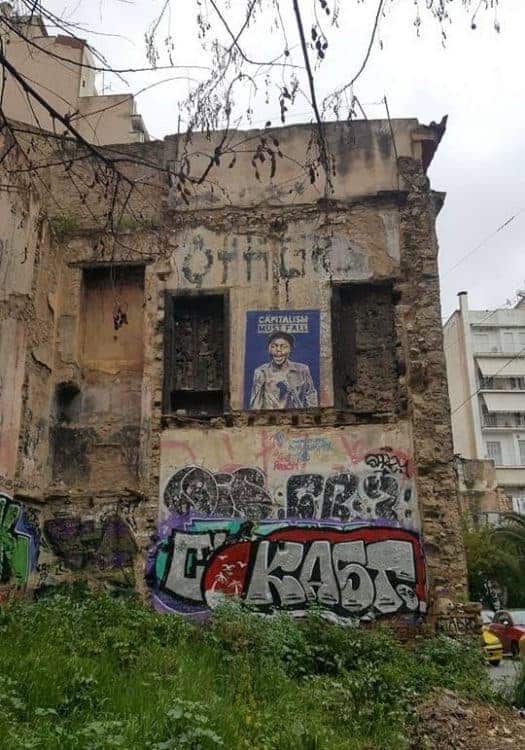 Among locals, Exarchia is considered as being a "troubled" neighbourhood. Exarchia has a history of riots, protests, and violence. Police will not set food in Exarchia and on Friday and Saturday nights, they stand around the edges of the neighbourhood making sure anarchist groups don't venture into the city centre to cause problems. 
Based on that description I doubt I've sold Exarchia to you! For regular people, heading into Exarchia generally isn't a problem. The interesting thing about the neighbourhood is that it is home to lots of alternative rock bars, live music places, and great places to eat. I really like Exarchia and I've never had any trouble, even when wandering around alone to check out the street art! 
Exarchia is probably not somewhere to bump right up to the top of your Athens checklist if you only have a few days to spare, but if you have more time in Athens, I think it's nice to see how all the different neighbourhoods fit into the rich tapestry of Athens. 
Order a Charcuterie Board in Psiri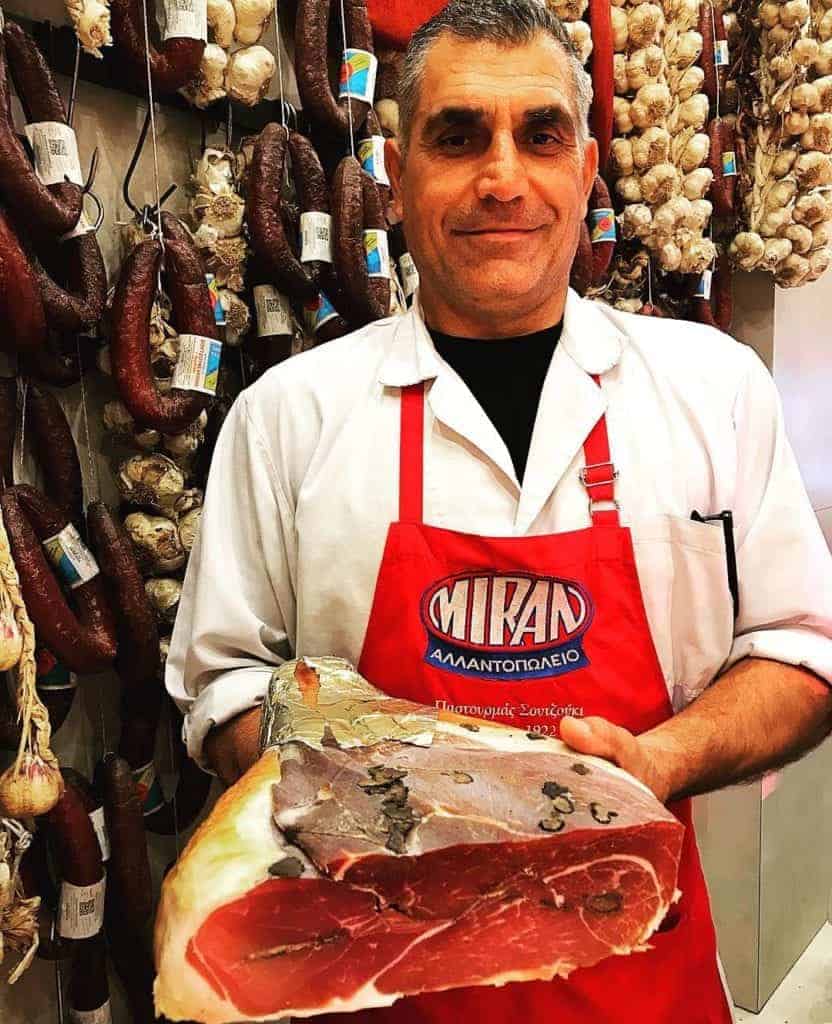 Greece is a foodie paradise. Besides the home-cooked taverna classics, and marinated meats and souvlakis, a big part of Greek cuisine is its excellent charcuterie products. Various regions of Greece are famous for their cold cut meats, cheeses, condiments, and wines. In Athens' Psiri district there are a couple of great places for ordering charcuterie boards which are popular among locals and travellers alike. 
In the evening, head to either Miran or Karamanlidika in Psiri. The former sells meats and other specialty products from the Kerkini region of Greece, while Karamanlidika focuses on produce from Drama in Thessaly. At both spots, you can have a wonderful bespoke charcuterie board prepared for you with an accompaniment of locally sourced wines. For a better ambiance, I would probably recommend Karamanlidika which is the more taverna-style place of the two. 
Ascend the Highest Peak in the Attiki Region
Towering above the landscape at 1,413 m, Mount Parnitha is the tallest mountain in the Athens region. Those looking for a challenge will thoroughly enjoy the hike to the top. The trails lead through dense woodland and past numerous fortresses and ancient defensive sites.
Tread the Kavouri Coastline
The Kavouri region is a glamorous, upscale area just south of Athens. Walking along the coastal road leads you along off-the-beaten-path beaches, past sprawling mansions, glamorous eateries, and areas of undisturbed natural beauty.
Relax by a Calming Azure Lake
Marathon Lake is a tranquil, relaxing spot that is reachable by public transport from Athens. The lake isn't exactly a tourist spot, but it's a nice place to visit if you want to get away from the hectic city centre for a while. Numerous hiking trails twist and turn through the woodland area that surrounds the lake, leading travellers past ancient caves, quaint churches, and beautiful forests.
Find an Old, Forgotten Mosque
Tzistarakis Mosque was built in 1759 during the Ottoman rule of Greece. The fascinating thing about it, is that you could walk straight past it and not even know that it is there! The minaret was removed after the Greeks reclaimed their country from the Ottoman rule.
Over the centuries, the building has had several uses – as a prison, as storage, as an assembly hall, etc. Now, the mosque is an art museum, although it has remained closed to the public for the last few years. Though it's not quite the same when you are unable to access the building, it's still worth stopping by and taking a peek from the outside.
Dine Al Fresco Style in an Old Mansion
Psaras Fisherman's Taverna in Psirii is one of the oldest restaurants in Athens. Here, visitors can enjoy all of the traditional homemade Greek classics (Pastitsio, moussaka, dolmas, etc) while dining in a cosy old stone mansion to the background of bouzouki music.
Wander the Tree-Lined Boulevards of Kifissia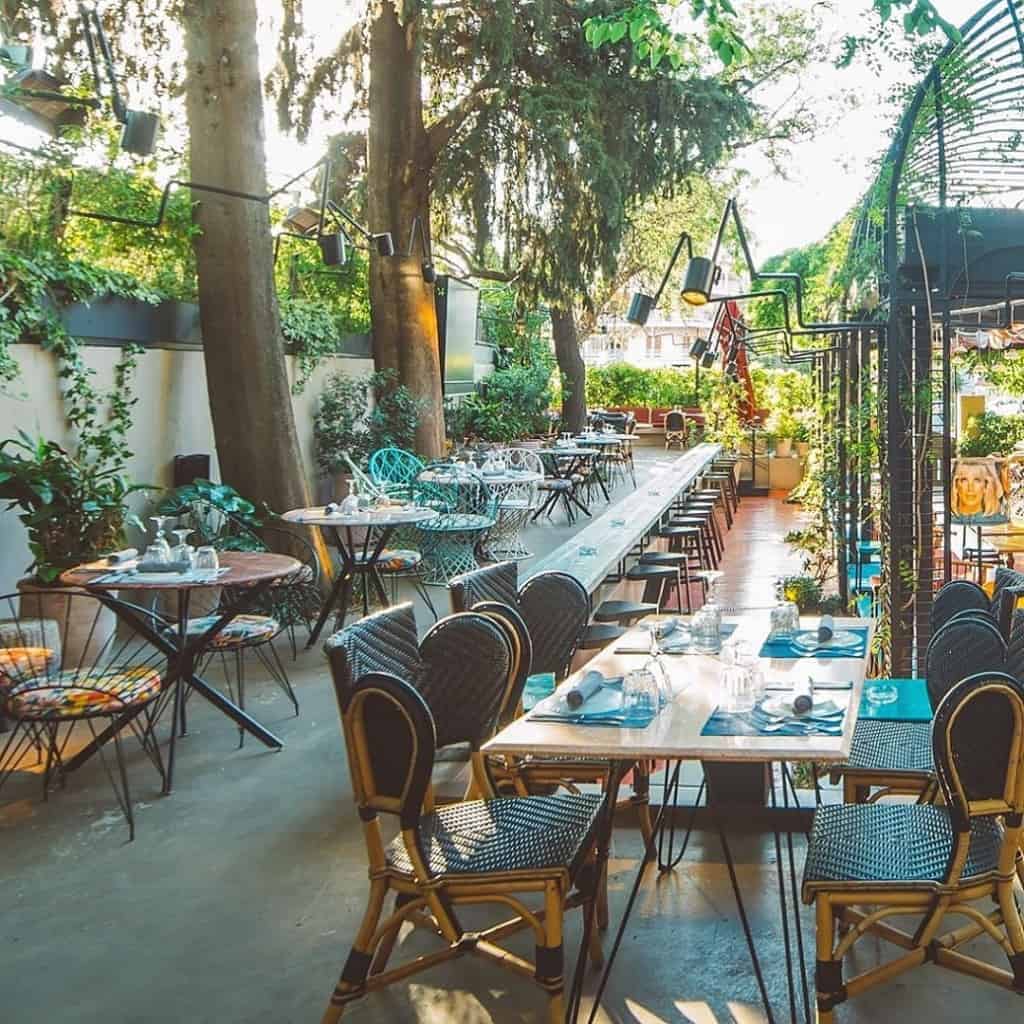 Kifissia is one of the best places to visit in Athens if you have a little more time to spare. This exclusive northern neighbourhood escapes the attention of most visitors to Athens. 
At Kifissia station, elegant horse-drawn carriages stand waiting to take visitors on tours of the neighbourhood. The beautiful tree-lined streets of Kifissia are filled with sprawling neoclassical mansions, many of which have been converted into quirky restaurants, bars, and art galleries. 
Stop for a coffee at chic Artisanal before admiring the work of local artists at Kifissia's independent galleries and browsing the boutique stores. Don't miss the opportunity to grab a snack at Varsos – a centuries-old patisserie that has been beloved by Kifissia locals for generations. 
Kifissia is 14 km out of the city centre but is easily accessible via the green line metro. If you want to base yourself in a quiet place during your Athens trip, away from the hustle and bustle of city life, Kifissia is a nice place to consider.  
Eat at the City's Oldest Restaurant
If you want to treat yourself, head to Vassilenas – an exquisite fine dining restaurant that is also the oldest restaurant in Athens. Passed down through the generations of a local family, Vassilenas prides itself on its selection of local wines and freshly sourced ingredients.
Unlock the Mystical Powers of Lake Vouliagmeni
Arguably the most notable highlight of Vouliagmeni is the lake which is rumored to have healing properties. Lake Vouliagmeni is classified as being a wonder of nature and a healing natural spring.
There is a network of mysterious caves that remain beneath the lake and have never been fully explored. One of the cave tunnels is rumored to be 800m long and the largest in the world!
Lake Vouliagmeni is a great place to swim, snorkel, or just sit in the sun and relax. Entrance to the lake during the day is 12 euros per person. Despite being one of the more off-the-beaten-path places to visit in Athens, the lake does get crowded quickly in the summer months.
One alternative is to visit the late for cocktails after the sun sets and entrance is free. My boyfriend and I have spent some wonderful evenings doing this as the bar plays out old Dean Martin and Frank Sinatra classics. What could be more charming?
Getting to Lake Vougliameni from Athens
It takes between 30 and 45 minutes to get to Lake Vougliameni from Athens though there are numerous buses that stop right at the entrance. You can check the bus timetables here.
Related Article: A Run Through of the Best Neighbourhoods for Your Stay in Athens
Visit a Laeki in a Greek Neighbourhood
Most neighbourhoods in Athens host a laeki agora (a local farmer's market) on fixed nights each week. During this time, the streets are closed off to allow room for the traders to set up stalls selling their wares.
You can pick up virtually everything at the weekly laeki – from fresh locally grown fruits (you can get a whole kilo of oranges in Athens for as little as 20 cents per bag!), homemade jams, marmalades, pies and meats, and cheeses.
Some of these local markets also double as flea markets selling second-hand clothing and household items. The markets are popular among the locals (who will often wait until the market comes around instead of buying their fresh produce from supermarkets) and offer a great insight into local life. Surely this is one of the most cultural things to do in Athens.
The opening times of each laeki vary depending on the specific neighbourhood. It is worth enquiring with your Airbnb host or hotel reception about one close to where you are staying.
In terms of relatively interesting and centrally located laeki, consider stopping by Laskou in Pagrati (hosted on Tuesdays), Xenokratous in Kolonaki (hosted on Fridays) or Plakendias in Ambelokipi (also on Fridays and one of the largest).
Join the Greek Jet-Set in Glyfada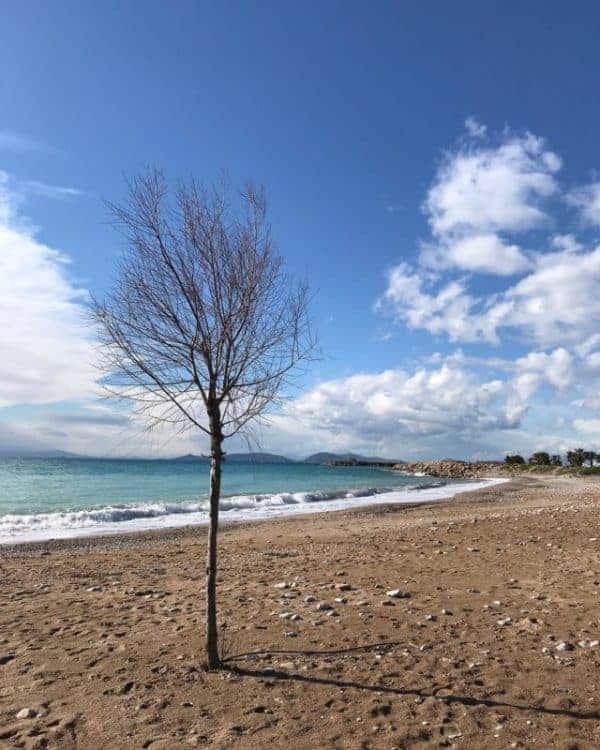 Often referred to as the "Hellenic Hamptons", Glyfada is one of the most glamorous regions in the Athens riviera. Enjoy a pleasant stroll, jog or cycle along the waterfront promenade that extends from Glyfada beach to Asteras beach.
Glyfada beach is free to visit and is a popular spot for surfers – especially during the Autumn months. While in Glyfada, be sure to drop by Balux Café – The House Project (Often just referred to locally as Balux). Within the Asteras complex, Balux Café is a chic beachside bar where you can enjoy sipping exotic cocktails by the sea or eating contemporary fusion cuisine within the restaurant.
Exploring Glyfada town centre itself is a pleasant way to while away an afternoon and one of the most relaxed things to do in Athens. Glyfada is somewhat comparable to Athens Kolonaki district in its elegance.
Glyfada's palm tree-lined promenades showcase the white-washed ornate facades of storefronts belonging to the most glamorous international designer and local boutique stores. Dabbling in the local fashion and investing in some handmade Greek jewelry or leather sandals are undoubtedly among the best Unique Greek souvenirs.
Getting to Glyfada from Athens
There is a tram that runs all the way from Syntagma to Glyfada however this is extremely slow and takes approximately an hour each way. Alternatively, buses run frequently from various points around Athens to Glyfada. You can check the timetables here.
Find Hidden Woodland Monasteries
Dating back to the 11th century, Kaisariani Monastery is a beautiful Greek Orthodox Monastery that was built as a shrine to the Virgin Mary. Nestled in the middle of a scenic pine forest, the monastery is filled with beautiful, brightly colored frescoes.
The large complex contains ancient accommodation for monks, bathhouses, and libraries. Getting to the monastery is one of the most pleasant, and easiest hikes in Athens. Those looking for a physical challenge can also continue onwards to the peak of Mount Hymettus.
Visit the Home of Forgotten Greek Royals
Situated in the center of the Parnitha National Park, the Tatoi Royal Former Palace was once the home of the Greek Royal Family. Dating back to the 18th century, the palace and its outbuildings are very well preserved.
This lesser-known site doubles as a museum that provides a fascinating insight into the more modern Greek history that few international visitors learn about. The palace sits in the midst of a 10,000-acre estate. The beautiful gardens, meadows, and woodlands make the perfect spot for a picnic.
Obtain the Best Photos of the Acropolis
Filopappou Hill is famous for the Roman memorial that stands at the top, dating back to 115AD. From up here, you also have incredible views across to the Acropolis. The views are especially beautiful at sunset as the Acropolis is illuminated by delicate, twinkling lights.
The ancient monuments scattered around Filopappou Hill are often missed from most Athens itineraries but are well worth visiting – particularly the Socrates prison and the quaint 16th century chapel of Agios Dimitrios Loumbardiaris
Attend an All-Night Beach Party
There are numerous beachside bars, restaurants, and nightclubs situated along the seafront in coastal Athens. During the summer months, these places host live DJs and all-night parties that carry on into the early hours of the morning.
Nalu Café and Bolivar Beach Bar are two of the most popular Athenian beach bars. Both establishments have a trendy young vibe during the day, at which time it is possible to enjoy iced 'freddo' cappuccinos and light snacks while lounging on the sunbeds by the sea. Come night time, the exotic cocktails are flowing, and the house music is pounding.
Pay your Respects at a Sacred Mountain
Mount Hymettus is located in the southern suburbs of Athens and is locally known as "the sacred mountain". Centuries ago, there was a temple of Zeus at the top. Now though, the crumbling remnants of many ancient temples and religious shrines still remain. From the Korakovouni peak, you can enjoy incredible views across Athens.
Experience the Highlights of Piraeus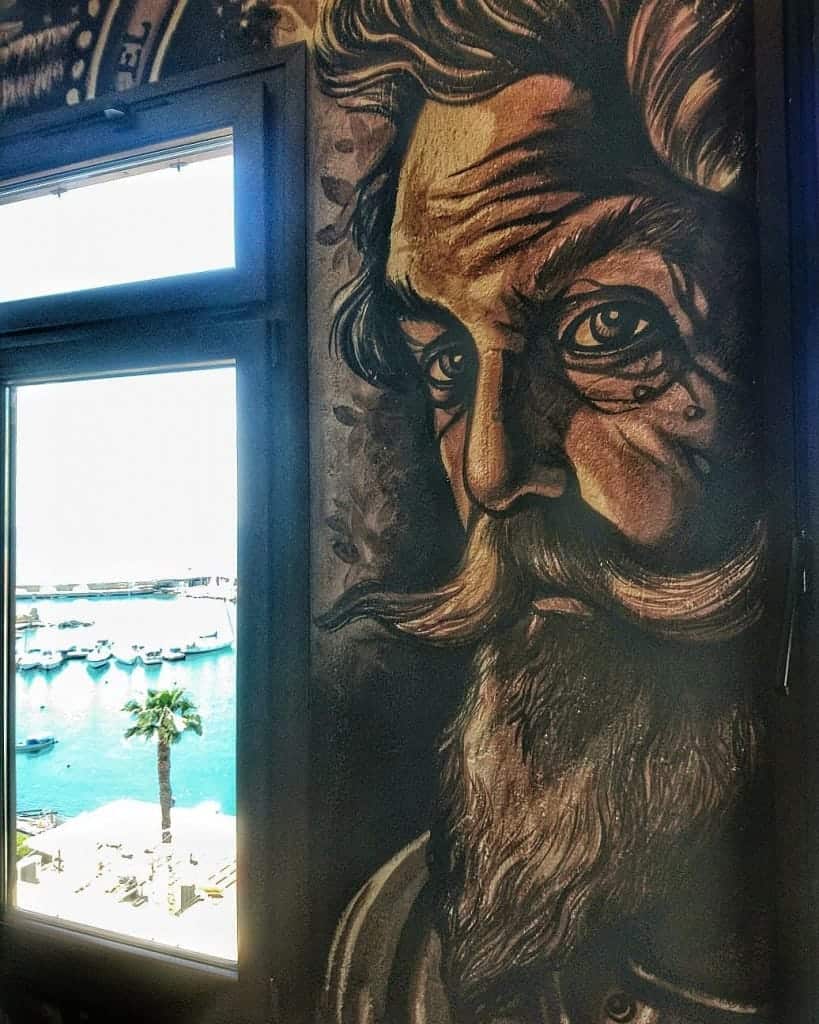 Adjacent to, and essentially existing as an extension of, Athens, the port city of Piraeus is not a common tourist destination. At first glance, Piraeus may appear as a somewhat industrial port town – worthy only of a visit to catch a boat out to the Greek islands and nothing more.
However, there are plenty of things to do in Piraeus that may leave you pleasantly surprised. History buffs will enjoy the historical museum of Piraeus, which dates back to the 8th century and displays an array of findings from various civilisations throughout ancient Greek history.
For refreshing sangrias and coffees with a sea view, check out the elegant Piscina bar (on one of the other lounge options) at Zea Marina. A seemingly infinite number of dinner options can be found in Pasalimani where you can hang out by the sea at ouzo places and restaurants serving exquisite dishes from around the world.
Enjoy a Slice of R&R at Vougliameni
Located just 20 km south of Athens, the exclusive district of Vougliameni is essentially an extension of the Greek capital. However, Vougliameni comes with one special addition – coastal life and access to the Aegean Sea! Think upscale beach resorts reminiscent of the Californian coast and you are halfway to picturing Vouliagmeni.
The areas of Kavouri and Lemos are home to beautiful beaches which are essentially the places to see and be seen in Southern Athens (though you must pay to access most of these). There are however plenty of clean, free beaches scattered around the region also with chic restaurants and bars that allow you to look out to the sea under the cover of the cabanas.
A local favourite is Astir Beach which, at a price of 20-50 euros per person per day (depending on the season) does not come cheap. That said, at Astir beach, you get what you pay for and here you will be treated like a Queen (or King!) A visit to Vouliagmeni is certainly one of the most scenic things to do in Athens.
Have any questions or suggestions on other off the beaten path things to do in Athens? Feel free to reach out to me via the comments below! I have lived in Greece for the last two years and I am happy to answer any questions you may have. Safe Travels! Yassou! Melissa xo
Disclaimer: This Off the Beaten Path Things to do in Athens article may contain affiliate links. This means that if you choose to make a purchase through one of the links on this page I will receive a small amount of commission at no additional cost to you. This aids with the running of this site. Thanks for your understanding.
---