Kolonaki Athens is the most exclusive area in central Athens. Effortlessly chic, sophisticated and elegant, Kolonaki is to Athens what Chelsea is to London, or Beverly Hills is to Los Angeles.
Situated at the base of Mount Lycabettus, the tree-lined promenades of Kolonaki are filled with cocktail bars, coffee shops, and international eateries that attract a glamorous crowd.
With all things considered, Kolonaki still somehow gets away without being pretentious. The laid back vibes of the quintessential Greek lifestyle have followed through here making the atmosphere far from intimidating. If you have a little longer to spend in the Greek capital during your Athens itinerary, it's worth dedicating an afternoon or a full day to exploring the picturesque streets and plazas of Kolonaki.
Kolonaki Neighbourhood Highlights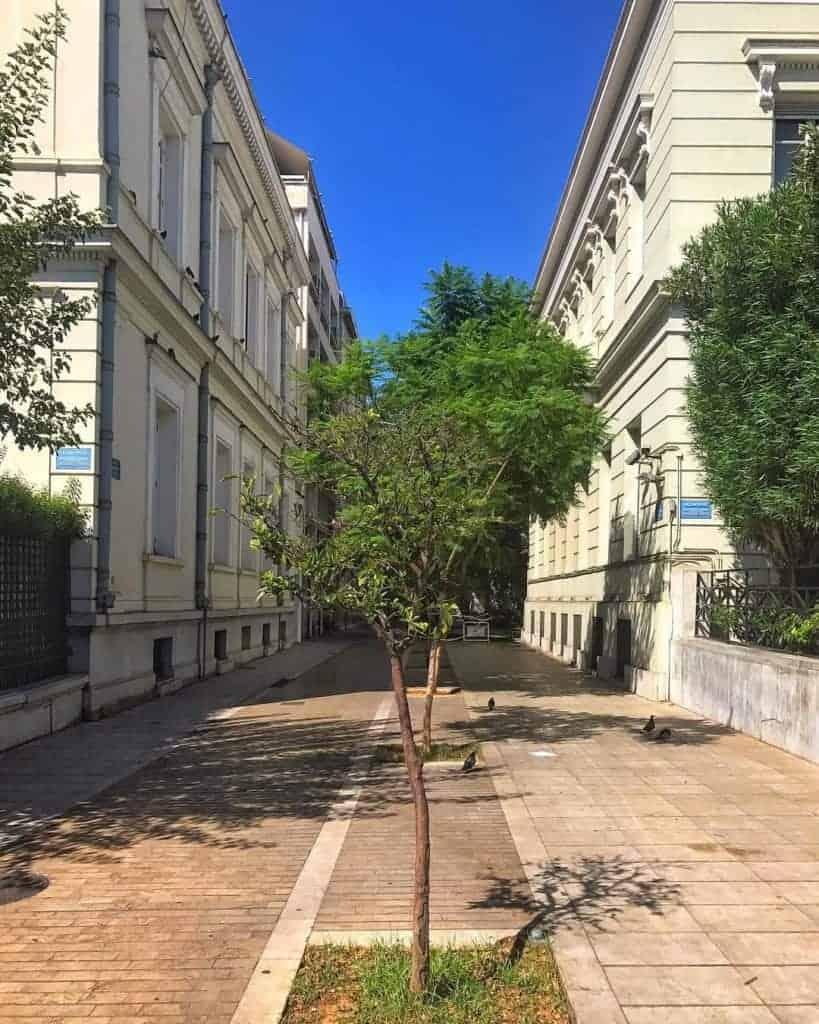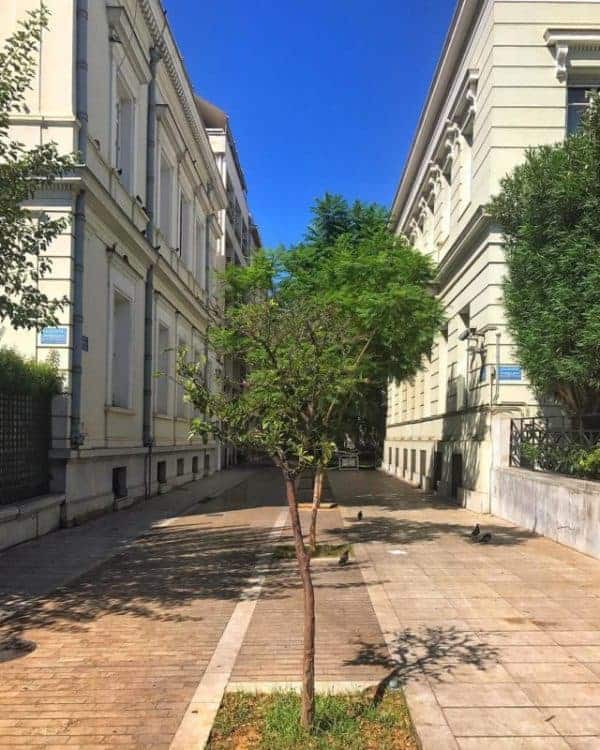 Climb to the peak of Lycabettus hill for incredible views across Athens.

Sip Freddo cappuccinos and watch the Athenian elite at Kolonaki Athens' ritzy coffee shops.

Engage in a little retail therapy at upscale local boutiques.

Sampling traditional Greek delicacies at award winning restaurants and tavernas
Things to Do in Kolonaki

Athens
Kolonaki may not be home to archaeological ruins or major Athenian attractions but there is certainly plenty to do here. The neighborhood is adjacent to Syntagma square making a day exploring here easily accessible.
Shop for Edible Souvenirs
View this post on Instagram
For the gourmand, Kolonaki Athens is a little slice of paradise. Numerous delicatessens and artisanal food stores here stock quality Greek produce that makes a perfect edible souvenir from your Athens trip.
Yolenis is the best place to go to stock up on all things Greek. From marinated olives to cured meats, locally produced cheeses and sweet treats or chocolates, the items sold here are of the highest quality. Nora's Deli is another local favourite and stocks agro products from all over the Mediterranean.
Hike to the top of Mount Lycabettus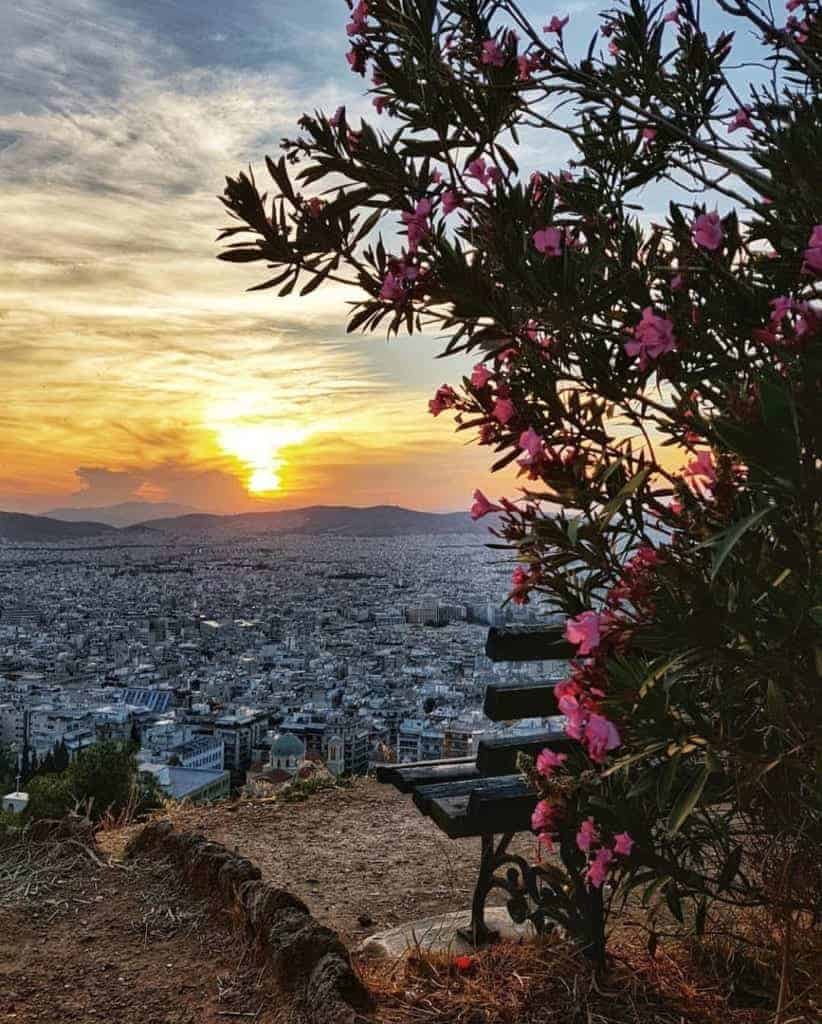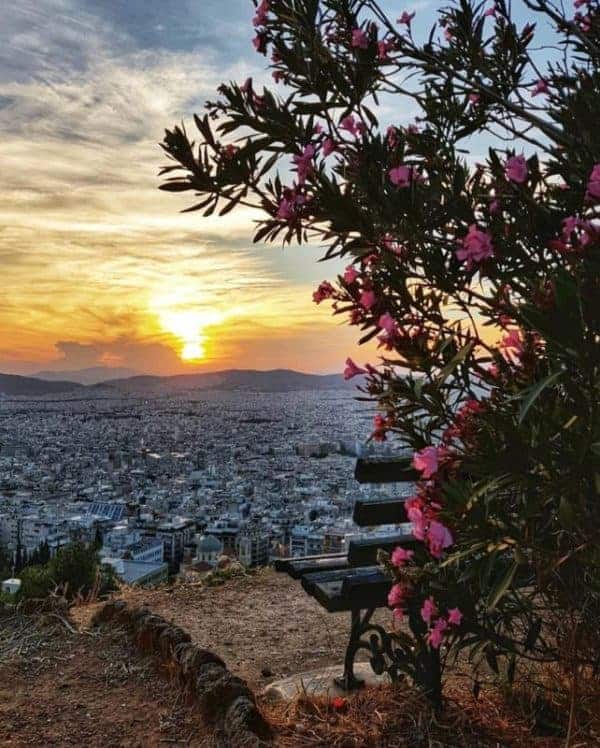 Strolling through the woodlands on the ascent to the top of Lycabettus hill and visiting the quaint church that awaits at the top is a pleasant experience in itself, however, the highlight of visiting Lycabettus is the views that can be enjoyed from the peak.
From up here, you can see across to the acropolis and even out as far as to the marinas at Piraeus. For the best atmosphere, come as the sun sets and the city of Athens is illuminated with twinkling lights. Those travelling to Athens in winter or during the shoulder seasons of Spring and Autumn have the added benefit of not having to share the view with dozens of other tourists.
Explore the Kolonaki Art Scene
Athens has not historically been known for its art scene, but development over recent years has seen the emergence of several fabulous contemporary galleries in upscale Kolonaki. Some places to consider checking are:
The Depot Gallery – A blend of art and design exhibits from Greek and International artists
The Elika Gallery – A contemporary local art gallery
The Medusa Gallery – A contemporary gallery with a unique twist, featuring the work of Greece's best artists. Photography, sculptures, and more traditional contemporary paintings can be found here.
The Pulse – A gallery that blends street photography with contemporary style artwork.
Take a History Lesson at the Local Museums
Those with a broader interest in Greek and Athenian history will enjoy exploring the various museums scattered throughout Kolonaki. Art lovers will enjoy the Benaki Museum, and the Museum of Cycladic Art, both of which feature ever-changing exhibits from the international art scene. The former also demonstrates the changes and developments in Greek life through the centuries.
The Byzantine and Christian Museum close to Evangelismos metro station is also a worthy stopping point for history buffs that haven't quite gotten their fix from the acropolis museum and the national archaeological museum.
On certain days of the month, Athenian museums, including the above, are free to enter.
Night Caps in Kolonaki

Athens
Kolonaki is one of the best Athenian neighbourhoods to enjoy a cocktail or 25 (!) after a long day's sightseeing. With an elegant ambiance and an even more elegant crowd, some of the hottest spots are detailed below.
The Stinking Bishop
The Stinking Bishop is a wine connoisseur's paradise. The chic bar attracts a glamorous crowd and offers an extensive wine menu that features exquisite vinos from across the globe. It is possible to organise a tasting in order to experiment with various flavours, or to pair the wines with savoury treats prepared in the kitchen.
Jazz in Jazz
Tucked away in the residential street of Dinokratous, Jazz in Jazz transports its visitors to the colourful, musical streets of New Orleans. The spot is so small and cozy that heading here for a cocktail or two feels almost like sitting in someone's living room.

Jazz and bossa nova rhythms echo around the bar, and jazz memorabilia fills the walls. Jazz in Jazz is one of the most beloved Athens nightlife spots that only the locals know about.
Red Door
The name of this spot gives nothing away. Red Door is, in fact, an Asian inspired cocktail bar with a decor reminiscent of a more upscale version of a Japanese izakaya.
Visitors sit in private, Japanese booths surrounded by bamboo walls and shutters, and the menu follows a strong oriental theme. The alcoholic miso soup should not be missed.
Minnie the Moocher
For the young, hot and Athenian, Minnie the Moocher is essentially the "go-to" spot for drinks on a Friday or Saturday night. This jazz and blues bar dates all the way back to the 1930s and feels seemingly frozen in time with its antique decor and design.
Minnie the Moocher is usually packed full of a trendy local crowd that spills out onto the streets, drinks in hand. This is also a great spot to enjoy a coffee in the day.
Ippopotamos
Situated on the border of Exarchia and Kolonaki, Ippopotamos has an atmosphere of understated cool. The eccentric film-noir inspired interior and brightly coloured walls and furnishings make this a great spot to enjoy a laid back beer.
Shopping in Kolonaki
Kolonaki plays host to a range of exclusive boutiques and upscale designer brands (Louis Vuitton, Balenciaga, Prada, et al). For one of a kind fashions created by independent local designers, browse the stores nestled within the small alleyways and narrow streets that veer off from Platia Kolonakiou – the neighbourhood's main plaza.
Coffee Breaks & Brunch in Kolonaki

Athens
Sipping coffee and watching the world go by is essentially the national pastime of Greece. Kolonaki houses an array of ritzy coffee shops and cafes perfectly suited for a lazy afternoon spent people-watching. Some local favourites to keep in mind are listed below.
IT
Though going out for brunch is a relatively new tradition in Greece, the shabby chic low key spot "IT" arguably serves up one of the best brunches in the city. Visitors can enjoy sipping a freddo cappuccino amid the quirky, homely setting, or order up a sumptuous dish made with high-quality ingredients from the seasonal brunch menu.
Numismatic Museum Garden Cafe
As you stroll around the quiet, tree-lined streets of residential Kolonaki, the coffee shop beside the Numismatic Museum stands out like a peaceful oasis among the grand houses and apartment buildings. Tucked away from the eyes of tourists, patrons can sip their coffees in a peaceful garden oasis beneath the trees and tropical plants.
Da Capo
If there was a "best place" for people-watching in Kolonaki Athens, Da Capo would be it. Da Capo may look like your typical coffee shop with alfresco seating but this is a special place for locals.
The award-winning cappuccino brewed here is rumored to be among the best in Athens and the outdoor seats that face outwards onto Tsakalof street offer the perfect spot for watching the Athenian glitterati.
Lawyers, Entrepreneurs, and other busy business types come to Da Capo as their break spot of choice and Da Capo is known locally for their excellent gourmet snacks and sandwiches.
Warehouse
On the border of Kolonaki and Exarchia, Warehouse is a modern contemporary coffee shop come wine bar that attracts a trendy crowd throughout the day. The atmosphere is young and fresh, and it's not uncommon to see writers and entrepreneurs here working away on their Macbooks. Warehouse is a place that you could comfortably sit and read or work for hours on end without being disturbed.
Melinikon
If you are looking for a breakfast/brunch spot in Athens, Melinikon is a great choice. This place was opened by a successful New York businessman that left his corporate career to open up the very first pancake house in Greece. From chocolate pancakes to savory pancakes, tall stacks to short stacks, Melinikon serves up an extensive menu.
By the way, if coffee culture is your thing, I strongly recommend checking out Athens' Pagrati neighbourhood. Kolonaki may be sophisticated and chic, but in terms of quirky and unique places to hang out, artsy Pagrati is the place to venture to. Better still, it's within walking distance of Kolonaki.
Finding Traditional Greek Food in Kolonaki
Visitors to Kolonaki Athens will be spoiled for choice when it comes to their dining options. If you are hoping to treat yourself or celebrate during your trip, Kolonaki is certainly the place to do this. Some of the most elegant and exclusive spots in the city are here.
Tucked away among all of the glitz and glamour though, there are also some excellent traditional spots where travellers can cross various Greek foods off their foodie travel bucket lists without breaking the bank.
Filippou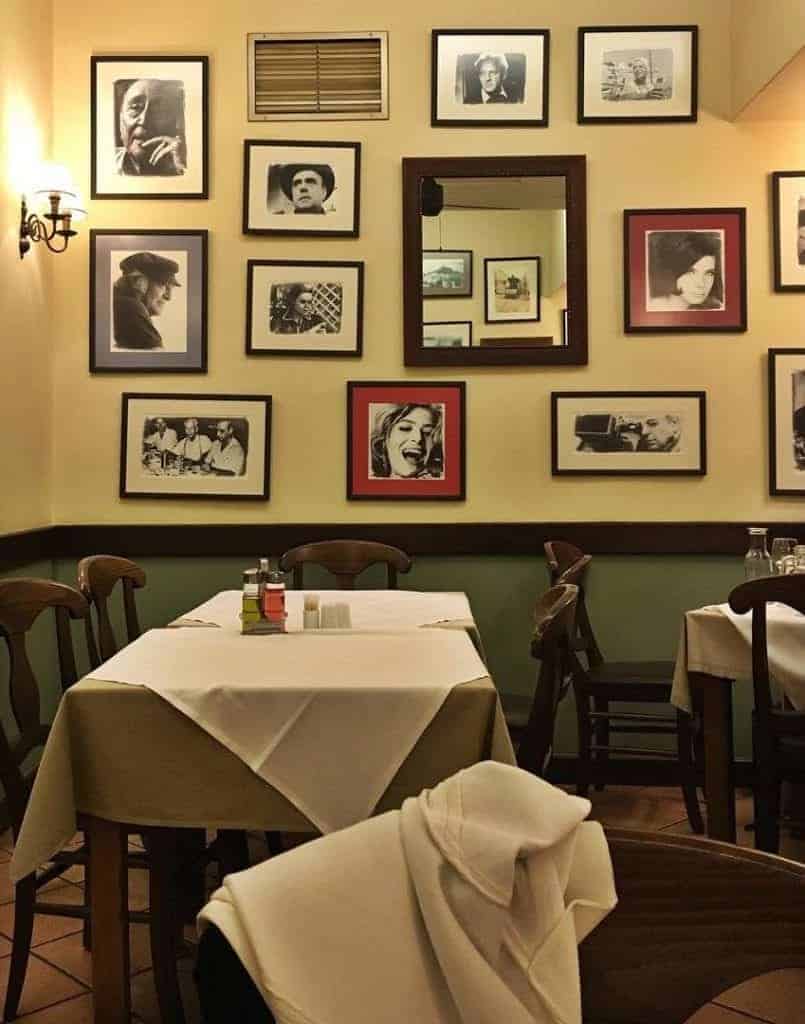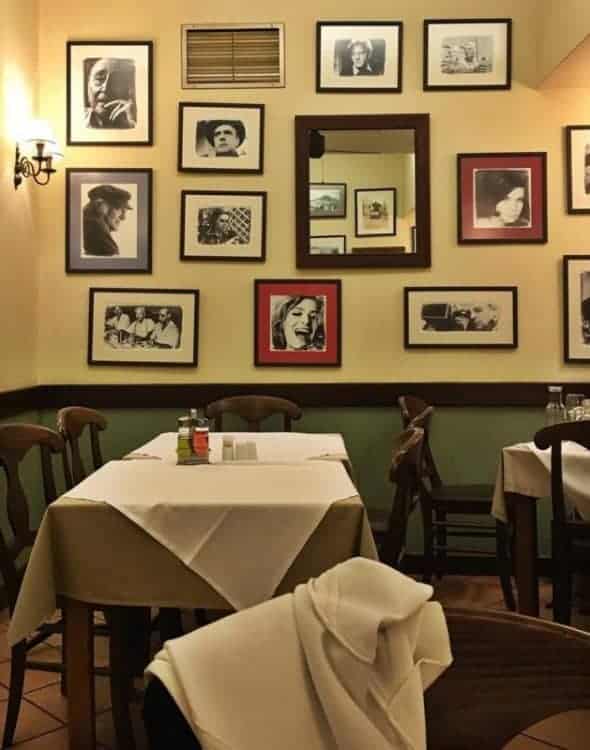 A family-owned trattoria that dates back almost 100 years, Filippou is a wonderful traditional Greek restaurant that serves up a plethora of homemade Greek classics that don't break the bank. Everything from moussaka to pastitsio features on the menu, just like a Greek grandma would have made!
Nice 'n' Easy
The concept of farm to table eateries is relatively new in Greece. To be honest, almost everywhere you visit food-wise, you can tell that the vegetables are fresh, and the meats lovingly prepared. That said, restaurants such as Nice 'n' Easy that offer an additional level of quality assurance are always appreciated.
The exquisitely flavoured dishes at Nice 'n' Easy are cooked with organic, locally sourced ingredients, and the spot is one of the only ones in Athens that contains a run-through of all of its suppliers on the menu to assure ethical dining.
Simul
Casual, cozy and modern, Simul is a great choice for lunch or dinner in Kolonaki. The restaurant's menu changes with the season and offers a fusion of traditional Greek classics blended with international influences and flavors.
When in Rome, or when in Athens as it were, I'm assuming that you want to sample the traditional delicacies and eat, drink, and do as the locals. As such, this list focuses on restaurants serving up excellent quality Greek foods.
That said, if you find yourself mousakka'd out during your trip, some of the best international spots can be found in Kolonaki. From Spanish tapas to authentic Japanese sushi, a little of everything can be found here. The Athens food scene is more progressive than one might assume.
Have you spent any time in Kolonaki Athens? If you have any questions about planning your Athenian escape, feel free to drop me a comment below or an email. I live here!
---