Kolonaki Athens is the most exclusive area in the Greek capital. Here, Grand neoclassical houses and elegant boutique stores run along the district's tree-lined streets.
This upscale district sits at the base of Mount Lycabettus. It is just a stone's throw away from the central districts of Syntagma, Monastiraki square, and Vasilissis Sofias Avenue.
Kolonaki garners its name from the sunbleached remnants of an ancient column that sits at the centre of Kolonaki square. This area, like much of Athens, has a fascinating history that reaches back over several millennia.
Kolonaki Athens
Various cultures and civilisations have occupied Athens over the centuries. This has left a major mark on the city's architecture and gastronomy.
Today, Kolonaki is the most upscale and aristocratic part of Athens but things were not always this way. In the 2nd Century AD, Roman Emperor Hadrian built an underground reservoir beneath the surface of what is now Kolonaki.
This reservoir, built to increase the water supply of the growing Roman city, is one of the most notable engineering achievements of Roman Athens. Yet few people are aware of its existence – even Athenians!
Entrance to the site is not permitted. However, if you head to the open-air cinema at Dexameni (Reservoir) Square, you can peer down into the reservoir from one of the walls. The reservoir stopped being used in 1929.
Greece struggled under the Ottoman occupation for hundreds of years and indeed, many Athenian neighborhoods point to the city's Ottoman past. For instance, old Plaka was essentially Athens's "Turkish district" and its streets today are lined with old mosques and madrasas.
There is no real evidence of the Ottoman occupation in Kolonaki. This was mostly farmland at that time and the neighbourhood didn't really develop until the 19th century.
Falling in Love with Kolonaki, Athens
Kolonaki is to Athens what Chelsea is to London, or Beverly Hills is to Los Angeles. It joins Kifissia and the Athenian Riviera as being one of the most sought-after postcodes in the city.
This is very much the place to see and be seen in Central Athens. That has been the case since the first grand residences started being constructed here in the 19th century.
The old Royal Palace of Athens now serves as the Greek Parliament building. Following its completion, aristocrats and noble Greek families began to construct sprawling mansions close to the palace. It was a desirable postcode to have back then and it still is now.
The chic cocktail bars, coffee shops, and international eateries of Kolonaki attract a well-heeled crowd. In spite of all the glitz and glamour, The laid-back vibes of the quintessential Greek lifestyle have followed through here making the atmosphere far from intimidating.
It is worth dedicating an afternoon or a full day to explore the picturesque streets and plazas of Kolonaki during your Athens itinerary if your schedule permits.
Things to Do in Kolonaki

Athens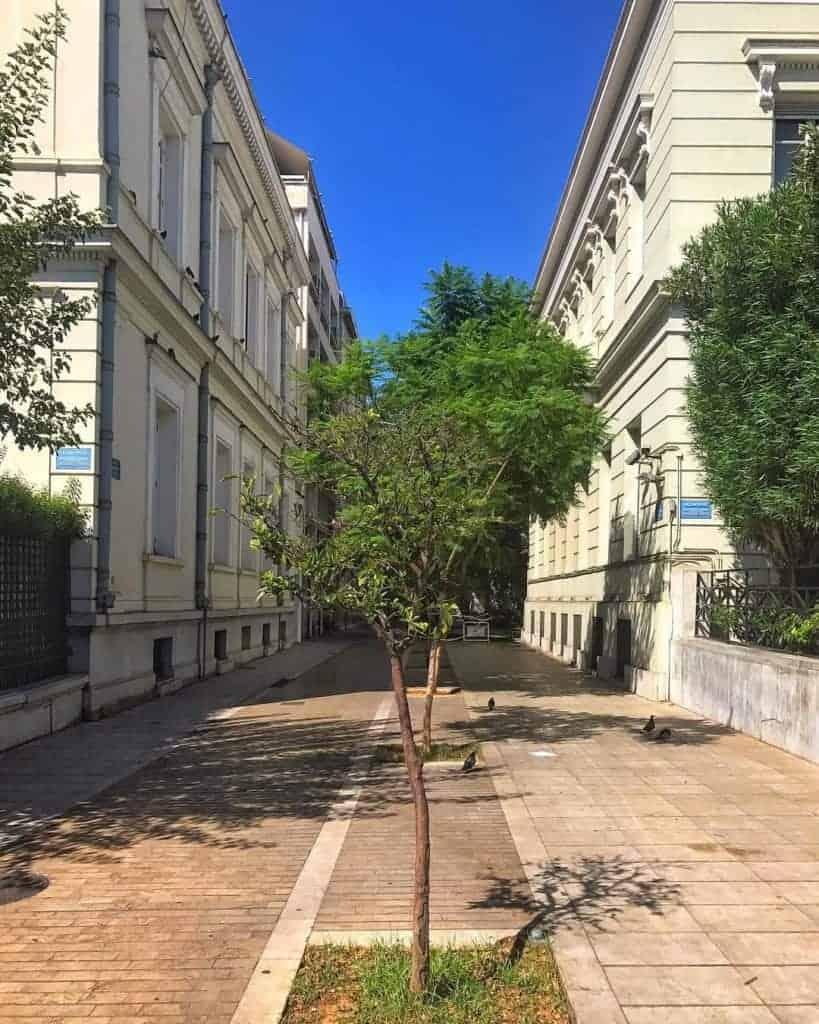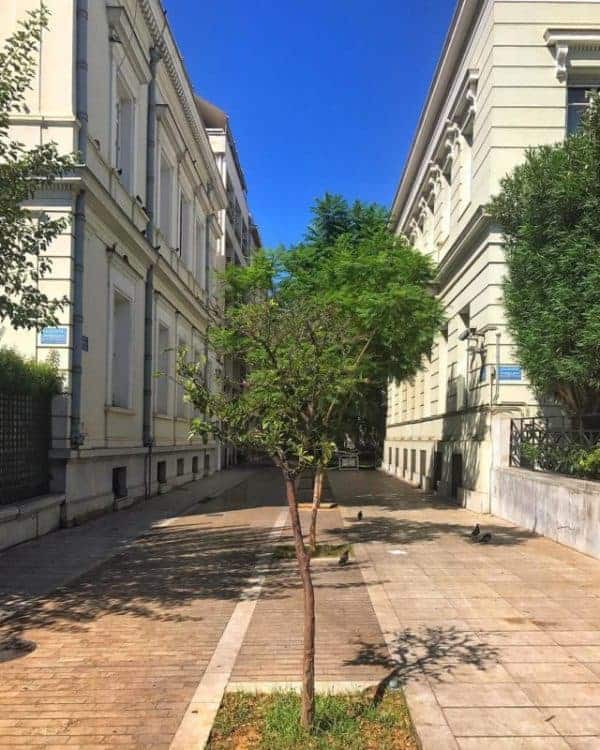 At first glimpse, Kolonaki Athens may be little more than an upscale residential district. In actuality, it is very much a cultural hub.
A plethora of interesting museums, historical sites, archeological points of interest, and excellent restaurants can be found in Kolonaki. A selection of the best things to do in Kolonaki Athens is discussed below.
Shop for Edible Souvenirs
Kolonaki Athens is a little slice of paradise if you consider yourself to be a gourmand. Numerous delicatessens and artisanal food stores here stock quality Greek produce.
These items make perfect edible, quintessentially Greek souvenirs from your Athens trip. Yolenis is the best place to go to stock up on all things Greek.
The agro-produce sold here is of the highest quality. You can find everything from marinated olives to cured meats, locally produced cheeses, and sweet treats or chocolates.
It is also possible to participate in a free degustation here in order to learn more about Greek products. Local wines, olive oils, balsamic vinegar, and cheeses are all typically available for sampling.
Nora's Deli is another local favourite. The deli stocks agro products from all over the Mediterranean.
Hike to the top of Mount Lycabettus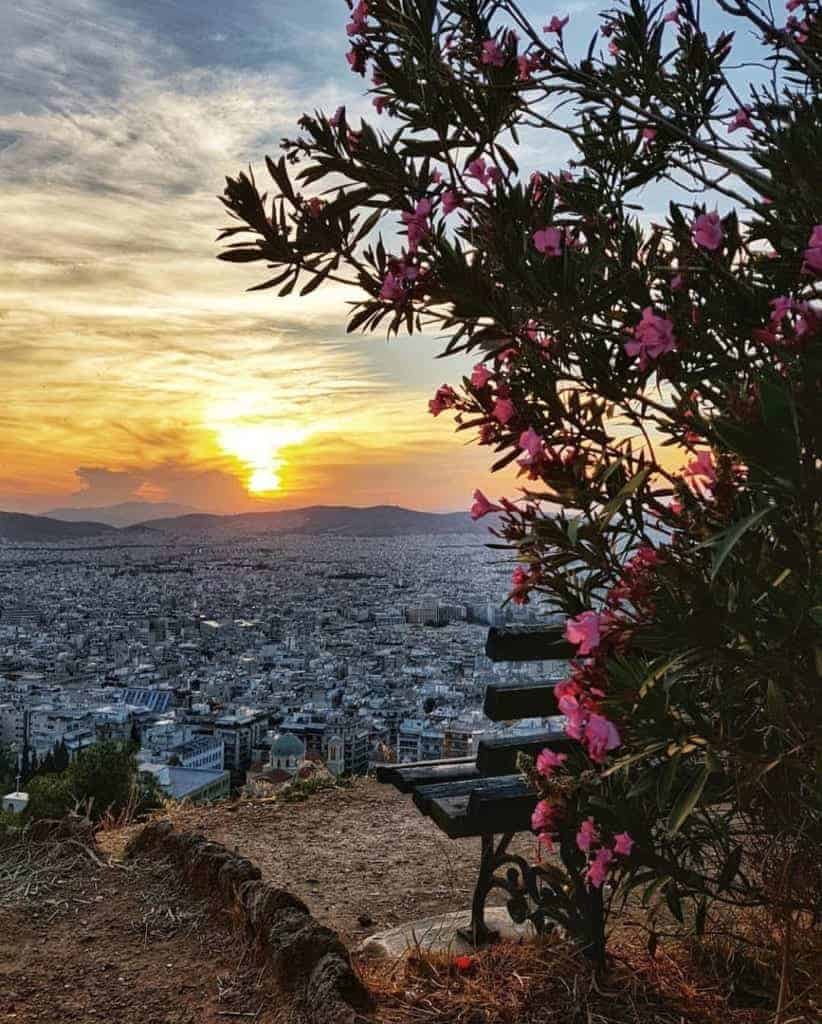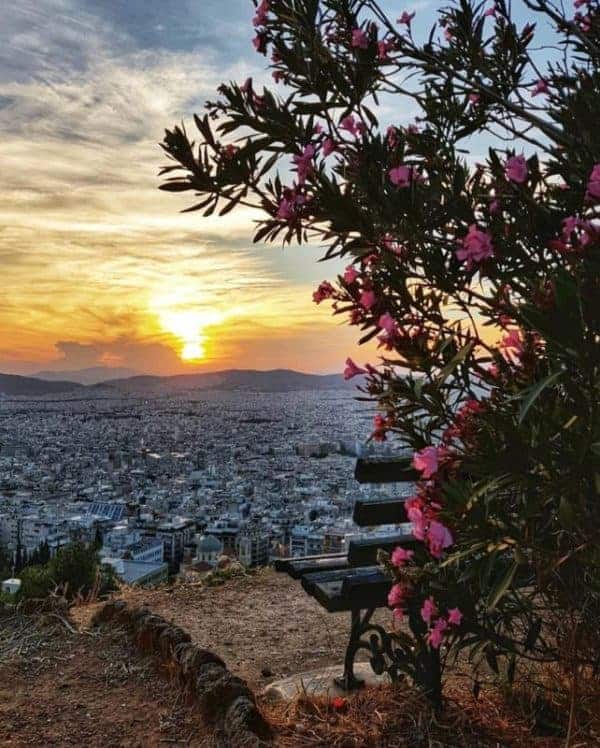 The hike to the top of Lycabettus hill is one of the best offbeat things to do in Athens. The ascent through the woodlands is pleasant. However, the highlight of visiting Lycabettus is the views that can be enjoyed from the peak.
From up here, you can see across to the Acropolis and even out as far as to the marinas at Piraeus on a clear day. For the best atmosphere, come as the sun sets and the city of Athens is illuminated with twinkling lights.
If you are travelling to Athens in winter or during the shoulder seasons of Spring and Autumn, you have the added benefit of not having to share the view with dozens of other tourists.
There are various references to Lycabettus hill in Greek history and mythology. One legend is that Lycabettus is actually a rock that the Goddess Athena dropped when she was startled by a cow! Regardless, it is an appreciated respite spot in the heart of a concrete jungle.
If you prefer not to walk up to the peak of Lycabettus, you can also opt to ride the funicular train to the top. The entrance to the funicular can be found at Aristippou 1.
The Church of Agios Georgios
The little whitewashed 18th church of Agios Georgios can be found at the top of Mount Lycabettus. It was originally a monk's refuge and it is believed that a religious structure in some form or another has always existed in this spot.
Indeed, remnants of an ancient temple dedicated to Zeus have been recovered from the area. The church is tiny and its interiors are essentially the size of someone's living room.
Venturing inside is worthwhile, though. There are few frescoes but you will find some interesting religious icons scattered throughout the church hall, along with the opportunity to light a candle in memory of a loved one.
A large, whitewashed bell tower sits outside the church of Agios Georgios. The bell was made in Russia and given to the site by Queen Amalia, the wife of King Otto.
If you happen to be in Greece during Orthodox Easter, it is a wonderful experience to participate in the festivities that take place at the church. People from across Athens follow a candlelit procession to the church. When the clock strikes midnight, fireworks are set off.
Be sure to also stop by the church of Agii Isidori. It conceals the entrance to a tunnel that Greeks fighters used to escape Athens during the Greek war for independence.
The original church of Agii Isidori was sadly burned down in 1930 but it was quickly rebuilt the following year. It sits on the slopes of Lycabettus and very few people are aware it exists.
Church of Agios Dionysios Areopagitis
The church of Agios Dionysios Areopagitis dominates Kolonaki's Skoufa Street. Here, it stands surrounded by boutique stores and coffee shops. This impressive structure dates back to the 1920s.
The church's interiors are filled with bold, vibrant frescoes that are beautiful to observe – even if you don't consider yourself a religious person. Non-Orthodox people are welcome to enter the church, provided a religious ceremony is not taking place. The church of Agios Dionysios Areopagitis is arguably one of the most charming churches in Athens.
Relax and Unwind in Philikis Etaireias Square
Philikis Etaireias Square is the central and only square of Thessaloniki. It is here where you can find the old column which Kolonaki is named after. (Kolonaki means "little column" in Greek).
The grassy banks and scenic benches around the square offer a spot to rest during your day in Athens. Philikis Etaireias Square itself has an interesting backstory.
The square was named after Filiki Eteria (Society of Friends). This secret society was founded in 1814 with the intention of overthrowing the Ottoman rule in Greece and establishing an independent Greek state.
Explore the Kolonaki Art Scene
Athens has not historically been known for its art scene. However, developments over recent years have seen the emergence of several fabulous contemporary galleries in upscale Kolonaki. Some places to consider checking are detailed below.
The Depot Gallery

– A blend of art and design exhibits from Greek and International artists




The Elika Gallery

– A contemporary local art gallery




The Medusa Gallery

– A contemporary gallery with a unique twist, featuring the work of Greece's best artists. Photography, sculptures, and more traditional contemporary paintings can be found here





The Pulse

– A gallery that blends street photography with contemporary style artwork.
Take an Athens Food Tour
Opting to take an Athens food tour is a great way to scratch beneath the surface of the city of Athens. Not only does such a tour provide you with a strong introduction to Greek culinary culture, but it also does so at restaurants and eateries that most tourists would never stumble upon otherwise.
Various Athenian food tours take you on a journey across the city. They enable you to get a feel for the personalities of Athens' various districts – including Kolonaki. Common stopping points include the Varvakios Agora Central Athens market, Monastiraki square, Kolonaki, and Psiri.
Take a History Lesson at the Local Museums
Some of the best museums in Athens can be found in Kolonaki. The exhibitions here cater to people of all interests.
The Byzantine and Christian Museum close to Evangelismos metro station is also a worthy stopping point for history buffs. On certain days of the month, Athenian museums, including the aforementioned museums in Kolonaki Athens, are free to enter.
B

est Bars

in Kolonaki

Athens

Kolonaki is one of the best places to experience Athens by night. It is the perfect place to enjoy a cocktail or 25 (!) after a long day's sightseeing.

It offers an elegant ambiance and an even more elegant crowd. Some of the best bars in Kolonaki are detailed below.
The Stinking Bishop
Where: Σπευσίππου, Loukianou και, Athina 106 75
The Stinking Bishop is a wine connoisseur's paradise. The chic bar attracts a glamorous crowd and offers an extensive wine menu that features exquisite vinos from across the globe.
It is possible to organise a tasting in order to experiment with various flavours. Alternatively, you can request a wine pairing and enjoy the wines alongside savory treats prepared in the kitchen.
Jazz in Jazz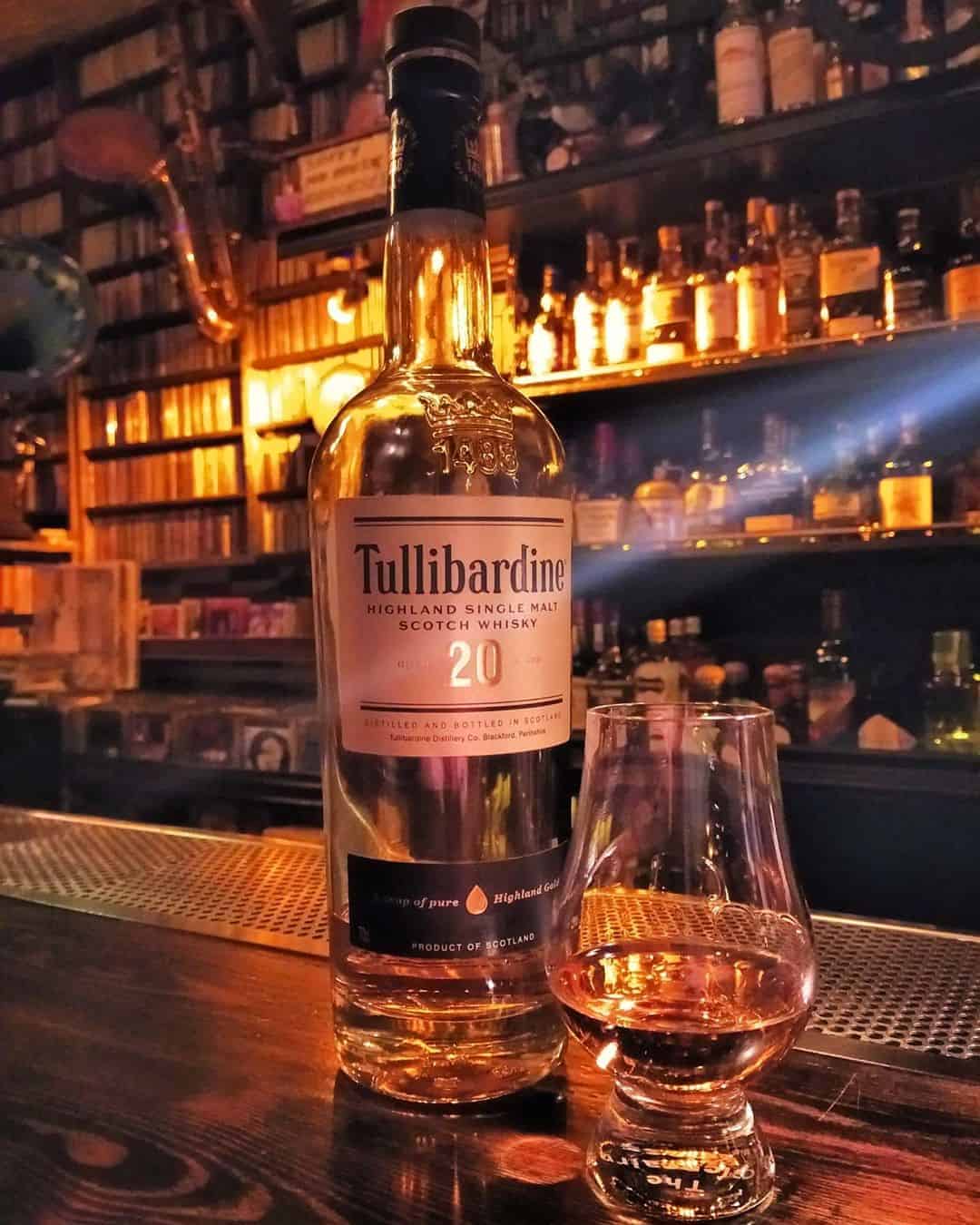 Where: Dinokratous 4, Athina 106 75
Tucked away in the residential street of Dinokratous, Jazz in Jazz transports its visitors to the colourful, musical streets of New Orleans. The spot is so small and cozy that heading here for a cocktail or two feels almost like sitting in someone's living room.

Jazz and bossa nova rhythms echo around the bar, and jazz memorabilia fills the walls. Jazz in Jazz is one of the most beloved Athens nightlife spots that only the locals know about.
Minnie the Moocher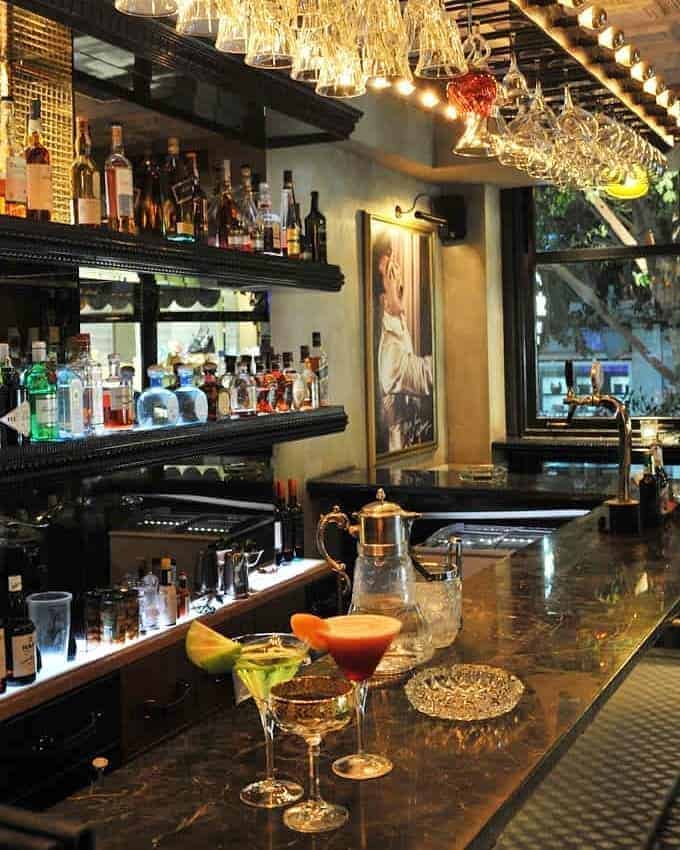 Where: Tsakalof 6, Athina 106 73
For the young, hot, and Athenian, Minnie the Moocher is essentially the "go-to" spot for drinks on a Friday or Saturday night. This jazz and blues bar dates all the way back to the 1930s. The antique decor and design make the bar appear frozen in time.
Minnie the Moocher is usually packed full of a trendy local crowd that spills out onto the streets, drinks in hand. This is also a great spot to enjoy a Greek coffee during the day.
Ippopotamos
Where: Delfon, Athina 106 80
Ippopotamos has an atmosphere of understated cool. It is situated on the border of Exarchia and Kolonaki. The eccentric film-noir-inspired interior and brightly coloured walls and furnishings make this a great spot to enjoy a laid-back beer.
Shopping in Kolonaki
Kolonaki plays host to a range of exclusive boutiques and upscale designer brands (Louis Vuitton, Balenciaga, Prada, et al). This is one of the best places for shopping in Athens.
For one-of-a-kind fashions created by independent local designers, browse the stores nestled within the small alleyways and narrow streets that veer off from Platia Kolonakiou. This is the neighbourhood's main plaza.
Attica department store sits at Panepistimiou 9 and, as you would expect with an upscale department store, it sells a diverse array of apparel items, accessories, cosmetics, and skincare products.
Continuing onwards, stop by Voukourestiou Street for the Greek flagship stores of high-end fashion brands. Audemars Piguet, Dior, Gucci, Hermès, Cartier, and independent luxe Greek designers can be found here.
Coffee Breaks & Brunch in Kolonaki

Athens

Sipping coffee and watching the world go by is essentially the national pastime of Greece. Kolonaki houses an array of ritzy coffee shops and cafes perfectly suited for a lazy afternoon spent people-watching.

Some local favourites to keep in mind are listed below.
IT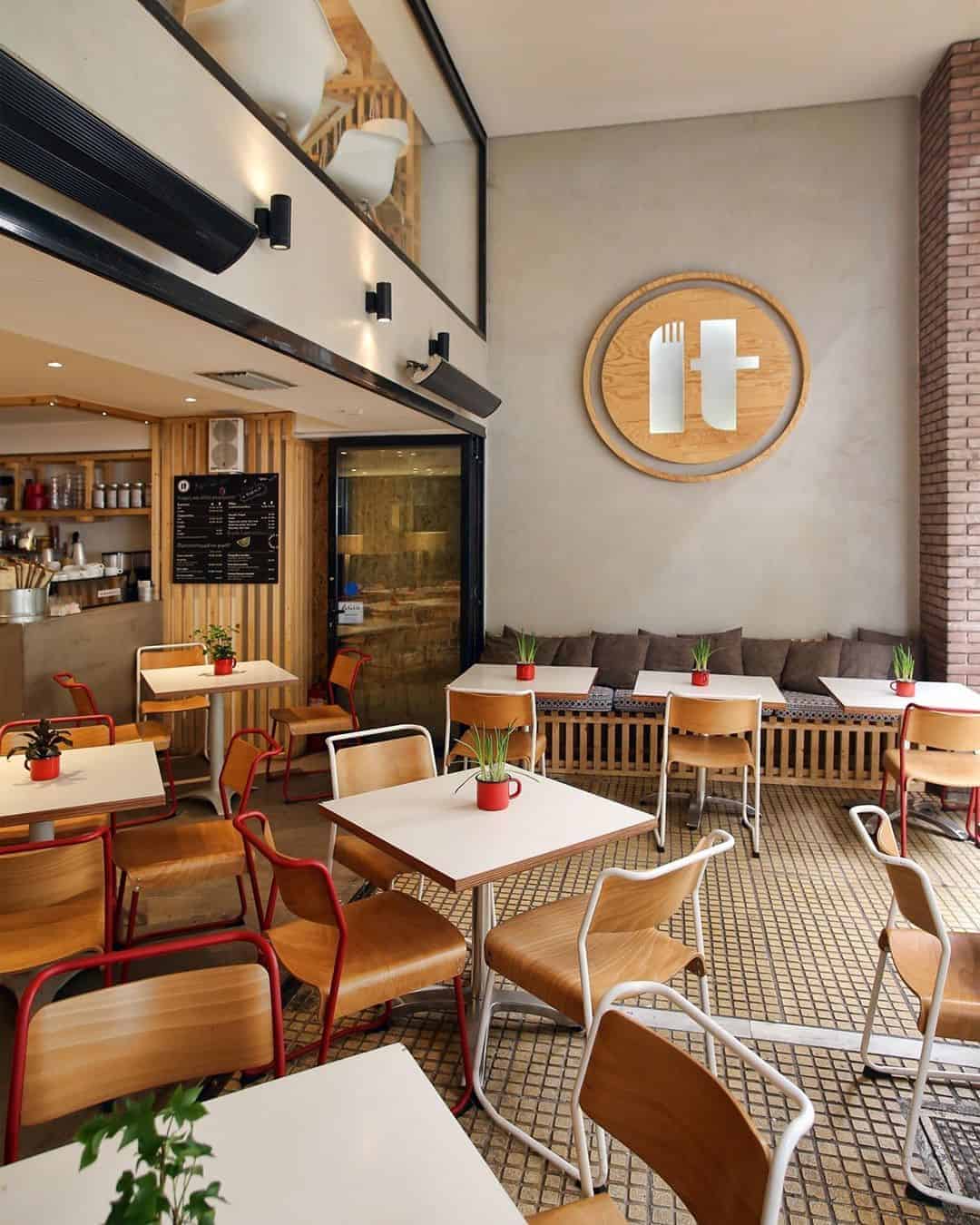 Where: Skoufa 29, Athina 106 73
Though going out for brunch is a relatively new tradition in Greece, the shabby chic low-key spot "IT" arguably serves up one of the best brunches in the city. You can find your beloved eggs benedict and honey-soaked American pancakes here.
Enjoy sipping a Freddo cappuccino amid the quirky, homely setting. Alternatively, order up a sumptuous dish made with high-quality ingredients from the seasonal brunch menu.
Numismatic Museum Garden Cafe
Where: 12 Panepistimiou, Syntagma, 106 71
As you stroll around the quiet, tree-lined streets of residential Kolonaki, the coffee shop beside the Numismatic Museum stands out like a peaceful oasis among the grand houses and apartment buildings. Tucked away from the eyes of tourists, patrons can sip their coffees in a peaceful garden oasis beneath the trees and tropical plants.
This hidden gem sits netweem Kolonaki and Syntagma. Live musical and jazz performances are frequently hosted during the summer months.
Da Capo
Where: Tsakalof 1, Athina 106 73
If there was a "best place" for people-watching in Kolonaki Athens, Da Capo would be it. Da Capo may look like your typical coffee shop with alfresco seating. However, this is a special place for locals.
The award-winning cappuccino brewed here is rumored to be among the best in Athens. The outdoor seats that face outwards onto Tsakalof street offer the perfect spot for watching the Athenian glitterati.
Lawyers, Entrepreneurs, and other busy business types come to Da Capo as their break spot of choice. Da Capo is known locally for its excellent gourmet snacks and sandwiches.
Warehouse
Where: Valtetsiou 21, Athina 106 80
On the border of Kolonaki and Exarchia, Warehouse is a modern contemporary coffee shop come wine bar that attracts a trendy crowd.
The atmosphere here is young and fresh. It is not uncommon to see writers and entrepreneurs here working away on their Macbooks. Warehouse Athens is a place that you could comfortably sit and read or work for hours on end without being disturbed.
Melinikon
Where: Skoufa 37, Athina 106 73
Melinikon is a great choice for breakfast and brunch in Athens. It is often lovingly referred to as "the Greek pancake house".
This place was opened by a successful New York businessman that left his corporate career to open up the very first pancake house in Greece. From chocolate pancakes to savory pancakes, tall stacks to short stacks, Melinikon serves up an extensive menu of scrummy treats.
Finding Traditional Greek Food in Kolonaki
You are spoiled for choice when it comes to dining options in Kolonaki. If you are hoping to treat yourself or celebrate during your trip, Kolonaki is certainly the place to do this. Some of the most elegant and exclusive spots in the city can be found here.
Tucked away among all of the glitz and glamour though, there are also some excellent traditional spots where travellers can cross various Greek foods off their foodie travel bucket lists without breaking the bank.
Filippou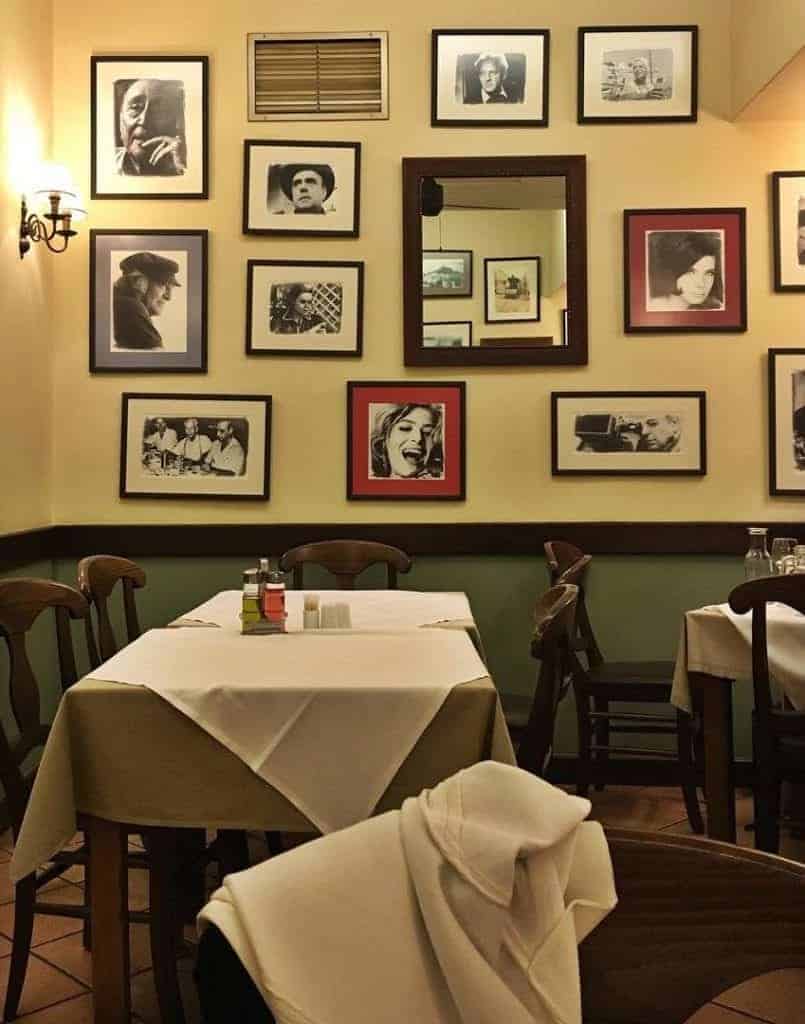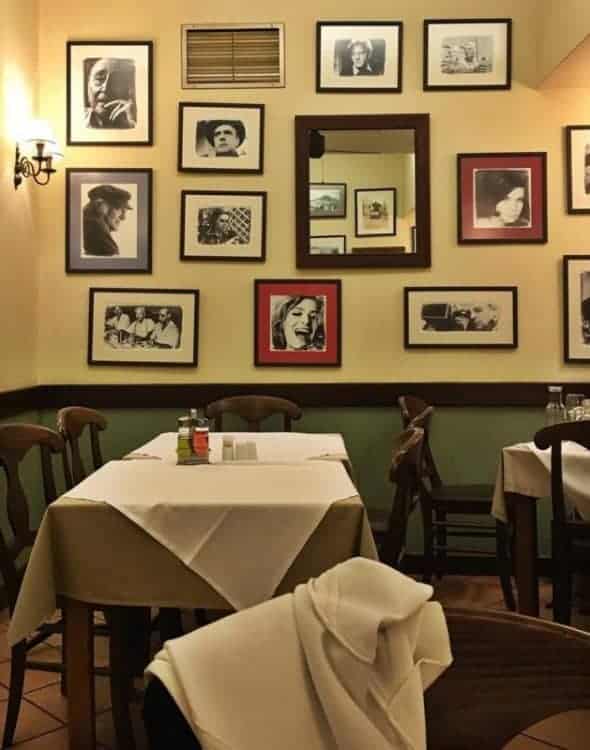 Where: Xenokratous 19, Athina 106 75
Filippou is a wonderful traditional family-owned taverna. It first opened its doors almost 100 years ago.
This is a favourite local haunt among Athenians. The owners serve up a plethora of homemade Greek classic dishes that don't break the bank.
Everything from hearty moussaka to sumptuous pastitsio features on the menu. You will feel just like you've stepped inside a Greek Yia Yia's house.
Nice 'n' Easy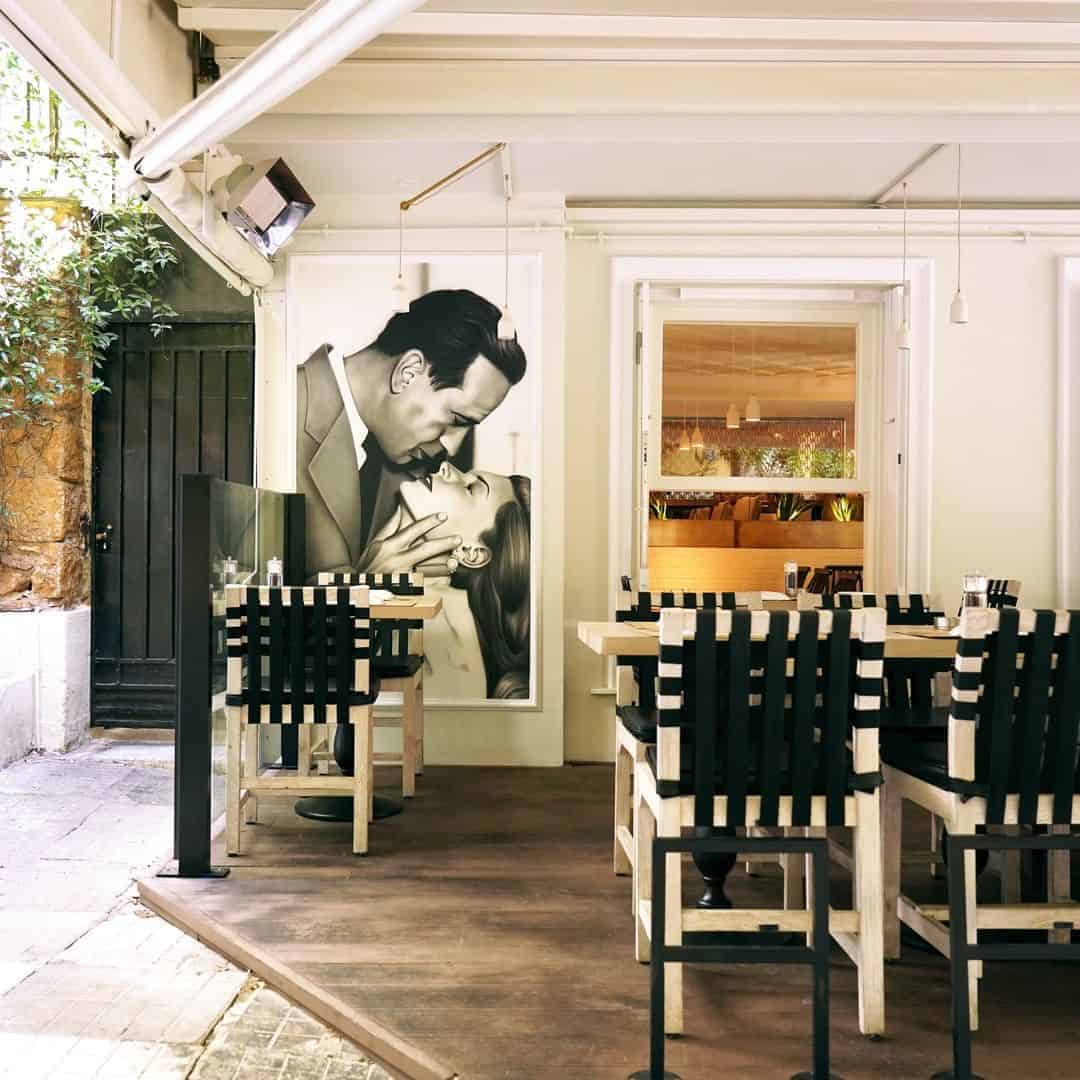 Where: Omirou 60, Athina 106 72
The concept of farm to table eateries is relatively new in Greece. To be honest, almost everywhere you visit in Greece serves up high quality food anyway. You can always tell that the vegetables are fresh, and the meats are lovingly prepared. However, restaurants such as Nice 'n' Easy offer an additional level of quality assurance.
The exquisitely flavoured dishes here are cooked with organic, locally sourced ingredients. This restaurant is one of just a few places in Athens that contains a run-through of all of its suppliers on the menu. In doing so, Nice 'n' Easy aim to demonstrate to their customers that they are eating ethically.
Simul
Where: Ipsilantou 63, Athina 115 21
Casual, cozy, and modern, Simul is a great choice for lunch or dinner in Kolonaki. The restaurant's menu changes with the season and offers a fusion of traditional Greek classics blended with international influences and flavors.
International Eateries in Kolonaki, Athens
Kolonaki (and Athens in general) has a wider selection of international eateries than you may imagine. From Asian fusion cuisine, to fresh sushi, and hand-prepared Italian pasta.
Greek food is wonderful. However, if you find yourself desiring a change part-way into your Greece itinerary, you will not be short of options.
Il Postino
Where: Γριβαίων 3 &, Skoufa 64, Athina 106 80
Il Postino brings you all of the charms of an Italian trattoria in the centre of the Greek capital. Dining at Il Postino transports you to the quaint, ramshackle streets of Rome's Trastevere district. The menu options are reminiscent of something that an Italian nonna would rustle up.
Tuck into a sumptuous, authentic carbonara, or the homemade pesto with goat's cheese. Wash it all down with a strong limoncello. Dishes here are prepared with only the finest Mediterranean ingredients.
Kiku Restaurants
Where: Dimokritou 12, Athina, 106 73
With branches in both Athens and Mykonos, Kiku was the first Japanese restaurant to open its doors in the Greek capital. The restaurant has a devoted clientele and the menu offers everything from wagyu beef to fresh sushi.
Where to Stay in Kolonaki Athens
Kolonaki Athens is a great place to base yourself during your time in Athens. Not only are you situated right in the heart of the action, but you are also in an area that is quieter than your average central district.
Excellent Athenian restaurants, bars, and nightlife are right on your doorstep. However, you can easily get a peaceful night's sleep.
Opting to stay in Athens' Kolonaki district places you just a five-minute walk away from Syntagma square, and a thirty-minute walk away from the Acropolis.
Kolonaki is very close to the suburbs of Zografou, Pagrati, and Koukaki. All of these districts are worthy of your time.
Reputable Kolonaki hotels that you may wish to consider are detailed below.
Periscope
Where: Charitos 22, Athina 106 75
Periscope Athens is an intimate luxury boutique hotel in the beating heart of Kolonaki. The rooms and suites have all been decorated in a sophisticated, contemporary style.
All materials used in the hotel's exquisite decor have been sourced from across Greece. For instance, walnut wood, luxurious fabrics, quality marble, and so on. Enjoy breakfast in your hotel room with a view as you overlook the promenades of Kolonaki.
Cocomat Hotel
Where: Patriarchou Ioakim 36, Athina 106 75
Cocomat Athens offers stylish rooms just a short walk away from the main tourist attractions of Athens. All units boast plush furnishings, flat screen satellite TVs, coffee machines, and complimentary toiletries.
Cocomat's rooftop bar is a great place for cocktails once the sun goes down. You can find the latest rates and availability here.
Parting Words
Have you spent any time in Kolonaki Athens? If you have any questions about planning your Athenian escape, feel free to drop me a comment below.
I've been based in Athens' lovely Pangrati area for the last three years. Safe travels! Geia sou! Melissa xo
---