Kolonaki Athens is the most exclusive district in the Greek capital. This area is to Athens, what Chelsea is to London or Beverly Hills is to Los Angeles. However, despite its elegance, Kolonaki (Κολωνάκι) manages to be sophisticated without any air of pretension. It still boasts the same philoxenia (Greek hospitality) that you would expect to find anywhere else in Greece. Home to an array of excellent bars, restaurants, and museums, Kolonaki makes a great stopping point on any trip to Athens.
Kolonaki Athens: Your Guide to Athens' Most Exclusive District
Today, wandering the streets of Kolonaki Athens is like stepping into a fashion magazine. Well-heeled patrons sip freddo cappuccinos outside al fresco coffee bars and the streets and cobbled passageways are lined with brand-name stores like Audemars Piguet, Cartier, and Louis Vuitton.
Kolonaki has always been the most stylish place to see and be seen in Athens. The area first developed as an aristocratic neighbourhood in the 19th century, and many of the properties that once housed Athens´ elite are today occupied by Greek politicians, celebrities, and entrepreneurs.
Kolonaki means ¨Little column¨ in Greek and the neighbourhood takes its name from a sunbleached ancient column that is found in the central square of Platia Filikis Eterias. From a tourist perspective, Mount Lycabettus and the Benaki Museum are perhaps the most notable attractions in the area.
But there are also plenty of other Kolonaki shops, restaurants, and bars that are worth having on your radar if you want to experience the Greek capital and its various neighborhoods like a local. In this guide, written by a British Travel Writer based in Athens, we will look at some of the best restaurants in the area and things that you can see and do to make the most out of a day in Kolonaki.
Notable Attractions in Kolonaki Athens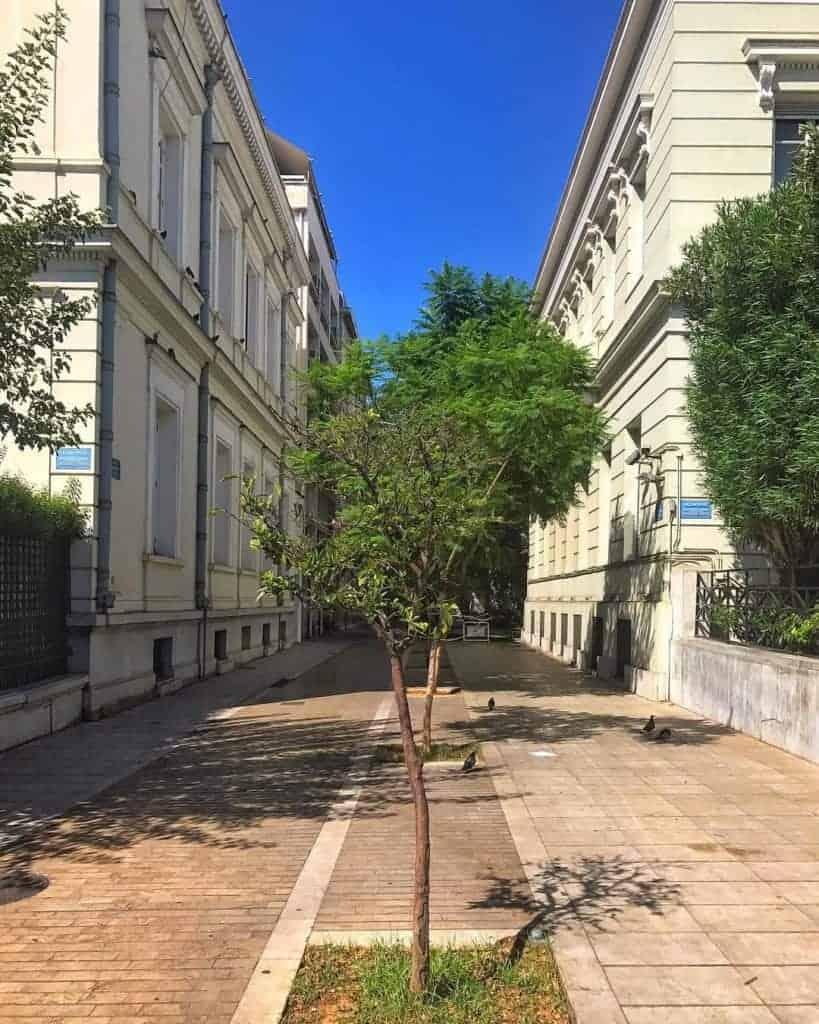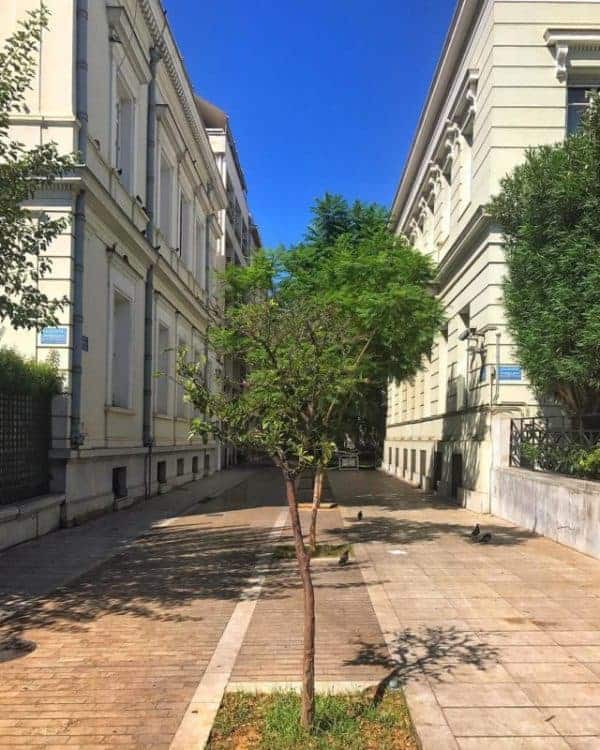 The square of Filiki Eteria marks the beating heart of Kolonaki. It takes its name from a secret organization that was known as "Society of friends" that was founded by three Greek men in Odessa in 1814 in an attempt to overthrow the ruling Ottoman Turks and create a new independent Greek state.
The various coffee shops that encircle the square make a great place to sit and watch the world go by with a croissant or a crumbling slice of spanakopita. The nearby Platia Dexameni is a great place to go for lunch and takes its name from an ancient cistern that sits beneath the surface and was created by the Roman Emperor Hadrian as a water supply for all of Athens.
Strolling down the streets of Panepistimio and Akadamias offers the opportunity to admire some of the best architecture in the area, while the best designer and independent boutique shops can be found on Voukourestiou and Amerikis streets. Panepistimio in particular is interesting as it is home to a famous group of well-designed buildings known as the Athenian trilogy.
The first grand residences started being constructed in Kolonaki in the 19th century after the Royal Palace of Athens (now the Greek parliament building) was built. Following its completion, aristocrats and noble Greek families began to construct sprawling mansions close to the palace. It was a desirable postcode to have back then and it still is now.
Museums in Kolonaki Athens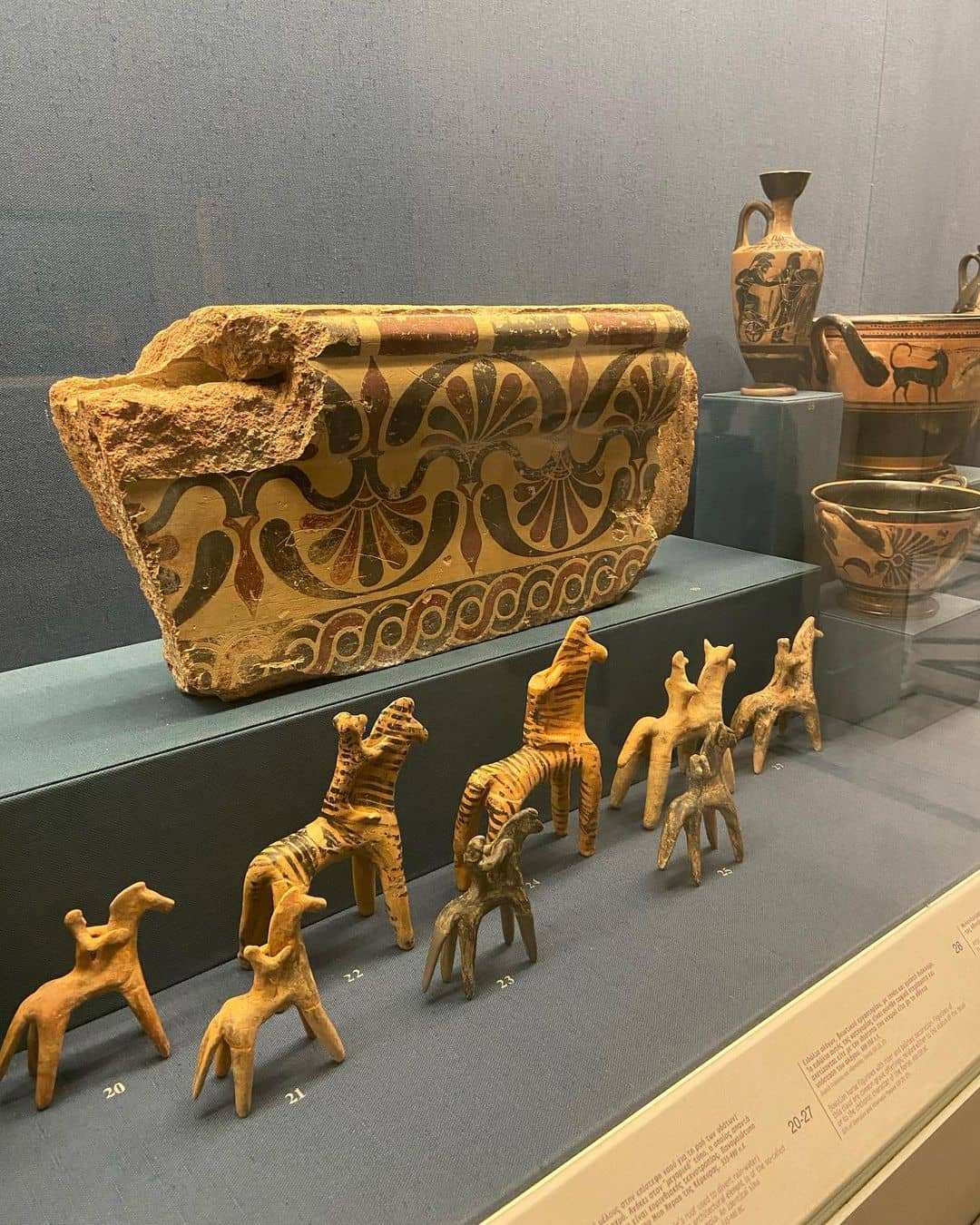 Some of the best museums in Athens can be found in upscale Kolonaki. On the outskirts of the district, at the intersection of Koumpari and Leof. Vasilissis Sofias you will find the Benaki Museum.
This is one of the most prestigious cultural institutions in Greece, showcasing the rich and diverse history of Greek art and civilisation. The museum is set inside the former Benaki mansion – home of a prominent Greek-Egyptian family that donated their property after their passing.
There are more than 100,000 artifacts on display here. The exhibits showcase everything from traditional Greek costumes to Greek and Islamic art and various temporary exhibitions are hosted at the museum throughout the year.
The Museum of Cycladic Art (Neofitou Douka 4) is another very interesting spot, even if you don't consider yourself a ¨museum person¨. Founded in 1986, the museum contains more than 5,000 pieces of artwork from the Cyclades islands.
Some of the obscure-looking human figurines here made from clay, bronze, and stone are believed to be the first artistic depictions of humans ever created. They even inspired the likes of Picasso in his works!
Shopping in Kolonaki Athens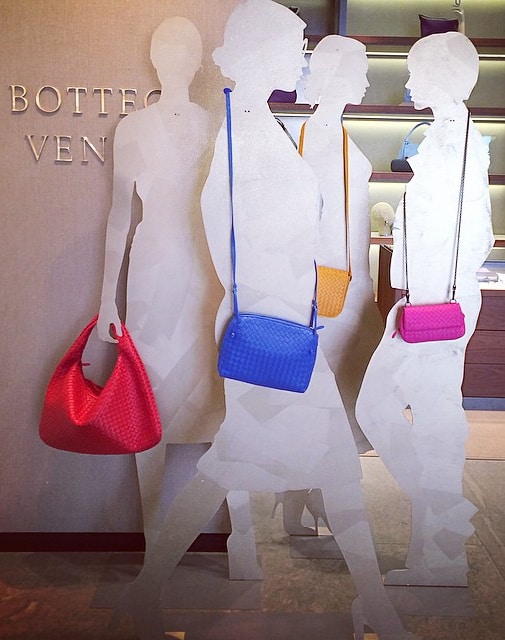 The raison d'etre that most people find themselves in Kolonaki on a weekend is to go shopping. Several high-end designer brands have their Greek and European flagship stores here and there are many high-end boutiques owned by independent Greek designers that sell one-of-a-kind accessories and fashion pieces that no one else has.
Luisa World (15 Skoufa Street) is an Athens institution. The boutique sells curated collections from brands like Chanel, Alexander McQueen, Dolce & Gabanna, and Moncler.
Nearby, Zeus & Dione (Voukourestiou 6) is the flagship store of Greek designers Dimitra Kolotoura and Mareva Grabowski. All of their pieces are designed and produced in Greece and focus on combining Greek traditions with modern design.
This is a great place to shop for resort wear ready for your trips to the islands, for suits, and for formal dresses and gowns. For shoes, the obvious choice for Athenians is Kalogirou.
The first Kalogirou shoe store opened on Kolokotroni in central Athens in 1890 and their exquisite footwear has been delighting Greek and international women ever since. You will also find a branch in Kolonaki at Patriarchou Ioakim 4.
Search for edible souvenirs
Of course, shopping in Athens isn't just about luxury goods and clothing. There are some excellent stores and delicatessens in Kolonaki that sell Greek agro products and other wonderful edible Greek souvenirs.
Yolenis (Solonos 9) sell wines, cheeses, cured meats, different types of honey, and condiments from various producers across Greece. It is usually possible to sample various treats before you buy them and the store can help you select, prepare and ship a custom-made gift hamper for the Grecophiles in your life.
Noras Deli (Panagiotou Anagnostopoulou 11) is another local favourite. Here you will find organic products and edible gifts from across Europe and the Mediterranean.
Think olive oils from Skopelos, the Peloponnese, and other parts of Greece, cold cuts from Drama and Northern Greece, and truffles from Italy.
Lycabettus Hill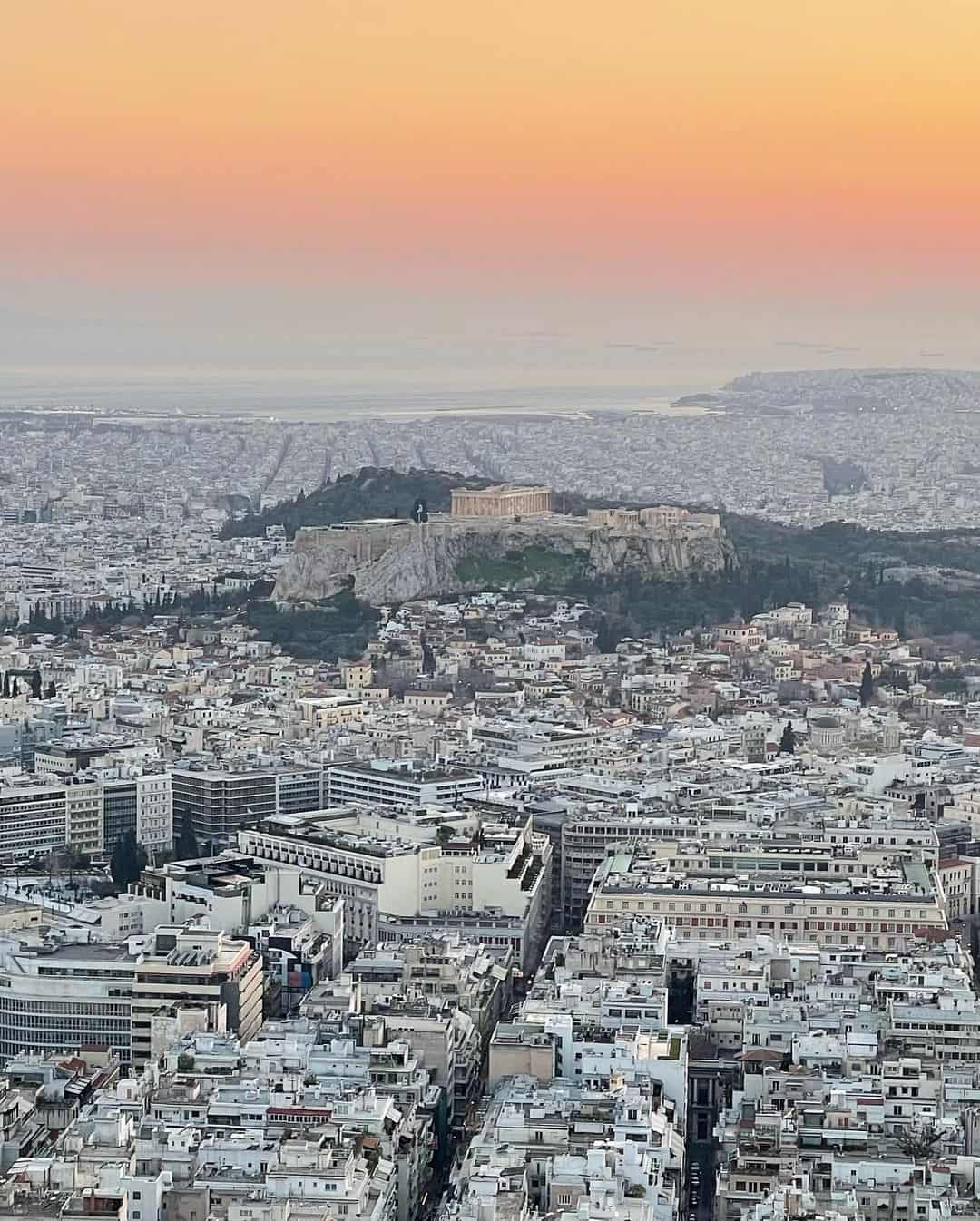 The hike to the top of Lycabettus Hill is one of the best offbeat things to do in Athens.
Lycabettus Hill, standing tall at 277 meters, is the highest point in Athens. In Greek mythology, it is said that Lycabettus was made from a rock that the Goddess Athena dropped while she was on her way to help out with the construction of the Acropolis.
At the top of the hill, you will find a little whitewashed chapel. This is the 18th-century church of Agios Georgios and it is visible from virtually all corners of the Greek capital.
Various hiking trails and flower gardens can be found on the slopes and foothills of Lycabettus, offering a green oasis in the heart of the concrete jungle. It is pleasant to walk to the top and admire the views over the city.
On a clear day, you can see all the way out to the port of Piraeus and the Saronic Gulf islands from up here. The view is particularly breathtaking at sunset.
The walk isn't particularly challenging as the path is well paved and provides a slow, steady incline. It is generally suited for people of all ages and hiking abilities but if you don't feel like walking, you can also ride the funicular train from the base at Aristippou 1 for a couple of euros.
Bars in Kolonaki Athens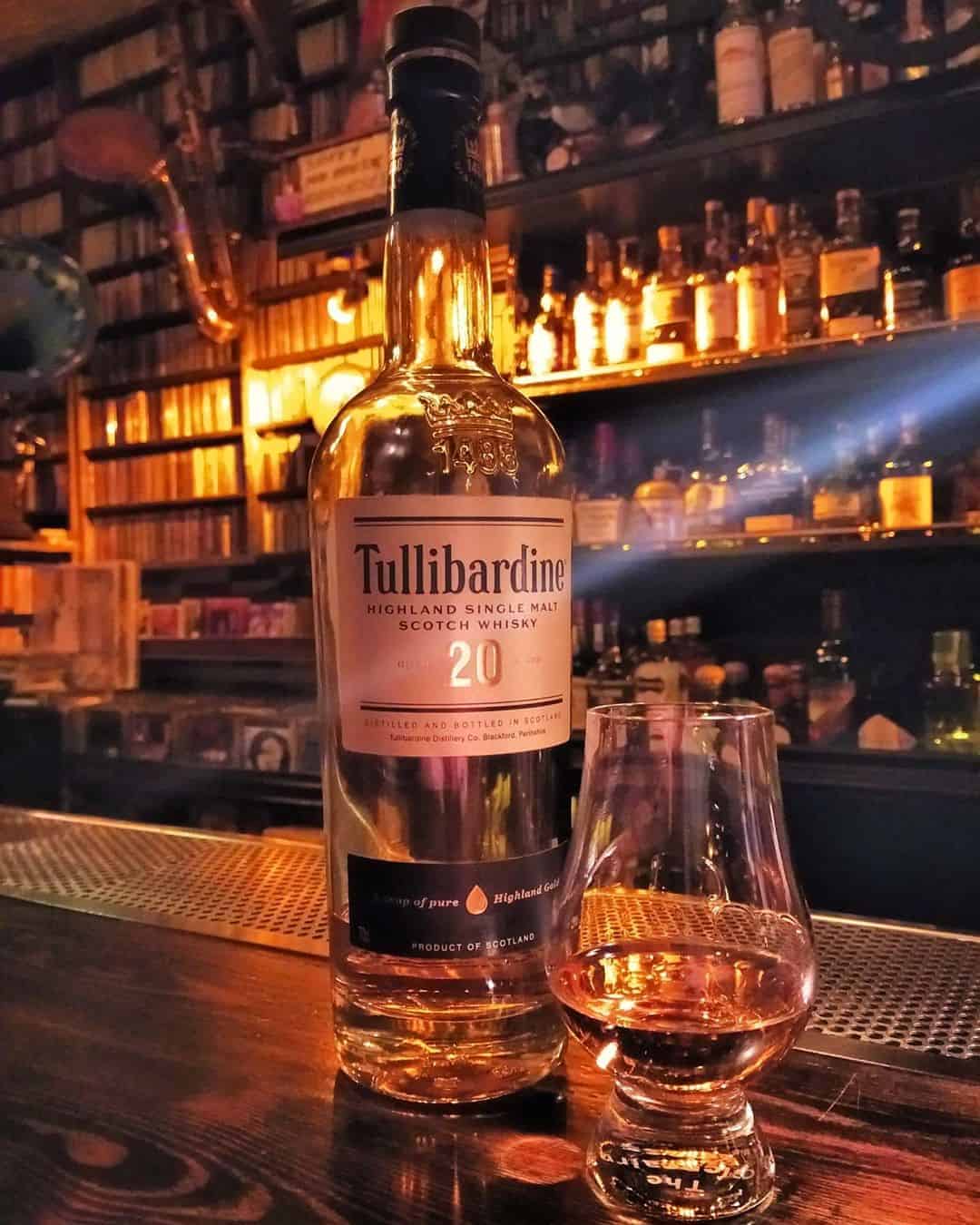 When the sun goes down, Kolonaki really comes to life. There are some excellent bars and cocktail lounges here, many of which are managed by some of the best mixologists in Greece.
Minnie the Moocher (6 Tsakalof Street) is a lot of people's go-to spot on Fridays and Saturday nights and it is so popular that you will often see people patrons out of the establishment and onto the street with their drinks in hand. One of the best bars in Athens is Jazz in Jazz (Dinokratous 4).
Stepping inside this tiny little jazz bar makes you feel instantly transported to the streets of New Orleans. The smooth rhythms of Thelonious Monk and Miles Davies play out over loudspeakers and old saxophones, vinyl records, and jazz memorabilia clutter every inch of wall space.
This little bar is so tiny that its interiors are the size of someone's living room. Its location on Dinokratous is a quiet, otherwise unsuspecting residential street and you wouldn't stumble across Jazz in Jazz unless you specifically knew it was there.
Best restaurants in Kolonaki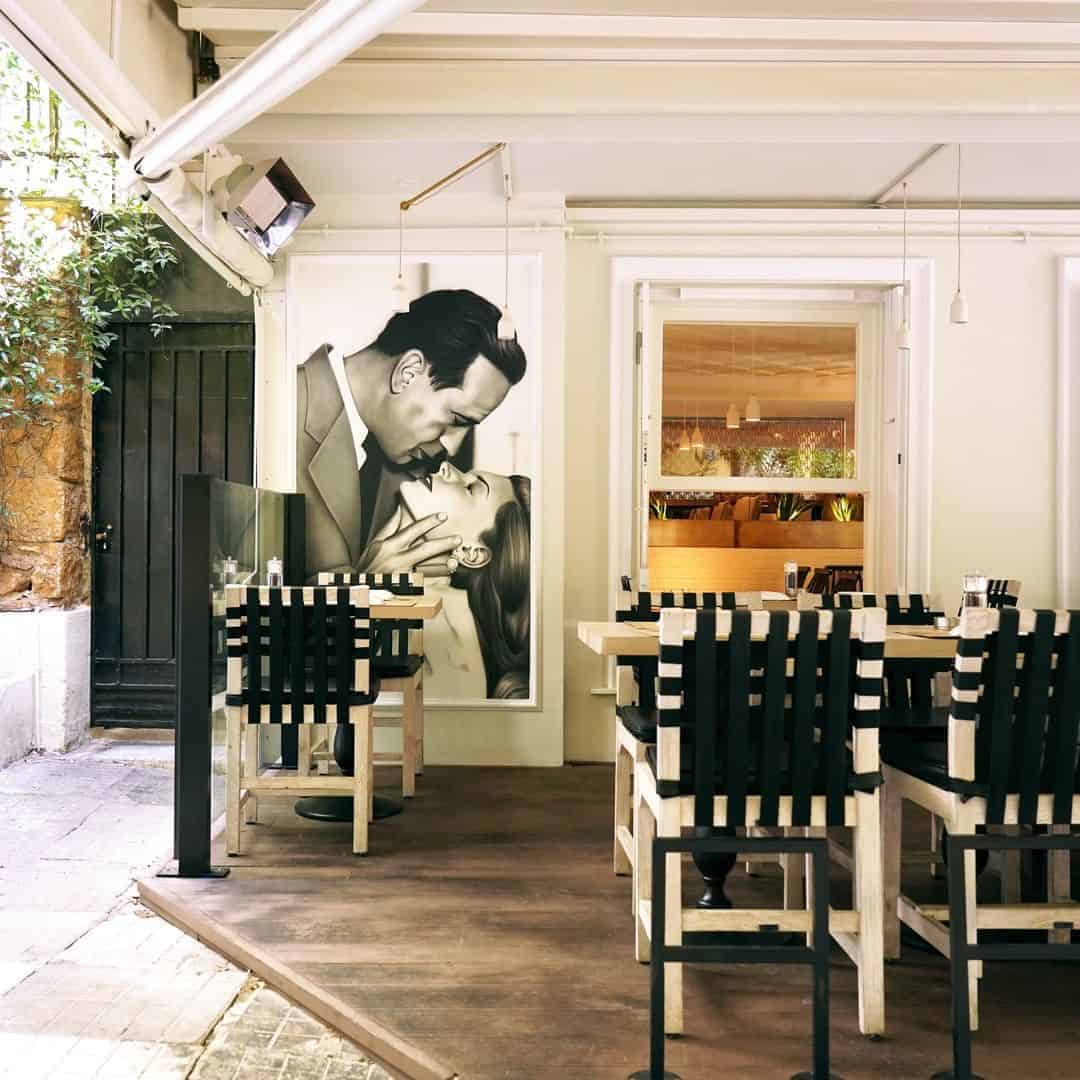 The restaurants in Kolonaki cater to every budget, style, and taste palate. Since this is one of the most upscale parts of town, it makes sense that there are several fine dining institutions here and restaurants that offer multi-course tasting menus with wine pairings.
Still, simplicity and flavor are what lie at the heart of what makes traditional Greek cuisine so good, and you will also be able to find an abundance of cosy, homely, non-pretentious tavernas here too. Filippou (Xenokratous 19) is one such example.
This charming, family-owned spot first opened its doors over 100 years ago and it has been passed down through the family over the generations. All of your favourite Greek classic dishes can be found on the menu here – from pasticchio to moussaka, and all are prepared with only the freshest local ingredients.
Nearby, Nice n Easy (Omirou 60) was one of the first farm-to-table concept restaurants to open its doors in the Greek capital. All dishes are prepared with locally sourced ingredients and you have complete visibility on their supply chain and where they source each item from.
Simul (Ipsilantou 63) is a great choice for brunch or lunch and the restaurant serves up Greek dishes prepared with an international or modern twist. Meanwhile, the Stinking Bishop (Spevsippou and Loukianou) is a fine dining restaurant whose mantra is to ¨prepare dishes with the same kind of love that only a parent has for a child¨.
Start with a charcuterie board. For your main, the homemade harissa or the ribs with parmesan sauce make a great choice.
For the best experience, ask your server to recommend a wine pairing for your dish based on one of the exquisite wines sourced from one of over 45 vineyards across Greece.
Kolonaki Athens art scene
Kolonaki has an emerging art and creative scene. A number of independent galleries have opened up here in recent years to showcase the works of acclaimed and emerging Greek and international artists.
A selection of some of the best places to check out during your visit is listed below. Of course, art enthusiasts can also venture into nearby Pagrati to check out the National Museum of Contemporary Art (Avenida Kallirrois).
Best Kolonaki Art Galleries
The Depot Gallery (Neofitou Vamva 5)

– A blend of art and design exhibits from Greek and International artists




The Elika Gallery (Omirou 27)

– A contemporary local art gallery




The Medusa Gallery

(Xenokratous 7

) –

A contemporary gallery with a unique twist, featuring the work of Greece's best artists. Photography, sculptures, and more traditional contemporary paintings can be found here

.



The Pulse

(8 Charitos Street

)

– A gallery that blends street photography with contemporary-style artwork.
Churches in Kolonaki
The majority of the Greek population (98%) identifies as Orthodox, and there are some beautiful, centuries-old Orthodox churches in and around Kolonaki. The church of Agii Isidori is a seldom-visited church built inside a cave on the slopes of Lycabettus Hill.
It conceals the entrance to a tunnel that Greeks fighters used to escape Athens during the Greek war for independence. The original church was sadly burned down in 1930, but it was quickly rebuilt again the following year.
On Skoufa Street, you can find the impressive 1920s church of Agios Dionysios Areopagiti. The church's interiors are filled with bold, vibrant frescoes that are beautiful to observe – even if you don't consider yourself a religious person.
Coffee shops in Athens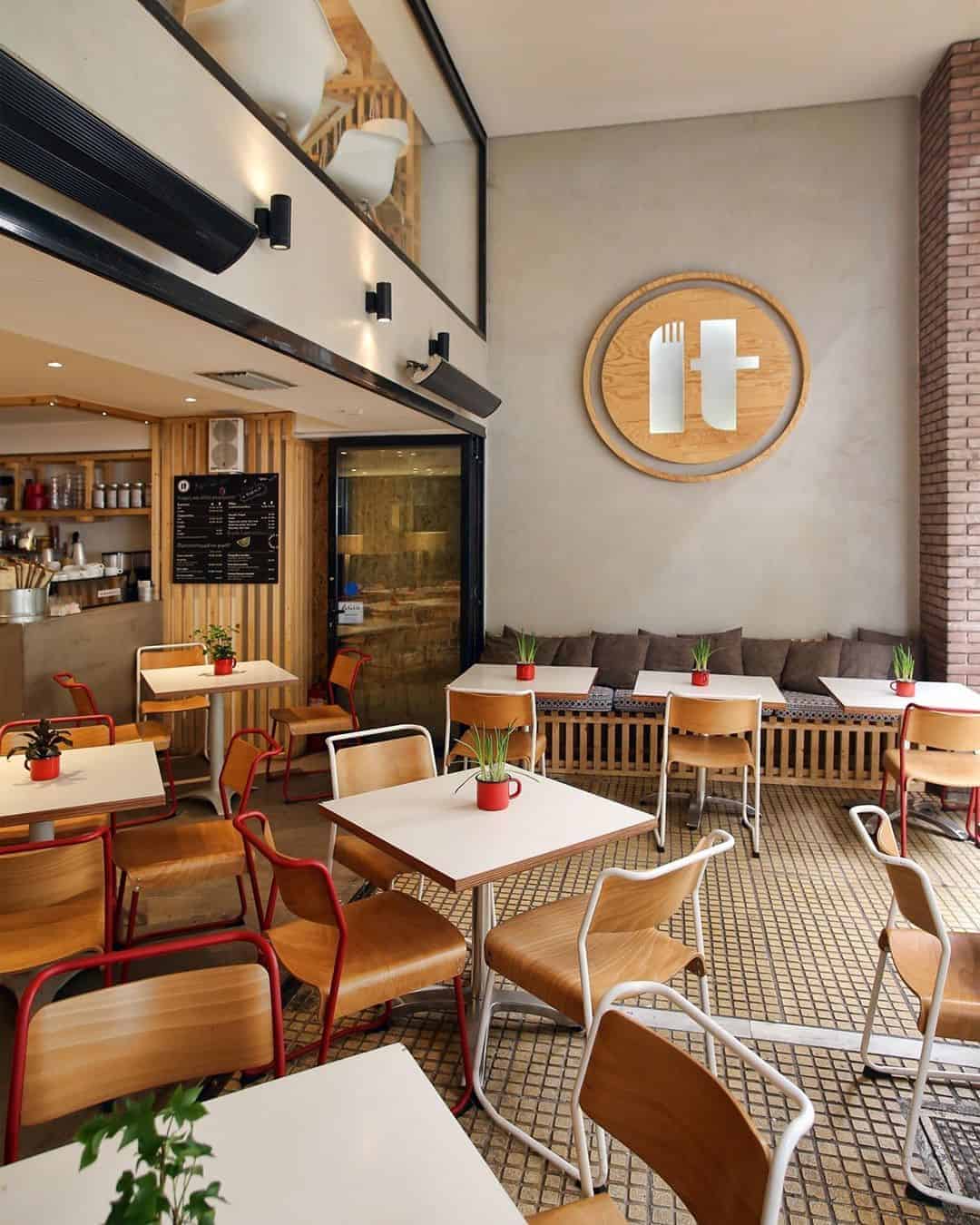 Going for coffee is essentially the national sport of Greece. Greek coffee culture is huge and coffee shops and traditional kafenions can be found on almost every street corner.
Da Capo (Tsakalof 1) has won awards for its excellent cappuccinos. The ambiance is as European as it gets – you sit outside beneath a cabana as well-dressed locals sit reading the newspaper or catching up with their friends on their lunch break from work.
The sandwiches here are pretty good too, if you want to grab a light bite during the day. If you are looking for something a little more contemporary and ¨hipster¨, you can try Warehouse (Valtetsiou 21).
This is a rustic coffee shop by day and a cocktail bar by night. The bright, airy space serves a selection of hot and cold beverages and is particularly popular among digital nomads and remote workers.
Hotels in Kolonaki Athens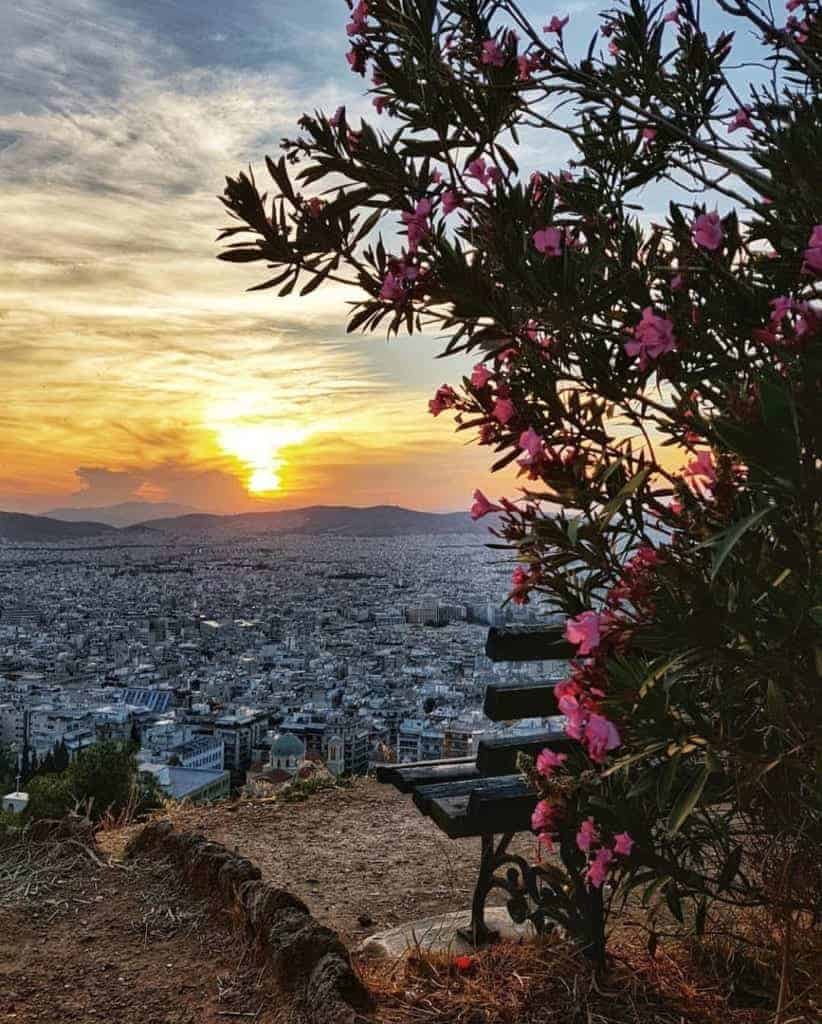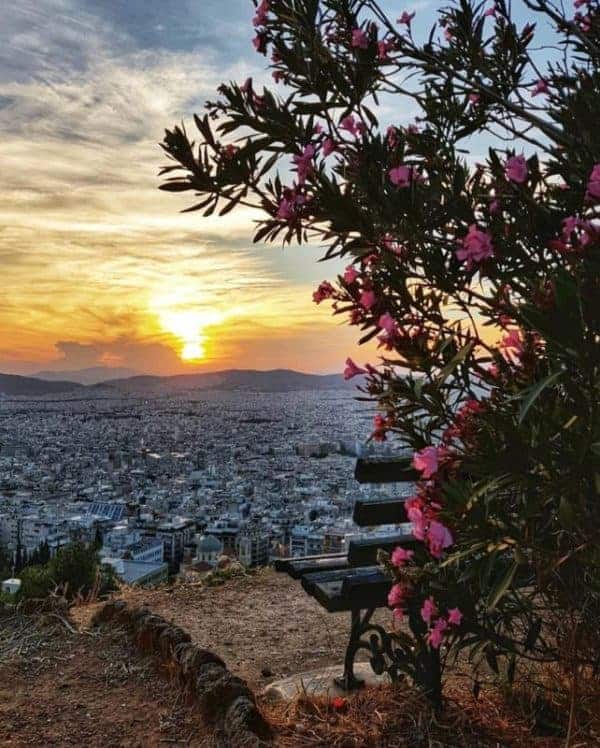 If you are unsure of where to stay in Athens, Kolonaki makes a great choice. Its central location means that you are within walking distance of Syntagma Square, Monastiraki, and most of the main Athenian landmarks and historical sites such as the Ancient Agora, the Acropolis, etc.
There are plenty of excellent restaurants, bars, stores, and amenities right on your doorstep here. Kolonaki is central enough that you can get to everywhere you need to go quickly and easily, but it is quiet enough that you still manage to escape the noise, chaos, and tourist crowds that you see in some other central districts like Monastiraki or Psiri.
Given the area's upscale reputation, it makes sense that most of the properties here are either upscale luxe hotels or independent boutiques. But if you are travelling on a budget, there are still deals to be found.
A selection of some of the best options is detailed below.
St George Lycabettus
Where: Kleomenous 2
If you really wanted to treat yourself to the best of the best hotels during your time in Athens, you can consider staying at the St George Lycabettus. The five-star property has long been heralded as one of the best places to stay in the country.
Double rooms here start from €204 a night which, despite not being the cheapest in town, are well worth it if you are looking to indulge. The St George Lycabettus was founded by Greek Entrepreneur George Tsopotos in 1970, with a view to creating a luxury hotel that reflected the culture and heritage of Athens.
The rooms and suites have been recently renovated and offer plush modern furnishings in a sleek, monochrome colour palette. Guests can enjoy unparalleled views over the city and the Acropolis from the La Suite Mediterranean restaurant and the Vertigo rooftop pool and bar.
You can check the latest room rates and availability at the St George Lycabettus here.
Periscope
Where: Charitos 22, Athina 106 75
Periscope Athens is an intimate luxury boutique hotel in the beating heart of Kolonaki. The rooms and suites have all been decorated in a sophisticated, contemporary style.
All materials used in the hotel's exquisite decor have been sourced from across Greece. For instance, walnut wood, luxurious fabrics, quality marble, and so on. Enjoy breakfast in your hotel room with a view as you overlook the promenades of Kolonaki.
Cocomat Hotel
Where: Patriarchou Ioakim 36, Athina 106 75
Cocomat Athens offers stylish rooms just a short walk away from the main tourist attractions of Athens. All units boast plush furnishings, flat-screen satellite TVs, coffee machines, and complimentary toiletries.
Cocomat's rooftop bar is a great place for cocktails once the sun goes down. You can find the latest rates and availability here.
Getting to Kolonaki Athens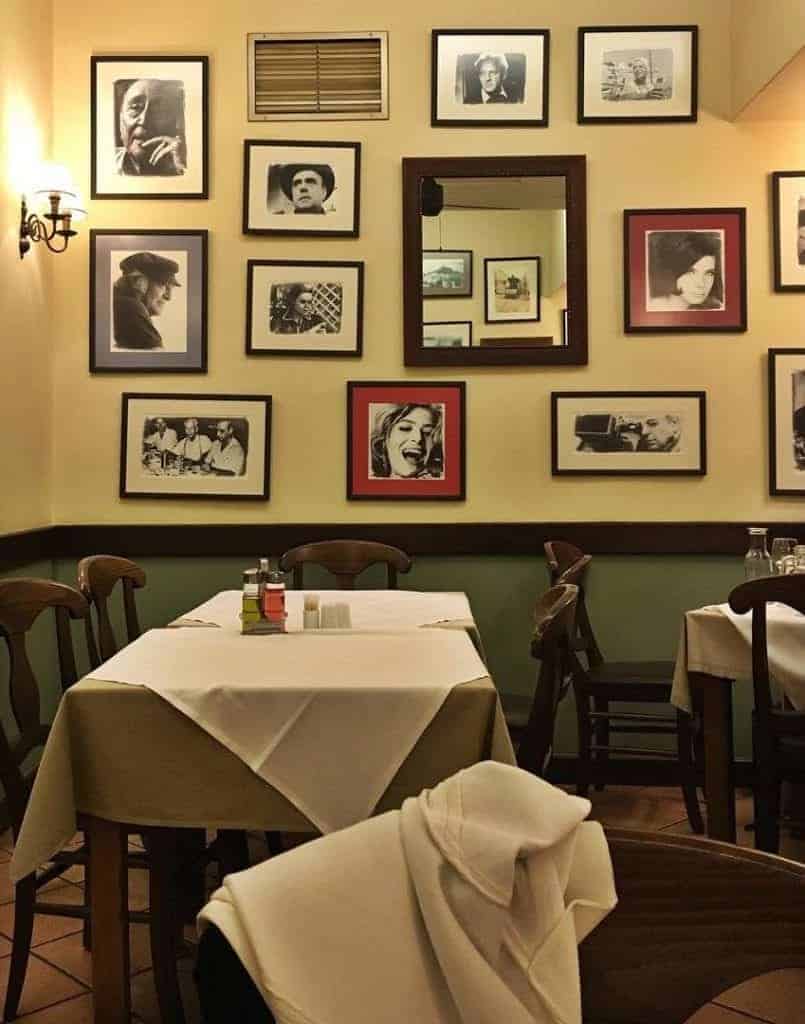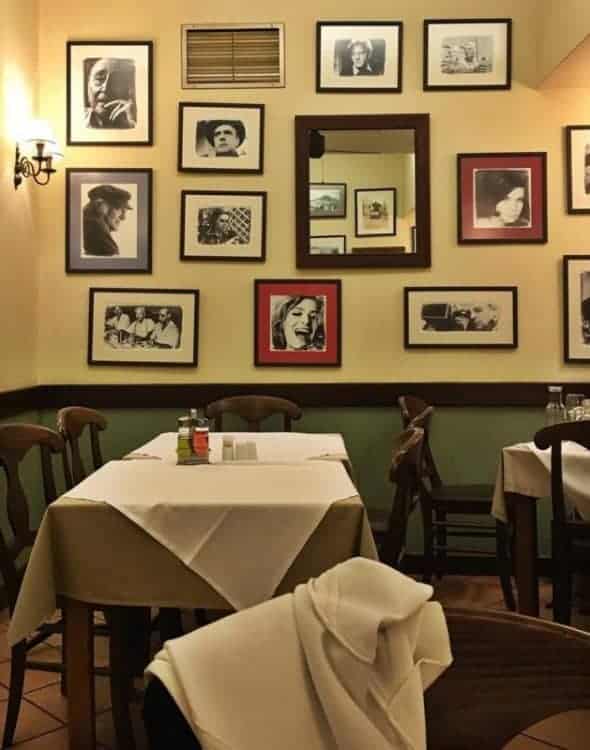 Kolonaki Athens sits right in the center of the Greek capital – just east of Syntagma Square, Monastiraki, and Plaka and north of the National Gardens, Pagrati, and Zografou. You can easily reach the area on foot from most central districts in Athens.
If you are taking the metro, the most convenient option is to travel on metro line 2 to Panepistimio (Πανεπιστήμιο) or Megaro Moussikis (Μέγαρο Μουσικής). Evangelismos metro station (Ευαγγελισμός) also places you a short walk away from the Kolonaki area, the Byzantine Museum, and the War Museum of Athens.
FAQs about visiting Kolonaki Athens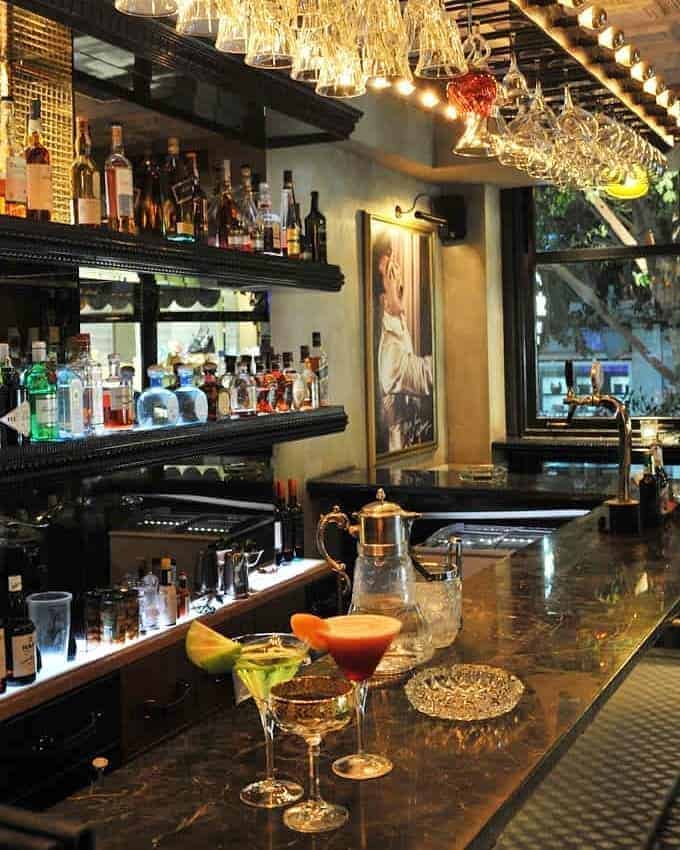 Do you have any further questions or queries about visiting Kolonaki Athens or planning your trip to the Greek capital in general? The answers to some frequently asked questions on the topic are detailed below.
Hopefully, you will find the information you are looking for there. If not, please don't hesitate to reach out to me.
Is Kolonaki a good area?
Kolonaki is one of the most upscale areas in Athens. It is very safe and is filled with Greek and international restaurants, high-end shopping, and many international embassies. It makes a wonderful place to live and base yourself on a trip to Athens.
What is the famous street in Kolonaki Athens?
There are a couple of notable or ¨famous¨ streets in Athens. Voukourestiou street is known for its jewelry and takes its name from the 1913 Bucharest Treaty that ended the Second Balkan War. 

Think of it as the Greek version of London's Bond Street or Los Angeles Rodeo Drive. Cartier, Bulgari, Hermes, and several other prestigious stores can be found here.
How much is a taxi from Athens Airport to Kolonaki?
You can expect to pay between €55 and €60 for a cab from Athens airport to Kolonaki.
Final thoughts on visiting Kolonaki Athens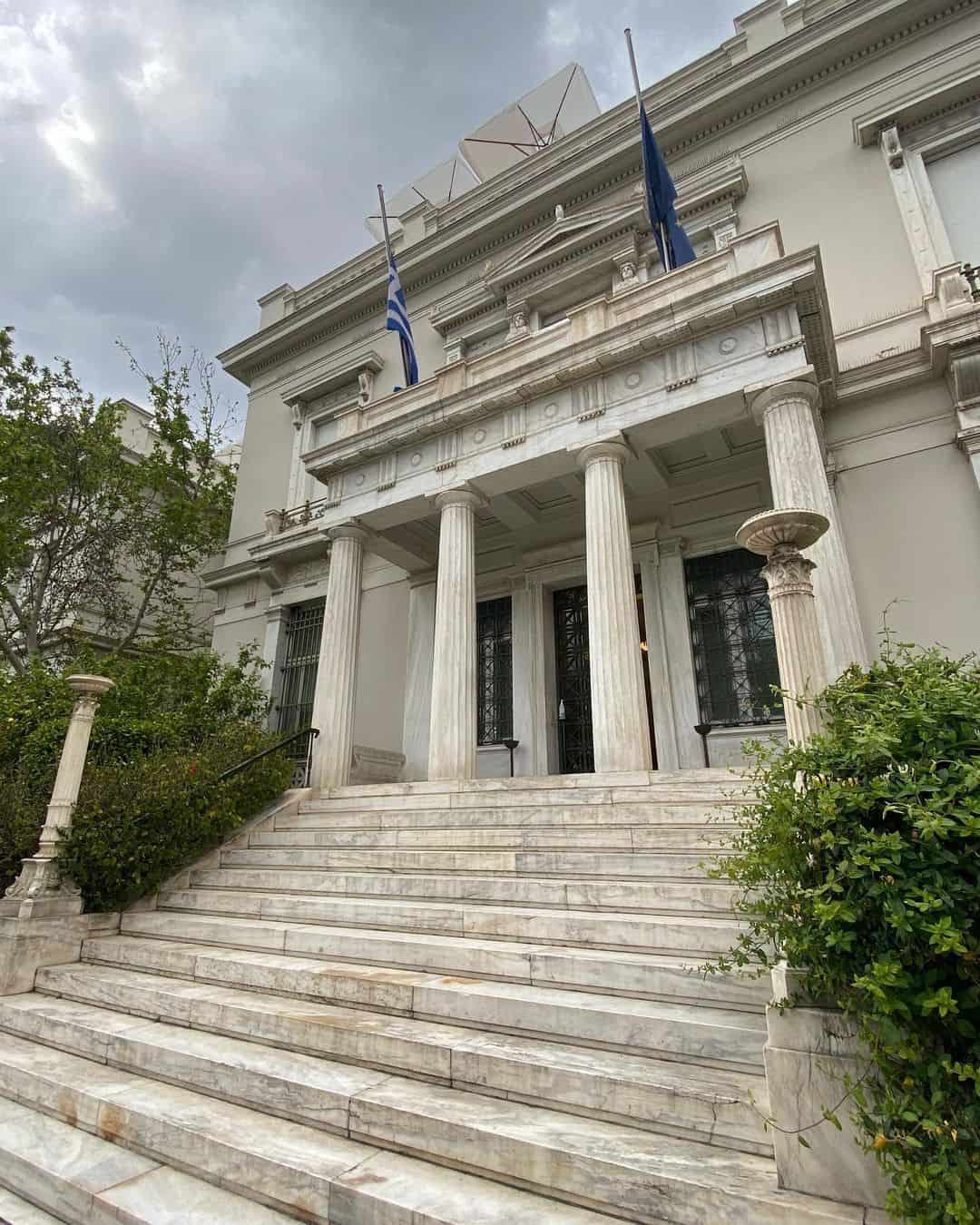 Kolonaki Athens is a great place to visit during your Athens itinerary. Depending on your schedule, you can easily stretch your visit so that you spend an entire day here.
If you are only spending one or two days in Athens, you can still stop by briefly for a coffee or dinner. While Kolonaki may not have the same number of ruins and historical sites as say, Plaka or Thissio, its understated elegance allows you to glimpse what ¨real¨ life is like in one of Athens' most exclusive neighborhoods.
Have any further questions? You may enjoy my Facebook group – All Greek to Me which allows travellers and expats in Greece to find information, organise meetups, plan a Greece itinerary, etc.
Safe travels and enjoy Greece! Geia sou, Melissa xo
---