Mount Lycabettus is a pleasant addition to any trip to Athens. It is a worthwhile inclusion, even if you only plan on spending a day or two in the Greek capital.
Mount Lycabettus is the highest peak in Athens and it is visible from virtually all corners of the city centre. The spectacle is particularly beautiful at night when the little church atop Lycabettus hill (Agios Georgios) is illuminated with twinkling lights.
There is more to Mount Lycabettus than initially meets the eye, however. Numerous walking trails twist and turn through the beautiful natural scenery on its slopes. At its base, you will find botanical gardens filled with stunning flora and fauna.
Mount Lycabettus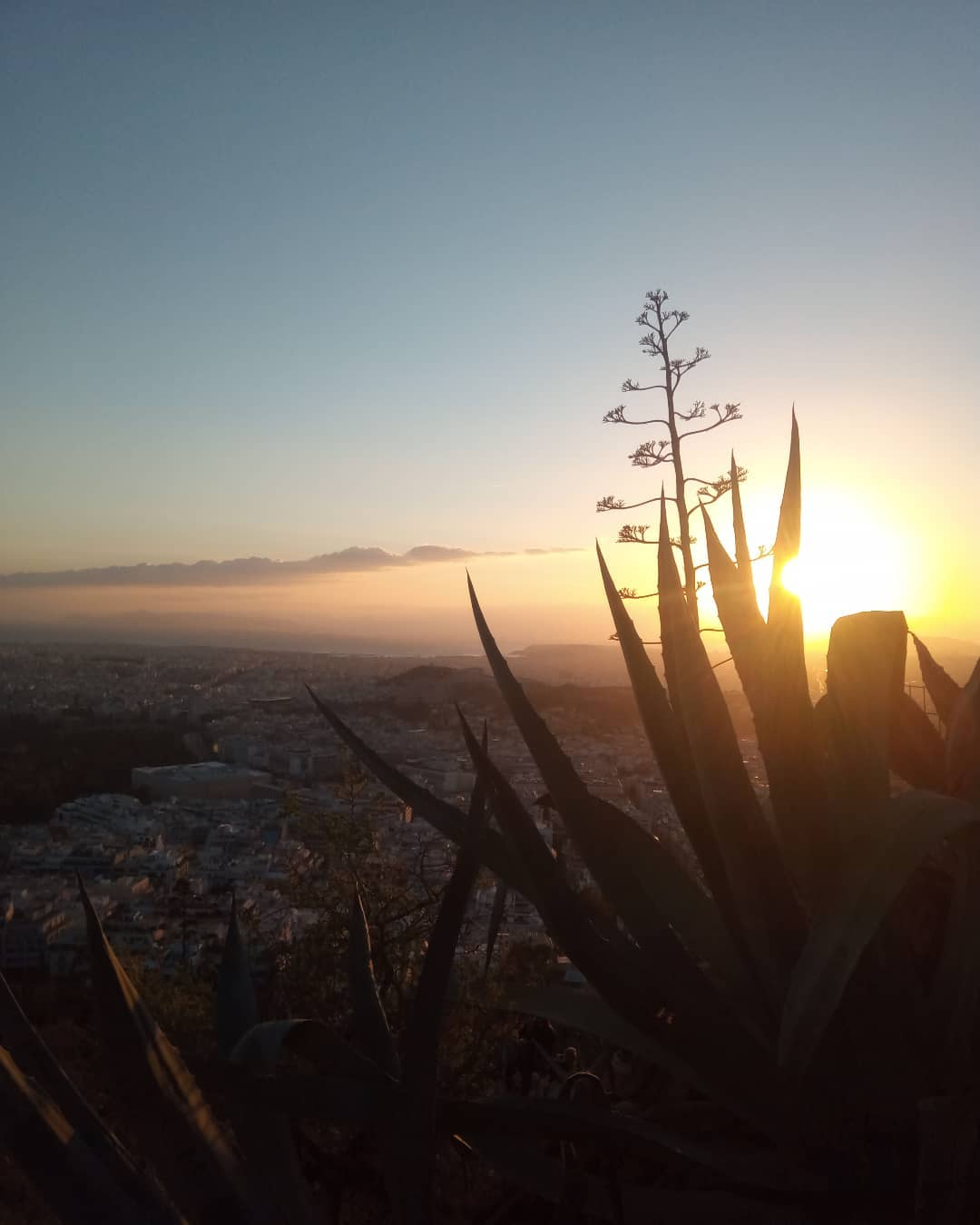 Mount Lycabettus, standing 277 meters above sea level, is the tallest of the eight hills of Athens. From its peak, you can enjoy spectacular views of the city below.
The ascent to the top may look daunting but you can reach Agios Georgios church in less than an hour. The trails are well paved and ascend gradually.
People of all ages should have no difficulty in reaching the top. However, the Mount Lycabettus funicular is also available for those who prefer not to walk.
From up here, you can see Athens' main landmarks and historical attractions in all of their glory. In particular, look out for the marble Panathenaic Olympic Stadium (¨Kallimarmaro¨), the Temple of Hephaestus at the Ancient Agora, and the Ancient Acropolis.
Arguably the best time to come here is early in the morning to watch the sunrise, or at golden hour, when you can get spectacular photographs of the skyline just before sunset. That being said, many people come up here for sunset during the peak summer months which can somewhat detract from the experience.
On a clear day, you can see all the way out to Piraeus port and the Saronic islands. Lycabettus Hill, like many sites around Athens and wider Greece, features in Greek mythology stories.

Legend has it that Lycabettus was a large rock that the Goddess Athena dropped when she was trying to help build the Acropolis. Another story/theory about the hill is that it was once inhabited by lykos (wolves).
The site is as popular with locals as it is with tourists. On a summer night, you will see that many Athenians come up here to drink beers and share Greek street food with their friends as they listen to music.
Agios Georgios Church, Lycabettus Hill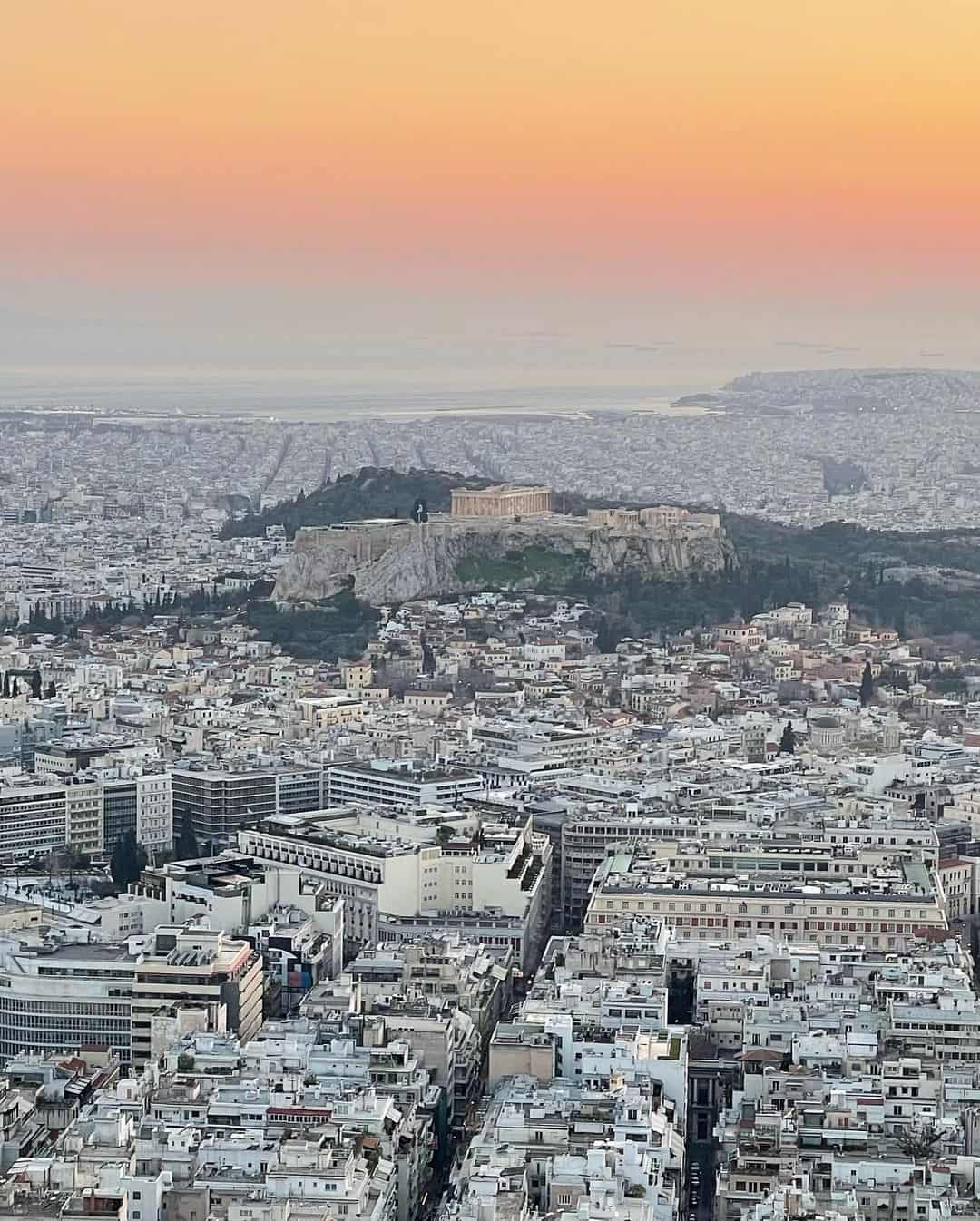 The piece de resistance of visiting Mount Lycabettus is the quaint little whitewashed 19th-century church of Agios Georgios that sits at the top. The church is so tiny that it is basically like stepping inside someone's living room.
Regardless, it has its charm. The walls and surfaces are laden with ornate Orthodox icons depicting images of the Virgin Mary and other scenes from the bible. For a small donation, you can light a candle in honour of a lost loved one.
The church was first used for worship by the Cretan monk Emmanuel Louloudakis, who lived in an adjacent hermit cave. Few humans have ever inhabited Lycabettus hill. However, the site has a long history of being used for the purpose of worship.
Prior to the construction of Agios Georgios church, a Byzantine church stood here. Prior to that, there was an ancient shrine here, believed to have been dedicated to Zeus.
Mount Lycabettus Restaurant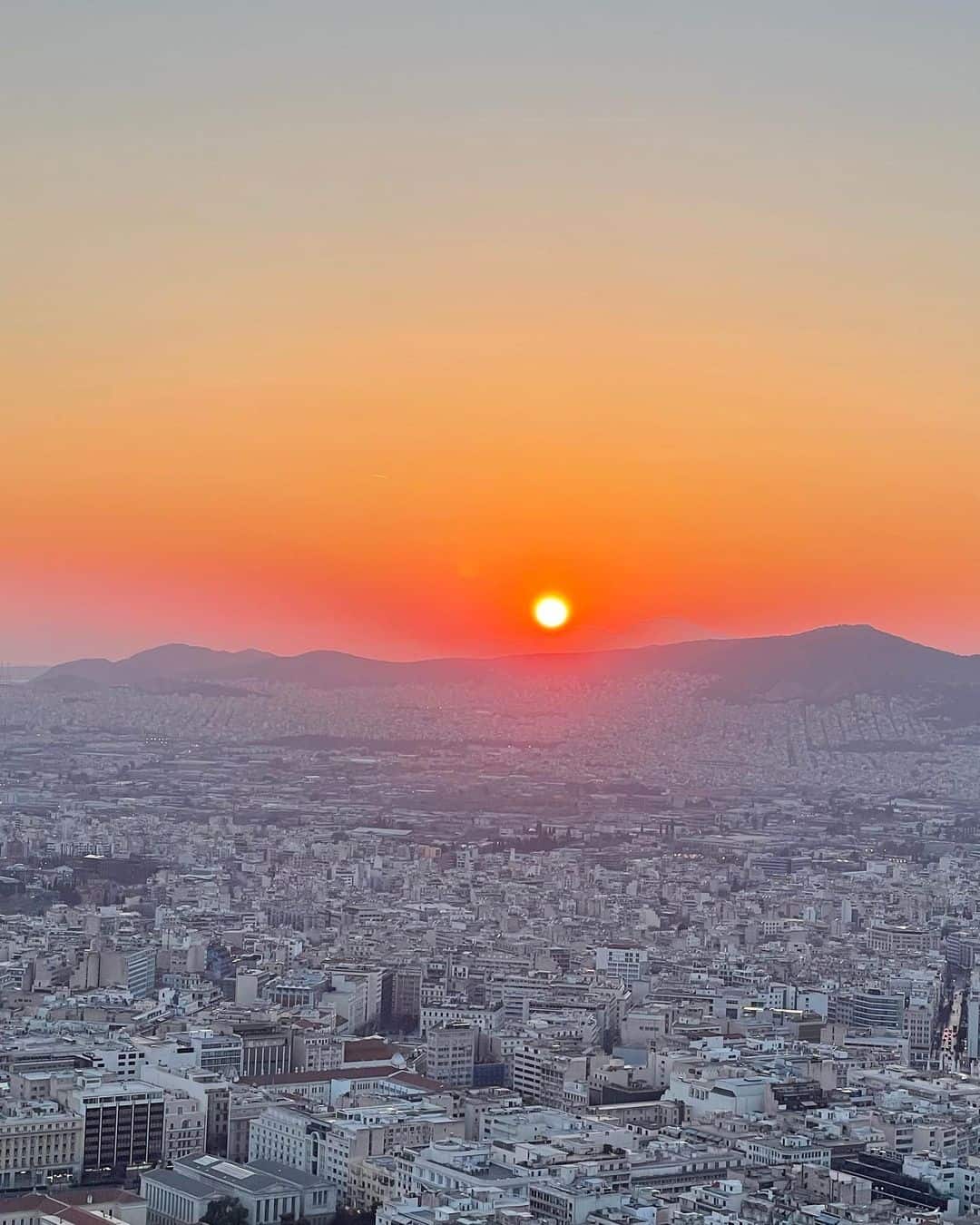 Orizontes Lycabettus is an exquisite fine dining restaurant that can be found adjacent to Agios Georgios church at the top of Lycabettus Hill. This is not the typical tourist trap that you see next to tourist attractions.
Orizontes Lycabettus is arguably one of the best restaurants in Athens. The prices are a little higher than at your average taverna but the food is well worth the fare.
The menu at Orizontes Lycabettus is focused on seafood delicacies. However, vegetarians and meat-eaters will not be disappointed either.
The dishes featured are a contemporary spin on Mediterranean classics. For instance, beef tagliata with baby carrots glacé, béarnaise sauce and black garlic flakes, or Ioannina style baklava with kaimaki ice cream.
If you don't want to sit down and indulge in a large meal, you could stop by Orizontes for cocktails or to share a delightfully sinful Greek dessert. Alternatively, there is almost always a small cart selling ice-cold bottles of water, drinks, and ice creams.
Visiting Mount Lycabettus During Orthodox Easter
If you are fortunate enough to be in Greece during Orthodox Easter, you can enjoy a unique experience at Mount Lycabettus. This is one of the most important festivals in Greece.
Part of the celebrations involves a nighttime candlelit procession through the neighbourhoods of Athens to a local Orthodox church. In central Athens, many do visit Lycabettus Hill.
At midnight on Orthodox Easter, a spectacular firework display erupts from the peak of Lycabettus Hill. It is a wonderful thing to witness, whatever your religion.
The Mount Lycabettus Funicular
If you prefer not to walk, you can take the Lycabettus funicular to the peak. This may also be a good choice if you have plans to dine at Orizontes Lycabettus and don't want to look flustered on arrival.
The entrance to the Mount Lycabettus cable car can be found at the intersection of Aristippou and Plutarchiou. The trains run every 10-30 minutes depending on the time of year. A one-way ticket to the top costs €5, while a return is €7.50.
The Church of Agios Isidoros
The church of Agios Isidoros is a second church that can be found on the slopes of Mount Lycabettus. It is somewhat tricky to find and often overlooked.
The church boasts an old, single-aisle basilica with a wooden roof. Its precise origins are unknown, but it is believed to date back to the 15th or 16th centuries. Agios Isidoros is dedicated to Agia Merope and Agios Gerasimos and has been built into a cave giving it a unique and distinct appearance.
Other Attractions Around Lycabettus Hill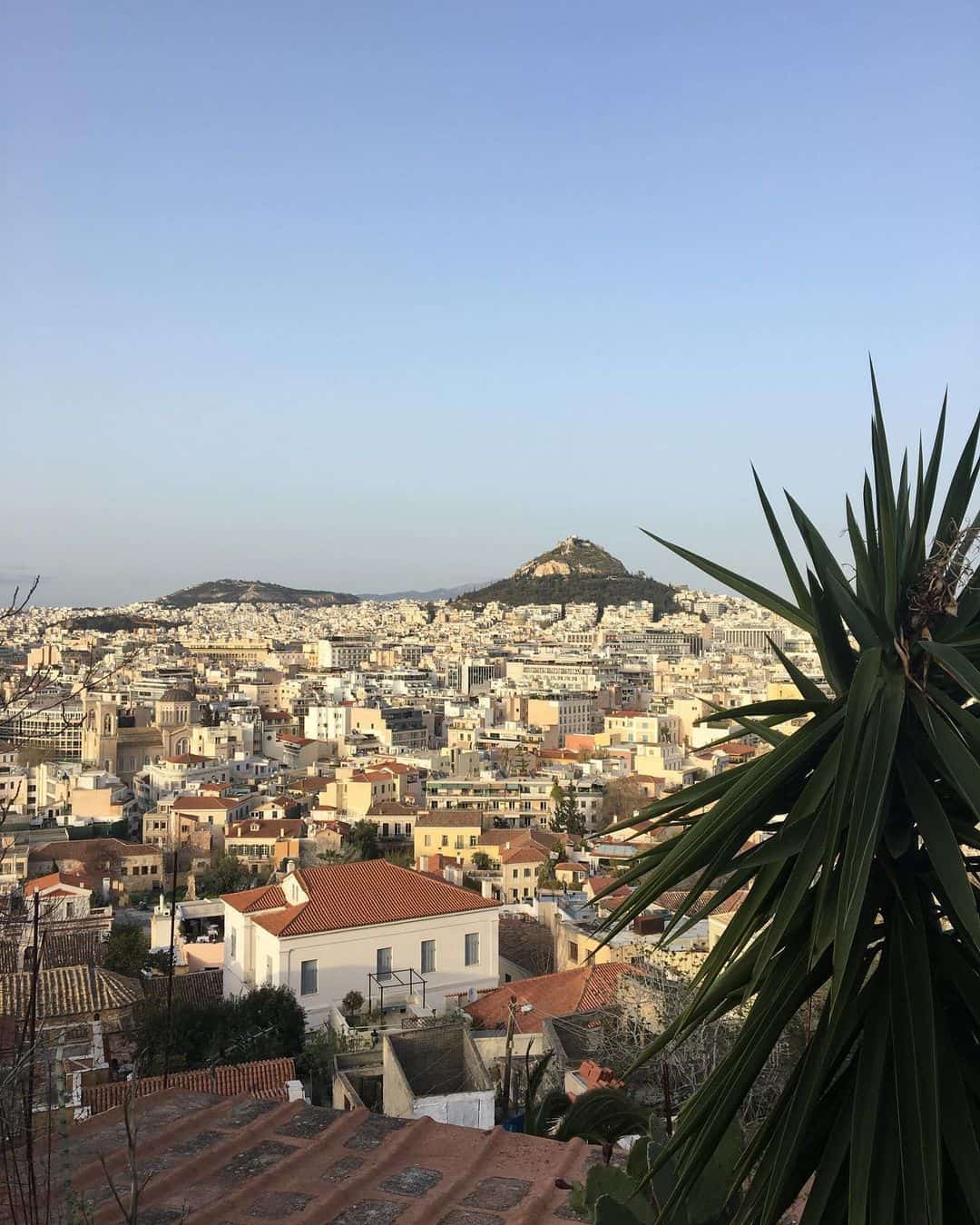 Lycabettus Hill is situated in Kolonaki, one of the most affluent neighbourhoods in the Greek capital and an area that is often referred to as being the Beverly Hills of Athens. This exclusive district exudes a different vibe than much of the rest of central Athens.
After your visit to Mount Lycabettus, consider taking a short walk through the tree-lined streets of this chic district and admiring the grand neoclassical houses, and the boutique designer stores. Despite being home to many of Athens' rich and famous, the atmosphere in Kolonaki is not pretentious. 
Shop for Greek agro products
Shop for edible Greek souvenirs at one of the Greek delicatessens here, grab a Greek coffee in Kolonaki square, and, if you happen to be in the area a little later in the evening, have a cocktail at one of the chic cocktail bars. 
Grab a cocktail or two in Kolonaki
Jazz in Jazz (Dinokratous 4) is a favourite local haunt. This little New Orleans-style Jazz bar plays all the classics – from Thelonious Monk to Miles Davis. It is a tiny space and it can be hard to find a table on Friday and Saturday nights, but the cocktails are second to none.
If you want an alternative view of the city (or an additional one), nearby Filopappou Hill is another worthwhile place to visit. It sits on the cobbled boulevard of Apostolou Pavlou between Thissio and upscale Makrygianni.
Filopappou is seldom as crowded as the Acropolis or Mount Lycabettus but it does have several points of interest. For instance, the church of Agios Dimitrios Loumbardiaris, the Pnyx, and the Filopappou monument.
---