What is Greece famous for? The mention of Greece conjures up images of beautiful Cycladic villages, sumptuous cuisine, and lively traditional dances.
If you are planning a trip to Greece, or simply want to learn more about this little Mediterranean paradise, you may wonder what the country is known for. This guide discusses 27 things that Greece is famous for.
What is Greece Famous For?
Lovely Greece has been capturing the hearts of travellers for years. There's a reason that more than 30 million people venture here every year to see the sights and embrace the culture.
Greece is the birthplace of democracy and modern civilisation. The country is the place where the Olympics were born and held for the very first time, and a land synonymous with some of the most revered philosophers of all time.
I have been living in Greece for the past three years. Let's take a look at all the things that spring to mind when somebody mentions Greece.
Mamma Mia!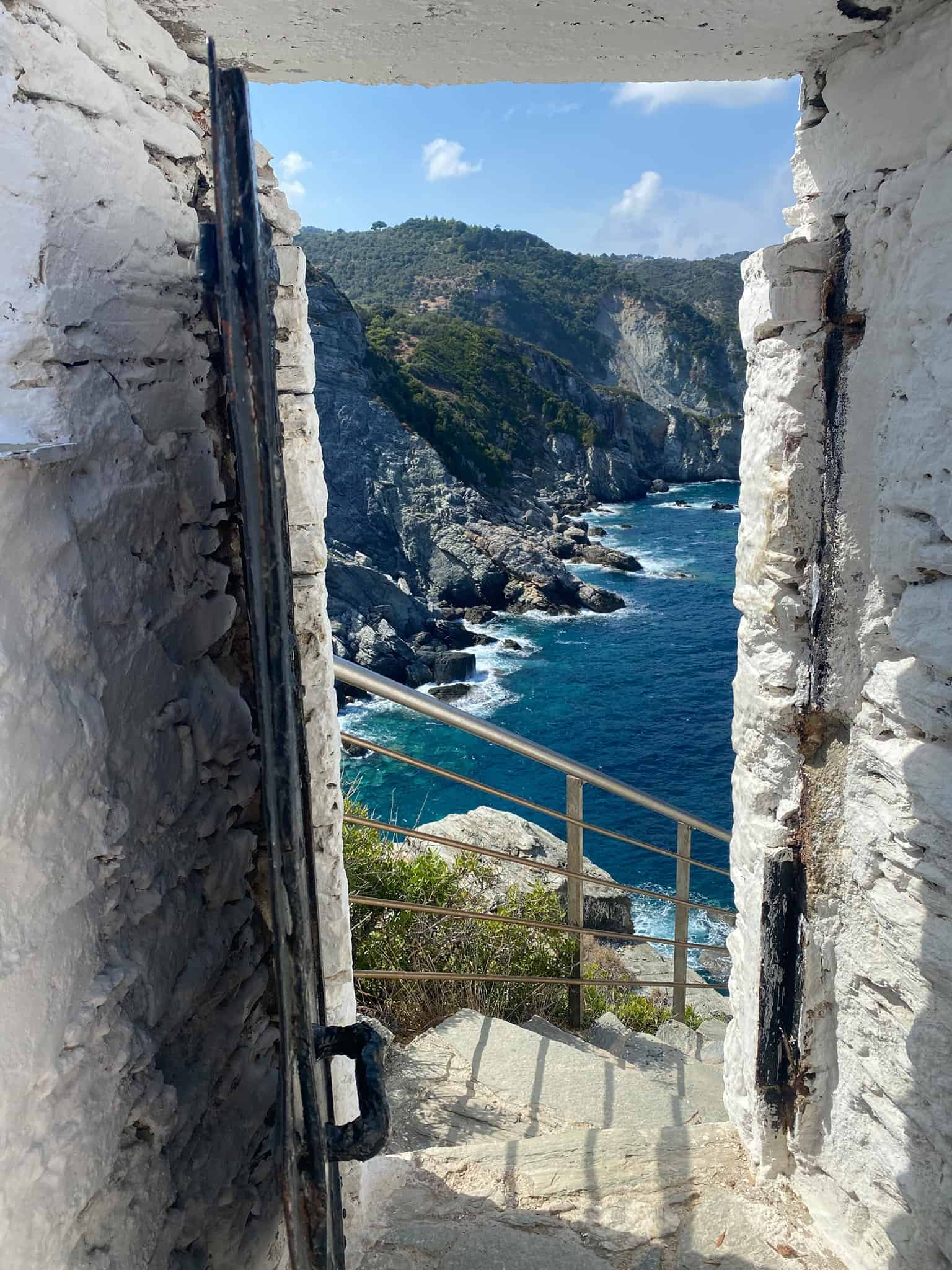 Greece has always been a popular Mediterranean travel destination. However, the success of the Hollywood movie "Mamma Mia" set on the fictional island of Kolokairi has really put Greece back on the map in recent years. It has made the country appeal to a new generation of global travellers.
Gorgeous Skopelos island is featured as the real-life setting for Mamma Mia. Little Skopelos is the greenest island in the entire Mediterranean and is aptly known as being the "blue-green island".
It is characterised by undisturbed virgin beaches, quaint villages, and pristine natural scenery. The island capital, Skopelos town, was recognised as a place of outstanding beauty by the former Greek Prime Minister in 1978.
The Acropolis & The Parthenon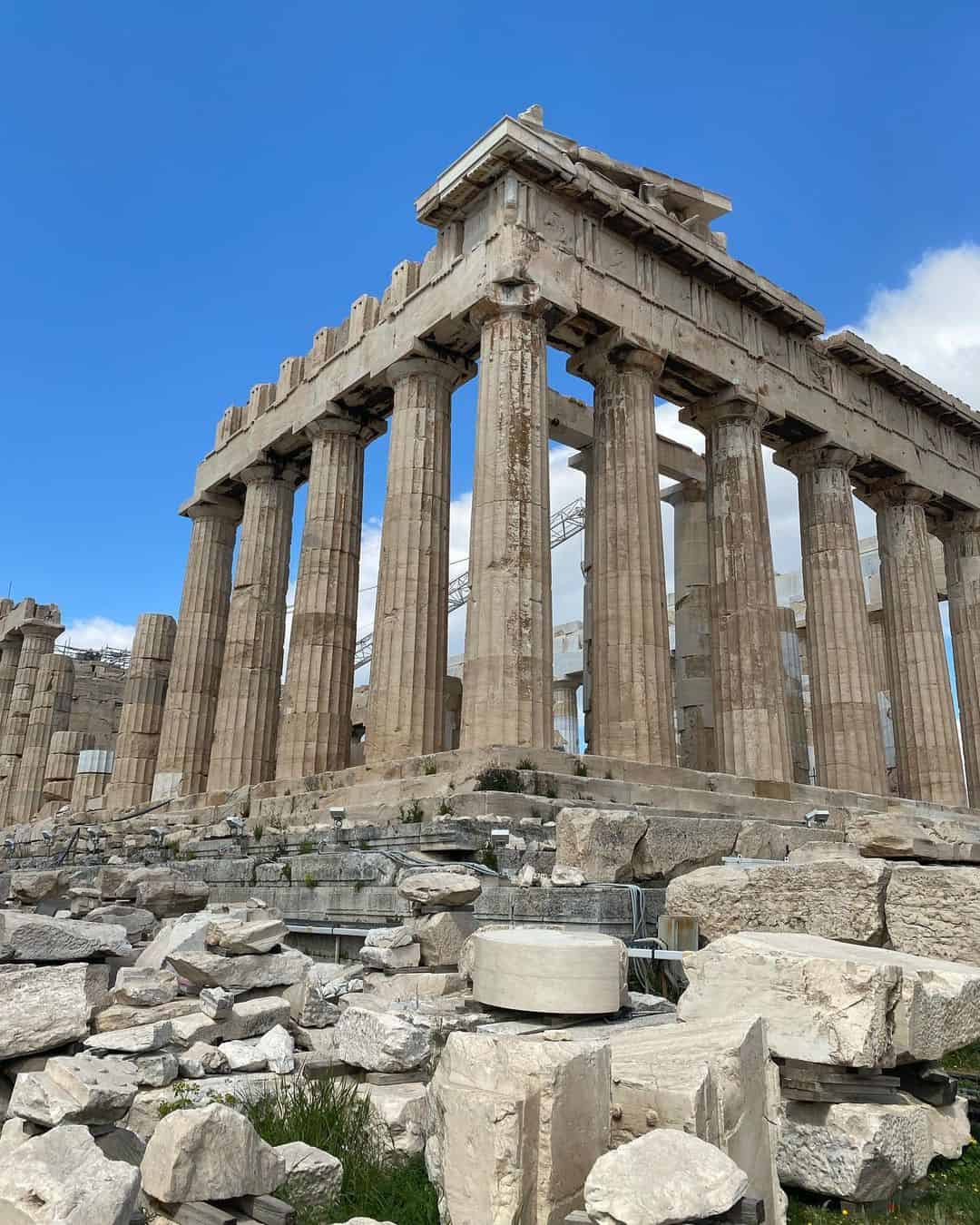 The Acropolis in Athens is one of Greece's most iconic images. The site dates back to 525BC.
Once upon a time, all Greek cities had an Acropolis at their centre. Most Acropolises were built for defensive purposes. However, the site in Athens was built for spiritual reasons.
The sun-bleached ruins of the Parthenon are arguably the most famous structure here. But the Acropolis is actually quite a large complex consisting of a number of temples and ancient structures.
Look out for the Erechtheion. This was allegedly the place where the God Poseidon and the Goddess Athena had the battle to see who would be the ruling God of Athens.
Visiting the Acropolis
The Acropolis is a highlight of any Athens travel itinerary. You should dedicate at least half a day to exploring the site. Try to arrive as early as possible to avoid the crowds.
You don't need to hire a Tour Guide. However, they can be useful in providing more context to what you are seeing.
Greek Coffee
Greek coffee culture is huge. It is estimated that the average Greek consumes more than 5kg of coffee a year.
Greeks are among the biggest coffee drinkers in the world! Traditional Greek coffee is known as Ellinikos Kafes.
This strong, bitter coffee is essentially the same as Arabic/Turkish coffee. Coffee was first introduced to Greece during the Ottoman Empire and is served in an espresso cup.
Take Your Coffee Like an Athenian
Young Greeks today mostly have their coffee iced or 'Freddo'. You will find that coffee shops occupy virtually every street corner in Greek cities and towns.
Greek coffee shops are usually full at all hours of the day. Be sure to order yourself a Freddo espresso or a Freddo cappuccino when you need a break from sightseeing during your Greece itinerary.
Stunning Island Paradises
Most people travel to Greece for the islands. The stunning islands in the Cyclades, the Sporades, and the Saronic are the quintessential postcard image of Greece.
Greek islands are characterised by their narrow cobbled passageways, their quaint buildings with white walls and blue roofs, and their pristine beaches. There are more than 6,000 islands across Greece, and only 227 of these are inhabited.
Santorini or Mykonos may be the first Greek islands that spring to mind. These places are popular for good reason – they are absolutely beautiful.
However, with hundreds of Greek islands to choose from, there are many more options that do not see a fraction of the crowds as their popular counterparts. For instance, Alonissos, Skyros, Paxos, Symi, etc.
Enjoying a Greek Island Adventure
Athens Eleftherios Venizelos is Greece's main international airport. From here, you can catch connecting flights to dozens of stunning Greek islands.
It is also possible to combine a trip to Athens and the mainland with a Greek island-hopping adventure. Many of the islands close to Athens are accessible in just a 2-3 hours journey from Piraeus. This is great as only a handful of Greek islands have airports.
Sumptuous Greek Cuisine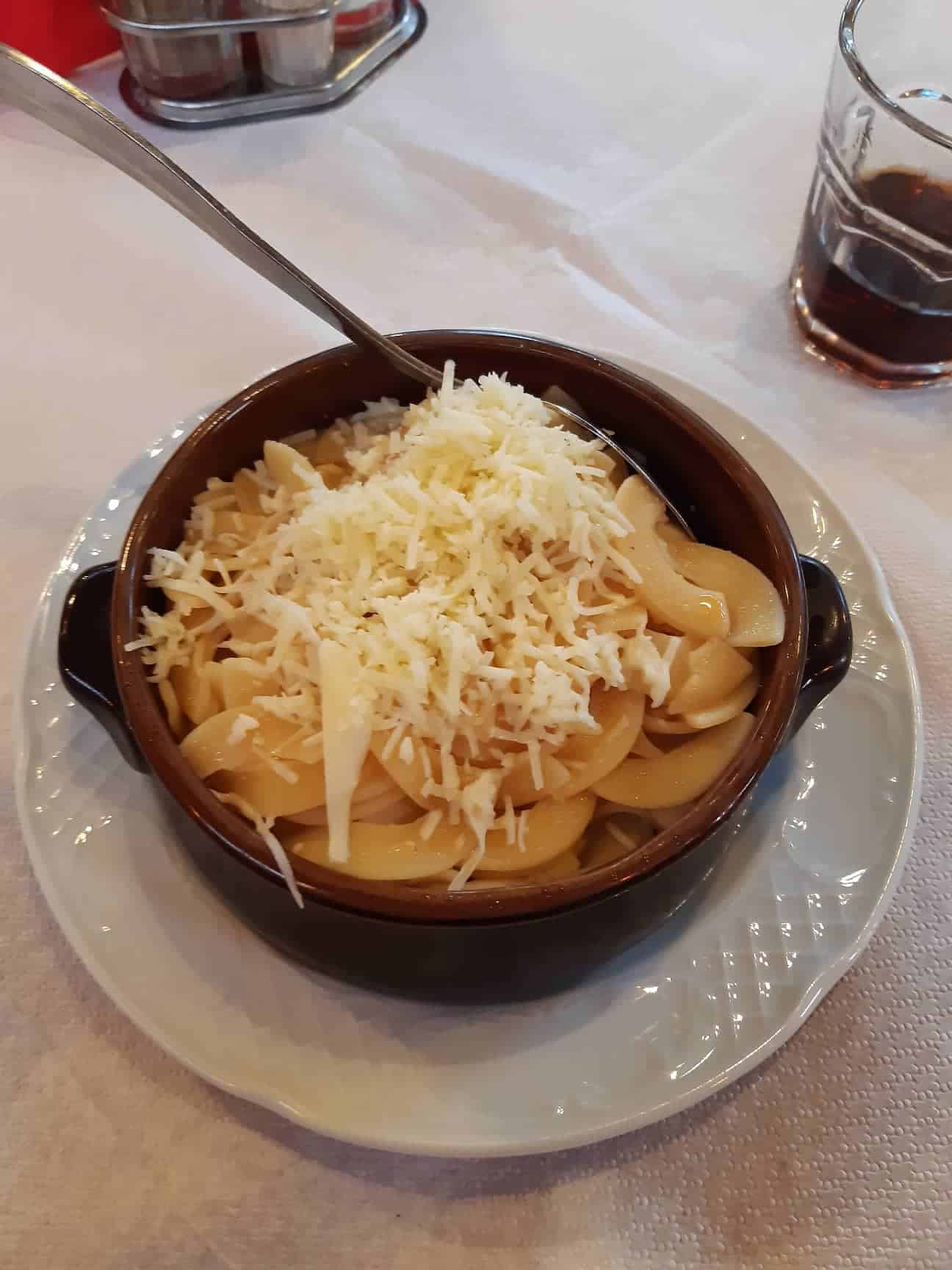 Greek food is as much of a highlight of a trip to Greece as the seeing of the sights. Marinated meats and street food delicacies like gyros and souvlaki are arguably among the most famous dishes. However Greek cuisine is actually very varied.
Vegetarians will find plenty of dining options in Greece. Many dishes are prepared with fresh Mediterranean vegetables and legumes. For instance, fasolakia (braised green beans), Greek fava bean puree, and lentil soup (fakes).
Greek salads (horiatiki) make an appearance at practically every dinner table. Tavernas serve homely hotpot classics like moussaka and pastitsio. The former is arguably the national dish of Greece.
Meanwhile, mezedopoleio restaurants are a nice place to sample many different dishes at once. Meze means "small plate" and this is the Greek answer to tapas.
At breakfast time, treat yourself to some Greek pastries. Tiropita (filo pastry stuffed with feta cheese) and Spanakopita (filo pastry stuffed with feta and spinach) are two of the most popular.
Traditional Dances
Traditional Greek dances are a huge part of Greek culture. This is especially the case when it comes to family celebrations like weddings.
Sirtaki, aka the dance made famous by Zorbas the Greek, is arguably one of the most famous dances in Greece. However, there are actually more than 10,000 dances.
Practically every town, island, and region in Greece has its own signature dance. Many of these date back hundreds of years and have even been referenced in the works of Plato.
Learning a Traditional Greek Dance
If you find yourself at a cosy island taverna in the early hours of the morning, at a Greek bouzouki hall, or you are lucky enough to be invited to a Greek wedding, you may have the opportunity to witness and participate in a Greek dance first hand. It is also possible to take a Greek dance class in Athens, Crete, and other destinations around the country.
Ouzo and Tsipouro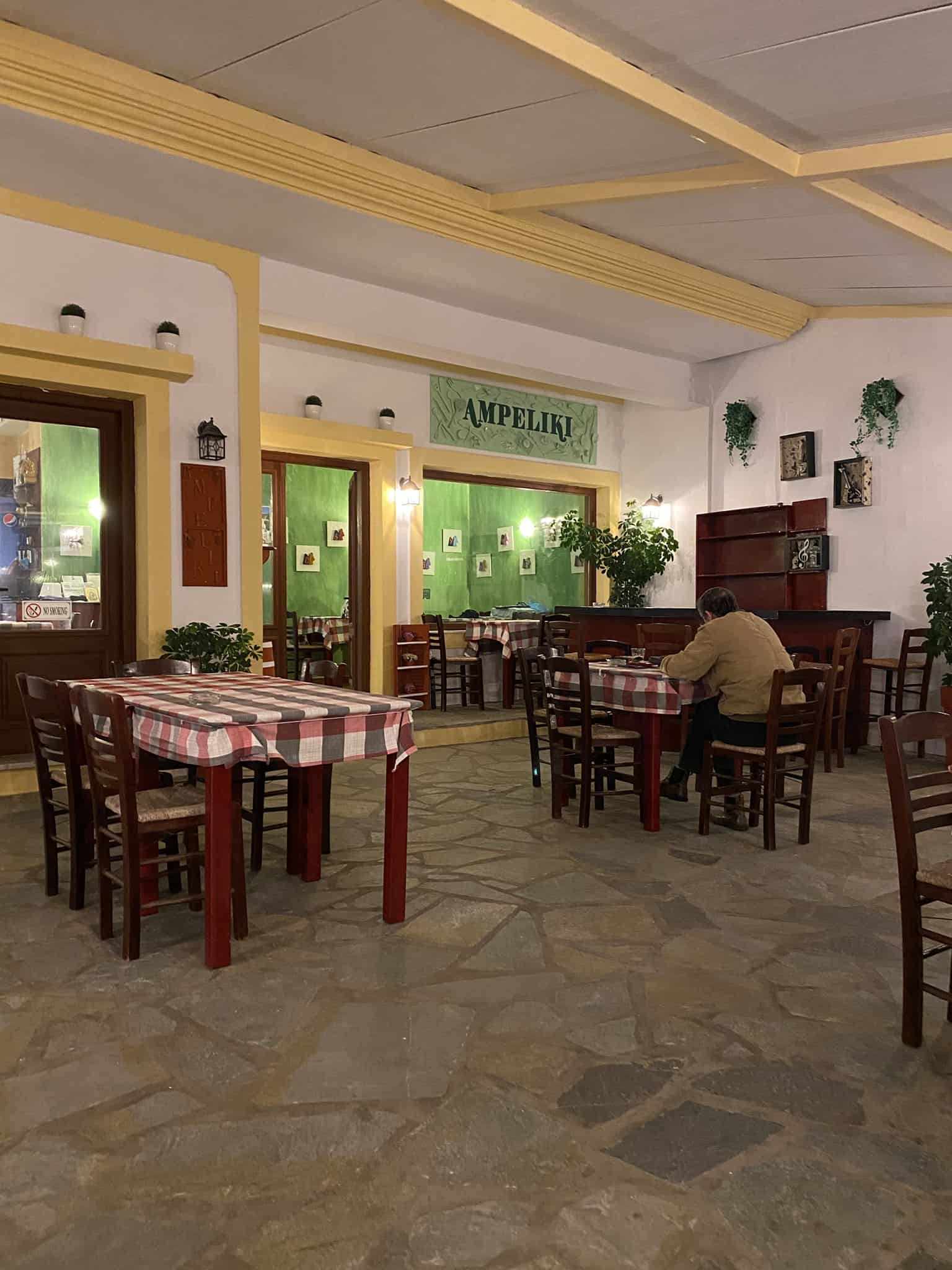 The Greeks enjoy several types of Greek alcohol that are not commonly found outside of Greece. Ouzo is the nation's signature drink.
This is a strong anise-flavoured liquor that is usually served "neat" over ice. Locals will often order sharing carafes of ouzo when visiting tavernas and enjoy sipping it slowly while conversing and enjoying good food with friends.
Tsipouro is another Greek beverage that is sometimes confused with ouzo. This is a form of unaged brandy. Sometimes an anise flavour is added to tsipouro and sometimes it is not.
Greek Mythology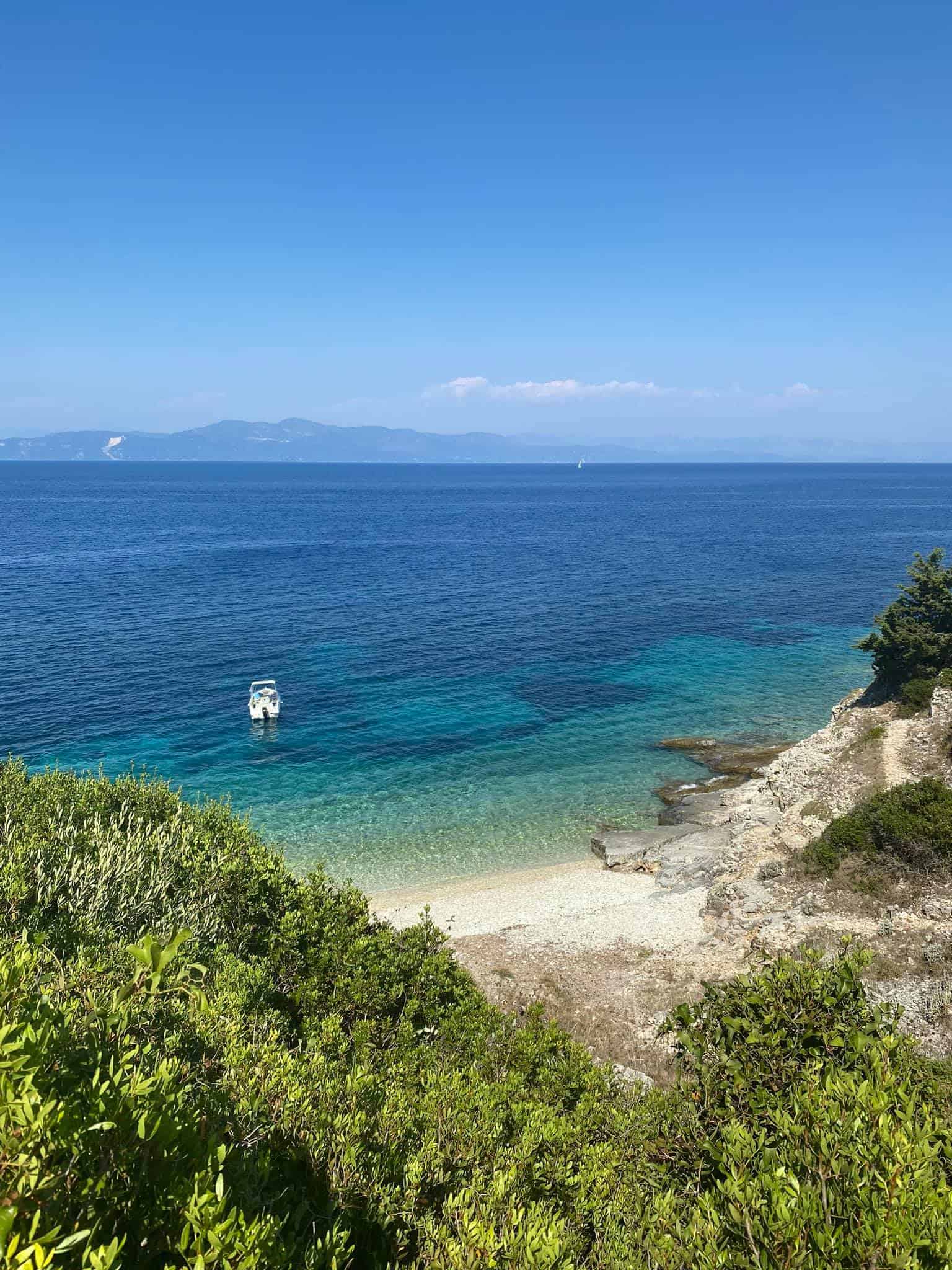 Greek mythology consists of a series of myths and stories that were told by the Ancient Greeks. It is believed that these tales were first told during the Bronze Age.
The stories then developed into written works, poems and fables during the 8th century and with the likes of Homer's classics "The Iliad" and "The Odyssey".
Greek mythology is sometimes intertwined with history and archaeological sites around Greece. For example, it is said that the Temple of Poseidon at Sounion is where King Aegeus of Athens leaped to his death in the sea.
He did so after falsely believing that his son Theseus was killed by the minotaur. Similarly, Paxos island was supposedly created by Poseidon when he struck the island of Kerkyra with his trident and a piece of land broke off from the coast.
To this day, an image of Poseidon's trident is still on the flag of Paxos. Many excellent books about Greece re-tell these mythological stories.
The Greek Gods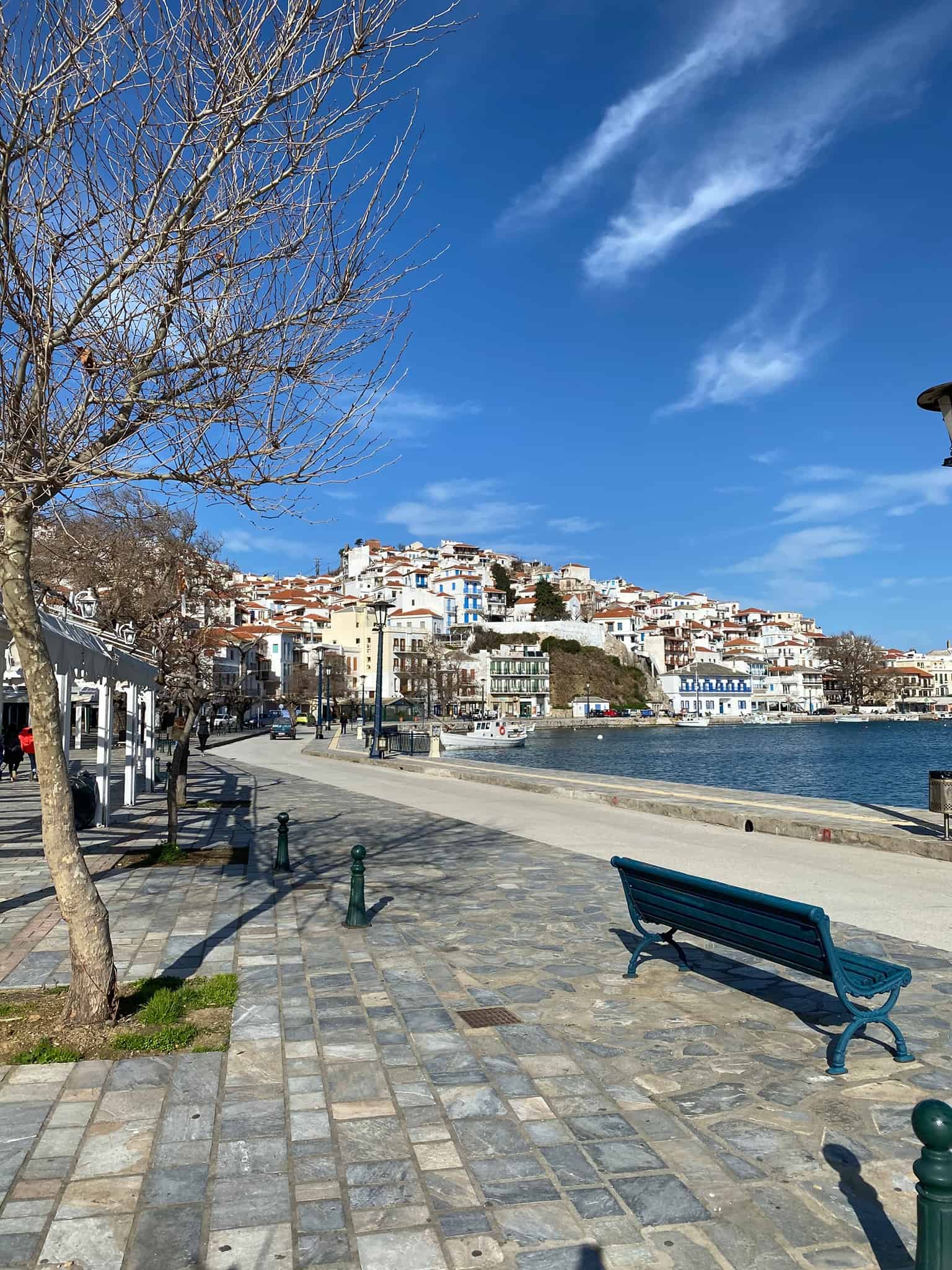 The Ancient Greeks worshipped the twelve Olympian Gods. It was said that the 12 Gods met at the top of Mount Olympus where they discussed the fate of humans.
Mount Olympus is the tallest mountain in Greece. It is possible to hike to the mountain's peak, and the trek is a popular excursion from Thessaloniki.

Even if you don't consider yourself up to the challenge of completing the full hike, you can follow one of the shorter paths that take you up halfway. Along the route, you will bypass various hot springs and waterfalls.
Quaint Traditional Stone Villages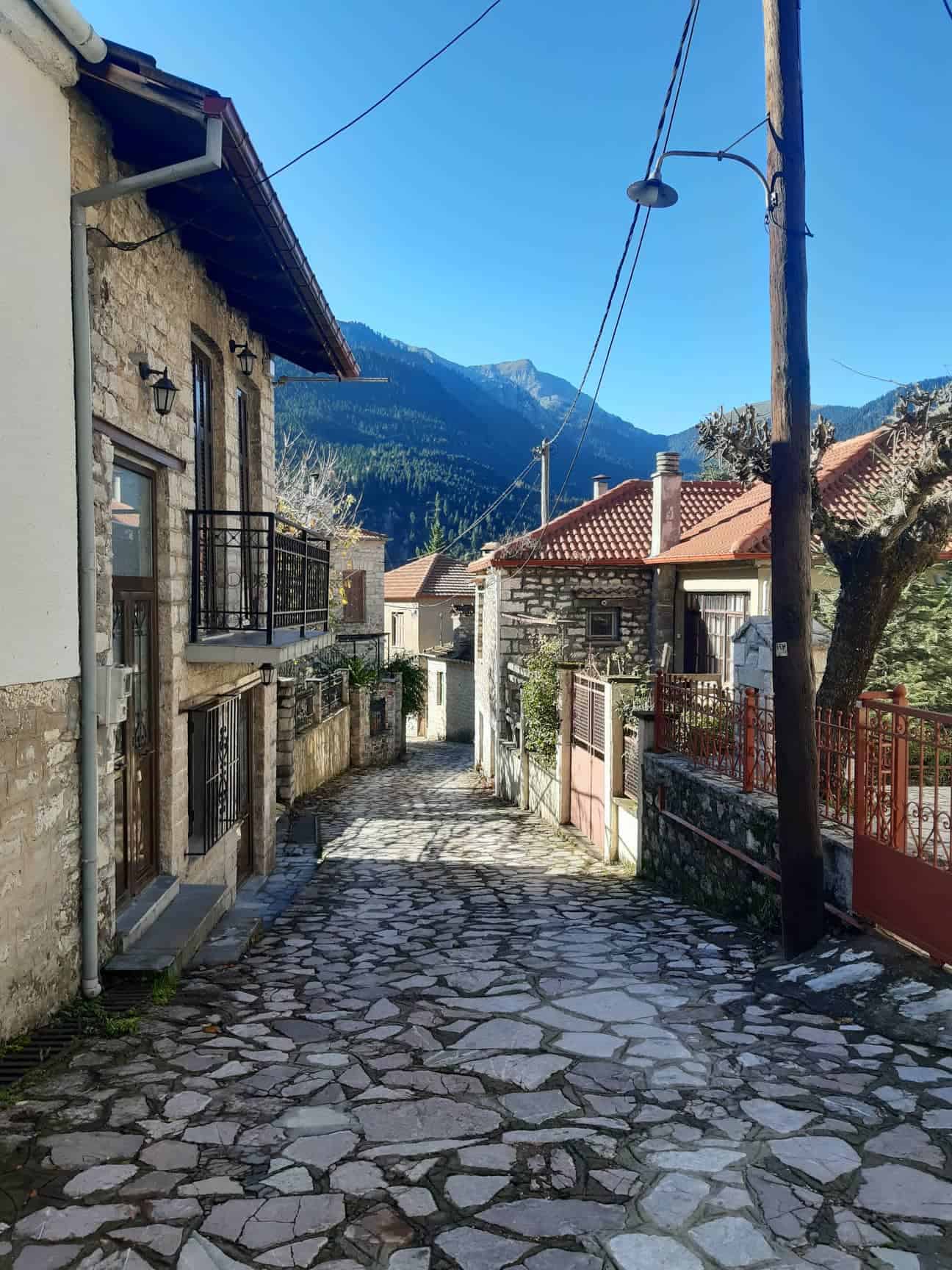 Many people in Greece still live very traditional lives. You will have a good opportunity to see this way of life if you venture outside of cities and the popular tourist islands.
Hundreds of charming stone villages are scattered around the country, perched on cliff tops, tucked away in mountain folds, or waiting in the secluded wilderness. The 44 villages of Zagorohoria in Northern Greece are seemingly frozen in time.
They are located in the dramatic Vikos Gorge and a great place to enjoy winter in Greece. Karpenisi is an area known as being the "Switzerland of Greece" and is home to many charming and idyllic villages.
Mastiha
Mastiha is a natural resin that comes from the bark of the mastic tree. This product comes solely from the little Greek island of Chios.
Mastiha in its pure, resin form has a unique, leafy flavour and is often used as chewing gum. The taste of Mastiha is an acquired one and not for everyone.
You will find many mastiha and herbal stores around Athens and other large towns and cities that sell bags of it to be enjoyed as gum if you want to try it. Mastiha is also served in a variety of desserts and innovative cocktails in many of Athens' trendy rooftop bars. Sometimes, you will also find contemporary Greek desserts prepared with mastiha.
The Olympic Games and Ancient Olympia
Did you know that the very first Olympic games were held in Greece? The ceremony dates back to 776BC.
The very first sporting events were held in the namesake city of Olympia. Only men could compete in the original Olympic games and not only were they a sporting event but they were also considered a deeply spiritual festival. This was held in honour of Zeus.
Learning About the Olympic Games During Your Trip
It is possible (and worthwhile) to visit the archaeological site of Ancient Olympia. There are many well-preserved temples and ancient buildings throughout the complex. The Archaeological Museum of Olympia contains many artifacts and statues recovered from the region.
It is possible to visit Olympia on a day trip from Athens. Some Olympia tours that you may want to consider are detailed below.
In Athens, you should also carve time into your schedule to visit the Panathenaic stadium. This is the only stadium in the world that has been carved entirely out of marble. The first modern Olympic games were held here in 1896.
The stadium is excellently preserved and well worth the €4 admission fee. The on-site museum displays Olympic torches and advertorial posters throughout the decades.
Olive Oil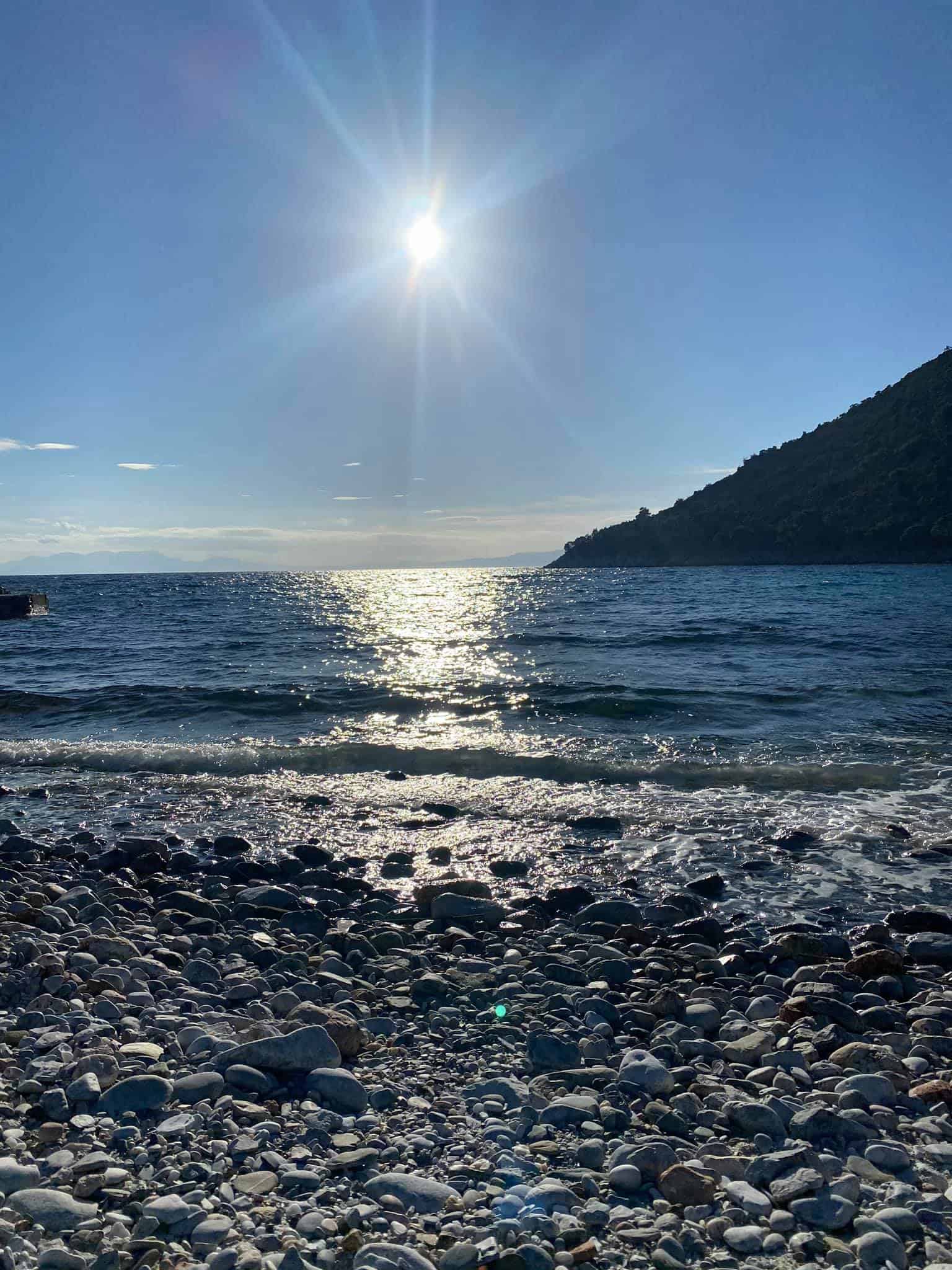 One of the most interesting facts about Greece? Greek people consume more olive oil than any other nation in the world.
Greece is also the second-largest olive oil producer across the globe. The first is Spain
There are different varieties of olive oil blends and different types of olives. It can be overwhelming to see that there is so much variation.
This is especially true if you come from a country like the UK or the USA. In western cultures, oil is often seen as something that is just splashed haphazardly over pans and salads.
The reality is that yes, you can tell the difference between all of these different types of olives! Do participate in an olive oil tasting in Greek delicatessens if you ever get the chance.
Miran (45, Evripidou Street, Athens) is a good place to do this. So too is Yolenis Gastronomy Center in Kolonaki (Solonos 9).
Olive Oil Blends
Koroneiki oil is one of the most important types of olive oil in Greece. This is very common in Crete and the rugged Peloponnese.
These are two of the country's most important olive oil-producing regions. Tsounati is another popular, high-quality type of olive oil from Crete, and Athinolia and Manaki are other revered types from the Peloponnese.
Types of Olives
If you travel to Halkidiki, you will find many roadside vendors selling stuffed Halkidiki olives. These make a great souvenir from your travels in Greece to take back home to friends and family.
Kalamata olives are popular table olives. These are brown/black olives that are often preserved in vinegar or olive oil. Megaritiki olives are popular in Athens, as they are grown around the Attica region of Greece. They are usually served in a lemon and garlic dressing.
Cats!
Stray cats are virtually everywhere in Greece. Venture to any archaeological site, residential neighbourhood or park and you will probably find that the area is overrun with cats.
This seems quite sad at first. However, you will soon notice that many Greeks take care of the cats in their neighbourhoods as if they were their own.
In some areas, all of the locals will pitch in to give the local strays their inoculations. You will commonly wander through the streets of Athens and find that people have left little dishes of food and water out for the cats.
Crumbly, Delicious Feta Cheese
If ouzo is the national beverage of Greece, then feta is the national cheese. Yes, you can find other variations of cheese here (e.g. smoked Metsovone cheese from Metsovo).
However, it is feta that is most commonly enjoyed. It is rare to sit at a family dinner table in Greece and not see a generous slab of feta sprinkled in oregano.
The cheese is produced by combining sheep and goat's milk or by using 100% sheep's milk. If a combination of the two is used, up to 30% goat's milk is permitted.
120,000 tons of feta are produced every year in Greece. 40,000 tons of this is exported around the world.
That means that Greeks consume more than 80,000 tons annually! Feta cheese is a PDO (Protected Designation of Origin) product.
This means that feta can not be made outside of Greece. Furthermore, it cannot be produced or outside of the designated regions of Epirus, Central Greece, the Peloponnese, Thrace, Macedonia, Thessaly, and Lesvos.
The Evil Eye
The evil eye is one of the most prominent symbols in Greek culture. So, when people as ¨what is Greece known for?¨ this is probably one of the first things that spring to mind.
When you are shopping in Athens and other Greek cities and towns, you will stumble across a lot of little stores selling evil eye amulets. These are little blue, white and black pendants known as ¨mali¨.

They make nice souvenirs from Greece. They are also said to protect you against the evil eye.
Superstitious Greeks believe that if someone gives you a spiteful or bitter look, and glances at you with rage, envy, and negative energy, they will transfer that energy to you. It can cause misfortune in your life or make you sick. So, you can offset this by wearing an evil eye pendant.
Karagiozis Puppets
Karagiozis puppets are shadow puppets associated with Greek fairytales. They represent a poor Greek person living in Greece during the Ottoman era.
Younger generations of Greeks may not have had much exposure to these puppets. After all, today, kids tend to prefer PlayStations and Xboxes rather than homemade puppet shows!
However, older Greeks will likely be able to recall stories of their relatives putting on a show with Karagiozis puppets. These figures are popular in Greek pop culture too and have often been featured in movies and TV shows.
You will see them sold in the markets of Monastiraki and Plaka. Some are cute, cheaply made items that can be bought as toys. Others are expensive, ornately-carved collector items.
Spectacular UNESCO Sites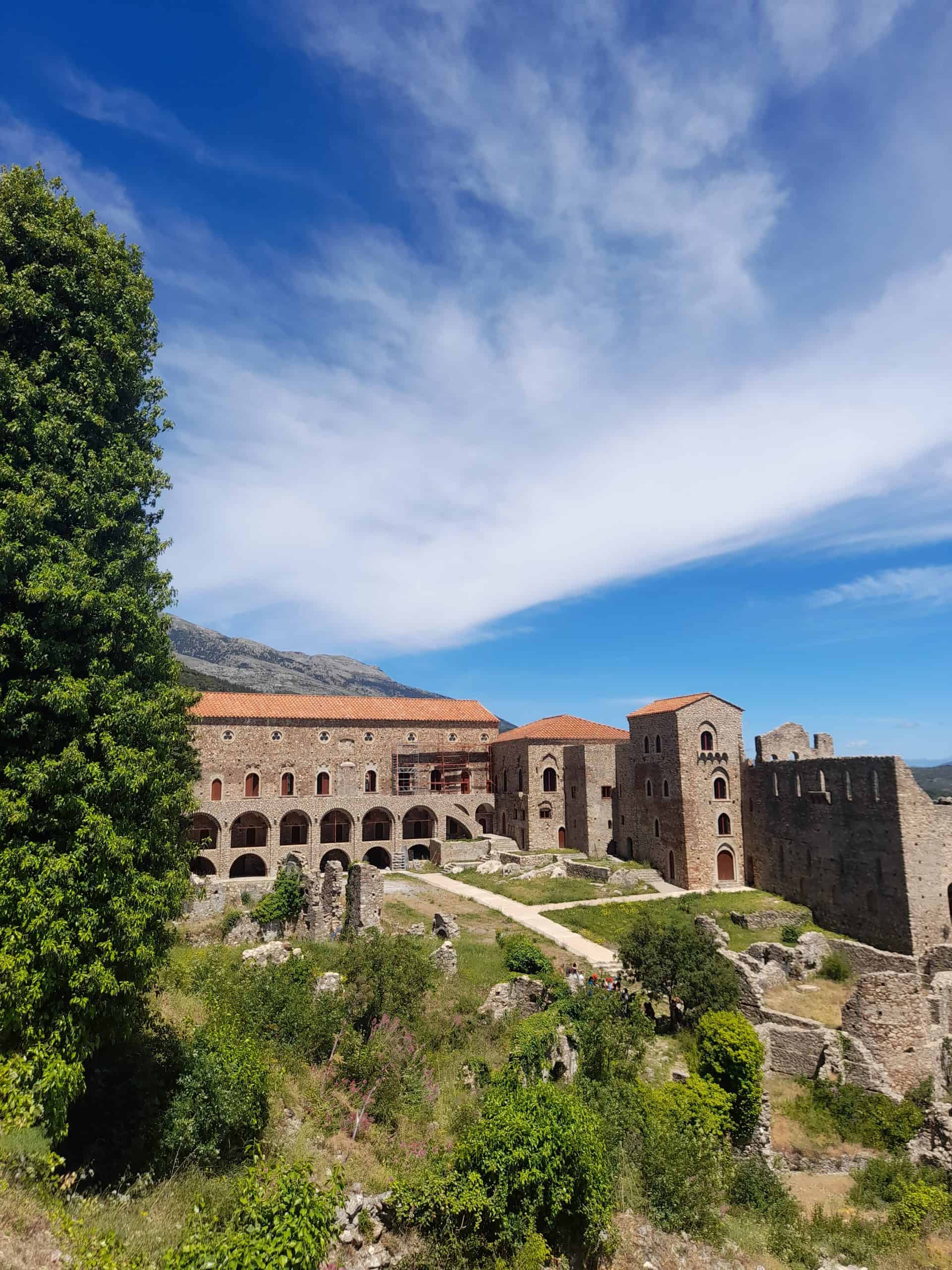 Did you know that there are 18 UNESCO-protected sites in Greece? That is not surprising considering how rich in history this country is.
That number is likely to increase in the future. Other Greek sites currently sit on a waitlist to be inscribed.
The Acropolis features on this list, of course. Other notable sites include the Byzantine city of Mystras, Rhodes old town, Corfu old town, the Paleochristian and Byzantine monuments of Thessaloniki, and the Chora of Patmos island.
Delphi, the Centre of the World
The Archeological site at Delphi makes an appearance on many people's Greece bucket lists. Legend has it that Zeus sent two eagles in separate directions and tasked them with finding the centre of the earth.
The point at which the eagles met was Delphi. Thus, an important Ancient Greek city was built there.
The ruins here are very well preserved. The highlights are countless.
Be sure to take the time to wander through the numerous temples scattered throughout the complex, the crumbling remnants of the old amphitheater, and the treasury. The Delphi museum helps to put these things in context. It displays items and sculptures recovered from the area.
The Orthodox Religion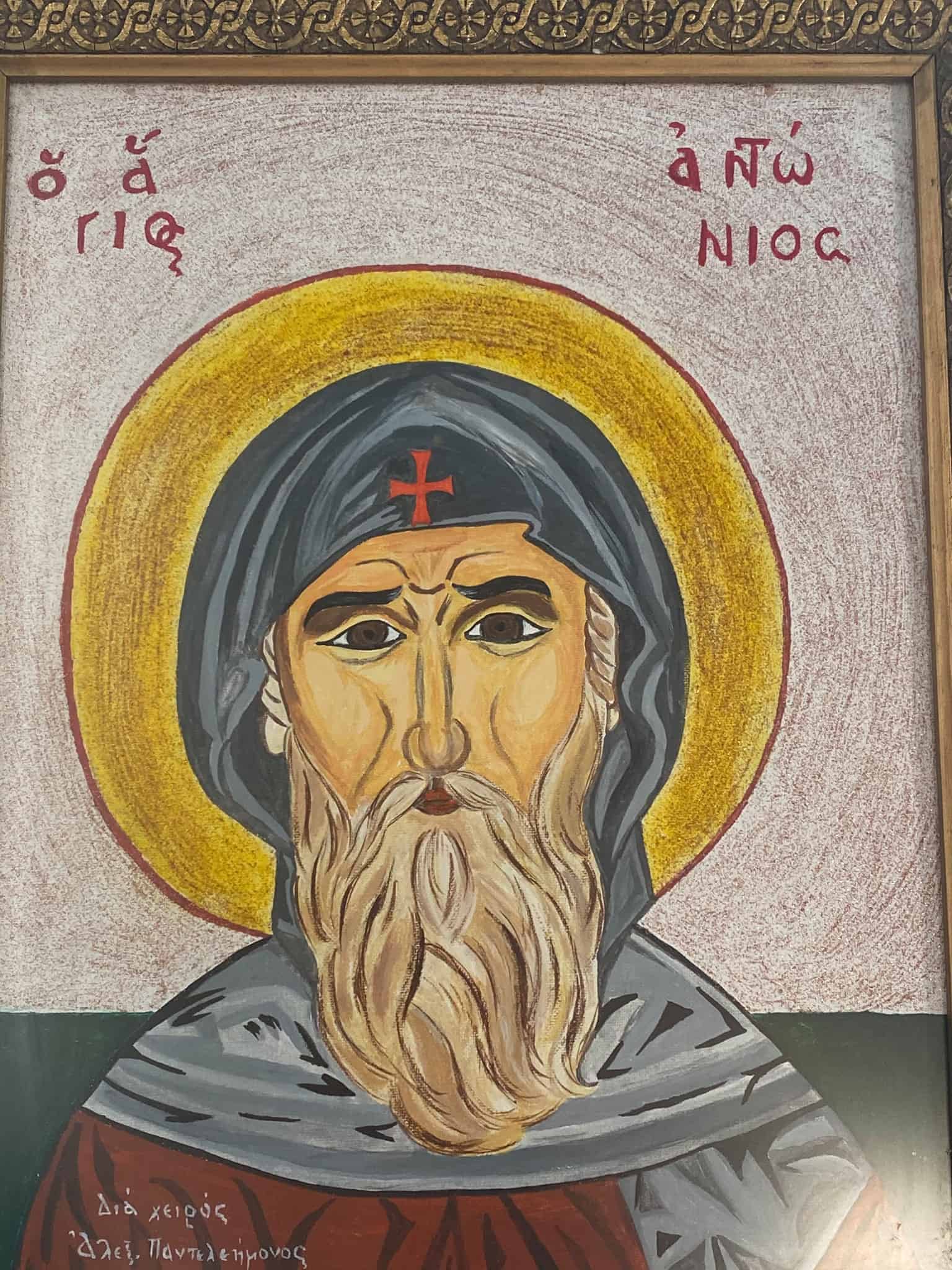 98% of Greek people follow the Orthodox faith. Religion is strongly entwined with Greek culture, and there are many annual holidays and festivals that can be interesting for visitors to see.
Orthodox Easter and Christmas are two of the most important celebrations in the Greek annual calendar. The former is also preceded by Apokries (carnival).
Carnival sees costume parties held all over the country. The celebration comes to a dramatic crescendo with the annual Patras carnival when millions of people from across the country take to the streets to watch the parades.
Ornate Monasteries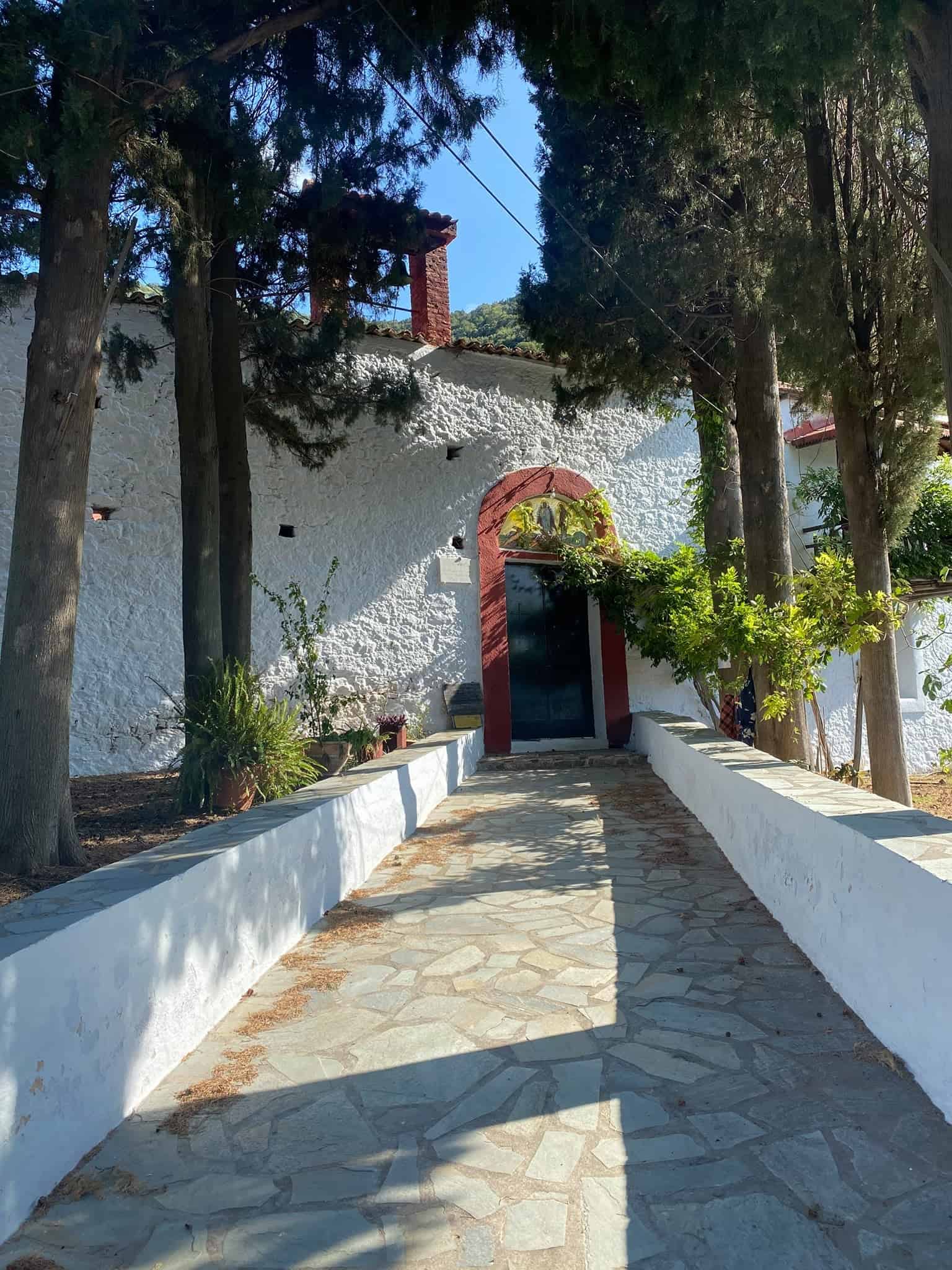 Greece is home to two of the largest Monastic communities in the world. Namely, the Mount Athos monasteries in Halkidiki, and the Meteora monasteries in Kalambaka.
There are also hundreds of grand, lesser-known monasteries scattered across the country. Many island monasteries have now sadly fallen into abandon. However, they are still very magnificent to behold.
The 15th of August is an annual holiday in Greece to celebrate the Ascension of the Virgin Mary. This date sees thousands of Greeks make a pilgrimage to their local monasteries.
The dramatic Proussos Monastery is one of the important pilgrimage sites in Greece. This particular site also played an important role during the Greek War of Independence.
Greek Philosophers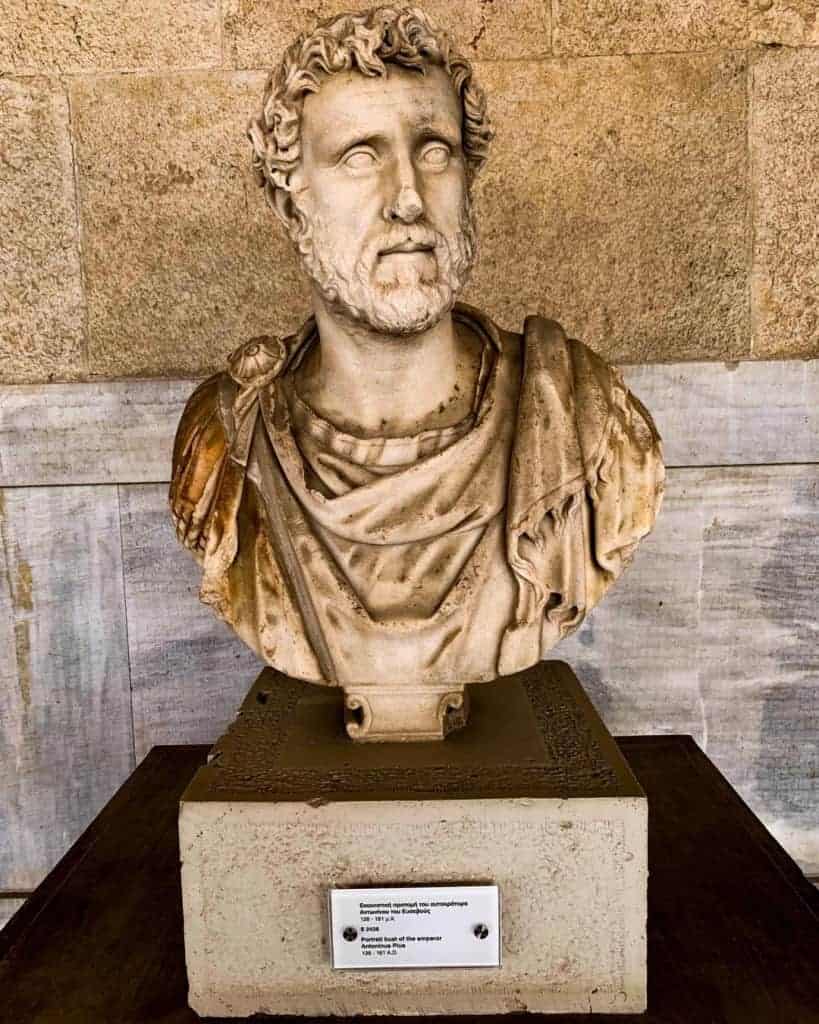 Philosophy is the study of the meaning of life. Greek philosophy started around 600 BC and continues to be at the forefront of people's philosophical studies to this day.
Anaximander, Thales, and Anaximenes were the first Greek Philosophers. The most famous are probably Socrates, Aristotle, Pythagoras, and Plato.
Pythagoras is credited for creating the world's first mathematical equation (the theorem)while Socrates posed thoughtful questions relating to morals and ethics. For instance, what is the concept of patriotism? What is virtue?
Visiting Important Philosophical Sites in Greece
Regardless of your interest level in Greek Philosophers, you may find it interesting to visit the places they frequented. These are an important part of Greek history after all.
You can spend one day in Athens exploring Filopappou hill, and visiting what was supposedly Socrates' prison. The Agora of Athens was once frequented by Socrates, Plato, and Aristotle who would pose questions to market-goers.
Athens: The Birthplace of Democracy
Greece is widely regarded as the birthplace of democracy. In 507BC, Cleisthenes was the leader of Athens.
He introduced a system called "demokratia". This enabled the public to be involved in political decisions.
The Athenian democracy stood in place for just two centuries. Democracy and politics have changed significantly since then. However, this development is considered as being one of Greece's greatest contributions to modern living.
Ancient and Modern Greek Languages
The ancient and modern Greek languages are dramatically different. Ancient Greece was spoken between the 9th and 4th centuries BC.
Although Ancient Greek is no longer spoken, it can still be considered as being one of the most important languages invented. Why? Most modern words today stem from Ancient Greek and Latin.
Famous texts such as Homer's "Iliad" and "Odyssey" were written in Ancient Greek. Sophocles and Euripides also wrote their plays in this language. Changes to the language from Ancient Greek to Modern Greek took place around 1453 AD.
Greek Hospitality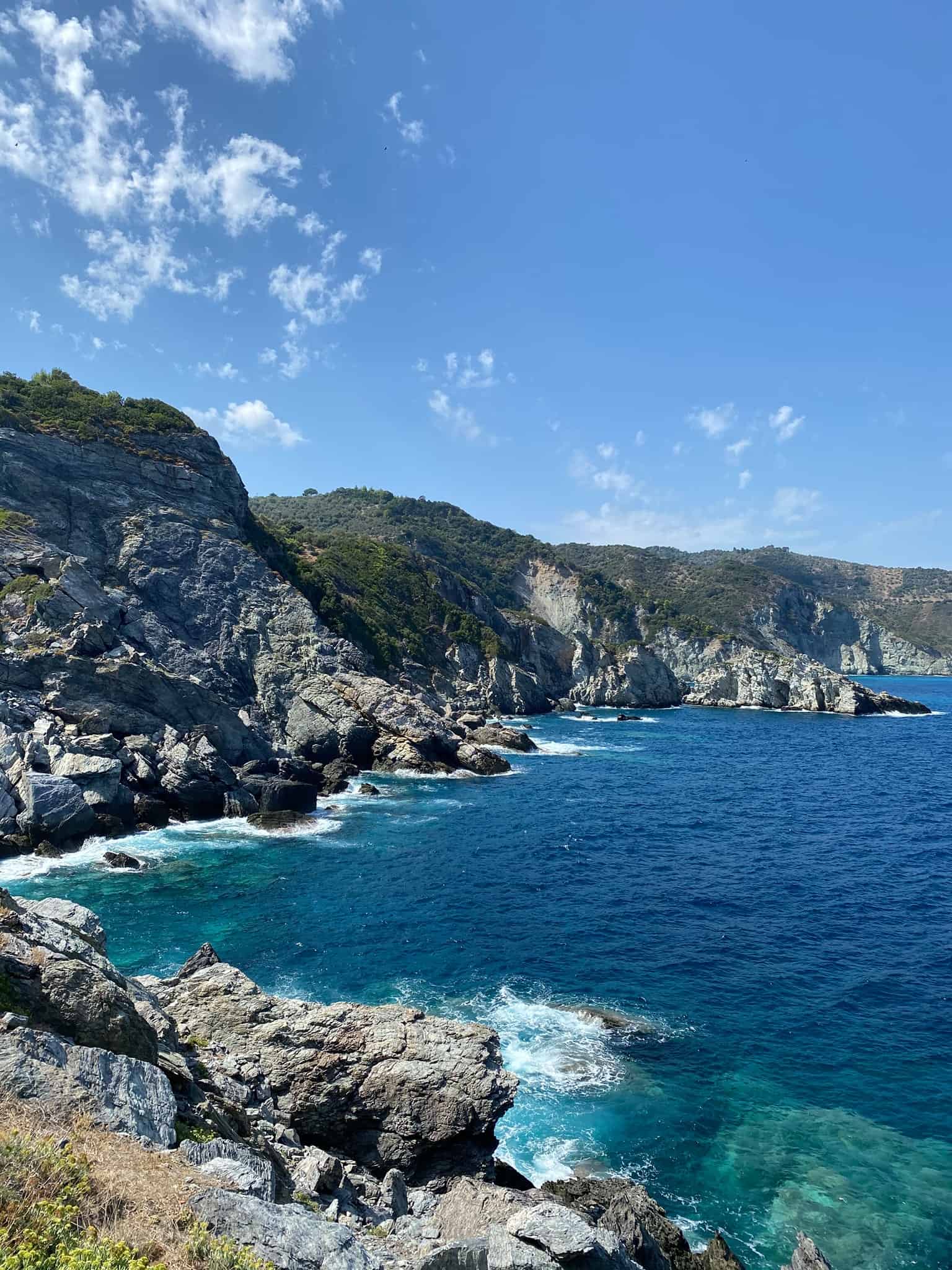 Greek hospitality is one of the reasons that many visitors to Greece return again and again. The people of Greece are known for being warm and welcoming.
Locals are always happy to lend a hand to confused tourists, and it's not uncommon to find a bottle of ouzo or raki at your guesthouse as a welcome gift. When you finish your dinner at a tavern in Greece, you are usually treated with a free dessert or digestif.
The hospitality here has roots in history. In Ancient Greece, this concept was called xenia. The term translated to meaning "guest friendship". Today, Greeks still want their visitors to end their vacations with the best impressions of their country.
Alexander the Great
Many people have heard of Alexander the Great, but not all of them seem to realise that he was a Greek. Alexander the Great was the King of the Ancient Greek kingdom of Macedon. He lived from 356 BC to 323BC.
If you travel to Thessaloniki, and the Macedonia region of Northern Greece, you can visit what remains of the ancient city of Pella.
This was Alexander's birthplace. The Pella Archeological Museum tells the tales of Alexander's Empire which stretched as far as Egypt and Northwestern India.
Parting Words
Have any additional thoughts or queries about what Greece is famous for? Alternatively, do you need some help and guidance with planning a Greece trip?
Please don't hesitate to reach out. Have a great time in Greece!
Geia sou! Melissa xo
---