The best beaches on Skopelos island offer something for everyone. You will find everything here from secluded coves that are accessible only by boat, to serviced beaches lined with tavernas and amenities.
Being an island, Skopelos boasts 67km of coastline. Despite being the setting for the Hollywood movie "Mamma Mia", Skopelos has remained largely under the radar.
It offers the quintessential sleepy Greek island experience. The beaches here are surrounded by pine trees, fragrant olive groves, and lush, verdant greenery.
During the summer months, the local bus runs a convenient route around the island. It departs several times a day and drops you right at the entrance of the various Skopelos beaches.
The Best of the Best Skopelos Beaches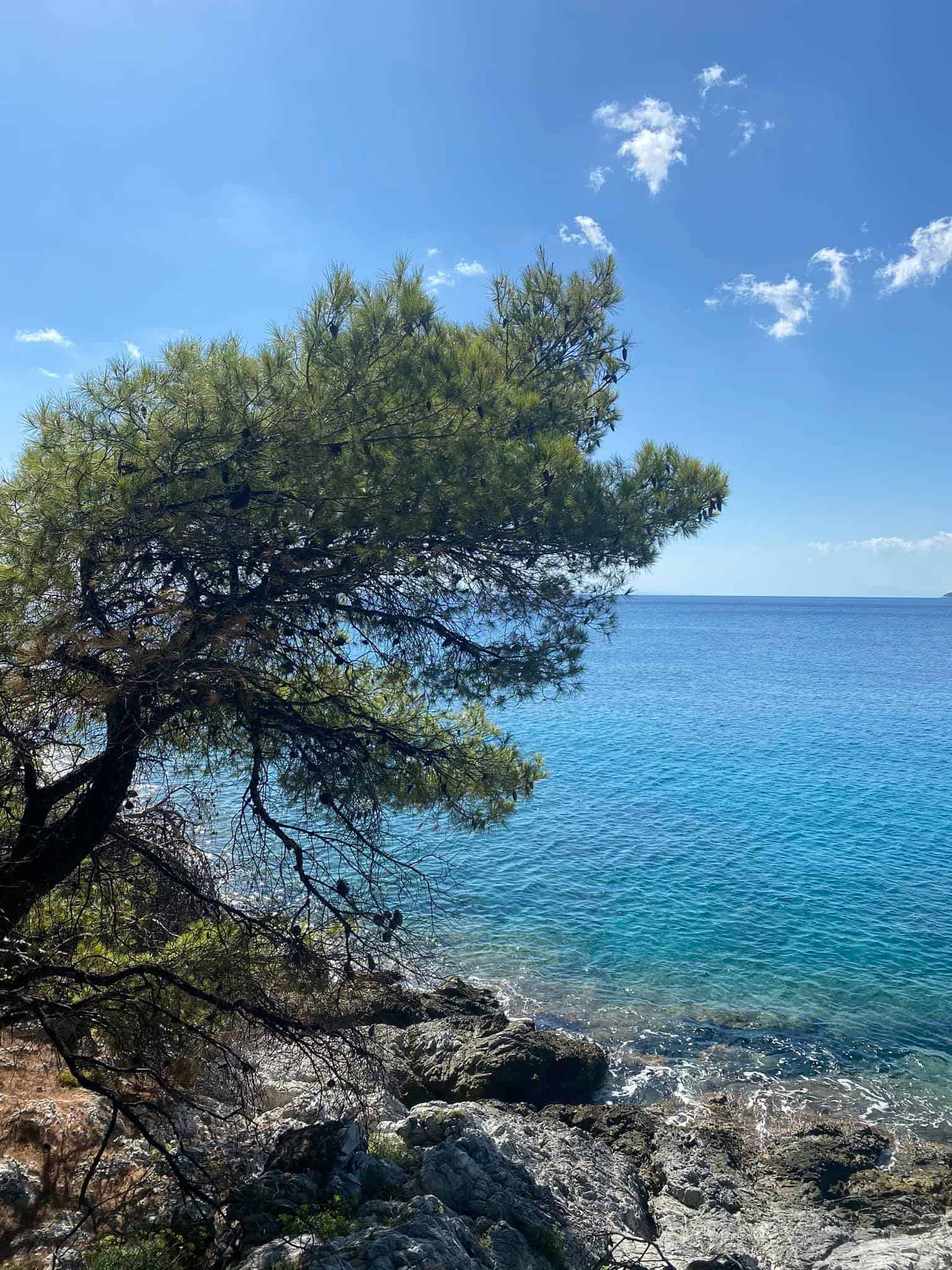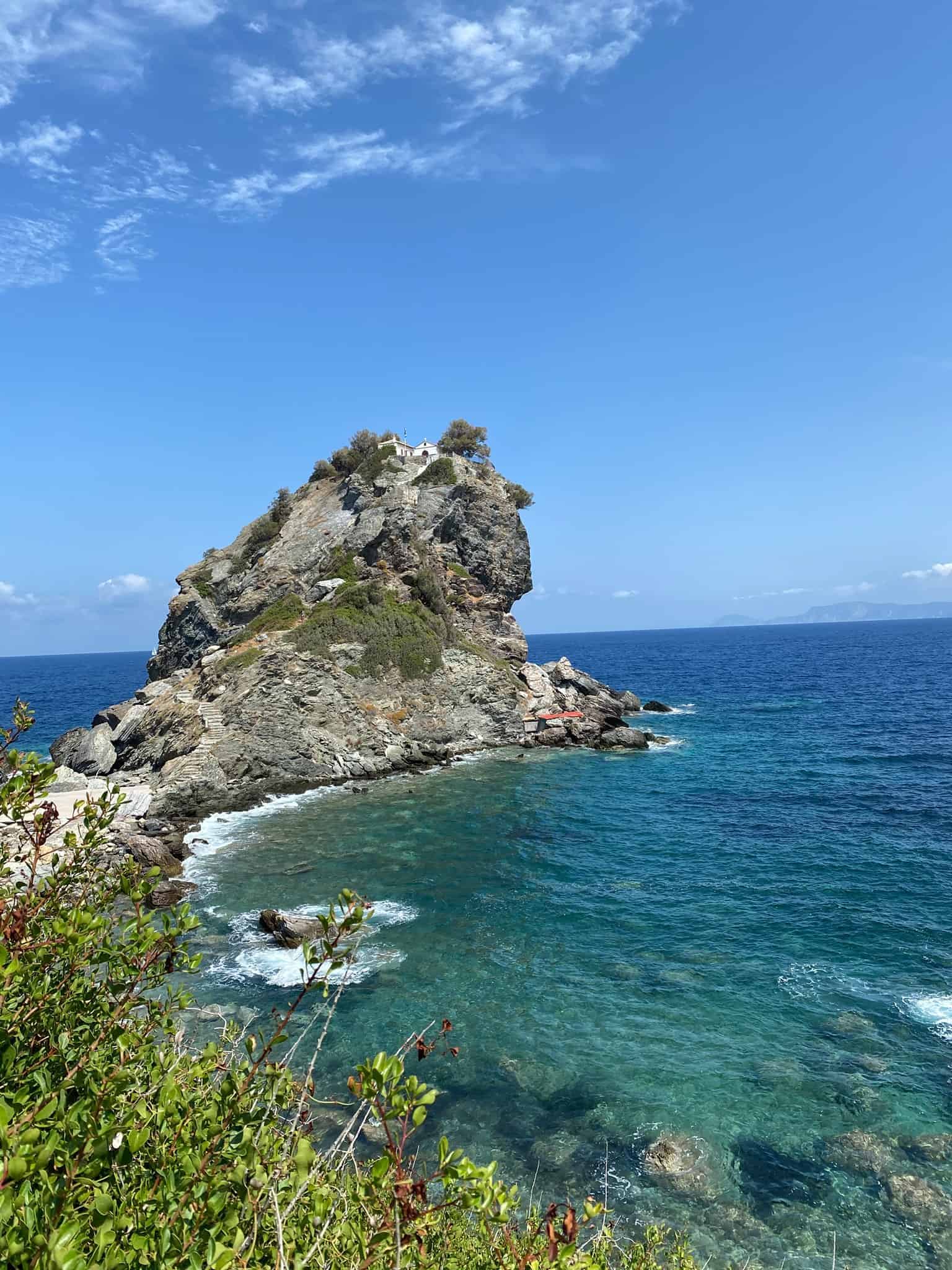 How do you distinguish which of Skopelos' best beaches are the most worthy of your time? If you only have a few days to dedicate to this Northern Sporades island, consider prioritising the below beaches.
Cape Amarandos


Milia Beach


Kastani Beach


Panormos Beach


Limnonari Beach


Stafylos Beach

The Best Beaches on Skopelos Island
Glysteri Beach


Armenopetra Beach


Loutraki Beach


Perivolos Beach


Bare Rock, Northern Skopelos


Adrina Beach


Hovolo Beach


Elios Beach


Glyfoneri Beach


Hodor Giorgis beach


Skopelos Town Beach


Agios Ioannis Beach
Cape Amarandos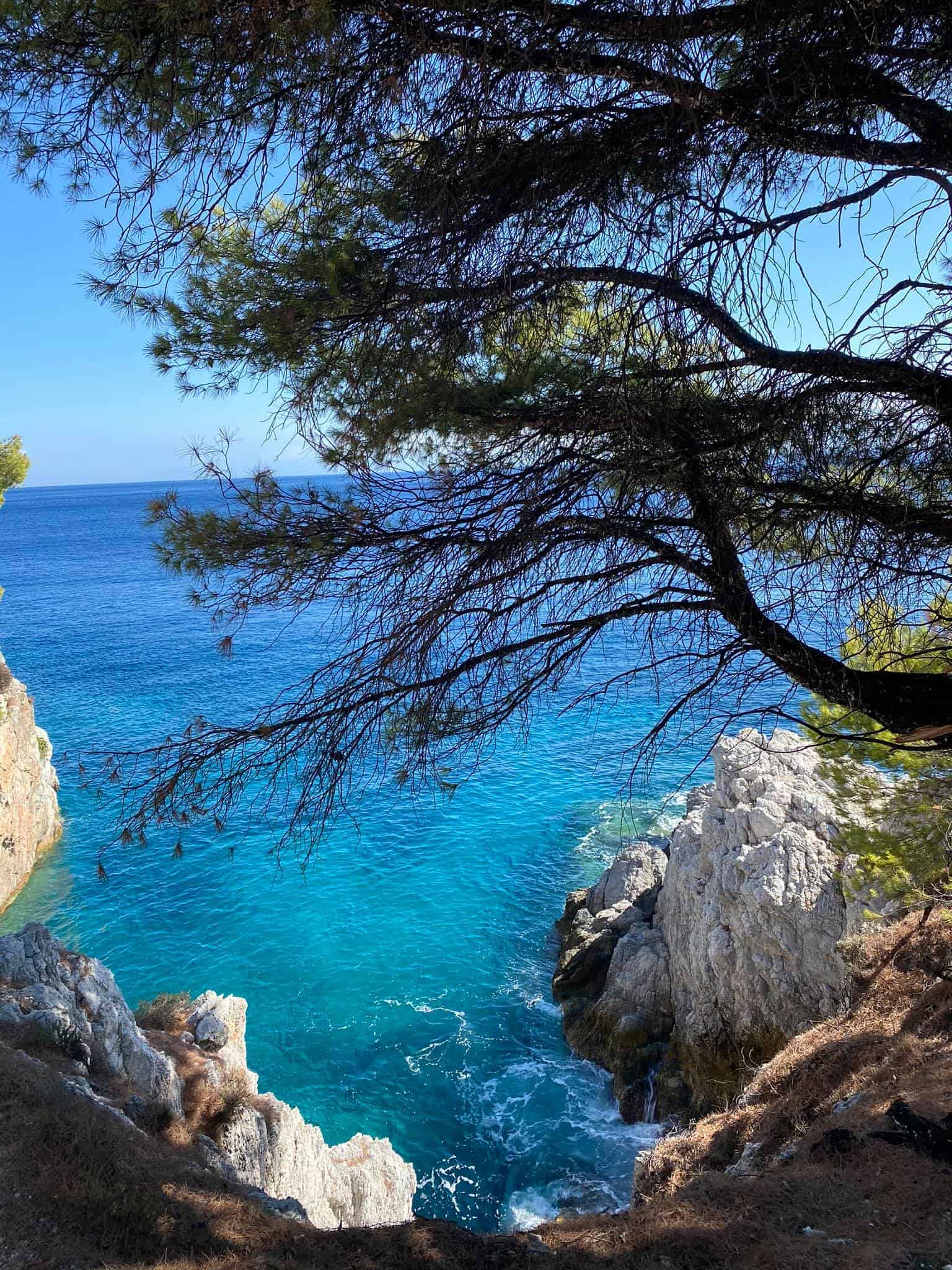 Cape Amarandos is arguably one of the most breathtaking areas of Skopelos island. The locals affectionately nickname this region "piscina" on account of its crystal-clear turquoise waters that are perfect for swimming in.
This is not a beach per se, but a rocky cape that extends out into the sea close to the hamlet of Agnontas. Follow the dirt trail marked "Amarandos" and you will find a dusty road that leads you to the two pine trees that have become something of an iconic image of Skopelos.
You will find many short dirt paths that veer off from the main trail. These lead you to secluded rock beaches and pools where you will have areas of coastline entirely to yourself.

Few international tourists seem to know about the existence of Cape Amarandos. Instead, they all go northwards to Panormos. After the summer months, this stunning area is basically deserted.
Milia Beach
Milia beach is one of the few sandy beaches on Skopelos island. It is conveniently located close to Kastani, making it possible to conquer both in a day.
The tropical-themed "Milia beach bar" is a wooden shack close to the seafront that serves an array of coffees, cocktails, and smoothies. Meanwhile, the nearby Milia taverna serves up various traditional Greek delicacies – from stifado to souvlaki.
Milia is Skopelos' longest beach. There are plenty of places for you to lay down your towel and not be disturbed. From here you also have unparalleled views of the uninhabited island of Dassia.
Kastani Beach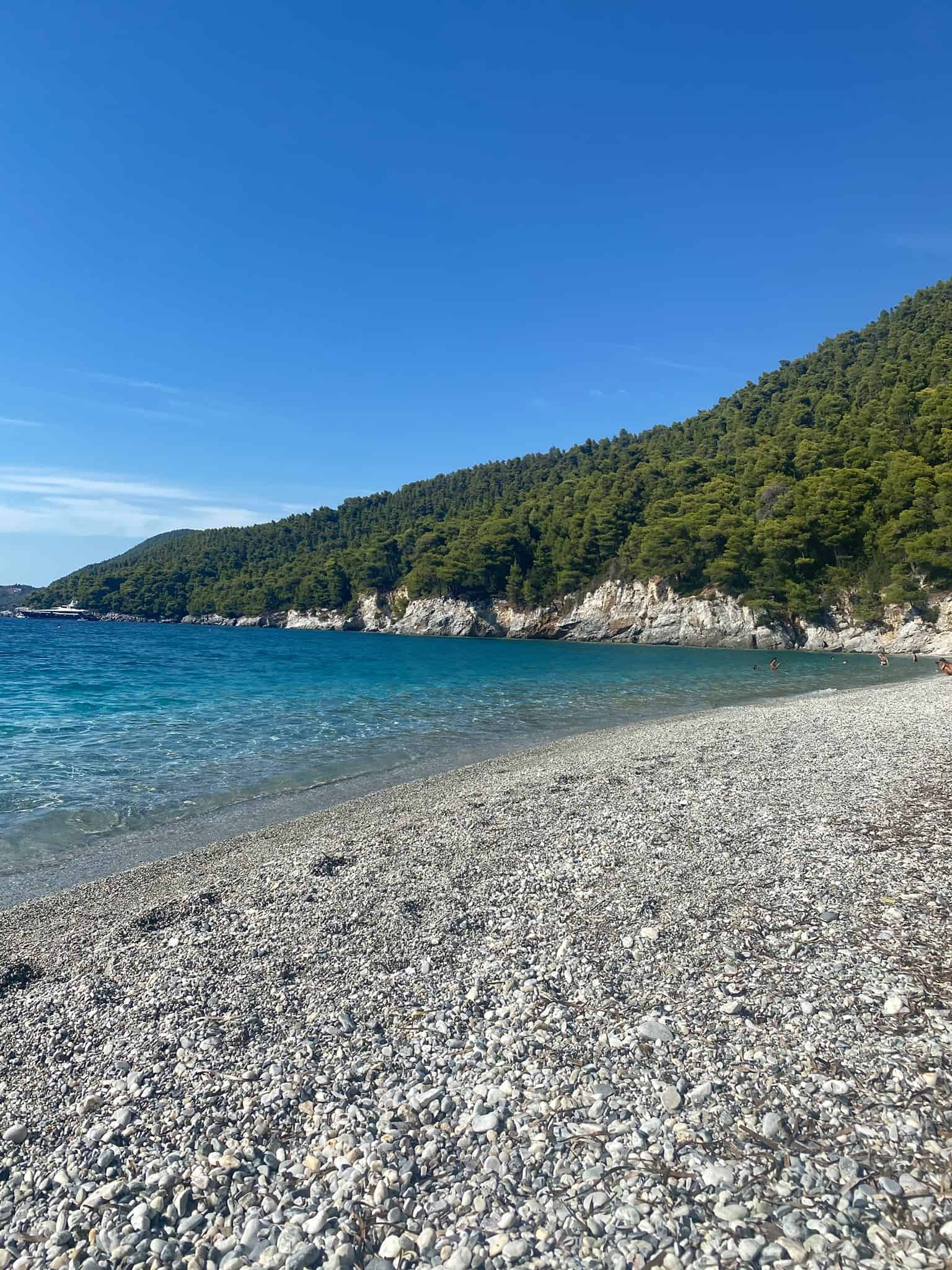 Kastani Beach is a pristine stretch of coastline made famous for being one of the main settings in "Mamma Mia". The scenes for "Lay all your love on me" and "Does your mother know?" were shot here.
The beach is divided into both an organised, and an unorganised section. On the eastern side of the beach, you will find a beach club where you can rent sunbeds and cabanas.
Late-night beach parties and live music events are often hosted at Kastani beach during the months of July and August. The clear waters and rock pools here make Kastani perfect for swimming, snorkelling, and observing sea life.
Stafilos Beach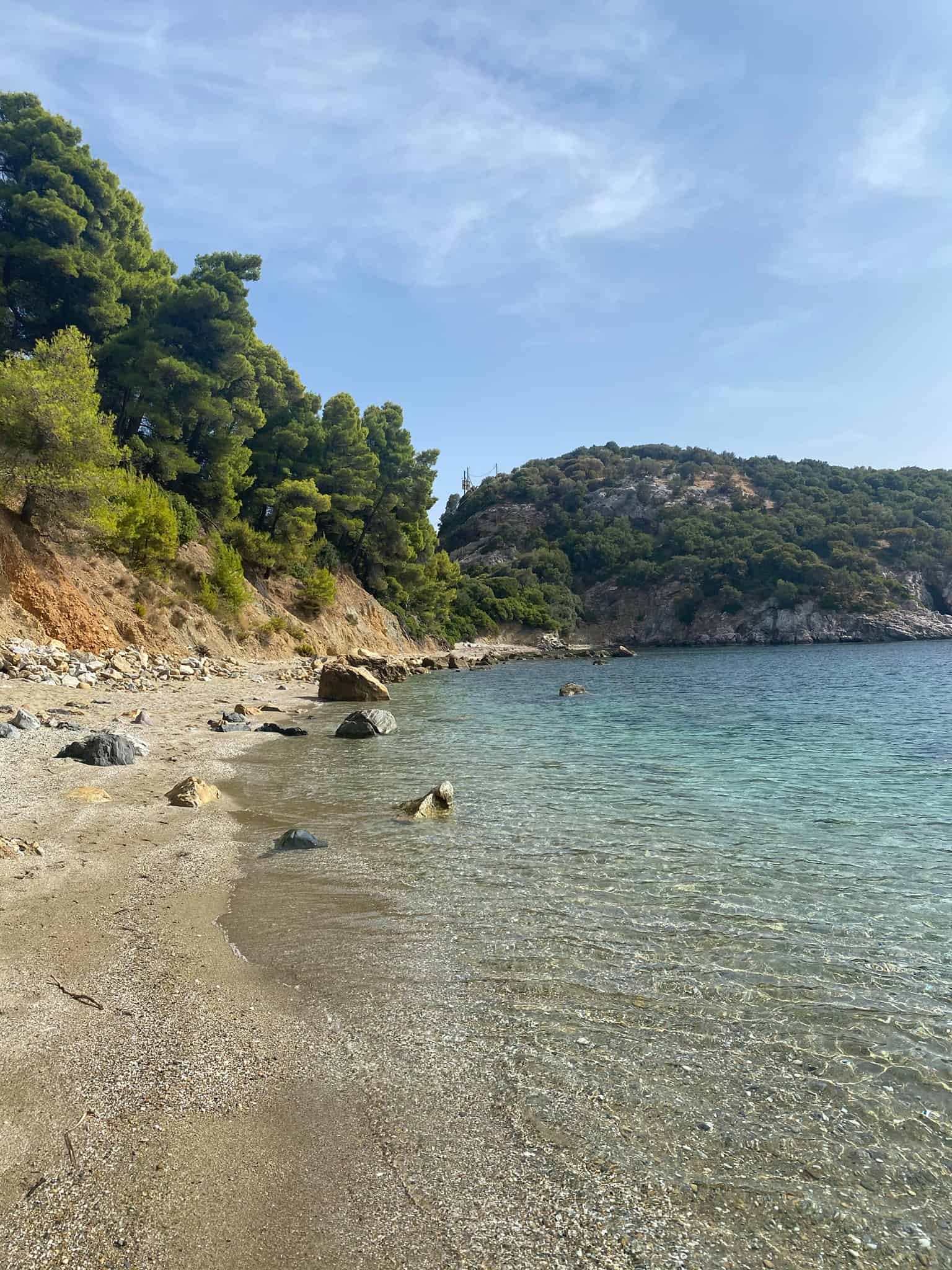 Stafilos may not be the most beautiful of Skopelos' beaches. However, it is one of the most conveniently located. A pleasant hour-long Skopelos hiking trail leads you from Skopelos town to Stafilos beach through olive groves and past woodland churches.
Stafilos sits within an enclosed bay surrounded by dramatic rock formations. The waters here are clear and shallow.
You can rent sunbeds and enjoy refreshments from the beach bar that sits right on the sand. Additionally, the menu at the nearby taverna offers plenty of exquisite seafood delicacies sourced from nearby waters.
If you rent a car or have your own vehicle, you may want to consider having lunch at Terpsis restaurant. The eatery is situated on the main road between Skopelos town and Stafylos.
Terpsis is a Skopelos institution and has been satisfying locals and travellers alike since it first opened its doors in the 1960s. You can find timeless Greek favourites on the menu here.
However, the main reason to stop by Terpsis is to sample Skopeliti recipes that have been passed down through the owners family for generations. The signature dish?
Grandmas stuffed chicken! To create the dish, a plump, tender chicken is stuffed with walnuts, plums, chicken livers and herbs.
Everything is left to marinate overnight so if you want to try this, you must contact the restaurant a day in advance to request the dish. Kokoretsi, kontosouvli, and other BBQ meats are cooked to perfection here.
Velanio Beach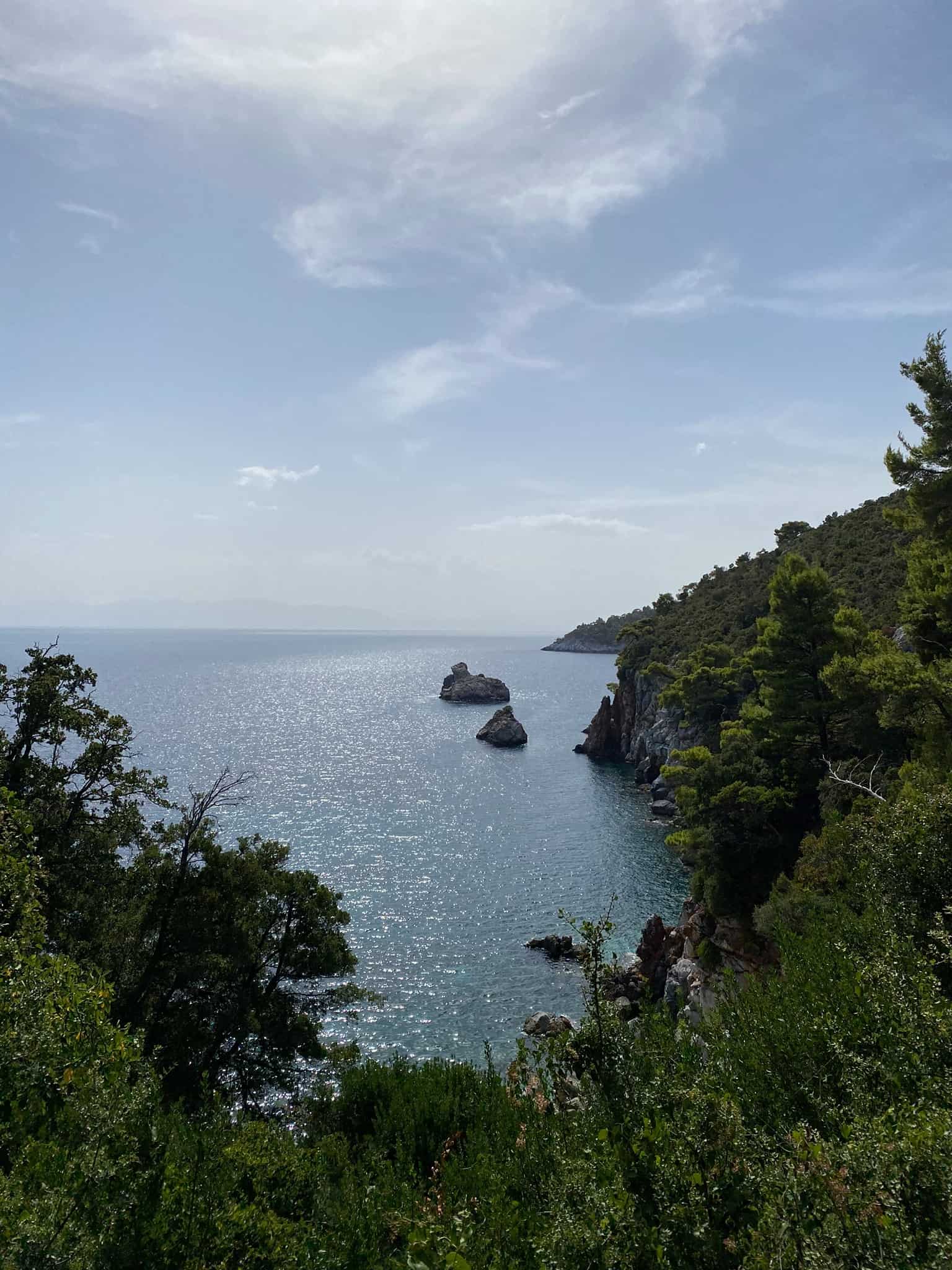 A narrow path through the woods at the end of Stafilos beach leads you to Velanio beach. This white-sand beach is backed by a dense forest.
Part of Velanio beach is "naturist friendly". It is the only nudist beach on Skopelos island.
It is not compulsory to be nude if you visit Velanio. The naturists tend to stay at the far end of the beach, whereas the end that is adjacent to Stafylos beach is enjoyed by everyone.
During the summer, a pop-up beach bar serves light drinks and snacks along the coast. You can also purchase cooked food from the beach bar at nearby Stafylos.
Agios Ioannis Beach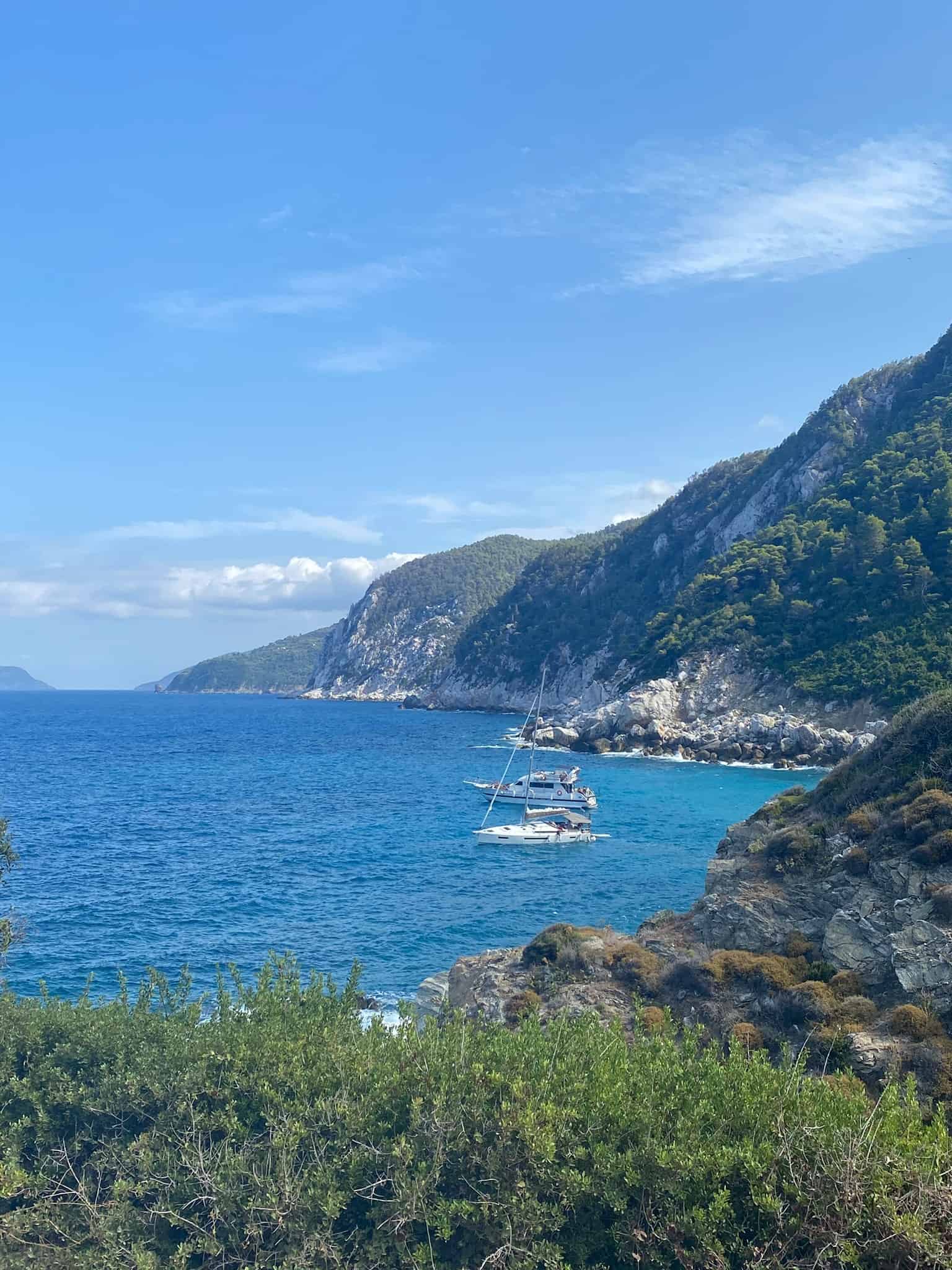 Agios Ioannis beach is the small stretch of coastline that sits adjacent to the clifftop church of Agios Ioannis Kastri – aka, the "Mamma Mia" church. This little chapel is one of the must-see sights of Skopelos island.
When you visit, be sure to pack a swimsuit and your towel. You have spectacular views of the church from here as the sea waves splash ferociously against the rocks.
Light snacks, Greek salads, fresh beverages are sold at the beach bar here during the summer months. There is also a small store that sells local cosmetics and agro products.
Skopelos Town Beach
Walk eastwards from the port towards Pelouchi and you will find a small pebbled beach. Skopelos town beach is popular among locals and a convenient place to take a quick dip if you're basing yourself in the Chora and don't feel like venturing far.
Here you are a stone's throw away from a plethora of dining options and stores. The beach is directly in front of Swell coffee bar.
This is a local favourite place to stop for coffee or evening drinks. On a clear day, you can see out to the neighbouring island of Alonissos.
Limnonari Beach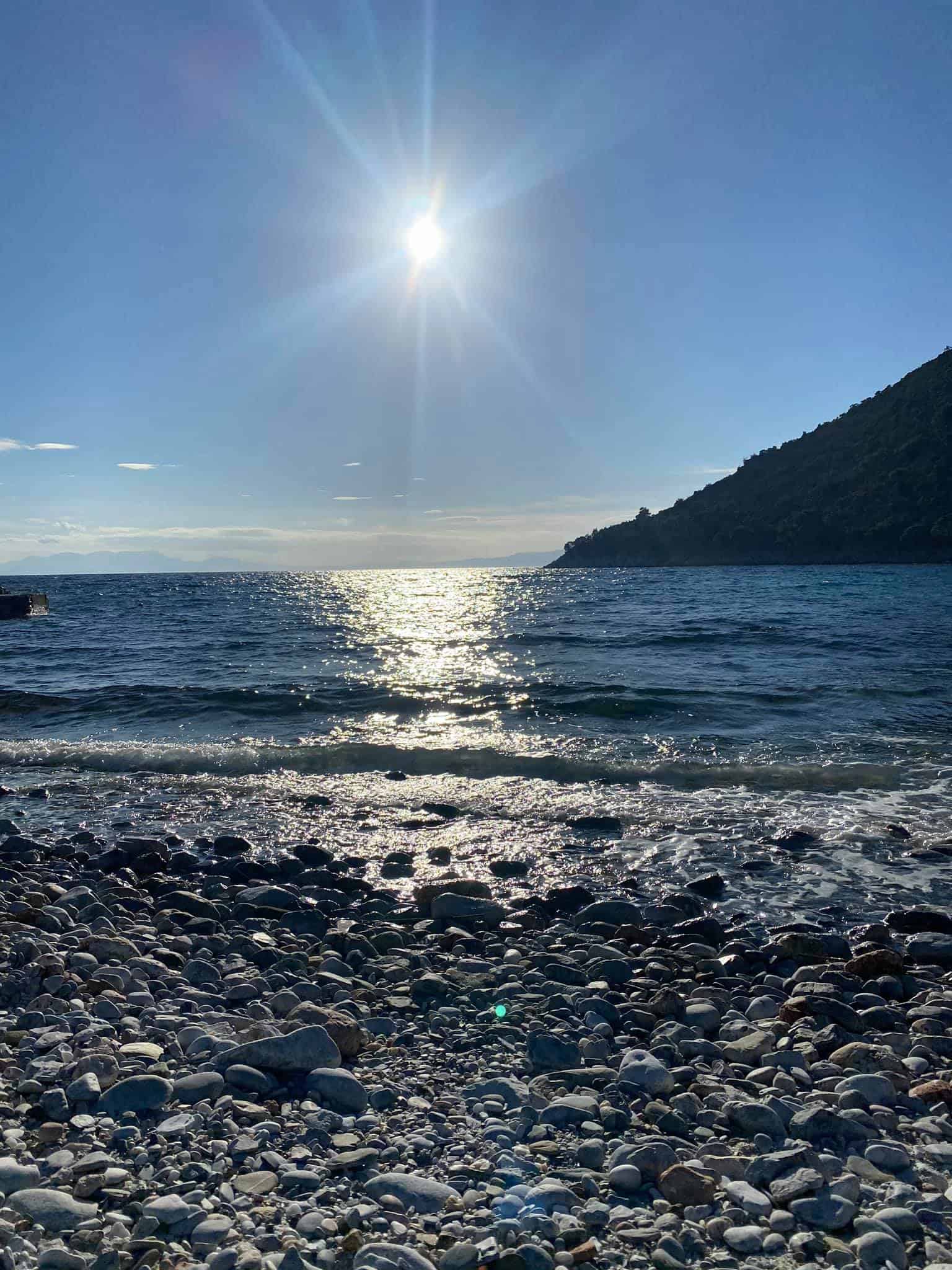 Limnonari beach sits within a lagoon filled with translucent cerulean waters. The beach is not serviced by public transport and requires a little more effort to get to.
However, a short coastal road connects Limnonari with Agnontas. It takes approximately 20-25 minutes to reach the beach on foot.
The fact that it takes a little more effort to reach Limnonari means that the beach is seldom crowded during the summer months. A taverna sits adjacent to the pebbled beach, offering excellent local cuisine and refreshments for when you want a break from swimming.
Glysteri Beach Club
Glysteri beach sits just 2km north of Skopelos town in the bay of Agios Konstantinos. A small beach bar opened here in 2018 and has soared in popularity ever since.
The beach is serviced and you can rent sunbeds and sun loungers for a reasonable fee. Showers and bathroom facilities are also available so that you can freshen up before continuing with your day.
It is possible to hike from Skopelos town to Glysteri. If you should choose to do so, the route will lead you through gorgeous olive groves, and a valley filled with rolling green hills.
That being said, driving or taking a cab to Glysteri is perhaps the easiest option. By car, the journey takes just ten minutes. Limited parking is also available on-site.
Many of the outdoor scenes for Mamma Mia were shot around Glysteri beach so fans of the movie may recognise it. Notably, the cliff jumping scene was filmed in the rocky area above the beach. The lush green country that surrounds the beach was supposedly the location of Meryl Streep characters home ¨Villa Donna¨.
Agnontas Beach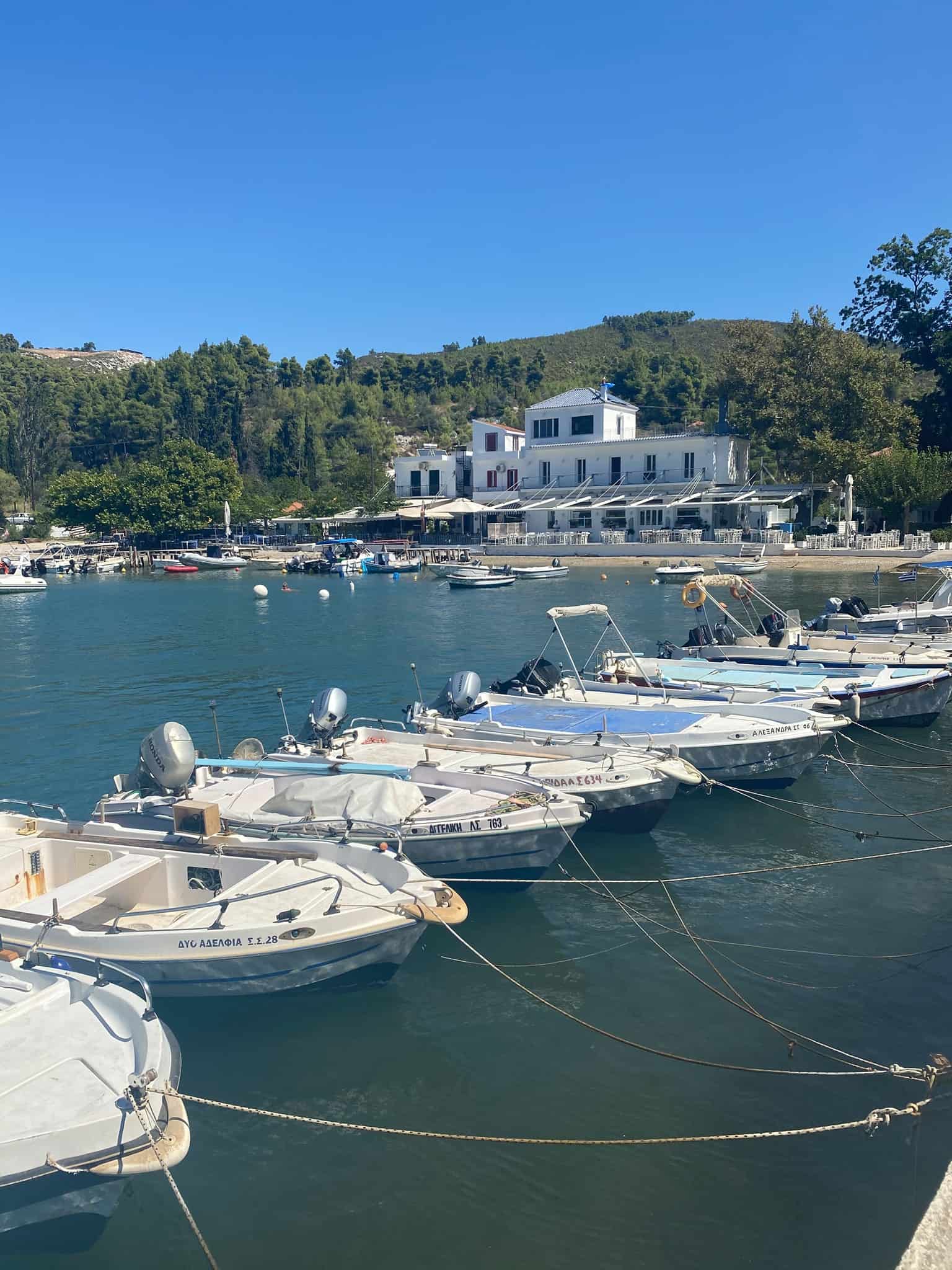 The sleepy hamlet of Agnontas is home to less than 20 permanent residents. The port here is used as an alternative arrival point for occasions where the weather is too bad for ships to dock at Skopelos town port.
Agnontas beach is a small pebbled beach beside the hamlet's restaurants. You will often find islanders swimming here, even as the temperatures drop.
This is not one of the best beaches on Skopelos to linger, though. More rewarding are the rock pools at Cape Amarandos, and nearby Limnonari beach.
Korali Restaurant is one of the three restaurants that border the seafront at Agnontas. It is widely regarded as being one of the best eateries on the island.
Here, you can tuck into fresh squid, or baked cod as you watch the sunset over the Aegean. The restaurant owners Dimitris and Maria are Skopelos born and bred. The restaurant has been in operation for 30 years and has been passed down through the family.
Alternatively, if you happen to be arriving at Agnontas beach in the mornings, you can enjoy a coffee or brunch at M coffeehouse. A Freddo espresso paired with a stack of pancakes drizzled in Skopelos honey makes a great start to the day.
Panormos Beach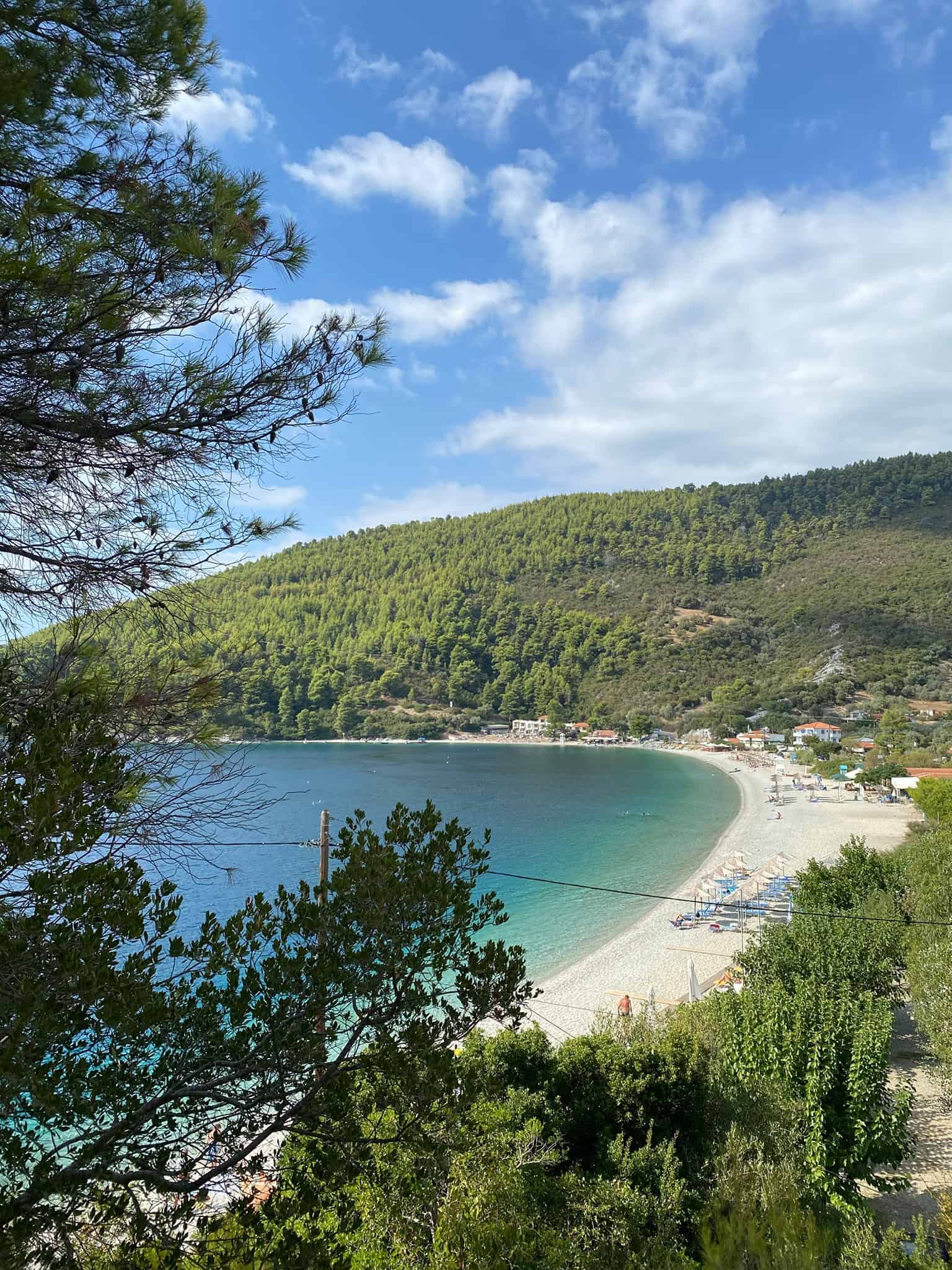 Panormos beach is one of the most popular beaches on Skopelos island. Some places are popular for a reason – Panormos is incredibly gorgeous. However, it can become crowded in the summer.
The sea here is calm, but the water gets deep rather quickly. Panormos beach is a long, curvaceous stretch of pebbled coastline that sits on the western side of the island.
Several tavernas and bars line the seafront, offering you plenty of choices if you want to stop for dinner. Various stalls offer sunbed and equipment rentals.
Bare Rock, Northern Skopelos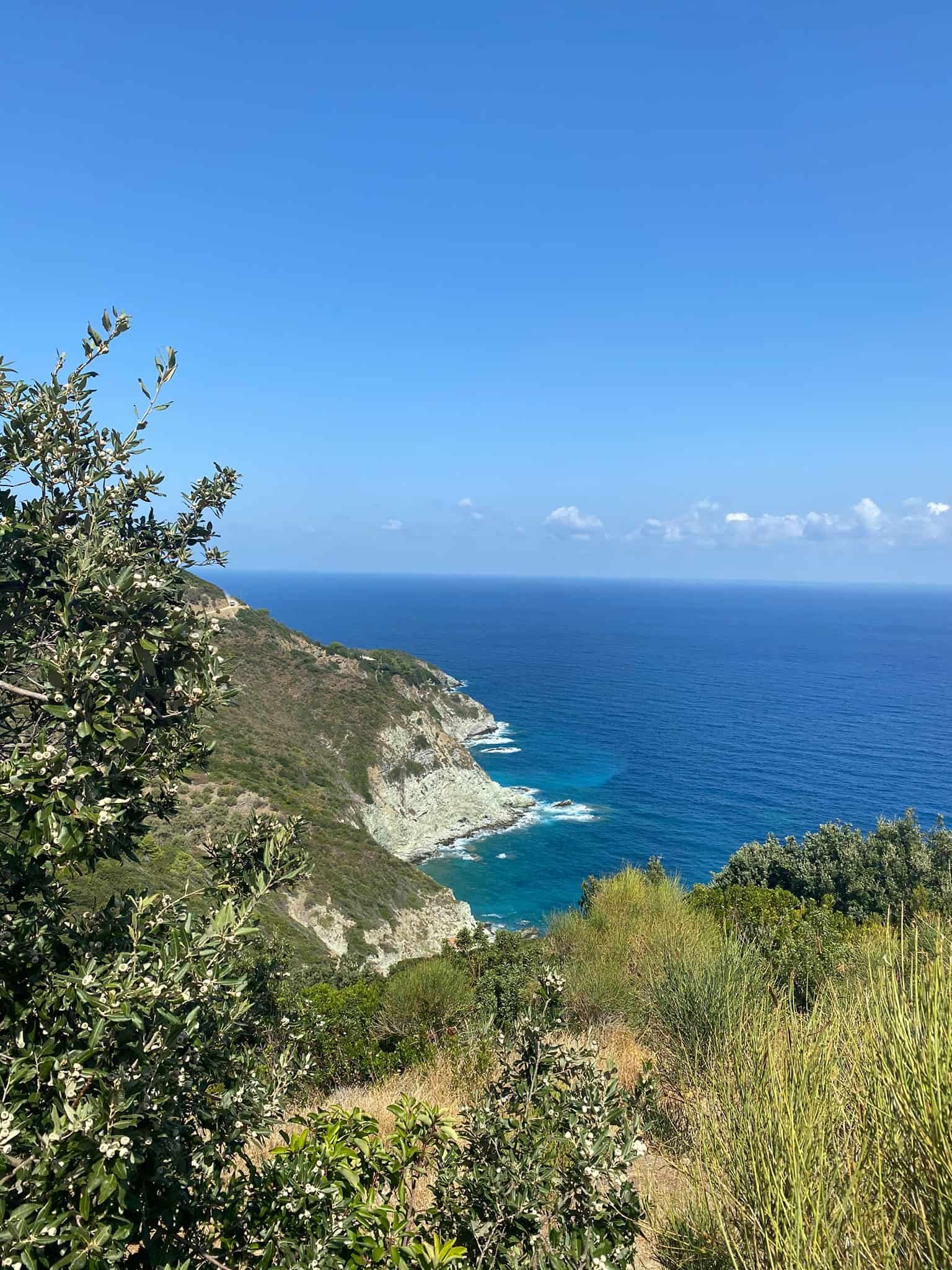 Bare rock is an underrated, "off-the-beaten-track" beach on the northernmost tip of Skopelos island. You will see it marked on various maps as "bare rock". It is situated at the end of a pedestrian footpath that veers off from the main road between Glossa and Agios Ioannis Kastri.
The footpath leads you down the hills through olive groves and farmland. At the very bottom of the path, you are met with a small beach that looks out to a dramatic rock formation protruding out from the water. Aka "bare rock".
More than likely you will not have to share this little slice of paradise with anyone else. Bare Rock is a little out in the sticks but well worth the journey.
Hondrogiorgi Beach
Hondrogiorgi is an unserviced beach on the northwestern side of Skopelos island. Like most beaches on the island, the waters here are so clear that you can see straight to the bottom. They are perfect for swimming and snorkelling.
You will find a short footpath that connects the beach to the main road. The beaches of Petameni, Angeletou, and Perivoliou are just a short walk away.
Armenopetra Beach
Paralia Armenopetra lies 20km away from Skopelos town. It is overlooked by most visitors to the island, but is one of the wildest, most rugged coastal areas in the Sporades.
Armenopetra is peaceful and unserviced. This is a great choice if seclusion and privacy is what you are looking for.
Armenopetra is distinguishable by the unique rock formations that encompass it. Some of the most luxurious villas and mansions on the island can be found a short walk away from the coast.
This is one of the best beaches on Skopelos to watch the sunset. Pack plenty of drinks and snacks as there are no stores or tavernas nearby.
Glossa village is just 3km away. When you're done with relaxing on the beach, you have plenty of dining options in this sleepy northern village.
Hovolo Beach
Hovolo beach lies adjacent to the village of Neo Klima. It's a little tricky to get to. However, you are rewarded for your efforts if you do decide to make the journey here.
Hovolo has often been referred to as being one of the most beautiful beaches in all of Greece. The whitesand coast framed by pine trees, and the aquamarine waters make Hovolo appear more reminiscent of something that you would expect to see in the Carribean rather than Europe.
To reach Hovolo, turn left at the footpath at Neo Klima-Elli. You will need to wade through water for part of the walk.
The seabed is rocky so be sure to wear sensible shoes. Neo Klima itself is nothing to write home about.
The village is home to a population of just 600 people and was built in 1981 to accommodate residents of nearby Palio Klima whose houses were destroyed by an earthquake that rocked the Sporades. While it isn't the most beautiful of Skopelos villages, a lot of great restaurants can be found here.
Tsipouradiko Tasos is a great place to indulge in meze plates and tsipouro. Similarly, the lobster spaghetti served at 5 Platania Hovolo Restaurant is worth sticking around for dinner for.
Elios Beach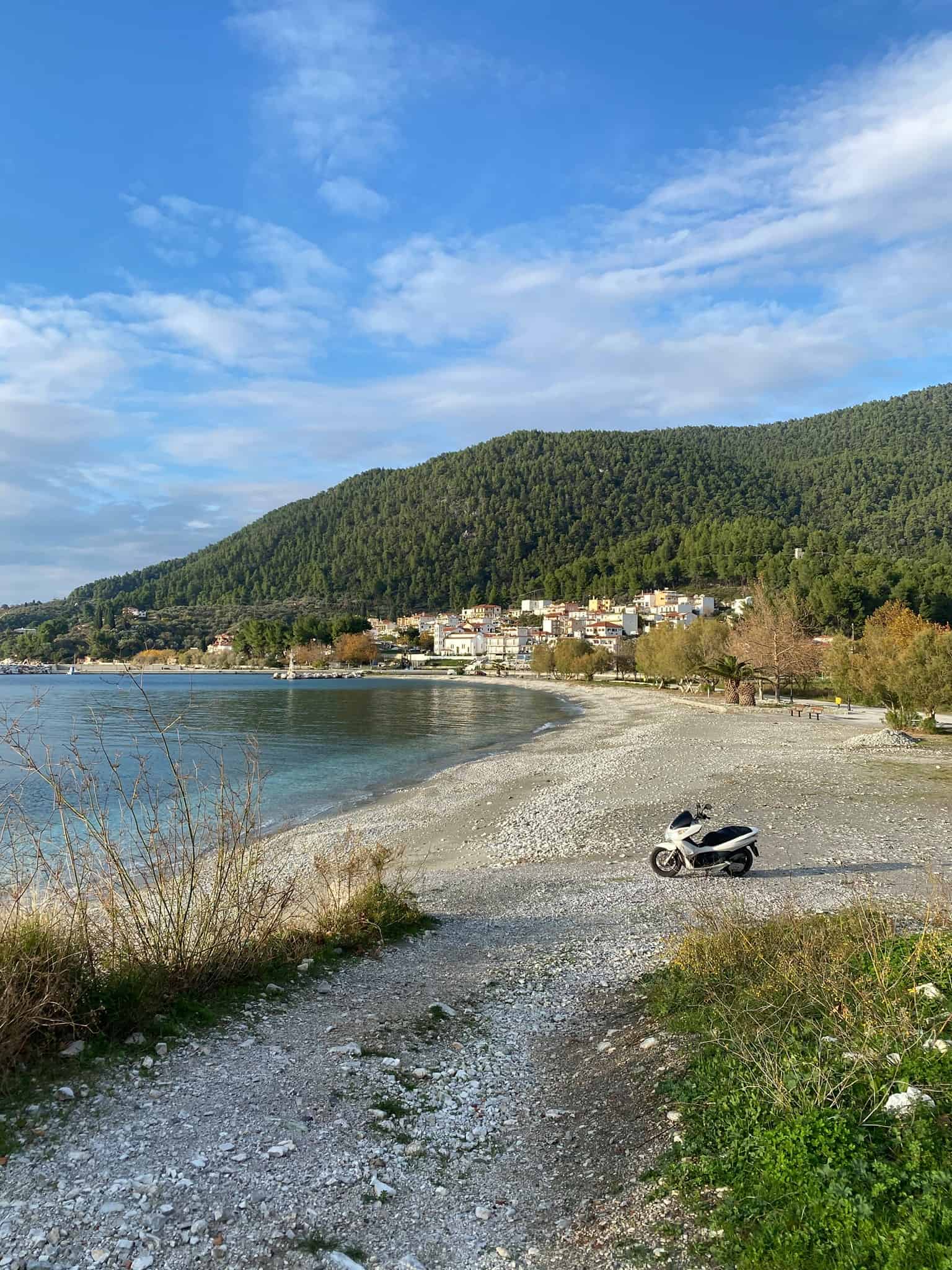 Elios beach is the main beach of Neo Klima village on the west coast of the island. It is situated by the port, just a short walk away from the village's seafront tavernas and coffee shops.
The famous beaches of Kastani and Milia are within a walkable distance from Elios. So too is the paradisiacal Hovolo beach. The various portside restaurants offer sunbed and umbrella rentals here during the summer.
Loutraki Beach
Loutraki beach is an organised, pebbled beach situated at Loutraki seaport. This is the main beach of Glossa village and is located 25km north of the Chora.
Loutraki is the first port that ships sail into upon arrival at the island when travelling in from Volos and Skiathos town. Despite the beach's proximity to the port, the waters here are clean and clear.
This is arguably not the island's most scenic beach. However it is a nice place to relax if you are waiting for a boat to the other islands of the Sporades, or if you're spending a day in Glossa and the northern region.
Adrina Beach
A short woodland trail from Milia beach leads you to the undisturbed paradise of Adrina. Several luxury hotels and spa resorts are situated here, making Adrina the perfect area to base yourself for a luxury Skopelos getaway.
Parting Words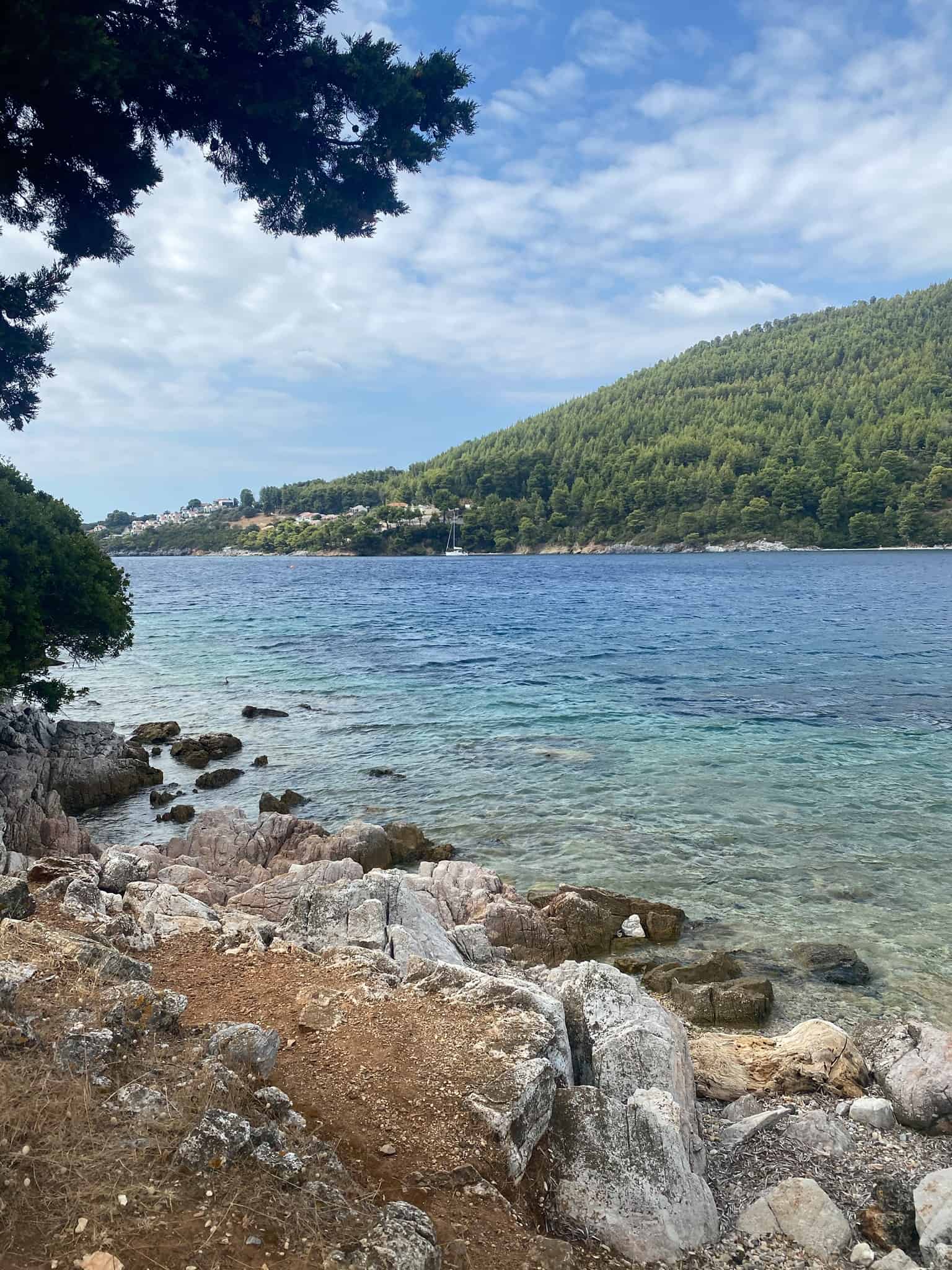 Do you have any questions or queries about visiting the best beaches on Skopelos island? I based myself in Skopelos for eight months in 2021 and got to know the island pretty well during that time.
Please don't hesitate to contact me if you need anything. I will do my best to get back to you ASAP.
Safe travels! Geia sou! Melissa xo
---