Palio Klima Skopelos is a quaint village on the island's northwest coast. It is characterised by its pastelcoloured houses and narrow cobbled streets.
On every turn, you are met with sweeping vistas across the Aegean. Sadly though, Palio Klima has a tragic story.
Palio Klima Skopelos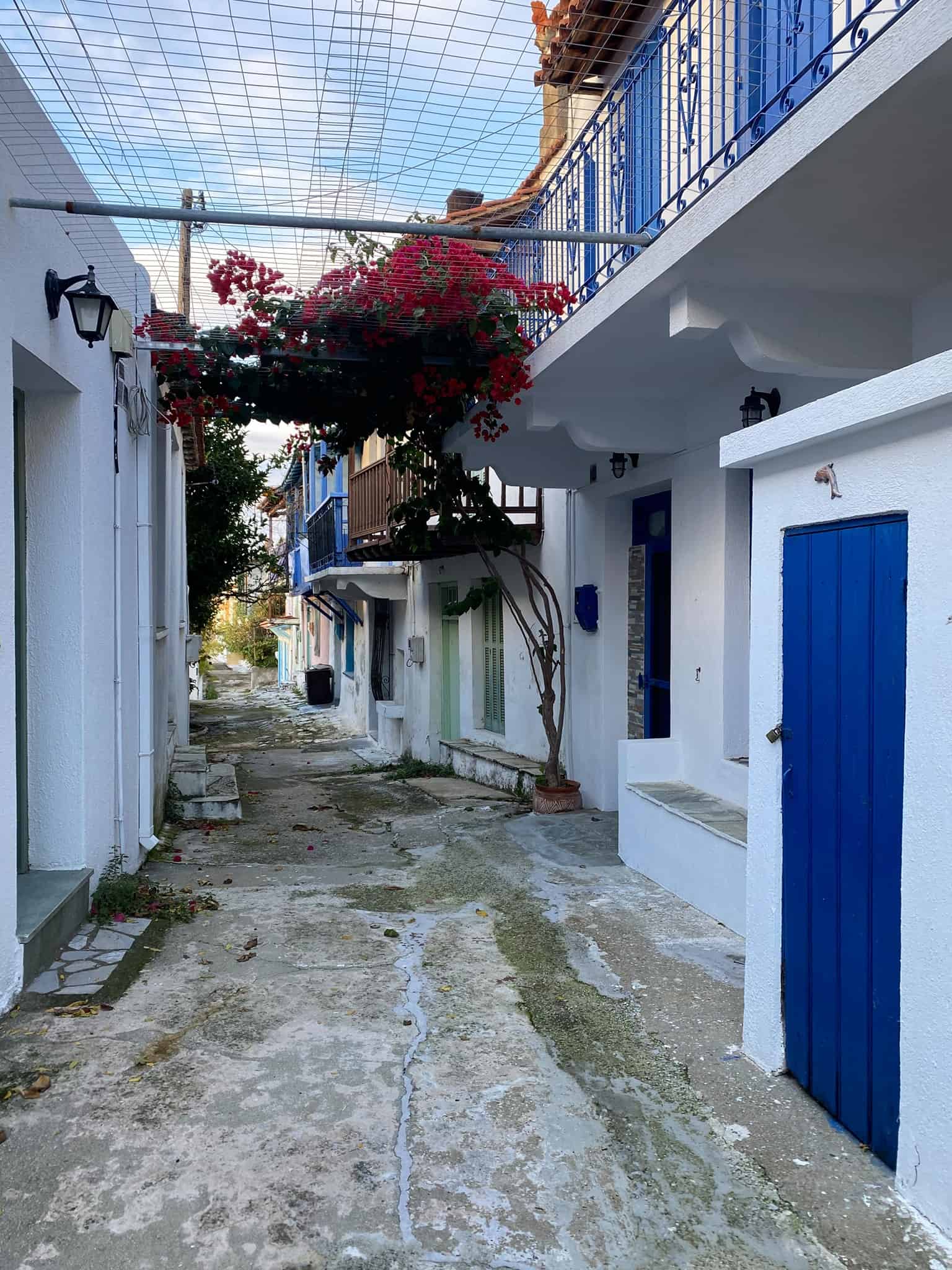 The village of Palio Klima Skopelos was once a thriving settlement with hundreds of residents. It was built by residents of Glossa in the 18th century and many of the houses here are in traditional Aegean style.

In other words, wooden balconies, red tile roofs, etc. An earthquake shook the region in 1965 destroying the majority of the buildings here and leaving the residents without homes.
As a result, Palio Klima quickly became something of a ghost town. Since the residents were left unexpectedly without homes, they had to hurriedly rebuild their houses elsewhere.
They did precisely that at a location that became Neo Klima/Elios. Palio Klima translates to "old village" in Greek, while Neo Klima means "new village".

Neo Klima does not have the same old-fashioned charm and picturesque architecture as Palio Klima. However, at that point in time, the priority was to build something quickly and at a low cost.
Skopelitis and frequent visitors of Skopelos island will tell you that there is nothing particularly special about Neo Klima. Yet, some of the best beaches and family-owned restaurants can be found in this area so it shouldn't be written off completely.
Palio Klima Today
Today, Palio Klima is still something of a ghost town. Sadly, many of the houses remain as they were when the earthquake hit.

But it isn't all bad news. The natural beauty of the area, the general appeal of living in the Sporades, the low property prices, and the incredible panoramas over the sea have encouraged people to move back to Palio Klima.

Skopelos may not be a mainstream Greek island travel destination as say, neighbouring Skiathos or somewhere like Zakynthos. But it has its fans.
Tourism in the area is increasing with each passing year, particularly following the popularity of the Hollywood movie Mamma Mia really putting the island on the map. As such, local business owners started converting some of the ruined properties into guesthouses.

Similarly, Greek and international travellers that fell in love with the island decided to purchase and renovate properties in Palio Klima Skopelos. Some people live here all year round.
Others use the properties as vacation homes during summer in Greece. Regardless, Palio Klima Skopelos is a rare example of a place where increased tourism and foreign investment have had a very positive impact.

It can feel somewhat eerie passing through here, particularly in the winter months. Most houses are empty and the streets are pretty much deserted.
But amongst the deserted homes, you will see smoke coming out of someone's chimney and smell the scent of firewood. Not to mention, even though Palio Klima may only have approximately 35 permanent residents, Skopelitis from other parts of the island will travel here for a walk.
Points of Interest in Palio Klima Skopelos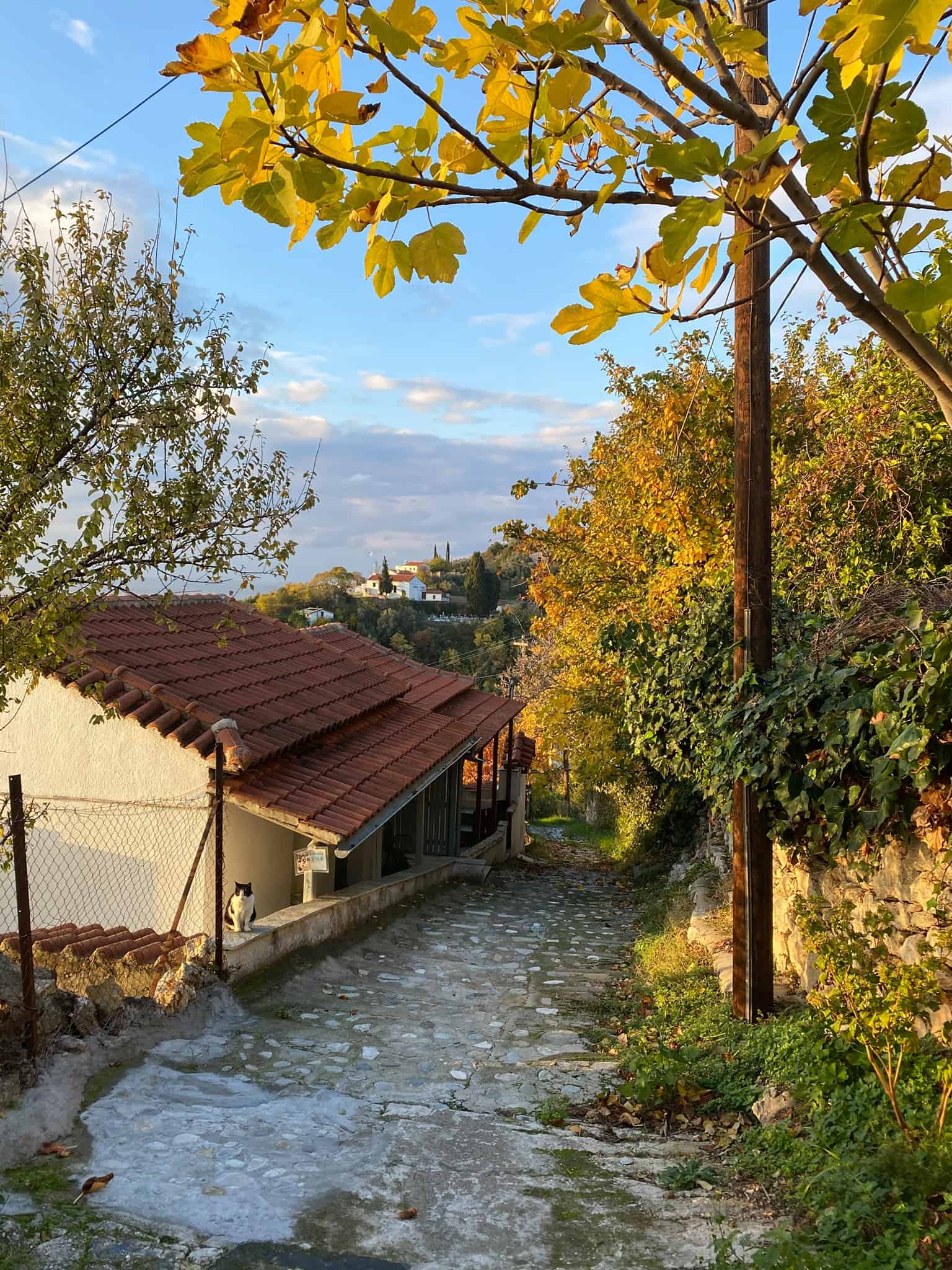 Palio Klima Skopelos is approximately 35 minutes away from Skopelos town, and 15 minutes away from Glossa, respectively. One of the most popular things to do in the area is to conquer the trail from Palio Klima to Glossa.

If you are staying elsewhere on the island, you can take the bus to Palio Klima in the morning, and hike from Palio Klima to Glossa. Then, in the evening, have dinner at one of the restaurants in Glossa before taking the bus back.
The trail leads you past secluded woodland churches, olive groves, and farms. The path is flat and well-paved, making it suitable for travellers of all ages and fitness levels.
You can find the remnants of some Roman baths on the outskirts of Glossa, close to Katakalou beach. However, they are small and badly preserved.

This route is actually one of six designated Skopelos hiking trails. It is well signposted and easy to follow. Alternatively, you could walk in the opposite direction and follow the route from Palio Klima to Neo Klima.
Hovolo and Armenopetra are gorgeous local beaches that are generally devoid of tourists. Most visitors to the island tend to prefer to hang out at the beaches of Kastani, Milia, and Stafylos.
There are presently no dining options in Palio Klima. From here, you can choose to dine at the acclaimed Agnanti restaurant in Glossa or Tsipouradiko Tasos, 5 Platania Hovolo, or Manolis Taverna in Neo Klima.
Accommodation Options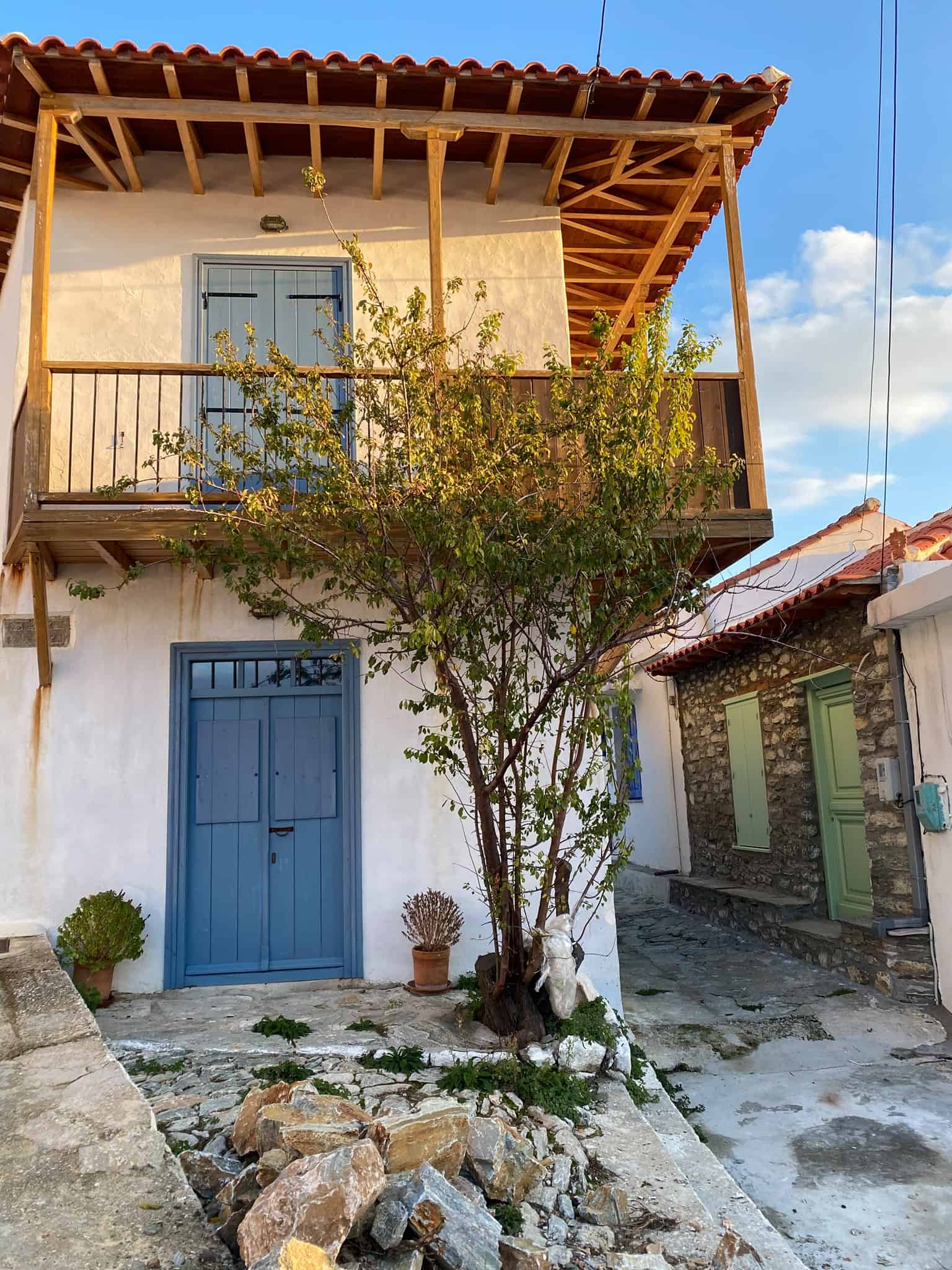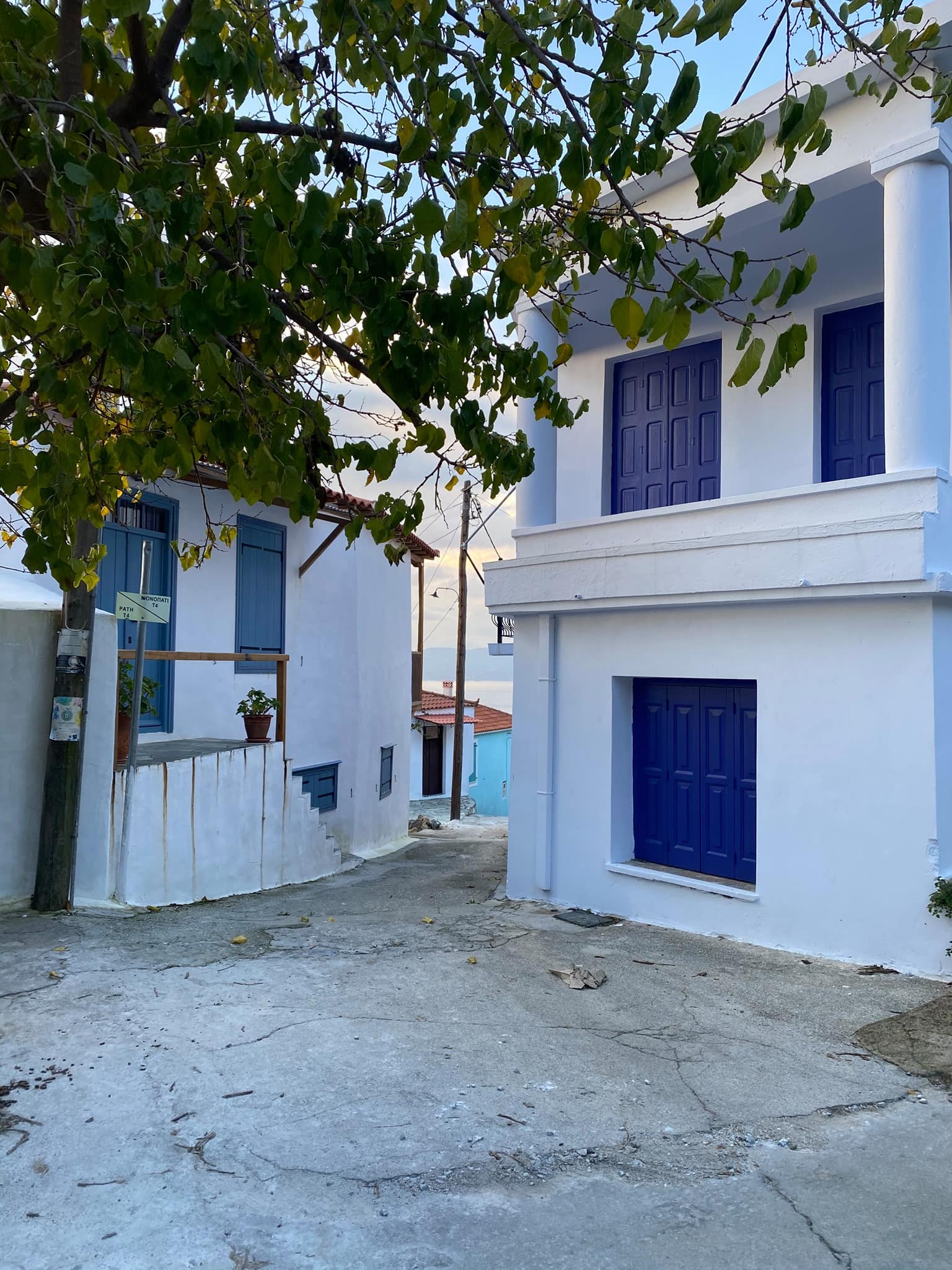 There are several accommodation options in and around Palio Klima Skopelos. Since there are no stores or restaurants in the immediate vicinity of the village, it is better to rent a car if you are going to stay here.
This can be a nice place to stay if you are looking for somewhere more quiet and low-key. Secret Sporades is a gorgeous, renovated traditional house managed by an Italian couple living in Skopelos.

The property is spacious, homely, and offers panoramic sea views from its terrace. Nearby in Neo Klima, you may wish to consider Delphi Hotel or Elios Holidays Hotel.
---