Perivoli Holiday Studios Skopelos is a traditional guesthouse property that sits on the outskirts of Skopelos town. The large building boasts a charming setting encompassed by olive groves and farmlands.
However, there are less than desirable aspects of staying there. Most notably, harassing owners with no respect for their guests.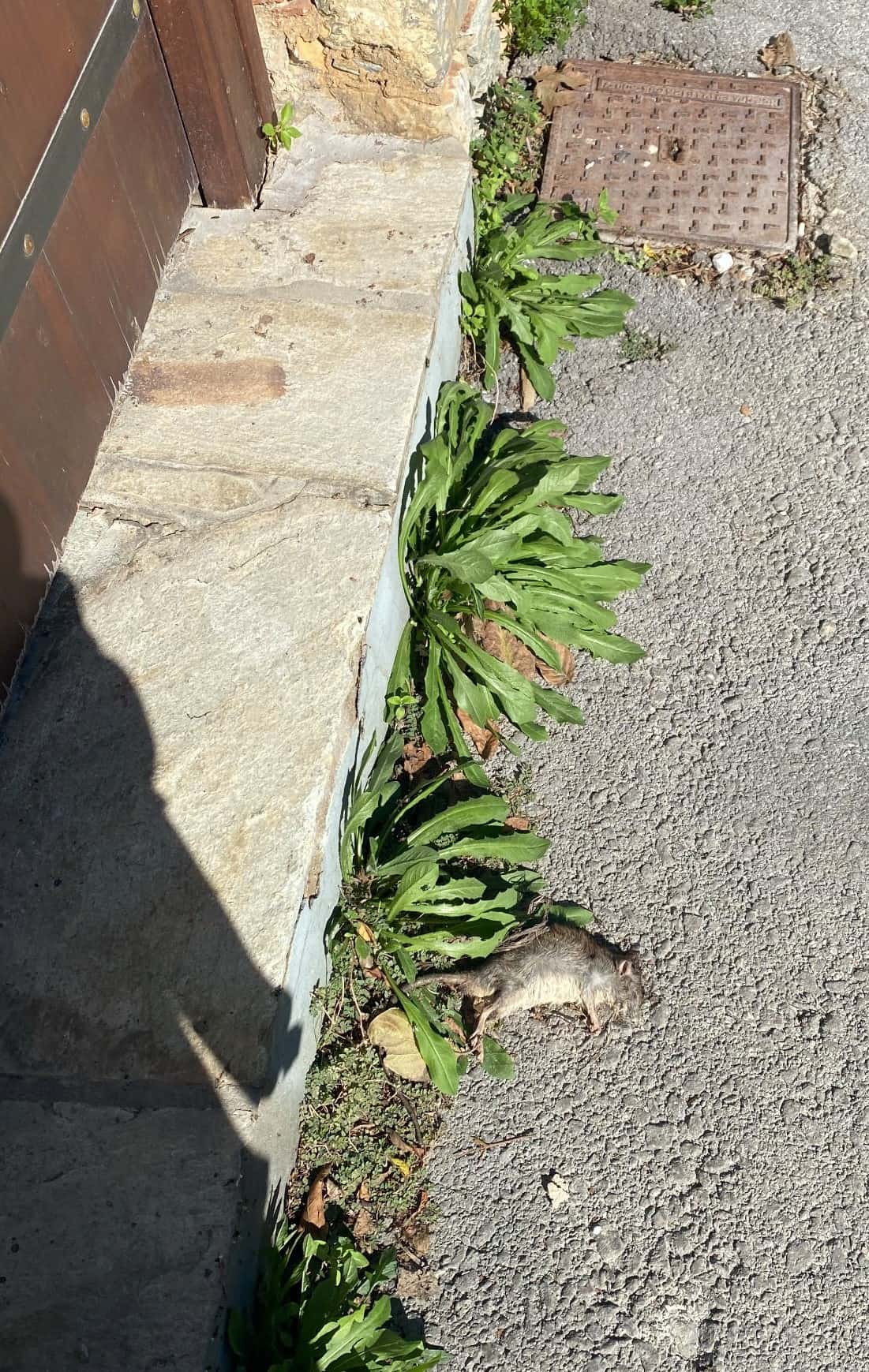 Perivoli Holiday Studios Skopelos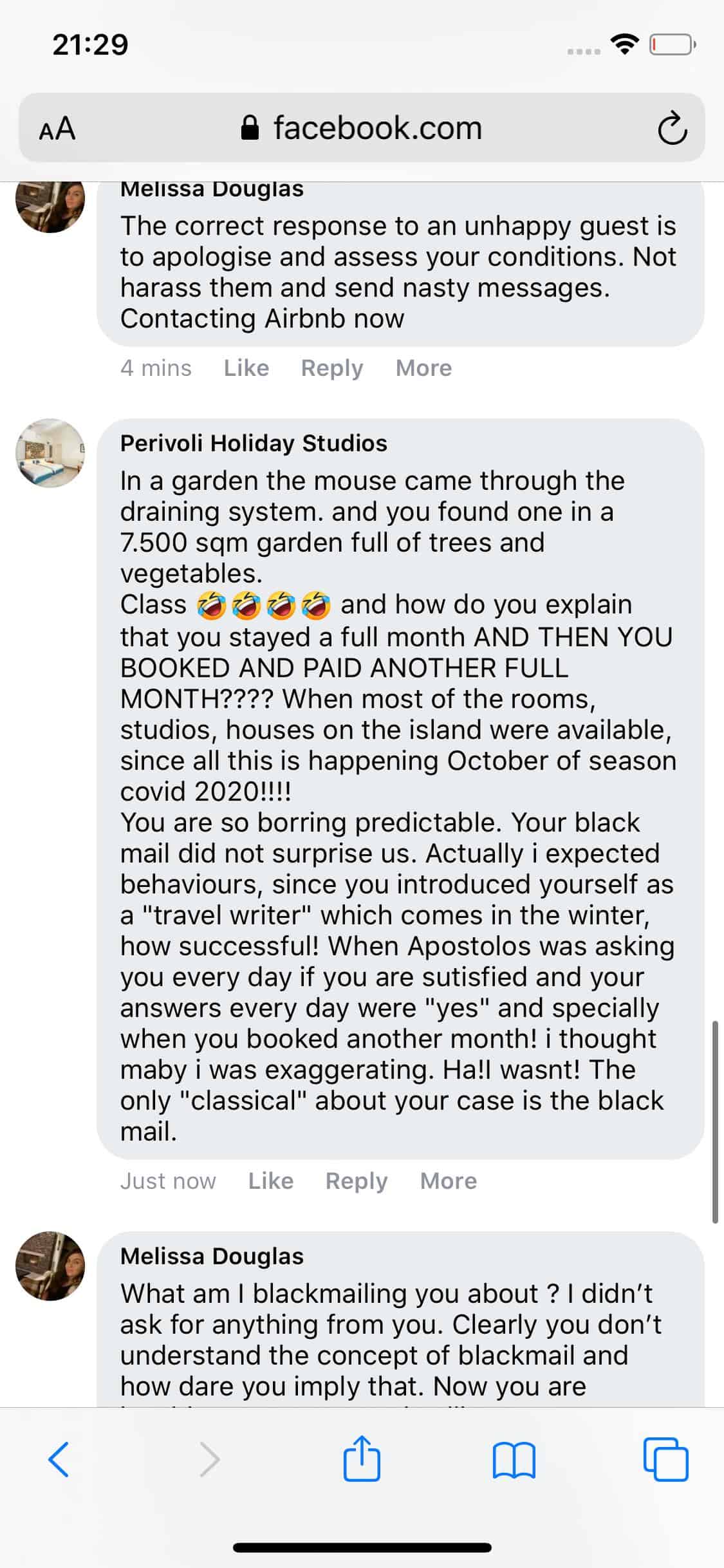 I have been living in Greece for just under four years and have had no end of experiences with hotels in the country since then. Greek hospitality is renowned throughout the world.
There are indeed many people that run independent hotels or work for large hospitality establishments, that encompass these values perfectly. Then, sadly, there are always those minorities that do not.
My Stay at Perivoli Holiday Studios, Skopelos
I spent two months basing myself at Perivoli Holiday Studios, Skopelos in September and October 2020. With the ongoing pandemic having a negative impact on my workload as a Travel Writer, I decided to base myself somewhere beautiful for a while and write remotely.
I left a negative review of my time at Perivoli Holiday Studios on account of the numerous issues I encountered. I am not a person who leaves negative reviews in a hurry.
I am implicitly aware of how they can have adverse impacts on a small business owner's income. I don't take them lightly.
However, when you have raised issues with your host and they are consistently ignored, and you are paying for an accommodation that you consider notably worse than what you expected, you are well within your rights to leave a negative review. After leaving a review for Perivoli Holiday Studios outlining what they should repair in order to accommodate future guests, I became the subject of ongoing harassment from the property owners.
Perivoli Holiday Studios Skopelos Issues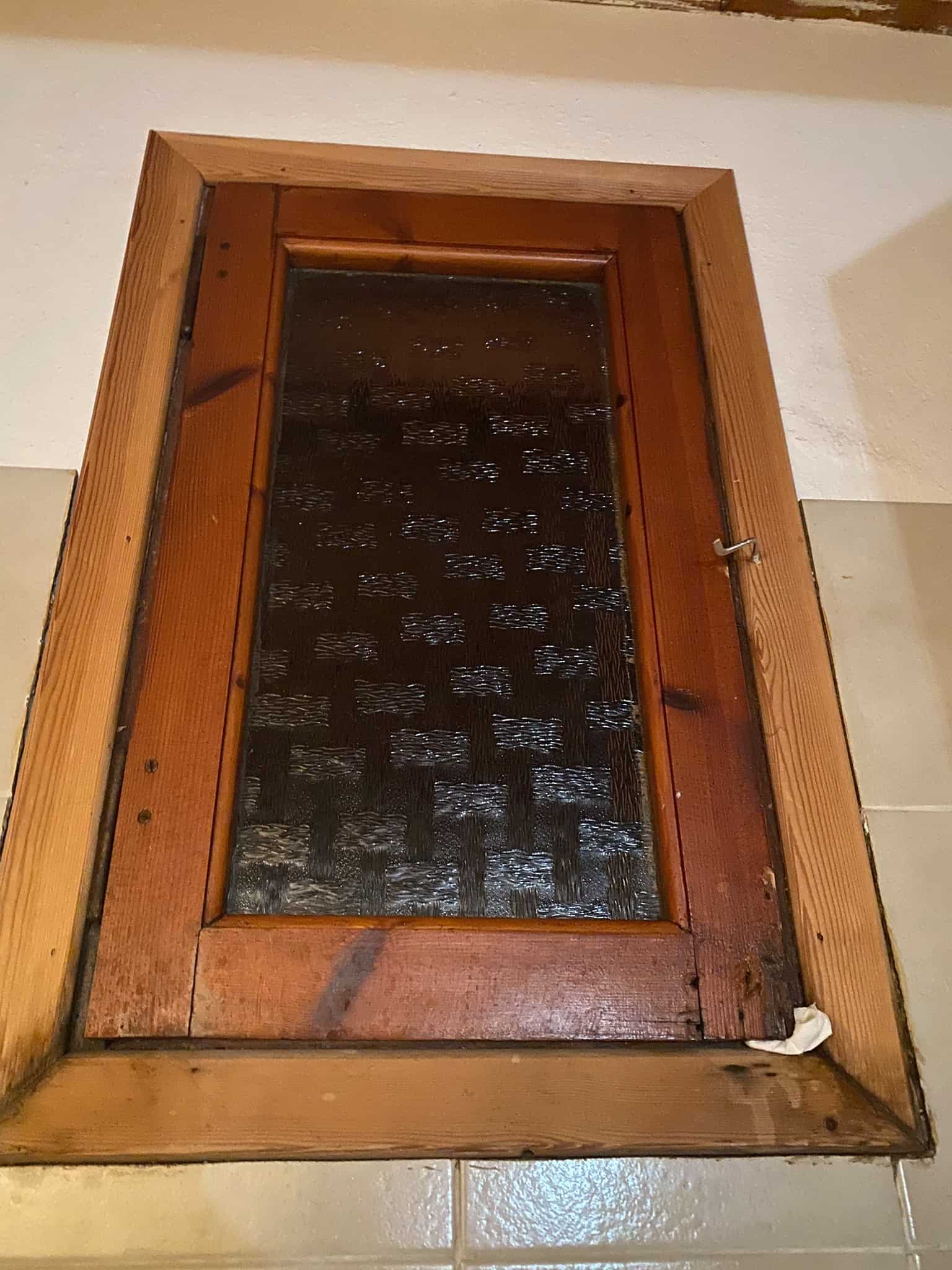 My issues with Perivoli Holiday Studios started from the moment that I arrived at the property. On my very first night, I found a mouse in the bathroom.

I contacted the host in horror at the mouse. By the time he arrived, it had jumped into the toilet bowl and was swimming frantically around. He simply flushed it down the toilet, killing it.
Rodents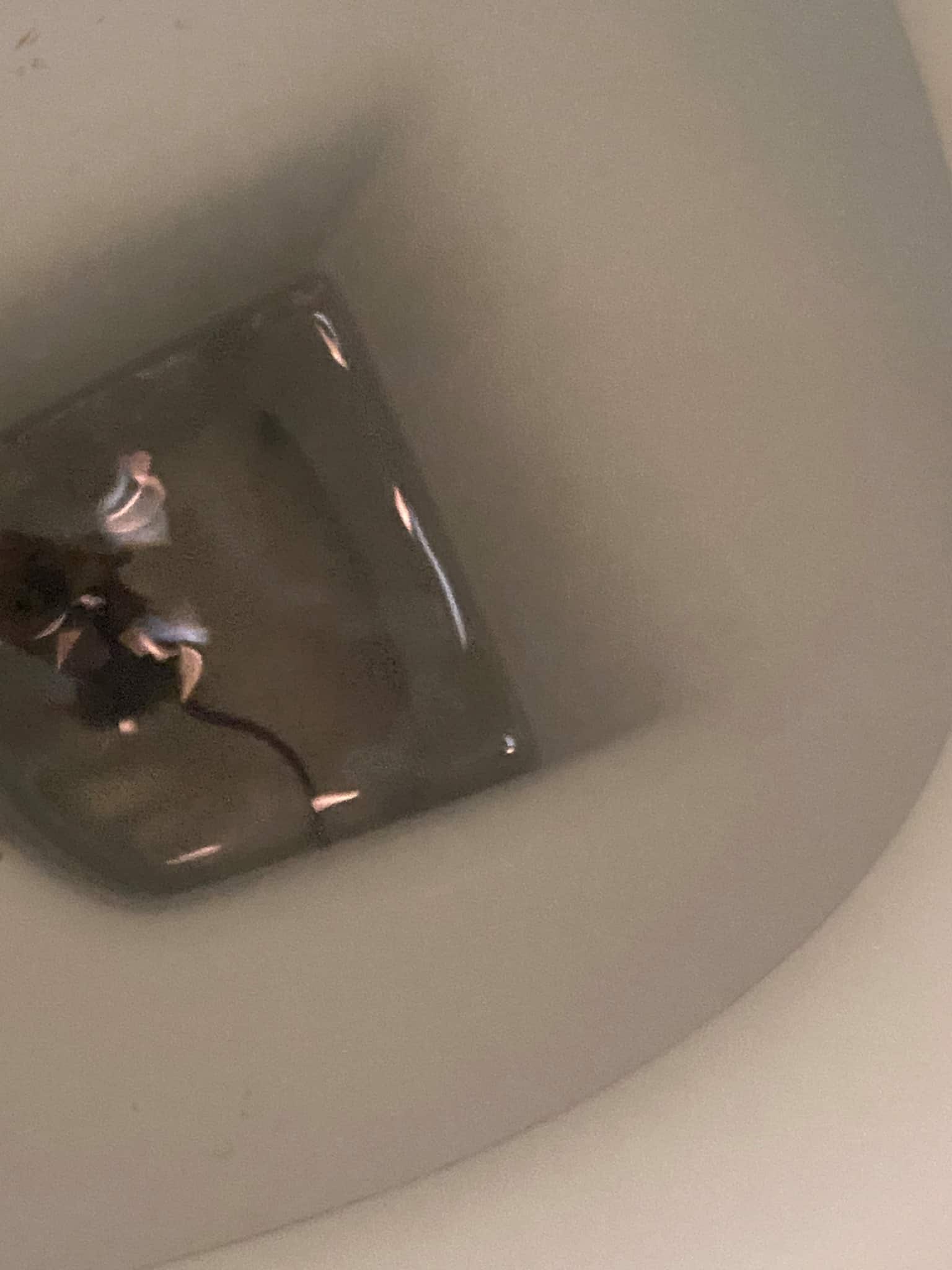 This was not to be the last time that I would find mice, rats, and rodents around the Perivoli Holiday Studios site. I found numerous fat rats around the interior and exterior throughout my stay – both dead and alive.
Dead rats were not removed. They were simply left to rot, with the property owners and the cleaning lady stepping over them.
Most of the time I just removed them myself with a dustpan and brush. Rats may well be an island issue.
However to the extent of the amount I was finding? Not so much.
This indicates a hygiene issue around the property. Not surprising, considering dead rodents were left to accumulate flies.
Similarly, if a guest reports a rat and contacts Airbnb with concern regarding its presence, your response should be to apologise and endeavor to minimise rats. At the very least you should provide some explanation.
You should not scream at your guest that "it's just a little rat". Sadly that was Perivoli's approach.
Broken Windows
Part of the reason that rats kept getting into the room was no doubt due to a broken bathroom window. This small wooden window had no latch.
It would not close, and blew open and closed in the wind. Every morning resulted in a party of woodland animals in the bathroom.
Little geckos, stink bugs, and mice apparently doing a flying trapeze act through the window. Not to mention, the sound of the window banging open and closed is irritating and keeps you awake at night.
Additionally, of course, there is the added safety concern of having a window that doesn't close. This is especially the case when you are both a woman alone and a person travelling with expensive electronics.
Reporting the Broken Window
The broken window was reported on the first night. It wasn't until the matter was escalated to Airbnb that the host of Perivoli Holiday Studios arrived with a disgruntled air of "what's the matter now?"
Was the window fixed? No. Not in the entirety of my two-month stay.
After my complaints, the host huffed and puffed as he shoved a piece of toilet paper in the corner of the window to stop it from opening and closing. "There," he beamed. Fixed!
He assured me that EVENTUALLY the window would be fixed. Evidently "eventually" never came.
My two-month stay came and went. By the time I left, the season was over and the window was not fixed.
Perivoli Holiday Studios would likely not see guests until the following Greek summer season. So the window awaits, ready for more toilet paper stuffing, and more guests to complain about.
Every time there were heavy winds or a storm, the window would blow open. Greece experienced a strong medicane during my stay.
Rain would come in along with a plethora of bugs. I'd unroll more toilet roll and stuff it in the cracks.
"Can you take a look at the window?" I'd ask, on occasions the owner stopped by. "Yes," he'd say, and then never do it.
Broken Lights, Broken Wifi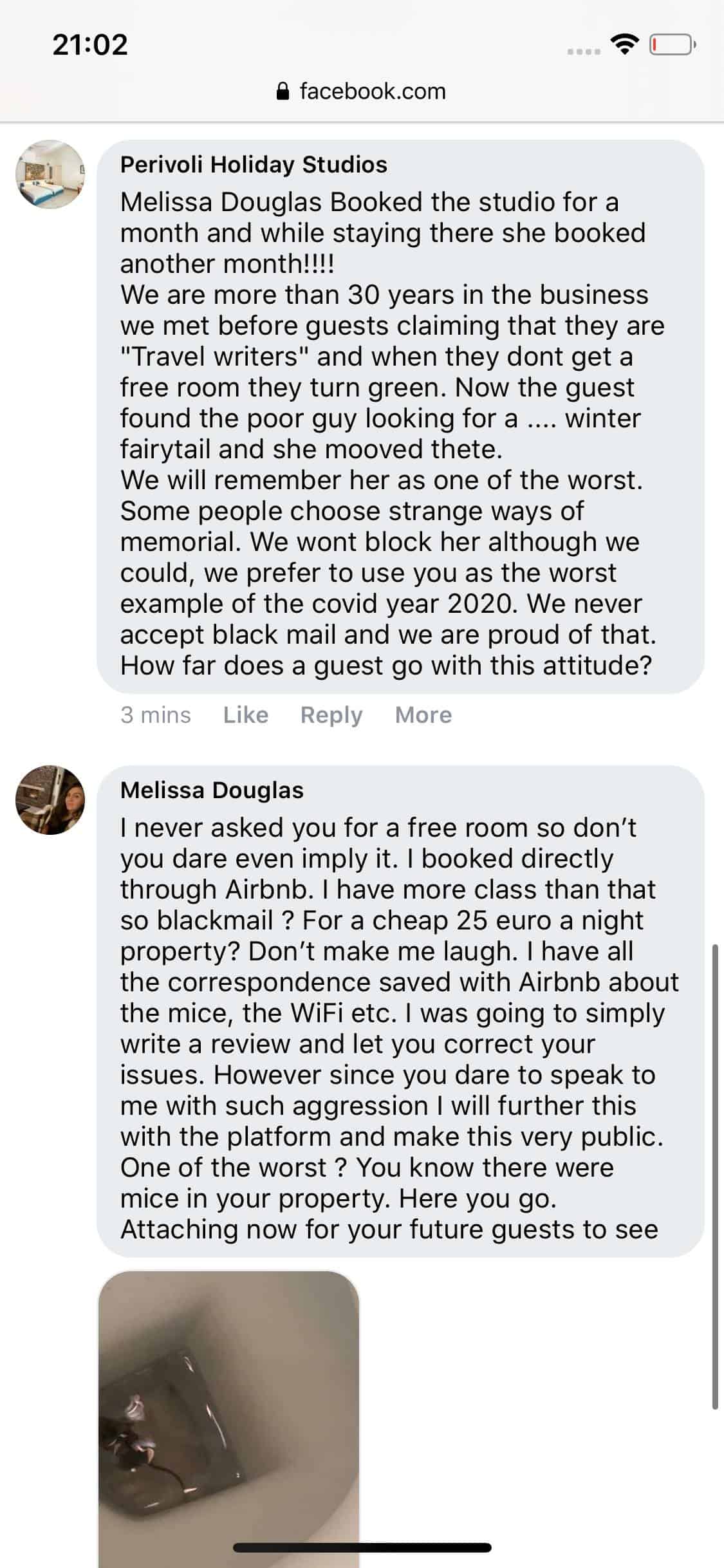 The Perivoli Holiday Studios Skopelos property is a traditional house divided into several units. Unit 1 is a larger apartment.
Units 2 to 5 are small studios. I initially stayed at the top floor studio 5.
This is the only one with a roof terrace. I then moved to another studio due to the issues with studio 5.
The wifi at the property does not work. It only connects if you are in studio 3 and sitting beneath the router.
"A strange problem with the wifi this year" The host stated.
Scrolling back on TripAdvisor reviews over several years indicated that the wifi had been an issue for years. He had simply never bothered to fix it.
None of the lights worked in studio 5 bar one small lamp above the bed. This resulted in my having to use the oven light to be able to see anything after sunset.
Other Issues at Perivoli Holiday Studios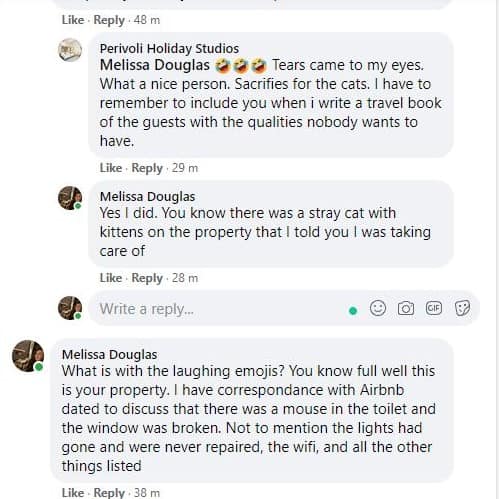 The door to Studio 5 did not fit properly within the frame. The gap under the door made it very drafty from the end of September.
The heater did not work. There was no duvet on the beds.

Only a thin white sheet was provided. Eventually, upon request, the cleaning lady provided a thicker blanket in October. However, this is not sufficient if the hotel wishes to host guests when temperatures drop, especially when the heater also does not work.
These things may seem like small things in themselves. However, when you add them together, they become a frustrating experience.
This is particularly the case when you give your host ample opportunity to address your concerns and they cannot be bothered to do so. These are small fixes that could be easily addressed.
Switching Rooms
By October, frustrated with the lack of wifi, I contacted the host and Airbnb to complain. The host suggested that I move rooms from Studio 5 to Studio 3.
The cleaning lady was supposed to arrive at a specific time in the morning to hand me the keys. I waited, and she didn't arrive until the night. I moved rooms in the dark to find – the internet did not work in studio 3 either!
Adopting Stray Cats
My initial intention was to stay in Skopelos for one month. I stayed at Perivoli Holiday Studios for two months.
Due to the ongoing pandemic in 2020, I decided to stay on the island longer to isolate myself somewhere other than a city. I found five stray cats on the property – a Tomcat with a damaged tail, and a sickly pregnant stray.
During my stay, the pregnant stray gave birth to three gorgeous kittens and she kept bringing them to me. I fed them, got them dewormed, flea treated and neutered, and took care of them.

I could have kicked up a fuss and moved from Perivoli Holiday Studios sooner so why didn't I? First of all, I decided to "make do" and simply mention the problems in my review. Second of all, I was caring for these cats and couldn't exactly take them all with me.
I wanted to rehome the cats. I contacted the hosts to tell them I was caring for these cats but rest assured, I wasn't letting them in the rooms.
"No problem" they responded, "they are not ours". Eva, the cleaning lady, who huffed puffed, and grunted on the occasions that she did bother to come and clean the room as scheduled, kicked one of the cats and clapped loudly to shoo it when it got in her way.
Stray cats are a problem on Skopelos island, as they are all over Greece. However, this treatment of an animal was poor.
Leaving the Property
After the two months were up, I planned to return to Thessaloniki. However, the global pandemic led me to decide to stay on the island for six more months.
Following the countless issues, I was not going to stay at Perivoli Holiday Studios longer. There are plenty of gorgeous places to stay in Skopelos so why stay in an unpleasant, unsafe environment?
I browsed through Skopelos villas and found a villa in Raches to live in during the Greek winter. When he asked where I was going next and I told him I was staying on the island, he was noticeably irritated.

I later ran into the owner as I was walking through Skopelos town and he stopped his motorbike, turned around, and pulled up next to me. "Where are you staying?" he barked aggressively.
"How much? How much? Tell me how much you pay"

"Honestly," I said. "I'd rather not discuss it."

He sped off angrily and I just shrugged him off. I had not realised that the harassment from Perivoli Holiday Studios would not end there.
Perivoli Holiday Studios Skopelos Ongoing Harassment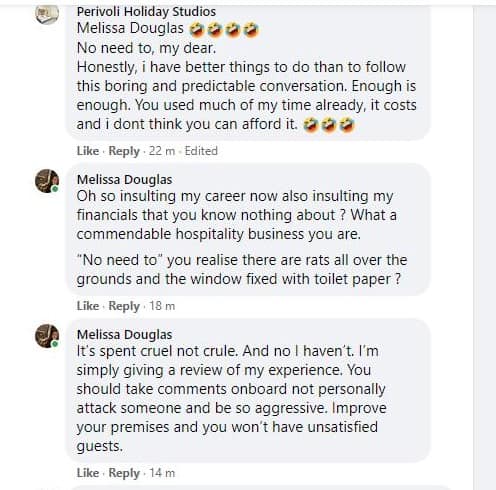 I left a review for Perivoli Holiday Studios discussing the issues with the property – the host's dismissive attitude, the rats, the wifi, the window, the lights. As is my right to do so.
I paid £560 a month to stay at the property. This is not a small amount for a property in Greece.
Greek people on Skopelos island pay £180 for a studio of a similar size. Yes, tourist rates may be inflated.
However fix your lights, your rat infestation, and fix your wifi. These conditions are not acceptable if you run a hospitality business.
Instead of taking the review onboard, dismissing it, or whatever else, I started being harassed by Perivoli Holiday Studios Skopelos. The property owners contacted me on my personal Facebook to send a series of nasty, personal, insulting messages.
The messages insulted my personal character, my financials, and my job. The host even implied that I moved to my new accommodation for free in exchange for sex.
Abusive Messages from Perivoli Holiday Studios
Perivoli Holiday Studios hounded me with abusive messages. These varied from comments telling me not to have kids because I would be a bad mother, to mocking my career, finances and character.
"What kind of Travel Writers come to Skopelos in the winter? Not very successful ones"
"I'd discuss it further with you Melissa but my time is expensive and clearly you can't afford it"

"Hahaha "Travel Writers" like you always kick up a fuss when they don't get things for free by pretending to be a Travel Writer"

"You are far too young to understand that I have worked in this industry for thirty years and met many wannabe "Travel Writers" like you"


" I am going to write a book about horrible guests with qualities that no-one wants to have and put you in it"


"You should think very carefully if you want to have children. With horrible morals like yours maybe you should not"

"I did not insult your career as a "Travel Writer", don't worry, you will probably be more successful in the future, the world needs horrible people like you"

"You pretend you are well travelled but you are too young and clearly you are lying"

"I knew you were going to be an idiot when you arrived and called yourself a "Travel Writer" but I thought maybe I was exaggerating and now I know I am right."

"She couldn't afford to stay here so she found some poor guy that will let her stay for free in exchange for a winter fairytale"

"You were not even born when Perivoli Holiday Studios opened little girl"
Response to Perivoli Holiday Studios Abuse
Honestly, I just stared at this barrage of messages and personal insults with a mixture of dumbfoundedness and amazement. Who behaves in this manner?

Even if you disagreed with the review, you would discuss it calmly with your guest. Alternatively, you would take the appropriate steps with Airbnb to have it removed.

You do not make defamatory insults at a person's character, job, and financials, on a public platform no less and everyone could see the comments. At this point, the issues with the accommodation were not an issue anymore.
The main problem is no doubt the accommodation provider's attitude. After "blocking" the account that was harassing me on Facebook, another one soon popped up again.
All I had done was express that my Perivoli Holiday Studios experience had not met my standards. Nobody should be spoken to in this way.
I did wonder if, if the guests were a family or a couple, would the host treat them in the same manner? It felt like part of ingrained cultural misogyny to find it okay to speak to a solo female traveller this way after continually refusing to fix flagged issues at the property.
Eventually, Perivoli Holiday Studios Skopelos deleted my review and their abusive, harassing comments from their Facebook page. Fortunately, I saved screenshots of everything.
Reporting the Property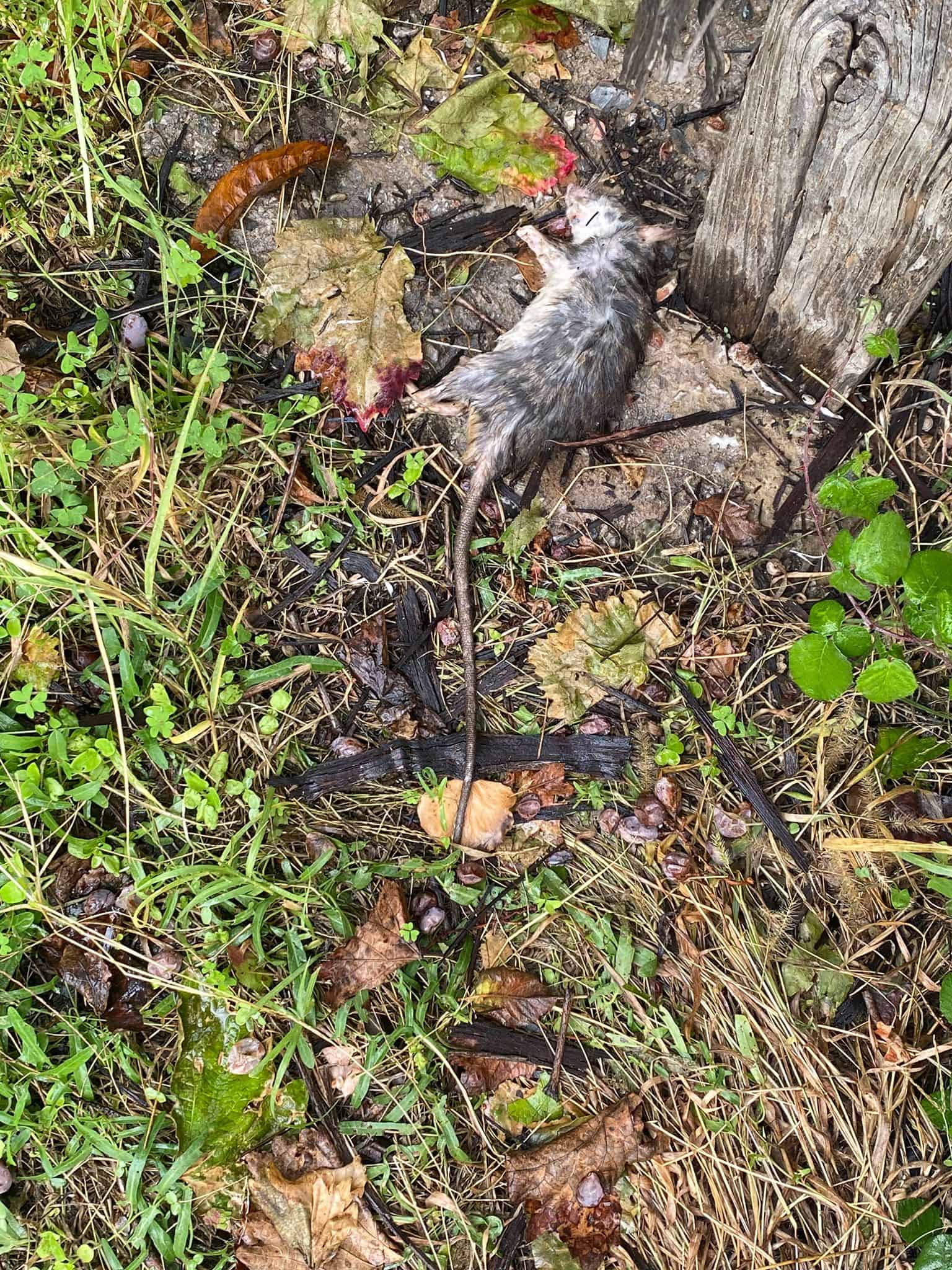 Following the barrage of insults that left me upset, shocked, and quite frankly ruined my day, I sent all of the screenshots to Airbnb. I also sent the platform all of the pictures taken around the property of the broken windows, the numerous dead rats left to rot, etc.
I told the host that if they didn't leave me alone, I'd report them. "That's blackmail!" They barked.
Blackmail? Requesting you to stop harassing a disappointed guest on their personal social media?

Airbnb assured me that they would take things up with the host. I also contacted the Greek tourist police, the Tourism Ministry's department of complaints, and the hotelier's association.
Advice for Negative Hotel Experiences in Greece
Fortunately, experiences like this are few and far between. Evidently in this situation, the host's arrogance and ego got in the way.

You cannot say "I've been in the industry thirty years, shut up young woman" when there are photographed, documented images of the issues at your property. All hospitality businesses, regardless of age or reputation, need to maintain their sites if they wish to continue hosting guests.
A refusal to address issues ends in losses in the long term. After all, people tend to discuss a bad experience with more people than they do a good experience.
If you have a negative experience at a hotel, do not hesitate to leave a review on the relevant platform. If you fear for your safety, always contact the police.
In the instance of an extremely pleasant host as in this scenario, you should file a complaint via the tourism police, and the Greek tourism board.
Useful contacts for dealing with an unpleasant hotel stay in Greece are detailed below.
Hoteliers association: [email protected]


Greek tourism board complaints dept: [email protected]


Hellenic Tourism Police: 1571


Emergency Police: 100 (Very limited services in English)


Airbnb Twitter: @Airbnbhelp
Parting Words
Please don't hesitate to contact me if you have any negative experiences during your Greece travel itinerary. This is a beautiful Mediterranean country and you deserve to enjoy it to the fullest.
The vast majority of Greek hospitality business owners are hardworking people who want their guests to have the very best experience in their country. These experiences are few and far between, but I am happy to help you in a negative situation.
Safe travels! Geia sou, Melissa xo
---