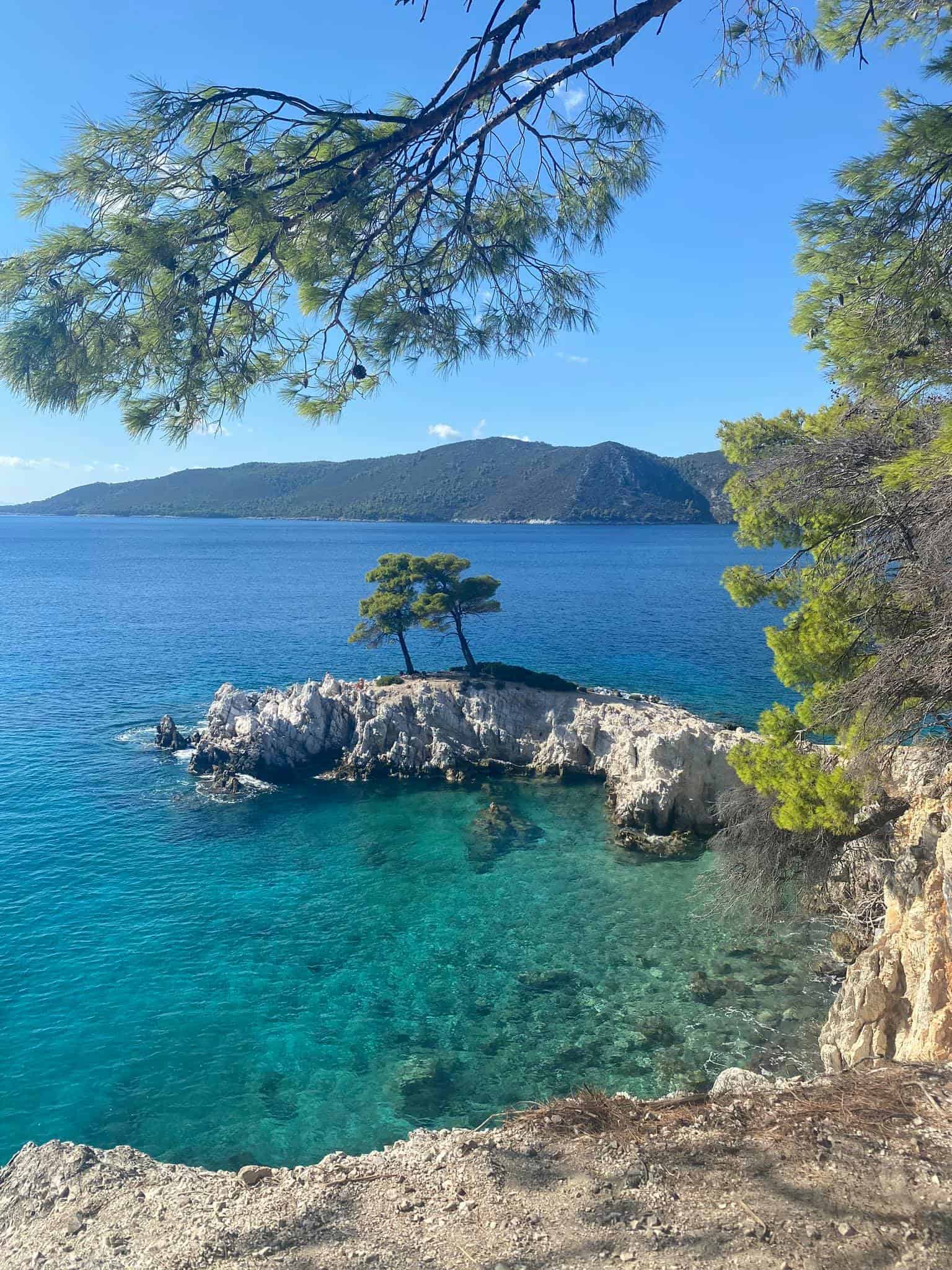 Skopelos Greece is a beautiful little island that sits in the Sporades archipelago in the northern Aegean sea. The island is characterised by undisturbed virgin beaches, quaint villages, and pristine natural scenery.
Skopelos, Greece:
The "Mamma Mia" Island
Skopelos Greece has started to pop up more and more on people's Greece travel radars on account of its status as the setting for Mamma Mia and Pierce Brosnan's terrible singing. The Hollywood movie features the fictional island of "Kalokairi".
However, Skopelos is the real-life setting for Kalokairi. Two of the main filming locations were here on this island – specifically, Kastani beach on the west coast of the island, and the clifftop church of Agios Ioannis Kastri in the northeast.
Mamma Mia Movie Directors travelled to more than 20 Greek islands in search of the perfect sleepy Greek island setting. Eventually, they settled on lovely little Skopelos.
Skopelos, Greece:
Island Life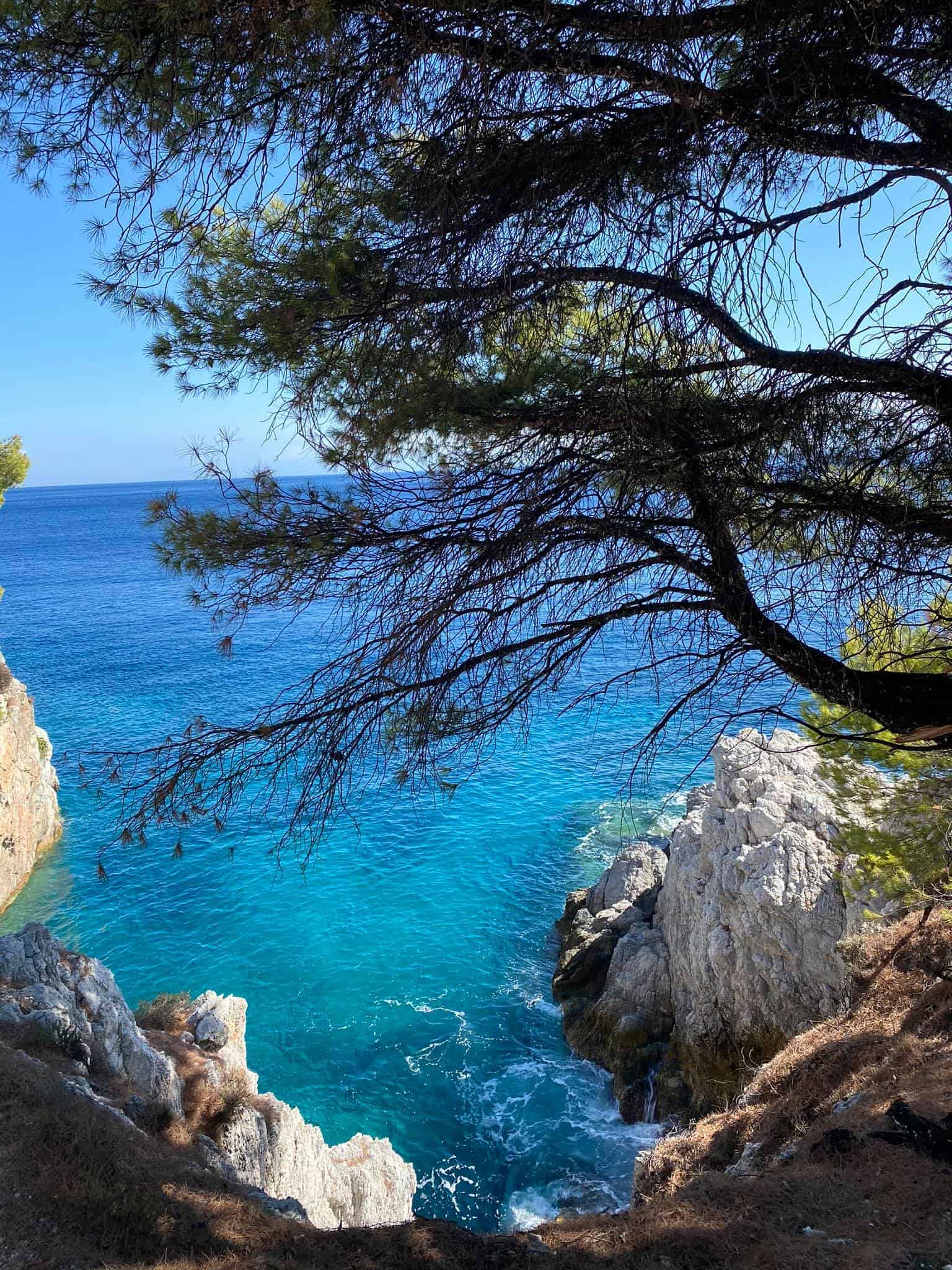 Skopelos Greece is home to less than 5,000 residents. Despite the Hollywood links, it retains its charm as a sleepy, laid back island idyll.
Either side of Skopelos, you will find the islands of Alonissos and Skiathos. Both places are very worthy of a day's detour from Skopelos itself.
The Best Things to do in Skopelos, Greece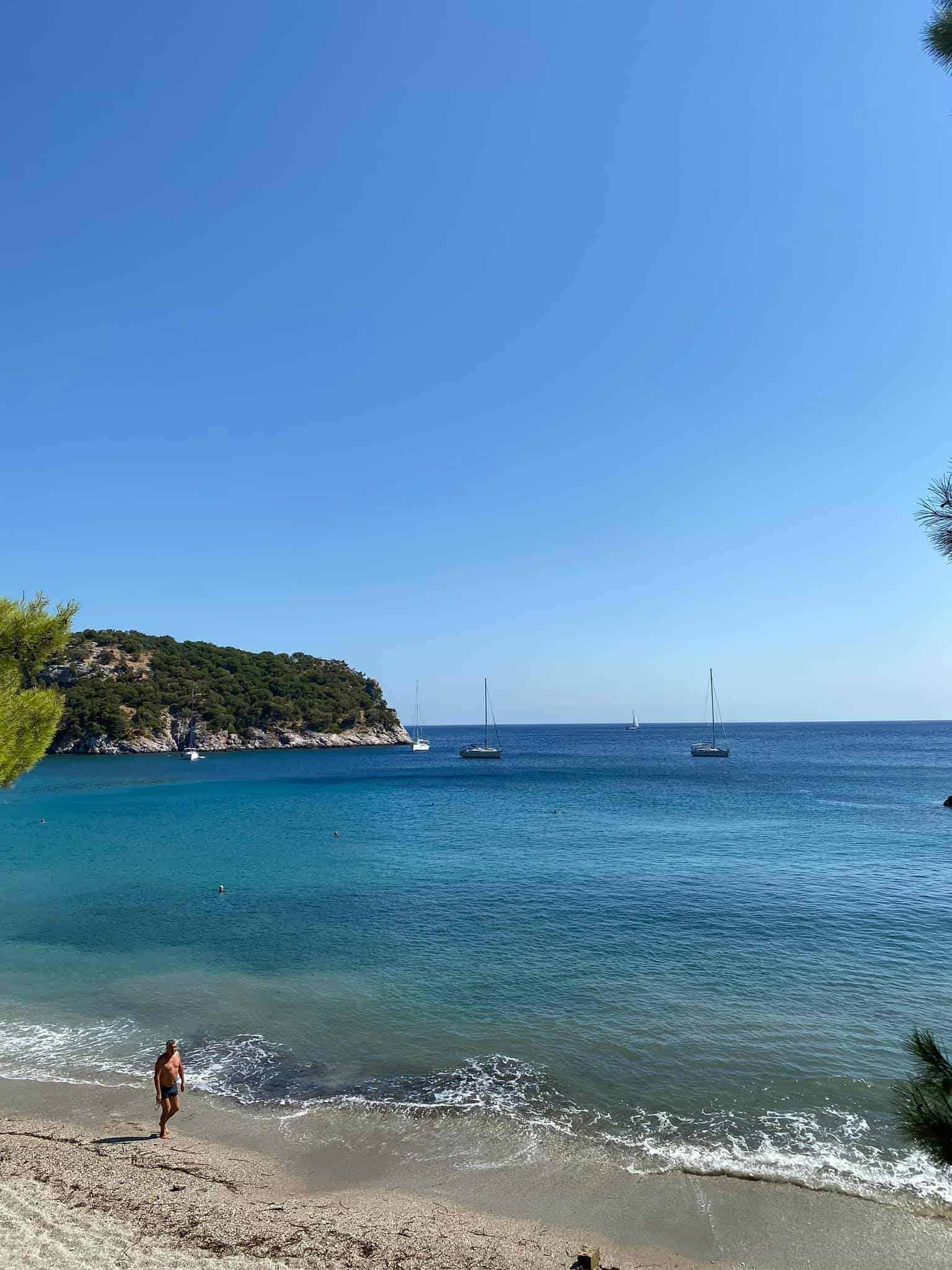 There are enough things to do in Skopelos Greece to keep you occupied for weeks. There are a few small villages and settlements to see. However, the highlight of venturing here is found in the hidden beaches, secluded coves, and pristine nature.
Historical and archaeological sites in Skopelos are few. However, history buffs will surely enjoy the ancient castles ("Kastros") that watch protectively over the islands main towns, and the hiking routes that lead to neolithic tombs and centuries-old monasteries.
Go Off the Beaten Path at Amarandos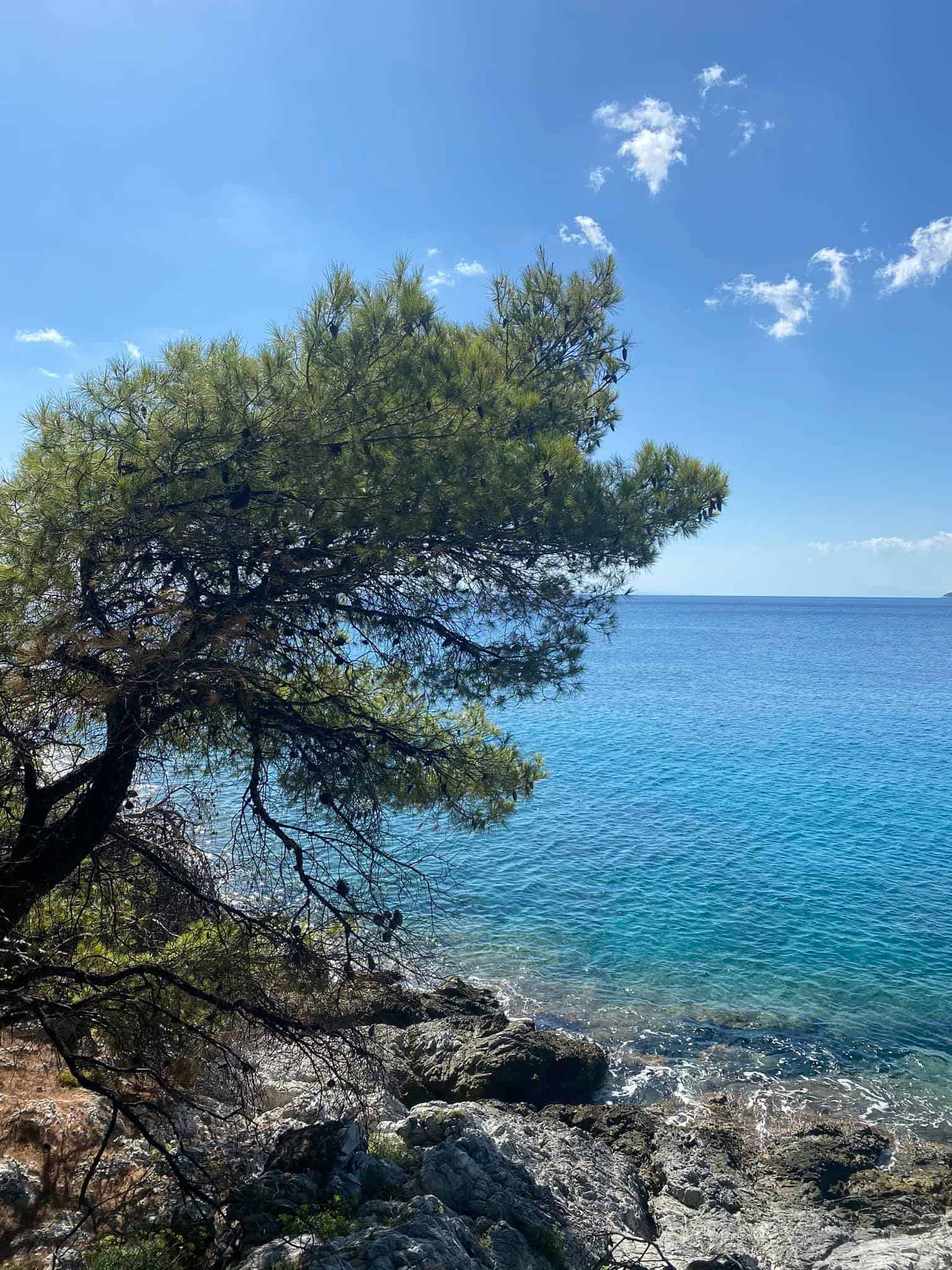 The rocky cape of Amarandos is one of the most beautiful places on Skopelos island. There is a section of coastline here where two crooked trees stick out from a sea cliff. The sight of these trees, along with the clifftop "Mamma Mia" church has become one of the most iconic images of Skopelos island.
All things considered, few tourists seem to be aware of the existence of Amarandos cape, with many opting to spend most of their time at the serviced beaches of Panormos and Kastani. This is not a bad thing – you will often find that you have whole sections of the coastline and natural rock pools to yourself!
Finding Amarandos
There is an unsuspecting dirt trail that veers off the main road close to Agnontas village. This area looks a little tragic at first – a wildfire ravaged through the area several years ago killing many of the trees.
However if you follow the path along for 10-15 minutes, you will find little pathways that lead down to the sea. The locals call this area "piscina" meaning "swimming pool" on account of how clear the waters are.
Hike to the Monasteries Above Skopelos Town
There are many pleasant hikes and walking trails that weave through the scenery of Skopelos island. Such routes are enjoyable all year round.
One such route is the rugged path that leads you from Skopelos town up into the woodland area of Palouki. In fact, there are several routes that you could follow here, depending on how long you wish to hike for.
From Skopelos town, follow the coastal promenade all the way east before following the uphill path into the woodlands. The trail is very well-marked (T1) and it is easy to find where you are going.
You can walk to the Holy Monastery of the Annunciation, the Agia Varvara Monastery, the Monastery of Timiou Prodromou, and the Monastery of Iera Sotiros. As you begin to leave Skopelos town behind you, you are treated to magnificent panoramas of the port area down below.
Most monasteries are open between 8.30 and 13.30, and then again from 17.30 until 20.30. However, this is subject to change. Try to check the times with a local before making the journey so as not to arrive and find them closed.
Have a Seafood Lunch at Agnontas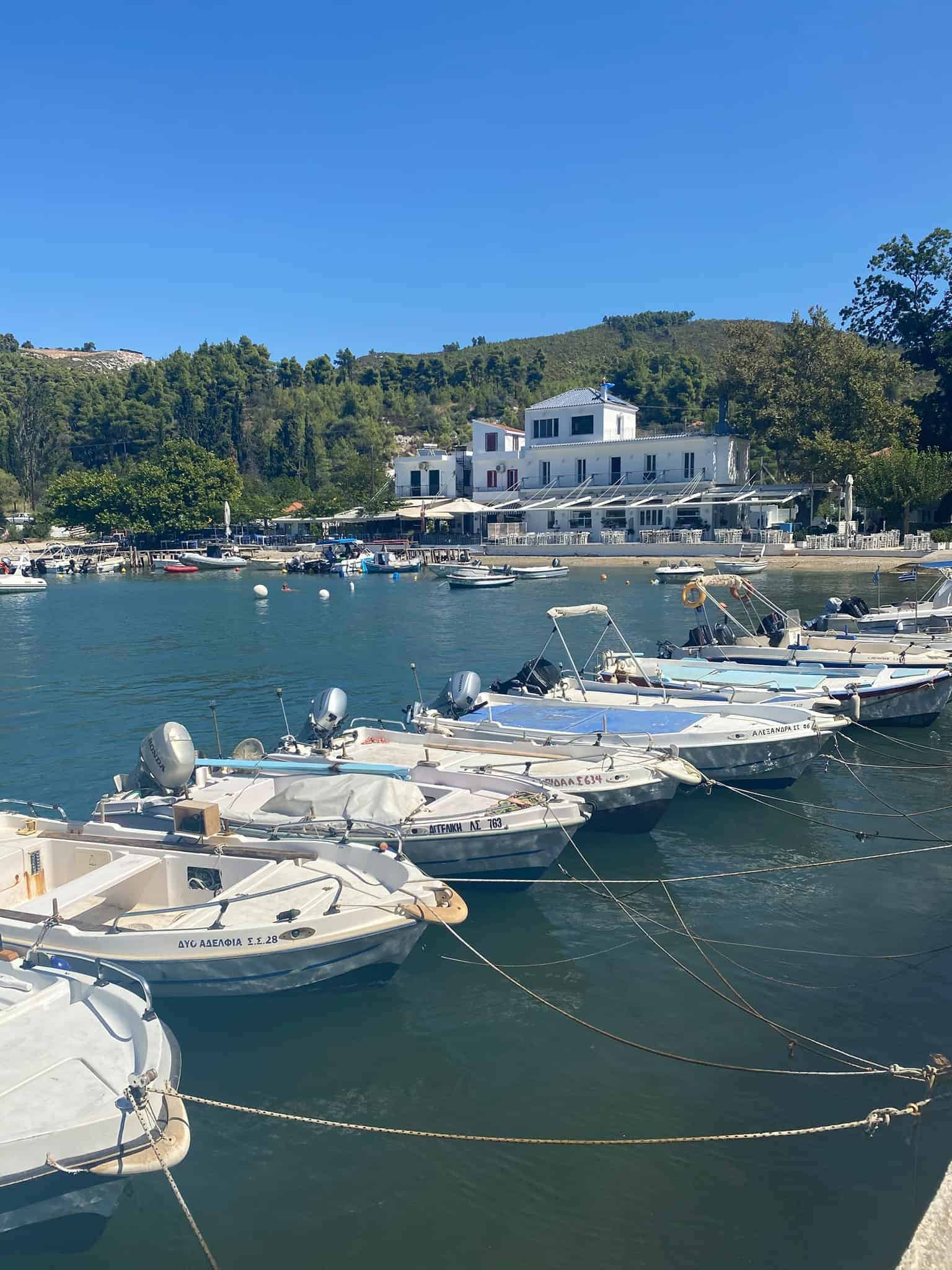 Agnontas is a charming little fishing village that sits on the eastern coast of Skopelos island. It is located just 9km away from Skopelos port.
There are just a scattering of houses and tavernas here. However, the tavernas that line the seafront serve up local cuisine of the highest quality. During the winter months, only a few people reside at Agnontas, and the village is practically a ghost town.
Seafood dishes prepared at Mouria Fish Tavern, Pavlos taverna, and Korali Agnondas Skopelos use the latest catches sourced by fishermen in the nearby waters. For those who prefer not to eat fish, a variety of other classic Greek dishes can be found on the menus here – including sumptuous marinated meats, and vegetarian and vegan dishes.
The waterfront "M Coffeehouse" is a great place to stop for a Greek coffee, a freddo cappuccino, or a mountain of breakfast pancakes to start your day. You don't need to dedicate much time to Agnontas. However, it is worth a brief pitstop en route to Amarandos, or the whitesand beaches of Limnonari.
Search for Pirate Graves and Hidden Treasure at Sendoukia
One of the lesser-known things to do in Skopelos Greece is the hike to the pirate graveyard and neolithic tombs at Sendoukia. Ideally, you need to have a car or a motorcycle in order to reach the area, which sits on the slopes of Mount Delfi.
It is also possible to reach Sendoukia on foot – it takes approximately eighty minutes to reach the area from Skopelos port. The official "trail" through the woodlands leads you past beautiful natural scenery, forests filled with pine trees, and rocky terrain. You do not need to be an experienced hiker to attempt this trail, just be sure to arm yourself with supportive footwear.
Venture to the Mamma Mia Church of Agios Ioannis Kastri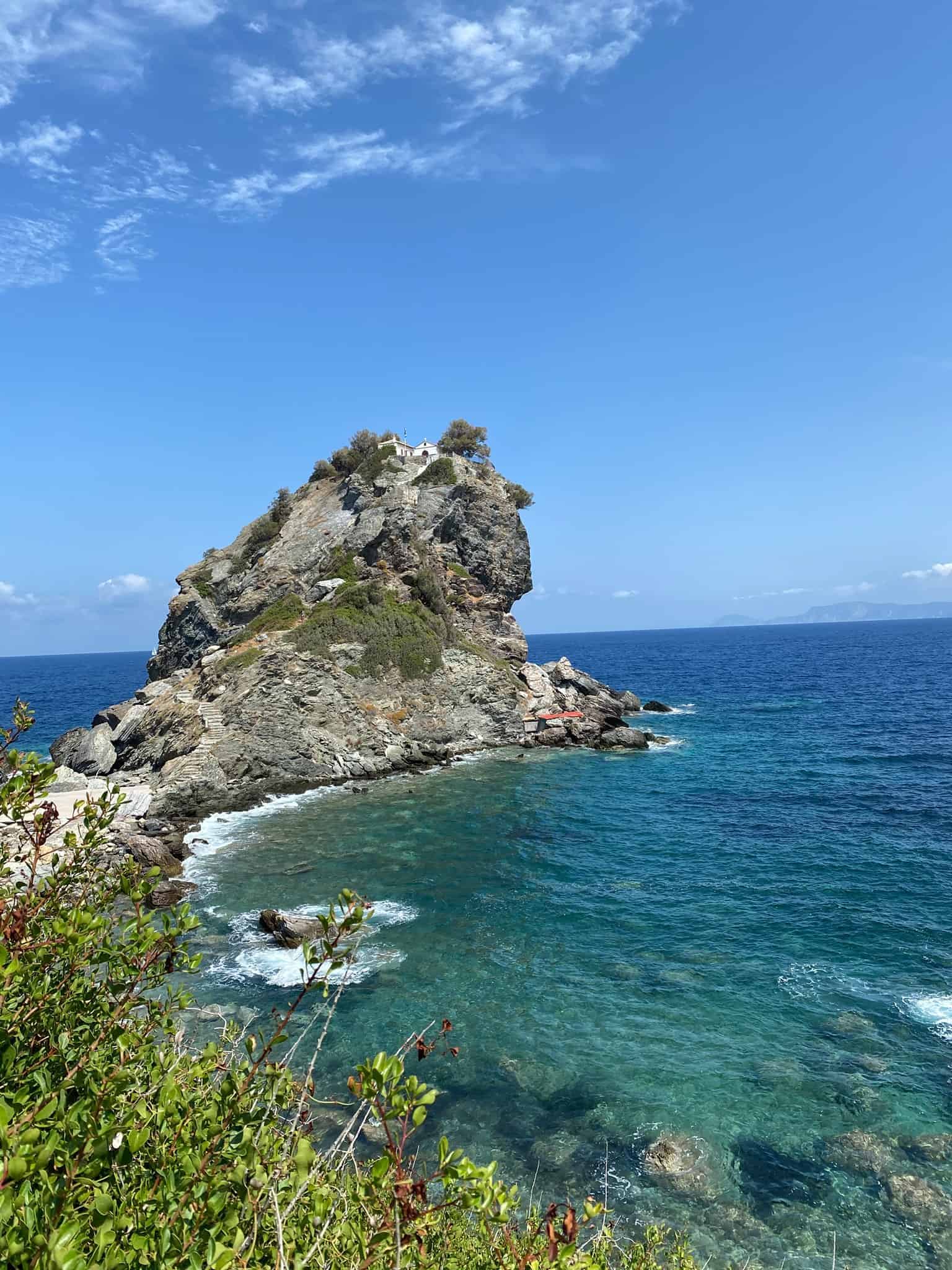 The church of Agios Ioannis Kastri is the tiny clifftop church made famous as the location for Sophie's wedding in Mamma Mia. It sits in the Kastri region of northeastern Skopelos.
Agios Ioannis Kastri is a little tricky to get to if you don't have a car. The easiest way to access it is to get to Glossa and then either walk or take a cab.
It takes just over an hour each way to walk from Glossa to Agios Ioannis Kastri. However, the journey is well worth it.
You can enjoy breathtaking views of Alonissos and the eastern coast of the Sporades from the church. The building is tiny, though there are some interesting religious artifacts and icons to be found inside. At the foot of the cliff, you will find Spilia beach which makes a nice place to swim and relax after the climb to the church at the top.
Spend a Day at Stafilos
Stafilos is one of the closest beaches to Skopelos town (5km). If you are short on time, you may prefer to spend your days swimming in the waters of the more aesthetic beaches of Milia and Kastani.
The beach here has both an organised section, and an unorganised one. A narrow walkway over the western cliff takes you to the less crowded Velanio beach. Velanio boasts a beach bar and a nudist-friendly area.
Meander through the Narrow Streets of Skopelos Town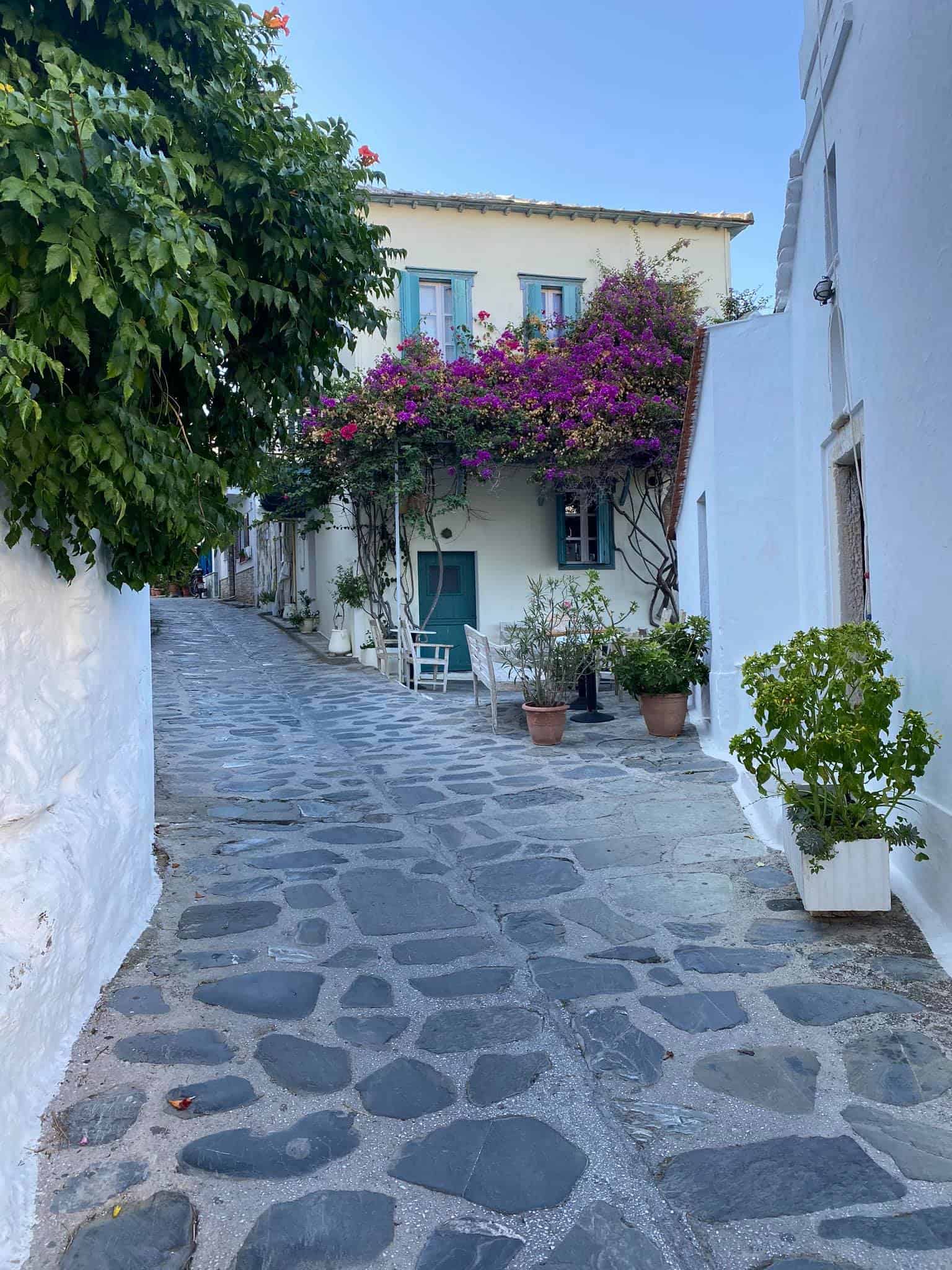 Approximately 3,000 of Skopelos' residents live within the vicinity of the island's namesake town. The seafront promenade is filled with a plethora of coffee shops, homely tavernas, juice bars, and shops selling local produce.
Meander down the narrow, labyrinth-like network of little cobbled streets and passageways to find ornate Orthodox churches, boutique stores, and quaint piazzas teeming with local life. A picturesque square sits at the intersection of Doulidou and Kanari streets, and is encompassed by restaurants and the town's famous plane tree.
Platanos taverna is locally renowned for their excellent homemade pita bread served fresh out of the oven. Meanwhile, the friendly servers at Magali prepare some of the very best gyros and souvlaki pitas in all of Greece.
When the sun goes down, head to Mercurius or Screwdriver cocktail bar for some of the best mixology in the Sporades. Platanos Jazz Bar sits in the shadow of the Church of the Virgin Mary (Panagitsa Tower) and is a wonderful place for enjoying an aperol spritz or a mastiha-infused cocktail as you watch the sunset over the harbour.
Volunteer with the Sweet Fluff Balls at Straycare Skopelos
Sadly, stray cats and dogs can be found all over Greece. Homeless fluffs seem to be in greater abundance on the islands than in Greek cities.
There are a few animal rescue centres that have popped up around the Sporades in recent years. Namely, Straycare Skopelos, and the Skiathos Cat Welfare Association on the neighbouring island of Skiathos.
Straycare Skopelos is independently owned by a lovely Athenian lady that takes care of dozens of cats with little funding and assistance. If you find yourself with time to spare while in Skopelos, you could consider contacting her via her Facebook page.
Donations are always appreciated, so too is offering to help out and volunteer – even if just for a day or two to walk or feed the fluffs. Sadly, there are always an abundance of cats and dogs here looking for a home.
Spend a Day at Glossa Town
The sleepy town of Glossa is the second-largest settlement on the island of Skopelos. If you thought that Skopelos town was quiet, Glossa is even more so – particularly if you find yourself here during afternoon siesta hours.
The beautiful houses here have been built in a traditional Aegean style – namely, pastel-coloured two storey homes complete with wooden balconies and ceramic roofs. Almost every turn in Glossa greets you with breathtaking panoramas over the Aegean, and out to the island of Skiathos.
An afternoon in Glossa is sufficient. There is a scattering of tavernas and coffee shops around the main square where you can enjoy a warm slice of Skopelos pie or other local delicacies.
Swim in the Cerulean Waters of Skopelos' Beaches
Skpeolos' beaches are reminiscent of a true paradise lost. Their azure waters are so clear that you can see to the bottom. Many of them resemble something that you would expect to find in the heart of the Carribean, rather than in Southern Europe.
There are dozens of Skopelos beaches scattered all over the island. However not all beaches are created equal. Some of the coastal areas that you should prioritise during your trip are detailed below.
Kastani Beach
Skopelos' gorgeous Kastani beach was one of the main filming locations for Mamma Mia. It was here where the scenes for "Lay all your love on me", "Does your mother know?", and the cliff jumping scenes were filmed. The beach looks slightly different to how it appears in the movie. The wooden pier in the film was assembled specifically for Mamma Mia.
There is a beach bar on the eastern edge of the beach where you can enjoy cocktails and light snacks beneath your own private cabana. The western side of Kastani beach is not serviced.
Kastani is one of the best Skopelos beaches, and arguably one of the most impeccably stunning spots in the entirety of the Sporades. It is surrounded by luscious green pine trees, and craggy rock formations. During the summer months, beach parties and live DJs are hosted here on certain nights.
Panormos
Magnificent Panormos beach is one of the best Skopelos beaches from a service perspective. Not only is there ample space to swim and relax on the sand and in the natural bay away from other travellers, there are also a wide range of bars and restaurants that line the sea front.
By contrast, most Skopelos beaches are either isolated, or offer simply one beach bar. Panormos is situated 12km west of Skopelos town. Despite the distance, the route along the road to Panormos is incredibly pleasant as you bypass the dramatic scenery of Stafilos, Amarandos, and Agnontas.
Milia Beach
Milia beach is regarded by many as being the best of Skopelos' beaches. The proximity of Milia beach to Kastani means that you can easily cover both spots in one day.
From here, you have incredible views of the leafy uninhabited island of Dassia – a paradisiacal spot that is only accessible by renting a boat. Milia can get very busy during the summer months. However, there is always plenty of room to sit without being disturbed – Milia is the longest beach on the island.
Glyfoneri Beach
Glyfoneri Beach is a serviced beach close to Skopelos town that has only opened in recent years. It is situated just 2km north of Skopelos town, making it the closest beach to the port area.
There is no public transport that runs to Glyfoneri. However, you can drive, take a cab, or even walk the 2km route. During the summer months, beach parties and events are hosted here.
Getting Around Skopelos
It may come as a surprise to learn that Skopelos boasts excellent transport links – especially during the summer months. There is a public bus service that runs in a circle around the island at frequent intervals throughout the day.
Skopelos Buses
The bus starts at Skopelos town and runs onwards to Stafilos, Agnondas, Panormos, Milia beach, Kastani beach, and Glossa. Tickets cost just a couple of euros each way.
The Skopelos bus schedule is subject to change depending on the season. However you will find the latest schedules posted on the notice board at Skopelos town port.
Renting Cars and Bicycles
Renting a car in Greece is not as intimidating as it may first sound. There are ample rental companies scattered around Skopelos town, and the northern village of Glossa. From here you can rent cars, motorcycles, ATVs, and bicycles as long as you provide a copy of your identification.
There are several gravel roads that take you to some of the more secluded beaches on the island. However for the most part, Skopelos roads are very flat and well-paved. This also makes the island an excellent place for cyclists.
Taxis in Skopelos
There are a couple of taxi ranks in Skopelos from where you will always be able to find a car. Namely, these are:
Outside Skopelos port in Skopelos town


In Glossa main square


In Neo Klima village
Getting to Skopelos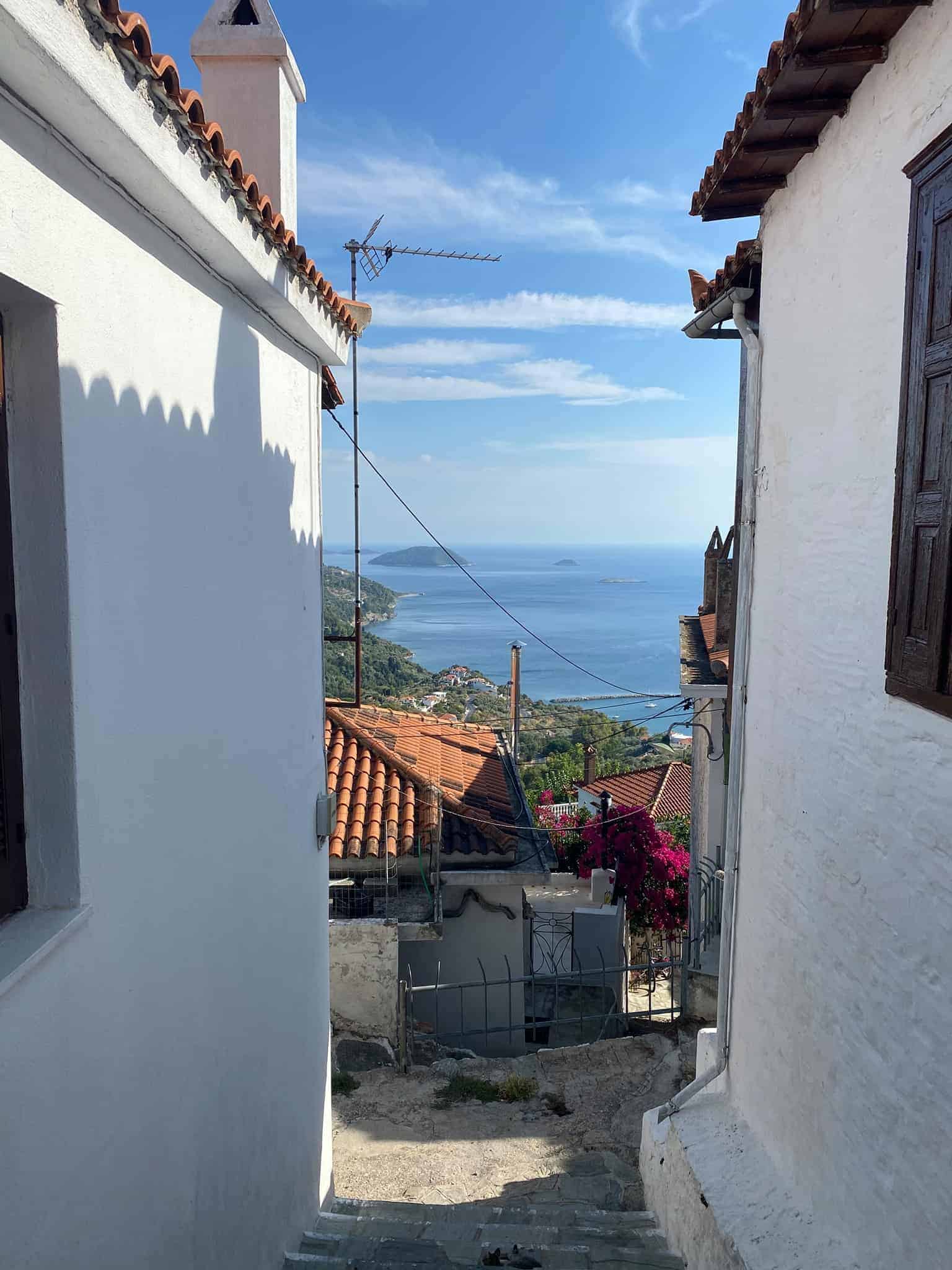 There is no airport on Skopelos island. The easiest way to reach little Skopelos depends on where you are travelling from.
By Air
There is no airport on Skopelos island. The nearest international airport is on the adjacent island of Skiathos.
Various European countries offer direct flights to Skiathos during the summer months, including the UK. If you are travelling out of season or from outside of Europe, you could fly into Athens or Thessaloniki and then take a domestic flight to Skiathos.
You need to take a ferry from Skiathos to Skopelos town or Glossa. The journey takes just 20 minutes each way.
By Ferry
There are three ferry ports on mainland Greece that service Skopelos. Ships run between the Sporades and Volos, Agios Konstantinos, and Mantoudi ports.
Ferry schedules vary depending on the season. It is advisable to book directly through the specific ferry company as opposed to via general ferry booking sites. The latter often charge an additional booking fee of 5-6 euros per ticket.
Most ferries arrive at Skopelos town or Glossa port. Check the specific disembarkation point of your ship before you purchase a ticket. Agnontas port is sometimes used when the weather is too windy or stormy to arrive at Skopelos port. Agnontas is just 20 minutes away from Skopelos town and a free bus is provided by the ferry company if you have to stop here for any reason.
Where to Stay in Skopelos, Greece
The island of Skopelos is the largest in the Sporades. However it is still very small.
You can get from one end of the island to the other (Skopelos town to Glossa) in less than two hours. Even if you opt to stay in some of the more remote parts of the island, you will not be isolated as the transportation here is fairly good, and everywhere can be reached in a short period of time.
All things considered, Skopelos town is arguably still the best place to base yourself during your Skopelos holidays. This places you right next to the port for boats to and from Volos, Skiathos, and Alonissos, and provides you with ample dining and nightlife opportunities.
Skopelos Village Hotel
Skopelos Village Hotel is a luxury Skopelos property without the luxury price tag. The hotel is situated on the peaceful eastern corner of Skopelos town, a short walk away from the monasteries of Palouki.
The scenic whitewashed building boasts breathtaking views of the open sea from its rooms and suites. The rooms have been decorated in an elegant, contemporary style, with furnishings of quintessentially Greek blue and white.
Rooms start from around €80 per night. You can check the latest room rates and availability here.
Parting Words
Do you have any additional questions about Skopelos Greece or about planning a trip to Greece in general? Please don't hesitate to reach out to me. I have lived in Greece for over three years now, and spent two months in Summer 2020 living on the little island of Skopelos.
I am happy to answer any questions and queries that you may have. Safe travels! Geia sou! Melissa xo
---