Agnontas Skopelos is a tiny, sleepy hamlet on the island's west coast. It sits within a gorgeous natural bay encompassed by pine trees.
The little settlement is home to just a small handful of residents. However, some of the very best restaurants on the entire island can be found here. It is very worth carving the time out of your itinerary to visit Agnontas – whether to stop by for dinner at the end of a long day's swimming and exploring or as a jumping-off point for some of the nearby beaches. 
Falling in Love with Charming Agnontas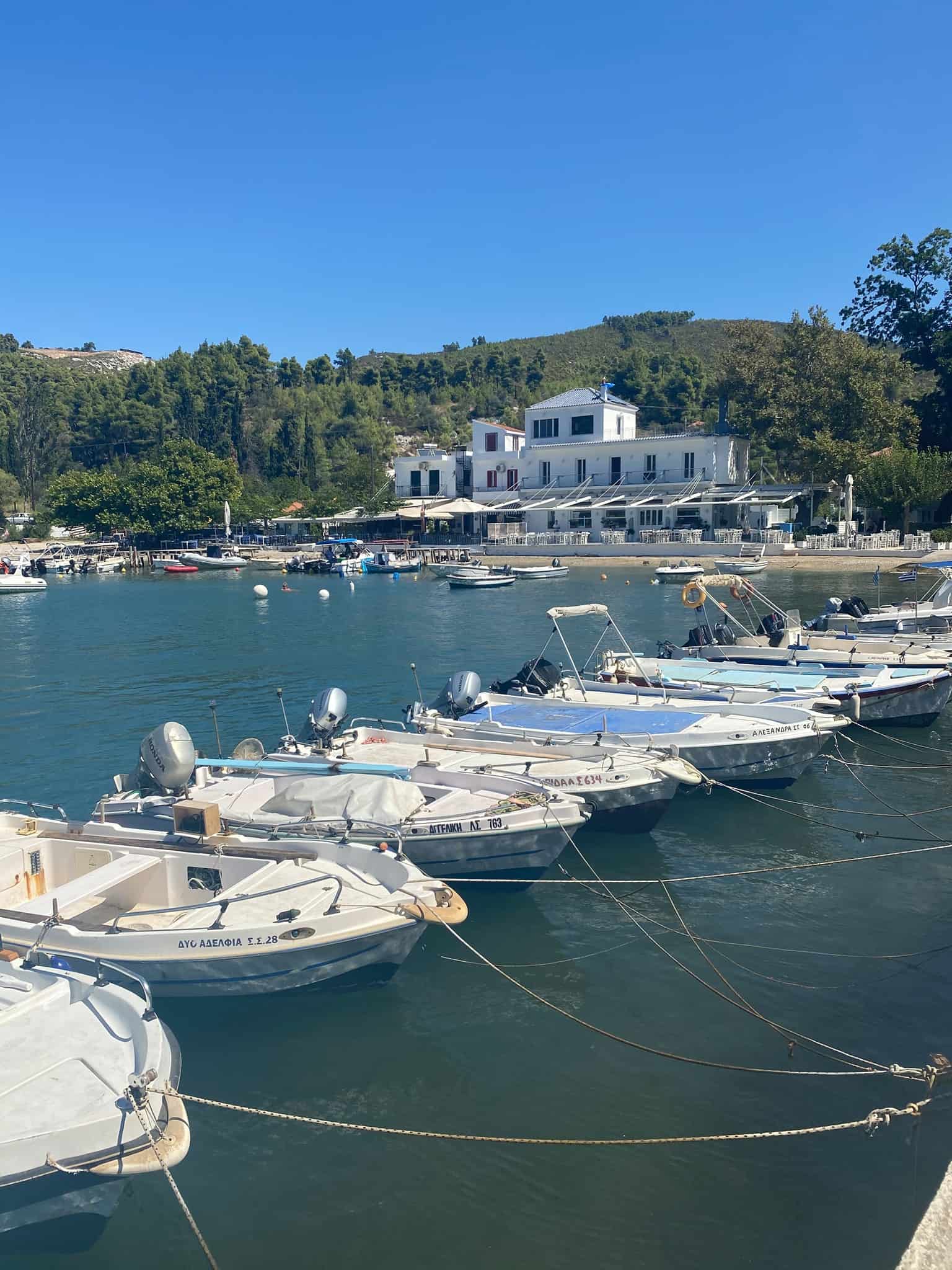 Agnontas/Agnondas takes its name from an Ancient Greek Skopeliti athlete. The Athlete Agnondas was a champion of the Olympic Games in 569 BC. 
Today, Agnontas is essentially Skopelos' third port. Yet due to its compact size, it is mostly used by local fishermen who sail out towards the cerulean waters of the Aegean in search of the day's freshest catches.
On occasions where the winds are too strong to sail into Skopelos town port, Agnontas is used as a backup option. It lies just 8km away from the Chora and is connected to the main town by the island bus that runs around the circumference of Skopelos.
Beaches Around Agnontas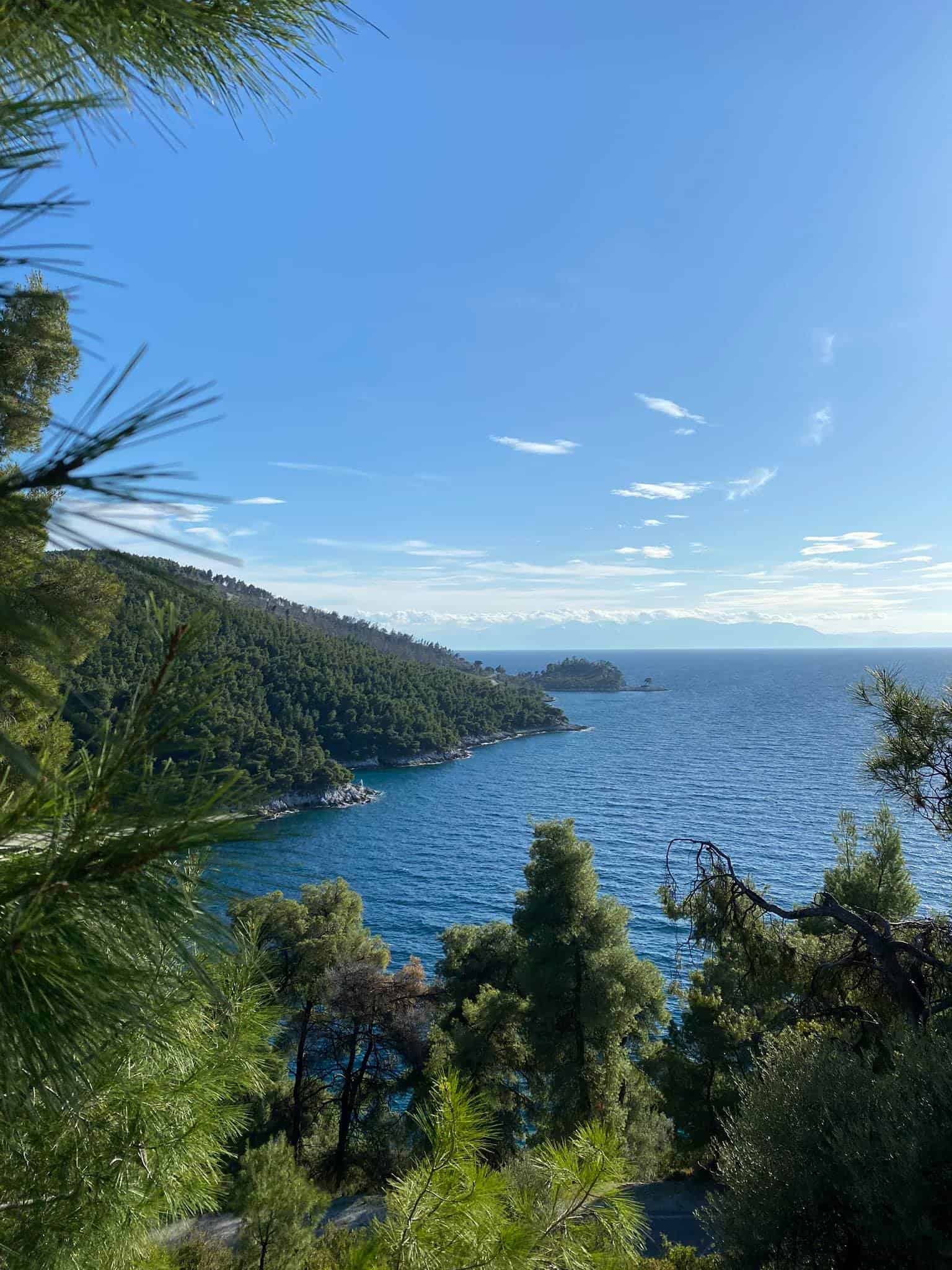 Some of Skopelos' most gorgeous natural beaches can be found in the area around Agnontas. The settlement's namesake Agnontas beach is a small pebbled stretch of coastline with calm, shallow waters that sits directly adjacent to the area's restaurants.
Agnontas beach
Agnontas beach in itself is nothing to write home about. Although you will often see local families coming here to swim and set up an umbrella on a sunny day after dining at the nearby tavernas. The beach is organised with sunbeds and equipment available for rental.
Limnonari beach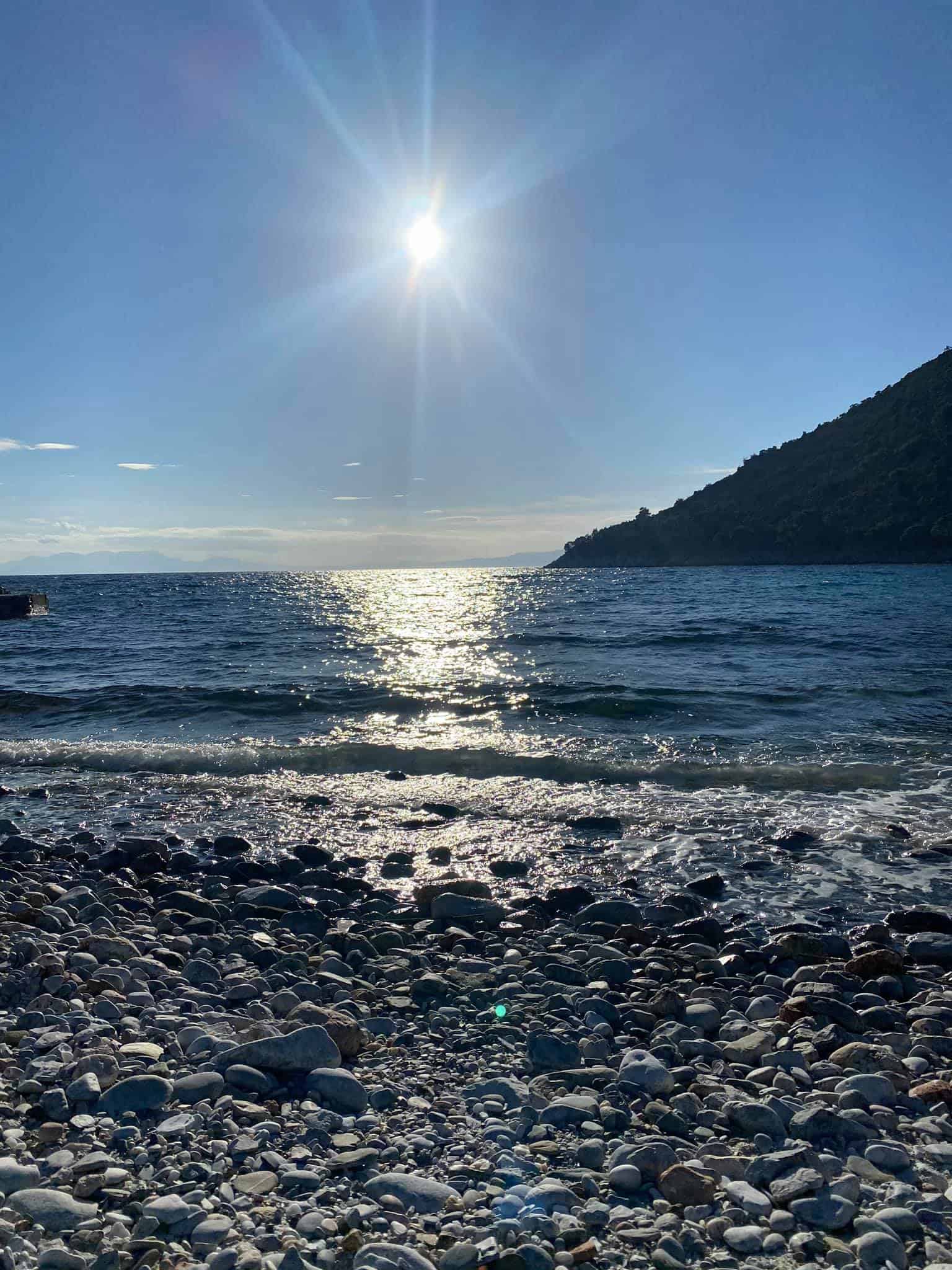 A dirt trail takes you up above the village of Agnontas and along a scenic coastal route to Limnonari beach. It is easier to access Limnonari if you have your own car.
However, the walk only takes around 20-25 minutes so it isn't excessively far. (It is better if you set out before 10 am to avoid the height of the summer sun). 
Limnonari awaits in the form of a picturesque sheltered bay with white-pebbled beaches and clear, calm waters. The scenery along the trail to Limnonari is every bit as breathtaking as the beach that awaits you at the end. 
Sunbed rentals are available at Limnonari and its relatively "off the beaten path" location means that it is seldom as crowded as some of the island's other beaches. A selection of restaurants and tavernas operate here during the summer. The bar and restaurant "Apanemo" is particularly charming.
Cape Amarandos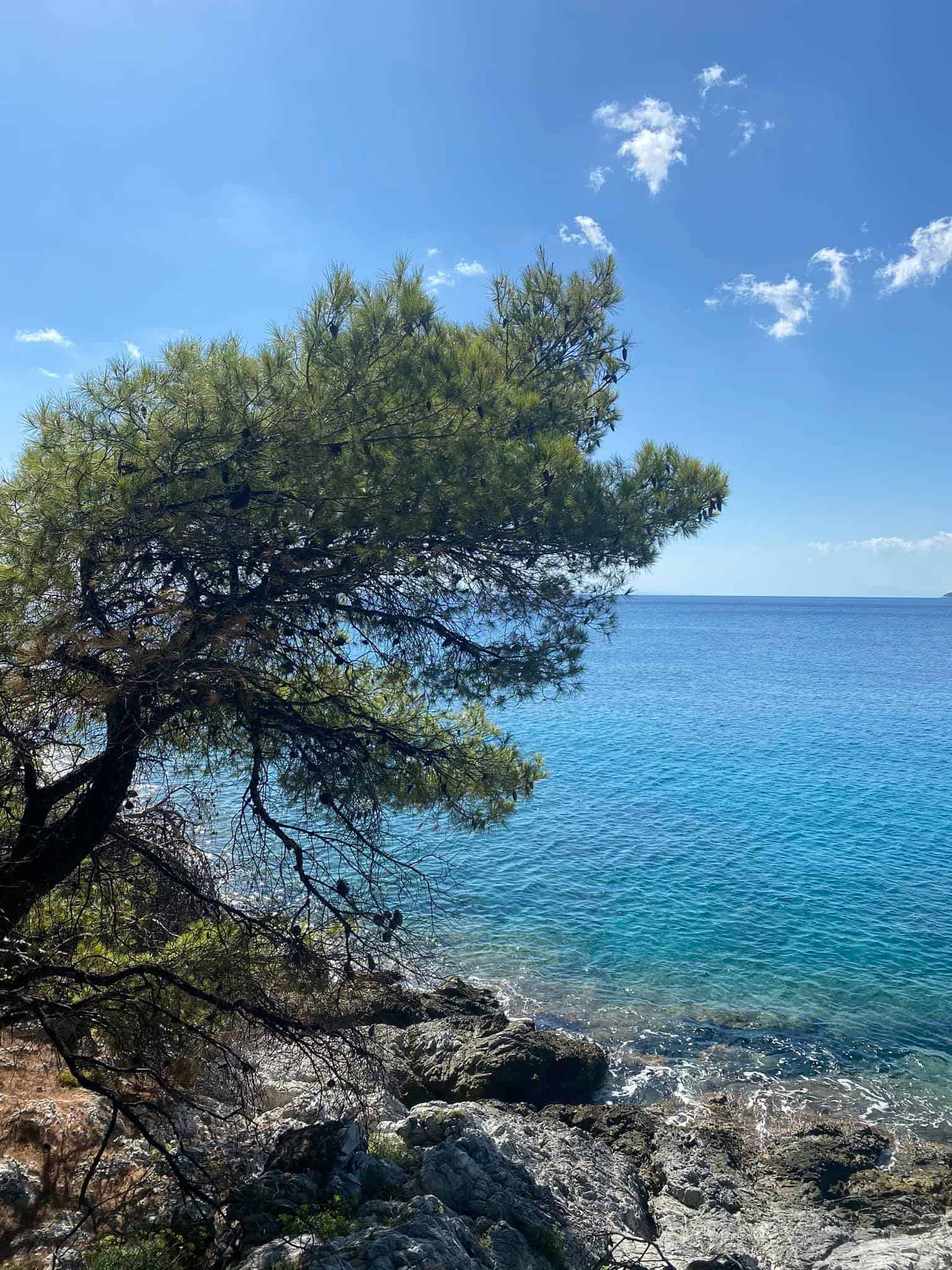 Cape Amarandos is not a beach per se, but a stretch of undisturbed, wild coastline that can be found at the end of a dirt road just before you approach Agnontas. If you follow the path down to the end, you will see the infamous postcard image of Skopelos – two lone pine trees that ascend from a sea cliff.
The highlight of Amarandos is the various hidden coves and rock pools in the area. The waters here are so crystal clear that locals often nickname Amarandos "piscina" meaning swimming pool.
Restaurants in Agnontas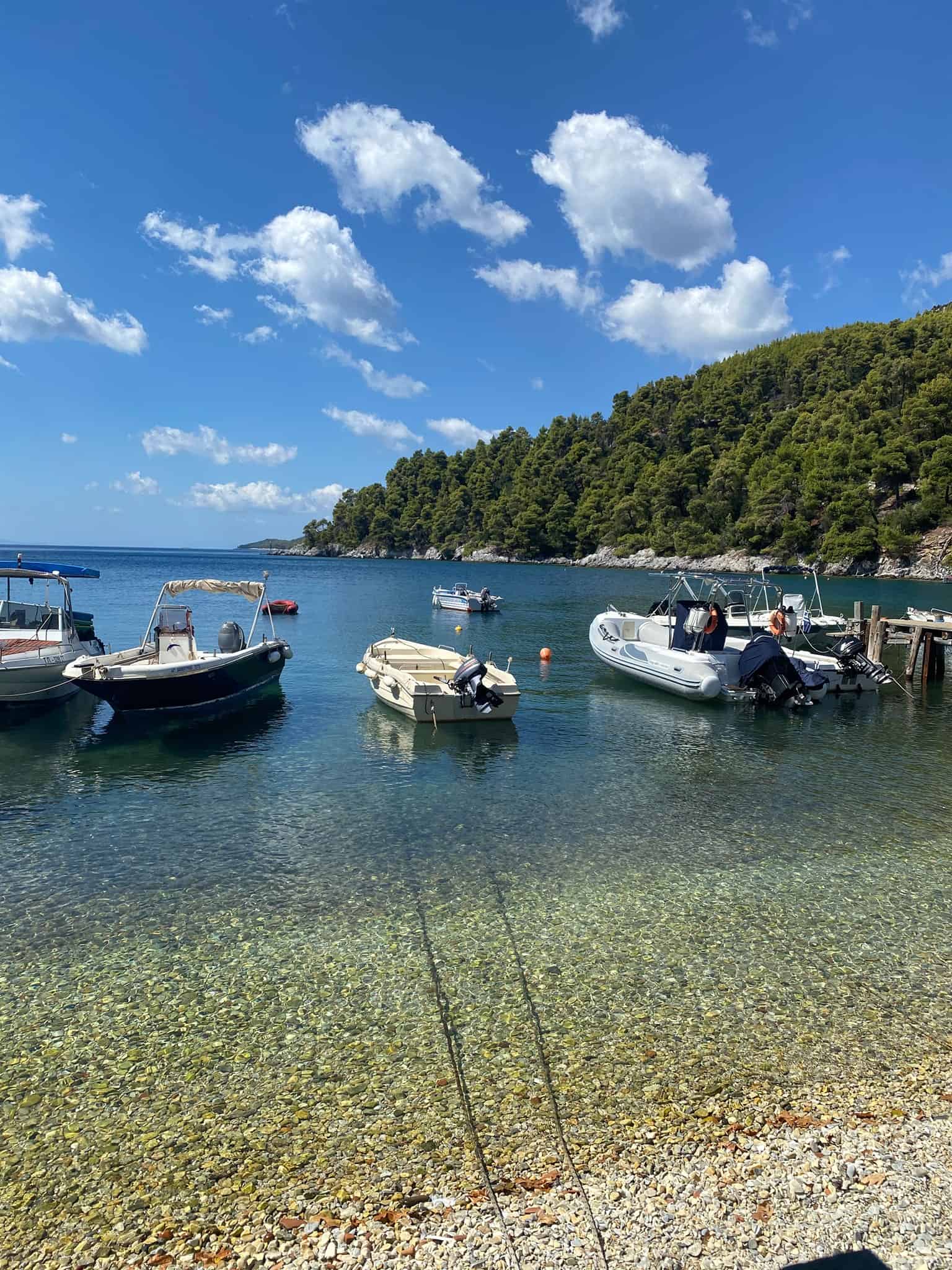 Some of the best-rated restaurants in Skopelos can be found in the Agnontas area. This is particularly the case when it comes to seafood. During the summer months, Skopelitis themselves will travel across the island to tuck into fresh fish in Agnontas. 
Korali restaurant 
Korali restaurant is one of the most beloved seafood eateries in Skopelos. Set right beside the waterfront in Agnontas, it is also one of the most scenic.
The owners have been based in Agnontas for decades, during which time they have built close relations with the local fishermen. The recipes are prepared using fresh fish that are sourced from nearby waters that same day.
Indeed, customers can view and select the specific fish they want to eat from the aquariums at the establishment. There is a diverse selection of Greek and Mediterranean dishes featured on the Korali menu. The lobster, the fresh squid, and the owner's unique fish soup concoction all come highly recommended.
M Coffeehouse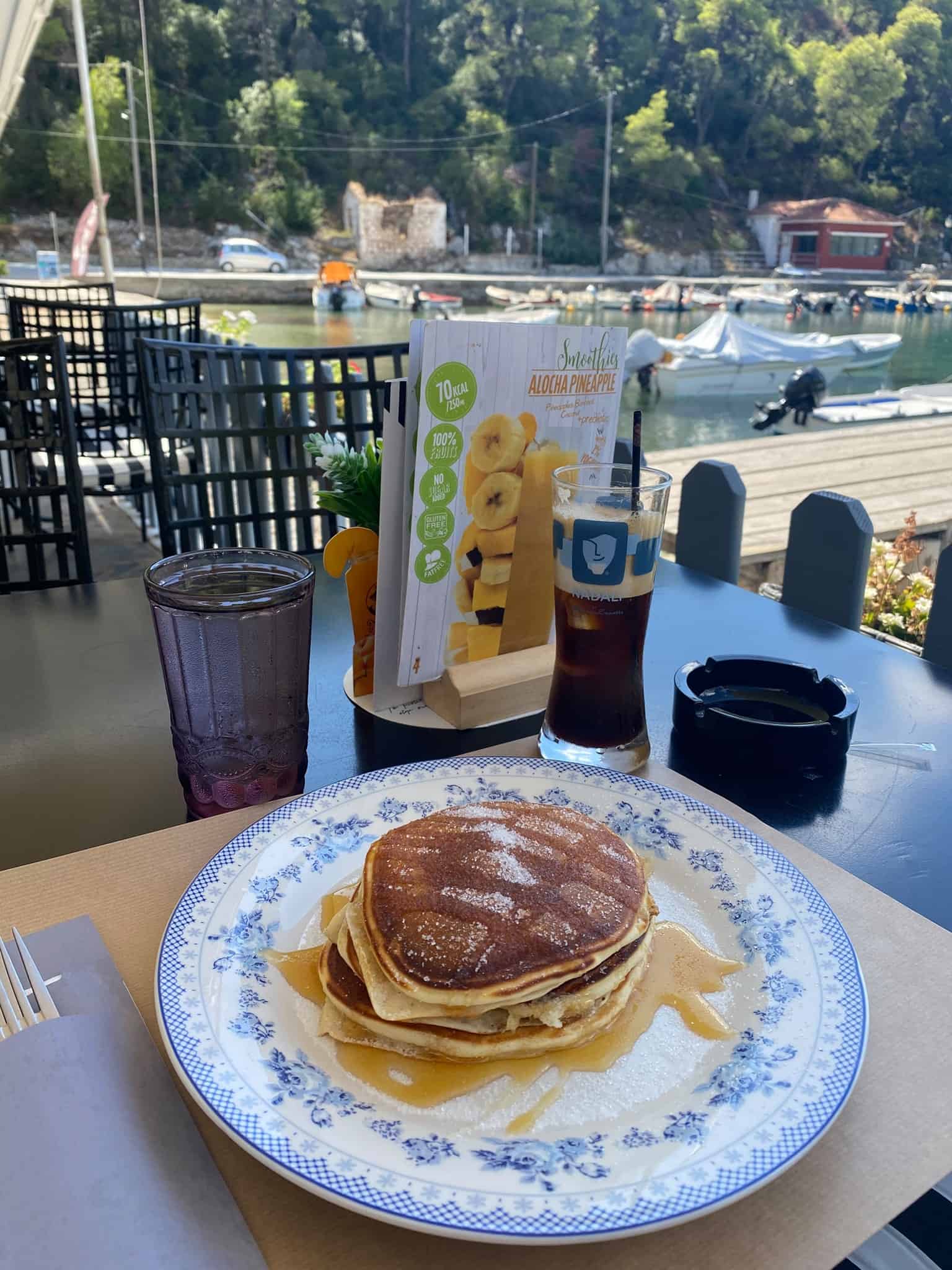 M Coffeehouse is an excellent place to stop when you just want to grab a quick coffee or a light bite in Agnontas. Start your morning with a strong cup of Ellinikos kafes (Greek coffee) and a pile of fluffy pancakes drenched in sweet Greek pine honey.
Mouria Fish Taverna
There are fewer places more beautiful to watch the sunset in Skopelos Greece than right by the waters of Agnontas as you tuck into sumptuous Greek cuisine at Mouria fish taverna. The charming restaurant boasts an ambiance that is so quintessentially Greek – blue and white washed tables and chairs set right on the pebbled beach. 
Fresh seafood is of course the specialty and draw of Mouria. However, the diverse menu also caters to meat lovers and vegetarians. 
Patrons can opt to tuck into a fresh lobster or baked fish, or alternatively order a meze platter and a range of appetisers to share among friends and travel buddies. Then, wash it all down with an iced glass of ouzo or tsipouro. 
Where to Stay in Agnontas
Agnontas Skopelos is not the most popular area to stay in Skopelos. However, that's not to say that it isn't a good base for your vacation!
Opting to stay in Agnontas means that you have several excellent tavernas, coffee shops, and stores right on your doorstep. However, you are away from the hustle and bustle of the main town.
Even if you choose not to rent a car or a motorbike, you will not isolate yourself by staying here. The island bus passes through Agnontas several times a day connecting you with Glossa, Loutraki, Stafylos, etc.
Agnontas is small, but there are a handful of accommodation options to suit every budget and travel style. For something charming and traditionally Sporades-style, consider Stamatia's Garden.
The quaint premises are set inside a fragrant flower garden filled with trees and lemon groves just 50m away from the waterfront at Agnontas. Rooms are spacious, clean, and modern with private terraces and all the amenities you may need.
Alternatively, Lithanemon is a hotel and serviced apartment complex made up of a number of studios and apartments. Guests can enjoy the property's outdoor pool, patio, gardens, and BBQ
Parting Words
Do you have any further questions about Skopelos? Or about planning a trip to Greece in general? Please don't hesitate to reach out to me via the comments below. I'll get back to you as soon as I am able to do so.
Safe travels! Geia sou! Melissa xo
---