Deciphering where to stay in Skopelos can be overwhelming for a first time visitor. The island, although relatively "off the beaten track" as far as Greek islands go, boasts two main ports and several villages.
The best place to stay in Skopelos may vary depending on what you are looking for during your Skopelos holiday. This article will discuss the best areas to base yourself, and the best hotels in Skopelos to consider for your trip.
There are two main ports on Skopelos island: Loutraki (Glossa) and Skopelos town. The small hamlet of Agnontas also boasts a port. However, this is only really used in instances where adverse weather stops boats from being able to sail into the former two.
Where to Stay in Skopelos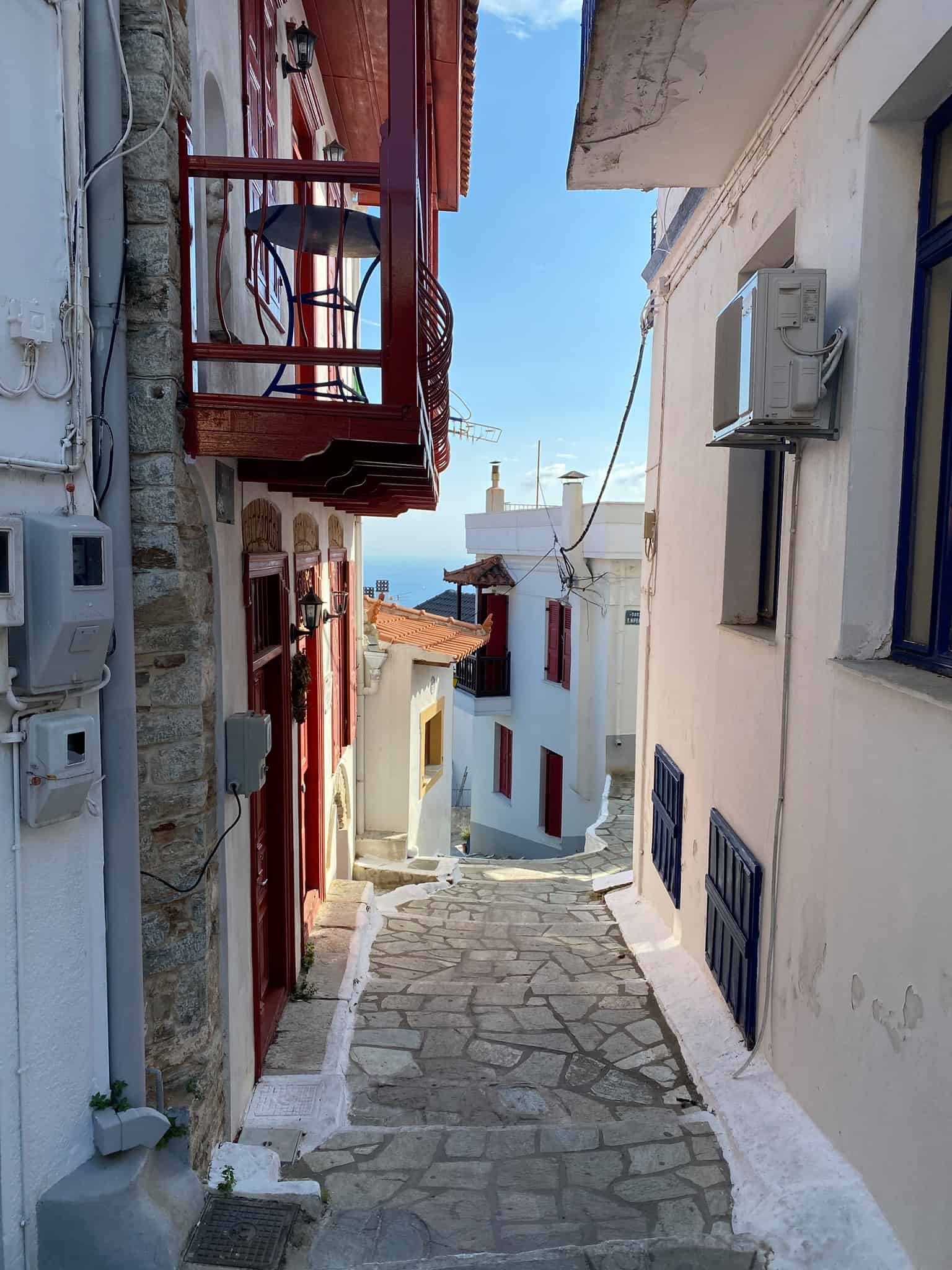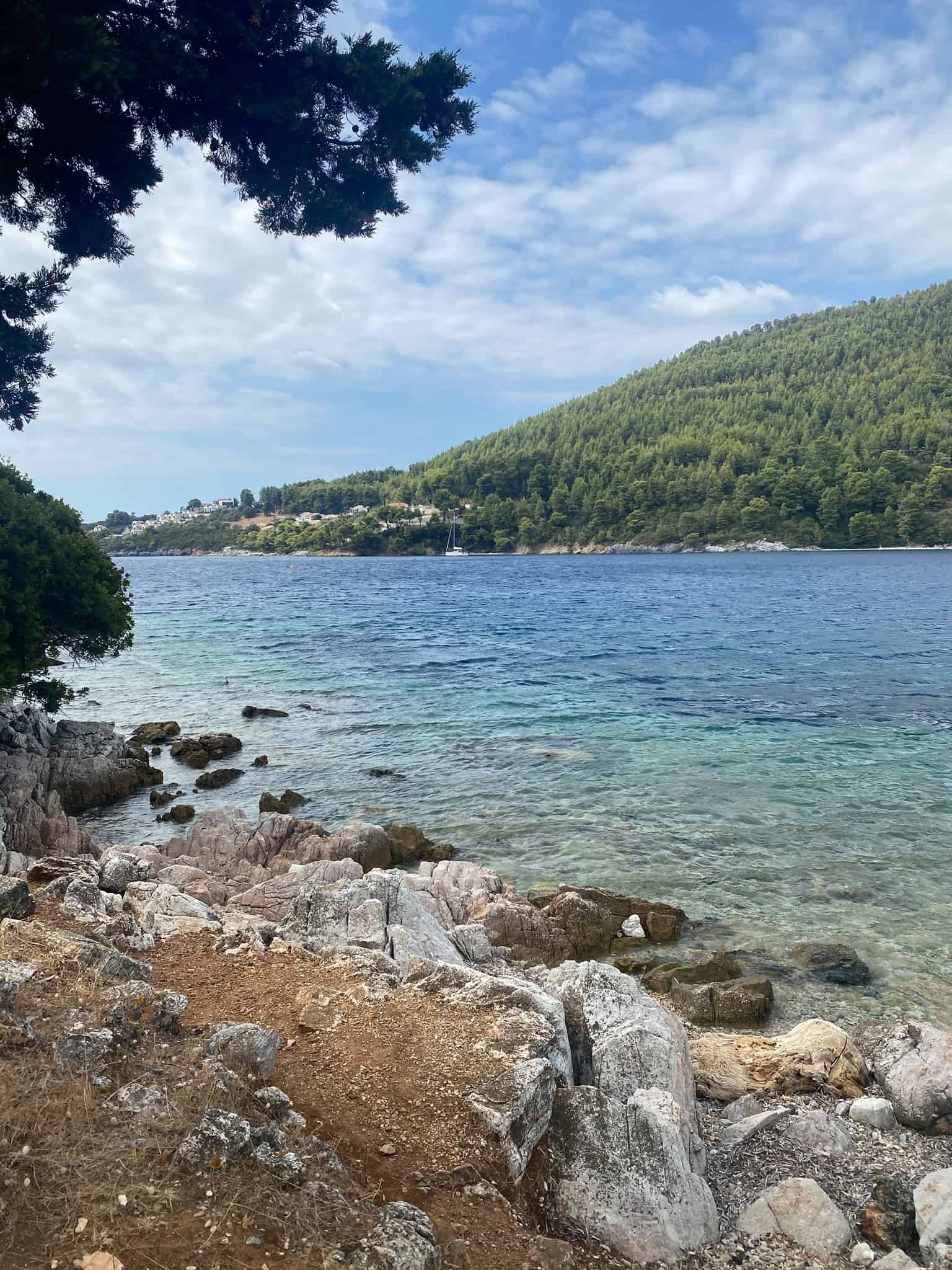 Assuming you're planning on exploring as much of the island as possible, and you want to be somewhere with good transport links, tour services, and restaurants/amenities, Skopelos town is arguably the best place to base yourself. Other areas for consideration are:
Panormos – Sleepy beach town with pebbled beach and several excellent tavernas


Glossa – Sleepy northern Skopeliti village with narrow passageways and cobbled piazzas


Agnontas – Quaint, beautiful hamlet within walking distance of the island's best beaches


Stafilos – Small village with a stunning bay and gorgeous beaches


Raches – Rural area in the hills above Skopelos town with incredible panoramas over the island


Mili – Tiny hamlet just above Skopelos town close to the walking trails and monasteries of Pelouchi.
Skopelos Town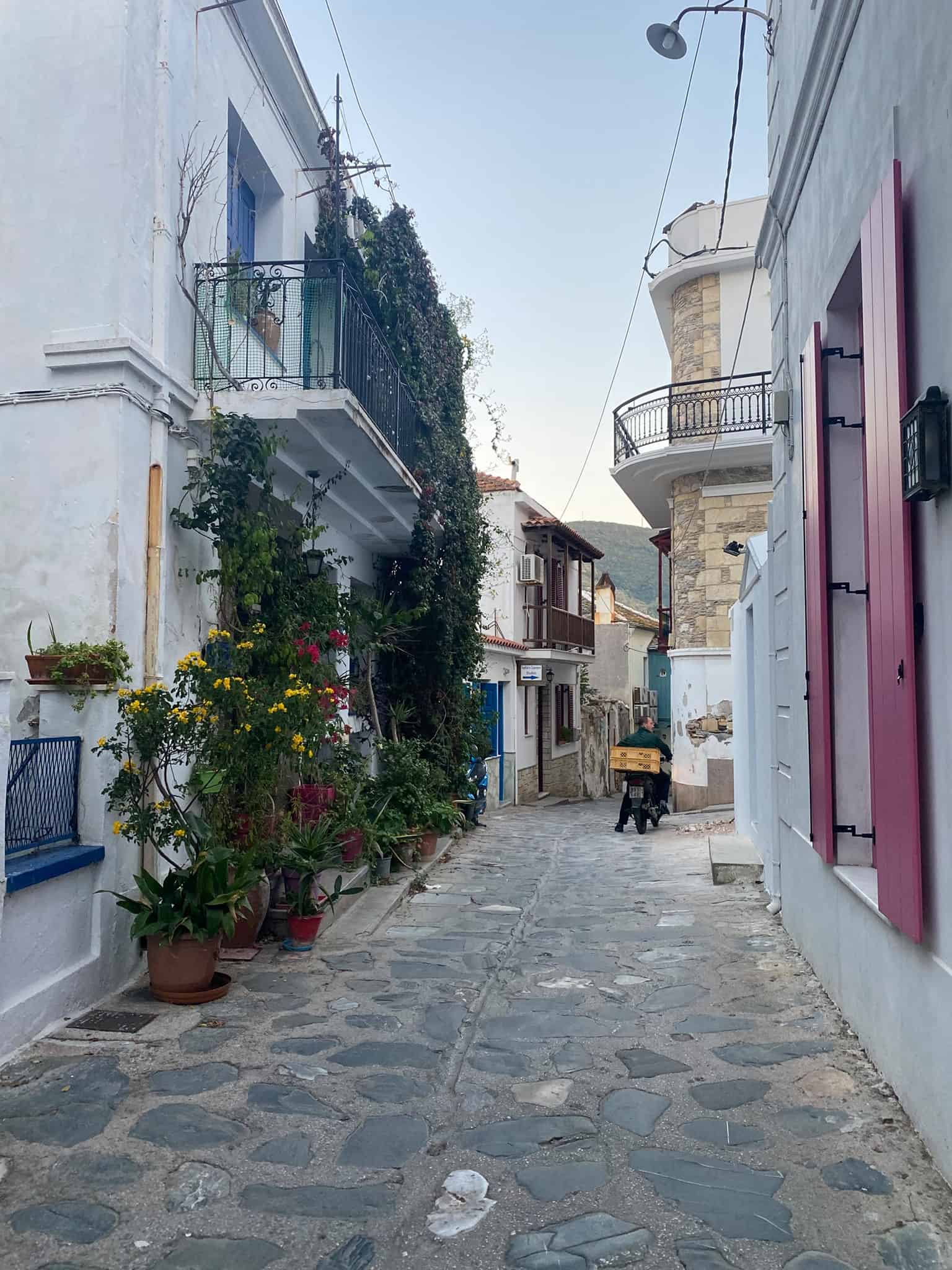 Skopelos Town (Chora) is essentially the island capital. Approximately 2,000 people live here – just over half of the island's 5000 residents.

The town was declared a "place of outstanding beauty" by the former Greek Prime Minister in 1978. Indeed, its whitewashed houses that cascade down hilltops towards the sea look like something straight from a postcard.
Skopelos town is made up of many narrow cobbled streets that are lined with artisanal stores, and open out into little squares where you can enjoy Greek delicacies beneath a Platanos tree.
The town beach is nothing to write home about. However, the major benefit of staying here is the convenience.

Buses depart regularly from the port area during the summer months. They depart 5-6 times per day and run to all major towns and beaches on the island – all the way up to Glossa.

There are a wide variety of restaurants, bars, and coffee shops that line the seafront. Stop by Ampelokipi restaurant for exquisite food with a view.
Best Skopelos Town hotels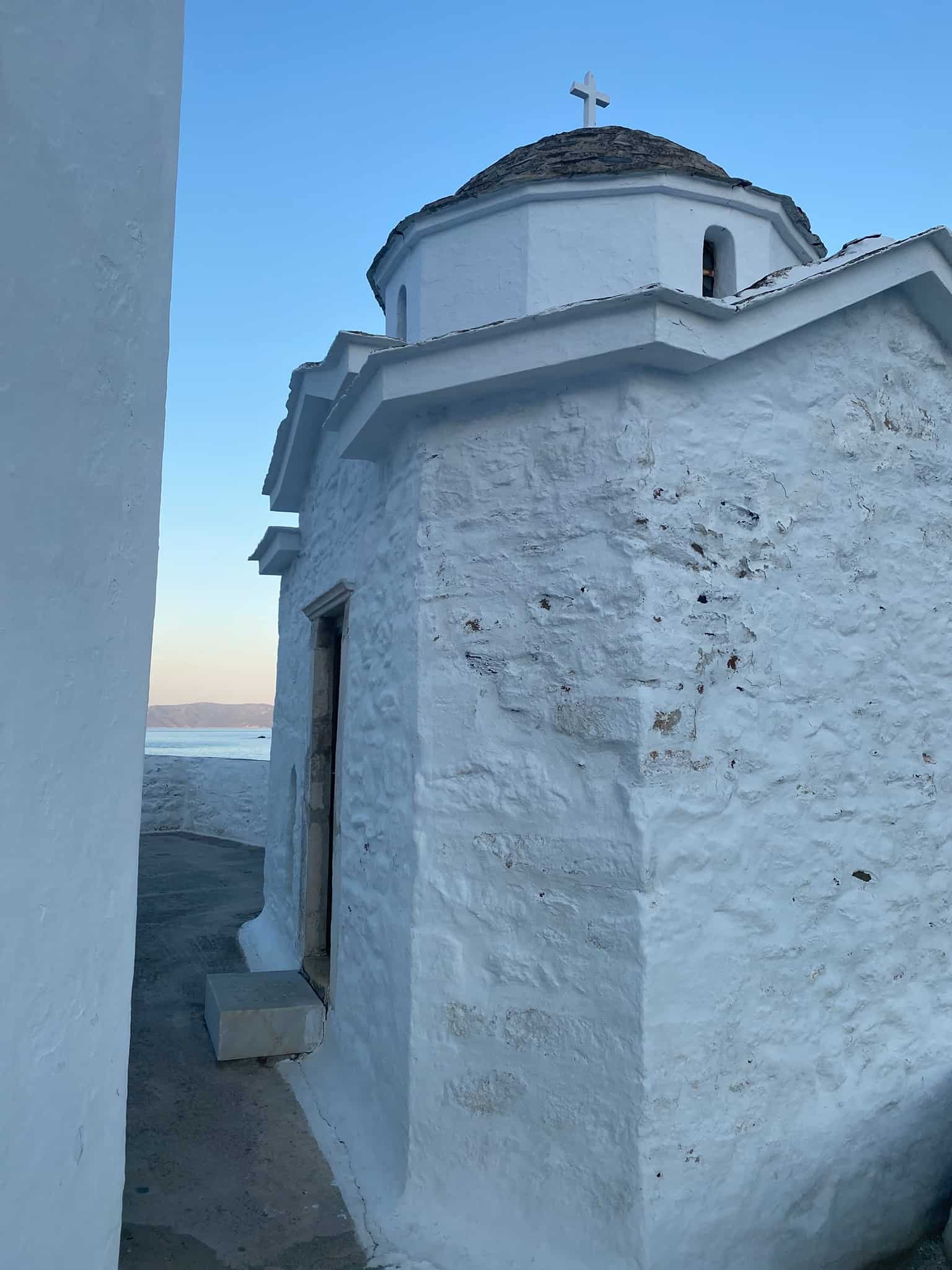 Tip: Avoid a hotel called "Perivoli Holiday Studios" in Skopelos. The property has issues with rat infestations, broken windows, broken lights, no wifi, etc.
On leaving a review stating such, the owner began to harass former guests, insulting them personally. He was removed from the Airbnb platform and reported to the tourist police. Beware.
Panormos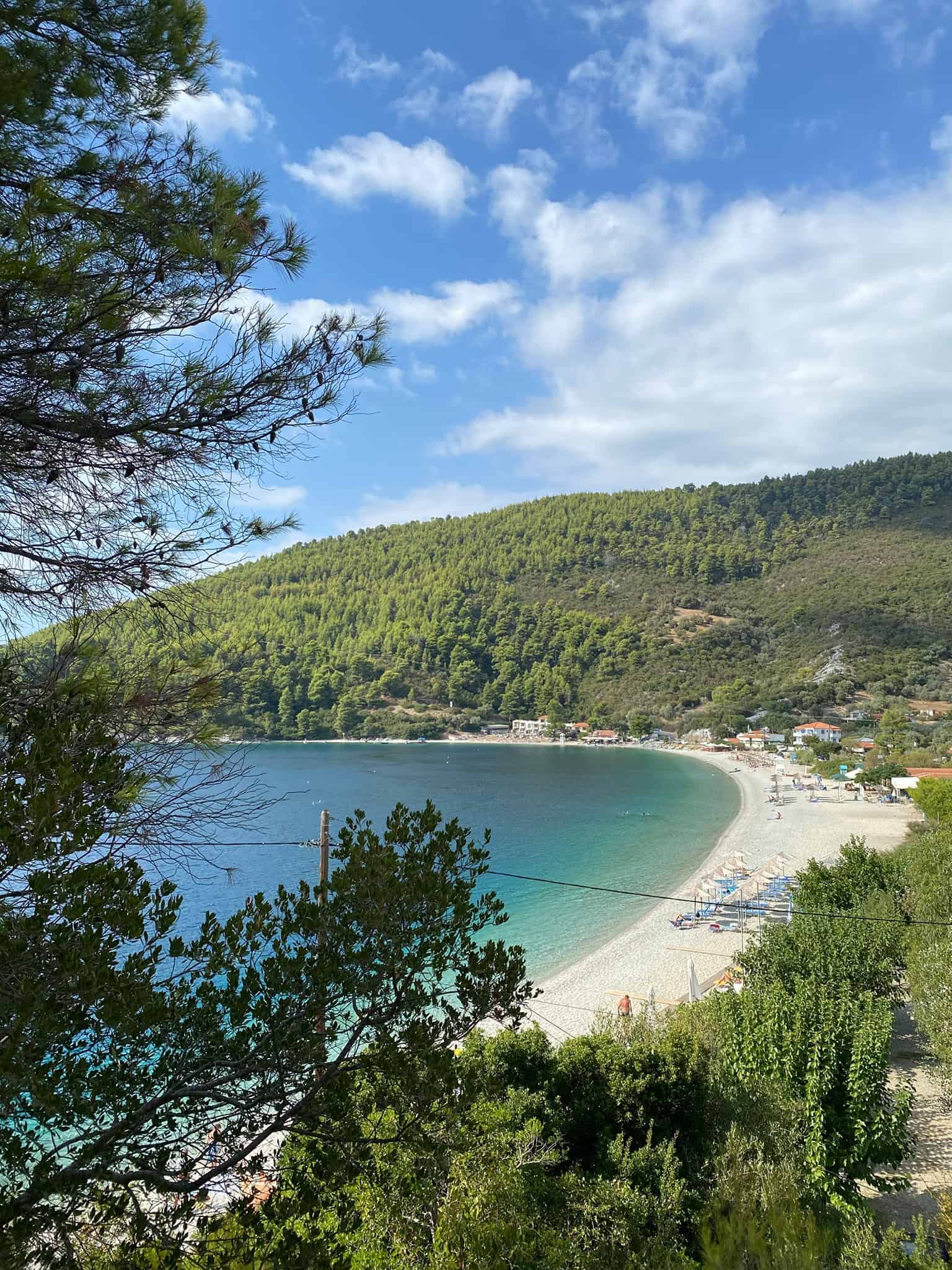 Panormos is your quintessential Greek beach town. It sits on the west coast of Skopelos island, some 15km away from the main town.

The town is a tourist favourite. Some places are popular for a reason and indeed, this curvaceous stretch of coastline bordered by clear cerulean waters and dense pine forests takes your breath away no matter how many times you visit.
There are several tavernas that line the seafront. Family-run Taverna Vasiliki is particularly beloved by locals and guests alike.
Rest assured that you will not be short of places to eat after your day sightseeing. Panormos is only a short drive away from the popular beaches of Kastani and Milia.
Best Panormos hotels
Glossa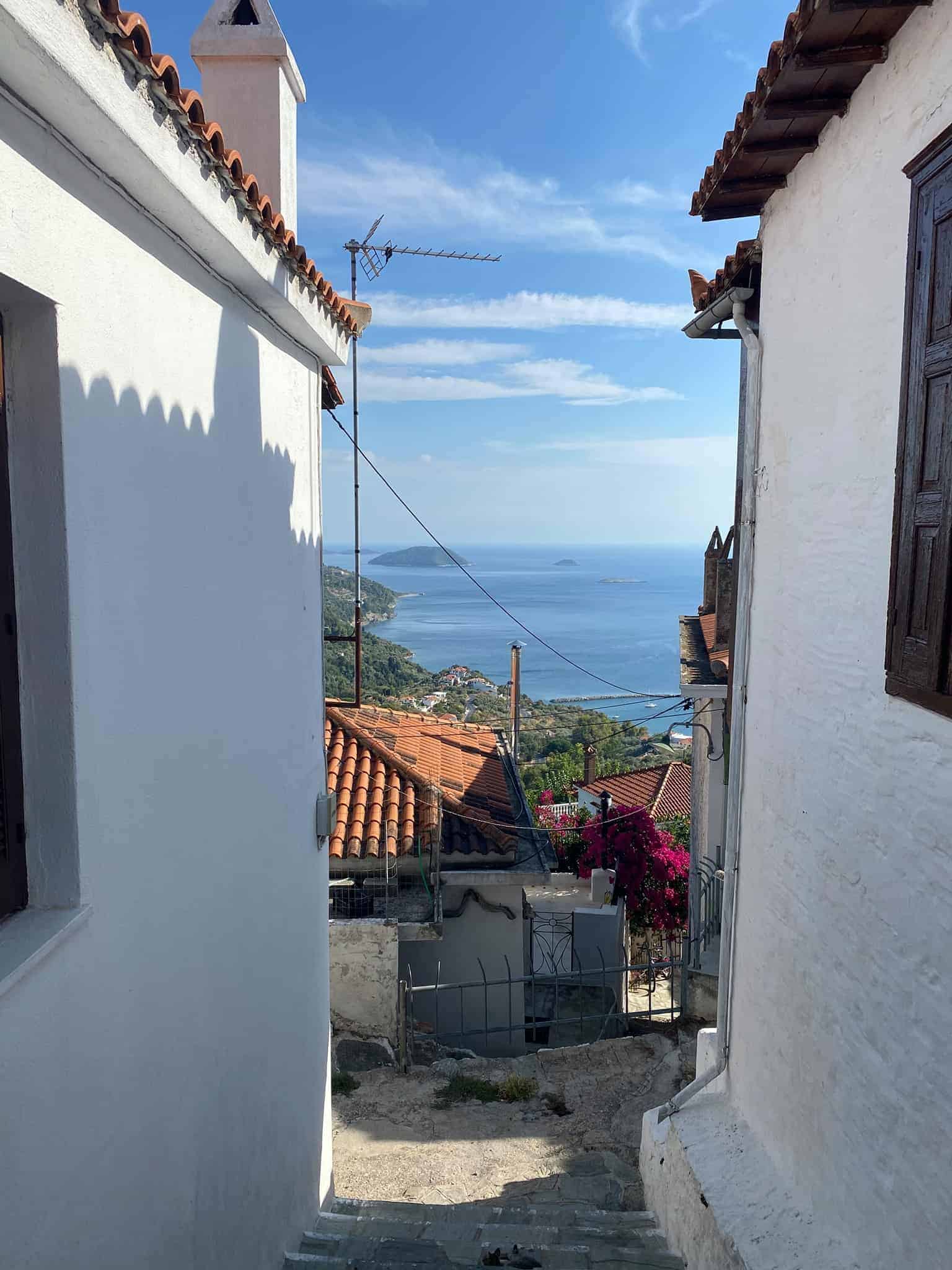 Glossa is a sleepy village situated in the northwest of the island. Even during the height of summer, you seldom see more than a handful of people pottering around its streets.

The village sits at an altitude of 300 meters above Loutraki port. As such, you can enjoy incredible views and sunsets from up here.
On a clear day, you will see all the way across the water to Skiathos town and the Pelion. For this reason, Glossa has often been affectionately nicknamed "the balcony of the Aegean".
There are several restaurants and coffee shops in Glossa where you can enjoy a long lunch or dinner with a view. Agnanti restaurant is a good choice for fine-dining Mediterranean food with a contemporary twist.
The only problem with basing yourself in Glossa during your time on the island is that it is relatively far away from most of the best beaches. For instance, Limnonari, Milia, Stafylos, Panormos, Amarandos, etc.
It means that it's a bit of a trek to travel to and from each place every day. Not to mention, buses run less frequently from up here.
Best Glossa hotels
Agnontas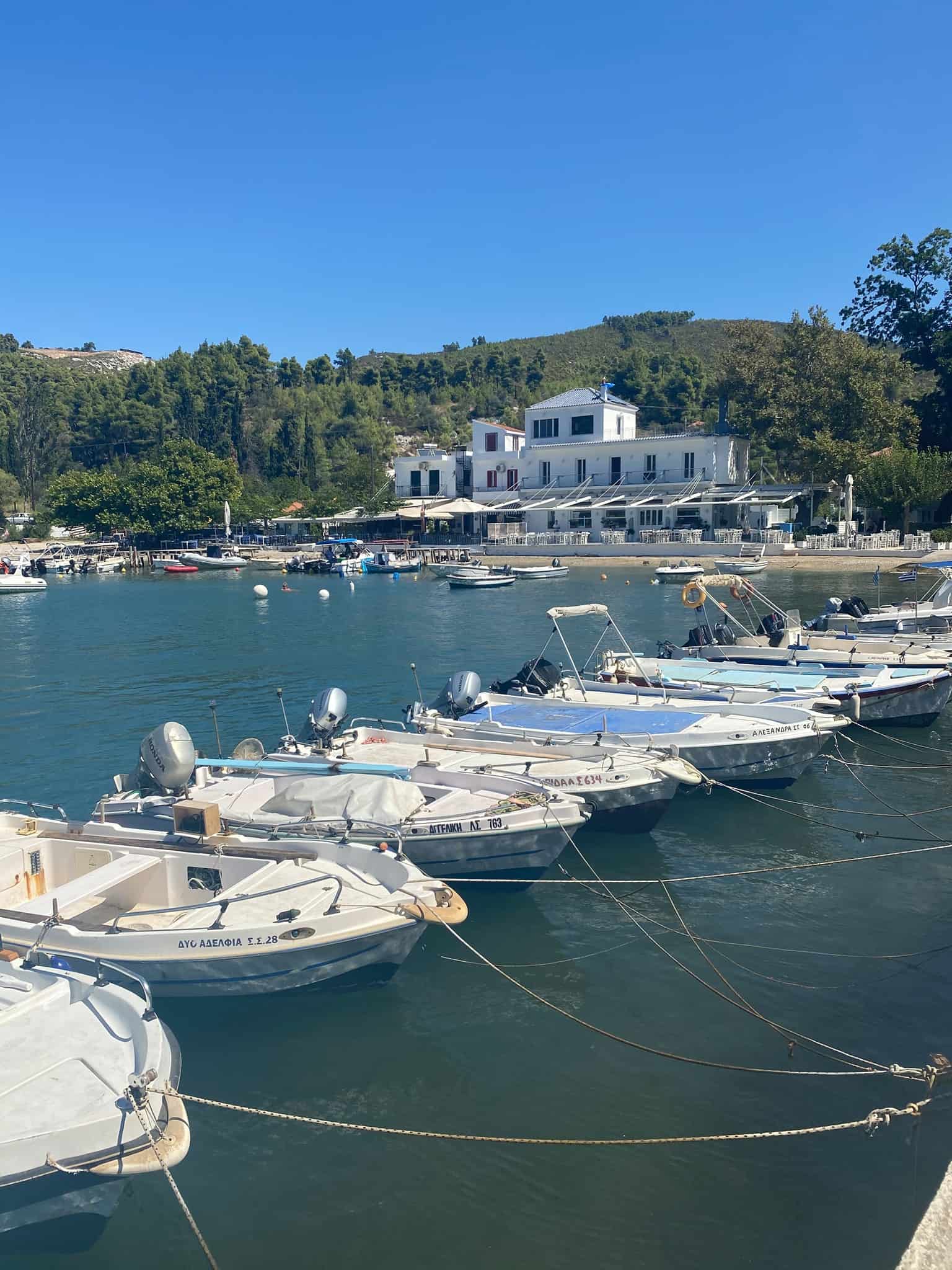 The sleepy portside hamlet of Agnontas is home to less than 80 permanent residents. In the winter months, it is practically a ghost town. However, during summer in Skopelos, the restaurants that operate here are some of the best on the island.
Stop by Mouria fish restaurant for exquisite seafood dishes sourced from nearby waters, and start your day with coffee and pancakes at M Coffeehouse. There is not a huge amount of stores or services here. However, if you want to focus your trip on beaches and nature, Agnontas could be an option for you.
From Agnontas hamlet, it is just a short walk to Limnonari beach. The secluded coves and rock pools of Cape Amarandos can also be reached within just 25 minutes. The small bus stop at the end of the port operates services to the Chora, and other towns and beaches.
Best Agnontas hotels
Stafylos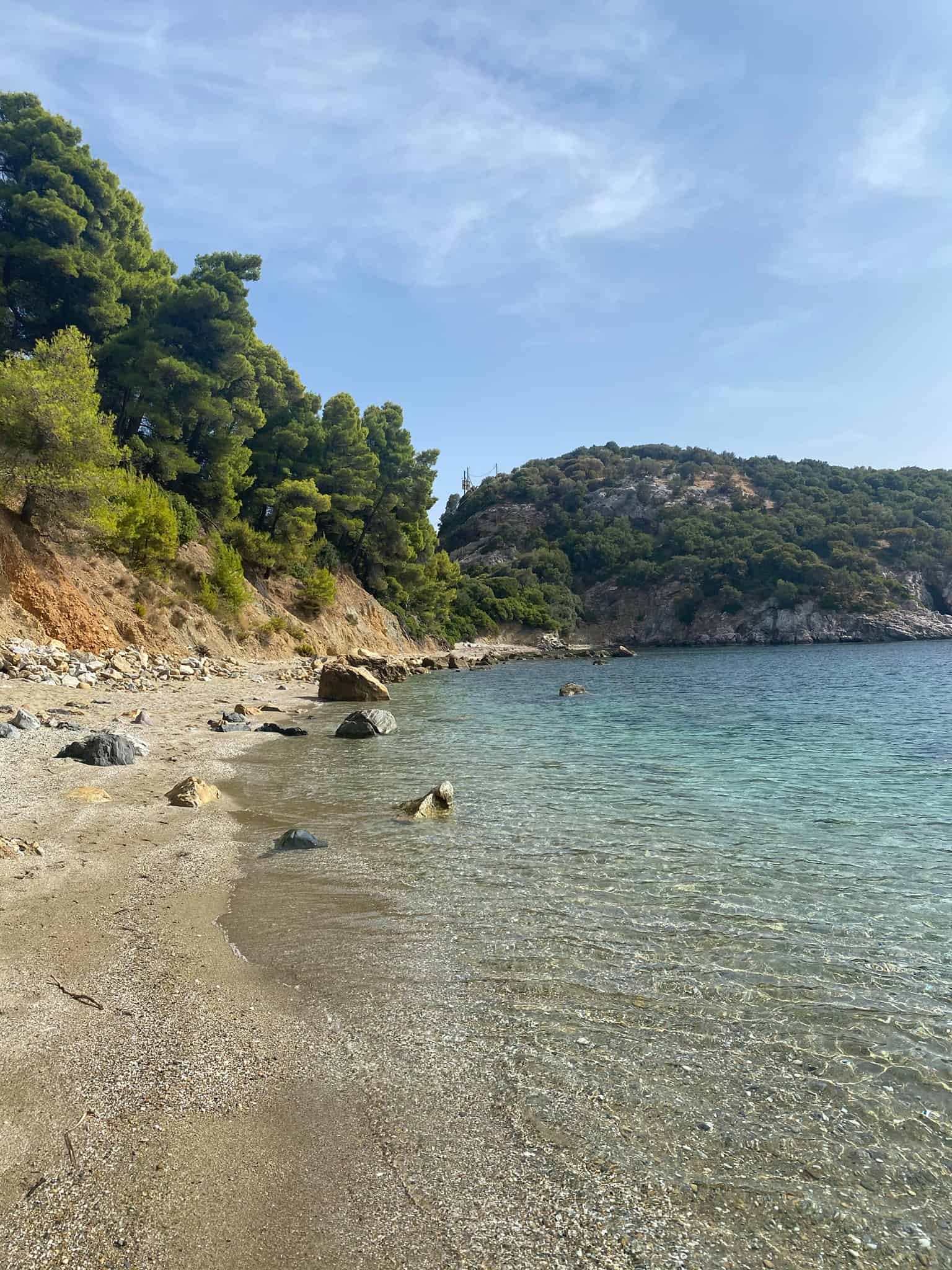 Stafylos is a small settlement on the east coast of Skopelos, just 4km away from the main town. The area's namesake Stafylos beach is the main draw for visiting.
Equally beautiful is Velanio beach – the only naturist beach on the island. You can reach Velanio by walking to the far end of Stafylos beach and following the little woodland trail.
All of the businesses and restaurants here are seasonal and only open during the summer months. Regardless, when they are open, they are among the best on the island.
Terpsis Restaurant sits on the road between Stafylos and the Chora and has been delighting islanders and tourists since the 1960s. You can find specialty dishes here that you will simply not find outside of Skopelos.
The most unique creation on the menu is perhaps "grandma's stuffed chicken". If you want to sample this, you must place an order the day before you hope to dine at Terpsis.
So what is grandma's stuffed Skopeliti chicken? This is a juicy, tender-cooked chicken stuffed with walnuts, chicken livers, and Skopelos plums. You won't find anything like it elsewhere.
Best Stafylos hotels
Raches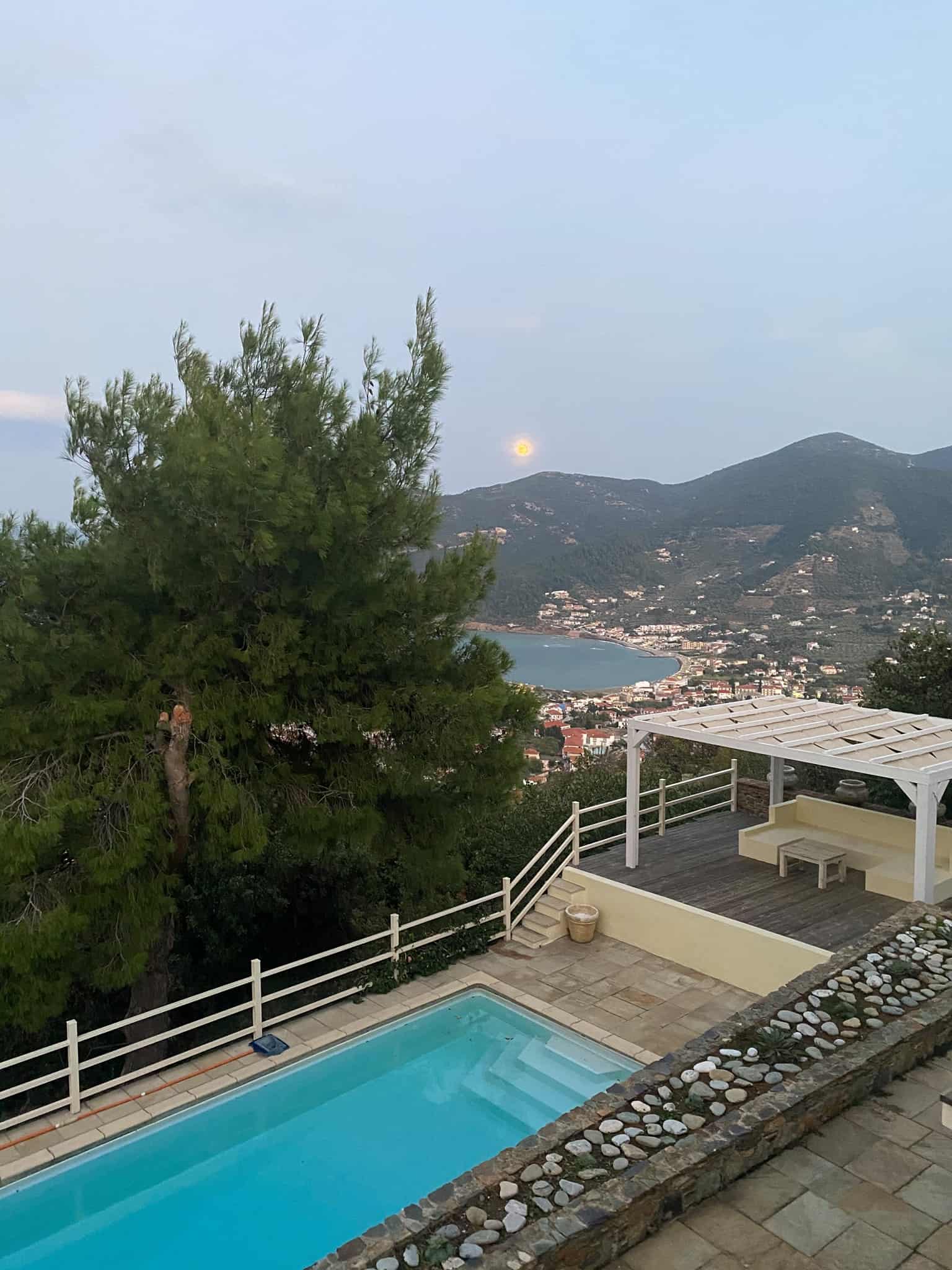 Raches is a rural area in the hills above Skopelos town. It is surrounded by fragrant olive groves, orchards filled with lemons and famous Skopelos plums, and rolling green hills where farmers tend to their sheep.
Many luxurious Skopelos villas are situated up here, offering the ultimate Skopelos experience. Raches is 4km away from the port. There is also a small hiking trail that runs through the olive groves and takes you down to the town centre.

There is no public transportation up to Raches. Taxis from the town cost approximately 10 euros.
However, you may find that some cab drivers are reluctant to drive up here as many streets do not have names. As such, it is highly advisable that you rent a car if you are staying up here.
Best Raches villas
Villa Filomena


House of Dimitri


Villa Raches
(Note: Get £45 off your first Airbnb booking by making your reservation through this link)
Mili
The little hamlet of Mili sits in the hills to the east of Skopelos town. It is close enough to the port area that walking to restaurants, stores, and bus stops takes just a few minutes.
However, it is also far enough away from the hubbub of the main strip. Mili is quiet and peaceful, and you can enjoy breathtaking views from this hilltop location.
The T1 hiking trail starts outside Mili. This is one of the best hikes in Skopelos and leads you to the Holy Monastery of the Annunciation, Ieri Sotiros Monastery, and various other Orthodox monasteries and churches. The Mili area boasts numerous rental properties and villas.
Best Mili hotels and villas
Where to Stay in Skopelos:
Conclusion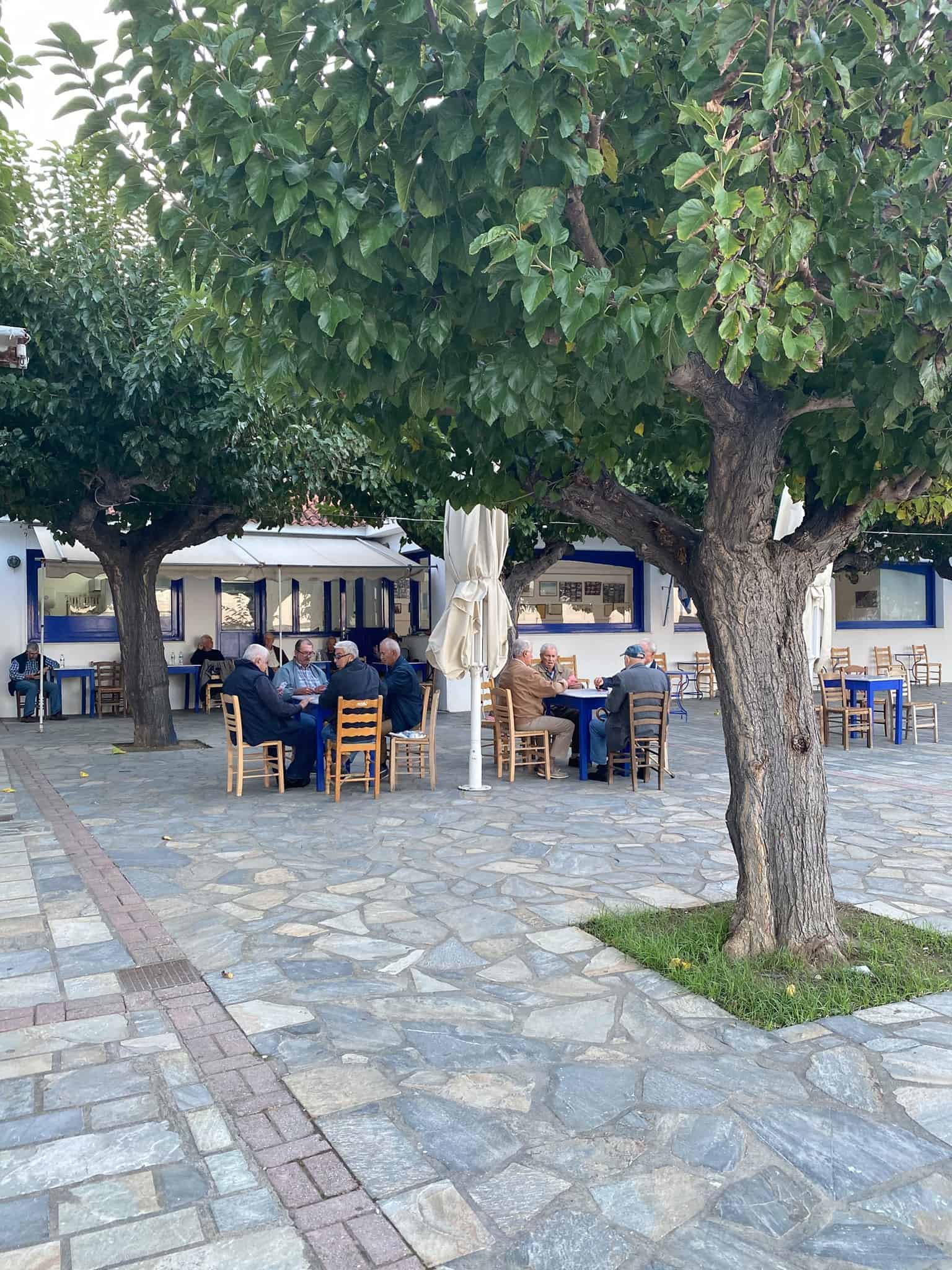 The Chora is still arguably the most convenient place to stay on the island. You have everything you could possibly need here.
Not to mention, the location is convenient for taking ferries to the other Sporades islands. Alonissos, Skiathos, Skyros, and Volos can be reached in a matter of hours.
Do you still have questions about where to stay in Skopelos? If you are planning a Greece trip, I'm happy to help you as much as I am able to.
Please don't hesitate to reach out to me via the comments below or by email. Safe travels! Geia sou! Melissa xo
---