Deciding where to stay in Skopelos can be one of the most important and overwhelming parts of planning your trip to the gorgeous Sporades island. After all, where you base yourself can really shape your holiday experience.
Skopelos town and Glossa are the two main villages on the island and the main places where people start their search when looking for hotels and guesthouses. They are convenient options since they both have a major port nearby for easy connections to Skiathos, Alonissos, and Volos.
However, there are also a bunch of lesser-known hamlets that are equally charming, as well as scenic accommodation options overlooking gorgeous beaches. This guide has been written by someone who spent close to a year living on Skopelos Island and knows it like the back of her hand.
In it, we will run through all of the best areas and hotels in Skopelos. 
Where to Stay in Skopelos in 2023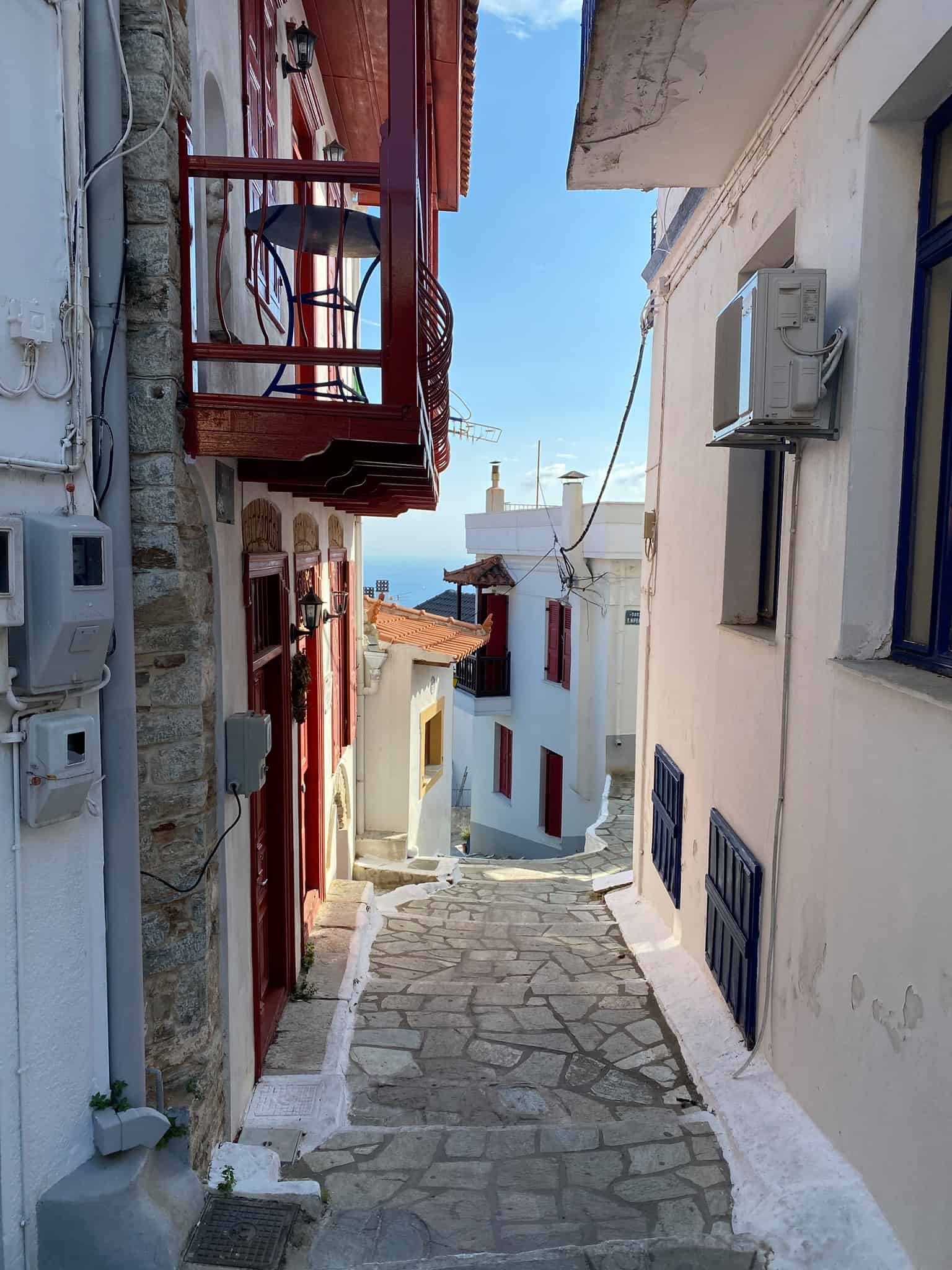 The best place to stay in Skopelos Island can vary depending on you and your personal preferences. For example, are you only spending one night on the island so that you can visit the Mamma Mia church before heading back to Skiathos? In that case, Glossa might be the most convenient choice. 
Do you want to stay in a bustling town where you have an abundance of bars, restaurants, and entertainment options right on your doorstep? If so, Skopelos town might be the best option for you.
Conversely, if you want to base yourself in a quieter area where you are close to the sea and can easily walk to one of the island's best beaches in a matter of minutes, you might want to look at either Stafylos or Agnontas Hamlet.
Agnontas Hamlet is a charming, sleepy place where you can wake up and watch the local fishermen pushing their boats out to sea each morning. You can be at Cape Amarandos (the famous cove with the lone palm trees that were featured in Mamma Mia) and Limnonari Beach in less than 10 minutes.
Stafylos is another nice choice as you have sweeping vistas of endless blue from the properties perched on the shore here. Stafylos and neighbouring Velanio Beach are two of the most beloved beaches on the island.
There are some excellent restaurants in the area, and you can walk to Skopelos town via an old donkey trail surrounded by farms and olive groves in under an hour. 
A summary of the best areas in Skopelos and what they have to offer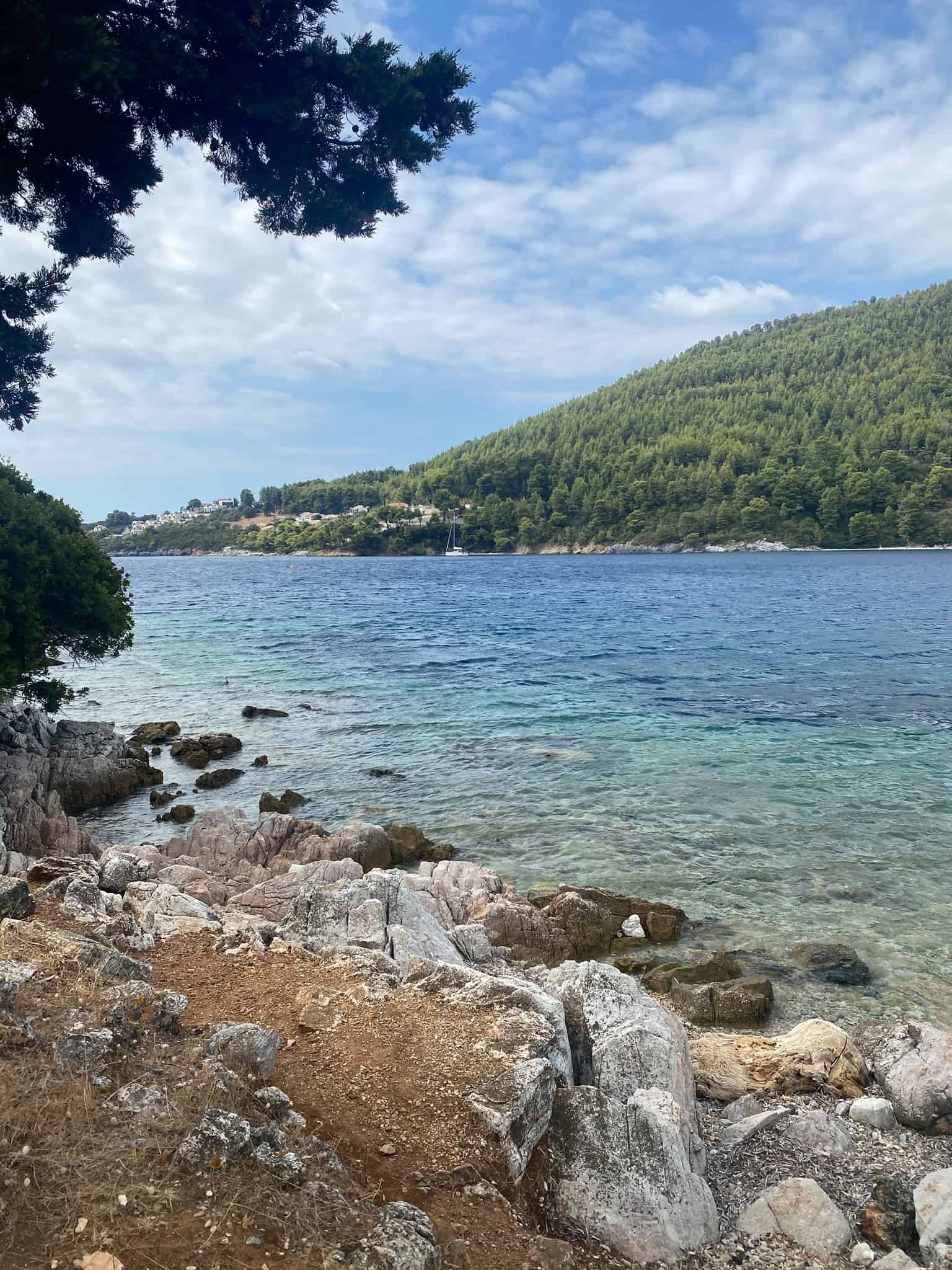 Further in this post, we will go through all of the best areas in Skopelos in detail to look at what they have to offer and what the best Skopelos hotels, villas, and vacation rentals in each area are. But if you are in a rush, they have all been briefly summarised below so you can get an idea of what will suit you. 
Panormos – Sleepy beach town with pebbled beach and several excellent tavernas


Glossa – Sleepy northern Skopeliti village with narrow passageways and cobbled piazzas


Agnontas – Quaint, beautiful hamlet within walking distance of the island's best beaches


Stafilos – Small village with a stunning bay and gorgeous beaches


Raches – Rural area in the hills above Skopelos town with incredible panoramas over the island


Mili – Tiny hamlet just above Skopelos town close to the walking trails and monasteries of Pelouchi


Neo Klima/Elios – Modern settlement close to Armenopetra and Hovolo beaches with affordable accommodation choices and plenty of excellent restaurants


Palio Klima – Charming village that is slowly being brought back to life after an earthquake rocked the area in 1965.
Where to Stay in Skopelos 2023: Best Areas & Hotels
There is something for everyone on Skopelos Island. Below, we will go into more detail about each of the main villages and areas on the island and look at what luxury hotels, budget hotels, self-catered accommodations, and mid-range options you can find in each place.
You can also use the interactive map above to browse around and see what areas look the most suitable for you.
Skopelos Town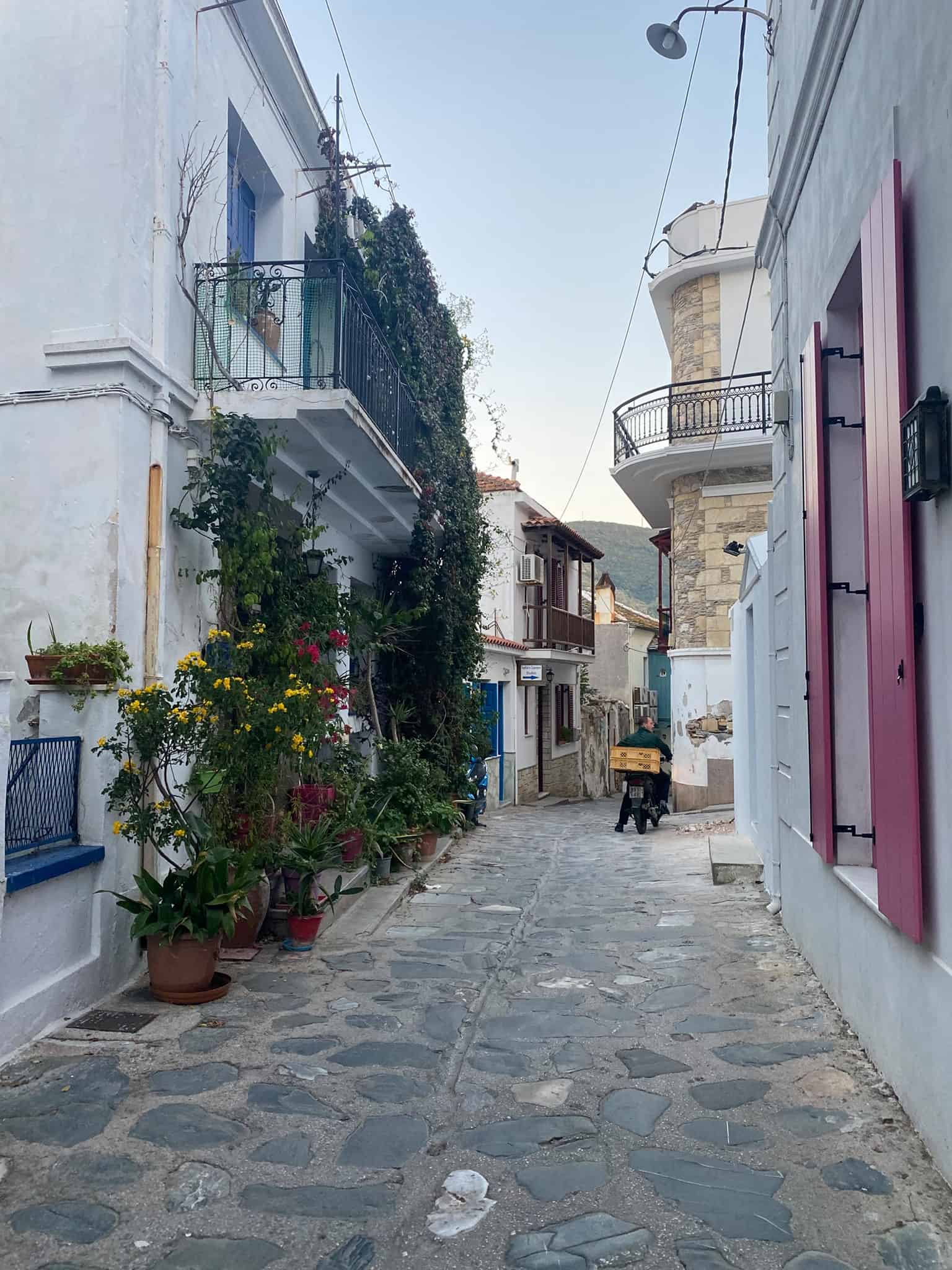 Skopelos Town (Chora) is the island capital. Approximately 2,000 people live here – just over half of the island's 5000 residents.

The town was declared a "place of outstanding beauty" by the former Greek Prime Minister in 1978. Indeed, its whitewashed houses that cascade down hilltops towards the sea look like something straight from a postcard. 
Skopelos town is made up of a labyrinth-like network of narrow cobbled streets that are lined with artisanal stores, quaint coffee shops and adorable guesthouses. It is a photographers dream and even the most unsuspecting side streets twist and turn to open out to bustling piazzas filled with locals.
One of the main benefits of staying here is the convenience and the excellent transport links from the town to other parts of the island.

Buses depart regularly from the port area during the summer months. They depart 5-6 times per day and run to all major towns and beaches on the island – all the way up to Glossa.

There are a wide variety of restaurants, bars, and coffee shops that line the seafront.
Best hotels in Skopelos town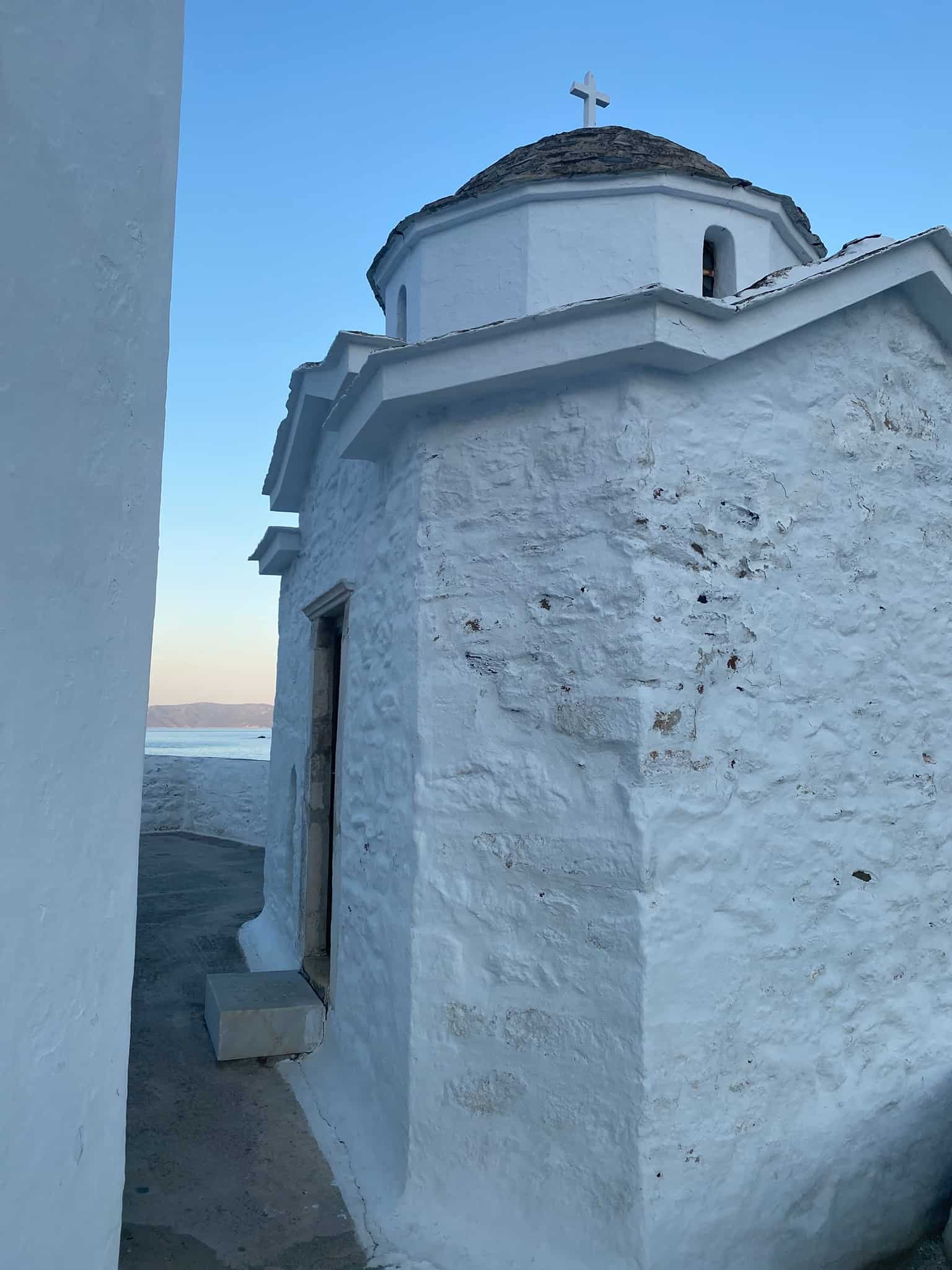 Skopelos Village Hotel
Skopelos Village Hotel is a gorgeous five-star property, without the five-star price tag, by the waterfront in Skopelos town. From the rooms and balconies of this hotel complex, you have unparalleled views of the sea and the port, where you can see ships sailing in to dock each day. 
You have some of the best restaurants and coffee places right on your doorstep here. (Go for coffee at Swell Cafe Bar and have dinner at Muses). You are also right at the foot of Mount Palouki and have a perfect starting point for visiting the nearby monasteries.
The recently refurbished rooms have been decorated in tasteful, minimalistic Aegean style and have air conditioning, luxurious bathrooms with complimentary toiletries and free wifi access. Guests are greeted with a free welcome drink on arrival, and the property has a spa and large swimming pool on site.
Rooms and suites start from around €100. Click here for the latest prices and room rates. 
Rigas Hotel Skopelos
The Rigas Hotel is a great, affordable three-star property that awaits on the outskirts of Skopelos town, along the road from the port towards Stafylos. Depending on when you travel, you can secure rooms here for as little as €45 a night which is excellent value for money. 
The property is simple yet elegant and is surrounded by lemon groves, fragrant flowers and pine trees. Rooms offer plush modern furnishings, fridges, satellite TV and free wifi-access.
In the mornings, enjoy a Greek-style breakfast prepared with love with local products like Skopelos cheese pies, Skopeliti honey, regional cheeses and meats. Click here for the latest prices and room rates. 
Thea Home Hotel
Thea Home Hotel is a highly-rated property that sits on one of the winding streets above Skopelos town. From your furnished balcony, you have magnificent views over Skopelos town and the Aegean sea. 
On a clear day, you can see all the way out to Halkidiki and the Mount Athos monasteries from up here. (Due to the propertys location, you want to ask if they can help you organise a transfer or a taxi from the port when you arrive so you have help with your bags).
The charming little rooms all have private balconies and bathrooms, a flat-screen tv, a fridge, airconditioning, and a buffet breakfast is included in the price. Room rates vary depending on the season but you can check the latest information here.
Aeolos Hotel
Aeolos hotel is a wonderful choice for families visiting the island of Skopelos. The spacious grounds and courtyards offer both an adult and a children's swimming pool, sun beds to lounge on, and a children's playground for the little ones. 
The sun terrace also offers a hot tub for adult guests to relax in. The spacious rooms are decorated in quintessentially Greek tones of blue and white, and offer Flat-screen TVs, satellite channels, Free toiletries, a private bathroom, a hairdryer, and a balcony.
Skopelos town beach is found directly in front of the property. The latest rates and availability at Aeolos hotel can be found here. 
Panormos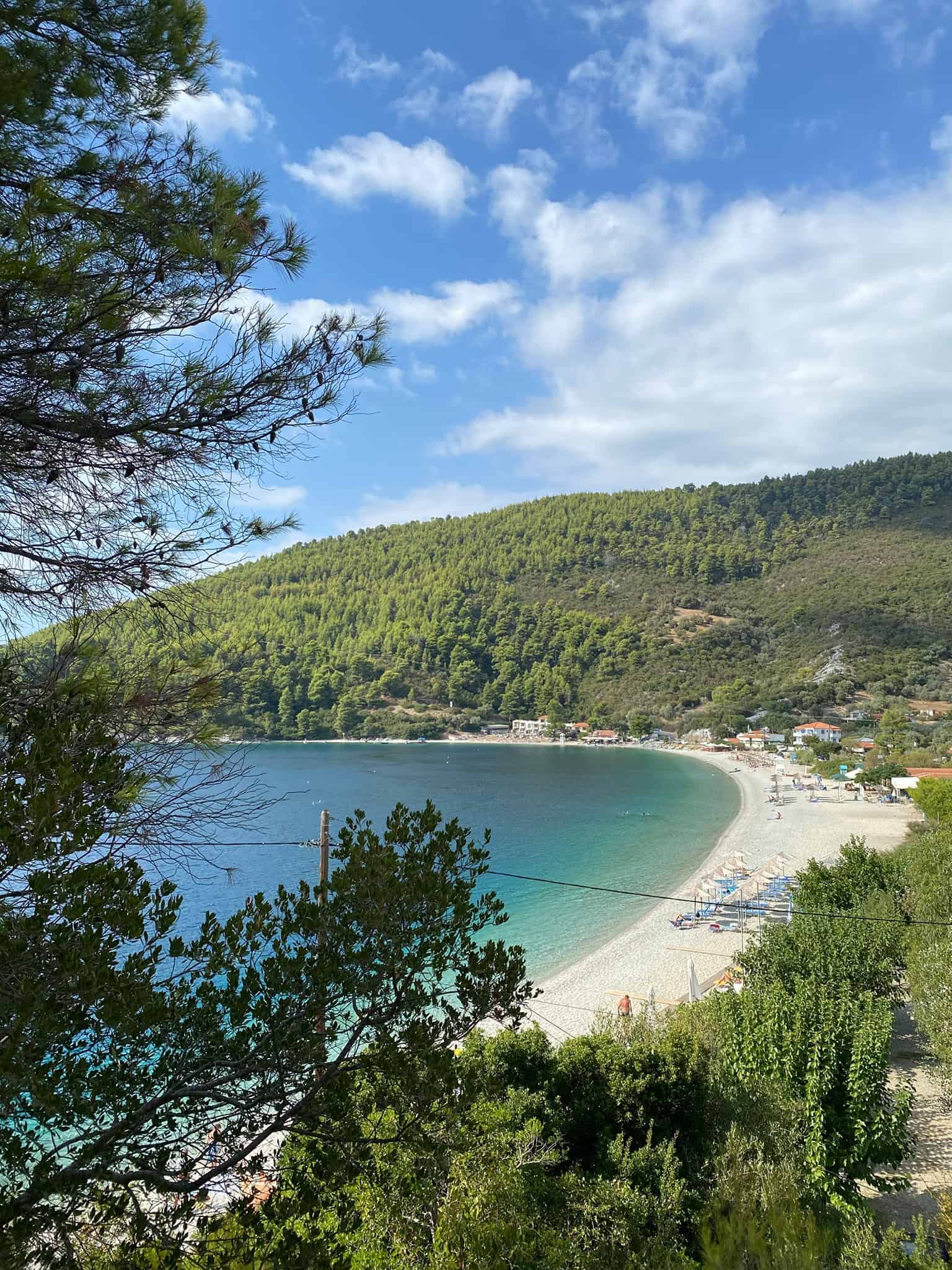 Panormos is your quintessential Greek beach town. It sits on the west coast of Skopelos island, some 15km away from the main town.

The town is a tourist favourite. Some places are popular for a reason and indeed, this curvaceous stretch of coastline bordered by clear cerulean waters and dense pine forests takes your breath away no matter how many times you visit.
There are several tavernas that line the seafront. Family-run Taverna Vasiliki is particularly beloved by locals and guests alike.
Rest assured that you will not be short of places to eat after your day sightseeing. Panormos is only a short drive away from the popular beaches of Kastani and Milia.
Best Panormos hotels 
Adrina Resort & Spa
The 5-star Adrina Resort & Spa offers everything you can dream of when it comes to an ultra-indulgent luxury Greek hotel stay. This is the best place to stay on Skopelos if you are looking to treat yourself. 
The gorgeous property boasts a swimming pool, a children's pool and a decked, furnished terrace with panoramic views over the Aegean. The on-site restaurant serves mouthwatering Greek traditional dishes and regional delicacies using locally-sourced ingredients.
Getting around the property and to the nearby beaches is made easy thanks to the hotels complimentary golf caddies that are available for guests to use.
The rooms here are a dream too, with all the amenities and extras that you can think of. Think fluffy bathrobes and slippers, luxury Greek toiletries, a pillow menu, and rooms and bathrooms decorated to the highest spec.
The village of Panormos is just a short walk away, as is the breathtaking Milia beach. You can check the latest room rates and availability at Adrina Resort here.
Panormos Beach Hotel Skopelos
The Panormos Beach Hotel is a wonderful traditional property set in the hills above Panormos Bay. The luxrious rooms here have been thoughtfully decorated with many interesting furnishings and fittings. 
For example, antique furniture items collected from across Greece and the Mediterranean, hand-woven rugs, and contemporary paintings and art pieces. If you enjoy luxury boutique stays that offer something a little different from your typical cookie-cutter hotel rooms, chances are, you will love staying here.
The views from the swimming pool are second to none, with the Aegean Sea and endless clear blue skies in the distance. A fabulous, continental breakfast is included in the room rate and is served out beneath the sun, in the stone-paved courtyard.
You can find the latest prices, availability, and more information on Panormos Beach Hotel here. 
Afroditi Hotel
If you want to be right in the heart of the action in Panormos, the Afroditi Hotel could be a great choice for you. Here, you are just 100m away from the beach, meaning you can just roll out of bed each morning and sink your toes into the sand five minutes later. 
The whitewashed property has been built and furnished in traditional Aegean style. It offers a large swimming pool, along with a poolside bar for adults, and a separate pool for children.
Each room has a balcony offering garden or mountain views, and an excellent Greek breakfast is served each morning out on the patio. (Think crumbling pastries like spanakopitas and tiropitas, fresh Greek donuts/loukoumades and yoghurt with fresh fruit and Skopelos honey).
Click here for the latest room rates and availability. 
Glossa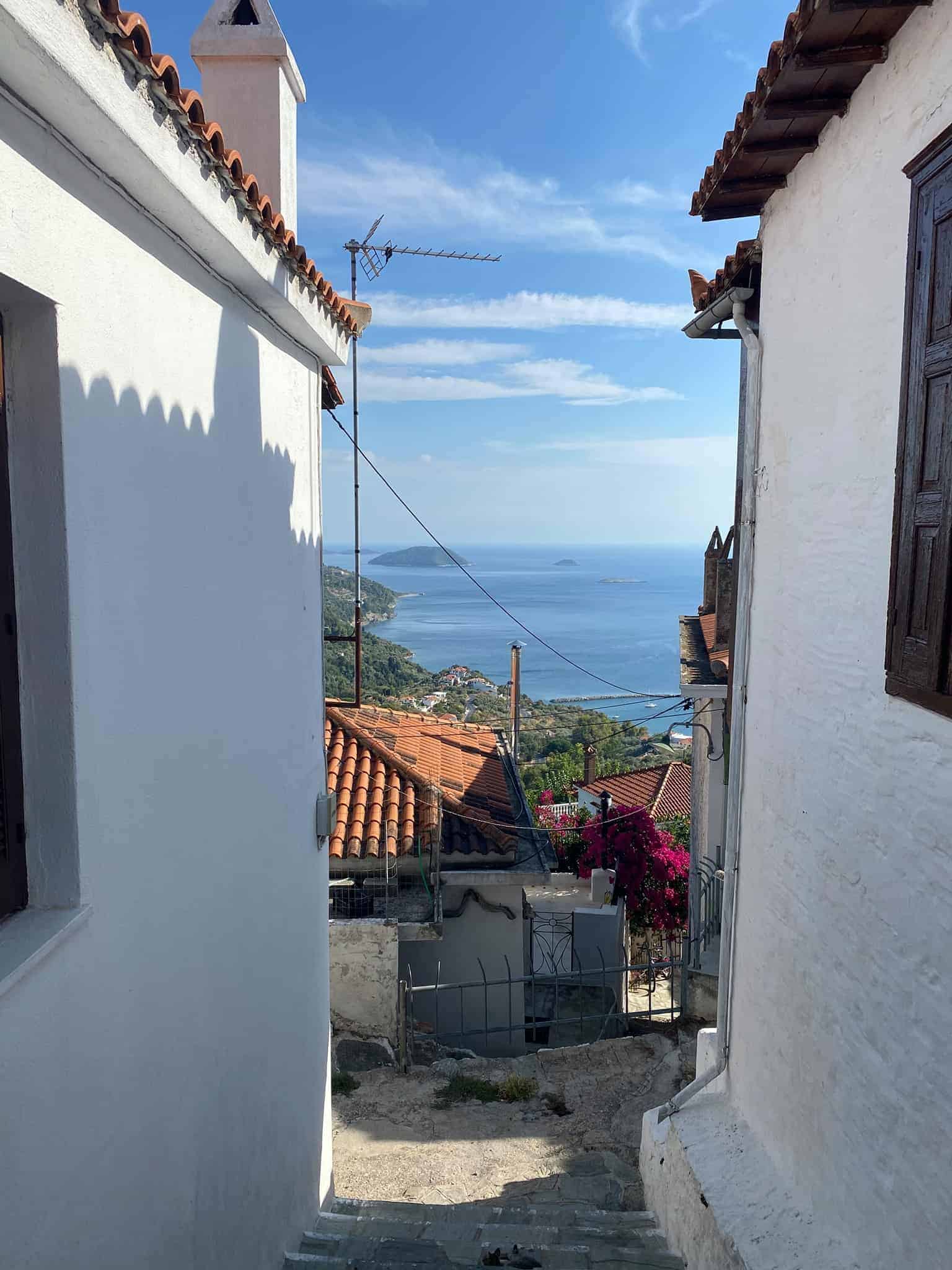 Glossa is a sleepy village situated in the northwest of the island. Even during the height of summer, you seldom see more than a handful of people pottering around its streets.

The village sits at an altitude of 300 meters above Loutraki Port. As such, you can enjoy incredible views and sunsets from up here. 
On a clear day, you will see all the way across the water to Skiathos town and the Pelion. For this reason, Glossa has often been affectionately nicknamed "the balcony of the Aegean".
There are several restaurants and coffee shops in Glossa where you can enjoy a long lunch or dinner with a view. Agnanti restaurant is a good choice for fine-dining Mediterranean food with a contemporary twist.  
Best Glossa hotels 
Natura Boutique Luxury Hotel
The Natura Boutique hotel in Glossa is one of the best luxury hotels in the Sporades islands. Designed and owned by Greek Architect Haris Karamesinis, the property boasts 32 air-conditioned rooms and suites that offer contemporary, modern decor and effortless elegance at every turn. 
All rooms offer a king-sized bed and a private balcony with sea views, while some of the larger suites offer indoor jacuzzis and private pools. The property boasts a gym and fitness centre, a sauna, an infinity pool, a spa, and an on-site restaurant.
Katakalou Restaurant uses the freshest local ingredients in their menu offering and has been recognised by the Hellenic Chamber of Hotels for its excellence. Rooms and suites start from around €200 but vary from season to season.
Click here to check the latest rates and availability. 
Aegean Wave Hotel
Skopelos Aegean Wave Hotel sits close to the waterfront in Loutraki and is easily accessible from the nearby Loutraki/Glossa port. The property offers free transfers to and from the port, and paid tours/transfers to Mamma Mia filming locations around the island.
The rooms and studios here are modern and tastefully decorated. Some room options offer well-equipped kitchens complete with a refridgerator, hob, toaster, blender, and dining area.
This makes preparing your own meals easy and convenient if you are travelling Greece on a budget. A continental breakfast is included in the room rate and can be served in the breakfast restaurant or in the comfort of your own room.
Click here to review the latest room rates and availability. 
Agnontas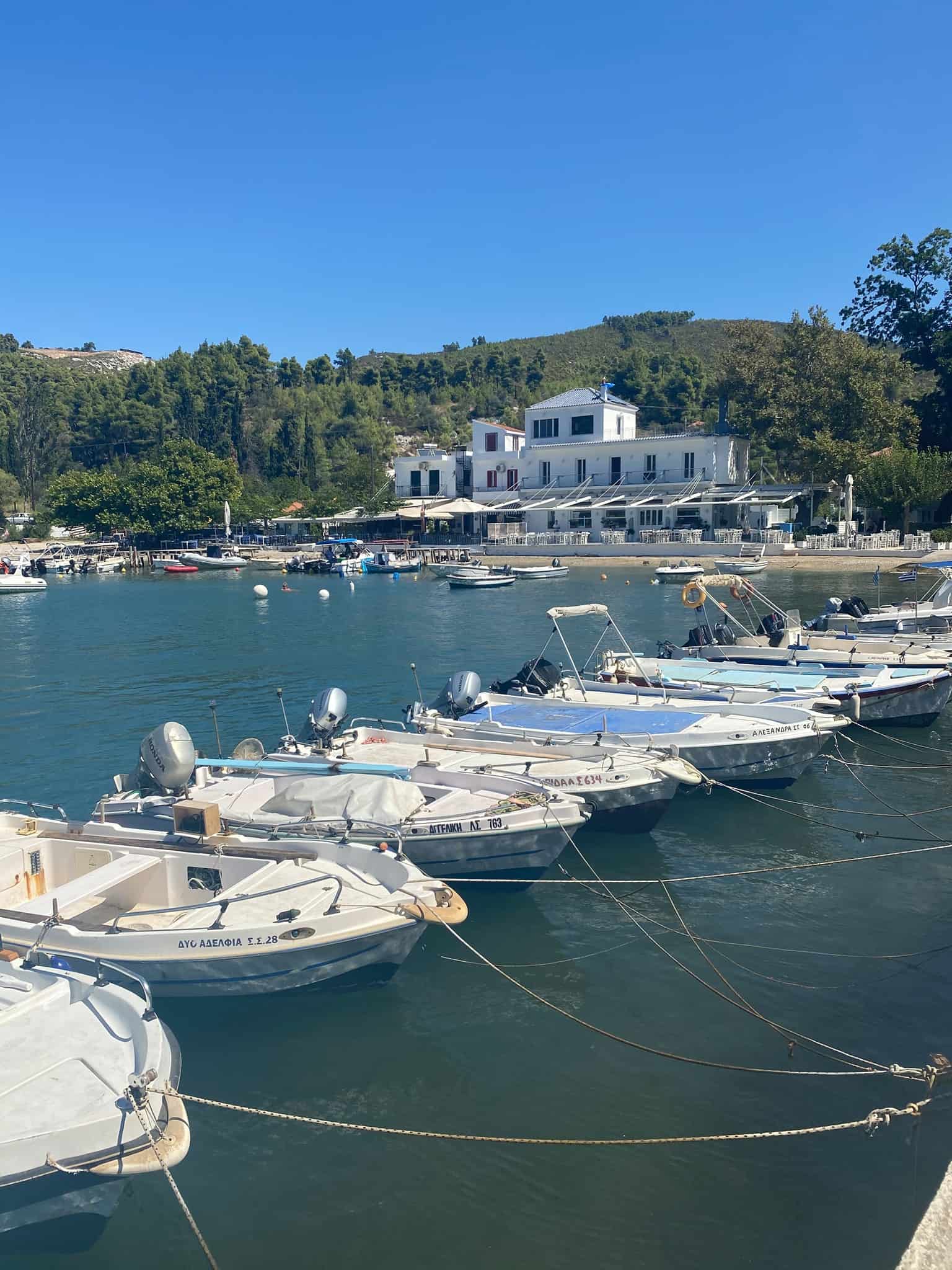 The sleepy portside hamlet of Agnontas is home to less than 80 permanent residents. In the winter months, it is practically a ghost town. However, during summer in Skopelos, the restaurants that operate here are some of the best on the island.
Stop by Mouria fish restaurant for exquisite seafood dishes sourced from nearby waters, and start your day with coffee and pancakes at M Coffeehouse. There is not a huge amount of stores or services here. However, if you want to focus your trip on beaches and nature, Agnontas could be an option for you.
From Agnontas Hamlet, it is just a short walk to Limnonari Beach. The secluded coves and rock pools of Cape Amarandos can also be reached within just 25 minutes.
The small bus stop at the end of the port operates services to the Chora, and other towns and beaches. 
Best Agnontas hotels 
Stamatia's Garden
Stamatia's Garden is an idyllic, independently-owned property in the little hamlet of Agnontas. Its name is a fitting one as the property is encompassed by a fragrant flower garden and an abundance of trees. 
The little property boasts just four rooms and one studio, as well as a common kitchen and dining area and garden. The rooms each offer air conditioning, a TV, a kettle, a fridge, and ironing facilities.
Rates start from around €60 a night depending on your month of travel. Click here for the latest room rates and availability.
Stafylos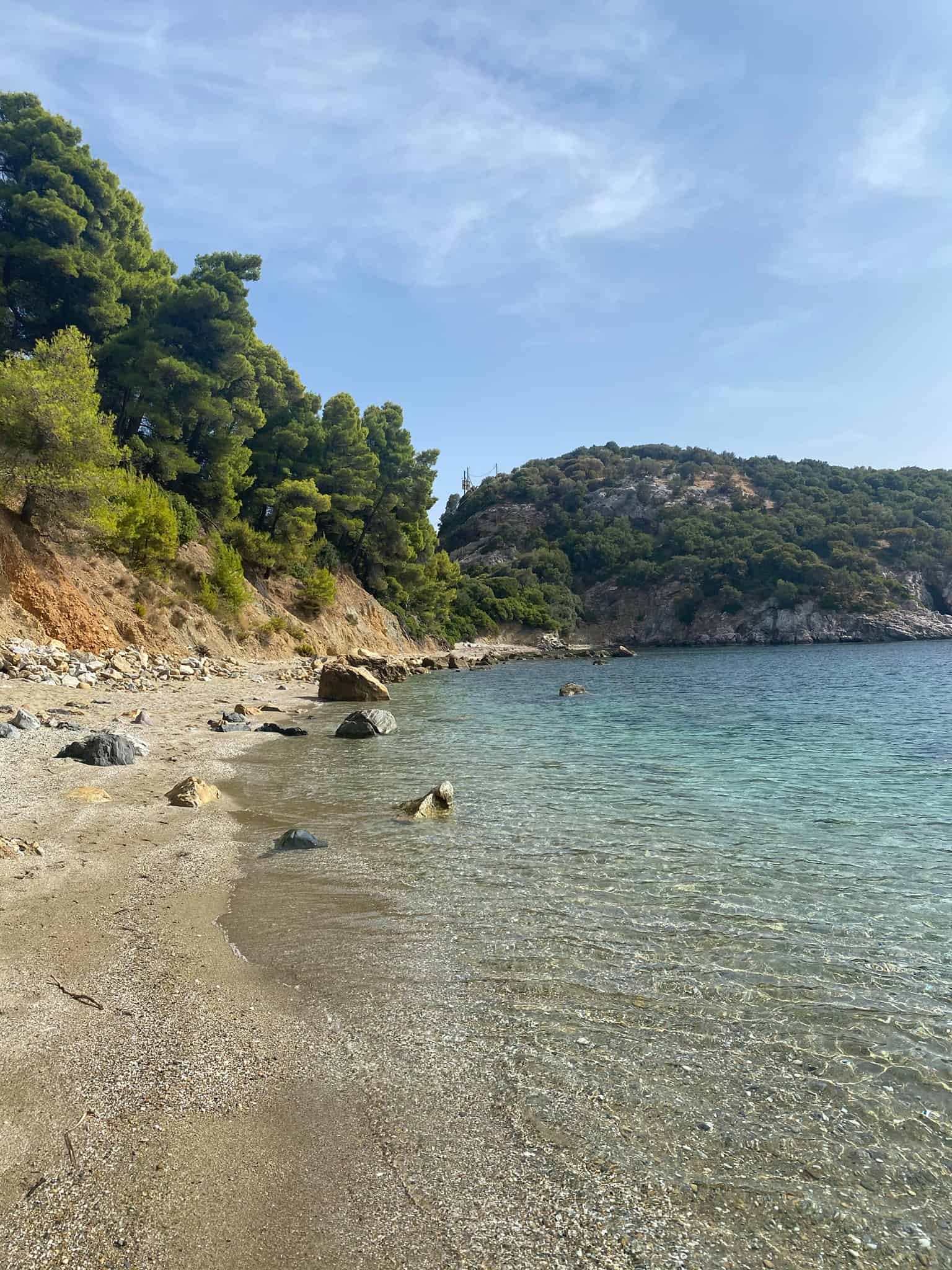 Stafylos is a small settlement on the east coast of Skopelos, just 4km away from the main town. The area's namesake Stafylos Beach is the main draw for visiting. 
Equally beautiful is Velanio Beach – the only naturist-friendly beach on the island. You can reach Velanio by walking to the far end of Stafylos Beach and following the little woodland trail.
All of the businesses and restaurants here are seasonal and only open during the summer months. Regardless, when they are open, they are among the best on the island.
Terpsis Restaurant sits on the road between Stafylos and the Chora and has been delighting islanders and tourists since the 1960s. You can find specialty dishes here that you will simply not find outside of Skopelos.
The most unique creation on the menu is perhaps "grandma's stuffed chicken". If you want to sample this, you must place an order the day before you hope to dine at Terpsis.
So what is grandma's stuffed Skopeliti chicken? This is a juicy, tender-cooked chicken stuffed with walnuts, chicken livers, and Skopelos plums.
You won't find anything like it elsewhere.
Best Stafylos Hotels 
Mando Beachfront Hotel
The Mando Beachfront Hotel is one of the best loved properties on the island. Ran by Skopeliti local Iason and his mother, the property is the perfect embodiment of Greek hospitality and filoxenia. 
The rooms offer wonderful views of the sea, and a little woodland trail leads you to a private section of the nearby beach. Breakfast is served in the propertys spacious gardens using homemade treats and veggies grown in the owners garden.
Prices start from around €75 per night depending on the season. Click here to check the latest rates and availability. 
Raches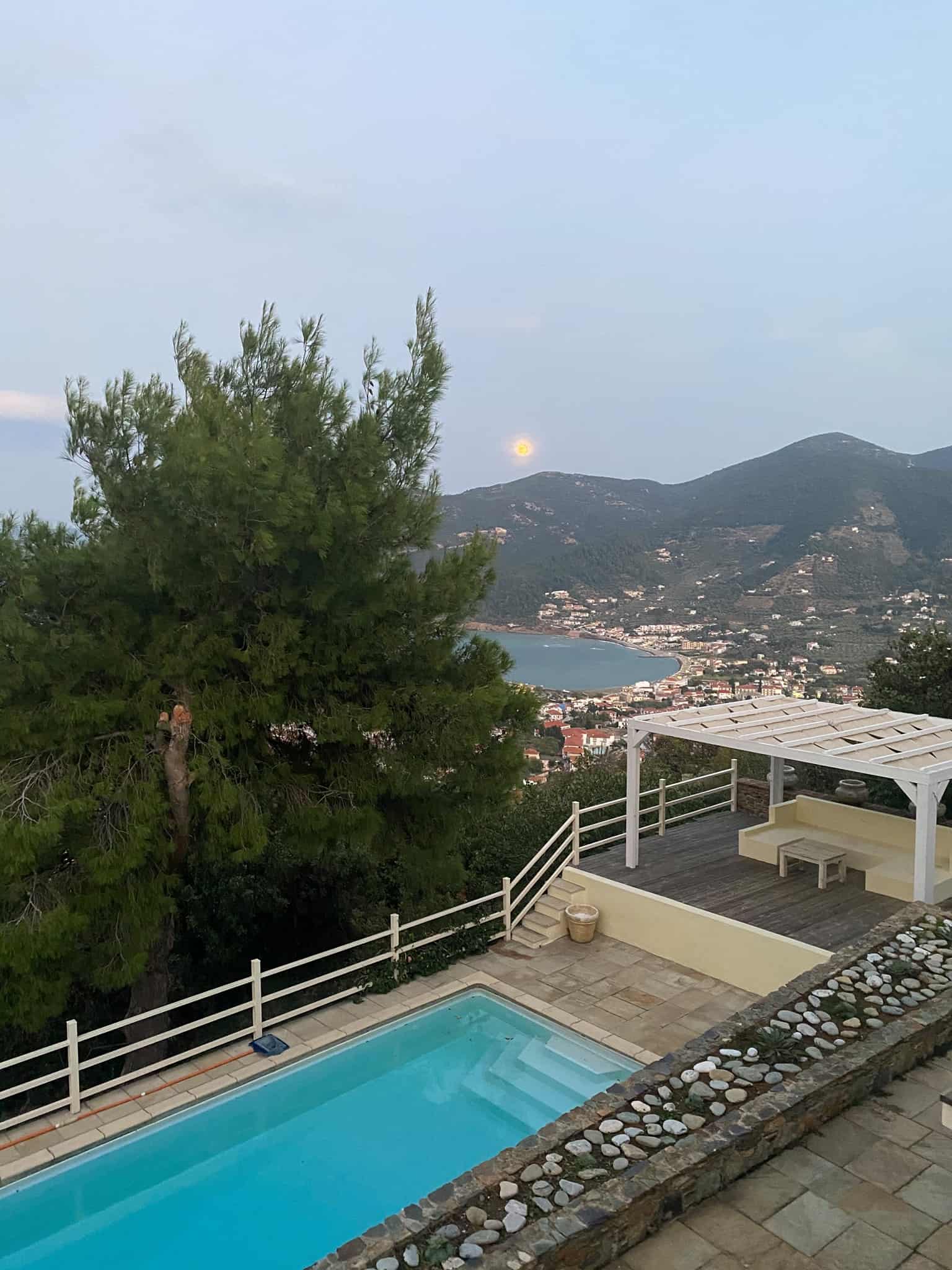 The Raches region is a rural area in the hills above Skopelos town. It is surrounded by fragrant olive groves, orchards filled with lemons and famous Skopelos plums, and rolling green hills where farmers tend to their sheep. 
Many luxurious Skopelos villas are situated up here, offering the ultimate Skopelos experience. Raches is 4km away from the port and is perhaps the only area in the island where you absolutely do need a Skopelos rental car as no public transport runs to the area.
Alternatively, there is a small hiking trail that runs through the olive groves and takes you down to the town centre or taxis to/from Raches cost around €10.
(However, you may find that some cab drivers are reluctant to drive up here as many streets do not have names. It is a good idea to have Google Maps on your phone so that you can navigate your driver if you do decide to stay in the area).
Best Raches villas
Villa Filomena


House of Dimitri


Villa Raches
Mili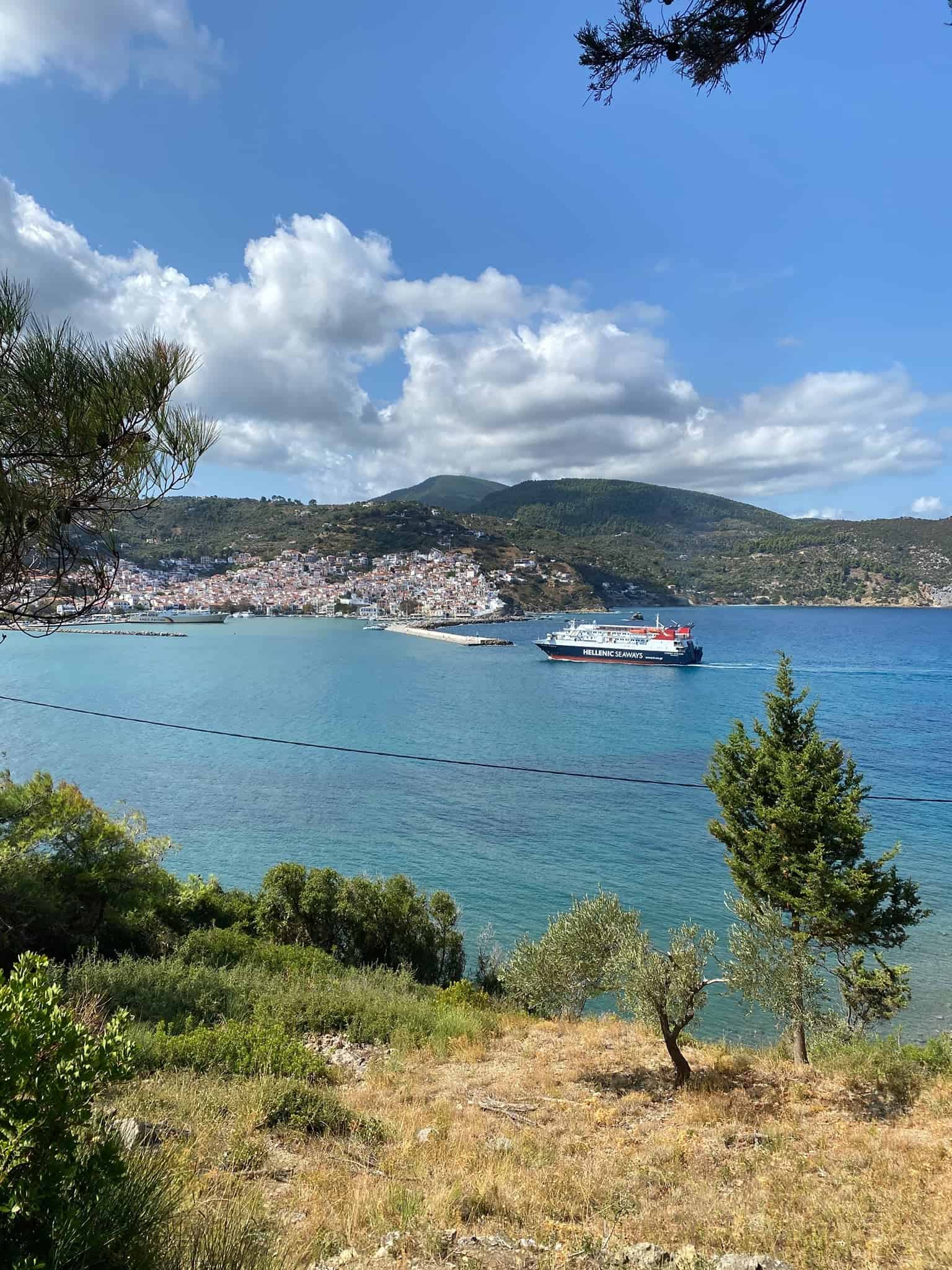 The little hamlet of Mili sits in the hills to the east of Skopelos town. It is close enough to the port area that walking to restaurants, stores, and bus stops takes just a few minutes.
However, it is also far enough away from the hubbub of the main strip. Mili is quiet and peaceful, and you can enjoy breathtaking views from this hilltop location.
The T1 hiking trail starts outside Mili. This is one of the best hikes in Skopelos and leads you to the Holy Monastery of the Annunciation, Ieri Sotiros Monastery, and various other Orthodox monasteries and churches. The Mili area boasts numerous rental properties and villas.
Best Mili hotels and villas
FAQs About Where to Stay in Skopelos in 2023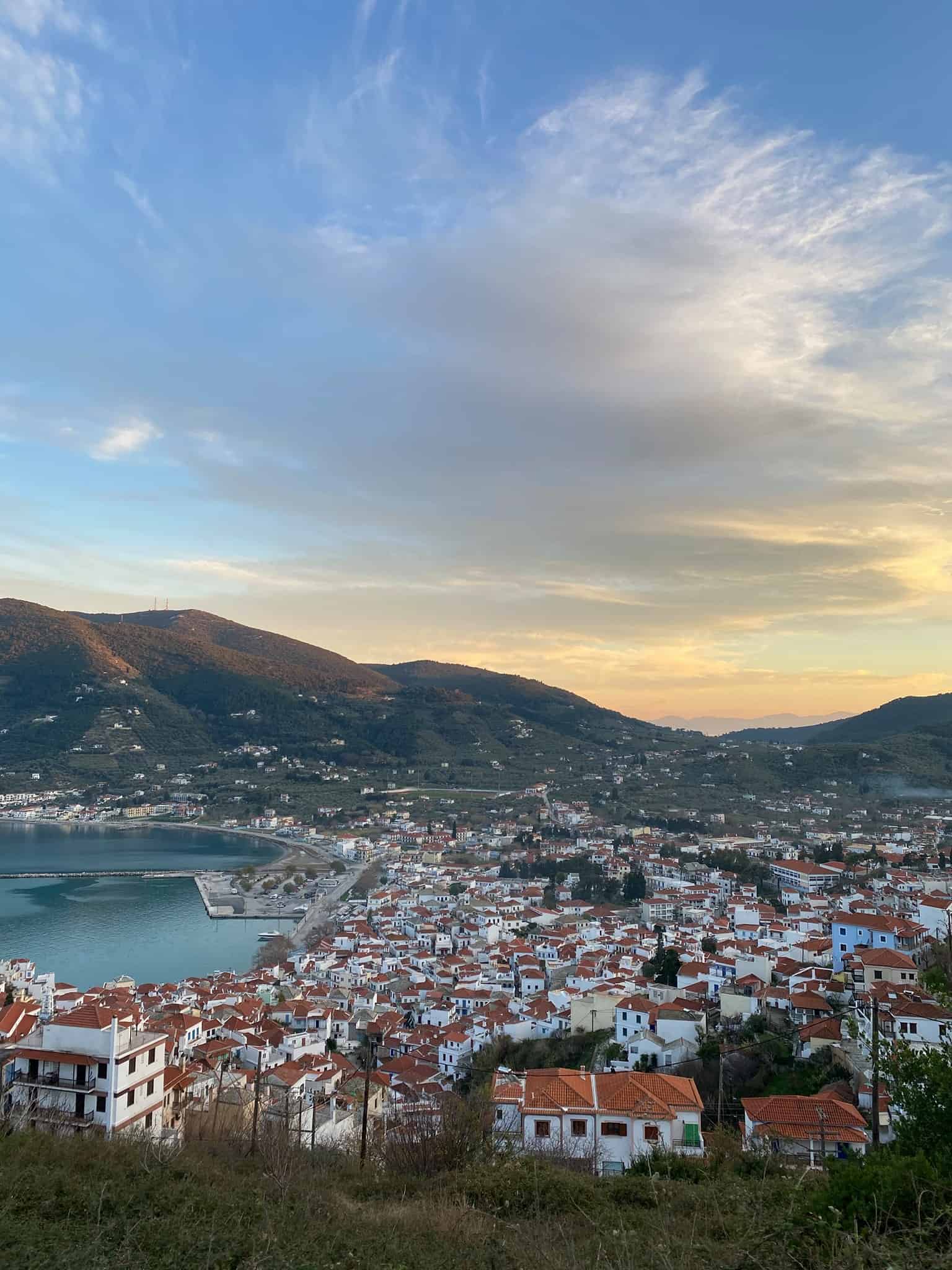 Do you have any further questions or concerns about where to stay in Skopelos this summer or next? Dont worry!
You have an island local on hand here to answer some of the most frequently asked questions. Hopefully, you will find the information you are looking for below but if not, you are welcome to reach out!
What part of Skopelos to stay in?
The best part of Skopelos to stay in really depends on the type of environment you prefer during your travels. Skopelos town is a good shout if you want to be connected to the islands ferry and bus network and have plenty of shops, bars and places to eat a short walk away.
Consider accommodation near Stafylos, Agnontas, and Kastani beach if you want to be near the sea. Panormos is another good coastal option but it does get very crowded with tourists in June through September.
Often overlooked Neo Klima is not a great beauty, but it is close to the stunning beaches of Armenopetra and Hovolo and may offer some great deals if you are on a budget.
Is it better to stay in Skopelos or Skiathos?
Both Skopelos and Skiathos are gorgeous islands that are each worth visiting in their own right. Skiathos has always been the more popular of the two and it can get extremely busy during the peak summer months, whereas Skopelos continues to fly somewhat under the radar. (Despite being the filming location for Mamma Mia, this is perhaps because it is somewhat awkward to get to!)
Little Skiathos boasts more than 60 beaches, many of which offer soft, powdery golden sands. Meanwhile, Skiathos beaches are mostly rocky.
Two of the best beaches in Greece (and arguably, all of Europe) can be found in Skiathos: Koukounaries and Lalaria. However, if you travel at the height of summer, you will find them packed with tourists.
In summary, the best answer would be: if you want to party, meet other travellers and hang out on sandy beaches and youre not concerned about crowds, Skiathos might be your cup of tea. If you prefer nature, secluded coves and somewhere a little quieter, choose Skopelos.
How long should I stay in Skopelos?
Most people spend just a couple of days on Skopelos island as part of a wider trip around the Sporades archipelago. At the very least, you should allow 3 days here. Ideally, you could dedicate an entire one or two week itinerary to the island.
There are plenty of hikes to do, cute villages to wander around, and beaches to relax on. Rest assured, you could never get bored.
When should I book my stay in Skopelos?
It is recommended to reserve your Skopelos hotel stay as soon as you know your travel dates – especially if you are visiting the island during the high season. Many people book their accommodation as much as 6-12 months in advance.
If you wait until the last minute, you will find that prices will rise and you may be disappointed that some of your preferred properties are fully booked.
Final thoughts on where to stay in Skopelos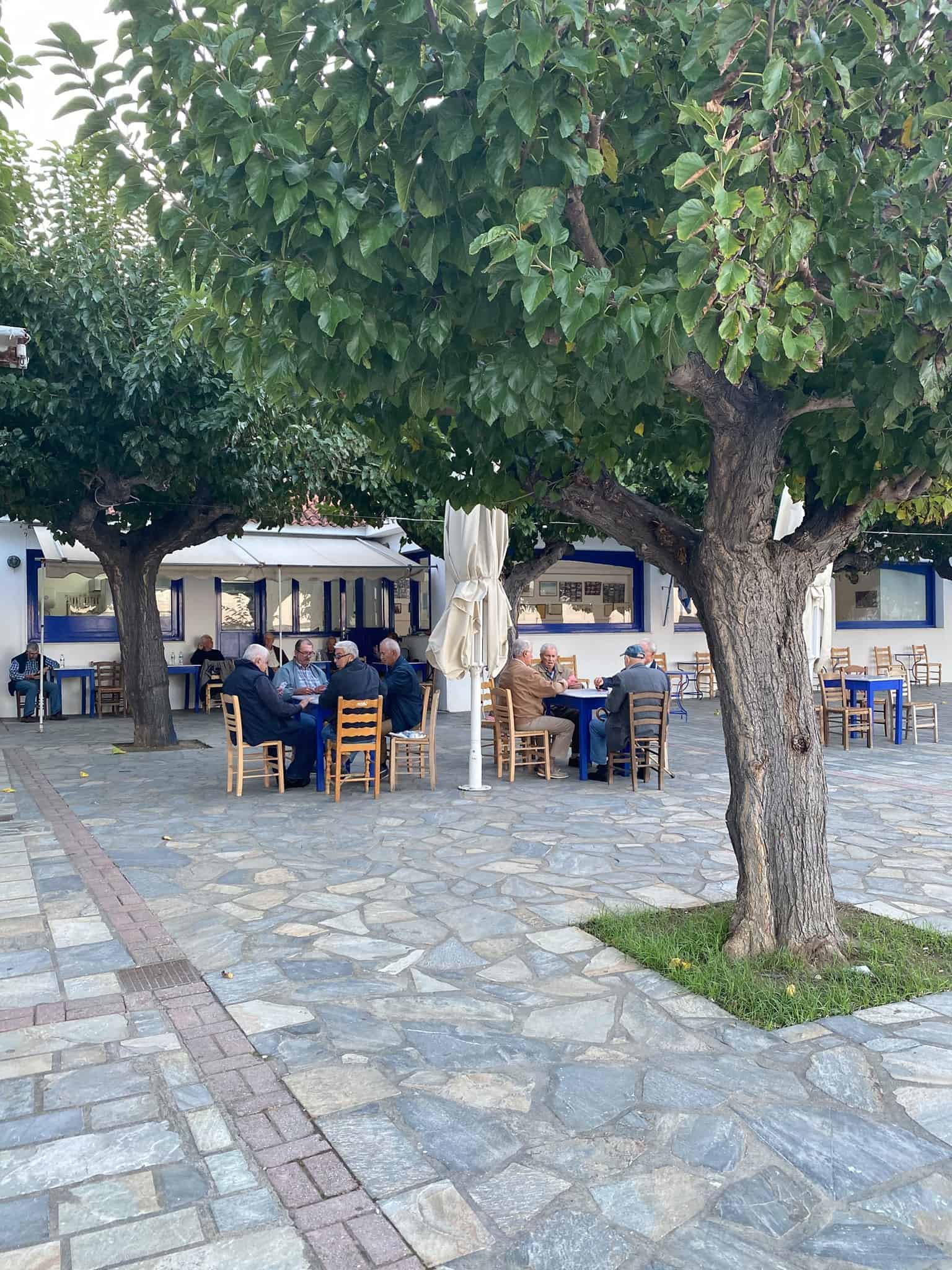 Skopelos town (The Chora) is still arguably the most convenient place to stay on the island. You have everything you could possibly need here.
Not to mention, the location is convenient for taking ferries to the other Sporades islands. Alonissos,, Skiathos, Skyros, and Volos can be reached in a matter of hours. 
Alternatively, Glossa is a good choice if you are only staying a short while and travelling to and from Skiathos. (The Skiathos to Glossa ferry takes just 30 minutes where it takes about another 25-30 minutes if you go all the way around the island to the main port).
 It is important to note that there is not an airport on Skopelos island (it is too rocky to accommodate one!) The closest airport is Skiathos airport – meaning that wherever you are starting from, you will need to take a boat to get to Skopelos – either from Volos or Agios Konstantinos on the mainland, or from nearby Skiathos.
Do you still have questions about where to stay in Skopelos? If you are planning a Greece trip, I'm happy to help you as much as I am able to. 
This guide has been written by someone who spent the pandemic on Skopelos and during that time, traversed every inch of the island, visiting every village, hiking trail, beach and cove. Safe to say, you are in good hands here.
You may also want to join my Facebook group All Greek to Me where you can chat with other travellers and expats in Greece. 
Safe travels! Geia sou! Xo  
---