Skopelos town (Chora) is the largest, and main town on the Greek island of Skopelos. Just over 2,000 of the island's 5,000 residents reside here.
The town has been recognised for its breathtaking aesthetics. In 1978, the then President of Greece identified it as a "Traditional Settlement of Outstanding Beauty".
Indeed, Skopelos town greets you with the appearance of a sleepy, quintessentially Greek settlement. Here, whitewashed houses cascade down lush green hilltops.
They boast terracotta ceramic roofs, traditional wooden balconies, bright blue shutters, and fragrant gardens. Blue and white Greek flags affixed on grey metal poles flutter in the breeze.
Falling in Love with Skopelos Town
Skopelos town is a wonderful starting point for any exploration of Skopelos island, Greece. You should dedicate at least one full day to getting lost among the settlement's intricate network of labyrinth-like streets, ascending the narrow stone steps to its various viewpoints, and tucking into the local cuisine.
This Sporades island may be famous for its Hollywood links and the movie Mamma Mia. However, Skopelos town is far from being overrun with tourists.
Aside from the occasional boat offering tours to the church of Agios Ioannis Kastri, and Kastani beach, you would never know that the movie took place here. The town is the perfect example of traditional island life.
During the hours of 1pm and 5pm, the entire town pretty much becomes a ghost town as the island shuts down for siesta. In the early mornings, you can meander around the port area and see local fishermen rowing their boats out to shore, and old timers playing backgammon in the seafront coffee shops as they sip Ellinikos Kafes.
Notable Attractions in Skopelos Town
Once upon a time, Skopelos town was known as "Peparithos". The town has a rich history that dates back over several centuries.
The highest point of Skopelos town is the Kastro – a 13th century Venetian castle in the far western corner of the port area. Ascending the narrow staircase to the crumbling remnants of the castle walls rewards you with wonderful panoramas over the chora.
Historical Highlights of Skopelos Town
You will find the oldest church in town nestled within the Venetian castle walls. The 17th century basilica of Agios Athanasios is worth a visit, and often plays host to weddings, baptisms and celebrations.
In the heart of the old town, the Skopelos folklore museum displays an array of paintings, artefacts, and archeological findings recovered from the island. You will also find many picturesque Orthodox churches around the old town. Their interiors are laden with vibrant frescoes, and decadent religious icons.
Hikes Above the Chora Area
If you have an interest in hiking, you can follow the seafront promenade all the way east towards the pine-clad foothills of Pelouchi. At the end of the road, you will find a pedestrianised footpath labeled as the "T1" trail.
There are waymarkers that indicate the route that you need to follow to complete the trail. However, there are portions of the route where you need to follow the roadside. As such, it is advisable to download an offline map.
This walking path is relatively easy for people of all ages and fitness levels. However the inclines are steep, so take your time. You can visit the breathtaking monasteries of Evangelismos, Agia Varvara, Prodromos, and Sotiros.
The small hamlet of Myli is also worth the journey to. Don't forget to look back as you ascend. The views of Skopelos town from up here are magnificent.
Coffee Shops in Skopelos Town
If there were to be a national pastime of Greece, drinking coffee would be it. There are a selection of charming coffee shops in Skopelos town. These places make the perfect spot to stop for a spot of brunch and a freddo cappuccino while waiting for a ferry, or to break up your day's exploration.
The Little Coffee Shop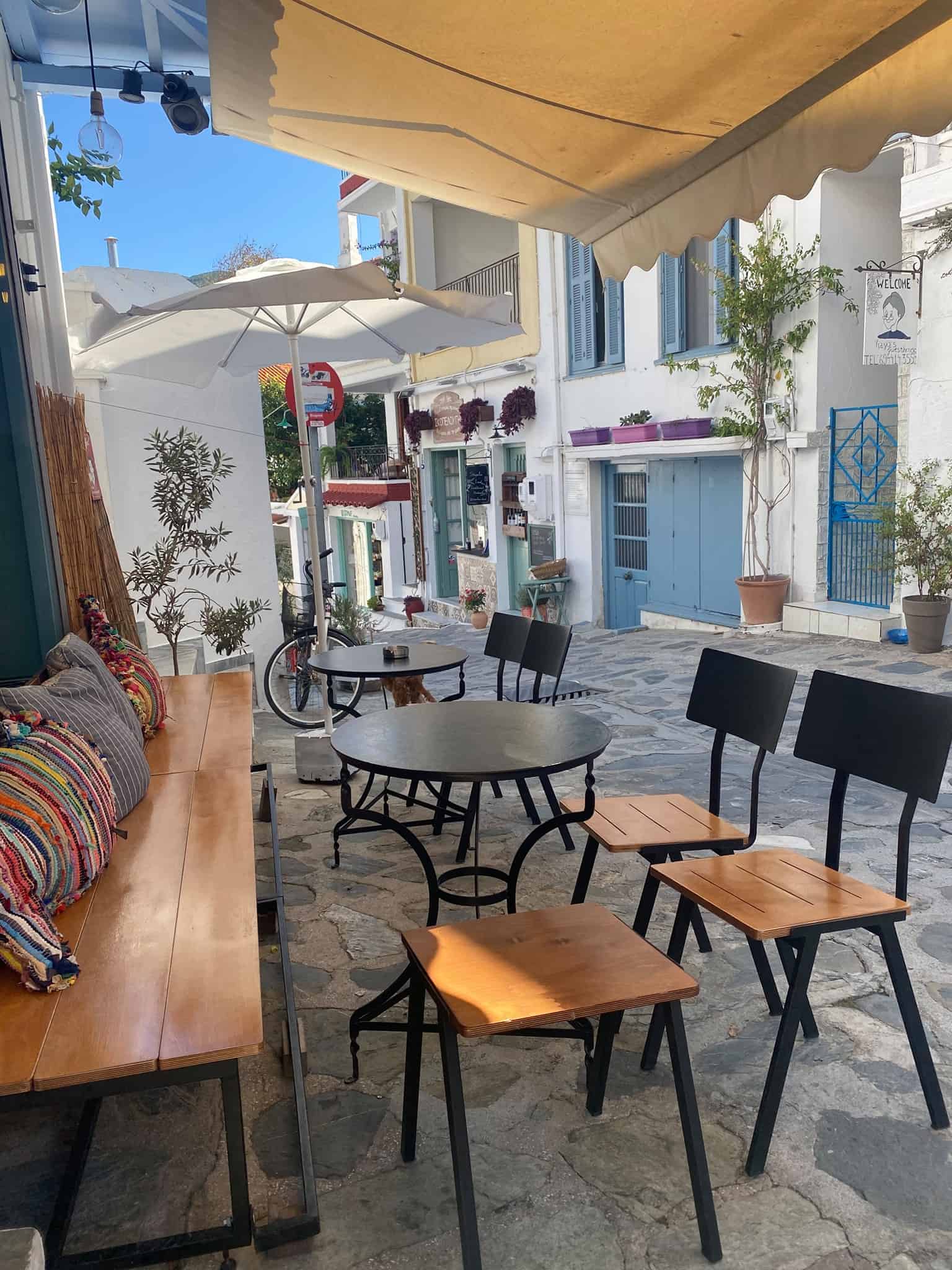 Where: Skopelos 370 03
The adorable "Little Coffee Shop" is a tiny little hangout spot situated on one of the narrow, cobbled passageways that veers off from Skopelos port. This is the perfect place for people watching as you enjoy your morning coffee.
Watch on as old Greek yiayias (grandmothers) potter in the adjacent bakeries and butcher stores, and locals whizz around the streets on their vespas. The store is open from 9am until 2pm, and then again from 6pm until late.
Swell Coffee Shop and Jazz Bar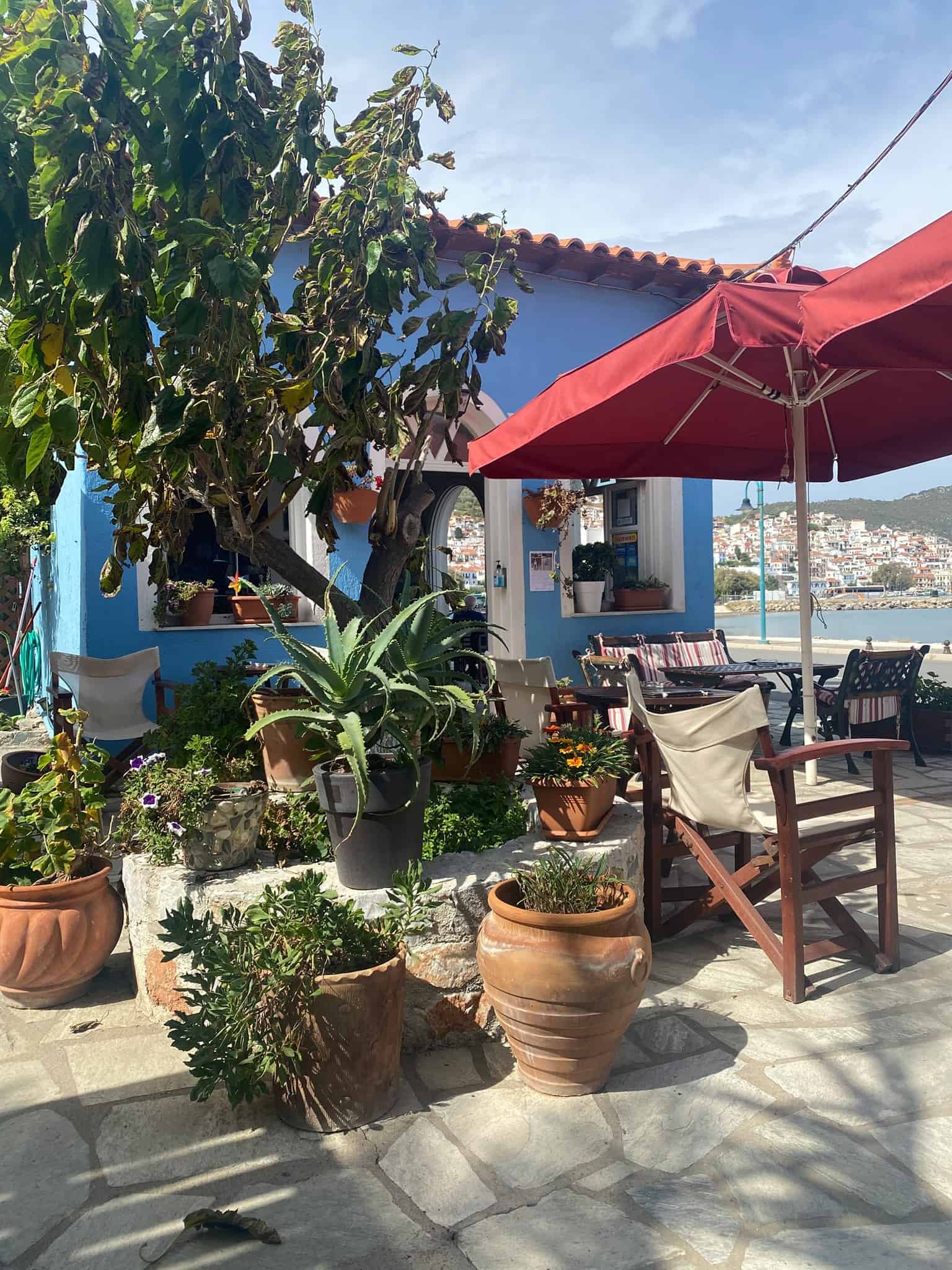 Where: Doukidou, Skopelos 370 03
Swell Coffee shop is a beautiful all-day cafe and bar that sits right on the seafront in a sleepy part of Skopelos town. From here you have a perfect view of the whitewashed houses of the port area to your left, and the monasteries and sprawling villas of Pelouchi mountain to your right.
Swell serves an array of coffees, beverages, lunches, and light snacks. As the name suggests, from here you can see the swell of the Aegean, as the sea waves lap gently against the rocks on the shore.
The ambiance at Swell coffee shop is some of the best in town. Adorable, shabby chic decor is scattered throughout the coffee shop's interior and garden.
Photos of saxophone-wielding jazz musicians decorate the walls. The smooth rhythms of Ella Fitzgerald, Louis Armstrong, and Miles Davies play over the speakers.
Platanos Jazz Cafe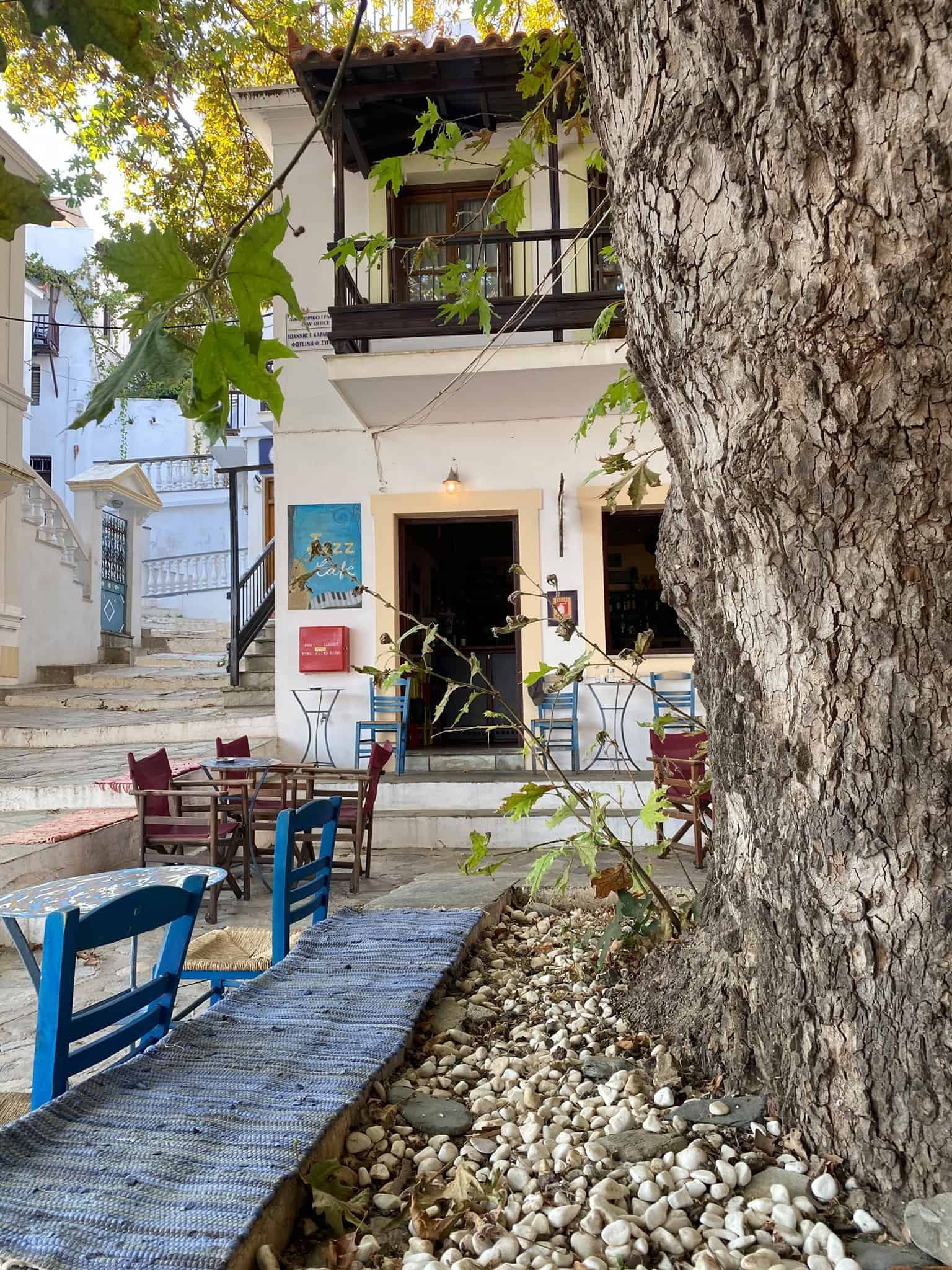 Where: Skopelos 370 03
Platanos Jazz Cafe is a coffee shop and bar that sits at the far western end of Skopelos town. The views across the sea here are second to none. Sit beneath the shade of the plane tree as you enjoy expertly blended cocktails and coffees.
This place really gets going in the evening when the sun goes down. However, by day, it's a nice, chilled place to go for coffee.
Juices & Books
Where: Παραλια Σκοπελου, Skopelos 370 03
If you prefer health foods and smoothies to coffee and pastries, head to Juices & Books by the seafront at the port. Here, you can sit by the sun as you sip fresh-pressed juices.
The little store offers cakes and other treats made to order. You can pick up a variety of books here in English, including trail maps and walking guides written by people that live on the island.
Restaurants in Skopelos Town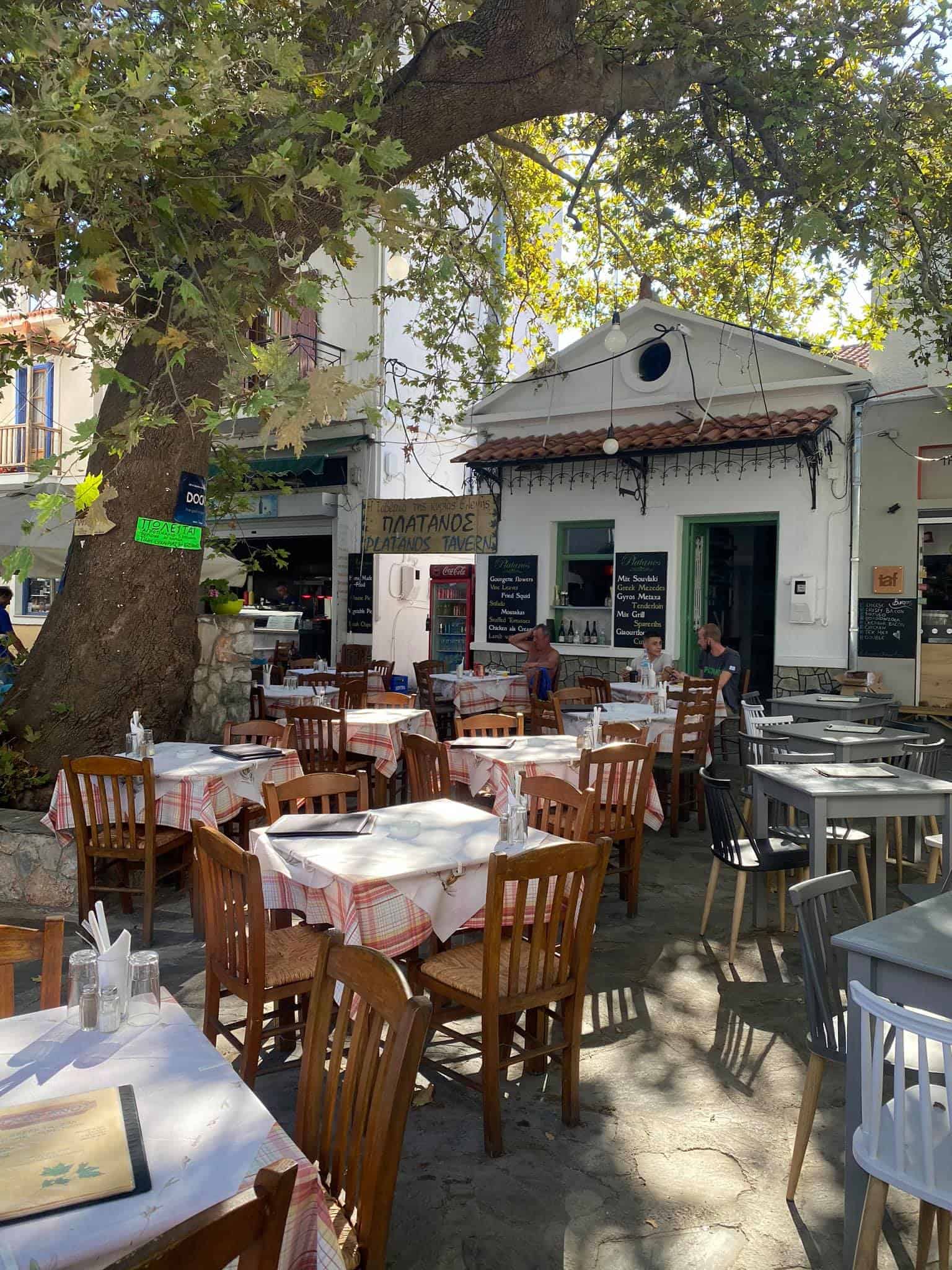 You will not be short of restaurant and dining options during your time in Skopelos town. The port area is lined with dozens of restaurants and tavernas whose vendors all vy for your attention.
However, not all tavernas are created equal. Among the plethora of options, there are those that stand out among the crowd.
While arguably there is no such thing as bad Greek food, it should be noted that many of the restaurants that line the seafront are more touristic in nature. The food may be more expensive than is typical, and the menu caters to an international palette, as opposed to showcasing the best of local delicacies.
Restaurants to consider during your time in Skopelos town are detailed below.
Stou Dimitraki (Στου Δημητράκη)
Where: Skopelos 370 03 (Next to Swell Coffee Bar)
If you are looking for a real local place to dine in Skopelos town, Stou Dimitraki is it. Many Skopelos residents venture here during their lunch breaks from work.
Stou Dimitraki is a meze place. This means that if there are a group of you, you can order several small, tapas-style plates for sharing.
Dishes served here are classic Greek favourites: sumptuous marinated meats, Smyrna meatballs, fava bean puree, homemade potatoes flavoured with lemon and oregano, etc. Prices are reasonable and old Greek folk music plays over loudspeakers as you dine.
Ampeliki
Ampeliki is a Skopelos favourite among locals and travellers alike. This restaurant is situated slightly out of the centre of town. However, it is well worth the walk to get to.
Owner Kostas is the perfect embodiment of "xenia" and Greek hospitality. The restaurant changes its menu every few days.
Steaks and freshly caught local fishes are always available. However it is the hearty stews, the flavourful dolmas, and the innovative mezes that have people coming back again and again.
Ampeliki is one of the few Skopelos town eateries that are open all year-round. People come for the ambiance and a chance to catch up with Kostas, just as much as they come for the food!
Magali
Where: Skopelos 370 03
Ask any Skopelos town resident for the best place to buy a gyro or a souvlaki pita and their answer will be the same: Magali. If you are searching for something simple and fast to eat, yet still tasty and filling, head here.
The pitas here may well be some of the very best in Greece. Better yet, they are very affordable.
Magali is located in a charming little square in the middle of Skopelos town. You can opt to "dine in" and enjoy your food beneath the plane tree, or get it to go and take it back to your hotel.
Platanos Taverna
Where: Kanari, Skopelos 370 03
Platanos taverna is the go-to spot for all of your hearty, home cooked Greek dishes. From stifado to giouvetsi, souvlaki to moussaka, you will find all of your taverna favourites here. Platanos is renowned for its homemade bread served hot from the oven in accompaniment of your food/
Finikas Restaurant
Where: Skopelos 370 03
Finikas Restaurant, in the heart of Skopelos old town, is the perfect setting for your evening meal. The restaurant offers a seasonal menu that changes regularly.
However, there are some signature dishes that this place is known for. For instance, mouthwatering oven-cooked lamb flavoured with rosemary and garlic.
The recipes found here are Greek and Mediterranean delicacies with a modern twist. Finikas has been a local favourite since the couple that own it first opened their doors way back in 1989.
Bars and Nightlife in Skopelos Town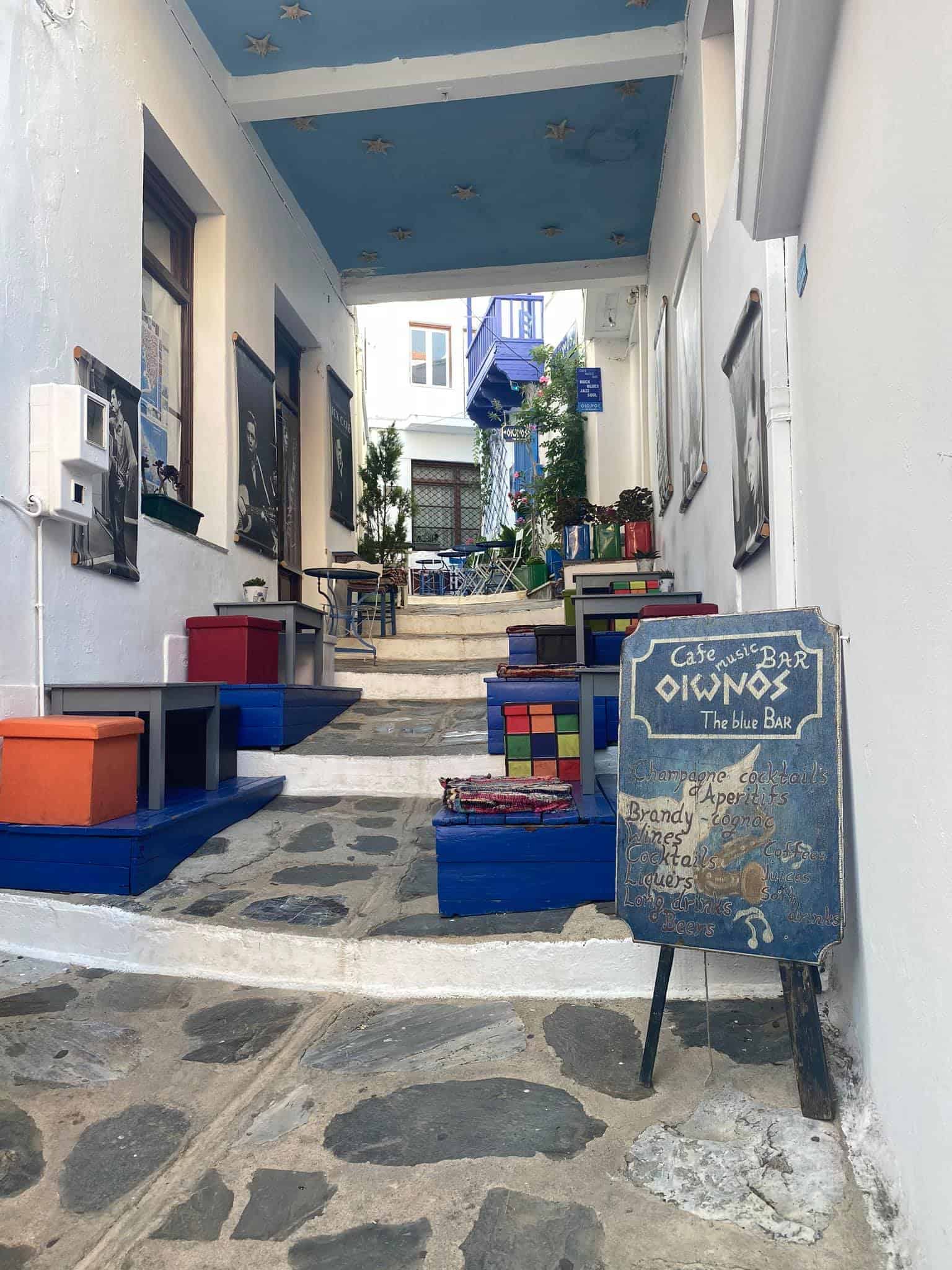 If you thought that Skopelos town was beautiful by day, the atmosphere is even more breathtaking by nightfall. At this time, the sun sets over the Aegean, and the picturesque alleyways are illuminated by hundreds of twinkling lights.
If you are looking for an evening tipple or two, you have plenty of places to choose from. It should also be noted that the aforementioned coffee shops serve beers, wines and cocktails by nightfall.
Mercurius Cocktail Bar
Where: Σκαβέντζου, Skopelos 370 03
Mercurius Cocktail Bar is one of the most popular nightlife spots on the entire island of Skopelos. The bar's resident bartenders are some of the very best mixologists in town.
From the outdoor terrace, you have incredible views across the port and out to sea. This place opens daily at 7pm during the summer months and really comes to life at night.
Cultural events and exhibits are often hosted here. The atmosphere is lively with music from across the globe playing out over the loudspeakers.
Screwdriver Cocktail Bar
Where: Skoufa, Skopelos 370 03
Screwdriver Cocktail bar is a tiny little establishment that sits down one of the quaint winding streets of Skopelos old town. The bar is so small that it almost feels as though you are sitting in someone's living room.
This is a great place to mix with Greeks and locals during the summer months. Everything from classic cocktails, to innovative mixology recipes and local wines can be found on the menu.
The Hidden Door (PARAPORTI)
Where: Chimou, Skopelos 370 03
The Hidden Door, as the name suggests, is a hidden speakeasy bar tucked away in the old town. It awaits just beside the Panagia Faneromeni church. However unless you specifically knew it was here, you would probably walk straight past it.
The cosy bar has something of a cult following among Sporades residents. The trendy place attracts a sophisticated crowd and serves everything from cocktails to Greek and international beers.
Services in Skopelos Town
Despite being a small town that is home to just over 2,000 residents, Skopelos town has all of the services and amenities that you need to make your stay a pleasant one. There are several supermarkets, greengrocers, butchers, bakeries, and convenience stores scattered throughout its streets.
Supermarkets
If you are renting a villa or staying in self-catered accommodation, you will not struggle to find places to buy food. Arguably the place with the best selection of ingredients is the large Sklavenitis supermarket that sits just outside of the town.
You can purchase excellent quality, locally sourced fruits and vegetables at To Manaviko greengrocers. Next door, you will also find a sweet retired local lady that sells homemade olive oil and vegetables picked from her garden.
Bakeries
Bakeries are situated on virtually every street corner in Greek cities and towns. Skopelos town is no different.
Town bakeries are a great place to stop for a coffee and a slice of warm spanakopita, or to pick up some freshly baked cookies or hand prepared sandwiches to take with you on your day's sightseeing.
Kanela Breakfast House is only open during the summer months. However they offer a wonderful selection of baguettes, breakfasts, and pastries. Meanwhile, Skopelitikes Tiropites Mixalis is very popular among locals for picking up hearty slabs of tiropita, spanakopita, and the infamous local "Skopelos pie".
Artisanal Stores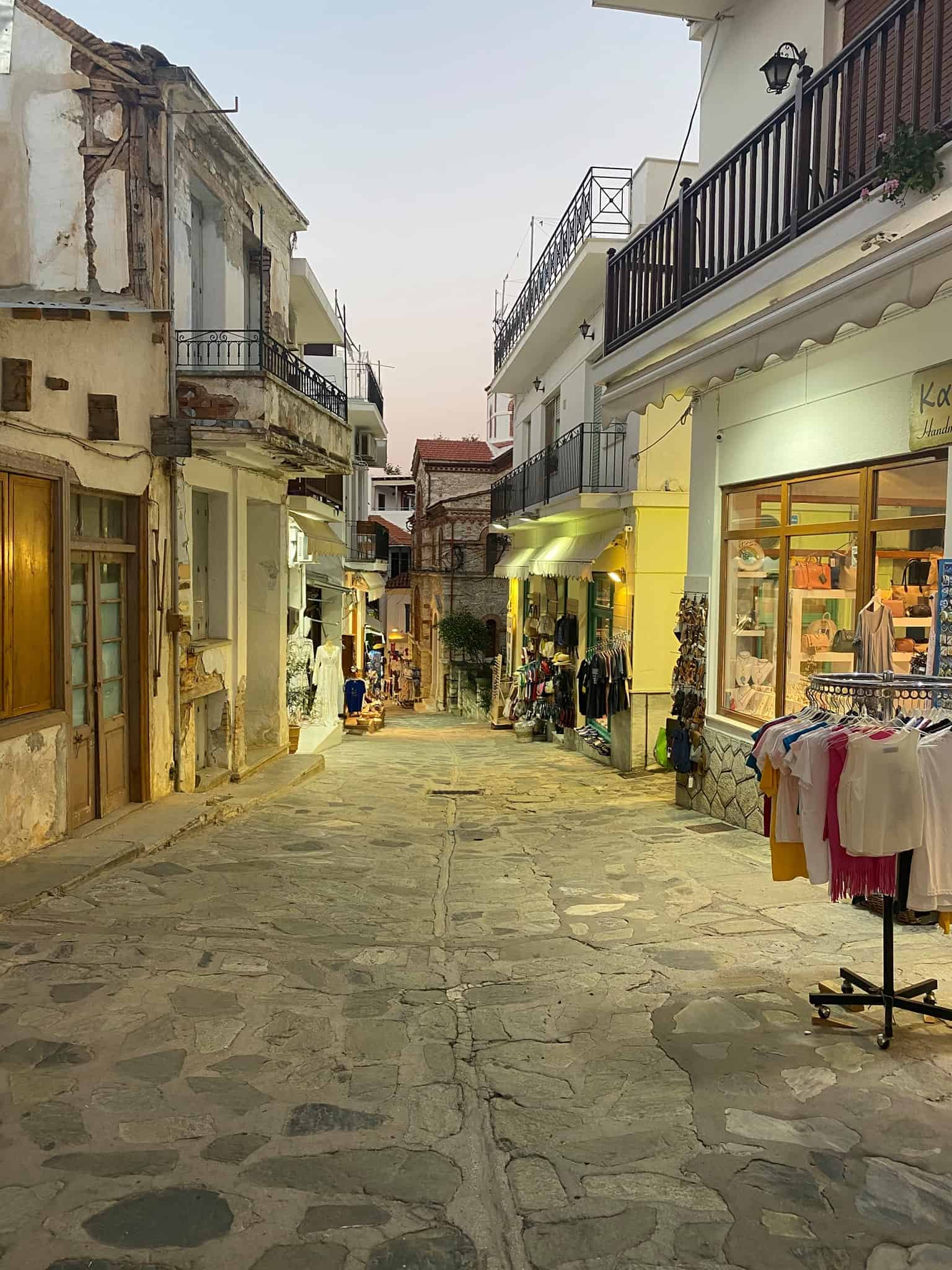 Greek agro products from the beautiful Sporades islands make a great souvenir from your trip, or a gift for friends and family members back at home. You could consider purchasing a jar of Greek "spoon sweets" from one of the local artisanal stores and delicatessens in Skopelos town.
"Spoon sweets" are preserved, flavourful fruits that are often enjoyed with Greek yoghurt after dinner. If you stay in Greece long enough, sooner or later you will be treated to these as a complimentary dessert in one of the restaurants that you go to. Homemade liqueurs, jams, and candies are other nice considerations.
Many bakeries around Skopelos town sell these types of products. Look out for "Mediterraneo Deli" in the Old Town. This specialist store has a wide range of quality local produce.
Transport Links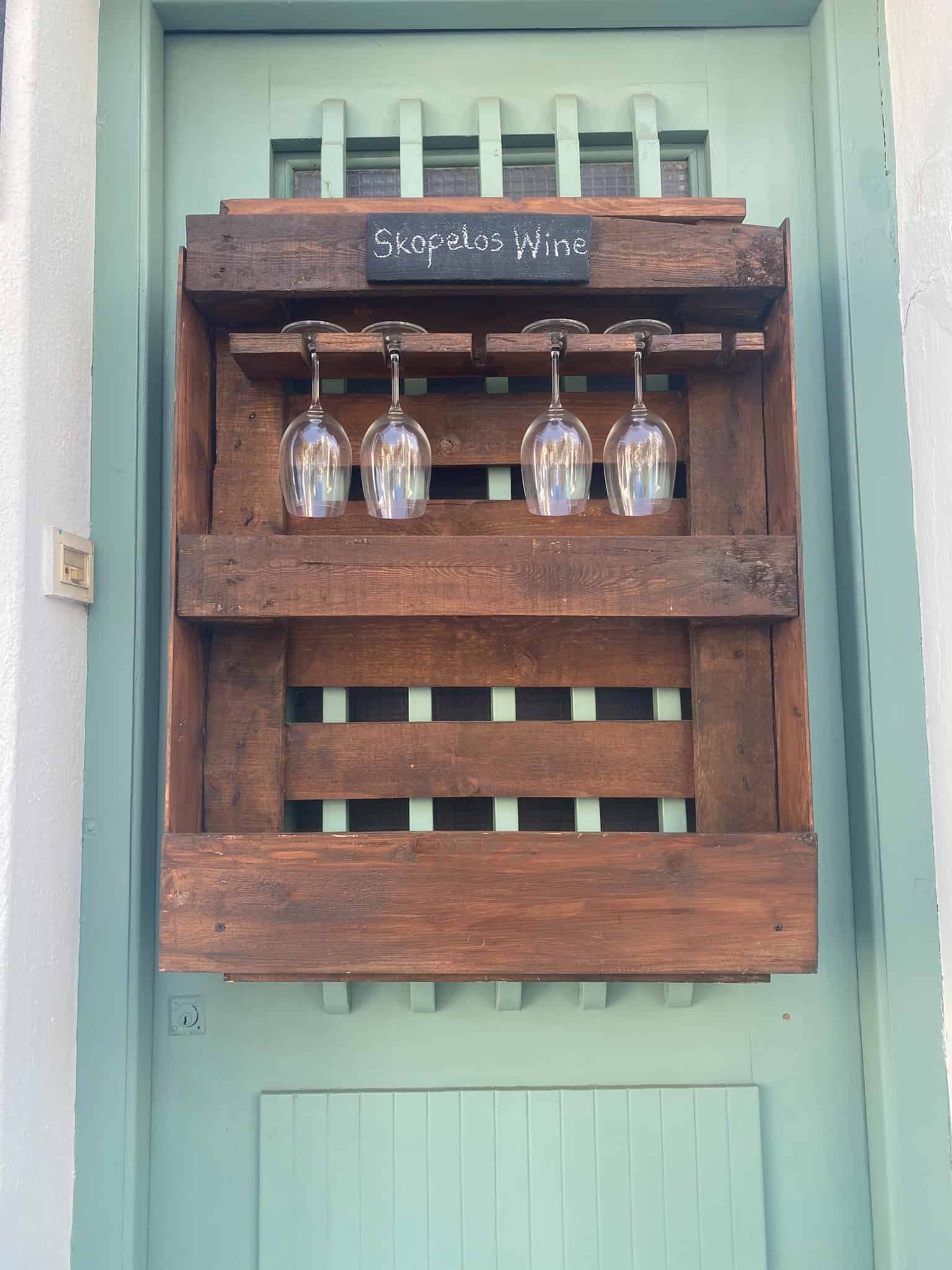 Many visitors to Skopelos town decide to rent a car in Greece. However, if you cannot drive, or you simply prefer not to, rest assured you will have no problem managing your itinerary by depending solely upon public transport.
Buses to Other Villages
Public transportation here is good enough to get you to the island highlights during your trip. There is a bus that departs regularly from the port.
It runs from Skopelos town to numerous points of interest around the island: Stafilos, Agnontas, Milia beach, Kastani beach, and Glossa. The bus departs 5-6 times per day during the summer season.
The summer season here runs between June and the end of September. After this time, bus services are limited. From October onwards, buses depart just once or twice per day.
Cabs
You will find a consistent supply of local cabs waiting at the taxi rank besides the port area in Skopelos town. Prices are reasonable whether you want to be taken to a specific point in the town, or elsewhere on the island.
Ferry Services
Ferries connect Skopelos town to mainland Greece and the nearby Sporades islands of Alonissos and Skiathos. Anes Ferries and Blue Star Ferries are two of the main operators in this region.
Ferry schedules vary depending on the time of year at which you are travelling. There are usually several services running each day between the months of June and September. Try to book directly via the specific ferry operator as booking sites take a cut of commission.
Parting Words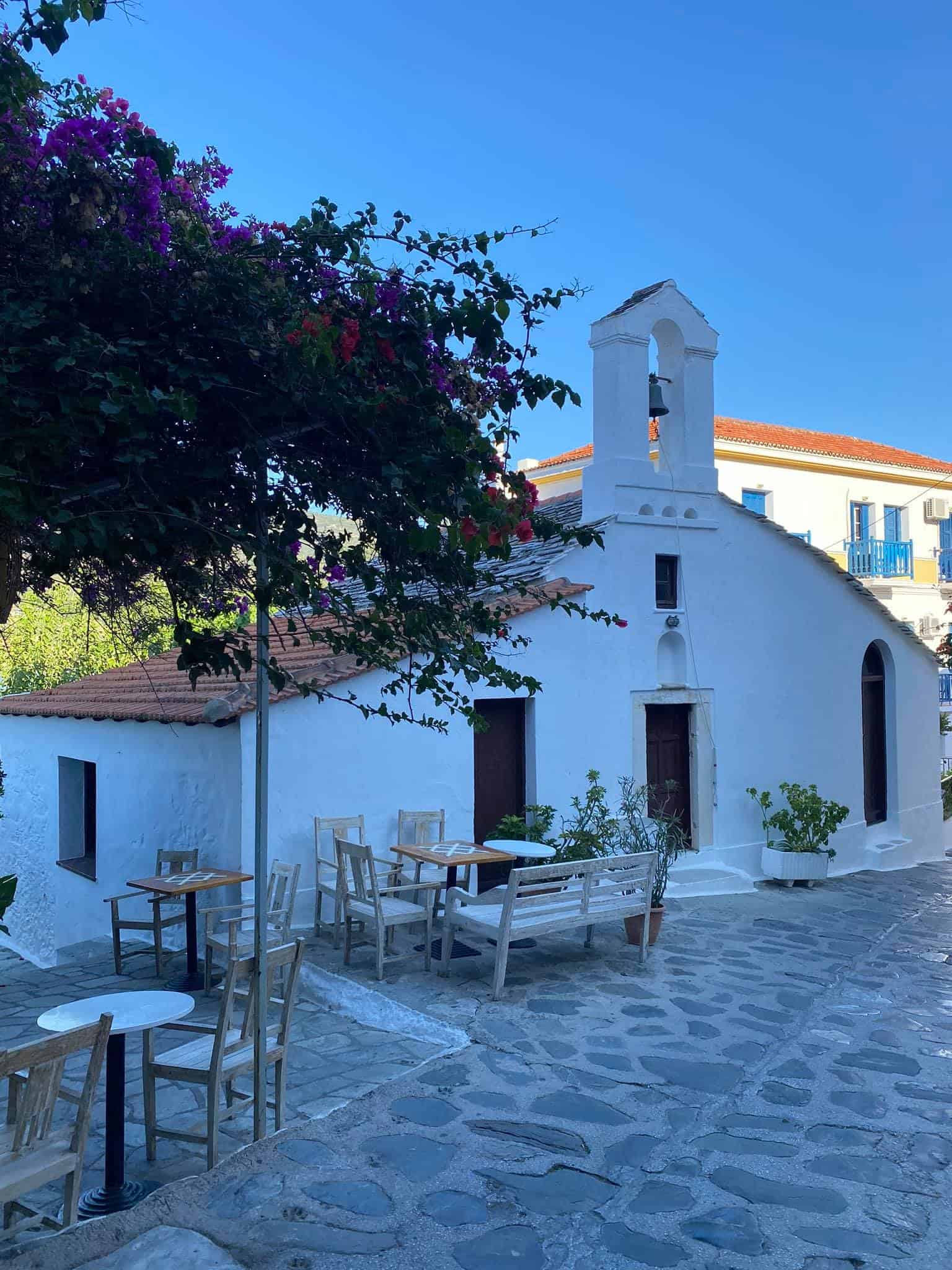 I based myself in lovely little Skopelos town for two months in Summer 2020. During that time, I got to know the area pretty well.
I ate at every restaurant, worked from every coffee shop, and sampled the pastries and cakes at every bakery (much to the dismay of my waistline!) I am happy to assist with any questions about Skopelos town, or planning a Greece trip in general, that you may have.
Please don't hesitate to reach out to me via the comments below. Safe travels! Geia sou! Melissa xo
---