The Mamma Mia Church is one of the most famous sights in Skopelos. Arguably, it is one of the most iconic images in all of Greece.
In fact, many visitors to the little Sporades island plan their trips specifically around visiting the little church. The filming locations for the movie Mamma Mia! intrigue travellers about Skopelos. It is only after arriving on the little pine-clad island that they fall in love with the rest of the beauty and nature that Skopelos has to offer.
The Mamma Mia Church: Agios Ioannis Kastri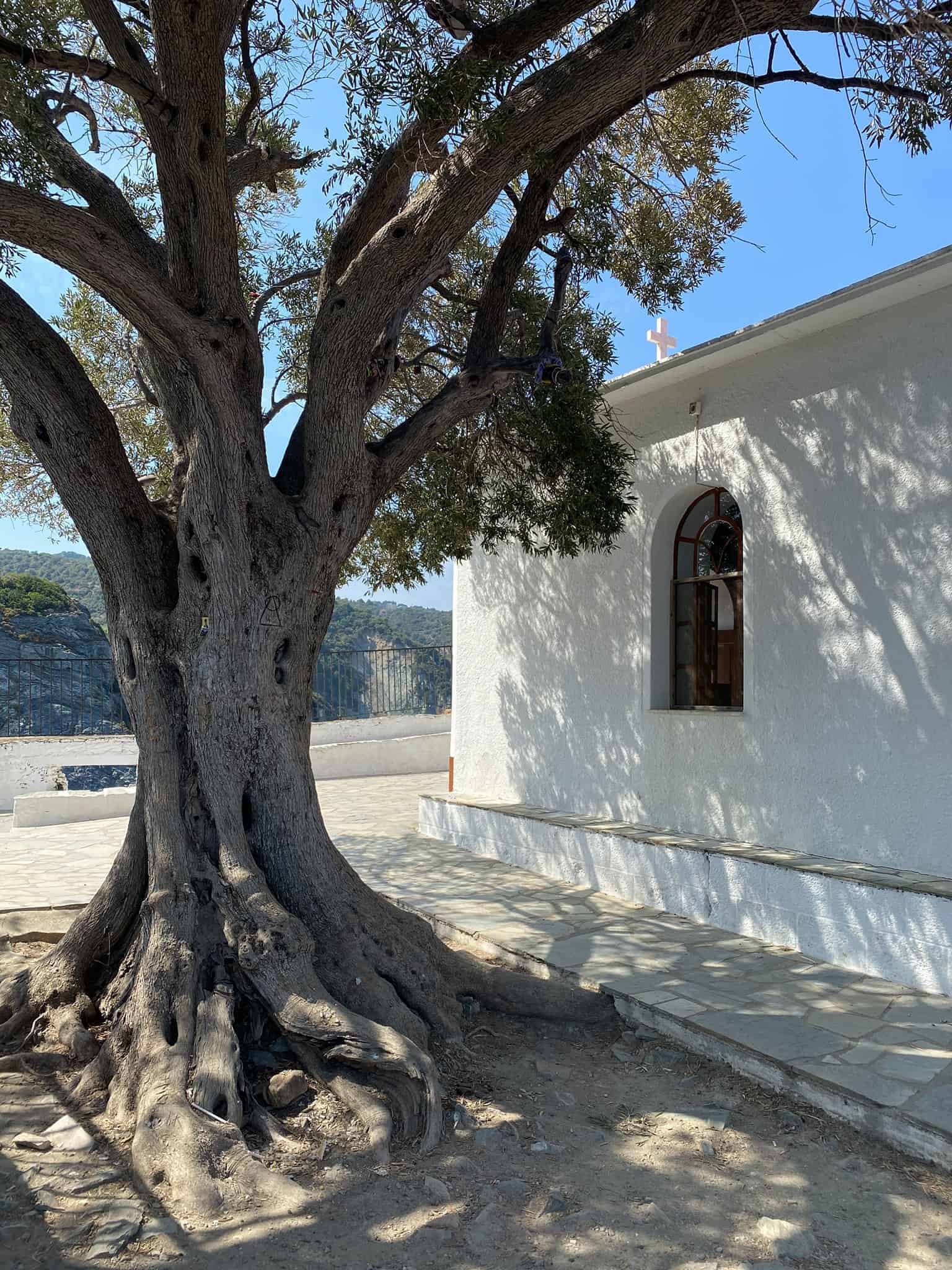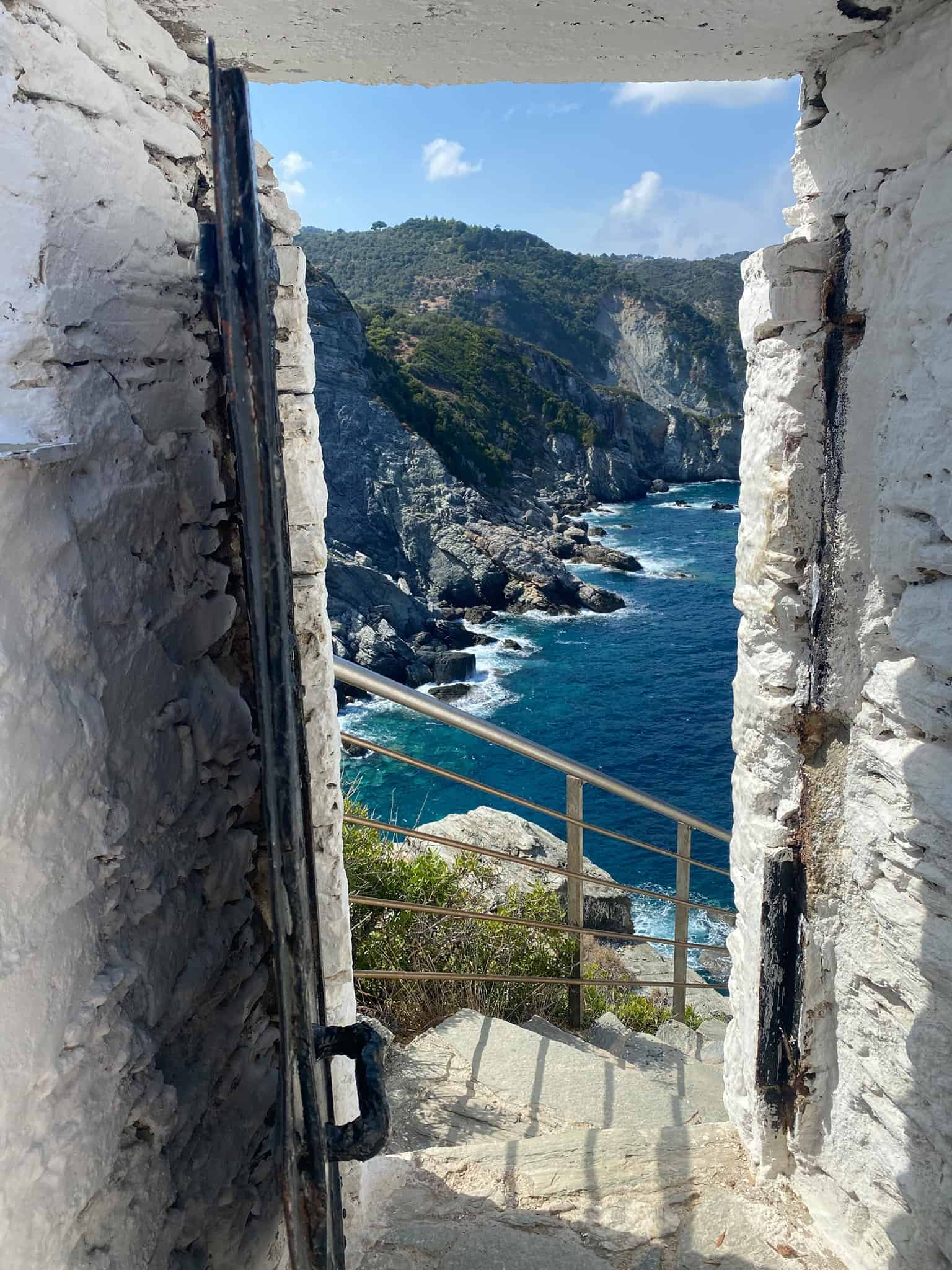 The official name for the Mamma Mia church is Agios Ioannis Kastri. It is perched precariously atop a craggy clifftop that juts out into the ocean in Northeastern Skopelos some 100 meters high.

The translation of this actually means "St John on the Castle". It is believed that once upon a time, a castle stood here.

Indeed, the location makes sense as a defensive post. From up here, you can see all the way out to nearby Skiathos. On a clear day, you can even see the mountains of Pelion glistening in the distance.
Pirates and Skopelos
Historically, Skopelos, Alonissos, and other island and coastal areas of Greece were under threat of pirate attacks. Castles such as that that once stood in place of the Mamma Mia Church were necessary to look out for enemies as they sailed close to Greek shores.

You will notice many other interesting links to the threat of pirates as you travel around the Sporades. For instance, the mysterious Sendoukia pirate graveyard of eastern Skopelos, and the fact that settlements were once built inland to be safer.
Magic and Legends of Agios Ioannis Kastri
Much of Skopelos' history is surrounded by magical stories, legends, and folk tales. Agios Ioannis Kastri is no different.
Legend has it that centuries ago, a fisherman from Glossa was fishing in the waters surrounding the cliff when he saw a mysterious light glistening on top of the rocks. He saw the light every night as he returned home.
Eventually, he had a dream in which a beautiful woman told him that there was an icon of Ioannis Prodomos at the top of the cliff. He climbed up, took the icon, and took it home.
However every time he did, the icon would return. As a result, the church of Agios Ioannis (the Mamma Mia church) was built on the top of the cliff where it still stands proudly today.
Stepping Inside Agios Ioannis Kastri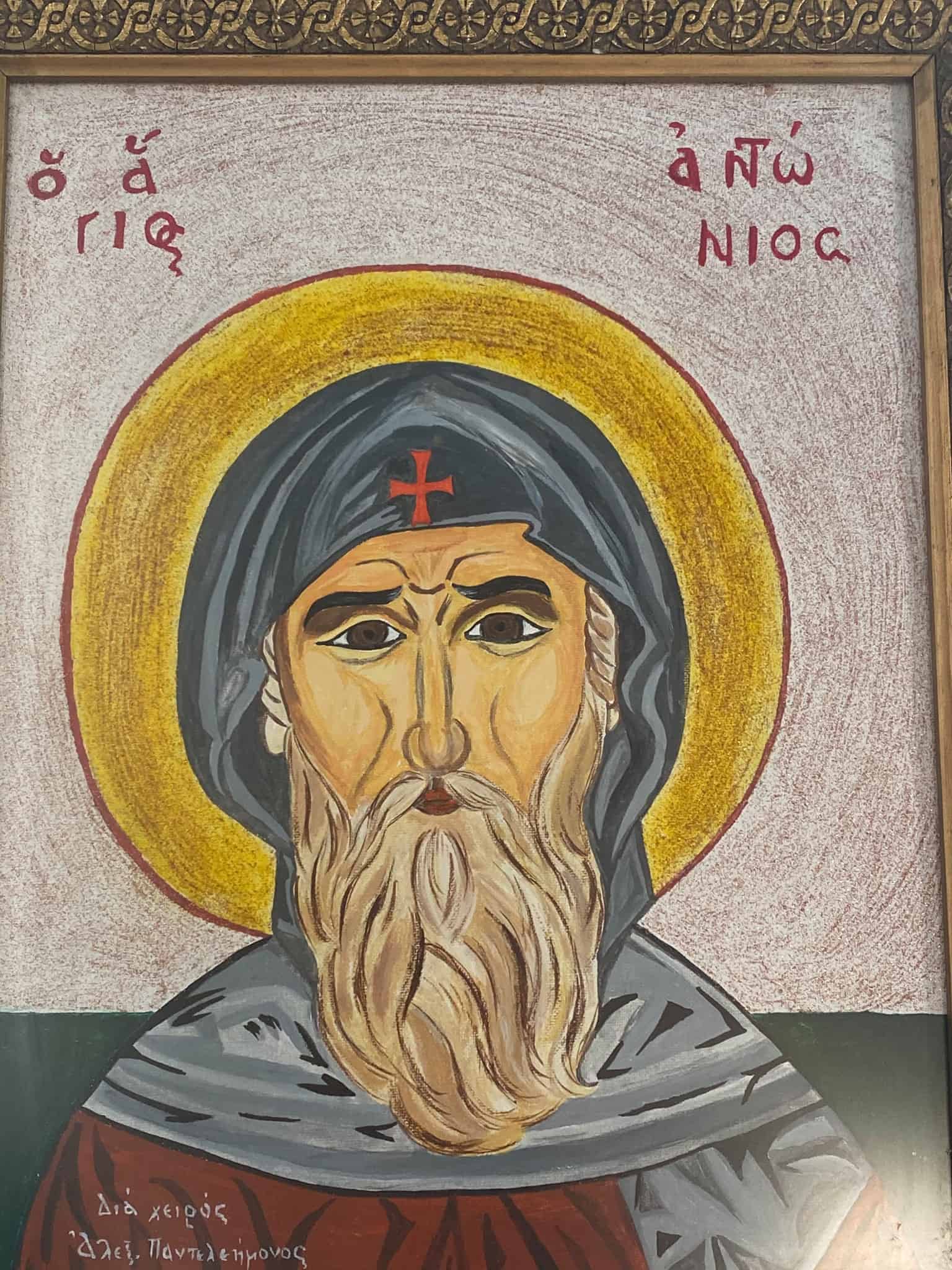 There are 110 narrow stone steps that wind around the cliff up to the church of Agios Ioannis Kastri. The pilgrimage up to the church has become more popular in recent years as travellers unleash their inner Meryl Streep and venture up the cliff to see the filming location of Sophie's wedding in the hit movie.

It should be noted that while the exterior of the church was used in Mamma Mia, the interior was not. The scenes inside the church were actually shot at a film studio in Hollywood.

However, the inside of the church is every bit as charming as its exterior. There are some interesting religious icons and paintings that adorn the walls.

There is also a small altar where you can light a candle in honour of deceased loved ones. The little church, like much of the island, is seldom busy even during the height of summer.

There are trees growing around the little whitewashed chapel and out front, you will find some small benches where you can sit and gaze across the horizon. The setting here looks like something from a fairytale.

Ascending the 110 steps can be daunting, especially on a windy day when the sea waves lap ferociously against the cliff. The addition of metal handlebars in recent years has made the climb less terrifying.
Amenities Near the Mamma Mia Church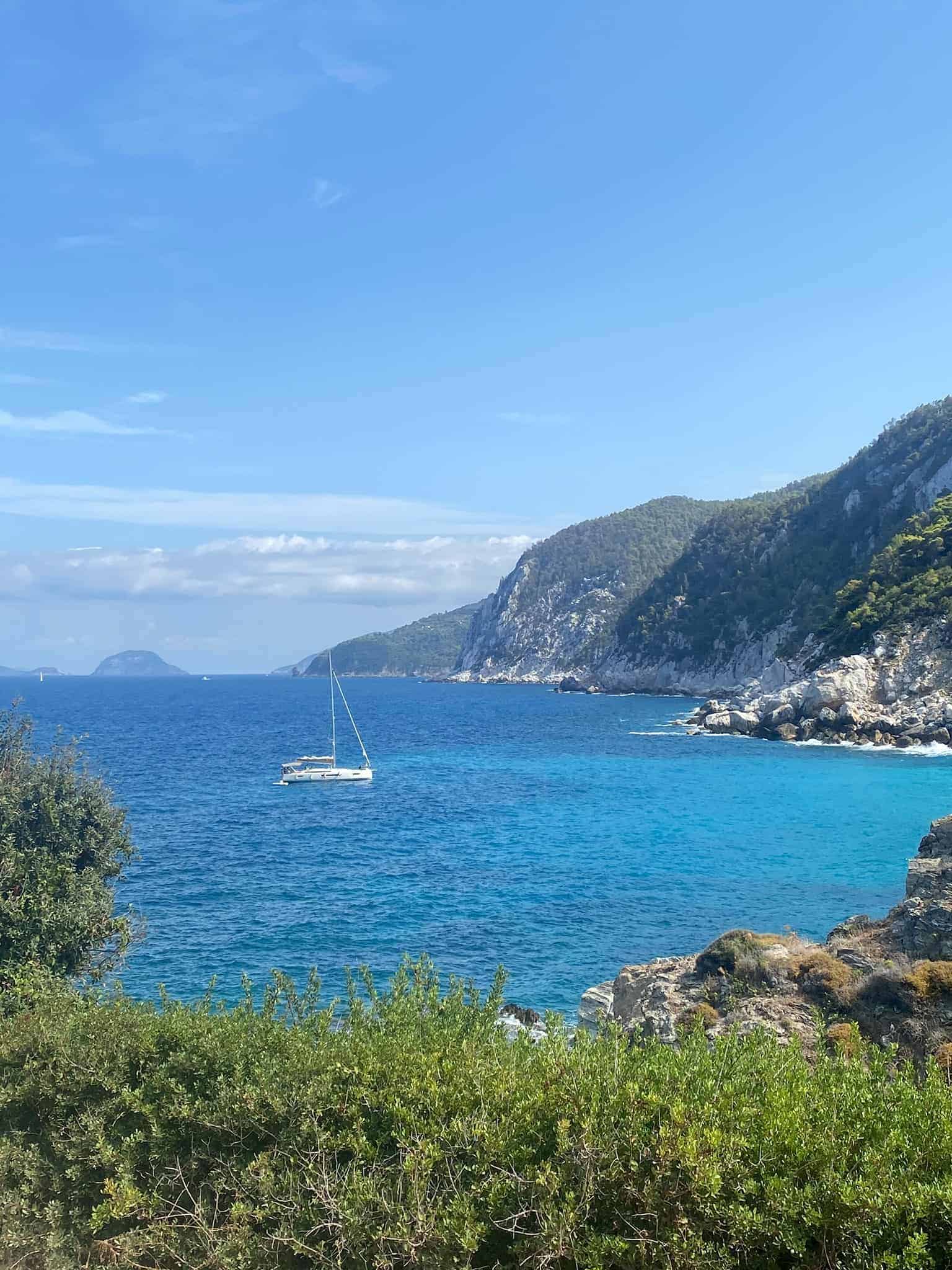 Agios Ioannis cove is a small beach that lies adjacent to Agios Ioannis Kastri. It is one of the most breathtaking beaches in Skopelos and offers unparalleled views of the Mamma Mia Cliff.

Envisage translucent cerulean waters and a white sandy coastline. The beach is only small. However, it is a worthwhile place to stop and enjoy a quick swim and an iced Greek coffee to reward yourself for conquering the 110 steps up the cliff.

During the summer months, you can rent sunbeds and umbrellas here for a small fee. There is also a small cafe shack at the foot of the Mamma Mia cliff. The local family that operates it serve an array of drinks, snacks, and ice creams between June and October.

You can order some light meals here depending on what they have available. These are simple dishes like Greek salads, hot dogs, and cheese toasties.

You will also find a little shop nearby that sells Skopelos deli products. For instance, oil from nearby olive presses, homemade jars of spoon sweets made by Greek yiayias (grandmothers), and preserves.
Getting to the Mamma Mia Church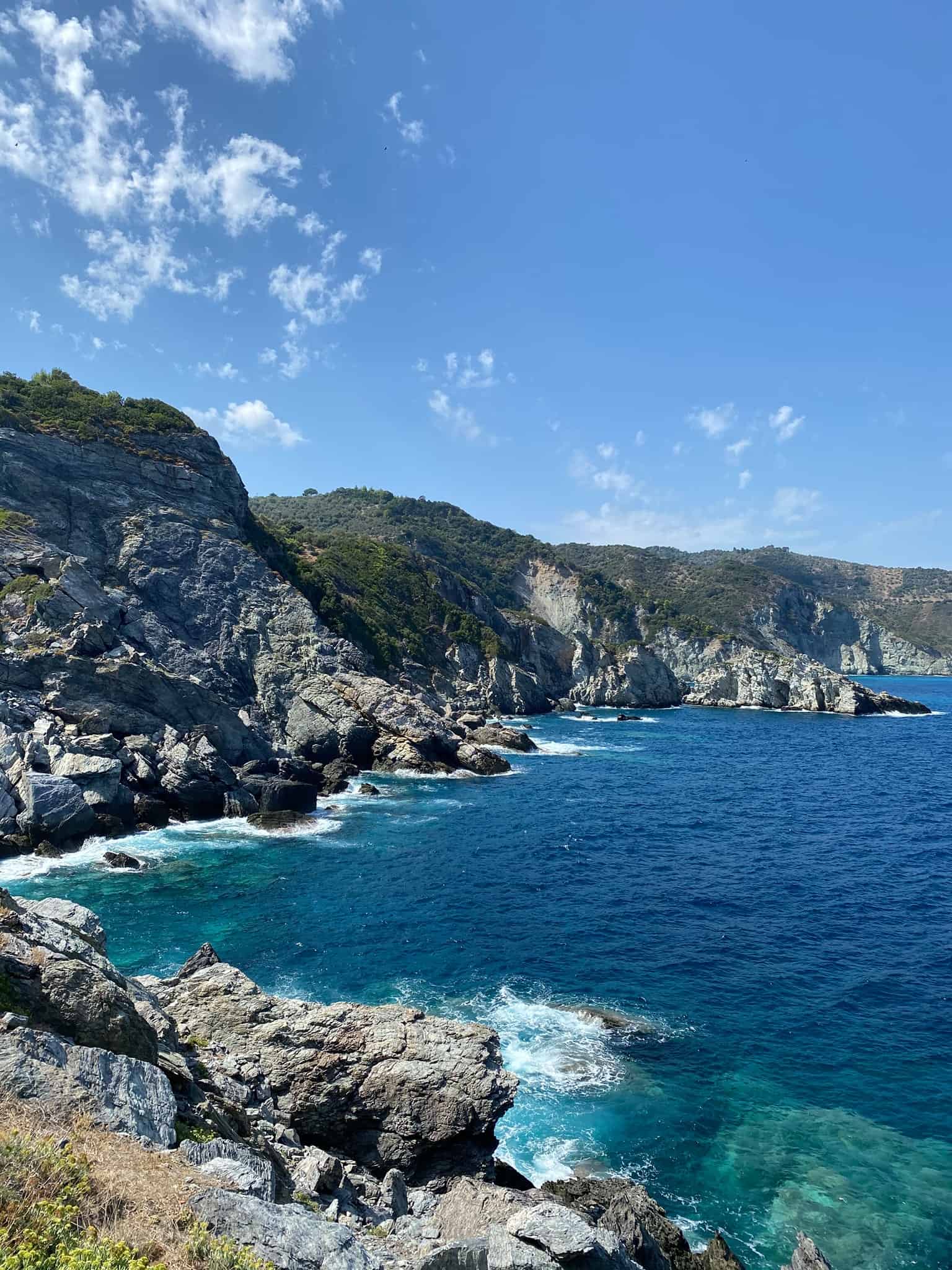 There is no public bus that runs from Skopelos town or Glossa to the Mamma Mia Church. The church awaits in the Kastro region of Northern Skopelos – km away from Glossa, and km away from Skopelos town respectively.
You have a few options available for reaching Agios Ioannis Kastri, whether you want to visit the location independently or via a guided tour.
Hike from Glossa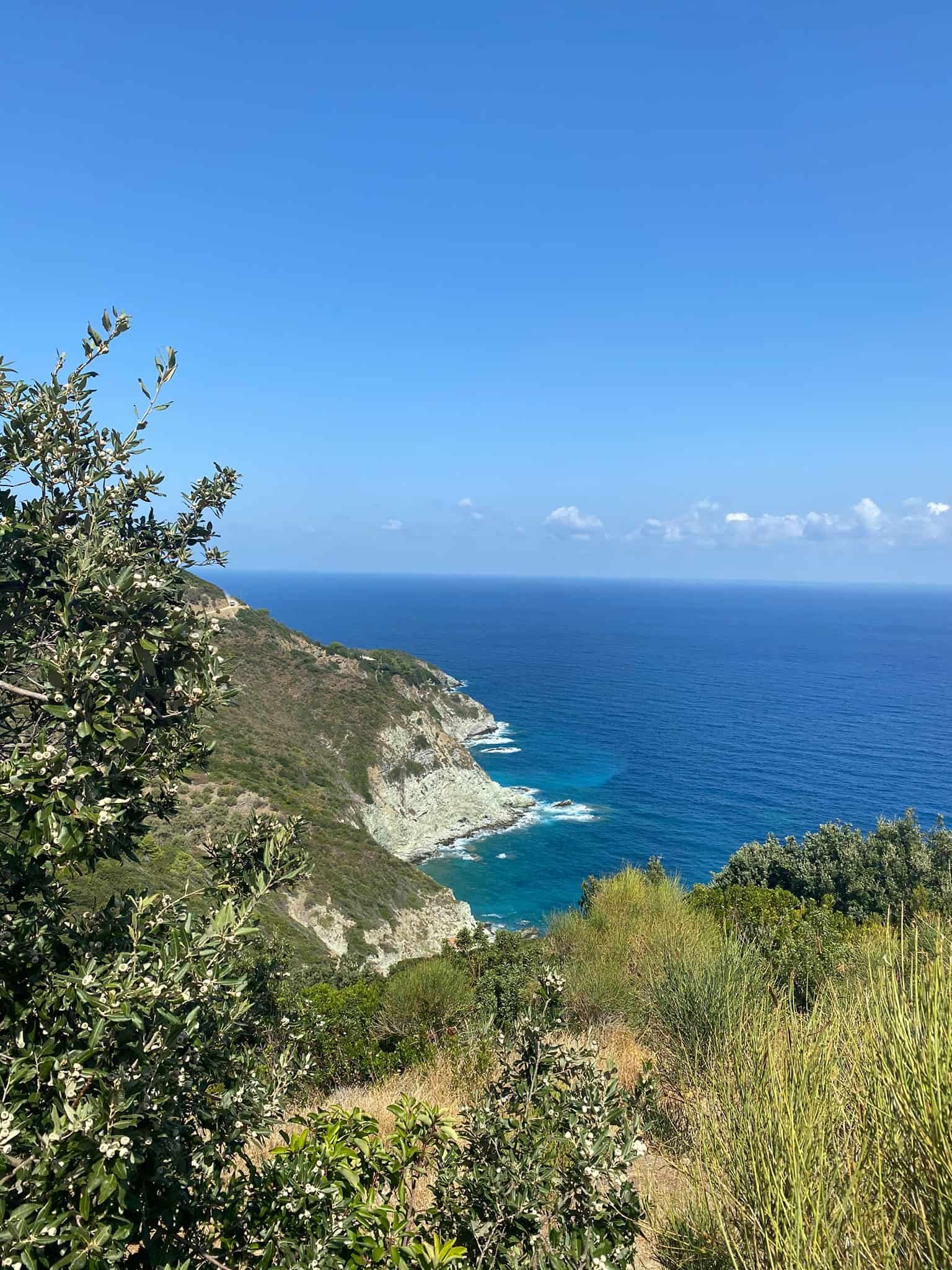 The walk from Glossa to Agios Ioannis Kastri is one of Skopelos' many gorgeous hiking trails. The trek takes approximately 2 hours each way so you have to really love walking to attempt this!

There are several small paths that veer off from the main route as you make your way to the Mamma Mia Church. They take you down to the coast and some little secluded coves that are well worth your time if your schedule permits.

You can also pay a visit to the Antoniou family olive press just outside of Glossa en route. In all, walking enables you more time to admire the scenery that you may miss if you are whizzing past in a car.
Take a Cab from Glossa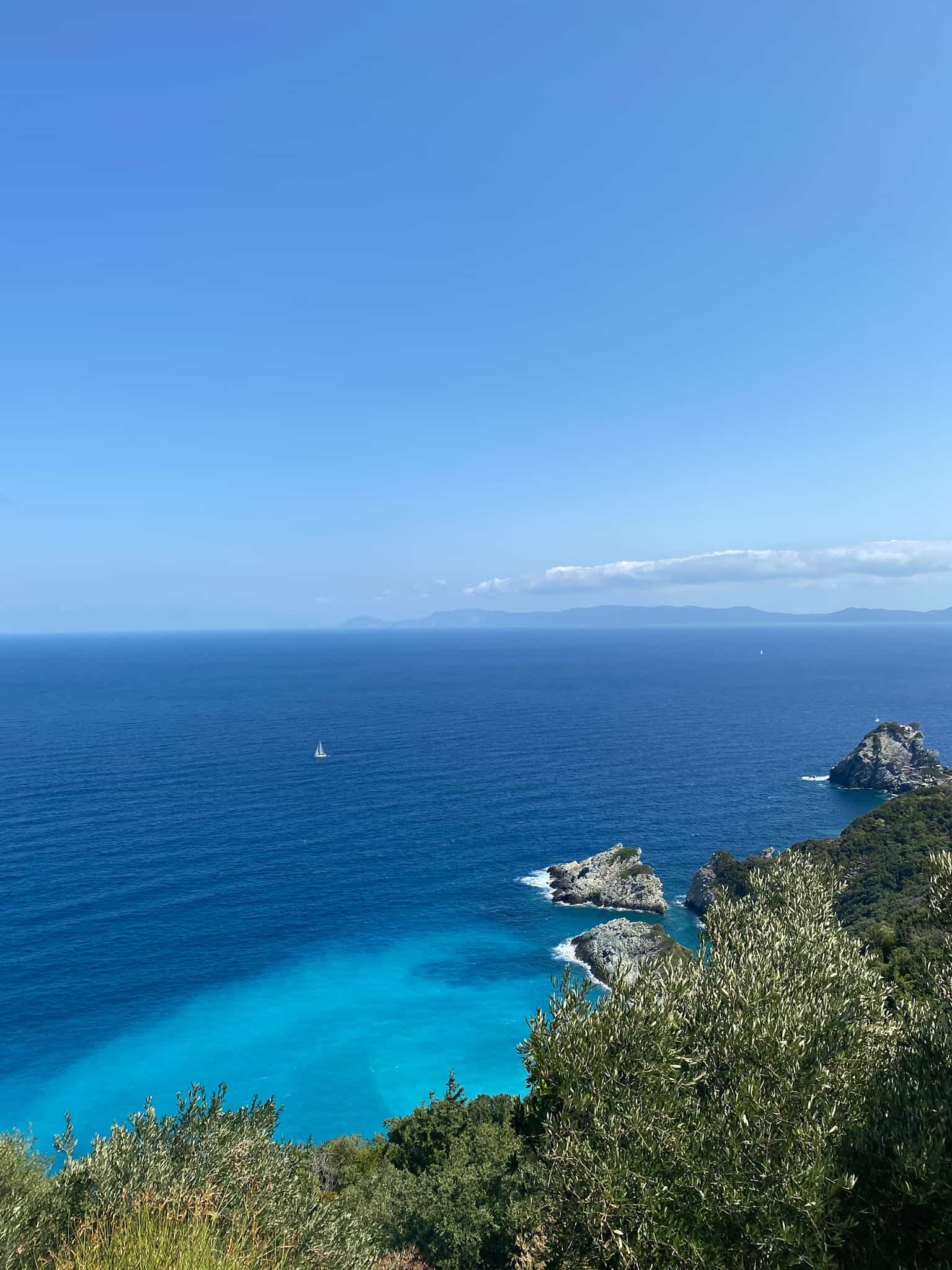 One of the easiest ways to reach Agios Ioannis Kastri is to take a cab from Glossa. This ought to cost you no more than around €25. The cab driver will wait for you as you visit the chapel before taking you back to Glossa.

Assuming that you are not staying in Glossa, you will need to take the bus from the port area in Skopelos town. This runs several times a day and costs €4.80 each way.
Rent a Car
Renting a car in Greece is far less daunting than it may sound. There are many rental companies around the main town (Chora) and Glossa.

Rental prices start from around €30 per day. You can also rent bicycles, mopeds, and ATVs as you prefer.
Take a Boat or Bus Tour
Many tour companies offer boat and bus tours to the Mamma Mia Church – both from Skopelos and neighbouring Skiathos.

If you prefer something a little more independent than boarding a bus with dozens of other tourists, you can rent a boat from the port in the Chora. Many Skopelitis offer sailing tours of the island for around €25.

They will sail around the island taking you to the main sights from Mamma Mia (Agios Ioannis Kastri, Kastani beach, etc) and offer you ample time to explore and take photos. Many of them also offer the opportunity to have dinner cooked out at sea too.
Final Thoughts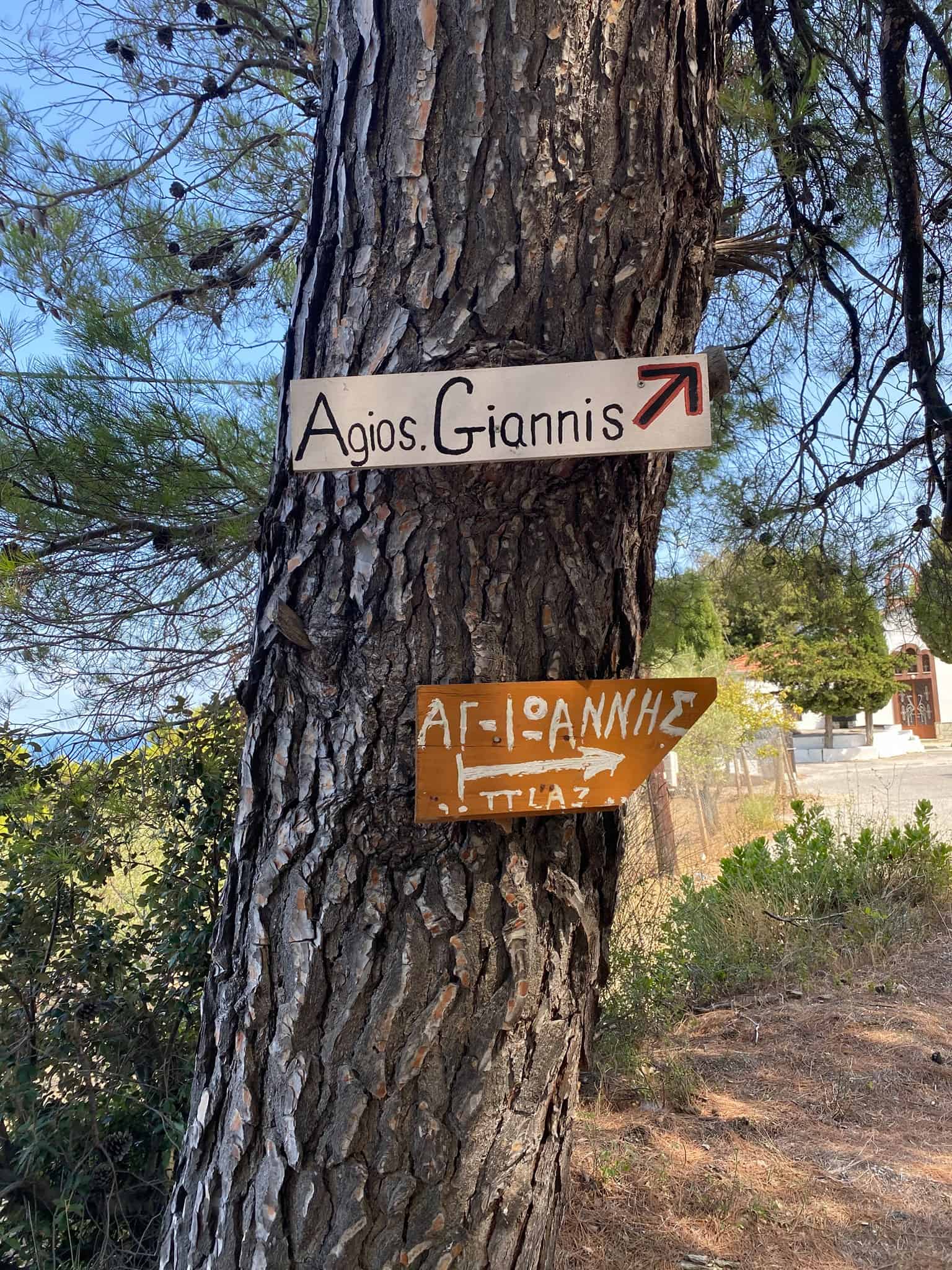 Have you visited the Mamma Mia church of Agios Ioannis Kastri? What did you think?
I based myself on the little island of Skopelos for eight months in 2020 and got to know it very well during that time. I have lived in Greece for almost four years.
If you need assistance in drawing out your Greek island hopping itinerary, or have any general queries about Greece, I'm happy to help you as best as I can.
Please don't hesitate to drop me a comment in the box below. Safe travels! Geia sou! Melissa xo
---