There are six main Greek island groups in Greece and thousands of islands that are divided between them all. The classic postcard image of Greece is the idea of whitewashed houses and churches with blue domed roofs, fixtures, and fittings.
However, the culture, architecture, and gastronomy of Greek islands can vary significantly from one archipelago to another. There are specific dances, drinks, and regional dishes that can only be found in only certain parts of the country, rather than across Greece as a whole.
It definitely isn't the case that if you have visited one Greek island, you have seen them all. There are a lot of subcultures within Greece and there is a reason why people make it their mission to visit as many Greek islands as possible during their travels!
This famous image of blue and white houses cascading down the hilltops in Greece is more representative of the islands of the Cyclades, rather than the Ionian for example. Here, houses are usually built from stone with red roofs and wooden balconies.
Each of the six Greek island groups has its own unique charm.
It would be difficult to choose between them; All of the Greek island groups are magical in their own way. You can find islands that are filled with gorgeous beaches and hiking trails, and rich in culture in each.
This article has been written by someone who has lived in Greece since 2017.
It runs through the different Greek island groups, what they have to offer, and which well-known islands are found within them. That way, you can find the area that appeals most to you when planning your trip to Greece.
Greek Island Groups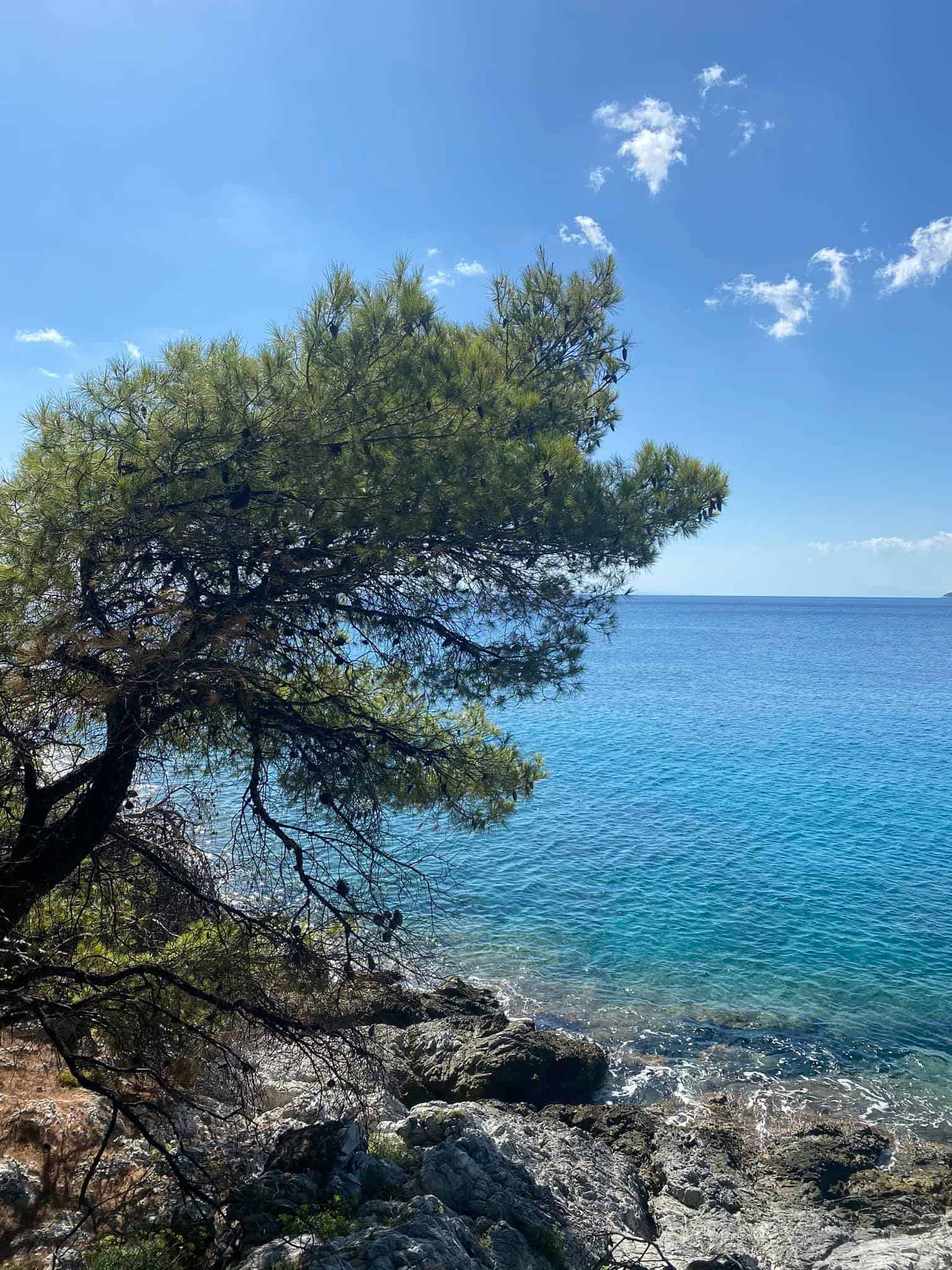 There are six Greek island groups. Namely, they are the Cyclades, the Sporades, the North Aegean islands, the Dodecanese, the Ionian, and the Saronic Gulf.
Then, there is Crete and Evia. Crete sits south of mainland Greece and isn't usually classed as being in any of the above archipelagos, although it is south of the Cyclades and west of the Dodecanese.
Evia (Euboia) can be found to the east of mainland Greece and is actually connected to the mainland by two different bridges.
The Sporades
The Sporades archipelago may well just be the most underrated of all of the Greek island groups. This is a collection of 24 islands that sit within the northeast Aegean.
Of the 24 islands here, only four are inhabited. Namely, Skopelos, Skyros, Alonissos, and Skiathos.
The Sporades are laden with dense pine forests, paradisiacal beaches, abundant hiking trails, and quaint villages. These islands tend to see a fraction of the annual tourists of say, Santorini or Mykonos.
This is, in part, due to the fact that the islands are not the easiest to get to. Charter flights run during the summer months to Skiathos. Otherwise, a combination of ferries, trains, and domestic flights is required, depending on where you are starting out in Greece.
These islands are the greenest in the Mediterranean. It may rain more here than on other Greek islands, but if it didn´t, nature here wouldn't be so pristine.
Islands of the Sporades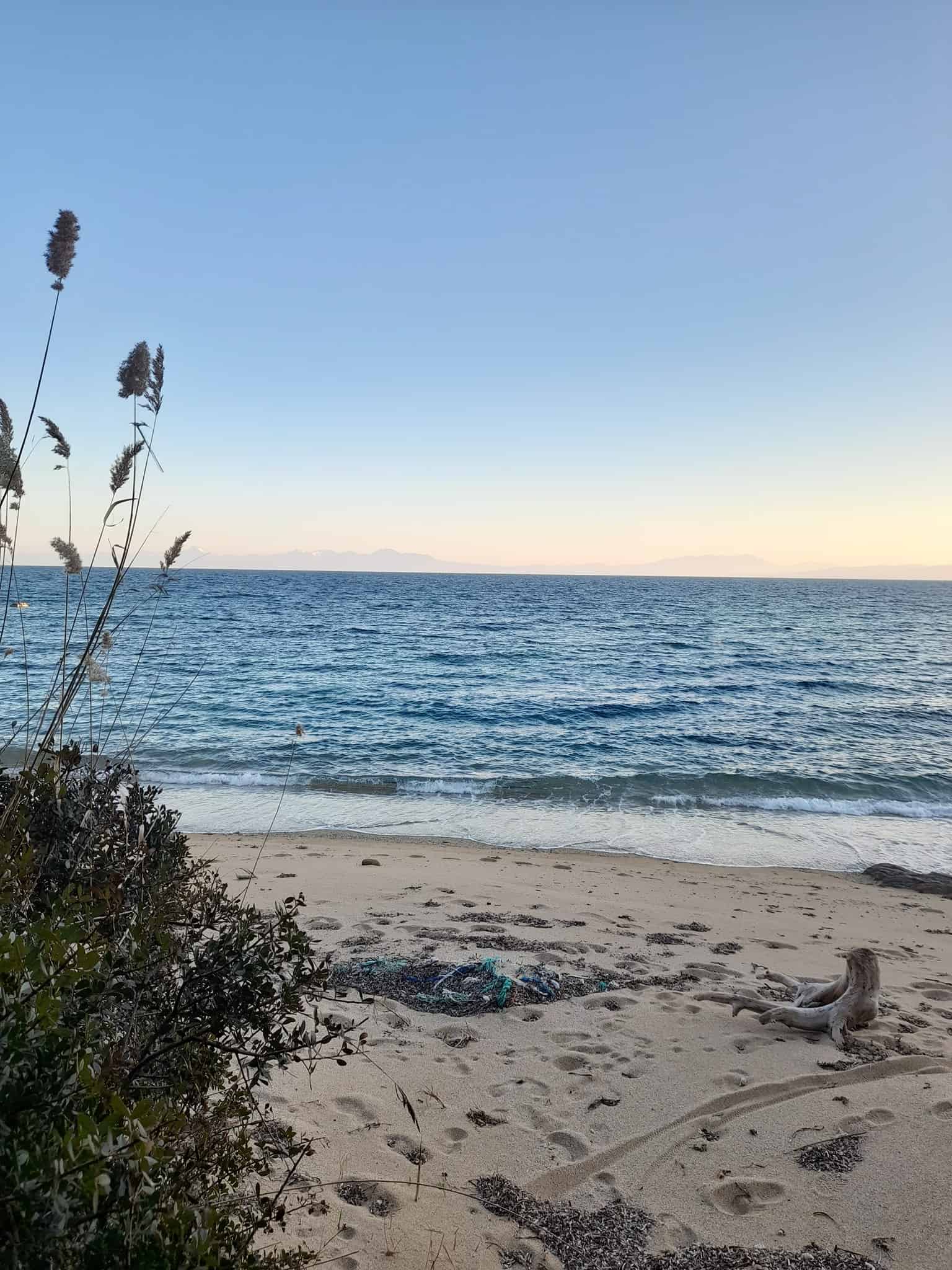 Skiathos


Skopelos


Skyros


Alonissos


Tsougrias (uninhabited)
Skiathos is the most popular of the Sporades group. Thousands upon thousands of Greek and international holidaymakers flock here every summer.
But for good reason, Skiathos is beautiful. This little island is only 7 miles long and 4 miles wide. Within that small space, it boasts more than 60 beaches and coves.
Two of Skiathos´ beaches: Lalaria and Koukounaries have been repeatedly named as being the most beautiful in the world, in addition to among the most beautiful in Greece. Skiathos town is a bustling port with a plethora of restaurant and nightlife options for every taste and age.
The nearby island of Skopelos is featured as the fictional island of Kalokairi in Mamma Mia. It has its fans, like any Greek island. However, Skopelos remains largely undeveloped and has thus far escaped the perils of over-tourism.
If you are looking for natural beauty and unserviced, wild beaches, Skopelos is a great shout. Spend a day swimming in the rugged coastal areas of Hovolo and Armenopetra, Neo Klima. No trip to Skopelos is complete without visiting the cliff-top church of Agios Ioannis Kastri, made infamous by its role in Mamma Mia.
Little Alonissos and Skyros are among the most remote islands in the region, often escaping the attention of tourists. The former sits within the largest protected marine park in Greece and is rapidly growing into a popular scuba destination.
Saronic Gulf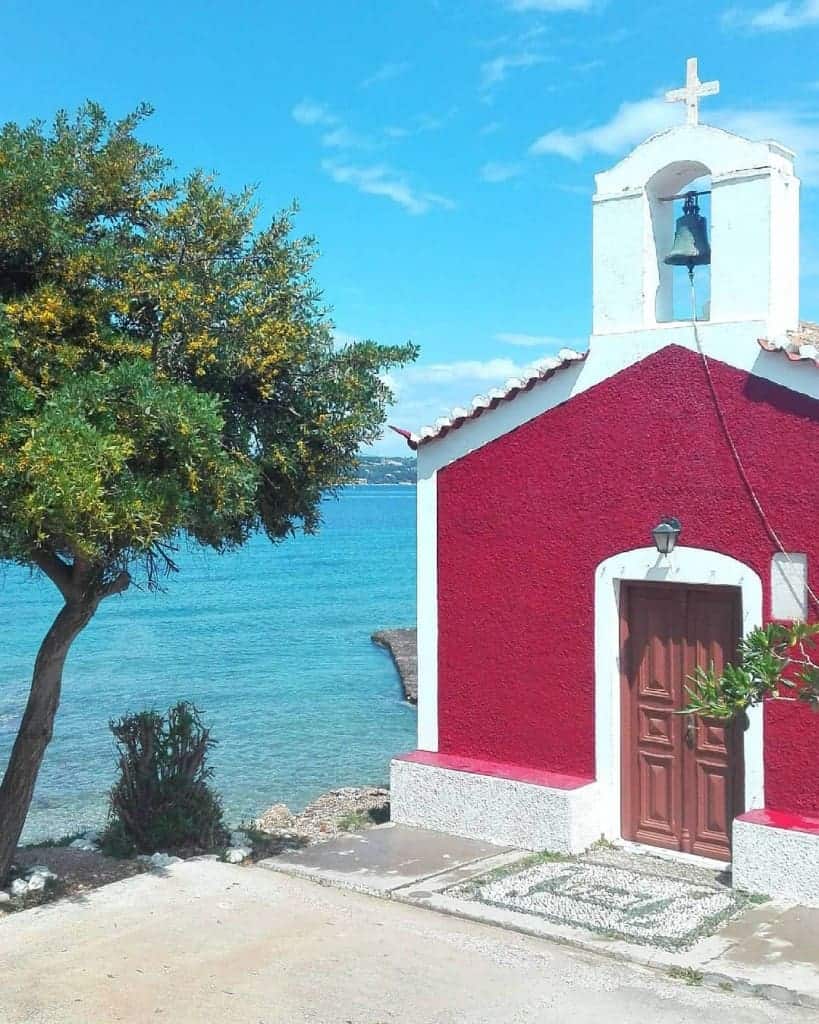 The Saronic Gulf islands are among the closest islands to Athens. Many of them can be reached in less than two hours by ferry, thus making them a popular weekend break destination for Athenians.
Saronic Gulf Islands
Hydra


Spetses


Poros


Aegina


Agistri


Salamina


Dokos
Each of the Saronic islands is unique. Each one has a distinctly different culture from its neighbours. Despite their proximity to mainland Greece, they feel a million miles away from the chaos of modern life.
Some of the islands here feel somewhat frozen in a time warp. For instance, little Hydra has no cars or vehicles. They are not permitted here and people get around by donkey.
This archipelago offers some of the best hikes in Greece, with trails winding through the natural scenery of Poros, Aegina, and Agistri. The port at Hydra is considered as being the most beautiful in all of Greece. It was here where important battles took place during the Greek War for Independence in 1821.
Visitors to Hydra should take the time to venture further than Hydra port if they are to escape the crowds and day-trippers. Following the coastal path that leads from the port and out towards the fishing villages of Kamini and Vlychos is a pleasant way to do so.
Spetses is the farthest of the Saronic islands and floats within the Argolic Gulf. The population of this affluent island is concentrated in its namesake Spetses town.
Step outside of the island capital and Spetses is essentially one big national park. Come here out of season and you´ll find you have entire beaches and jaw-dropping coves all to yourself.
The Cyclades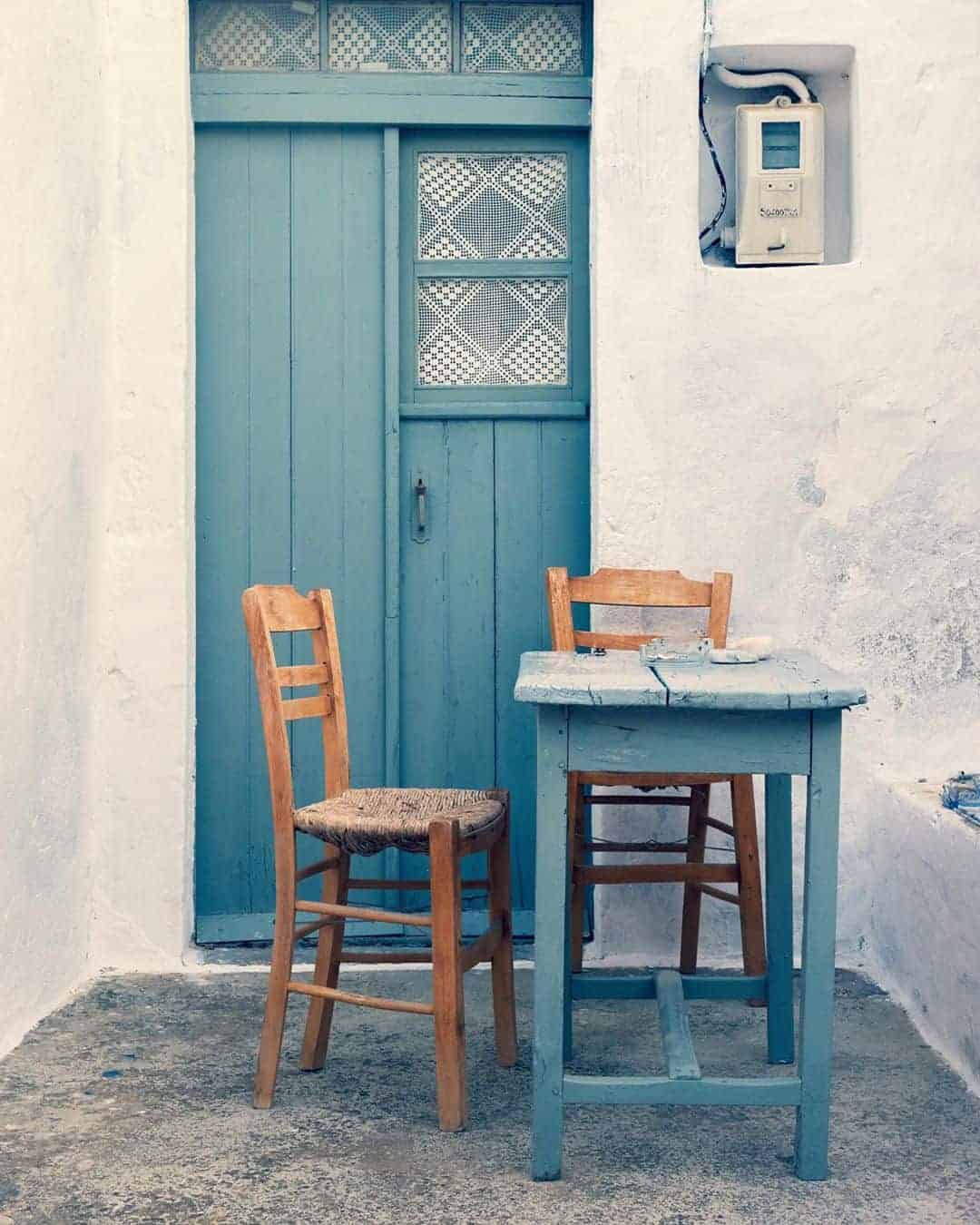 The islands of the Cyclades are perhaps the most renowned of the Greek island groups. Most Greece travel itineraries tend to include Santorini and Mykonos – two of the most popular tourist destinations in the region.
However, if your travel plans permit, you should absolutely try to venture off the beaten path in the region and head to equally gorgeous, yet lesser-known islands such as Amorgos, Andros, and Folegandros.
There are 220 islands within this Greek island group. However, only a small percentage of these are actually inhabited. If you venture to the Cyclades islands besides Santorini and Mykonos, you will be rewarded with fewer crowds and lower prices.
Islands within the Cyclades
Amorgos


Anafi


Andros


Antiparos


Delos


Donoussa


Ios


Folegandros


Iraklia


Kea


Kimolos


Koufonisia


Kythnos


Milos


Naxos


Paros


Serifos


Sifnos

Exploring the Cyclades
Delos is a unique and fascinating historic island in the Cyclades. You should consider visiting on a day trip, particularly if you are basing yourself in nearby Santorini or Naxos.
The island is a UNESCO-protected heritage site with strong links to Greek mythology. Legend has it that it was here where the God Apollo and Goddess Artemis were born.
As such, the island is considered sacred ground. Nobody has ever been permitted to live here.
Today, it is essentially one huge open-air museum. Delos consists of the sun-bleached ruins of centuries-old temples, colonnaded walkways, and fascinating ancient statues.
Offbeat Cyclades
Amorgos is an understated Cycladic island that has begun to increase in popularity in recent years. It can be found at the easternmost part of the archipelago, floating towards the Dodecanese.
Amorgos´ Chora is distinguishable by its gorgeous Venetian monuments, old churches, narrow winding passageways, and cobbled streets. Don't miss Hozoviotissa Monastery while you are here.
This may well be one of the most gorgeous and dramatic religious structures in all of Greece. The monastery can be found perched atop a cliff. From this point, it offers incredible views across the island.
Mykonos remains one of Greece's most infamous party islands. Nightlife and glamour aside, it does offer attractions that appeal to travellers of all interests and age groups.
Hike to the famous Kato Myloi windmills near the Chora, enjoy dinner and drinks in Little Venice, and sample wine and charcuterie selections at one of the island's many organic vineyards. To avoid the crowds, consider visiting Santorini and Mykonos between October and May.
The Dodecanese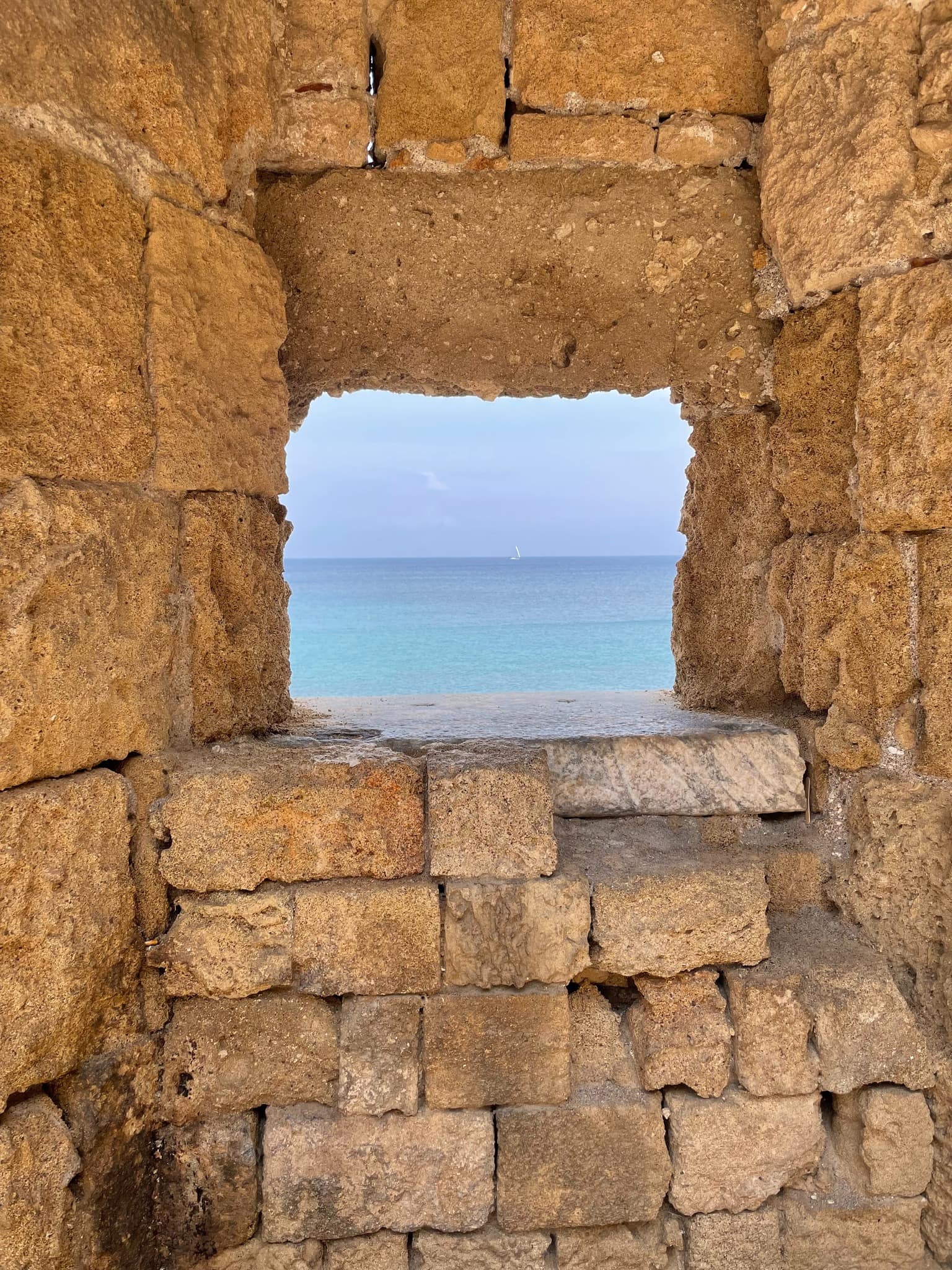 The Dodecanese archipelago can be found in the northwestern part of Greece. Here, they sit within the Aegean, just between Turkey and Greece.
There are 165 islands here, of which only 26 are inhabited. Kos and Rhodes are among the most popular travel destinations here. Similarly, the little island of Symi has become very much ¨in vogue¨ in recent years.
The Dodecanese are known for their medieval architecture and quiet beaches and coastlines. Indeed, many of the settlements and old fortifications are very well preserved. Most notably, Rhodes's old town.
Dodecanese Islands
Astypalea


Rhodes


Kos


Symi


Karpathos


Patmos


Leros


Nisyros


Lipsi


Tilos


Halki
There are hundreds of islands contained within the Dodecanese archipelago, However, the twelve most popular are detailed above.
Rhodes is the largest island in the Dodecanese group. Unfortunately, some areas have become overly gentrified and are occupied predominantly by touristic resorts. Regardless, the island still has its charm.
Modern Rhodes sits at a fabulous juxtaposition of old meets new. Its UNESCO-protected old town is one of the very best examples of medieval architecture in all of Europe.
History of the Dodecanese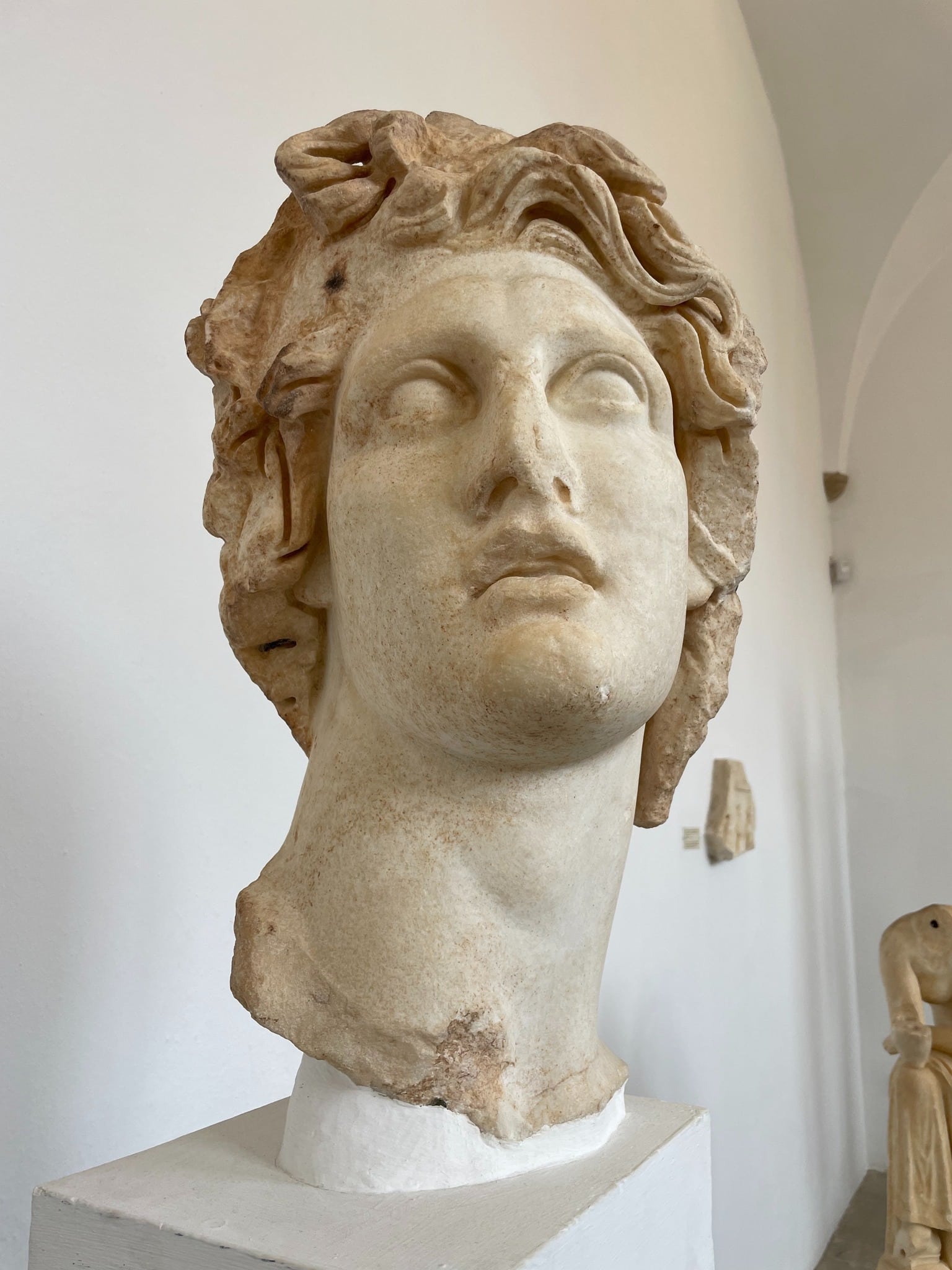 Various civilisations have lived on or conquered these lands throughout the centuries. Each has left its mark on the architecture and culture of the Dodecanese today.
It was the Venetians that first conquered the Dodecanese. They built impressive defensive castles and fortresses.
Almost every inhabited Dodecanese island has a fabulous, well-preserved Venetian castle that you can visit. In Rhodes, it's the Palace of the Grand Master.
The Ottomans conquered the archipelago in the 15th century. They built impressive mosques with towering minarets, hammams (bathhouses), and libraries. Many of these can be observed in Rhodes's old town and around the island.
Patmos island has interesting religious links. It is supposedly here where Apostle St John lived out his final years and wrote the New Testament. As a result, it has become one of Greece's biggest Orthodox Christian pilgrimage sites.
Symi is a mountainous island in the Dodecanese known for its colourful houses, stunning beaches, and its annual music festival. The architecture here is distinctly different from much of the archipelago.
Symi town is lined with grand neoclassical mansions.
There are many picturesque villages and beaches located within walking distance of Symi town. Notably, the seaside town of Pedi is situated 2km east of Symi village, and the breathtaking cove of Emporio is 3km west.
The Ionian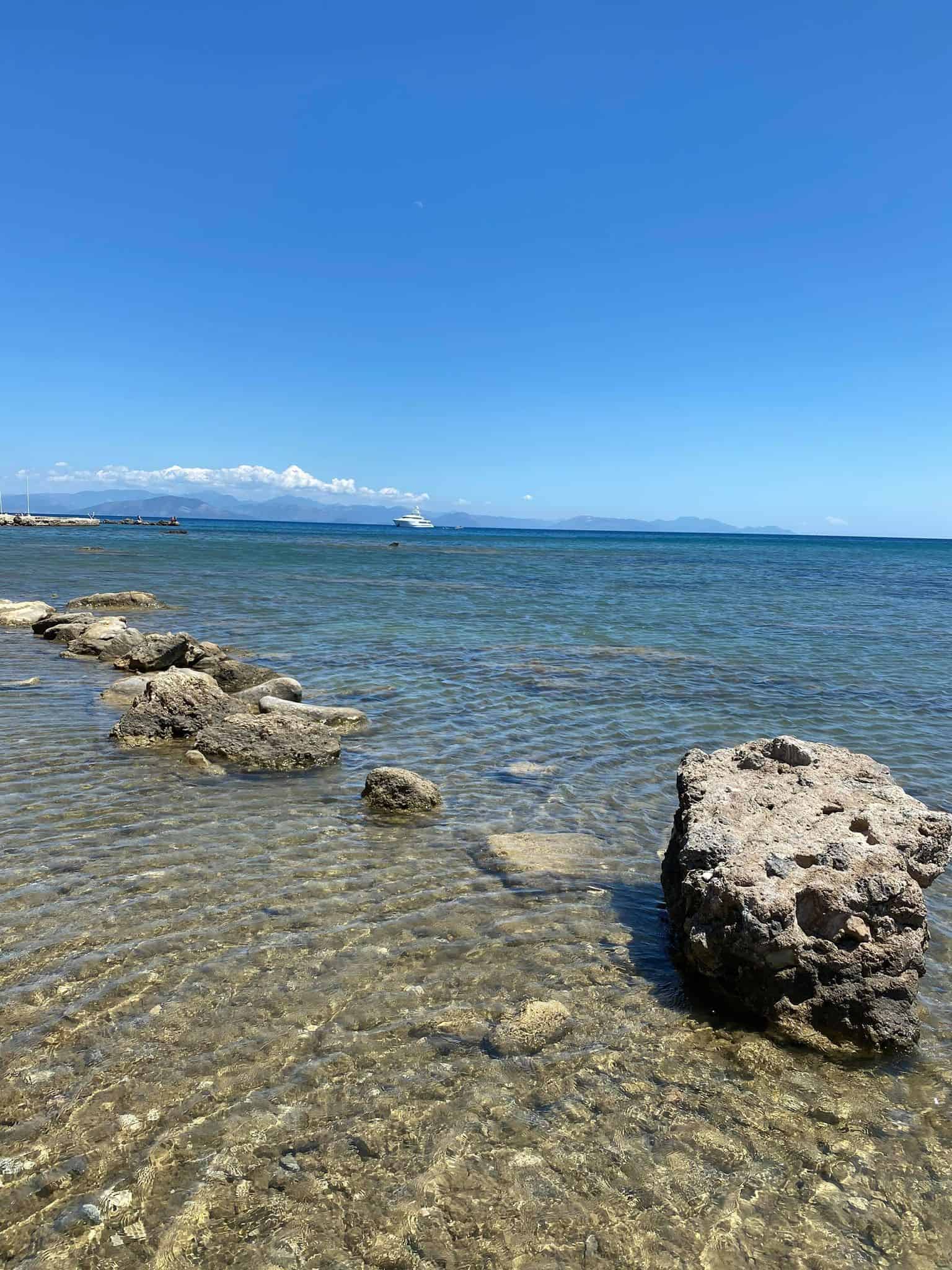 The Ionian islands sit off the west coast of Greece, where they float in the namesake Ionian sea. Igoumenitsa port acts as a gateway to the Ionian from the Greek mainland.
Corfu (Kerkyra) and Zakynthos (Zante) are arguably the most touristic of the fourteen islands. But if you know where to go, and you avoid travelling during the months of July and August, it is easy enough to escape the package tourism crowds.
Ionian Islands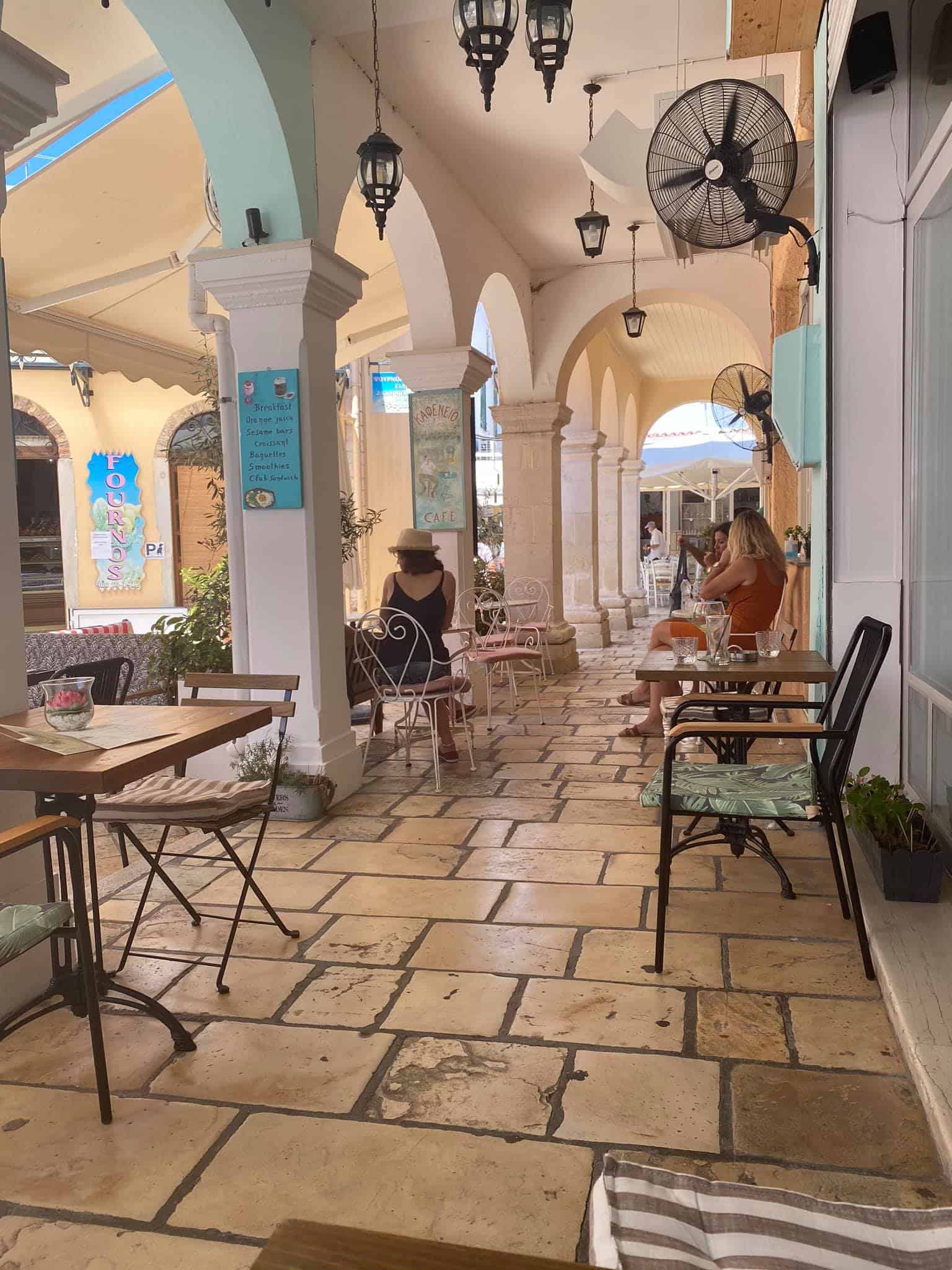 Kerkyra (Corfu)


Paxos and Antipaxos


Kefalonia


Zakynthos (Zante)


Ithaca


Lefkada


Kythira
The island of Corfu is locally known as ¨Kerkyra¨. This modern Greek name has roots in mythology.
Kerkyra (Corfu), the Ionian
Kerkyra was the nymph daughter of the river-god Asopos. She captured the heart of Poseidon who made love to her on the island. She gave birth to the race of the Phaeacians.
In ancient times, Corfu was an important trade centre and naval hub occupied by the Phoenicians. It was invaded and conquered by a number of civilisations in the millennia that followed.
The Macedonians, Spartans, Illyrians, Romans, Normans, and Venetians all controlled this island at one point. The Venetian rule was a particularly prosperous period for Corfu.
Hence why much of Corfu's old town consists of Venetian-style buildings, and why some areas are more reminiscent of Italy than they are of Greece! Today, meandering through Corfu's old town is a highlight of any Ionian adventure.
So too, is visiting the beaches of Paleokastritsa or watching the planes come in to land in Kanoni. From Corfu, it is easy to sail out to nearby Paxos and Antipaxos.
Paxos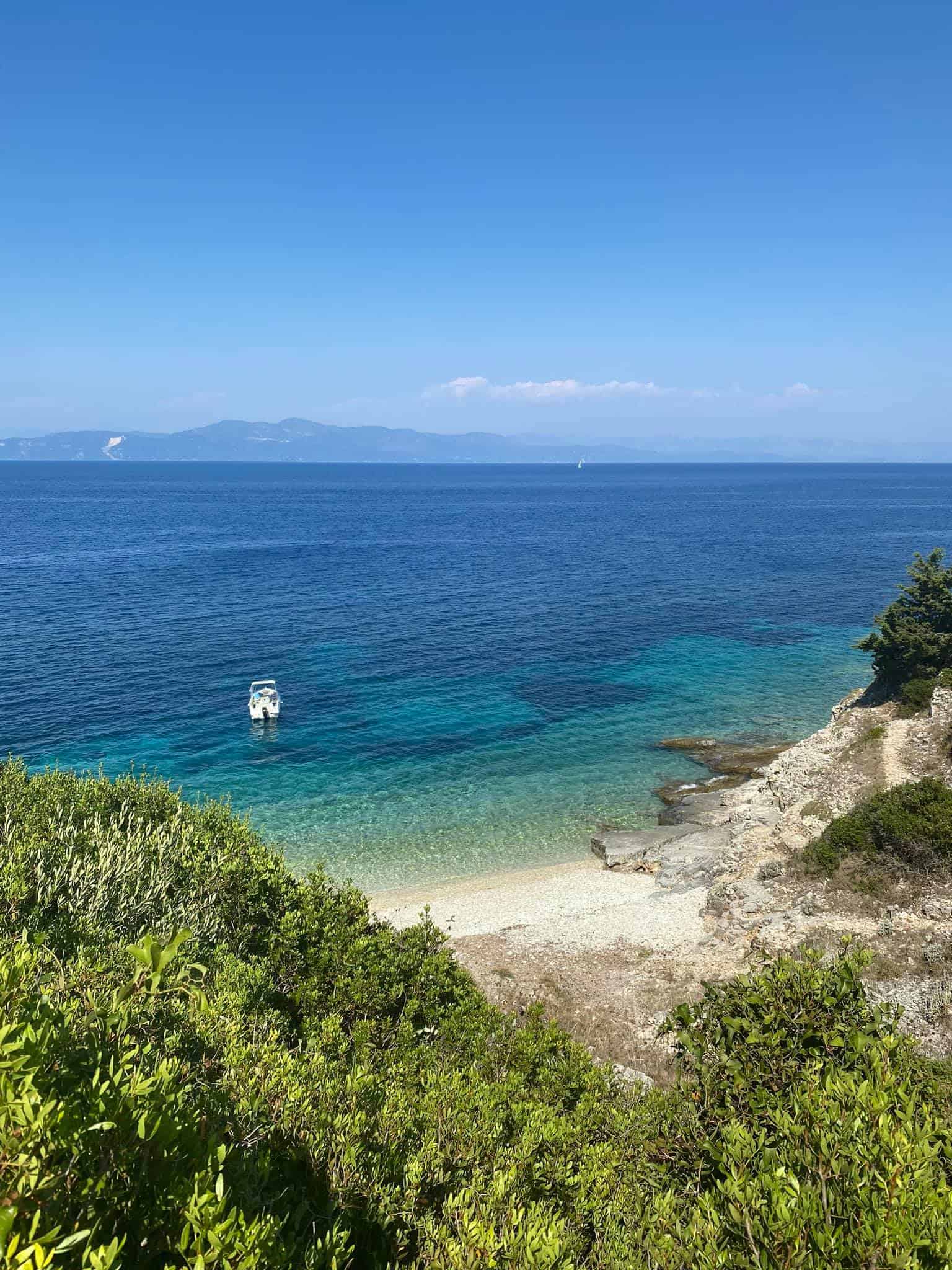 Paxos awaits at the southern tip of Corfu and is one of Greece's least commercial islands. Its villages, hotels, and restaurants are upscale and sophisticated, yet without any air of pretension.
If you follow the coastal road from the capital of Gaios to the village of Mongonissi, you will find a plethora of hidden beaches and coves. Don´t miss the opportunity to sail across to Antipaxos.
It is home to translucent turquoise waters that would have you thinking you're in the heart of the Caribbean. Vrika and Vatoumi beaches are the perfect spots to indulge in some much-deserved R&R.
Other Ionian islands
Ithaca is famous in Greek culture as being the birthplace of Odysseus (Ulysses), the hero in Homer's Odyssey. But Ithaca today is more than just stories and myths. It is also relatively unknown as far as international tourism goes.
The main town of Ithaca is Vath. If you head to the northern part of the island, there are also numerous idyllic villages and beaches. The natural bay of Vathy is among the most beautiful ports in Greece.
Zakynthos (Zante) is known for its incredible natural landscapes. Navagio beach is one of the most famous spots on the island – home to a 1980s shipwreck. The beach rests in a sandy cove framed by cliffs.
Summer in Zakynthos is synonymous with the idea of raucous British tourists and wild nightlife. However, opt to base yourself in the north of the island and you leave the chaos and over-tourism behind. Here you'll find forested wilderness and traditional rural villages.
The North Aegean Islands
The North Aegean islands have a culture and charm all of their own. They are actually closer to Turkey than they are to mainland Greece.
Indeed, it is possible to take excursions to some of these islands from Bodrum and other coastal destinations in the Turkish Riviera. There are vast distances between some of the islands in this group – for instance, the northern island of Thassos appears closer to Thessaloniki, Halkidiki, and the Sporades than it does to its sister islands.
North Aegean Islands
Lesvos


Chios


Ikaria


Lemnos


Thassos


Samothraki


Psara


Fournoi


Agios Efstratios


Samos
Evia island in Greece
The Greek island of Evia (also often spelled as Euboea) is the second largest island of Greece. It sits off the country's east coast and, like Lefkada in the Ionian archipelago, it is connected to the mainland by a series of bridges.
For the most part, Evia is something of an unknown to international tourists. Sadly the only reason it has fallen on most people's radars in recent years was when the island fell victim to ferocious wildfires in 2021.
The island's topography is diverse but naturally stunning. Evia boasts pristine white-sand beaches that run parallel to translucent, turquoise waters, a mountainous interior with rivers, streams and forests, wetlands, hidden coves, and natural hot springs.
Evia boasts 680km of pristine coastline, and the beaches here cater to every taste. You will find serviced beaches with all the amenities and rugged, secret spots that are seldom visited.
Travelling to Evia
The only problem with travelling to Evia is that the island lacks public transport links and can be fairly tricky to get around unless you are renting a car in Greece. From Athens Rafina port, you can take a ferry to Marmari and from there, travel south to Karystos.
This town sits in the foothills of Mount Ochi, the second-largest mountain on the island with a height of 1398m. This makes a nice place to base yourself for a couple of days or longer.
From Karystos, you can pass the time by lounging on the beaches of Alykes, Gallida, Psili Ammos, and Bouros. If hiking is your thing, you can follow the trails to some of the little villages nearby.
Karystos itself is charming. Evia has passed through the hands of various different civilisations over the centuries and each has left its mark on the local architecture and culture.
The Romans, Byzantines, and Venetians all occupied this land at one point or another. The Venetians came to Evia in the 13th century and left several Venetian ruins, and the sunbleached remnants of an impressive fortress, behind them.
Central and North Evia
Of course, Karystos is a worthwhile travel destination in Evia but it is just one settlement in the south of the island. The Evia capital of Chalkis (Chalkida) is also worth a visit, as is the northern part of the island.
Chalkis is a bustling, cosmopolitan city today. Its most notable attraction is the Karababa Castle – a magnificent fortress built it in 1684 that sits on a hilltop above the seafront and offers spectacular panoramas over Chalkis and over to Xirovrisi on the mainland.
The waterfront promenade in Chalkis is a nice place to while away an afternoon and there is an abundance of excellent bars and restaurants here where you can do so. Start at Agios Nikolaos plaza and make your way towards Asteria Beach stopping for a Greek coffee here and there as you go.
Old town Chalkis is a labyrinth-like network of little streets and passageways. In particular, look out for the Church of Saint Paraskevi. This is a gorgeous whitewashed church that dates back to the 5th Century AD but was largely renovated during the 17th century.
Its interiors are filled with vibrant frescoes and beneath the church are catacombs just waiting to be explored. From Chalkis, you can continue heading to the northern part of Evia, to Nea Artaki, Psakhna, Prokopi, and Mantoudi.
FAQs about the Greek Island Groups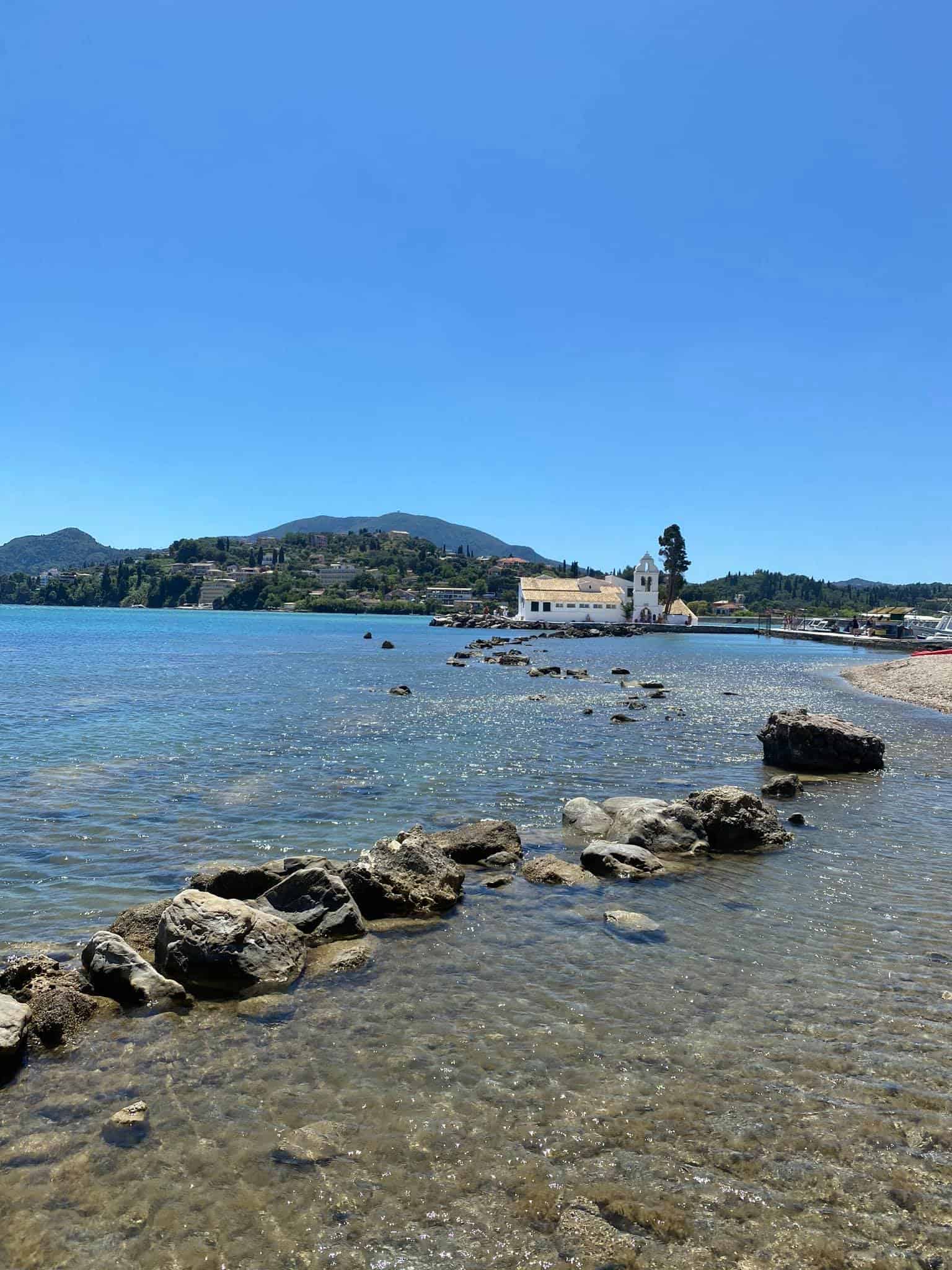 Do you have any additional questions about the different Greek island groups? The answers to some frequently asked questions on the topic are detailed below.
Hopefully, you will find the answer that you are looking for here. If not, you are free to reach out!
What are the best group of islands to visit in Greece?
Deciding which of the Greek island groups is best to visit is subjective. Each group is special in its own way and it largely depends on your personal preferences and what you are looking for during your trip.
For undisturbed nature, lush greenery, and hiking, consider the Sporades and in particular, the less often visited islands of Skopelos and Alonissos. If you are looking for a Greek island group where it is very easy to ¨hop¨ from one island to another, consider the Sporades.
If you are looking for a Greek island group that is suitable for travel all year round,
What are the groups of Greek islands called?
A group of Greek islands is known as an ¨archipelago¨. There are six Greek island groups or archipelagos.
They are the Cyclades, the Sporades, the Saronic Gulf, the Dodecanese, the North Aegean, and the Ionian. Then, Evia and Crete are considered separately.
What are the two principal groups of Greek islands?
There are actually six different Greek island groups, not six.
How many island groups are there in Greece?
There are six island groups in Greece.
What island group is Santorini?
Santorini can be found in the Cyclades island group which sits south of mainland Greece.
What island group is Crete?
Crete is not usually considered as being part of any Greek island groups. It is its own entity with a distinctly unique culture.
What island group is Rhodes?
Rhodes is the largest island in the Dodecanese island group.
Final thoughts on exploring the Greek island groups
Do you have any additional questions about the Greek island groups or about planning a trip to Greece in general? I've lived in Greece since 2017.
I am happy to assist with any queries you may have. Feel free to reach out to me.
Safe travels! Geia sou! Melissa xo
---