Mykonos or Santorini? Which island should you choose for your upcoming trip to Greece? 
These two stunning islands are among the most popular travel destinations in Greece and in fact, the entire Mediterranean. Their reputations precede them and they both offer the quintessential postcard image of Greece.
That is quaint villages that boast a labyrinth-like network of cobbled streets and narrow passageways, traditional blue and white Cycladic architecture, adorable tavernas perched right on the seafront, and beaches that run parallel to translucent azure waters.
Both islands have their appeal and ideally, you would visit both as part of a wider Greece island-hopping adventure. But if your schedule does not permit that or you prefer not to keep moving around, which island should you choose? Mykonos or Santorini?
Mykonos or Santorini: Which Island Should You Choose?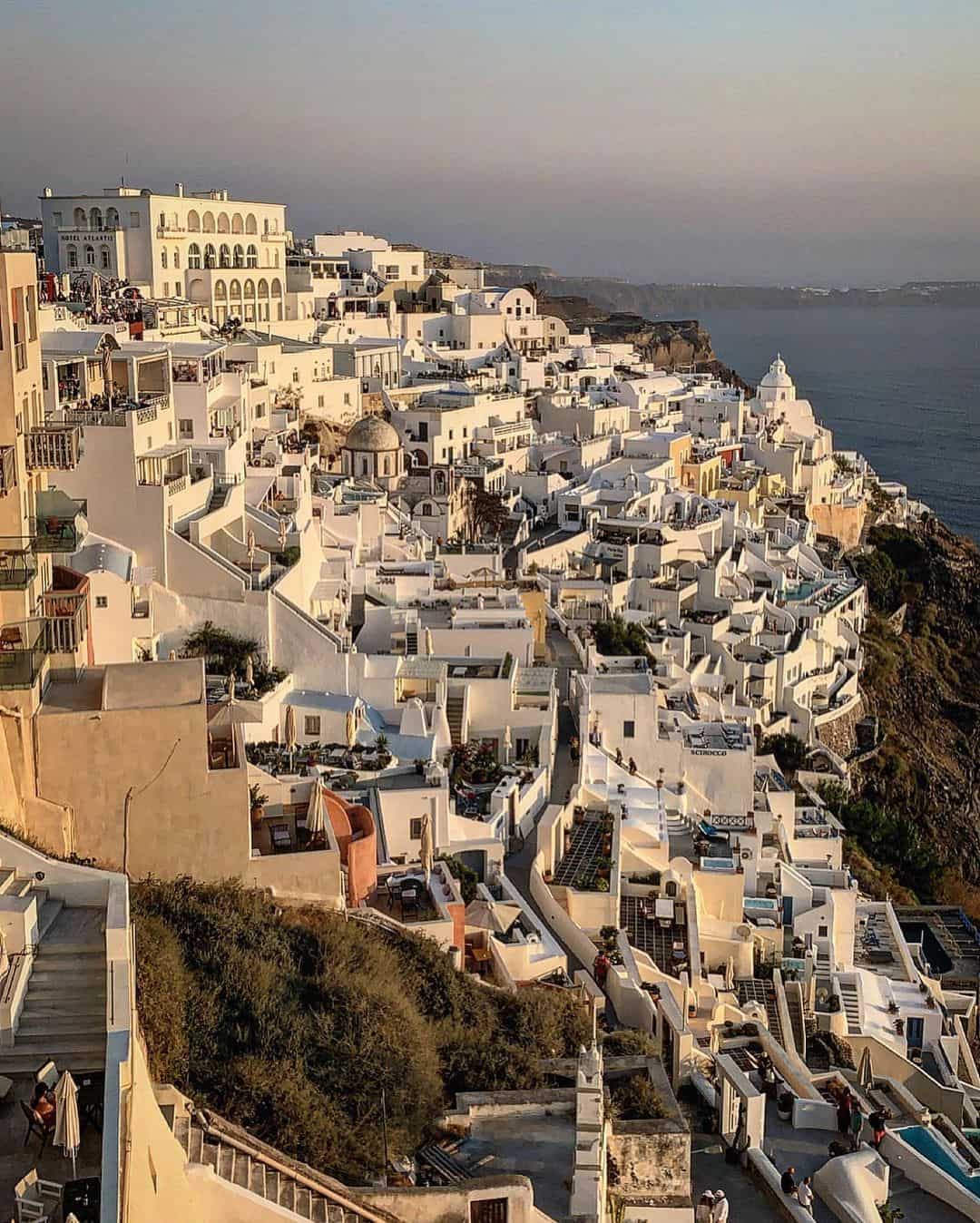 Santorini and Mykonos are each beautiful places to experience in their own right. However, the best place for you will vary depending on your travel style, preferences, and budget.
Both islands are extremely popular and they do get very busy during the summer months. Both are somewhat upscale with Mykonos, in particular, being globally renowned for being the party destination of the jet-set.
This article will go through the various similarities and differences between the two islands. It will compare and contrast the beaches, nightlife, sunsets, etc. on the two Cyclades islands. That way, you have more information from which to choose which one suits you better – Santorini vs. Mykonos. 
Things to Know Before Heading to the Cyclades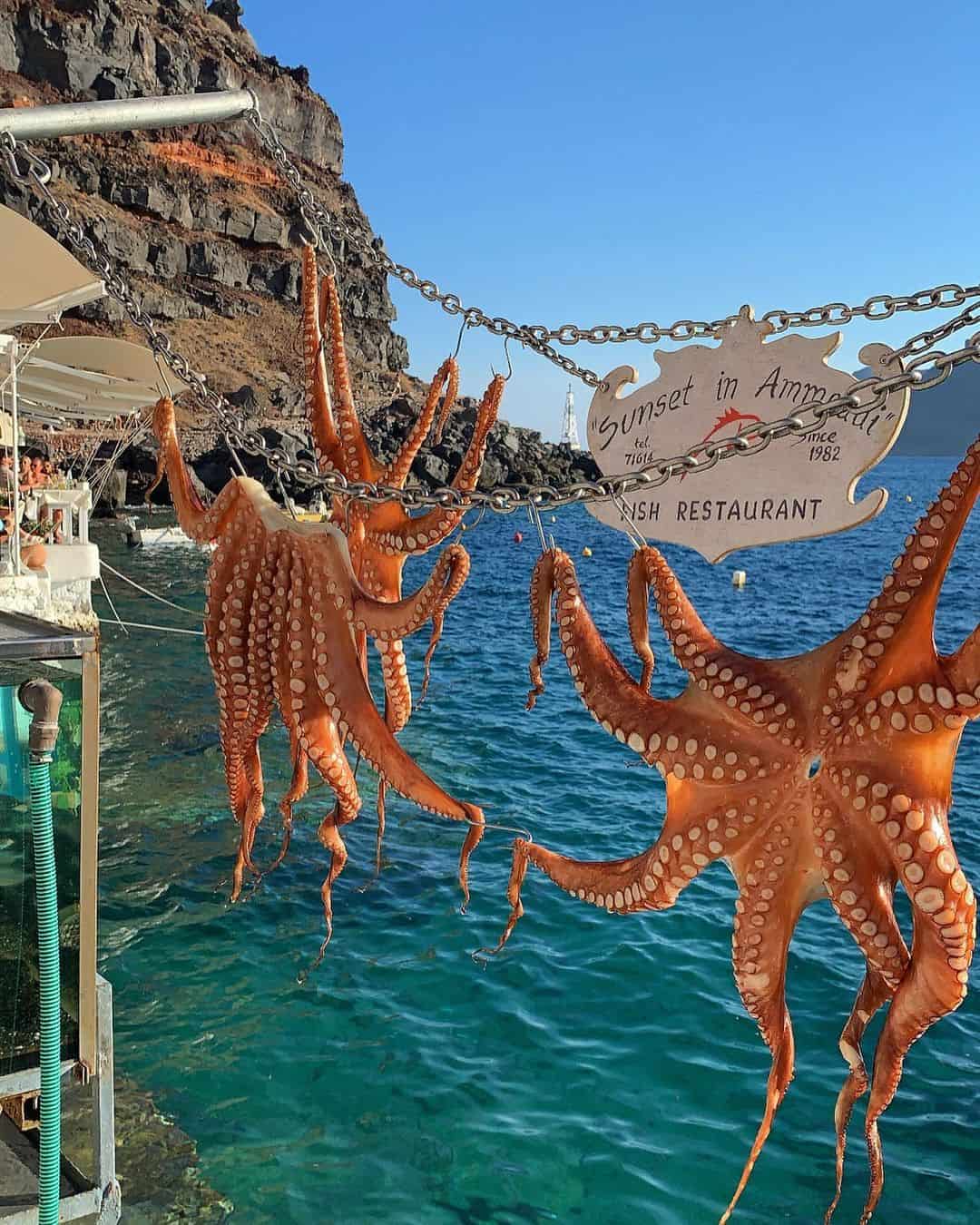 Travelling to either Mykonos or Santorini anywhere from late June to early September means contending with massive tourist hordes. Similarly, prices are at their highest during this time. These are two of the most expensive and exclusive Greek islands in any case.
Indeed, you can be looking at paying upwards of €20 per person for a simple meal at a mediocre taverna. During the summer months, the costs of accommodation, flights, ferries, and local tours and excursions soar.
You can be looking at price increases of up to 50-60% during this time. Generally speaking, whichever island you decide upon, Santorini or Mykonos, you may want to consider travelling during the shoulder season.
Whenever you decide to travel, it is a good idea to reserve your accommodation, ferries, and flights at least several months in advance. The best accommodation sells out quickly.
This is especially true during the summer and especially when it comes to the dreamy, luxurious Santorini hotels with private infinity pools and sunset views. Flight prices often increase the closer you get to your travel dates. 
Although several flights and ferries run daily between Athens to Santorini, Athens to Mykonos, and Mykonos to Santorini, services do book up quickly. Again, reserve your tickets online via Skyscanner for flights, or via Ferryscanner for ferries.
This also saves waiting around at crowded ports. Of course, if you really cannot decide between the two locations, you can consider doing a cruise of the Greek islands that stops at both.
Santorini:
The Best Island for Culture and Attractions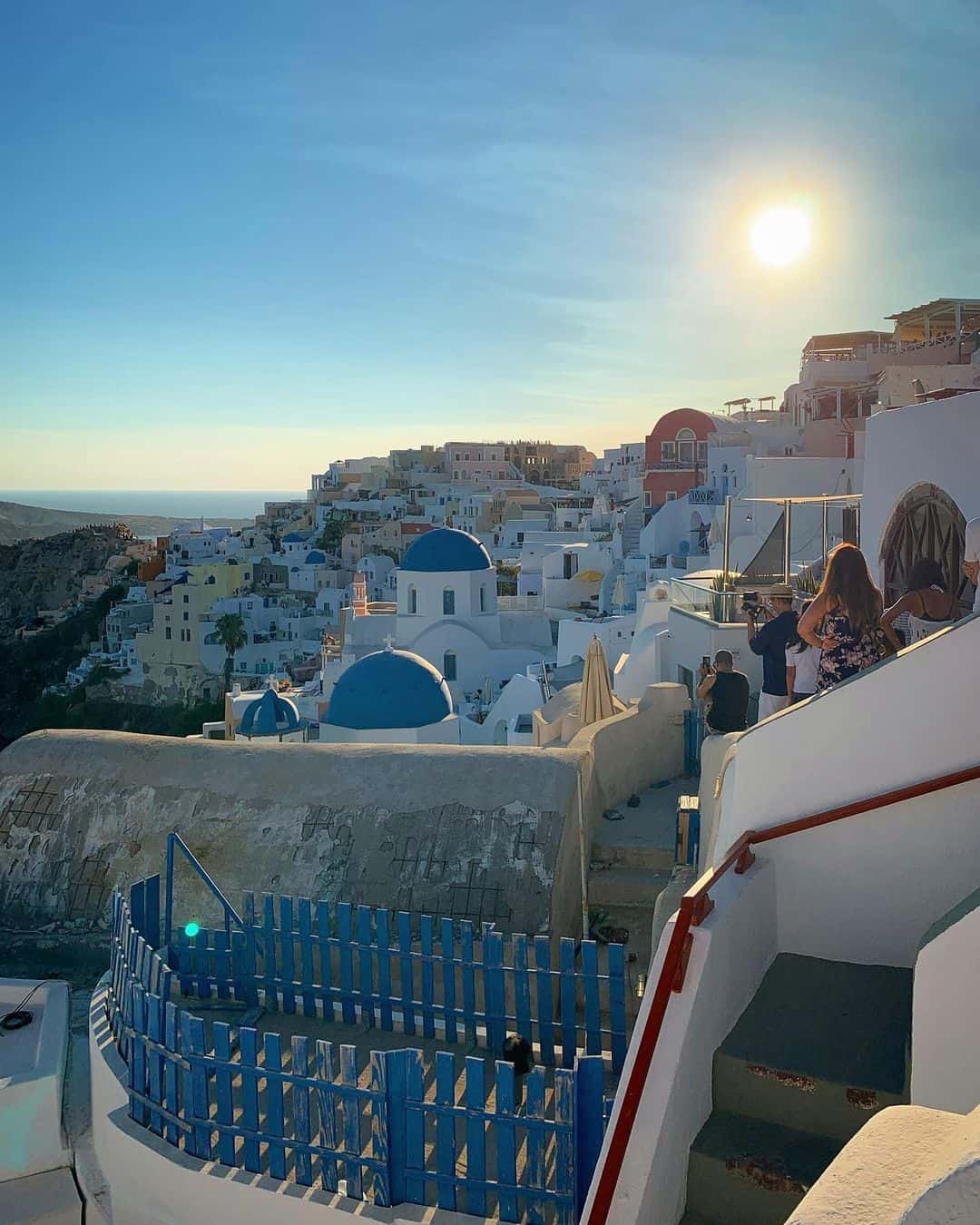 When it comes to deciding between Mykonos or Santorini, Santorini is arguably the island of the two that offers more by way of attractions. Yes, there are interesting things to see in Mykonos.
However, Santorini offers more by way of hiking trails, fascinating ruins, vineyards, and charming villages. In terms of unique things to see and do here, you have plenty of options.
Conquering the infamous Fira to Oia hike is something of a rite of passage for all first-time visitors to Santorini. Better yet, it is not challenging to do and suits hikers of all ages and abilities.
You can pack a lunch and stop along the way to enjoy a scenic picnic while you admire the view. Alternatively, you can duck inside the various tavernas and coffee shops you find in adorable settlements along the way.
Santorini is actually the only inhabited caldera in the world. If you are looking to do something a little different, you can opt to take a boat tour of the volcano.
Here, you can swim in its hot springs, explore the city of Thirassia, and stop by the nearby beaches. Another often overlooked Santorini attraction is the hike out to Skaros Rock. 
The rock juts out from the island just behind Imerovigli. An ancient castle and fortress were once situated here, but now it offers one of the best hiking routes and sunset viewpoints on the island.
Mykonos: The Best Island for Beaches
When it comes to the question of which island has the best beaches, Santorini vs Mykonos, the latter wins hands down. Mykonos is world-renowned for its beaches and exclusive beach clubs.
Mykonos Beaches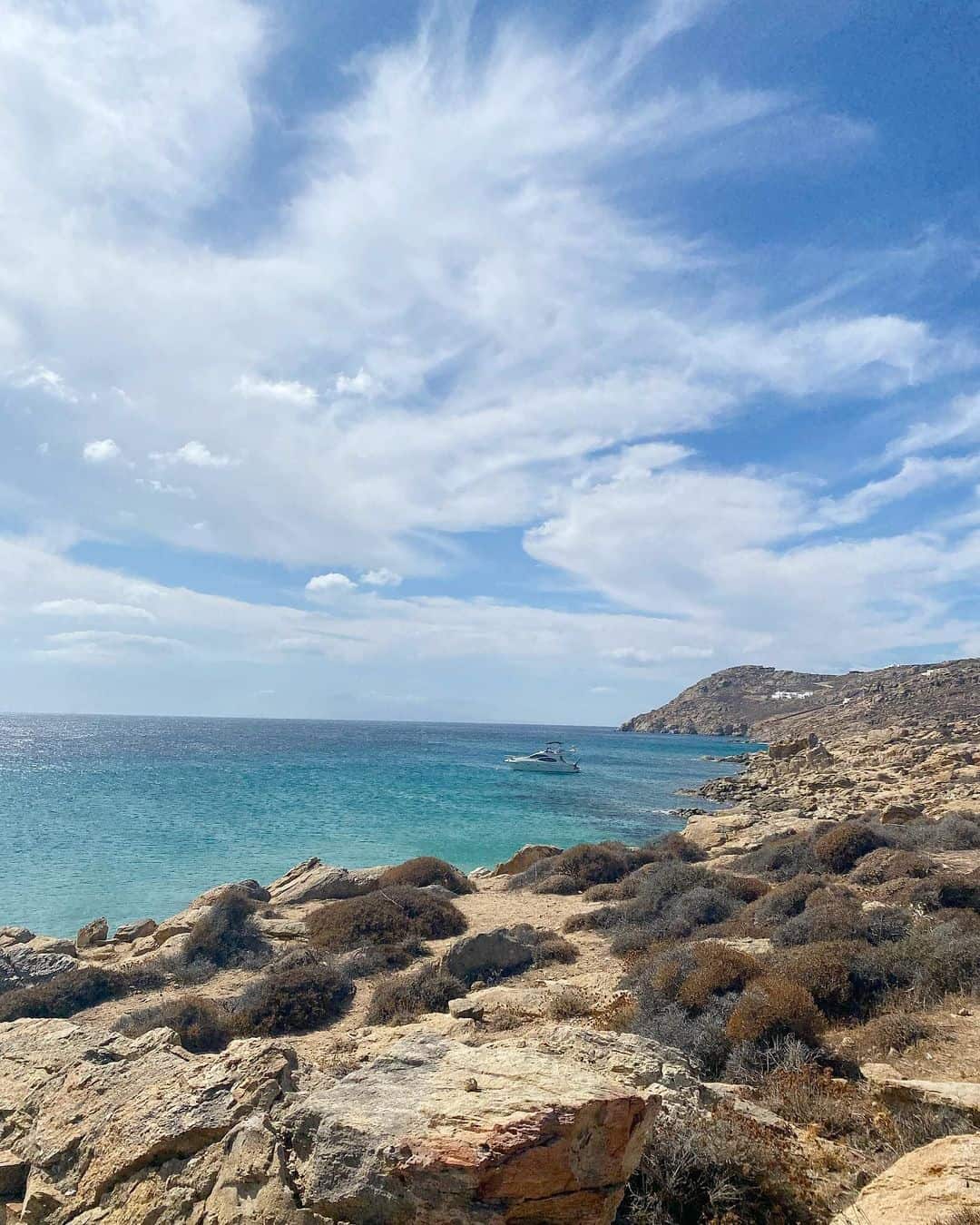 What may not come as a surprise when you consider the exclusivity of the island, is that many of Mykonos' beach clubs are chic, glamorous, and cater towards a well-heeled clientele. The beaches here are sandy, typically serviced with all the necessary amenities, and offer clear blue waters for swimming in.
Super Paradise Beach is known for its all-day and night parties. It is arguably the place to see and be seen if you are young, hot, and looking to party in Mykonos. 
Here, you are likely to rub shoulders with models, Greek celebrities, and influencers as you dance the night away. During the evenings, live DJs from across the globe often host events here.
If you are looking for more R&R than raucous parties, there are several gorgeous Mykonos beaches to consider. Psarou Beach is one nice choice. Equally worthy of your time are Platis Gialos Beach, Paraga Beach, and Paradise Beach (the sister of Super Paradise Beach). 
Some of the best beaches are located along the southern part of the island. However, these are also among the most crowded and can somewhat lose their appeal when you are there in July towel to towel to someone from your hometown!
The beaches in the northern part of the country can be a bit windy but they are generally much quieter. Fokos Beach is a quiet, secluded spot that is not serviced by public transport and has no amenities. 
Agios Sostis Beach is perhaps the most stunning beach in the north and is only accessible via ATV or on foot. It is home to the adored Kiki's Tavern. 
Santorini Beaches
The island of Santorini is an active volcano. So, both the landscape and the beaches of the island are a little different from those of other Cyclades islands.
Many of the beaches here are made up of volcanic rocks, pebbles, and colourful sand. Indeed, although Santorini is not exactly most people's dream beach getaway destination in Greece, the beaches here are interesting to see because they are all so colourful.
There are several Santorini beaches where the sand and pebbles are black. Namely, Perivolos beach, Perissa, and Agios Georgios. These three beaches are all located in the southeast of the island.
The Red beach is perhaps the prettiest and most famous of all of Santorini's beaches. It is just a short distance away from the archaeological site of Akrotiri and is characterised by its red cliffs and rocks.
This is a good place to go snorkeling in Greece as the unique red rock formations continue beneath the surface of the water. Unfortunately, the beach becomes very crowded during the summer months and sometimes there is quite simply nowhere to sit. 
Contrary to popular belief, there are a couple of sandy beaches on Santorini island. Kamari Beach is a wide stretch of sandy beaches with calm waters that are good for all the family. 
It is organised so you can rent sunbeds, watersports equipment, and easily purchase food, drinks, and snacks. However, with that being said, this is one of the busiest beaches on the island.
Santorini:
The Best for Vineyards and Wineries
Santorini is truly a wine lover's paradise. While Greek wines are not very well-known on an international scale, locally, they are adored.
There are over 20 wineries scattered throughout the landscapes of Santorini and the island's rich, fertile volcanic soil offers the perfect conditions for growing grapes. The Assyrtiko grape is the most popular variety grown here.
However, Santorini soils are the birthplace of a selection of excellent red, white, and rose blends. Several local companies offer organised wine tastings and tours.
However, you can just as easily organise wine tastings independently. Reservations are usually required.
Once you have done your research and found the Santorini wineries that appeal to you, you can reach out to them via email or phone. Alternatively, you can ask for your hotel concierge or Airbnb host to do so for you.
Of course, if you choose to organise independent tastings, it is important to ensure that you have a designated driver. Alternatively, some of the wineries also have lodgings where you can stay overnight.
Great Santorini Vineyards
Vassilitis vineyard is the newest Santorini winery and it is one with some of the best wines. They also offer a five-course degustation menu whereby you can taste sumptuous Cycladic delicacies that really bring out the flavours of the wines.
Some Santorini wineries boast spectacular panoramas over the island, making them the perfect place to watch the sunset or enjoy a romantic ambience on your honeymoon or valentines getaway. To keep it real, unfortunately, some of the more "Instagrammable" wineries with better views do not have the best wine.
Regardless, if you are planning on visiting a selection of Santorini wineries, you may as well have a breadth of experiences, right? Venetsanos Winery offers some of the most incredible views on the island.
However, the wine isn't quite as good as the less scenic choices and the premises are often crowded. If dining while you drink, or enjoying charcuterie and wine pairings are important to you, there are several wineries that serve excellent food.
Mykonos: The Best Choice for Nightlife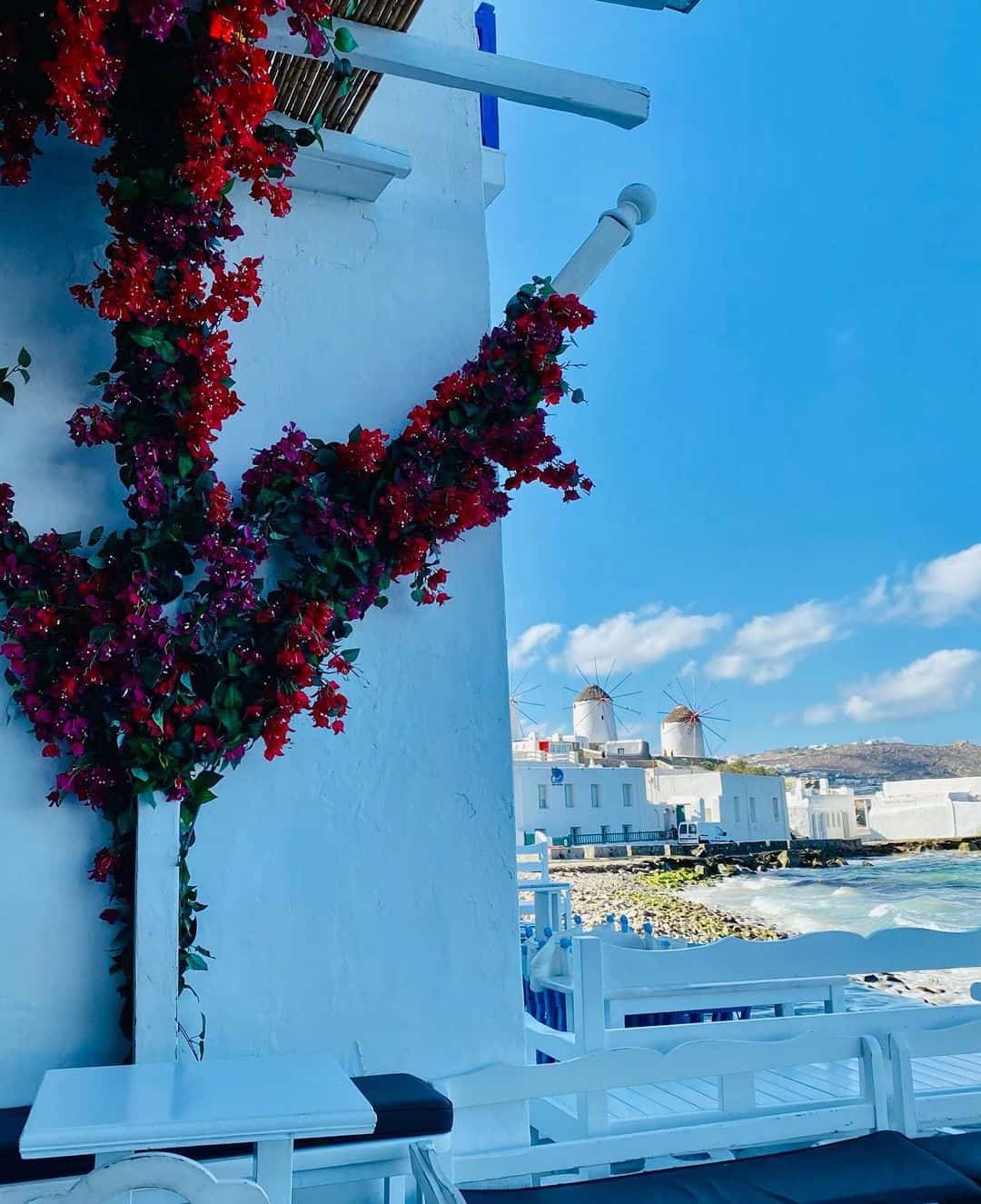 Mykonos is not only one of the best party destinations in Greece, but it is also one of the best party destinations in the world. It is well known for being one of the best places for nightlife in Europe.
While Fira and Oia in Santorini certainly do have their share of cocktail bars, pubs, and clubs, Mykonos is the place to go if you are hoping to party until the sun comes up.
There is something for every taste here – from all-night beach parties to VIP nightclubs. If you do decide to head to Mykonos during the summer, check what parties and events are going on during the time of your trip. Some of the world's best DJs host events here during the summer months. 
Mykonos Nightlife Options
Tropicana club is your quintessential laidback beach party experience. All-night parties kick off here every day from as early as 4 pm.
This is one of the more affordable places to party in Mykonos and is particularly popular among the young, student crowd. Dance the night away beneath bamboo shacks and sip ultra-strong cocktails served up in hollowed-out coconuts and watermelons. If you are brave enough to dance on top of the bar, you will be rewarded with free vodka shots!
Looking for something a little more upscale? Head to Scarpa in Little Venice.
Once upon a time, pirates would hang out here during their adventures in the Mediterranean. Today, the charming pastel coloured stilted houses have been converted into chic cocktail bars, international eateries, and artisanal stores.
By day, Scarpa is a place to come and sip a Freddo espresso as you admire the island scenery. By night, house music plays out over loudspeakers and Scarpa hosts an all-night party that continues on until 5.30 am.
The VOID nightclub is a Mykonos institution. This sleek, multi-level contemporary club is the place to go if you are looking for a hardcore night of partying. 
Here, award-winning mixologists serve up an array of delectable creations. Expect to see a blend of both classic cocktails and unique, innovative recipes on the menu.
There is a sizable VIP section at VOID, as well as the option to rent out rooms within the venue for private events. Bottle service, private booths and VIP access come at a cost but may be worthwhile depending on the type of party vacation experience you are looking for.
Santorini: The Perfect Honeymoon Destination
Santorini is, without hesitation, one of the best Greek islands for couples. There are some stunning hotels here that are perfect for you if you are spending your honeymoon in Greece. 
Whether you opt to stay in Fira or Oia, you will find spectacular Cycladic properties that boast panoramic views, infinity pools, and excellent balconies from which you can catch a famous Santorini sunset. Santorini sunsets are famous the world over.
If you travel here during the shoulder season, you will not have to share the experience with thousands of other travellers. Ammoudi Bay, Imerovigli, the Akrotiri lighthouse, and the donkey stairs at Fira are great places to watch the sunset. 
You can also opt to take an island cruise in order to enjoy a unique vantage point and watch the sun dip behind the horizon from the sea. Several local tour companies offer island cruises that include dinner and drinks.
If your budget allows, you may enjoy renting a catamaran and a skipper for the day. One cute Santorini date night idea is to watch a movie beneath the stars at the open-air cinema in Kamari village.
Cine Kamari plays English movies with Greek subtitles. You can purchase popcorn, hot dogs, slush puppies, and all of your favourite movie theatre treats from the concession stand inside the venue.
Mykonos: Perfect for LGBTQI+ Travellers
Generally speaking, Greece has a bit of a way to go if it ever wants to be considered a good destination for LGBTQI+ travellers. A lot of people still possess outdated views in this patriarchal, machismo society but with that being said, there are a lot of gay travel hotspots scattered around.
Mykonos and Skiathos town are two such examples. Mykonos in particular is one of the best gay travel destinations in the world and has been popular among the community since the 1960s.
There are even designated "gay hotels" here. Yes, they are "straight-friendly" but as an LGBTQI+ traveller, it is nice to know that you can stay somewhere where you are greeted with a warm welcome and where you will be sure to meet like-minded individuals.
Elysium Hotel is one of the most popular gay hotels on the island. If you want to stay here, it is important to make a reservation several months in advance of travelling. 
Meanwhile, Andronikos Hotel and Semeli Hotel are two stunning luxury properties that are popular among gay travellers and are just a short walk away from the best gay bars, clubs, and beaches on the island. If you happen to be in Mykonos between the 17th and 24th of August, you can attend XLSIOR, one of the world's biggest gay dance parties.  
Parting Words
Do you still have questions about whether you should visit Mykonos or Santorini? Alternatively, is there anything you would like to contribute to the discussion?
Feel free to drop a comment below. Safe travels and enjoy Greece!
Geia sou, Melissa xo
---