Best Greek islands for couples? Greece is home to more than 220 stunning inhabited islands which are scattered throughout its shimmering cerulean waters.
Among those, there are dozens that are perfectly suited for a romantic getaway. Some of the best Greek islands for honeymoons and couples escapes are detailed below. 
Best Greek Islands for Couples
Paxos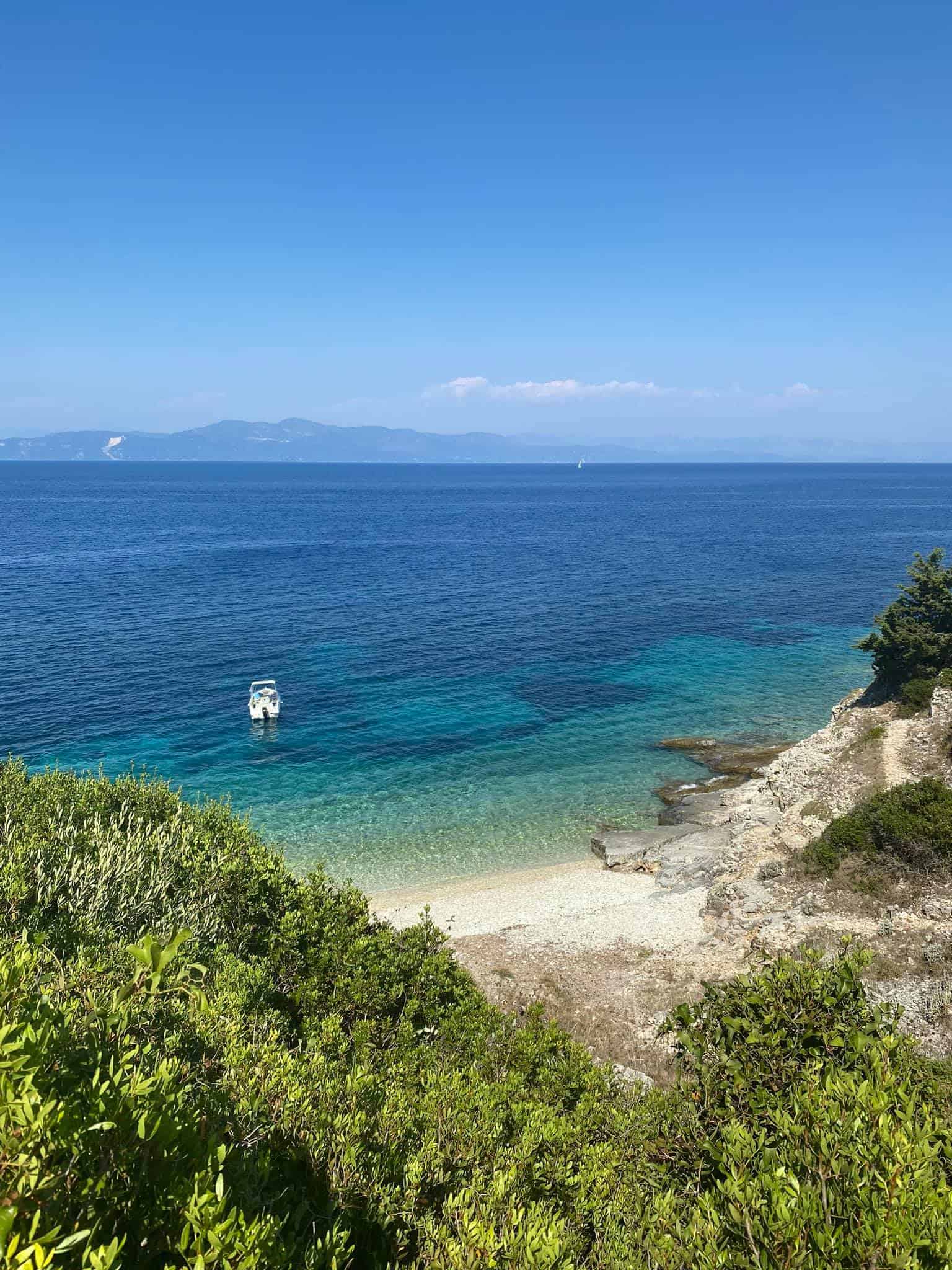 Paxos is better known within Greece by its plural name – Paxoi. These little Ionian islands sit just off the southern tip of Kerkyra (Corfu).
According to Greek mythology, they were formed when the God Poseidon struck the island of Kerkyra with his trident. The symbol of the trident is still displayed on Paxos' flag today and can be seen around the island.
Despite the popularity of neighbouring Corfu, Paxos remains largely under the radar. It is one of the least commercial Greek islands and is seldom crowded, even in the peak summer months. 
It is somewhat more upscale than most Greek islands and attracts a well-heeled crowd. Even A-listers such as Morgan Freeman have been known to vacation here! Regardless, Paxos does not have any air of pretension, just beauty and elegance. 
Gaios is the island capital and its streets are lined with quaint stone cottages that have been constructed in typical Ionian style. The wider island is filled with verdant olive groves and lined with pristine white-sand beaches. 
Paxos is small and walkable. It is just 10km long, making it perfect for a walking adventure.
Cocktails in the small bay by Mongonissi is an experience not to be missed. Neither is a dinner reservation in one of the elegant waterfront restaurants in Longos.
If you have a car, you have the option of renting a villa or a traditional house in a more rural area. There are some stunning properties available that offer sweeping views across the island and the Ionian, and enable you to witness a majestic sunset over secluded coves. What could be more perfect for a romantic Greek island break?
Santorini
Santorini is globally renowned for its magical sunsets. It is simultaneously one of the most popular honeymoon destinations in Greece and the entire world.
This is for good reason – Santorini is stunning. One thing to keep in mind, however, is the popularity of the island. 
The crowds that swarm through the narrow streets in July and August can really detract from the romantic ambience of visiting. Plan your visit accordingly – the shoulder seasons of late May/early June and late September are just as wonderful. 
Treat yourself to a stay in one of the island's many luxe boutique hotels. If you're feeling indulgent, you can even opt for a spot with a private infinity pool.
A spa experience, romantic dinners in Ammoudi Bay, and wine tours of the island's many vineyards are a great experience if you are travelling as a couple. From Santorini, you can also take day trips out to nearby islands in the Cyclades – including the archaeological ruins at Delos, or the more low-key island of Naxos.

Hydra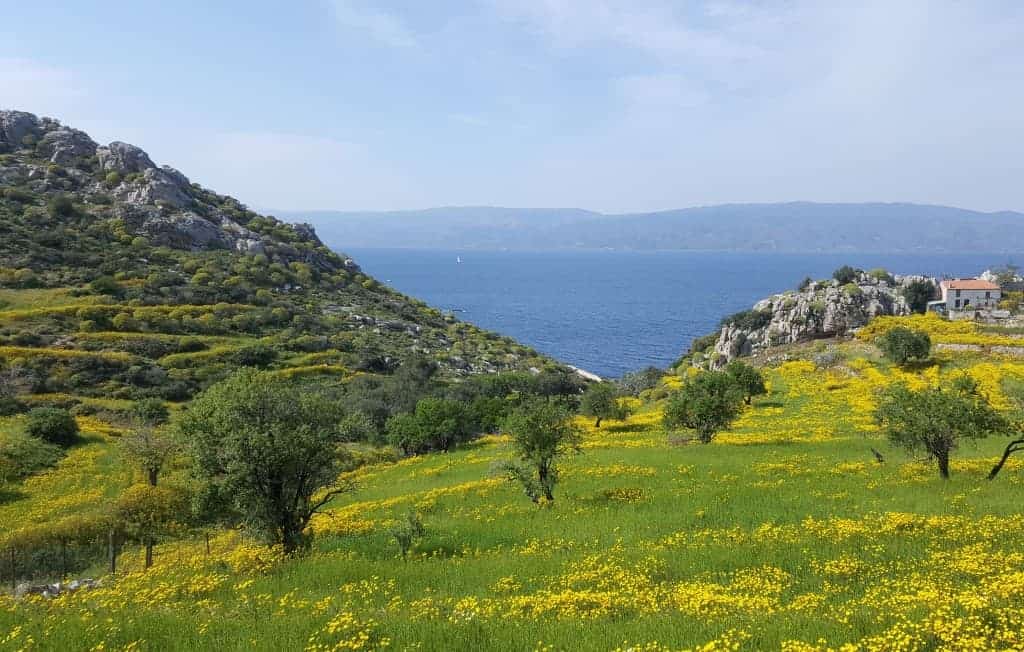 The little Saronic Gulf island of Hydra is a perfect romantic getaway if you are basing yourself in Athens during your time in Greece. It is possible to reach the island on a day trip from Athens or for a couple of days away from the hustle and bustle of modern life. 
Cars and vehicles are not permitted on the island and locals get around by mules. Consequently, arriving in Hydra feels like being transported back in time.
The port here is widely considered as being one of the most beautiful in all of Greece. It also played a prominent role in the Greek war for independence against the Ottomans in the 1820s.
Enjoy getting lost in the winding cobbled passageways of Hydra old town. There are many excellent restaurants to be found here which enable you to sample the best of the local cuisine.
In particular, add Paradosiako to your radar. The restaurant specialsies in seafood dishes that are prepared with the days freshest catches.
However, other Greek food favourites such as soutzoukakia and horiatiki (Greek salad) also grace the menu. Best of all, dining at the little blue and white al fresco tables here does not break the bank. 
Oraia is another wonderful local eatery. It translates to mean "beautiful Hydra" and it certainly fits up to that name. Oraia's spectacular seafront location means that you can enjoy fresh seafood as you watch the waves lap gently against the shore.
Many of the dishes here place contemporary spins on age-old classics. For instance, fresh shrimp served with orzo pasta. For evening drinks, head to Hydra town's "sunset" cocktail bar to watch the sun go down.
Folegandros
Rugged Folegandros is one of the best Greek islands for couples that enjoy hiking, nature, and "outdoorsy" activities. It is arguably one of the most naturally beautiful spots in the Cyclades and despite being surrounded by popular islands, Folegandros flies under the radar.  
This 32km2 island boasts a plethora of beaches, many of which require some element of trekking to get to. These spots are seldom crowded and many boast excellent camping facilities. So, you can wake up to the sound of the sea, enjoy the crisp country air and a cup of Greek coffee prepared on the camping stove with no one else to have to share it with.
The island boasts three main villages. Like most Greek islands, the capital is known as the "Chora". The other vllages of Karavostasi and Ano Meria are equally worthy of your time.
The Chora is one of the oldest traditional settlements in the Cyclades. From all corners of the town, you can see the old 13th-century hilltop fortress that watches over the Chora protectively. 
Milos
Idyllic Milos is the home of one of the most unique coastal areas in Greece – Sarakiniko. Sarakiniko is a pure white beach that boasts many obscure rock formations.
The landscapes here are so unusual that they are almost otherworldly. Milos, an island in the southernmost part of the Cyclades, is a volcanic isle. Sarakiniko looks the way it does due to centuries of erosion of the volcanic rocks. 
Of course, there is more to Milos than Sarakiniko. This little island has over 40 beaches scattered throughout its colourful landscapes. 
Kleftiko, on the island's west coast, is another stunning cove with jaw-dropping, out of this world rock formations and cliffs. However, the only way to reach it is by taking a boat from Adamas.
You can find a plethora of beaches here that are both organised and rugged/remote. If you prefer to have all the amenities when you go to the beach,
If you are opting for something more secluded, consider the pebbled Papafragas beach, with its crystal-clear waters, and dramatic rock formations. Alternatively, Ammoudaraki beach can be found on the island's west coast and is only reachable on foot via a dirt trail.
Corfu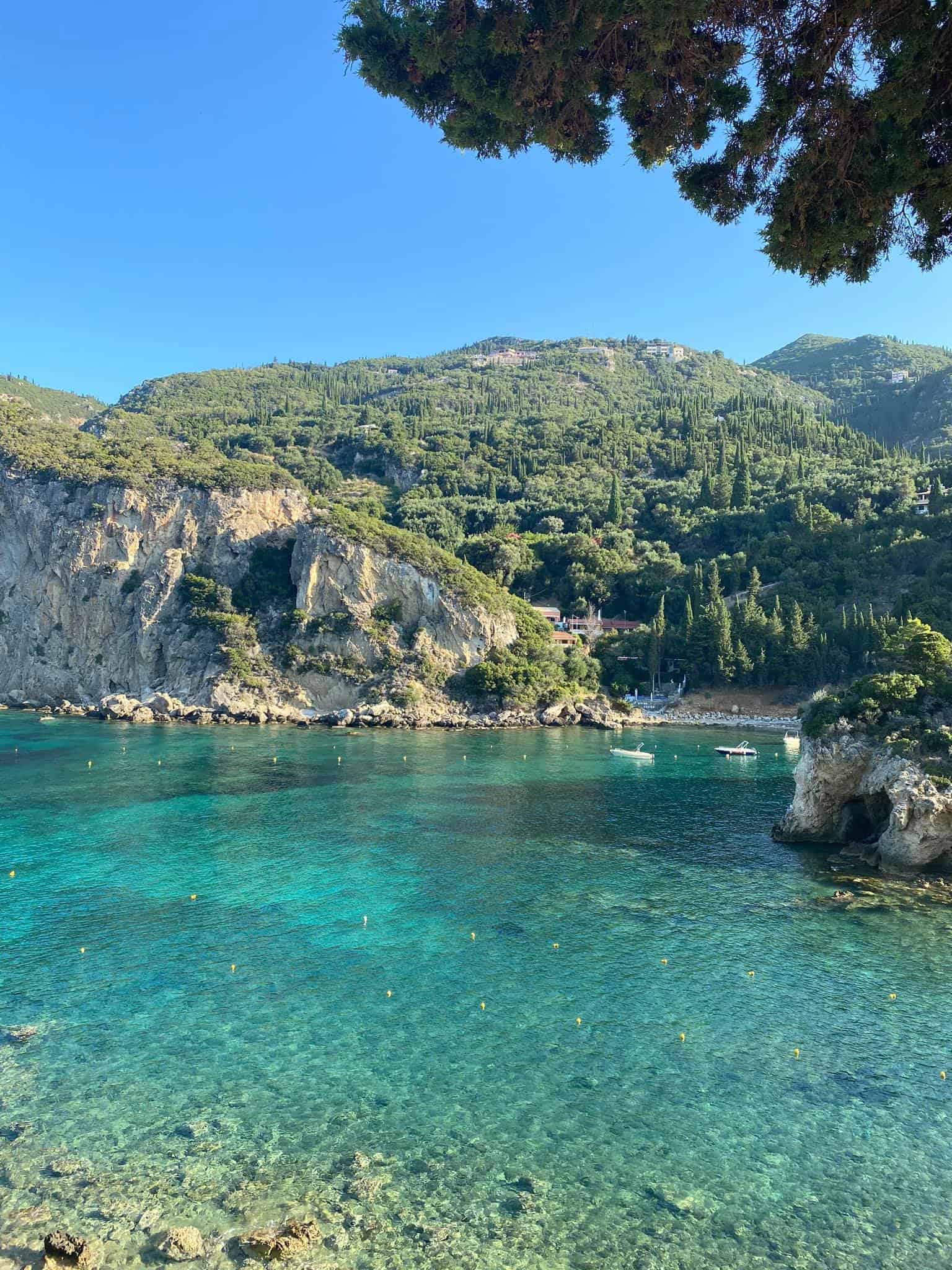 Corfu offers a little something for every type of traveller. Indeed, it has its share of gorgeous beaches, like most Greek islands. 
However, Corfu is also brimming with history and culture. It is one of the best Greek islands for couples that want a combination of city exploration, beach relaxation, and walking activities.
Corfu (known locally as Kerkyra) is the northernmost of the Ionian islands. Its UNESCO-protected old town has an abundance of Venetian buildings and fortresses. This, at times, make it feel more reminiscent of Italy than Greece. 
This little island has been conquered and invaded numerous times over the centuries. The Macedonians, the Spartans, the Illyrians, the Romans, Normans and Venetians all occupied it at one point and they have all left their mark on its culture, cuisine and architecture.
You can opt to rent an apartment in the old town for a week or so to get a feel for living on the island like a local. The nearby region of Kanoni is home to many luxurious resorts and villas perfect for a decadent, all-inclusive romantic stay by the sea. 
Some of the best beaches can be found in and around Paleokastritsa. However, this is an extremely popular tourist destination. Visit in the shoulder season and/or opt to stay in the little hilltop town of Lakones for a more laidback experience.  
Skopelos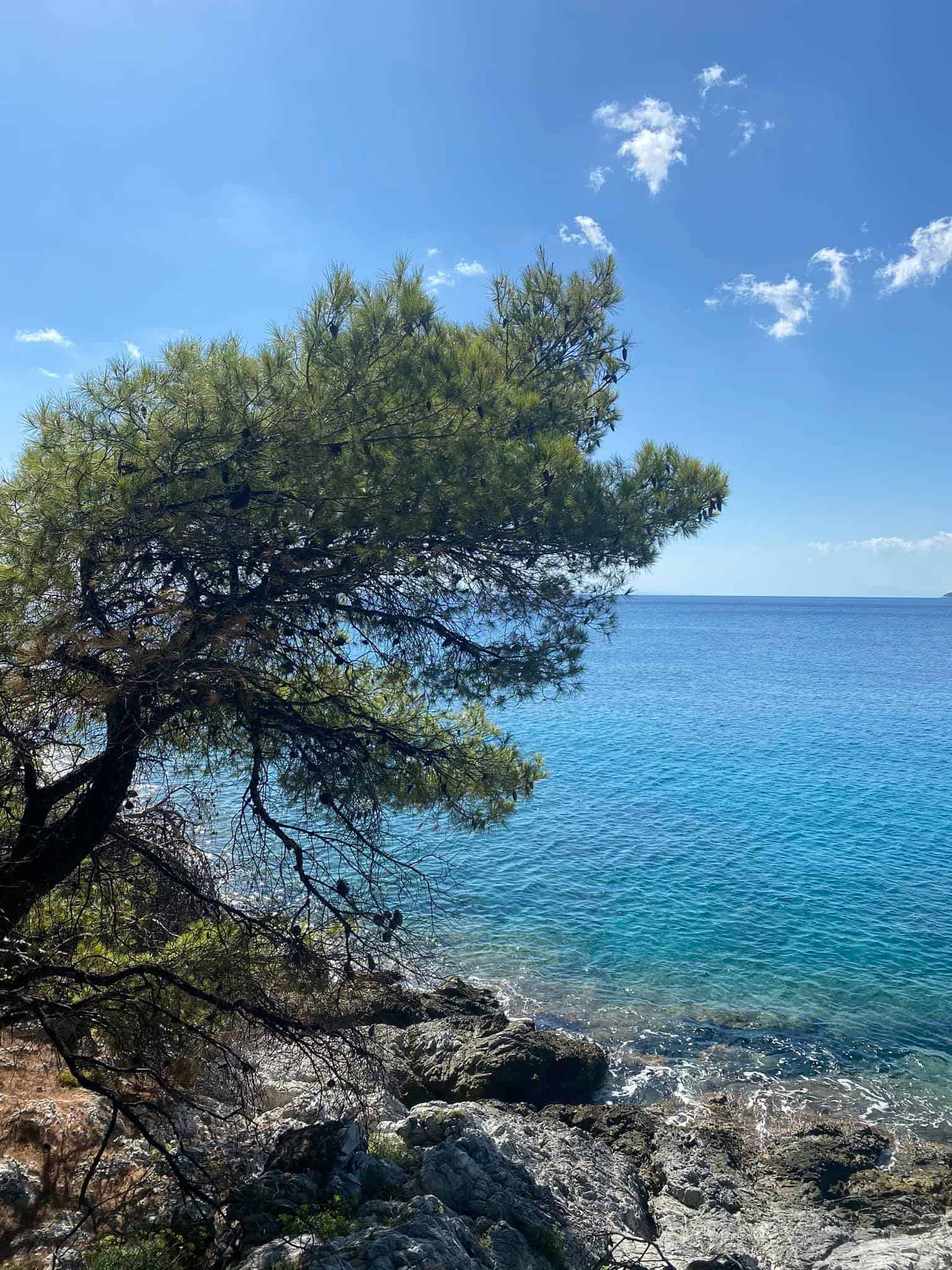 Beautiful Skopelos is perhaps one of the last sleepy island idylls in Greece. This Sporades island, affectionally known as the "blue-green island" is the greenest island in the entire Mediterranean. 
It is relatively tricky to get to – requiring either a flight from Athens/Thessaloniki to Skiathos and then a boat, or a ferry from Volos. Don't let that deter you though. 
Skopelos is absolutely worth it. For your efforts, you are rewarded with a tranquil paradise that has not changed its personality or character due to over-tourism. 
When deciding where to stay in Skopelos, consider one of the island's many luxe villas. A lot of these properties are in secluded locations and offer amphitheatrical views over the Chora. 
Alternatively, luxe hotels like Mando Beachfront in Stafylos, or the Skopelos Village Hotel in Skopelos town come highly recommended. It is very easy to find beaches in Skopelos with very few people on them. 
Milia, Kastani and Stafylos beaches are among the most popular and are perfect for swimming and snorkelling. Head a little further north toward Neo Klima however, and the beaches of Armenopetra and Hovolo are excellent rugged, unserviced spots. 
Kythira
Kythira is a little island that floats just off the southern tip of the Peloponnese. It can be tricky to get to, like some of the best Greek islands for couples. However, this deters the masses and helps it avoid crowds. 
Kythira is best enjoyed as part of a wider Pelopponese itinerary – particularly one that focuses on the Lakonia region. However, if you want to visit Greece primarily to visit Kythira, there are regular flights from Athens. 
According to Greek mythology, Kythira was the birthplace of Aphrodite – the Greek Goddess of Love and Beauty. She is said to have arisen from the sea in the Palaiopolis region.
The Venetian-style Chora is the capital of the island. Its hilltop Venetian castle built back in 1503 is a fascinating complex of Venetian buildings, and Byzantine churches with vibrant interior frescoes. From up here, you have unparalleled views of Kapsali and Filoti Bay.
There is an interesting archaeological museum here that is worth visiting if you are interested in discovering the history of the island. When dinner time rolls around, stop by one of the many fish tavernas that face the port in the Chora. 
Kythia offers many excellent sandy and pebbled beaches – of which some are easier to reach than others. Chalkos, Melidoni and Lykodimou are the most secluded making them the perfect romantic spots for packing a picnic or picking up some Greek street food and then enjoying lunch beneath the Mediterranean sun.
Parting Words 
Do you have any additional questions about the best Greek islands for couples or about planning out a Greece trip in general? Please don't hesitate to reach out via the comments below. 
I've been here since 2017. I am happy to assist with any queries.
Wishing you safe travels, always! Melissa xo
---