Renting a car in Corfu gives you a lot more freedom and flexibility when it comes to getting around this gorgeous Ionian island. This is a particularly good idea if you plan on embarking on a cross-island adventure and hope to venture somewhat off-the-beaten path to lesser-known villages and secluded beaches.
Renting a Car in Corfu
Do I need to rent a car in Corfu?
Whether or not a car is necessary for your Corfu trip depends a lot on your Greece travel itinerary and your personal preferences. If you plan on basing yourself in Corfu old town for the entirety of your trip and just taking day trips out from there, you may just as well use public transport.
Corfu old town (and Greece in general) actually has an excellent public transport network of intercity buses. Connections between the old town to Kanoni, Paleokastritsa, Dassia, Kavos, and beyond run regularly.

Although some buses can be a little dated, they are comfortable, low-cost, and run on frequent schedules. Conversely, if you are spending a few weeks in Corfu and you want to base yourself in different parts of the island or adventure to a new place every day, renting a car in Corfu might be a good idea for you.
Corfu's UNESCO-protected old town has a lot of narrow streets, many of which are one-way. However, you will be fine driving here if you pay attention to your surroundings, particularly if you have driven in other European or Greek cities in the past.
These usually have far narrower roads than in the US. It is not really necessary to have a car to get around the old town. It can mostly be explored on foot.
Cost of renting a car in Corfu
The cost of renting a car in Corfu can vary significantly depending on a number of factors. The tourist season for the Ionian islands runs between late May and early September every year.
Subsequently, costs and demand are at their highest at this time. A small economy-sized vehicle that has five doors and can accommodate up to 4-5 people will cost you around $130/£108 for a week in May.
The same car will cost you around $304/£254 for a week in August. These prices include unlimited mileage, TPL (third-party liability insurance), roadside assistance, theft protection, and collision damage waiver.
If you choose to add full coverage insurance, you are looking at an additional $5-$7 per day. Obviously, larger and more high-end cars will cost more.
Book a vehicle with free cancellation
Some rental companies and aggregator platforms such as Discover Cars offer free cancellation on their vehicles. Discover Cars' cancellation policy allows you to change or cancel your rental up to 48 hours before you are due to collect it. 
Rental prices fluctuate throughout the year based on demand and the number of people that are searching for rentals. It is a good idea to keep checking back every 10-20 days to see what the prices are.
If you see a good deal, you can book it and secure it with no obligation – even if you need to confirm things with your partner/friends first. Then, if you find a better one, you can cancel the first one and book the cheaper one!
What do I need to rent a car in Corfu?
To be eligible to rent a car in Corfu, you must fit within the minimum and maximum age brackets. The minimum driving age in Greece is 18.
However, most rental companies will not rent vehicles to drivers under the age of 25. Some may allow you to rent a vehicle from you if you are 21 and over.
Young drivers should be prepared to pay a premium on their insurance, particularly if they have only recently obtained their license. The maximum driving age in Greece is 70 or thereabouts depending on the rental company.
You must have a full driving license to be able to rent a car in Corfu.
Do I need an international driver's license to rent a car in Corfu?
To clarify, there is no such thing as an international driver's license but there is an international driver's permit. UK, US, Canada, Australia, and Gibraltar do not need an IDP to drive in Corfu.
Nor do travelers who hold a full driving license from the EU, Iceland, Norway, Switzerland, or Lichtenstein. This may be subject to change in the future.
If you hold a driving license that is not from one of the above countries, you will need to obtain an IDP prior to your trip. This costs $15 and the process for obtaining one varies from country to country.
Your IDP must be issued in the same country where you hold your driver's license. This site details the application process for each country.
Book your vehicle in advance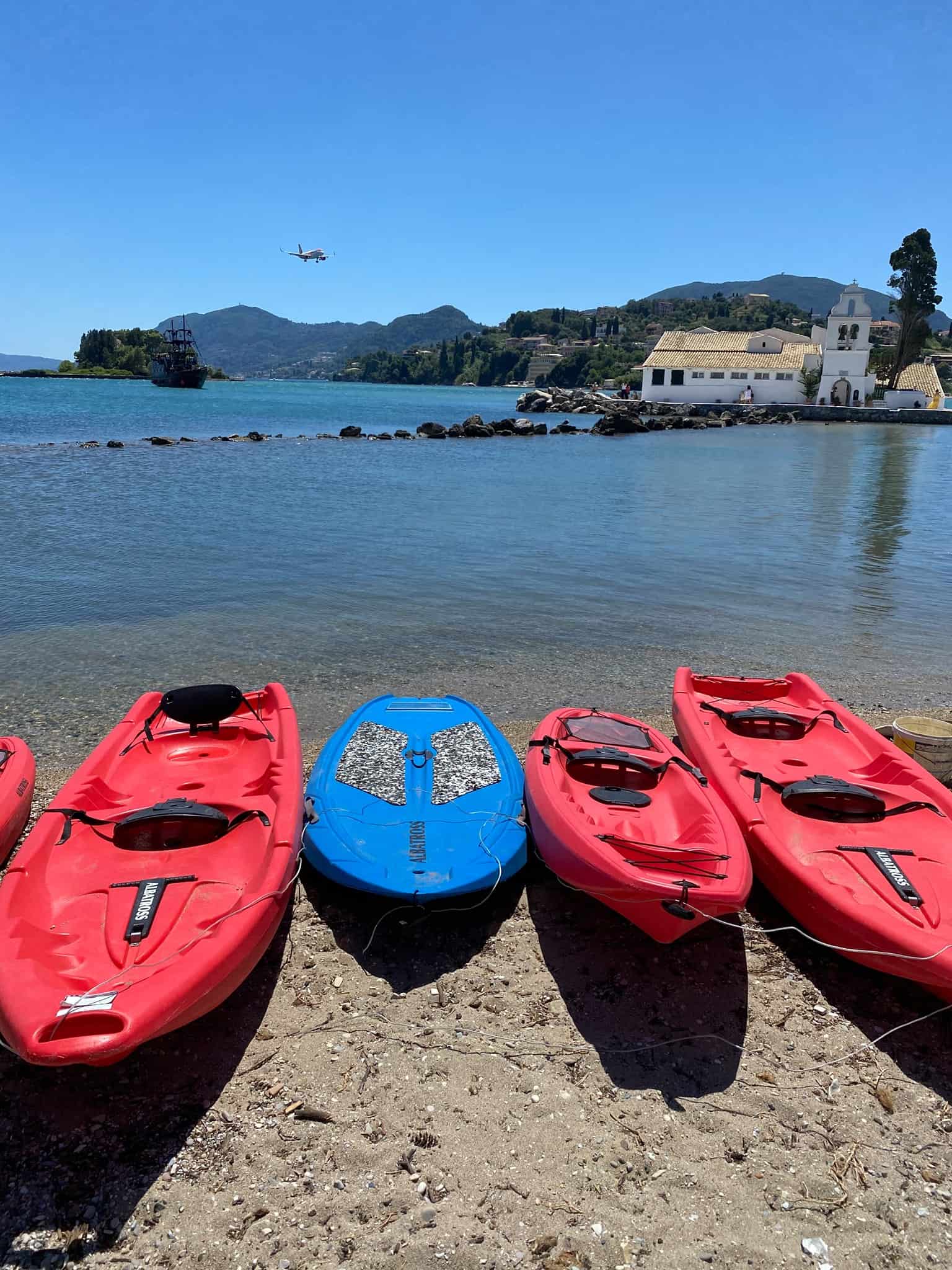 You should be sure to book your Corfu rental car as far in advance as possible, particularly if you are traveling to Greece in July or August. The closer you leave it to your departure date to book, the more the prices rise.
Most cars in Corfu/Greece are on the smaller side. In all honesty, these are best for navigating the narrow roads in Corfu, especially in the towns and villages.
This is probably something you are used to if you have experience driving around Europe (e.g. renting a car in Italy). However, if you are traveling from the US, the smaller cars may be a shock!
It is a good idea to purchase your rental car insurance at the same time that you reserve your rental while you are still planning your trip to Greece. That way, you have everything organised and ready before you even depart for Corfu.
If you need additional extras like child car seats, bike racks, etc, you can usually add these on for a small fee. Alternatively, of course, you can use your own.
Discover Cars is a great comparison platform that allows you to obtain a free quote for both Corfu car rentals and insurance. It also allows you to toggle by vehicle type, colour, mileage, etc. 
Manual vs automatic cars in Corfu
It is also important to be aware that most cars in Corfu (and Europe generally) are manual. Rental companies tend to have fewer automatic cars for hire and these are the first ones to go!
If you can only drive an automatic car or that is your preference, reserve your car plenty of time in advance. Nobody wants to be somewhere up in the Greek mountains trying to figure out how to drive a stick shift for the first time.
Purchase comprehensive insurance
It is essential to have comprehensive car rental insurance if you are renting a car in Corfu. Some credit cards that offer car insurance may cover you but you need to check the small print and clarify.
Essential Greek car rental insurance is broken down into the following categories:
Third-party liability insurance


Personal accident insurance


Theft protection insurance


Fire protection coverage


Collision damage waiver


Super Collision damage waiver
At a minimum, your policy must include all of the above. If you opt for full coverage, these will be included.
It is generally better to purchase full coverage so that you know that you are insured for any and every eventuality. If you have full-coverage insurance, that usually means that you do not have to pay a deposit or have a temporary hold placed on your credit card when you rent the vehicle.
Do check all of the fine print though. Some insurers do not include things like tires, keys, windows, and minor damages, even with full coverage.
Clarify whether you need a credit card or not
Most rental companies in Corfu will require you to have a credit card on file for you to be able to rent a car from them. Some may allow you to pay a cash deposit or they will temporarily charge your debit card.
However, this is the exception not the rule and most rental companies will ask you for a credit card. Check this before you book if you do not have one.

It is also preferable of course to have a credit card rather than a cash deposit. With a credit card, you have extra protection and insurance.
The charge is only a temporary hold on your card rather than money you have to physically hand over. This is often to the value of around €1,000.
Inspect your vehicle thoroughly before driving off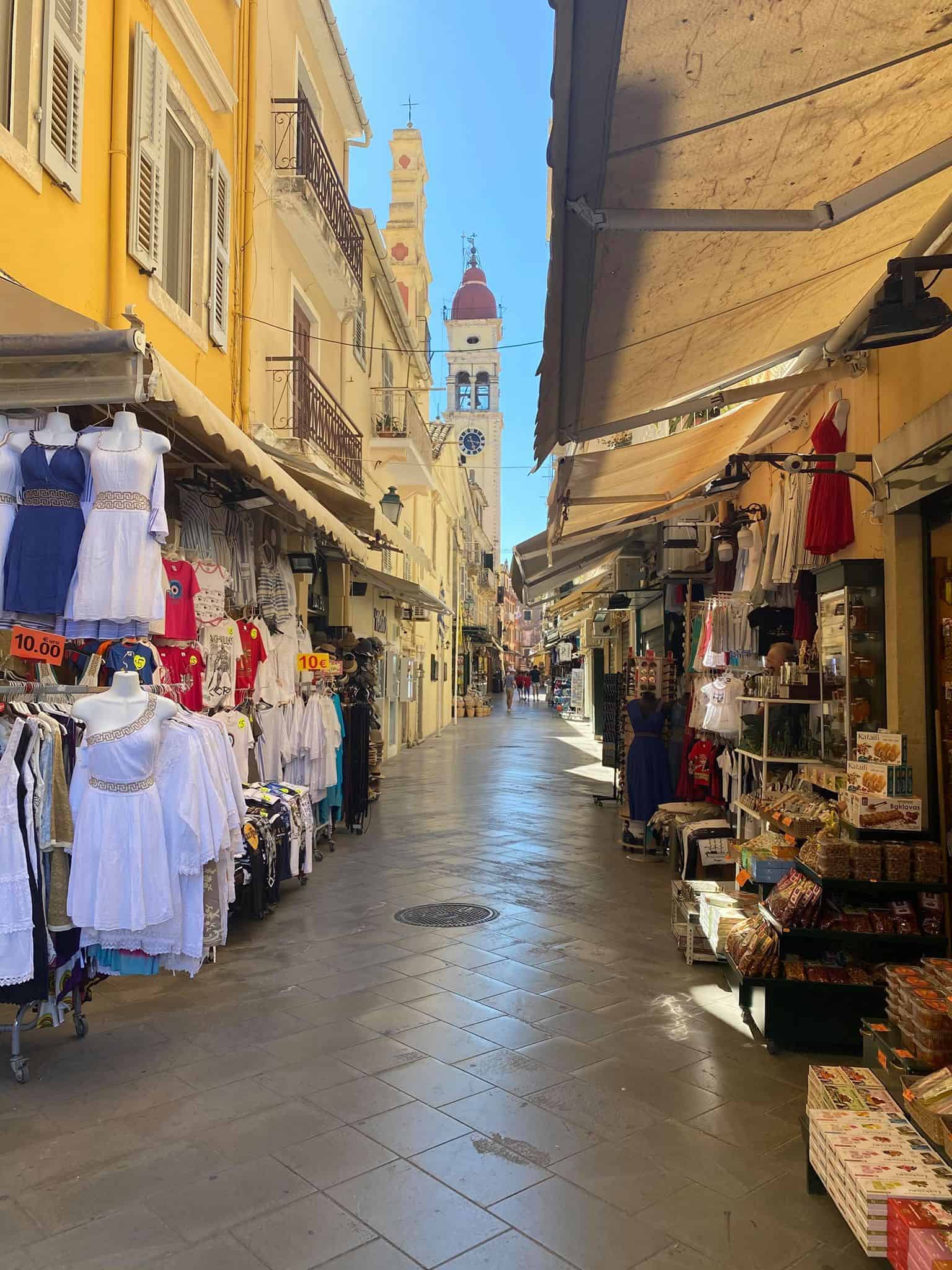 You will often be asked to sign an inventory checklist when you pick up your car. Check both the interior and exterior of the car for any issues, damage, or scratches.
Make sure that you mention everything to the person handing over the car, even if it seems minor. Take photos of the car with your cell phone so that you have time-stamped evidence of the condition that you got it in.
This is not because Corfiot rental companies are inherently dodgy. This is just good practice to protect yourself wherever you go. Unfortunately, scams do happen everywhere from time to time.
Photocopy important documents
You will need to show your driving license and ID when you pick up your rental car. Theoretically, the Greek Police and other authorities could stop you at any time and ask you to display your documents.
It is important to always keep your license, rental agreement papers, and ID with you while driving. For additional safety, keep a copy of important documents.
Photocopy them and keep a paper copy in your suitcase just in case. It is also a good idea to take a photo of everything and then upload that photo to the cloud.
Airport pickups are available
Arguably the most convenient place for you to pick up your Corfu rental car is at Ioannis Kapodistrias airport, right after arriving in the country. You can also pick up a rental car in Corfu town.
Car rental comparison platforms like Discover Cars are great for searching for the best deals. Several reputable international companies like Sixt and Avis operate in Corfu. 
Play around with the quote tool to get the best deal. It is worth noting that it sometimes works out cheaper to pick up your car from Corfu town rather than to pick it up at the airport. So, if you plan on spending a couple of days meandering around Corfu's old town, you may find that you may as well save yourself a few euros and pick up your rental car a day or two after arrival from one of the rental offices in town.
Think carefully about your pick-up and drop-off points
One-way rentals (i.e. rentals where you pick your rental car up in one location and drop it off in another) are often more expensive. It generally always works out cheaper to pick up and drop off your rental in the same place.
If you are only traveling to Corfu, you are probably planning to pick up and drop off your car in Corfu old town or Ioannis Kapodistrias airport anyway. But this is worth being aware of if you are thinking of dropping off your car in another part of Greece. The price difference is sometimes quite substantial.
Taking rental cars on Greek ferries
If you are flying into and renting a car in Corfu, you may be considering then traveling onwards to other Ionian islands (e.g Paxos, Zakynthos) or you may want to travel to the Greek mainland. Ferries run between Corfu and the little port town of Igoumenitsa on the mainland between 6-13 times a day depending on the season.
From Igoumenitsa, you can easily travel to the popular Greek seaside town of Parga and then towards Lefkada, or you could drive up towards leafy Ioannina. While this sounds great in theory, a lot of rental companies do not allow you to take their cars on ferries.
So, if this is something that you hope to do, it is important to double-check whether this is possible with your desired rental company first. This is for insurance purposes as well as for practical reasons.
For instance, if you should take the car off to some remote island somewhere and then have issues, the rental company will have to get out to your location. It is also worth noting that if you want to take your rental car on ferries, you must book your tickets weeks/months in advance.
This is particularly true if you are traveling during the peak Greek summer months. Car tickets are the first to sell out.
Crossing borders with rental cars
Greece shares borders with Albania, Bulgaria, North Macedonia, and Turkey. In a similar vein to taking your Corfu rental car on Greek ferries, most companies will not allow you to take their vehicles across borders.
Double-check in advance if this is what you are hoping to do. You may find that you have to rent a car in Greece and Corfu and then rent another at your next destination.
Know the process for returning your vehicle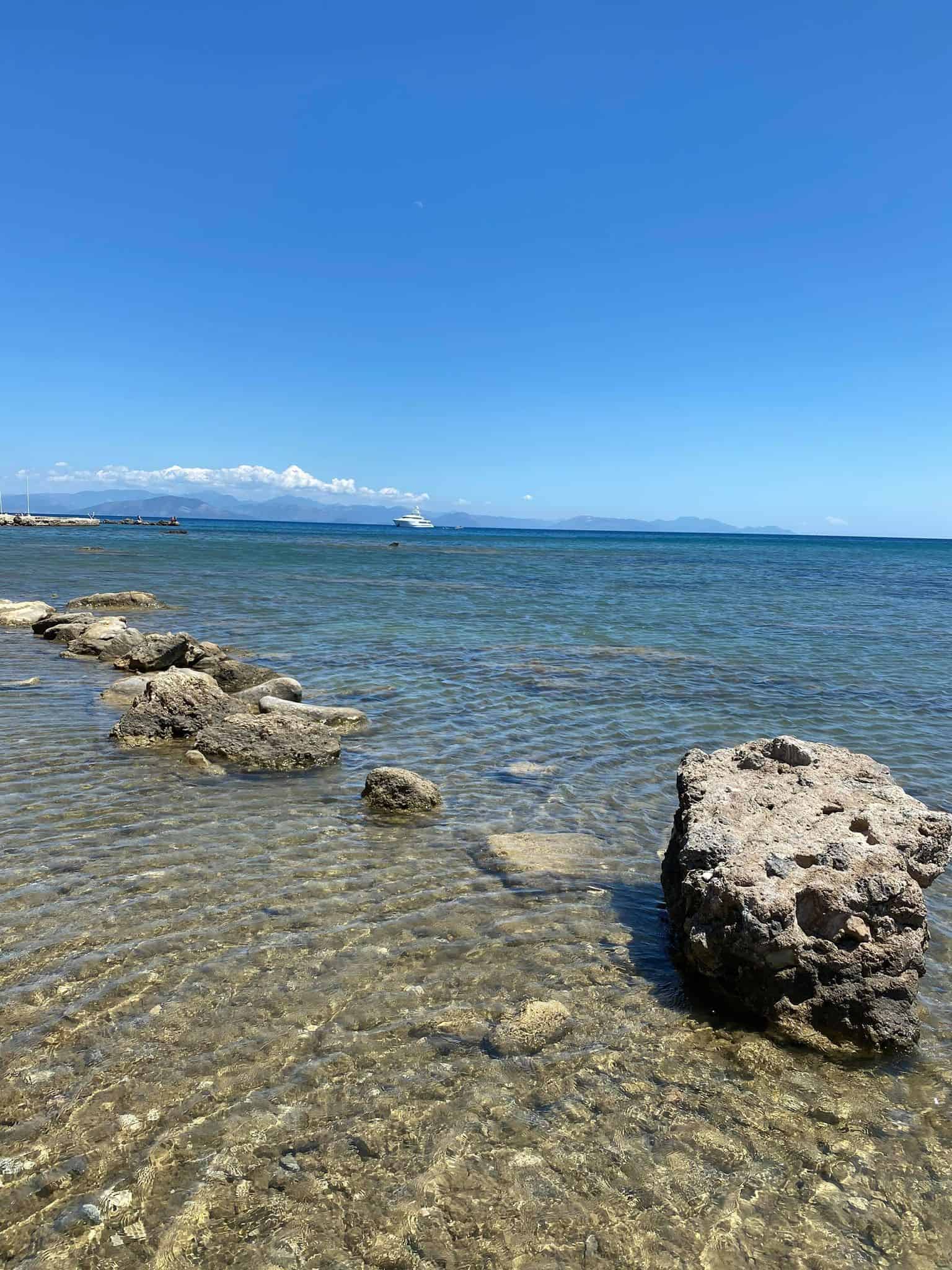 When you pick up your vehicle, check with the rental company as to whether they have any specific requirements for returning it. The vast majority of companies in Corfu will require you to return the car with a full tank of gas.
This is important to be aware of as if you return the car with a 50% or 70% full tank of gas, you will probably be charged for a complete tank anyway. Fill the car up right before you drop it off.
When you park your car back at the rental office, take photos of its condition again. Again, this way, you have time-stamped photo evidence of the condition that you returned it in just in case the rental company tries to dispute anything later.
If you damage the vehicle
Sometimes, despite our best care and efforts, accidents happen. If you should damage your car rental in Corfu, let the company know as soon as it happens.
You will usually have to pay the rental company directly. Then, you claim the expenses back through your insurance.
You are entitled to visibility on this process. For instance, itemised receipts of repair costs, etc.
Feel free to do your own due diligence and contact local repair shops for quotations if you don't have a good feeling about your rental company.
Driving in Corfu
On the whole, driving in Corfu is a pleasant experience. This stunning island boasts some of the most spectacular natural scenery in all of Greece.
In Corfu (and all of Greece), you drive on the right-hand side of the road like much of Europe and the world. This may be a bit of an adjustment if you are coming from the UK, Australia, New Zealand, etc.
Some roads are narrow and winding and in some parts, they can hug the sides of cliffs or hills so just drive safely. Everywhere is well sign-posted and road signs are displayed in both Greek and English.
The roads in Corfu are also very well-maintained. No need to worry about bouncing over potholes, etc.
Recommended stops on a Corfu road trip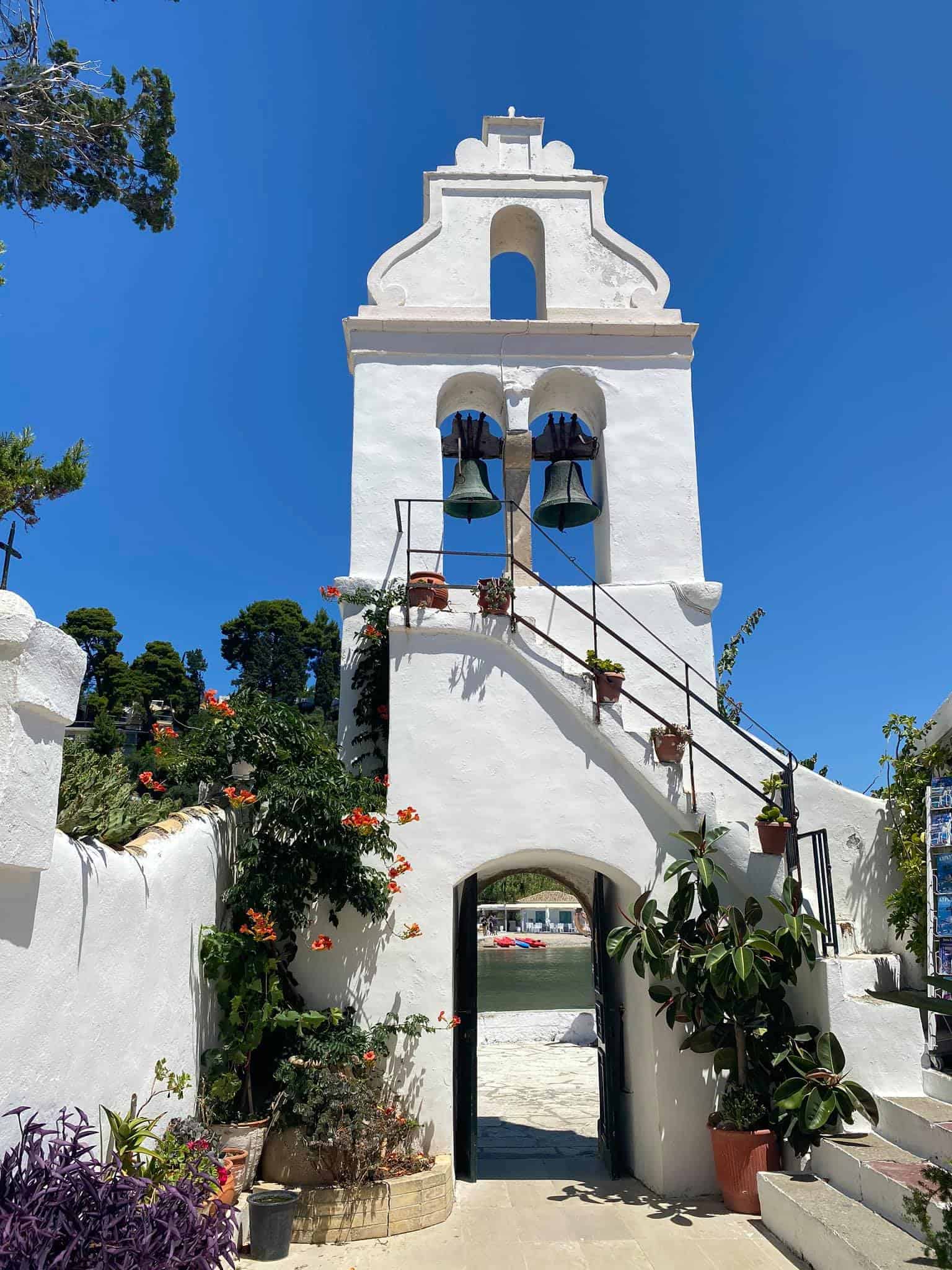 There are a seemingly infinite number of variations of Corfu road trip itineraries. You could opt to drive from north to south, in a loop around the island or, if you are particularly into nature and the great outdoors, around the rugged northern part of Corfu island.
Corfu beaches road trip
To make the most of Corfu's beaches and resort towns, spend a couple of days in the island's Venetian old town and then pick up your rental car. From Corfu old town, drive northwards to Dassia and Ipsos.
Drive along the foothills of Mt Pantokrator until you reach the gorgeous pebble beach of Barbati. Swim in its turquoise waters and tuck into traditional Greek cuisine at its waterfront tavernas.
From there, stop by the quaint fishing port of Nissaki. If you are familiar with the Durrells of Corfu and the books about Greece by Gerald Durrell, you may be interested to note that Gerald's white house can be visited in Kalami.

St Stefanos fishing village is a nice place to stop for fresh seafood caught earlier that same day. From here, you have incredible views over the strait of Corfu with Albania in the distance.
You can make Kassiopi village your final point before turning back or if your schedule allows you to go further, continue along the coast towards Sidari and back down to Palaiokastritsa. Then, cross the center of the island to get back to the old town.
Corfu highlights road trip
Corfu is also one of the best Greek islands for hiking. You could consider attempting to hike part of the Corfu trail. This is a 220km walking route that was established in 2001.
It starts just south of Kavos and ends at Saint Spiridon Beach. Keen hikers could divide this 220km route into a trip that sees them hike several km every day and stop at a different village every day or so.

Essentially, you could conquer the Corfu trail in the same way you would hike the Camino in Spain. Alternatively, you could formulate a driving route that allows you to drive in generally the same direction as the Corfu trail, stopping off at areas of particular interest.
Pass through the valley of Gardeno and onwards to the gorgeous Golden beach. Pass through the villages of Ano and Kato Pavliana and to Myrtiotissa Beach.
Paleokastritsa is a highlight of any Corfu trip. You should be sure to park your car and follow the old donkey trail up to the little village of Lakones. Enjoy incredible panoramas over the Ionian from its narrow streets and tuck into a plate of mouthwatering Corfiot beef sofrito.
Make sure you have access to a GPS
The roads in Corfu are very well sign-posted. However, it is always good to have access to a GPS.
A lot of rental companies also offer the use of sat navs. Alternatively, you can navigate using Google maps or an offline map like Maps Me on your phone.
It is a good idea to buy a Greek sim card. They can be picked up cheaply and easily from Cosmote. That way, should you get lost or have any problems, you can easily use data without incurring expensive roaming charges on your own sim card. 4G is available across Corfu, even in the more remote areas.
Driving rules in Corfu
The driving rules in Corfu are not all that different to driving rules elsewhere. Generally speaking, if it would be illegal in your own country, it is probably illegal in Corfu too.

By law, you are required to wear a seatbelt, even if a lot of Greeks do not… You should also not use your cell phone while driving.
If you need to use the GPS on your phone, make sure your phone is mounted to the dashboard. It is illegal to drive under the influence of drugs or alcohol.
If you are driving with children under five, they must travel in the backseat of the vehicle. Technically, using your car horn is illegal in towns and urban areas except in the case of emergencies
However, in reality, you will often find that a lot of people honk their horns furiously and impatiently in traffic and at stop lights. That doesn't mean that you should follow suit! When you drive around narrow mountain passes or country lanes where you cannot see what is up ahead, you should always honk once to inform drivers of your presence.
Greece has a high number of road traffic incidents every year, mostly a result of local drivers speeding or driving under the influence. Drive carefully and be aware of your surroundings. You should also look out for speeding moped and motorbike riders that sometimes come out of nowhere.
Speed limits in Corfu
The speed limits in Corfu vary depending on the type of area you are driving in. They are displayed in kilometers per hour (km/h) and are as per the below.
50km/h in urban areas, towns, and cities

110km/h on open roads


120km/h on highways


30km/h close to schools
Gas stations in Corfu
Most businesses in Corfu close on Sundays, including gas stations. If you are going on a long journey, it is best to fill up your tank before Sunday.
However, local law states that one gas station in each area must remain open on Sundays and late at night past closing times. This is to prevent drivers from getting stranded in the middle of nowhere.
It is useful to know that this exists. However, you should not rely on getting gas from one of them on a Sunday.
Renting a car in Corfu: final thoughts
Do you have any experience with renting a car in Corfu? What are your thoughts on driving here? I have been living in the little neighbourhood of Pagrati in Athens since 2017 so I am always happy to help if you have any concerns.
Have a wonderful time traveling in Greece! Geia sou! Xo
---