You probably want to know which are the best islands in the Cyclades if you are planning a trip to the Greek islands. Santorini and Mykonos are arguably the most famous islands in the region and a lot of people's raison d'etre for visiting Greece in the first place.
But the appeal of the Cyclades goes far beyond these two destinations. Identifying the best islands in the Cyclades Can be overwhelming. after all, there are more than 220 Islands in this archipelago alone, and thousands of islands in total split across the different Greek island groups.
Each island in the Cyclades has its own unique personality and charm. There is something for everyone here.
If you are looking for raucous nightlife or exclusive high-end clubs where you can party the night away on the beach among the well-heeled crowd, you've got that here. Similarly, if you are looking for peace and seclusion, you can find that here too.
The Cyclades archipelago has plenty of places where you can have pristine white sand beaches and coves all to yourself even in the height of summer. There are also a lot of family-friendly areas that have all the amenities.
This article has been written by a travel writer based in Greece (me!)  that has traveled to every island in the region. it will look at the best islands in the Cyclades beyond the ultra-popular Santorini and Mykonos. 
The Best Islands in the Cyclades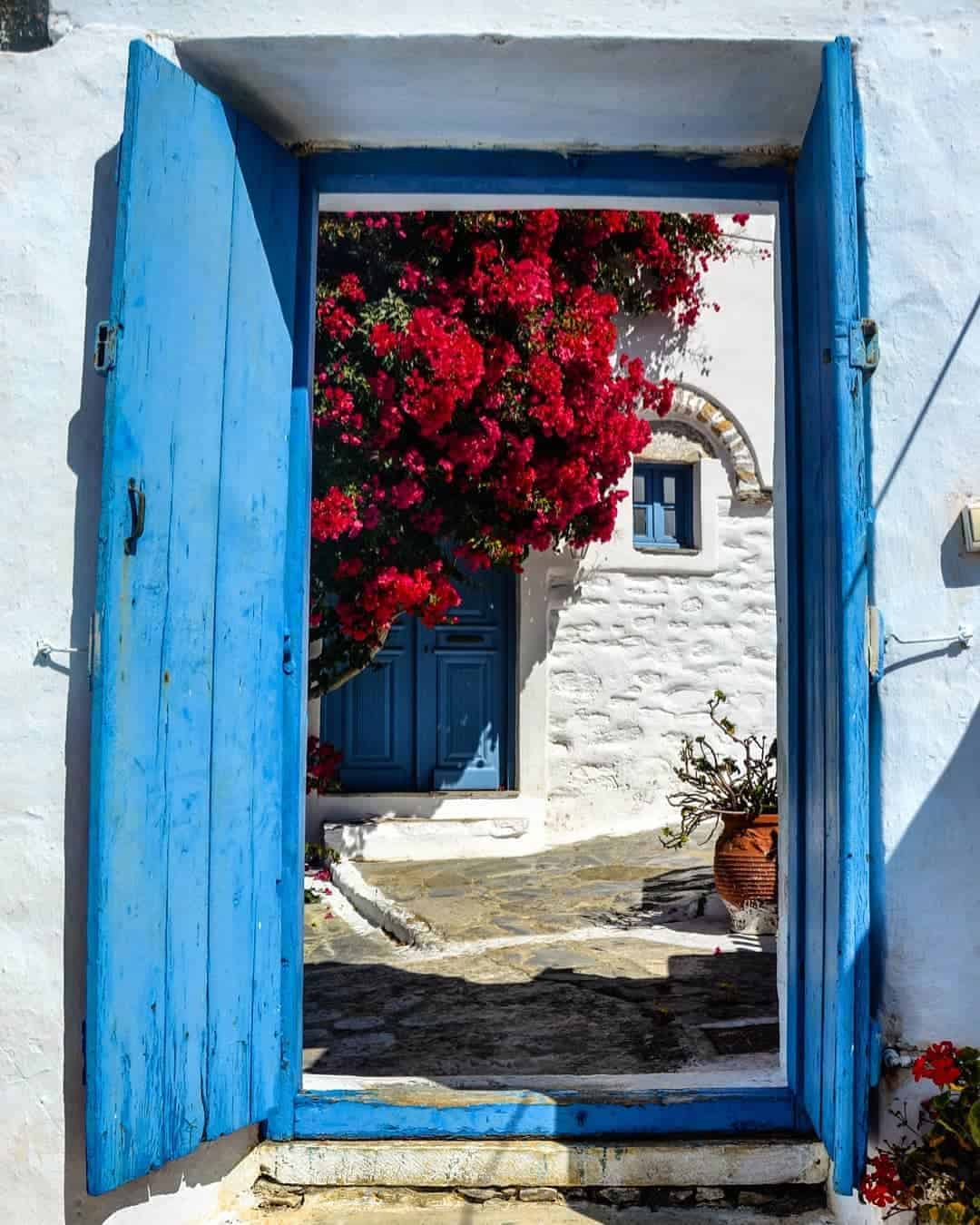 The Cyclades islands in Greece are one of the most popular archipelagos in the country.  They sit in the warm cerulean Waters of the Aegean sea just a couple of hours south of Athens and the mainland of Southern Greece.
The archipelago's southern location means that the Cyclades see some of the hottest temperatures in Greece and they generally remain warm well into the autumn months. The adorable image of blue and white houses draped in pink bougainvillea flower that has become so iconic in Greece is characteristic of the types of houses that you see in the Cyclades. 
The Cyclades Islands with their traditional architecture and their narrow, winding cobbled streets are a photographer's dream. There is definitely a reason why these islands are so popular and why they capture the hearts of all those that visit. 
Only 24 of the 220 islands in the Cyclades are inhabited. The name "Cyclades" means the circle islands. This name was given on account of the way that the islands form a circle around the sacred island of Delos in the heart of the Cyclades archipelago.
Which of the Cyclades is the best?
Choosing the best island in the Cyclades is somewhat subjective. It all depends on you and what you are looking for.
If you are looking for gorgeous beaches and hope to spend most of your Greece itinerary relaxing by the coast, you will love Koufonisia, Naxos, and Milos. Milos is also home to Sarakiniko – a beach made up of unique white rock formations that is a fun place to photograph and go cliff jumping.
If you like hiking and nature, and somewhere that you can visit even out of season, you will love the little islands of Donoussa and Kea. (Kea has more hiking trails than any other island in Greece!).
Then, if you are looking to party, you should consider Paros, Ios, and Mykonos.
Amorgos
The underrated island of Amorgos sits at the easternmost part of the Cyclades, floating towards the Dodecanese. The little horseshoe-shaped island is renowned across Greece for its natural beauty.
Like most Greek islands, Amorgos' capital is known as the "Chora". This is one of the most striking island capitals in all of Greece.
Amorgos Highlights
Chora is characterised by narrow cobbled passageways, beautiful blue-domed churches, and Venetian monuments. Heading farther afield, the quaint towns of Tholaria, Potamos, and Lagada provide a journey back in time.
Amorgos is a hiker's paradise, and many scenic trails twist and turn through the island. Add Hozoviotissa Monastery to your radar while in Amorgos.
This dramatic Orthodox Monastery is perched on top of a cliff and boasts phenomenal views across the island. It is well worth the uphill trek to get there.
Anafi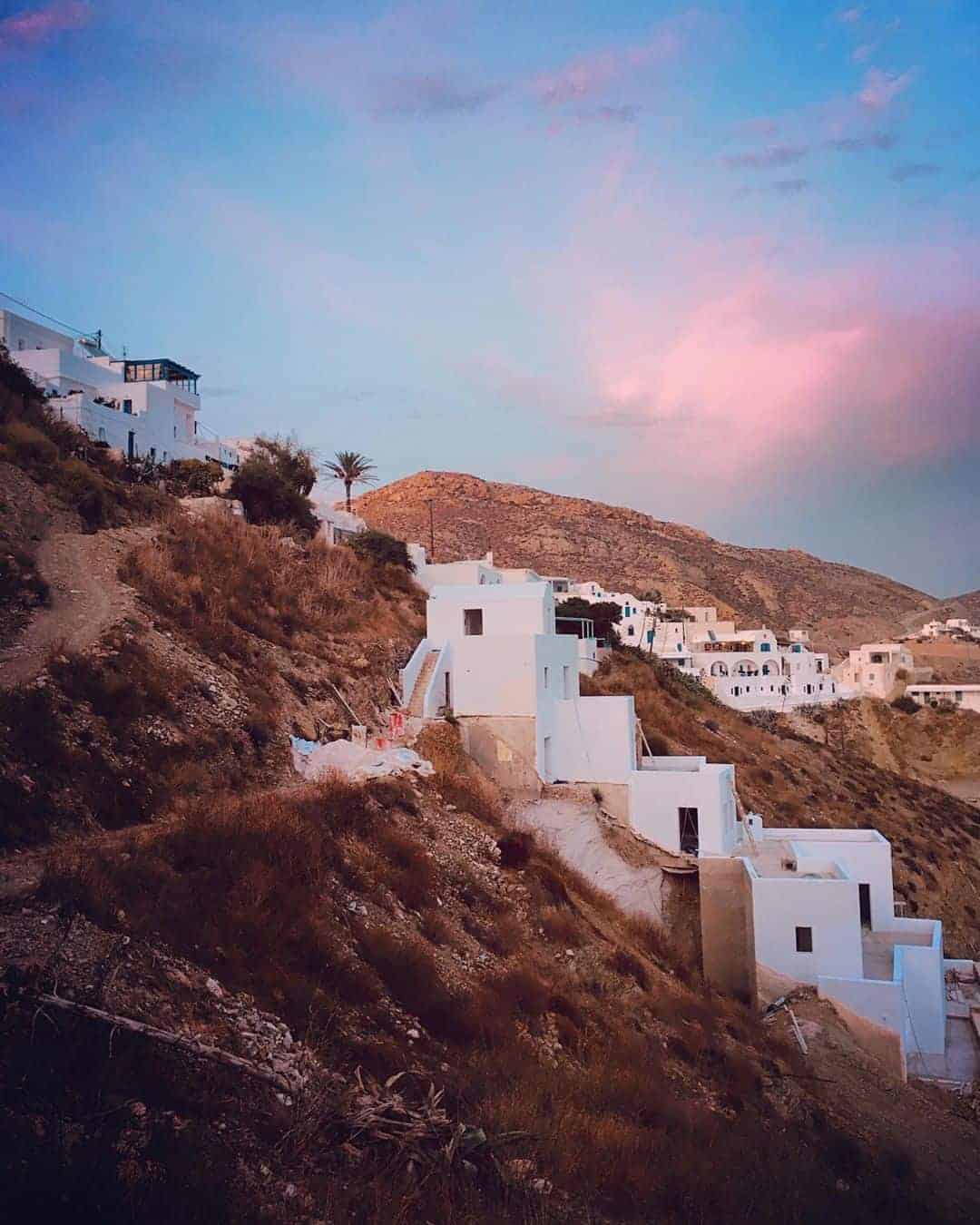 The little island of Anafi holds a special place in Greek history and mythology. According to legends, the island revealed itself from beneath the angry waves at the command of the God Apollo.
Today, Anafi is a place of peace and tranquility. It is one of the last unspoiled islands in the Cyclades.
Anafi Highlights
The main town ("Hora") is the only settlement on Anafi island. It is home to just a few residents and is the perfect epitome of a sleepy, Greek island town.

The houses and buildings here shimmer in blue and white. Anafi is the perfect place for a little rest and relaxation and offers beautiful secluded beaches and coves without crowds. 
Head to the island's southern coast to experience the unspoiled paradises close to Katsouni, Klisidi, and Agios Nikolaos. Quiet Anafi is a perfect place to spend a day or two during a Greek island-hopping adventure in the Cyclades islands.
You may notice that Anafi is very similar to Anafiotika in Athens. This is because former residents of Anafi constructed this Athenian neighbourhood to make it look like their home!
Andros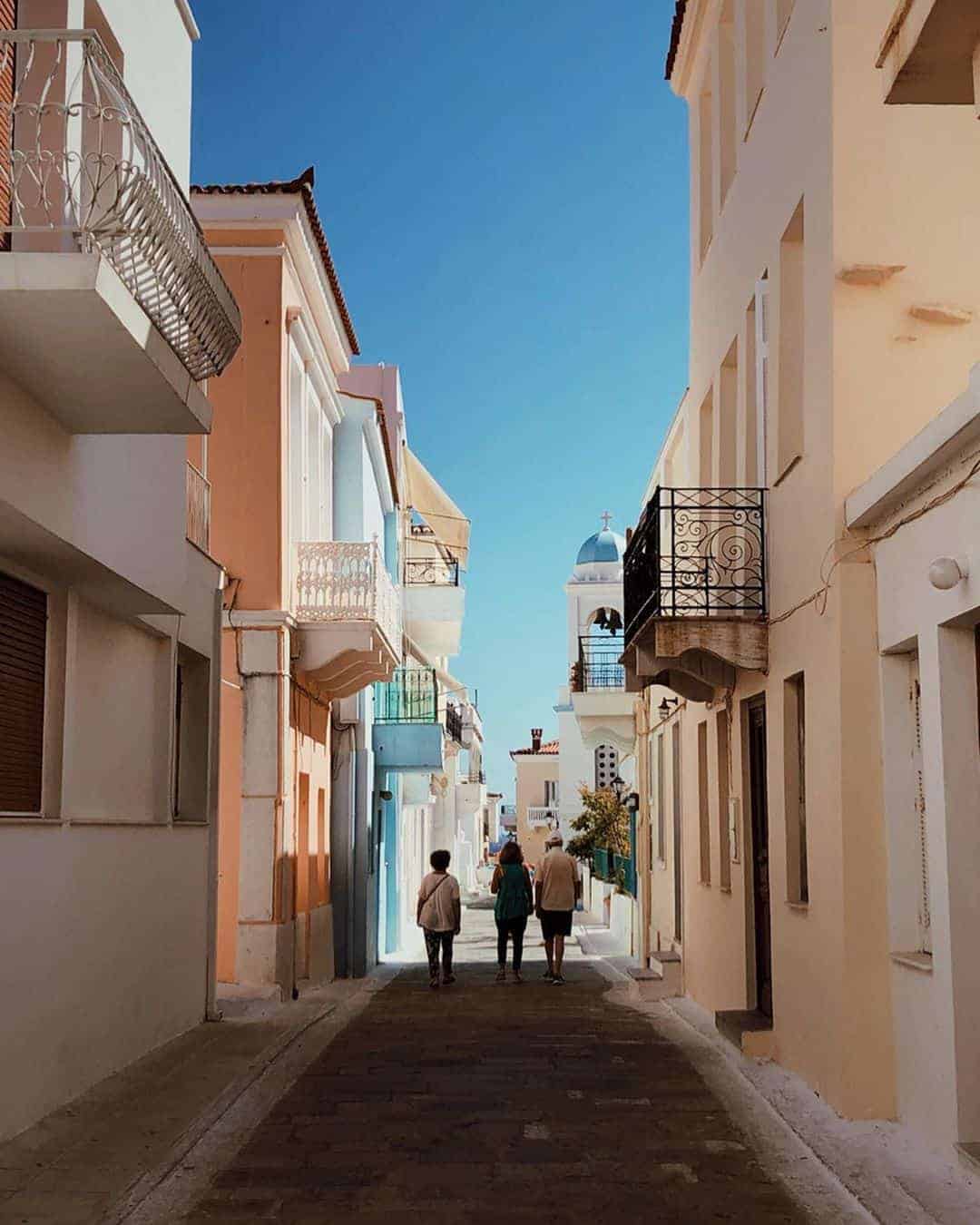 Andros is one of the closest islands to Athens. This is a perfect place to get away from the hustle and bustle of the Greek capital for a day or two.
In recent years, Andros island has begun to soar in popularity, and for good reason. Andros is stunning!
Andros Highlights
The most popular village on the island is Batsi – a former fishing village. Batsi's ramshackle pastel-coloured houses cascade down the hilltops and overlook the waters.
The village is now predominantly a tourist destination. However, it has managed to retain its traditional charm. Old houses and businesses here have been transformed into traditional tavernas and ouzerias.
Chora village, the island's capital, is filled with a mixture of Ottoman, Neoclassical, and Byzantine houses. Many beaches and hiking trails sit between the two settlements.
Achala beach is a local favourite. This is a hidden paradise that is only accessible via a dirt road track.
Antiparos
Antiparos sits in the very heart of the Cyclades. Though its sister island Paros has become a popular travel destination in recent years, Antiparos has stayed off the radar.
Antiparos Highlights
There is just one village on the island – Chora Antiparos. Its elegant streets are filled with boutique stores, upscale restaurants, and luxury hotels that ooze sophistication.
Antiparos is well known for its beautiful beaches and a blend of organised and secluded coastal spots can be found. If you are seeking well-serviced beaches lined with tavernas and ample facilities, head to Psaralyki beach, Kako Rema, or Agios Spiridonas. For more peace and seclusion, spend a day at Panagia beach.
Delos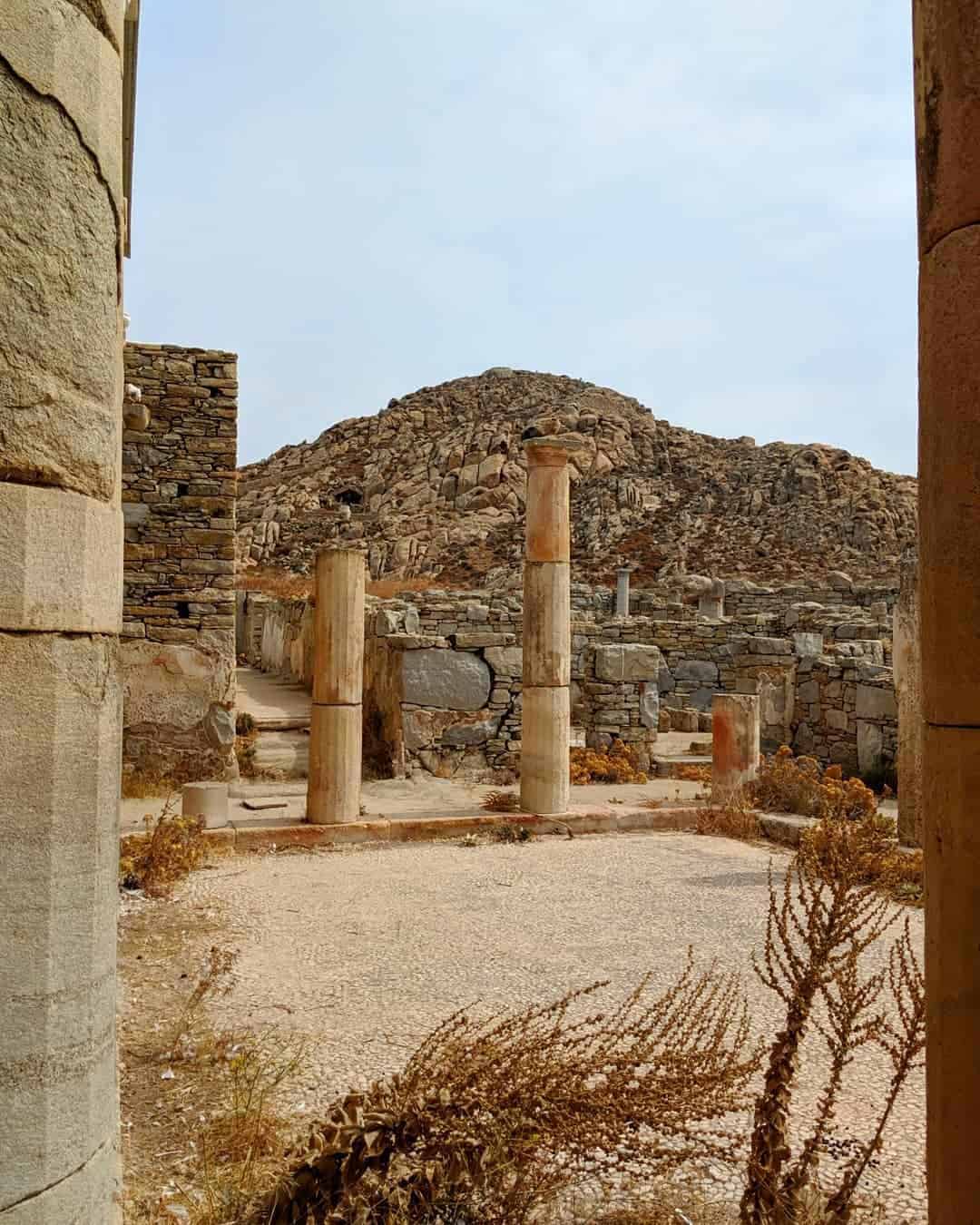 The sacred island of Delos is an island like no other. It is one of Greece's 18 UNESCO world heritage sites and an island with origins rooted in magic and mystery.
Delos was designated as a UNESCO world heritage site in 1990. Nobody lives on the island, and today, it is just a collection of ruins and archaeological sites.
According to Greek mythology, the God Apollo and the Goddess Artemis were both born on the island of Delos. The island was rendered sacred, and no mortal was to be permitted to be born or die here.
You can take a day trip to Delos from nearby Naxos and Santorini. Here, you can walk down the same sunbleached colonnaded walkways that the Ancient Greeks and Romans once strolled down.
A collection of interesting artifacts that have been recovered from the region, including sculptures, pottery, weaponry, and artwork are on display at the Delos museum. There are a couple of structures in particular that you should look out for while on the island.
Notably, the temple of Isis, the ancient theater of Delos, Cleopatra's house, and the terrace of the lions. The terrace of the lions is a cobbled walkway that was built by the people of Naxos in honor of Apollo in 600 BCE.

Five marble-carved lions with detailed expressions sit here and face eastward toward the Sacred Lake of Delos.
Donoussa
Donoussa is one of four islands that belong to the mini Cyclades archipelago. (Along with Schinoussa, Irakia, and Koufonisia).
The little island is only 14 square kilometers. This makes it perfect for adventures on foot or by bicycle.

Archeological findings on the island indicate that Donoussa has been inhabited for thousands of centuries. More recently, locals from nearby Amorgos moved to the island where they created the village of Stavros.

Legend has it that the Greek God Dionysus lived on this island. As such, the island took its name from him and was named "Donoussa". 
Donoussa Highlights
Swimming and hiking are the main highlights of Donoussa. Of course, there are also ample places to tuck into sumptuous local food at the restaurants and tavernas of Stavros.
There are also some stunning Orthodox churches on the island that have built-in typical Cycladic style with sky-blue domes. Look out for the Church of Agia Sofia, the Church of Holy Cross, and the Church of the Virgin Mary.
Ios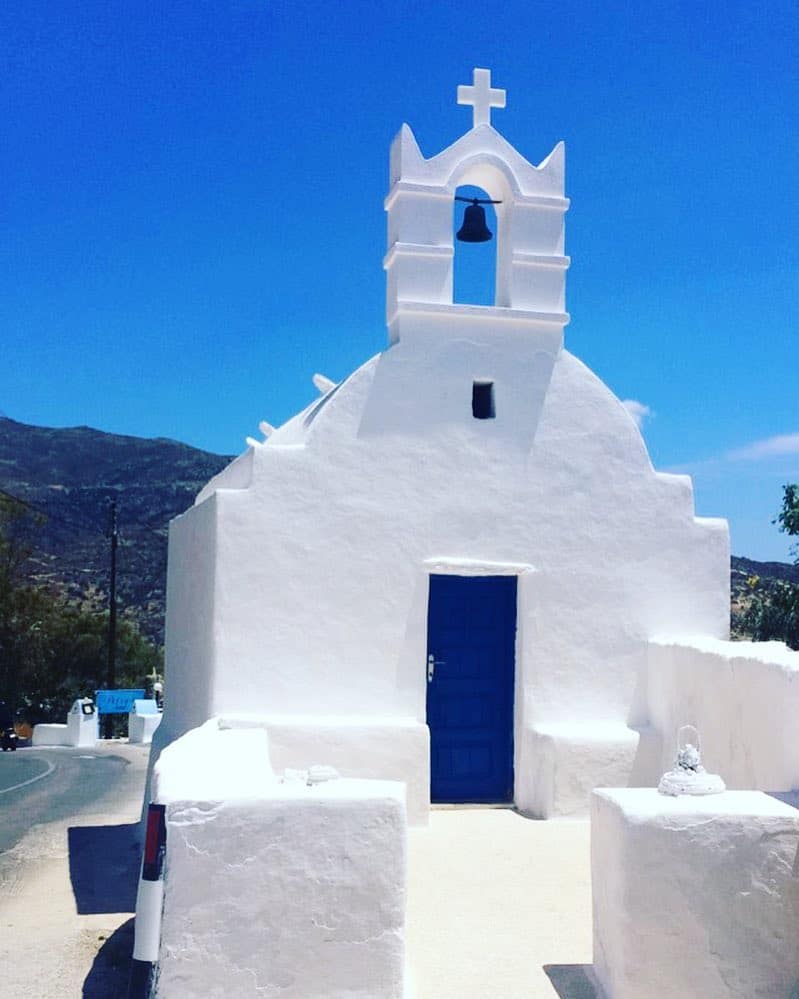 Ios (aka Io in Greek) is an island set in the heart of the Aegean sea. For years, Ios has been overshadowed by its more popular neighbours: Mykonos and Santorini.
However, Ios has just as much to offer. Word is finally starting to come out about it.
Ios Highlights
Ios' reputation as a party island, unfortunately, precedes it. Cheap, plentiful, and raucous nightlife in the Chora has made Ios a hotspot for young college students in search of clubs and parties.
The reality is that Ios is much more than that, and its alternative side is worth exploring. After all, nature here is gorgeous.
The southern part of the island is awash with wild, secluded natural beaches that sit against a dramatic backdrop of cliffs. Tripiti beach, Mylopotas beach, and Pepper beach are among the island's highest-rated.
There are also some excellent hiking trails on Ios if walking is your thing. In particular, check out the route to the Koumpara peninsula or visit Palaiokastro where you can see what remains of an old church and a Venetian castle.
If you consider yourself a true Grecophile or you have a strong interest in Greek history and literature, you may be interested to visit the final resting place of the writer Homer here. Homer is of course, the writer of the Odyssey and the Iliad.
Folegandros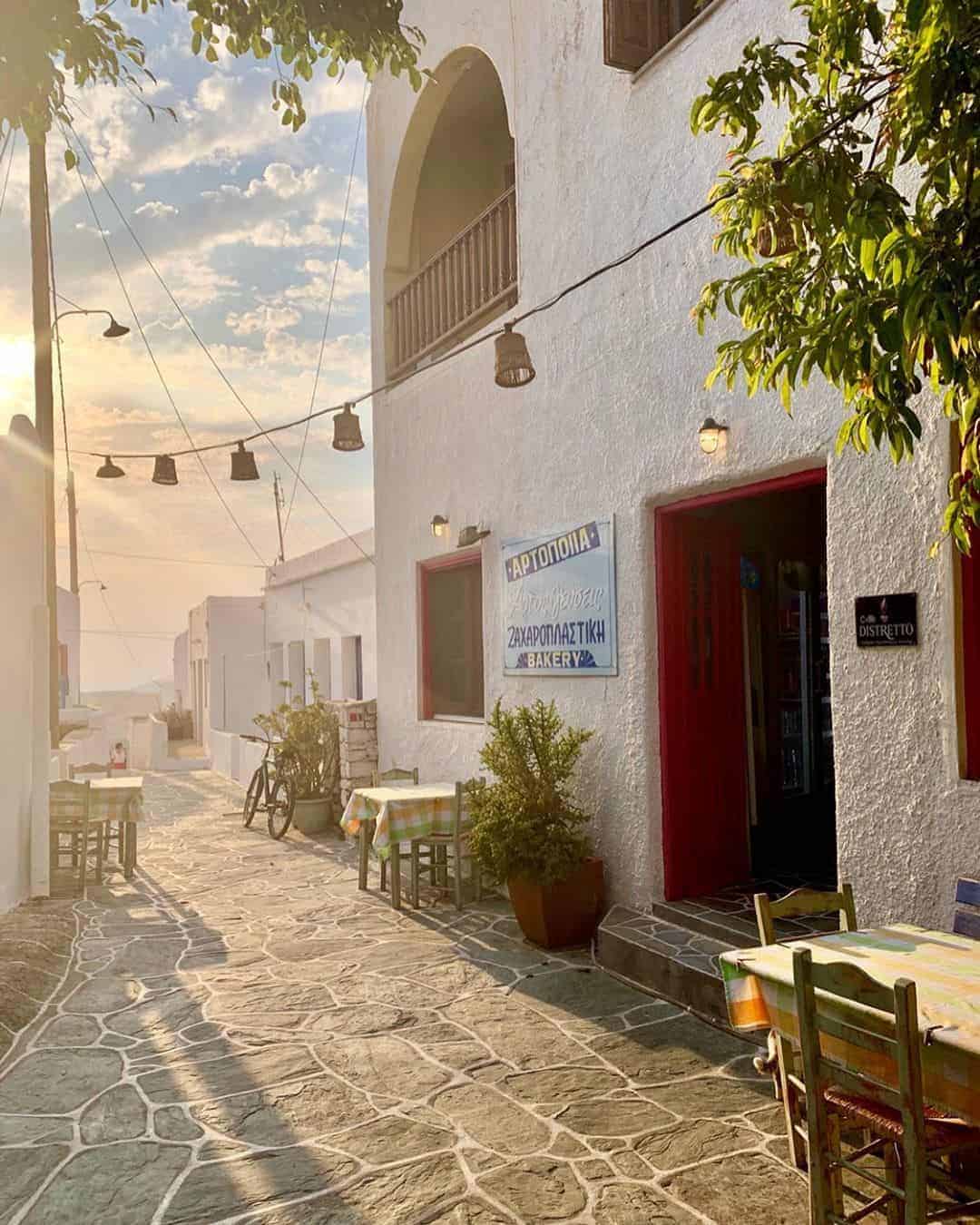 The island of Folegandros is a small rocky landmass that awaits on the Southern edge of the Cyclades islands. This is a nice place to travel off the beaten path.
Folegandros is a good choice if you are seeking to escape the crowds and package holiday tourists. The island is home to just 700 people.
It was named after King Midos' son Folegandros. While Folegandros has escaped the eyes of international tourists and mainstream tourism, it is a popular weekend break destination for Athenians.
Folegandros Highlights
Like most Greek islands, Folegandros has a very charming and traditional main town. Folegandros town has been constructed in the traditional Cycladic style.
The centre is a maze of cobbled streets and alleyways with gorgeous blue and white buildings draped in bougainvillea. No motorised vehicles are permitted here so as to protect Folegandros town from pollution and damage.

Kastro, meaning "fortress", is Chora's oldest quarter. It dates back to the 13th century and is one of the oldest settlements in the Cyclades islands.
The small white buildings here have been built squashed together to form a tight exterior wall. This is because once upon a time, pirate invasions were a real threat on Greek islands and these walled houses served as Folegandros' defense.
Some of the houses here are thousands of years old and are still inhabited to this day. Others have been converted into guesthouses.
There are dozens of quaint Orthodox churches scattered throughout the landscape of Folegandros. Arguably the most famous is the Church of Panagia.
It sits on top of a craggy cliff high above the Chora, watching over the town protectively. You can follow the winding donkey trail to the top in order to admire one of the most majestic sunsets in the Cyclades.
Iraklia
The little island of Iraklia is nothing more than a tiny speck on the map that sits between Ios and Naxos. It is home to less than 100 people and is about as off the beaten track as it gets in the Cyclades Islands.
Iraklia Highlights
There are several gorgeous beaches dotted throughout Iraklia. The majority of these can be reached via pedestrian hiking trails or by boat.
Two charming villages can be found in Iraklia: Panayia and Ayios Georgios. Luscious green vegetation, dense woods, and natural springs make Iraklia a perfect destination for those that like to get back to nature.
Kea
Kea (Tzia in Greek) floats in the Cycladic archipelago just two hours away from Athens. Despite its proximity to the mainland, little Kea feels a million miles away from the chaos of modern living.
Kea Highlights
Kea is a nature lover's paradise. It boasts more hiking trails than any other Greek island.
People do not often consider Greece as a hiking destination. However, some of the hiking trails in Greece are among the best in Europe.
The charming town of Ioulis is the island's capital and a perfect place to base yourself for a day or two. You may want to consider visiting Kea in the Spring or Autumn if you enjoy spending time in nature and don't want to suffer beneath the intense Greek summer sun.
The hiking trails twist and turn throughout the entirety of Kea, offering ample options for outdoor exploration. A popular route to consider is the 1.5-hour trek to the ancient city of Karthea.
Karthea sits on the southeastern part of the island. The route leads you past secluded coves, abandoned churches, and jaw-dropping scenery. Upon arrival at the ancient site, you are greeted by the sun-bleached ruins of ancient temples, and the old cobbled streets of millennia-old settlements.
Kimolos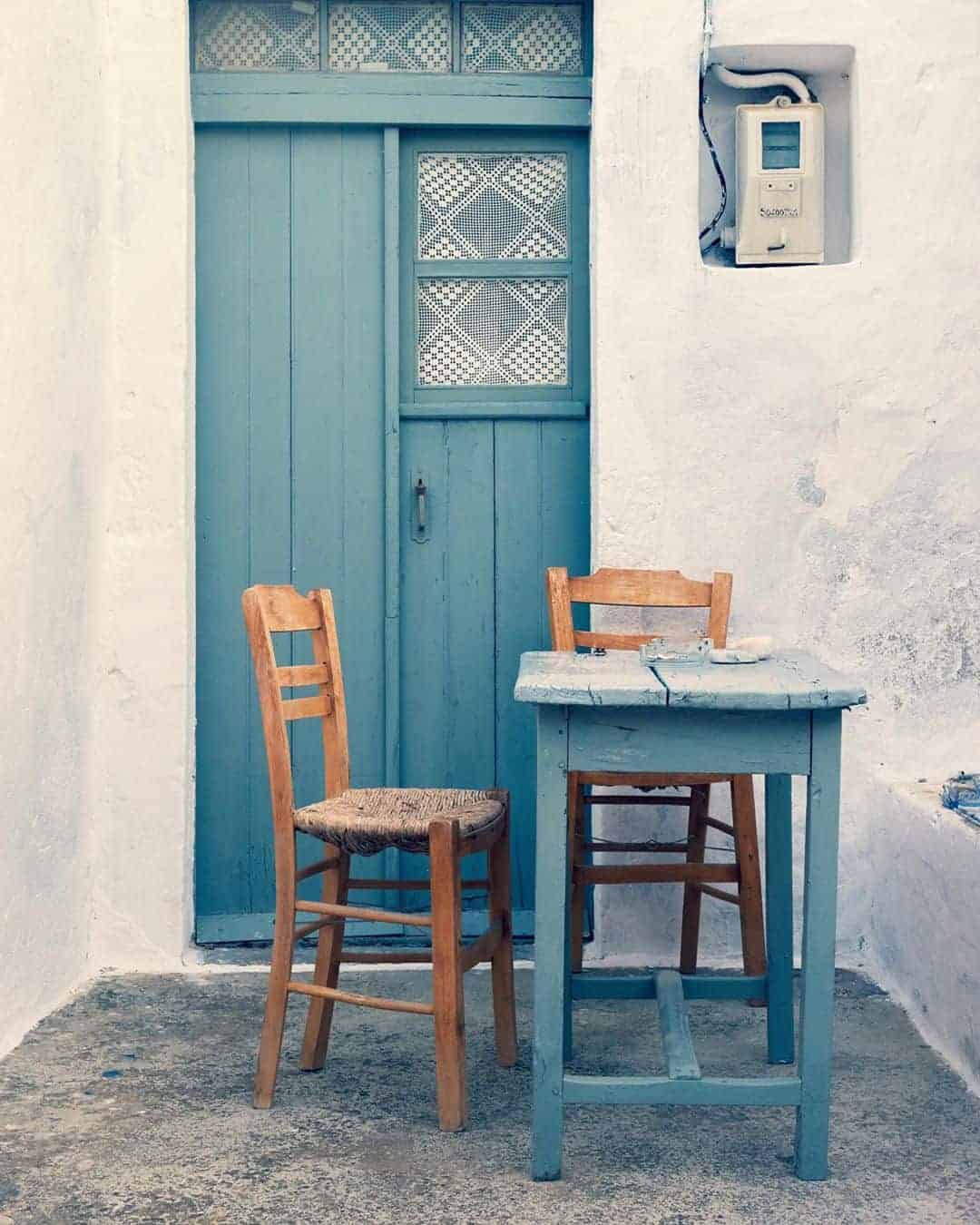 The island of Kimolos makes a nice alternative travel destination in the Cyclades islands, away from the crowds. Despite being located beside popular Milos, Kimolos remains relatively unknown.
Kimolos Highlights
Chorio is the island's main village and at its heart is the picturesque neighbourhood of Kastro. This centuries-old district was once surrounded by defensive castle walls and occupied by Nobles.
Today, it contains little cobbled streets, narrow alleyways, and beautiful Cycladic houses. The village's Folk & Maritime Museum is set inside a magnificent old Venetian castle. It tells the history of the island over the centuries.
Chorio village stays true to its traditional Greek roots. However, most visitors to the island stay in nearby Psathi village which boasts ample tavernas and hotels.
The best beaches in Kimolos are Prasi and Agios Georgios. Both spots make the perfect place to relax and swim in crystal clear waters. 
Koufonisia
Koufonisia is a beautiful place in the heart of the Aegean that actually consists of two separate small islets. They are Kato Koufonisi and Pano Koufonisi.
The two islets are separated by a narrow strait of water, and it is easy to pass between the two. Pano Koufonisi is the hub of activity, filled with incredible coffee shops, restaurants, and hotels. Meanwhile, Kato Koufonisi is uninhabited.
Koufonisia Highlights
Pristine beaches and translucent waters are a highlight of Koufonisia's islets. Virtually every stretch of coastline here is breathtaking. However, among the local favourite beaches are Nero, Detis, Loutro, Foinikas, Italida, Pori, and Panagia.
Hiring a boat here is a great way to reach caves and coves that are otherwise inaccessible. A license is not required. However, if you don't feel confident in navigating the waters yourself, you can hire a skipper for the day too.
Kythnos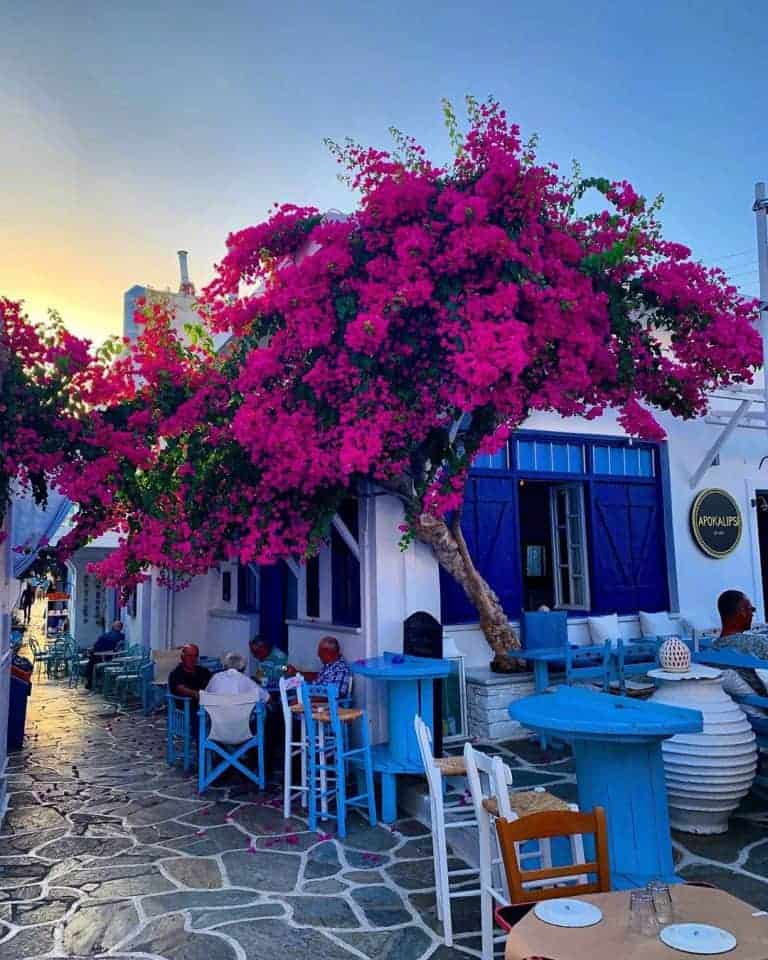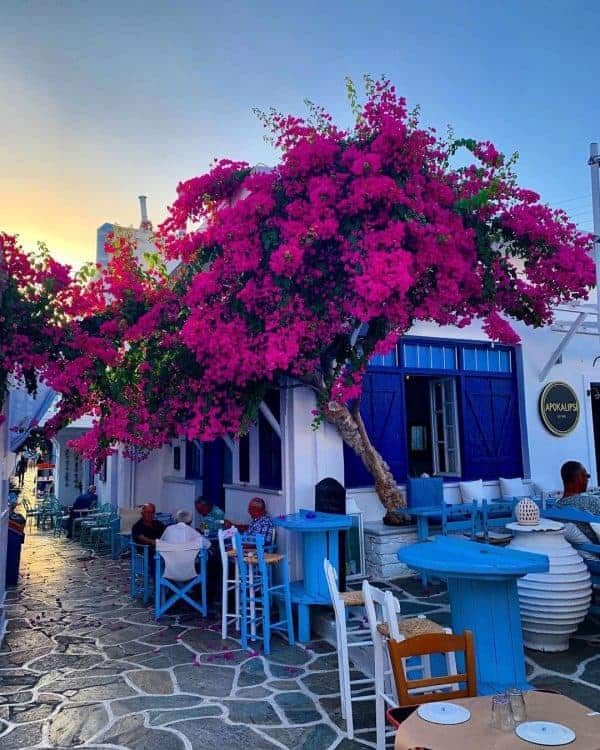 It doesn't get much more off the beaten track than Kythnos. The name of the island is derived from the ancient Greek word "Keftho" which means "hidden".
Kythnos Highlights
True to Cycladic island form, the capital of the island is called the "Chora". Kythnos Chora is a labyrinth-like network of narrow streets and passageways that twist and turn to open out into bustling piazzas. Here, locals sit beneath the Mediterranean sun drinking strong Elliniko coffee and playing backgammon.
One unique attraction of Kythnos is its hot springs. At the town of Loutra, travellers can find dozens of natural thermal springs.
Once upon a time, these baths were frequented by Greek Royalty. Today, they provide a relaxing experience in a beautiful setting that is fit for a King or Queen!
Milos
The volcanic island of Milos sits at the southernmost part of the Cyclades. Thanks to its volcanic activity, Milos is characterised by colourful cliffs and surreal rock formations that shimmer beneath the sun in shades of red and white.
Milos Highlights
The island is home to more than 40 soft sandy beaches, as well as some incredibly unique landscapes. In Milos, you can find hidden lakes and caves miles beneath the sea.
Perhaps the most iconic sight here is Sarakiniko beach. The area has become somewhat Instagram-famous in recent years so even if you haven't explicitly heard of Sarakiniko, you have probably seen it on social media somewhere.
The beach consists of white, peculiar rocks that appear almost ethereal and other-worldly. Waves driven by north winds shaped the greyish-white volcanic rock into amazing shapes to the extent that they almost resemble a moonscape.
Milos was occupied by both the ancient Greeks and the Romans. There are numerous Roman ruins here that are well worth exploring.
Notably, the eerie Roman catacombs in Tripiti are well worth your time. So too is the ancient amphitheater.
The island's fishing villages of Adamas and Klyma, with their pastel-coloured houses and traditional eateries, capture the hearts of thousands of tourists every year. Despite the island's recent "Instagram fame", Milos is not to be overlooked. Travel here in the shoulder season if you want to escape the crowds.
Mykonos
Mykonos is one of the most glamorous of the Cyclades islands. The hotels, restaurants, and stores here are as chic as the clientele that they attract.
The island has something of a reputation as being the ultimate party island for the jet set. While Mykonos is certainly the place to see and be seen in the Cyclades if you have money, there is far more to little Mykonos than just nightclubs and champagne-fuelled parties on yachts.
Like the equally popular island of Santorini, Mykonos gets extremely busy during its high season of July and August. Prices of accommodation, flights, local excursions, and basically everything else can be as much as 60% higher if you travel during this time of year.
That may not be an issue for you if you are headed to Mykonos and the Cyclades islands to mingle with the party crowd. However, if you prefer something a bit more peaceful and laid back, and you are more interested in culture and nature, you may be better off travelling here out of season.
Mykonos Highlights
The little whitewashed windmills of the Chora (old town) are perhaps the most recognisable landmark in Mykonos. They were used for centuries to refine grain, using the high winds that blow across the island.
Dozens of traditional windmills once stood here but today only 7 remain. Most of them have been converted into eclectic residential homes.
Kato Myloi is perhaps the most famous of the Mykonos windmills. They can be found atop a hill from where they boast incredible views over the sea. This is a fantastic place to watch the sunset. 
If there is one area in Mykonos that you absolutely must visit for dinner and drinks, is Little Venice. Here, you will find colourful stilted houses that stand slightly above the sea.
Today, they have been converted into cocktail bars and eateries serving cuisine from around the world. Once upon a time though, this is the area where pirates would come and hang out!
Naxos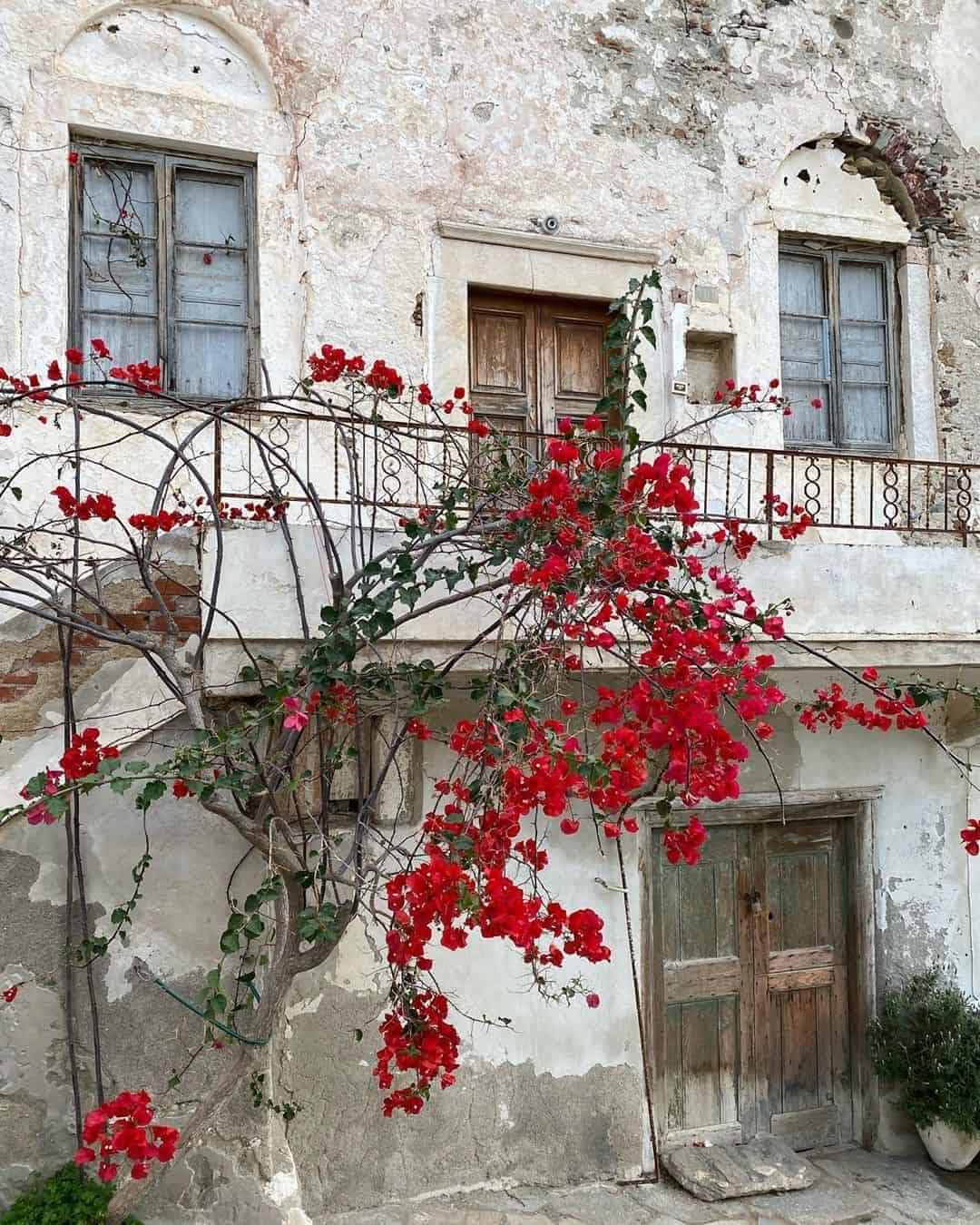 Naxos is arguably one of the best islands in the Cyclades for those who want more adventure and history during their vacation. Countless hiking trails weave throughout the landscapes here.
They offer plenty of opportunities to get back to nature. Most notably, Naxos is home to Mount Zeas – the tallest mountain in the Cyclades islands.
Naxos Highlights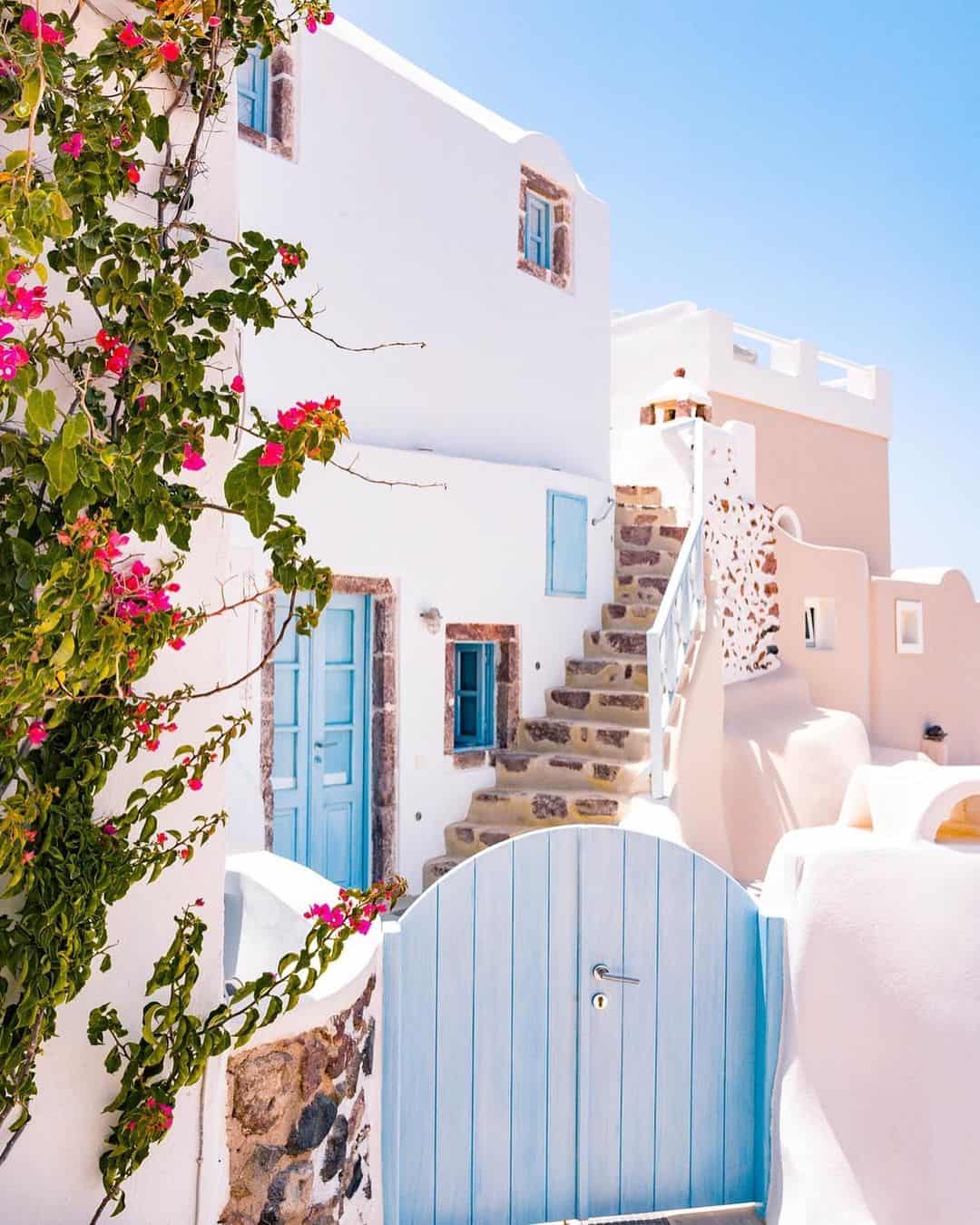 The island is steeped in history, and the crumbling remnants of many ancient temples still stand watch across Naxos. The giant Portara doorway in Naxos town, the temple of Demeter Sangri, and the Temple of Dionysus are all worth adding to your Naxos sightseeing agenda.
The azure waters that encircle Naxos hide as much beauty beneath their depths as they do on the surface. Naxos is a Diver's paradise.
The colourful coral reefs, as well as the remnants of old torpedo bombers and wartime seaplanes, can be explored beneath the surface. You will find various diving companies and tour operators scattered across the island.
Paros
Paros island is one of the most popular stopping points on a Greek island hopping adventure. It is essentially the third most popular destination in the Cyclades islands after Santorini and Mykonos. Although the island is gaining a reputation for its nightlife, it is much more than that. 
Highlights of Visiting Paros
The villages of Naoussa, Lefkes, and Parikia are places of interesting contrasts. Here, traditional island life meets contemporary modern living. In Naxos, you will find eclectic-themed cocktail bars that sit beside quaint ouzerias and tavernas frequented by old-timers.
Don't miss the church of 100 doors (Panagia Ekatontapiliani). This is one of the most important churches in all of Greece. As far as beaches go, it's Kolymbithres and the secluded coast of Glyfa, that steal the show.
Santorini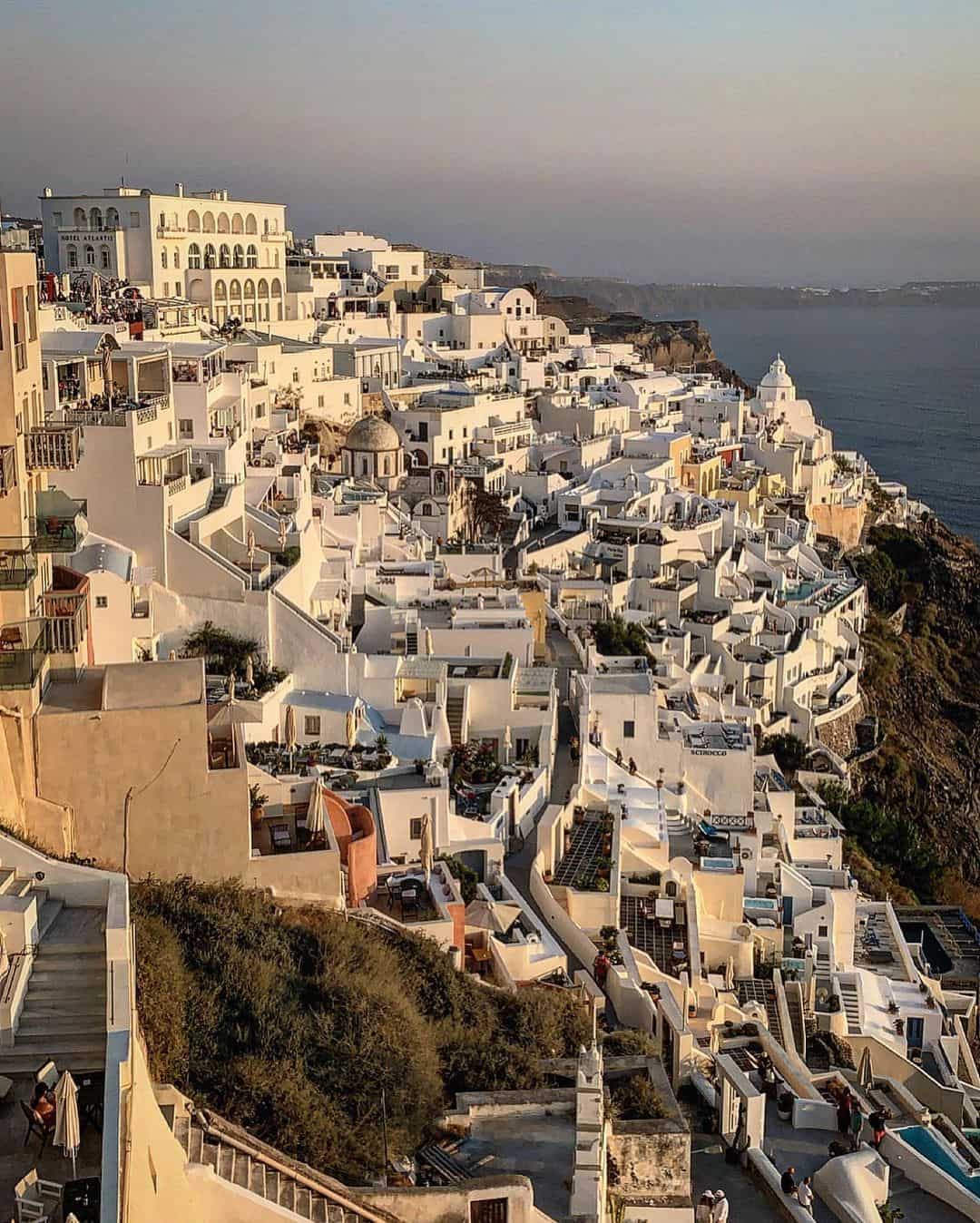 Santorini is one of the Cyclades islands that needs no introduction. This gorgeous little island is the only inhabited caldera in the world.
It is the main place that people dream of visiting when they first come to Greece.
Santorini is also one of the most popular Greek islands and travelling here during the summer months can often mean contending with crowds of tourists.
Some places are popular for a reason and Santorini is no different. This is, without hesitation. one of the most stunning islands in the Mediterranean.
For the best experience, it is worth visiting Santorini during the shoulder season. Late May, June, and September are good times to visit and allow you to escape the crowds. 
Santorini Highlights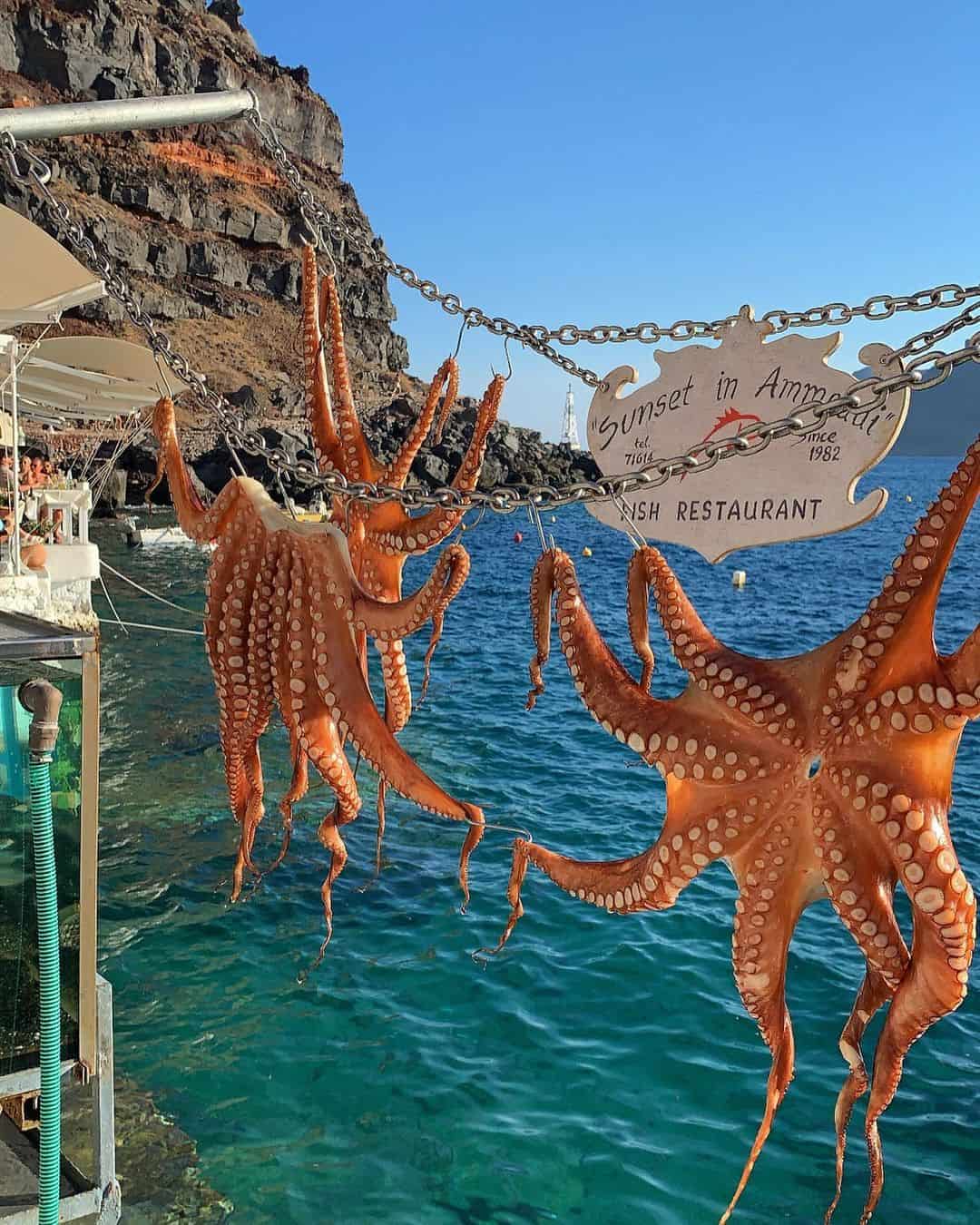 Santorini sunsets are rumored to be among the most beautiful in the world. So catching one is a must while you are here. 
There are various vantage points around the island from where you can catch a spectacular sunset. Evening cruises with dinner and drinks sail around the island and offer a nice sunset point from the sea.
For an experience that is even more special, you can even hire your own boat. Everything from a small motorboat to a luxury catamaran complete with a skipper is available for rent. 
Ammoudi Bay is a nice place to watch the sunset (as well as a good spot to grab a seafood lunch or dinner). So too, is the little clifftop village of Imerovigli.
Hiking the old donkey trail from Fira to Oia (or vice versa) is almost a rite of passage for first-time visitors to Santorini. There are also more than 20 wineries scattered throughout the island.
The volcanic soils of Santorini provide the perfect conditions for growing grapes. The grape Assyrtiko is one of the most popular varieties found here. Some grapes are native/exclusive to Santorini.
It is possible to participate in an organised Santorini wine tour or to contact the vineyards and wineries that interest you. You can enjoy a tour and a tasting where exquisite wines are paired with charcuterie boards that showcase the very best of local produce. 
Serifos
Serifos may well be one of the best islands in the Cyclades as far as natural beauty is concerned. The bustling tourist hotspots of Santorini and Mykonos sit just 50 and 75 miles away from Serifos respectively.
Highlights of Serifos
Despite being overshadowed in the past, Serifos is fast becoming a popular getaway destination for Athenians. Serifos just has a certain je ne sais quoi – a laid-back ambiance that its neighbour islands lack.
Most activities on Serifos revolve around enjoying and appreciating its wild landscapes. The beaches here are calm and unspoiled.
Ganema, Agios Sostis, and Kalo Ambeli are all beautiful little spots. They are not serviced and involve following a "hidden" dirt trail to access.
You can also hike to the Monopati of Serifos. This is a wonderful spot where you can enjoy incredible panoramas of the island as you overlook the main town (Chora).
Sifnos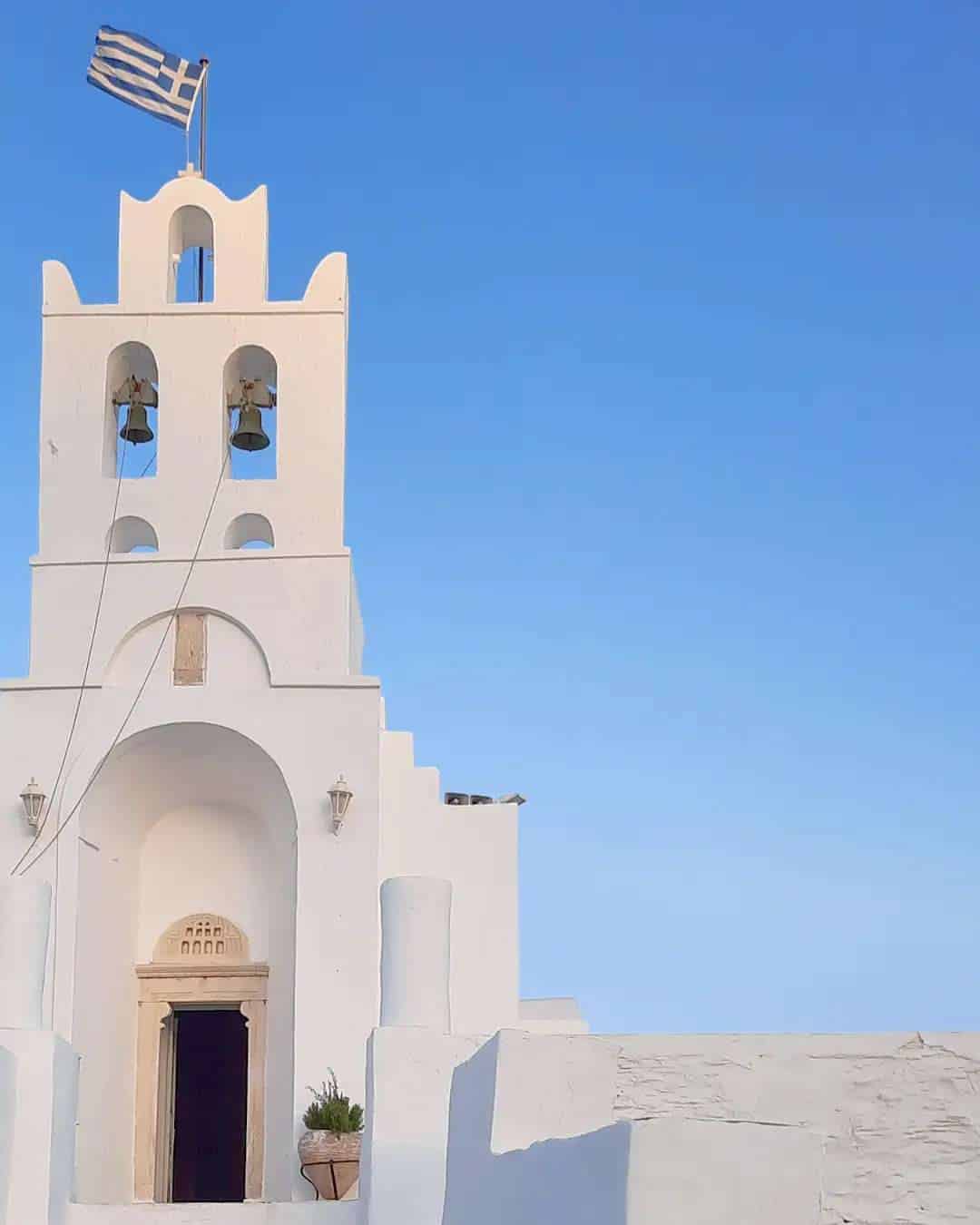 Dreamy Sifnos, and its capital Apollonia, provide a true representation of a Mediterranean paradise. The landscapes here are phenomenal. In Sifnos, whitewashed Cycladic villages sit against a backdrop of craggy, dramatic mountains, fragrant olive groves, and fields of oleander and aromatic herbs.
Sifnos Highlights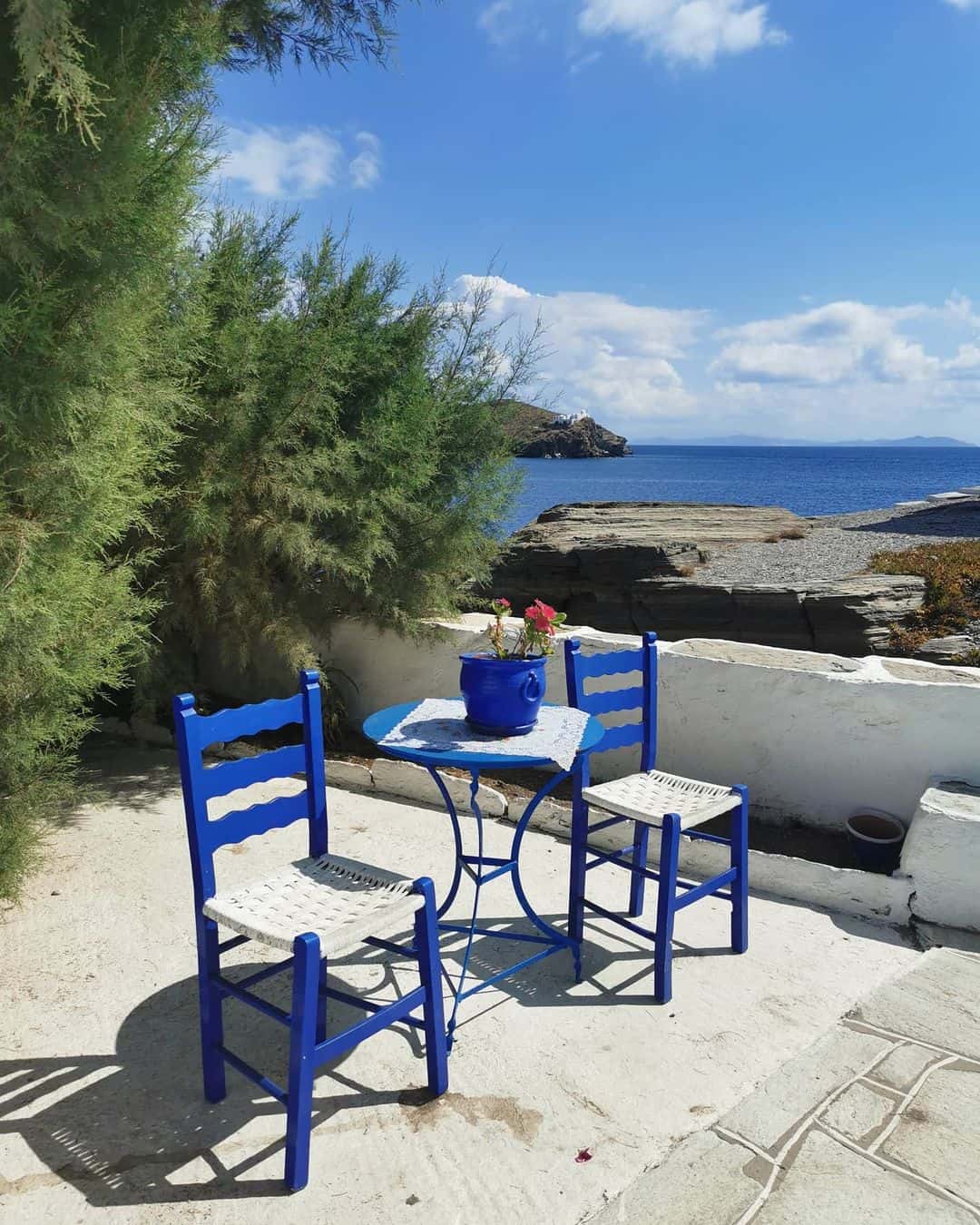 Kastro is the old capital of Sifnos. It has been constructed in true Cycladic style.
The villages of Artemonas, Vathy, Faros, and Exabela are also well worth exploring. Each village is home to idyllic beaches, picturesque bays, and sweeping views across the Cyclades.
Tourists linger in the Southern part of the island. However, the north remains largely underdeveloped.
The locals keep the beaches, churches, and villages here to themselves and they are every bit as deserving of your time as the southern part of the island. The best way to explore Sifnos is to rent a car and venture off the beaten track.
Syros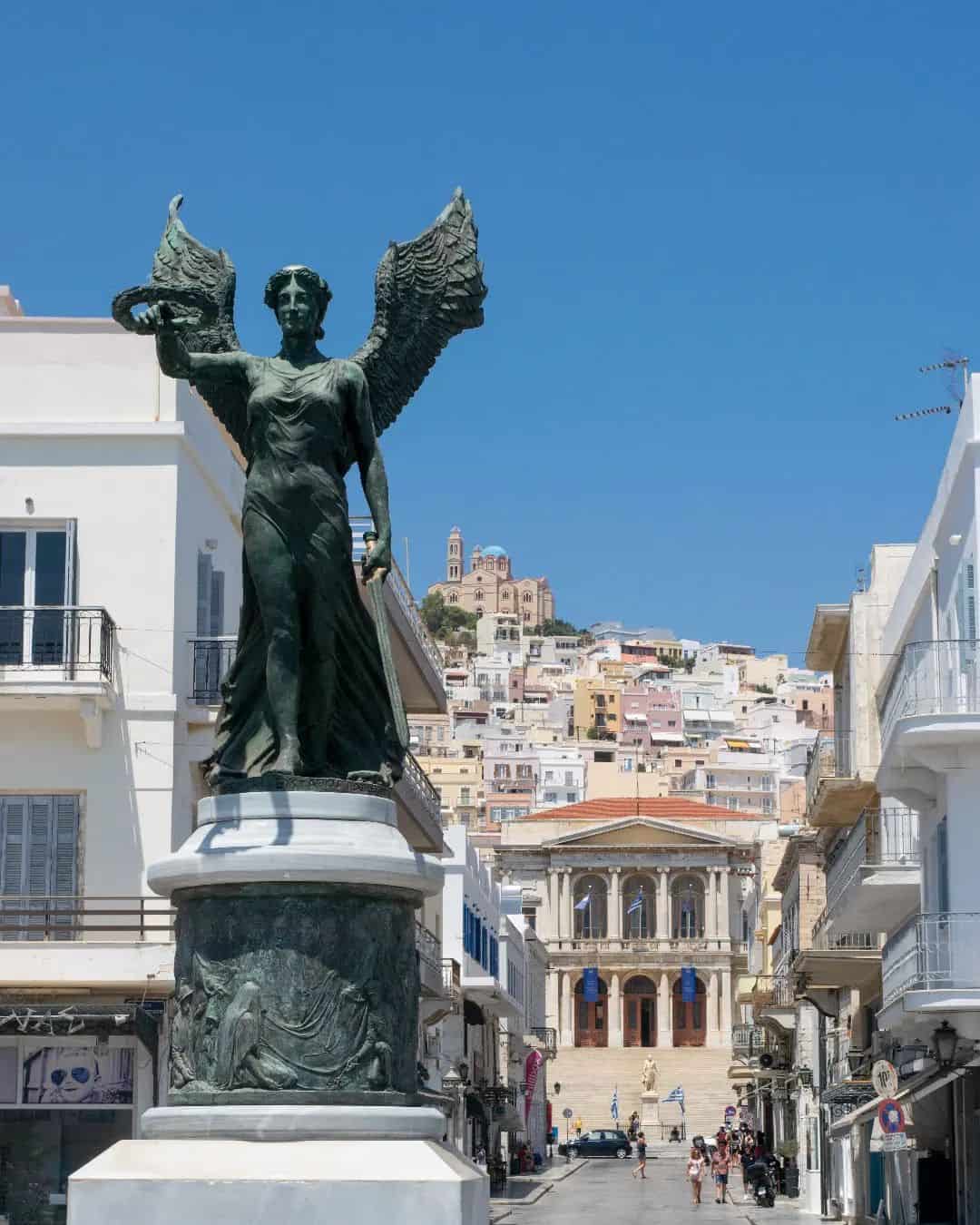 The island of Syros is seldom mentioned when people discuss islands in the Cyclades. The port here is a popular transport hub for taking connecting ferries between the various Greek islands.
However aside from its transport links, Syros is mostly overlooked! This little island is known as the 'Lady of the Cyclades' and the 'Nymph of the Aegean Sea'.
It is the perfect embodiment of a sleepy Greek island idyll. Syros is a tiny island.
Yet it is home to one of the largest populations in the Cyclades. The main town – Ermoupoli, has some of the grandest architecture in the region.
Syros Highlights
Ano Syros (Upper Syros) is a gorgeous Venetian settlement that dates back to the 13th century. Take the time to get lost here with no real agenda.
Meandering through the streets and passageways, tucking into a nice gelato, and taking photos of village life is part of the fun of being here. Schedule time to visit the hilltop Roman Catholic cathedral of Agios Georgios.
The views from up here over the town and across the sea are second to none, particularly when sunset approaches. The church's interiors are just as spectacular as its exterior – with grand whitewashed columns and vibrant frescoes.
The island capital, Ermoupoli was named after the Greek God Hermes, the messenger of the Gods. There are some beautiful examples of neoclassical architecture here.
Grand buildings such as the Apollon Municipal Theatre, the 19th-century church of Agios Nikolaos, and the Syros town hall, one of the largest in Greece, are a testament to the island's administrative importance. This was once the commercial and financial hub of the Cyclades islands.
If you should choose to spend a night in Ermoupoli, consider doing so in the chic Vaporia district. You will find some spectacular and well-preserved neoclassical mansions here, many of which have been converted into luxury hotels and boutique stores.
As you may expect from a stunning island in the Cyclades, there are several excellent beaches on Syros. Galissas is a particularly nice place to visit.
The peaceful beach is situated in a secluded cove in the west of the island, surrounded by hills and a cliff. If you want something even more remote and quiet, you can walk from Galissas to the offbeat Armeos beach.
Tinos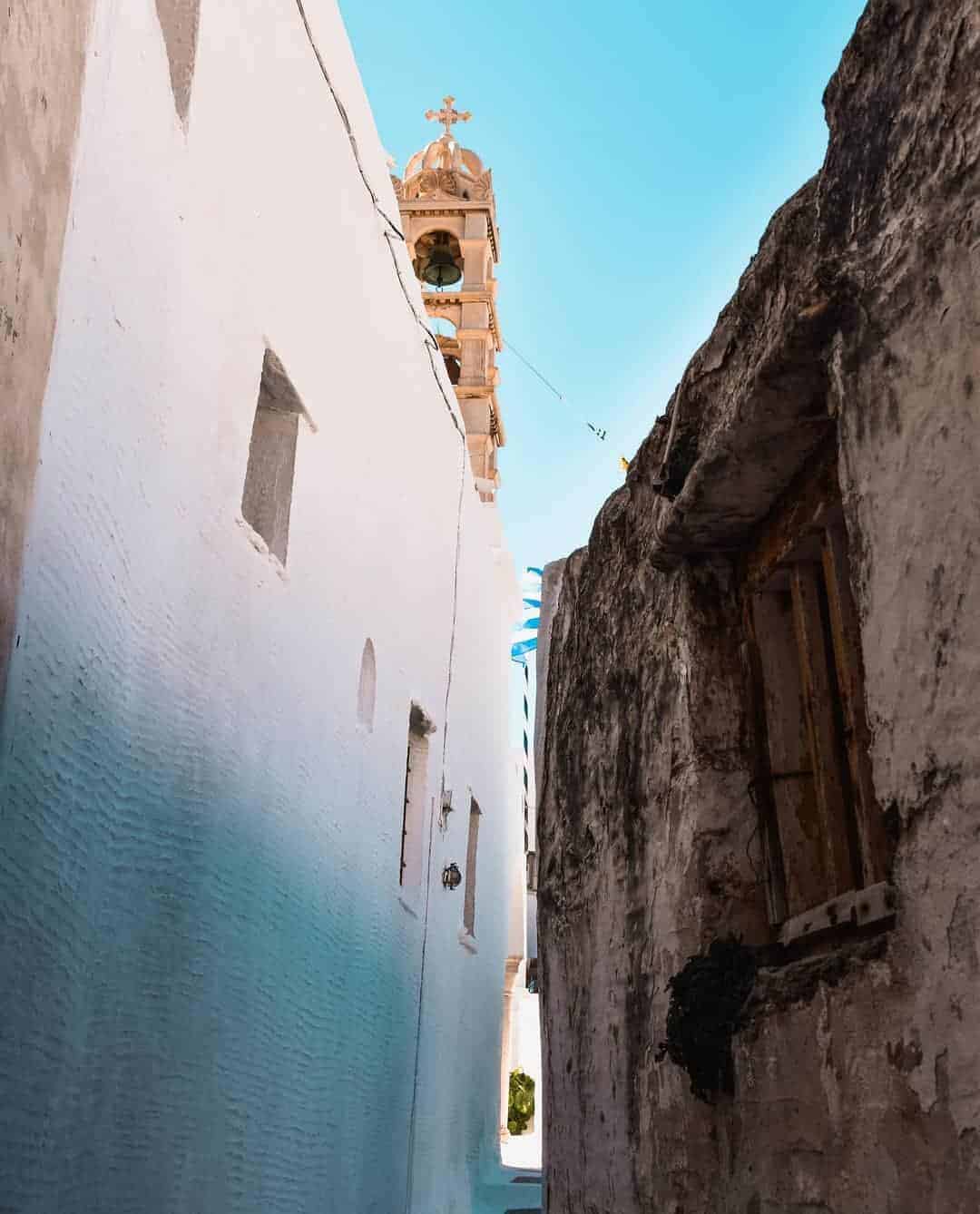 The tiny Cycladic island of Tinos sits in the Northern part of the Cyclades islands. What Tinos lacks in size, it more than makes up for in character and charm. There are more than forty idyllic villages scattered among the hills and cliffs of Tinos.
Hiking trails that interweave between the various villages lead travellers to abandoned churches and monasteries, secluded coves, and quaint settlements. When you want to relax, head to the beaches of Agios Sostis, Agios Romanos, and Agios Ioannis Porto.
Getting to the Cyclades islands in Greece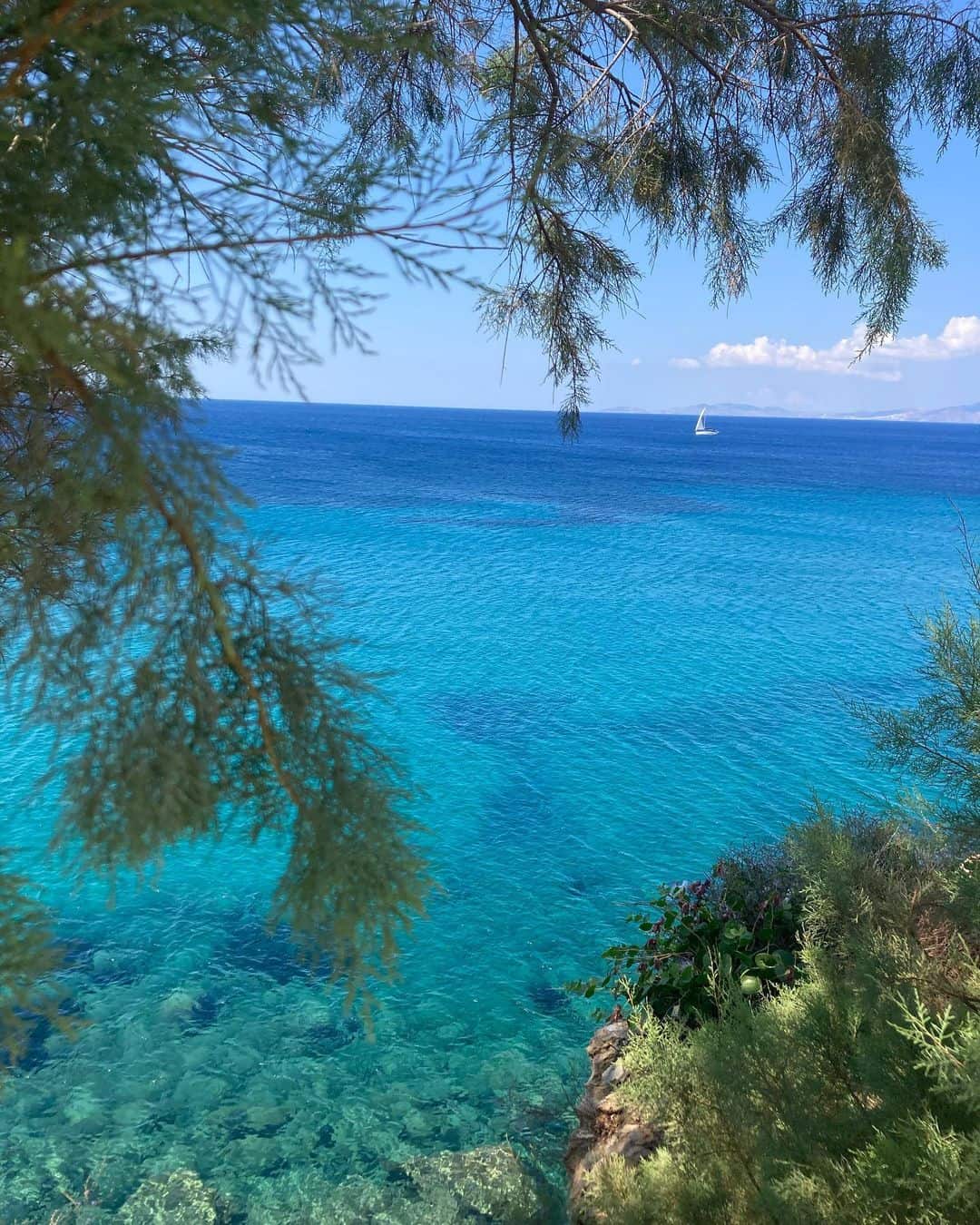 The best way to get to the Cyclades islands depends on your starting point and your travel style. If you are already in Greece, you may prefer to catch a domestic flight to the Cyclades islands or to take a ferry from Athens.
Catching a ferry from mainland Greece to the Cyclades
There are three different ports in Athens. Namely, these are Piraeus, Lavrio, and Rafina. 
Piraeus is Athens' main port. Dozens of ferries depart from here to the Cyclades every day and it is especially busy during the summer months. Lavrio is the smallest port in the area and it is located 40 miles south of central Athens.
While it is a bit of a trek to get to, it does offer a lot of great connections to the Cyclades islands of Kea and Kythnos in the summer. Finally, Rafina port is 33km/one hour away from Athens.
It provides connections to the islands of Amorgos, Andros, Evia, Ios, Koufounisia, Mykonos, Naxos, Paros, Santorini, Syros, and Tinos. Ferry schedules and routes are always likely to change so it is possible that more destinations are added to Rafina's roster in the future.
Purchasing your ferry tickets to the Cyclades
It is a good idea to purchase your ferry tickets for the Cyclades online in advance. This is particularly important if you are going to be traveling in July or August.
Use Ferryscanner to check the latest routes and schedules from Athens' various ports. Ticket prices vary depending on your end destination and the type of ferry that you are traveling on.
The average cost of a one-way ticket for a single traveler from Athens to Santorini is €58. The average cost of a one-way ticket from Athens to Mykonos is €43 to €68 for standard ferries and €69 to €85 for high-speed ferries.
The ports of Rafina and Lavrio are a bit of a trek out of town. However, they can often be more convenient as they are seldom a fraction as crowded as Piraeus. 
If you catch a ferry from Athens Piraeus port, do make sure that you arrive an hour before your departure time. This is particularly important if you need to pick up tickets at the ticket office. 
Piraeus gets so crowded in the summer months that it is hard to identify who is queuing for what ferry. Do keep this in mind and arrive in plenty of time. 
Flying to the Cyclades islands in Greece
Not all Greek Islands have airports. There are 16 International airports on Greek Islands and they are spread across 13 different islands.
Mykonos and Santorini are the only islands in the Cyclades that have international airports. The islands of Kythira, Milos, Naxos, Paros, and Syros have domestic airports.
You can catch domestic flights in Greece from Athens, Thessaloniki, Corfu, Skiathos, and other large mainland airports. Traveling to the best islands in the Cyclades is very seasonal.
The tourist season for this part of Greece runs between May and September every year. During that time, you will find a lot of low-cost international flights that depart from various European cities.
Ryanair, Easyjet, British Airways, and Jet2 offer international flights to Greece. Aegean Airlines, Olympic Air, and Sky Express operate on domestic routes. 
Use Skyscanner to book your flight tickets online in advance. You can often secure one-way tickets for as little as €25 per person if you book online in advance and if you are willing to travel in the shoulder season
It takes just 55 minutes to fly from Athens to Santorini and just 45 minutes to fly from Athens to Mykonos. if your end destination is a lesser-known island in the Cyclades, you will then need to take a boat from Mykonos or Santorini port. 
FAQs about the Best Islands in the Cyclades
Do you have any further questions or concerns about finding the best islands in the Cyclades or planning a Greek island-hopping adventure? The answers to some frequently asked questions on the topic are detailed below.
Hopefully, you will find the information that you are looking for there. If not, feel free to reach out.
Which island in the Cyclades has the best beaches?
Naxos, Milos, and Koufonisia have some of the best beaches in the Cyclades islands. Santorini does have colorful sand beaches but they are often crowded and don't offer a powdery golden sand coastline. 
Which is the prettiest Greek island to visit?
Santorini is an extremely popular island in the Cyclades. despite the fact that it has been a victim of mass tourism in recent years and that it sees a lot of people in the summer months, some places are popular for a reason.
Santorini boasts some of the best sunset views in the world. Here you will find incredible villages and resorts that have been built into the side of a volcanic caldera, as well as scenic wineries and hiking trails that take you through landscapes that look otherworldly. The Fira to Oia trail is not to be missed. 
If you travel in the shoulder season. For example, in the months of April or May, or late September/October, you can see Santorini without the crowds.
Prices are also lower during this time which is perfect if you are traveling to Greece on a budget. 
Which Greek island has the bluest water?
Kefalonia island has some of the Lewis Waters in the Cyclades Islands and all of Greece. The crystal clear water that surrounds Kefalonia shimmers in a magnificent shade of turquoise.
They could rival the beauty and clarity of some of the incredible beaches in the Caribbean.
Final Thoughts on the best Cyclades islands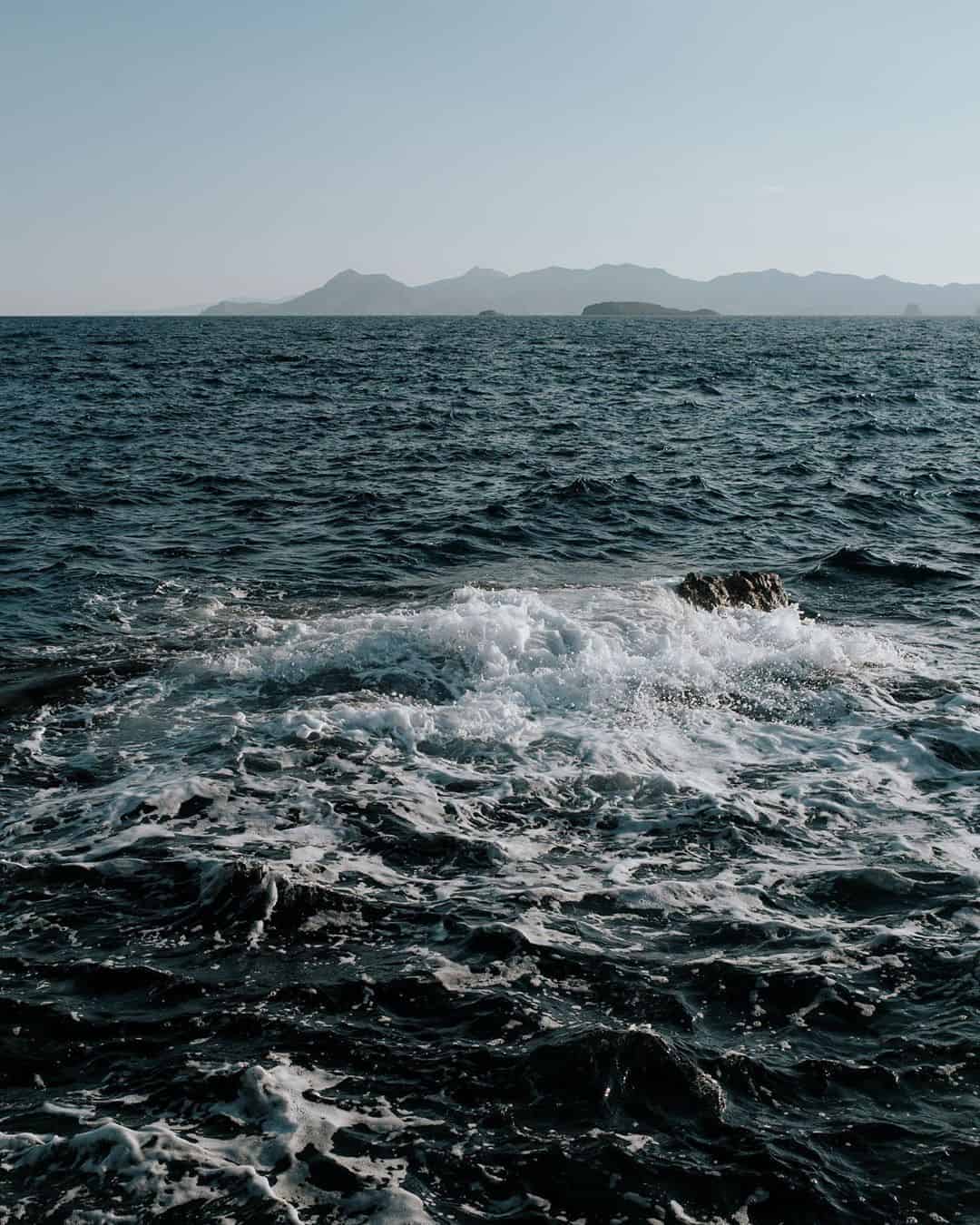 Hopefully, this comprehensive guide on the best Cyclades islands has given you some food for thought as to where you would like to go during your Greek Island vacation. A lot of people that travel to these islands love to Island hop between the different destinations.
Do be sure to plan your route carefully. Try and spend at least two or three days on each island so that you do not wear yourself out or spend a lot of time in transit.
Check the ferry routes so that you can work out a  logical route that allows you to easily take ferries from one Island to another. (Ferries don't run between every island). 

You may also like to join my Facebook group All Greek To Me where you can discuss your travel plans with expats and travelers in Greece. I've been living in Greece for the past 4.5 years and I am happy to assist with anything you need.
Feel free to drop me a comment below. Geia sou! Melissa xo

---