Greece in May is one of the best times to travel to this gorgeous Mediterranean country. This is the shoulder season and while temperatures are warm and pleasant (particularly towards the end of the month), the summer crowds have not yet arrived.
Greece in May Weather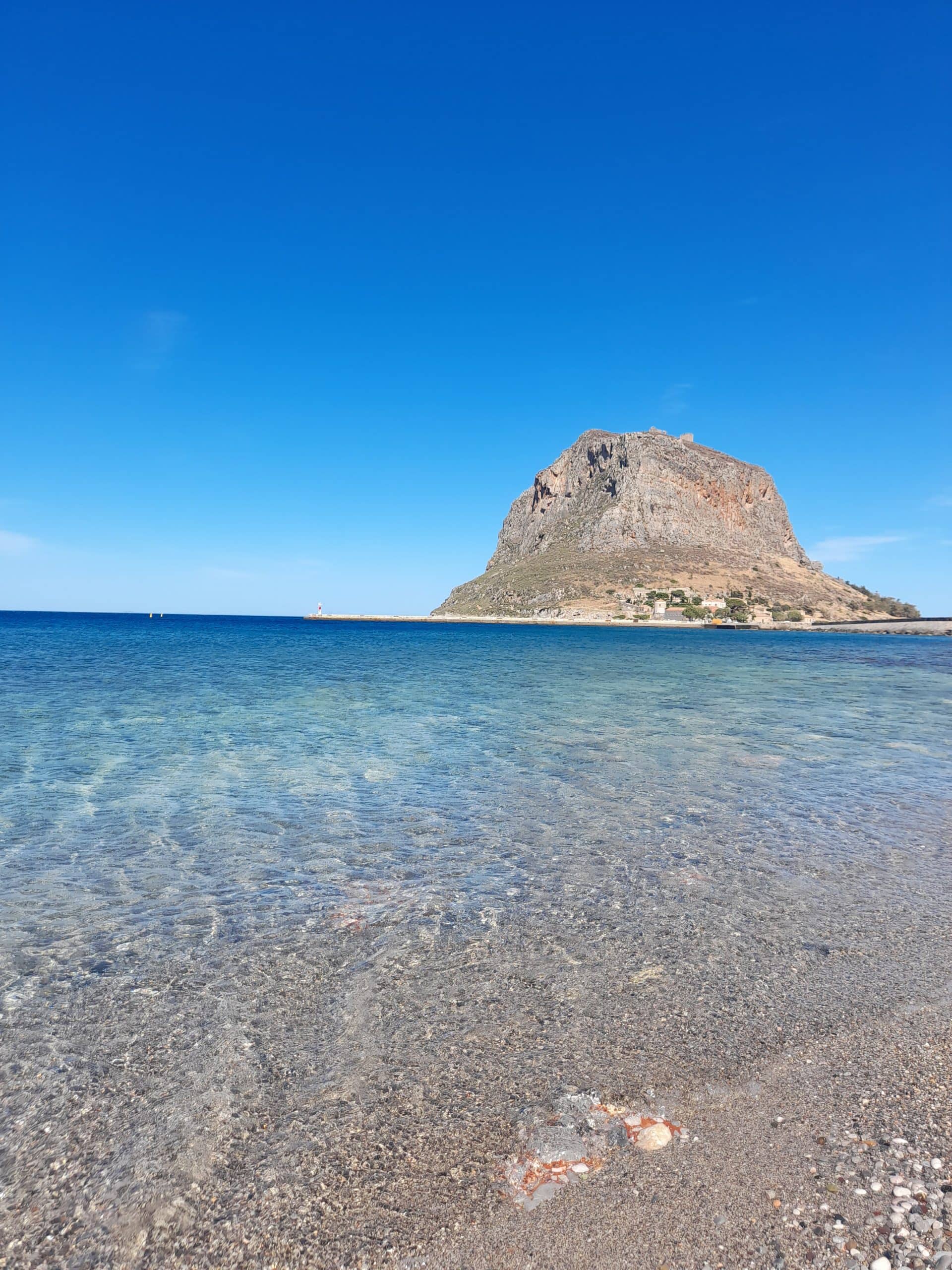 Greece in May weather is usually very good. This is essentially the first month of summer.
Daytime temperatures range between 20-24 degrees celsius. However, warmer temperatures are not unheard of and we actually had a lot of 30 degree days in May 2021.
If you are hoping to spend your trip swimming off the coastlines of beautiful islands and lounging on pristine beaches, the best time to travel is the last week of May. Throughout the month, the skies are clear with blue skies and no rain.
The southern part of the country is generally much warmer than the north. Crete and some of the southernmost islands of the Cyclades and the Dodecanese are the places to head to if you are looking for the hottest weather.
You will be fine walking around in shorts and a t-shirt or summer dresses if you visit Greece in May. Temperatures do drop in the evening mind, so pack a few cardigans/sweaters and a light jacket.

Best Places to Visit in Greece in May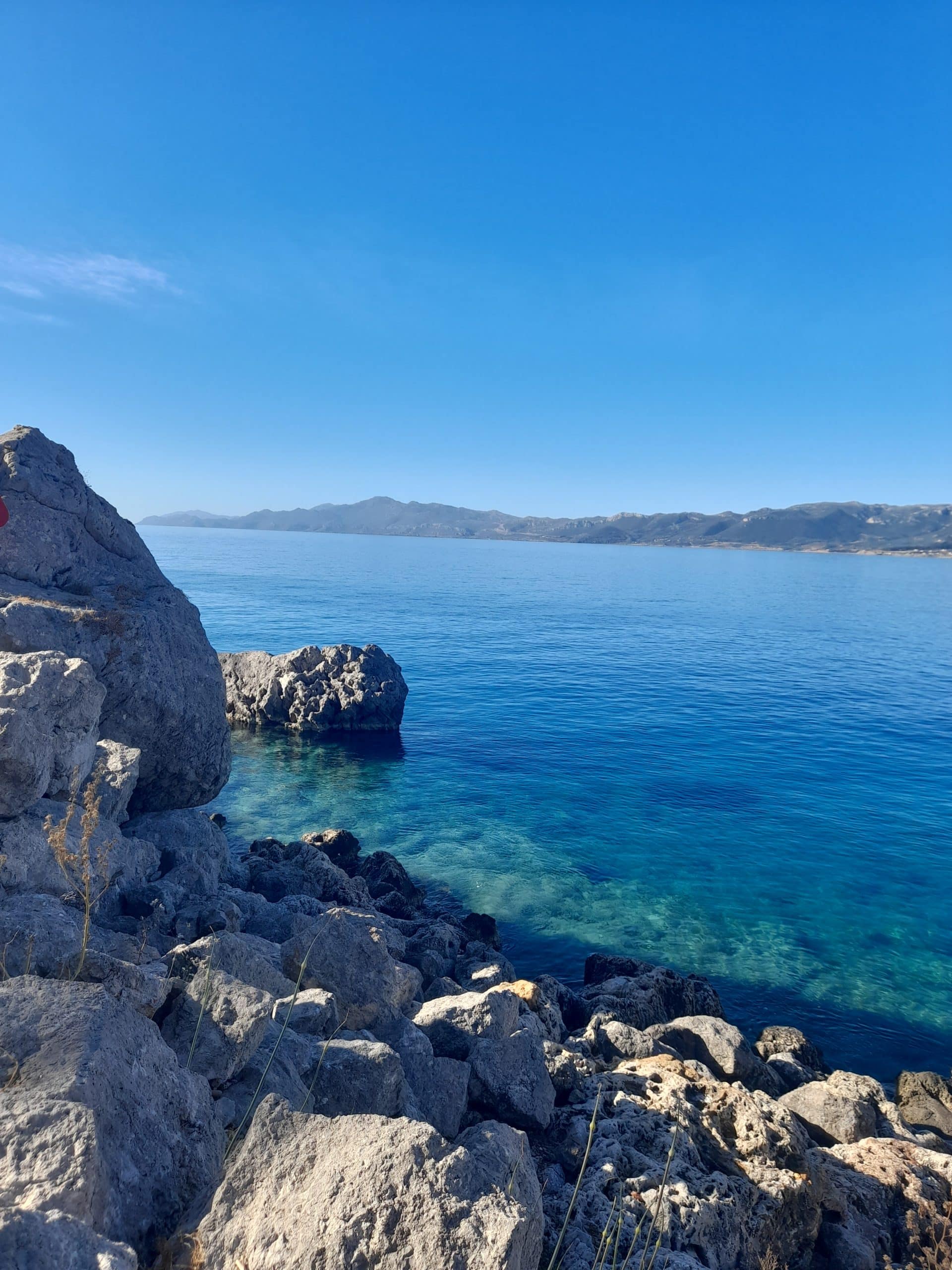 There are lots of great places to consider if you are planning to visit Greece in May. Keep in mind that many Greek islands may not have fully opened up for the season until late May/early June.
So things may still be a little quiet. But with that, you don't have the crowds and crowds of people that you see during the school holidays of July and August.
May and June are really the last months that you want to consider doing a trip that involves a lot of hiking or exploring outdoor archaeological sites. It is simply too hot to spend extended periods outside from late June.
Skiathos
Lovely Skiathos is the most popular island in the Sporades archipelago. It is often referred to as ẗhe ¨boomerang¨ island on account of how many people come back here each and every year (boomerangers!)
Skiathos is just 7 miles long by 4 miles wide. However, don't let the island's small size mislead you.
There are more than 60 gorgeous beaches scattered along the Skiathos coastline. Some of them, like Troulos, Lalaria or Koukounaries, are considered among the most beautiful in all of Greece.
The southern part of the island is more developed and consists of beach towns and holiday resorts. If you want somewhere a little more secluded, you can consider staying in the Cape Kanapitsa area.
Meanwhile, the northern part of the island is more rugged and wild. There are 26 stunning hiking trails that weave through the countryside, past peaceful woodlands, hidden churches and secluded farms.
The aptly named ¨Magic Forest¨ is a nice place to go for an afternoon stroll through ethereal looking scenery that feels like something right out of a storybook. The nearby Evangelistria Monastery sits in the northeast of the island and was the location where the first Greek flag was created.
Getting around Skiathos is easy, even without a vehicle. The Skiathos bus runs from Skiathos town to Koukounaries and back on a very frequent schedule.
Athens
There is no such thing as a bad time to spend one or two days in Athens. May is as good a time as any.
Sure, the Greek capital may not have the same beauty as, say, Rome, Paris, Budapest, or other European capitals. However, what it lacks in aesthetics, it more than makes up for in personality and charm.
Start your Athens itinerary by visiting the Acropolis and its spectacular Parthenon. The structure dates back to the 5th century BC and was built for the worship of the Goddess Athena.
Most of Athens' key historical sites are situated within a reasonable walking distance of each other. From here, continue onwards to the Roman Forum, the Ancient Agora, Hadrian's Library and the Temple of Olympian Zeus.
Part of the charm of visiting Athens is allowing yourself the time to get lost in its various districts and neighbourhoods. Have dinner and drinks on the steps of Old Plaka, check out the thought-provoking street art in Exarchia, and enjoy a night out in Gazi.
You could easily spend as much as a week in Athens. The Athenian Riviera beach towns of Voula, Vari, Vouliagmeni and Glyfada are also not to be missed.
You will find several stunning beaches close to Athens – both serviced and non-serviced/secluded. They provide a welcome respite from the chaos of downtown Athens.
Corfu (Kerkyra)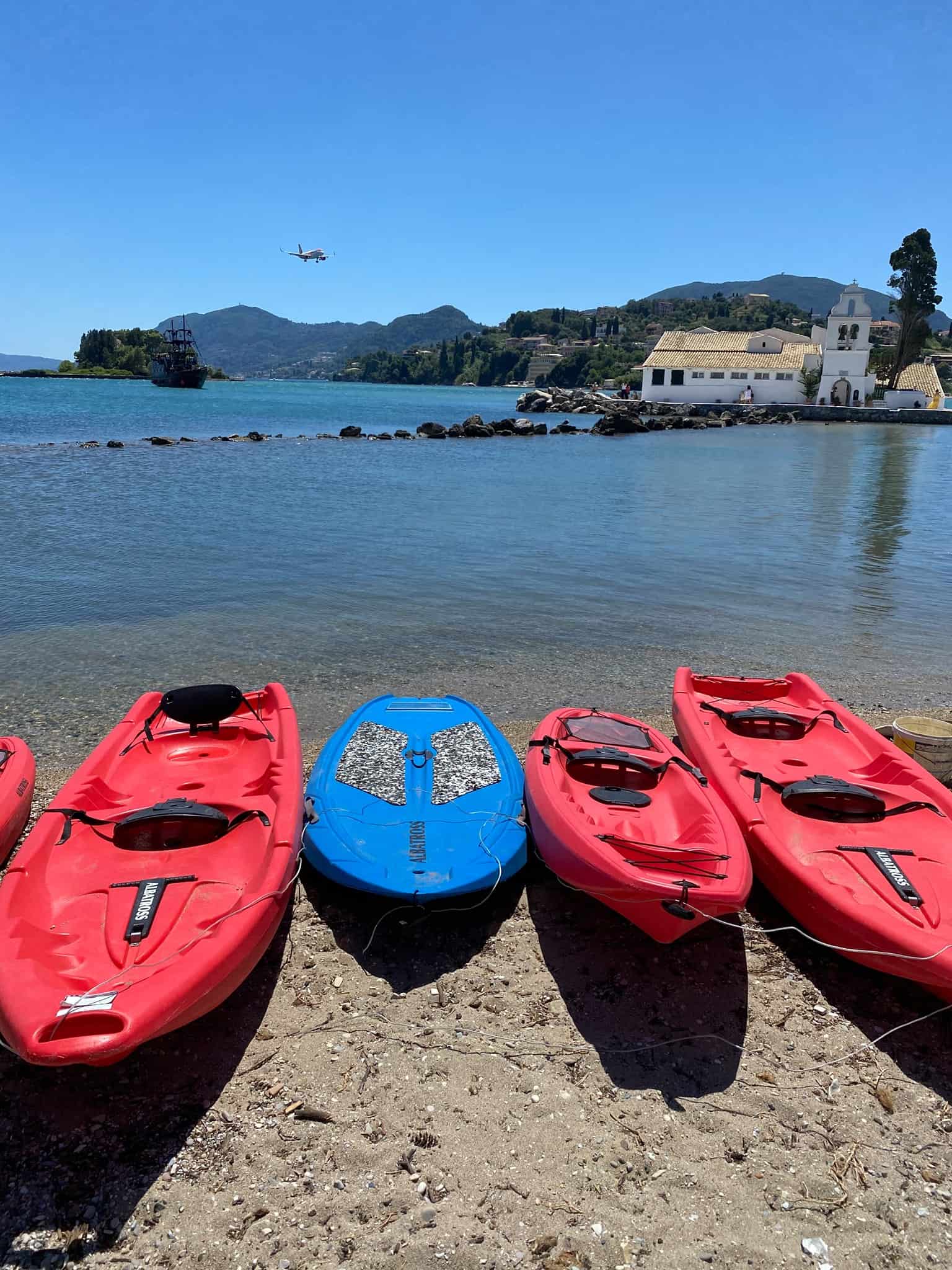 Corfu (Kerkyra) is one of the best-loved Greek islands and for good reason: Corfu is beautiful. From May, the first summer travellers start to trickle into Corfu and by the end of the month, the island is already getting busy!
Start your trip by spending a few days in Corfu Old Town, admiring the Venetian architecture, getting lost down the narrow alleyways and sampling the local delicacies. A lot of food dishes are native to this part of Greece and cannot be easily found elsewhere!
The Venetians ruled over Corfu for several centuries and they have certainly left their mark on the island. The old town is actually one of Greece's 18 UNESCO protected world heritage sites.
Be sure to spend a day at Kanoni beach. There is a cafe perched right on the edge of the hilltop where you can see planes coming in to land at Corfu airport.
You can even swim in the clear cerulean waters here while the planes fly overhead. For a couple of euros, you can take a fishing boat out to the uninhabited islet of Pontikinisi.
Paleokastritsa is a coastal town just 24km north of Corfu old town. If you find yourself in Greece in May, the bulk of the crowds haven't arrived yet and you will be able to find some peace and quiet at some of the beaches.
Agia Triada and Verderosa are particularly worth your time. If you like walking, you can also follow the old donkey trail through the woodlands up to the charming village of Lakones.
Paxos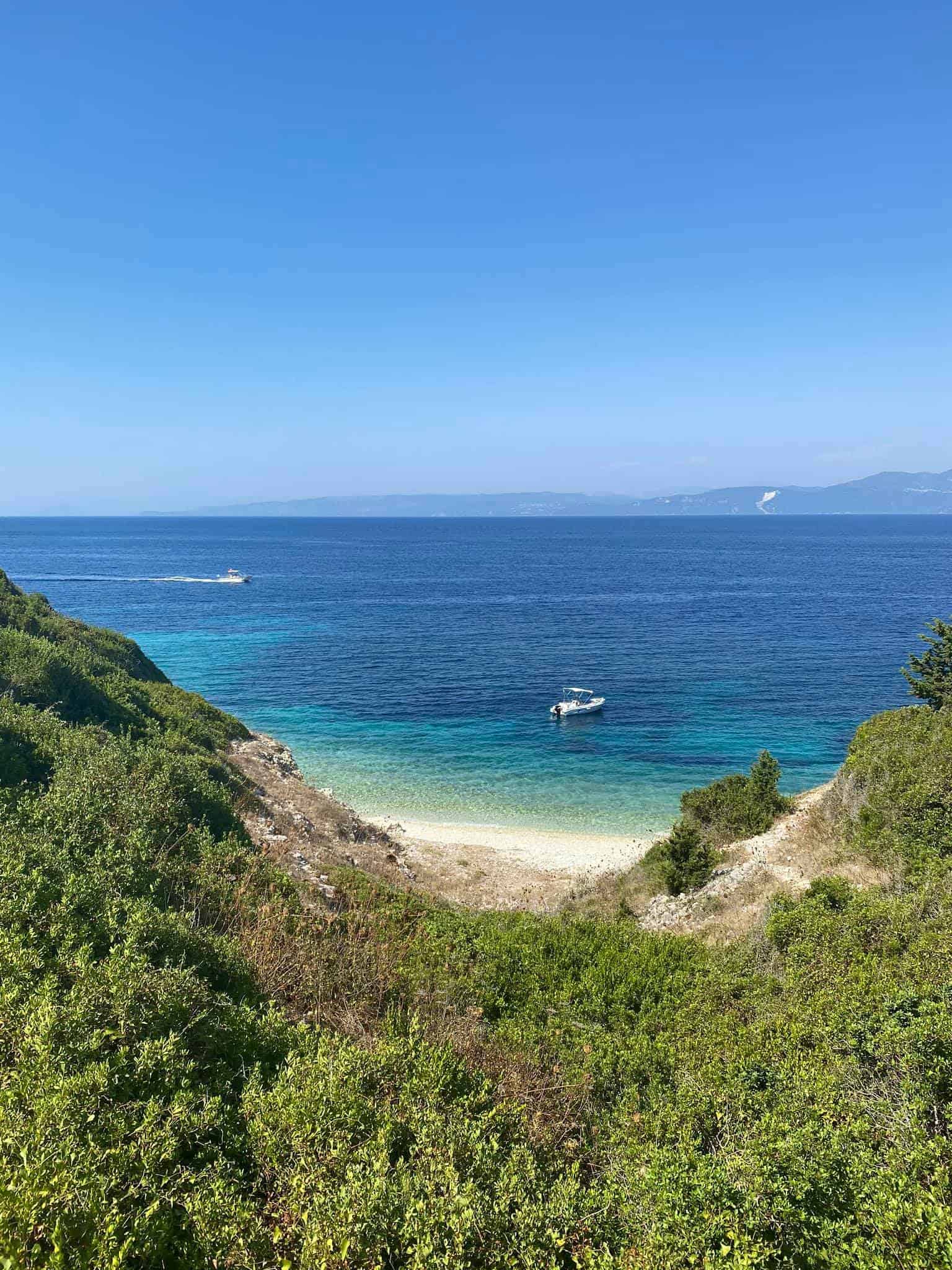 Idyllic Paxos is one of the least commercial Greek islands, It is locally referred to as ¨Paxoi¨ which is the plural for the islands of Paxos and Antipaxos.
The island is best known for its elegant, upscale villages and its pristine beaches that boast white sands and clear blue waters that wouldn't look out of place in the Caribbean. A wealth of celebrities love Paxos and come here year after year – with Morgan Freeman being one such example.
Despite the air of sophistication about the island, Paxos is not pretentious. It possesses the same warm, hospitable feel that you would expect to find anywhere in Greece.
The main settlement on the island is the village of Gaios. This is where your ferry will drop you when you arrive in Paxos.
Gaios boasts an array of charming restaurants, coffee shops and boutique stores. A lot of well-heeled travellers harbour their yachts here and they make an interesting contrast to the little wooden fishing boats permanently docked in the bay.
Since Paxos is not a mainstream Greek tourism destination yet, it is easy to escape the crowds here. Renting a car is arguably the best way to get around the island.
Several stunning secluded beaches and coves can be found along the coastal road between Gaios and Mongonissi. You should also make time to have dinner in the chic village of Longos.
Santorini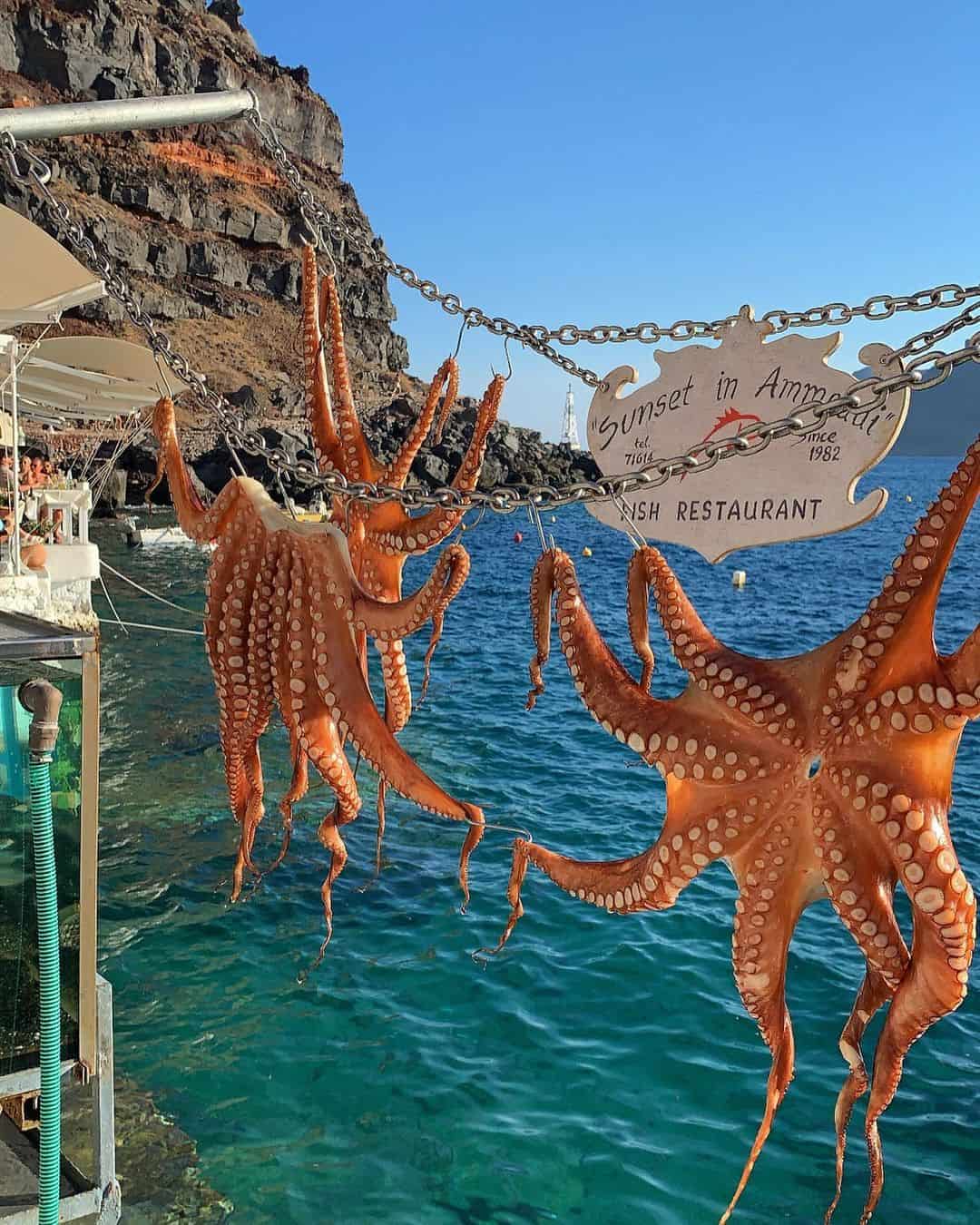 May is a good time to visit the popular Cyclades island of Santorini before it gets too crowded. Since the weather is not yet too hot, the conditions are perfect for spending more time outdoors and exploring the various archaeological sites around the island.
Take the time to explore the ruins at Akrotiri. If your schedule permits, you should also take a day trip out to the mysterious uninhabited island of Delos – a Greek UNESCO world heritage site.
Greece in May is as good a time as any to experience all the sights and attractions that make Santorini so special. Conquer the Fira to Oia hike, witness a majestic Santorini sunset, have lunch at Ammoudi Bay, and organise a tasting at one of the island's many excellent wineries.
Embark on a Cross Country Road Trip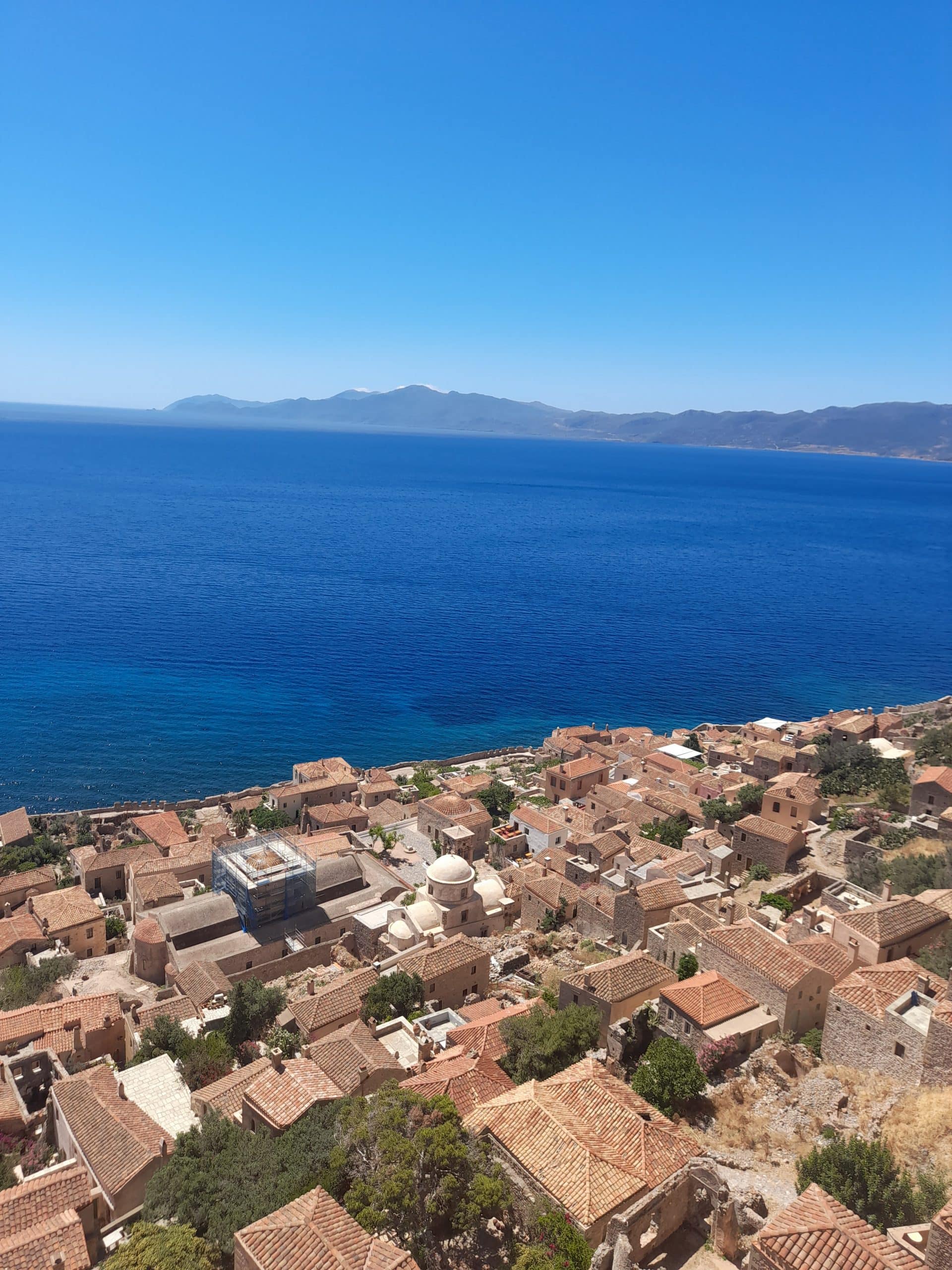 Greece in May is a good time to embark on a road trip across Greece to visit historical and archaeological attractions. From late June onwards, it becomes simply too hot to visit some areas.
If you want to experience all of the most famous historic sites in the country, you may want to consider starting your trip in Athens and then heading northwards to Thessaloniki. Opting to hire a car provides you with more flexibility.
However, public transport in Greece is also very good and so you can do such a route by trains and KTEL buses if you prefer. Consider starting in Athens, passing by Epidaurus, Nafplio and Corinth, and continuing north to Delphi.
Check out the world-famous Delphi site before continuing onwards to Kalambaka and the Meteora monasteries. Take a brief detour towards Mount Olympus if you like and then continue up to Thessaloniki.
The Peloponnese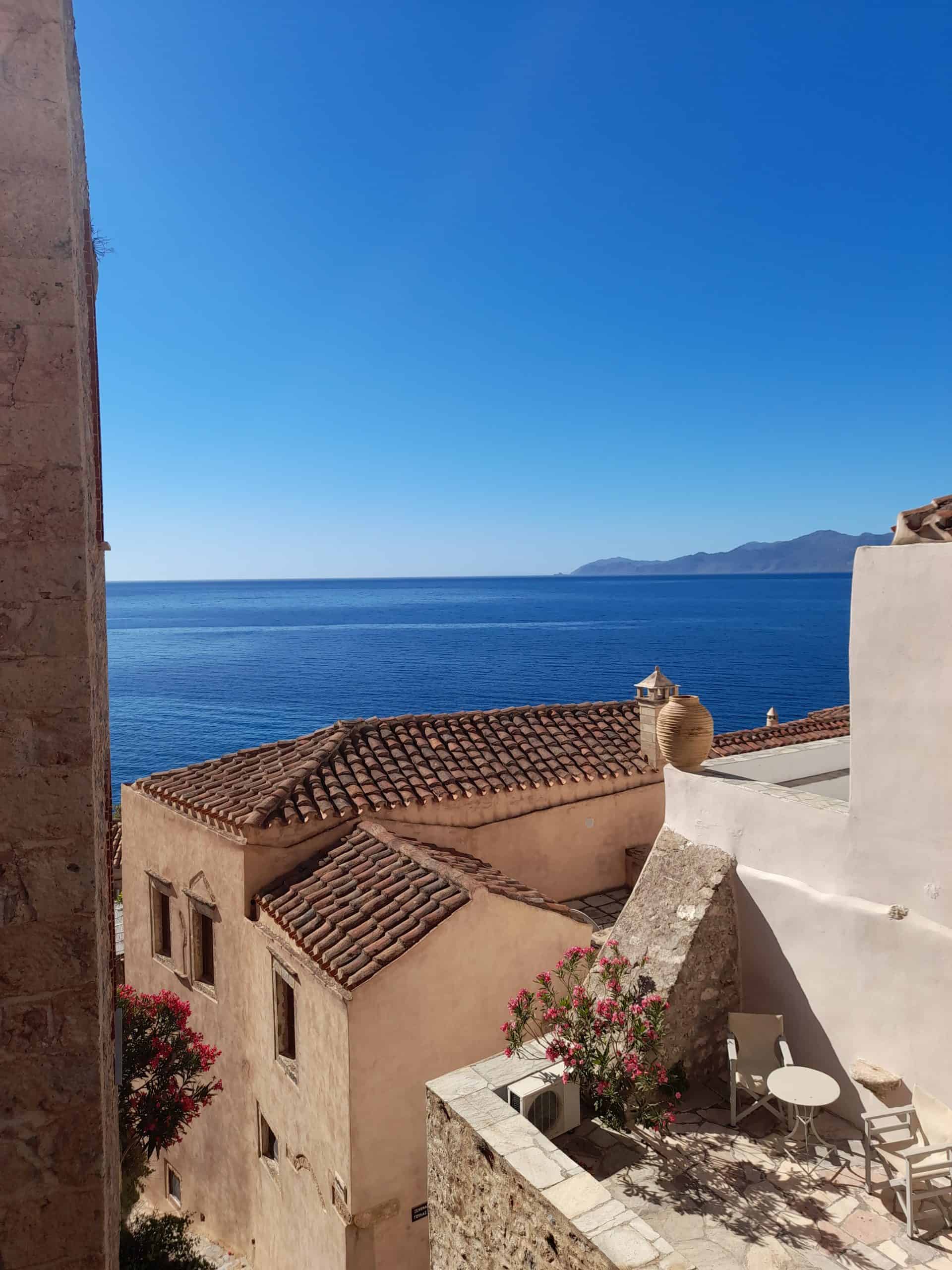 Some of the most interesting Byzantine ruins and stunning natural scenery in Greece can be found in the wild Peloponnese. Sadly, this is overlooked by a lot of international visitors.
This seems to be, in part, because tourism in the area is not promoted, there is little infrastructure, and it is very difficult to get around without your own vehicle. Start your trip in Athens and then head to Nafplio – the former capital of Greece.
Continue onwards to Sparta, check out the sparse remnants of King Leonidas´ reign, and then head onwards to the Byzantine towns of Mystras and Monemvasia. If you have a little longer to spare, you could continue on towards Kalamata or the Deep Mani.
What to Pack for Greece in May
If you are travelling to Greece in May, you can incorporate your typical summer wardrobe into your Greece packing list. However, you should also pack a couple of additional layers and cardigans for the evenings when the weather gets cooler.
If you plan on doing any hiking or walking, pack long, soft-shell pants and a warm outdoor jacket. It can still get chilly and breezy in mountainous areas or parts of Central and Northern Greece.
Rain showers are not unheard of so pack an umbrella at the very least. A suggested packing list for May is provided below.
7 x underwear


7 x socks


Umbrella


Sunglasses


2-3 sundresses (for women)


2-3 pairs of cargo shorts (for men)


3-4 t-shirts


2 outfits for evening wear


Flip Flops/slippers to wear around the hotel


Comfortable walking shoes


Heels/dress shoes for going out


Sandals/wedges


Light cardigan


Light jacket for cooler days


1-2 pairs of jeans


2 swimsuits (1 to wear while the other is drying)


Umbrella for rainy days


Phone and charger


Camera and tripod
Greece in May Events
The first of May is a national holiday and many people will enjoy the day off work. This is to celebrate labour day – something that is celebrated on the 1st of May in various countries across the world.
There are no major festivals in Greece in May. It should be noted that a lot of historical and cultural sites will be closed for entry on the 1st of May.
Conversely, the 18th of May is International Museum Day. Many Museums in Athens and across wider Greece offer free entrance on this date.
Parting Words
Are you heading to Greece in May? I am always happy to help if you have any questions.
Just drop me a comment below and I will get back to you ASAP. Safe travels!
Geia sou, Melissa xo
---