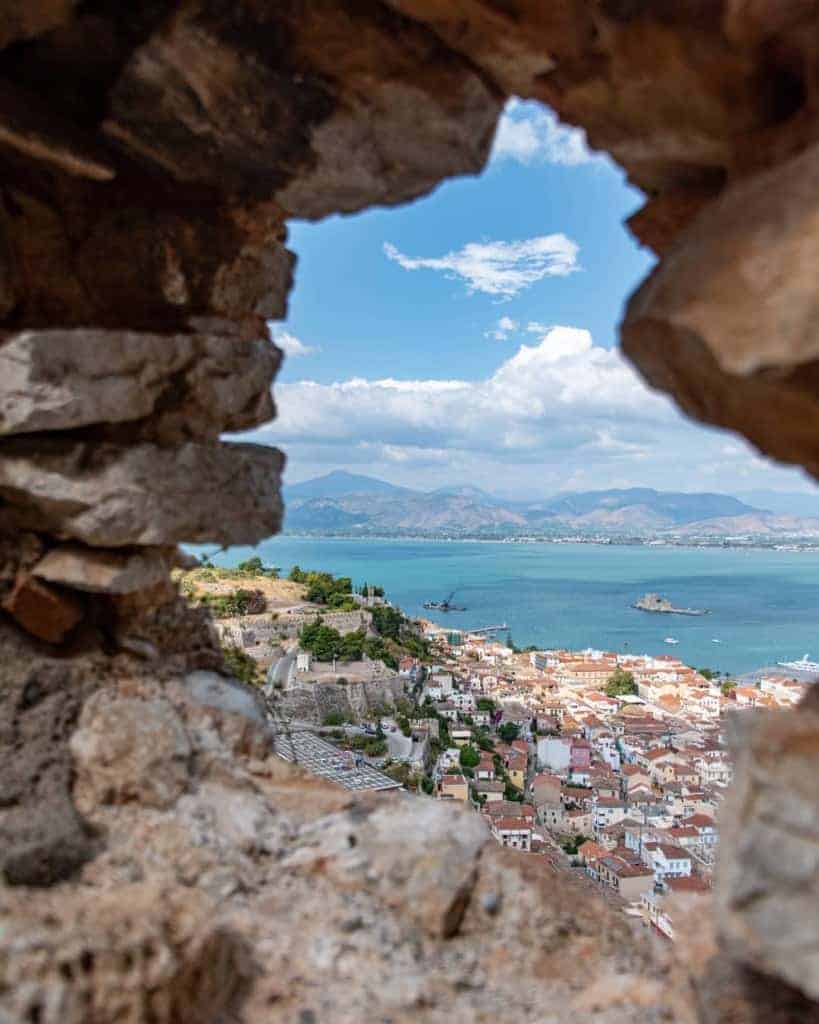 Lovely little Nafplio is one of the most charming towns in the Peloponnese region of Greece. There are plenty of things to do in Nafplio to warrant spending a long weekend here. However, the town's short distance from the capital also makes it a great choice for a day trip from Athens. 
Once upon a time, this was the capital of modern Greece. Today, the narrow cobbled streets and quaint tavernas of old Nafplio present a stark contrast to cosmopolitan Athens. The little city offers up a peaceful escape from the hustle and bustle of city life. 
A Little History of Nafplio
Nafplio, like much of Greece, has a long history along with fascinating links to Greek mythology. The city takes its name from Nafplios, son of Poseidon.
Nafplio's bayside location and natural defences made it an important strategic location for trade and commerce. It is for this reason that the city was invaded and captured time and again.

Nafplio has existed under Ottoman, Frankish, Venetian, and Greek rule. It was made the capital of the modern Greek state in 1823 and remained as such until 1834 when the Greek capital was moved to Athens.
Nafplio Today
Over the last few years, Nafplio has been very much "in vogue" as a destination for romantic weekend breaks – at least among Athenians. That said, whether you visit Nafplio with your beau, with your friends, or solo, you won't be short of ways to pass your time.
My weekend in Nafplio was the very first trip that I took when I moved to Greece two years ago. To this day, it remains one of my favourite weekend break destinations in the country.
Things to do in Nafplio, Greece
Whether you consider yourself a culture vulture, a history-lover, or you simply want to take some time to wander along the seafront and reflect, there are plenty of things to do in Nafplio. There are city attractions and activities here that are suited for every travel style. Some of the city highlights are shortlisted below. 
Sip a Freddo Cappuccino in Nafplio's Cobbled Plazas
One of the best things to do in Nafplio is to simply enjoy the city at a leisurely pace. Allow yourself the time to get lost among its quaint streets and narrow passageways.
Window shop for delightful handicrafts at the independent boutique stores, and sip tsipouro in ramshackle tavernas with friendly locals. Syntagma square can be considered as the heart of the old town. This cobbled piazza is surrounded by eclectic coffee shops and bars.
Relax here with a Freddo cappuccino or a traditional Greek coffee in the morning. After the sun goes down, unwind with a mastiha-infused nightcap
Revel in the Views from the top of Palamidi Castle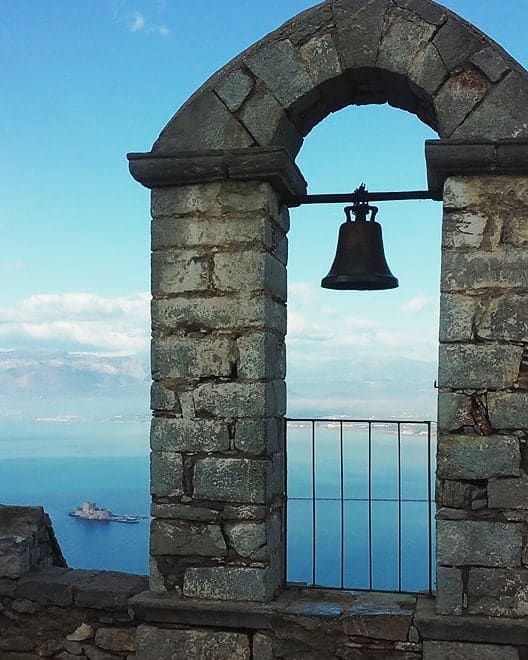 Palamidi castle sits atop a steep hill and can be seen from all corners of the city. It watches protectively over Nafplio in the same way that the crumbling remnants of the Acropolis still guard Athens.

Reaching Palamidi means ascending 857 stairs. however, the breathtaking panoramas that await you at the top make it worth the workout. 
The sprawling castle and fortress complex was built by the Venetians in the 1700s. Centuries later, the site saw the occurrence of many battles between the Greeks and the Turks in their fight for independence.
Sail Across to the Venetian Fortress (Bourtzi)
A unique Nafplio attraction is the Venetian fortress that seemingly floats in the sea across from the shore. The fortress was originally named "Castello dello Soglio".

It was later renamed 'Bourtzi' by the Turks which translates to 'island'. Italian engineers built the fortress on the island of St. Theodoroi in the 14th century. During this time, it was an important coastal defense against pirates and invaders. 
During the summer months, you can take a boat across to Bourtzi so that you can explore its ramparts and turrets. Alternatively, you can simply opt to admire the island from afar as you gaze across from Palamidi.
Walk the Length of Vasileos Konstadinou Street (Megalos Dromos)
The main street that runs through old Nafplio is Vasileos Konstadinou Street. To get your bearings, you can simply follow this promenade from beginning to end. Vasileos Konstadinou bypasses the majority of Nafplio's attractions and piazzas. 
Many of the charming stores that line this scenic promenade sell handmade jewelry and exhibit the works of local independent designers. Greek agro-products make a nice souvenir. If you are interested in making a purchase, many of the elegant stores here stock handicraft and organic edible items. 
Commence your walk along Vasileos Konstadinou street at Nafplio's central Syntagma square. Follow the street along to the archaeological museum, where fascinating displays tell a tale of the city's past.
Admire the Architectural Influences of Different Cultures
Over the centuries, Nafplio has been invaded and conquered by various nations. The Turks, the Arabs, and the Venetians all came to Nafplio, and they have certainly left their mark on the city.
In Nafplio, old Ottoman mosques sit beside grand Venetian fortresses and neoclassical structures. Keep your eyes peeled so as to admire this architectural mishmash.

Somehow, the blend of architectural styles just works. The result is a stunning, classy city that is modern-day Nafplio. 
Look out for Trianon, an old mosque in Syntagma square. The structure has boasted many different purposes over the years.
It was converted into a Christian temple, before being re-converted into a mosque, and then converted once again to become a theatre! The old parliament building "Vouleftiko" is another former mosque. It is an interesting example of Ottoman architecture. 
Visit the City of Ancient Tiryns
The ancient city of Tiryns is an important world heritage site that awaits just 4km away from central Nafplio. The city has been inhabited since the neolithic period and has played an important role in Greek mythology.
According to legends, the large stone "Cyclopean" walls that surround the site were constructed by the Cyclops. A visit to ancient Tiryns is a nice way to spend an afternoon. However, it is difficult to access without your own transport. 
Dine in a Scenic Taverna Overlooking the Port
Nafplio, like pretty much the entirety of Greece, is a great place to sample wonderful home-cooked local food. The port area is particularly pleasant.
Here, dozens of family-run tavernas overlook the water and serve seafood dishes prepared with the freshest catches, along with locally-sourced ingredients. Aiolos Tavern and Pidalio are local favourites.
Relax on the Beaches of Nafplio
During the summer months, the beaches of Nafplio provide a nice respite from the heat and humidity. Assuming that you opt to base yourself in the old town, Arvanitia beach is the obvious choice.
Nestled in its own cove, and encompassed by jagged, dramatic cliffs, the beach combines stunning scenery with excellent service. The cerulean waters are perfect for swimming in, and although Arvanitia is popular among locals, being surrounded by fellow beach-goers does not detract from its charm.
The beaches of Tolo and Plaka are well-organized and lined with bars and tavernas. Those seeking more peacefulness and seclusion can take their towels and swimsuits to the far end of Karathona beach.
Wander Along the Arvanitia Promenade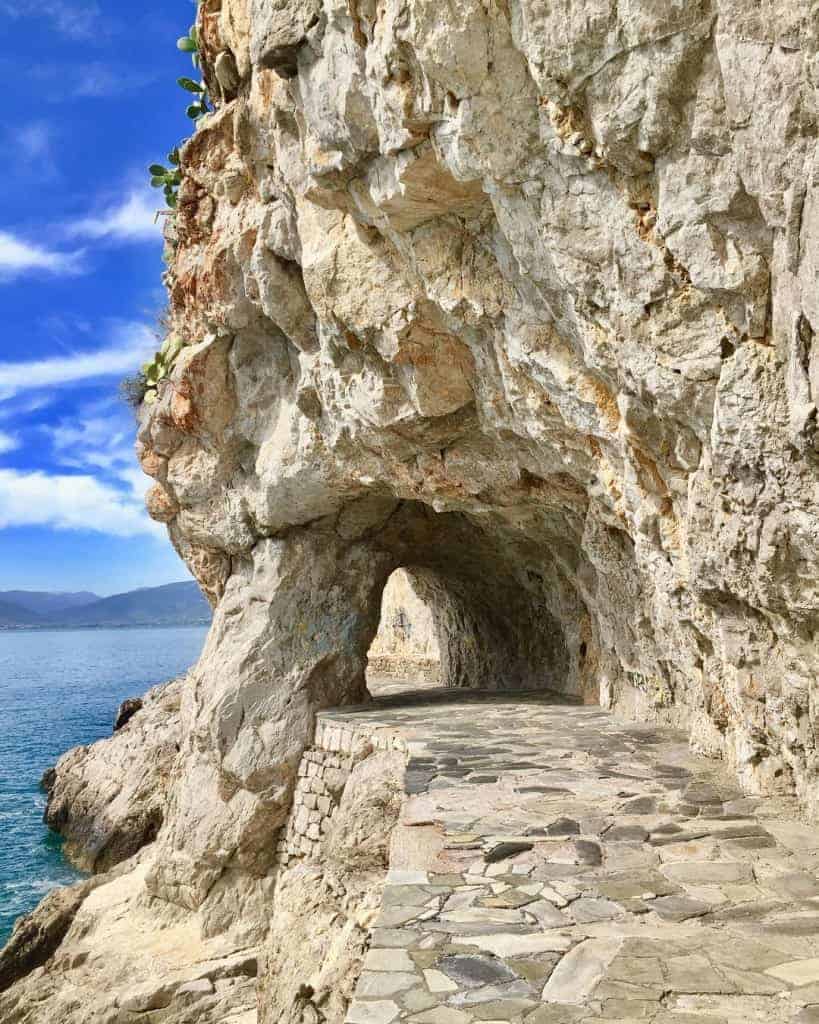 The Arvanitia promenade is an idyllic walk through nature that leads along the outskirts of old Nafplio. The 1km route can be enjoyed year-round and takes you on a journey along the coastline.
From here, the views of the Argolic Gulf are second to none. Not to mention, wandering beneath the forested sections of the path provides a wonderful opportunity to reflect.  
Halfway along the trail, you can ascend a small stone staircase to the church of Panagitsa. This little structure has been built inside a cliff face.
Very few people know about the tiny church's existence and so it is seldom crowded. The white and blue washed church is beloved among locals. It was actually used as a "secret" school during the Turkish occupation on account of its hidden location! 
Browse the Exhibits at the Archaeological Museum of Nafplio 
The archaeological museum of Nafplio is set inside a former Venetian mansion. It contains a diverse collection of artifacts that were recovered locally. Items on display date back as far as prehistoric times and provide a chronological journey through the history of the area. 
Spend a Day in Tolo
Tolo is a quaint little Greek village situated just 9km away from Nafplio. It is accessible by bus or cab and is well worth visiting if you have a little extra time to spare.
This former fishing village was founded in 1830. Many pastel-coloured houses line the seafront – many of which have been converted into excellent restaurants.
Sightseeing opportunities in Tolo are few. However, there is a long, sandy beach here that is perfect for relaxing during the summer. It is also possible to take excursions to Hydra and the Saronic islands from Tolo.
Where to Stay in Nafplio, Greece
Many charming boutique hotels are situated in Nafplio. Few travel experiences could be better than watching the sunrise over the Bourtzi and the Argolic Gulf from your private balcony.
Some of the best hotels in Nafplio are detailed below for your consideration. The hotels suit an array of travel budgets and tastes. Each hotel is situated in old town Nafplio, which provides the closest proximity to the best things to do in Nafplio.
Amymone and Adiandi's
Where: Othonos 31, Nafplio 211 00
For a unique experience in a hotel that is teeming with personality, Amymone and Adiandi is the obvious choice for your Nafplio trip. Each room of the hotel is unique and is decorated with a homely 'shabby chic' style decor, paired with the eccentric works of local artists.
A&A's location is perfect since it places you in the historic heart of Nafplio old town. Reservations include a wonderful Greek breakfast which utilises homemade jams, pastries, and other treats. Click here to check the latest availability and room rates. 
Anthemion Suites and Villas
Where: 101 25th Martiou &, Agiou Eleftheriou, Nafplio 211 00
The Anthemion Suites and Villas do an effortless job of combining modern contemporary elegance with Greek traditions. The hotel's setting is breathtaking.
The hotel is surrounded by fragrant olive groves and scenic gardens. The on-site outdoor pool is perfect for a little R&R during the summer months. 
Each room is decorated with modern furnishings, and tones of greens and blues which inject a pop of colour. For a small additional fee, you can start your day with a lavish breakfast enjoyed on the hotel's rooftop.
Both the Palamidi Castle and Nafplio old town are located within walking distance of the hotel. Click here to check the latest availability and room rates at the Anthemion Suites and Villas. 
Nafplia Hotel 
Where: Navarinou 11, Nafplio 211 00
The Nafplia hotel is a great accommodation choice for those seeking comfort and luxury on a budget. With rooms starting from just $40 per night, and a central location, the hotel provides excellent value for money. Click here to check the latest availability and room rates at the Nafplia hotel. 
Getting to Nafplio from Athens
Nafplio is situated in the Peloponnese, just two and a half hours west of Athens. It is easy to reach the city whether you are driving independently or relying on public transport.
By Bus
It is easy to travel to Nafplio by bus. Services depart regularly from Kifissos KTEL Bus Station.

The journey from Athens to Nafplio takes two hours. However, unfortunately, the bus station is a little out of the city centre. To reach Kifissos station, you must first take the #51 bus from Omonia, or hop aboard a BEAT taxi. 
You can check the bus schedules on the KTEL Attikis website here. It is wholly possible to travel to Nafplio and back in a day. However, it is very worthwhile to spend at least one night in the city.
By Car
Renting a car in Greece is a lot less daunting than it may sound. Roads are well maintained and driving here is little different to driving elsewhere in Europe.
There are several reputable rental companies scattered throughout Athens. Many providers offer pickup at the airport.
There are several toll booths on the road from Athens to Nafplio to be aware of. Always ensure that you keep an amount of cash and loose change on you.
Final Thoughts
Do you have any further questions about things to do in Nafplio, or crafting a travel itinerary for Greece in general? The little city is arguably one of the best places to visit in Greece.

I've been living in Athens for the last three and a half years and would be happy to assist with any concerns that you may have.
Feel free to drop me a comment below and I'll get back to you as soon as I can. Safe travels. Geia sou! Melissa xo 
Disclaimer: This post on things to do in Nafplio may contain affiliate links. In other words, should you choose to make a purchase through some of the links contained on this page I will obtain a small amount of commission which is charged at no additional cost to you. Thanks for understanding. 
---