Finding the best places to visit in Greece away from the masses of tourists can be tricky. After all, this gorgeous Mediterranean country is one of the most popular travel destinations in Europe.
Every summer, millions of tourists flock to Greece in pursuit of sun, sea, and adventure. "There are just British people everywhere!" – actual quote from my disgruntled Greek boyfriend (haha!)
30 of the Best Places to Visit in Greece
If you are willing to look, there are plenty of wonderful travel destinations that you can incorporate into your Greece itinerary that offer more local, authentic, and quintessentially Greek experiences.
While popular spots like Santorini, Mykonos, and Zakynthos definitely have plenty to offer, this article has you covered if you are looking to venture a little off the beaten path in lovely Greece.
Metsovo
Metsovo is a quaint village that sits on the slopes of the Pindus Mountains in Northern Greece. The culture of Metsovo is distinctly different from the majority of Greece as Metsovo is a Vlach settlement.
The cooler mountain temperatures make Metsovo a perfect place to enjoy a little respite from the heat during the summer months, or as a cosy getaway during the winter.

Sightseeing opportunities in Metsovo are limited. A visit here is more about indulging in a little rest and relaxation among nature. That said, there are two abandoned monasteries that are worth hiking to – the Monastery of Zoodochos Pigi, and the Monastery of Agios Nikolaos.
Karpenisi
Karpenisi is a popular winter getaway destination for Greeks. This region is often referred to as being the "Switzerland of Greece". That nickname is no accident, as Karpenisi, and the surrounding Evritania region are among the most naturally beautiful places in the country.
The draw to Karpenisi for many people is the nearby Velouchi ski centre. However, Karpenisi is so much more than that. It is the dozens of traditional stone villages scattered among the mountains, and the dramatic clifftop monasteries, that make Karpenisi special.
Kastoria
If you are looking to venture off the beaten path in Greece, head to the northern part of the mainland. This is the least explored part of the country. It's a shame, as Northern Greece has so much to offer – particularly if you enjoy getting back to nature and the great outdoors.
Kastoria is a picturesque lake city that borders the shimmering emerald waters of Orestiada lake. Despite its size, Kastoria has a laid-back, small-town ambiance about it. Take to the waters in a kayak, follow the woodland hiking trails, or explore some of the 60 ancient Byzantine churches scattered across town.
Delos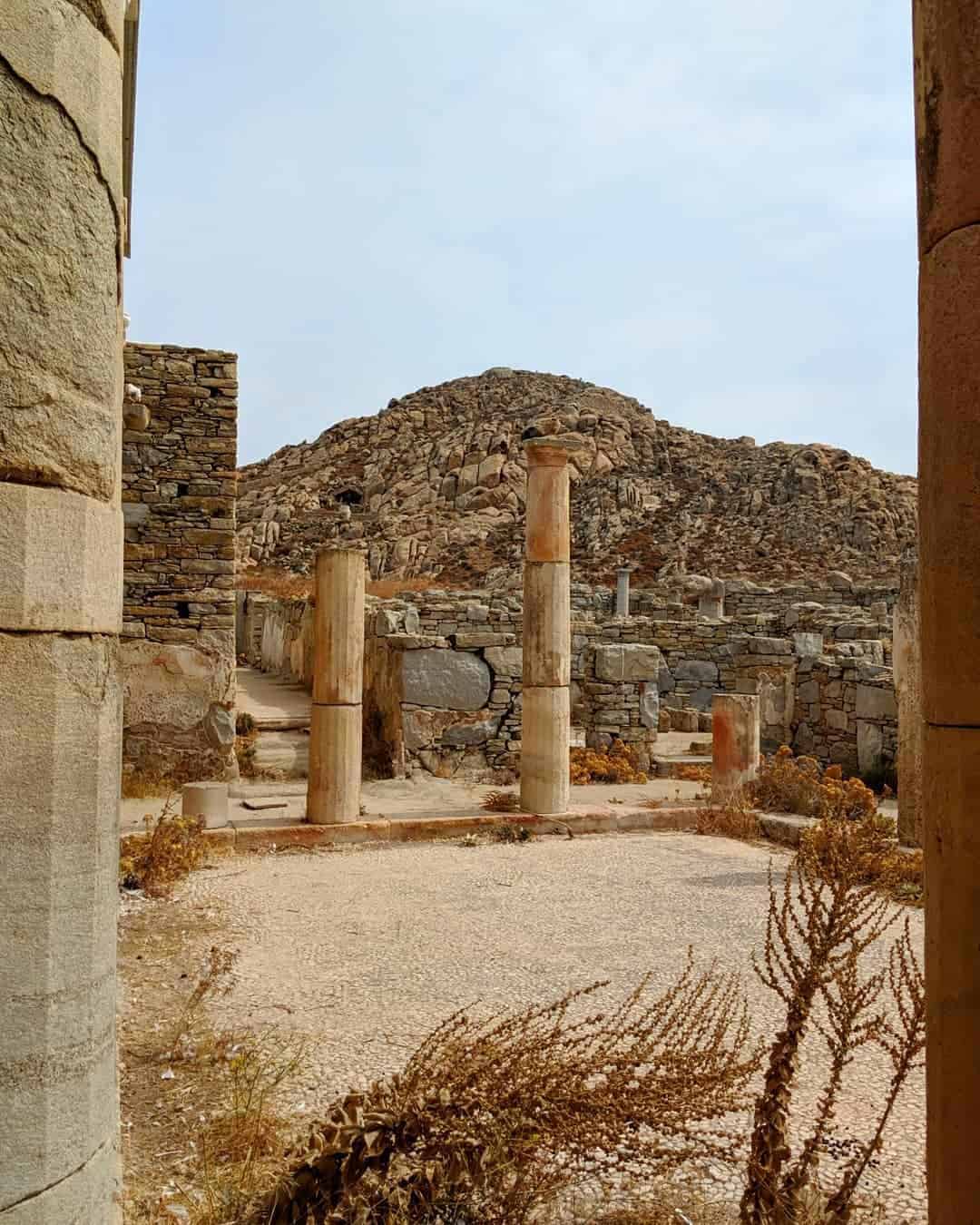 Delos is an island in the Cyclades that is like no other. The mention of Greek islands may conjure up images of whitewashed villages and Cycladic hill-houses in your mind, but Delos could not be farther from that.
The entire island is comprised of the crumbling remnants of ancient temples and eerie statues. The island was supposedly the birthplace of the God Apollo and the Goddess Artemis. It was deemed as "sacred" territory and as such, people were not permitted to be born, or die on the island. The entire site is UNESCO protected, and tours run to Delos daily from Naxos.
Andros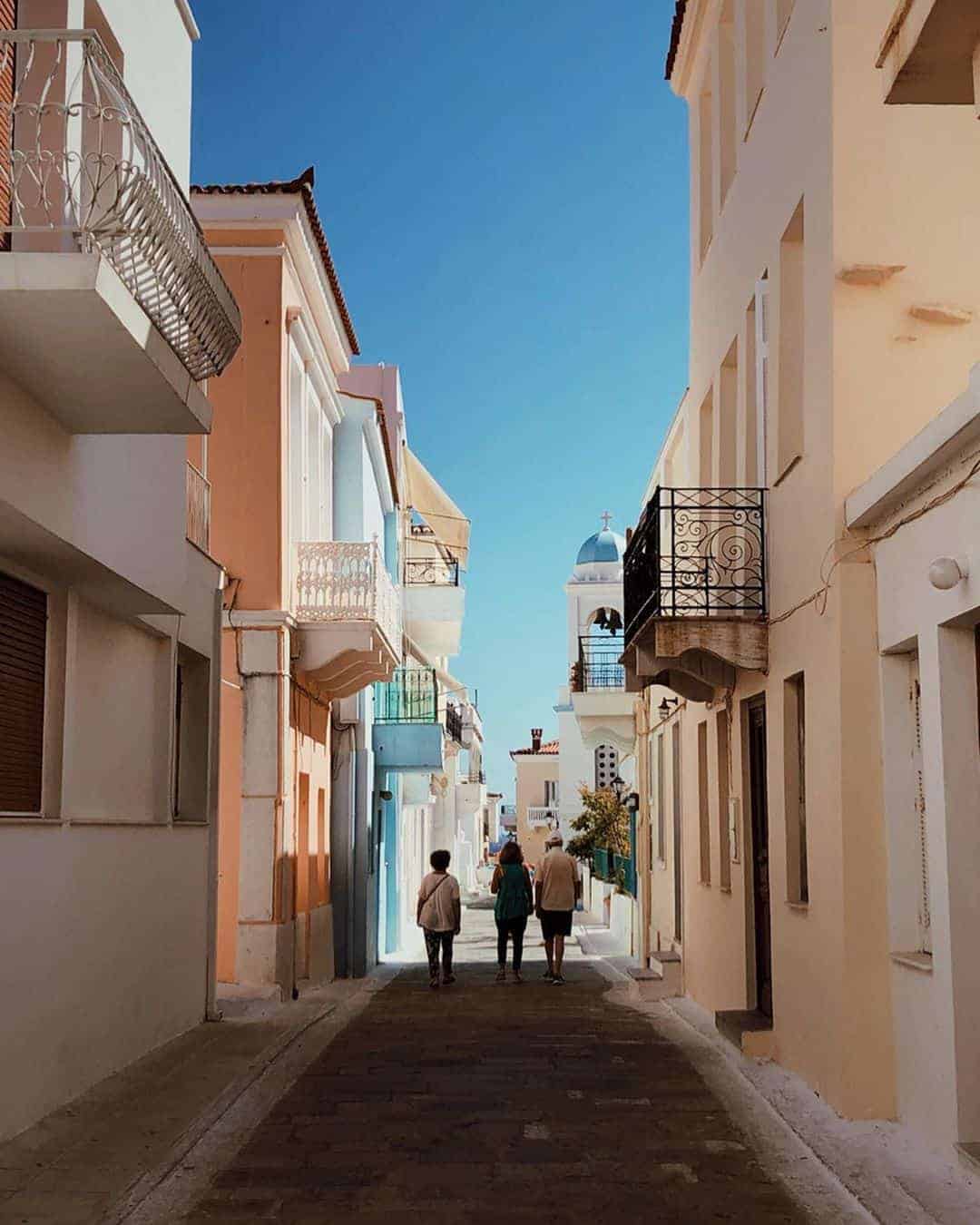 Andros is a beautiful, underrated Greek island that can be reached in just a few hours' journey from Athens. The main town, "Chora" displays an elegant mishmash of architectural types. Here, old Byzantine manors sit beside colourful Ottoman houses, and Neoclassical homes.
The little fishing village of Batsi is popular among tourists, yet still retains its culture and tradition.
There are dozens of breathtaking beaches and hiking trails to be found throughout Andros. Achala beach is a local favourite. Hidden from view, it is only accessible via a dirt trail.
Kythnos
Those seeking a quintessential Greek island paradise without the crowds will love Kythnos. This little Cycladic island is one of the least visited in the region. Even the island's name reflects this – Kythnos is derived from the Greek word "Keftho" which means "hidden".
Enjoy lazy afternoons in the Chora town drinking Elliniko Kafes with locals in crowded piazzas, and browsing for local handicrafts in traditional stores. Kythnos is famous for its hot springs. Once upon a time, these were even frequented by Greek Royalty!
Thessaloniki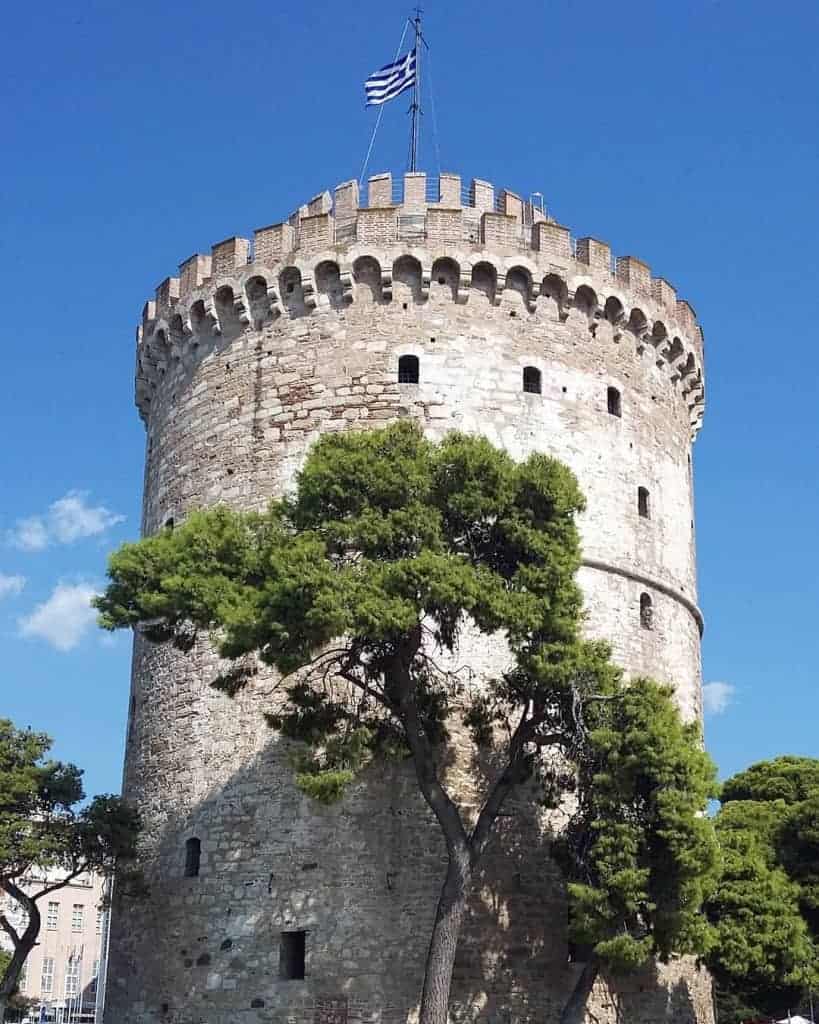 The northern city of Thessaloniki is Greece's second-largest city and presents an entirely different ambiance to Athens. The atmosphere here is in fact so different that you almost feel as though you have travelled to another country entirely.
Despite its size, there's a delightful "small town" vibe about Thessaloniki. Thessaloniki also exudes an air of elegance and sophistication that Athens simply does not have. The Rotunda and the White Tower are Thessaloniki attractions that you absolutely should add to your agenda.
While here, take the time to immerse yourself in the slower pace of life that is so quintessentially Thessaloniki. Sip coffee in the eclectic bars that line the seafront, sip tsipouro and eat mezes at the traditional tavernas in Ladadika, and experience Thessalonikis emerging restaurant and gourmand scene.
Nafplio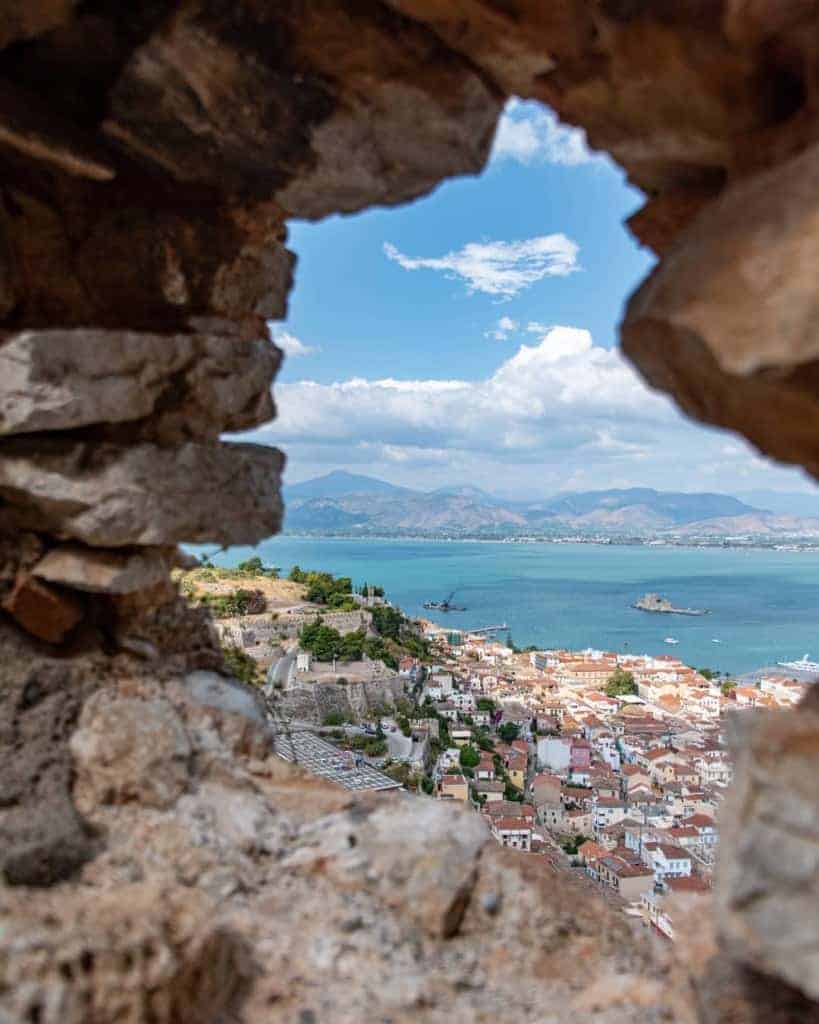 Lovely little Nafplio sits on the Southeastern edge of Greece's Peloponnese region. The charming town has been "in vogue" among Athenians in recent years as one of the best places to visit in Greece for a romantic getaway.
Falling in love with Nafplio is effortless. The town presents a unique mishmash of architectural influences, thanks to the various countries and civilisations that have invaded and occupied the area over the centuries.
In Nafplio, you can see imposing Venetian fortresses watching protectively over the city from atop craggy rock formations, as you walk along pastel-coloured promenades of ramshackle Ottoman houses and crumbling mosques.
Lefkada
With dramatic cliffs, translucent azure waters and endearing traditional villages, Lefkada is one of the most underrated island destinations in Greece. Situated on the western coast of the country, the large island is connected to mainland Greece by several bridges, making it an extremely convenient travel destination for those who want to relax along the coast as part of a wider Greece adventure.
Those hoping for a little R&R during their travels can enjoy sinking their toes into the sands of Lefkada's beautiful beaches. Porto Katsiki, Milos, Kathisma, Agiofili, and Egremni are but a few that are beloved among locals and well worth adding to your Lefkada itinerary. Lefkada also makes a good jumping-off point for taking boats out to the islands of Itaka or Kefalonia for a day.
The Athenian Riviera
The Greek capital of Athens in itself is a largely underrated travel destination. Most visitors spend just a day or two exploring the major archaeological highlights and fail to take the time to discover the various quirky Athenian neighbourhoods that give the city its charm. (Pagrati or Exarchia for example). Aside from that, the biggest thing that many visitors miss out on is the elegant atmosphere and breathtaking scenery of the Athenian Riviera.
The Athenian Riviera, or the "Hellenic Hamptons" is situated just thirty minutes away from downtown Athens. The upscale coastal areas of Glyfada, Voula, and Vouliagmeni boast chic bars and restaurants, private beach clubs, luxurious resorts, and tree-lined promenades filled with boutiques and designer stores.
Hydra
Accessible via a short boat journey from Athens, Hydra is one of several stunning islands that await travellers in the Saronic Gulf. Travelling to Hydra feels almost like travelling back in time and its laidback island atmosphere makes a stark contrast to the hectic streets of downtown Athens.
On Hydra, there are no cars or scooters and the preferred method of transportation is by donkey. The main town (also named Hydra) boasts cobbled streets, elegant mansions, and tranquil, secluded beaches. Hydra was an important site during the 18th-century war of independence between the Greeks and the Turks. As such, it boasts plenty of history and culture.
Athens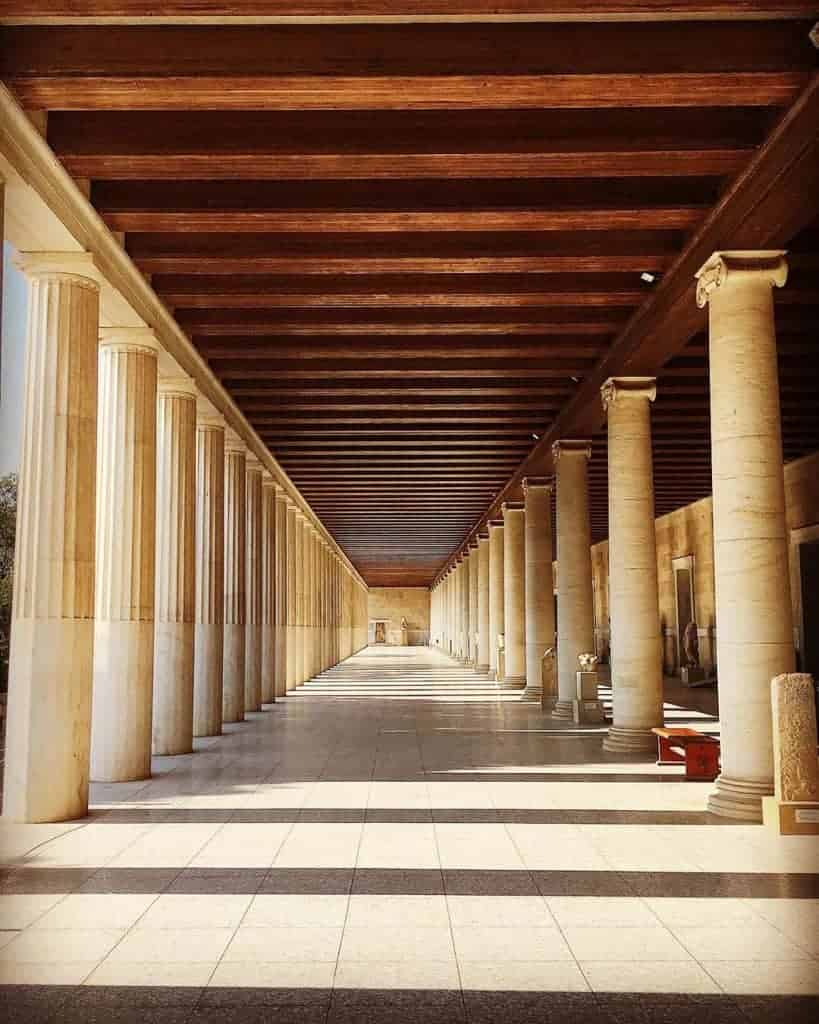 It goes without saying that the Greek capital should make your shortlist of places to visit in Greece. From the sun-bleached ruins of the Acropolis and the Roman Agora to the quaint centuries-old monasteries that are nestled in the nearby forests, Athens is teeming with history.
As the birthplace of modern civilisation, Athens is one of the best places to visit in Greece to start off your Greek travel itinerary. The city also provides ample opportunities for off-the-beaten-path travel.
While millions of tourists pass through Athens every year, the vast majority of those that visit the city stop by the same few attractions, essentially completing an "Athens sightseeing checklist". After living in Athens for two years, I can tell you that my highlights of the city are not the tourist attractions and archaeological sites, but the adorable Greek neighbourhoods and suburbs that encompass the city centre, and each have their own unique personalities.
Spetses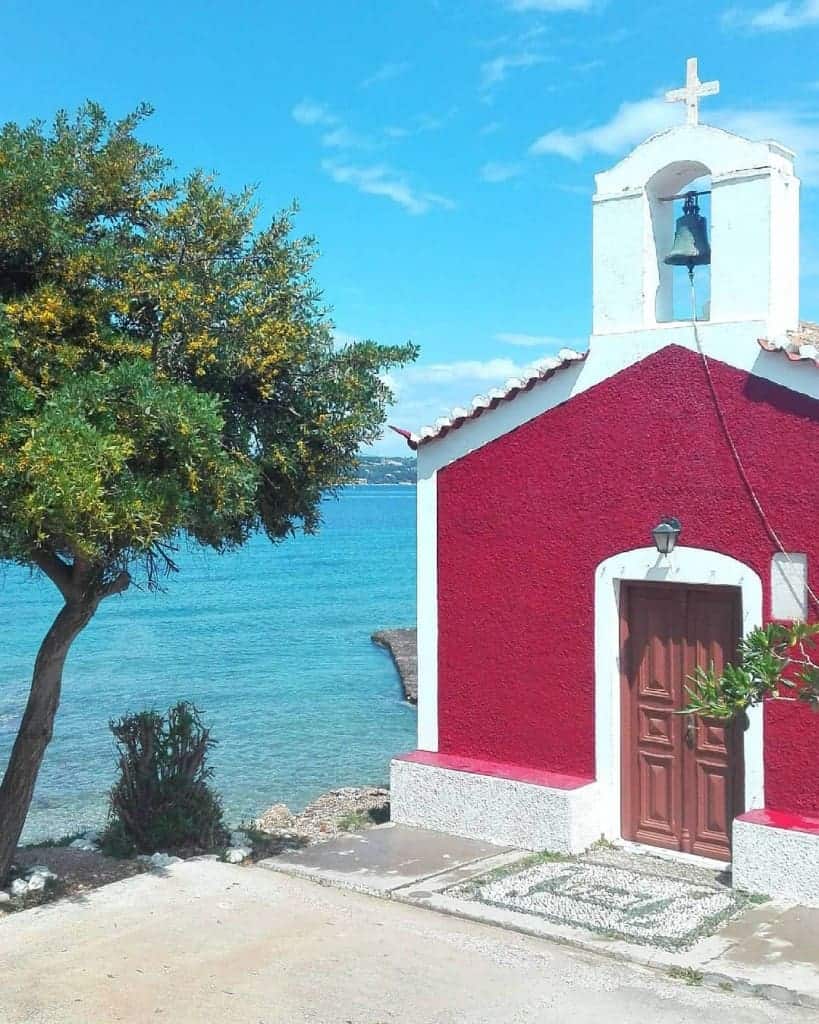 Floating in the Argolic gulf just two hours away from Athens, the Greek island of Spetses has a certain je ne sais quoi and a rugged atmosphere that makes it altogether more different to any other Greek island destination.
If you consider yourself as more of a mountain person than a beach-goer, and you enjoy getting back to nature, then Spetses may well be the perfect Greek travel destination for you.
Aside from the small town that surrounds the port area, Spetses could essentially be considered as being one big national park. Here, scenic hiking trails twist and turn through dense Woodlands, past hidden secluded beaches, and isolated clifftop churches.
Officially there are no cars on Spetses, though you do see a couple. A popular way to get around and explore the island is to do so by renting a bike or an ATV. Spetses is one of the best places to visit in Greece for hiking.
Skopelos
Situated on Greece's east coast, just a stone's throw away from the port town of Volos, Skopelos is the picturesque island that was made famous by Mamma Mia.
Despite its movie debut, and the cult following that this film has, Skopelos remains somewhat off the beaten path, and is not all that crowded when compared to other Greek summer travel destinations. This is perhaps a result of the fact that the island is relatively tricky to get to. Aside from the occasional tour bus that loves to play out the Mamma Mia soundtrack and Pierce Brosnan's terrible singing, there is no trace of the fact that the island was featured in this movie.
Despite the 23 million tourists that visit Greece every year, Skopelos has retained its authenticity and exudes an air of a sleepy, traditional Greek island – a far cry from the crowded bar and resort-filled areas of Zakynthos and Corfu.
Accommodation in Skopelos is reasonably priced, and a visit to the island can be tied in with an adventure to nearby Skiathos.
The island's main towns of Skopelos town and Glossa are filled with picturesque whitewash Cycladic houses that ascend up steep slopes, and enable you to enjoy all the scenes of authentic Greek life – old yiayias negotiating over the prices of fresh produce at local markets, young locals whizzing through narrow streets on mopeds, and old times playing backgammon in crowded piazza as they sip coffee prepared in copper birkis.
Halkidiki
Once upon a time, Halkidiki was a popular Greek travel destination for those seeking resort package getaways. This region of Greece offers the big three aspects that are well sought after for a relaxing break- sun, sand, and sea.
Oddly, over time, Halkidiki's popularity as a Greece summer break destination faded. Today, the locals mostly keep Halkidiki to themselves. It's a shame; the cerulean waters and pristine coastlines make Halkidiki one of the most beautiful, and underrated regions in all of Greece.
Halkidiki is a relatively large area and is comprised of three 'prongs' of land which protrude out into the sea – Sithonia, Kassandra, and Athos. The former two are filled with beautiful coastal villages, surrounded by olive groves, walking trails, and blue flag beaches. Athos is a monastic territory which can be admired on a boat tour of the region.
Opportunities to escape the crowds in Halkidiki are plentiful. From Vouvourou, travellers can rent a boat for the day and sail across to Diaporos island – home to lagoons and secluded beaches reminiscent of the Carribean. Alternatively, sail out to the quaint island of Ammouliani from Ouranoupoli.
Serres Region
Off the beaten path travel in Greece may sound like something of an oxymoron. However, there are plenty of beautiful places to travel in Greece that have thus far escaped the attention of international tourism. Serres is one such example.
While the northern region of Serres doesn't boast a plethora of obvious tourist attractions and archaeological sites, it more than makes up for that with its natural beauty and sleepy Greek villages. Serres can be explored on a day trip from Thessaloniki.
Trek through the picturesque hiking trails that lead through the Belles mountains, cruise along the breathtaking Kerkini lake, and experiment with Central Macedonia's unique gastronomy in the villages of Hrisohorafa, Livadia, and Kerkini. Serres is one of the best places to visit in Greece to get a feel for the "real" rural Greek lifestyle.
Parga
The little town of Parga sits on the western coast of Greece. With its idyllic beaches, pastel-coloured houses, and clear turquoise waters, Parga demonstrates that you don't have to venture out to the Greek islands to enjoy a beach vacation in Greece.
Parga's elegant promenades are filled with luxe boutique hotels and chic restaurants. The area that surrounds Parga is also well worth exploring. Travellers interested in history can take a day trip southwards to the Necromanteion of Acheron, while those in search of a little rest and relaxation can head north to the beach village of Sivota where hidden coves and paradisiacal beaches await.
Meteora
The monasteries at Meteora exist in a landscape that feels otherworldly and almost ethereal. Meteora translates to meaning "suspended in the air" – a fitting description for the way that the ancient monasteries are perched almost precariously on the top of cliff faces.
At one point in time, there were over 20 monasteries in Meteora, but today only 6 remain. The interiors of the monasteries are adorned with vibrantly coloured frescoes, and Meteora is the second largest monastic community in Europe.
It is possible to visit Meteora on an organised tour departing from Athens or Thessaloniki, however, for the best experience, consider staying overnight in a cozy lodge in nearby Kalambaka so that you can enjoy the magical experience of seeing the sun rising behind the monasteries from your balcony.
Ioannina
Greece's northern city of Ioannina is a perfect travel choice for lovers of the great outdoors. As a university town, Ioannina boasts numerous affordable accommodation options, making it a great place to travel in Greece on a budget.
Opt to stay on the shores of Lake Ioannina so that you can wake up every morning to tranquil views across the water. The charming centre of Ioannina seldom makes it into travel guidebooks, but at least that means having its beauty almost entirely to yourself.
Ioannina's centre sees a blend of Christian, Jewish, and Muslim influences reflected in its architecture. The centre's labyrinth-like network of narrow cobbled streets and passageways house dozens of charming coffee shops and mezedopoleio (meze) eateries.
Stop by the Ioannina archaeological museum to learn more about the history of the region, and then hop on board the daily boat that sails across to the small islet in the centre of Lake Ioannina where you can explore ancient monasteries, and sample local foods at the traditional eateries.
Folegandros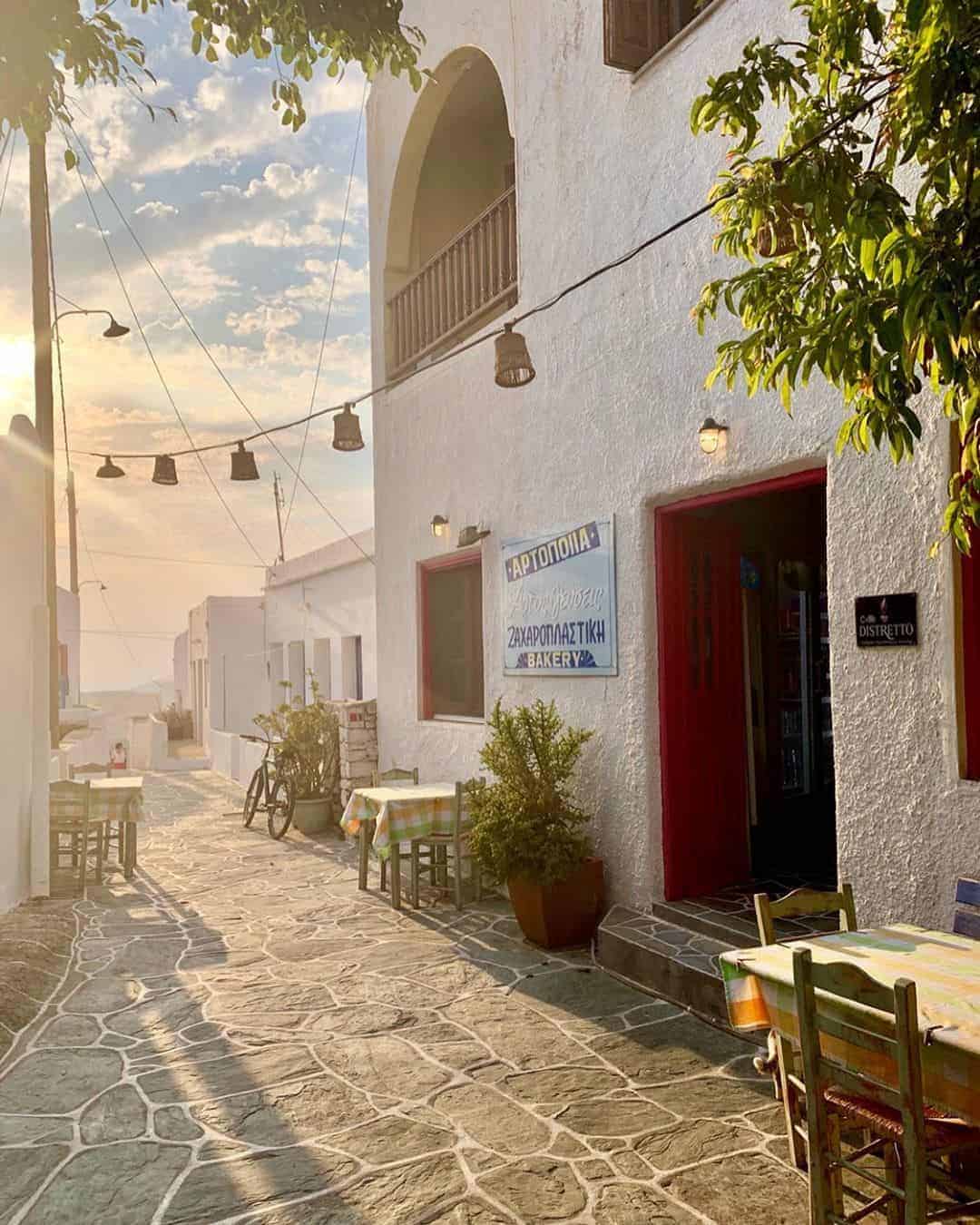 Any mention of the Cyclades is synonymous with the island of Santorini. However, Santorini's lesser-known neighbour, Folegandros is equally as deserving of your time.
Folegandros is a perfect destination if you want to enjoy a quiet break away from the tourist crowds. Only 300 people reside on this little island, and the three villages that are situated here – Ano Merià, Karavostasi, and Chora, are considered as being among the most beautiful in the Cyclades.
The beaches of Folegandros are uncrowded and neither serviced nor 'ruined' by the presence of sunbeds, beach bars, and facilities. To reach the majority of the island's beaches, you must be prepared to walk a little, or to take a sea taxi.
The beaches of Livadaki, Voreina, and Pountaki are great choices for those who want to enjoy something of a secluded, 'desert island' vibe. In a similar way to Spetses and Hydra, there is no traffic on Folegandros. Away from the little villages, the island is fairly rugged and boasts a number of hiking trails that pass by untouched countryside and offer spectacular views out to sea.
Patras
The Greek city of Patras has an interesting history and is named after King Patreas who ruled Achaïa during the period around 1100 BC. Patras has been occupied for thousands of years, and several notable ruins and historical sites are scattered around the city. Be sure to stop by the Roman Odeon amphitheater, the medieval castle of Patras, and the Patras archaeological museum.
Today, Patras is a modern, cosmopolitan city. As an important Greek university town, Patras has a youthful air about it, which is reflected in the hip students that gather in the Bohemian coffee bars surrounding Georgiou I Square.
If you are considering paying Patras a visit, the best time to explore Greece's third city is during Springtime, when the Patras Carnival (Apokries) comes to town. This is one of the most important festivals in Greece, and sees the streets filled with performers, musicians, and papier-mache floats.
Vikos Gorge
Nestled in the Pindus mountains of Northern Greece, the Vikos Gorge is Greece's premier hiking destination. Studded with mountain passes, rickety bridges, pebbled pathways, and undisturbed wilderness, the hike takes approximately 7 hours to complete and passes through a sequence of charming rural villages.
Those wishing to break up the hike into smaller, more manageable chunks do have the option to stop or camp at the villages that they pass through along their route.
Vikos Gorge's isolated location allows nature and wildlife to thrive. This region is home to hundreds of rare species of plants, flowers, birds, and butterflies. For the best conditions, travel here in early summer or late September.
Agistri
The Saronic Gulf island of Agistri sits just an hour away from the Greek capital, making it one of the most popular weekend getaways for Athenians. Agistri is renowned for its lush natural landscapes, and its plethora of excellent beaches.
Whether you want to relax on a serviced beach that has all of the amenities available, or you want to enjoy a secluded slice of paradise, Agistri beaches have something for everyone. Naturist-friendly Chalikiada offers a peaceful setting away from the hustle and bustle of Agistri town, while Aponissos beach is a charming spot close to the village of Limenaria.
Poros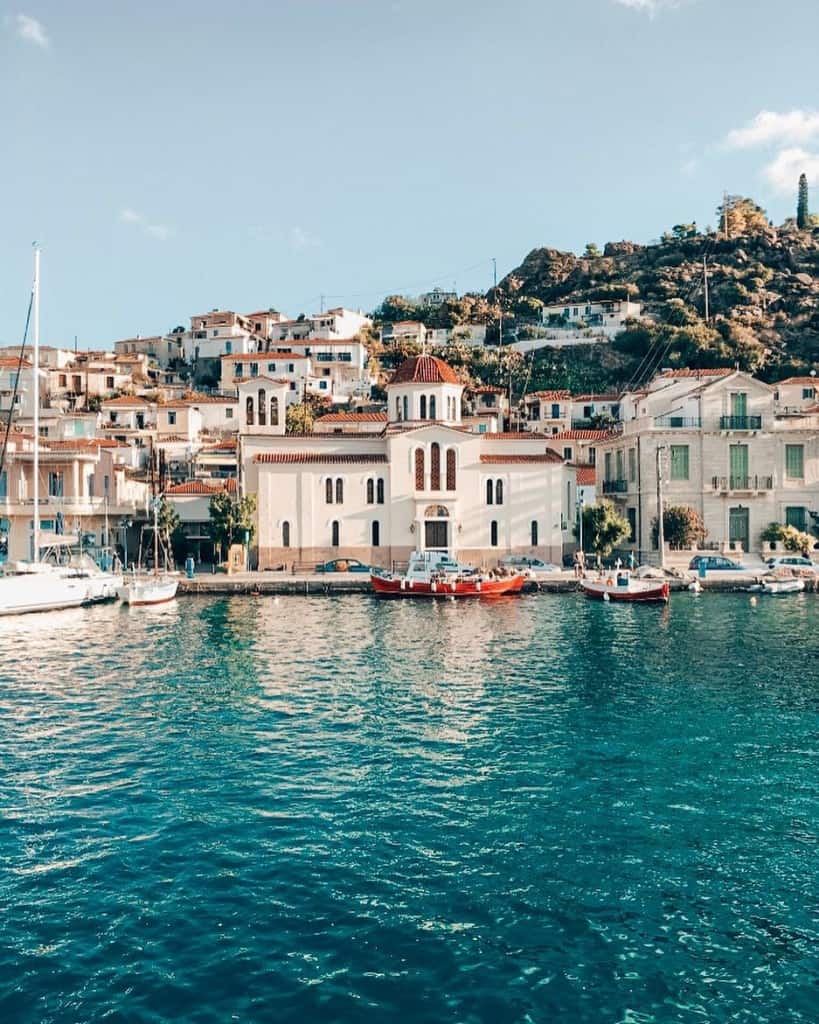 Floating in the Saronic Gulf archipelago close to Athens, picture-perfect Poros is a lovely spot to spend a day or two. The island's colourful port area is filled with excellent traditional tavernas and quaint coffee shops that are seemingly designed for people-watching.
There is only a narrow body of water that separates Poros from the mainland Peloponnese. For just a few euros, you can take a small wooden fishing boat across the sea, so as to explore the little town of Galatas at the opposite side.
Poros has a few beaches scattered here and there, but one of the main attractions of the island is its nature and hiking trails. Various walking routes twist and turn through fragrant olive groves, dense pine forests, and jaw-dropping scenery. Most notably, travellers can consider the route that leads up to the monastery at Zoodochos Pigi.
Volos
The port town of Volos is not a travel destination in itself, but it is often used as a jump-off point for travelling to the islands in the east of Greece such as Skopelos and Skiathos. If you are passing through the area on your way to the Sporades, it is worth sticking around for a day to experience the beating heart of a city that most travellers to Greece miss.
Volos played an important role in Greek mythology – according to legends, the mythical home of Jason and the Argonauts once stood where Volos stands today. The pedestrianised marina area is much more than just an ugly, practical port. The seafront boulevard runs along the coastline of the Pagasetic Gulf and is lined with dozens of sophisticated bars, restaurants, and nightlife options. Nearby Ikonomiki Street offers a more alternative, underground entertainment and nightlife scene.
Volos' archaeological museum is one of the oldest museums in Greece. Those with more time to spare can also visit Mount Pelion – the towering mountain peak that provides a backdrop to the city. Countless traditional villages are scattered along the slopes of the mountain, and hiking aficionados can trek the kalderimi roads to incredible views near the peak.
Mykonos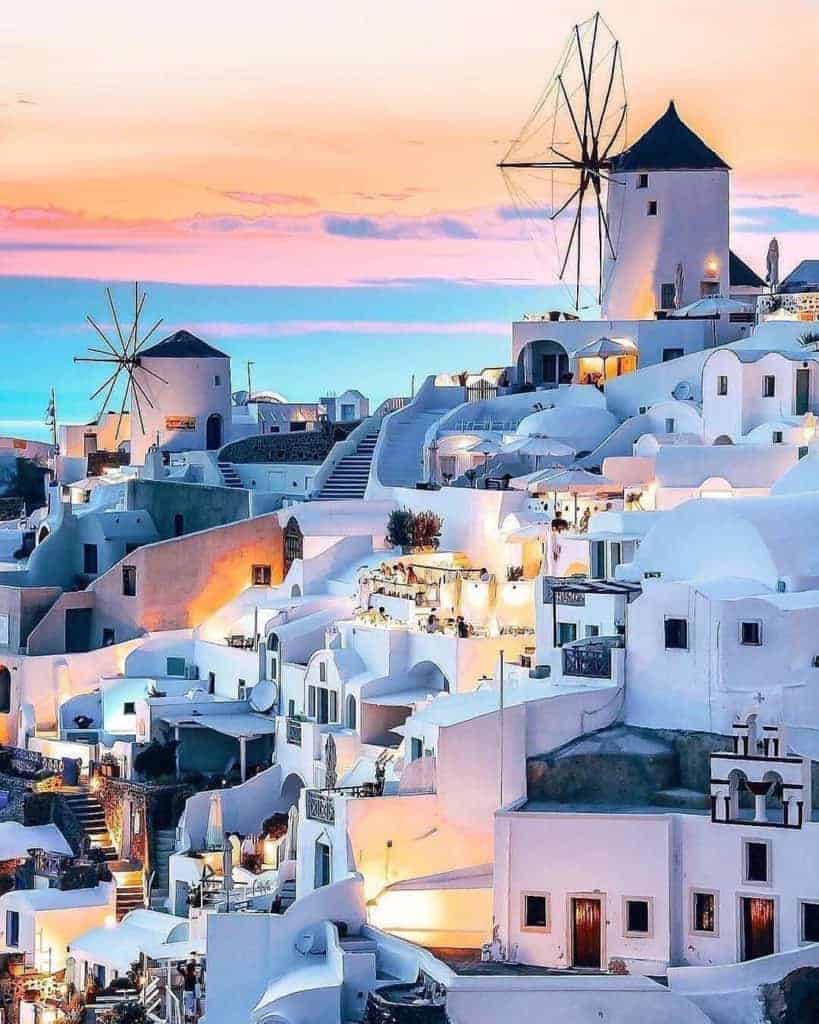 Mykonos may well be one of the most popular and romanticized travel destinations in Greece, but that does not detract from the island's charm. After all, some places are popular for a reason.
While Mykonos has gained a reputation as something of a luxury party island in recent years, that is not all the Cycladic isle has to offer. If you travel during the shoulder season (April – early June, or September – early October), you can experience Mykonos without the crowds.
Head up to the windmills at Chora – the island's most iconic landmark. The windmills at Kato Myloi are perched on top of a hill and offer incredible panoramas out to sea. For gourmet food and cocktails in an elegant setting, be sure to spend an evening in Little Venice – one of Mykonos' most upscale neighbourhoods. The area was awarded its name on account of its blue and white houses that sit against the water in Italian Venetian style.
Zagori
While mainstream tourism hasn't hit Zagori yet, this mountainous northern region is a desirable winter getaway spot among Greeks. Zagori is comprised of not just one village, but a cluster of 46 small stone villages, each of which have their own drawing points.
Zagori truly is an outdoor lover's paradise, and a series of walking trails connect the villages with each other, offering a seemingly infinite amount of options for trekking. Not to mention, Vikos Gorge is also nearby.
If you are looking for an alternative winter travel destination, few things could be more magical than snuggling up by the fireplace in your own little cottage amid the mountains of Zagori.
Delphi
The archaeological site at Delphi is one of the most popular historic attractions in Greece. If you find yourself in the southern part of the country, Delphi is well worth the trip.
According to Greek mythology, Zeus had to eagles which he instructed to fly in opposite directions and meet at the centre of the earth. The point at which the eagles met was Delphi and thus, the city was born!
What remains of Delphi is incredibly well-preserved – look out for the amphitheatre and the temple of Apollo, and don't miss the archaeological museum which contains an array of interesting artifacts that have been recovered from the region.
Sounio
A popular trip from Athens is to visit Sounio and the temple of Poseidon. Many travellers take a bus trip from Athens to Sounio for the day, but if you have a little more time to spare, you can opt to spend a few days staying in this southern part of Greece and reveling in the laid back ambiance.
Temple of Poseidon aside, this region of Greece offers plenty of attractions that make visiting worthwhile. Sounio is also home to the Sounion national park whose caves were occupied by cavemen during the neolithic period. The upscale resorts and hotels here offer private, secluded beaches, and if you have your own transport, you can also take the time to visit some of the quaint villages in the area. Kalyvia Thorikou, for example, is certainly not touristy but is locally renowned for its unique cuisine and excellent chophouse restaurants.
Arachova
If you find yourself in Greece during the winter months, you can consider paying a visit to Arachova – the self-proclaimed "winter Mykonos". Nestled high in the mountains, Arachova village attracts a well-heeled crowd. The bars, restaurants, and hotels here exude an air of effortless elegance.
Arachova has a little something for everyone. The village is widely regarded as being one of Greece's premier skiing destinations, while hikers and Mountaineers will also be captivated by Arachova's alpine trails.
All of that aside though, if you are more interested in a relaxing weekend break, Arachova remains a good option. Opt to cosy up by the fire in your own log cabin, or treat yourself to a pamper session at one of Arachova's luxe spas.
Kefalonia
Kefalonia is the largest of the Ionian islands, and a destination that has been capturing the hearts of Greeks and foreigners for years. The island's diverse landscapes and nature make Kefalonia feel like a true paradise lost. One moment, you can be trekking through the foothills of Kefalonia's Ainos mountain. The next, you are greeted with pristine beaches, and charming villages occupied by some of the most hospitable locals in the country.
The island's capital – Argostoli, is perfect for those who want to pair beaches and nature with history and culture. The city's cobbled streets are filled with interesting monuments that date back to Kefalonia's British Protectorate history.
As far as relaxing on the beaches goes, the options are seemingly infinite. Myrtos beach boats some of the most dramatic scenery in the Ionian region and sits at the foot of towering limestone cliffs. Poros and Skala beaches are equally spectacular.
Have any further questions and queries about the best places to travel in Greece? I have lived here for the past two years and would be happy to answer any questions you may have. Feel free to reach out or drop me a comment below. Safe travels! Yiassou! Melissa xo
---