Kastoria is a beautiful lake city that sits in the foothills of the Pindus Mountains in Northern Greece. Quaint pastel-coloured houses and stores cascade down the hilltops, making Kastoria feel like a Hellenic version of the Amalfi Coast – sans tourists.
The city encircles the tranquil Lake Orestiada, and the scenic walking paths that run parallel to the lake are the perfect place for a morning stroll. Kastoria is far from a popular travel destination. This is evident in the fact that there are few hotel options in town.
If you are travelling through Northern Greece, you may want to consider spending a day or two enjoying the nature of this beautiful place. Kastoria is about as off-the-beaten-path as you can get in Greece. One major plus of travelling here is having churches, nature walks, and historical sites practically all to yourself.
About Kastoria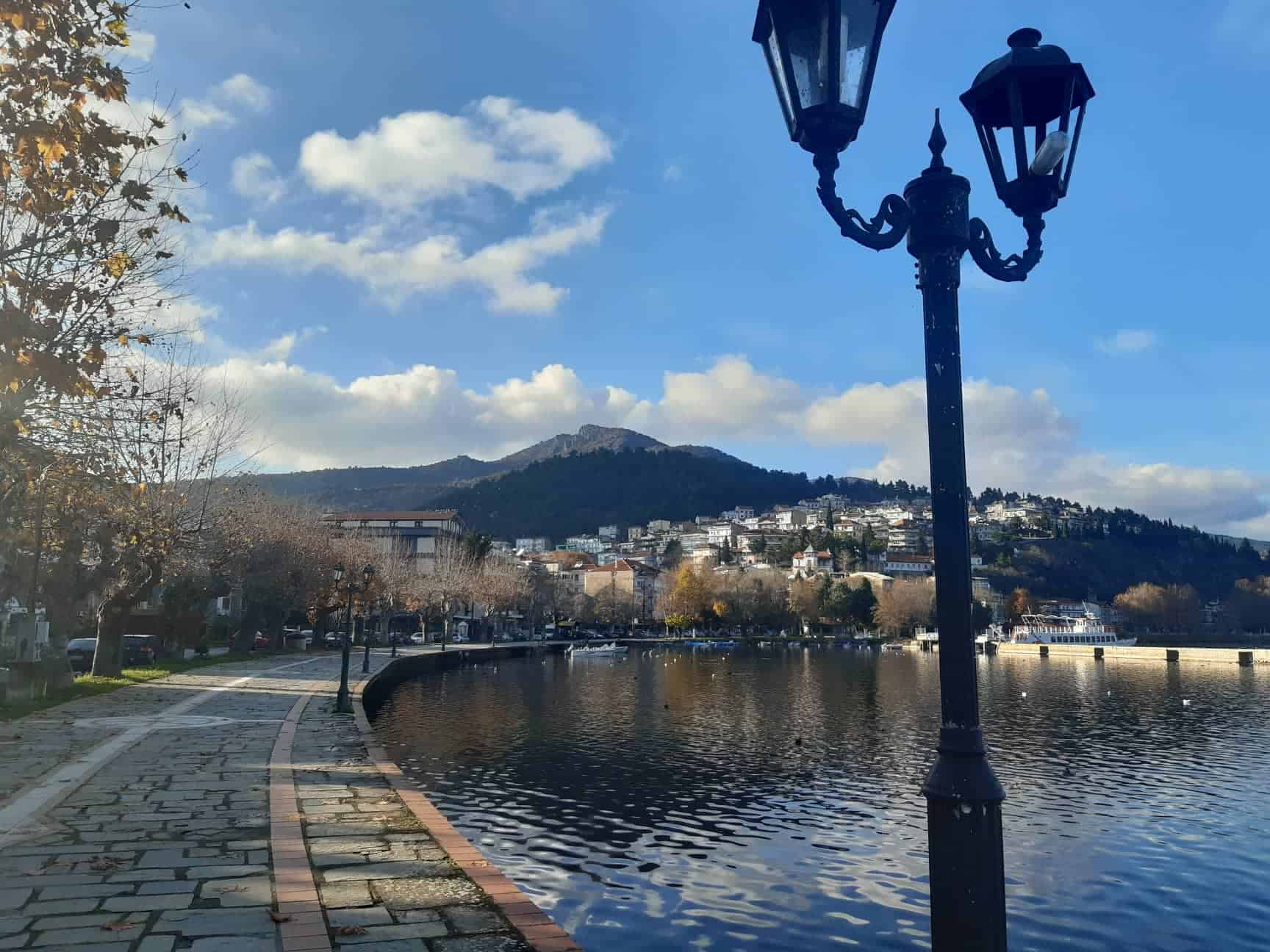 Once upon a time, Kastoria was an important furrier city, particularly during the Byzantine era. "Kastoria" in Greek, means beaver.
Many of these animals once lived on the shores of Lake Orestiada. Sadly, they were all hunted for their fur.
Kastoria and its Furrier Past
The art of transforming pelts into garments was learned in Constantinople. Later, the trade was introduced to Northern Greece. Kastoria quickly became renowned across Greece – and the world, for its involvement in the fur industry.
Today, this industry is in decline, though you will still see numerous fur stores scattered around the city. Garments produced in Kastoria today are mostly exported to Russia.
Kastoria is the capital city of the Kastoria regional unit of Greece. Despite that fact, it has a very laid back, small-town ambiance about it.
Kastoria is characterised by its emerald lake waters, impressive mansions, and ornate Byzantine churches. Considering its history and natural beauty, it seems surprising almost that no-one has really heard about Kastoria.
Things to do in Kastoria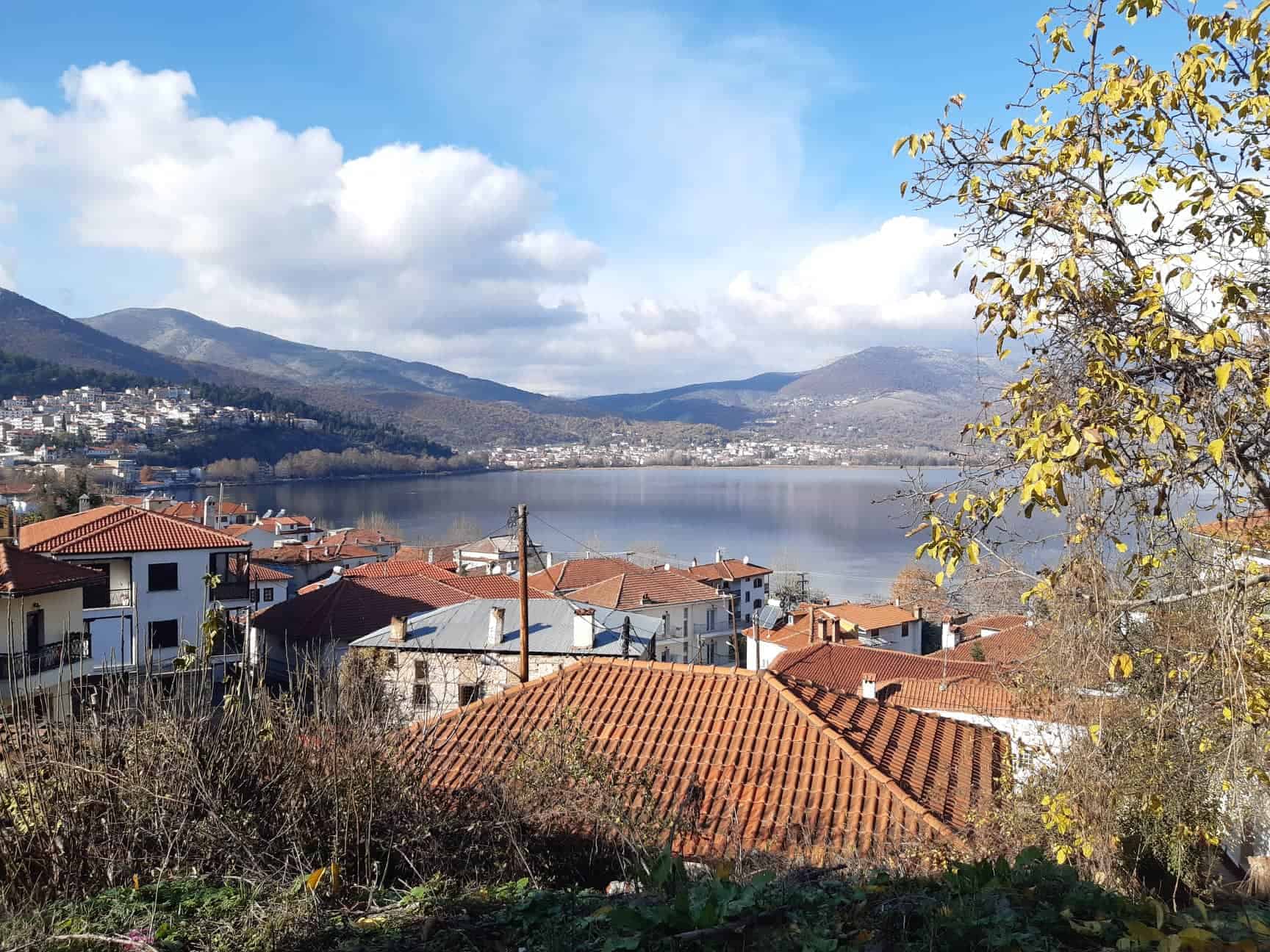 With more than 60 ancient Byzantine churches, pleasant hiking trails, and pristine natural scenery, Kastoria is a pleasant place to spend a couple of days. Northern Greece is particularly special during the Fall and Winter months.
Stroll Along Orestiada Lake
Kastoria rests on the banks of Orestiada Lake. Follow the cobbled waterfront promenade and revel in the views. As you stroll around, you will bypass local fishermen trying their luck in the emerald waters, and locals kayaking on the lake in all seasons.
Start your walk at the Northern edge of Orestiada Lake, near the monument to the Macedonian struggle. You can enjoy your morning freddo cappuccino and pastry with a view, as you sit in one of the many coffee shops that line this pedestrianised street.
Heading south on Νίκης street, the atmosphere becomes much calmer. Pass by grand old mansions and crumbling Byzantine churches as you make your way to the wooded area that surrounds the mysterious "Dragon's lair" cave. The area where Νίκης meets Sougaridi consists of dense woodland and hiking paths.
Venture into the Dragon's Lair
The Dragon's Lair is a cave complex that sits in the woodlands on the eastern side of Kastoria. The caves were not discovered until the 1940s and only opened as a tourist attraction in recent years. Within the caves, there are seven underground lakes, and dramatic cavernous rooms filled with various types of stalagmites and stalactites.
Locals created a legend about a fire-breathing Dragon that once resided within the cave protecting hordes of gold. The best way to access the Dragon's Lair, and to explore the woodlands that surround it, is to rent a bicycle.
Explore the Various Neighbourhoods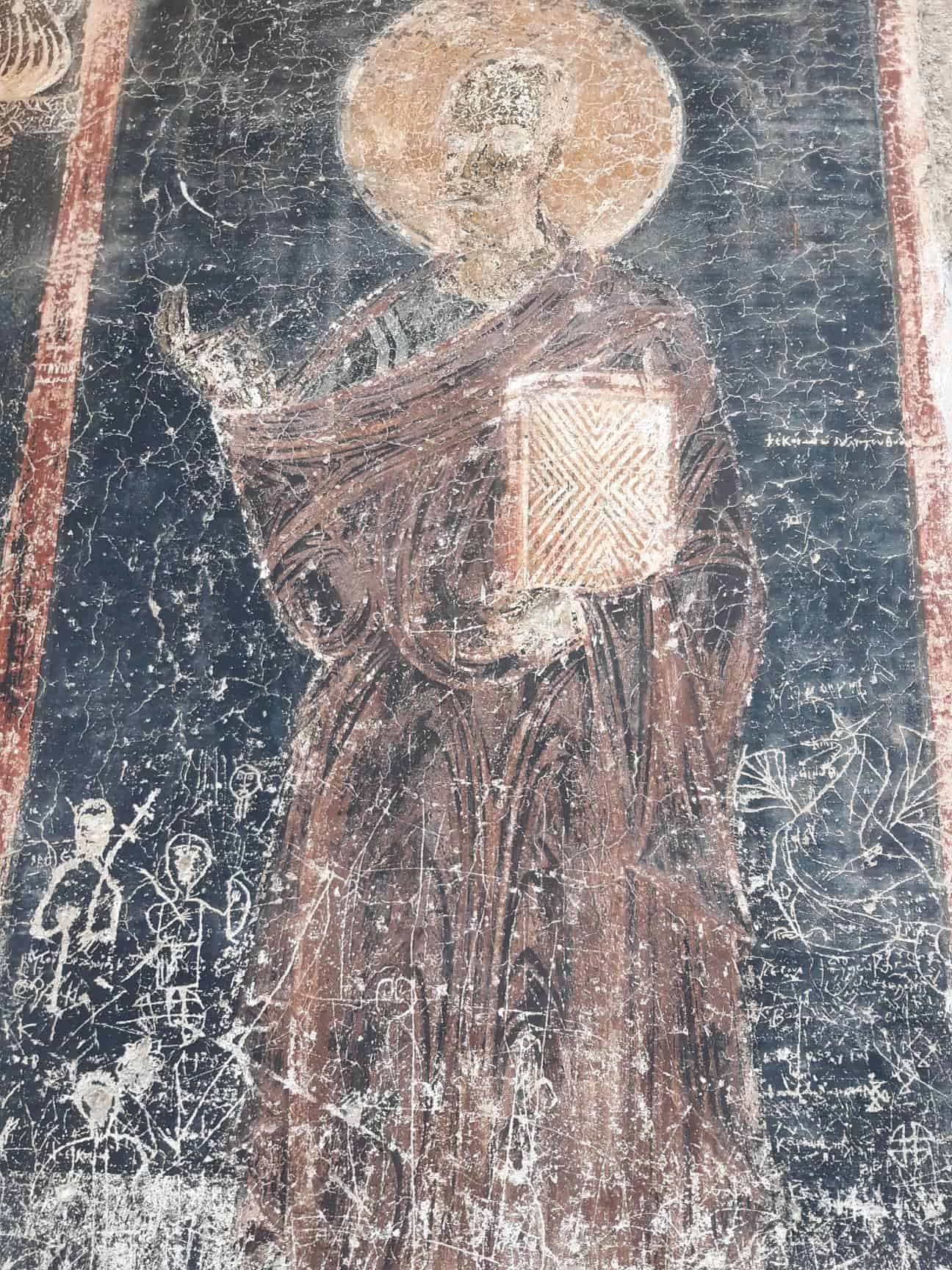 Kastoria is a city steeped in history. Various civilisations and cultures have resided here over the centuries, leaving their mark on the city and its architecture. In Kastoria, you can see ruined Ottoman mosques and marketplaces, sitting beside colourful Ottoman houses and grand Byzantine homes.
When you arrive, embark on a self-guided walking tour of the city's unique neighbourhoods. Apozari and Doltso are two of the most spectacular areas.
The grand stone mansions here were constructed during the 18th and 19th centuries. They were once the elegant homes of those who made their fortunes as furriers.
Seek Out Ancient Byzantine Churches
There are more than 60 old Byzantine churches scattered throughout Kastoria. As you glance at the city map, you will notice that there are churches on practically every street.
Many of these churches are decorated with beautiful, vibrant frescoes that depict various scenes from the Orthodox faith. It is worth wandering up to random churches that are marked the map and see what you find there.
Unfortunately, a great deal of Kastoria's Byzantine churches are abandoned and have fallen into disrepair. Look out for how the eyes of the Saints have been scratched out on the paintings – a custom during the Ottoman occupation.
The Panagia Mavriotissa monastery is particularly interesting. This site is widely regarded as being one of the most impressive, as well as the oldest monastery in Western Macedonia. 
Drive to the Abandoned Village of Gavros
If you have your own transport, you might want to consider paying a visit to the abandoned ghost village of Gavros. This place will be of particular interest if you have an affection for spooky, abandoned places.
Gavros sits 23 km north of Kastoria. From a distance, it looks just like any other cute traditional village. However, as you get closer, you will notice that the village is completely empty.
In the 1950s, residents just left their homes in Gavros and rebuilt a new village some 50km away. Nobody is entirely sure as to why it was abandoned.
Although, residents often reported problematic encounters with bears and snakes. There isn't a bunch to do here, but it's worth a visit to walk around and take some photos.
Indulge in a Relaxing Spa Break
Many Greeks come to Kastoria for the weekend to enjoy a slice of R&R at the luxurious spas that sit on the outskirts of town. Limneon Resort & Spa is particularly well regarded, but you will find many facilities in the area to suit all budgets.
Sweat it out in a hammam (traditional, Ottoman-era sauna), then treat yourself to an indulgent massage and a facial – all while overlooking Lake Orestiada.
Sail Across Lake Orestiada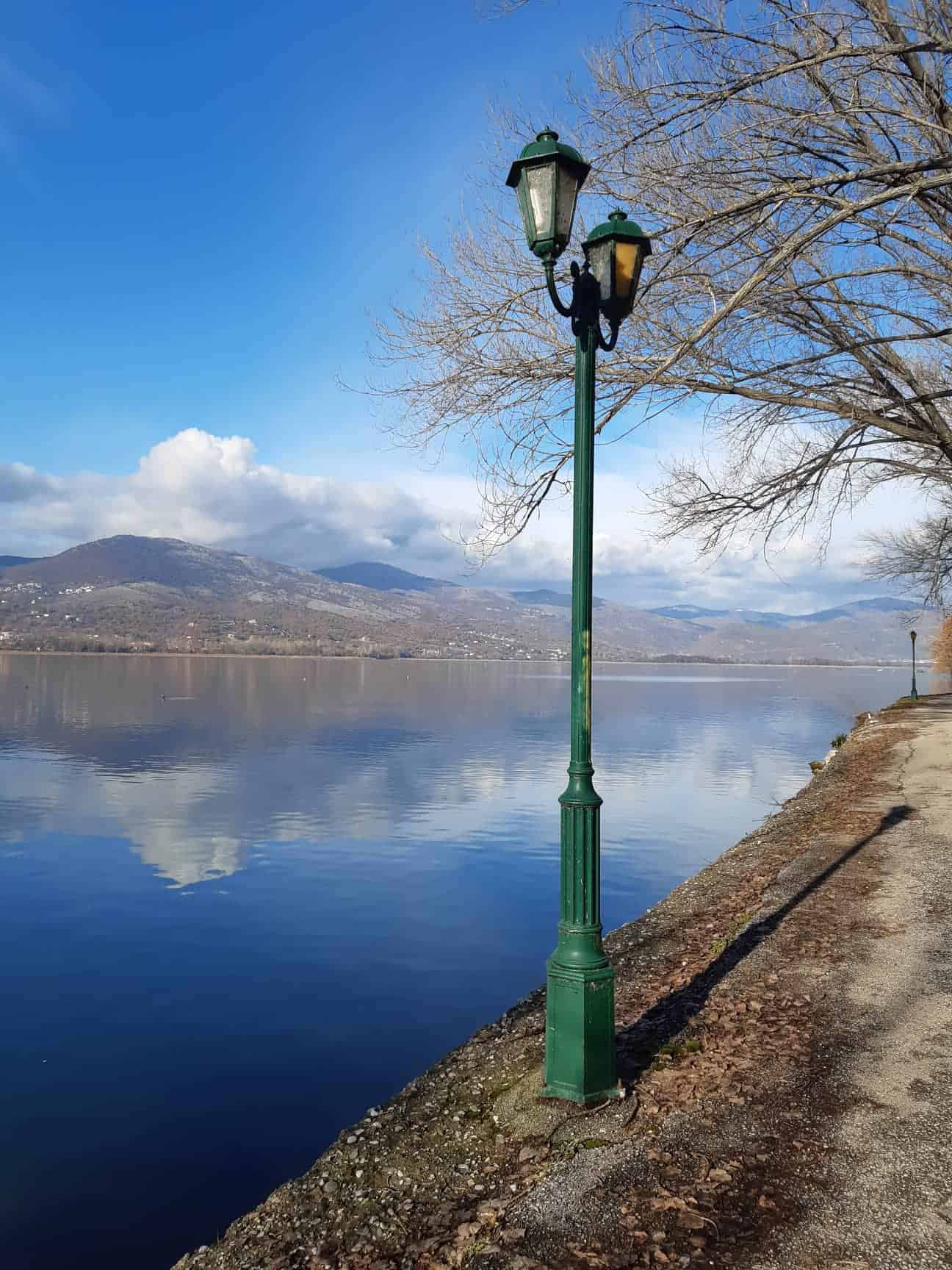 It is possible to take a boat tour across Lake Orestiada, and admire the scenery of the Kastoria municipality from the water. More than 200 species of birds reside around the oval lake – many of which are endangered.
During your trip, you may be able to catch a glimpse of wild herons and pelicans nesting in their natural habitats, or relaxing beneath the canopies of Kastoria's plane trees. You can also consider renting a kayak or a rowboat to enjoy the lake.
Visit the Arcturos Bear Sanctuary
The Epirus region of Northern Greece is one of the only places in Greece where you can find brown bears still living in the wild. Sometimes, lost bears have even found their way into Kastoria!
Arcturos is a local charity that exists to protect the bears of Northern Greece. It is possible to visit their bear sanctuary in Nimfeo, where vulnerable and injured bears reside at an altitude of 1,350m amidst pristine mountain scenery.
Enjoy Evening Cocktails in Elegant Settings
The nightlife scene in Kastoria is sparse. However, there are a handful of elegant places scattered around Meg Alexandrou street. Bouquillon and BACCARA are popular haunts among locals for when they want an evening tipple or two.
Learn About the History of the Region
If you have a little extra time to spare, there are a handful of interesting museums in Kastoria. The Byzantine Museum of Kastoria discusses the rise of Kastoria's fur trade.
The museum features chronological displays of artifacts recovered in the region that date back to the Byzantine era. Of equal interest is the Folklore Museum of Kastoria.
This "living museum" is housed in the former residence of the noble Nerandzis-Aïvazis family. Its rooms demonstrate how the upper classes lived in Kastoria.
Where to Eat
Sampling local delicacies is as much a highlight of a Greece travel itinerary as seeing the sights. Unfortunately, dining options in Kastoria are limited. There are a small handful of beloved local tavernas and eateries, though the best places are a little away from the centre.
Old Town (Palia Poli)
Where: Orestiados 51, Kastoria 521 00
For wonderful traditional food and service, head to Old Town on Orestiados 51. This was the best place I ate in Kastoria, and they serve up generous portions of traditional food at a reasonable price.
You will find all of your favourite classic Greek dishes here – from Kolokithokeftedes and saganaki to marinated meatballs. Old Town is set inside a scenic neoclassical mansion that overlooks the waters of Lake Orestiada. The courtyard is a pleasant place to spend many hours sipping cold glasses of ouzo in the company of good friends.
To Steki Tis Pareas
Where: Ipolochagou Diakou 10, Kastoria 521 00
To Steki Tis Pareas is a charming restaurant set on the banks of Orestiada Lake. Its ambient lighting, lake views, and rembetika music combine to form one of the most pleasant dining environments in the city.
The menu offers a range of marinated meats, vegetarian delights, and local Kastoria specialties. For something specific to the region, consider ordering a plate of the sumptuous wild boar or the restaurant's mouthwatering blend of feta cheese served with honey and Aegina pistachios.
Ntoltsó Restaurant
Where: Tsakali 2, Kastoria 521 00
Ntoltsó is a quaint, family-run restaurant set in the heart of Old Town Kastoria. Situated in the lively square of the same name, this is one of the best places to experiment with Kastorian cuisine while people-watching. Smoked country sausages, hunted game, and Fasolia Gigantes are among the local favourite foods to try while in town.
Ouzeri Ta Kimata
Where: Thomaidos 7, Kastoria 521 00
Ouzeri Ta Kimata has been delighting Kastoria residents since it opened way back in 1953. It goes without saying that as an ouzeria, Ti Kimata sells a broad range of different Greek ouzos. Ask your Waiter for recommendations on which are the best to try.
Ti Kamata specialises in seafood cuisine. The fish that are grilled and served here are sourced in the waters of the nearby saltwater lake, and in the Aegean sea.
Try the fried bacalao with grilled sardines, or the mussels saganaki. Wash it all down with a strong class of ouzo or tsipouro as you watch the local fishermen push their boats out into the lake.
Is Kastoria Worth Visiting?
Kastoria is very pretty. These photos make it look like something off of a postcard!
With that said, large parts of the city have been abandoned and are very run down. Whether this is due to the economic crisis and the decline in demand for the furrier trade, I'm not entirely sure.
Entire streets are abandoned in the town centre of Kastoria. Many shops are all boarded up and derelict, some with old stock and displays still inside. You are also very limited on places to go for coffee and dinner.
Some parts of Kastoria felt a little creepy – mostly due to how abandoned/derelict they were. At night, the streets are very dimly lit and there are a lot of stray dogs. It's worth keeping all of this in mind.
Where to Stay
Accommodation options in Kastoria are limited. Check the precise location of hotels on the map before booking. Many of the "best" places in town are located quite a way out of the city centre and transportation options in Kastoria are limited.
Walking to and from the town is not really an option due to bears, snakes, and dim street lighting. If you don't have a car, make sure that you reserve a room in the town centre.
Limneon Resort & Spa
Where: 4th Klm National Road Kastoria, 52057
Limneon Resort & Spa is the ultimate luxury choice in Kastoria. The hotel sits 2km outside of town, where you can truly enjoy the peace and tranquility of Epirus. Rooms are spacious and tastefully decorated with elegant, contemporary furnishings.
The on-site spa includes a well-equipped gym, an indoor pool, and indulgent spa treatment facilities. Rooms start from $90 per night including breakfast. Click here for the latest prices and availability.
Orologopoulos Mansion Luxury Hotel
Where: Dolcho Square 1, Kastoria, 521 00
For luxury in the heart of old Kastoria, consider reserving a room at the Orologopoulos Mansion hotel. The hotel is set just a few yards away from Lake Orestiada and the Kastoria Folklore Museum.
Rooms are designed with a fabulous combination of vintage and modern styles. Think exposed stone walls, wood beam ceilings, and antique touches paired with contemporary art and furnishings. Rooms start at $65 per night including breakfast. Browse the latest rates and availability here.
Guesthouse Filoxenia
Where: Paleologou, Kastoria 521 00
Guesthouse Filoxenia is a great budget choice for your Kastoria trip. Rooms are cozy, homely, and clean, and start from just $35 per night including breakfast. The best part? Enjoy incredible panoramas across Lake Orestiada from your room. Browse the latest rates and availability here.
Getting There
Kastoria sits 575km north of Athens and 219km from Thessaloniki. The best way to reach it, if you are not renting a car, is to take a KTEL bus. There are currently no rail links to Kastoria.
Buses in Kastoria
Buses between Thessaloniki and Kastoria run daily. There are also twice-weekly services between Ioannina and Kastoria. Expect a three and a half hour journey between Ioannina and Kastoria, and between Kastoria and Thessaloniki.
You can check the latest timetables and fares at the KTEL Kastorias website here. Tickets must be purchased from the station's ticket office prior to boarding.
Renting a Car
Opting to rent your own transport gives you a lot more freedom to explore some of the abandoned villages and national parks that sit on the outskirts of town. For instance, it would be very tricky to get to Gavros or the Archos Bear Sanctuary without your own car.
Renting a car in Greece is not as intimidating as it may sound. Several reputable rental companies, including AVIS, Sixt, and Avanti operate in Northern Greee.
Parting Words
Have any more burning questions about visiting Kastoria? Don't hesitate to reach out to me via the comments below. I'll get back to you as soon as I can. Safe travels in Greece! Geia sou! Melissa xo
Disclaimer: This Kastoria travel guide may contain affiliate links. If you make a purchase through some of the links enclosed here, I may obtain a small amount of commission. This comes at no extra cost to you. Thanks for understanding.
---