Northern Greece is one of the most overlooked and untapped regions of the Greek mainland. On an international scale, few people have even heard of some of the towns and cities that are found here, let alone have they taken the time to venture out to them.

This is a shame. Northern Greece, consisting of the regions of Central Macedonia, Western Macedonia, Epirus, Eastern Macedonia and Thrace, is one of the more rugged, naturally beautiful parts of the country.
Greeks will often travel here for winter or autumn vacations. But Greeks have been keeping the secrets of this region to themselves.
You could easily spend a month in this region and still feel as though you have barely scratched the surface. The absence of other foreign tourists makes the experience altogether more rewarding, mysterious and magical.

Northern Greece means authentic experiences in country inns and tavernas that are only frequented by locals. It feels like venturing into unchartered territory.
Visiting Northern Greece
Greece has no shortage of historical sites and ruins. However, it is the same few that get all the glory and attention.

Namely, the Acropolis of Athens, the Temple of Olympian Zeus, the Temple of Poseidon, and the ancient city of Delphi. People simply do not realise the cultural and archaeological treasures that await in the Macedonia regions of the country.
For instance, did you know that Central Macedonia was the birthplace of Alexander the Great? He was born in Pella, the capital of the Kingdom of Macedon. Today, the Pella Archeological site is a fascinating ruin with collonaded walkways and mosaic floors, that point to the grandeur of this ancient civilization.
Two of the largest monastic communities in Europe are found in Northern Greece. Namely, the Mount Athos monasteries in Athos, Halkidiki, and the spectacular Meteora monasteries that are perched on the edge of a cliff face near Kalambaka.
A suggested Northern Greece itinerary is provided in this guide, along with an overview of some of the best areas to visit in the region. Public transport in Greece is actually very comfortable and reliable and is better than many people realise.

The only issue is that it can be tricky to find scheduling information online. It is easy to explore this region by bus. However, if you want more flexibility in your schedule, you may want to consider renting a car in Greece.
Where to Travel in Northern Greece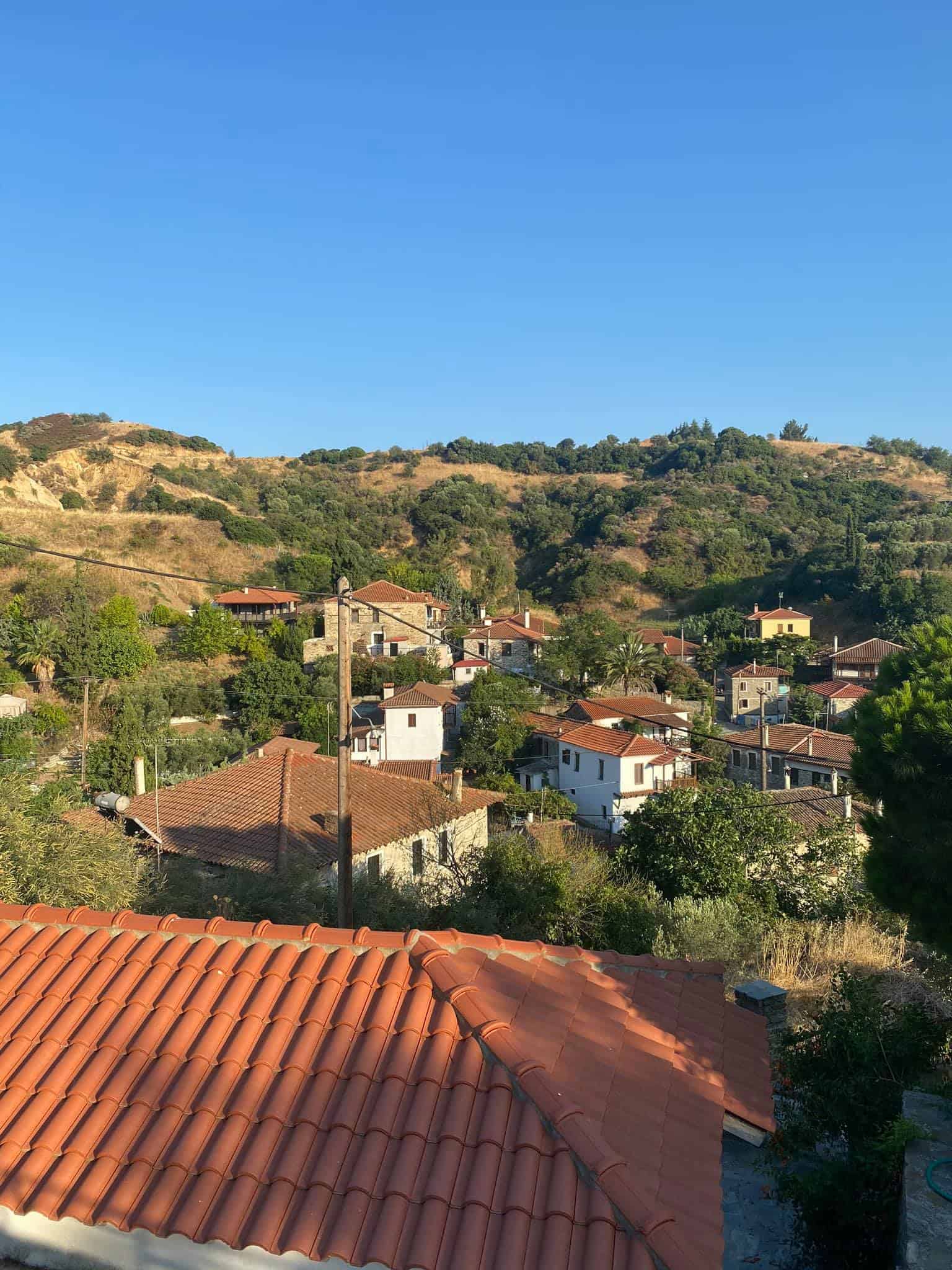 Metsovo
The quaint little stone village of Metsovo sits high in the Pindus Mountains. This is a popular winter getaway destination for Greeks.
After all, what could be more romantic than cosying up to your beau by an open fire in a cute wooden cabin? Metsovo is renowned for its red-roofed houses and its namesake smoked Metsovone cheese,

The culture of Metsovo is distinctly different from that which you can find elsewhere in Greece. This is because Metsovo is a Vlach settlement. Village residents speak the local dialect of Vlach and Aromanian in addition to modern Greek.
Metsovo Highlights
Metsovo can be enjoyed on a day trip from nearby Ioannina. Alternatively, you can opt to stay in one of the family-run guesthouses that overlook the snow-capped mountain peaks.
One of the best things to do here is to embark on one of the many hiking trails that twist and turn throughout the region. Some of these are considered to be among the best hikes in Greece.
The worn trails reveal centuries-old monasteries nestled in the woodland. For instance, the hidden monastery of Agios Nikolaos.

Visitors should be sure to sample the traditional dishes of Metsovo as they warm themselves by the fireplace of cosy tavernas. Try the paidakia (lamb chops), the loukaniko (sausages), or the smoked Metsovone cheese appetizer.
You can also try local wines produced at the village's Katogi Winery. The vineyard here is the highest altitude vineyard in all of Greece. Call in advance if you want to organise a tasting/tour.
Katerini
Katerini is the capital of the Pieria regional unit of Northern Greece. It is situated just 6km away from the sea and boasts beautiful beaches, colourful coastal promenades, and Orthodox churches.
Unlike many other Greek cities, Katerini has not existed for thousands of years. It is a more recent development. It was likely first established during the Ottoman occupation of Greece.
Greeks may venture here for a weekend break. On an international scale though, Katerini remains unknown.
Katerini is situated inland. However numerous white-sand beaches are less than 4km away.
Olympiaki Akti (Katerinoskala) and Paralia Katerini are places to go for some much-needed respite during the hot Greek summer months. The city is also a good base for travelling onwards to Mount Olympus.
Ioannina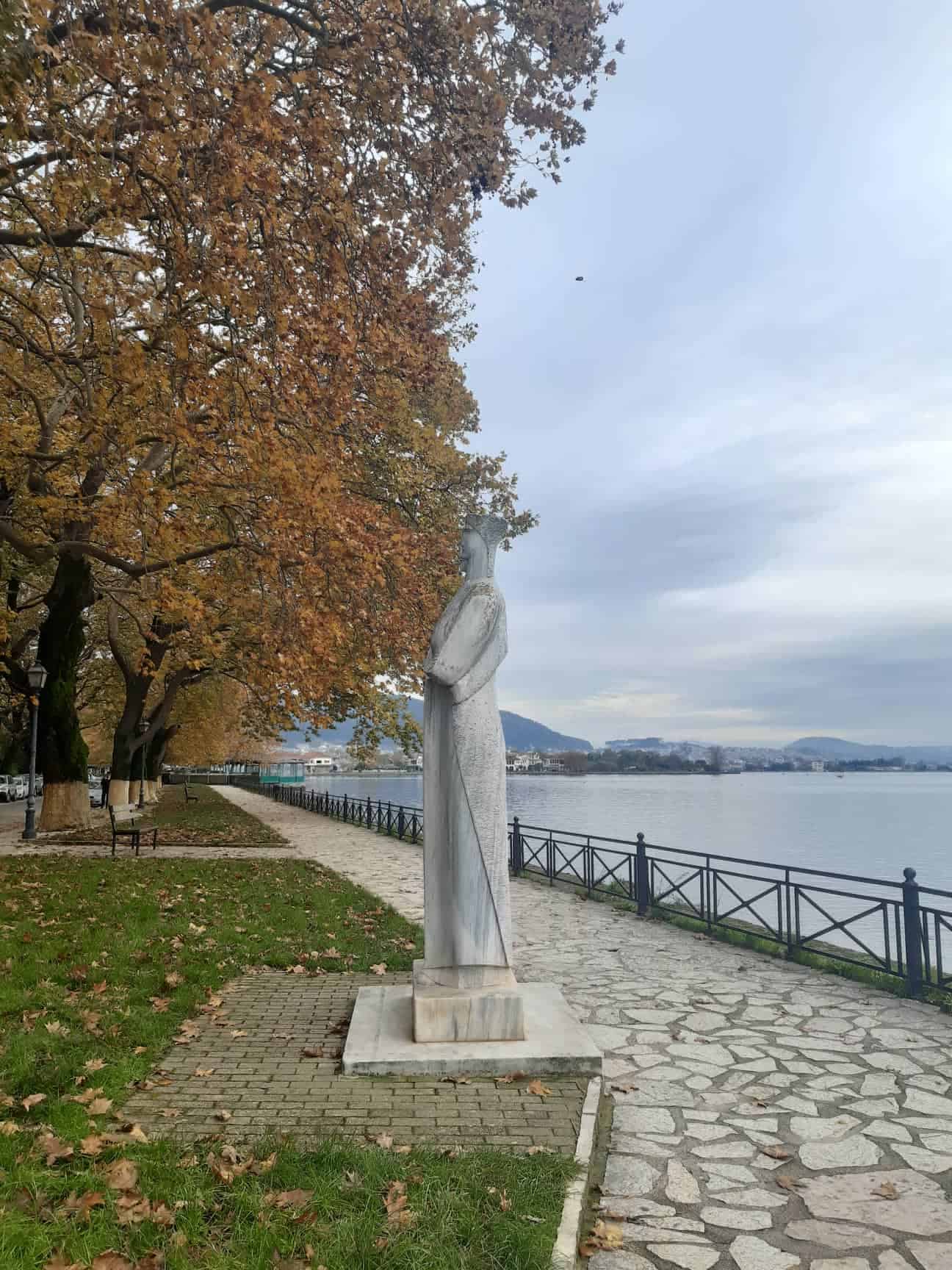 Ioannina (or Yannena in Greek) is the capital of the Epirus region of Greece. It borders the Pamvotida lake and is set against a dramatic backdrop of mountains.
Ioannina may well be the most scenically beautiful city in mainland Greece. Today, Ioannina is a young university town.
During the days of the Ottoman Empire, the city was an important cultural, commercial, and intellectual hub. Despite the fact that Ioannina is a regional capital, it possesses a very "small town" vibe.
Ioannina Highlights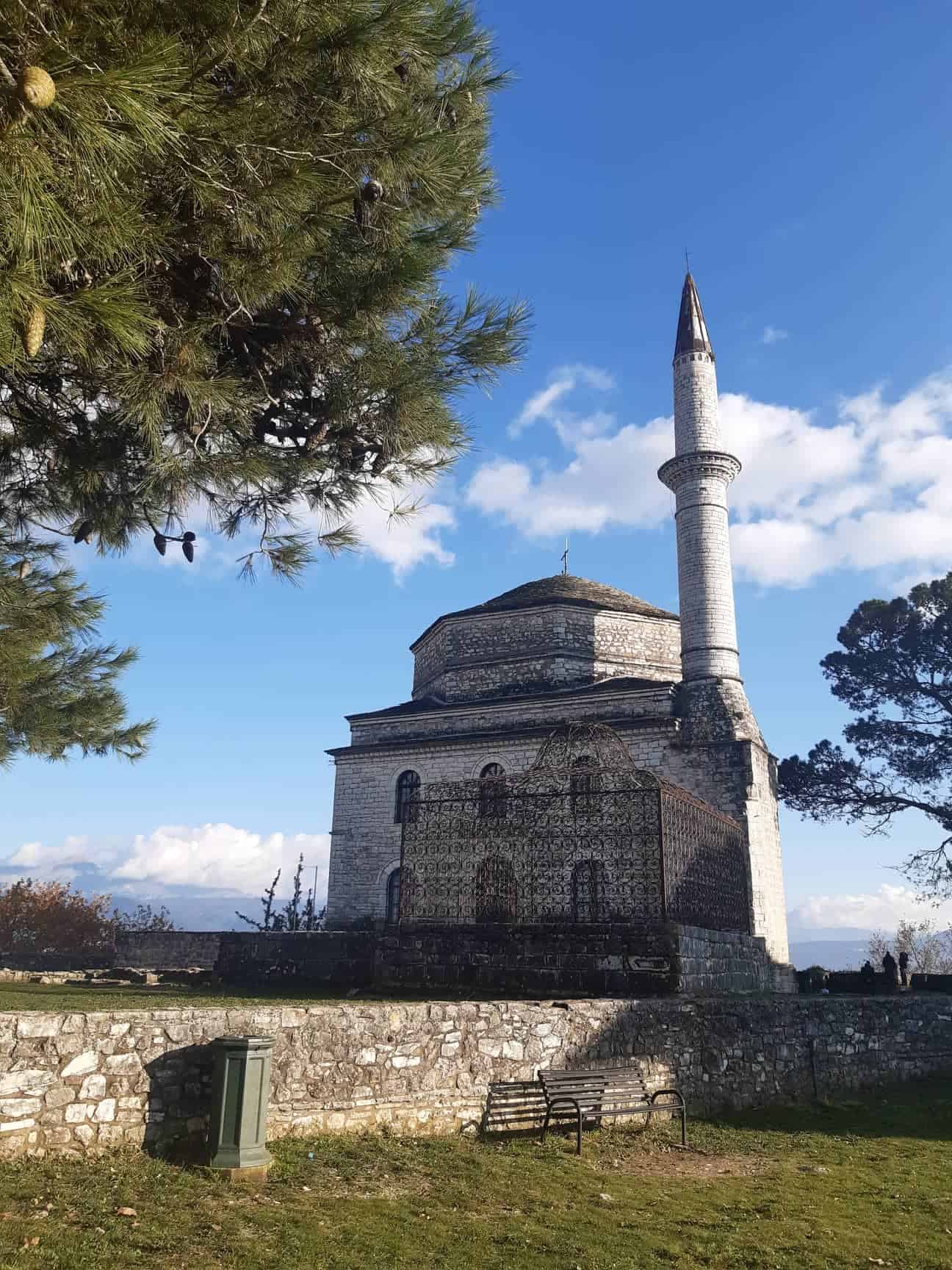 You could easily while away a few days in Ioannina. Enjoy a scenic morning stroll along the lake, before taking a boat out to "The Island".
The latter is a nameless, inhabited island that sits in the centre of Pamvotida Lake. It was once home to the notorious ruler Ali Pasha.
Explore abandoned monasteries on "the island". Then, sail back across the mysterious foggy lake and enjoy traversing the ruined Ottoman mosques, libraries, and hammams on the mainland.
Thassos
Thassos is a stunning Greek island that sits in the Northernmost part of the Aegean sea. Getting here is no easy feat as you have to transfer through Kavala.
However, Thassos may well be one of the most naturally beautiful islands in all of Greece. It is known for its traditional architecture, picturesque mountain villages, and gorgeous beaches.
Avid hikers will fall in love with Thassos for its treks and trails too. Many footpaths weave around the island's scenery leading to ancient castles, abandoned places, mysterious caves, and grand monasteries.
In particular, be sure to look out for the Monastery of Archangel Michael and the Ancient Agora. Thassos is very much a summer destination.
Peraia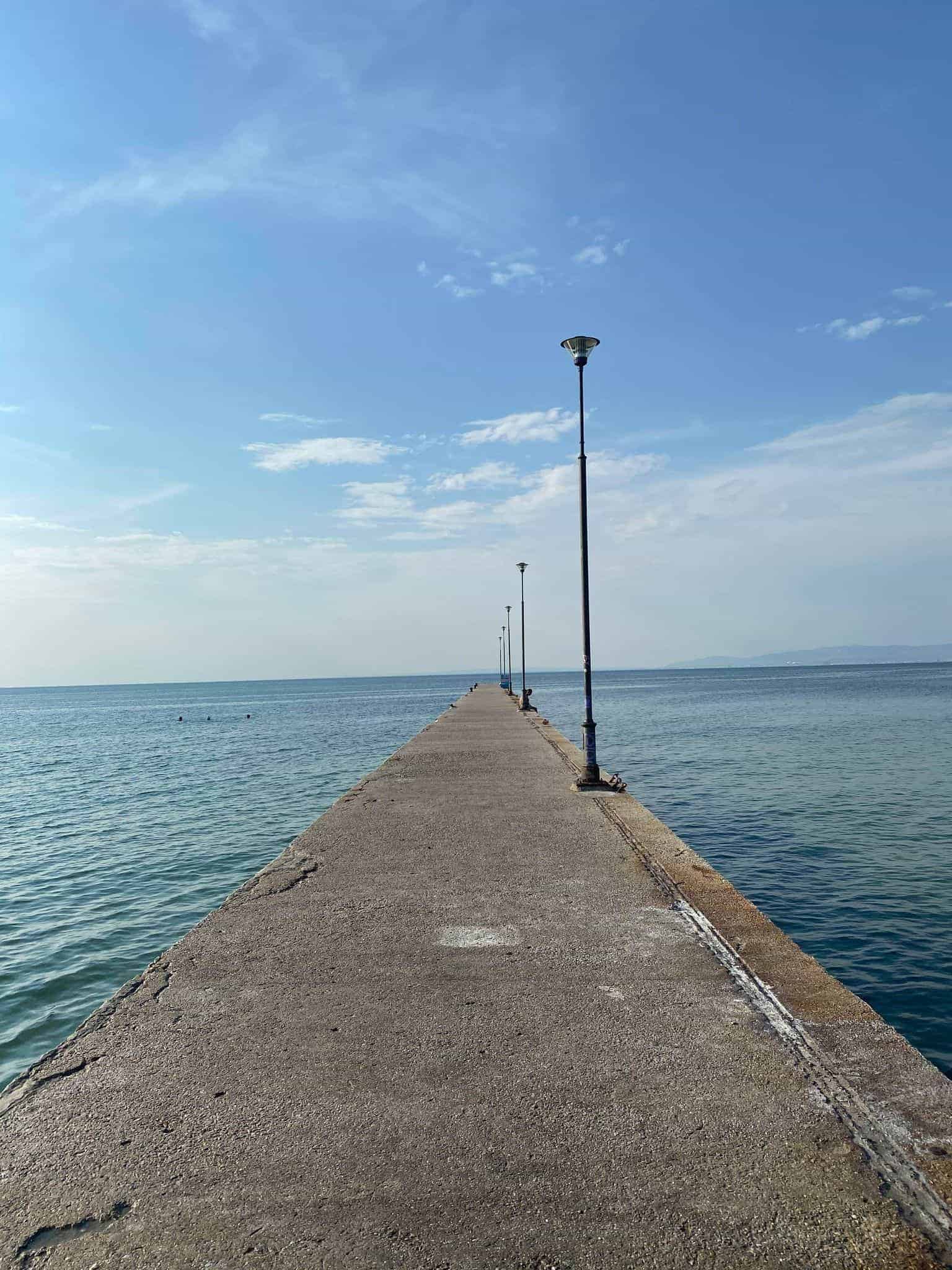 Peraia is a quaint beach town in Northern Greece. It is the closest coastal area to Thessaloniki.
This makes it the perfect spot for occasions where you find yourself in Thessaloniki and don't feel like trekking out to Halkidiki for some R&R. Sea taxis run regularly between Thessaloniki and Peraia during the summer months.
The journey takes just 50 minutes. Peraia consists of two beaches: Agia Triada and Peraia beach. There are plenty of tavernas, Greek street food eateries, and bars that line the seafront.
Drama
Drama is a charming little village that sits at the foot of Mount Falakro in Northern Greece. It sits against a backdrop of rolling hills and sprawling green open spaces.
Few international tourists even consider visiting Drama. However, it is a worthy stopping point if you enjoy off the beaten path adventures.

Drama boasts ornate neoclassical mansions, lively squares and piazzas, and personable residential districts. It is believed that a settlement of some form or another has existed here for thousands of years.
Several interesting historical sites point to Drama's rich past. Don't miss the tomb cluster from the Iron Age or the Macedonian Tomb of the Hellenistic years.
Kastoria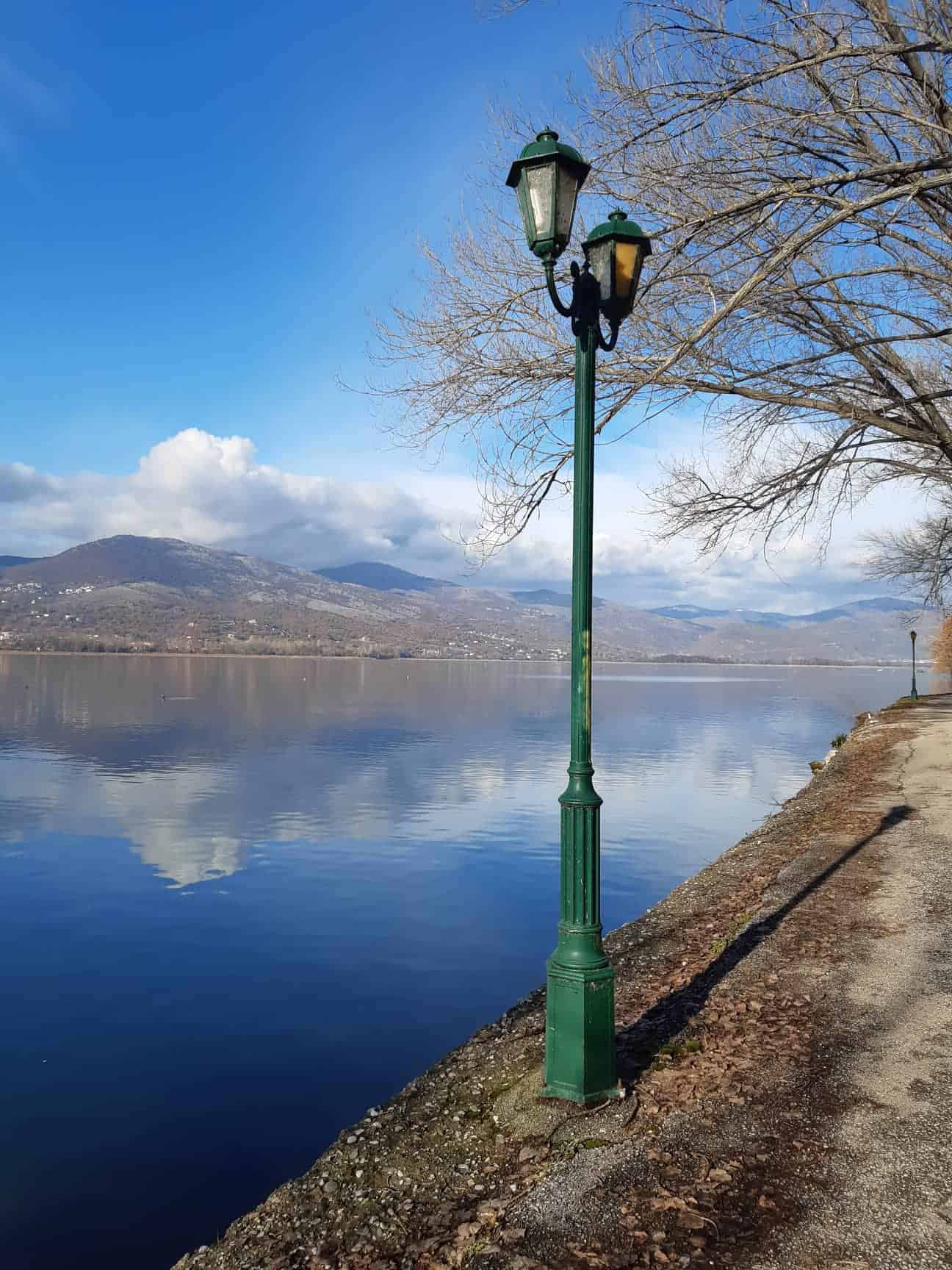 Kastoria is another beautiful lake city in Northern Greece. It isn't a tourist destination, and accommodation options in the area are limited.
However, Kastoria is a rewarding travel experience for those who enjoy venturing off the beaten path. The city sits on the banks of Lake Orestiada.

In the mornings, you will find a couple of local fishermen sitting on the banks of the lake. If you're lucky, you might see some pelicans, herons, or other rare birds that live here. Locals are also often seen kayaking along its length.
Kastoria Highlights
There is a pleasant walking trail that leads around the lake and into the nearby woodland. There are more than 60 abandoned Byzantine and Post Byzantine churches scattered throughout Kastoria.
Sadly though, they have fallen into ruin. Nobody visits them, and the paintings have had their eyes scratched out during the Turkish occupation giving them something of a spooky ambience.
Be sure to also visit the Dragon's Lair if you find yourself in Kastoria. (Spilia tou drakou).
This cave boasts impressive formations of stalagmites and stalactites. It was only discovered a few decades ago, and locals created a story about a mythical dragon that once lived in the cave (hence the name!)
Vergina
Millenia ago, the city of Vergina was known as the city of ¨Agai¨. This forgotten settlement was actually once the capital of the Macedonian Empire.
The Archaeological Museum here contains artefacts recovered from around the region presented in chronological order. It is one of the most important museums in all of Greece.
Alexander the Great's father, King Philip II, is buried in Vergina. Fascinatingly, his tomb was not discovered until the late 1970s.
You don't really need to dedicate a lot of time to Vergina. You can combine a day trip here with a visit to nearby Pella.
Thessaloniki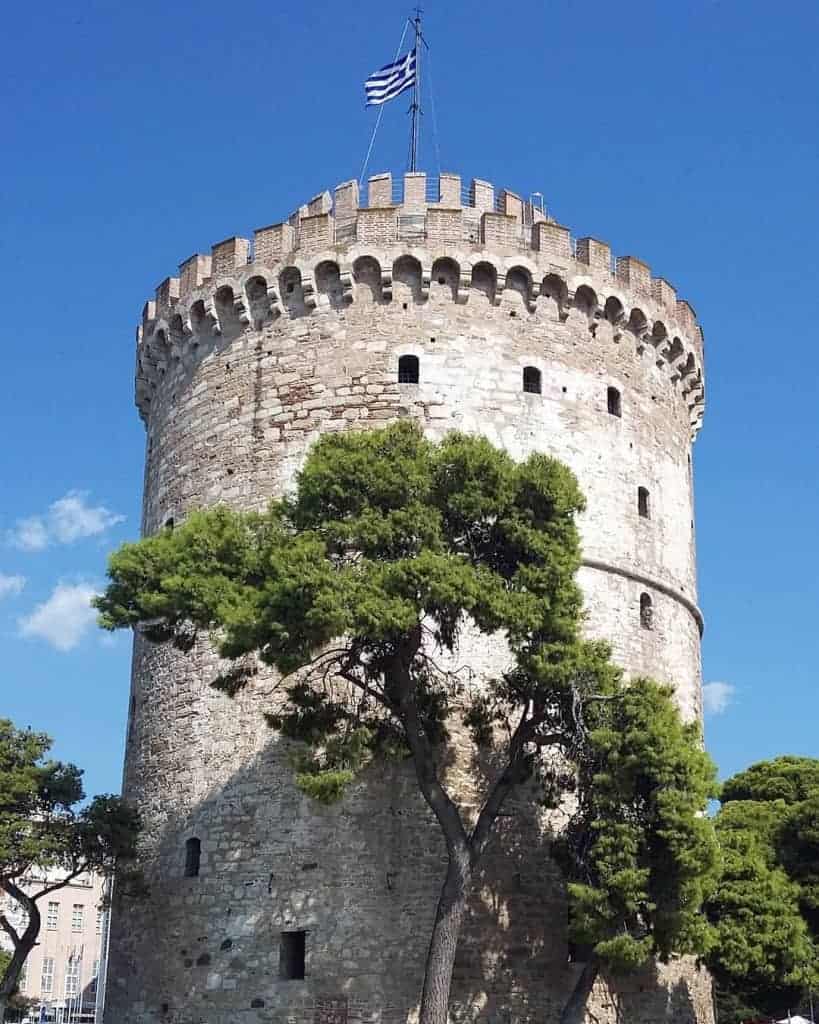 Thessaloniki is Greece's second-largest city. It is situated by the waters of the Thermaïkos Gulf and its laid back atmosphere provides a stark contrast to the chaos of Athens.
Stroll along the waterfront promenade that runs to the White Tower. Then, people watch as you sip traditional Greek coffee in one of the local coffee shops overlooking the sea.

Numerous cultural influences have left their mark on the city. Today, colourful Ottoman, Byzantine, and modern structures sit side by side.
Thessaloniki Highlights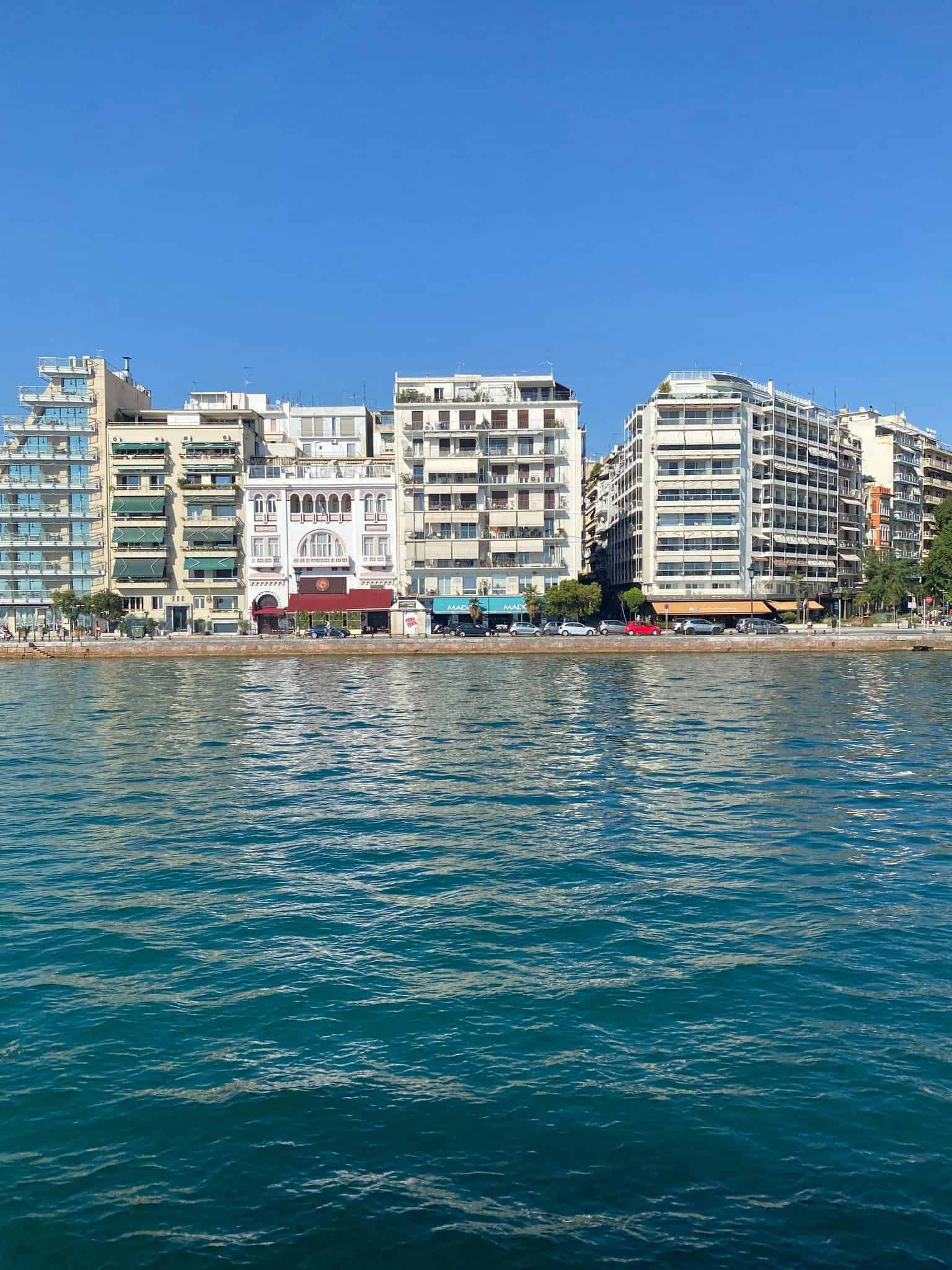 Like Athens, Thessaloniki is comprised of several different neighbourhoods each of which has its own personality. Ladadika is the historical quarter, and today, its narrow cobbled streets have become the city's entertainment district.
Venture through the various passageways here and you will see dozens of lively tavernas and bouzouki bars scattered throughout the area. Thessaloniki is quite the gourmand.
The city is often referred to as Greece's "foodie capital". Indeed, Thessaloniki restaurants offer everything from laid-back meze spots to fine dining.
Charoupi (Doxis 4) is a Thessaloniki institution. It serves up Cretan classic dishes that are prepared with a contemporary twist.
Equally beloved by locals is Toixo Toixo (Stergiou Polidorou 1). Toixo Toixo translates to mean "behind the wall" – a fitting name as the eatery is hidden behind the old Byzantine walls in Ano Poli.
You can find all of your favourite Greek taverna dishes here. The Hilopites Metsovou is particularly special – homemade pasta from the village of Metsovo.
Be sure to duck inside the many ancient Orthodox churches to admire their vibrantly coloured frescoes. Stop by the abandoned Heptapyrgion Fortress on the outskirts of town to obtain a macabre history lesson.
Halkidiki
Greece is one of the most popular travel destinations in the world. Every year, more than 33 million people flock to Greece in order to enjoy a little slice of paradise.
Places like Kerkyra, Rhodes, or the islands close to Athens are heaving with tourists during the summer months. However, there are also some beautiful places that the Greeks keep for themselves. Halkidiki is one such place.
Highlights of Halkidiki
Halkidiki sits at the Northeastern edge of mainland Greece. It exists in the form of three prongs that jut out into the sea like Poseidon's trident.
Halkidiki offers everything that you could desire for a perfect summer getaway in Northern Greece. It boasts idyllic beaches, translucent waters, and luxury resorts. However, Halkidiki is also much more than that.
Consider renting a boat and sailing out to the uninhabited island of Diaporos. Alternatively, visit the traditional stone villages of Nikiti and Afytos, or following hiking trails that lead through dense woodlands, and fragrant lemon groves.
Mount Athos
Mount Athos is the holy peninsula of Halkidiki. It is home to 20 monasteries and more than 2000 monks, making it the largest monastic community in Europe.
Women are not permitted to enter the monasteries, and even male travellers will find it tricky to obtain permits to enter. However, boat tours leave from Ournoupoli daily during the summer months.
You are able to see the monasteries from a distance of the boat. The tour also includes a stop at the stunning Ammouliani island.
Lake Kerkini
Lake Kerkini is an artificial lake that is situated in the Serres region of Northern Greece. Kerkini provides an example of a time where human intervention has actually had a positive impact on the environment.
Not only is the lake scenically beautiful, but it is also now one of Europe's premier bird-watching destinations. Kerkini is home to a plethora of rare birds, fish, and plants.
Highlights of Kerkini & Serres
Take a wooden boat across the lake so that you can catch a glimpse of majestic pelicans nesting on the waters. Kerkini is also home to the rare "dalmatian pelicans".

If birdwatching isn't your thing, you can still enjoy a trip to Kerkini. You can opt to stay overnight in one of the homely family guesthouses in the region or discover Kerkini on a day trip from Thessaloniki.
Embark on a hiking trail through the nearby Belles mountains that separate Greece and Bulgaria. Alternatively, take some time to explore the quaint villages of Central Macedonia (Vironia, Chrisochorafa, etc).
Mount Olympus
According to Greek mythology, Mount Olympus was home to all 12 of the Olympian Gods. Zeus, Athena, Poseidon, Artemis, and the others would sit here drinking nectar, and eating ambrosia as they discussed the fate of the mortals.
Today, Mount Olympus is one of the most famous hikes in the world. It is also the highest mountain in Greece.
Though challenging, it is possible to hike to the mountain's 2918m peak in 10 hours. There are alternative trails available for the less-seasoned hikers, and natural hot springs can be found along the ascent.

Mount Olympus can be climbed independently. However, be sure to do your research in advance. Several hiking clubs based out of Thessaloniki regularly do excursions to Olympus, or you can explore the area on a guided tour.
Parga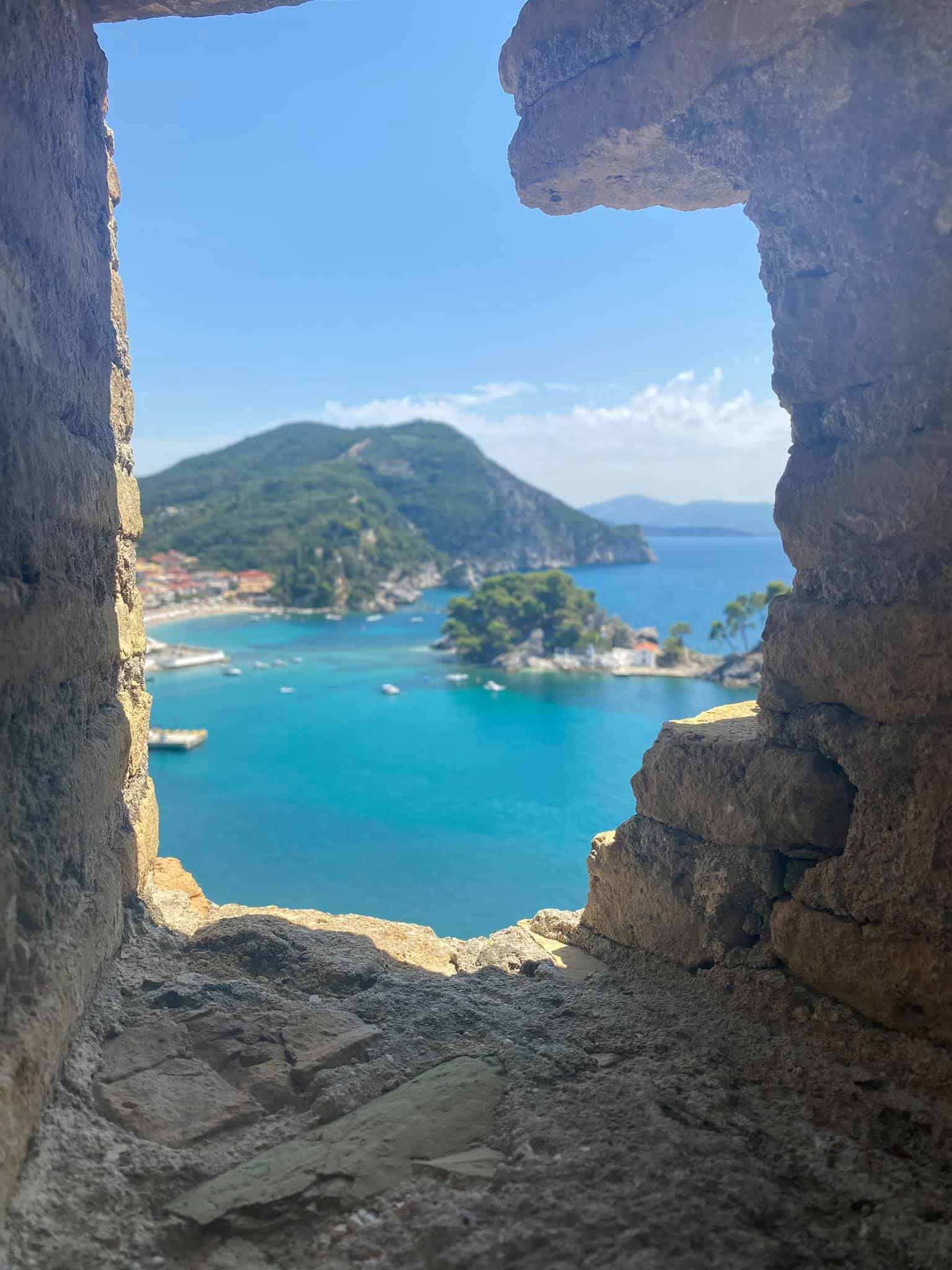 The charming beach town of Parga sits on the west coast of Northern Greece. It is a summer travel destination that has seen a surge in popularity in recent years – particularly among Greeks.
In Parga, pastel-coloured houses and stores line the seafront, and the narrow cobbled streets and passageways are filled with upscale boutique stores and luxury hotels. For the best beaches in the area, head north to Sivota where translucent cerulean waters and hidden coves await.
Trikala
The picturesque town of Trikala acts as a gateway to the mountains of Northern Greece. It is not a tourist destination. However, many Greeks will tell you that Trikala is one of the most beautiful towns in all of Greece.
The only time that most people will find themselves in Trikala, is when waiting for a connecting bus or train to take them to/from Meteora and Thessaloniki. What Trikala lacks in sightseeing or archaeological sites, it more than makes up for in its beauty.
Trikala Highlights
River Lithaios runs through the town, and the path that runs beside it makes a pleasant place for a stroll. The waters here are abundant with trout, so if you pass by in the mornings, you will see dozens of local fishermen lined up along the banks.
Head to Manavika. This is an old trader district now filled with tavernas and the perfect place to sample local delicacies such as galotyri cheese and country sausages. From there, head to the historic district of Varousi to explore quaint old houses, and Ottoman ruins.
Vikos Gorge & Zagorohoria
The Vikos Gorge is one of Greece's premier hiking destinations. It sits in the Northern Pindus Mountains in the Epirus region of Greece, less than 20km north of Ioannina.
You can hike the entire length of the gorge in 6 hours. However, the main draw of the region for most travellers is the quaint stone villages that act as waymarkers to break up the route.
Travellers can take the bus from Ioannina to Monodendri to commence their Pindus mountain adventure. From here, explore abandoned monasteries, hidden shrines, ornate stone bridges, and traditional villages frozen in time. The trip can be done independently and spaced out over as much as a week.
Meteora
The ethereal landscapes that surround the Meteora monasteries are a highlight of most people's Greece travel itineraries. Meteora translates to mean "suspended in the air".
This is a fitting description of the way that these centuries-old monasteries are perched precariously on top of cliffs. Public transport in Greece is excellent and it is easy to get to Meteora from Athens.
Meteora Highlights
There were once more than 20 monasteries that operated here. Unfortunately, time and the elements have destroyed several of the structures and so today, only six remain.
Opt to spend the night in a nearby hotel that offers views of Meteora from your balcony – a perfect place to watch the sunrise. The monastery interiors are lavishly decorated with vibrantly coloured frescoes and ornate decor. Meteora is the second-largest monastic community in Europe.
Northern Greece Travel FAQs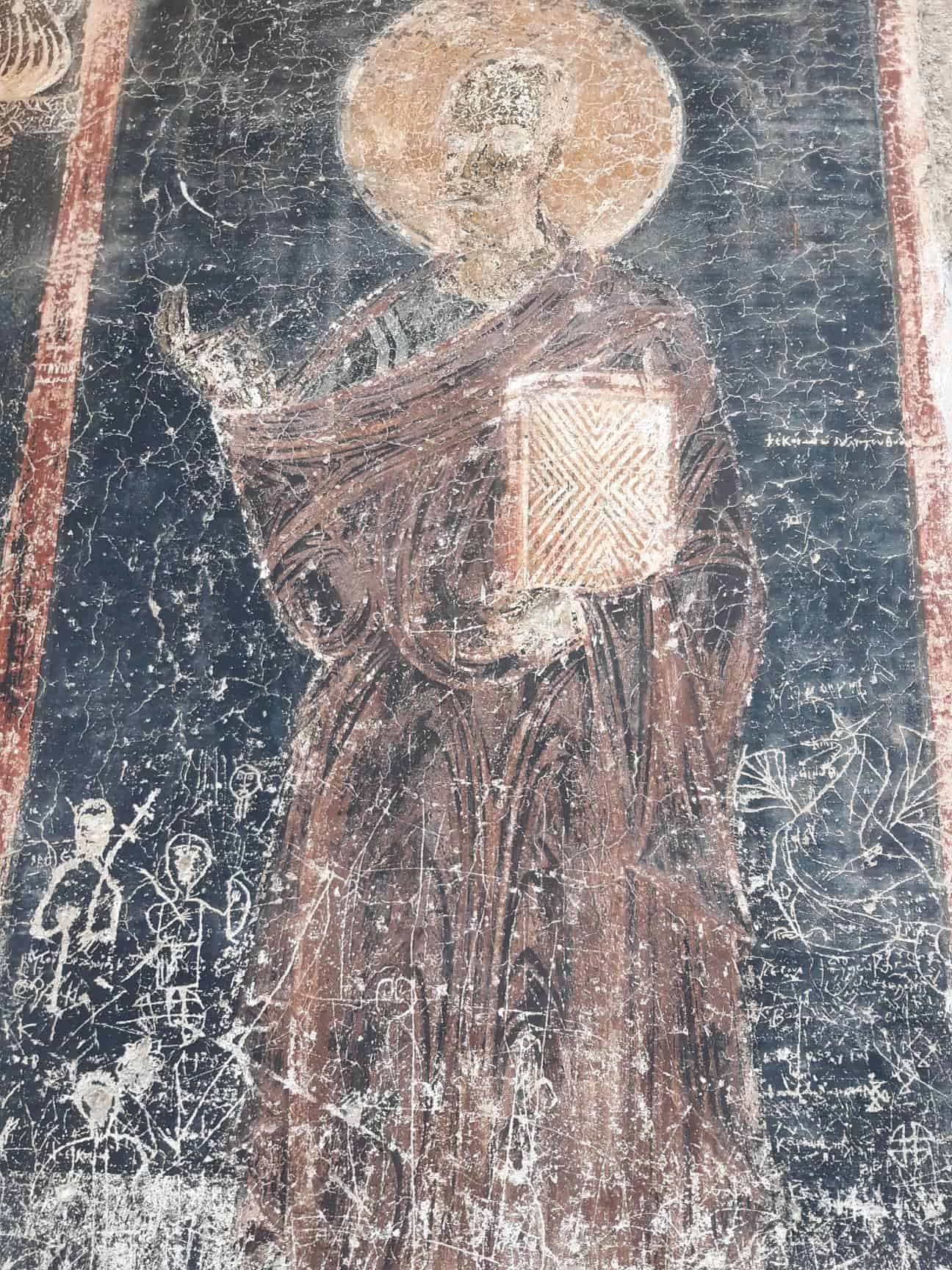 Do you still have any burning questions or concerns about visiting Northern Greece? Hopefully, you will find the answers you are searching for below.
Is Northern Greece worth visiting?
Northern Greece is definitely worth visiting. This region is home to some of the friendliest people in the country, and it possesses a culture that is quite unlike anywhere else.

In particular, Northern Greece makes a wonderful travel destination during the autumn and winter months. This region is filled with quaint, stone villages and mountainous landscapes that become absolutely magical during this time.
What is the northern part of Greece called?
The majority of Northern Greece falls into the regions of central, eastern and western Macedonia. This includes the cities of Thessaloniki, Serres, Kozani, Kastoria, etc.

However, as you head west, you find yourself in the Epirus region. Ioannina, Metsovo, and Zagorahoria fall within this area, with Ioannina being the Epirus capital.
What city is in Northern Greece?
There are several cities in Northern Greece, many of which are worth visiting. Thessaloniki is Greece's second city and the capital of the Central Macedonia region.
If you are short on time and can only explore a few places in this area, be sure to dedicate a few days to exploring Thessaloniki. Ioannina, Kastoria, Katerini and Trikala are also well worth your time.
When should I visit Northern Greece?
There is arguably no such thing as a bad time to visit Northern Greece, although the weather, and the travel experience, vary significantly from one season to another. Greece gets very hot during the summer months and often sees daily temperatures that soar above 35°C.

This is fine if you want to laze upon the beaches of Halkidiki, hang out in the coastal town of Peraia near Thessaloniki, or sail out to uninhabited islands like Diaporos. However, as far as most Greeks are concerned, winter is the best time to visit this region.

At this time, you can rent a cute wooden cabin with a log fireplace in little Metsovo, enjoy smoked country sausages in traditional tavernas, and look across the mountains as you sip oinomelo (Greek honey wine). Many Greeks will head out to rural areas of the region around Christmas.
Is Thessaloniki in Northern Greece?
Yes. Thessaloniki is the capital of the Central Macedonia region of Northern Greece.
Driving in Northern Greece
Driving in Greece is not as daunting as it sounds. The roads are generally very well maintained and in good condition and road rules in Greece apply just as they do in any other part of the world.
Still, there are a few things to keep in mind if you are considering road-tripping around Northern Greece. In Greece, like most of Europe, people drive on the right-hand side of the road.
Many of the roads lead you up winding mountain passes, particularly when you head towards the Pindus Mountains. The speed limits in Greece are 50 km/h (31 mph) in cities, 110 km/h (68 mph) outside of cities, and 120 km/h (75 mph) on highways.
Final Thoughts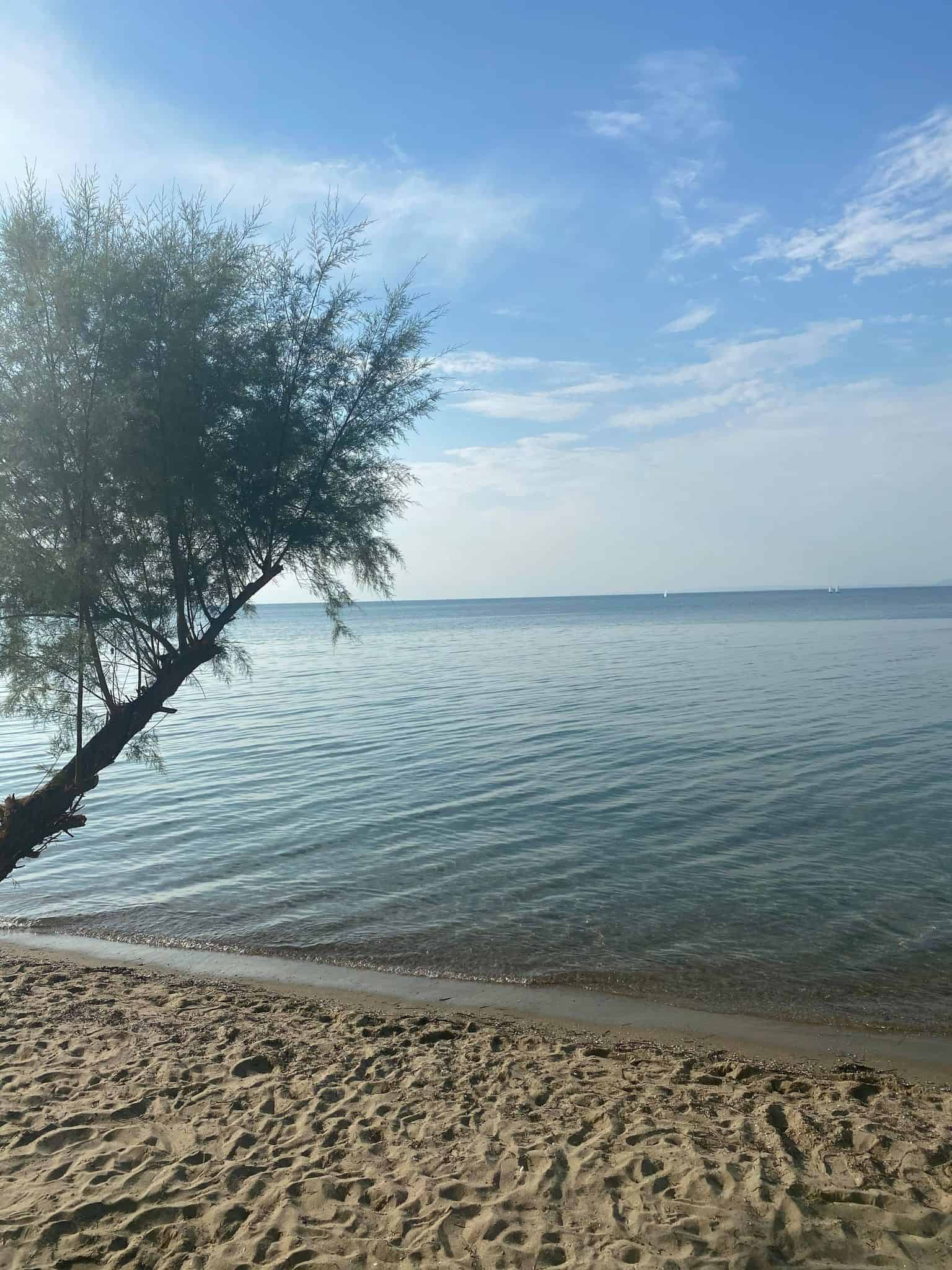 Have any questions about exploring the rugged wilderness of Northern Greece, or planning your first trip to Greece? I've lived here for almost four years now.
I'm happy to assist with any questions and queries that you may have. Feel free to drop me a comment or question below and I'll get back to you as soon as I can.
Geia sou! xo
---