Christmas in Greece is a magical experience. The central promenades and plateias (squares) of villages, towns, and cities across the country are decorated with hundreds of twinkling fairy lights and decorations, a huge, sparkling Christmas tree is set up in Athens' Syntagma Square, and bakeries start selling mouthwatering festive treats such as kourabiedes and melomakarona cookies.

Most Greeks are Orthodox and Christmas here is a huge deal. It is one of the most important celebrations in the Greek calendar, along with Orthodox Easter which takes place every spring.
Just like in many other European countries, the festivities in Greece start in early November. There is always a huge commercial aspect to Christmas, wherever in the world you travel, and as soon as the temperatures begin to dip, a transformation seems to occur.
From early November, shops around the country start decorating their storefronts with festive facades, and Christmas commercials start playing on the TV and the radio. Every major shopping hub in the country – From Ermou street in Athens to the malls of Thessaloniki become filled with Christmas shoppers seeking out the perfect gifts.

There is a certain magic in the air during Christmas in Greece. However, this may not seem like something of an unusual time to plan a trip to Southern Europe. It can be one of the most rewarding ones.
Christmas in Greece: The Weather in the Winter Months
First thing first: it is important to note that Greece is not a winter sun destination. A lot of people associate any mention of Greece with the idea of lazing around on pristine beaches in hot, sunny climes.

While Greece boasts hot, Mediterranean summers, the temperatures are much cooler in the winter. Yet still, they are likely milder than what you are used to but definitely not beach weather.

The exact conditions vary depending on what part of the country you travel to. Generally speaking, the farther south you go, the warmer it gets.

In Athens, you can expect daily temperatures between 8° and 15° Celsius. Pack layers and be sure to travel with a coat, scarf, and warm, comfortable shoes.

Snow is not unheard of in Greece in December and January. This is particularly true of Northern Greece and parts of the country such as Ioannina, Lake Kerkini, and Kastoria.

However, in recent years, even Athens has seen snow! Seeing the Acropolis and its magnificent Parthenon covered in a light dusting of snow is a wonderful sight to behold.
Christmas in Greece: Traditions to Know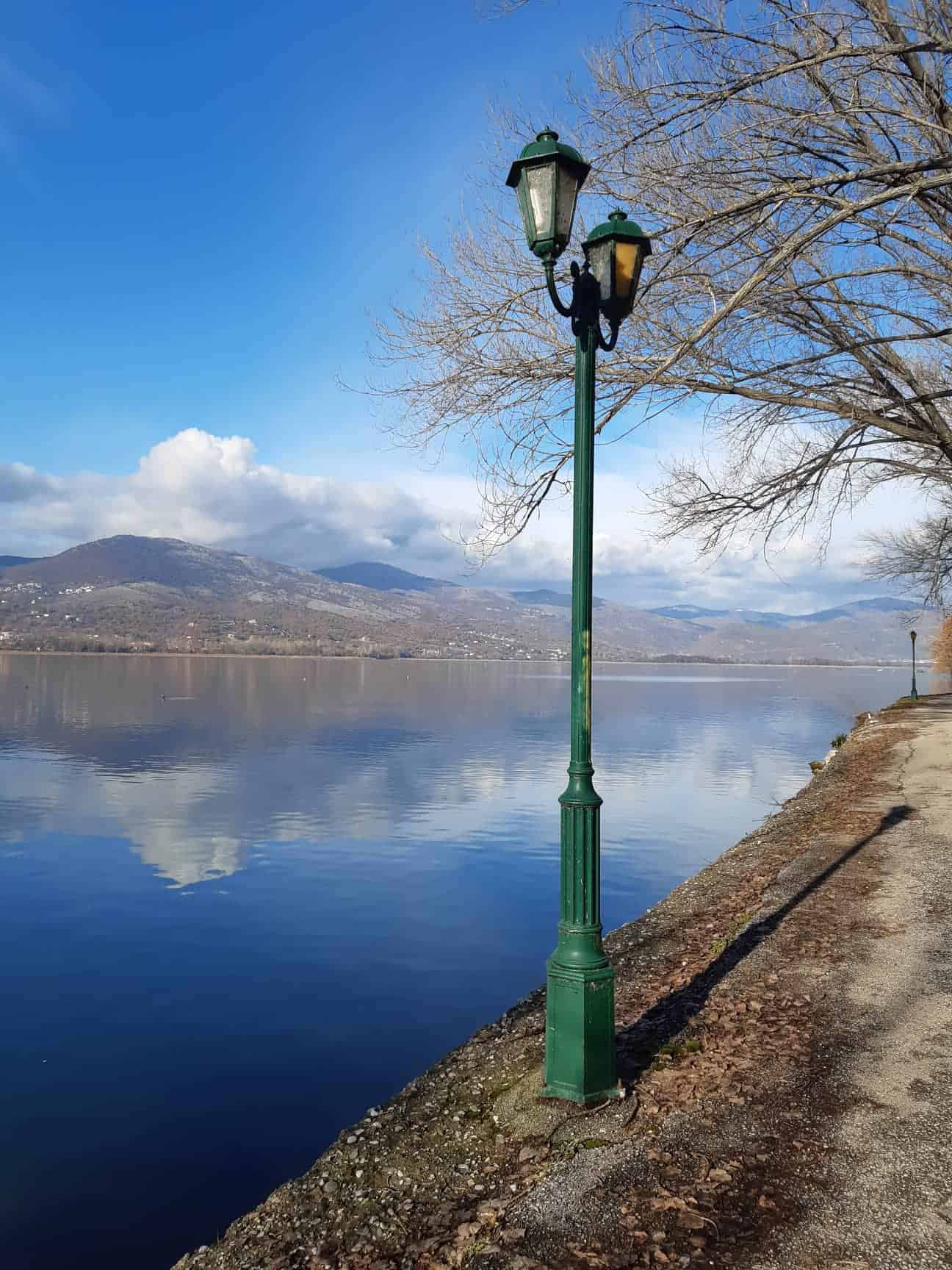 Experiencing Christmas in Greece provides you with the opportunity to see various traditions and festivities that may be completely different from those which you see in your own country. This time is particularly special if you have Greek friends and family that can invite you to the feasts and celebrations at their homes. But even if not, there are plenty of magical events taking place across the country.
Christmas celebrations in Athens
Christmas in Athens is arguably one of the best places to experience Christmas in Greece. Gorgeous decorations and fairy lights decorate everywhere from Ermou Street and the National Gardens, to the narrow backstreets of Pagrati.

Lots of Athenian squares and neighborhoods set up their own Christmas trees, but the largest and most spectacular of the bunch is found in Syntagma Square. In December, in true Christmas spirit, free concerts and musical performances are held almost every night of the week.
Meanwhile, in Korai Square in Piraeus, you can expect a typical Christmas market, Santa meets and greets, carol singing, live performances, and cafes with Christmas songs blasting out over loudspeakers. Greece doesn't have a huge scene for Christmas markets like what you would expect in say, Germany, Austria, or elsewhere in Western Europe.

However, there are Christmas bazaars. These are strictly local affairs and are comparable to flea markets.

You can find everything from clothing and house products to street food snacks and religious idols. One of the best-known Christmas bazaars is the one that takes place at St. Paul's Anglican church. This has been a tradition since 1953.
Festive treats and snacks in Greece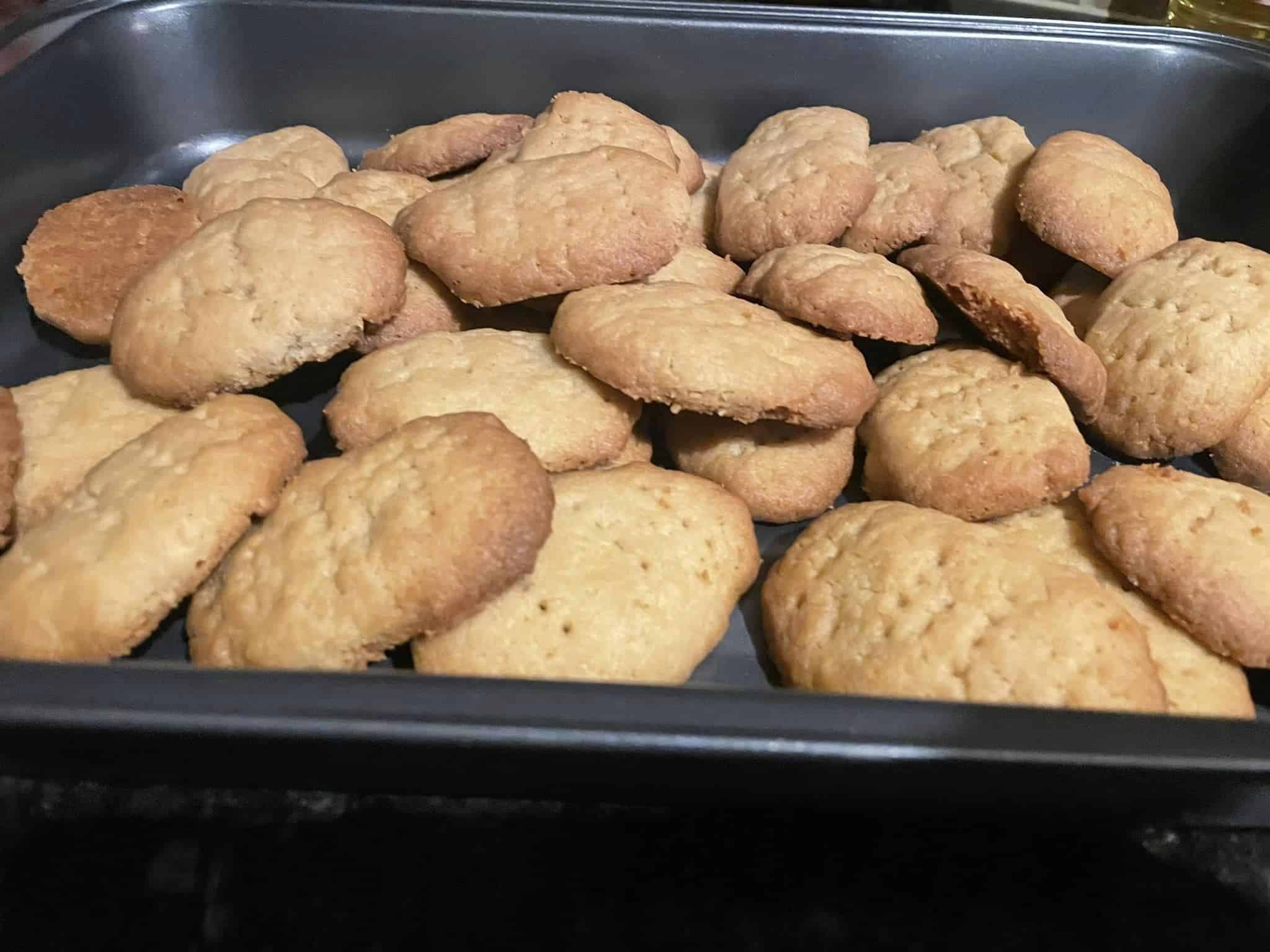 As you meander through the streets of Greek cities and towns at Christmas, you will be met with the fragrant smell of orange and honey wafting through the streets. At this time, virtually every bakery and patisserie in the country sells melomakarona cookies.

These delicious, crumbling cookies are believed to be derived from the makaria – an ancient treat that was served at funerals in the Mediterranean. The treats are made using semolina, orange, honey, cognac, and spices such as cloves, cinnamon, and nutmeg.
The name is believed to originate from "meli" which is Greek for honey, and "makaria", the name of the original biscuit. While these cookies are enjoyable to eat yourself while in Greece, and ideally, to be washed down with a strong Greek coffee, you can also buy gift sets of them too.

Gorgeously wrapped decorative boxes of melomakarona make great Greek souvenirs and gifts for loved ones back at home. Kourabiedes (Greek almond cookies) are equally as beloved and delicious. These buttery cookies are coated with a generous dusting of icing sugar.
Finally, you should look out for diples. This is a Greek Christmas pastry that is made by frying a thin sheet of dough, in a similar way to which you would make a crepe.

Then, the dough is rolled like a cigar and dipped in honey, syrup and walnuts. You will find a lot of street food vendors in Christmas markets, and in touristic areas like Plaka and Thissio in Athens selling diples. However, they also grace the dessert menus of a lot of restaurants across the country.
Ice rinks set up around major towns and cities
From early December, outdoor ice rinks start to pop up around the country. You will find them everywhere from Thessaloniki, to Volos, Athens, and everywhere in between.

In Thessaloniki, a festive ice rink is erected in the central Aristotelous Square. From here, you have incredible views out to sea and over the waters of the Thermaic Gulf.

Arguably the most magical festive ice rinks in the country are those that are set up in Athens. Where else in the world could you skate beneath the shadow of the Acropolis and among the remnants of sunbleached, centuries-old ruins?
The ice skating rink in Kotzia Square, besides the Athens City Hall, is one of the most central and elegant. The rink is encompassed by dozens of stunning Christmas trees which, by nightfall are illuminated with dozens of twinkling lights.

Equally popular is the rink at the Athens Concert Hall. Not only are you able to skate in a breathtaking setting here, but the amenities are also unparalleled.

Small tented cafes pop up beside the rink so that you can grab a hot toddy or warm cocoa between skating sessions. The rink is also equipped with an awning so even if there happens to be a freak rain/snow storm, it won't affect your festive fun!
Festive drinks
Mulled wine may be the festive drink of choice in much of Europe during the festive period but in Greece, it's oinomelo: Greek honey wine. There are many festive Greek alcoholic beverages that are enjoyed during this time, and many bars and restaurants across the country tweak their menus accordingly.

If you see "melo" make up part of the name of any beverage, it means that the drink contains honey. Oinomelo (honey wine) and rakomelo (whiskey and honey) are among the most popular.

Both are served hot and are often homemade. You can order large carafes of oinomelo at most restaurants and tavernas during this time. Meanwhile, rakomelo is often given as a complimentary digestif at the end of a meal.

Of course, you will also find well-known, international festive drinks available at this time too. For instance, many Athenian bars will serve up hot toddies, eggnog, and Christmas-themed cocktails made with unapologetically Greek ingredients such as mastiha and ouzo.
Christmas celebrations in Thessaloniki
Thessaloniki, Greece's second city, is still massively underrated as a European travel destination. However, it can be just as wonderful a place to spend Christmas in Greece as Athens is.

Aristotlelous Square, situated on the waterfront Nikis avenue of the city, is Thessaloniki's main central square. In early December, a huge, illuminated Christmas tree is set up here, as are several other festive decorations.

Events take place here virtually every night of the week. You will catch everything from Christmas carol singing (kalandas) to live brass bands and bouzouki-style singers.

This is a great place to sample Greek street food at this time of year too. The local vendors come out in droves to sell steaming hot roasted chestnuts, fresh corn on the cob, popcorn, candies, assorted nuts, and dried fruits.

Keep your eyes peeled for vendors wheeling large copper cauldrons of a drink known as salep. This warm wintry beverage is enjoyed in several Balkan countries, including Turkey, and Greece in the winter months.

It has a thick consistency and a taste that is somewhat comparable to Indian Chai. The drink is made from orchid tubers and is flavored with cinnamon and cloves, for a wonderfully rich, spiced winter beverage.
The slightly smaller nearby square of Dikastirion Square now hosts an annual Christmas market similar to those that you would expect in other European cities. More than 40 cabin-style wooden lodges are set up and you can buy everything from German beer and stollen to homemade fudge and Christmas decorations.
Karavaki boats
Today, most Greeks decorate Christmas trees in their homes. However, an older, national tradition is that historically, Greeks would decorate little boats known as "Karavaki".

There are several theories as to why boats were decorated in Greece during this period, although the exact reason is still unknown. Could it be because Greece is made up of so many islands and so, it had a high dependency on trade and transport via the sea?

Or is it perhaps because December the 6th celebrates Saint Nicholas, the patron saint of sailors? Whatever the exact reason may be, the decorating of boats is a Greek Christmas tradition that has withstood the test of time and has lasted for centuries.

Today, many Greek islands in the Sporades, the Cyclades, and other Greek island groups, still decorate large boats and set them up in their main squares in place of a tree. An illuminated boat made up of lights often appears close to the waterfront in Thessaloniki.

For the most part, karavaki are becoming less common in Greek households. However, some older Greeks or some particularly patriotic young locals may still create them as part of their decorations.
Kalanda (Greek Christmas carols)
In a lot of western countries, children go door to door performing Christmas songs during the festive period, or they sing to an audience in squares and plazas. In Greece, this is no different.

Only here, the practice of singing carols is known as "Kalanda". In Ancient Greece, young children would carry small boats and sing songs honoring Dionysius.

Today, the tradition remains similar, and the songs are intended to wish fortune and happiness to the person who is being serenaded. Greek Christmas kalanda songs are very different from western songs.

Although you may hear international Christmas classics like "All I want for Christmas is you" and "Last Christmas" blasted out on radios in Greek taxis and bars, locals perform more traditional songs. "Trigona Kalanta" is the Greek version of "jingle bells", while "Kalanta Chistougenna" is arguably the nation's favourite Greek Christmas carol.
Gifts from Aghios Vassilis
Santa Claus is known and recognised as a Christmas figure in Greece. However, this is an American tradition that has only really started to catch on in Southern Europe in recent years.

In Greek Christmas markets, kids can line up to sit on Santa's lap, and in decorations and storefronts, you will see depictions of Santa. However, during Christmas in Greece, kids actually receive their gifts from St. Basil (Aghios Vassilis).
Aghios Vassilis was a medieval bishop from Caesarea. Traditionally, Greek children would receive their gifts from him on New Year's Eve. However, it is becoming more common for families to simply exchange them on Christmas Day.
Theatrical performances in Athens
There are few better ways to get into a festive mood than by watching a wintry theatrical performance, ballet, or pantomime. Fortunately, there is plenty of opportunity for that in Athens.

Various shows take place in the Greek capital throughout December and January. Notably, the Nutcracker ballet by Konstantinos Rigos and Pyotr Ilyich Tchaikovsky will take place at the Greek National Opera Hall.

Meanwhile, a "romantic operetta" called "Cheap Smokes", an ode to empty summer Athens will take place on the Alternative stage of the National Opera Hall on various dates in 2022. So too will the dramatic French opera "Les Contes d'Hoffmann".

Most of these performances do not take place in English. However they are hugely emotive, predominantly music-focused, and you generally don't need to understand the language to figure out what is going on.

You can check the local listings and Greek Facebook groups to find out what is going on during the dates of your trip. Why Athens is a good source of information. Do note that most festive shows require you to book a ticket online, in advance.
New Year's Eve in Greece
New Year's Eve is a big deal in Greece just as it is in much of the world. Greeks see the New Year as an opportunity for new beginnings and a chance to reflect on the year that has just passed.

Most Greeks spend a large portion of the evening with their extended family. They will indulge in a giant feast made up of traditional Greek food that is, of course, typically washed down with copious amounts of tsipouro and ouzo.

For dessert, a vasilopita is cut. This is a special cake that is prepared especially for New Year's Eve.
A traditional vasilopita is made from sweet bread. However, today, many varieties do exist and it is not unheard of to make chocolate or fruit cake versions.
The cake is special because of a coin that is hidden inside. Whoever finds it is said to have a successful year ahead!

The cake is usually cut in a certain order. The first piece is for the male head of the household, the second is for his partner, etc.

Greeks will often eat several vasilopitas throughout the festive period – one with family, one with friends, one at the workplace, etc. As the clock strikes midnight, they will cheer each other with cries of "Xronia polla!"

Then, typically, the younger people will head out to bars, clubs, and New Year's Eve parties with friends to celebrate until the early hours of the next day. Gazi is the raucous nightlife district in Athens, while in Thessaloniki, Ladadika is the place to go.
Fireworks also erupt from several points around the country at midnight. Notably, Mount Lycabettus in Athens.
Enjoy a cosy winter getaway
Most people associate Greece with trips out to the Greek islands and days spent lazing upon the soft white powdery sands of pristine beaches. Very few non-Greeks would consider the country as a winter travel destination.

However, as far as locals are concerned, this is one of the best times of year to get away for a few days. There are several charming mountain towns and ski resorts in rural Greece, particularly in the central and northern parts of the country.

They offer the opportunity to get back to nature, and it is popular to rent a cosy wooden cabin in a rural area, complete with a log fire, as a way to relax and unwind. The little Vlach settlement of Metsovo, high in the Pindus mountains, is a popular choice.

So too is the town of Karpenisi in Central Greece, and the various quaint stone villages that surround it. It may come as a surprise to hear that there are several ski resorts in Greece. Some of the most popular are found in Arachova.
Shop for Greek Christmas gifts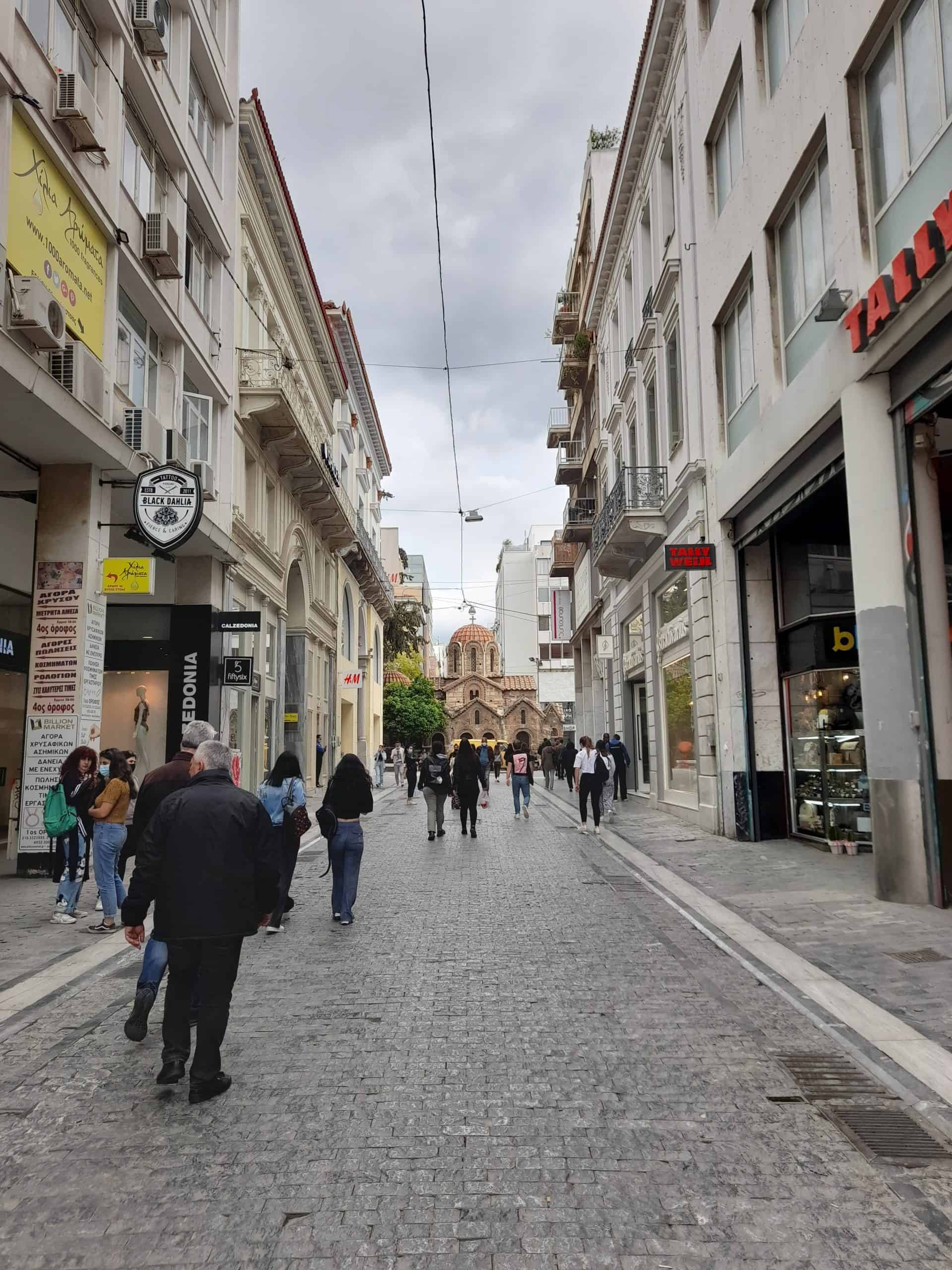 If you are heading to Athens in December, this is a great time to do a spot of Christmas shopping. The malls and shopping streets in the Greek capital are home to a diverse selection of renowned international and local boutique stores.

Shopping in Athens can be a wonderful experience. Ermou street is the main pedestrianised walkway in the center of the city.
It connects Syntagma in the South with Gazi/Kerameikos in the north. You will find high street brands such as H&M, Zara, Mango, etc here.
On the little side streets that veer off from it, are boutiques owned by independent Greek designers. If you want to purchase one-of-a-kind apparel and accessory items, this is the place to do that.

Purchasing Greek agro-products such as cured meats, cheeses, different jars of honey, and sugary treats such as loukoumi, is a great gift idea for the Grecophiles in your life. You can purchase ready-made hampers at places like Yoleni's (Solonos 9).

Alternatively, you can make your own by shopping for deli goods at places such as Nora's Deli in Kolonaki (Panagiotou Anagnostopoulou 11), Olivers in Pagrati (Empedokleous 20), and Miran (45 Evripidou street) in Psyri. Just be sure to check any import laws for your home country. (i.e. to be sure you are allowed to carry cheeses in, etc).
Greek winter food
Traditional Greek food is far more than just souvlaki and gyros. The Christmas period is a time for hearty soups and stews and sumptuous marinated meat dishes.
Fasolada (Greek bean soup) frequents the menus of a lot of Greek tavernas during this time. To create the dish, large white beans are slow-cooked in a tomato-based soup until they are soft and tender. Many people consider this to be one of the key national dishes of Greece.

Lentil soup is also a hearty Greek winter treat. So too, are several different pork dishes. For instance, pork stew with various vegetables, and roast pork.
Christmas in Greece FAQs
Do you still have any burning questions about spending Christmas in Greece or any traditions and festivities that take place during this time? Hopefully, you will find the answers you are looking for below!
Do Greeks celebrate Christmas on December 25?
Yes. Most Greeks are Orthodox and they celebrate the birth of Jesus Christ on December 25th. Like in many places, they exchange gifts and enjoy a grand feast on this day.
Are places open in Greece on Christmas Day?
Most restaurants, stores, and businesses across Greece are closed on Christmas Day as it is a major public holiday. Do note that Christmas 2022 also falls on a Sunday.

That being said, there are still a few restaurants in touristic areas (e.g. Monastiraki Square and Plaka in Athens) that remain open to cater to tourists. So, a souvlaki dinner may not be the typical Christmas dish that you are used to, but it will still be a delicious one!
Is Christmas a big deal in Greece?
Yes. Since most Greeks are Orthodox and a lot of the population is very religious, they place a lot of importance on celebrating December 25th. This is the day that Jesus was born.
How do you say Merry Christmas in Greek?
"Merry Christmas" in Greek is "Kalá Christoúgenna". (καλά Χριστούγεννα).

However, you will also hear a lot of Greeks greeting each other around Christmas and New Years with "Chronia polla!" (χρόνια πολλά) which means "many years!".
Is Greece good for Christmas?
Greece is a great place to experience Christmas, particularly for grecophiles with a keen interest in learning about and experiencing all aspects of the local culture. Better still, Greece is a milder place to spend the winter months compared to most countries.
Parting Words
Have you ever experienced Christmas in Greece? What did you think and how did it compare to spending the festive season in your own country?

If you are headed to Greece for the first time, you may also enjoy this article on planning a trip to Greece. Have a wonderful trip!
Geia sou! Melissa xo
---