Christmas in Athens is not the most typical time to visit the Greek capital. However, it is one of the most magical.
Without meaning to paraphrase Andy Williams, Christmas in Athens is in fact the most wonderful time of the year! The city streets feel almost magical as they are illuminated with thousands of twinkling lights.
During this time, locals greet each other with cries of "xronia polla", and the smell of warm homemade melomakarona cookies wafts through narrow Athenian alleyways. There are far fewer tourists here now as compared to summer in Greece so you really get a feel for what life in Athens is truly like.
Athens in winter may not sound like your usual choice. The Greek capital may not exude the same snow-covered fairytale vibe as other European capitals.
However, that is not to say that Christmas in Athens isn't magnificent. This is a huge religious holiday for the Greeks, and Athenians go all out with their decor and celebrations.
Christmas in Athens 2022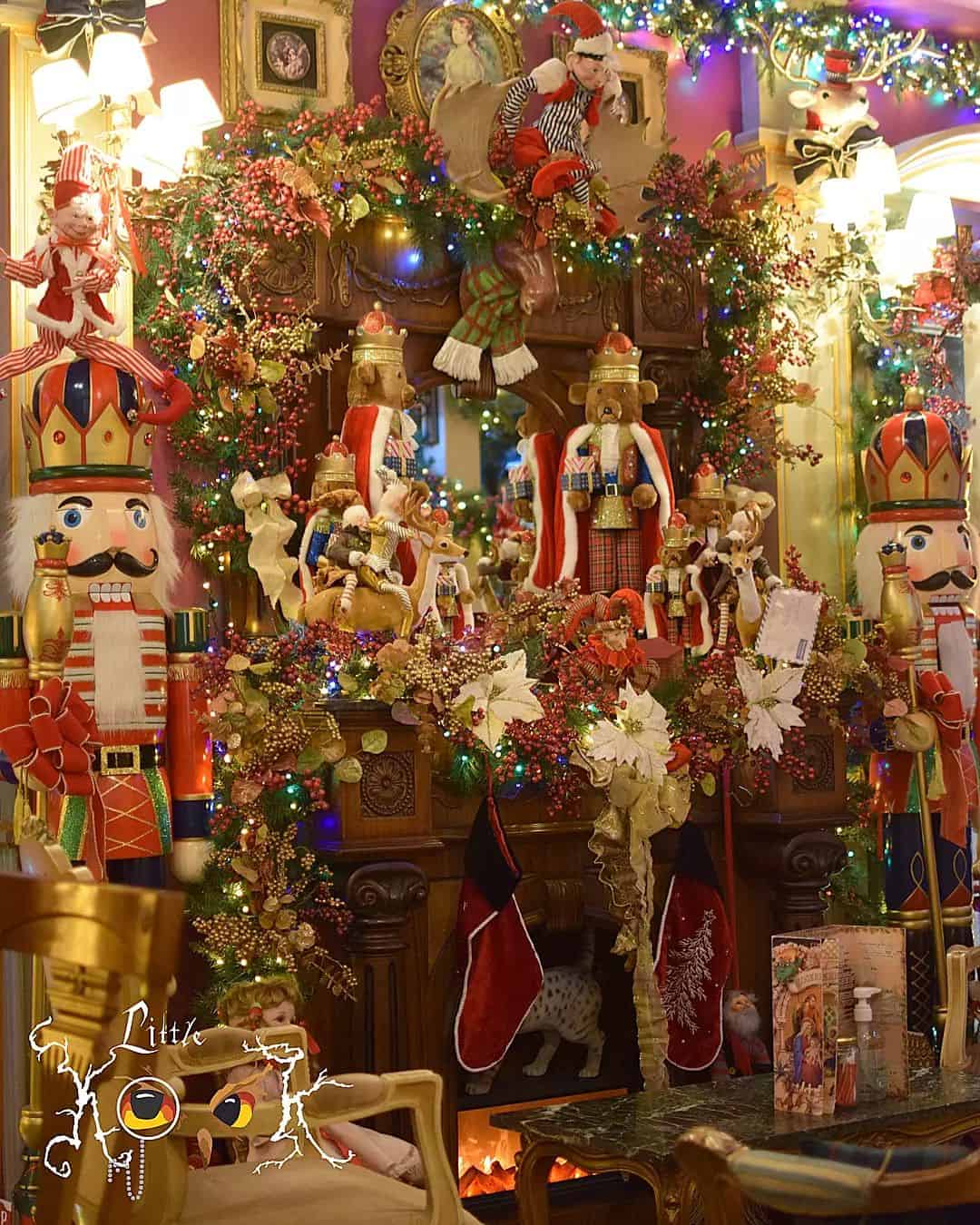 If you plan on spending Christmas in Athens, you can still plan a cultured Athens sightseeing itinerary just as you would when travelling here in the summer. Do note, however, that many museums and historical sites are closed on the 25th and 26th of December.
Weatherwise, the conditions in Athens at this time of year are relatively mild, particularly compared to other parts of Europe. Expect daily averages between 8° and 15° Celsius with temperatures dropping at night.

Even though December is one of the coldest months of the year in Southern Greece, you can still typically expect clear blue skies. There are occasional cloudy or rainy days. But Athens is not London and any rain shower is usually brief and quickly clears up.
Things to do during Christmas in Athens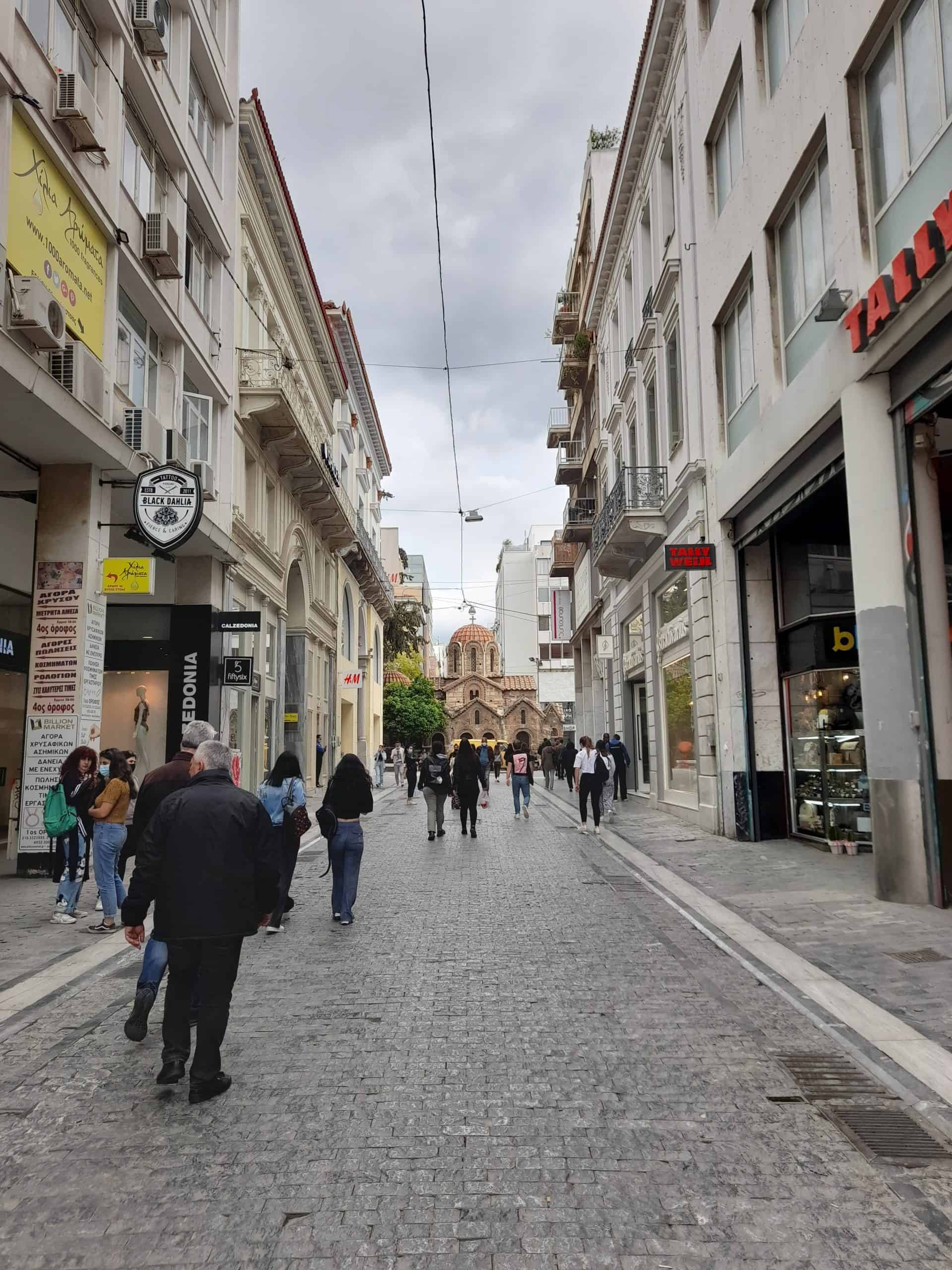 Some suggestions on how to enjoy your time during Christmas in Athens are detailed below. It is a good idea to check local listings while in town to check the latest schedules for various shows and events. The reception/concierge staff at your hotel will also be able to provide some insider recommendations.
Enjoy the festivities at Syntagma Square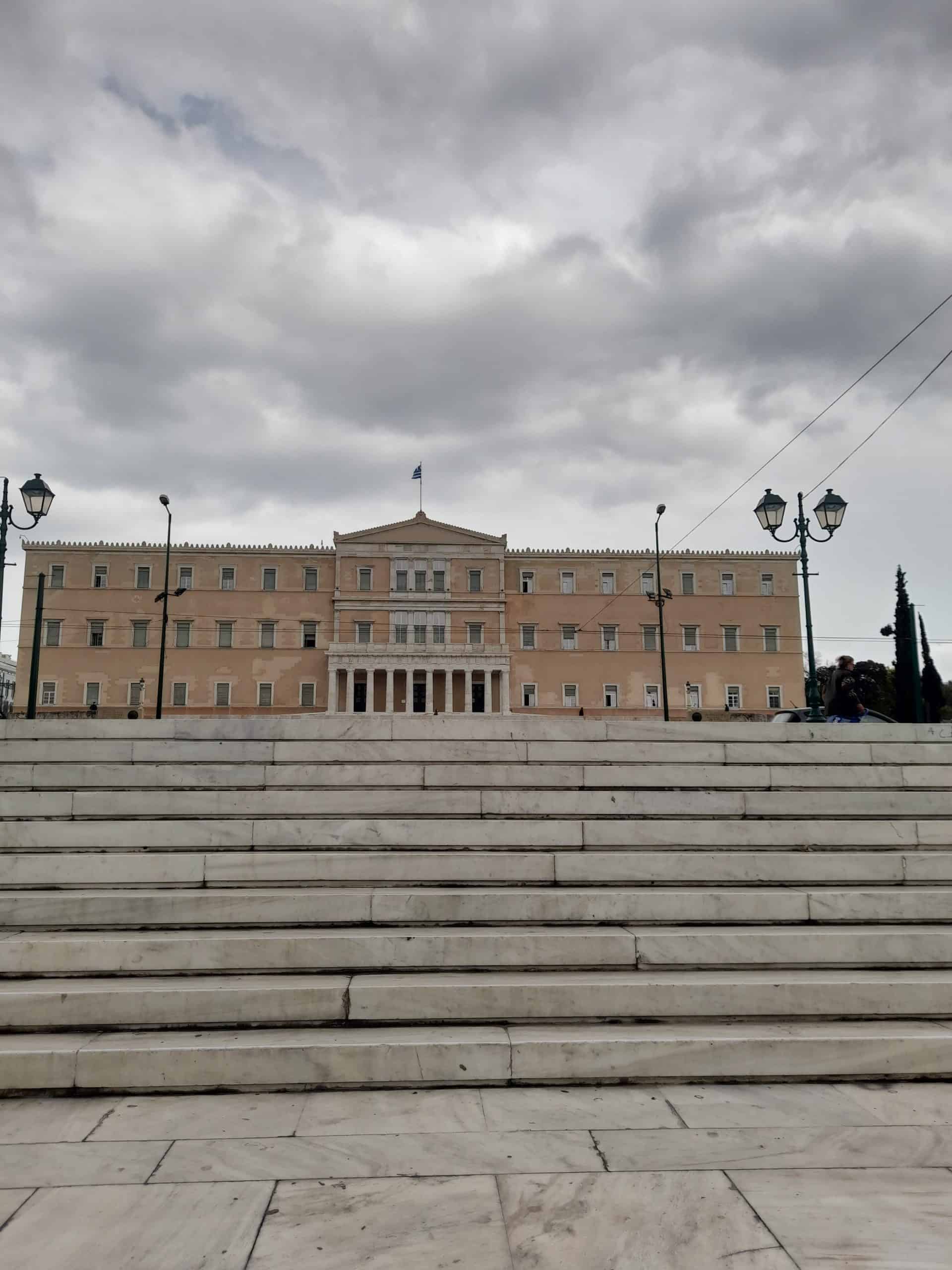 Syntagma is Athens' central square. In December, a sprawling Christmas tree is set up here in front of the Greek parliament building.
Throughout the month, free concerts and musical performances are hosted in Syntagma almost every night of the week. The entire area, along with the nearby streets of Ermou, Mitropoleous, and Perikleous, is illuminated with Christmas lights.
Watch a movie at the open-air theatre
There are several gorgeous open-air theatres scattered throughout Athens city centre, many of which date back to the early part of the 20th century. A variety of modern and classic Greek and international movies are played on the screen and the amphitheater-style seating resembles that which you would have found at ancient Greek theatres thousands of years ago.

This is usually just a summer thing. Open-air theatres in Thissio and close to the Zappeion play movies about Greece such as Mamma Mia or My Big Fat Greek Wedding.

The theatres usually close for the season from October onwards. However in Christmas in Athens 2022, the Athens Open Air Film Festival will run between the 27th and the 29th of December. A selection of classic movies will be played, including the Nightmare before Christmas and Edward Scissorhands.
Fortunately, although it does get cooler in Athens in December, it never gets blistering cold like in other parts of Europe. So, if you wrap up warm with a coat and a scarf, you will have a wonderful experience enjoying the movie.
The concessions stand at the movie theatre sells a selection of typical movie night treats such as ice cream and popcorn. You can also buy Greek street food eats from the vendors along Apostlou Pavlou such as corn on the cob, roasted chestnuts, gyros, and souvlaki. Yum!
See the Athens Christmas lights turned on
During Christmas in Athens, all central Athenian neighborhoods are decorated with lights, trees, and decorations. Various squares in Athens have their own nativity displays and trees.

But the lights all over the city will be turned on for the first time this year on the 10th of December. The Mayor of Athens, Kostas Bakoyannis will give a small speech and then flick the switch before several Greek DJs, musicians, and live bands will perform to the crowds.

A sound and light show will be projected onto the parliament building and street vendors will be out in full force to sell everything from trinkets and handicrafts to street food favourites. One nice way to warm up as you watch the festivities is with a steaming hot cup of salep.
If you see vendors labeling cups of a white, milky-looking drink out of a large copper cauldron, go and try it. This will be salep.

Salep is a rich, creamy, cinnamon-infused drink that is made from orchid tubers and is popular in Greece and Turkey during the Autumn and Winter months. When you are watching shows outside and you feel like you cannot feel your fingers, salep is the answer!
Celebrate off the beaten path in Piraeus
Watching the Christmas celebrations at Syntagma Square is a wonderful experience. However, since this is Athens' main square, it also gets very crowded. One alternative place to check out is Korai square in Piraeus.
The gritty city of Piraeus is overlooked by most people that travel to Greece. It is usually just used as a jump-off point for taking ferries to the islands close to Athens.
Not only does Piraeus pack plenty of culture in itself, but in December, the Korai Square hosts festivities for all the family. Here you can find Santa meet and greets, carol singers, and festive songs that are played out over loudspeakers.
Local street food vendors set up stalls selling all manner of Greek street food eats and winter treats. What could feel more festive than warming up with freshly toasted corn on the cobs, cones of roasted chestnuts, and giant clouds of cotton candy?
Enjoy the Christmas Eve carol singing
Carol singing is a popular activity on Christmas Eve in Greece. It is just as popular here as it is in countless other countries across the globe.
On the 24th of December, it is customary for children to go and sing "kalanda" (Christmas carols) in the streets. If the children sing well, they are rewarded with money, nuts, and sweets.
You will find a lot of carol singers in Syntagma square on Christmas Eve. They also congregate in the busy neighbourhoods of Koukaki, Kolonaki, etc.
Learn about Greek Christmas traditions
There are several different Greek Christmas traditions and superstitions that you should look out for during the festive season. In residential areas of Athens, you may see little boat figurines placed on people's doors and windowsills.
Centuries ago, Greece had a very important relationship with the sea, which provided the main avenue for trade between the islands and with other countries. So, instead of decorating Christmas trees, Greeks would decorate boats!
Today, this is less common, but you will often find that a giant illuminated boat is set up in Aristotelous Square in Thessaloniki. Some older people still like to display Christmas boats in their homes.
Another seasonal superstition? Throwing pomegranates! Legend has it that if you throw a pomegranate outside your house on New Year's Day and it breaks, you and your family will be rewarded with fortune, success, and health in the year ahead.
Cut into a vasilopita with Greek friends
One of the most iconic festive treats/traditions during Christmas in Athens is the cutting of the vasilopita. You will find that this cake is sold at virtually every bakery and patisserie across the city, though some families often prefer to make their own.
This cake is dedicated to Saint Basil. He is essentially the Greek answer to Santa Claus. It is usually cut at the end of a family feast on New Year's Eve.
Traditional vasilopita is a sweet bread with something of an orange flavor. However variations do exist and nowadays you can also find chocolate vasilopita, fruit vasilopita, etc.

The cake is cut in a specific order. The first piece is for Jesus, the second for the Virgin Mary, and the third for the needy.
The next slice is cut for the man of the house. Then, pieces are cut for those at the table from eldest to youngest.
A small coin is wrapped up and placed inside the cake. Whoever finds it will have good luck in the year ahead. If you don't know anyone locally in Athens but you want to participate in the festive fun, you can buy your own vasilopita from a local bakery.
Watch the sound and light show at Kotzia Square
Several sound and light shows will take place around Athens in Christmas 2022. On Christmas Eve, head to Kotzia Square, close to Omonia, for a gorgeous show at the Athens City Hall.
Ice skate beneath ancient ruins
As the nights draw in and the temperatures drop, numerous ice skating rinks pop up across Athens. Athens hosts boast indoor and outdoor skating rinks.
Many of the latter enables you to skate right beneath the Acropolis. What could be more magical than whizzing across the ice doing pirouettes (or trying, failing, and falling) beneath the ruins of the Parthenon?
The Stavros Niarchos Foundation Cultural Centre is a relatively "off the beaten path" place to visit in Athens. Very few tourists know about this cultural and exhibition space.
However, from its top floor, you can enjoy magnificent panoramas across the city. During the winter, the frozen stream that runs alongside the centre is transformed into an ice rink.
Attend mass at a Greek Orthodox church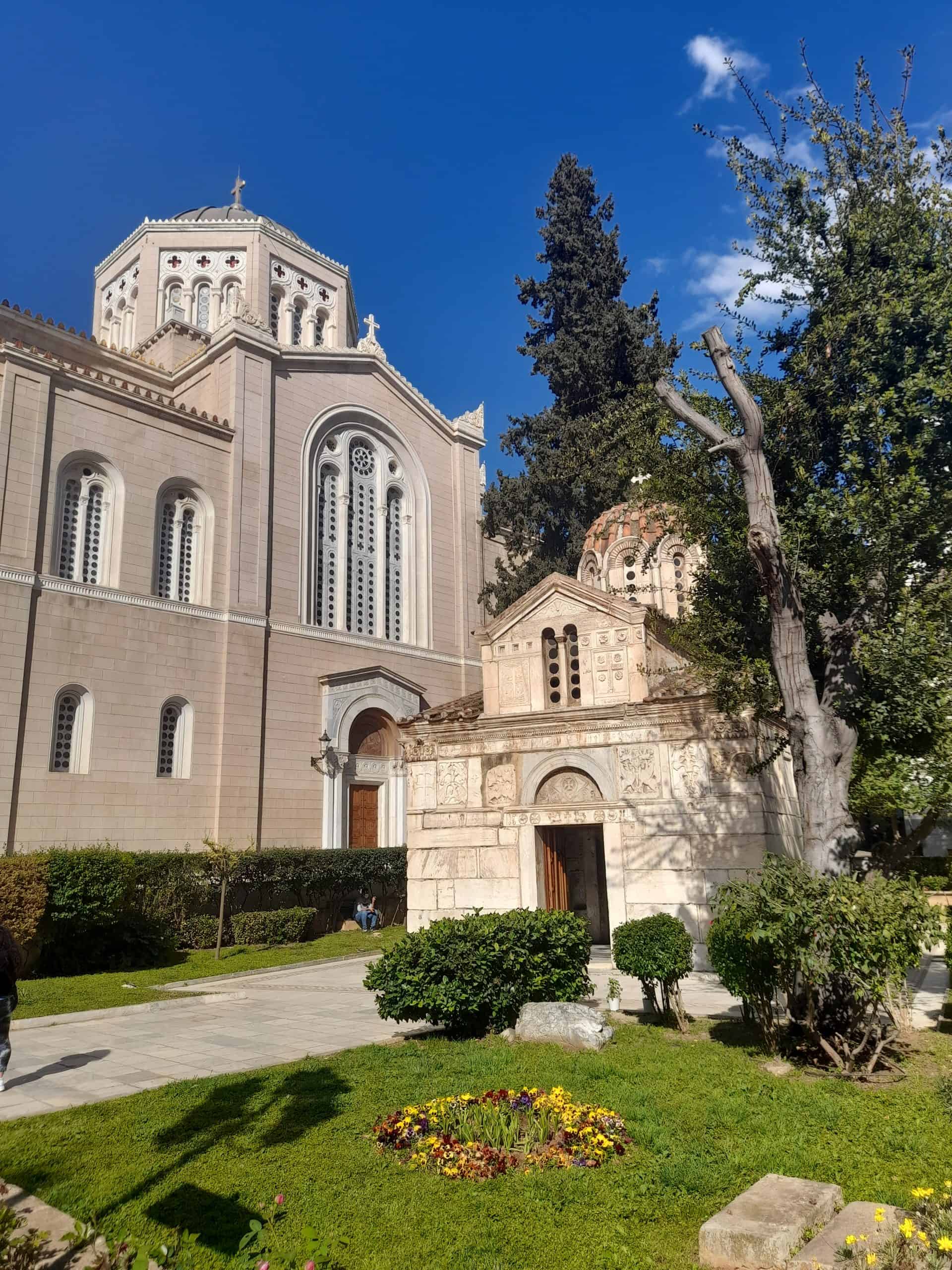 Greece is a very religious Orthodox country. In Athens, you will find beautiful, ornate Athenian churches situated on practically every street corner.
You don't have to be religious to enter the countless churches that you see around the city – provided that you are respectful. Even the most nondescript-looking places tend to boast breathtakingly vivid fresco paintings inside.
These churches become even more special during Christmas in Athens. At this time, they are laden with magnificent decorations.
Greek Orthodox churches are not the only religious buildings in Athens, however. You can also find religious structures dedicated to other cultures and faiths.
The Russian Orthodox Church of Sotira Lykodimou sits at the National Gardens. Meanwhile, the Roman Catholic Church of Saint Dionysius can be found on Panepistimiou Street.
Enjoy a traditional Christmas dinner
If you cannot picture spending your Christmas in Athens without a festive feast and all the trimmings then don't worry! There are several excellent restaurants in the city where you can enjoy a sumptuous roast chicken, served with gravy, veg, and all the Christmas goodies.
The best places worth checking out for your Christmas dinner are housed within many upscale Athens hotels. Check out the Tudor Hall restaurant at the King George Hotel, Orizontes at the foot of Lycabettus, and the restaurant at the Grande Bretagne Hotel in Syntagma.
If you know that you are going to spend your Christmas in Athens, try and reserve a table as early as you can because these places do become fully booked. If you are not successful in securing a place, rest assured that restaurants in Monastiraki and other central areas ARE open on Christmas day in Athens.
A souvlaki Christmas dinner with friends may be far from traditional but it will be one that you will remember for a lifetime. Alternatively, if you stay in self-catered accommodation, you can purchase everything you need to cook your own meals.
Indulge in Greek sweet treats
Greek food is a highlight of a Greek travel adventure regardless of when you visit Athens. However, spending Christmas in Athens means that you can try lots of seasonal dishes.
In particular, Greek bakeries and patisseries start to line their shelves with festive Greek desserts and wintry Greek pastries. Some of the best festive treats are detailed below. You will be able to find these at bakeries all over the city.
Melomakarona Cookies
Melomakarona cookies are the most common sweet snack of Greek Christmas. These are little egg-shaped biscuits that are made with flour, olive oil, and honey. The cookies are then usually seasoned with cinnamon, sugar, cloves, and lemon.
Kourabiedes
Kourabiedes are Greek butter cookies. The cookies are soft, crumbly, and sweet. Kourabiedes are usually filled with almonds and then dusted with icing sugar.
Greek Christmas Bread (Christopsomo)
Christopsomo ("Christ's bread") is a sweet Greek pastry with roots in the Orthodox religion. The bread is prepared on Christmas Eve and then enjoyed on Christmas Day. You will be able to find it at some of the bakeries around the city.
This sweet bread is prepared with chopped nuts, raisins, honey, citrus fruits, and spices. According to old Orthodox traditions, preparing and consuming this bread will bestow good fortune upon the family.
New Year and Christmas in Athens are among the most important festivals/events in the Greek calendar. If you are able to celebrate in the homes of locals, they will be particularly special.
Diples
Diples are sweet fried honey rolls that are served with a generous dusting of cinnamon and ground nutmeg. You will find street vendors in Syntagma, Monastiraki, and other central Athenian neighbourhoods serving diples during Christmas in Athens.
Tsoureki
Tsoureki is a Greek sweet bread. (Are you noticing a sweet bread theme here?)

It is actually the Easter delicacy of Greece. However, with that being said, you can find tsoureki sold in Athenian bakeries all year round.
Tsoureki is great to have for breakfast with a cup of espresso or strong Greek coffee. During Christmas in Athens, many of the bakeries coat their tsoureki in chocolate and elaborate Christmas figures made from icing sugar.
Sample the Christmas menu at Athens bars
Athens boasts a wonderfully diverse nightlife scene. Scratch beneath the Greek capital's gritty and edgy exterior and you will find eclectic speakeasies, chic cocktail bars that overlook the Acropolis, and elegant jazz lounges.
During the winter months, the menus at Athenian cocktail bars change to reflect a festive flair. Think hot toddies, warm wines and spirits infused with honey (oinomelo/rakomelo), and Christmas-themed cocktails.
For expert mixology, gins, and whiskies, head to CV Distiller (115 28, Chatzigianni Mexi 7). For cocktails, head to Jazz in Jazz (Dinokratous 4), Baba au Rhum (Klitiou 6), or Couleur Locale (Normanou 3). Couleur Locale is one of the best rooftop bars in town.
Sip hot cocoa at Little Kook
Little Kook (Karaiskaki 17) is the perfect place to get into the Christmas spirit in Athens. This is a charming coffee shop in Psiri that is beloved by tourists and Athenians alike. The store is filled with "over the top" festive decorations all year round.
During Christmas in Athens, Little Kook is one of the best places to sit snuggled up in an oversized armchair, hot cocoa in hand. Take photos among the giant nutcracker and Santa statues as Bing Crosby plays over the speakers.
Shop for charming Greek Christmas gifts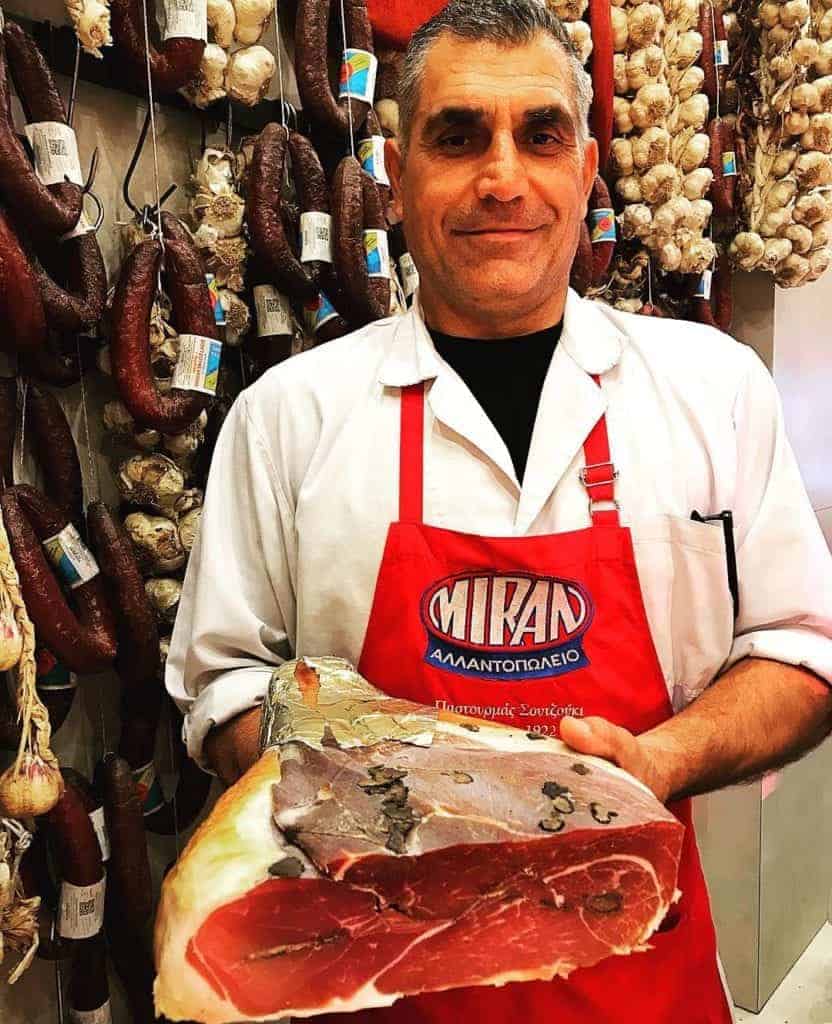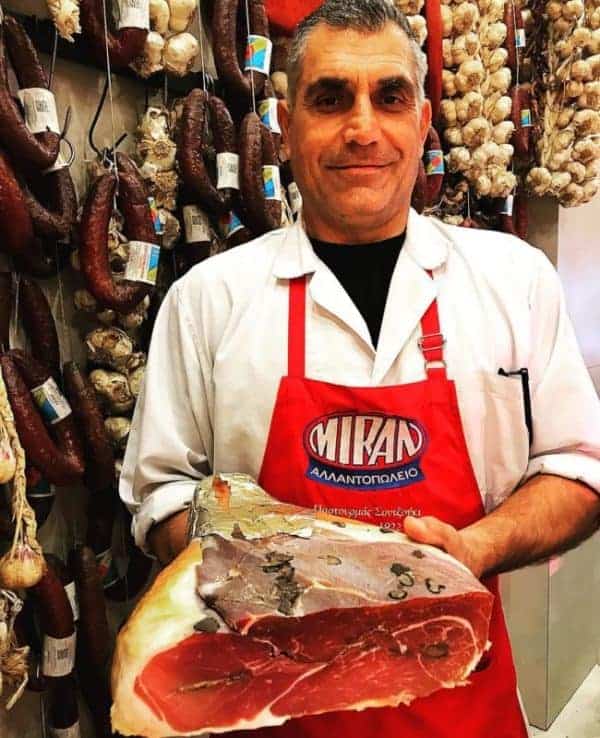 Whether we admit it or not, most people get sick of receiving the same tired old Christmas gifts every year. Bath sets, socks, and a personalised mug. YAWN.
One benefit of spending Christmas in Athens is being able to buy unique Greek Christmas gifts for your friends and relatives. One of the best places for shopping in Athens is Evripidou Street.
This is especially the case if your loved ones are foodies and gourmands. Here you can find lots of Greek delicatessens, spice shops, homeopathy stores, and Lilliputian shops. Items from these shops make excellent souvenirs from Greece.
Miran and Karamanlidika are two particular deli shops worth stopping by in Evripidou. Equally interesting is the Greek delicatessen Yolenis in Kolonaki which sells charming Greek hampers filled with melomakarona biscuits, sugar cookies, oils, and other delights.
Have brunch at Noel – the holiday bar
The Noel Holiday Bar in central Athens is always in a Christmas mood. Here, garlands, fairy lights, and festive decorations are on display all year round.
The underlying theme of the bar is neo-vintage. The furnishings here are shabby chic, and the bar plays old blues, jazz, and swing music.
If you find yourself wanting to grab a spot of brunch in Athens, Noel is worth checking out. The menu focuses on traditional Greek/Mediterranean classics with a gourmet twist.
Browse Christmas bazaars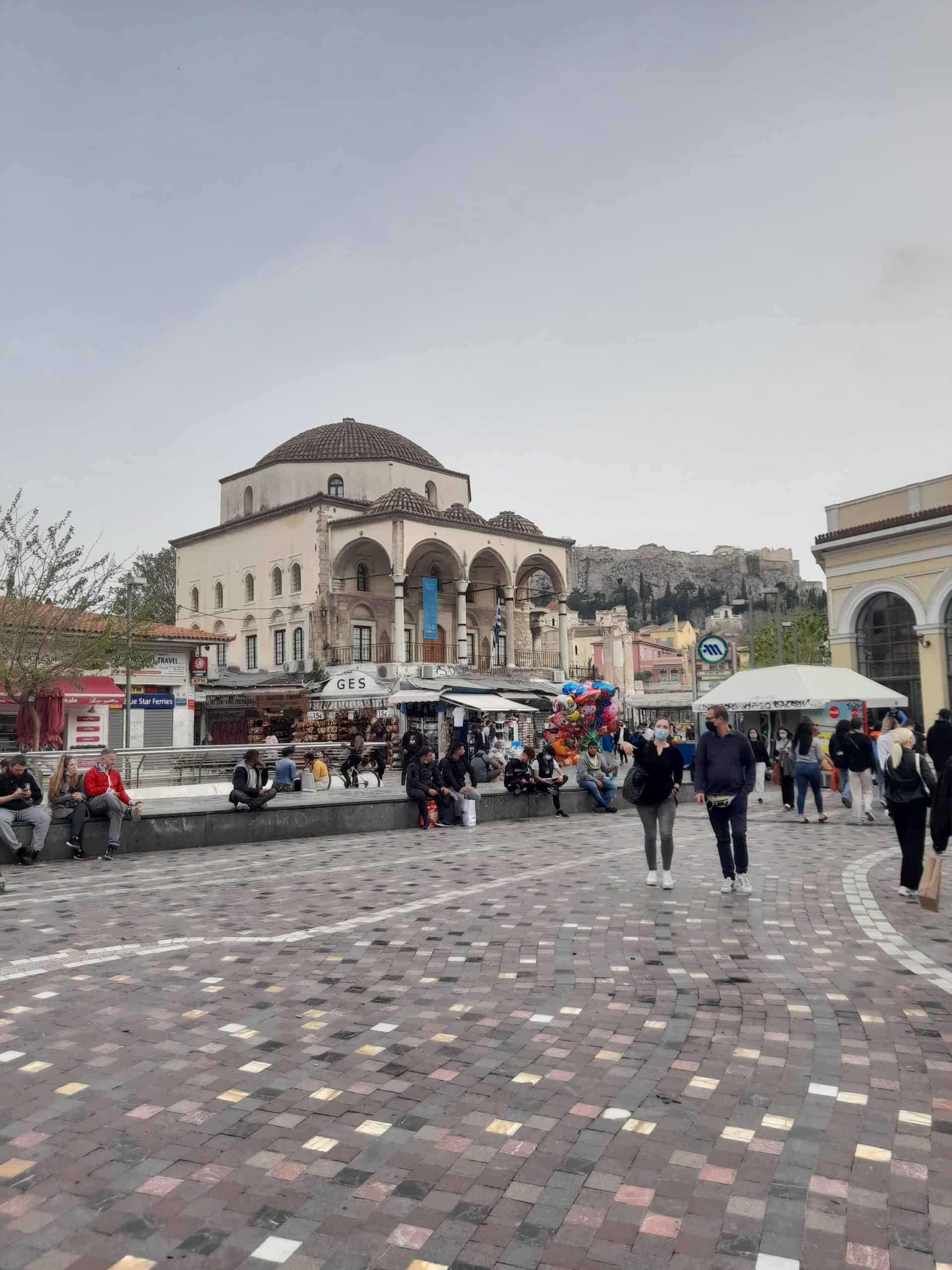 Christmas markets are not really a "thing" in Athens yet. Yet we do have are Christmas bazaars.
On various dates, different streets across the city divert traffic as dozens of street vendors set up stalls. Greek Christmas bazaars are comparable to flea markets.
You can find everything from clothing and house products to street food snacks and religious idols. These bazaars attract a predominantly local crowd.
As such, visiting one of them is an interesting cultural experience. One particularly interesting spot to make note of is the bazaar at St. Paul's Anglican church which has been a tradition since 1953.
Go skiing at Parnassus
If you are a snow bunny (or you are not and you just want to try your hand at skiing), you can consider taking a day trip from Athens out to Mount Parnassus. In summer, Parnassus is one of the best places for hikes in Athens.
In the winter, this is one of Southern Greece's most popular ski resorts. You can reach Parnassus within just two hours' drive from central Athens.
If you wish, you can stay overnight at a cosy mountain lodge. It is possible to rent ski gear and equipment, as well as take lessons at Parnassus.
Head to the Gazi Christmas Factory
There are several fairgrounds and Christmas markets that are set up around central Athens in December. Notably, the Christmas Factory at Gazi/Technopolis, and the Santa Claus Kingdom on the city outskirts.
Both spots offer fun for all the family. For instance, you can expect to see Santa Claus meet and greet, stores selling cotton candy and sweet toffee apples, and fairground rides.
Sing and dance on the tables of a bouzoukia
Bouzoukias are wonderful places to visit if you are looking to enjoy a quintessential Greek experience during your time in Athens. While bouzoukias can be enjoyed all year round, they are more popular in the winter months, when the colder temperatures push people indoors.
Bozoukias are music halls where performers will sing traditional Greek folk songs. Some bozoukias exist in the form of huge concert halls.
However, the more charming establishments are the intimate little tavernas where people sing and dance as they enjoy carafes of raki and honey wine. In central Athens, head to To Perivoli T Ouranou.
This is the oldest bouzouki music spot in the city. Equally charming and worthwhile is Stamatopoulos Tavern on Lisiou street.
Don your black tie attire for a night at the opera
For an intimate evening of culture and sophistication, consider reserving yourself a spot at one of the Hotel Grande Bretagne's Opera Nights. This centrally located hotel is one of the most elegant in Athens.
From the end of November, the hotel's Winter Garden Lounge showcases live opera music performed by award-winning tenors. Enjoy fantastic opera and classical music performances as you tuck into dishes from the restaurant's exquisite seasonal menu.
Watch a live festive show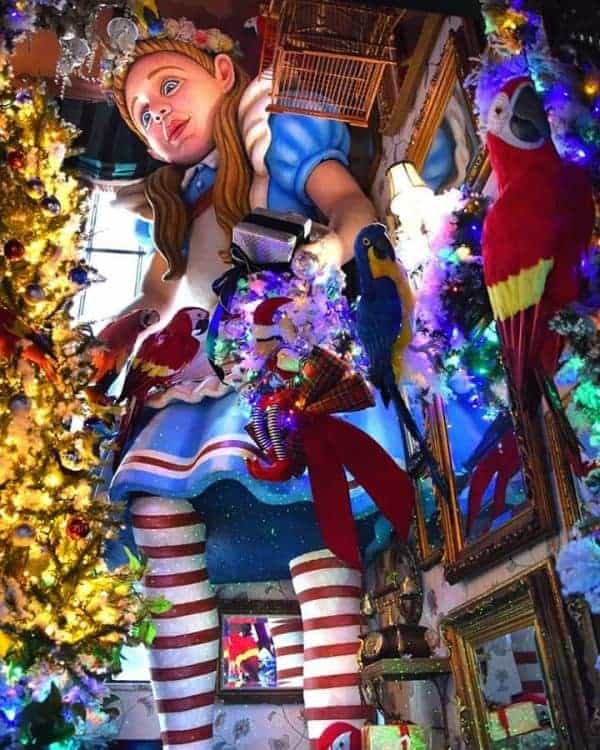 There are a number of festive ballets and opera performances that are held in Athens throughout the Christmas period. Beloved ballets such as Tchaikovsky's Nutcracker grace the local stages.
Check Why Athens for the latest schedules and tickets. However, many ballets and theatrical performances often sell out months in advance. As such, it is worth checking online listings and making your reservations online before arriving in Greece.
Christmas in Athens FAQs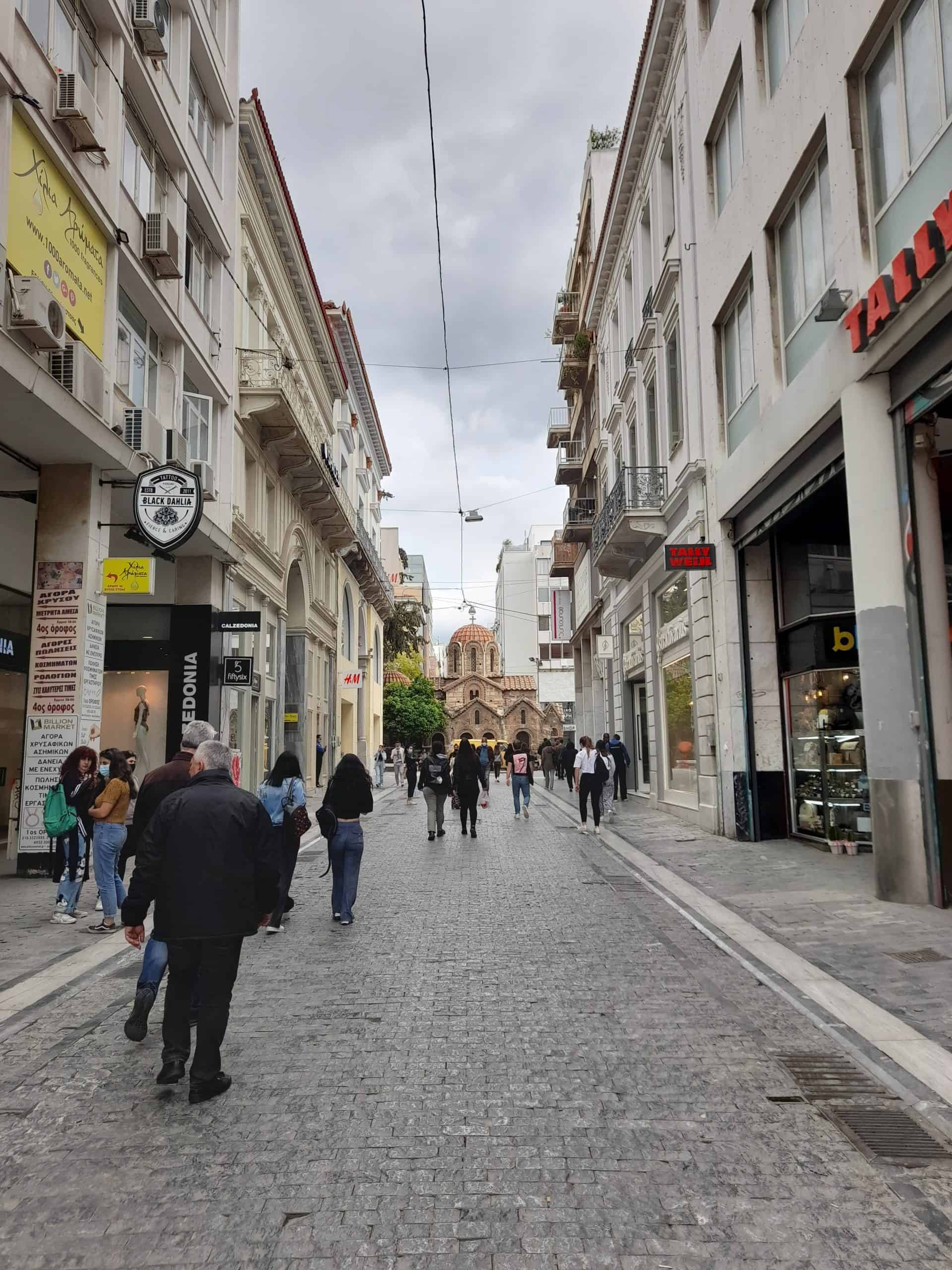 Do you still have any questions or concerns about spending Christmas in Athens? Hopefully, you will find the answers that you are looking for below!
Is Athens good at Christmas?
Athens is wonderful at Christmas time. For Greeks, this is one of the most important holidays of the year, along with Easter.

Although Athens may not be one of the most conventional European Christmas tourism destinations (i.e. it doesn't have the same Christmas markets as say, Germany or Austria), it is great because there are fewer tourists and it feels more authentic. Some kind of event, show or festivity takes place virtually every day and there are plenty of seasonal foods to try.
What is there to do in Athens at Christmas?
There is plenty to do in Athens at Christmas. Not only can you do all of the typical tourist sightseeing activities (i.e. visit the Parthenon, see the Temple of Olympian Zeus, stop by the Temple of Hephaestus, etc), but there are seasonal events and shows.

For instance, you can ice skate beneath ancient ruins, watch the mayor turn on the Athens Christmas lights at Syntagma, see a performance of the Nutcracker, etc. Christmas in Athens is massively underrated.
Is December a good time to visit Athens?
December in Athens is a great time to visit. Aside from the Christmas and New Years' festivities, this is one of the best times for visiting Greece on a budget.

With the exception of the days right before and after Christmas when people travel to Athens to visit their families, flights are a lot cheaper during this month. Hotels, car rentals, and local excursions are also often as much as 50% cheaper in the winter season compared to during the peak summer months.
Understanding Greek Christmas greetings
If you spend Christmas in Athens, locals will be sure to appreciate you greeting them in their native language! Some handy festive Greek phrases that are worth knowing are listed below.
Xronia Polla – Many years!


Kala Christougenna – Merry Christmas!


Kali Xronia – Happy New Year!
Most Greeks have an extremely good understanding of English, particularly in Athens. You will not need to learn any Greek for your trip but it is always polite to memorise a few phrases.
What to wear during Christmas in Athens
Greek winters are somewhat milder than winters in other parts of Europe. That being said, do not underestimate how cold it can get here – especially at night!
In recent years, we have seen snow in Athens, and temperatures often dip as low as 5 degrees Celsius. The best advice for preparing your Greece packing list for winter is to layer up like an onion!
Pack plenty of long sleeves and sweaters, and don't leave your winter coat, hat and gloves at home! Pack comfy, supportive footwear too.

The streets of Athens are not very well paved in many places and can be nightmarish to navigate at the best of times. This becomes even more treacherous with the addition of rain and black ice!
Final Thoughts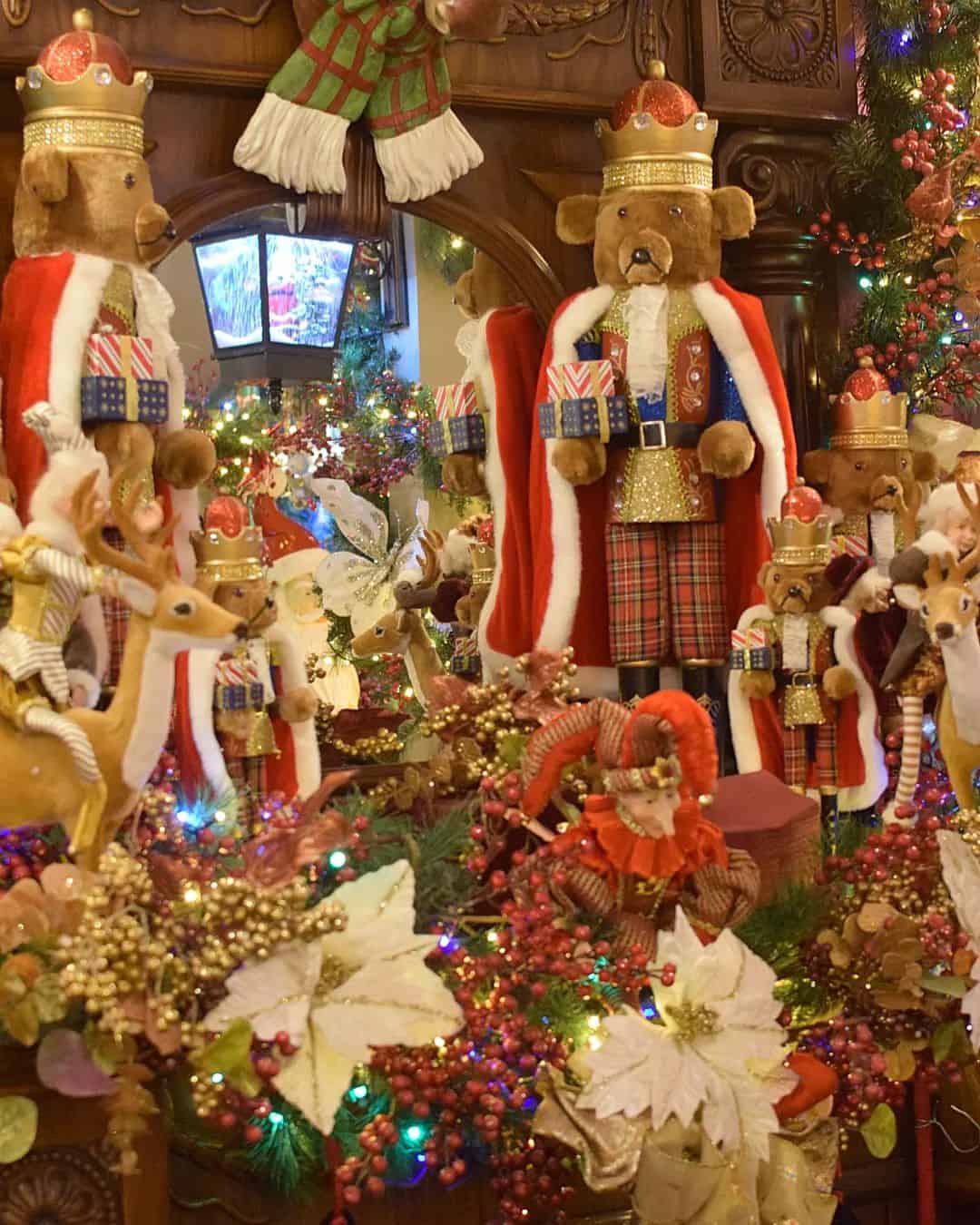 Do you have any further questions about spending Christmas in Athens? Maybe you need assistance in drafting out a Greece travel itinerary?

I have lived in Athens since 2015 and spent a lot of Christmases in my quirky little district of Pagrati. Safe travels and happy holidays!
Geia sou! Melissa xo
---