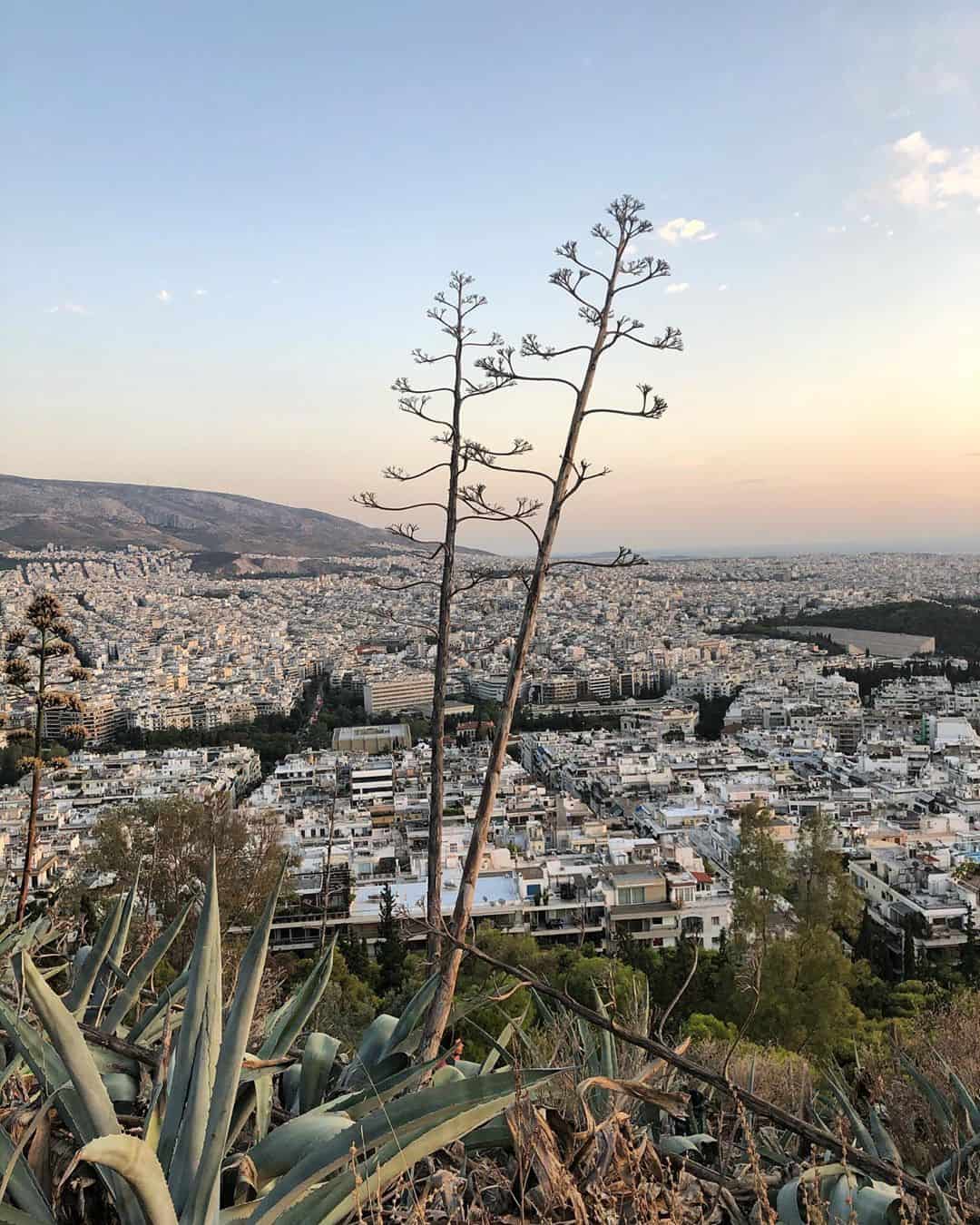 Shopping in Athens is perhaps not the main priority on your travel itinerary. However, if you want to pick up some quintessentially Greek souvenirs, or invest in some beautiful clothes to take with you to the islands, it's important to know where to go.
You might assume that the city centre is the best place for shopping in Athens. Yet, the best boutique shops and independent designer stores are to be found in districts a little farther out. You would probably never think of venturing to these areas unless you knew specifically what was in them.
Shopping in Athens, Greece:
Where to Shop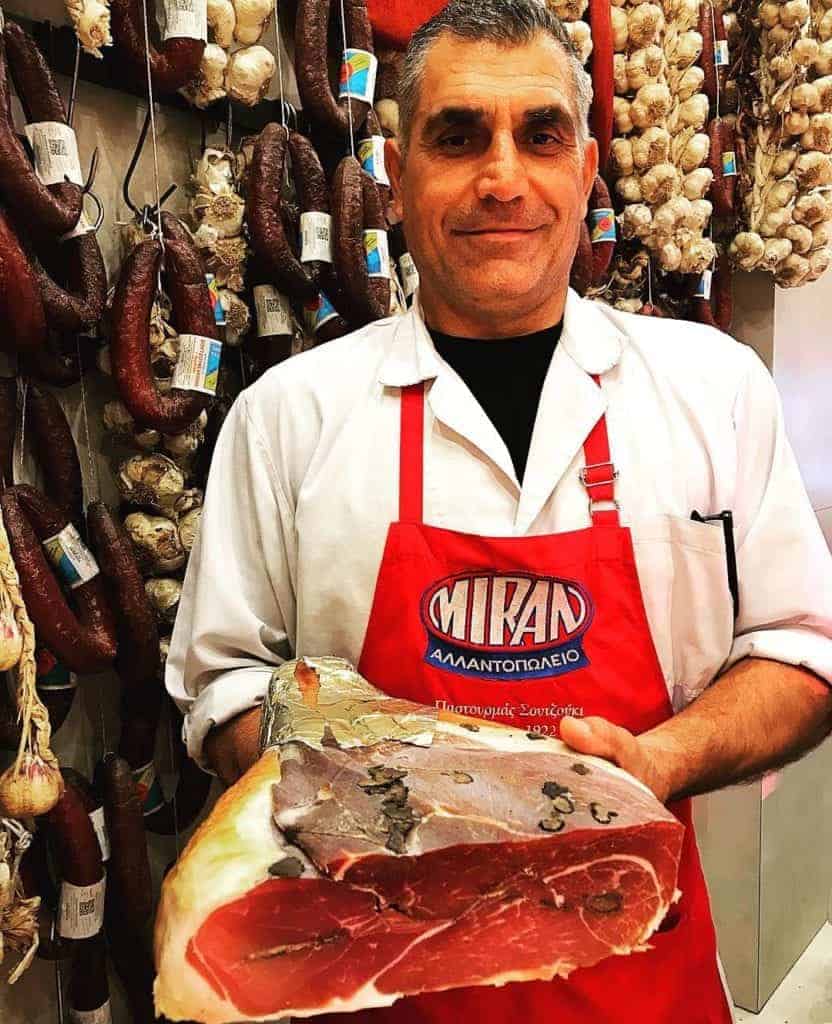 The best district for shopping in Athens depends somewhat on what you looking for. I have lived in Athens for three years now and I know this city pretty well.
The best areas for shopping in Athens are:
Syntagma


Monastiraki


Evripidou Street


Athens Central Market


Kifissia


Koukaki


Pagrati


Thissio and Plaka


Marousi


Glyfada


Kolonaki


Paleo Faliro


My Golden Hall


Outlet Mall, Athens Airport


Athens Metro Mall
Syntagma and Surroundings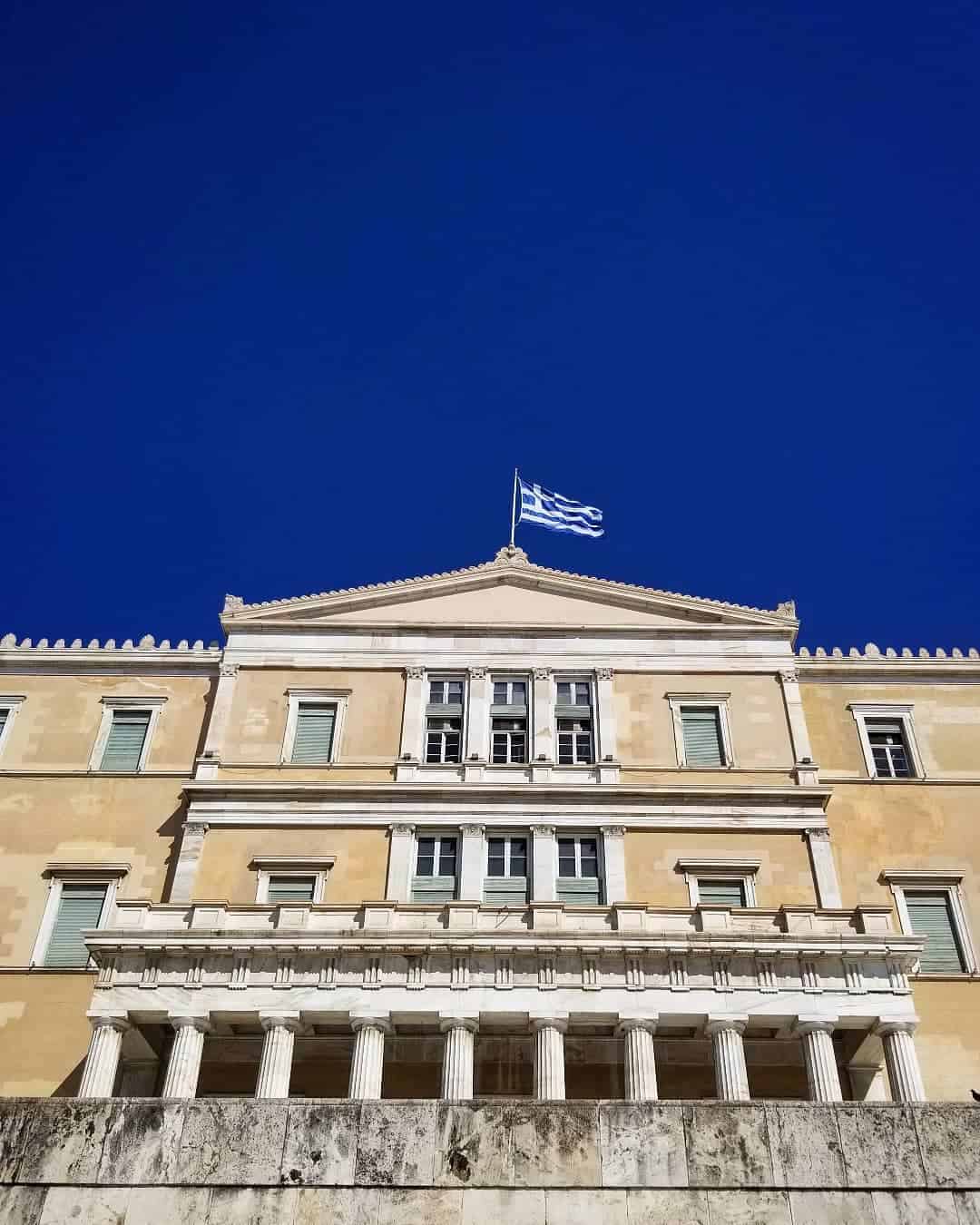 Best for: Electronics, high street clothing stores, stationary, currency exchanges, hair and beauty products
Monastiraki and Syntagma are the central point of Athens. They resemble the typical "high street" that you can expect to find in most large cities.
Ermou Street
From Syntagma central square, follow Ermou street. This large pedestrianised boulevard runs between the McDonalds and the Public book store and leads all the way down to Monastiraki square. Ermou is essentially Athens' main shopping street.
Here, you can find plenty of well-known international stores that suit a mid-range budget. Think Zara, Mango, Massimo Dutti, and other similar brands.
The little streets that lead off from Ermou house a lot of independent Greek stores which are typically relatively inexpensive. These are mostly privately-owned versions of stores like H&M. The quality is not all that great, but this is the place to come if you want to grab a cheap pair of sandals or something.
Monastiraki
Best for: handmade shoes, souvenirs, traditional products
There is something charming about the cobbled central plaza of Monastiraki. This is one of the most crowded and chaotic places in the city. Yet it is also one of the most historic.
A lot of the structures that encompass Monastiraki square date back hundreds of years. Look out for the Tzistarakis Mosque which dates back to the 17th century. It is a symbol of Athens' former Ottoman occupation.
Monastiraki Market
The Monastiraki flea market that veers off from the main plaza is perpetually crowded with tourists and locals alike. You can pick up everything here from fresh fruits and vegetables, to souvenirs, clothes, antiques, old vinyl records, jewelry – practically everything that you can imagine.
It is usual to haggle here. Be prepared to contest the first price that you are quoted. The market at Monastiraki is a little touristic, but there are gems to be found among the tat.
Visit the Famous Monastiraki Shoemaker
One place to add to your radar is the Melissinos store. This is a traditional shoe store that produces bespoke, handmade leather sandals.
Countless notable celebrities have visited the cobbler to have a pair of shoes crafted for them. Their long list of satisfied customers includes the likes of Sophia Loren, John Lennon, and Sarah Jessica Parker.
Evripidou Street, Central Athens
Best for: Greek agro products, herbs, spices, homeopathy products
If you want to purchase more unique souvenirs than the typical fridge magnets and "I heart Greece" t-shirts then Evripidou Street is the place to venture to. This is especially the case if you consider yourself a foodie or a gourmand.
Many of the quaint little stores that line Evripidou Street are as much a cultural experience as they are a shopping opportunity. The first part of the street is filled with standard retail stores.
However, once you pass the intersection of Athinas and Menadrou Streets, you will enter an area filled with specialty shops. Here you will find spice shops, preserved meat stores, ironmongers, and Lilliputian shops selling flower seeds, plants, homeopathy bath products, and spices.
The Delicatessens of Evripidou Street
Foodie adventurers should be sure to check out Miran and Karamanlidika. These are two specialty food stores that sell cheeses, cold cuts, and homemade products from Thessaly and Kerkini regions of Greece.
You won't miss these stores. Just look out for all of the pastourma sausages hanging from the ceiling.
Evripidou is also packed full of spice stores that sell virtually every herb and spice product imaginable. The goods here are also incredibly good value. A huge bag of herbs will probably cost you no more than 60 cents.
Elixirion is perhaps the most well-known spice shop. The staff inside the store are able to offer expert advice on the healing and restorative properties of each ingredient.
Athens Central Market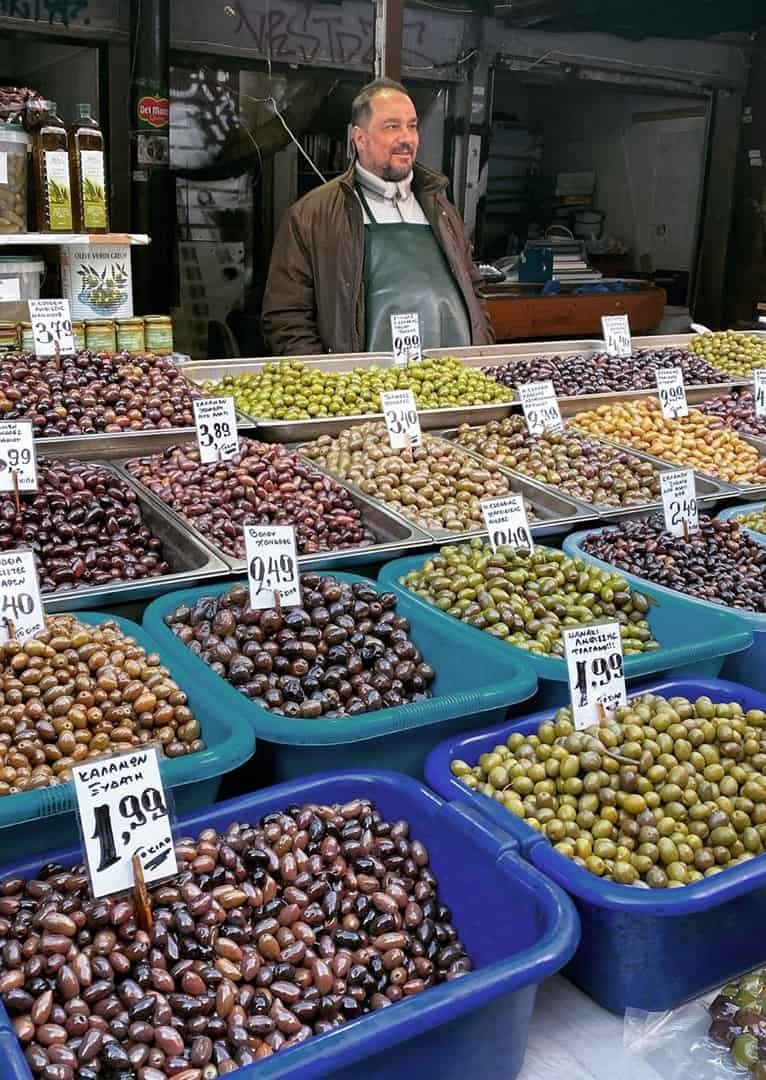 Best for: Greek olives, edible souvenirs, Greek street food, herbs, and spices
Today, many Greeks still visit traditional markets to shop for their fresh produces. The word "Agora" means marketplace in Modern Greek.
Traditional farmers markets and agoras are scattered throughout Athens. The largest of this kind of market is the Athens Central Market (Varvakios Agora).
Meandering through the various stalls of Athens Central Market and people-watching is a rewading experience in itself. Watch on as Greek yiayias haggle over the prices for their moussaka ingredients.
Kifissia
Best for: Upscale clothing and accessories
Most travelers will miss Kifissia off their Athens itineraries which is a shame. This district is undoubtedly one of the most charming in the Greek capital.
Peaceful Kifissia provides a stark contrast to the hustle and bustle of central Athens. Its tree-lined boulevards boast neoclassical mansions, upscale shopping, and chic restaurants.
The stores that line the streets of Kifissia are mostly exclusive high-end designer stores and boutiques. While this is not a place for shopping in Athens on a budget, it's a great spot to pick up unique one-of-a-kind fashion pieces and accessories that no-one else will have.
Once you have given your debit card a sufficient workout, consider spending some time in Kifissia to see more of what this chic area has to offer. There are plenty of excellent restaurants and brunch spots here which attract a well-dressed crowd.
Artisanal and Dalliance House are among the most locally beloved spots. When the sun goes down, these establishments also transform into sophisticated cocktail bars.
Koukaki
Best for: Vintage clothing, art pieces, artisanal handicrafts
Athens' Koukaki neighbourhood is perhaps one of the quirkiest and most underrated areas of the Greek capital. It sits in the shadow of the Acropolis, yet somehow seems to esape the attention of most tourists.
Eccentric coffee shops and speakeasy bars are a highlight of Koukaki, as is its emerging art scene. There are several worthwhile shops to browse here, most of which sell vintage clothes or second-hand items.
Lovecuts is a vintage fashion inspired store that sells beautiful handmade dresses, skirts, and fashion pieces reminiscent of the 1950's and '60s. The best part of this boutique store is that everything is reasonably priced to suit a mid-range budget. It is also worth having a rummage through some of the smaller thrift shops here to see what you can find among the rubble.
Pagrati
Best for: Thrift shopping, second-hand designer clothes
Quirky little Pagrati is home to a number of boutique shops that suit those shopping on a tight or mid-range budget. There are also several second-hand designer stores that can offer some good finds.
The main streets in Pagrati are Filolau and Immitou which run parallel to each other. Admittedly these are not all that scenic. The best shops and boutiques are to be found hidden away down the narrow streets and passages that veer off from these two main promenades.
Shopping at Chremonidou Street, Pagrati
Chremonidou is one street to be sure to venture down. Stores like Too Cute Boutique, and Pink Angel sell beautiful dresses and feminine style fashion items that utilise stunning, colourful fabrics.
For vintage fashions, and wonderful second-hand stores, check out the shops that encompass Platia Evaggelou Martaki, and the small scattering of stores close to Evangelismos metro station on Rizari Street.
When you are finished shopping, be sure to duck inside one of the many quaint coffee places that give Pagrati its charm. Step inside Rabbit Punch or Rizzari Cafe, order up a Greek coffee and people-watch as local patrons play backgammon.
Thissio and Plaka
Best for: Souvenirs, handicrafts, traditional Greek products
For traditional Greek handicrafts and beautiful souvenirs, head to the markets that fill the streets of Thiseio and Plaka. Yes, this area is heaving with tourists. However, it is also one of the most picturesque places in Athens.
Aside from your typical souvenirs (fridge magnets, Greek flags, little statuettes, etc), you can find some stunning handicrafts and artisanal products here.
Angelo the Ouzo King
If you like ouzo, head to Angelo's shop on 120 Adrianou street. The guy has become something of a local celebrity, and this is arguably the best place to come if you want to purchase some traditional Greek alcohol for yourself or a loved one back at home.
The shelves of Angelo's store are stacked with countless different kinds of ouzo, from various parts of Greece. All of these beverages follow different production processes. If the anise taste is not for you, there are other options too, such as tsipouro, or raki.
Plaka is a very idyllic and charming neighbourhood. Be sure to follow the winding passageways and narrow staircases that lead up towards Anafiotika village. This "hidden" district boasts some of the best panoramas in the city.
Marousi
Best for: Designer clothing, jewlry, beauty items, home decor
Marousi is a stylish residential neighbourhood in the northern suburbs of Athens. Bordering Kifissia, Marousi is not at all touristy and has a much calmer atmosphere than the majority of Athens.
The pedestrianised streets of Marousi are home to numerous local shops selling clothing, jewelry, beauty products, and home decor items at good prices. The main reason that most Athenians come to Marousi though is for the malls. Athens' three largest and most popular malls can be found here: Golden Hall, The Mall Athens, and Avenue Mall.
If you decide to go shopping in Athens' malls, expect to see a blend of high street and designer label stores. From Zara to Roberto Cavalli.
Glyfada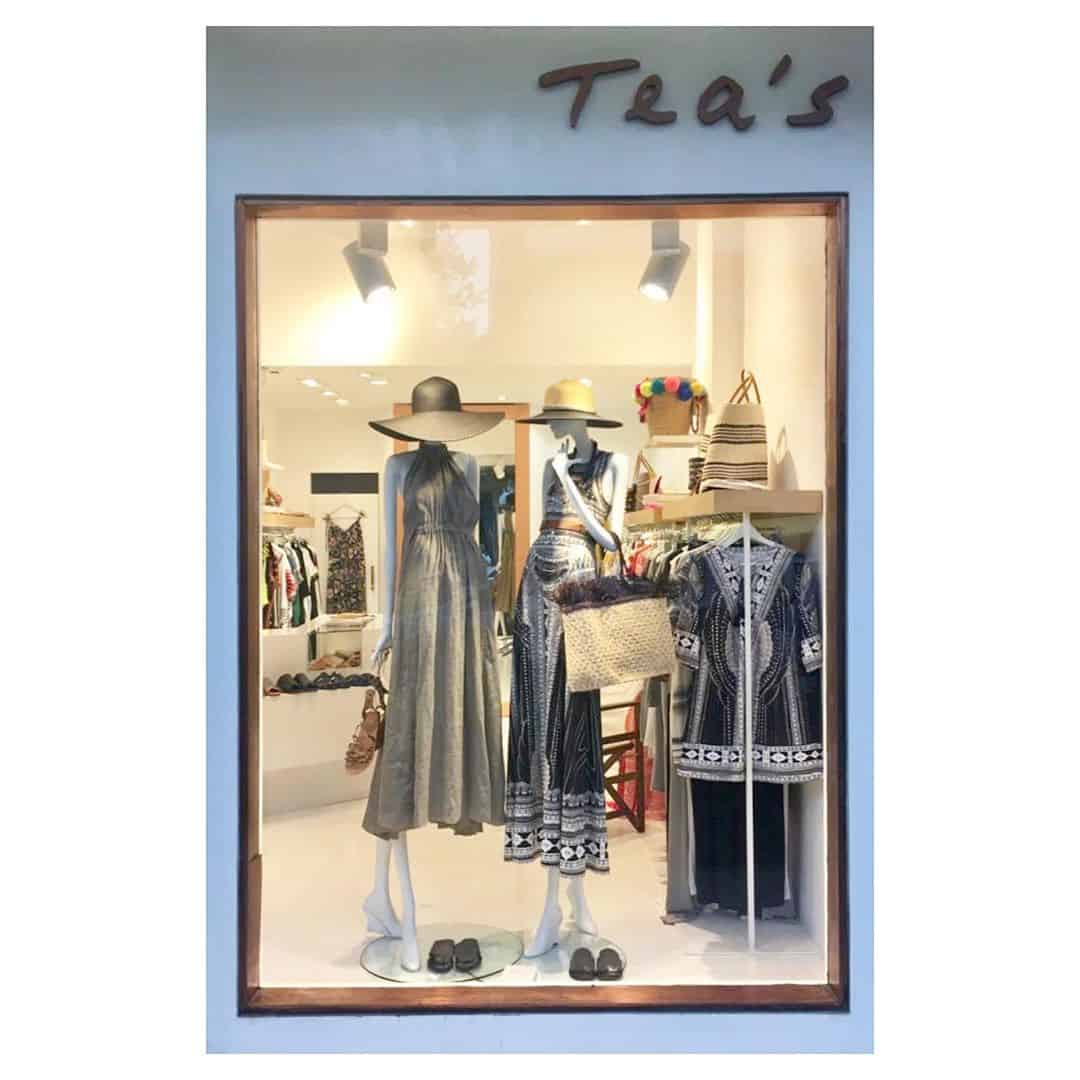 Best for: Brand shopping, independent Greek designers
The beautiful coastal town of Glyfada is the perfect place for a scenic day trip from Athens. This region is known as the "Hellenic Hamptons".
A pleasant way to spend a day is to combine a little retail therapy in Glyfada with a trip to the exclusive beach clubs of nearby Vouliagmeni. The coastal areas of the Athens Riviera have impressed even the fussiest of travellers. The likes of Frank Sinatra, Bridget Bardot, and Sophia Loren are among those who have fallen in love with this part of Greece.
Numerous well-known designer brands have branches in Glyfada, as do several independent Greek designers. Those interested in the latter should add Tea's Fashion Boutique, Zerteo, and Lelis to their Glyfada shopping bucket list. Each of these stores attracts a glamorous clientele and are a favourite haunt of the Athenian elite.
Kolonaki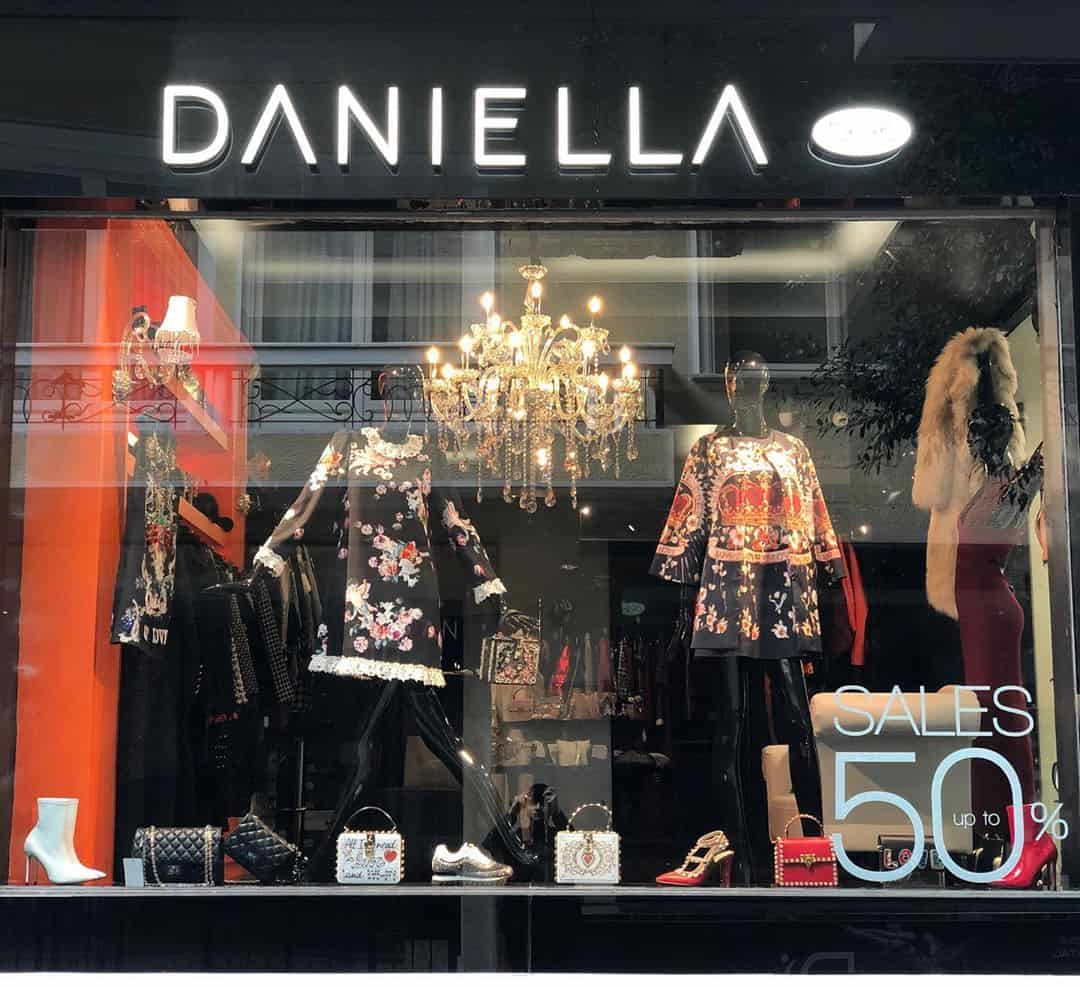 Best for: Exclusive brand names, clothing and accessories
Elegant Kolonaki is often referred to as the "Beverly Hills of Athens". This is the place to go for high-end designer shopping in the city centre.
Kolonaki is just a short walk away from Syntagma square. All of the big-name designers have branches here – Hermes, Louis Vuitton, Gucci, Prada, etc.
From Platia Kolonakiou, venture down the streets of Skoufa and Tsakalof. Voukourestiou Street is the place you want to head to if you are looking for the works of independent local designers.
Brunch and Lunch in Kolonaki
There are lots of wonderful coffee shops and cafes in Kolonaki where you can stop and grab a bite to eat. "IT" is a shabby-chic brunch spot that serves everything from American-style pancakes to avocado toast. If you are looking for traditional Greek food, reserve a table at Filippou.
Outlet Mall, Athens Airport
Best for: Discount designer items
There is a McArther Glen Outlet Mall located just opposite Athens Airport in Spata. Several sports and brand-name clothing stores have branches here. The prices are often as much as 70% lower than the usual retail value.
It takes just under an hour to reach the Outlet Mall via public transport. You can take the metro to Doukissis Plakentias station. From Doukissis Plakentias, take the 319 bus to the mall entrance.
Athens Metro Mall
Best for: Affordable clothing
The Athens Metro Mall is an indoor mall in Agios Dimitrios. It is a little way out of the city centre. However, this may be a convenient choice for you if you are staying in the Dafni or Agios Ioannis areas of Athens.
There are not a ton of shopping options at Athens Metro Mall. Although you can find a handful of nrach stores such as Zara, Intimissimi, etc here.
Shopping in Athens:
Things to Know Before You Go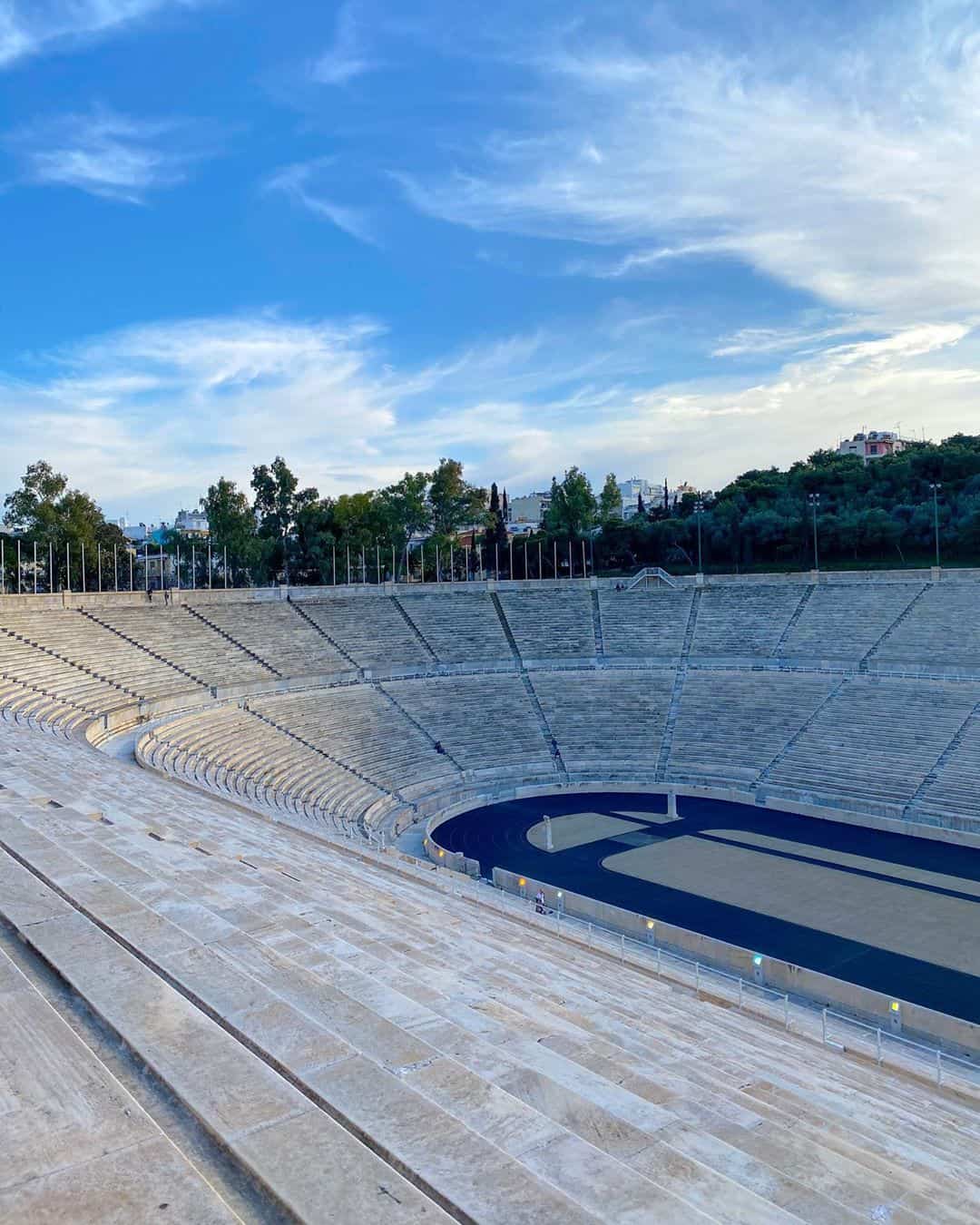 There are few things to keep in mind before you go shopping in Athens, mostly related to store opening times. Opening times in Greece may be different from what you are used to. Most notably, many stores in Greece still close for "siesta".
The majority of shops in Athens are open between 9 am to 3 pm on Mondays to Saturdays. They then open again from 5.30 pm until 9 pm. The specific varies from store to store.
Some small, independent stores close earlier for siesta, while some large shops in Central Athens do not close at all. Almost everywhere closes on Sundays.
You should try to do your shopping in Athens on a weekday. This way you make the most of the longer opening hours and avoid the massive crowds of people who venture into the city centre at the weekends.
Have any further questions about shopping in Athens or planning a trip to Greece? I've lived here for the past three years.
I am happy to answer any queries that you may have. Feel free to drop me a comment below. Safe travels! Geia sou! Melissa xo
---