Greek street food is a big part of the dining culture in Greece. Grabbing something fast and convenient in Greece does not mean compromising on the flavour or nutritional value of what you eat.
Greek Street Food Favourites
Crumbly home-baked pies, sumptuous marinated meats, and indulgent sweet treats are the Hellenic answer to street food. While these snacks and light bites are a great way to enjoy lunch in Greece on a budget, they are also filling and tasty.
Furthermore, Greek street food is often much healthier than its western "junk food" counterparts. A few quick eats to consider on your next trip to Greece are detailed below.
Spanakopita
In Greece, you will find bakeries occupying virtually every street corner. This is particularly the case in the major towns and cities.
One of the most popular snacks beloved by locals is spanakopita – spinach pie. This pastry is made by combining crumbly feta cheese with spinach.
Next, it is enveloped in folded layers of warm filo pastry. A generously sized slab of spanakopita costs just €1.40.
Spanakopita is a perfectly filling snack to enjoy on the go or as a light lunch. Greeks often eat these pastries with a side serving of Greek yoghurt.
Tiropita
Another popular Greek pastry option is Tiropita – cheese pie. Warm, melting feta cheese is wrapped inside a delicious, crumbly pastry.
Tiropita is wonderful! Just don't think about the calorie count! A large slab of tiropita usually costs around €1.40.
Skepasti
Skepasti is a sharing dish that you can find at a lot of gyro/souvlaki places and takeaways. Most tourists have never even heard of this. However, it is just as tasty as souvlaki! Skepasti could be compared to a Quesadilla or referred to as a Greek version of pizza.
This dish is made of two large circular pittas that are placed together like a sandwich. You can fill the middle of the skepasti with whatever you like.
Pork and chicken are popular fillings. A popular variation is to order skepasti with chicken, cheese, and vegetables (grilled onions and peppers).
Skepasti is huge and the dish is intended to be shared between two people. Fries are often served with the dish, along with a Greek mustard dip or tzatziki.
Koulouri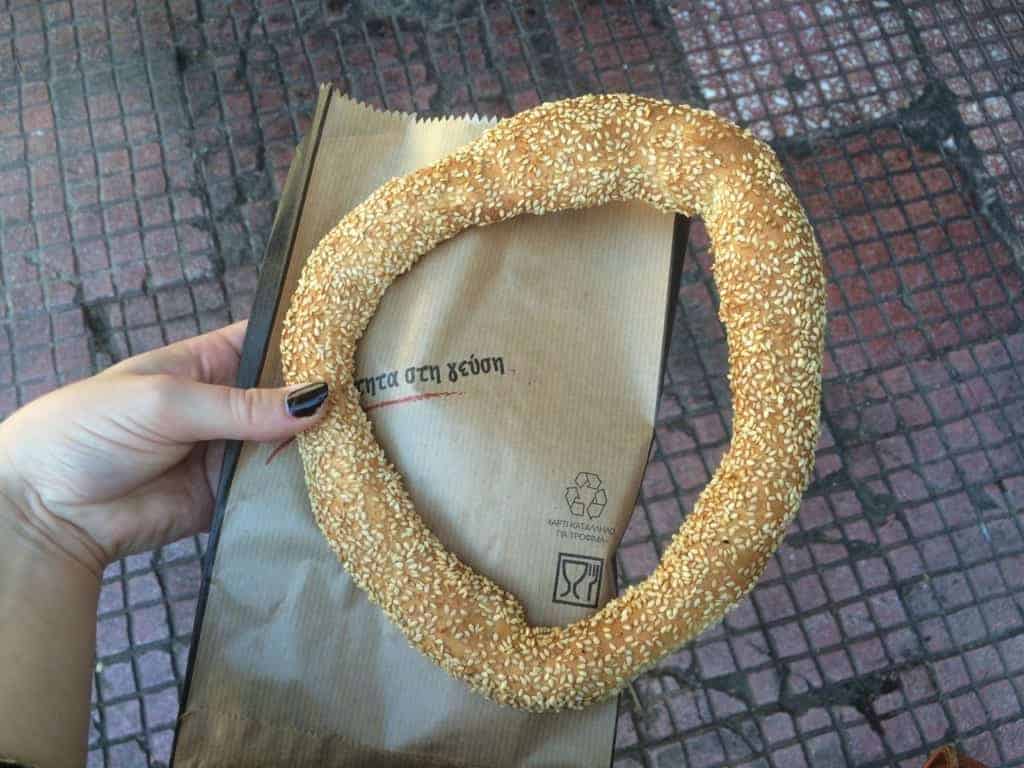 Koulouri is the Greek answer to the American pretzel. This is a circular piece of savoury, sesame seed bread that is often enjoyed with a strong Greek coffee at breakfast time.
You will find street vendors selling koulouri in the busy streets of downtown Athens and Thessaloniki. However, you can also find it in dedicated artisan koulouri stores and coffee shops.
Weird and wonderful variations of koulouri have emerged in recent years. You can buy koulouri that is filled with ham, cheese, and other savoury fillings.
Alternatively, you can find sweet variations made with chocolate chips instead of sesame seeds. A big circle of koulouri the size of your head will cost between €1.50 and €2.
Salep
Salep is a distinctly flavourful beverage that is enjoyed in Greece and Turkey, particularly during the cooler Autumn and winter months. Head down the Athenian high street of Ermou from October onwards and you will likely see street vendors ladling out steaming cups of a milky beverage prepared in a grand copper cauldron.

This milky beverage is salep. The drink has a unique, cinnamon flavour that is somewhat comparable to Indian chai.

Salep is made from hot milk, sugar, and flour made from orchid tubers. Then, a hearty sprinkling of cinnamon is added to the top.
Burgers
Greek cuisine is globally renowned for its sumptuous marinated meats that are cooked to perfection. Sure, things like souvlaki, gyros, and kokoretsi may be the more "traditional" Greek meats that spring to mind.

However, Greece, as a meat lover's paradise, is a great place to find more contemporary and international street foods too. Greeks go all out with their innovative burger creations.

Having a burger here does not mean having a boring sloppy patty topped with melted cheese, a sad piece of lettuce and a standard bun. Oh no.

Expect monstrous creations with multilayered fillings tucked inside brioches and other innovative buns. In Athens, head to Smash 'n' Bun (Patriarchou Ioakim 48) and order yourself a Double Moldo (Potato bun with creamed mushrooms, bio cheddar and roasted garlic mayo) or a Korean fried chicken burger.

Juicy Grill is another Athens favourite and the eatery has a couple of branches across the city. A local's recommendation?

Try the Sweet Gordita. This is a 250 g beef burger, raclette cheese, double bacon, avocado, fried egg, sweet potato chips and sweet chilli mayo. 
Battered fish
If you happen to be passing through Athens on your Greece itinerary, you should not pass up the opportunity to sink your teeth into sumptuous battered fish at Zisis (Athinaidos 3). The eatery prides itself on its healthy yet delicious fish delicacies.
Seafood is fried only lightly – just enough so that it encapsulates the flavour, and not too much that the fish becomes oily or too deeply fried. This is a relatively new concept and not something that you can find often throughout Greece.

However, in the short period that the eatery has been open, Zisis has acquired a cult following. Tuck into small fried sardines, lightly battered cod, fried shrimps, or anchovies.

Sit beneath the shadow of Agias Eirinis Orthodox church as you tuck in. The fish is best enjoyed lightly salted with a sprinkling of fresh lemon juice.
Regional Pies
Pies and pastries are a popular light lunch in Greece. Many Greek Yia Yias and mothers will bake their own batches of homemade pies. However, luckily, Greek bakeries also sell excellent versions that are cooked fresh each morning.
Tiropita and spanakopita are among the most popular pies. However, you can find regional creations that are specific to different areas of Greece. If you travel to Ioannina, and the Epirus region of Greece for example, you will note that this area is "famous" for pies.
Hortopita (pie filled with wild greens), sweet galatopita (milk pie), and indulgent karidopita (walnut pie) are all regional delicacies that you will find at the bakeries of beautiful Ioannina. As you travel around the different areas of Greece, browse and see what tasty baked goods you can find.
Bougatsa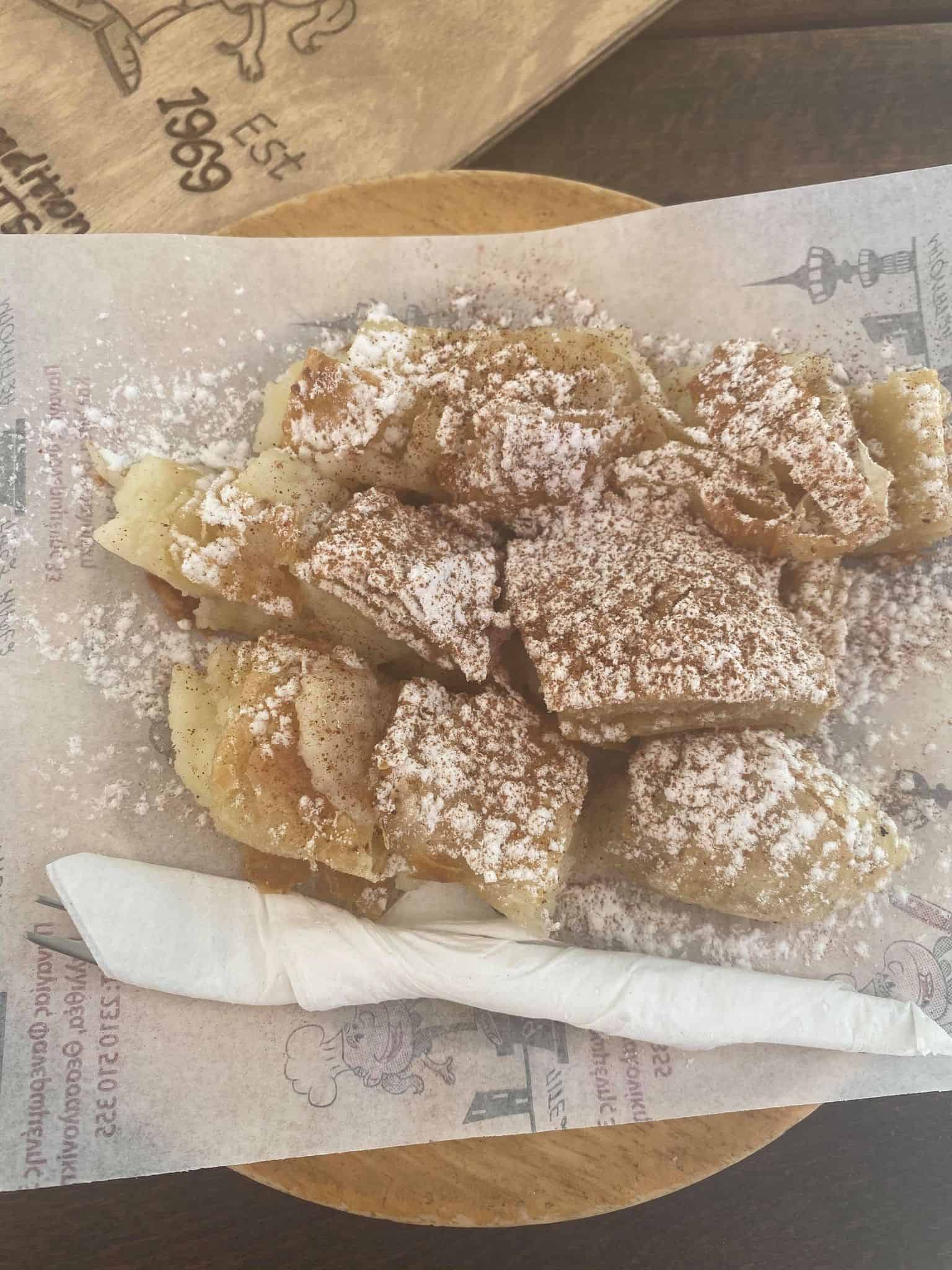 Bougatsa is a sweet breakfast pastry that comes from Thessaloniki. You will be able to find bougatsa across the country, but the "best of the best" is to be found in Thessaloniki in Northern Greece.
If you do find yourself in Thessaloniki, head to Bougatsa Bantis, a local favourite spot that has operated since 1969. It is referred to time and again as being one of the best restaurants in Thessaloniki.

Bougatsa is comprised of sweet semolina custard that is wrapped in neatly folded layers of thin, flaky filo pastry. It is then topped with generous sprinklings of icing sugar and cinnamon.
You can find variations of bougatsa, including savoury versions that contain minced meat. However, the traditional recipe is the version with semolina custard.
Peinirli
Peinirli is a Greek pizza-style dish that was brought to the country by Greeks that lived in the Black Sea more than a century ago. You will notice that Greek food in general shares a lot of similarities with Turkish cuisine.
This dish is very similar to the Turkish "pide". In fact, the origin of the dish's name is Turkish. "Peynirli" means "with cheese" in Turkish.
You can add practically anything to peinirli, and you will find a diverse range of recipes for it across the country. It is usually more sandwich-like than a regular pizza and is made rich in butter and cheese.
Common fillings are things like ham and cheese. In some areas such as Volos, you can find sweet versions of peinirli that are filled to the brim with chocolate!
In Athens, hop on a bus to the northern suburb of Drosia if you want to sample the very best peinirli. Eleftheriadis and Themis are longstanding eateries beloved by locals.
Gyros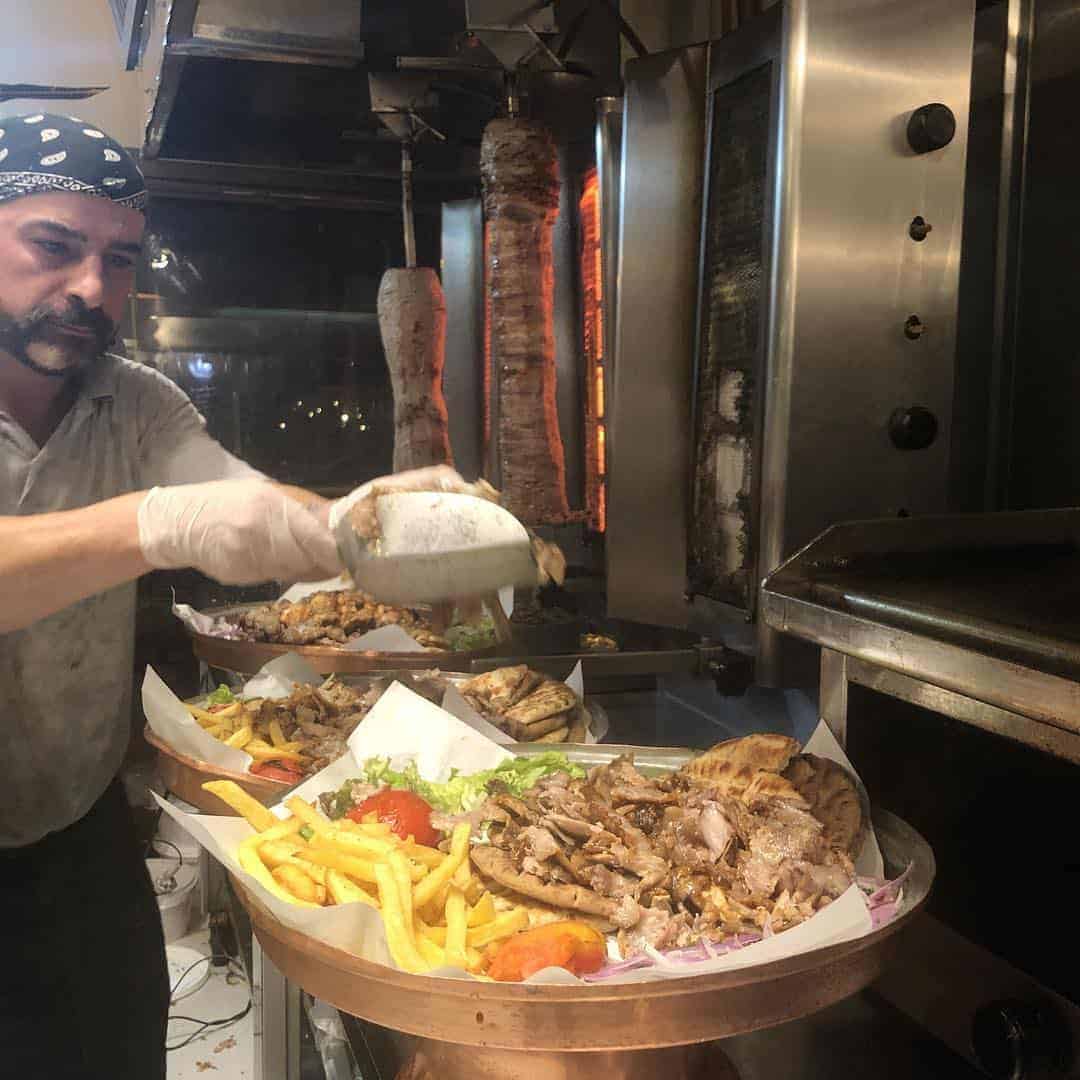 Gyros are arguably one of the most popular Greek street food dishes. This is the go-to easy meal choice for tourists and Greeks when they are heading home at the end of a night out, or on occasions when they simply don't feel like cooking.

These wraps are commonly made from pork or chicken. The meat is cooked on a rotating vertical rotisserie in a manner that is comparable to kebabs or shawarma.
The meat is then sliced from the spit and served in a pita with a generous serving of salad, french fries, and homemade tzatziki. Outside of super-touristic places, one pita gyro will usually cost around €2.40
Greek fries "potatoes"
If you stop by any souvlaki or gyro store in Greece and they ask you if you want potatoes, they mean fries. A lot of Greek street food vendors season their fries with oregano and salt – a simple yet unbelievably delicious mix.

You will often be given a hearty dollop of homemade tzatziki on the side. A popular condiment in Greece is a sauce created by mixing mayo and mustard together, so try this on the top.
Souvlaki
Souvlaki sticks are Greek meat skewers, and one of the most popular Greek street food delicacies you will find. Souvlakia are traditionally prepared with pork, or sometimes beef. The meat is grilled and marinated with a delicious blend of salt, pepper, garlic, oregano, and lemon juice.

Want to hear a fascinating fact about souvlaki? This dish has been enjoyed in Greece for more than one thousand years now.
References to souvlaki were also made in the writings of Homer, Aristophanes (446-386 BC), and Aristotle (384-322 BC). Fascinating, eh?
Greeks will typically buy a couple of skewers of Souvlaki. It tends to cost around €1.40 per stick.
Traditionally, it is served with a small piece of bread and a lemon which is then squeezed over the top. If you don't like pork or beef, you will often find that a lot of souvlaki/gyro places also serve marinated chicken breast skewers.  
Kokoretsi
Kokoretsi is a beloved Greek street food that is arguably not for the faint of heart. The dish consists of lamb and goat intestines ("offal") that are slow roasted over a spit.

Greeks enjoy kokoretsi any time of year but this is particularly popular at Easter time. If you head to a Greek taverna and you see an unusual-looking spiral of meat wrapped around a skewer over an open flame, chances are that this is kokoretsi.
It is a lamb or goat's heart, liver, lungs and kidneys wrapped in seasoned offals that make up kokoretsi. Interestingly, this type of food is actually banned in the United States and the EU because it is not considered safe to eat lungs.
Kokoretsi is popular in Greece as well as neighbouring Turkey and other countries across Asia minor. If you can move past the idea of eating intestines, you will likely be blown away by how tasty it is.
Tomato keftedes
Tomato keftedes are tomato fritters that originate from the beautiful island of Santorini. Santorini tomatoes are particularly special due to the rich, fertile, volcanic soil that they grow on.

However, you can find tomato keftedes across Greece. Tomatoes grown anywhere across the little Southern European country are always sweet, fresh, and flavourful.

To make them, the tomatoes are peeled and then mushed along with onions, feta cheese, spearmint, parsley, and oregano. Then, they are rolled into balls with flour and fried in olive oil over high heat.
Galaktoboureko
Galaktoboureko is a sweet Greek pastry that shares a lot of similarities with bougatsa. While bougatsa originated in Thessaloniki, the best galaktoboureko is to be found in the Karpenisi and the Evritania region of Central Greece.

Like bougatsa, galaktoboureko is made up of sweet semolina custard tucked in filo. The difference is that galaktoboureko is prepared with a thicker layer of custard.
The Greek dessert is then served with a layer of syrup. It is generally much creamier than bougatsa.
Kebabs
As you travel across Greece, you will find a lot of kebab houses. They are just as common as gyro shops and souvlaki places. While souvlaki and gyros are commonly made from pork, kebabs tend to be prepared with lamb or beef.
The dishes served and prepared at these places have both Greek and Turkish origins. You will note that there are a large variety of different style kebabs in Greece, so you never have to eat the same thing twice during your trip!
Cheese-stuffed keftedes is a particularly indulgent and sinful variation. These are beautifully marinated lamb or beef kebabs stuffed with feta or Roquefort cheese.
Yogurtlu kebabs
Yogurtlu kebabs (Yoğurtlu Köfte Kebabi) is a popular Ottoman dish that you will find here. It is made by mixing lamb and beef kofte kebabs with fresh Greek yoghurt, tomato sauce, herbs, and warm pitta.
Loukoumades
Loukoumades are often referenced as being the Greek version of doughnuts. However, these sweet bite-sized little pastries are a dessert like no other.
Loukoumades are not large with holes inside of them like regular doughnuts. Instead, they are small and circular. They essentially have a dumpling-style appearance.
Traditionally, the dessert is deep-fried and then drizzled in honey or syrup. Variations of the treat have emerged in recent decades though, and now the possibilities of stuffings and fillings are endless!
Loukoumades are sometimes stuffed with fillings such as chocolate praline or Bavarian cream. You can then have them topped with an array of sweet sauces and syrups.
Dedicated sweet loukoumades stores exist across Athens, Thessaloniki, and other large Greek towns and cities. You can buy a box of 12-16 pieces intended for sharing for no more than a couple of euros.
Chestnuts
When you see a street vendor in Greece and a cloud of smoke engulfing him, nine times out of ten, he will probably be preparing chestnuts. Greeks are crazy about the chestnut flavour and you will find chestnut vendors everywhere in the Autumn and Winter months.
In deli-style stores across the country, you will also find that people sell seasonal chestnut jams or candied chestnut desserts. Chestnut season in Greece starts around October. Vendors will cook these over hot charcoals and then serve them to you in paper cones for just a few euros.
Dried Fruits
In busy cosmopolitan areas of Athens and Thessaloniki, you will find a lot of Greek Street Food Vendors selling an array of dried fruits and nuts. You will be able to select and weigh a mixture of different treats.
Popular variations include things like dried figs, raisins and apricots. Flavoured nuts, cashews, pistachios, sunflower seeds, and other healthy trail-mix type treats can also be purchased for just a few euros. This is a nice healthy snack to keep you energised during your day of sightseeing or hiking.
Corn on the Cob
Corn on the cob is a simple, yet tasty Greek street food that is enjoyed throughout the year. It is particularly enjoyable during the cold Greek winter months.
The Vendors prepare the corn fresh on the grill right before your eyes. Once cooked, a generous sprinkling of sea salt is added for taste.
Falafel
Throughout Greece, you will find several street vendors that sell Middle Eastern style falafel, particularly in Athens and Thessaloniki. This is a good vegetarian choice, or a nice light bite if you are looking for something a little different to traditional Greek street food.

Falafellas (Aiolou 51) and Not Just Falafel (Romvis 16) are great places to check out in Athens. You can enjoy the falafel served inside a warm bread wrap filled with salad and either tahini or a spicy falafel sauce.
Revithokeftedes (Chickpea fritters)
An alternative to traditional falafel is revithokeftedes – Greek chickpea fritters. Revithokeftedes are particularly popular on the island of Sifnos in the Cyclades.

However, you will find them across various Greek island groups and in Greek mezedopoleio restaurants. They are commonly served with tzatziki, hummus, taramasalata, Skordalia, melitzanosalata (aubergine dip), tirokafteri (spicy feta cheese dip), or fava bean puree.

To create them, chickpeas are soaked overnight and then mashed and combined with a mixture of onions, garlic, cumin, and coriander. They are then lightly fried in olive oil to make chickpea fritters, aka revithokeftedes. 
Kolokithokeftedes
Kolokithokeftedes are Greek zucchini fritters. They are comparable to tomatokeftedes and Revithokeftedes.
'Kolokithi' means zucchini, while 'Keftedes' refers to meatballs, though this simply refers to the shape of the fritters as kolokithokeftedes are vegetarian friendly.
Part of what makes kolokithokeftedes so great is the freshness of the ingredients used. They are made by grating zucchini and then combining it into a mixture along with grated red onion, spring onions, fresh mint, feta cheese, parsley and pepper.
The mixture is rolled into little balls and then fried in extra virgin olive oil. Kolokithokeftedes are best enjoyed with a yoghurt dip. You will find them both in meze restaurants, and occasionally served as a standalone Greek street food.
Halva
Halva is a popular Greek dessert made from tahini (sesame seed paste), sugar, spices and nuts. If you eat at Greek tavernas, you will typically be given a complimentary dessert, and this is often halva.
You can also find it sold by street vendors throughout various Greek cities. In particular, keep your eyes peeled for halva vendors when you pass through Athens Central Market (Varvakios Agora).
Halva has a unique, crumbly texture that is not too dissimilar to nougat. You can find it in an array of different flavours.
Amygdalota
Amygdalota are delicious chewy Greek almond cookies that are most commonly found in the Cyclades. They are sometimes nicknamed the "macaroons of Greece" although the name is somewhat misleading as the cookies don't actually contain any coconut derivatives.
You will find them waiting behind the display cases in Greek bakeries and sometimes sold in plateias (squares) by street vendors on beautiful Greek islands. Different areas have slightly different ways of preparing the cookies, and even give them different names.

So, if you see rozethes, ergolavoi or troufes, these cookies are all amygdalota. Sometimes you may be able to find little gift-wrapped boxes of them – a perfect Greek souvenir for your family and friends back at home!
Tiropsomo
You could liken tiropsomo to being the sandwich version of a tiropita. This is soft Greek flatbread stuffed with feta cheese and it is both simple and delicious.
You can eat tiropsomo as is, perhaps as a light lunch or a snack. It is commonly enjoyed alongside soups and meze dishes. 
Baklava
Baklava is a popular pastry dessert in Greece, as it is in neighbouring Turkey and other Middle Eastern countries. It is a sweet, sticky, syrupy treat that is made by stacking layers of filo pastry on top of each other and then drenching them in syrup and chopped nuts. 
You will find it sold in virtually every Greek bakery. However, there are also some patisserie style stores that are dedicated to selling solely different varieties of baklava. Sometimes, you may see street vendors selling it outside of tourist sites.
Hot dogs

Hot dogs may not be a particularly adventurous Greek street food. However, they are an international classic and you can find some pretty great hot dogs across the little Mediterranean country.

In Athens, your go-to place should be Johnnie hotdog. This is an eatery that started out as nothing more than a food truck and quickly gained recognition as being the "best" hotdog joint in the Greek capital.

There are several Johnnie hotdog branches throughout the city. Although a lot of the menu options follow American and western classic recipes, there are also those that cater to Greek palettes.
The German-inspired options are particular favourites. Try the "Bavaria Dog". This is a white German Bratwurst sausage, red cabbage in apple sauce, caramelised onion, sweet Danish cucumber, mild mustard & sweet Bavarian mustard.
Ordering Street Food in Greece
You will find most of these delicacies in abundance as you travel around Greece. If there is a particular Greek street food snack that appeals to you, you can ask your hotel reception/Greek friends to tell you where you can find the best of that dish in the area.
We also have two handy food delivery services in Greece. One is called E-food and the other is Wolt.
These are essentially the Greek answer to Uber Eats or other food delivery apps. You can order food for collection from nearby stores.
It shows you the distance of popular places based on your address/postcode. Alternatively, you can have it delivered.
Final Thoughts
Have any further questions about planning your adventure to Greece? I've spent the last four years living in Athens.
I have had the pleasure of travelling pretty extensively through this beautiful country during that time. If there is anything I can help you with, don't hesitate to reach out via the comments below.
Geia sou! Melissa xo

---