Monastiraki, Athens is one of the most centralised and renowned districts in the Greek capital. The name "Monastiraki" means "little monastery".
A small monastery once occupied the central square here during Byzantine times. Monastiraki, like much of Athens, can feel somewhat chaotic and "higgledy piggledy" in layout and appearance. The narrow streets, winding lanes, and alleyways here are representative of the city's former Byzantine and Ottoman glory.
This is one of the city's oldest neighbourhoods. Today, the atmosphere that exists here is a wonderful juxtaposition of old and new, and contemporary modern living meets ancient tradition and culture.
Arriving in Monastiraki:
Monastiraki Square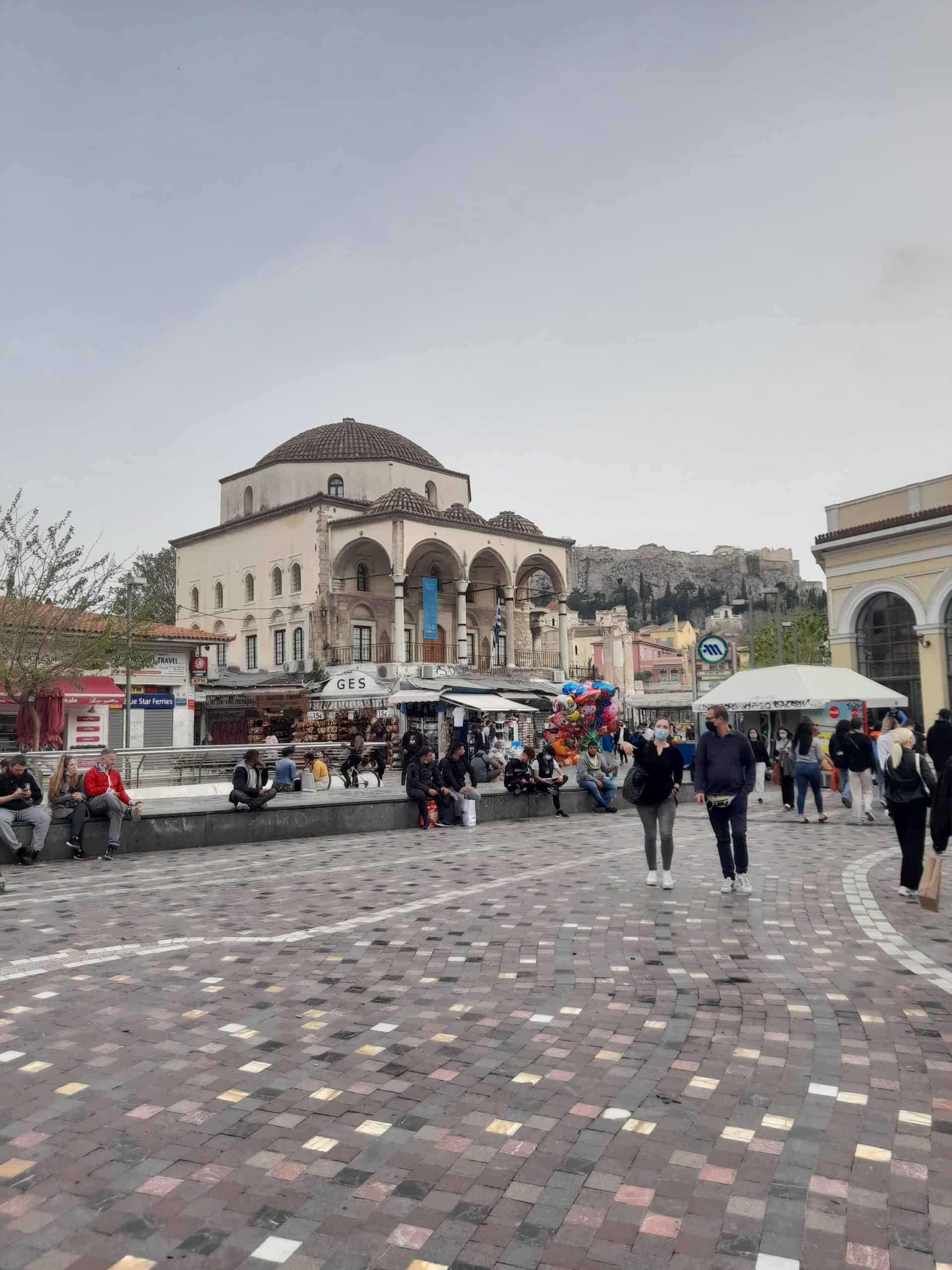 Monastiraki Square marks the central point of this neighbourhood. The sprawling Monastiraki metro station can be found here and provides connections between the blue, green, and red lines of the Athens metro.
Look out for the Tzistarakis Mosque. This 1759 structure is one of the most unique landmarks in Athens. It was built, quite controversially, during the Ottoman rule of Greece using marble from the nearby Hadrian's Library.
The mosque is without its minaret and despite housing an annex of an art museum, it sadly has not been open to the public for several years. There are legends and whispers of the building being cursed.
The Turks desecrated Greek historic sites in order to pillage for construction materials to build the mosque. A plague fell upon Athens in the year that the mosque was constructed, cementing people's superstitions that the building was cursed.
Monastiraki Square is buzzing with life whatever time of day or night you happen to pass by. You will often see crowds of young people gathered here having coffee with friends or crowded around a speaker listening to music.
Street food vendors regularly set up their stalls here selling everything from corn on the cob to fresh fruit and nuts. The streets that veer off from Monastiraki square: Pandrossou, Adrianou, and Ermou offer some of the best shopping in Athens.
Disclaimer: This Monastiraki Athens guide may contain affiliate links. This means that if you choose to make a purchase through some of the links on this page, I may obtain a small amount of commission. This is charged at no extra cost to you. Thank you.
Monastiraki Highlights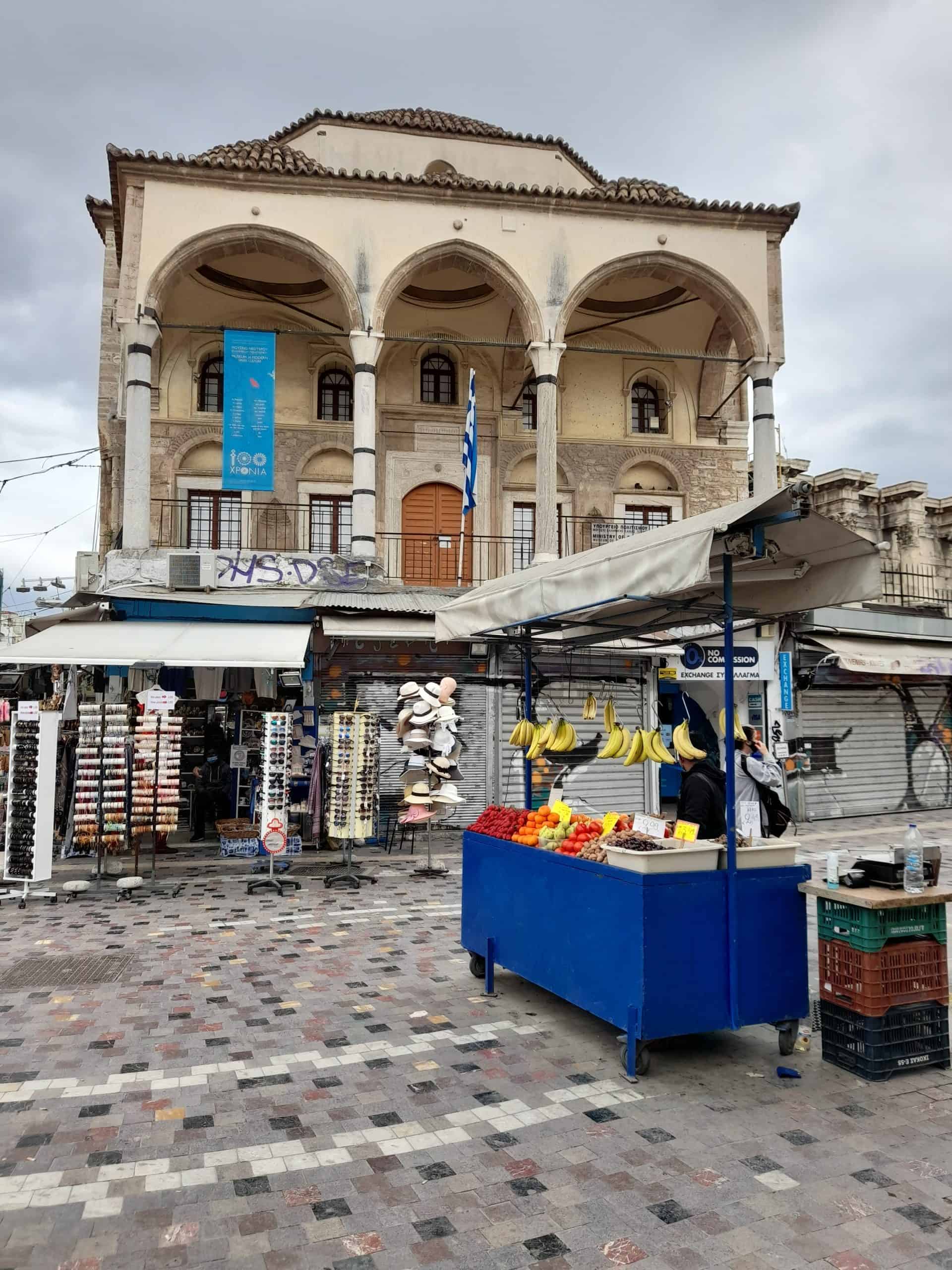 Several of Athens' best nightlife spots, particularly rooftop bars with an Acropolis view, can be found in Monastiraki. This is also one of the best places in the city to pick up souvenirs from your time in Greece.
Monastiraki Flea Market
Monastiraki flea market sells all manner of weird and wonderful souvenirs, trinkets, antiques and knick-knacks. Sure, you can buy all of your typical touristic souvenirs here: fridge magnets, "I heart Greece" bags and t-shirts, tiny, overpriced bottles of ouzo. However, you can also uncover some interesting finds.
Antique and second hand stores around Monastiraki sell furniture, tattered old books in a variety of languages, old vinyl records, independent art work, musical instruments, and ornaments. This is a great place to people-watch and take photographs.
Among the plethora of stores in this area, there are a handful that stand out among the crowd. One of those is Melissinos: a famous shoe store specialising in leather sandals. The cobbler here has created footwear for all of the greats: Sophia Loren, John Lennon, and all manner of celebrities.
If you are looking for souvenirs that are unique and quintessentially Greek, you can certainly find something interesting here if you are prepared to rummage among the tat. Komboloi beads are a nice gift idea.
These are Greek worry beads that could be compared in some ways to Catholic rosaries. Many of the stores in Monastiraki sell low quality, plastic, "made in China" beads. If you look carefully though, you will find some stores tucked away selling the authentic wooden kind.
Cocktails with a View
Monastiraki is a popular starting point for a night out in Athens. Athens 360 is arguably one of the city's best known rooftop cocktail bars. However those in the know head to nearby Couleur Locale for their evening tipples.
The latter is truly a diamond in the rough. It can be found on Normanou 3. Its entrance is tucked away from view, only to be discovered by those who are truly aware of the bar's existence.
Wander down the graffiti-filled passageway of Normanou that veers off from Ifestou. Bypass the old antique stores and furniture shops until you come to an elevator. Take it all the way to the top to be transported to Couleur Locale: a trendy, bohemian spot with excellent music and some of the best views in town.
The Roman Agora
Two notable historic sites can be found in Monastiraki. Both of which can be entered using the €30 Athens Acropolis pass. Namely, these are the Roman Agora and Hadrian's Library.
In Ancient Greek, "Agora" means marketplace. An open air market once stood here selling fruits, vegetables, meats, and produce. The market dates back to the 1st century BC and its construction was financed by none other than Roman Emperors Julius Caesar and Augustus.
In its heyday, the site consisted of an open-air courtyard, a series of stores, and a fountain. The Tower of the Winds is a particularly interesting and well-preserved structure that exists within the Roman Agora complex.
This 12 meter ancient structure was built out of fine pentelic marble by the Greek astronomer Andronicus of Cyrrhus. Its primary purpose was to tell the time. However it was also used to predict the weather.
Its worth noting the difference between the Roman Agora and the Ancient Agora in nearby Thissio. The Ancient Agora significantly predates the Roman Agora.
It was here where Socrates, Aristotle, and other Greek Philosophers would address crowds. It was more of a place of civic activity. Meanwhile, the primary purpose of the Roman Agora was for shopping.
Hadrian's Library
The collonaded Hadrian's Library was the largest structure to be built by the Roman Emperor Hadrian during his time in Athens. The structure is actually much more than just a library.
It was designed in the same format as a typical Roman forum, and also contained assembly halls, music rooms, a courtyard and a pool in its confines. This was once an area of importance and grandeur, used for important civic meetings between Roman nobility.
Luscious green expanses with walking trails once encompassed the area. These offered a place to walk, think and reflect. You can enter Hadrian's Library with the €30 Acropolis ticket.
Shopping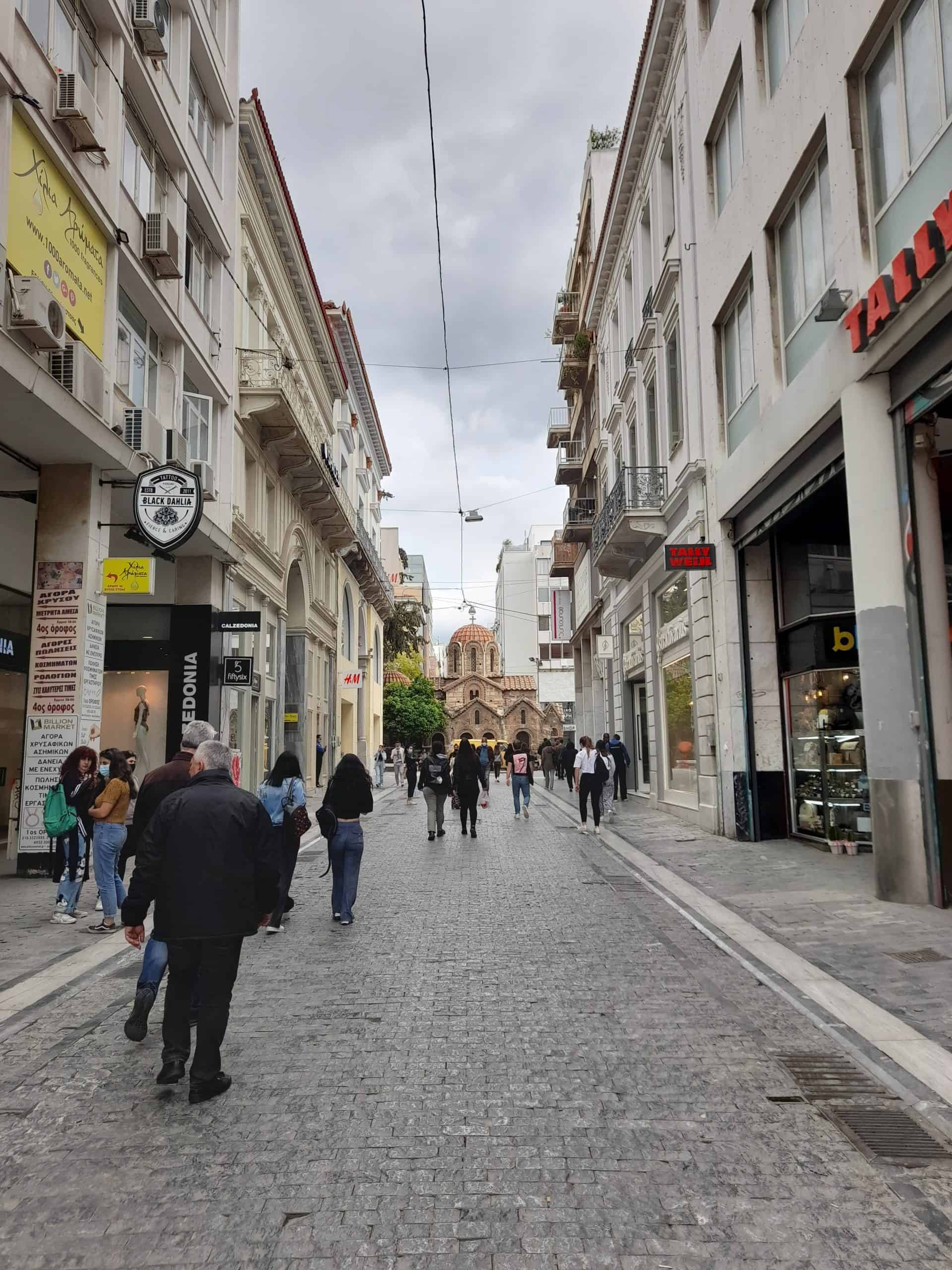 Ermou street is Athens' answer to the high street. It runs from Monastiraki station to Syntagma square. The stores here range from independent boutiques showcasing the works of local Greek designers, to renowned brand names such as H&M, Massimo Dutti, Zara, etc.
Churches of Monastiraki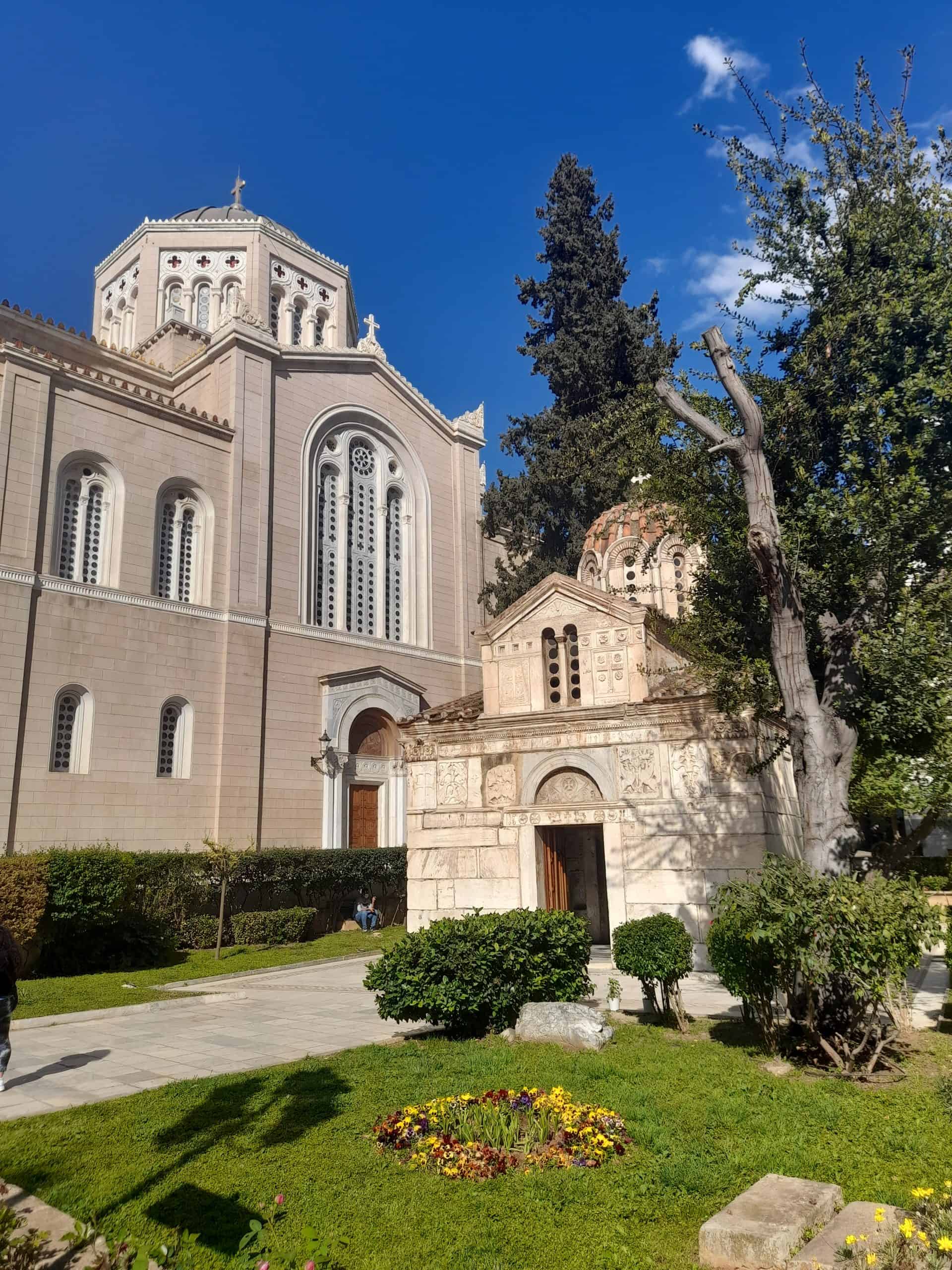 The Cathedral Church of Athens can be found in Monastiraki. This is the headquarters of the Archbishop of Greece, and essentially, the most important church in the country.
The church looms above the nearby square where you will often catch Athenians eating outside on their lunch break from work, or younger generations of Greeks cycling and skateboarding.
200 or so years ago, commercial Ottoman buildings once stood on this ground. They were destroyed in order to make room for the Cathedral Church.
Construction of the church began on Christmas Day 1842. However due to a lack of funds, building operations were repeatedly paused.
The building was finally completed in 1862. Interestingly, it was built using the remnants and materials of over 70 abandoned or ruined churches in Southern Greece.
Adjacent to the Cathedral church, you will find the quaint little 12th century church of Agios Eleftherios. This building is dwarfed by its neighbour, yet it is no less impressive.
The little church was created using materials from a ruined temple that once stood in its place. Several interesting carvings and friezes decorate its exterior. Some depict the Zodiac, others depicting beasts and animals. Sadly none of the frescoes have withstood the test of time.
Exquisite Greek Food in the Heart of Athens
Some of the restaurants encompassing Monastiraki square are undeniable tourist traps. Such is the case when you find yourself in the centre of any city that is popular among tourists. Ask locals, your hotel owners, and your Airbnb hosts for their recommendations. You can find some excellent Athens restaurants in this area if you shop around.
Kotili Mezedopleio is a firm local favourite. This popular Athens haunt sits at Adrianou 41 – 43.
A "Mezedopleio" is an eatery that specialises in small plates – essentially the Greek answer to the Spanish tapas. These little dishes are best enjoyed shared among friends over carafes of ouzo and tsipouro.
The menu at Kotili rivals a bible – all of your favourite Greek and Mediterranean classic dishes can be found here. So too can a selection of excellent salads, mixed grill plates, and larger main course dishes if you prefer not to eat meze-style.
Many of the restaurants that line Adrianou street offer al-fresco style dining on some of Athens' busiest promenades and a great place to watch people. A lot of these places also offer live bouzouki performances.
For something a little extra special during your Athens itinerary, head to Kuzina. This restaurant, headed up by Greek Chef Aris Tsanaklidis serves classic Greek recipes with a unique twist.
Every innovative creation on the menu utilises the finest local ingredients. For instance, mouthwatering beef cheeks with sauce from aghiorghitiko wine & mushrooms, or chicken fillet with peanut pesto, goat cheese & cauliflower "yahni".
The restaurant is housed inside a former neoclassical mansion. From April until October each year, you can dine outside on its terrace and enjoy unparalleled views of the Acropolis and the Ancient Agora.
Where to Stay in Monastiraki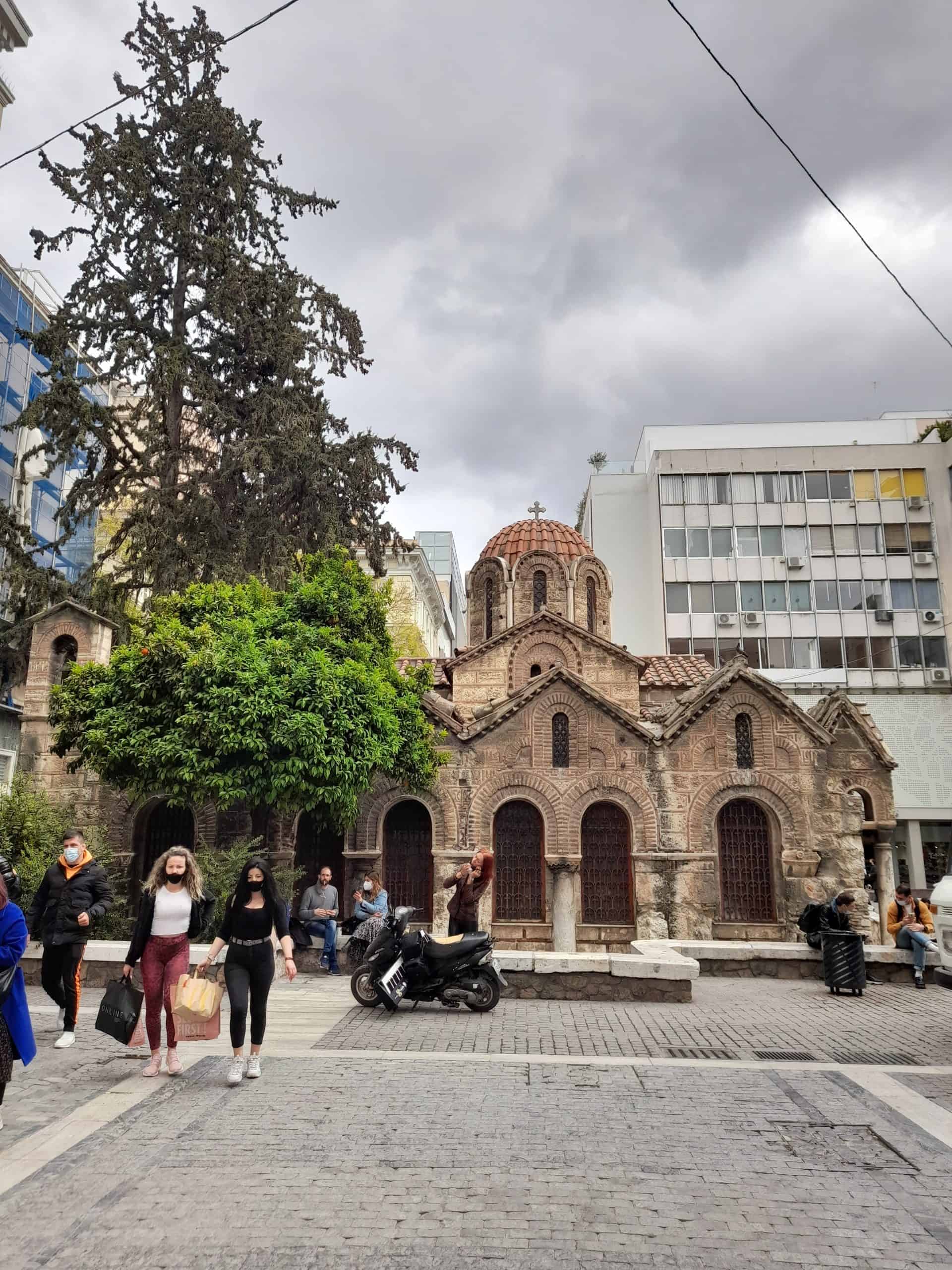 Monastiraki is arguably one of the best places to stay in Athens. Granted, you ought to be a little careful if walking at night here.
However, it does not get more central than this. Staying in Monastiraki means staying somewhere where you can reach all of Athens' main points of interest, museums, and historical sites on foot and do not have to depend on the metro.
The Zillers
Where: Mitropoleos 54, Monastiraki
The Zillers is one of the best hotels in Athens city centre. It is housed inside a grand neoclassical building and boasts interiors as opulent and elegant as its exterior.
The recently renovated rooms have been decorated in a chic, contemporary style. Rooms and suites boast wooden floors, neutral colour palettes and plush furnishings.
The piece de resistance of staying at the Zillers is the hotel's rooftop. From up here, you have unparalleled views over the city and the Acropolis. Click here to browse the latest room rates and availability.
Parting Words
Have any additional thoughts or queries about visiting Monastiraki or planning a trip to Greece? I have been living in Athens since 2017. I am happy to answer any questions you may have.
Safe travels! Geia sou! Melissa xo
---