Plaka, Athens is one of the most touristic districts in the Greek capital. However, this area is so charming that it is quickly forgiven.
Plaka is situated in the beating heart of Athens city centre where it sits beneath the shadow of the Acropolis. Its narrow winding streets, neoclassical buildings, quaint cafes, and pastel-coloured houses combine to make this one of the most picturesque districts in Athens.
The cobbled streets and passageways here are entirely pedestrianised. In some ways, Plaka feels like an island retreat in the midst of a chaotic city.
Falling in love with Plaka, Athens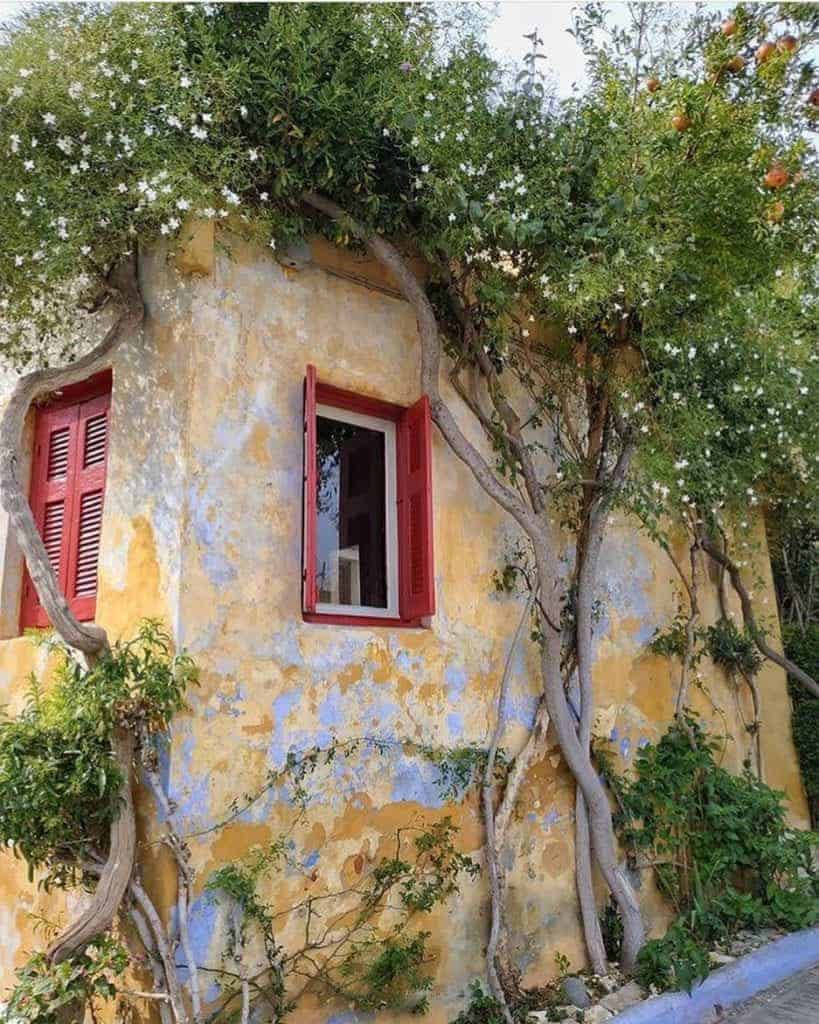 Plaka, Athens is the oldest district in the Greek capital. This area has been continuously inhabited for over 3,000 years.
This part of town is brimming with history. Strolling through the quaint streets of Plaka means that you are literally following in the footsteps of some of the world's most notable historical figures.
Everyone from Socrates and Pericles to Lord Byron and Alexander the Great has once wandered through old Plaka. It is probably no surprise that Plaka is one of the most popular Athenian districts among tourists.
However, the crowds do not detract from Plaka's charm. Some places are popular for a reason.
A brief history of Plaka, Athens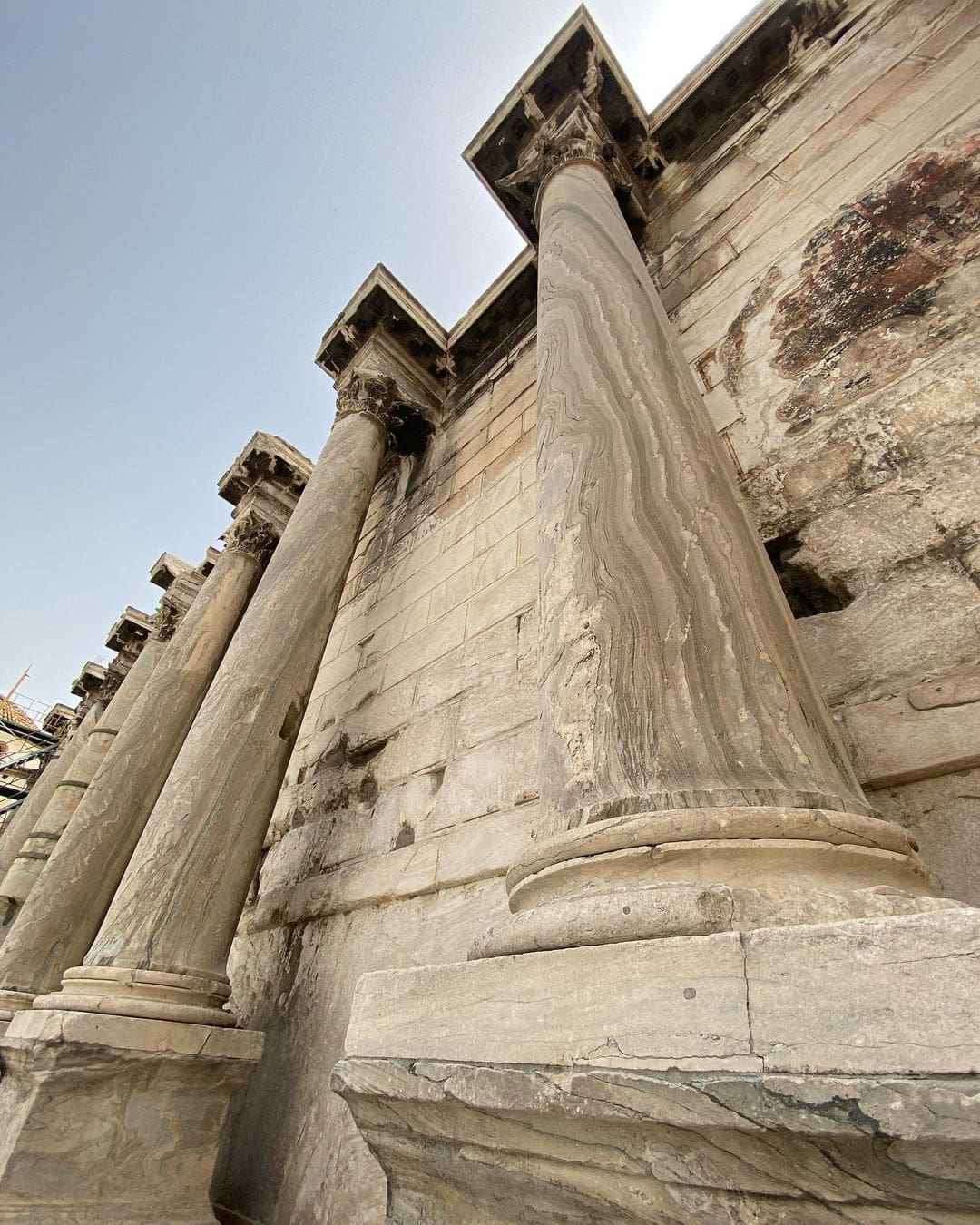 During the days of the Ottoman Empire, Plaka was known as Athens' "Turkish district". Many old Islamic buildings still remain from this period of history.
Various abandoned mosques and madrassahs (Islamic schools) are scattered throughout the area. Look out for the Fethiye Mosque and the Pelopida street madrassah as you navigate your way around town.
Some of these buildings have been converted into museums. Others have been left in abandon. They boast a somewhat eerie, ethereal atmosphere when you pass them on a warm Athenian evening.
Various civilisations have invaded and occupied Athens over the years. Many of the buildings that await in Plaka today have been standing for several centuries. Despite being renovated into tavernas, art galleries, and restaurants, they have still retained their authentic charm.
Things to see & do in Plaka, Athens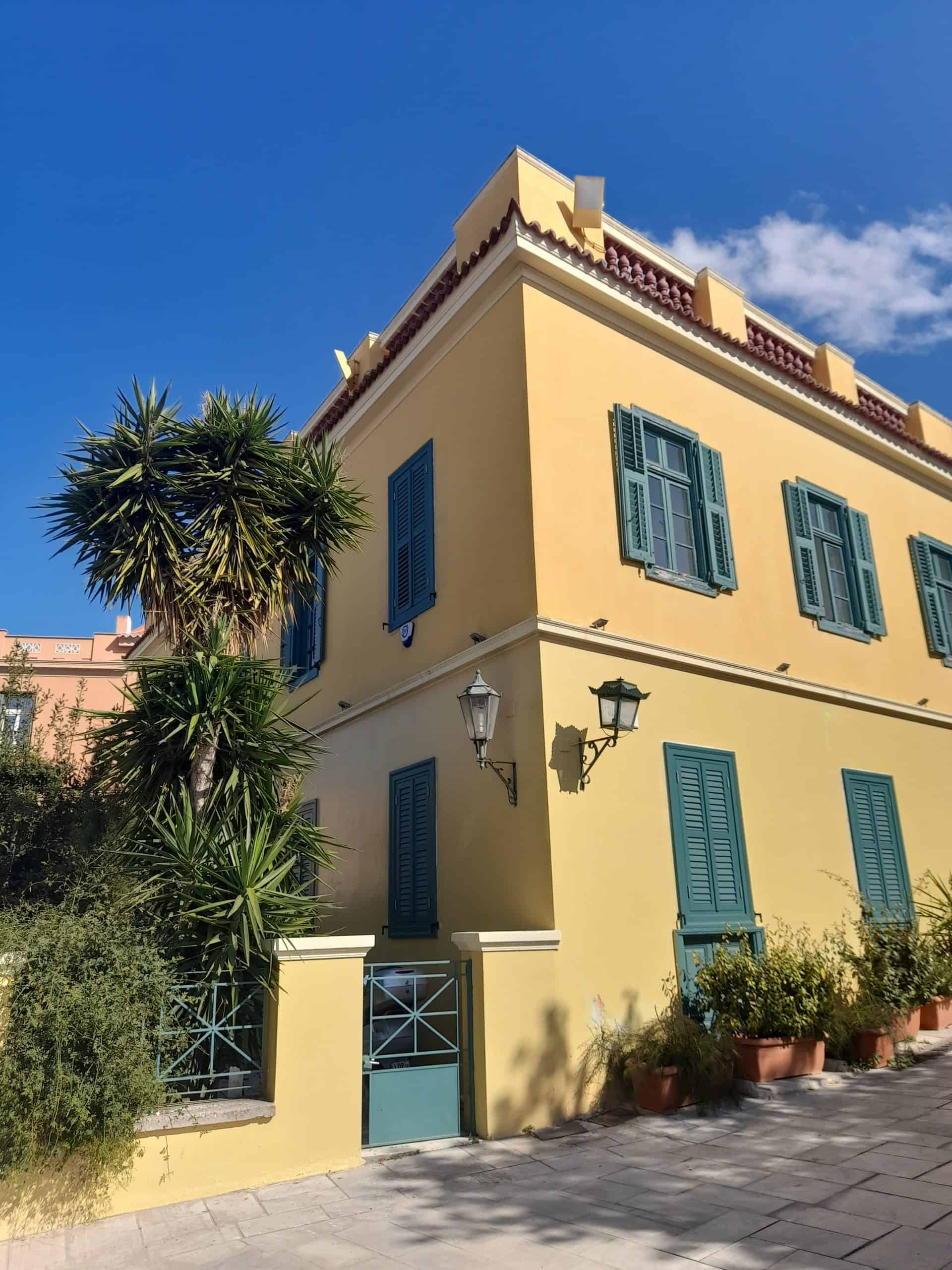 Plaka awaits on the slopes of the Acropolis hill. It is also home to some of the most important archaeological sites and landmarks in Athens.
The ancient Roman Agora (marketplace), the Bathhouse of the Winds, and Hadrian's library can all be found in Plaka. There are plenty of things to do in this part of town.
At the very least, you should dedicate half a day of your Athens itinerary to exploring old Plaka. Athens city centre is easy to explore on foot. From Plaka, you can continue onwards to nearby Thissio, Monastiraki, and Psyri.
Explore Hadrian's Library
Hadrian's Library is a grand, colonnaded structure that sits at the border of Plaka and Monastiraki. It is one of the most important sites that still exists from the Roman occupation of Southern Greece.
It is a sprawling 10,000 square-meter cultural complex that was constructed on the order of Emperor Hadrian in 132 AD. Its function goes way beyond being "just" a library and indeed, the complex once boasted teaching rooms, reading rooms, and rooms where people could listen to music.
There were also courtyards, gardens, and ponds where Greek philosophers and scholars could wander to unwind and reflect. Entrance to the site is included in your Athens combination ticket so it is well worth stopping by.
Take an Athens Walking Tour
An Athens walking tour is a great way to get your bearings when you first arrive in the Greek capital. Opting to do one that takes you through Plaka allows you to gain more information and context about the places that you visit.
You will discover restaurants, bakeries, and areas that you are not likely to find independently. Better yet, you have an expert local on hand to ask for recommendations.
A selection of reputable Athens and Plaka walking tours is detailed below for your consideration. It is a good idea to book online in advance to reserve your place.
Indulge in a Traditional Hammam Experience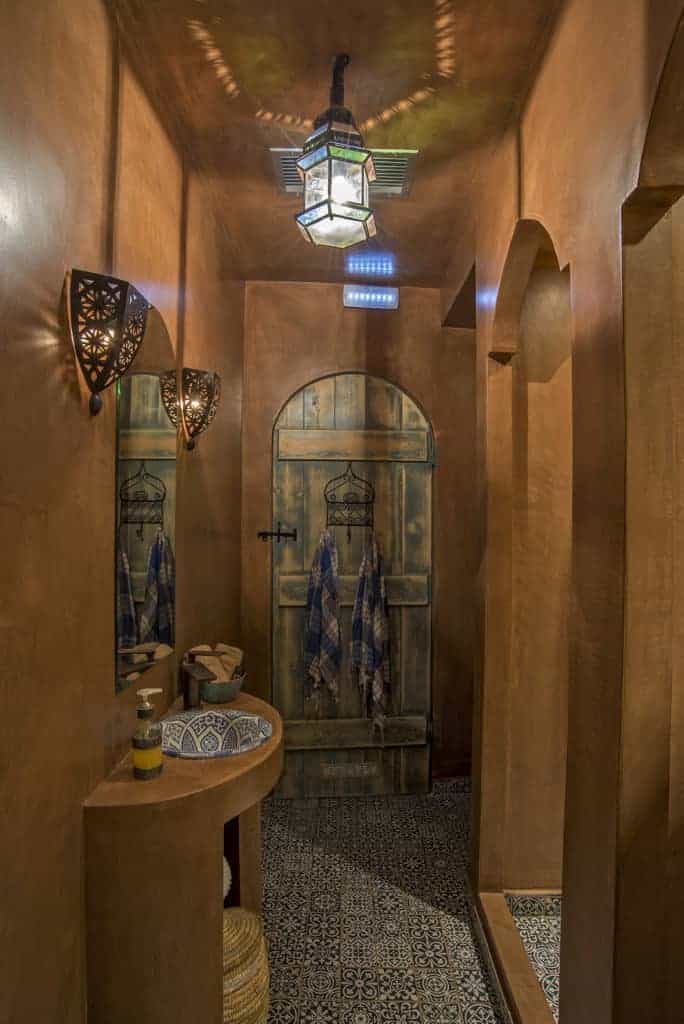 Once upon a time, hammams were a huge part of Athenian culture. These traditional Turkish bathhouses are essentially an ancient version of the sauna.
Hammam visitors would sit inside a marble steam room as a way to indulge in a little R&R at the end of the day. Plaka's Bathhouse of the Winds was the go-to hammam in ancient times.
Modern alternatives have opened up around the city in recent years. The most reputable of these can be found in Plaka.
Al Hammam, Athens
Al Hammam Athens (Tripodon 16) is a luxurious Middle-Eastern themed hammam in the centre of Plaka. You can come here to treat yourself to a simple hammam experience.
Alternatively, it is also possible to indulge in other traditional relaxation packages. For instance, exfoliating full-body scrubs and oil massages
When your treatment is over, relax on Al Hammam's terrace and watch the sunset. The staff will present you with a spiced Turkish tea, and a serving of loukoumi.
Explore the Hidden Village of Anafiotika
The village of Anafiotika is one of Athens' best-kept secrets. This tiny residential area sits perched on the slopes of Acropolis Hill.
Anafiotika has a distinctly different appearance from the rest of Athens' neighbourhoods. Wandering through the streets here is more reminiscent of visiting an island in the Cyclades, rather than exploring one of Greece's most crowded cities.
Anafiotika dates back to the 19th century. It was built by people from the island of Anafi after the Greeks gained their independence from the Ottoman empire.
The Construction of Anafiotika
Anafi residents moved to mainland Greece to assist King Otto I in rebuilding Athens. They crafted their charming bijou homes in the same architectural style that they were accustomed to seeing in their beloved home of Anafi.
One of the highlights of visiting Anafiotika is the incredible panoramic views that can be enjoyed from up here. Try to visit the area in the early evening for an impressive sunset in a spot that is often overlooked by most tourists.
Watch an Evening Bouzouki Performance
You may associate Plaka with being "touristy" but that isn't completely true. In fact, a lot of Greeks still come here to hang out too. After all, it is so bohemian and beautiful, that it would be a shame for them to boycott it completely, right?
Plaka boasts several excellent bouzoukias. If you are unfamiliar with the concept of a bouzoukia, these are taverna-style establishments that serve food and drinks.
Bozoukias mostly serve meze plates and mixed grill platters. Live traditional folk music is performed on stage as you dine. These places are very popular on the Athens nightlife scene.
Stamatopoulos Tavern is one particularly homely taverna/bouzouki that is situated on Lisiou street in Plaka. Equally worthwhile is To Perivoli T'Ouranou. This is the oldest spot for music and dinner in Athens.
These places usually attract more Greeks than tourists. The only thing to note is that Plaka bouzoukis are slightly more expensive than those in neighborhoods such as Pangrati or Vyronas.
Follow in Caesar's Footsteps at the Roman Agora
The Roman Agora contains what remains of a sprawling 1st Century BC marketplace. The construction was funded by notorious Roman Emperors Julius Caesar and Caesar Augustus.
It is incredible to think that you are strolling along the same cobbled promenades as these renowned historical figures once did. You can glance out across the Roman Agora from the main streets of Plaka and the area is relatively compact.
You will be in and out of the Roman Agora in five minutes if you choose to head inside. That said, admission is only €2 (or free with your Acropolis ticket) so the Agora is well worth a quick exploration.
The Tower of the Winds
Look out for the crumbling sun-bleached remnants of the tower of the winds. This is the most important and unique building on the grounds of the Roman Agora.
The eight-sided tower was constructed by Andronicus of Cyrrhus, a Macedonian astronomer. It serves several functions.
The tower wors as a sundial, a water clock, and a weathervane. Constructed in the 1st century BC, the tower was considered an advanced technological development for its time.
Discover a Forgotten Ottoman Mosque
Plaka's Fethiye Mosque still stands as a symbol of Plaka's Ottoman past. The mosque was built over the ruins of an old Byzantine church.
This was originally referred to as the "wheat market mosque" owing to its location near the Ottoman grain cellars. Although the minaret was destroyed, the mosque itself was recently renovated. A photography exhibition is now housed inside.
Shop for Unique and Eclectic Greek Souvenirs
Street vendors line the cobbled passageways of Plaka. You can find every gift item imaginable here – from the cheap and cheerful to more ornate, artisanal handicrafts.
Adrianou Street is the main strip that boasts these "typical" souvenir stores. You will also find a lot of jewelry stops.
Owing to the lower labor rates, gold in Greece is much more affordable than in nearby European countries. However, it should be noted that some of the independent jewelry stores here add their markup on account of their design efforts and branding.
Where to Buy Greek Products and Ingredients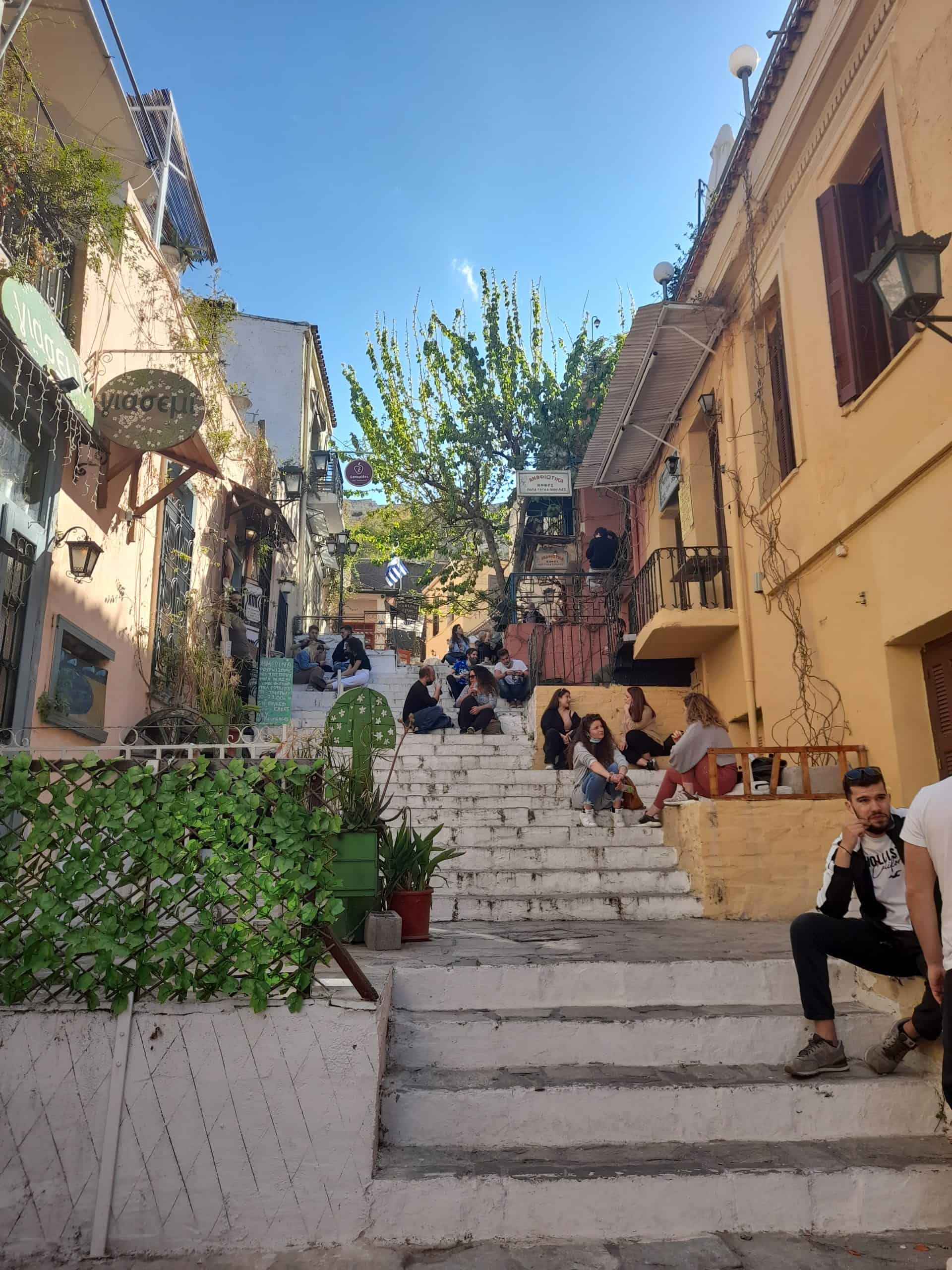 If you are searching for a more unique and quintessentially Greek reminder of your time in Athens, head to Brettos Liquor store or Angelo's ouzo shop at 120 Adrianou street.
The Best Ouzo in Plaka
These are two of Athens' most famous Greek alcohol stores. Both are more special than their names may imply.
Brettos is the oldest distillery in Athens. The store has stayed true to its traditional roots and almost feels like a journey back in time.
The walls here are lined with old barrels and colourful bottles of liquor. Aside from tasting and buying the various liquors, this is a nice spot to hang out among other travellers and locals.
120 Adrianou street is home to a quaint little ouzo store that stocks more variations of ouzo than any other shop in Athens. Its owner Angelo should be your go-to if you want to learn all about Greece's national tipple.
Ouzos here have been produced with a variety of different distillation processes and come from all over the country. Packaged in quirky little bottles, they are nice Greek souvenirs to take home.
Shop for olive oil and other Greek agro products
Extra virgin olive oil, stuffed olives from Halkidiki, and herbal-infused jars of honey make wonderful souvenirs to bring back from your trip to Greece. Evonon (Adrianou 124) and Elaias Gi (Adrianou 122) are two fantastic gourmet food stores in old Plaka.
You can sample many of the products here before you buy them. Consider compiling a bespoke hamper as a gift for friends and family back at home.
Admire the Frescoes of Ancient Orthodox Churches
In Greece, Orthodox Churches are a more common sight on street corners than coffee shops! In Plaka too, there are several quaint little chapels that are worth having on your radar.
The 11th-century churches of Ayios Nikolaos Ragavas and Ayios Ioannis Theologos are particularly beautiful. Their interiors are decorated with vibrant Byzantine frescoes that depict various scenes from the bible.
Make a note to stop by the church of Agioi Anargyroi. This is a former convent with close links to the Holy Sepulchre in Jerusalem.
This church is one of the most important churches in Athens. It is also the first place where the Holy Light arrives each year from Israel.
Enjoy an Open Air Movie Experience
Admittedly you don't travel all the way to Greece to go to the cinema. However, a nice evening experience after a long day's sightseeing is to stop and watch a movie at one of the open-air cinemas in the city centre.
Thision open-air cinema is one spot that sits just outside of Plaka. Here you can watch the latest releases in the centre of a leafy garden, as the Acropolis shimmers in the background. Most movies are played in their original English format with Greek subtitles. 
Browse the Exhibits at Local Museums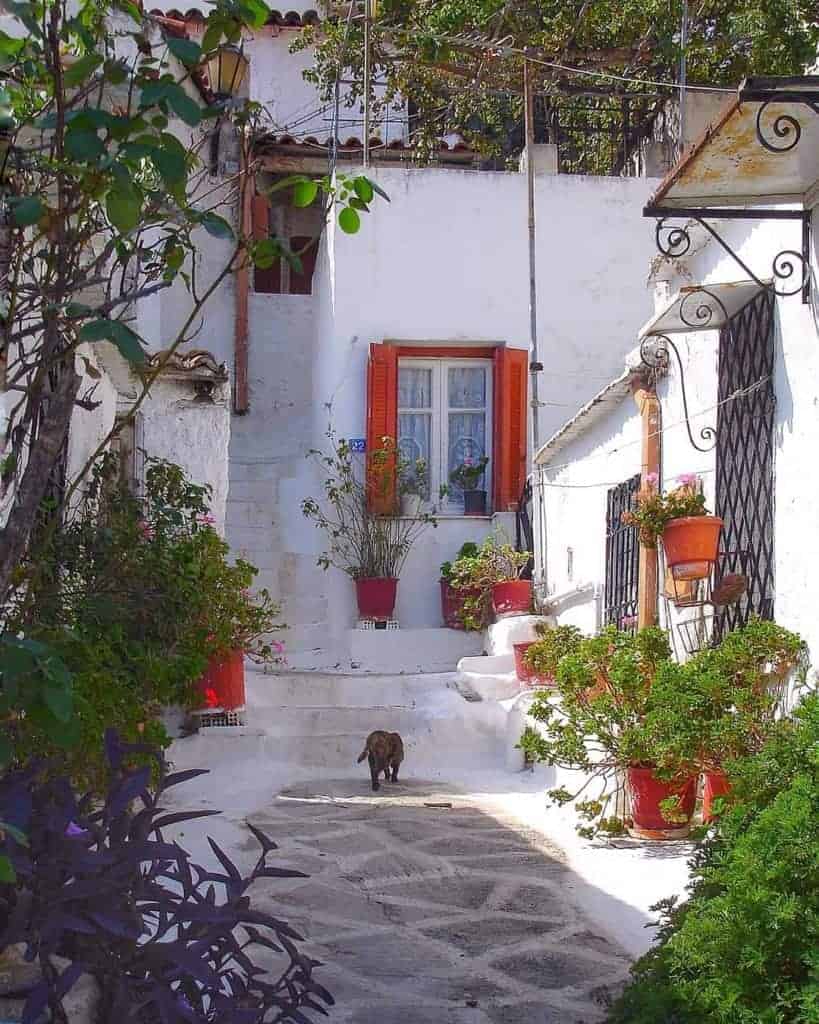 Various museums are scattered throughout historical Plaka, each of which provides an interesting insight into Greek history and culture. While these may not be as well known as the city's Acropolis museum or the Archaeological Museum, some of their exhibits may pique your interest.
The Benizelou Mansion
Where: Adrianou 96, Athina 105 56, Greece
The Benizelou Mansion is the oldest house in Athens. It once belonged to an Athenian noble family and has since been transformed into a living museum. The museum provides an interesting insight into the lives of the 17th-century Athenian Aristocracy.
The Museum of Greek Folk Musical Instruments
Where: Diogenous 1, Athina 105 56, Greece
Greek folk music is still widely beloved across the country today. It has a long history that stems back centuries.
The Museum of Greek Folk Musical Instruments is free to enter and discusses how Greek music has evolved over the last 5,000 years. There are over 1,200 instruments on display here, including a number of obscure items that are no longer in use today.
The Jewish Museum
Where: Nikis 39, Athina 105 57, Greece
The Jewish Museum of Athens is not well-marked and sits inside an old house that is easy to walk by. Inside you will find a very moving exhibition that tells the story of the Greek Jews and what happened to them during the Holocaust.
The Frissiras Art Museum
Where: Monis Asteriou 3 & 7, Athina 105 58, Greece
Art aficionados should take the time to stop by the Frissiras Art Museum. This is a contemporary art gallery with ever-changing exhibits from local and European artists.
The Athens University Museum
The Athens University Museum tells the story of how academia has developed in Greece. Its exhibits consist of ancient manuscripts, astrology maps, obscure scientific items, and other objects from the university's first few decades.
From the museum terrace, you have lovely views of your surroundings in Plaka. You can also stop here for a coffee.
The Museum of Pavlos and Alexandra Kanellopoulou
The Museum of Pavlos and Alexandra Kanellopoulou is very much worth visiting if you are interested in Greek history. The museum was first established in the 1970s.
It contains a private collection of artifacts that date all the way back to 3000 BC. Expect everything from ancient Greek and Roman busts, to fine art pieces.
Take a History Lesson at the Ancient Agora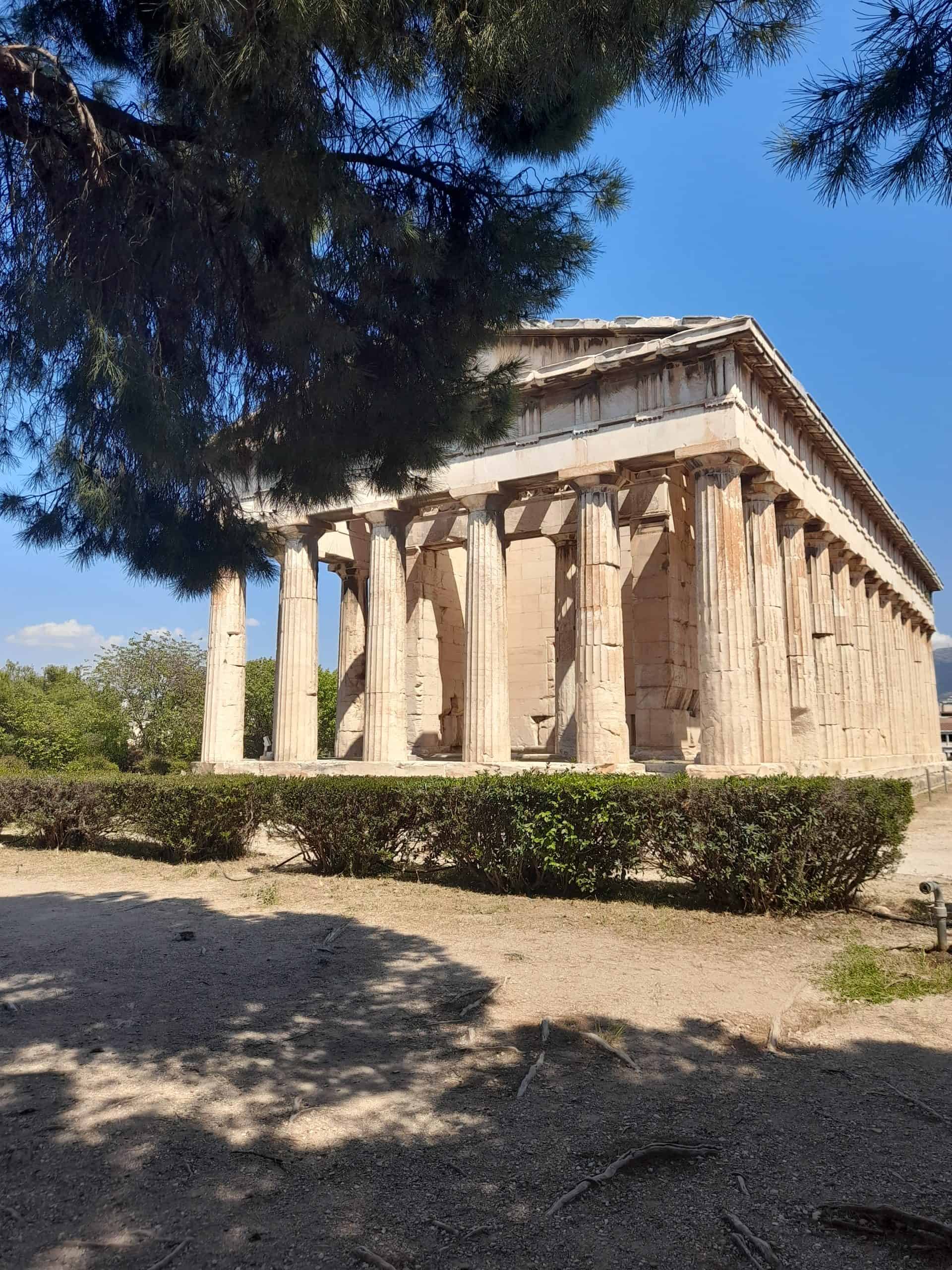 The Roman Agora was constructed under the direction of Julius Caesar and his Roman empire. However, the much larger Ancient Agora predates it.
The Agora is almost hidden from view and it is tricky to spot even if you walk along the streets directly adjacent to it. The site is surrounded by trees and greenery.
This historical region once doubled as a marketplace and a popular rendezvous point among locals. Notable figures such as Sophocles, Socrates, and Protagoras once walked and gave speeches in these plazas. Various temples and shrines can be found throughout the Agora complex.
Look out for the Temple of Hephaestus. This site was built around 415BC (around the same time as the Parthenon) and is one of the best-preserved ancient temples in Greece.
Admire the Works of Local Artists at Their Galleries
Notable museums aside, Plaka is also home to a number of small-scale art galleries and independent collections. The Sofokli Art Gallery, the Orlik Gallery, the Ioannidou Art Gallery, and the Pandora Art Gallery are all worth a look in.
Drink Freddo Cappuccino and Play Backgammon in Plaka's Coffee Shops
Most of the coffee shops and cafes in Plaka are undeniably touristy. However, they do provide a wonderful opportunity for people-watching amid a charming bohemian ambiance. After all, relaxing in coffee shops with a newspaper is the unofficial national sport of Greece.
Backgammon is a popular game for Greeks both old and young to play as they sip their coffees. Most establishments have games available for you to borrow. For quirky coffee shops teeming with character head to the Kimolia Art Cafe, Cafe Melina, or Yiasemi.
Older Greeks enjoy their coffee the old-fashioned way. Traditional Greek coffee (Ellinikos Kafes) is served short and hot. It is essentially the same as Turkish/Arabic coffee.
Most younger Greeks enjoy their coffee iced or "Freddo". Be sure to order an iced Freddo espresso or an iced Freddo cappuccino while in town.
Where to Eat in Plaka
Plaka is popular among tourists. However, some of the best restaurants and tavernas in Athens can be found here.
Prices in some establishments may be slightly more expensive than at tavernas in "off the beaten path" Greek residential neighbourhoods. Yet, the food is very good quality.
Psaras Fishermen's Tavern
Where: Erotokritou & Erechtheos 16, Athens 105 56
Psaras Fisherman's Tavern is one of the oldest restaurants in Athens. It is set inside an old neoclassical mansion.
The taverna´s interiors are so cosy, that you feel as though you are dining inside someone's living room. Although the eatery was recently sold to new owners, Psaras has not changed.
Psaras translates to "seafood" and the menu places a heavy focus on dishes prepared using fresh catches from the nearby Aegean sea. In recent years, the new owners have expanded upon the original menu. Now they also offer vegetarian and meat dishes that cater to a wider array of palates.
To Kafeneio
Where: Epicharmou 1, Athina 105 58, Greece
To Kafeneio is a popular local taverna. Despite its central location, To Kafeneio has somehow escaped the eyes of most tourists that come to Plaka.
The restaurant specializes in serving up mezedes. These are small meze platters that could be compared to Spanish tapas.
Greek meze plates are intended for sharing. They often consist of a selection of different marinated meats, salads, and bread. The menu changes with the seasons and focuses on delicacies from Northern Greece.
To Kafeneio is particularly pleasant in the winter months. At this time, patrons can sink down into one of the old leather armchairs with a warm glass of oinomelo (honey wine) next to the open fireplace.
Scholarchio/Kouklis
Where: Tripodon 14, Athina 105 56, Greece
Scholarchio is a bustling Plaka taverna that sits hidden away down one of the alleyways that veer off from Plaka's main streets. The restaurant and the piazza outside it are perpetually crowded with locals.
Scholarchio is known for its specialty trout and flaming sausages. These are well worth a try if you want to dine like an Athenian. However, a diverse range of traditional taverna classics can be found on the menu.
Accommodation Options In and Around Plaka
Plaka is a lovely place to base yourself during your time in Athens. Proximity to the local sites is one major factor.
However, so too is the certain je ne sais quoi that a lot of the hotels here have. A lot are designed in unique and quirky styles. They are a far cry from your typical "cookie-cutter" hotel rooms.
New Hotel Athens
Where: Filellinon 16, Athina 105 57, Greece
The New Hotel is an elegant accommodation choice that sits just outside the centre of Plaka. Its rooms and balconies overlook the National Gardens of Athens and the leafy promenades that surround it.
This is a five-star property with a twist. The majority of the hotel´s furnishings, walls, and interiors have been created using recycled or repurposed materials.
Edgy designs are prominent throughout. After a long day exploring Plaka, the hotel's swanky rooftop Art Lounge Bar is one of the best rooftop bars in Athens and a nice place to relax with a cocktail or two.
Check the latest room rates and availability at this Plaka hotel here.
AthensWas Hotel
Where: Dionysiou Areopagitou 5, Athina 117 42, Greece
AthensWas Hotel is one of the best luxury choices in Athens. Oozing elegance at every turn, the hotel is deeply inspired by the city that surrounds it.
Art pieces in the rooms and communal areas display Athens street photography. Fine marble, walnut woods, and exquisite fabrics make up the rooms and have been sourced and designed in different parts of Greece.
Staying at AthensWas guarantees that you have a plush, spacious room to come back to at the end of each day in Athens. Check the latest room rates and availability at this Plaka hotel here.
How to Get to Plaka
Plaka is one of Athens' most central neighbourhoods. It is just a short distance away from Koukaki, Syntagma, and Monastiraki.
The Athens hotels found here place you within walking distance of the city's main attractions. Plaka is also pedestrianised. Opting to stay here frees you from having to contend with Athens' chaotic traffic problems.
Getting to Plaka from the Airport
From Athens Airport, the best way to get to Plaka is to take the metro all the way to Syntagma Square. This is a direct line, and Syntagma Square is Athens' main central station, so the journey is easy enough.
After exiting the station, cross the road and walk past the McDonalds onto Ermou street which lies right ahead of you. Keep walking until you reach Kydathineon street.
You can also reach Plaka by going to the Acropolis metro station. However, this is on a different line to Syntagma and requires a change.
The Acropolis metro station is the closest one to Plaka and it is very easy to get from Athens airport to the Acropolis. Once you exit the station, cross Dionisiou Aeropagitou and walk onwards to Vyronos Street which marks the entrance of Plaka.
Parting Words
Have any further questions about visiting Plaka Athens or travelling to Greece in general? I've lived here since 2017 and would be happy to answer any queries that you may have. Feel free to reach out to me via the comments below.
Geia sou! Melissa xo
Disclaimer: This page may contain affiliate links. In other words, I may obtain a small amount of commission at no extra cost to you if you choose to make a purchase through some of the links contained on this page. Thank you for understanding.
---