Halkidiki, Greece may well be one of the most underrated travel destinations across the entire Mediterranean.
Where is Halkidiki? What is Halkidiki?
Halkidiki is a mainland region of Northern Greece. Its geography is pretty distinct – Halkidiki exists in the form of three prongs that jut out into the sea like Poseidon's trident. These three areas are all very different from each other.
Mention of a summer holiday in Greece may conjure up images of spending lazy days by the beach and swimming in the azure waters but Halkidiki is so much more than that. Here, paradisiacal beaches sit beside dense pine forests, beautiful nature, and dramatic mountain ranges that house quaint villages and ancient monasteries.
The Peninsulas of Halkidiki
Halkidiki is comprised of three peninsulas: Athos, Kassandra, and Sithonia. Athos is a monastic region so it is best to opt to stay in one of the towns in Kassandra or Sithonia. It is pretty easy to move around Halkidiki whether you decide to rent a car or depend on public transport.
KTEL buses run between the various towns and points of interest. They even go as far as nearby Thessaloniki which makes a great day trip for experiencing Greek city life. 
Things to do in Halkidiki
Halkidiki has a little something for everyone. The nice thing about travelling to this part of Greece is that it's not strictly a beach resort destination.
Your main purpose for visiting this part of Greece may be for relaxing and enjoying the summer sun. However if you ever find yourself feeling restless and bored then rest assured, there are scenic boat trips to participate on, mountains to be hiked, and cute villages to be explored.
Best Places to Visit in Halkidiki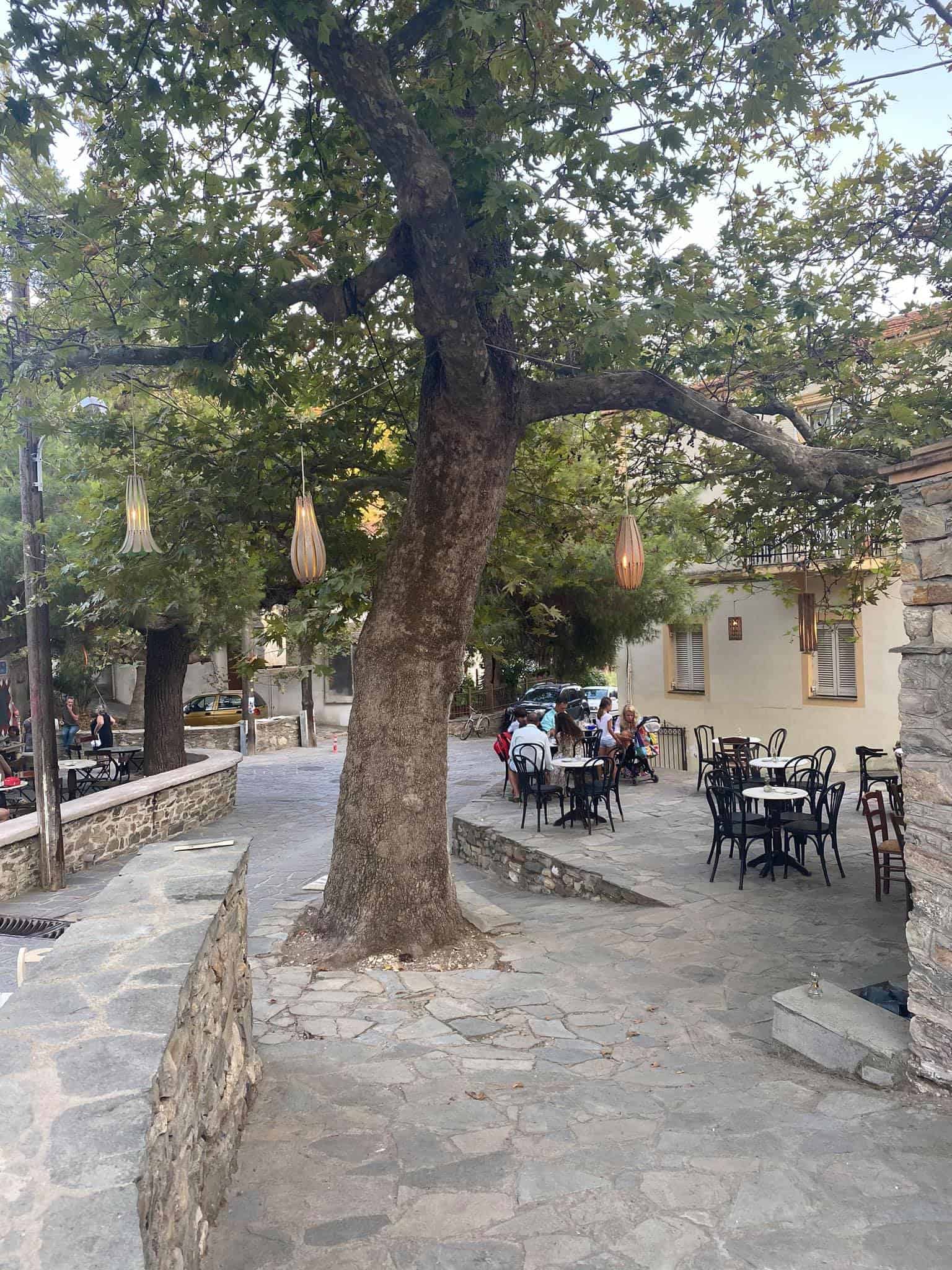 The best places to visit in Halkidiki are somewhat subjective. Are you looking for hiking and nature holidays, or rest and relaxation? If it's the latter, do you prefer serviced beaches with all the amenities, or rugged, hidden coves?
There are countless wonderful villages, resorts, and beaches in Halkidiki to choose from. However, if this is your first trip to the region, you may want to consider the below locations first and foremost.
Nikiti village, Sithonia


Mount Athos Monasteries


Ammouliani Island


Diaporos Island and the Blue Lagoon


Afitos


Parthenonas
Vourvourou
Where: Sithonia peninsula, Halkidiki
Vourvourou is a popular seaside town in Halkidiki. The tree-lined beaches here offer plenty of shade, along with a nice respite while remaining close to plenty of excellent tavernas. Vourvourou is also one of the main points for picking up boats to sail out to the uninhabited island of Diaporos.
Karidi beach is a popular Vourvourou beach that is well-serviced. Most of the people that come here are Greek. As such, even during the summer months, the area is not overrun with tourists.
Vourvourou is very much a family vacation spot/seaside resort destination. It isn't as unchartered as some of the other places in this guide.
Diaporos Island
Where: Sithonia peninsula, Halkidiki
Diaporos is an uninhabited island that sits several miles off the coast of Vourvourou. To reach it, you need to rent a boat or kayak across. Boat rentals range from 90 euros per day in the low season, to 110 euros per day in July and August.
Word has gotten out about Diaporos in recent years, at least among the Greeks. You will see a fair few other people jetting around on their boats but that doesn't detract from the appeal.
Diaporos Highlights
The Blue Lagoon is the highlight of Diaporos. You can drop anchor here and dive into the crystal clear waters that are essentially like one big swimming pool.
Plenty of beaches and areas of woodland are scattered around Diaporos island and part of the fun of visiting is to sail up to the various shorelines and laze on the beach or go explore. Be sure to pack a cooler of snacks and drinks as there is nothing on the island.
Provided that you are confident and have some understanding of the sea, I would say that the fun and freedom of renting a little boat is one of the best things to do in Halkidiki.
Nikiti Village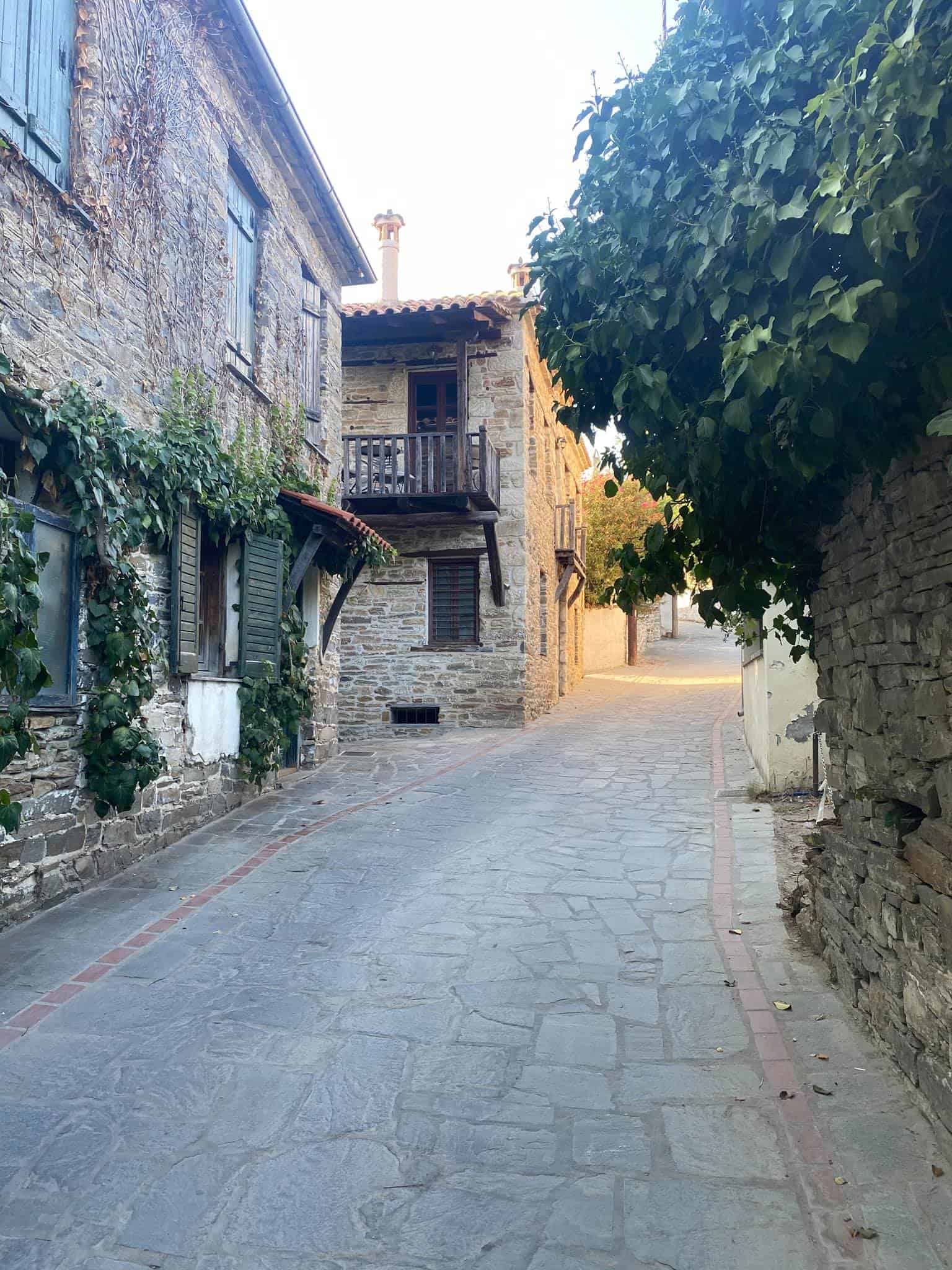 Where: Sithonia peninsula, Halkidiki
Nikiti is a cute village in the Sithonia province of Halkidiki. It is essentially divided into two sections: old town Nikiti, and the "new" resort area.
Old Nikiti dates back to the medieval area. It is characterised by its old stone houses and cobbled streets. It exudes a traditional character that is quite unlike any other part of Sithonia.
There are many family resorts and hotels scattered throughout Nikiti but it doesn't feel overly touristy. As you wander around the country roads, you will find many quaint traditional shops selling traditional Greek produce.
Nikiti is one of the main honey-producing regions in Greece. The stores here sell a diverse range of honey products infused with thyme, pine, etc. Not to mention, you can find olive oils, Halkidiki stuffed olives and other beloved Greek agro products in plentiful supply.
Afitos Village (also spelled Afytos)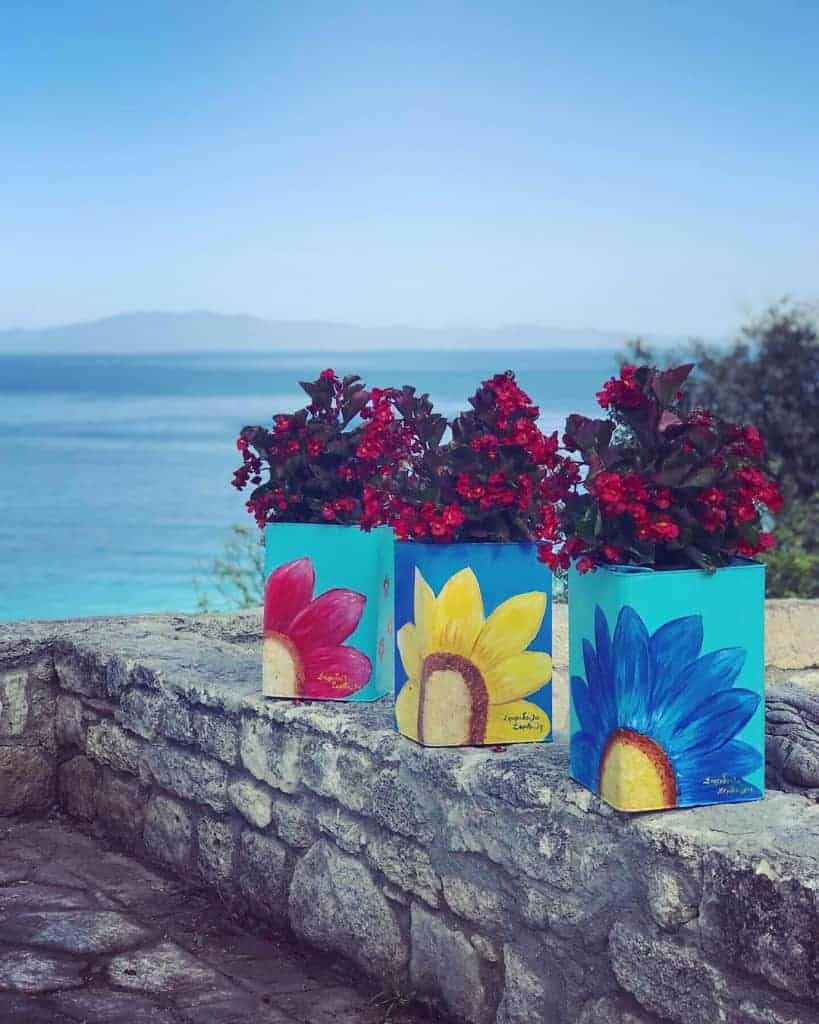 Where: Kassandra peninsula, Halkidiki
Afitos may well be one of the most charming villages in Halkidiki. The village is perched on a hilltop and comprised of quaint stone houses and tavernas that line the narrow cobbled streets.
Afitos boasts unique traditional architecture, a range of excellent restaurants and tavernas, and sweeping views over the Toroneos gulf.
The white sand coastline of Afitos beach is a pleasant place to relax beneath the Mediterranean sun. However, this little settlement is far more than "just another" beach town.
During the summer months, Afitos comes alive with cultural and artistic events. July and August sees the namesake "Afitos festival" come to town.
People travel from across Thessaloniki and Halkidiki to participate in this popular event. The Afitos festival sees traditional Greek musicians and street performers put on live shows at the various tavernas and plazas across the village.
The 15th of August is the ascension of Holy Mary – a very important religious day in Greece. A huge feast is hosted in the town square to celebrate this public holiday.
Mount Athos
Where: Athos peninsula, Halkidiki
Mount Athos is the holy peninsula of Halkidiki. Filled with ornate monasteries and occupied by monks, it is not easy to access.
Women are forbidden to enter Mount Athos. It is not so easy for male travellers to visit either – they must obtain a pilgrim's permit in advance. Only a limited number of pilgrim's permits are available for issue each month.
The fascinating thing about Mount Athos is that it is an independent, autonomous state. It has been a place of deep spiritual importance for centuries.
The Monasteries of Mount Athos
It is said that the monasteries situated on Mount Athos are among the most beautiful in the world. There are 20 monasteries contained within the small region. This makes Athos the second largest monastic community in Europe (after Meteora).
The monasteries of Mt. Athos stem from a variety of backgrounds. Among the 20 religious structures, there is a Russian, a Serbian, and a Bulgarian Monastery.
Female Travellers at Mount Athos
Solo female travellers are not permitted to set foot on the holy peninsula of Mount Athos. However, there are a number of popular Mount Athos cruises that depart daily from nearby Ouranoupoli.
Mount Athos cruises combine an audio boat tour of the peninsula with a visit to Ammouliani island. Whether or not this is worthwhile is debatable – the boats must sail a certain distance away from the shore if they are transporting women. As such, you do not have an excellent view of the structures.
Ammouliani Island
Where: Athos peninsula, Halkidiki
Ammouliani is a teeny tiny island that is situated a few miles from the shore of Tripiti and Ouranoupoli, on the Athos peninsula of Halkidiki. The name stems from the Greek word "Ammos" meaning "sand".
This name "Ammouliani" was awarded to the island on account of the miles and miles of sprawling white sandy beaches that encapsulate it. The pristine beaches of Ammouliani remain relatively undiscovered among most who visit Halkidiki.
Each idyllic beach has been awarded a blue flag and is surrounded by translucent turquoise waters. Head to Alikes beach. This is a spot that is widely regarded as being the most beautiful beach in all of Halkidiki
Alternatively, consider relaxing upon the shores of the peaceful Porto Agio and Karagatsi beaches. If you are not really a big beach person, you will be pleased to note that there are other activities to partake in on Ammouliani.
Hiking trails lead around the island through scenic woodlands and olive groves. Meanwhile, the town centre boasts a picturesque harbor, excellent tavernas, and stunning gardens.
Neos Marmaras
Where: Sithonia peninsula, Halkidiki
Neos Marmaras is the largest town on the Sithonia peninsula of Halkidiki. Being a town, Neos Marmaras is bursting with nightlife, dining and shopping options.
Whether or not this is a good place to stay is debatable. It depends entirely on your travel preferences. Neos Marmaras could be a good choice for you if you are looking for somewhere lively.
One downside to staying in Neos Marmaras is that there are no beaches in the immediate vicinity of the town. As such, you have to travel to and from the beaches each day.
However, it also means that you are at a great location for taking excursions out to Parthenonas and hiking in the Sithonia mountains. Wine connoisseurs will be pleased to note that there are many local wineries around Neos Marmaras.
Parthenonas
Where: Sithonia peninsula, Halkidiki
Parthenonas awaits just a few miles outside of Neos Marmaras in the Sithonia peninsula. This traditional village and its stone houses sit on the slopes of a mountain. As such, it makes a perfect place to hike to from Neos Marmaras.
Nature lovers, in particular, will enjoy visiting Parthenonas. The historical village is surrounded by scenic hiking trails that ascend towards beautiful viewpoints.
Ascend the slopes of the nearby Mount Itamos for incredible views over to the holy Mount Athos. If hiking isn't your thing, rent a mountain bike and cycle along the trails that cross through the Sithonia mountains.
Pefkohori
Where: Kassandra peninsula, Halkidiki
Pefkohori is one of the most popular resort areas in Halkidiki. Family resorts, serviced beaches, and diverse nightlife make Pefkohori a place that caters to every whim.
It is very "touristy" as compared to other towns and villages in the region. However, that is not necessarily a bad thing if you are looking for convenience, serviced beaches, and home comforts.
During the summer months, the narrow stretches of the beach at Pefkohori can become very crowded. The area certainly has its beauty and charm. However those looking for a more unspoiled, idyllic setting should venture to some of the quieter towns and villages mentioned on this list.
Nea Potidea
Where: Kassandra peninsula, Halkidiki
Nea Potidea is a nice place to stay in Halkidiki. It is a good choice if you are looking for somewhere a little less crowded than Pefkohori, yet which still offers every amenity that you need for a relaxing escape in the sun.
The white sand beach of Nea Potidea spans for miles upon miles along the coast of Halkidiki. While the sections of the beach close to the town are organised and filled with sunbeds and vendors, as you continue along the coast, you can find more tranquil and secluded areas.
Porto Koufo
Where: Sithonia peninsula, Halkidiki
Porto Koufo is a quaint fishing village that is home to the largest natural harbour in Greece. The village is one of the less popular vacation spots in Halkidiki. For that, you are rewarded with sprawls of sandy beaches with very few people occupying them.
Petralona Cave
Petralona's cave is a worthwhile day trip while in Halkidiki. Although there are more than 12,000 caves scattered across Greece, Petralona's Cave is widely regarded as being the most important.
Throughout the last several decades, an extensive collection of fossils have been discovered here. Additionally, archaeologists excavated human remains from the cave site that are over 700,000 years old.
How to Get to Halkidiki
If you are flying into Greece from overseas, the best way to get to Halkidiki is to fly into Thessaloniki International Airport (SKG). From there you can either collect your rental car or take a KTEL bus to your destination.
Flying into Greece and Halkidiki
Flights from European cities to Thessaloniki are relatively inexpensive, and several budget carriers including Jet 2, Ryanair, TUI, and Easyjet run to Thessaloniki. Tickets from London start from approximately 40 euros each way (excluding check-in baggage).
American readers may find that it is cheaper to first fly to Athens, and then take an internal flight to Thessaloniki. Use Skyscanner's "discover" feature in order to browse around for the best options.
Halkidiki Airport Transfers and Taxis
Many Halkidiki resorts and hotels offer airport pickup. This may be free, or it may incur a small fee depending on the resort and the number of tourists arriving n a certain flight.
Booking a resort that offers a free airport transfer takes a lot of stress out of the logistics of arriving in Greece. Not to mention, it can save you a fair amount of time and money.
It is possible to take a cab from Thessaloniki Airport to Halkidiki. The drive will take upwards of 65 minutes. The price will be between €90 and €140 depending on your final destination.
Taking a KTEL Bus from Thessaloniki to Halkidiki
KTEL buses run regularly between Thessaloniki and Halkidiki. Most major towns, villages and resorts are serviced.
You can check the latest times and rates on the KTEL Chalkidikis website here. You can also purchase tickets online, in advance via the site. It is advisable to buy your Halkidiki travel tickets a few days before your intended date of departure if you are travelling during July and August.
It is important to note that the KTEL Chalkidikis bus station is not centrally (or conveniently) located within Thessalonki. It sits just east of the city centre, close to the district of Kalamarria.
Renting a Car
Renting a car in Greece is not as intimidating as it may seem. Doing so gives you a lot more flexibility for exploring Halkidiki. This is especially the case if you hope to visit several towns and villages during your Greece itinerary.
There are buses that run between the various towns and peninsulas of Halkidiki. However, they operate on a limited schedule. During the summer months, the buses can become crowded and full.
Numerous reputable rental companies operate in Greece. Hertz, Sixt, and Avis all offer pickups from Thessaloniki Airport.
When to Travel to Halkidiki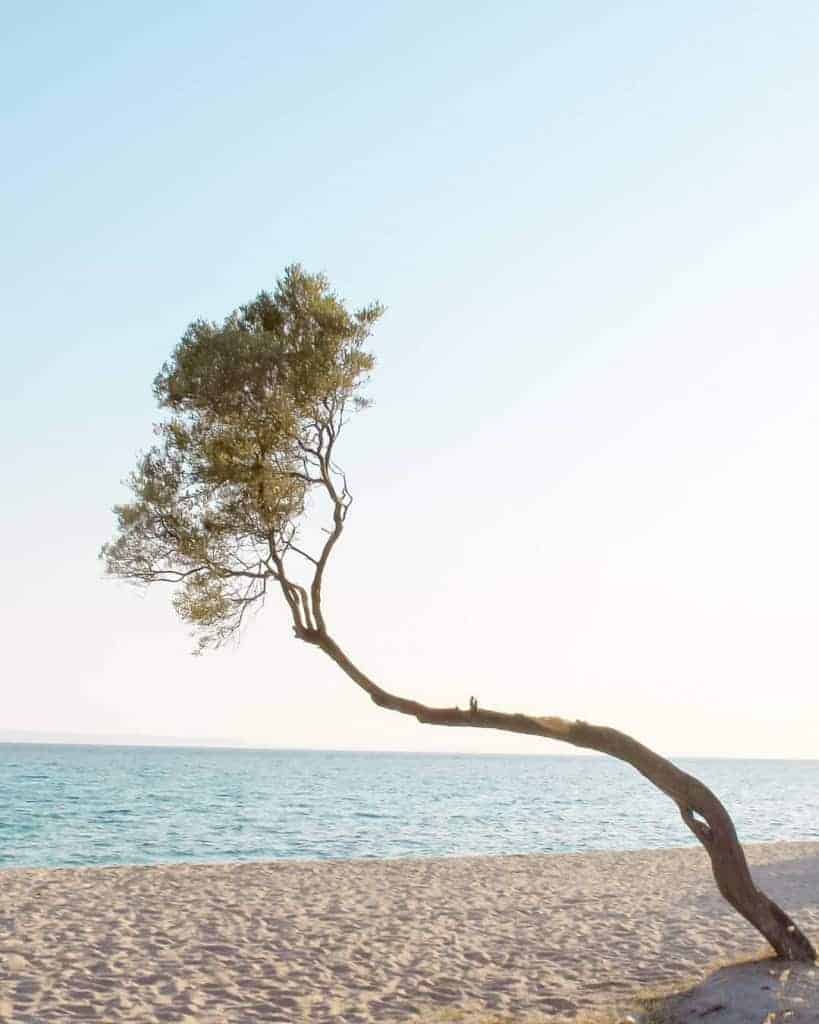 Halkidiki is a very seasonal travel destination. The tourism season starts from May and draws to a close at the end of September. Outside of this period, temperatures drop and most local businesses and hotels close until the season starts again.
If you want to escape the crowds and have the beaches of Halkidiki somewhat to yourself, late May, June, and late September are the best times to visit. That said, even if you visit Halkidiki in the height of summer, you will not see the same amount of tourists as you would in other Greek travel destinations like Santorini or Zakynthos.
I have frequently travelled to Halkidiki in August. There is not an abundance of tourists. This truly is an underrated Greek paradise.
Parting Words
Have any further questions about things to do in Halkidiki, or planning a Greece trip in general? I have lived here for the past three years and would be happy to assist with any queries you may have.
Safe travels. Geia sou! Melissa xo
---