Greece in October is not the most usual time of year for a Mediterranean escape. However, it may well be a great time to travel!
Contrary to popular belief, Greece IS a wonderful year-round travel destination. Most people consider Greece to be a summer getaway destination.
They flock to the islands of the Cyclades and the Ioanian in their droves between June and September. After that, they think that they have to wait until the following year if they want to enjoy a big fat Greek adventure. Not true!
Why Visit Greece in October?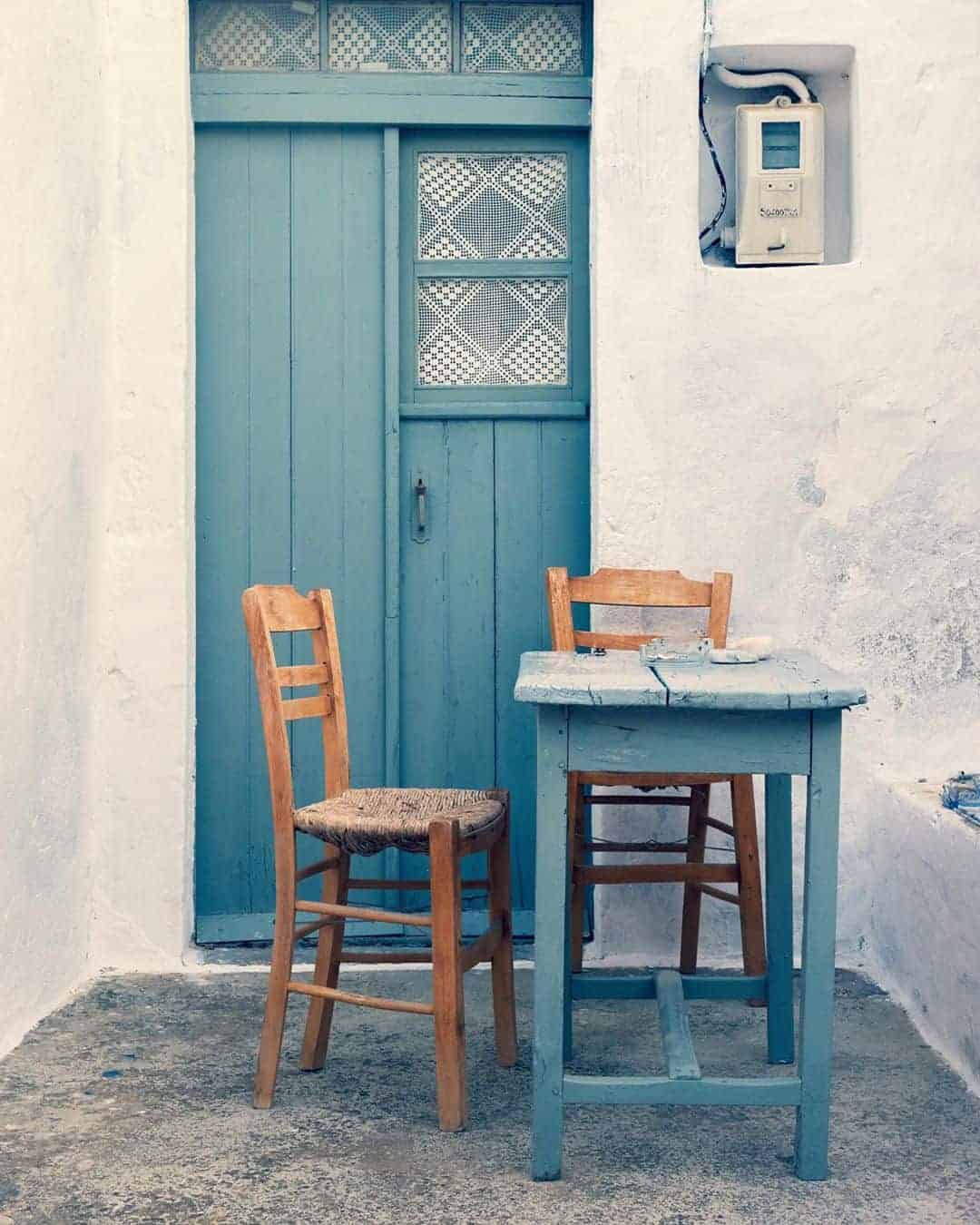 Admittedly, Greece in October does not boast the same scorchingly hot temperatures that you will see in Southern Europe in July and August. However, do you really want those?
Sometimes it gets as hot as 40 degrees Celsius in the height of summer. Even just walking 10 minutes to a coffee shop is unbearable.
Doing so transforms you into a big sweaty mess before you've even started your day! When you visit beautiful Greece in October, you can expect milder temperatures, fewer crowds, and lower prices.
Since October in Greece is considered the shoulder season, you can secure flights, tours and hotel deals for as much as 60% of what you would pay in July or August. This is perfect if you are visiting Greece on a budget.
Greece in October Weather
The weather in Greece in October is usually still very warm and pleasant. You can usually expect to see daytime temperatures that linger around the mid to high twenties in terms of degrees celsius. It gets a little colder in the evenings, so you need to pack a sweater or a cardigan for the nighttime.
The weather starts to get a little cooler towards the end of the month. Sometimes it can be a little temperamental with rain and windy days. However, it definitely isn't cold.
The weather in Greece in October is still warm enough to go to the beach here and there. However, you should try and plan an itinerary that does not focus on spending all of your time by the sea.
That way, you will not be stuck without anything to do if it does happen to rain or become windy one day. An itinerary that blends a mix of nature, hiking, culture and archaeological sites is perfect.
13 Best Places to Visit in Greece in October
October is the perfect time to head to Greece if you want to explore archaeological sites, cosmopolitan cities, charming villages, and hiking trails. A handful of destinations to consider in Greece in October are detailed below.
Lakonia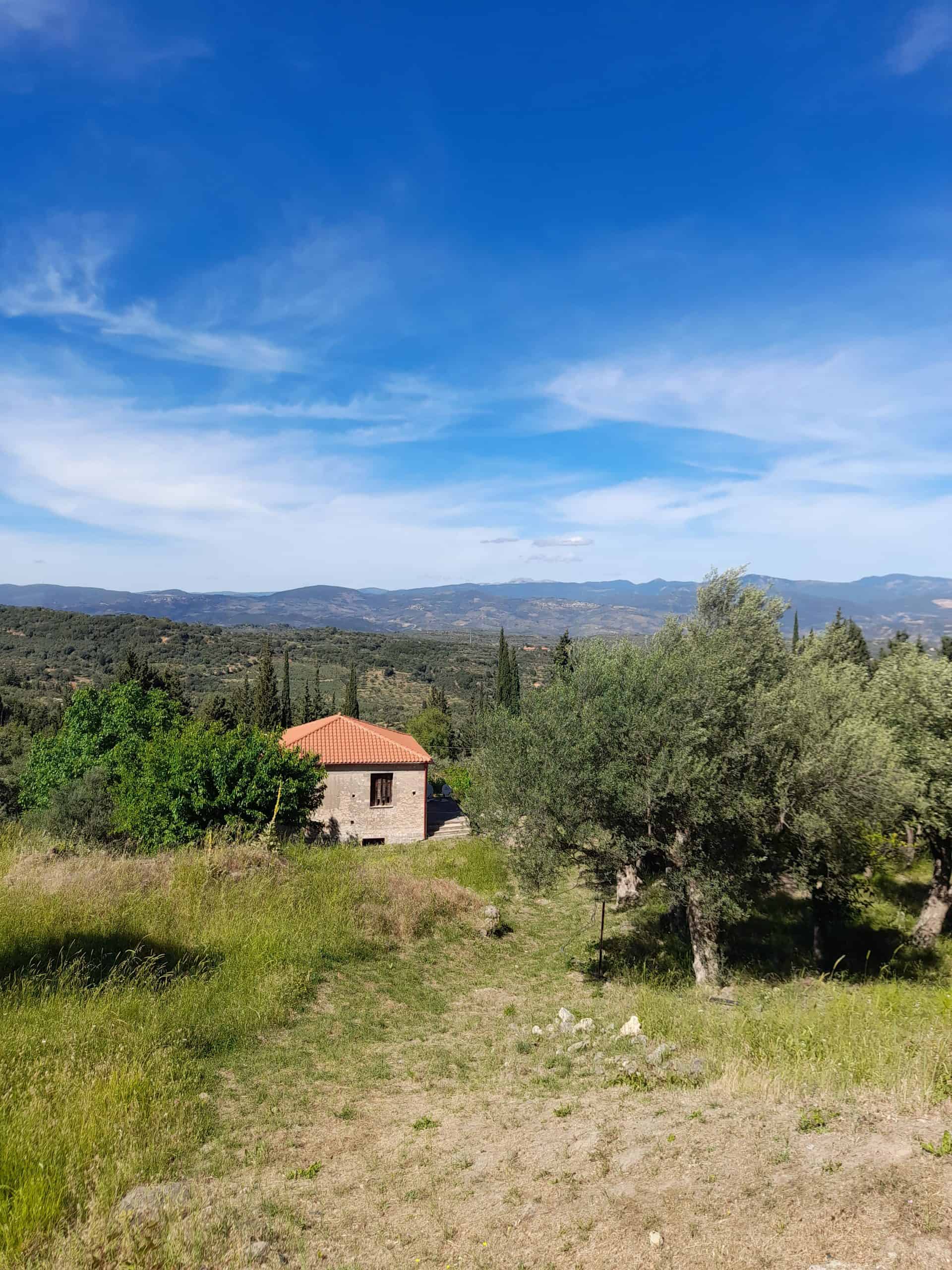 The Lakonia region of the Peloponnese is a grossly underrated part of western Greece. Here, you will find what little remains of Ancient Sparta, along with a number of well-preserved Byzantine settlements and charming rural villages.
Sparta is the capital of this region. Grecophiles may be disappointed to learn that a lot of the ruins here are not very well preserved.
However, the modern city of Sparta is charming in its own right. It sits beside the Eurotas river, in the shadow of Mount Taygetos.

Just over 15,000 people call Sparta home today. It is pleasant to people-watch and enjoy a Greek coffee or two in the main square. If you want to sample local cuisine, stop by Κεχριμπάρι ("Amber") or Kapari for dinner. 
The ruins of ¨Ancient Sparta¨ are worth a quick walkthrough. Look out for the former Acropolis and amphitheatre – two of the only well-preserved buildings.
From here, continue on to the ancient city of Mystras. The old city is UNESCO protected and dates back to the 13th century.
In its heyday, it was the most important town in the Byzantine empire. It was eventually abandoned when its residents relocated to Mystras.
The buildings here are extremely well preserved and indeed, the hilltop Pantanassa monastery still functions, with several elderly nuns living inside. Stop for lunch in Pikoulianika, the balcony of Lakonia.
You should allocate at least 2-3 hours to exploring the UNESCO-protected Mystras site. The modern village is also charming and boasts many great guesthouses for an overnight stay. 
The next stop in your itinerary should be Monemvasia castle town. This itinerary makes a nice Greece road trip.
Lakonia is a nice place to explore if you are visiting Greece in October. The weather is pleasant without being too hot.
Skopelos
Skopelos is a leafy green, pine-laden island in the Sporades. It awaits travellers in the Northern Aegean, between the islands of Skiathos and Alonissos.
Underrated Skopelos is a wonderful destination all year round. It may be the pristine beaches and cerulean waters that attract people to Skopelos during the summer months. However, in the Autumn, Winter, and Spring months, it is one of the best places to go hiking in Greece
Skopelos is home to just 5,000 people. The sleepy villages of Glossa and Skopelos town are charming.
However, it is the nature of Skopelos that steals the hearts of most travellers. For this reason, the island is a perfect place to travel to in Greece in October.
Follow the well-marked T1 hiking trail from Skopelos town to the monasteries that sit in the foothills of Pelouchi mountain. From up here, you can enjoy breathtaking panoramas of the Chora port.
The hike from Skopelos town to Sendoukia takes you through the island's densest forest, and up to a mysterious pirate burial site. Meanwhile, the cross-island hike from the port area to Panormos leads you through olive groves and past abandoned Skopelos churches and shrines.
Athens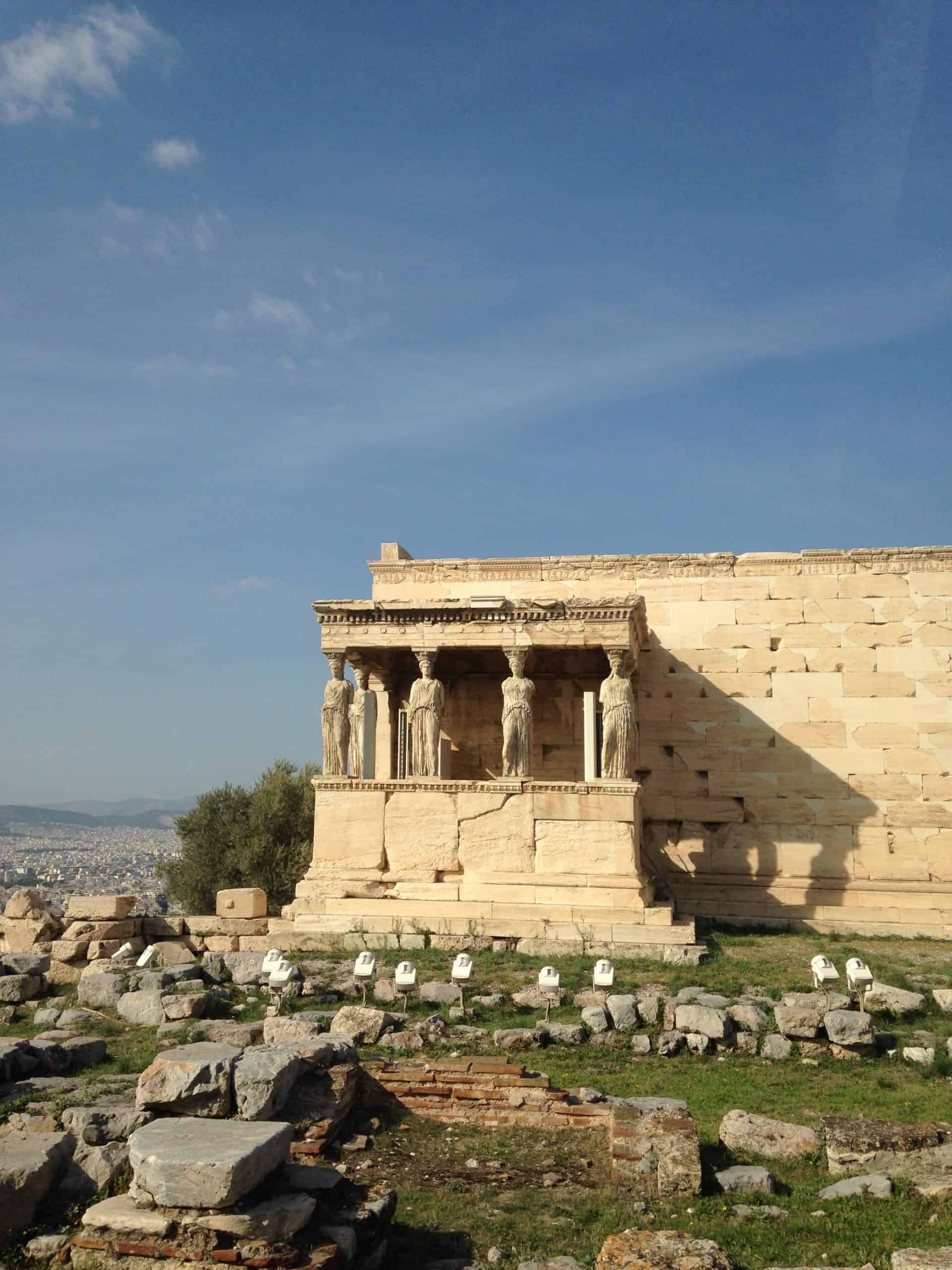 You can schedule your Athens itinerary for any time of year and still have a wonderful time. October is a great time to visit Athens.
The cooler temperatures make walking around much more bearable. The historical sites of the Acropolis, the Agora, Plaka, and Mount Lycabettus are more enjoyable when you are not contending with inexplicable heat and busloads of tourists.
On a cool or rainy day in Athens, there is still plenty to see and do. Athens boasts a plethora of interesting museums and quirky Athens neighbourhoods that each have their own personalities.
Head to Exarchia to check out the thought-provoking, politically motivated street art, or to Psyri to browse through markets selling all manner of antiques. Throughout the city, you will find homely tavernas where you can sample the local cuisine.
Athens may look like a crowded metropolis but in reality, the coast is just 30 minutes away from here. On a sunny day, head to the Athenian Riviera, and relax on the Athens beaches in the coastal towns of Glyfada, Voula, and Vouliagmeni.
Offbeat Cycladic Islands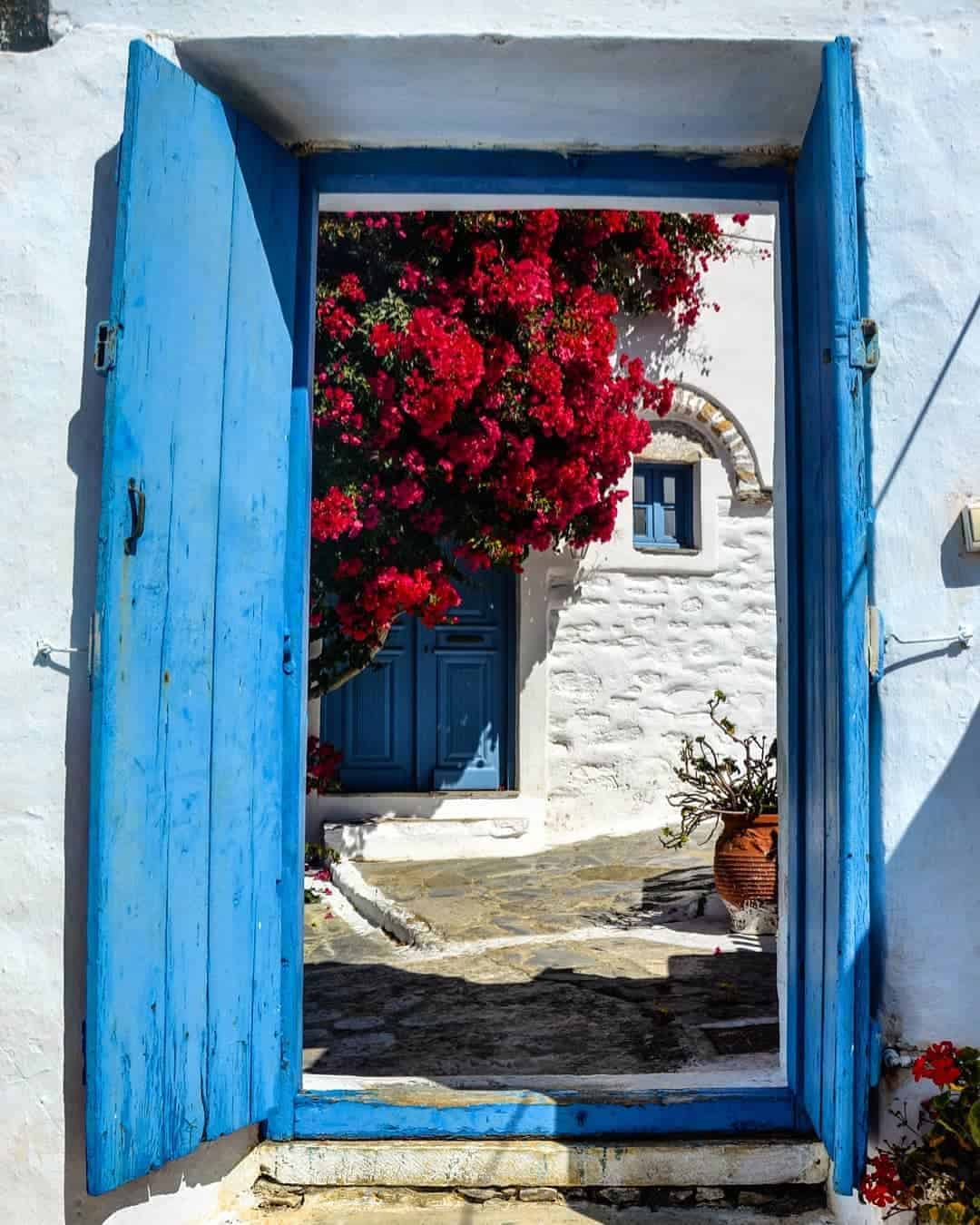 Boats between mainland Greece and the Cyclades still run on a very frequent schedule in October. This is a good time to travel to the popular getaway destinations of Santorini or Mykonos. The weather is still warm, and yet the cost of travelling can be as much as 50% lower than during the peak summer months.
The Cyclades provide the quintessential Greek getaway. Here you will find traditional villages filled with blue and white Cycladic houses, pristine sandy beaches with secluded coves and azure waters, and sunset panoramas that look like something straight off a postcard.
If you are visiting Greece in October, you can also consider travelling to some of the lesser-known islands in the Cyclades. Perhaps you could schedule a trip to Amorgos, with its quaint villages, dramatic Hozoviotissa Monastery, old churches, and Venetian monuments.
Alternatively, you may be interested in travelling to Folegandros for its rugged nature, hiking, and camping. There are charming hotels, apartment rentals, and guesthouses for every budget throughout the Cyclades.
Island hopping during the shoulder season gives you a lot more flexibility. It is not imperative that you book your hotels months in advance like it is with travelling in July and August.
So, if you find that you like somewhere and want to stick around longer, or you want to change your route, you can.
The Saronic Gulf Islands
October is a great time to visit the islands of the Saronic Gulf. The islands of Hydra, Poros, Aegina, Agistri and Spetses can be reached within just an hour's journey from Piraeus port.
The wonderful thing about travelling to the Saronic Gulf islands in October is that an itinerary here is not dependent on hot weather. Yes, the islands have wonderful beaches where you can relax by the sea.
However, their highlights are the quaint fishing villages, scenic hiking trails, and beautiful nature. Even if the weather is a little temperamental during your trip, you will still have plenty to do.
Thessaloniki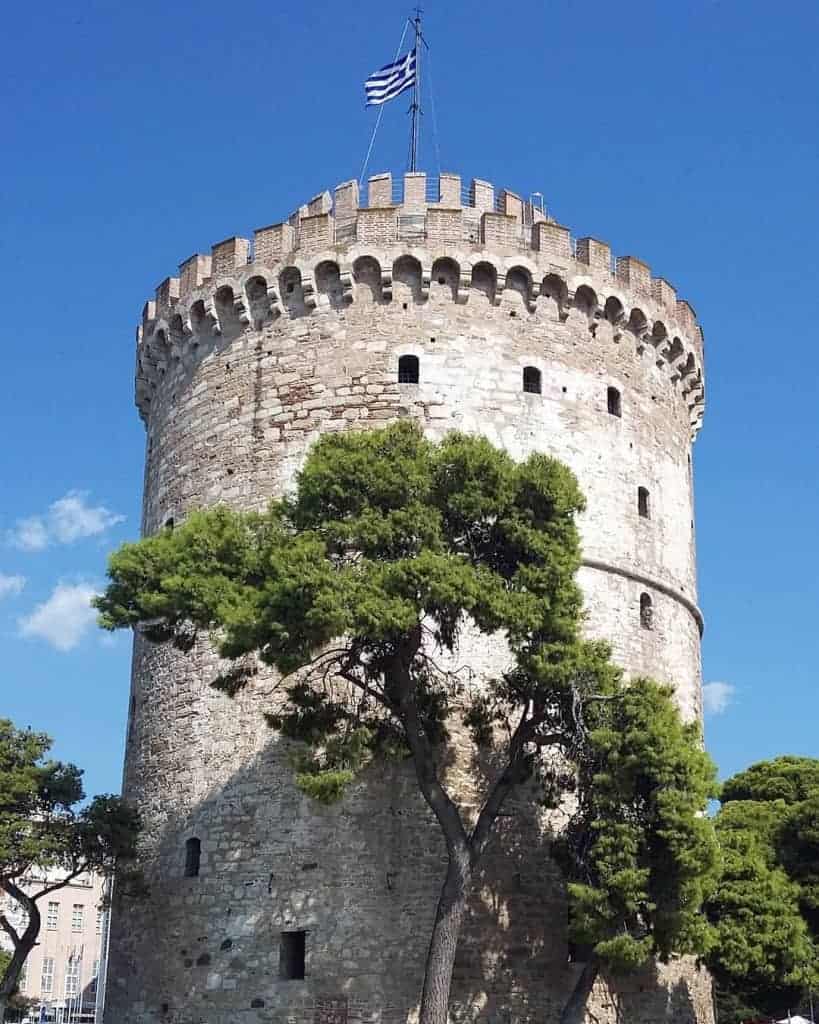 Thessaloniki is Greece's second-largest city. It is a wonderful year-round travel destination and a perfect place to visit in Greece in October.
Since it is situated in the northern part of the country, the weather is usually a little cooler than in Athens, Southern Greece, and the Cyclades. Thessaloniki boasts many interesting neighbourhoods and historical attractions that make it well-deserved for a weekend break.
Ano Poli is one of the oldest parts of town and it has been inhabited for over 2,500 years. Today, its narrow cobbled streets are lined with colourful Ottoman houses and are a photographer's dream.
Some of the best restaurants in Thessaloniki can be found here too. Toixo Toixo (Stergiou Polidorou 1) is a charming spot hidden behind the old defensive Byzantine walls in Ano Poli.
It is beloved by locals and tourists alike. All of your favourite Greek dishes can be found on the menu here – from fasolakia, to stifado.
Attraction-wise, don't miss the White Tower, the Rotunda, and the old Ottoman baths. On a sunny day in the summer months, you can take a boat from the White Tower out to the beach town of Peraia.
Thessaloniki is also a great place to base yourself for a wider exploration of Northern Greece. You can opt to stay here and then take day trips out from Thessaloniki to Kerkini Lake, Meteora, Kastoria, Mount Olympus, and Pella.
Ioannina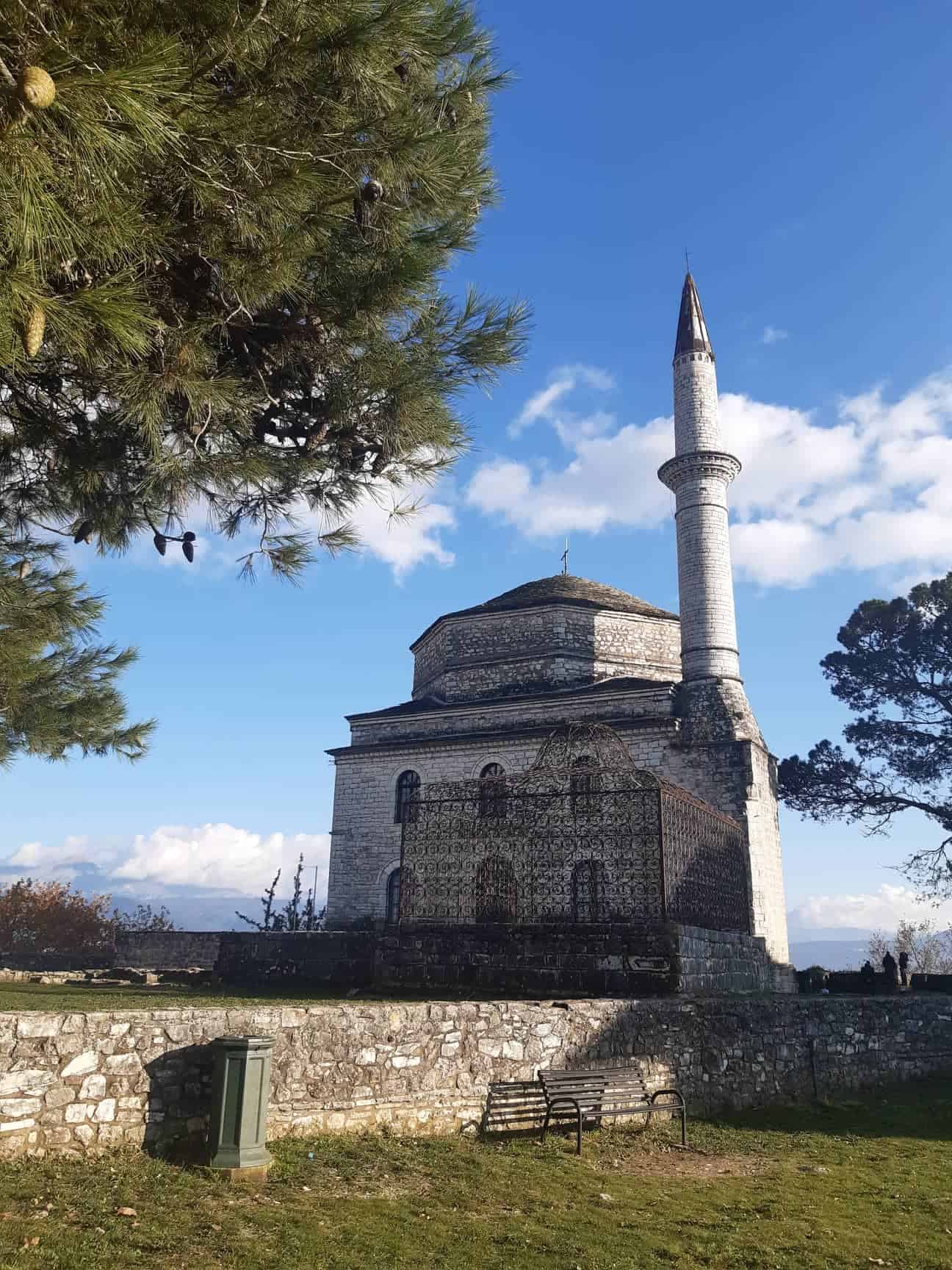 The leafy student city of Ioannina sits in the northwestern corner of mainland Greece. Ioannina is not a popular tourist destination which is a shame as it has plenty to offer. Buses from Thessaloniki to Ioannina and internal flights from Athens have made Ioannina a little more accessible in recent years.
Ioannina sits on the banks of the beautiful Pamvotida Lake. This was a very important trade city during the Ottoman era. Indeed as you wander around the narrow streets, you will stumble across dozens of well-preserved Ottoman houses and mosques.
Perhaps the most unique attraction in Ioannina is the unnamed, inhabited island in the centre of Pamvotida lake. The island is home to a small village, and half a dozen eerily abandoned grand monasteries.
Evritania & Central Greece
Most people fall in love with Greece for its islands, but the country is so much more than that. If you want traditional villages, country escapes, and mountain scenery, you've got that in Greece too.
Karpenisi is a town in the mountains of central Greece. It is often referred to as being the "Switzerland of Greece" on account of its jaw-dropping scenery. 
Karpenisi is a popular Greek winter getaway destination, and locals will often travel here over the Christmas period to go skiing. However, October and November are also great times to travel! Temperatures are cooler up in the mountains, so be sure to pack light layers.
The Karpenisi area boasts excellent hiking and cycle trails. If you rent a car, you can visit the adorable mountain villages of Megalo Chorio, Gavros, and Prousos.
The Proussos Monastery is one of the most important pilgrimage sites in Greece. It is perched on a cliff edge just 25km away from Karpenisi.
Mount Olympus
In Greek mythology, Mount Olympus was the residence of the Gods. From up here, the 12 Olympian Gods watched over the citizens of the world and made decisions about their fate. 
While the myths are debatable, Olympus is the highest mountain peak in Greece and one of the most rewarding hikes in the country. October is essentially the last month of the year that you can visit Olympus, as snow covers the higher parts of the mountain towards the end of the month.
One of the easiest ways to reach Olympus is to do so on an excursion from Thessaloniki. You should allocate around seven hours for the complete round hike.
It is possible to do partial hikes at Mount Olympus if you don't feel up to conquering the peak. There are several natural hot springs on the way up which offer a nice place to stop and relax. You can also tie in your visit to Olympus with an exploration of the ancient cities of Dion and Litochoro.
Nafplio & the Peloponnese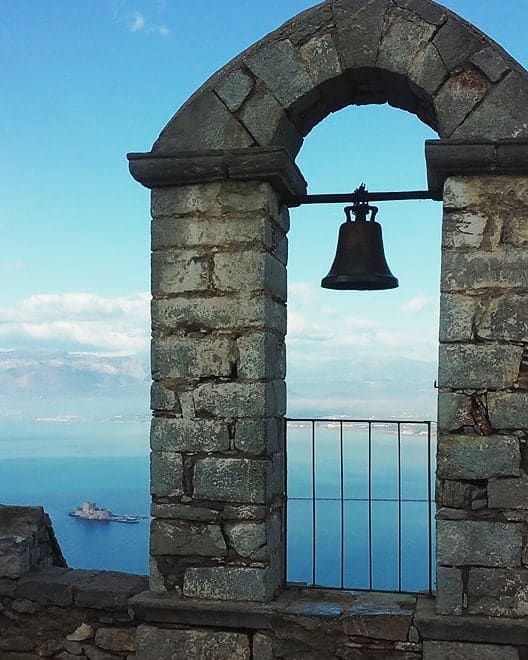 Once upon a time, Nafplio was the capital of Greece. It has been invaded and conquered several times, and each of these cultures has left its mark on the city. In Nafplio, you can see Venetian fortresses sitting beside Ottoman mosques and grand neoclassical mansions.
Nafplio has been "in vogue" as a romantic getaway destination for Greek couples over the last few years. You can reach the city in just over 90 minutes from Athens. Nafplio also makes a good jumping-off point for exploring the wider Peloponnese region.
Meteora
The word Meteora translates to meaning "suspended in the air". This is a fitting name for a complex of several monasteries perched dramatically on the top of rugged rock formations.
This area was originally inhabited by monks in the 11th century. They dwelled in the rocks and caves of the area.
Over the centuries that followed, an array of dramatic monasteries were built. Today, only six functioning monasteries remain.
However, Meteora provides some of the most magical scenery in Greece. You can combine a trip to Meteora with an exploration of the nearby village of Kastraki, and the cave of Theopetra.
Zagorohoria and the Vikos Gorge
The Vikos Gorge is one of Greece's best and most famous hiking trails. The route leads you just northwest of Ioannina, through the villages of Zagorohoria.
This trail is not all that well known among international tourists. However, it does get very crowded during the summer months and guesthouses in the villages can be jam-packed. Travelling to Greece in October ensures a more peaceful hiking experience.
It is possible to plan a route through the Vikos Gorge where you essentially "hop" from one village to another, staying in charming homestays, and sampling the local cuisine in homely tavernas. You can also consider taking a bus to the Vlach town of Metsovo.
Crete
October is a good time to plan your trip to Crete. Like the majority of Greece, prices fall and crowds subside once the summer season is over.
The warm weather at this time of year means that there will indeed be time to enjoy the Cretan beaches, but this season is best for focusing on cultural, historical, and outdoor attractions.
Consider taking a boat across to Spinalonga – an island that once housed a leper colony. Crete is best explored by car. Renting a car in Crete is not as daunting as it may sound and it gives you a lot of flexibility and independence in your schedule.
However, if you need to depend on public transport, consider dividing your time between Heraklion and Chania. From there you can take day trips to places like Knossos and Agios Nikolaos. Hiking lovers can also consider conquering Crete's Samaria Gorge if travelling to Greece in October. 
Festivities in Greece in October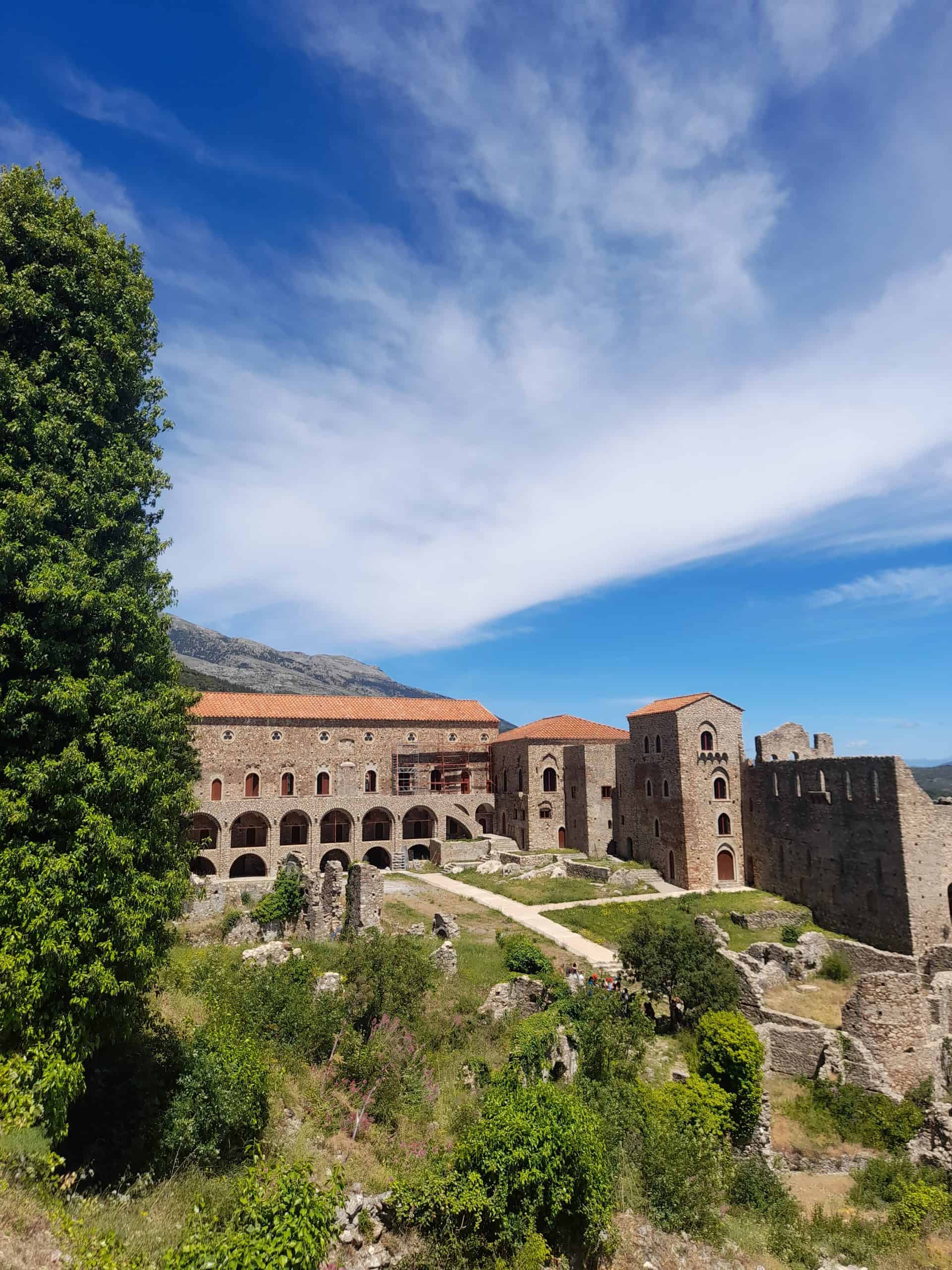 There are several festivities that take place in Greece in October that may be interesting for you to observe or participate in. Some of the most notable ones are detailed below.
Oxi Day
The 28th of October of each year sees Greece celebrate "Oxi Day", known as "the day of no". This is the anniversary of the day that the Greeks said no to Mussolini and the Italians when they asked Greece to surrender to Nazi Germany. 
If your travel dates coincide with Oxi Day, you may note that some smaller businesses are closed in celebration of this public holiday. A parade is held in Athens' Syntagma square and soldiers march through the streets wearing military uniforms and Evzones attire as planes fly overhead.
Many businesses and stores across the country display Greek flags outside their window on this day. To see the Athens parade, make sure that you are in the city centre by 10 am. Come early if you want to secure seats on the front row.
The Feast of Agios Dimitrios
If you happen to be in Thessaloniki in October, you can participate in the festivities for the Feast of Agios Dimitrios on the 26th of October. He is the city's patron saint, born in 270AD.
On this day, a procession moves through the city centre to the Church of St. Demetrios, close to the Thessaloniki Roman Forum. Various priests and ministers, Greek army personnel, and school children participate in the procession. Church bells ring out as shrines and tributes are carried through the street to the church.
Greece in October FAQs
Is October a good time to go to Greece?
October, and the Autumn months in general, are among the best times to visit Greece. This is considered the shoulder season in Greece. Prices are much lower than during the summer months and the weather is still warm and pleasant.
Is October rainy in Greece?
Greece sees an average of 8.5 rainy days in October and around 37mm of rain. However, it is important to note that Greece is not England and it is not a rainy, wet country.
Most days in Greece in October are warm and sunny. Rain usually comes in the form of brief showers that quickly clear up and subside.
What is it like in Greece in October?
Expect temperatures of around 24-27 degrees Celsius in Greece in October. It can get cooler during the evenings and occasional rain is not unheard of so pack a jacket and an umbrella just to be safe.
How cold does it get in Greece in October?
It does not get cold in October in Greece. The temperatures during this time are comparable to summer weather in a lot of other European countries. Think daily averages of around 25-26 degrees Celsius.
Is October a good time to visit the Greek islands?
October marks the end of the tourism season for a lot of Greek islands. However, there are still many Greek islands that you can visit in October that are warm and pleasant.
As a rule of thumb, the further south you go, the longer the weather remains warmer. The southern Cyclades, the Saronic isles and Crete are all good places to consider travelling to at this time.
Parting Words
Have any further questions about travelling to Greece in October, or planning a Greece itinerary in general? Please don't hesitate to get in touch!
I have lived in Athens since 2017 and I'm always happy to assist with any questions. Safe travels!
Geia sou! Melissa xo
---