The best Greek islands to visit in October are somewhat subjective and depend a lot on you, your travel style, your personal preferences, and the things that you like to do during your vacations. That being said, some places are better suited to a late-season vacation than others.
As a general rule of thumb, the further south you go in Greece, the warmer it is. The same applies to the Greek island groups. So Crete, and some of the islands of the Cyclades stay warmer for longer.
If you are looking for a place where you can lounge on the beaches and go swimming when it's warm, but you want to travel out of season without the crowds, these destinations are perfect. Similarly, if you are more interested in cultural travel and historic sites, October is a wonderful month to visit certain Greek islands. 
What to Expect in Greek Islands in October
You can expect temperatures of between 20 and 25 degrees celsius when you visit Greece in October. Everywhere seems to be getting warmer in recent years, too…
If you visit Greece at the very beginning of the month, temperatures in the high twenties are not unheard of. The seas across the country are usually mild and perfect for swimming/snorkeling.
Central and Northern Greece is generally a little cooler, particularly in areas of high altitude. You don't need to take a coat or your typical Autumn wardrobe when visiting Greek islands in October. However, it is worth packing a light cardigan or jacket, depending on where you are headed.
Best Greek Islands in October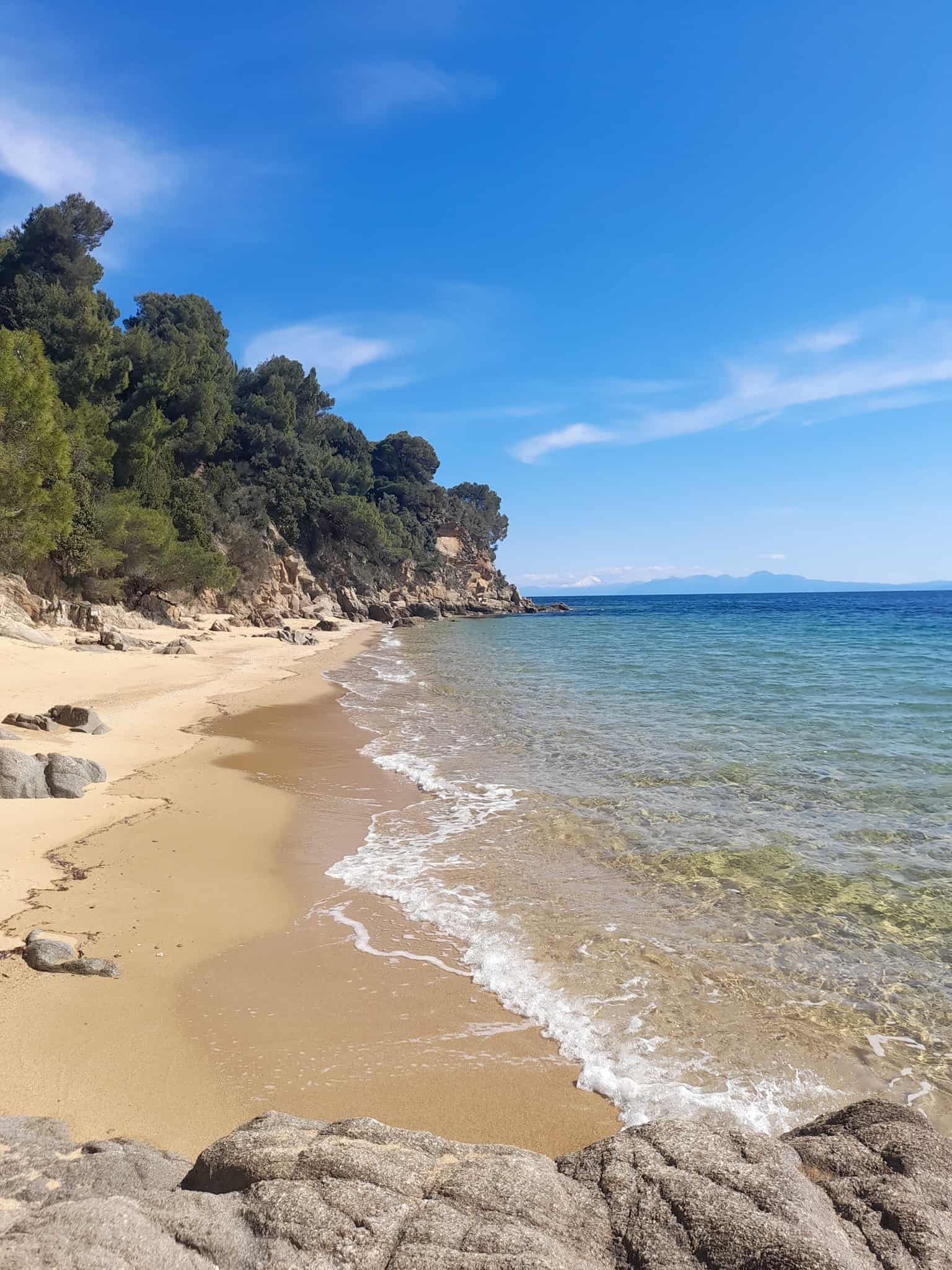 Some of the best Greek islands in October are shortlisted here. This is a blend of everything so there ought to be something to suit everyone. 
Some Greek islands are easier to get to than others. Use Ferryscanner to check the latest schedules, prices, and routes.
Skiathos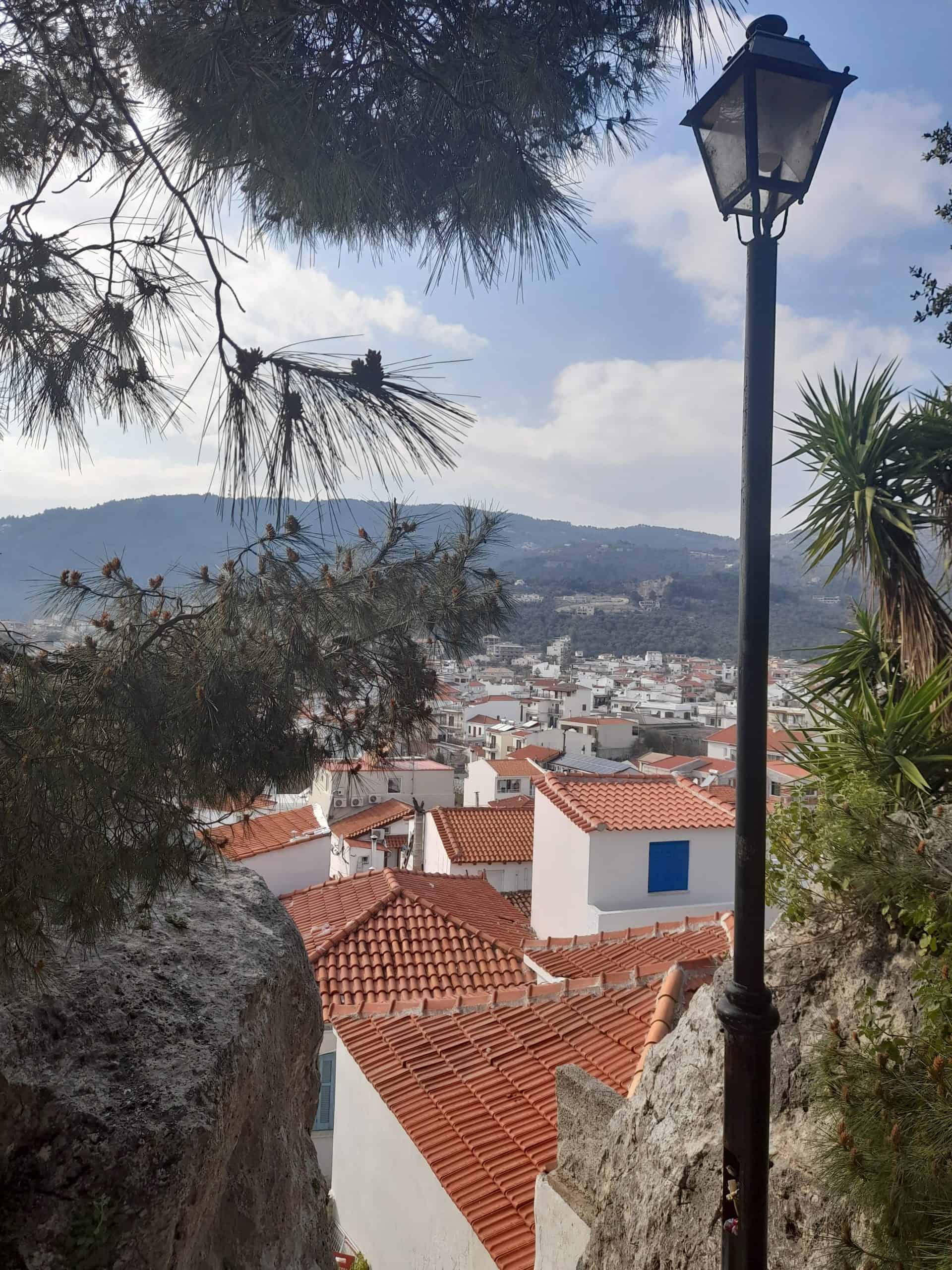 The little island of Skiathos is the most popular in the Sporades archipelago. Since it is located in northeastern Aegean, some 80km away from Volos, it isn't situated in the warmest part of the country.
However, that being said, October in Skiathos is pleasant. Better yet, this is the best time to enjoy the more cultural aspects of the island.
There are 26 hiking trails that weave through the scenery of Skiathos. It is simply too hot to attempt to conquer them in the summer and so Autumn is a great time for enjoying a walking holiday here.
The island's trails lead you to secluded Skiathos beaches and coves, past farmlands, luscious green valleys, and rolling green hills. You will find a plethora of hidden Orthodox churches and shrines tucked away in the woodlands.
In particular, look out for the "Magic Forest " – aptly named on account of its ethereal, otherworldly ambiance that wouldn't look out of place in a Tolkien movie. Several important monasteries can be found here, too.
Two, in particular, stand out from the crowd, Namely, they are, Panagia Eikonistria, and Panagia Evangelistria. The latter is where the very first Greek flag was flown.
Some of the touristic resort areas in Skiathos such as Troulos and Koukounaries wind down from the beginning of October. This is great for you because as the hordes of British tourists disperse, you can begin to see what the "real" Skiathos is like out of season.
Santorini
There is no doubt that Santorini is one of the most popular Greek islands. And for good reason: Santorini is stunning.
That being said, Santorini is heaving with tourists during the peak summer months. Arguably some of the magic is lost when you are meandering through the narrow cobbled streets and passageways of the old town and are met with hundreds of cruise ship passengers coming the other way.
From the end of September, the crowds start to subside somewhat. Yes, the island still gets a lot of visitors at this time. However, it isn't even a fraction as busy as it is in July and August.
The island is just lively enough in October – it is at the perfect midway point between the ghost town it becomes in winter and the chaotic summer hubbub. The waters are cooler than more southern islands but swimming is still possible.
Complete the infamous hike from Fira to Oia, witness the majestic Santorini sunsets, and participate in a wine tasting tour of the island. Accommodation prices during this time are significantly lower than at the height of summer.
You can opt to fly or take a boat to Santorini from Athens. You could also consider using the island as a base to explore nearby Mykonos, Naxos, and uninhabited Delos.
Skopelos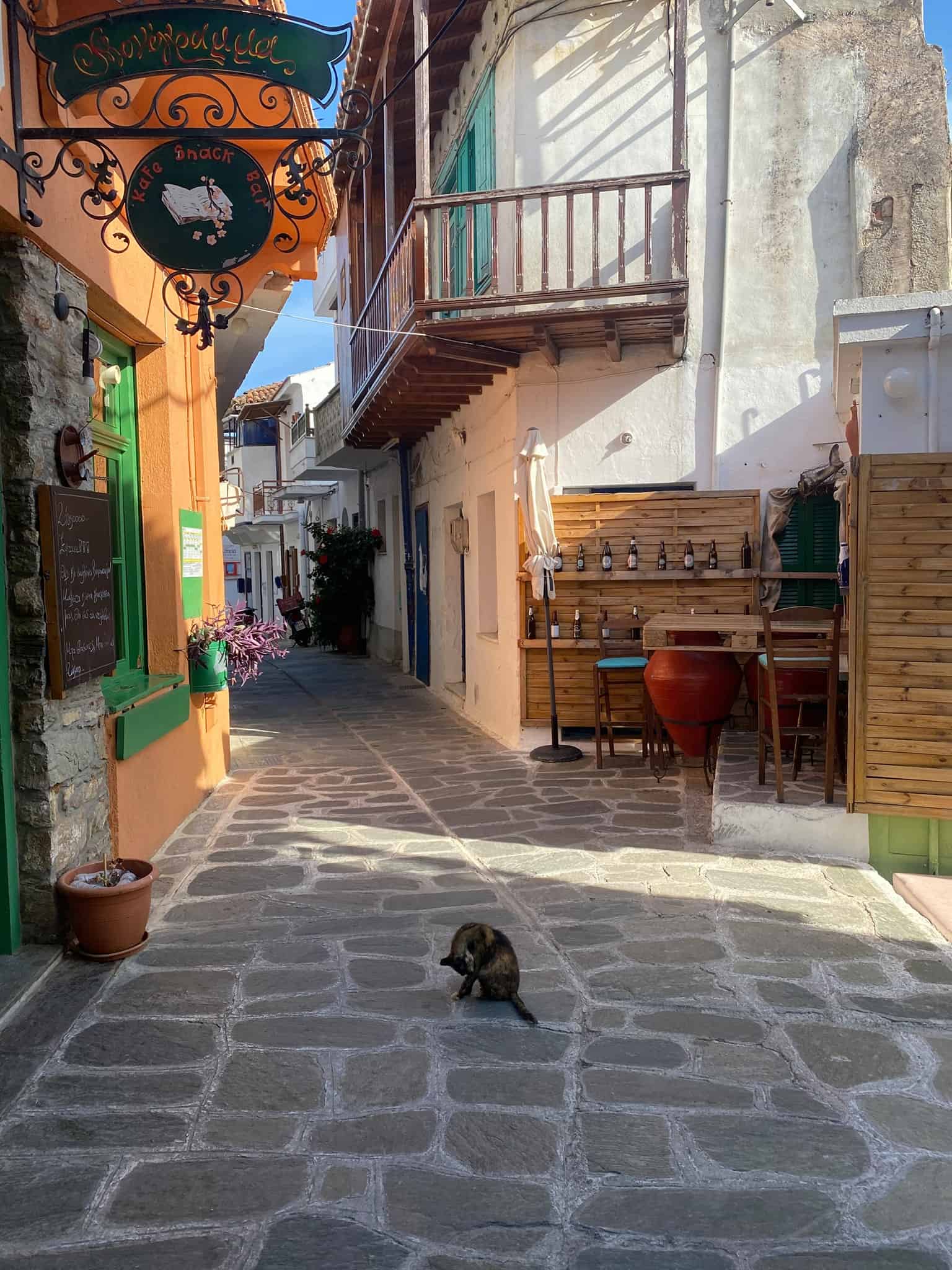 The blue-green island of Skopelos is the greenest island in the Mediterranean. It is perhaps best known for featuring as the island of "Kalokairi" in the Hollywood movie "Mamma Mia".
However, despite this, it remains somewhat off the beaten path. This is perhaps owing, in part, to the fact that the island is relatively tricky to get to.
Skopelos is less than an hour's ferry ride away from bustling Skiathos but the atmosphere here is completely different. The Northern Aegean, where Skopelos is located, is much cooler than Greece's southern islands.
Rain is not unheard of here in Autumn. However, if the island didn't see its share of rain, it wouldn't be so green!
Falling in love with Skopelos
Every Greek island has its fans and so too does Skopelos but the island never sees the same amount of tourists as say, neighbouring Skiathos or popular Corfu. This means that not only is the island relatively calmer than most other Greek islands during the summer months, but by October onwards, there are very few people here.
Even locals that work on seasonal businesses on the island start to leave for the winter season. So, you can easily have entire stretches of coastline to yourself.
The beach bars at the beaches of Kastani, Milia, and Stafylos, close up for the winter, and the island has something of a rugged, desert-island paradise feel about it. Some tavernas and summer businesses stay open until late October and indeed, there are those that are open all year round to cater to islanders.
But head into the centre of the island and you can easily hike for hours without seeing a soul. Skopelos is the perfect October Greek island getaway for nature lovers.
Even if it does rain, you are only typically looking at short showers. The bad weather seldom lasts all day.
Don't miss the opportunity to hike to Sendoukia – a mysterious Pirate graveyard on the slopes of Mount Delphi, Grab a coffee by the seafront at M Coffeehouse Agnontas port, swim in the rock pools of Cape Amarandos, and climb the 200 steps to the clifftop church of Agios Ioannis Kastri.
Mykonos
October is a great time to visit the Greek island of Mykonos, particularly if you want to experience the island away from its raucous nightlife scene. During July and August, Mykonos is one of the most expensive destinations in all of Greece.
While Mykonos is generally more upscale than the majority of its Cycladic counterparts, prices here do become more affordable if you travel slightly out of season. In the summer, wild beach parties with live DJs are hosted every night, and Mykonos clubs showcase celebrity guests.
These events end at the end of September. So, you can enjoy more low key dining and nightlife options. Consider heading to Little Venice for evening drinks.
This neighbourhood was aptly named on account of the colourful little stilted houses that sit above the waterfront here. These were once fishermen's houses and have since been converted into chic restaurants and bars. Historically, pirates liked to hang out in this area while taking a break from their journeys around Southern Europe!
Corfu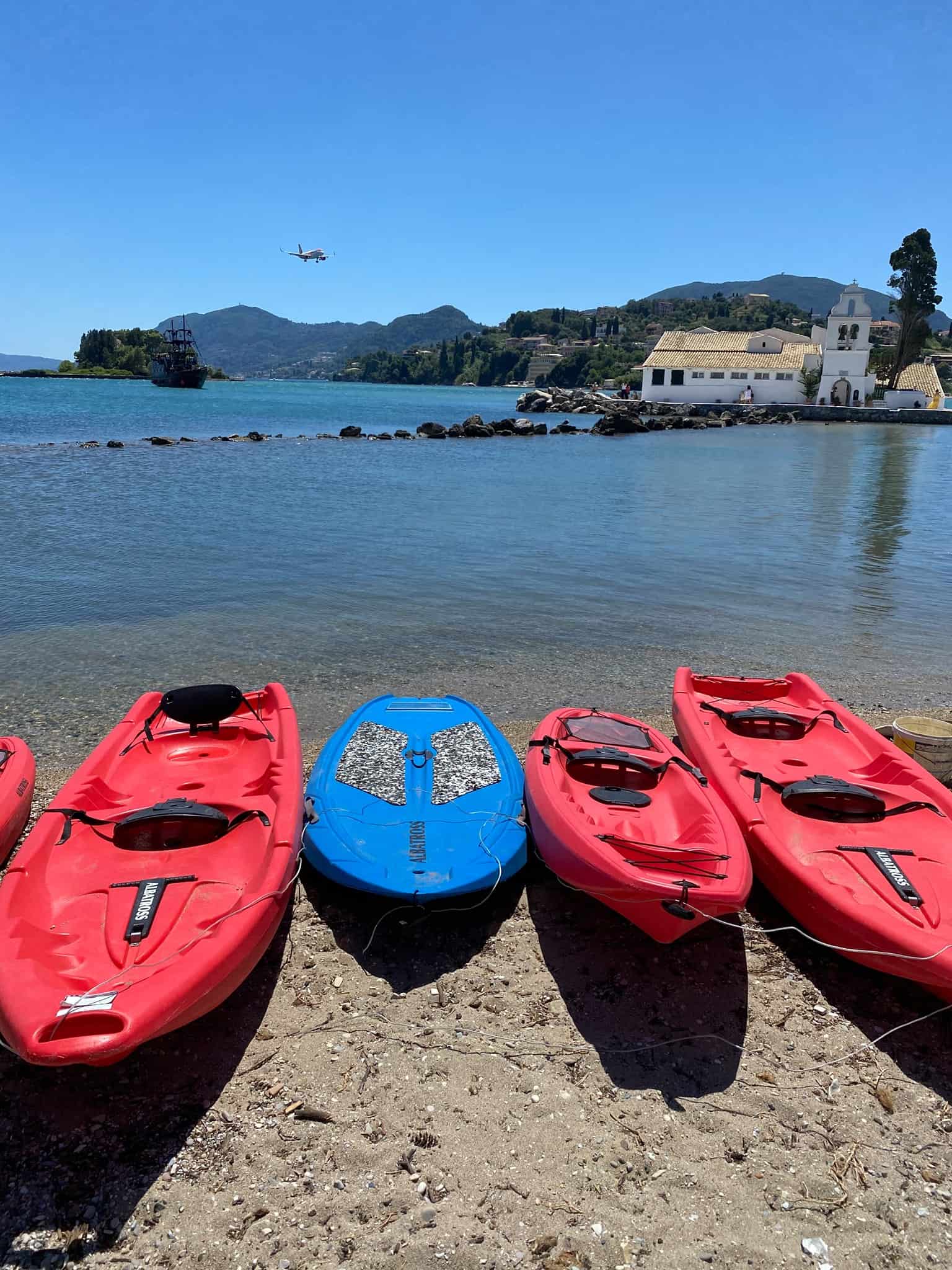 Corfu, known locally as Kerkyra, is one of the best Greek islands to visit in October. This charming destination in the heart of the Ionian is one of the most popular places to visit in Greece in the summer.
Unfortunately, some parts of the island have become quite gentrified and almost resemble British seaside towns. In July and August, you will often hear more British and European accents than Greek! From late September onwards though, this all changes.
The Autumn months are the best time to explore Corfu's old town. Marvel at the elegant Venetian and Italianate buildings, and enjoy sipping Freddo cappuccinos as you people-watch in the Spianada square.
The old and new fortresses boast excellent views over the island and the cerulean waters of the Ionian. Climbing the stone staircases up to them is less draining when you're not doing so in the 35 degrees summer heat.
On a rare rainy day, the Archaeological and Byzantine Museums are both well worth a visit. The latter is housed in a 15th-century church and contains several ornate religious icons from between the 13th and 15th centuries.
On sunny days, sink your toes into the sand of the various pristine beaches around the island. Palikostritsa is a pleasant place to spend a few days.
While there, don't miss the opportunity to follow the old woodland Donkey Tral to Lakones village and enjoy Corfiot cuisine with panoramic views at one of the little tavernas at the top. Beef sofrito is a local favourite – tender cuts of beef or veal prepared with a rich garlic and parsley sauce.
Hydra
The little Saronic island of Hydra provides a journey back in time. There are no cars or vehicles permitted on the island and people get around by donkeys and mules.
This provides Hydra with an ambiance quite unlike any other. Hydra is also one of the closest islands to Athens and its convenient location means that it is a perfect island getaway for one or two days as an extension to a city break in the Greek capital.
Most people visit Hydra on a day trip from Athens or as part of a multi-island Saronic Gulf tour. By October, most of the crowds start to subside and while a lot of businesses, restaurants, and beaches are still open, the island starts winding down for the winter.
There is no airport here so take the early morning ferry from Piraeus port. The journey from Athens to Hydra takes less than an hour.
There are numerous charming guest houses in Hydra town that offer incredible views of the Chora's whitewashed houses cascading down hilltops. Admire the magnificent port – one of the most beautiful in Greece. Then, follow the seafront trail from the town to the fishing villages of Kamini and Vlychos.
Rhodes
Rhodes is one of the best Greek islands to visit in October if you are interested in history and culture. Spend a day walking around old town Rhodes: A UNESCO-protected site and the oldest continually-inhabited medieval town in all of Europe.
Despite the island's popularity, it is easy to venture off the beaten path. The Acropolis of Lindos is not to be missed.
This is the second most visited site in the country after the infamous Athens Acropolis. Its surrounding namesake village of Lindos is more characteristic of something you would expect to see in the Cyclades than in the Dodecanese.
The village is filled with quaint Cycladic-style houses with whitewashed walls and blue roofs. For natural beauty and an autumnal stroll along the beach, head to Anthony Quinn Bay – a secluded cove named after the US actor.
Despite its peculiar name, this is one of the most stunning spots on the island. Here, dramatic white cliffs act as a backdrop against the paradisical pebbled beach and the translucent waters.
Symi
A visit to the little island of Symi can be combined with a trip to nearby Rhodes. The lesser-known destination has started to increase in popularity in recent years and for good reason. Symi is an island like no other.
The streets of the Chora are lined with ornate neoclassical mansions and provide a nod to the elegant lives that locals led here in days gone by. The mountainous landscapes here make Symi perfect for hiking and indeed, several trails lead you around the island landscape.
Aim to spend at least a couple of days here but even if you are in Symi for a week, you won't get bored. From Symi town, walk to the village of Pedi and the breathtaking cove of Emporio. Both are less than a 45-minute walk from the town centre.
Crete
Since Crete is one of the southernmost islands in Greece, it makes sense that it would be one of the places that stay warmer, longer. The island is vast and so, it can be difficult to decide where you want to travel.
If you really want to, you can embark on a cross-country Cretan adventure. However, arguably the best choice for making the most of a short first-time visit is to concentrate on one part of the island.
Heraklion is a charming city, and while its historic centre can easily be seen in a day, it's a pleasant experience to simply hang out in the cafes here, sipping strong Greek coffee prepared in a biriki, and watching the world go by.
Head out to the Archaeological site of Knossos, one of the most important sites from the Minoan era. According to legend, it was here where the mythical Minotaur was trapped in his labyrinth.
Rethymnon and Chania are both well worth a visit. Fall in love with the Venetian influences of the former, with its imposing fortresses and porticoed streets.
For something a little different, head to Spinalonga. This little islet off Crete's north-eastern coast can be reached via boat from Agios Nikolaos.
It was used as a leper colony and people suffering from leprosy that were exiled from mainland Crete were sent here. Interestingly, the last leper did not leave Spinalonga until 1957!
Parting Words
Do you have any additional questions about the best Greek islands to visit in October, or do you need some assistance in planning your trip to Greece? Alternatively, perhaps you have some suggestions that you think should be added to this list.
I've been living in Athens since 2017 and I'm happy to assist with any questions that you may have. Please don't hesitate to drop me a comment below.
I'll get back to you ASAP. Safe travels! Melissa xo
---