It is relatively easy to get from Athens to Spetses. This gorgeous leafy green island is a popular weekend getaway destination for many Athenians. Best of all, it can be reached in less than two hours from the mainland.
Spetses Island
Spetses island is known for its seemingly endless expanse of pristine nature. The main town of Spetses has a population of approximately 4,000 people.
Head away from Spetses town though, and the island is essentially one big national park laden with hidden beaches and secluded coves. Nature lovers will be in their element with all of the hiking trails and quaint woodland churches.
Spetses is the southernmost island in the Saronic Gulf. Like nearby Hydra, the island does not permit cars and vehicles.
Most people get around on mopeds and ATVs. The terrain here is mostly flat and the roads are well-built and asphalted. As a tourist, your best way of getting around is to rent an ATV, a scooter, or a bicycle.
Spetses Highlights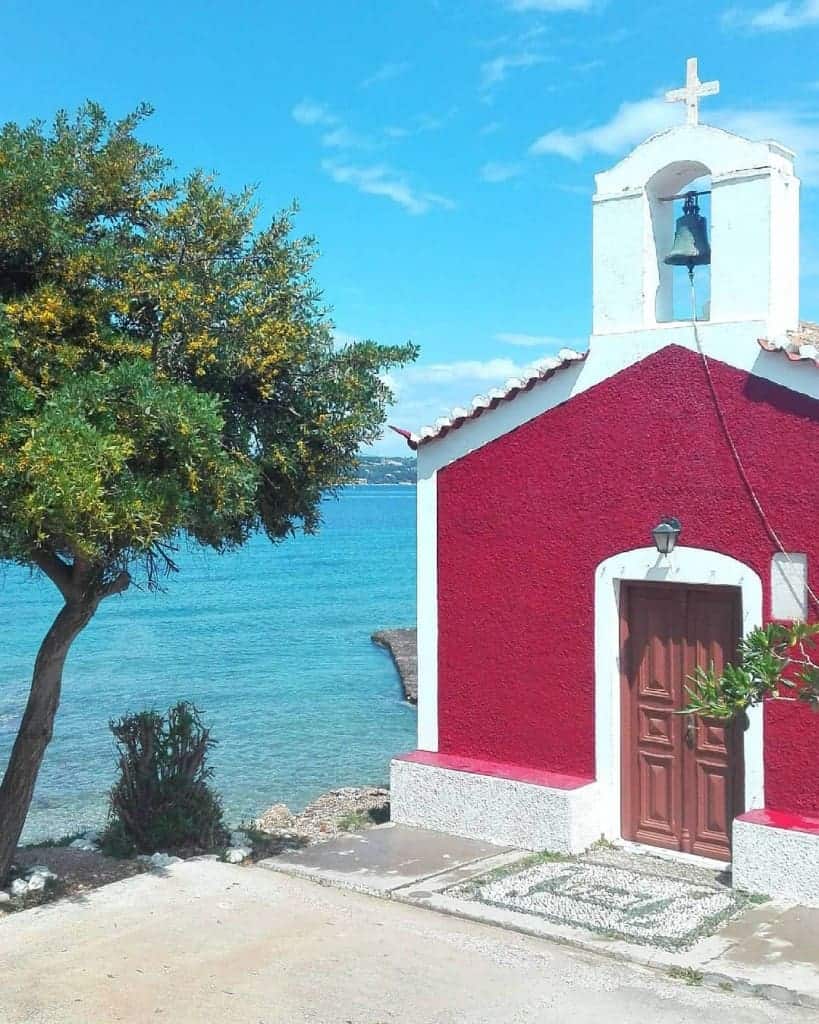 Spetses makes a great stopping point on a Greek island-hopping itinerary. However, if you simply plan on visiting the island for a day or two from Athens, it is best to stay overnight or spend a couple of nights here on account of the distance.
There is plenty to do in Spetses to keep you occupied for a couple of days. Some of the island's highlights are discussed below.
Sample sumptuous traditional Greek food at the various seafront tavernas


Take a stroll along the coast to the old harbour of Balitza


Visit the Spetses history museum and learn the history of the island through the ages


Hike through the pine forests to the Cave of Bekiris


Enjoy island panoramas from the Monastery of Agioi Pantes


Trek along woodland trails, discovering hidden churches and shrines as you go


Rent an ATV and zip around the circumference of the island


Swim, snorkel, and relax on one of the island's many beaches and hidden coves
How to Get from Athens to Spetses
There is no airport on Spetses island. The only way to get here is by boat. If you are considering renting a car in Greece, it should be noted that there are no car ferries to Spetses as vehicles are not permitted on the island.
Taking the Ferry from Piraeus Port
There are several ports scattered around the vicinity of Athens. However, the only one that services the route to Spetses is Piraeus port.
Fortunately, this is the easiest and most convenient one to access. You can reach Piraeus by boarding the X96 bus from Syntagma Square, Athens airport, or other various stops around the city. Alternatively, you can board the green line metro and ride it all the way to its final stop (Piraeus).
Public transport in Greece is very good. However, if you prefer to travel with more comfort, you may want to consider organising a taxi or a private transfer from Athens to Piraeus port.
Greek taxis are pretty affordable, particularly if you are splitting the cost between a few of you. If you travel from the Acropolis or elsewhere in the centre to Piraeus, you are looking at a day rate of approximately €25, and a night rate of €32.
Alternatively, if you are travelling from Athens Airport, the day rate is €54 and the night rate is €70. Unfortunately, scams in Athens are not uncommon and taxi drivers are sometimes a law unto themselves.
Consider downloading the TaxiBEAT app while you are in Greece. This is our answer to Uber and displays the price and route before you get in a taxi to prevent you from being ripped off.
You may also want to consider a private transfer. That way, you know that someone is waiting for you on arrival.
Prices for private transfers to and from Piraeus are generally not that much more expensive than a regular taxi. Your driver will meet you in the Arrivals area of the airport and you will be provided with complimentary water while travelling in a luxury air-conditioned vehicle.
Buying Your Athens to Spetses Ferry Ticket
There are a number of ferry companies that operate throughout Greece. Different companies service different island regions. The only one that services Spetses and the Saronic region is Hellenic seaways.
Tickets can be purchased online in advance, or in person at the ferry port in Piraeus. You will also find some touristic kiosks throughout the city that sell ferry tickets.
It is usually not necessary to book your tickets a long time in advance unless you are travelling in the peak summer months (July/August), or there is a very specific boat that you need to catch. However, purchasing your ticket online a few days before you intend to travel can save a lot of time and stress at the port.
As of February 2022, a one-way ticket from Athens to Spetses costs €41.00 per person. You can check the latest prices and schedules on Ferryscanner.
Prices and schedules are subject to change depending on the season. Carry your passport/photo ID with you as you may be requested to show this if you are picking up your ferry tickets at the port.
Taking the Athens to Spetses Ferry
Ferries from Athens to Spetses depart from gate E12. This is very clearly marked and would be difficult to miss. That said, if there is any confusion about your departure gate or which boat is yours, there are always plenty of friendly, English-speaking staff on hand at the port.
There are two main boat types available. Namely, the Flying Cat 6 high-speed catamaran and the Flying Dolphin "fast boat".
The speed varies slightly between the two boats. The Flying Cat 6 has a max speed of 28 knots and the Flying Dolphin has a max speed of 35 knots.
If you get seasick, you may prefer to take the Flying Cat 6. This is also better from a services perspective as the boat boasts a bar that serves coffees and a range of beverages and refreshments.
There is no food service onboard the Flying Dolphin so be sure to purchase a few bottles of water and snacks before you leave Piraeus. Both boats have bathrooms available for use.
Spetses is one of the farthest islands in the Saronic/Argolic Gulf. Most ferries will make a number of other stops before they eventually arrive at Spetses.
Stops vary depending on the specific season and service. However, they will commonly stop at Poros and Hydra at the very least.
Listen carefully to the announcements when the boat stops. Spetses will be the final port of call.
Boarding the Athens to Spetses Ferry
The Athens to Spetses ferry arrives promptly and departs at the scheduled time. It is important to arrive at Piraeus ferry port plenty of time before your departure, particularly if you need to pick up tickets at the port.
Ideally, you should arrive at the port at least an hour before departure if you are travelling between June and September. In the summer, the port can sometimes be chaotic with queues of people waiting for boats to various islands.
So, be sure to establish that you are waiting in the correct line and ask for help if need be.
Luggage Storage at Piraeus Port
If you arrive early at the port and want to spend a little time exploring the area or people-watching with a strong Greek coffee, it is possible to leave your luggage at the port while you do so. The staff in the main port ticket office are usually happy for you to leave your luggage there.
There are also longer-term luggage storage facilities available at the port. Similarly, if you are staying at a hotel in Piraeus prior to taking the Athens to Spetses ferry, most hotels have a storage room and will be happy to let you leave your luggage there until your return.
Arriving at Spetses Port
Spetses port is conveniently located right in the heart of Spetses town. If you are travelling with luggage, it is worth checking the map before booking your accommodation so that you can book a hotel that isn't too much of a trek from the port.
There are a lot of excellent hotels and guesthouses on Spetses island to sort all travel preferences and budgets. Many are just a stone's throw away from the port so you can easily find a place with a great location without breaking the bank.
Many Spetses hotel owners are the embodiment of filoxenia (Greek hospitality) and will come to meet you from the port to assist with luggage. If you can walk from the port to your hotel, great.
Alternatively, if you are a little farther afield, you will be able to get a taxi. Cars are not really permitted on Spetses island but there are a limited number of cabs.
The taxis wait at the port in accordance with the incoming ferries so it will be easy to get one when you arrive. Alternatively, you could reach out to your hotel before leaving Athens and ask them to organise one for you.
How to Get Back from Spetses to Athens
There is a small Hellenic Seaways office to the left of the port area in Spetses. It is possible to purchase your Athens to Spetses ferry ticket here or online via Ferryscanner here.
The Spetses office usually operates from 8 am until 8 pm. It closes for siesta for a few hours during the afternoon. If you are not island hopping and are simply going from Athens to Spetses, and vice versa, it may be easier to buy a return ticket in the first instance.
Sometimes the waters around Spetses can be choppy during the winter months and cancellations do occasionally happen. If you should be so unfortunate as to experience this, you will receive a text to the phone number that you provided when you booked your ticket.
You will be able to reschedule your journey and get on the next convenient ferry. Generally, you cannot amend your ticket without paying a fee.
Parting Words
Please don't hesitate to reach out via the comment box below if you have any questions about getting from Athens to Spetses. I've lived in Greece since 2017. I'm always happy to assist with any queries.
Safe travels! Geia sou! Melissa xo
---