It is easy to get from Athens to Hydra. This gorgeous Saronic island sits less than 90 minutes off the coast of Greece's capital city.
Indeed, little Hydra is one of the most popular day trips from Athens. Ferries and boat tours run from Athens to Hydra regularly, even during the off-season.
The fact that Hydra's cultural highlights and points of interest aren't centered around beaches and sun makes the island a great place to travel all year round.
Hydra Highlights
Little Hydra is an island that is seemingly frozen in time. Here, no cars or vehicles are permitted on the island and the vast majority of locals get around on horseback.
The quintessential image of Hydra is the local men that navigate their way through the narrow streets and passageways of the port, leading groups of donkeys as they go. The port at Hydra is widely regarded as being one of the most beautiful in all of Greece.
Hiking paths, quaint fishing villages, exquisite local restaurants, and gorgeous scenery combine to make Hydra one of the most unique Greek islands. The island played an important role during the Greek war for independence when several notable battles took place here.
Some of the island's highlights are detailed below.
Follow the coastal paths to the fishing villages of Vlychos and Kamini


Climb the hill to the 1813 Prophet Elias Monastery


Stop by Leonard Cohen's former residence


Visit Rafalias, one of the world's most beautiful pharmacies


Enjoy excellent seafood and traditional Greek classic dishes at island restaurants


Relax on the beaches of Agios Nikolaos, Vlichos, Avlaki and Bisti
How to Get from Athens to Hydra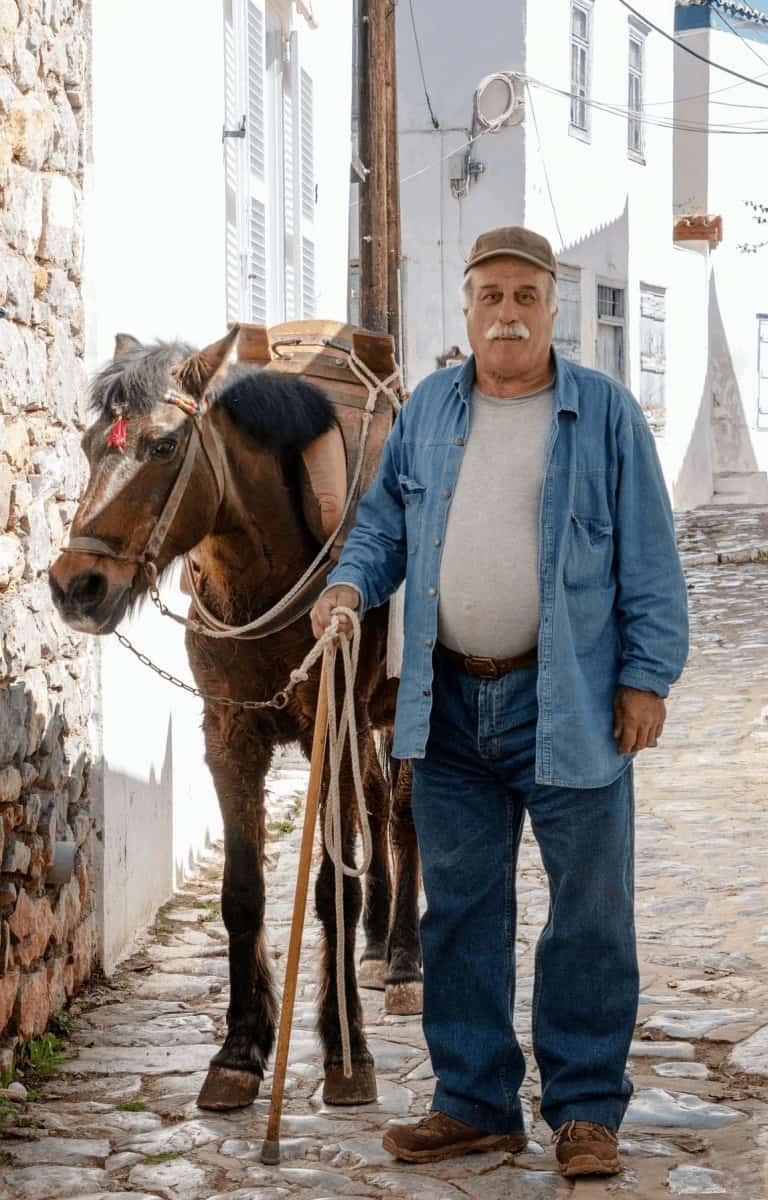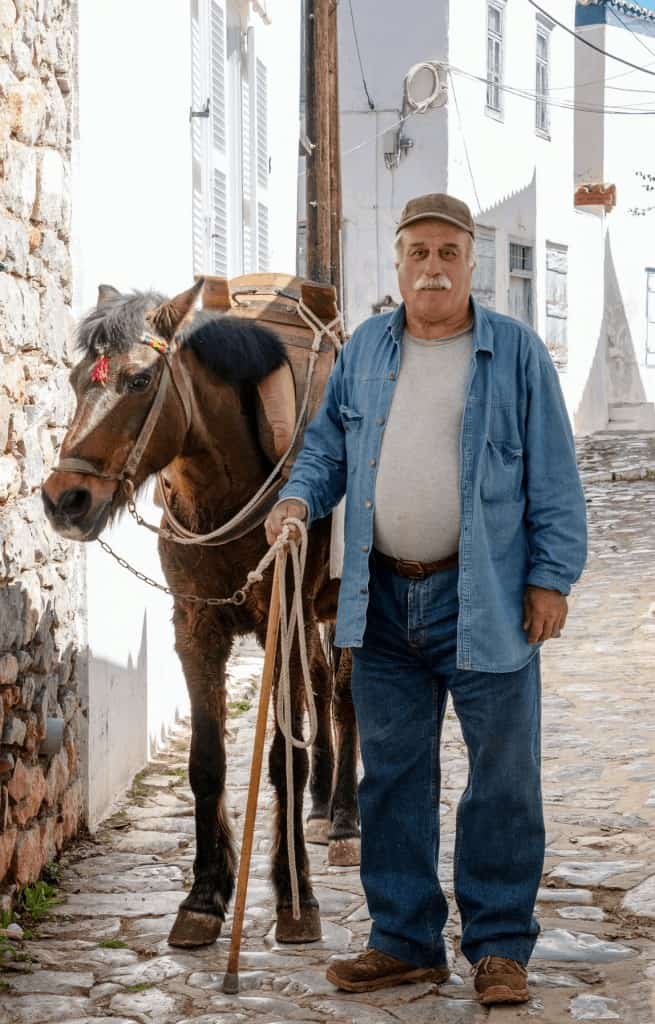 Hydra is located in the Saronic Gulf, some 68km away from Athens. The island is small and rocky and does not have an airport.
The only way to reach Hydra is by taking the ferry. However, you have a couple of options as to how you can do that.
You can either opt to take a Saronic Gulf tour like this one that sails around several islands in one or two days and gives you a limited amount of time in each one. Alternatively, if you wish to travel independently and potentially stay overnight, you can board a ferry from Piraeus.
Athens to Hydra Ferries
There are several ferry ports in the Athens vicinity. However, all ferries from Athens to Hydra depart from Piraeus. This is easily accessible via metro or the X96 bus from Syntagma Square and central Athens.
Numerous boat companies operate throughout Greece. Hellenic Seaways is the provider that operates in the Saronic region and serves the Athens to Hydra route.
There are two main boat types available: the Flying Cat 6 high-speed catamaran and the Flying Dolphin "fast boat". The speed varies slightly between the two boats.
The Flying Cat 6 has a max speed of 28 knots and the Flying Dolphin has a max speed of 35 knots. Generally speaking though, most get you from Athens to Hydra pretty quickly and the journey will always take less than 90 minutes.
Purchasing Athens to Hydra Ferry Tickets
It is possible to purchase your ferry tickets to Hydra online or in person at the Piraeus port ticket office. If you choose to buy your tickets online, you can do so via Ferryscanner.
As of February 2022, a one-way Athens to Hydra ferry ticket costs €30.50 per person. It is advisable to purchase your tickets a couple of days in advance if you are travelling during the peak summer season.
Athens to Hydra ferry schedules vary substantially depending on the season. In the spring and summer months, there are often several services operating per day.
In the winter, there is at least one boat (usually the Flying Dolphin) serving the route. Ferries to Greek islands run on much more limited schedules during the winter.
While people live on the islands all year round, a lot of touristic businesses such as restaurants, hotels, and boutique stores are very seasonal. They close their doors during the winter season and do not reopen until late April/May. So, travelling from Athens to Hydra can be quite a different experience out of season.
Services and Amenities on Athens to Hydra Ferries
There is no snack bar on the Flying Dolphin or the Flying Cat 6. However, there are bathrooms available. Seating is airplane-style.
Historically, a larger, slower ferry (Agia Marina Aiginis) also served this route. In recent years, it has not been operational.
It is to be confirmed if it will operate in summer 2022. Summer ferry schedules are typically not released until the end of springtime. This boat does offer a bar serving a range of snacks and refreshments.
Where to Board the Ferry
It is easy to get to Piraeus port from Athens and the airport. Ferries bound for Hydra depart from gate E8.
There are large signs above each port gate so it would be difficult to miss this. Not to mention, there are plenty of friendly, English-speaking port staff around to point you in the right direction if necessary.
If you arrive at the ferry port early and want to go for a coffee/ explore the area, the port staff are usually happy for you to leave your luggage there while you wait. Similarly, if you are planning on staying overnight in Hydra, and only intend to stay on the island for a day or so, most Piraeus hotels have a storage room for luggage.
Hydra and Saronic Gulf Tours
Hydra is one of several gorgeous islands that make up the Saronic Gulf archipelago. Each island in this region is charming in its own way and well deserved of your time.
If your schedule is flexible, you may want to consider travelling onwards from Hydra to Spetses and also taking the time to visit Agistri and Poros. That being said, you may not have the time in your Greece travel itinerary to stop by every single Saronic isle.
You could either opt to dedicate your time to exploring one island (like Hydra) in depth. Alternatively, you may wish to join a Saronic Gulf tour.
Tours like this one tend to stop at three or more islands over the course of a day. Often lunch is included. This is a great way to get a feel for the area when you are short on time.
Recommended Saronic Gulf Tours
A handful of reputable Saronic tours are detailed below for your consideration.
The Hydra to Athens Ferry
The Hydra to Athens ferry departs at least once daily all year. It runs on a more frequent schedule during the summer.
If you only purchased a one-way ferry ticket when you left Athens, you can buy your Hydra to Athens ferry ticket at the Hellenic Seaways office by Hydra port. Alternatively, you can purchase this online here.
Since Hydra port is relatively small, there tends to be only one Hellenic Seaways boat/ferry coming in at a time. The port is not divided into various gates and it is generally fairly easy to identify which boat is yours.
Parting Words
You can easily take the Athens to Hydra ferry and return to Athens on the same day. To do so, you simply need to board the boat early in the morning and take the last one back in the evening.
This allows you to spend approximately 9-10 hours on the island. That ought to be enough to enjoy the main highlights.
Do you have any additional questions about getting from Athens to Hydra or planning a trip to Greece generally? Please don't hesitate to reach out. I've been living here since 2017 and will assist with your queries as best as I can.
Safe travels! Geia sou! Melissa xo
---