Spending Spring in Greece is not the most common choice. People typically associate Greece with being a summer travel destination.
The sheer mention of Greece is usually synonymous with the idea of idyllic islands and pristine white sand beaches that run parallel to translucent cerulean waters. But Greece is actually a wonderful year-round travel destination.
Spring in Greece is nice because it isn't as overwhelmingly hot as during the summer months. There are fewer crowds, and the prices of everything from hotel bookings and flights to car rentals and local excursions, are much cheaper. (Prices can soar by as much as 50-60% when July and August roll around).
This guide to Greece in Spring has been written by a British Travel Writer that has spent five years based in the country (Me!) I have experienced a lot of Greek springs and as such, I feel well-poised to advise you on the best places to visit during this time, and how to plan for and make the most of your trip. 
Spring in Greece weather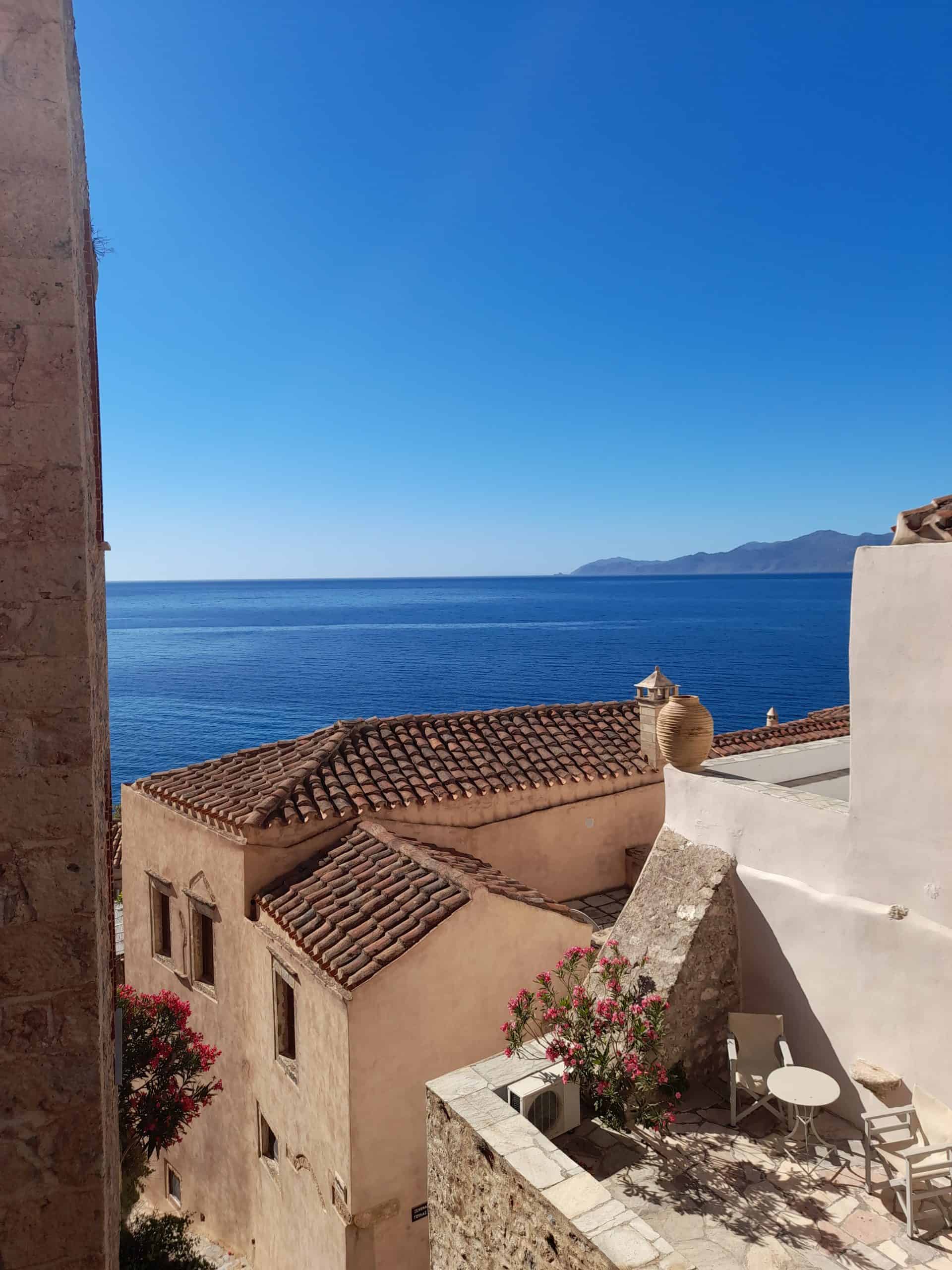 Spring in Greece runs between March and May. The weather is usually pleasant during these months and of course, the temperatures get increasingly hotter as early summer approaches. 
Exact weather conditions vary from one part of the country to another. However, generally speaking, it is usually a few degrees warmer in Athens, Southern Greece, and the Southernmost islands in the Cyclades, and Crete than in the northern parts of the country. 
Temperatures in Greece in March average between 13°C and 17°C (55.4°F and 62.6°F). In Greece in April, you can expect daily averages between 11°C and 20°C (52°F to 68°F ).
Things start warming up in May, with average temperatures between 16°C and 23°C (61°F and 74°F) on the mainland. However, in the last few years, much warmer temperatures are also becoming more of a norm… 
March is the rainiest month of the three, with an average of 22mm of rainfall throughout the month. April and May see between 4 and 6mm of rain.
Still, any rain showers usually subside very quickly. Even when the temperatures are cooler, Greece sees clear blue skies. (There are 250 days of sunshine here!)
The conditions in Greece in Spring are perfect for hiking and exploring outdoor ruins and archaeological sites. You will also see plenty of people swimming at the beaches near Athens and on the islands, especially in the month of May.
(Heck, some brave, daring souls even swim in Greece in February!) 
Where to Travel During Spring in Greece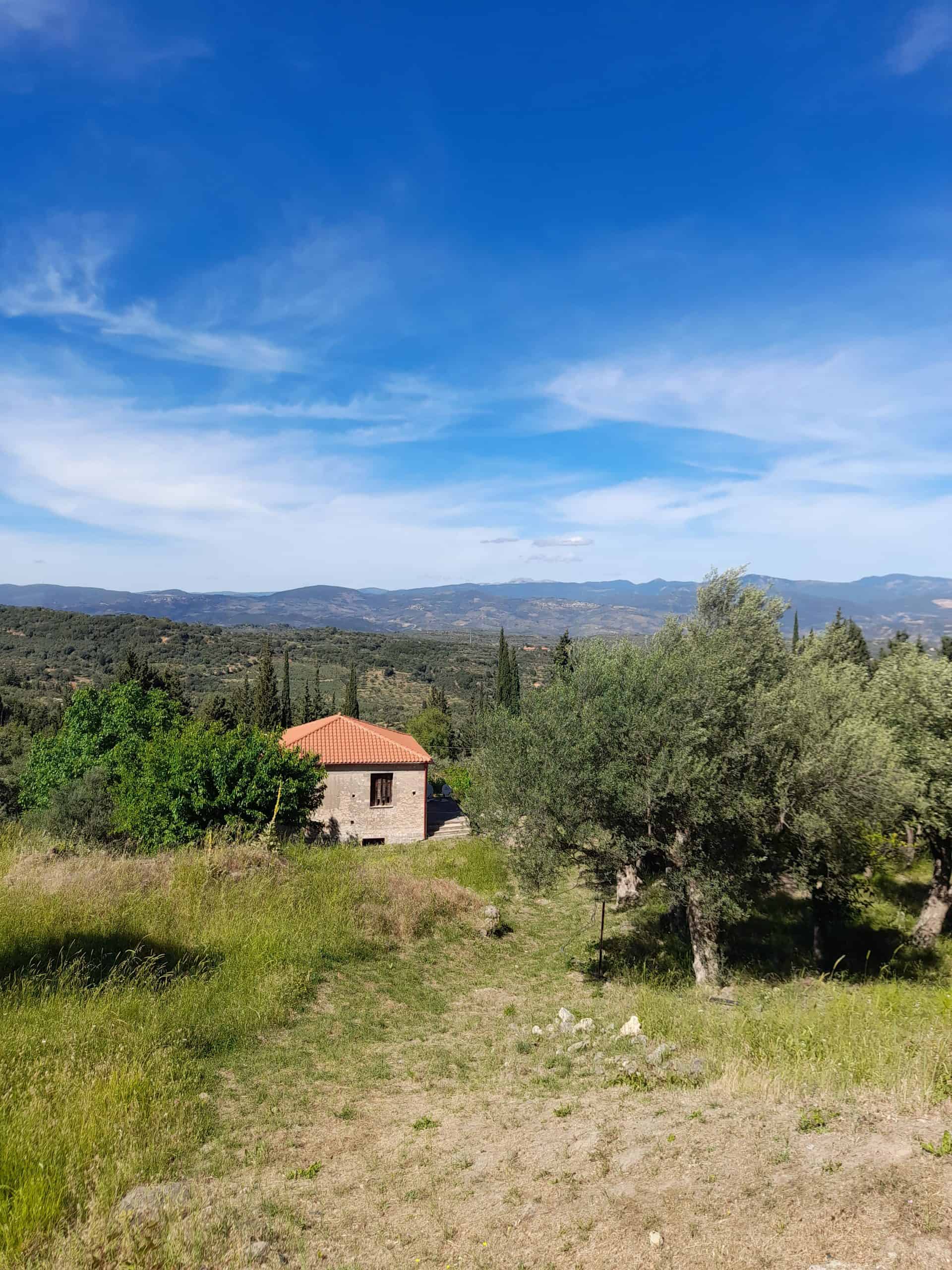 If you like hiking, Spring and Autumn are the best periods to plan a Greek trekking adventure. Rainfall is minimal, and it is warm without being too hot to spend extended periods outdoors.
At this time, wildflowers are in bloom, buds are blossoming, and Greek nature is at its very best. The evenings can be a little cooler, so be sure to pack layers. Sunset during spring in Greece takes place between 6.30 and 8 pm. 
Athens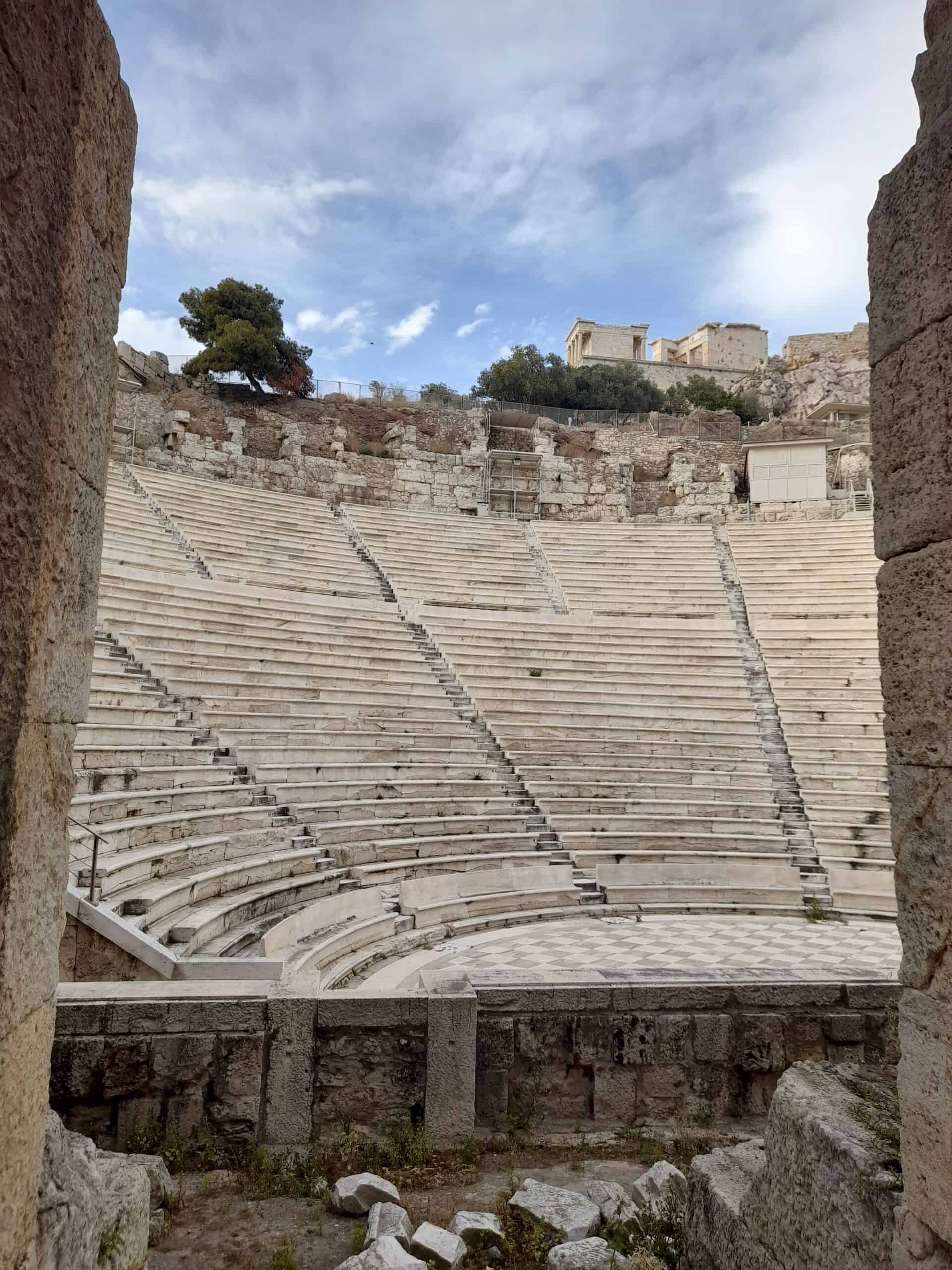 Spring is the perfect time to book a trip to one of Greece's historical and culturally rich cities. The Greek capital of Athens is always a good choice.
This sprawling city has a history dating back over 2,500 years and is one of the oldest capital cities in Europe. Some of the most famous Greek tourist attractions can be found in Athens – including the Acropolis and its magnificent Parthenon, the Roman Agora, the Ancient Agora, and the Temple of Olympian Zeus. 
Athens is well deserved of an itinerary all of its own. However, since the capital is home to Greece's largest and main international airport (Eleftherios Venizelos), it is also a great starting point for a wider Greek adventure.
Visiting Athens at this time of year means that you don't have to contend with snaked queues to get into all of the museums and historical sites. Hotel prices are also cheaper and museums offer free entry on the first Sunday of March.
When choosing where to stay in Athens, opt to base yourself in a central neighborhood like Koukaki, Plaka or Psiri. That way, you are within walking distance to the city's main highlights.
Athens isn't the most beautiful city in Europe. But what it lacks in aesthetics, it more than makes up for in character.
Each of the little districts here has its own distinct personality. Exploring them is as much of a highlight as the ruins of Ancient Greece.
For street art, head to Exarchia, and for high-end shopping, head to Kolonaki and Kifissia.
Thessaloniki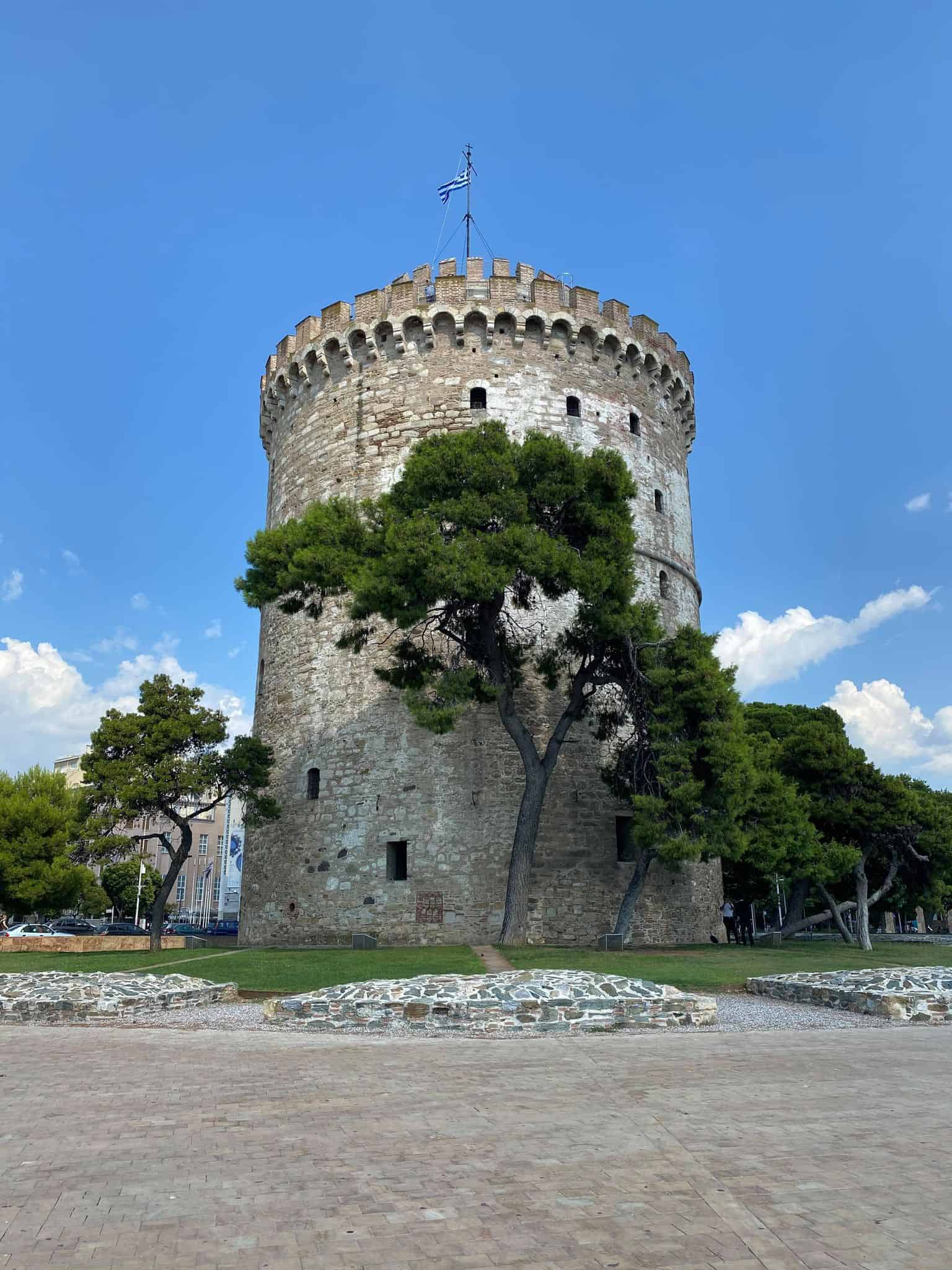 Thessaloniki is Greece's second city and a great alternative weekend break destination. One of its most famous landmarks is the White Tower. 
The tower dates back to the 15th century and was used as a garrison and then a prison at various points throughout history. It was known as "The Tower of Blood" during the Ottoman occupation due to the various torturous events that took place inside.
Today, it contains a small city museum and photography exhibition that shows the history of Thessaloniki through the decades. (Quite a change from its dark past!)
From the top of the tower, you have unparalleled views over Thessaloniki and the Thermaic Gulf. A plethora of charming coffee bars, restaurants, and cafes line Leof. Nikis between the White Tower and Plaza Aristotelous. 
These make a great place to wake up for breakfast beside the Aegean sea and sip Greek coffee while you people watch. Ano Poli is a nice central Thessaloniki district to explore and is known for its pastel-coloured Ottoman-era houses and street art. 
Meanwhile, nearby Ladadika, whose cobbled streets are lined with bars and clubs, is the place to go when the sun goes down. Thessaloniki makes a great base for exploring wider Northern Greece too.
From here, you can take day trips to Nikiti, Mount Olympus, and the Meteora monasteries.
Visiting the Greek islands in the spring
Most Greek island groups operate on a very seasonal schedule.
Many island businesses close in the winter and hotels, restaurants, and stores do not reopen until mid-April or May. Since most people travel to the islands during the high season, by opting to travel in May, you can avoid the crowds.
You can sail out to the Aegean islands or the Sporades archipelago and relax on the islands of Skiathos, Skopelos, and Alonissos while there is no one really around. (Apart from a few locals getting ready for the tourist season.)
You will find entire beaches and stretches of coastline that you can have all to yourself, and the experience of meandering around various island villages feels more authentic. Alternatively, you can rent a car in Crete and embark on a Greek road trip across the island.
Start in the capital of Heraklion and visit the phenomenal Minoan palace of Knossos. Stop at secluded beaches, attempt part of the Samaria Gorge hike, and fall in love with Chania and Rethymno.
The Saronic Gulf islands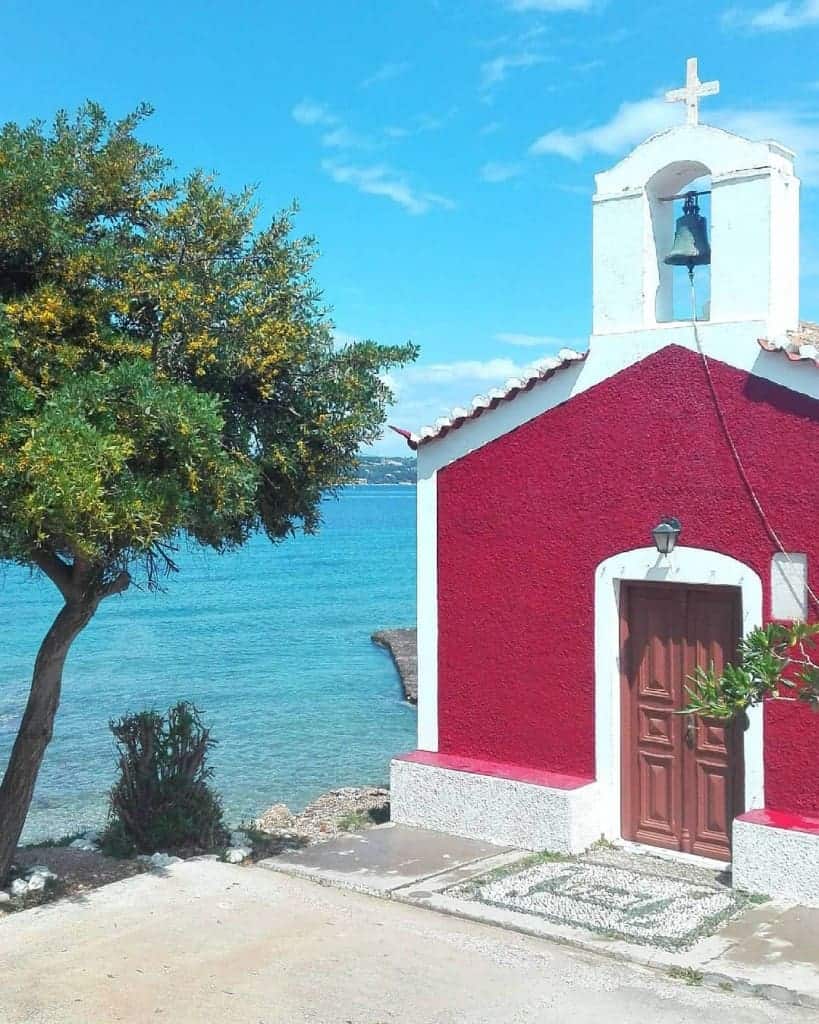 If you are considering visiting Greece in the spring, consider visiting some of the islands close to Athens. The islands of the Saronic Gulf are brimming with culture.
Each Saronic island is unique, differs from its neighbour isles, and has a distinct personality. The little island of Hydra is a wonderful place to spend a few days whatever the weather.
The colourful port here is widely regarded as being the most beautiful in all of Greece. Spend a few hours meandering its maze-like network of narrow streets, indulge in some meze plates and traditional Greek food in its homely tavernas, and then follow the coastal paths to the nearby fishing villages.
The small island of Spetses is another underrated gem. Cars are prohibited on both of these islands.
From Spetses town, rent a bicycle or an ATV and cycle around the island. 
When you leave the town limits, you quickly discover that Spetses is essentially one big national park. There are dozens of short, beautiful trails through the woodland here that lead you to hidden monasteries, secluded coves, and clifftop churches.
Out of season, you share the island with virtually no other tourists. The Saronic are some of the best islands to visit in early spring as their activities are not dependent on perfect weather. (Although you will still have plenty of sunny days in the months of April and March.)
The Peloponnese
The Peloponnese is a wonderful part of Greece to take a road trip through during the spring months. Focus your exploration on the Lakonia region and the rugged Mani peninsula. 
This region is well deserved at least a 10-day itinerary. Don't miss the Byzantine castle towns of Monemvasia and Mystras, along with the little seaside town of Gytheio. 
Events in Spring in Greece 
Cultural and religious festivals in Greece take place every season. Several major festivities occur during the spring. Most notably, Greek Easter. 
Greece is a deeply religious country with more than 90% of the population identifying as Orthodox. Here, Easter is just as important as Christmas.
Greek Easter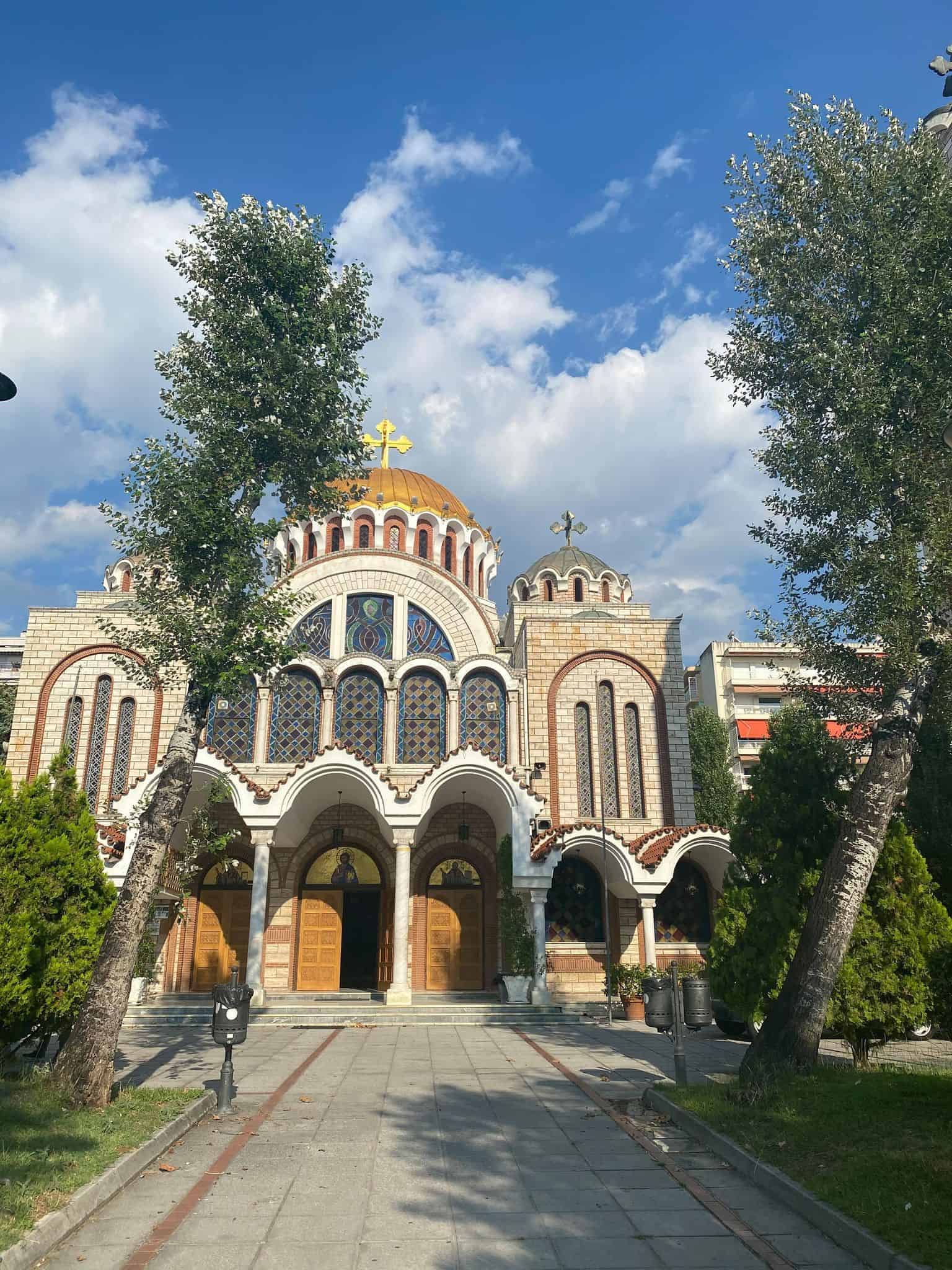 Orthodox Easter celebrations typically take place in either March or April. Like Christian and Catholic Easter, the dates vary every year. 
In 2023, it falls on Sunday the 16th of April, with Easter Monday falling on the 17th.
Greek Easter commences with "Clean Monday". This marks the beginning of the 40-day fast in Greece and a period whereby no animal products should be eaten. 
It is common to eat seafood dishes such as shrimp, octopus, mussels, and crayfish on this day. Many Greeks prepare this at home but as a tourist, you will find plenty of great seafood restaurants where you can eat out and experience this tradition.
As Greeks prepare for Holy Week, they dye eggs red and indulge in a local sweet bread called tsoureki.
You will find this sold in patisseries and bakeries across the country if you are interested to sample it. 
Candlelight processions often take place on Easter Saturday. At this time, locals follow a route through their neighbourhoods to and from their local church. Tourists are welcome, provided they are respectful.
The period of mourning and fasting ends just after midnight on Easter Saturday, Easter Sunday is a day for family and feasting.
Lamb or goat is the meat of choice. Greeks typically prepare it themselves at home by cooking a whole lamb on a spit. Chicken on skewers (kotosouvlaki), cheese pastry cups (kalitsounia), and Greek Easter biscuits (koulourakia paschalina) are other popular dishes. 
Greek Independence Day
Greece is a beautiful country with a complicated and troubled past. The Greeks struggled under Ottoman (Turkish) occupation for centuries and this is something that still affects the relations between the two nations today.
The 25th of March 1821 marked the start of the Greek war for independence and this anniversary is celebrated every year. It wasn't until July 1832 that Greece was finally recognised as a free country.
On the 25th of March each year, parades and celebrations take place all over the country, and in Greek diaspora communities throughout the world. Large Greek flags hang from stores, schools, and government offices and parades take place around the country.
The parade at Athens' Syntagma Square. Marching bands, evzones, and various military personnel march down the streets of central Athens.
There is also usually a military flyover. The celebrations start at 10 am in Syntagma. (Do arrive in plenty of time if you want to watch so that you can secure a good spot!)
International museum and monuments day
The International museum and monuments day will take place on the 18th of May 2023. In order to promote education, learning, and appreciation of global cultures, museums around the world offer free admission on this day.
Greece follows suit and every single museum in the country – from the "New" Acropolis museum to the Benaki Museum is free to enter. (Great to know if you are travelling to Greece on a budget as admission prices can quickly mount up otherwise!)
FAQs about Spending Spring in Greece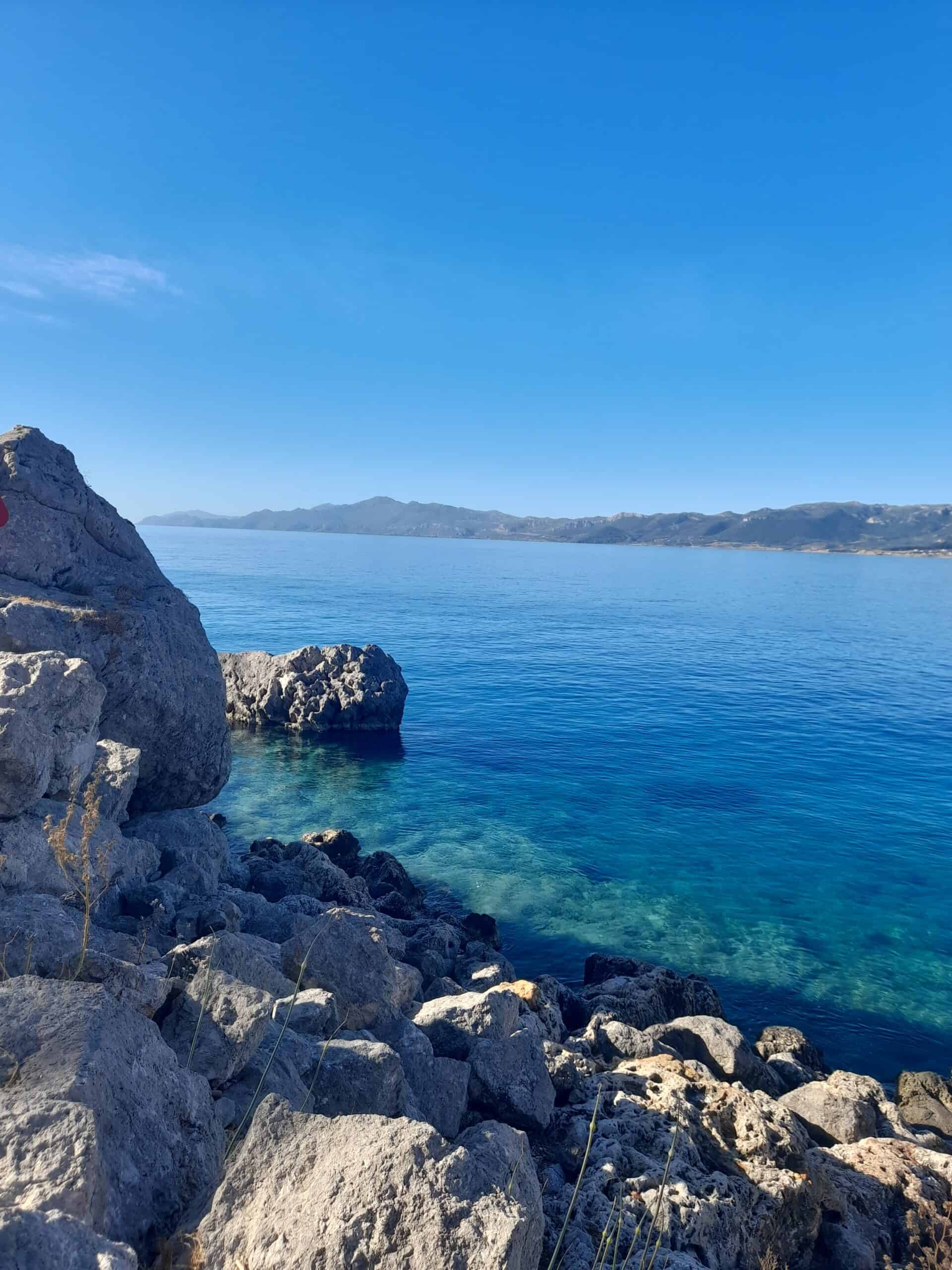 Do you have any further questions about spending spring in Greece? The answers to some frequently asked questions on the topic are detailed below. 
Hopefully, you'll find the information that you are looking for there. If not, please do not hesitate to reach out to me.
What months are spring in Greece?
The months of March, April, and May make up spring in Greece. 
Is spring a good time to visit Greece?
Spring is a great time to visit Greece, particularly if your Greece itinerary revolves around cultural and historical sites and cities. May is also a great time for a Greek island-hopping adventure without the crowds. 
What is Greece like in the spring?
Greece is very pleasant in the Spring. Beautiful wildflowers are in full bloom, the skies are blue and sunny, and the temperatures are mild. 
Final thoughts on visiting Greece in Spring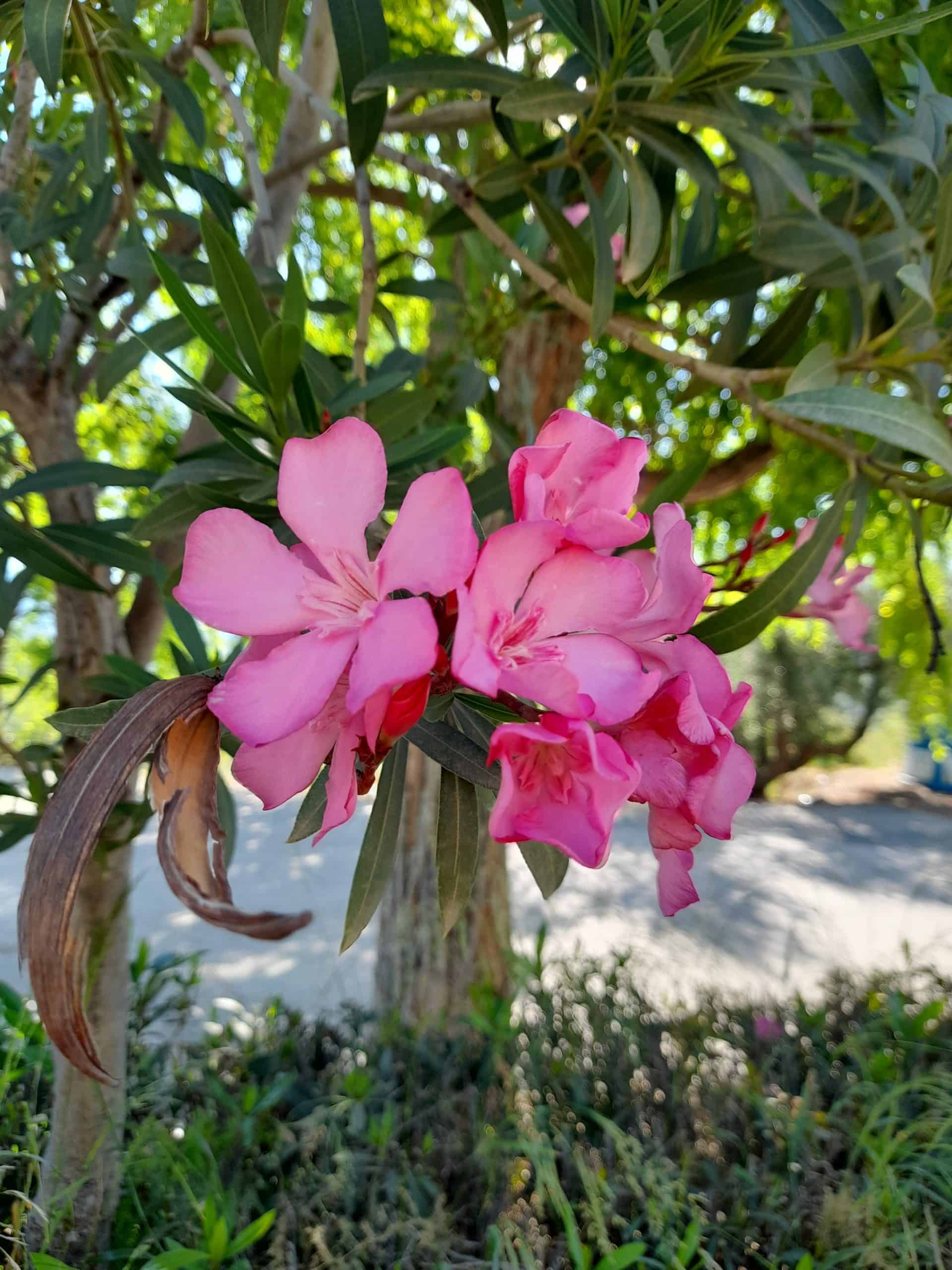 Do you have any additional questions about spring in Greece, or planning a trip to Greece for the first time? While temperatures in Greece in the spring season are not as hot as during the summer, they are much milder than in most parts of Western, Eastern, and Northern Europe. I have lived here since 2017.
I am happy to assist with any queries you may have. Feel free to reach out and I'll get back to you ASAP. 
Safe travels! Geia sou! Melissa xo
---