Greece in February is not the most common time to travel to this beautiful Mediterranean country. However, it isn't a bad time to travel, either. 
Greece does not see warm, sunny climes all year round but its winters are considerably milder than the rest of Europe. February is essentially the coldest month of the year but even so, this is a good period to travel if you are focusing your Greece itinerary on cultural/historical sites. 
Greece in February 
Don't be too quick to rule out visiting Greece in February. Across Europe, this month is synonymous with the idea of grey skies, blistering winds, and dreary, rainy weather. But not in Greece.
Even though there may be more cold and wet days in February in Greece than in other months, the weather is not constantly miserable. Greece has more than 250 days of sunshine a year!
Even on cold winter days, you usually see blue skies. Rain is not constant and showers generally pass quite quickly. If you are in a city like Thessaloniki or Athens and you encounter a particularly unpleasant day, you can easily pass your time at a museum or another indoor attraction.
February is also the time that Apokries (carnival) is hosted in Greece. If you are interested in Greek festivals and local life, this is an interesting thing to participate in.
Apokries (Carnival) in Greece
Apokries in Greece is one of the biggest carnival festivals in all of Europe. Unlike many other Greek festivities, it does not have pagan roots and originated in Italy. 
The season starts around 10 weeks before Greek Orthodox Easter and ends on Clean Monday. Apokries actually means "no more meat". This name is reflective of the festival's purpose of counting down the days of fasting until Easter. 
The highlight and crescendo of Apokries is the huge, vibrant carnival that runs through the streets of Patras at the end of February/early March. However even if your trip to Greece doesn't correspond with these exact dates, you can still enjoy Apokries celebrations.
In the weeks that lead up to the Patras carnival, parties are held across Greece. It is customary to attend these in fancy dress. So, in some ways, you could see Apokries as a Greek Halloween. 
If you happen to be in Athens, head to one of the many bars and clubs in the colourful Gazi district. Apokries parties will be hosted somewhere virtually every night. Other Athenian neighbourhoods often play host to street parties, small parades, and masquerade balls.
Greece in February Weather 
Visiting Greece in February means visiting the country during its coldest month. Generally speaking, the further north you go, the colder it gets.
Athens, the Peloponnese, Southern Greece and Crete are generally milder than, say, Ioannina or Northern Greece. Occasional snowfall is not uncommon and Greece has seen winter snows in recent years (winter 2020, winter 2018).
Daytime temperatures in Greece in February are typically between 10 and 13 degrees celsius. They often drop to as low as 7 degrees celsius at night.
While that is chilly, it's still milder than much of Europe. It is estimated that there is around 60mm of rainfall during the month. Pack your umbrella to be safe, but don't fret too much about bad weather conditions.
Where to Go in Greece in February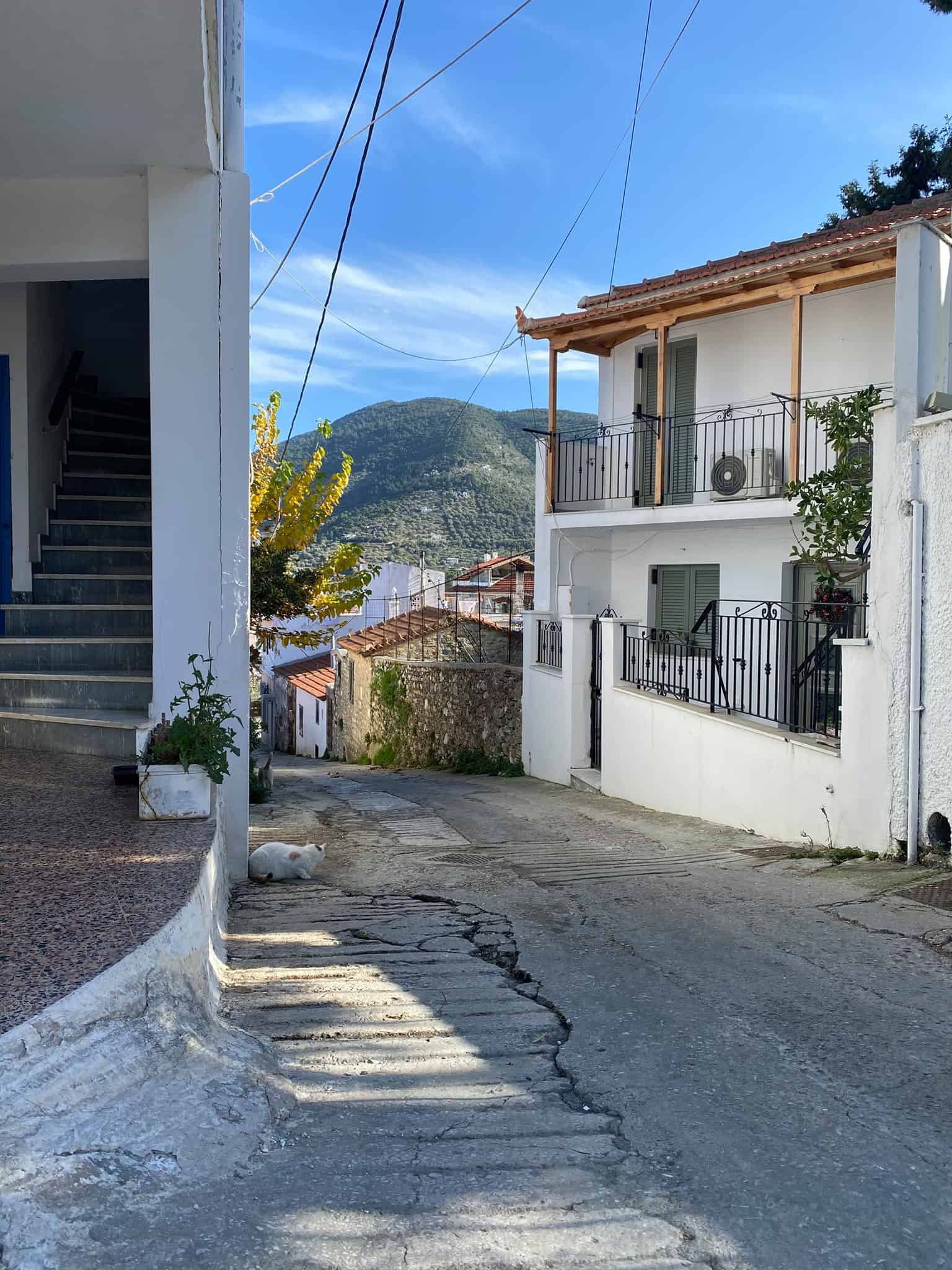 Greece in February is perfect for a Greek city break. Low cost, frequent flights between many European cities and both Athens and Thessaloniki make both cities great places to spend an extended weekend.
Even if the weather conditions don't work in your favour, you will still have plenty to see and do. In Thessaloniki, dine at homely tavernas and innovative fusion restaurants to sample sumptuous Greek cuisine and discover why the city is known as being Greece's "foodie capital".
Check out the 10th century Byzantine White Tower and sip Greek coffee at one of the cute coffee shops that line the Thermaic Gulf. There is plenty to do in Athens, even during storms or rainy days (if you are really unlucky).
Don't miss the Acropolis and its namesake "New" Acropolis Museum, along with the National Archaeological Museum of Athens. Explore the ruins of the Ancient Agora, the Temple of Olympian Zeus, and the Roman Agora.
Part of the charm of visiting Athens is found not just in the globally renowned ruins, but in exploring the city's neighbourhoods. Each Athenian district has its own character and personality.
Kolonaki is the "Beverly Hills of Athens" and its tree-lined streets are lined with elegant boutique stores. Meanwhile, Koukaki is filled with quirky cafes and eclectic themed bars.
Winter tourism in Greece is popular among locals but relatively unknown on an international scale. If you want to experience cute Greek winter villages where you can rent a cabin, cosy up by the fire, and go hiking in pristine nature, consider venturing to the little Vlach settlement of Metsovo, or the gorgeous Central Greece region of Karpenisi.
Advantages of Visiting Greece in February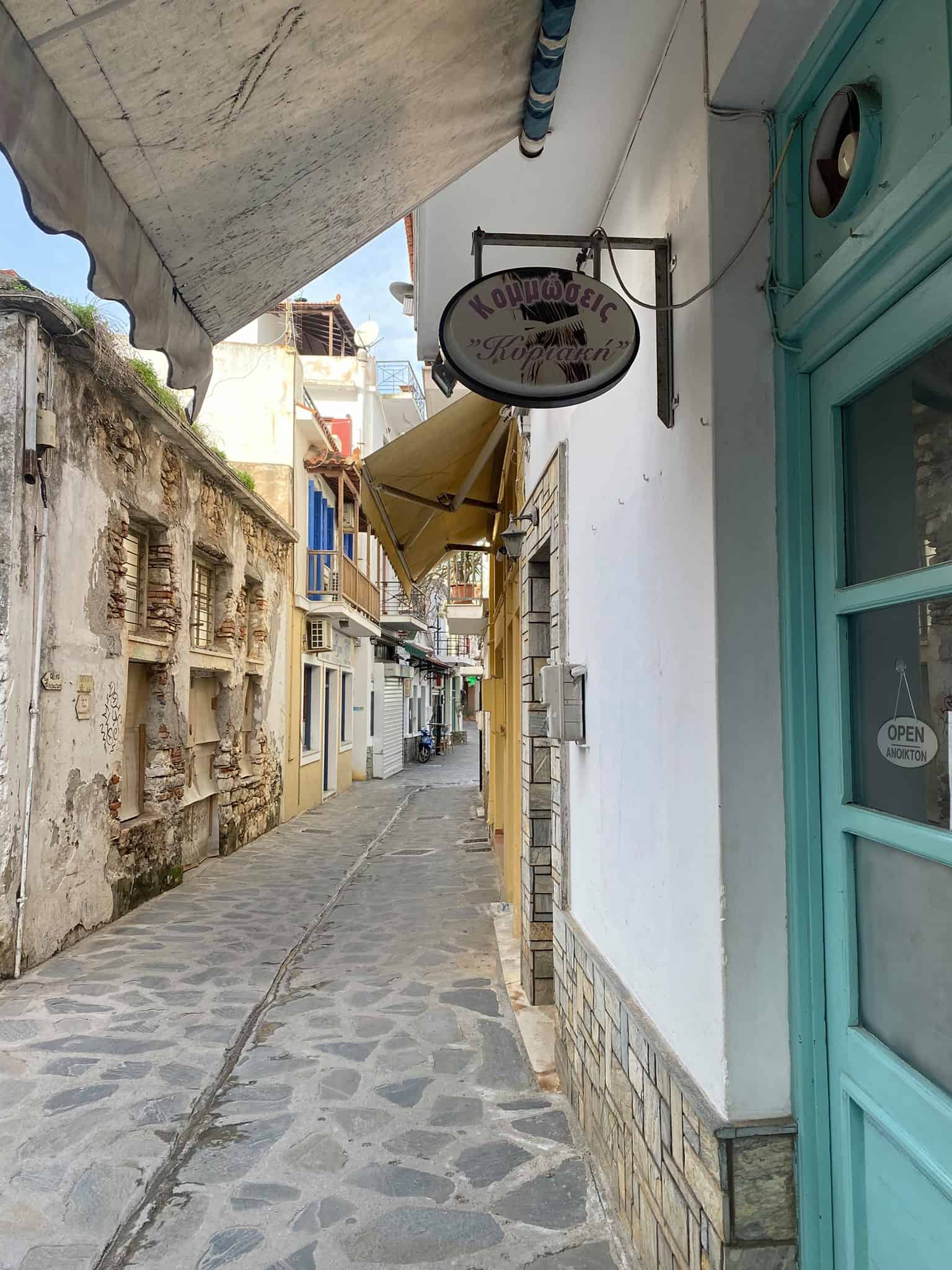 Greece in February may not have the sunny, Mediterranean climes that Greece is famous for but travelling at this time offers other redeeming features. First of all, the country is pretty much devoid of crowds and tourists.
This means that you can visit world-famous sites like the ancient city of Mystras, the Roman Agora in Athens, or the magnificent Acropolis and not have to share them with hundreds of other tourists. Travelling to Greece in February is also significantly cheaper. 
Hotels, flights, tours, and domestic transport are much cheaper during this time. You can expect prices more than 50-60% lower than during the peak summer months.
Admission to certain sites is free on the first Sunday of the month between November and March. This includes many of Athens' main historic sites and museums, in addition to the Temple of Poseidon at Cape Sounion.
---