Greece in February can be a great time to travel, even though it is far from the most common time of year to visit the country. Sure, Greece doesn't see hot temperatures all year round, and this definitely isn't the time of year to travel if you are hoping to island-hop or lounge around on paradisical beaches.
But if you are traveling to Greece for a city break, or you have an interest in history, culture, or hiking, February can be a great time of year to make the trip.
Visiting Greece in February 2023
There are numerous advantages to visiting Greece in February or other winter months. This is the low season which means fewer tourists and lower prices.
Hotels, car rental companies, tours, and flights can be as much as 60-70% cheaper at this time of year compared to July and August. That is great if you are on a budget.
If you are hoping to visit Athens and see the Greek capital's wonderful historical sites such as the Acropolis, the Ancient Agora, and the Temple of Olympian Zeus, you will be pleased to know that you can enjoy these sites without the crowds. Better still, admission to Greek historical sites is free on certain days.
February is also a great time to experience Greek winter tourism which people just aren't aware of internationally. (But which Greeks love).
Rent a cabin in Arachova or Karpenisi and cuddle up by an open log fire while sipping warm mugs of rakomelo. Drive around the towns and villages of Evritania such as Megalo Horio, Mikro Horio, and Proussos, and discover a Greece that the locals have been keeping to themselves.
Greece in February Weather
January and February are the coldest months of the year in Greece. But they are relatively mild by European standards.
Exact temperatures vary from one part of the country to the other. Generally speaking, the further north you go, the colder it gets.
Athens sees an average daytime temperature of 10°C with a high of 13°C and a low of 7°C in February. Meanwhile. Thessaloniki sees a daily average temperature of 6°C with a high of 11° and a low of 2°C.
Crete, Rhodes, and some of the southern Cyclades islands see the warmest temperatures at this time but they are by no means hot. You usually have about 10-11 hours of daylight in Greece in February with sunrise at 7 AM and sunset at 6 PM.
Most days still see clear blue skies. (Greece sees over 250 days of sunshine a year after all!)
Rainy/stormy weather isn't unheard of, so pack an umbrella and a waterproof jacket just in case. Check the weather forecast each day of your Greece itinerary so you know how to dress.
Fortunately, rain spells usually subside quite quickly. After a few hours, they tend to clear up so that you can enjoy the rest of your day.
Does it snow in Greece in February?
Occasional snowfall is not that common but it cannot be completely ruled out either. Greece has seen winter snow in recent years (2018, 2020, 2021, and 2022!)
Where to Go in Greece in February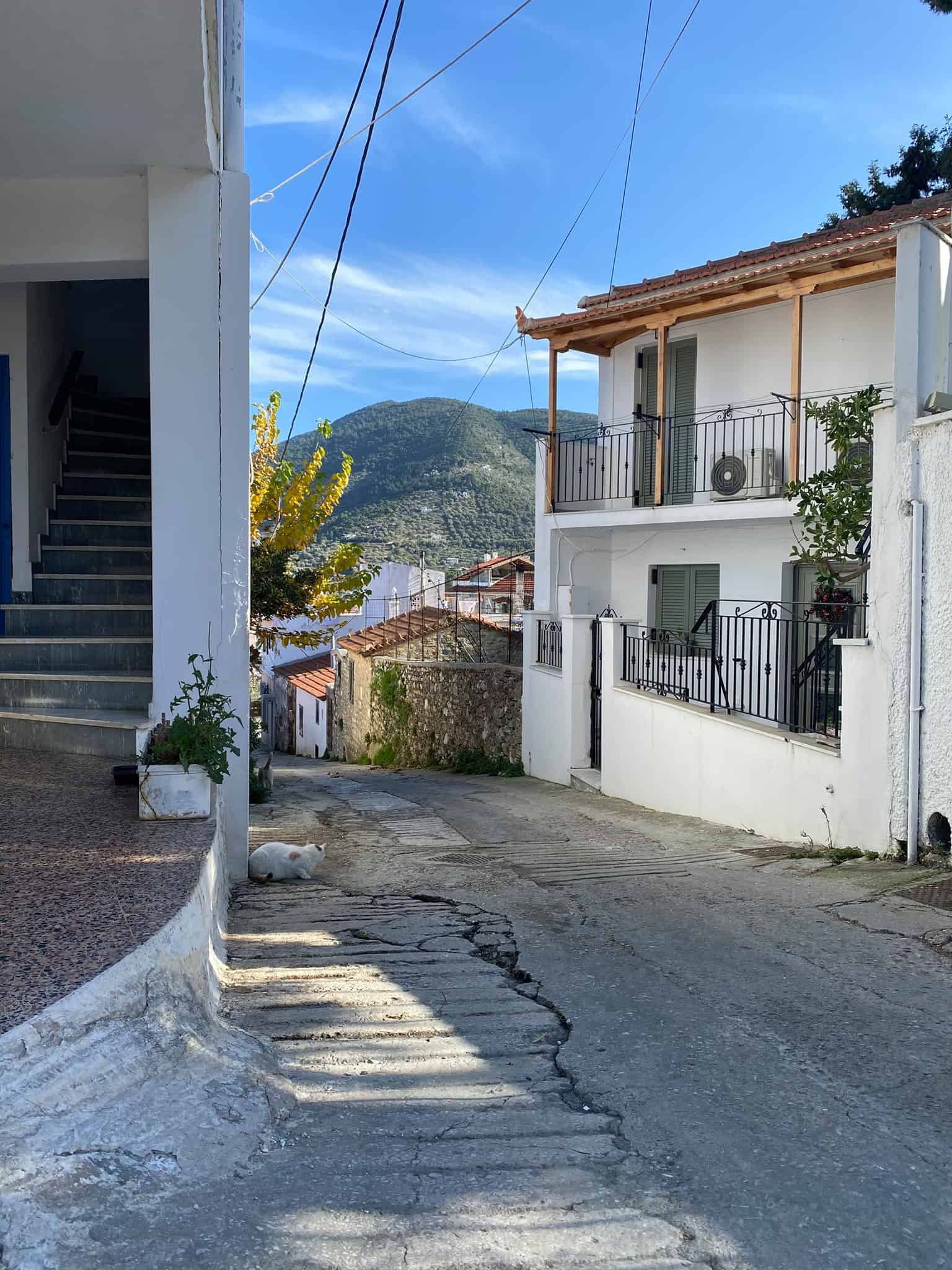 Greece in February is perfect for a Greek city break. Low cost, frequent flights between many European cities and both Athens and Thessaloniki make both cities great places to spend an extended weekend.
Visit Thessaloniki in February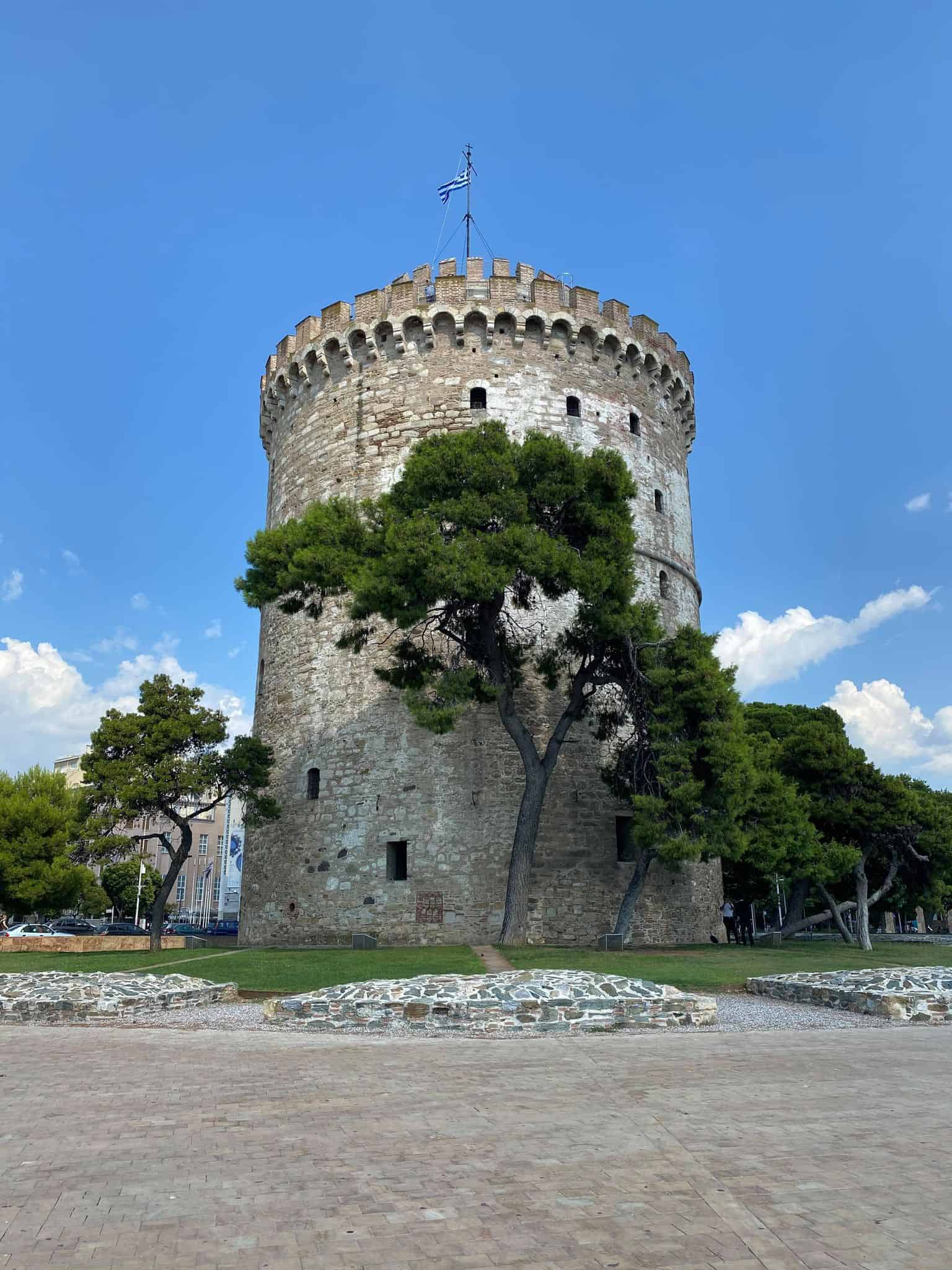 Visiting Thessaloniki in February is a wonderful choice. You don't need hot, sunny weather to enjoy the various activities and neighborhoods that the city has to offer.
Check out the 10th-century Byzantine White Tower and sip Greek coffee at one of the cute coffee shops that line the Thermaic Gulf. From there, set out on foot to explore Ladadika and Ano Poli – two of Thessaloniki's oldest districts that thrived during the Ottoman occupation.
Today, Ladadika is Thessaloniki's main nightlife district. Its narrow cobbled streets are lined with Greek tavernas, bouzouki bars, and clubs.
But centuries ago, this was a marketplace whose stalls specialised in olive oil and other oil products. (Ladadika translates to mean ¨with oil¨)
Ano Poli, with its colorful Ottoman-era houses, is a Photographers' dream. Walk up the steep, hilly streets to the Heptapyrgion Fortress.
This fortress, built during the Byzantine era, has operated as a fortress and a prison over the centuries. From up here, you have incredible panoramas across the city.
Thessaloniki is widely known as Greece's "foodie capital". You will find a plethora of award-winning Thessaloniki restaurants that specialise in serving up regional cuisine from specific parts of Greece, or traditional Greek classics like giouvetsi and fasolakia.
Athens in February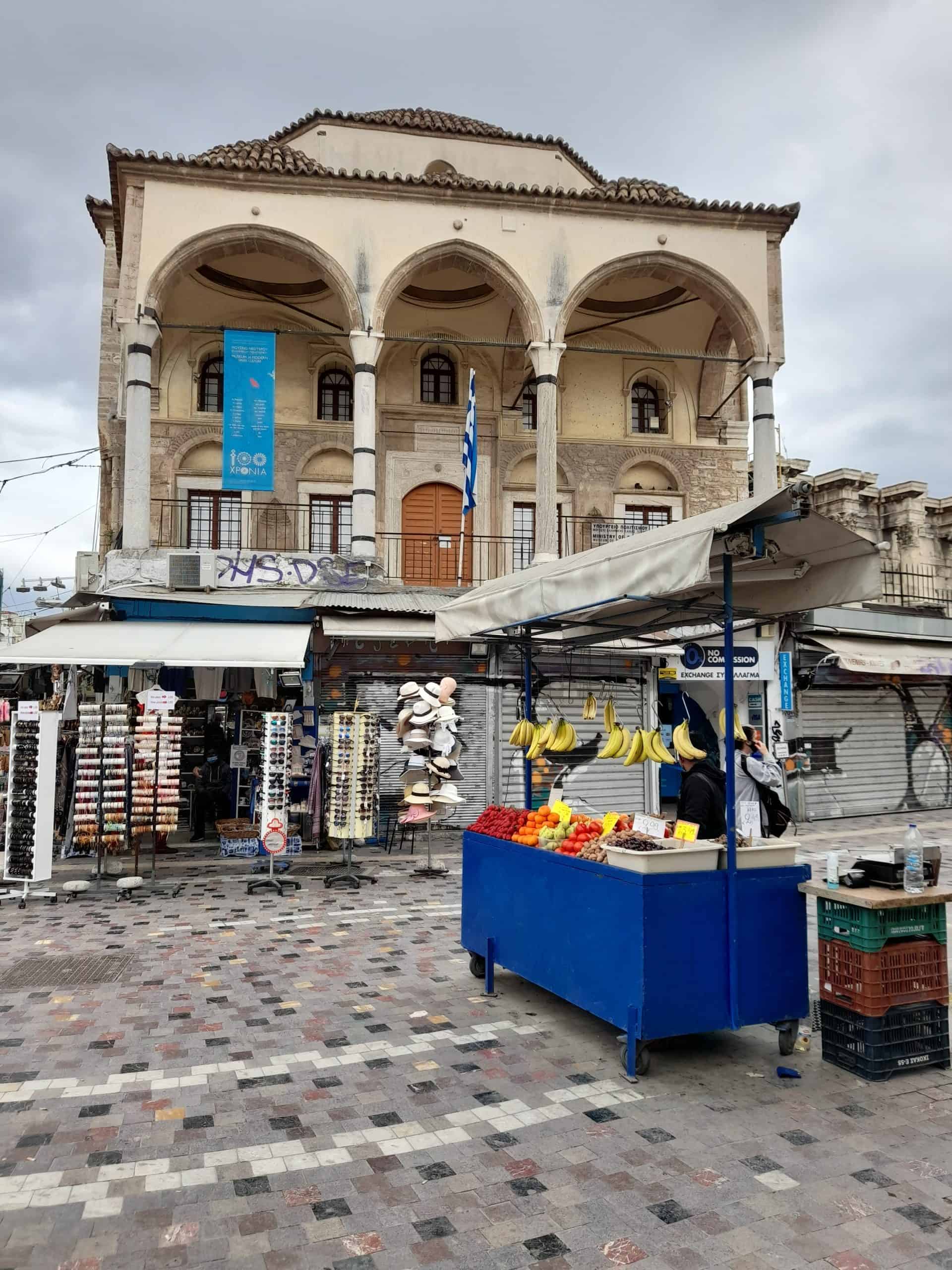 Visiting Athens in February is a wonderful choice. There are plenty of excellent museums that you can visit on a cold or dreary day (more than 100 in fact!)
The Acropolis and its namesake "New" Acropolis Museum must not be missed. Nor should the National Archaeological Museum of Athens.
Part of the charm of visiting Athens is found not just in the globally renowned ruins, but in exploring the various Athenian neighborhoods. Each Athenian district has its own character and personality. 
Start in central Syntagma Square and followed the pedestrian promenade of Ermou street down to Monastiraki and then, Thissio and Gazi.
Kolonaki is the "Beverly Hills of Athens" and its tree-lined streets are lined with elegant boutique stores. Meanwhile, Koukaki is filled with quirky cafes and eclectic-themed bars and is a great place to spend a Friday or Saturday night in the city.
Explore quaint Greek villages
Winter tourism in Greece is popular among locals but relatively unknown on an international scale. If you want to experience cute Greek winter villages where you can rent a cabin and go hiking in pristine nature, consider venturing to the little Vlach settlement of Metsovo.
Situated high in the Pindus mountains less than an hour away from Ioannina, the culture in Metsovo is markedly different from the culture found elsewhere in Greece.
During the 17th and 18th centuries, Metsovo was an important town for wool production. This was traded in nearby Ioannina, across the Balkans, and even as far as Africa!
Metsovo residents speak a local dialect of Vlach and Aromanian, in addition to modern Greek.
Embark on a great Greek road trip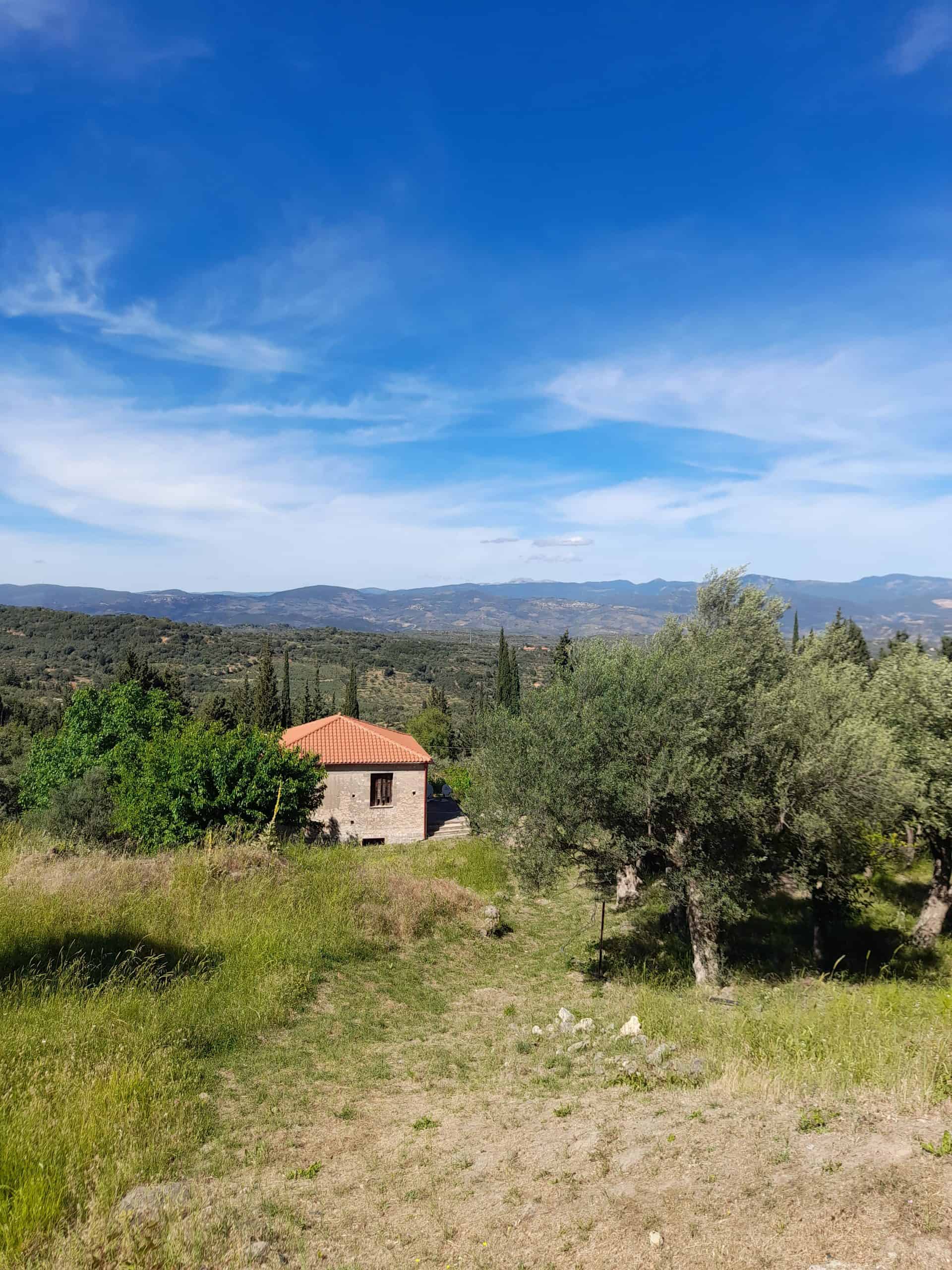 February is a great time for taking road trips around Greece. This is particularly true of visiting areas like the Peloponnese which are simply too hot to fully enjoy during the summer months. Renting a car in Greece is not as daunting as it may sound.
In fact, it gives you a lot more flexibility and allows you to access off-the-beaten-path villages, ruins, and hiking trails that are tricky to get to using public transport. Consider starting in Athens, heading northwest past Corinth, and then spending a few days in Nafplio, the former Greek capital.

Make a brief stop at Epidaurus, home of the annual cultural Epidaurus festival. The site is actually one of Greece's 18 UNESCO world heritage sites. It boasts an impressive temple and a theatre, both of which date back to the 6th century BC.
Continue onwards, spending a night in Sparta, the capital of the Lakonia region of the Peloponnese. Despite the historical significance of Sparta, many of the ruins here have been badly preserved.
Take a brief stroll through what remains of Ancient Sparta, and enjoy the modern city. There are many excellent Greek coffee shops and restaurants in the central square.
Continue onwards to the Byzantine city of Mystras, the quaint village of Pikoulianika, and finally, Monemvasia. 2-3 weeks is plenty of time for this kind of itinerary. However, you could easily spend a month in Greece if your schedule permits.
Festivals in Greece in February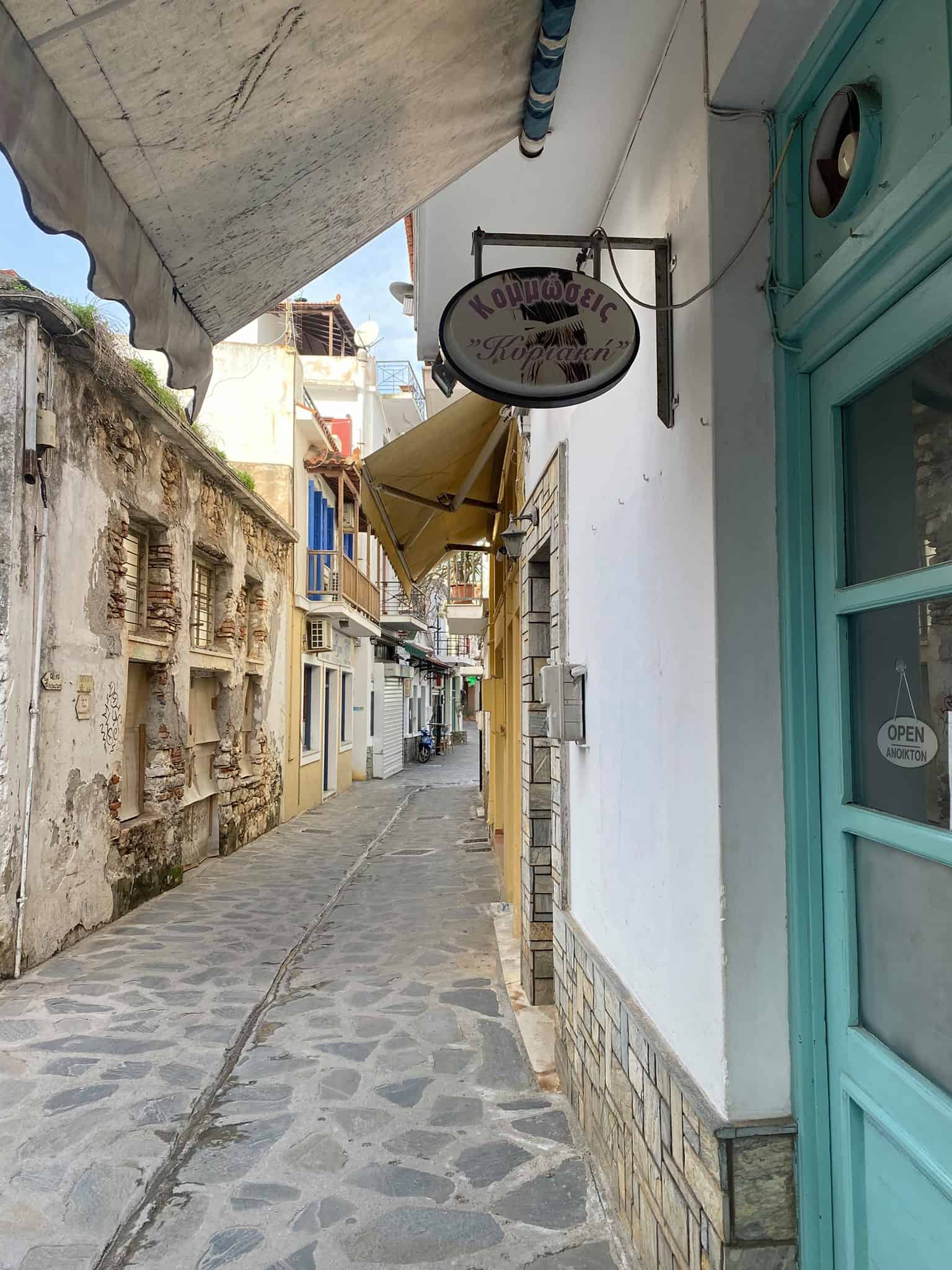 Apokries in Greece is one of the biggest carnival festivals in all of Europe. Unlike many other Greek festivities, it does not have pagan roots and originated in Italy.
The season starts around 10 weeks before Greek Orthodox Easter and ends on Clean Monday. Apokries actually means "no more meat". This name is reflective of the festival's purpose of counting down the days of fasting until Easter.
The highlight and crescendo of Apokries is the huge, vibrant carnival that runs through the streets of Patras at the end of February/early March. However even if your trip to Greece doesn't correspond with these exact dates, you can still enjoy Apokries celebrations.
In the weeks that lead up to the Patras carnival, parties are held across Greece. It is customary to attend these in fancy dress. So, in some ways, you could see Apokries as a Greek Halloween. If you happen to be in Athens, head to one of the many bars and clubs in the colourful Gazi district. Apokries parties will be hosted somewhere virtually every night. Other Athenian neighbourhoods often play host to street parties, small parades, and masquerade balls.
Greece in February FAQS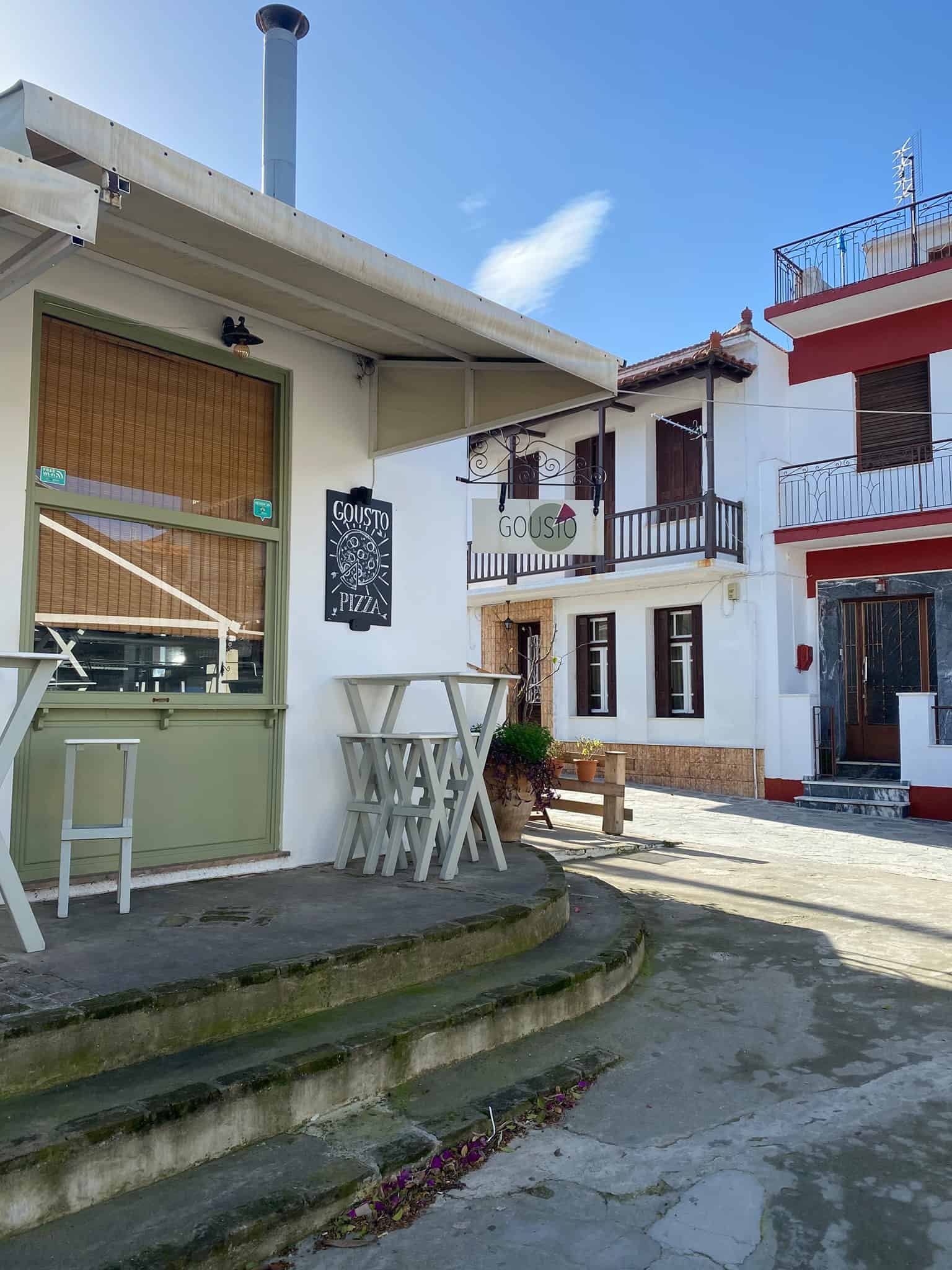 Do you have any further questions or concerns about visiting Greece in February? Hopefully, you will find the answers you are searching for below. 
Otherwise, feel free to reach out!
Can you visit the Greek islands in February?
It is possible to travel to the Greek islands all year round. Ferry services run from the islands to the mainland even during the winter season. After all, people live permanently on these islands.
With that being said, it is important to note that ferries operate on far more limited schedules in the winter as compared to the summer months. Services run daily from the mainland to some larger islands (for instance from Athens to Rhodes, or Athens to Santorini).
However, to more remote islands, like Skopelos or Alonissos, they only run a couple of times per week.
Do keep in mind that Greek island tourism is seasonal and the main tourist season runs between May and September. Many restaurants and hotels close for the season after September and the employees return to the Greek mainland for the winter.
Visiting Greek islands out of season can be a very different experience
Which is the hottest Greek island in February?
Honestly, none of the Greek islands are hot in February. While it is technically true that the further south you go the warmer it gets, nowhere is actually hot.
The Cyclades, Crete, and the Dodecanese are the warmest Greek islands in February. However, you still need to pack layers and prepare to wear coats and jackets.
As a reference, in Heraklion (the capital of Crete), you can expect an average daytime temperature of between 12°C and 15°C.
Do tourist sites have different winter admission times?
If you travel to Greece in February, you will find that a lot of archeological sites, ruins, and museums have different opening times than they do during the summer months. Most places tend to close earlier, generally because it gets dark earlier in winter.
For example, most Athens archeological sites are open from 8:00 am until 19:00 pm during the summer. In the winter, they are open from 8:00 am and 17:00 pm.
Since admission times will vary from one attraction to another, it is always worth doing a quick Google search to check the opening times for the day that you plan to visit. The last entrance to a site is usually allowed between 30 and 60 minutes before closing time.
Can you swim in Greece in February?
All over Greece, you will often see some brave Greek souls taking a dip in the beaches near Athens or on Greek islands in February. However, it certainly isn't warm and isn't for everyone!
The average sea temperature at this time is around 15°C.
Admission is free to historical sites on certain days
Admission to certain sites is free on the first Sunday of the month between November and March. This includes many of Athens' main historic sites and museums, in addition to the Temple of Poseidon at Cape Sounion. 
Is it worth going to Athens in February?
It is well worth visiting Athens in February. Most of the Athens hikes, museums, historical sites, cultural performances, and landmarks do not require hot weather to be enjoyable.
Is Feb a good time to visit Santorini?
Most businesses will be closed in Fira and Oia in February and there will be a limited number of hotels in operation through the winter season. Still, Santorini is beautiful all year round, and traveling out of season enables you to escape the chaotic summer crowds.
Conquer the Fira to Oia hike, watch a magical Santorini sunset, and sample the local wines made in Santorini vineyards.
What to pack for February in Greece
You need to incorporate lots of layers into your Greece packing list if you are planning on spending February in Greece. It does get cold, especially at night and in the northern parts of the country.
So, sweaters, jackets, coats, and scarves are a must. The most important thing is to wear layers.
While it is cold, it is usually sunny during the daytime and sometimes you can get hot while you are walking around sightseeing. So, be sure to pack cardigans and jackets that you can easily put on and take off.
Final Thoughts on visiting Greece in February
Have you travelled to Greece in February? What did you think?
How would you compare travelling at this time of year to travelling during the Greek summer months? If you are visiting Greece for the first time, you may also be interested in this post on planning a trip to Greece.
I have been living in Greece since 2017, so can share plenty of insight.
Have a wonderful trip to Greece! Geia sou, Melissa xo
---