Spending one month in Greece is a great way to uncover more of this beautiful country than is typically possible on a standard one-week holiday. This may be a possibility for you if you work remotely, are taking a sabbatical from work, or your employer is allowing you to consolidate all of your vacation days.
Getting around Greece too is much easier than you may think. Public transport links are excellent – particularly when it comes to buses and ferries. Albeit booking the latter can sometimes be quite confusing.
One Month in Greece: Suggested Itineraries
In one month in Greece, you can cover a lot of ground. Even if your dream destinations lead you on an obscure, higgledy-piggledy route through the country, travel times are never extortionate. Long bus and train journeys through even the most random offbeat parts of Central Greece are all part of the experience and the scenery along the way is phenomenal.
Truthfully, there are an infinite number of options and variables available to you when choosing to spend a month in Greece. You might want to cover as much as possible, spending one or two days in each place and having a wealth of experiences.
Alternatively, you might wish to base yourself in one city or island for the entire month. It all comes down to personal preference.
A few options are detailed below. These are not exhaustive. However, hopefully, they will provide you with a little food for thought.
Base Yourself on a Greek Island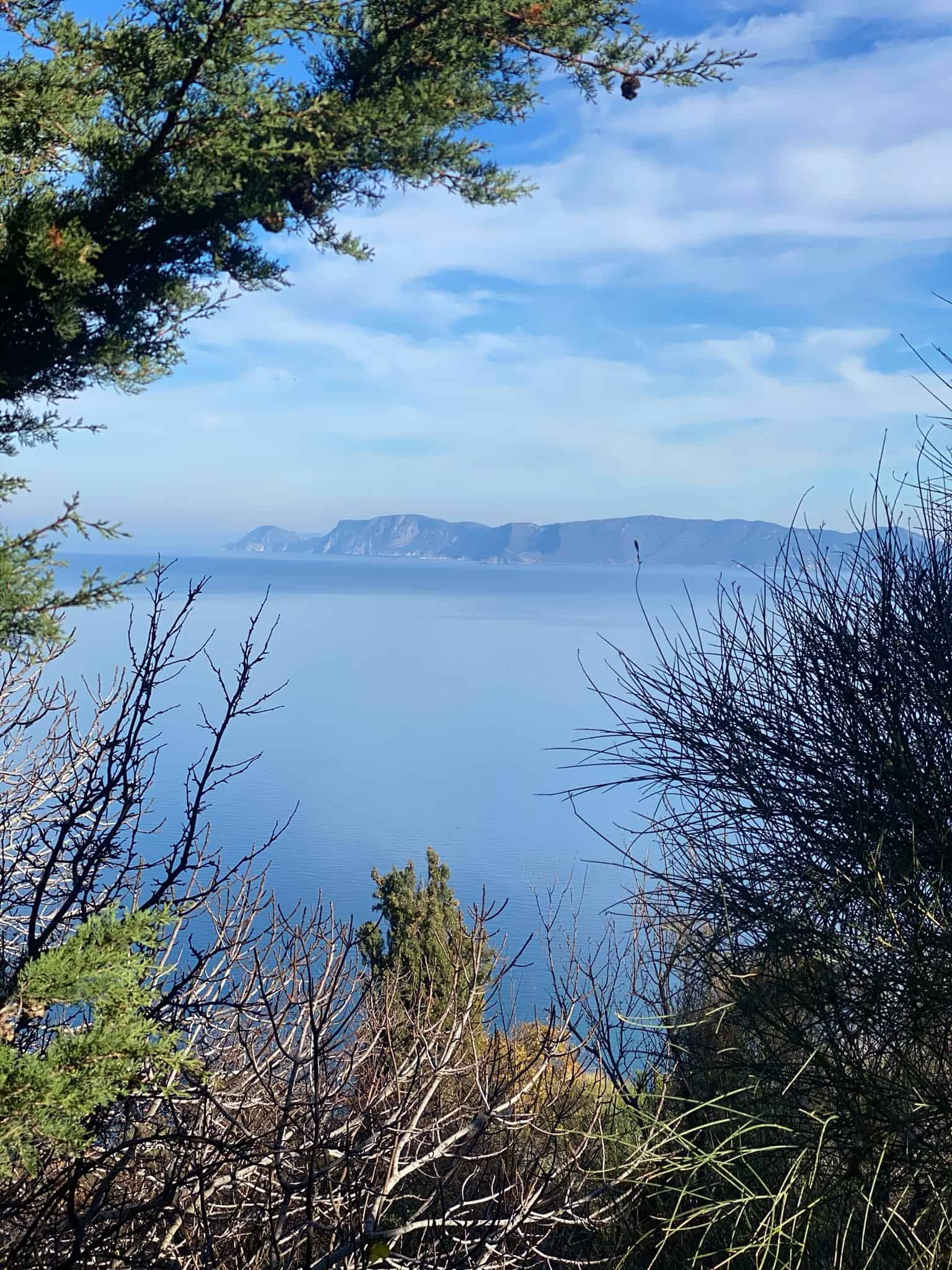 Few things are more rewarding than slow travel, and really getting beneath the surface of a place. Island hopping in Greece is fantastic. However, you may be surprised by how much there is to do on even the smallest and most remote islands.
Take Skopelos island as an example. "You can do it in 2-3 days" Most tourists will assure you.
While it's true that you may be able to see most of Skopelos' beaches and highlights in a limited period, the island has so much more to offer. You could spend an entire month based in Skopelos town and venture out to the island's various villages, hiking trails, and monasteries from there. You still wouldn't see a fraction of everything there is to see.
This rings true from many Greek islands. Skiathos, Spetses. Naxos. Folegandros. Rhodes. Basically anywhere.
Basing yourself on an island for an extended period allows you to really get a feel for the local way of life – particularly if you are travelling during the off-peak or shoulder seasons. You will get to know the islanders and ex-pats, and may be fortunate to be invited along to quintessentially Greek festivals and celebrations.
This is also a great opportunity to practice your Greek language skills if you are interested in learning Greek. English is widely spoken throughout Greece.
However, when it comes to more remote islands, less so. This means that if you wish to really get to know the locals and have a conversation of substance with them, you need to speak Greek.
Use Thessaloniki as Your Base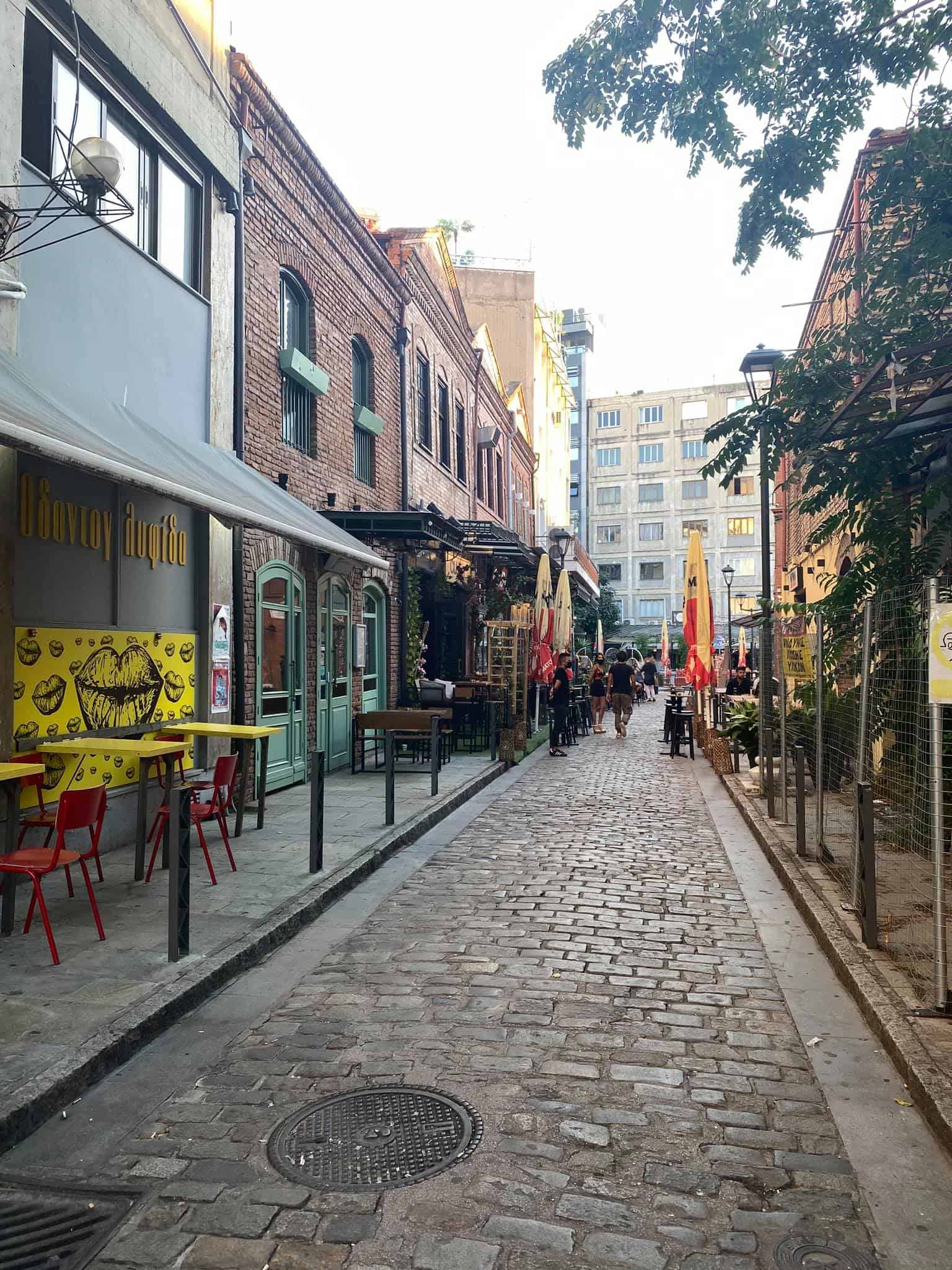 Thessaloniki is Greece's second city. However, in spite of that, it has something of a small-town charm.
Thessaloniki itself is worthy of several days of exploration. Better still, the city is a perfect base for travelling out to Halkidiki, the villages of Central Macedonia, Western Macedonia cities like Kastoria, Mount Olympus, and Kalambaka/Meteora.
In fact, most of these places can be reached within a few hours of travel. Being a city, Thessaloniki is an excellent year-round travel destination.
Thessaloniki Highlights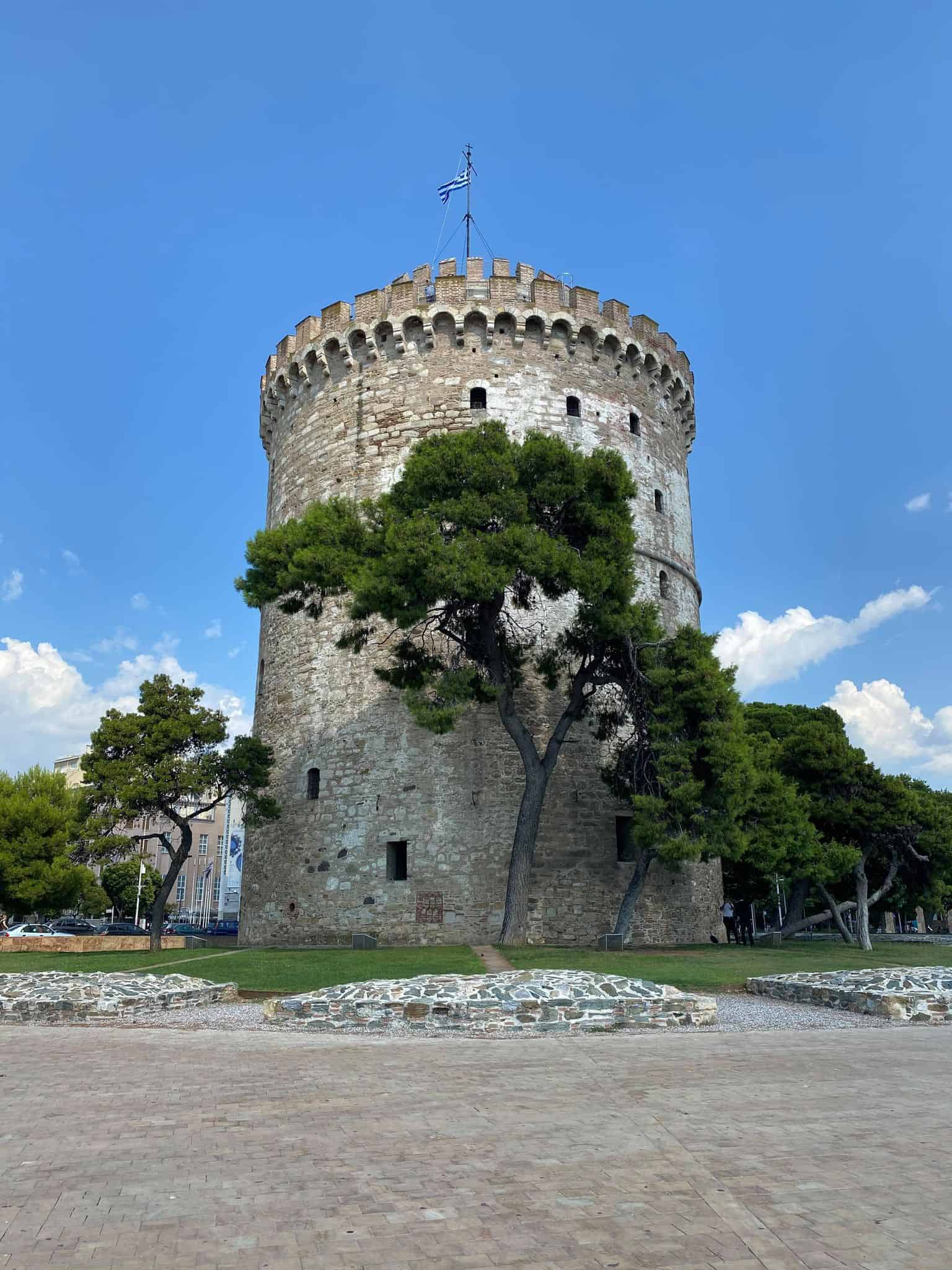 Thessaloniki was a place of strategic importance during the days of the Ottoman Empire. This is evidenced by the existence of several historic mosques and hammams (Turkish bathhouses) that are scattered throughout the city and act as interesting waypoints during your exploration.
Many of Thessaloniki's neighbourhoods too have been inhabited for thousands of years. Take Ladadika for example.
Today, this is the city's premier dining and entertainment district. Yet historically, this was a bazaar. Similarly, the narrow, higgledy-piggledy streets of old Ano Poli are filled with colourful Ottoman-era houses.
Spending a month in Thessaloniki enables you to really get a feel for Greek city life. Envisage mornings spent drinking Greek coffee overlooking the Thermaic Gulf, and afternoon walks through upscale Kalamaria and the beach town of Peraia.
Finding a Monthly Base in Thessaloniki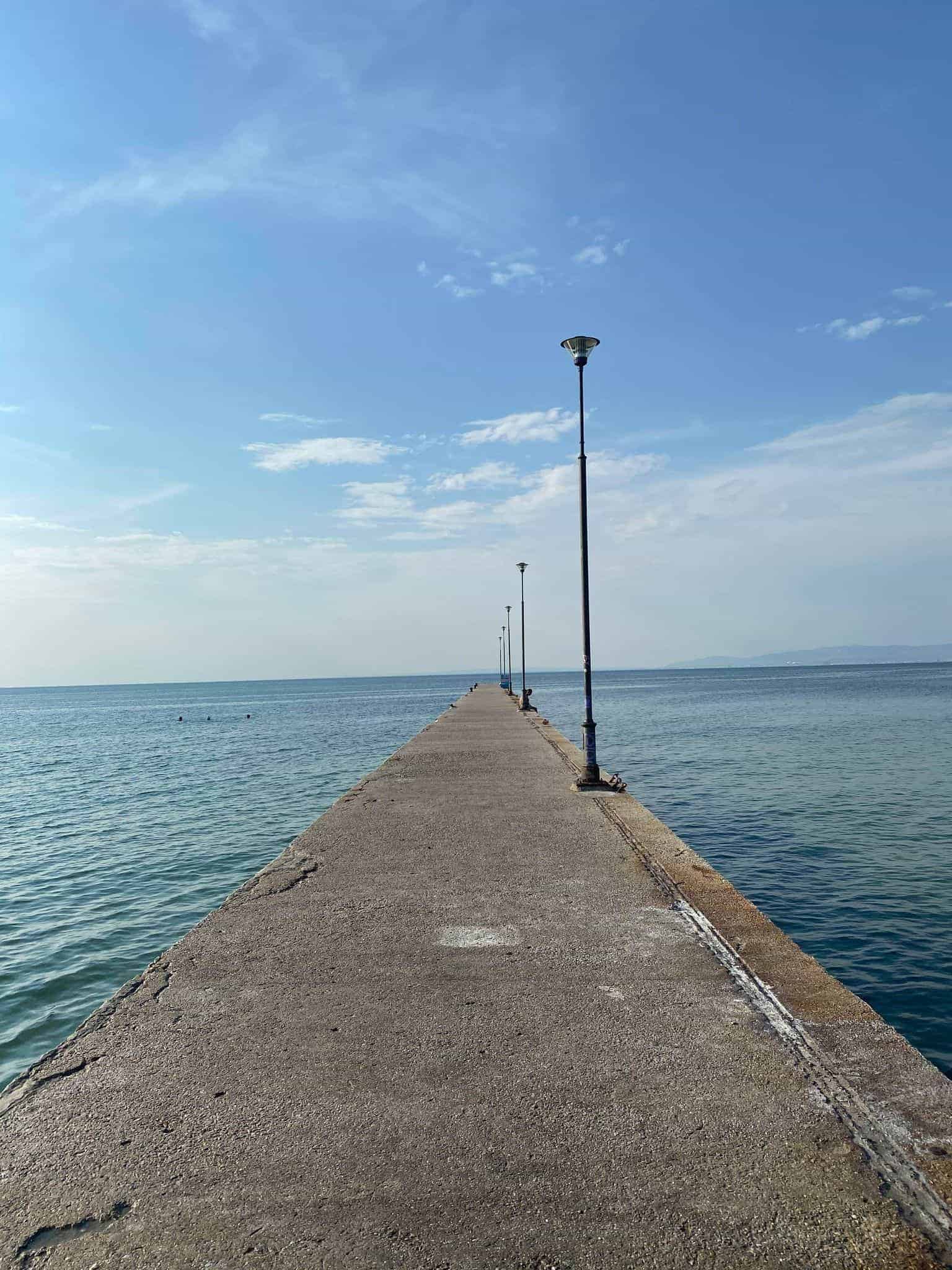 Basing yourself in Thessaloniki for a month is a good option for exploring the Macedonia and Thessaly areas of Greece. Doing so also enables you to take advantage of certain accommodation discounts.
For instance, many accommodation rental websites such as Airbnb offer monthly discounts. These can often be as much as 50% lower than the typical price based on nightly rates.
Similarly, many locals and ex-pats in Thessaloniki may have a property that they will be willing to rent out for a month. You can find these on many Greece travel and ex-pat Facebook groups. Generally speaking, you ought to be able to find a place for the month for less than € 500. This is particularly the case when travelling outside of summer.
Embark on a Thessaly and Macedonia Adventure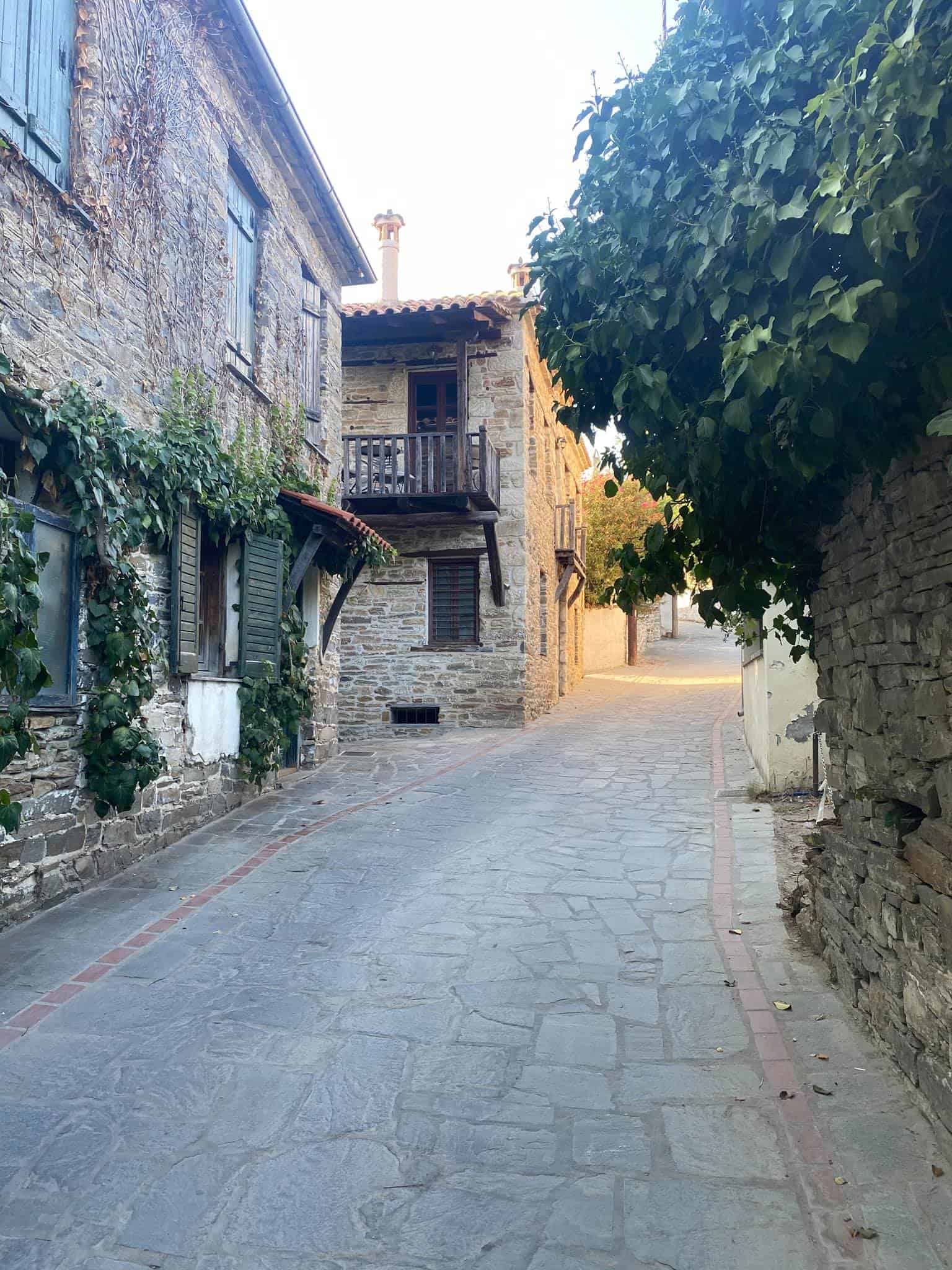 Basing yourself in one place in Thessaloniki for a month is one way to explore the Thessaly and Central Macedonia regions. However, if you prefer to embark on a road trip style adventure, you have a few options.
If you are interested in history, culture, and archaeological sites, the northern part of Greece has various notable attractions that are often overlooked. For instance, Ancient Pella, the birthplace of Alexander the Great.
Differently, if you prefer a summer beach getaway, this region has plenty of options for a relaxing break too. Thessaloniki makes an excellent jumping-off point for exploring the villages and beaches of Halkidiki.
A selection of suggested itineraries for spending a month in this part of Greece are detailed below. This is not exhaustive, and you could essentially chop and choose destinations as preferred.
Cultural and Historical Highlights of Northern Greece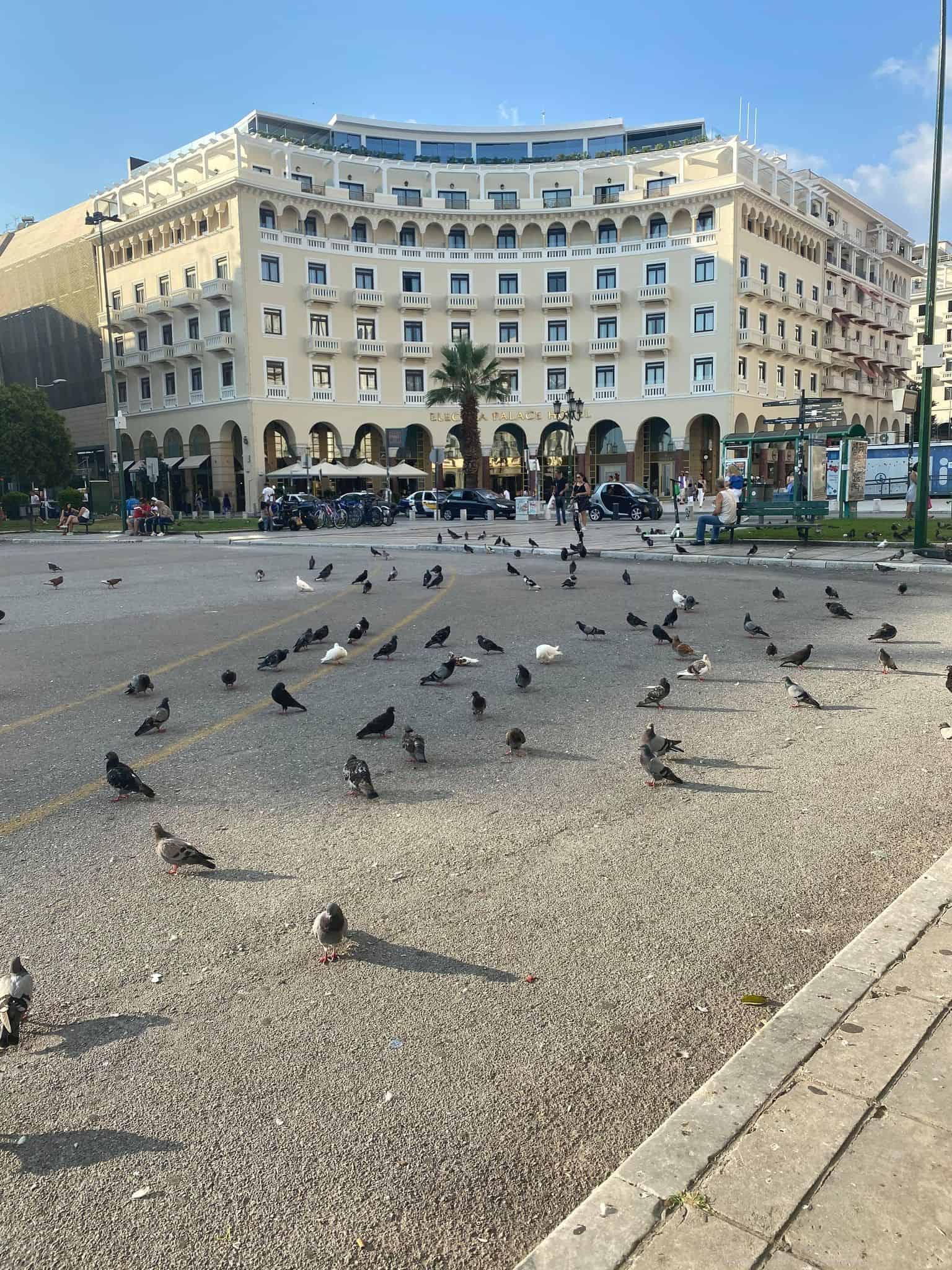 Thessaloniki – 4 days


Kerkini Lake and Serres – 2 days


Vergina – 1 day


Veria – 1 day


Naousa – 1 day


Edessa – 1 day


Ancient Pella – 1 day


Mount Olympus – 2 days


Dion Archaeological Park – 1 day


Kalambaka and Meteora – 2 days


Trikala – 2 days


Ioannina – 3 days


Metsovo – 2 days


Zagori Villages – 5 days
Find Summer Sun in Thessaloniki and Halkidiki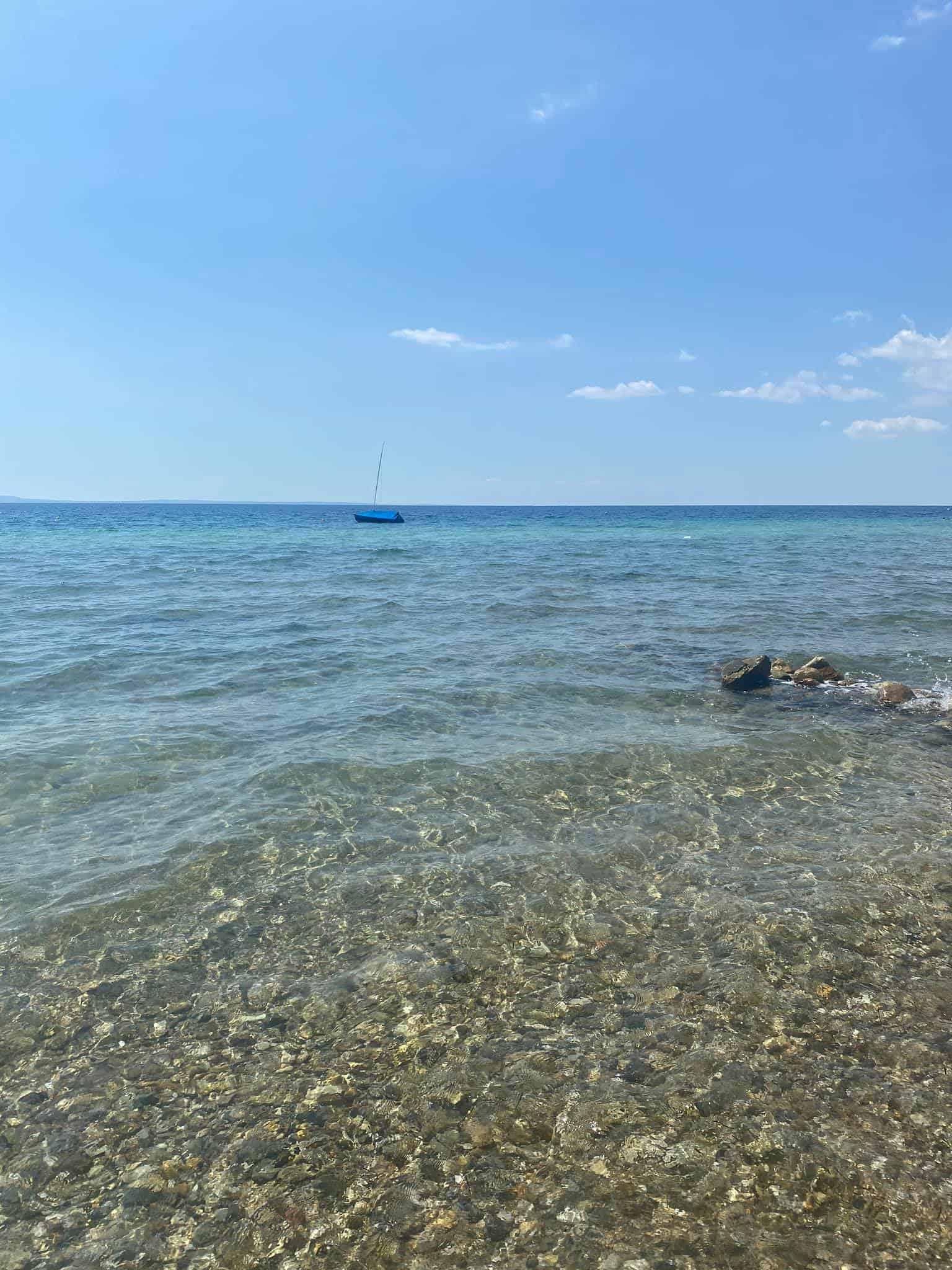 If you are considering spending a month in Greece during the summer, coastal Halkidiki makes a nice escape from the concrete jungle of Thessaloniki. This region may well be one of the most underrated areas in all of Greece.
The Greek islands steal the show as far as paradisiacal Greek beaches are concerned. However, Halkidiki also has its share of gorgeous coastlines with blue flag beaches and translucent turquoise waters.
The Three Peninsulas of Halkidiki
The area of Halkidiki consists of three "prongs" of land that jut out into the sea like Poseidon's trident. Mount Athos is the first peninsula: an autonomous holy region that is home to the largest Monastic community in Europe.
Female travellers are not permitted to visit Mount Athos, and indeed even male adventurers will find it difficult to obtain a permit. However, it IS possible to visit the nearby town of Ouranoupoli and take a glass-bottom boat which takes you around the Athos coastline. You can combine this trip with an adventure to gorgeous Ammouliani island.
Kassandra and Sithonia are the second and third legs of Halkidiki. They boast both popular resort towns and charming traditional villages.
You may wish to consider renting a boat (a license is not required) and sailing out to some of the area's uninhabited islands such as Diaporos. If spending a month between Thessaloniki and Halkidiki interests you, you have a couple of options.
You may wish to move accommodation every few days. Alternatively, you may wish to stay in Thessaloniki for a week or so, and then rent a villa or a house in a specific Halkidiki village and then use it as a base to explore the wider area.
A Suggested One Month Route for Thessaloniki and Halkidiki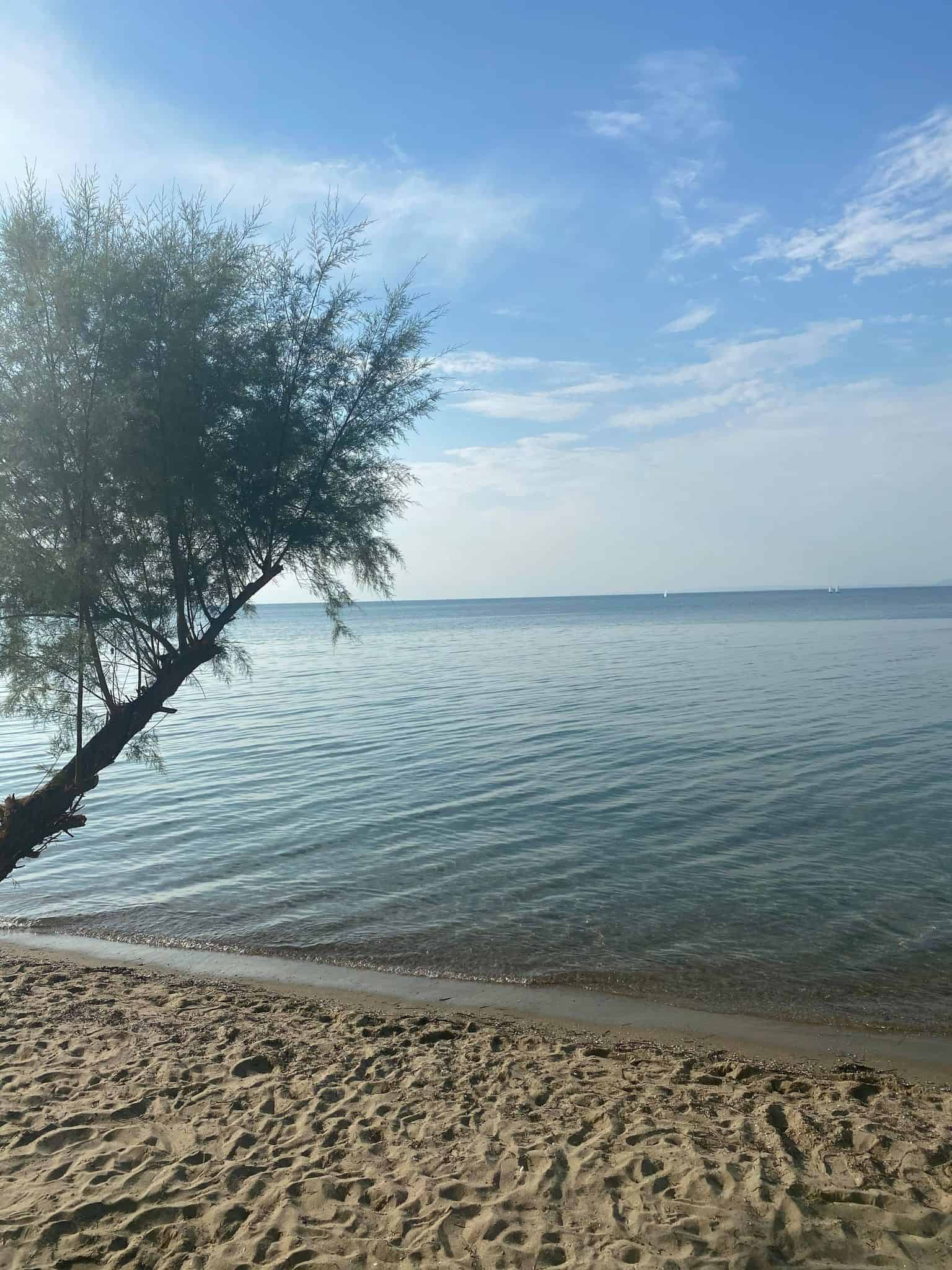 Thessaloniki – 4 days


Kerkini Lake and Serres – 2 days


Ancient Pella – 1 day


Mount Olympus – 2 days


Meteora and Kalambaka – 2 days


Ouranoupoli and Mount Athos – 1 day


Ammouliani island – 2 days


Vourvourou – 2 days


Diaporos Island – 1 day


Nikiti – 2 days


Parthenonas and the Sithonia Mountains – 3 days


Porto Koufo – 3 days


Afitos – 3 days
Spend a Month in Athens
Athens is a great place to base yourself for your month in Greece. The Greek capital is largely underrated. Most people only spend a day or two here on their way to the islands nearby.
While Athens may, at surface level, appear a lot grittier than a lot of European capitals, it has a lot more to offer than initially meets the eye. Greek landmarks such as the ancient Acropolis, the Ancient Agora, and the Panathenaic Stadium may well be part of the main draw for visiting Athens. Yet it is the various Athenian neighbourhoods that steal the show.
Athens Highlights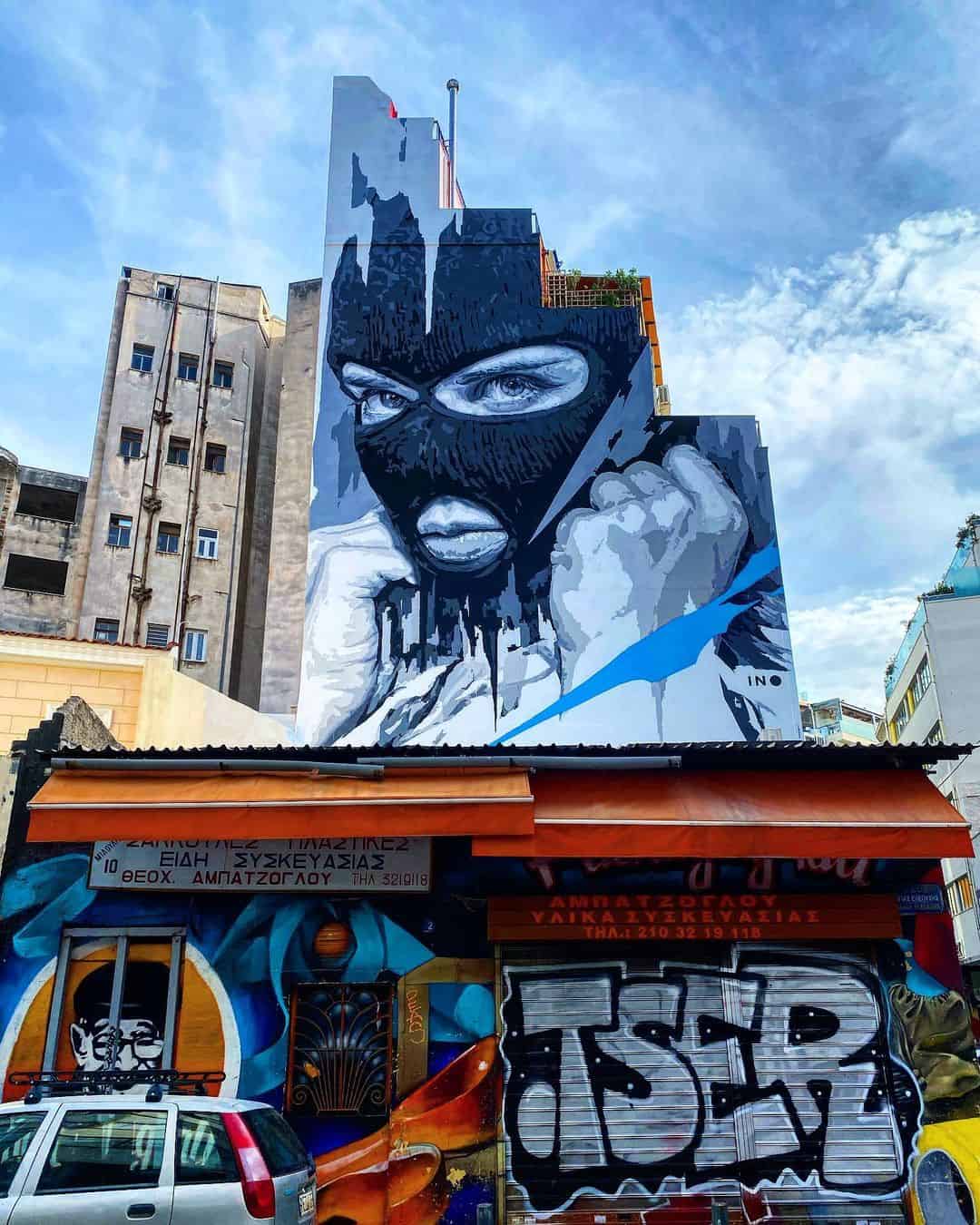 Each of Athens' various districts has its own distinct personality and charm. For instance, Exarchia is known for its rock bars, live music joints, and thought-provoking street art.
Pagrati is to Athens what Greenwich Village is to New York. This frequently overlooked district boasts quirky coffee shops, independent art galleries, and vintage clothing stores.

Kifissia and Kolonaki are the places to venture to for upscale shopping. Meanwhile, Psiri is known for its raucous nightlife and antique stores.
Adventures Close to Athens
Athens is a great base for exploring much of southern and mainland Greece. Many of the country's main historical and archaeological points of interest can be reached in a matter of hours on a day trip from Athens.
The upscale Athenian Riviera and the chic beach towns of Glyfada, Voula, Vouliagmeni, Vari, and Varkiza offer some nice respite from the hustle and bustle of city life. Cape Sounion and the infamous Temple of Poseidon are just an hour away from Central Athens, and so too are the healing waters of the brackish Lake Vouliagmeni.
Suggested Route for A Month in Athens and the Surrounding Areas
Athens – 7 days


Glyfada – 1 day


Voula, Vouliagmeni, Vari – 3 days


Lake Vouliagmeni – 1 day


Cape Sounion and the Temple of Poseidon – 1 day


The Saronic Gulf Islands (Hydra, Poros, Aegina, Agistri, Spetses) – 8 days


Mount Parnitha hiking – 2 days


Delphi – 1 day


Kalambaka & Meteora Monasteries – 2 days


Nafplio – 2 days
Final Thoughts
Do you have any additional questions or queries about spending a month in Greece or planning a Greece holiday? Please don't hesitate to reach out to me. I have lived here since early 2017.
Leave a comment in the box below if you need anything and I will get back to you as quickly as I am able to. Safe travels! Melissa xo
---