There are lots of lovely Greek islands close to Athens that offer a little respite from the hustle and bustle of the chaotic capital.
Of course, "close" is somewhat subjective. A number of the Greek islands mentioned below await just one or two hours away from Athens. It is possible to board a boat from Piraeus port in the morning, spend your day on a paradise island, and be back in Athens for evening drinks.
Other Greek islands are easily accessible from Athens, yet they do necessitate an overnight stay as they are a little farther out. The Greek islands in this post have been broken into categories depending on their distance (because I'm majorly type A like that).
Greek Islands Less Than 2.5 Hours Away From Athens
The Greek islands close to Athens that can be accessed within 2-3 hours float in the Saronic and Argolic Gulf. These are popular weekend getaways for Athenians, and can also be enjoyed as part of a Saronic Gulf sailing itinerary if you have a little more time to spare.
Hydra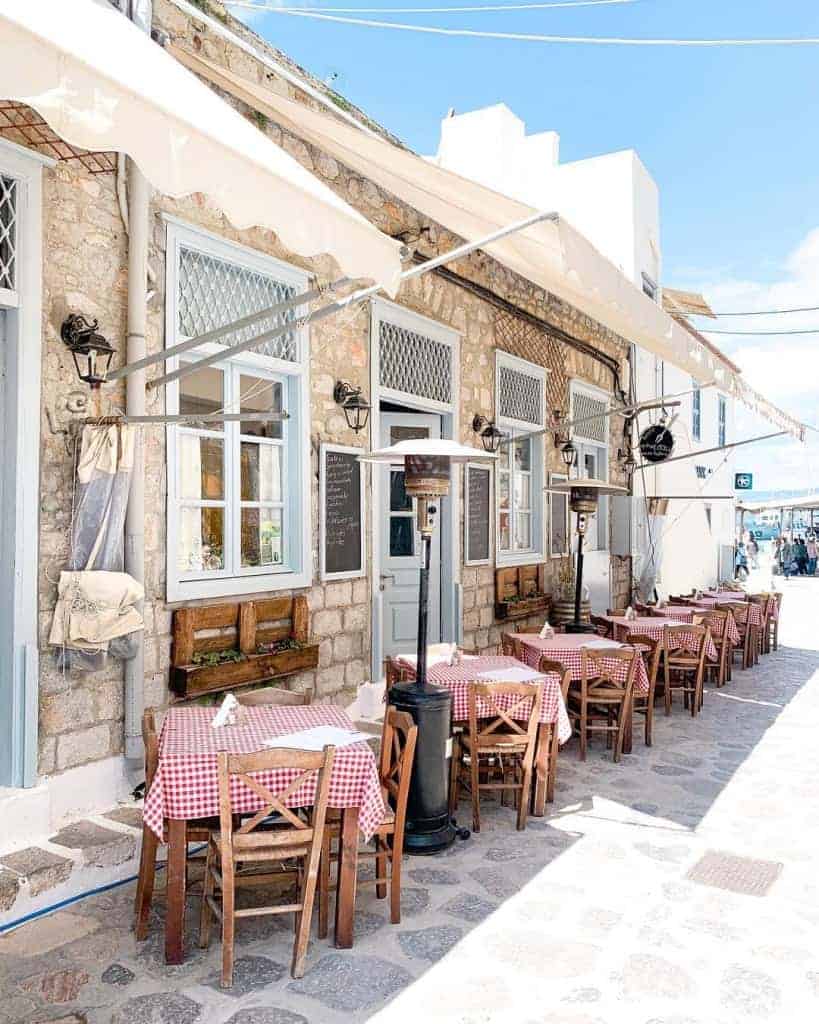 The lovely little island of Hydra can be reached within just 90 minutes from Athens. This is one of the most popular day trips to take from Athens and for good reason – Hydra is a delight! Travelling to Hydra feels somewhat like adventuring back in time. There are no cars on the island and people get around by bicycle or horses.
The port at Hydra is widely regarded as being one of the most beautiful in all of Greece. Spend some time exploring the narrow little cobbled streets and passageways of Hydra that are so neatly intertwined. Many charming artisan workshops and independent boutique stores are tucked away down secret passageways.
To avoid the crowds, follow the coastal path to the fishing villages of Kamini and Vlychos. Boats depart from Piraeus to Hydra from as early as 6.30 am. Get an early boat, spend a day on the island, and get back to Athens for supper if you want to avoid paying for a hotel.
Spetses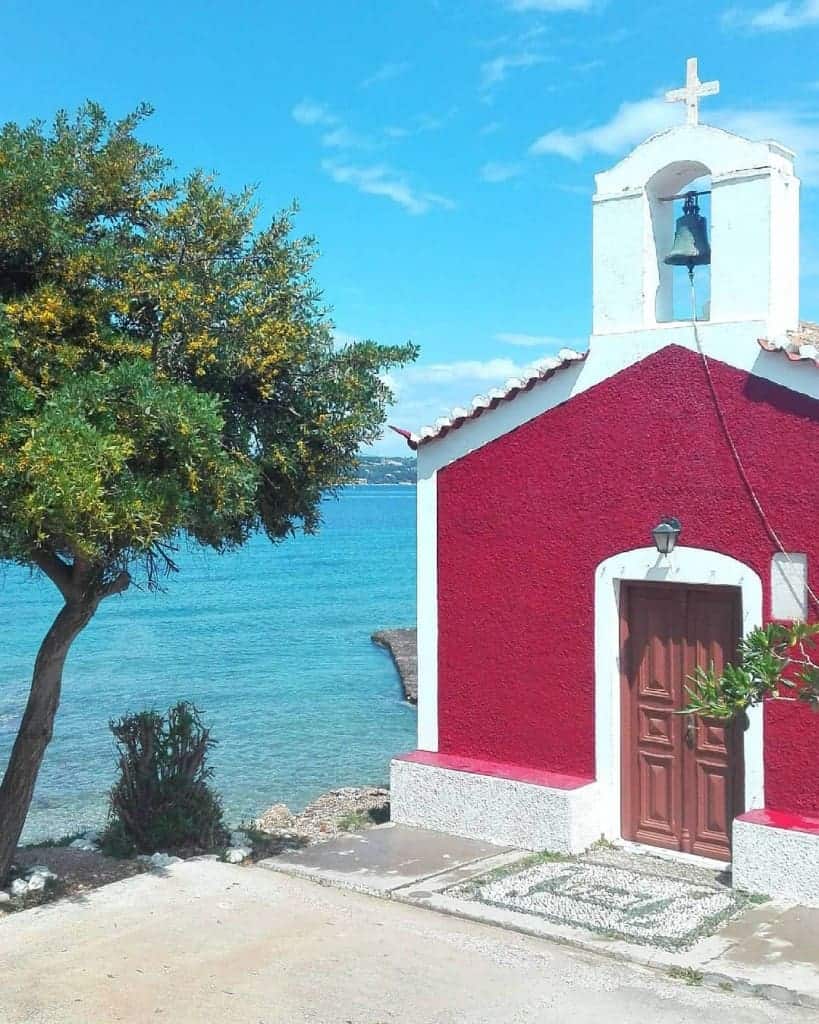 Spetses floats within the Argolic Gulf and is the Greek island farthest out from the shore (in this section). You can get from Athens to Spetses within three hours. For those who prefer mountains and the outdoors, to beaches and sunbeds, Spetses may well be the Greek island for you.
The town at Spetses port is very chic and affluent – think sprawling neoclassical mansions and elegant apparel stores. Once you leave the town though, you quickly realise that Spetses is essentially just one big national park.
Hiking trails and secluded beaches are scattered across the island of Spetses, while beautiful churches and monasteries sit out in the wilderness – perched of cliff edges, or nestled within the woodland. The island is pretty vast to try and explore it on foot, so consider picking up a bicycle or an ATV from one of the stores in Spetses town.
Kea
Kea (Tzia in Greek) is the closest Cycladic island to Athens. Despite being just two hours away from the Greek capital, lovely little Kea feels a million miles away from the chaos of city life.
In a somewhat similar way to Spetses, Kea is one of the best Greek island destinations for hiking and immersing yourself in nature. As a matter of fact, Kea has one of the highest concentrations of hiking routes on any Greek island.
Ioulis is the capital of Kea – a beautiful Cycladic hill village. A highlight of travelling to Kea is the hike to the ancient city of Karthea on the southeastern coast of the island.
The route takes 1.5 hours and leads you past beautiful coves and isolated churches. At its climax, you arrive at the ancient city of Karthea, where you can wander along ancient columnated promenades, and admire the crumbling remnants of the Temple of Apollo, the Temple of Athena, and an old amphitheatre.
Aegina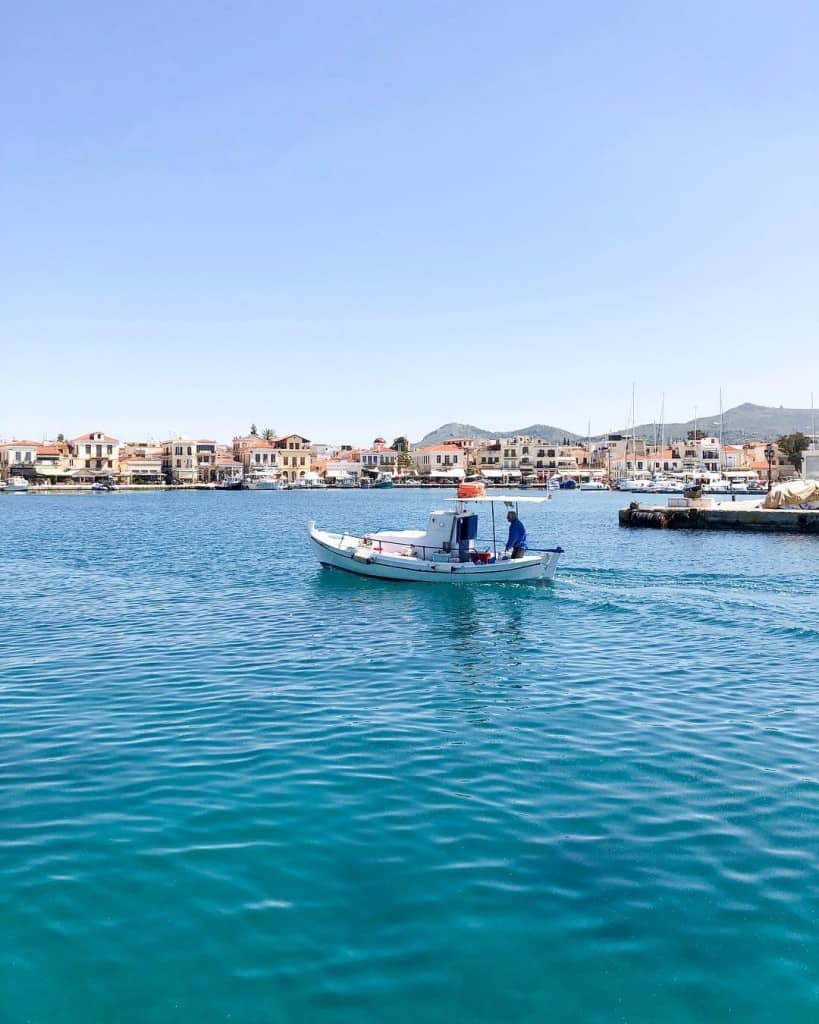 Aegina is the closest island to Athens. Many affluent Greeks have summer homes here where they will opt to spend their weekends during the warmer months. Aside from Aegina's countless beaches, this island is a great travel destination for history buffs.
You can get to Aegina in just 45 minutes from Athens. The streets of Aegina town are lined with picturesque pastel-coloured buildings housing traditional tavernas and ouzerias. From here, you can venture out to the island's many ruins and archaeological sites. Stop by the Temple of Aphaia, the ancient city of Paleahora, and the ruins of Kolona.
Agistri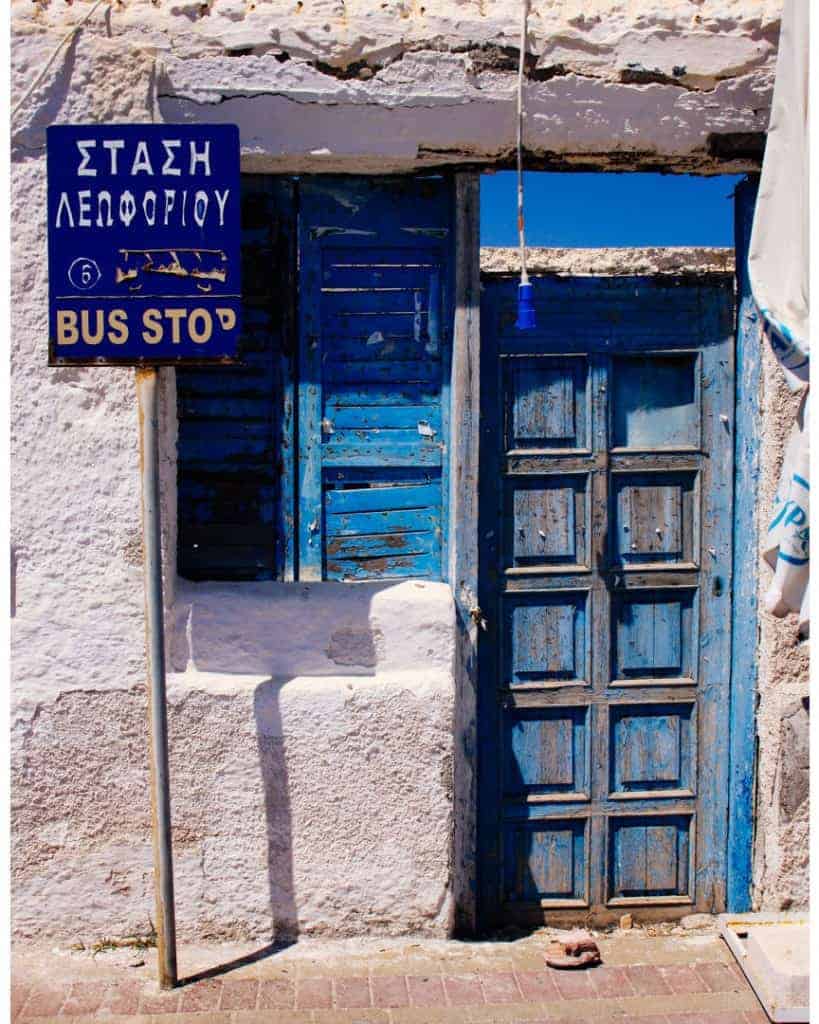 Agistri is the smallest island in the Saronic Gulf and one of the easiest to explore independently. You could actually drive from one end of Agistri to another in less than 20 minutes! Despite its tiny size, Agistri certainly packs a punch in terms of the plentiful activities it offers travellers.
Countless hiking trails twist and turn through the lush green landscapes of Agistri. The routes here lead travellers through fragrant olive groves and past quaint stone villages. For the best panoramas over the island, follow the uphill trail that ascends to the church of Panagia.
Poros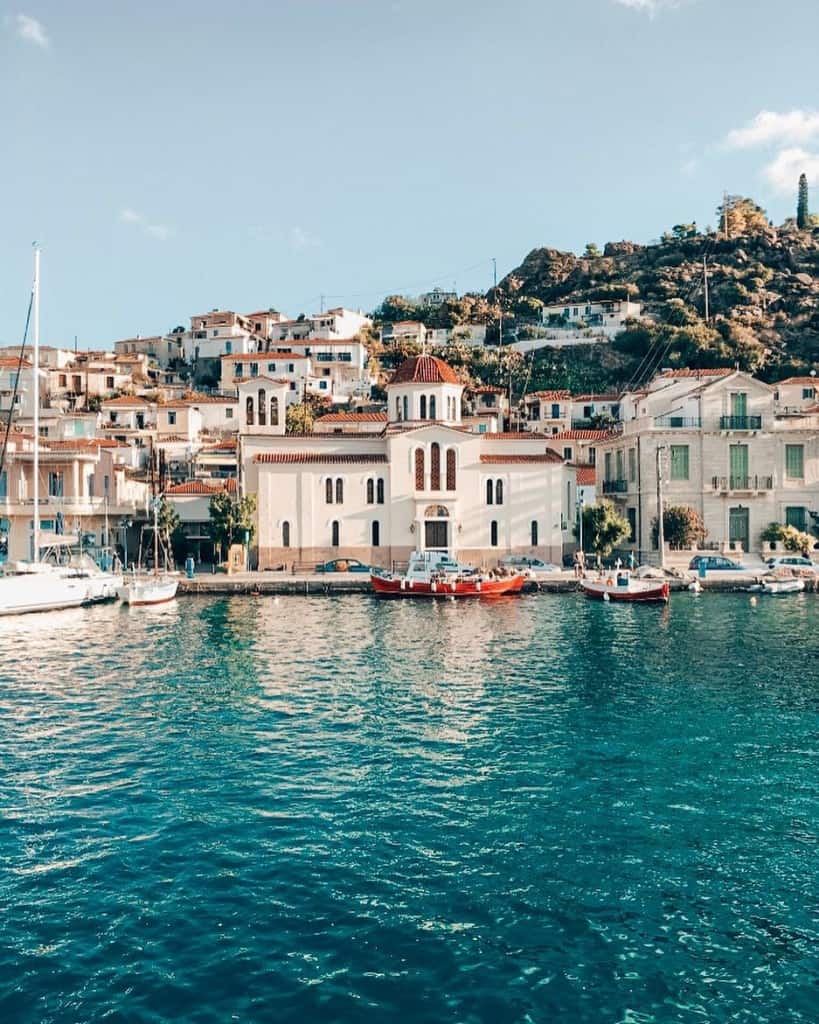 Poros is one of the nicest islands close to Athens to head to if you are in need of a little rest and relaxation. When the weather is good, head to Monastiri beach to swim in the cerulean waters, or rent a little boat/kayak to sail across to the uninhabited island of Daskalio (Teacher's island).
Poros sits directly across from the Peloponnese region of Greece – separated only by a narrow body of water. For a couple of euros, you can take a wooden boat from the port area and sail across to Galatas on the other side of the bay.
Greek Islands Close to Athens Requiring an Overnight Stay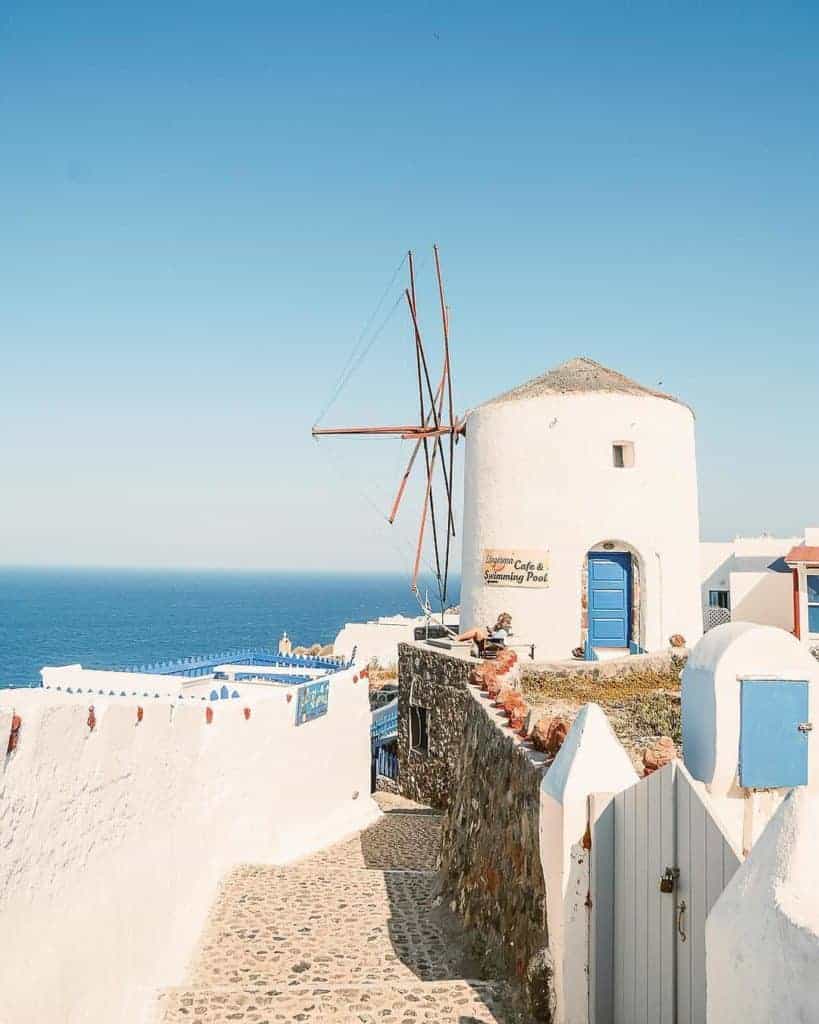 The islands below sit a little farther out. Technically you could visit some of them in a day, but it would be a little hurried and not all that pleasant. For many of the islands here, including the Cycladic islands of Santorini and Mykonos, there are different options available for the boat.
You can opt to take the "high speed" sea jet ferry from Athens to Santorini in just 5-6 hours for example, or take the slow ferry. Honestly, I would always recommend you to take the slower boats. Getting there faster may sound preferable but these speedy boats are notorious for causing seasickness. Don't say I didn't warn you…
Kythnos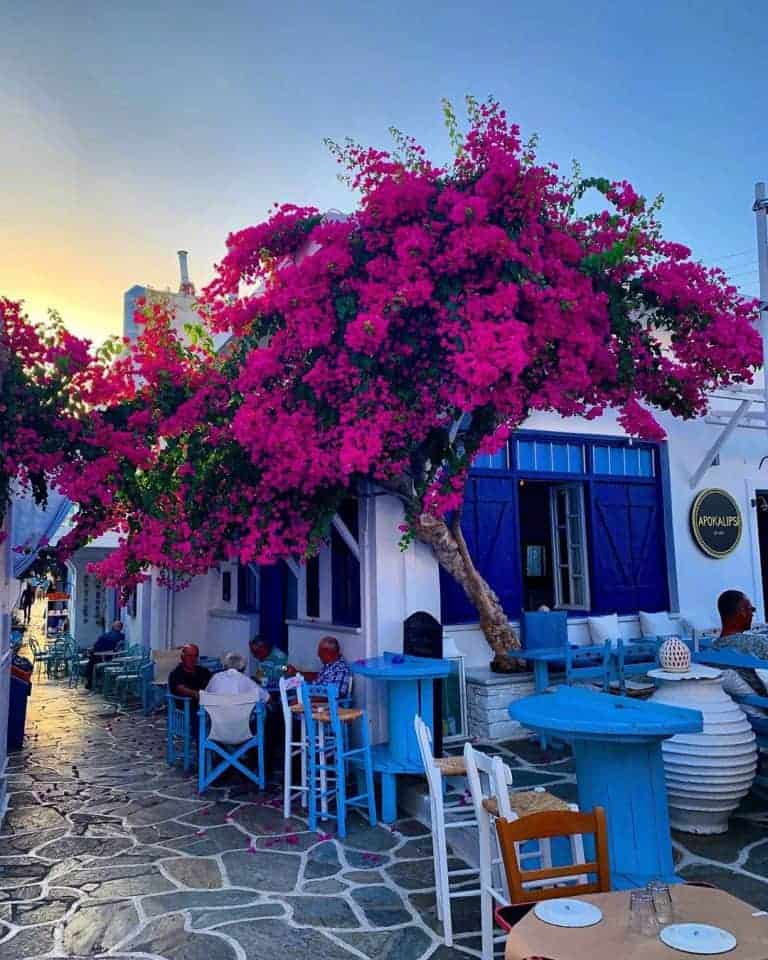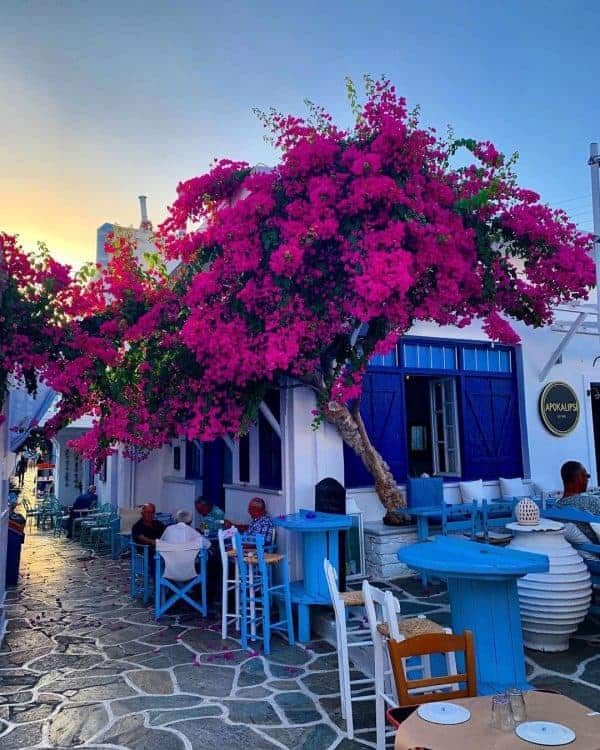 Kythnos is a beautiful off the beaten track island in the Cyclades. The island's name comes from the ancient Greek word "Keftho" which means hidden. Quite a fitting name, eh? Have you ever heard of Kythnos?
Hora is the capital of Kythnos – a higgledy-piggledy maze-like network of blue and white Cycladic houses. Hora provides a perfect example of just how tranquil and idyllic Greek island life can be. The narrow streets open out into cobbled piazzas where locals play backgammon as they sip Freddo espressos, while stunning ancient windmills and tiny churches are scattered throughout the town.
For an indulgent experience on Kythnos, head to the town of Loutra. This region is filled with natural thermal springs that were once beloved by Greek royalty. Centuries ago, King Otto and his wife Amalia would frequent the springs here.
Ferries to Kythnos are infrequent and depart from Piraeus just seven times per week. As such, if you wish to visit Kythnos, you should plan in advance accordingly.
Santorini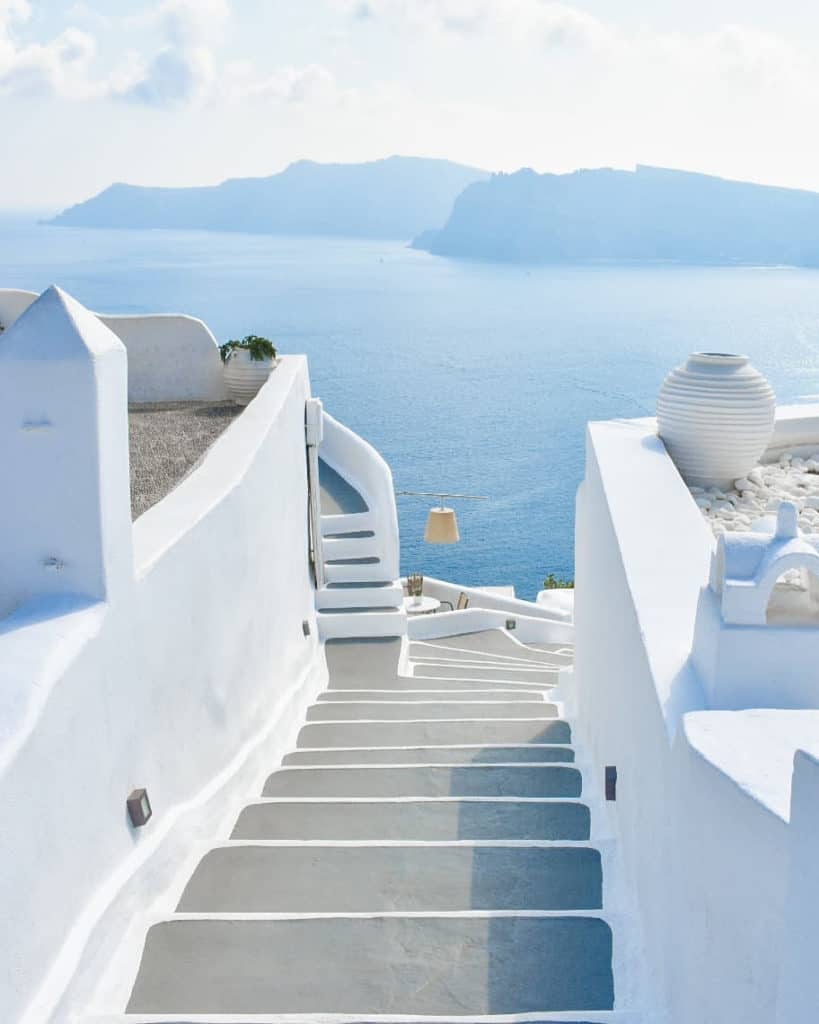 Santorini is the idyllic Greek island that appears on most people's Greece bucket lists. Globally renowned for its majestic sunsets, and characterised by its blue and white Cycladic houses that are so quintessentially Greek, Santorini is every bit as charming as the guidebooks make it out to be.
During the off-season, you can find flights between Athens and Santorini for as little as $20 per person, per way. Boats also depart from Piraeus to Santorini all year round. Don't be deterred by Santorini's popularity. The island still provides plenty of opportunities to get "off the beaten path" and explore its quaint backstreets and residential areas.
Embark on a hike from Fira to Oia, browse the independent boutiques of classy Fira, and indulge in traditional Greek cuisine in the scenic Ammoudi bay. Santorini is easily the highlight of any trip to Greece.
Naxos
The beautiful island of Naxos is the largest island of the Cyclades. Unfortunately, Naxos is often overshadowed by the neighbouring islands of Santorini and Mykonos but it is just as deserving of your time. Naxos can be reached within 5 hours of sailing from Piraeus port, or 5 hours from Rafina.
Opportunities for both hiking and historical sightseeing are plentiful at Naxos. Here you also have the added bonus of the fact that there are no crowds and tourists! Outdoor enthusiasts can try their hand at completing the hiking trails at Mount Zeas – the tallest mountain in the Cyclades. Many interesting ruins are scattered around the island, including an array of excellently-preserved temples that date back to the 6th century BC.
Those who are interested in snorkeling and diving will find a paradise in Naxos. The waters that surround the island boast incredible vibrant coral reefs and cerulean waters that conceal fascinating historical remnants beneath the surface. As an example, diving at Naxos reveals the wrecks of wartime seaplanes and torpedo bombers.
Mykonos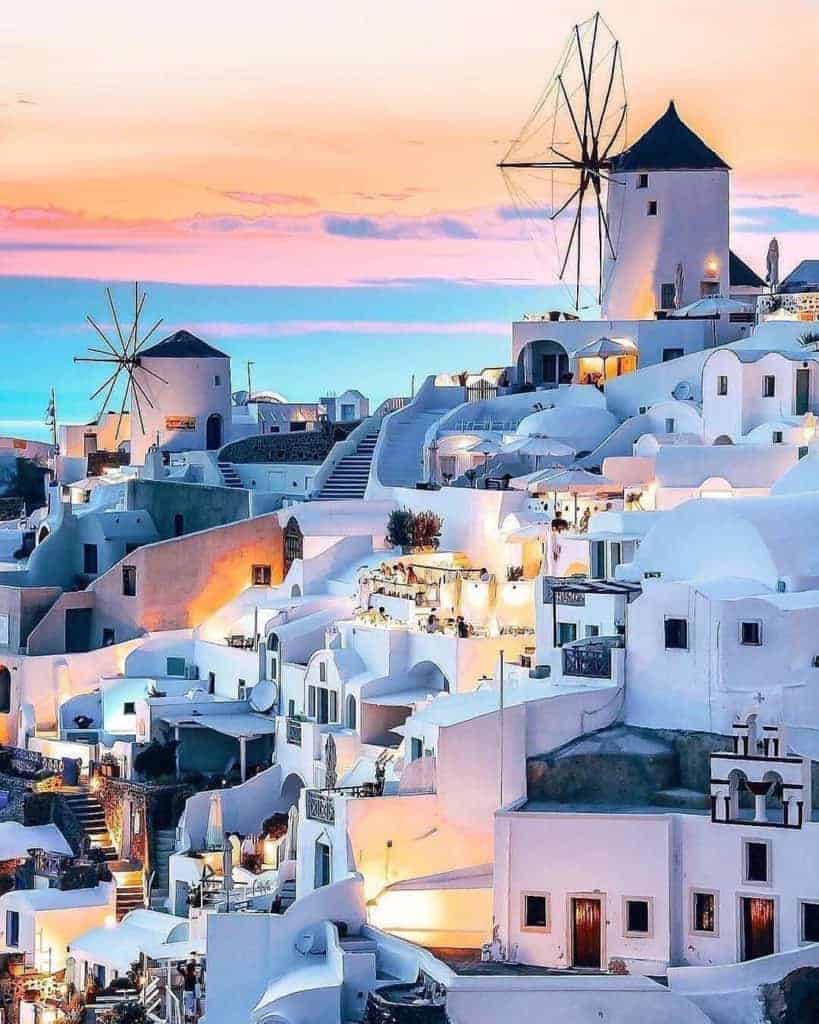 Mykonos, like Santorini, is one of the most popular Cycladic islands. The island is synonymous with glitz, glamour, and the idea of living the high life. Mykonos is also known for its raucous nightlife scene, and its countless upscale bars and clubs. That said, you don't have to be a party animal to enjoy Mykonos. This picturesque little spot has a little something for everyone.
The windmills at Chora are perhaps the landmark of Mykonos. Perched atop a hill, they offer incredible views over Mykonos island and out to sea. For dinner and evening cocktails in an elegant setting, head to Little Venice – a promenade of stilted, colourful houses that seemingly float in the waters, just like at Venice.
It takes approximately four and a half hours to get from Athens to Mykonos. Alternatively, you can fly, and this journey takes just 35 minutes.
Tinos
Tinos is a lovely little island in the northern part of the Cyclades that has something of a magical air about it. What Tinos lacks in size, it more than makes up for in charm and character.
If you are looking for a peaceful summer getaway, you will surely love Tinos. The beaches here are calm and relaxed and lack the crowds that plague many of the more popular Cycladic islands. The beaches of Agios Romanos, Agios Sostis, and Agios Ioannis Porto are all idyllic spots that should certainly be on your Tinos radar.
Chora is the main town of Tinos, but the island is comprised of 14 charming villages. Hiking is a popular pastime here also, and the trails of Tinos lead you to abandoned monasteries, pristine woodlands, quaint villages, and secluded coves.
Paros
The island of Paros is a popular stopping point for many travellers who embark on Greek island-hopping adventures through the Cyclades. The island provides an interesting juxtaposition of traditional island life meets modern living – pairing quiet rural villages and idyllic beaches with a colourful nightlife scene.
The villages of Naoussa, Parikia, and Lefkes are well worth adding to your Paros radar. There are also some interesting historical sites to be found here – for example, the Venetian castle at Parikia, or the Byzantine Monastery of Panagia Ekatontapiliani – one of the most important churches in all of Greece.
Understanding Athens' Ports
The Greek capital has two ports that service the islands close to Athens. These are Piraeus and Rafina. Piraeus is the city's main port and can be easily reached from Athens airport and city centre. To access most of the islands listed here, you will depart from the port at Piraeus.
Athens is also home to Rafina port. This is a little farther out of the city and slightly trickier to get to. In fact, Rafina is on the eastern side of the Attica region. I'd recommend avoiding travelling from this port if you can. Many departures to Mykonos leave from here.
Have any further questions about these islands close to Athens, getting to them, or planning a Greece travel itinerary in general? I've been living here for the last two and a half years and I'm happy to answer any questions you may have. Feel free to drop me a comment below and I'll get back to you ASAP.
---