Paxos, Greece: A quaint island idyll that floats off the southern tip of Kerkyra. Paxos may not be as unknown as it once was.
However, the island remains one of Greece's least commercial islands and a paradisiacal one at that. The island is characterised by its secluded, white-sand beaches, and its translucent waters reminiscent of the Caribbean.
Falling in Love with Paxos Greece
Paxos, like many parts of this beautiful Mediterranean country, has roots in Greek Mythology. Legend has it that the island was formed when Poseidon, God of the Sea, struck Kerkyra with his trident.
The section of land that broke off became Paxos. Here, Poseidon created a love nest with his consort, the Oceanid Amphitrite. (#naughtyPoseidon).
Myths aside, the reality is that Paxos is a magical place. Some of the island landscapes are so stunning that they are almost ethereal.
Visiting Paxos, Greece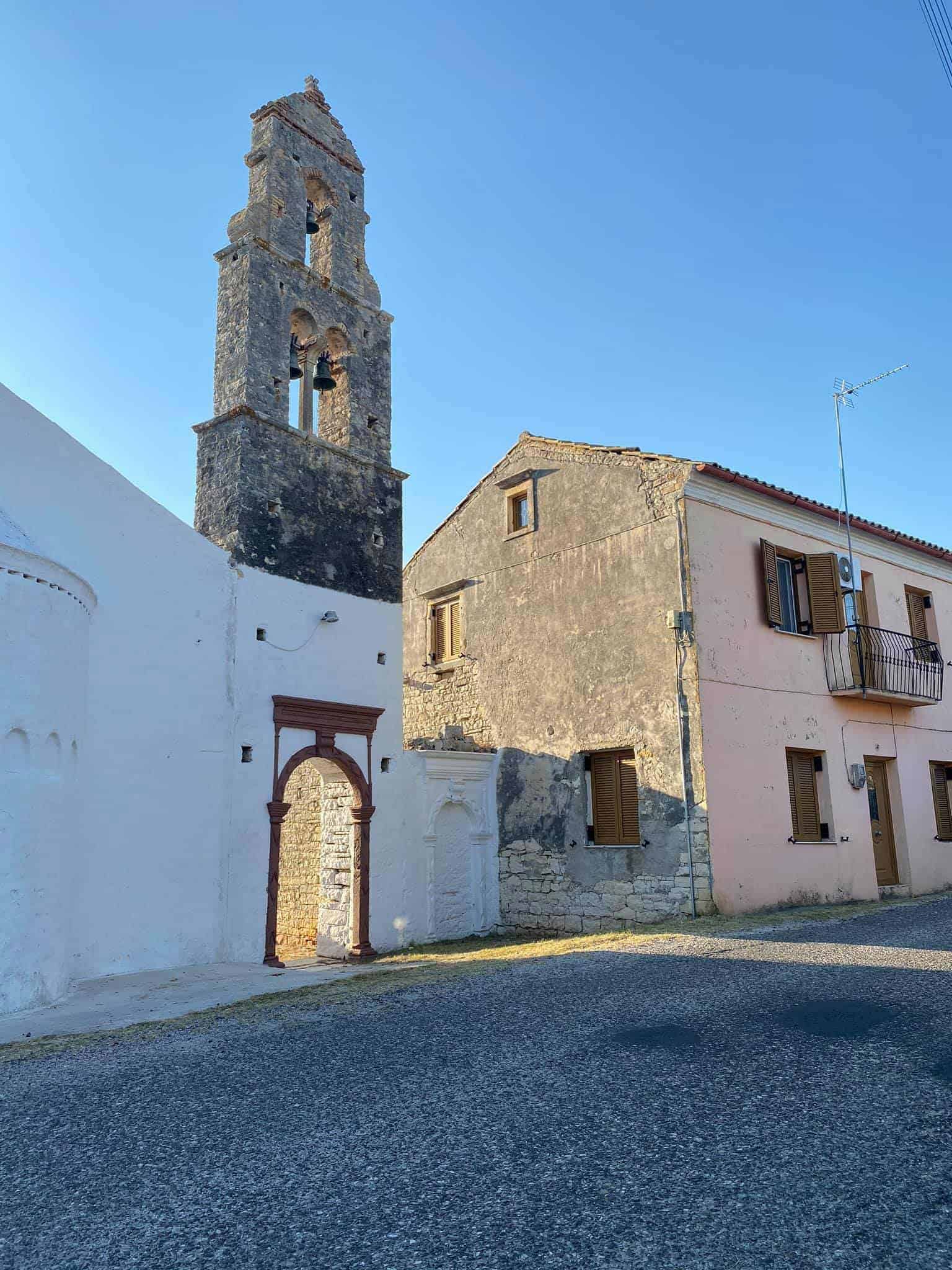 Paxos, Greece is filled with verdant olive groves, adorable Ionian stone villages, and tranquil white-sand beaches. The entirety of this small island is walkable.
Many rugged pedestrian trails weave through the woodlands. This makes Paxos one of the best Greek islands for hiking in Greece.
The island is a popular getaway destination for Jetsetters and A-Listers. That includes the legendary Morgan Freeman who has been spotted at various restaurants across the island.
How Long to Spend in Paxos, Greece
Many travellers tend to visit Paxos on just a day trip from nearby Parga or Kerkyra. However, it is far more rewarding to dedicate a few days to the island.
If you visit the island on a day trip, you will have just an allocated amount of time to spend here before speeding off to Antipaxos. This usually results in simply spending an afternoon in the port and beaches of Gaios.
As a result? You miss most of what the island has to offer.
Anywhere between 3 and 7 days is a perfect amount of time to spend on Paxos island. If your budget and schedule permit, you certainly won't get bored if you decide to stick around a little longer either!
The Best Things to do in Paxos, Greece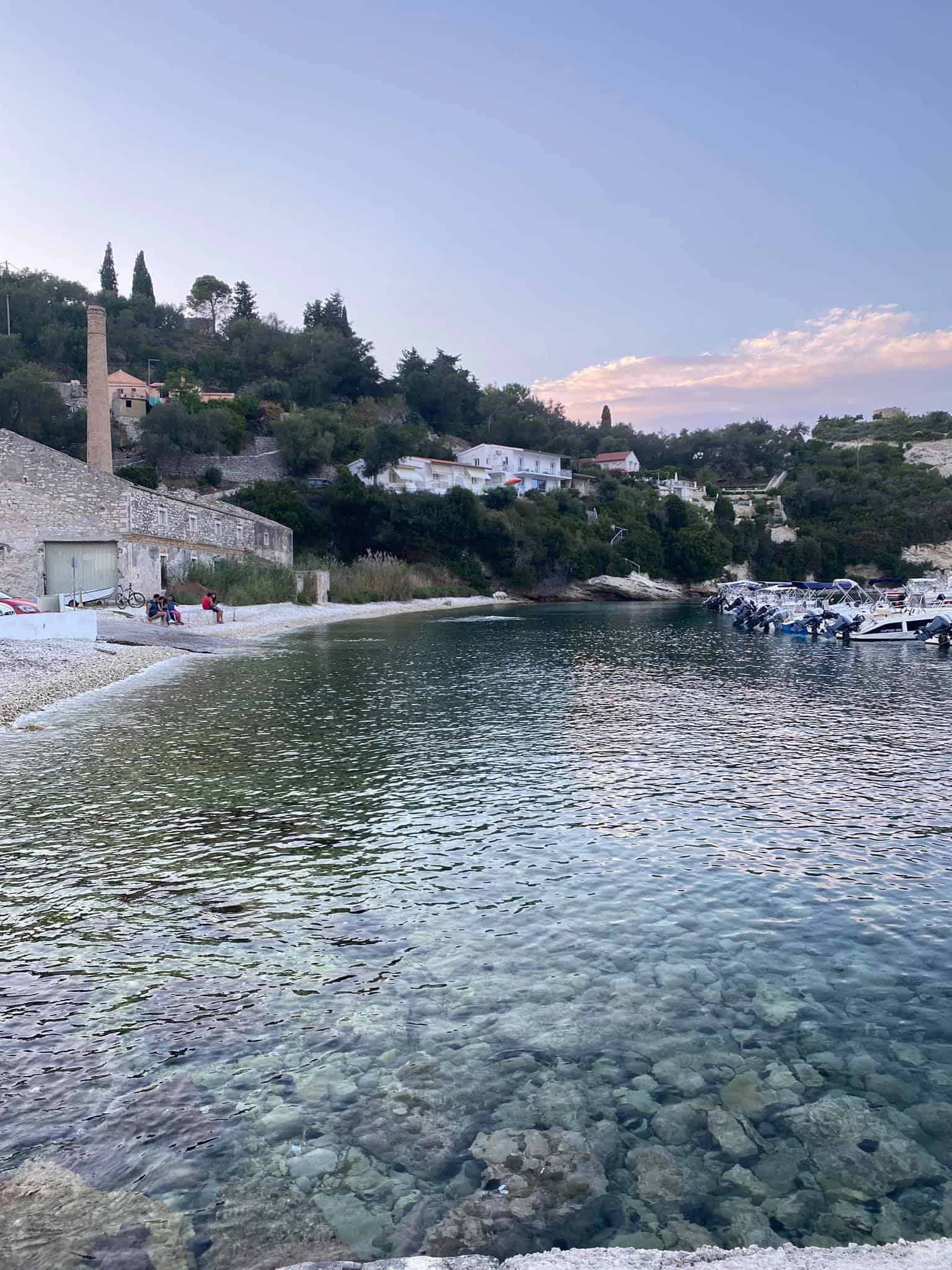 Paxos island has a little something for everyone – whether you are looking to relax, or in search of an adventure. You may wish to consider incorporating the below activities into your trip to Paxos, Greece.
Explore the Port at Gaios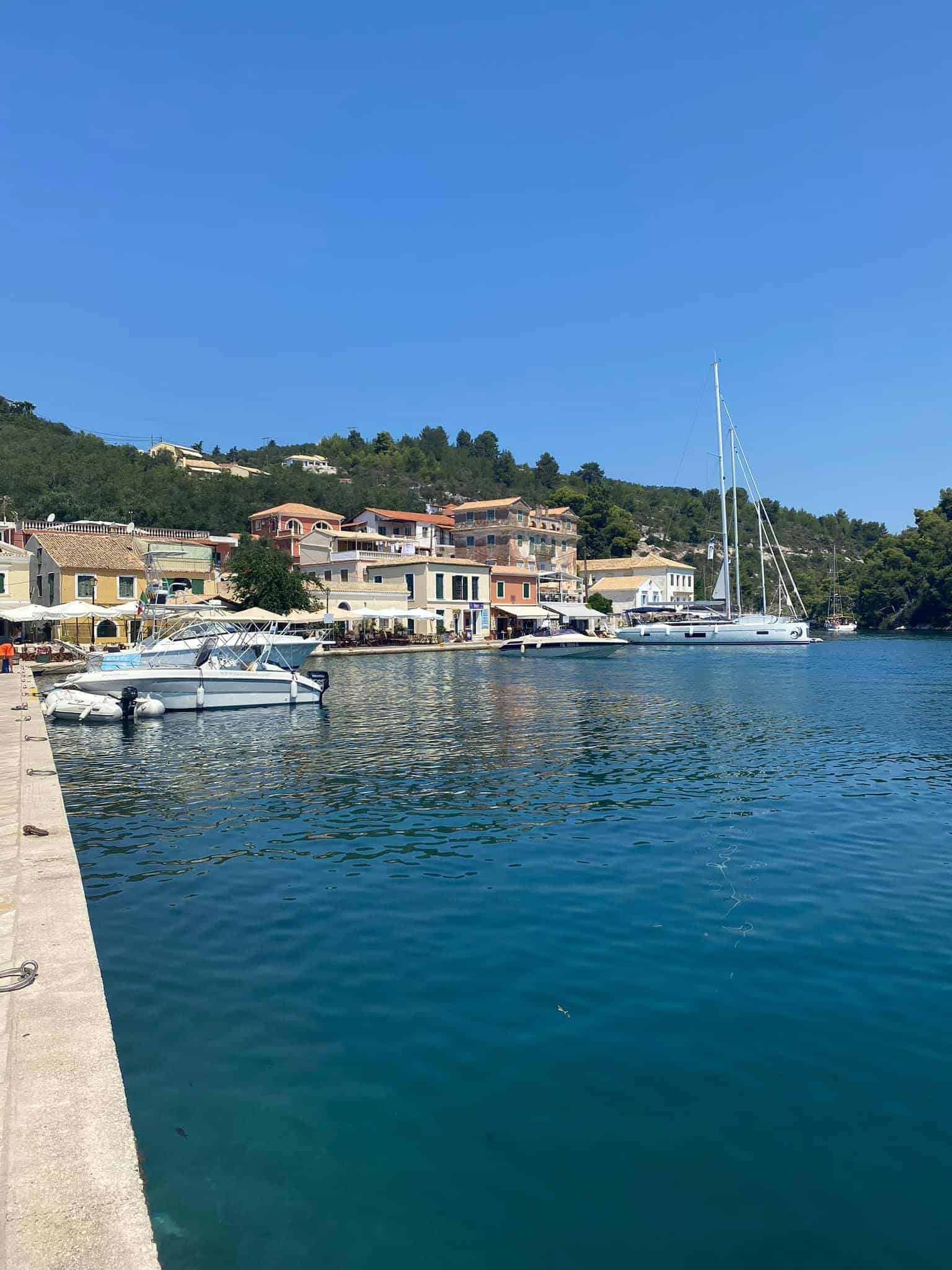 At first glance, the port at Gaios may seem touristic. However, this is still very much a traditional, working port. The coffee shops and tavernas that line the waterfront are great places for people-watching.
Early in the morning, you will see local fishermen load up their caiques as they prepare to sail out to sea for the day. If you rent a boat here, you can sail across to the islet of Agios Nikolaos.
This tiny area features a small Greek Orthodox church (the church of Agiou Ioanni). You also have magnificent panoramas of the port from this point.
Search for Hidden Coves and Secluded Beaches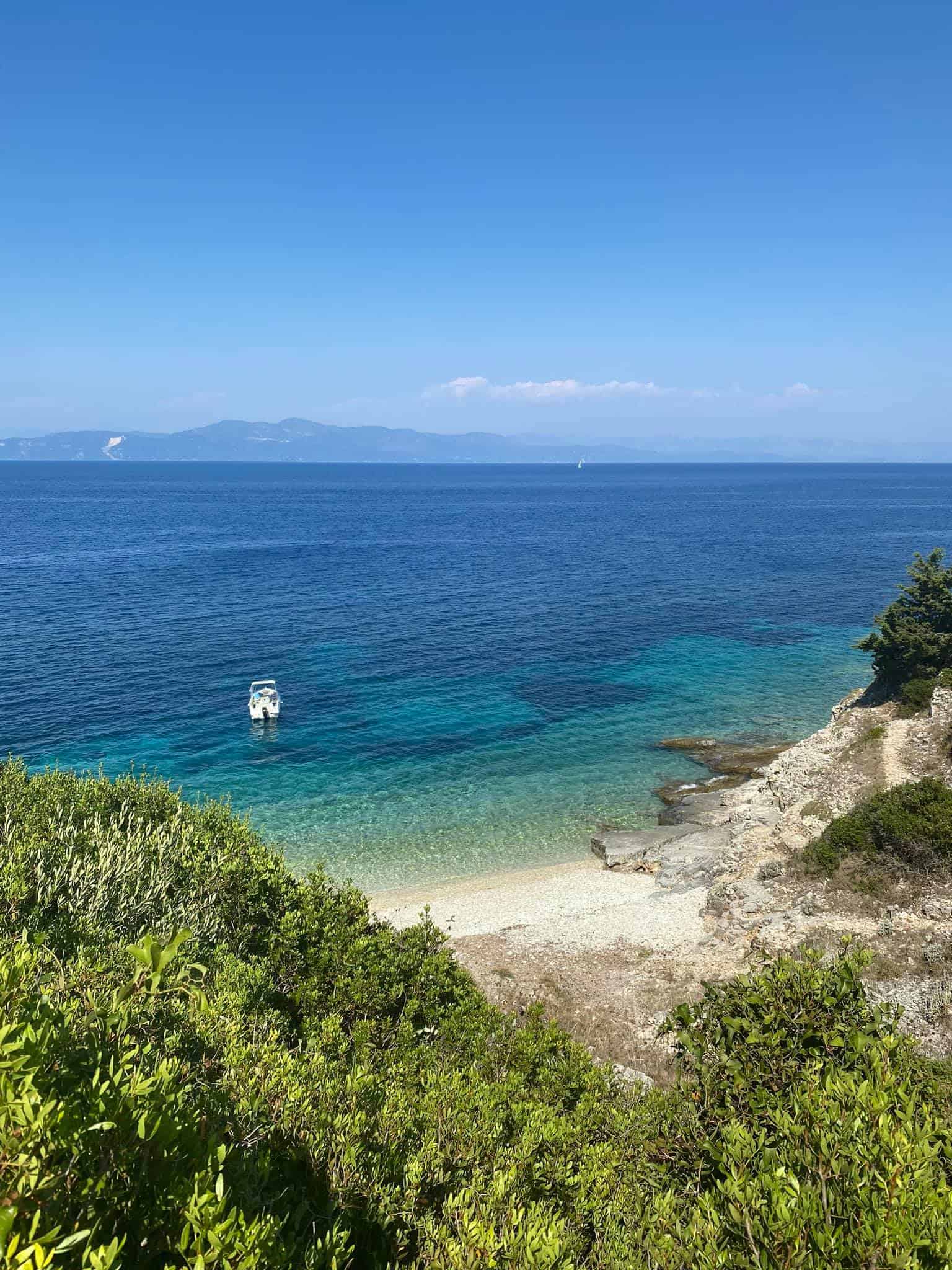 You will find countless secluded beaches and coves as you make your way along Paxos' East and West Coasts. For an abundance of options, consider following the coast from Gaios to Mongonissi.
Here you will find secret spots that you will have virtually all to yourself. This is true, even in the height of the summer months.
Beach Gianas and Plakes beach are two of the most popular beaches in Paxos. This is in part, due to the fact that they are so close to Gaios port.
Regardless, they are never so crowded that the experience here is unpleasant. You will find more privacy and seclusion as you walk further along the coast towards Mongonissi.
Spend an Evening at Longos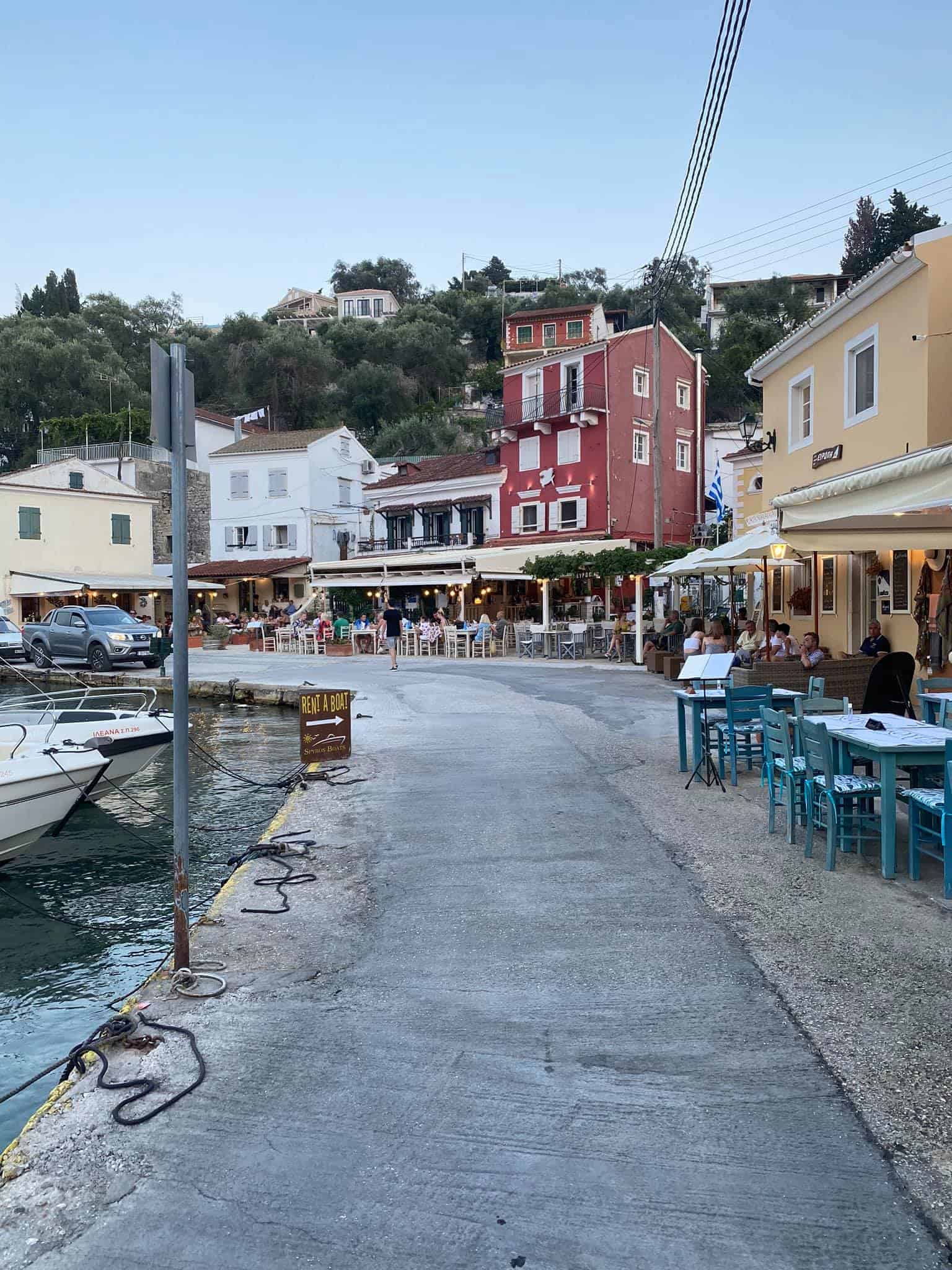 Chic Longos is the smallest port town in Paxos. Longos is home to just 80 people, and the "centre" consists of a small promenade that runs along the coast.
What Longos lacks in size, it more than makes up for in beauty and ambiance. This area showcases the very best of the quintessential "postcard-perfect" Greek scenery.
Make a dinner reservation at Vassilis if you plan on visiting Longos in the evening. Paxos residents will tell you that this is widely regarded as being the best Greek taverna in the area.
It is so popular that there are often queues and hour-long waits for tables. Rest assured, the food is worth the wait.
Follow the Coast to Mongonissi
Mongonissi is a tiny island situated at the southernmost tip of Paxos. A small bridge connects Mongonissi to the main island of Paxos.
The landscape here is diverse. It combines mysterious caves with craggy rocks and cliffs, along with lush, verdant greenery.
It is possible to rent a boat from Mongonissi beach and sail around the coast. You can opt to do so either independently or with the help of a local guide.
There is a lovely coffee shop just past the Paxos-Mongonissi bridge called "Carnayo Gold Lounge". This is a wonderful place to sip cocktails or Greek coffee while you watch the yachts sail into the harbour.
Marvel at Tripitos Arch
Tripitos Arch is Paxos' most famous natural landscape. The hike to reach it is a little challenging, yet wholly rewarding.
You cannot drive the entire way to Tripitos arch. The last 30 minutes or so of the journey will need to be done on foot via a dirt trail that leads through the woodland.
The best time to visit Tripitos Arch is arguably for sunset or sunrise. At this time, the temperature is cooler making the hike more bearable. Not to mention, the magnificent arch looks even more spectacular when it is accompanied by the orange and red hues of a Mediterranean sunset.
Spend a Day at Antipaxos
Boats run daily between the port at Gaios and the island of Antipaxos. This little island is only 4km long and boasts translucent waters that are often compared to the Caribbean.
The Antipaxos beaches of Vrika and Vatoumi are the main draw for most people visiting the island, as well as the perfect spots to indulge in some much-deserved R&R. You can sail out to Antipaxos early in the morning and then take the last boat back in the evening. However, even more, relaxing is renting a villa or an Airbnb for the evening.
There are no stores on Antipaxos and just a select few restaurants and tavernas. Once the day-trippers leave in the early evening, there will be hardly a soul in sight at some of the beaches. Don't miss the opportunity to sample the local wine produced at Antipaxos' vineyard while you are here.
Watch the Sunset at Ermitis Bay
The Ermitis Bay Beach is one of the most scenic spots on Paxos' West Coast. The white cliffs that encompass the beach, and the strange rock formations that protrude out from the sea all combine to give Ermitis something of an exotic "paradise lost" feel.
Ermitis beach is relatively new. It was only formed in 2007 when some of the cliffs in the area collapsed, eroded by sea and time.
To reach Ermitis, you need to follow the downhill narrow hiking trail that can be found just outside of Magazia village. Sunsets here are particularly magical.
Have Dinner in Lakka
Lakka is the second largest of the three port towns on Paxos island. Assuming that you are basing yourself in Gaios or elsewhere on the island, you should certainly take the time to spend an evening here.
The main promenade that runs along the seafront is bustling with activity at all hours of the day and night. There is an abundance of restaurants, tavernas, coffee shops, and bars here to choose from.
If you are looking to escape the heat, head to the nearby pebbled beaches of Harami or Kanoni. Both are shaded by the cover of the trees that surround them. If you have access to a boat, there are also some other rocky beaches in the area that cannot be accessed by road.
Getting Around Paxos
Public transport on Paxos island is virtually non-existent. It is recommended to rent a car or a scooter if you are staying in a remote area, or in one of the little villages outside of Gaios.
Explore Paxos on Foot
Since the island of Paxos is small, walking everywhere is certainly not out of the question. The island is just quite large enough to feel that you are going on a rugged adventure, yet not too large that you would ever get hopelessly lost.
If you enjoy hiking and walking, you can spend a lot of time exploring Paxos on foot. For instance, it takes approximately an hour to hike to Mongonissi from Gaios.
Similarly, it takes approximately an hour and forty minutes to get from Gaios to Loggos. Relying on walking and cabs is far from an unpleasant way to enjoy this Ionian paradise.
Taxis in Paxos
There are just a handful of Taxi Drivers that operate in Paxos – as you may expect with a tiny island with an area of just 25.3km2. Greek taxi apps such as BEAT and Uber are not in use here.
You will often find taxi drivers waiting outside of the port area when boats are scheduled to come in from Kerkyra and outside tavernas in the evenings. However, you are not going to see an abundance of cab drivers that you can just flag down like in other destinations.
Taxi Contact Numbers
If you want to take a taxi in Paxos, you can ask your hotel to contact one for you. Alternatively, it is worth making a list of these contact numbers.
I used Tasos to get everywhere and he was very friendly and punctual. Cab prices in Paxos are quite reasonable. For example, a taxi from Gaios to Loggos or Gaios to Mongonissi costs just around €10 each way.
Tasos: +30 6976648486


Haris: +30 2662032526


Nikos: +30 6984220011


Christos: +30 6977472747


Costas: +30 697 4002236


Vasilis: +30 697 6121923
(Please note that +30 is the international dialing code for Greece.)
Car and Scooter Rentals in Paxos
There is an abundance of car and scooter rental companies in Paxos. You will find many of these businesses scattered around Gaios. It is also possible to organise a rental car/scooter/ATV to greet you when you first arrive at Gaios port.
Renting a car and driving around Greece is not as intimidating as it may sound. The added bonus of driving for the first time in Greece on islands like Paxos is that the roads are seldom crowded.
You must have a valid driving license in order to rent a car or a scooter in Paxos. You should also ensure that you have adequate travel insurance that covers the use of these types of vehicles.
Paxos by Mountain Bike
It is possible to hire a mountain bike and whizz around the roads and trails of Paxos by bicycle. However, "possible" and "advisable" are two completely different things.
Paxos is extraordinarily hilly and so navigating the island by bicycle is tough – to say the very least! There are also a lot of hairpin turns and narrow roads so cyclists must wear helmets and remain vigilant.
There are a select few rental places in Paxos that allow you to rent mountain bikes. One of these is Vassilis Scooters in downtown Gaios ([email protected], +306975737829).
Paxos and Antipaxos Tours
If you really do not have enough time to spend a few days on Paxos island, the below tours may be worth considering.
Getting to Paxos
Boats run regularly from Corfu (Kerkyra) and Igoumenitsa to Paxos island. You can also reach Paxos on day trips from Parga.
Ferries to Paxos
Greek ferry schedules vary depending on the season. The "peak" tourism season for the Ionian islands runs between June and September. During this time there are several services per day running between Paxos, Corfu, and Igoumenitsa respectively.
The "flying dolphin" is the speedy little boat that runs between Corfu old town port and Paxos. The journey takes approximately 55 minutes and tickets cost €24 each way.
It is typically larger, car ferries that run between Paxos and Igoumenitsa. These depart twice a day during the summer months.
One ticket, one way costs just €11. The journey takes approximately 90 minutes.
Greek Ferry Schedules
Greek ferry schedules can be viewed online via Kerkyra seaways. However please note that these are subject to change.
Try to purchase your tickets online or a day before travel if you are able to, especially if travelling in July or August.
Where to Stay in Paxos
There are many stunning hotels, properties, and villas available for rent on Paxos island. The good thing about the island is so compact is that there is truly nowhere that you can stay that leaves you really "out in the sticks" as it were.
For instance, I stayed at Adamantia hotel, close to the village of Vlachopoulatika and it was still very easy to get into town and around the island – even on foot!
Adamantia Hotel
Adamantia Hotel is a gorgeous independently-owned hotel that sits just outside of Gaios. The property consists of 12 stone houses, each constructed in traditional Ionian style.
Rooms and apartments at the property are stylish and spacious. Adamantia hotel is surrounded by verdant olive groves and peaceful nature. Each room has its own private terrace or garden area.
You can browse the latest room rates and availability at Adamantia hotel here. Rooms start from €80 per night.
Paxos Club Resort & Spa
The luxurious Paxos Club Resort & Spa is situated in the centre of Paxos, in the midst of the woodlands and some of the island's best nature.
The property has all of the amenities that you need for a relaxing stay in the Ionian. There is a spa facility, and an exquisite Mediterranean restaurant on site.
You can browse the latest room rates and availability at the Paxos Club Resort & Spa here. Rooms start at €115 per night.
Where to Eat in Paxos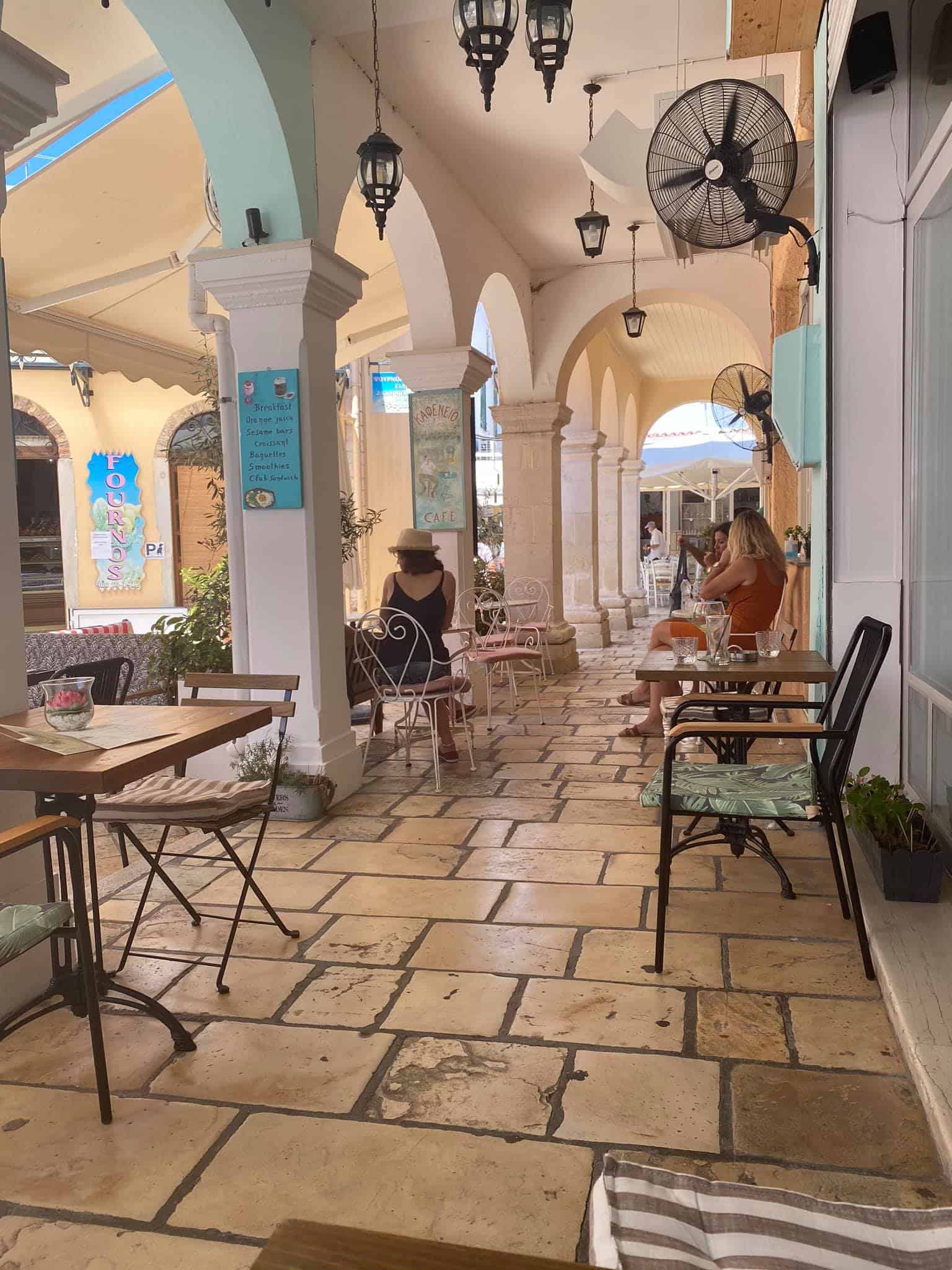 There are countless wonderful restaurants and tavernas scattered across Paxos islands. Wonderful homely eateries can be found in the port towns of Loggos, Gaios, and Lakka, along with in smaller villages.
Fanalino Restaurant, Gaios
Fanalino Restaurant and bar is a charming little brunch spot tucked away down the narrow porticoed streets of Gaios. They serve a range of excellent Mediterranean and international classics on the menu here.
You will find everything from sweet pancakes drenched in Greek yogurt and local thyme honey, to slow-cooked Mediterranean eggs made with fresh tomatoes, feta cheese, capers, and herbs.
The staff is all very friendly and the restaurant also serves their own olives, jams, and condiments. I ate here two out of the five days that I spent on Paxos island.
Vassilis Restaurant, Loggos
Ask any local where you should eat in Loggos and they will all tell you the same thing: Vassilis. You may have to wait or make a reservation for a table here. However, know that some places are popular for a reason, and the wait is certainly worth it.
Vassilis Restaurant serves up Greek classic dishes with a contemporary twist. For instance, giouvetsi prepared with locally sourced octopus, or seafood linguini flavoured with Greek herbs.
Nassos Restaurant, Loggos
Nassos restaurant is a worthy adversary to Vassilis taverna in Loggos. The menu here focuses on seafood delicacies.
However, you can also find an array of typical Greek dishes on the menu. For instance, Corfiot beef sofrito, moussaka, and giouvetsi.
Parting Words
Do you have any additional questions about visiting Paxos, Greece, or planning a trip to Greece in general? I have lived in Greece for the last four years. I am more than happy to assist you with any questions or queries that you might have.
Please don't hesitate to reach out to me if you need anything. Safe travels!
Geia sou! Melissa xo
---