Parga Greece is a charming, quintessentially Greek seaside town that sits in the Epirus region on Greece's west coast. For Greeks, it is the perfect place to be able to escape to the coast for a summer vacation.
However internationally, Parga Greece still remains somewhat off the beaten track. (At least when you compare it to more popular Greek travel destinations such as Zante, Santorini, Mykonos, and Corfu).
But Parga is a wonderful place to spend a week or two by the glittering waters of the Ionian sea. It also makes a great jump-off point for exploring the wider Epirus and Ionian islands region.
From here, you can go onwards to Paxos and Antipaxos, Corfu, Lefkada, etc.
Parga Greece Travel Guide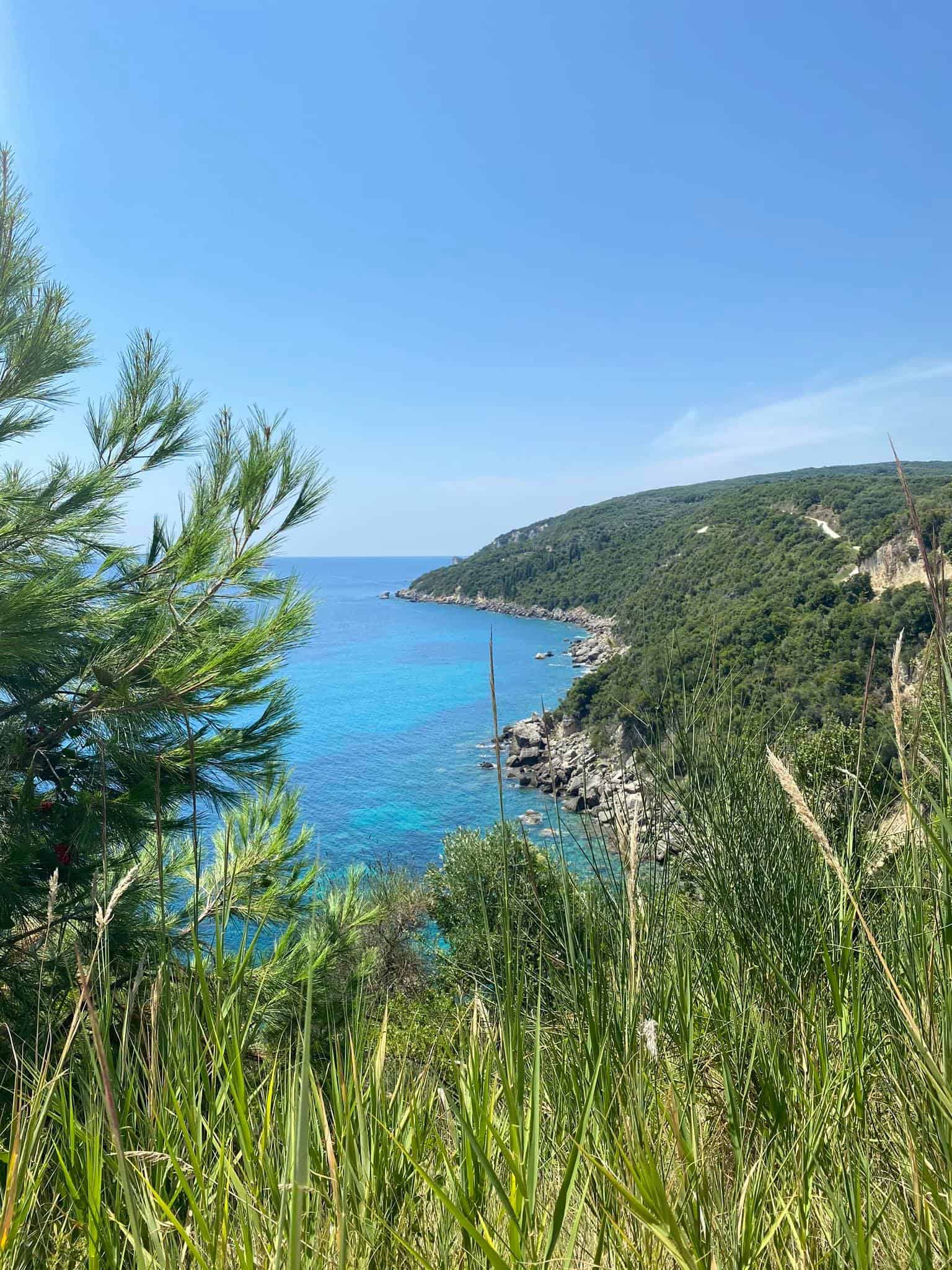 Despite being located on the Greek mainland, Parga Greece's appeal and architecture resemble that of a Greek island. The little town is characterised by pastel-coloured houses that cascade down a rocky hilltop.
It is surrounded by translucent blue and turquoise waters whose beauty would rival that of the Caribbean. Various beaches encompass the town offering something for every taste.
Here you will find catered beaches offering all the amenities as well as tranquil, secluded coves. Parga Greece sits 98.9km southwest of Ioannina, 45km south of Igoumenitsa, and 408km northwest of Athens respectively.
This area has been occupied for thousands of years. A settlement existed here during the Mycenaean times.
However, after the Macedonian King Perseus was defeated in Pydna in 168 BC, the Romans destroyed every city in Epirus, including Parga.
14th-century records indicate the existence of the mountain town of Paleoparga. In 1360, Paleoparga residents moved to the location where Parga is found today.
From there, lovely Parga started to grow and flourish. Numerous civilisations have occupied and ruled over Parga Greece over the centuries.
This includes the Venetians, the Ottoman Turks, and the French. Each has left its mark on the culture, and gastronomy of the town as it stands today.
The Venetians in particular, constructed a castle to protect the town inhabitants from pirates, which still exists today.
Best Things to do in Parga Greece in 2023
There are enough things to do in Parga Greece to warrant spending a week or two here. Of course, the seaside town can also be enjoyed as part of a wider Greece itinerary.
A few highlights of visiting Parga are:
Hiking the scenic coastal pathway from Parga town to Sarakiniko


Tucking into sumptuous Greek cuisine at Taverna Andreas


Admiring the views over the town from the old Venetian castle


Relaxing on the shores of Valtos and Lichnos beaches


Marvel at the unique rock formations of Sarakiniko


Trek to the springs of the Acheron river


Relax on the soft white sand of the best beaches in Parga


Discover the abandoned monastery of Vlacherna


Getting lost among the labyrinth-like network of narrow streets


Enjoy Parga by night
Admire the panoramas from the Parga Venetian castle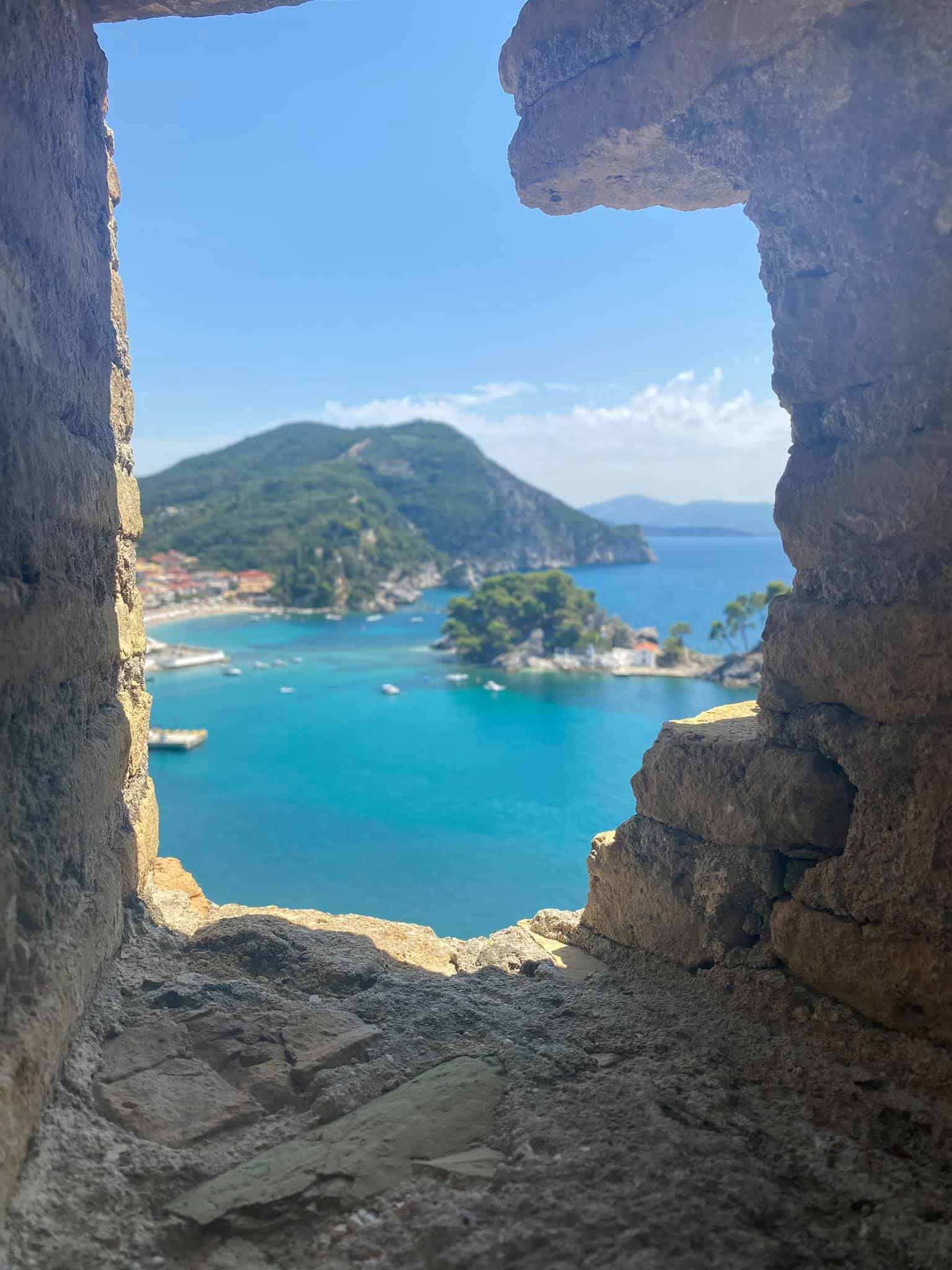 The sunbleached remnants of Parga's Venetian castle still watch over the city protectively from a craggy bluff. From up here, you can enjoy unparalleled panoramas over the town skyline and across the Ionian sea.
Parga castle (Κάστρο Πάργας) was initially built in the 11th century. However, it has been destroyed and rebuilt numerous times during the 13th and 14th centuries.
The various pirate attacks and battles between the Turks and the Venetians to seize control of Parga Greece saw Parga castle be constantly changed and modified. At one point, it boasted a Turkish hammam (bathhouse) and Sultan's harem of women lived inside.
Today, you can wander around the ramparts of Parga's castle and grab a Greek coffee at the little coffee shop that is set inside it. This store sells all manner of refreshments, beverages, Greek pastries, and light snacks.
There is also a small art gallery that offers shelter from the heat and humidity for a while. The pieces that adorn the walls have been created by numerous Greek and international artists.
Relax on the shores of Valtos and Lichnos beaches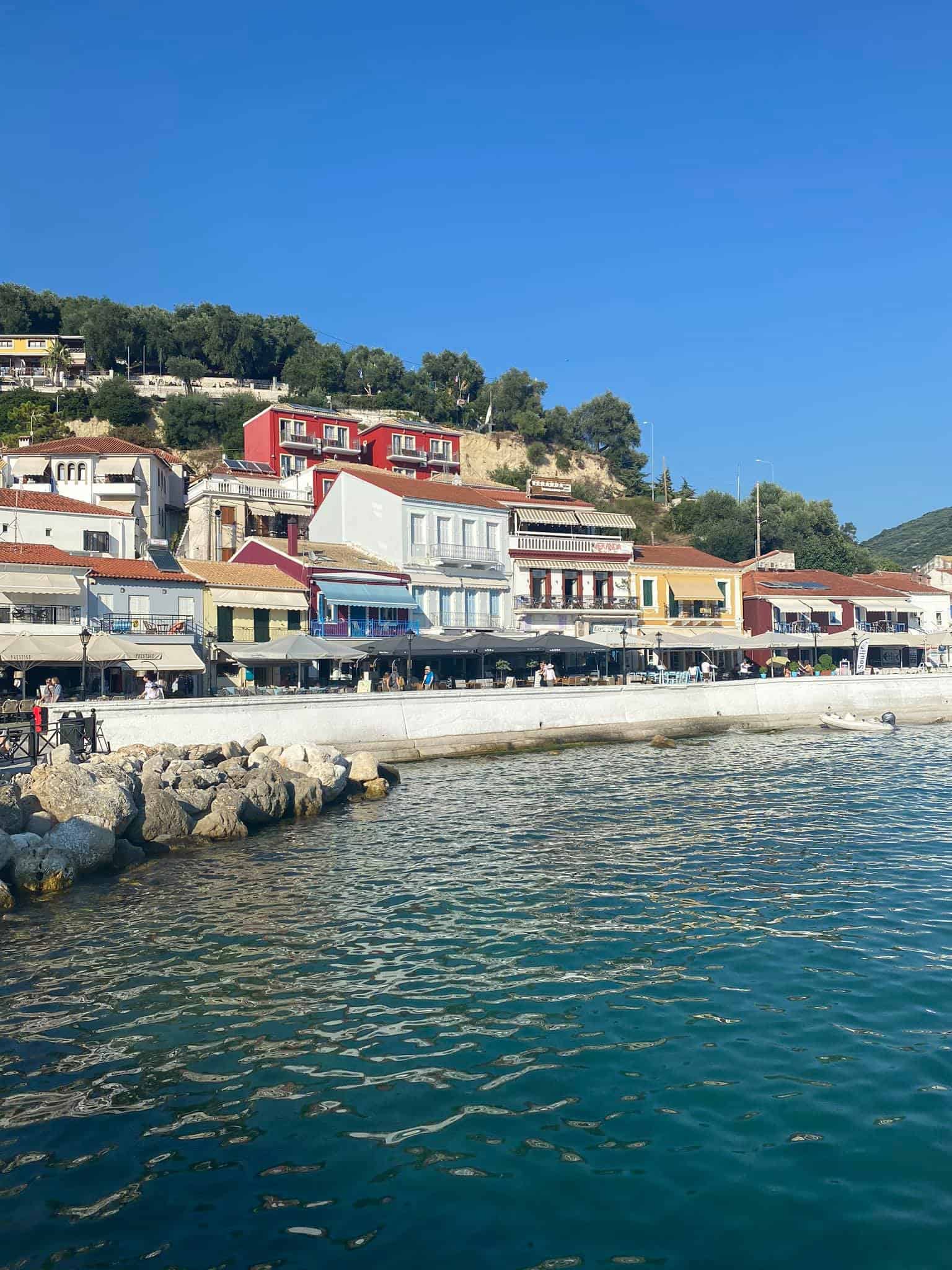 There is a selection of sandy beaches in and around Parga. The town beach itself is a nice place to unwind.
It is surrounded by stores, bars, and tavernas, and looks out across to unusual rock formations that ascend from the sea.

Valtos beach and Licnhos are two of the most beloved beaches in the Epirus area. They both exude desert island vibes and sit against a backdrop of lush green pine trees.
Visit the Ali Pasha Castle of Rapeza
One of the best day trips that you can take from Parga Greece is to the Ali Pasha Castle of Rapeza. The castle is perched on a hill above Parga and offers spectacular views across Epirus.
It was built by Ali Pasha, a notorious figure in Greek history that resided in Ioannina. Ali Pasha was an Ottoman Albanian ruler who ruled the city during the days of the Turkish occupation.
He was known for being a cruel leader and indeed, he built his castle near Parga in order to watch over and intimidate the people of the town who were protesting against the Ottoman occupation. Today, the castle is fairly well preserved, particularly its walls and ramparts.
There are also 2 old rusting cannons that Ali Pasha had purchased from the Russians centuries ago. Today, the castle is a great place to watch the sunset.
On one side, you can see out to Anthousa and Agia. On the other, you can see across the Ionian and out to Lefkada, Corfu, and Paxoi.
The castle is only 5km away from the centre of Parga and can be accessed via a walking trail that weaves through the olive groves near Valtos beach. However, the steep streets would make it a difficult hike.
(Particularly during the hot summer months!)
You can also take a little tourist train that departs from Parga beach for just €8 or you can opt to take a taxi or hire a private guide. Sometimes during summer in Greece, various cultural events and performances are hosted here. So, it pays to check the schedule to see if anything is going on during your travel dates.
Hike from Parga to Sarakiniko
Sarakiniko is an idyllic, picturesque beach situated just 12km away from Parga. Sea taxis depart for Sarakiniko every day from the town port.
However more rewarding is to embark on an early morning hike from the centre of town, along the scenic coastal path to Sarakiniko.
The trail bypasses areas of secluded beaches and coves that can only be reached on foot or with private boats. It passes the abandoned monastery of Vlacherna and leads you through stunning woodlands before arriving at Sarakiniko.
Consider packing a picnic or ordering some food to go from one of the many eateries that line the Parga seafront. That way you can break up your journey with a scenic al fresco lunch among nature.
Head out early in the morning if attempting this hike during the summer months. In doing so, you can avoid the scorching temperatures of the midday heat.
Spend a little time relaxing at Sarakiniko when you arrive. Then, take the sea ferry back to Parga.
Sail across to Paxos for the day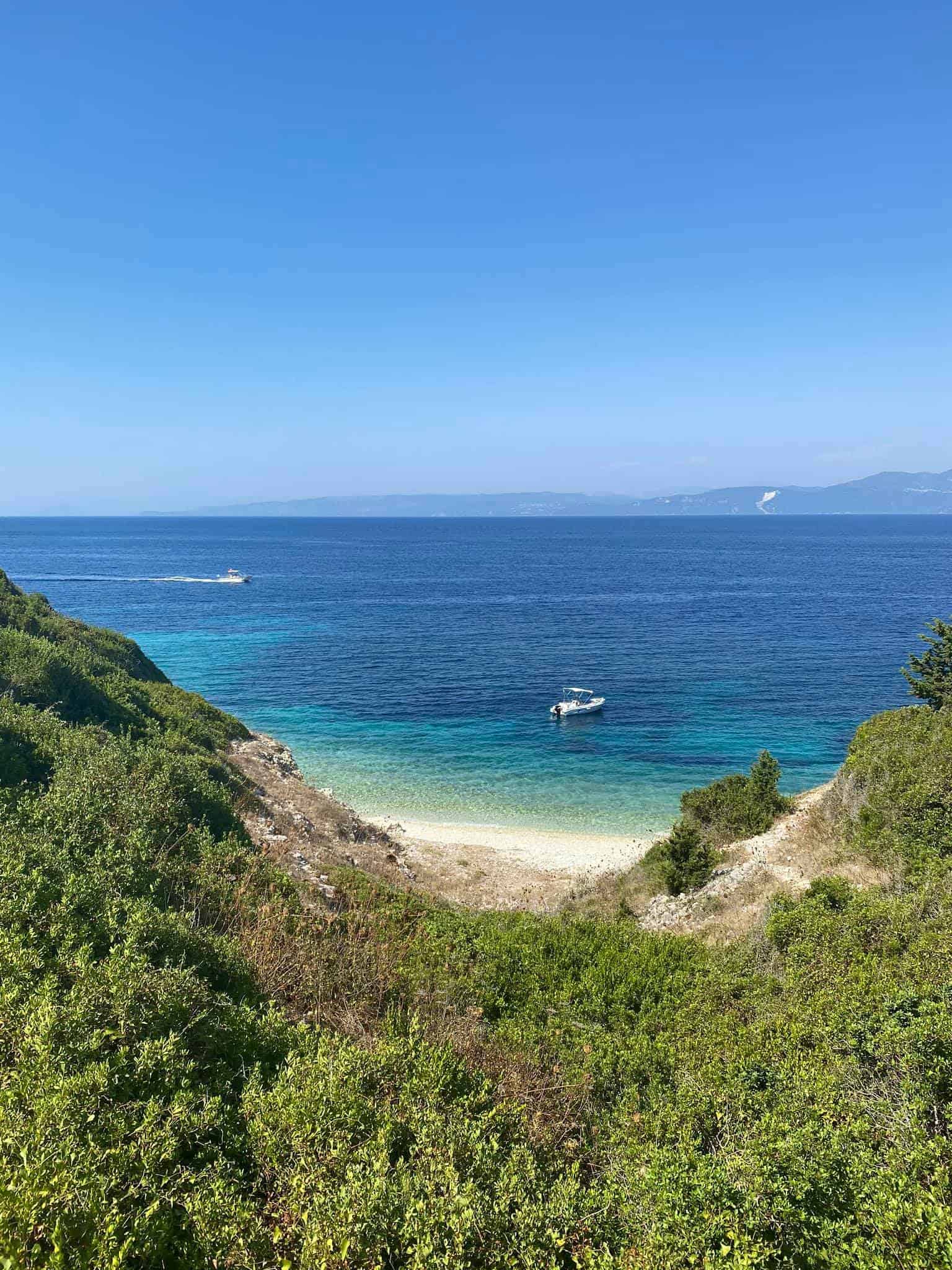 The gorgeous Greek island of Paxos is one of Greece's least commercial islands. It can be found at the southern tip of Corfu (Kerkyra) in the Ionian and can be reached within 90 minutes of sailing from Parga Greece.
Lesser-known Paxos is home to several upscale villages. It exudes an air of effortless glamour and elegance without being pretentious.
Various Hollywood A-listers love this island and frequently visit on vacation. (Including Morgan Freeman who has been spotted here various times).
You will sail into the island's capital Gaios, which is still a traditional, working port. Various coffee shops, brunch places, and tavernas line the waterfront at Gaios and are great places to stop for a smoothie or a Greek salad.
Paxos is often referred to by its plural, Paxoi. There are actually two islands here: Paxos and Antipaxos.
There are some charming villages, beaches, and hidden coves on Paxos island (check out Mongonissi, Ermitis Bay, Lakka, and Longos). Meanwhile, Antipaxos is an off-the-beaten-path undisturbed paradise.
Both places are well worth your time. You can take a little fishing boat from Gaios out to Antipaxos, which is only 4km long. If your schedule allows it, it is well worth staying overnight.
Hang out at Piso Krioneri beach
Piso Krioneri is one of the most gorgeous Parga beaches. It is a nice place to spend a day, particularly if you are looking for something a little more wild and rugged than the main beaches near the port.
The beach is nestled in a small natural bay beneath the hill of St Athanasios, named after the church of the same name. It exudes desert island vibes and sits against a backdrop of craggy bluffs and lush, dense greenery.
From the shore, you can see some small islets in the water, as well as the island of the Virgin Mary. Despite seeing fewer tourists than Parga's main beaches, Piso Krioneri is still serviced.

You can rent sunbeds and palapa-style thatched umbrellas here. When you feel hungry or you want a drink or two, there are plenty of wonderful bars, restaurants, and tavernas right by the waterfront.
Snorkel in the crystal-clear waters of Agios Giannakis beach
Agios Giannakis beach sits in a secluded cove just 9km away from Parga Greece. If you are looking for a quieter spot that few tourists are aware of, this is the perfect place for you.
The beach is encompassed by rolling green hills and boasts soft, powdery white sands that run alongside cerulean waters. There are no sunbeds or umbrellas for rent here and no restaurants nearby.
However, there is a little food stall that sells ice-cold beers and other Greek drinks, as well as some sandwiches, Greek salads, and Greek street food favourites. A small woodland trail leads you to the church of Agios Giannakis (St John) which the beach is named after.
Since there are a lot of pebbles in the water that can be very slippery to stand on, it is a good idea to invest in some sea sandals if you are coming to this beach.
Rent a boat for the day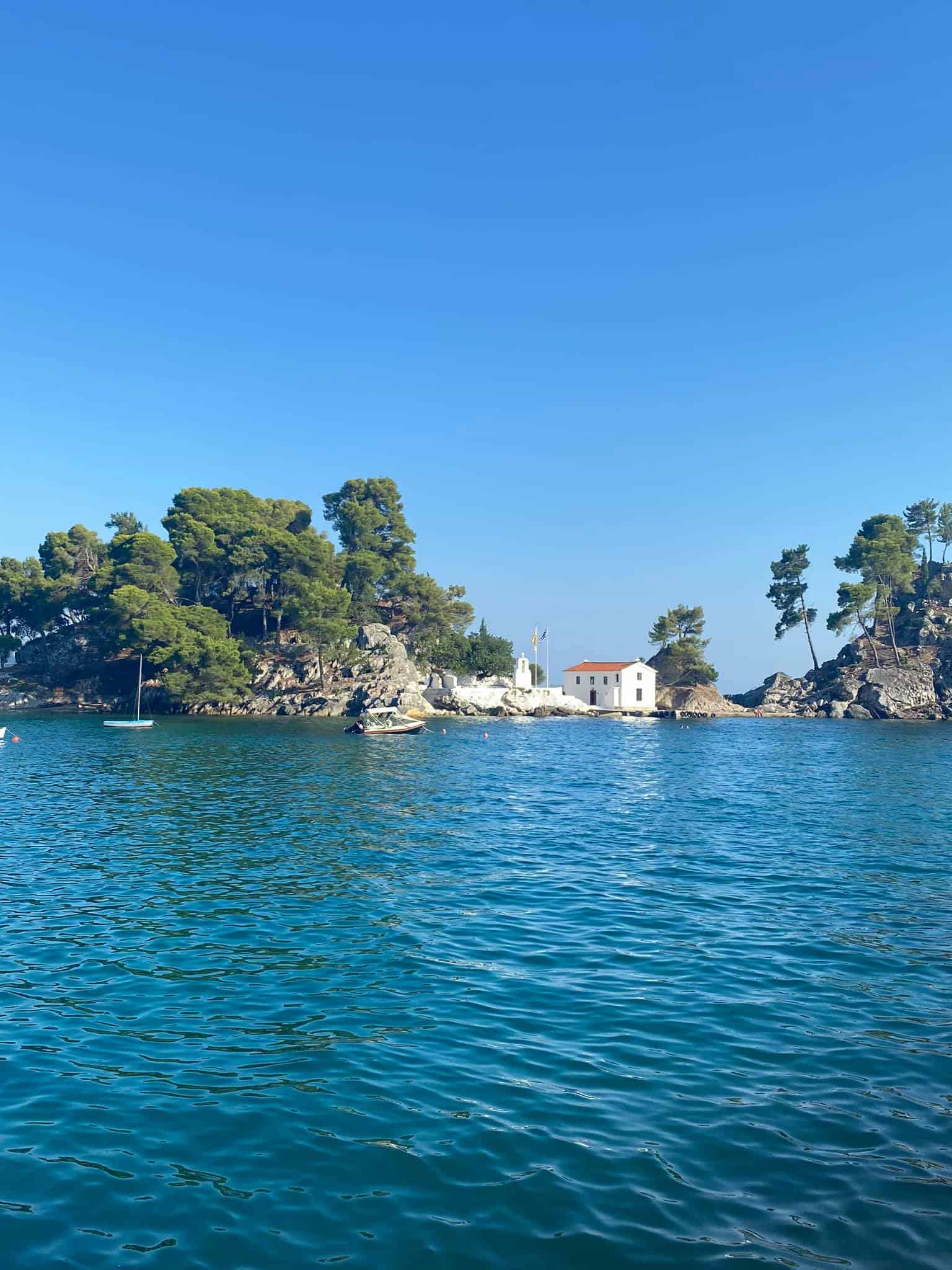 It is possible to rent a boat in Parga, like much of Greece, without having a boating license. All you need is respect for the sea, and to follow the advice that the rental company will give you when you collect the boat.
Renting a boat in Parga enables you to explore the areas of coastline that are otherwise inaccessible. The area's virgin beaches and the uninhabited island of Panagia that sits across from the port area are of particular interest.
Tuck into sumptuous Greek cuisine at Taverna Andreas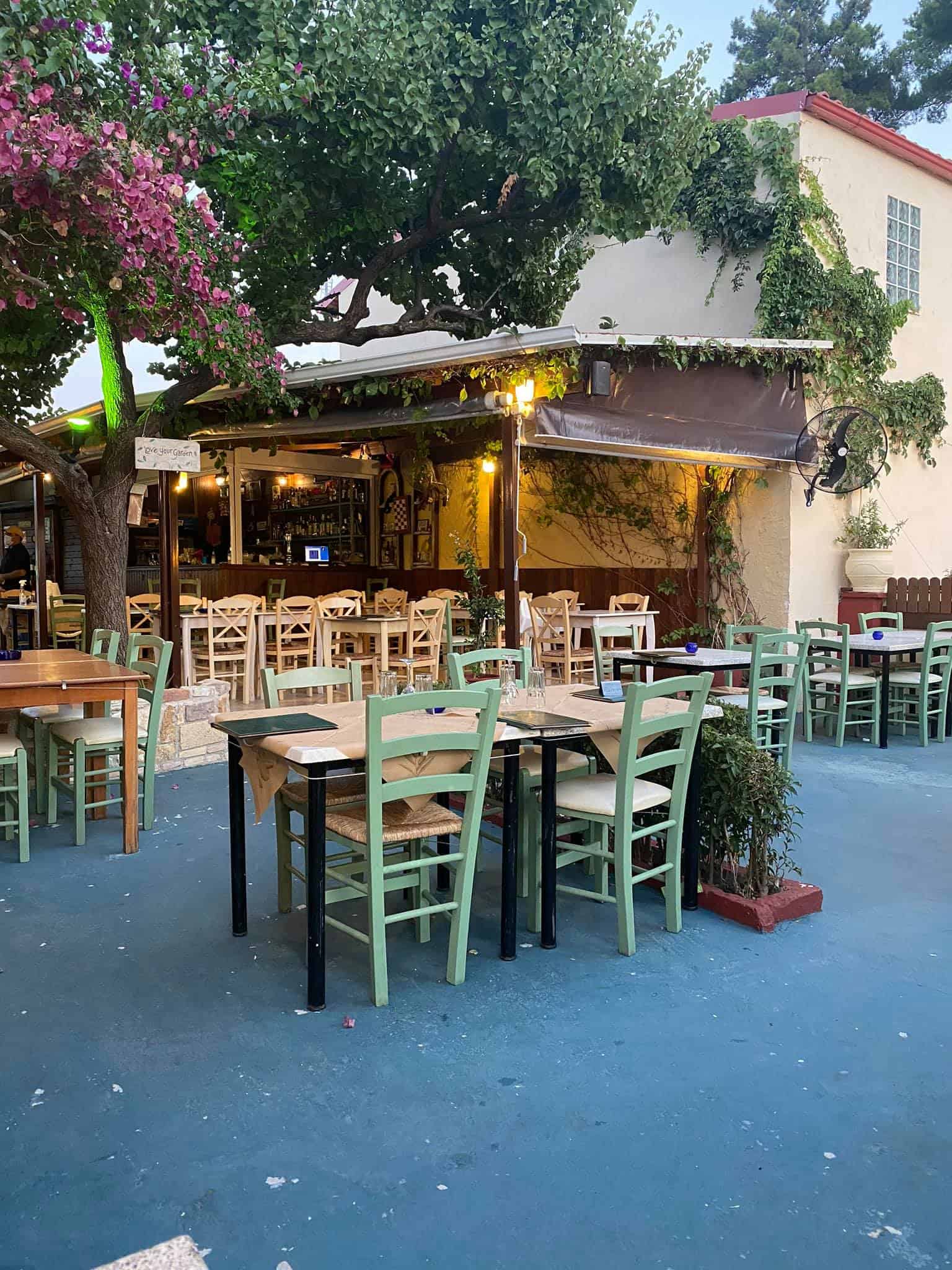 There is arguably no such thing as bad food in Greece. However, if you want to tuck into authentic Greek cuisine of the highest quality, be sure to stop by Taverna Andreas.
Many of the seafront eateries serve cuisines that are more general and cater to an international palette. Meanwhile, Taverna Andreas stays true to Hellenic tradition.

Greek favourites like stifado, and giouvetsi feature on the menu here. So too, do delicious meze plates, and an array of fresh seafood dishes prepared with fish sourced from local waters.
Visit the Monastery of Panagia Vlaherna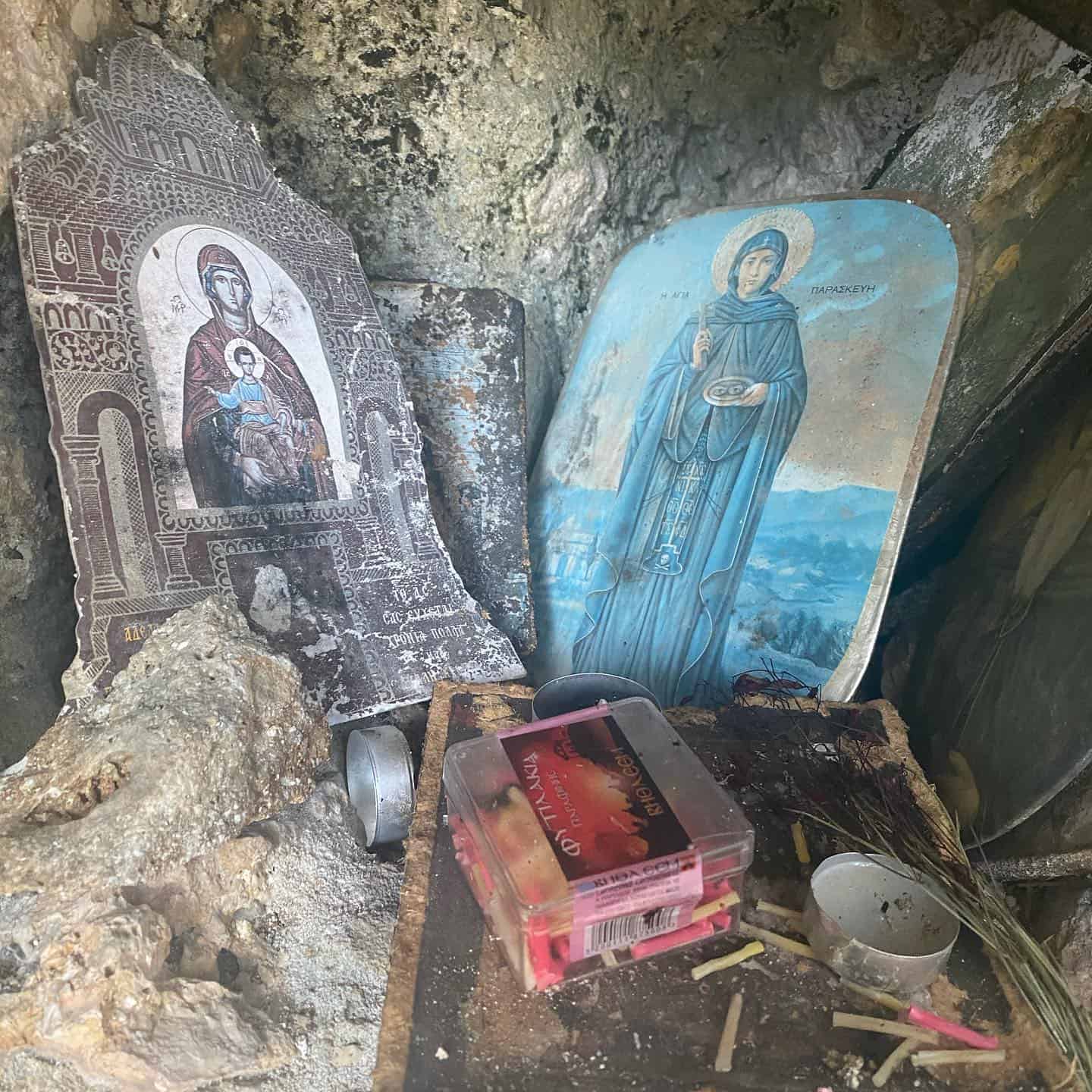 The Monastery of Panagia Vlaherna is an old Byzantine monastery that sits in the woodlands close to Valtos beach in Parga Greece. If you decide to hike from Parga to Sarankiniko, or at least attempt a partial coastal walk, you will pass it.
The monastery was built before the 12th century but now lies in ruin. Its bell tower has a height of 15 meters and boasts nine bells.
This was added later in the 18th century and is the only one that remains. It is said that the icon of Panagia Vlaherna comes from Cappadocia, Turkey, and was moved to Greece.
Today it sits in the church museum of Parga. Little is known about the Monastery of Panagia Vlaherna.
Much of its existence is shrouded in mystery – including when it was built, and by whom.
One of the monastery's most notable features is its 15-story bell tower complete with nine bells. There are little alcoves around the site where walls have collapsed or crumbled in.
These alcoves have been transformed into little shrines by locals and tourists. Many religious messages, figures, plaques, and candles have been left in these makeshift shrines.
Take a day trip to Corfu from Parga
You can take an organized day trip from Parga Greece to Corfu (Kerkyra) if you won't have a chance to spend more time on the island. (Getting there independently means taking the ferry from Igoumenitsa as there is no direct connection from Parga to Corfu).
Corfu is the northernmost of the Greek Ionian islands. Like Parga Greece, it has passed through the hands of various rulers and civilizations over the years.
The Macedonians, Spartans, Illyrians, Romans, Normans, and Venetians all controlled this island at one point. The Venetian rule was a particularly prosperous period for Corfu.
It is for this reason that parts of Corfu's UNESCO-protected Old Town look more reminiscent of Italy than Greece. Many of the structures in Corfu's old town date back to the 8th century.
The gorgeous, cobbled, colourful streets where laundry hangs between windows and alleyways are a photographer's dream. Here, unsuspecting passages open out into grand piazzas filled with well-heeled locals sipping coffee.
The Old Fortress of Corfu is well worth visiting. So too is the "New" Venetian fortress built on the Hill of St Mark.
Nearby, at Kanoni, you can sail out to the uninhabited islet of Pontikonissi, and the whitewashed Vlacherna Monastery. Corfu also boasts several regional delicacies that cannot be found elsewhere in the country.
Corfiot beef sofrito (beef dredged with flour and cooked in a white wine sauce) is a particular local favourite.
Trek to the springs of the Acheron river
The turquoise-coloured springs of the Acheron river are steeped in magic and mythology. Legend has it that beneath these waters was the gate to the underworld and the home of Hades.
But if you decide to take a day trip to the area, you will have a far less sinister experience! Countless hiking trails weave throughout the mountains and woodlands here. You can also rent canoes by the riverside or go horseback riding.
Explore Parga old town
Old Town Parga is characterised by a maze-like network of narrow cobbled streets and passageways. Many of the stores here sell Greek souvenirs and trinkets.
There are also many artisan boutique stores that sell beautiful apparel items. Greek leather sandals and resort-wear style summer clothes crafted by local designers make great gifts for the Grecophiles in your life back at home.
Visit the Dodona Amphitheater
If you are renting a car in Greece, you can visit the Dodona amphitheater on a day trip from Parga. This is one of the best-preserved ancient Greek amphitheaters and since it is not as well known as many others, it sees a fraction of the crowds.
Dodona was built in honor of Zeus, King of the Ancient Greek Gods. It is believed to have been constructed around 297-272 BC, during the reign of King Pyrrhus.
The theatre had a capacity of 15,000-17,000 people. In the early days, various theatrical performances and Greek dances were hosted here.
However, during the Roman occupation, the theatre's orchestra was turned into an arena that hosted wild animal fights. Admission to the theatre is €8 per person (concessions available).
There is also a small museum on site that showcases some of the important relics that were found in this area and provides more context behind the site. Look out for the old oak tree at the centre of the amphitheater.
Legend has it that centuries ago, priests would have people stand beneath the tree and use the wind that blew through its leaves in order to tell their fortunes.
Parga Tours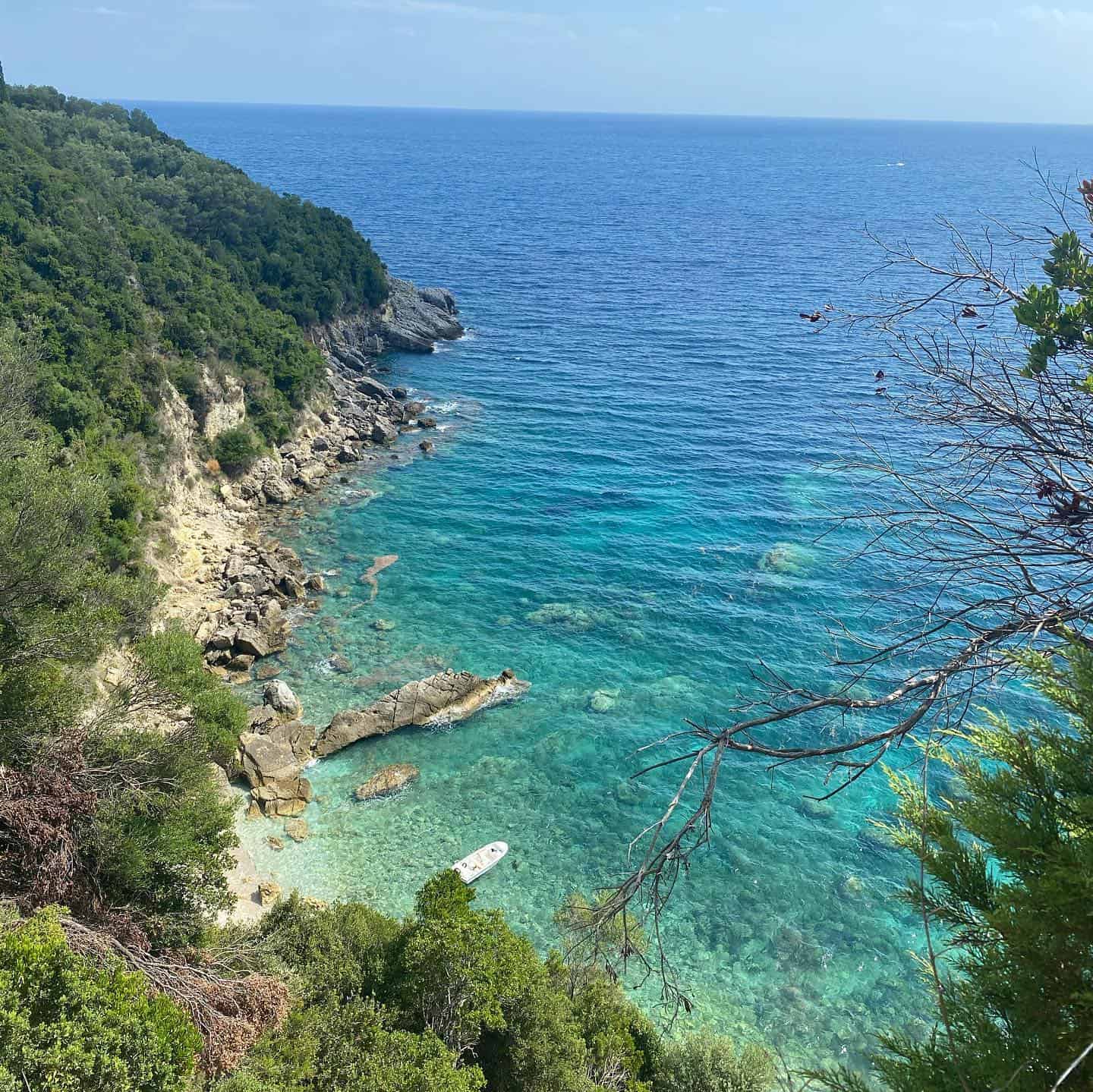 It is possible to take day trip excursions to Parga from the nearby islands of Corfu and Paxos. Similarly, if you are basing yourself in Parga, you may be interested to sail out to some of these little Ionian havens for a day.

A handful of reputable tours in the Parga area are detailed below. It is advisable to reserve your spot on tours that interest you online, in advance. This is particularly the case if you are travelling during July and August.
Where to Stay in Parga
Parga is a very popular summer travel destination for Greek domestic tourists. There are a plethora of hotels and resorts here that cater to every budget and travel style.
One thing worth noting is that many Greek families come here for their annual vacations. If you are travelling to Greece alone or as a couple/friends without children, you are best advised to book an "adults-only" resort or a private Airbnb.
Otherwise, you may be disappointed to find that your hotel pool and communal areas are overrun by children in the summer months. A selection of highly recommended Parga hotels is detailed below.
Racconto Boutique Design Hotel (Adults Only)
Racconto Boutique Design Hotel should be the go-to luxury choice if you are visiting Parga alone, as a couple, or with friends. The hotel is located just 900 meters away from the centre of Parga, as well as the town's main beach.
Racconto has received international acclaim for its luxurious presentation and service, receiving awards from the Luxury Travel Guide Awards. Rooms here are decorated in a sleek black-and-white Avante-Garde style.
They boast views of the nearby mountains and the hotel pool respectively. The latest room rates and availability at Racconto can be found here.
Dracos Hotel
Dracos hotel is a stylish, contemporary hotel situated on the outskirts of Parga town. Rooms are spacious and have been decorated with sleek, monochrome furnishings.

You are just a short, ten-minute walk away from the centre of town. However, the ambiance here feels a million miles away from the hustle and bustle of civilisation. Dracos hotel is surrounded by forests and fragrant olive groves.

The hotel boasts both a family and an "adults only" pool. The pool bar is open every day until late and serves up a range of coffees, beverages, and light snacks. You can review Dracos hotel's latest availability and room rates here.
Getting to Parga in 2023
You have a couple of options for getting to Parga, depending on where you are travelling from. The nearest ferry port is Igoumenitsa.
You cannot get a direct ferry from Paxos or Corfu to Parga Greece. Only organized day tour boats run here.
Flying to Parga
If you are flying to Greece specifically to visit Parga, the closest airport is Aktion (PVK) national airport in Preveza which is 65km away. Ioannina airport is 103km away and is a good alternative.
Alternatively, you can also fly into Corfu's "Ioannis Kapodistrias" international airport if you will also be visiting the Ionian islands on your trip. Various Greek and international airlines offer direct flights to Preveza.
This includes Jet2, Easy Jet, and British Airways.
Buses to Parga
KTEL buses connect Parga with the rest of Greece. Because the town is small, you may have to connect in Igoumenitsa or Preveza city for services onwards to Athens, Thessaloniki, and Ioannina.

Bus schedules and prices are subject to change. Most providers operate on a more limited service outside of the summer season. You can browse the latest information on the KTEL Prevezas website here. 
Parga Greece via Igoumenitsa
Igoumenitsa is one of the main ports for Epirus and Northern Greece. The town itself is not all that interesting or aesthetic. However, most ferries from Corfu, Paxos, and the Ionian sail here.
If you are travelling in the Ionian islands, you may have to connect in Igoumenitsa for Parga. Buses run regularly between Igoumenitsa and Parga and a ticket costs approximately 6 euros one way.
It is possible to take a cab. However, a cab from Igoumenitsa to Parga will cost around 30 euros.
If you need to stay overnight in Igoumenitsa to make an onward travel connection, you will not be disappointed. There are plenty of low-cost accommodation and dining options available here.
Getting Around Parga
Central Parga is relatively compact. You will find it easy to get around on foot – even if your hotel is slightly out of the centre.

Sea taxis run daily between the best beaches in Parga. (Valtos, Lichnos, and Sarakiniko beaches). You will also find several taxi ranks scattered around the downtown area.
Expect cab drivers to charge you at a rate of 2 euros per mile. Greek taxi drivers are generally pretty reliable and trustworthy.

You can also ask the receptionist/concierge at your hotel to organise a transfer for you or let you know the correct going rates.
Final thoughts on visiting Parga Greece
Parga Greece makes a great place to visit as a dedicated holiday destination in itself or as part of a wider Greece road trip.
Don't hesitate to reach out to me if you have any additional queries about visiting Parga, Greece, or planning a trip to Greece in general. I have lived in Greece for 4.5 years now and I am happy to assist with any questions you may have.
Safe travels! Geia sou! Melissa xo
---