Cappadocia, Turkey has soared in popularity as a travel destination in recent years. For many, the promise of seeing blue skies filled with colourful balloons, and waking up to the sight of mysterious fairy chimneys is their entire reason for venturing to Turkey in the first place.
Cappadocia, Turkey
Cappadocia possesses an almost ethereal, otherworldly beauty. Here, fairy chimneys are scattered throughout barren Anatolian plains, and ancient caves and monasteries hide the secrets to civilisations thousands of years old.
This region is vast. Many people do not realise is that "Cappadocia" is not just a small town.
It is an area in Central Turkey that encompasses several towns and cities in its grasp. This region includes Göreme, the popular tourist town where you can watch on as the Cappadocia balloons take flight every morning, and the quieter towns of Urgup and Uchisar, among others.
Things to do in Cappadocia
When you arrive in Cappadocia, there is plenty to do to occupy your time…
Take to the Skies in a Cappadocia Balloon Ride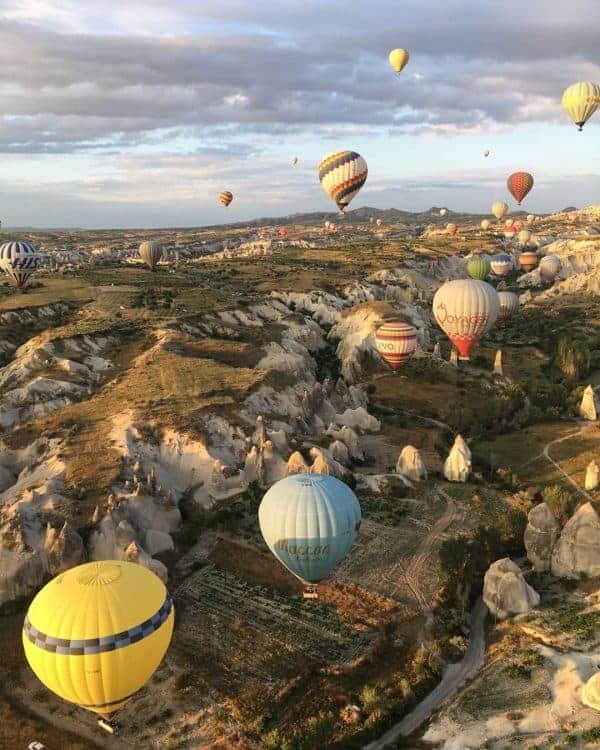 The balloons are without a doubt one of the major reasons that people from around the globe flock here. Every morning, around 50-100 balloons are launched into the air. They fill the skies with incredibly vivid colours.
Your balloon company will organise a pick-up from your hotel in the early hours of the morning and take you to the departure spot. You will typically need to leave your hotel at around 5 am.
Balloon tours do not come cheap; they are to the tune of around €150- € 200 per person. However, for a once-in-a-lifetime experience, they certainly provide a unique way to see this rugged landscape from an aerial viewpoint.
A balloon tour is a must-see on any Cappadocia itinerary for sure. Browse Cappadocia balloon tours here.
Watch the Balloons
If you have decided not to go ahead and organise a hot air balloon ride for your Cappadocia itinerary then you can still enjoy views of the balloons over the valleys of Cappadocia. Many of the hotels in Göreme and surrounding areas have balconies and rooftops that boast incredible views.
Try and wake up in time for sunrise as the skies are illuminated in incredible hues of pinks and orange. Even if you have booked to stay at a hotel that does not have a balcony for viewing the balloons, the vast majority of hotels will let travellers up onto their rooftop to see the balloons at sunrise. You should just buy Turkish tea or something in exchage for visiting their premises.
Go Horseback Riding
Cappadocia actually translates to "land of beautiful horses". There are plenty of spots around Göreme where you can go riding with a guide into the valleys for a few hours.
If you are an experienced horse rider, you can also organise 5 or 6-day tours into the Taurus mountains. You can browse Cappadocia horseriding tours here.
Bizarrely, there are also some people in the area that offer camel rides. Camels are not native to this region and they did not look very well taken care of. Be mindful when considering any animal-related experiences in Cappadocia.
Go Hiking in Cappadocia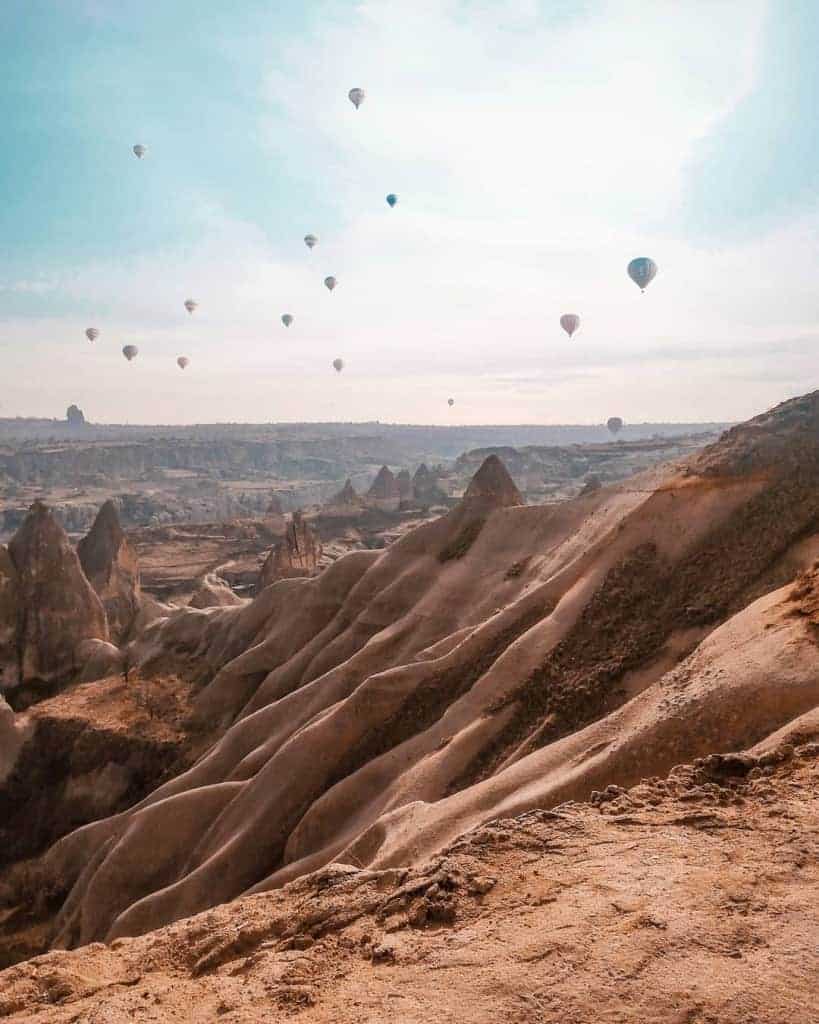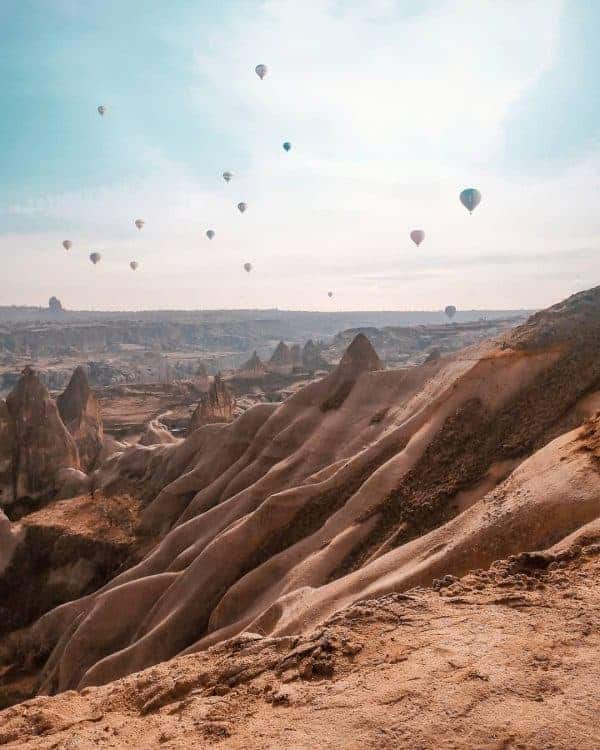 Cappadocia is a great place to go hiking and there are dozens of trails that weave through the dramatic landscapes of the area. You could easily dedicate 3 or 4 days of your Cappadocia itinerary specifically to hiking!
The scenery is just as beautiful when you are in and amongst it as it is from up high. Some of the best/most popular Cappadocia hiking trails have been detailed below for your reference.
These routes are relatively manageable and can be attempted by people of all ages and fitness levels. Many hotels and tour agencies around Göreme offer organised hikes and Cappadocia tours.
Depending on personal preference, you can opt to join a tour or go it alone. If you opt for the latter, download an offline train map before you set out.
Hiking in Cappadocia
:
Red Cappadocia Trail
The Red Cappadocia Trail takes you through the Northern part of the region. If you are staying in Göreme and you don't fancy being lumbered onto a bus with a load of tourists then you can do this route alone quite easily.
You can start early and head over to the Göreme Open Air Museum. From here you can take a long route through the Red Valley.
Then, stroll through the Rose Valley, past Zelve, and up to Cavusin. On arrival at Cavusin, there are a few coffee shops where you can stop for a cup of tea/Turkish coffee and visit the castle.

On your return journey, you can head back via a slightly different route to keep things interesting. Pass through Love Valley – this is an area that was awarded its name on account of the peculiar, phallic-shaped rock formations.
You should be back in Göreme in time for dinner. You can check tours and prices for the red Cappadocia hiking route here.
Hiking in Cappadocia: Green Cappadocia Trail
The Green Cappadocia Trail takes you to underground cities, and mysterious mountain monasteries. The distances between sites are a little greater but you are certainly rewarded for your efforts.
If you prefer not to hike, you can also hire a car. Prices for Car hire in Cappadocia start at around $35 a day.
Start by heading over to Derinkuyu for the underground city and then continue on to Güzelyurt. Güzelyurt is an Ottoman-Greek town filled with centuries-old churches.
Hundreds of years ago, Greeks and Turks lived here in harmony. From here, you can head to Ihlara Valley and hike its length until you reach the Selime Monasteries carved high in the mountains.
The Selime Monasteries were made in the 8th century for religious purposes. They were later transformed into caravansaries on the old silk road trade route.
Travelling merchants and their traders would stay here as they broke up the long journey from Asia to Europe. You can check tours and prices for the green Cappadocia hiking route here.
Hiking in Cappadocia: Blue Cappadocia Trail
The third and final Cappadocia hiking route is the Blue Cappadocia Trail. This takes you along the picturesque Soganli valley filled with Cave churches and underground settlements.
A highlight of this trail is the opportunity to stop by the town of Mustafapasa . This is an old Greek settlement where affluent traders settled during the 18th century.
The remains of old Orthodox churches and the faded Greek letters on the sides of buildings hints to the Greek population that once called this town home. There are several Greek settlements in the Cappadocia region, but Mustafapasa was the largest.
The Greeks lived here until the 1920s. At that time, they were forced to return to their country. You can check tours and prices for the blue Cappadocia hiking route here.
Cappadocia Hiking Tours
The organised Cappadocia tours are a great way to access remote trails and cover a lot of ground in a limited amount of time. The prices are very economical.
It is around $40 for a day's touring including lunch. The number of people that you are exploring with will no doubt vary depending upon the time of year that you decide to travel to Cappadocia.

If travelling during the winter months, this is not likely to be more than 5-6 people. During the spring, summer, and "peak" times, it may be jam-packed.
Explore Mysterious Underground Cities
There are several underground cities scattered around Cappadocia. The caves date back as far as the 8th century and they have been used as hiding places for people of various religions over the years.
They are not insignificant in size. Derinkuyu is one of the most well-known underground city in the region. It is eight stories deep and is thought to have the capacity to house over 2,000 people!
There are still underground cities around the region which are only just being discovered. Who knows what else lurks beneath the surface of Cappadocia's plains?
Another underground city in the region that is well worth visiting is the city of Kaymakli. This city is covered on the blue Cappadocia trail.
Explore the Pottery Town of Avanos
The quaint little town of Avanos is famous for its pottery. It is situated on the Kızılırmak Red River.
If you find yourself in this region, you can step inside one of the pottery-making workshops here and watch how the Potters work their magic. It's even possible to try your hand at pottery making here if you do so wish.
The locals have been making pottery in Avanos for thousands of years – all the way back to 2000 BC in fact! The Red River is a source of red clay for the locals which is why Avanos quickly became known for the pottery trade.
It is completely free to watch the potters in action. However, it should be noted that you will be taken into the store afterward and the prices are very steep and touristic.
Do haggle if you are interested in anything. This is expected here and nobody takes the initially quoted price as it is severely inflated..
While in Avanos, stop by one of the homely restaurants on the riverfront and order up a "testi kebab". This unique local delicacy is also known as a "pottery kebab" and the meat is prepared in a clay pot. The people of Avanos really are pottery crazy, eh?
Marvel at Uchisar Castle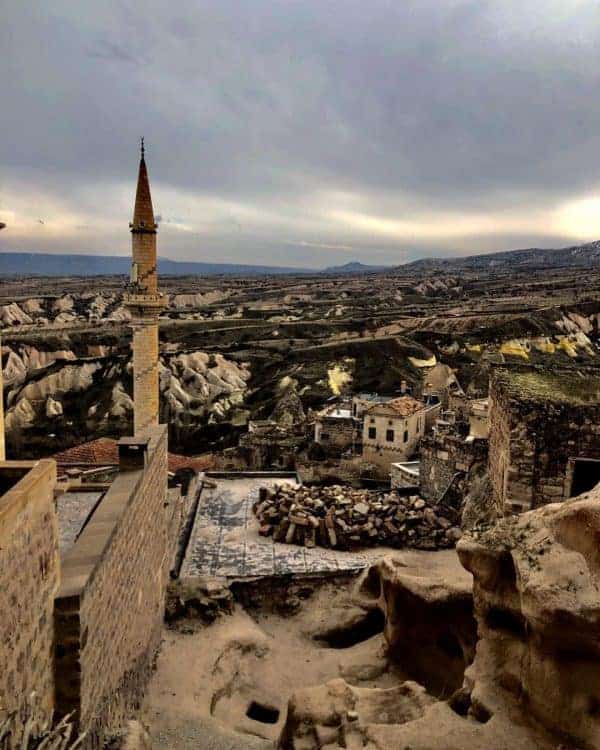 Uchisar Castle is not actually a castle, though it certainly looks like one. The strange, perforated volcanic rock has become one of the main landmarks of Cappadocia. The castle can be seen from miles around, towering above its namesake village which sits at the base of the rocks.
The rock itself has actually been hollowed out and an intricate network of tunnels and small rooms and annexes lies within. For centuries, the local villagers would hide here when enemies invaded the area.
Unfortunately, a lot of the rooms at Uchisar Castle are now taped off because of erosion. However, you can enter the tunnels and the view from the top of Uchisar castle is incredible.
This is the highest point in Cappadocia and the castle stands tall at 4,000m. It offers breathtaking views over the fairy chimneys and the unusual landscapes of the region.
Go Off-the-Beaten-Path to Ortahisar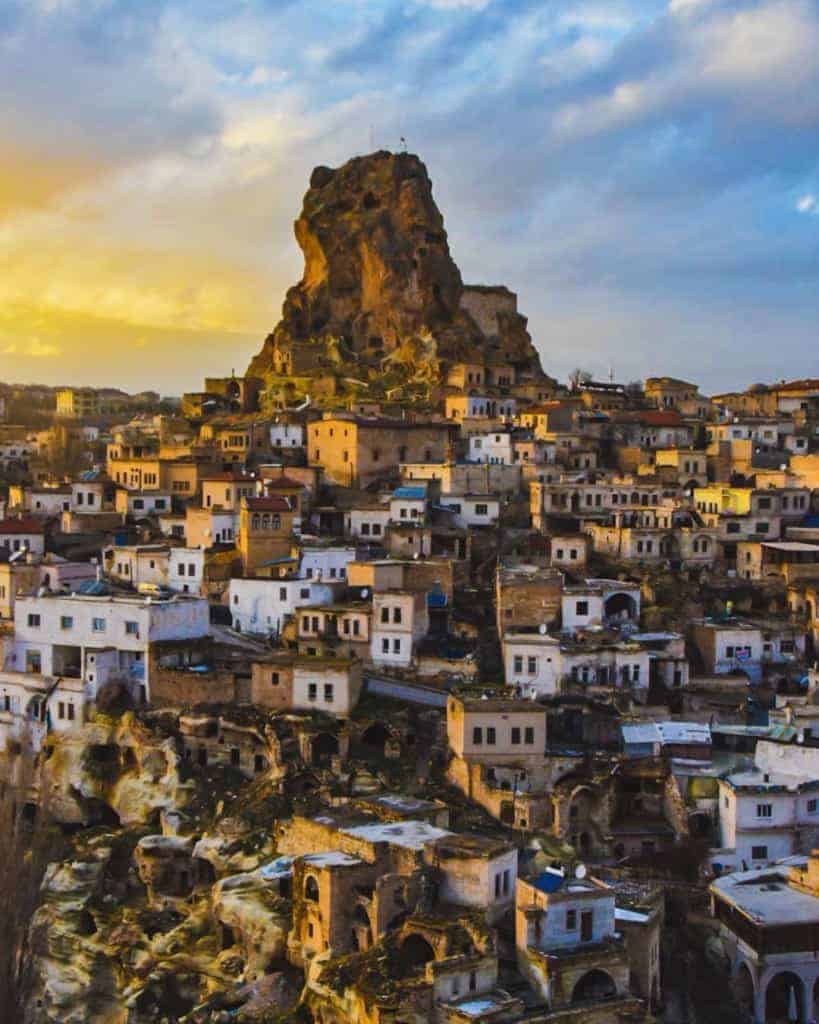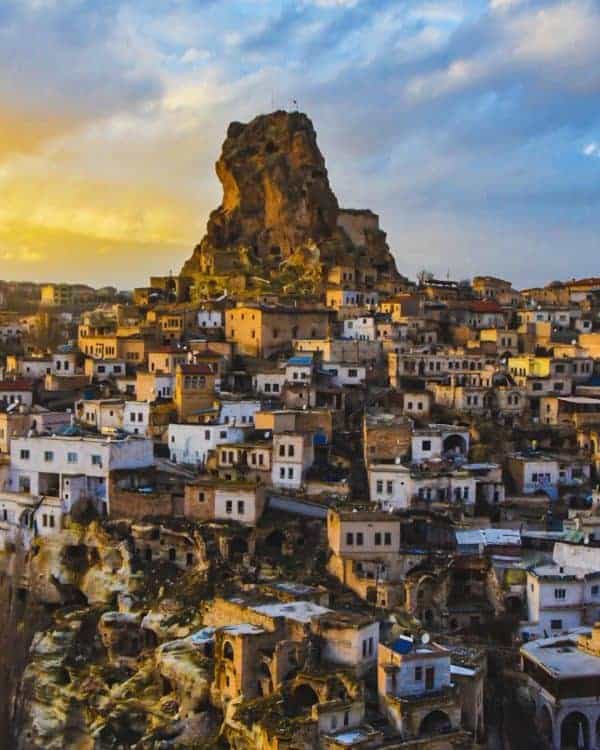 Ortahisar could be likened to Uchisar castle. This is a small town that has escaped the attention of most travel blogs and magazines.
Here you can find the Ortahisar Kalesi ("castle"). It is another unusual rock formation that you would be forgiven for believing was an actual castle.
Ortahisar is more off-the-beaten-path than Uchisar but well worth the trip, and the castle here is no less beautiful. The rooms inside are now used for storage.
There are several short local walking trails around Ortahisar that lead to breathtaking viewpoints. The centre itself is also charming, filled with numerous ramshackle antique stores that sell a vast array of weird and wonderful trinkets. This is a great place for picking up unique souvenirs from your time in Turkey.
Visit the Goreme Open Air Museum
The Goreme open-air museum is perhaps the most popular attraction in the region after the infamous hot air balloons. The museum provides a perfect insight into how people used to live in these caves.
Many of the caves were used as chapels during the 12th century and many of the paintings and frescoes remain inside, albeit slightly worn by time and weather. The chapels have obscure name.
For instance, one is called "the spider church". Another is "the dark chapel". The open-air museum can get very crowded during the summer months but is well worth a visit nonetheless.
Zip Around the Landscapes in an ATV
If hiking and horseback riding aren't your thing, a more fast-paced alternative is opting to explore the region by ATV. It is possible to explore the "red zone" on an ATV tour. Alternatively, have a guide take you through the various fairy chimneys and other-worldly valleys that exist in the Goreme region.
Book a Turkish Nights Experience
When you are in Cappadocia, you will probably notice a lot of hotels and tour companies advertising a "Turkish Nights" experience. This is basically a dinner where you are served traditional Turkish delicacies as various shows and performances take place in order to give you an introduction to Turkish culture.
Whirling dervishes and belly dances are just a few of the things to expect. Honestly, this is a little pricey and touristic. However, if this is your first time travelling in Turkey, it can be a nice introduction to the culture.
Sleep in a Cave Hotel
There are literally hundreds of hotels in Cappadocia for you to choose from. Staying in a Cappadocia cave hotel is a wholly unique experience and you can enjoy luxury in Cappadocia without breaking the bank.
I stayed at the Guzide Cave Hotel in Göreme which I cannot recommend enough! Murat, the owner was super nice and attentive and helped me organise my hikes and excursions around Cappadocia.
Additionally, the hotel puts on a huge fancy breakfast! Other cave hotels with excellent ratings are Sultan Cave Suites and Aydinli Cave Hotel.
Cappadocia Travel Guide:
Where to Stay in Cappadocia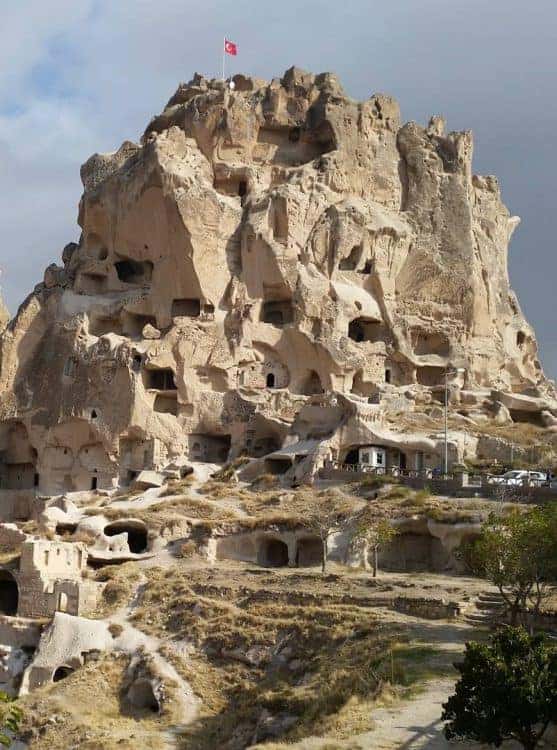 The "Cappadocia" region is quite vast, and the best area to stay in depends on your personal preference and a number of different factors. A few considerations are discussed below.
Goreme
Goreme is one of the most popular places to stay in Cappadocia. It is also the most touristic. Though a few locals still inhabit the cave houses here, most of them have been transformed into hotels and restaurants.

Despite being popular among tourists, nothing can detract from the charming landscapes of the fairy chimneys that are scattered throughout Goreme. Since the hot air balloons and regional tours start in Goreme, the location is perfect if you plan on taking a balloon ride.
Goreme centre boasts ample restaurants, supermarkets and stores. This makes it a super convenient base for your Cappadocia itinerary.
Urgup
If you enjoy a little luxury when you travel, and you want a central location without being in the midst of all of the tourist hordes then you can opt to stay in Urgup during your Cappadocia itinerary.

Urgup is perched on top of a hill. This sophisticated spot offers incredible views over the region and boasts plenty of luxurious boutique hotels. Additionally, you will find some upscale dining and nightlife spots here.
Uchisar
The town of Uchisar is relatively quiet when compared to bustling Goreme. It is famed for its namesake castle. There are a number of comfortable budget and boutique hotels here, though there are only a small few dining options.
Uchisar is a great choice for accommodation if you want to get away from the crowds and have your own transport. From here, it is also a great point to hike through pigeon valley towards Goreme.
Ortahisar
Ortahisar is missed off the Cappadocia itinerary of most people. That said, this rural town is utterly charming and possesses a more "local" vibe.
If you want to get off the beaten path in Cappadocia and have a more authentic experience then the working agricultural town of Ortahisar is the perfect choice. This is the least touristic of all of the Cappadocia settlements.
Getting to Cappadocia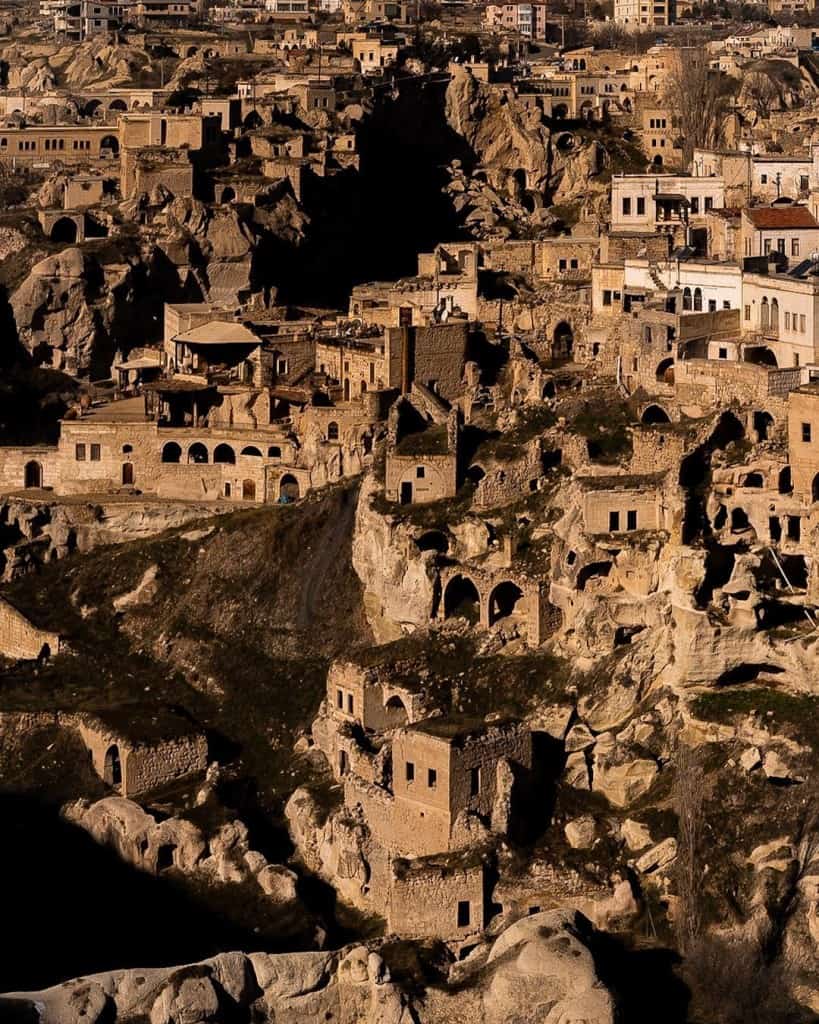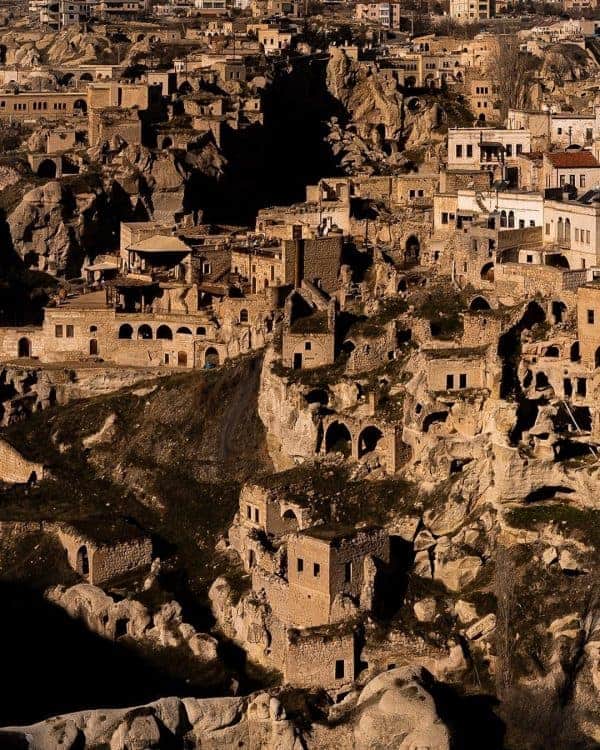 By Plane
There are two airports that service Cappadocia. Namely, they are Cappadocia airport and Kayseri Erkilet International Airport.
Both offer regular flights from Istanbul that are relatively cheap, even in the peak season. It is not unheard of to obtain tickets for less than $50 if you book in advance. Pegasus Airlines and Turkish Airlines both operate routes to Cappadocia.
Many international airports fly into one of the two Cappadocia airports. However, if your starting point does not, then you could also fly to Ankara International and take the bus to Cappadocia. The bus from Ankara to Cappadocia takes approximately 4-hours.
By Public Transport from Istanbul
There are also night buses (around 8 – 10 hours in duration) and trains that run from Istanbul to Cappadocia. Turkish public transport is actually pretty nice and comfortable, the prices for long-distance trains and buses are not that much lower than the flights so I wouldn't necessarily recommend this option.
How Long to Stay in Cappadocia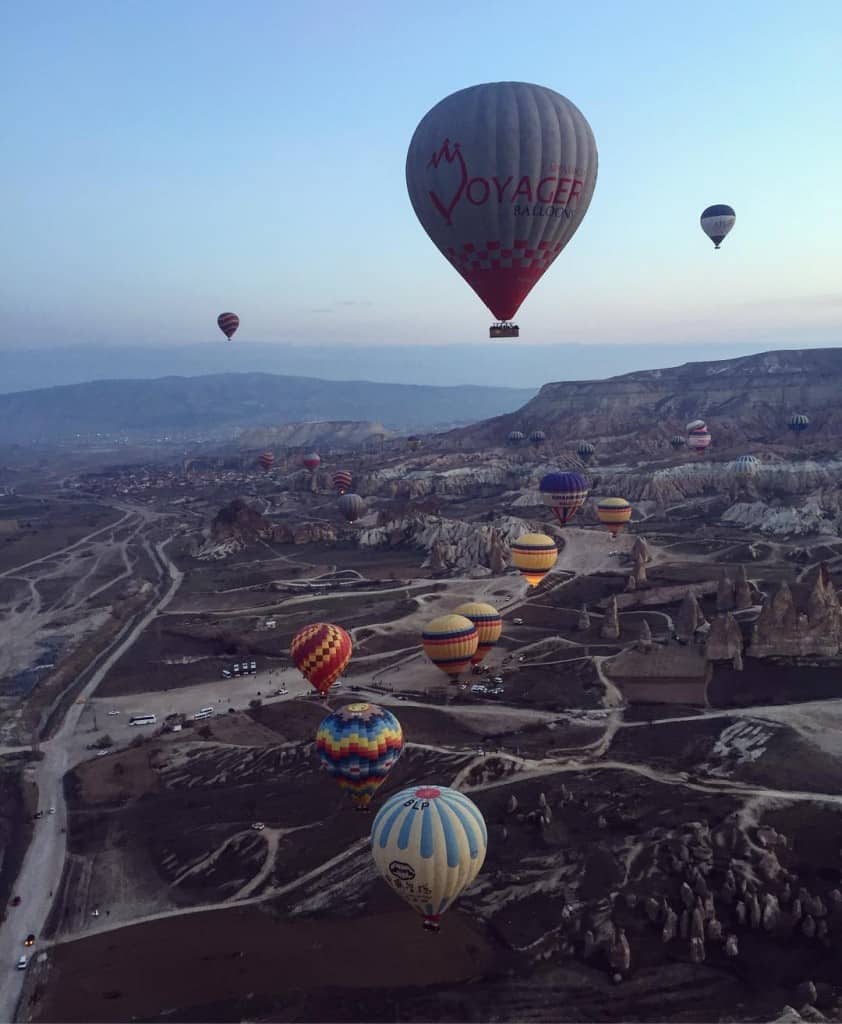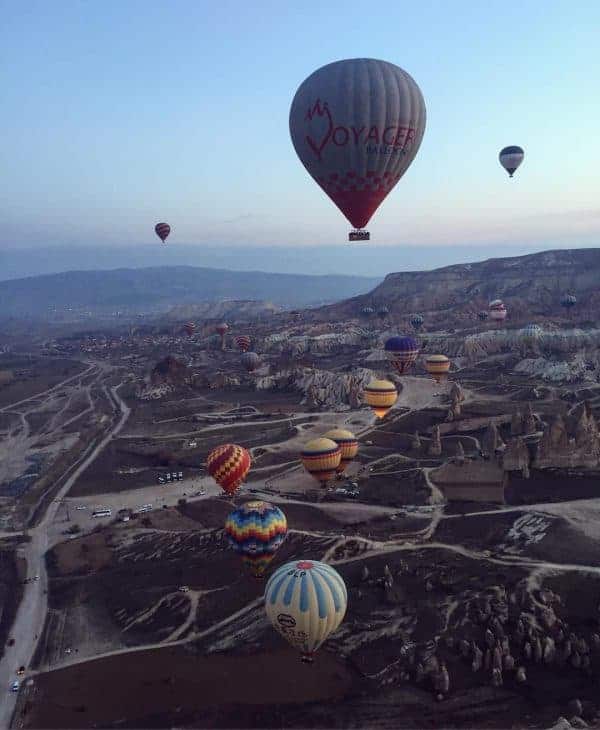 Many travellers come to Cappadocia with the intention of just staying overnight, taking to the skies in a balloon, and then leaving the region. Cappadocia is deserved of much more time than that.
At the very least, consider spending three or four days in Cappadocia. This will give you the chance to tread scenic hiking trails, discover mysterious churches carved into cliffs and explore eerie underground cities.
When to Go to Cappadocia
The "high season" for travel to Cappadocia runs between May and September since this is when the weather is at its best. However with that considered, you should expect a slight increase in prices and the number of tourists.
The "shoulder season" in Cappadocia is in mid-spring (late March/April) and October. This is arguably the best time to travel. That way, you can still enjoy the nice weather but with fewer crowds and expense.
It's important to note that in adverse weather conditions, balloon rides may be cancelled. The balloon flight schedule is actually managed by the Turkish air force who decide each day whether the weather conditions are suitable for a flight.
There is simply no getting around this. So if your trip coincides with wind or bad weather, your balloon ride may be canceled or rescheduled. Cancellations are more common during the autumn and winter months.
Cappadocia Travel Guide:
Is Cappadocia Safe?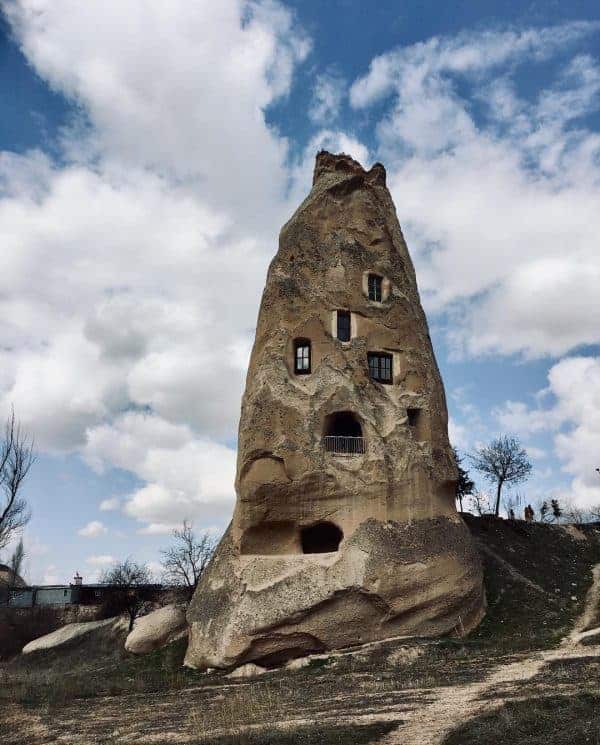 Unfortunately, Turkey is still trying to shake off its reputation as being a "dangerous" travel destination. More and more travellers are starting to return in recent years though which is a positive for tourism in the country.
Solo Female Travel in Cappadocia
I felt completely safe during my week in Cappadocia and the general consensus is that the region is very safe. I enjoyed solo female travel in Cappadocia and never felt uncomfortable.
Since Cappadocia is so accustomed to tourism, this is arguably one of the best places in Turkey for solo female travellers. There are always plenty of English speaking locals willing to help you.
It's also the first place I travelled in Turkey that I actually noticed a lot of other fellow solo females wandering around. When I asked the owner at my hotel if he saw a lot of women travellers, he said that most of them were solo women!
Cappadocia Safety Tips
Cappadocia is a very tourist-friendly part of Turkey. That said, as with anywhere that you travel, you should follow a few basic precautions as detailed below:
Be mindful of hiking by yourself in remote areas. Though I hiked the red trail independently, I saw no-one else doing the same and I was a little anxious at times. If hiking alone, tell someone from your hotel where you are going



There are many wild/stray dogs in the Cappadocia area. If approached, try to stay still and stay calm





Try to arrive in the day time if possible so that it's easier and more comfortable to locate your hotel
Parting Words
Have any questions about this Cappadocia Travel Guide? Feel free to reach out to me via the comments below.
Cappadocia is best enjoyed as part of a wider Turkey itinerary. Safe travels! Melissa xo
Related Article: Ridiculous Encounters with Turkish Men
---