This 14 Day Turkey itinerary shows the route around the country that I followed during my adventures through Turkey this January. It leads you through the bustling souks of Istanbul, among the ethereal landscapes and fairy towers of Cappadocia and to less-frequented towns and villages that give a perfect insight into local life in Turkey.
I actually spent a little longer in Turkey because I had to work as I was traveling (first world Digital Nomad problems over here!) but I have condensed the itinerary down into what I think is the perfect amount of time to spend in each place.
Disclaimer: This Turkey itinerary may contain the occasional affiliate link. That means that if you choose to make a purchase through any of the links, I will make a small amount of commission at no additional cost to you. This helps me with the running costs of High Heels and a Backpack. Thank you for your understanding.
Turkey Itinerary Highlights
This Turkey itinerary is perfect for culture vultures, history buffs, and those that like to really get under the skin of the places that they visit in order to see them like a local. The highlights of this Turkey itinerary include:
Watching mystical whirling dervishes in beautiful Konya




Trekking through the most unique landscapes in the world in Cappadocia




Hot air ballooning in Cappadocia




Marveling at the Hagia Sophia and other gems of Istanbul




Going back in time at quaint traditional Turkish villages



Discovering entire cities built underground in Derinkuyu 

Falling in love with Turkey's food culture – from sumptuous marinated meats to sweet loukoumi 

Encountering and befriending wonderful local people 

Navigating through the Serpentine souks of Izmir 

Marveling at the well-preserved ruins of Ephesus
When to Travel to Turkey
If you are anything like me, you have probably always associated Turkey with being a "hot country". Not so fast though. Turkey is a huge country that straddles both Asia and Europe. Its temperatures vary significantly depending on the season during which you intend to travel to Turkey and the specific region you venture to. Plan wisely depending on the activities you hope to enjoy during your Turkey itinerary.
Spring (March to May):
Spring is one of the best times to visit Turkey, especially if you plan on embarking on a cross country Turkey itinerary like the one included here. The days are warm and sunny and the temperatures are pleasant – ranging from the late teens to the early twenties in terms of degrees celsius.
Summer (June to August):
Temperatures are hot and sunny during the summer months in Turkey. In degrees Celsius, you can expect temperatures ranging from the late twenties to the early forties depending on where exactly you are. This is perfect weather for relaxing on Mediterranean-style beaches in Bodrum and Antalya but is a little hot if you plan to do any hiking during your Turkey itinerary.
Autumn (September to November):
Autumn in Turkey sees similar temperatures and climates to spring, making it an equally perfect time to plan your Turkey itinerary.
Winter (December to February):
In Eastern Turkey and across the Anatolian plains, it gets very cold during the winter months. Snowfall is common – often to the extent that roads are blocked and hiking trails are rendered inaccessible.
The fairy-tale landscapes of Cappadocia look almost magical under a blanket of snow, seemingly perfect for photos during this time but be warned: balloon rides see more cancellations here than during any other time of year due to adverse weather.
In Western Turkey (Istanbul, Izmir, Ephesus), temperatures are much more pleasant – warm enough to walk around with just a sweater even and around 14-16 degrees Celsius in the day time.
Getting a Visa for Turkey
Visa processes for Turkey were recently updated. Now, citizens of most countries (including British citizens) should obtain a visa online prior to travelling. This process is very straightforward.
You ought to receive an email confirmation with your visa attached within a matter of minutes, all being well. Once granted, the standard visa is valid for three months and allows multiple entries into Turkey. You can find the visa application here.
Turkey Itinerary:




Is it Safe?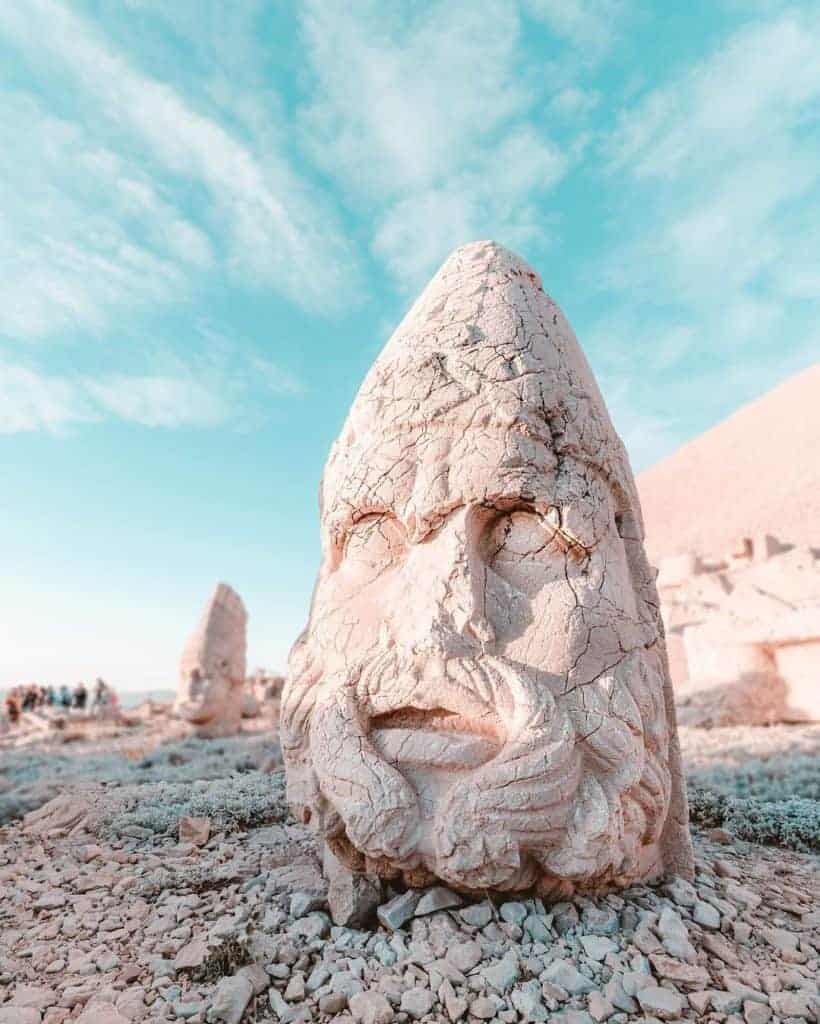 Turkey is generally a safe country to travel to. It is unfortunate that a few recent incidents have made people apprehensive about visiting. If you are afraid, you are missing out on one of the most beautiful and culturally rich countries on our planet.
Turkey's proximity to Syria concerns some people, though terrorists are just as likely to carry out attacks in European cities (and they have done). By all means, check the political situation and your local government's travel advice prior to departure, but don't be scared out of planning your Turkey itinerary.
Travel Insurance for Turkey
Travelling to Turkey is a safe and enjoyable experience for most people. That said, you should always ensure that you have comprehensive travel insurance coverage, wherever you go in the world.
I personally always use World Nomads. Not only do they provide you with medical insurance coverage up to £5 million, but they also cover you for countless additional extras such as repatriation, cancellation, and baggage loss/theft.
Turkey Itinerary:




Solo Travel
Turkey may not seem like your usual solo travel destination but it can be a great choice. I have travelled to Turkey four times over the last five years. Most recently, I spent a month travelling alone through the country this January.
After travelling to over 45 countries, I would consider this one of my best trips so far. I have written a comprehensive guide to solo female travel in Turkey so I won't go into too much more detail here.
I came away from Turkey having made wonderful new Turkish friends, and a deeper understanding of this beautiful country and culture.
Turkey Itinerary Days 1-3:
Istanbul
‌Start the 14 day Turkey itinerary by flying into Istanbul, the country's largest city.
Occupying space in both Asia and Europe, Istanbul is one of the only places in the world that is spread across two continents. Showcasing stunning Byzantium and Ottoman architecture and history, Istanbul is a wonderful blend of ancient traditions meet modern life.
Istanbul seems overwhelming at first glance. The city is vast and the fact that it is split across several small islands makes navigating around a headache at first. When you scratch beneath the surface though, you realise that Istanbul is comprised of several different interesting neighbourhoods, each with their own unique and quirky personalities.
Things to Do in Istanbul
Sultanahmet district is where you can find the majority of the tourist attractions in Istanbul (the Blue Mosque, the Grand Bazaar, and the Hagia Sophia). Unfortunately, it is also where you will constantly be exposed to tourist prices in coffee shops, bars, and restaurants that are several times the price as compared to what the locals pay.
You can explore this area in full in just one day so if you are interested in trying more authentic restaurants and seeing Istanbul like a local then I would recommend staying in an alternate district and taking the tram into Sultanahmet during your Istanbul itinerary.
Get a Birdseye view from Galata tower
Just north of the golden horn, in the centre of Galata square awaits Galata tower. You will see Galata Tower in the distance from most points around the city – it's the kind of medieval Rapunzel looking turret.
Expect queues if you go up at weekends but it's worth it. At the base of Galata tower, there are lots of super cute traditional coffee shops and tea rooms where you can drink Kücük cay with a piece of Turkish delight.
A Turkish friend took me into the Turku bar which was a teeny tiny little place filled with antique furniture and china tea sets. It has been featured in a lot of Turkish TV shows. I definitely recommend it. You can also find lots of vintage thrift stores in the area which are great for picking up one of a kind items.
‌Explore Ortakoy
Ortakoy is the port area from which you can take connecting ferries to other parts of Turkey. Once a fishing village, Ortakoy has maintained its traditional routes to this day.
As you walk along the seafront or the bridge that connects Ortakoy to Galata, you will notice many optimistic fishermen setting up camping chairs along the waterfront. The area is popular for hosting what are deemed to be the very best seafood restaurants in town, as well as some of Istanbul's chicest bars and nightlife spots.
‌Experiment with Turkish street food
Turkish food is far more than just kebabs and moussaka and you will find many vendors selling local delicacies, particularly around Taksim Square and Istiklal Avenue. My personal recommendation? Try the Islak burgers! These "wet hamburgers" are much more appetizing than they sound and are soaked in a rich tomato sauce.
‌Hang out with Hipsters in Besiktas
Home to the Besiktas football team, if you're young and trendy in the city of Istanbul, this is the place for embracing the modern world while others cling to traditional values of the Byzantium period and Ottoman Empire. To be honest I neither consider myself so young nor trendy, but with plenty of coffee shops and nice bars to sit outside, this is a nice neighbourhood nonetheless.
Practice Haggling at the Grand Bazaar
Istanbul's Grand Bazaar is touristy, sure, but it's also one of the oldest traditional markets in the country, dating all the way back to the 14th century. Peer down the hidden hans, navigate narrow pathways and watch Artisans at work making traditional handicrafts.
Take a Bosphorus Tour
Dozens of boats depart daily from Ortakoy giving you beautiful views of Istanbul's most notable architecture from the water. You can also opt for the night version of the tour if you are interested to watch the sunset.
Visit Dolmabahce and Topkapi Palaces
As the location for many weird and wonderful stories, and the former court of the Ottoman Empire, Topkapi Palace falls high on many a traveler's bucket list. It's opulent and impressive, that's for certain, and tales of scheming eunuchs, beautiful concubines, and lustful Sultans will have you fascinated.
Topkapi palace is typically always packed full of tourists. For that reason, Dolmabahce palace makes a nice alternative. It is lesser-known, yet still possesses all of the beauty and opulence of Topkapi without the crowds. At Dolmabahce, you can also enjoy a free tour of the harem.
Istanbul Travel Tip: Make sure to invest in the Istanbul transport card (Istanbul Kart). You can buy it for 10 lire from most convenience stores around the airport, Sultanahmet, and various other parts of the city. It is a preloaded card that makes using public transport (trams, boats, metro) much more affordable and saves scrambling around with change all the time.
Where to Stay in Istanbul
There are a few options when choosing where to stay in Istanbul. This depends somewhat on your personal preference. The Sultanahmet district is touristy, but it places you right on the doorstep of the Blue Mosque, Hagia Sophia, and the other most notable things to do in Istanbul.
If you want to stay somewhere away from the crowds, consider trendy Karakoy. I stayed at the Antusa Design Hotel in Sultanahmet. This is a stylish boutique hotel that offers comfort and luxury in the heart of Istanbul, without the luxury price tag.
Turkey Itinerary Day 4:
Ankara
Ankara is the capital of Turkey and as such, it is well worth a flying visit as part of your Turkey itinerary, if only for a day or so. Ankara is home to many sites of historical and political importance and is the perfect place for gaining an understanding of Turkey's past and present situation.
The Turks love their former leader Atattürk and here in Ankara, you can visit his tomb at Anitkabir. For a 360 degree view of the city, mentally prepare yourself for a steep climb, and head across to the Ankara Castle in the city's Ulus district.
Just wandering the streets and gaining an insight into local life is a nice way to explore Ankara. By the Ankara Citadel, the Old Quarter, with its cobbled streets and red Ottoman houses is touristy but well worth the trip back in time.
By the evening, head over to trendy Kizilay, the beating heart of Ankara's social scene where the streets are laden with Designer boutiques, chic restaurants, and colourful outdoor markets.
Related: Read about my hilarious experience with Turkish men in Ankara
Getting to Ankara from Istanbul
Long-distance buses and rickety train services run along the route from Istanbul to Ankara, however, you can expect the journey to take up to around 6 or 7 hours. I would recommend flying from Istanbul to Ankara.
Plane tickets can be purchased at a relatively low cost if they are bought in advance and Pegasus offers many cheap deals that mean that the journey should not set you back more than around $20. From Ankara airport to the city centre, the bus journey takes around 45 minutes and leaves you at Ankara central bus station.
Where to Stay in Ankara
The great thing about Ankara is that despite the fact that this is the capital of Turkey, the city centre itself is quite compact. Ankara does not make it into a lot of tourists Turkey itineraries and as such, many of the boutique hotels that you find here are super affordable!
I stayed at the No. 19 Boutique Hotel. It was a little out of the centre but the area that surrounded the property was pleasant and the rooms were just $29 a night.
For absolute luxury in the centre of old Ankara, consider booking a room at the Divan Cukurhan. This boutique hotel is housed inside a former horse stable, and is one of the most unique accommodation choices in the Turkish capital. With high ceilings and plush furnishings, Divan Divan Cukurhan offers rooms fit for a Sultan. The best part is that the nightly rates start from just $80.
Turkey Itinerary Days 5 – 7:


Cappadocia
Home to a rugged landscape that looks almost ethereal and other-worldly, the scenery in Cappadocia is breathtaking every which way you look.
Taking a Cappadocia hot air balloon flight is the reason that many people head to Cappadocia but there is far more to do in the area that just the balloons. In Cappadocia, you can expect to explore underground cities and tread along scenic hiking trails that lead you to ancient Byzantine churches carved into caves or perched atop cliffs.
After your visit, I'm sure that you'll believe that the hot air balloons were just one of many highlights of your trip. For a more in-depth look at what you can do in Cappadocia, take a peek at this Cappadocia travel guide.
Getting to Cappadocia from Ankara
You can take the bus from Ankara to Cappadocia and it will get you to Nevsehir in approximately four hours. Be prepared that you may need to change buses towards the end of the journey and get onboard a smaller bus.
For example, if you are staying in Goreme, you will need to leave the bus at the Cappadocia stop and change. The Driver and Stewards on board will help you to make the transfer. Buses in Turkey are really pleasant and comfortable so you can enjoy the journey with an in-seat TV, music, and free refreshments (Greyhound and National Express need to follow suit!)
Where to Stay in Cappadocia
"Cappadocia" is actually a sprawling region comprised of lots of different towns and areas. Goreme is a popular choice as it is here where many of Cappadocia's main attractions are – the open-air museum, the departure for the balloon tours, the red hiking trail, etc.
For a completely unique "only in Cappadocia" experience, consider staying in a Cave Hotel. I stayed at the Guzide Cave Hotel in Goreme and it was the best hotel experience I had in Turkey. The hotel serves a lavish Turkish breakfast and the owner, Murat, goes out of his way to help his guests make the most of their trips.
Turkey Itinerary Days 8 and 9:
Konya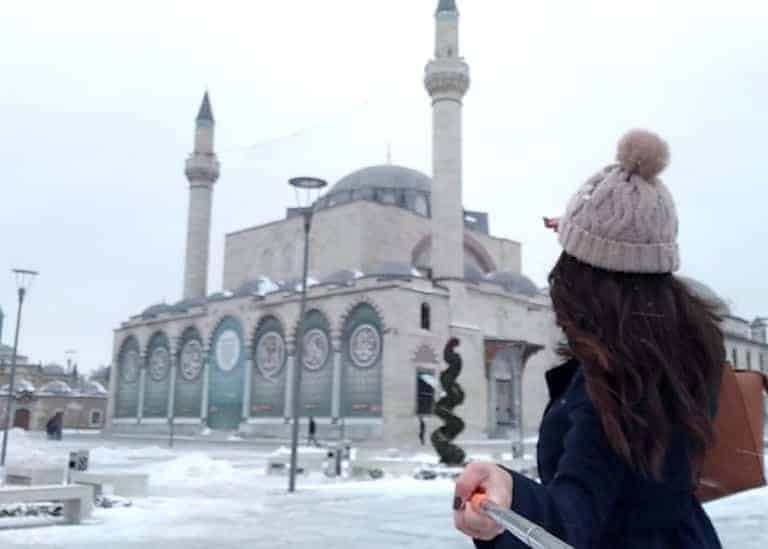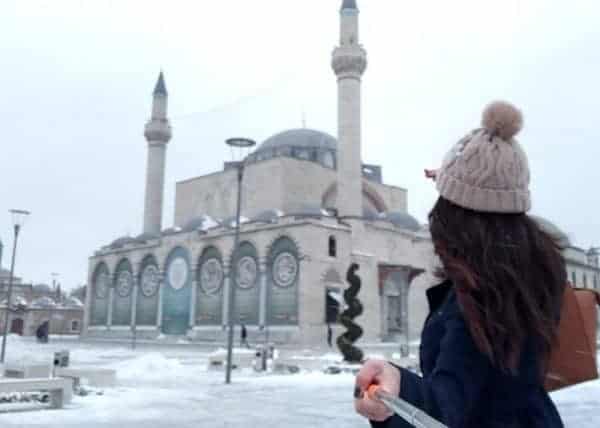 A conservative Muslim city in central Turkey, arriving in Konya felt like a stark contrast as compared to what I had seen of the country up until that point. At first glance, it can seem like a city of tight headscarves and high necklines, but once you scratch beneath the surface, you will realise that Konya has so much to offer.
I fell in love with Konya almost immediately upon arriving. There was just something about the city that felt so unspoiled, what with it being away from the typical tourist trail and largely free from touts. Konya is a popular pilgrimage destination for followers of Sufism and Mevlana (aka the Poet Rumi).
Get Lost Among the Tapestries of the Bazaars
The bazaars of Konya are much more authentic than those in Istanbul. A local guy told me that Turkish bazaars sell "everything from string to furniture" and that couldn't be truer. Try a hot cup of salep and browse more authentic local wares here than anything that could be found in Istanbul's Grand Bazaar
Fall in Love with the Poet Rumi
At the Mevlana museum, you can learn about Rumi's life and works, and visit his tomb, however, there is also plenty here for those who are not spiritual. One notable thing about Sufism is that they are the creators of the whirling dervishes (aka, those traditional Turkish dancers that spin round and round and have us all wondering about how they are not sick).
Where in Istanbul you can pay a small fortune to see a touristic whirling dervishes dance, in Konya you can watch it for free when the dance is performed each Saturday afternoon outside the Mevlana Museum.
Discover Ancient Civilisations
From Konya, you can take a short day trip to the Neolithic town of Catal Huyuk, an ancient civilisation that dates back to 7,500 BC making it one of the oldest human civilisations in the world.
Getting to Konya from Cappadocia
You can take the bus from Cappadocia to Konya and the journey should take around 6 hours. If you prefer to have more of a full first day in Konya, you can also take a night bus from Cappadocia.
Konya's bus station is quite far out of the city and so you can either take a cab, or a tram that runs from the bus station to the centre of the city.
Related: Read about the crazy guy that fell in love with me in Konya.
Where to Stay in Konya
The main points of interest in Konya are centred around the Mevlana Museum. Try to opt for a hotel in this area so that you are within walking distance of everything.
I stayed at the Araf hotel – a quirky boutique hotel that was decorated with vibrant colours and eccentric furnishings. Rooms start from just $40 a night.
Turkey Itinerary Day 10:
Pamukkale  
Meaning "Cotton Candy" in Turkish, Pamukkale is a surreal place. Comprised of miles of rippling Travertine terraces, at first glance, Pamukkale looks as though it is made from snow or from clouds that have fallen from the sky. In actual fact, it is made from sediment that has overflowed from the nearby natural thermal pools.
At the top of the travertines is the Roman spa city of Hierapolis. It is said that these ancient pools were a gift from Marc Anthony to Cleopatra. Legend has it that she was incredibly ugly before visiting Pamukkale and after swimming in the pools, she was breathtakingly beautiful. I didn't try it but who knows how much prettier I could be if I did!
Getting to Pamukkale from Konya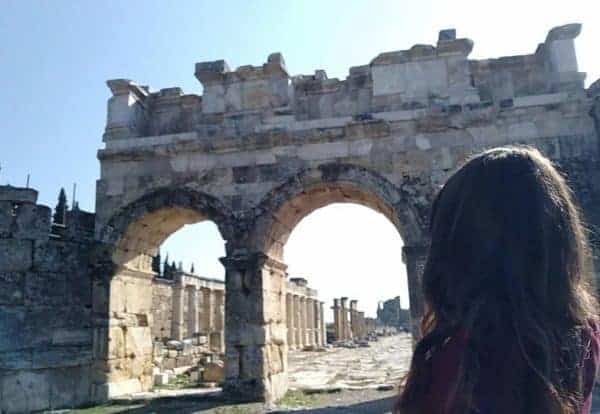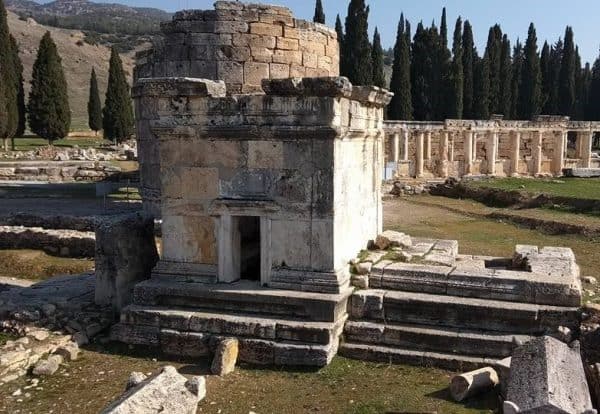 It's another relatively long bus journey from Cappadocia to Pamukkale which again can be done on a night bus if you prefer. First, you need to take a bus from Konya (remembering that the bus station is a little out of the city and so you need to allow time to reach it) to the city of Denizli which takes around 6 hours.
From Denizli, the bus to Pamukkale takes around 30 minutes. When you arrive in Denizli, you should go down to the lower level of the station (it looks like a parking garage!) to find the Pamukkale bus. The buses are small shared taxis that depart when full.
Turkey Itinerary Day 11:
Ephesus
Ephesus is Europe's most impressive and intact Greek-Roman ruin. It is estimated that even after over 150 years worth of excavations, only around 20% of Ephesus has been unearthed!
From temples and marketplaces still boasting their original marble columns to theatres and colosseums, Ephesus is a highlight of any Turkey itinerary. One full day is plenty of time for a thorough exploration at a relaxed pace.
There are hotels situated close to the archaeological site, but you can also opt to stay in nearby Izmir and take a day trip to Ephesus if you prefer.
Getting to Ephesus from Pamukkale
It takes approximately three hours from Pamukkale to Ephesus. Once again you need to change in Denizli and take the small shared bus there. From Denizli, you will board a coach to Pamukkale.
I would recommend buying your ticket from the bus station at Denizli rather than one of the travel agencies in Pamukkale as they add an unnecessary premium. Buses depart from Denizli to Ephesus hourly.
Turkey Itinerary Days 12 and 13:
Izmir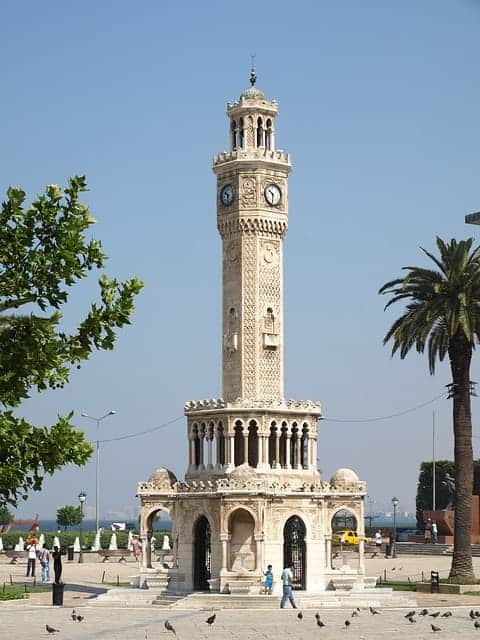 I truly loved Izmir, especially the area around the Kemeralti bazaar and the cute tea rooms and artisan shops that were hidden away among the labyrinth alleyways of this marketplace, many of which followed quirky themes and styles.
I passed many hours sitting writing outside these tea rooms while sipping a cup of Kucuk cay. The vibe of Izmir makes it feel as though it's the perfect city to enjoy with a more slow-paced, relaxed approach and in my opinion, this is as much an enjoyable part of traveling as rushing around seeing the sites.
Enjoy the Turkish Coastline
Besides browsing through the bazaars and drinking Turkish tea, you can also enjoy people watching and live musical performances at the Konak clock tower. Owing to its coastal location, there are also several beaches nearby to Izmir if you are hoping to make the most of the sunshine while you are in Turkey. A short journey will bring you to the towns of Çeşme, Dikili, and Pamucak.
Go Back in Time in Sirince
Sirince is a quaint and charming little village just a short journey away from Izmir. If you want the perfect example of a traditional and unspoiled village, this is it.
Sirince is famed for its wine production and you can enjoy a tasting, or pick up some unusual tipples here. The name Sirince means "pretty" and the quaint little whitewashed buildings and twisting alleyways certainly help it live up to its name.
Here, elderly ladies in traditional dress bake bread over open ancient stoves and make you feel as though you have been transported back in time.
Visit the Roman Agora
From bustling modern-day bazaars to the crumbling ruins of Roman marketplaces, the Agora in Izmir was once an important trading point on the old Silk Road trade route and Merchants from far and wide would come here to sell and exchange their wares.
Getting to Izmir from Ephesus
It takes just one hour from Ephesus to Izmir and vice versa.
Where to Stay in Izmir
The L'Agora Old Town Hotel & Bazaar is a stylish, centrally located boutique hotel in downtown Izmir. The hotel encircles a central courtyard and resembles an ancient Caravanserai. Rooms are stylish and elegant and start from just $45 a night.
Turkey Itinerary Day 14:
Departure
Your time in Turkey is coming to an end! It's time to cry into your box of Turkish delight, scour around frantically for a stall where you can buy one last islak burger and pack your souvenirs and scarves into your suitcase.
Depending on where you are traveling on to, you may be able to take a flight from Izmir airport. Alternatively, you can fly from Izmir to Istanbul for a low cost and it prevents you from having to take any more long journeys via public transport!
Possible Extensions
Nemrut Dag
One place that I was completely fascinated with in Turkey was Mount Nemrut. It is situated in the Eastern part of Turkey close to the Syrian border.
Mount Nemrut is known as being the "Easter Island of Turkey" since the mountain is filled with the severed heads of gigantic stone-like statues. It is thought that the statues were built by an egoistic king who wanted to build sculptures of himself and his family, however, after his death, the heads were removed from the statues and nobody knows exactly how or why. Fascinating, eh?
Visiting Nemrut Dag also enables you to visit many traditional towns and villages. The culture in Eastern Turkey is altogether different from that in central Anatolia or in the West. Mount Nemrut is in a remote area and it is not so easy to access, however, many companies offer 2-3 day tours from Cappadocia.
Troy
If you are interested in history, from Izmir you could take a trip to Troy for a day. Troy, as you may have guessed, is the site of the apparent battle of troy and where the Trojan horse was used.
Bursa
Known locally as "Green Bursa", if you have a little extra time, you could stop in Bursa for a day or two on your return journey back to Istanbul. You can get between Bursa and Istanbul by a short, scenic ferry ride. Bursa is filled with temples and outdoor hiking routes.
Coastal Turkey
This Turkey itinerary focuses on immersing yourself in the rich culture of Turkey and exploring notable historical sites in the process. Let's not forget though, Turkey's pristine coastlines and warm summer climate also make it the perfect destination for a little rest and relaxation.
If you want to unwind after travelling across this vast country, you can consider spending a few days in a coastal area like Bodrum or Antalya. Here you can enjoy everything from idyllic beaches, scuba diving and snorkelling, to exploring off-the-beaten-path Ancient Greek ruins.
Getting Around Turkey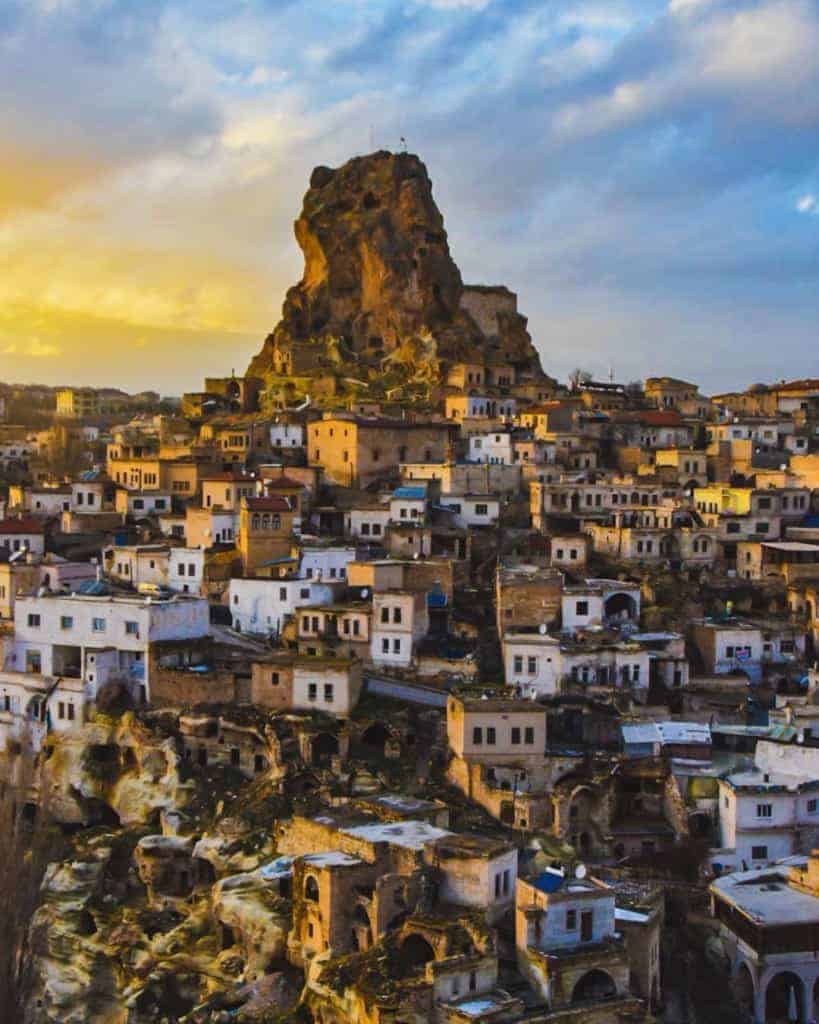 Public transport links in Turkey are excellent, making this vast country a very easy place to get around. If you prefer a little more freedom and flexibility, you can also rent a car.
I got around by bus throughout my entire Turkey itinerary. This was convenient, comfortable and affordable.
Travel Turkey by Bus
As someone who usually hates bus travel, it's surprising that I conducted my entire Turkey itinerary by bus and actually enjoyed the experience of doing so! Buses in Turkey are very modern and offer airline-style services – complimentary tea and snacks are served during the journeys, and the chairs often have inbuilt music/entertainment systems.
Bus fares in Turkey are very affordable. This is one of the cheapest ways of getting around. You can purchase your ticket at the offices of the various bus stations. It can be confusing, as there are several different bus companies. However, I used many different services during my trip and found them all very good.
Travel Turkey by Rail
Turkey has a very well-developed rail network. Train services run to all corners of the country, making this a very convenient way to get around.
For longer distances, you can opt to take night trains or to board the Turkish high-speed rail. The Turkish high-speed rail network (Turkey's bullet train?) currently runs between Ankara, Konya, Eskisehir, and Istanbul.
Travel Turkey by Domestic Flights
Don't underestimate how vast Turkey is. Some journeys between destinations can take as long as 8-9 hours.
If you are limited on time, you may prefer to take domestic flights. Several low-cost airlines operate on routes between Istanbul, Izmir, Ankara, and Cappadocia, including Pegasus Air. If you book your flights in advance, you can secure tickets for as little as $20 each way.
Travel Turkey by Rental Car
If you want more flexibility and independence during your Turkey itinerary, you can consider renting a car. Car rentals in Turkey are very affordable and there are virtually no tolls. Renting a car enables you to access sites and ruins that are not easily accessible via public transport.
You can rent a car in Turkey if you are over 21 and have had your license for more than a year. Driving in Turkey is done on the right-hand side of the road. Many reputable international rental firms operate in Turkey and allow pickup from international airports.
Useful Additional Considerations for Visiting Turkey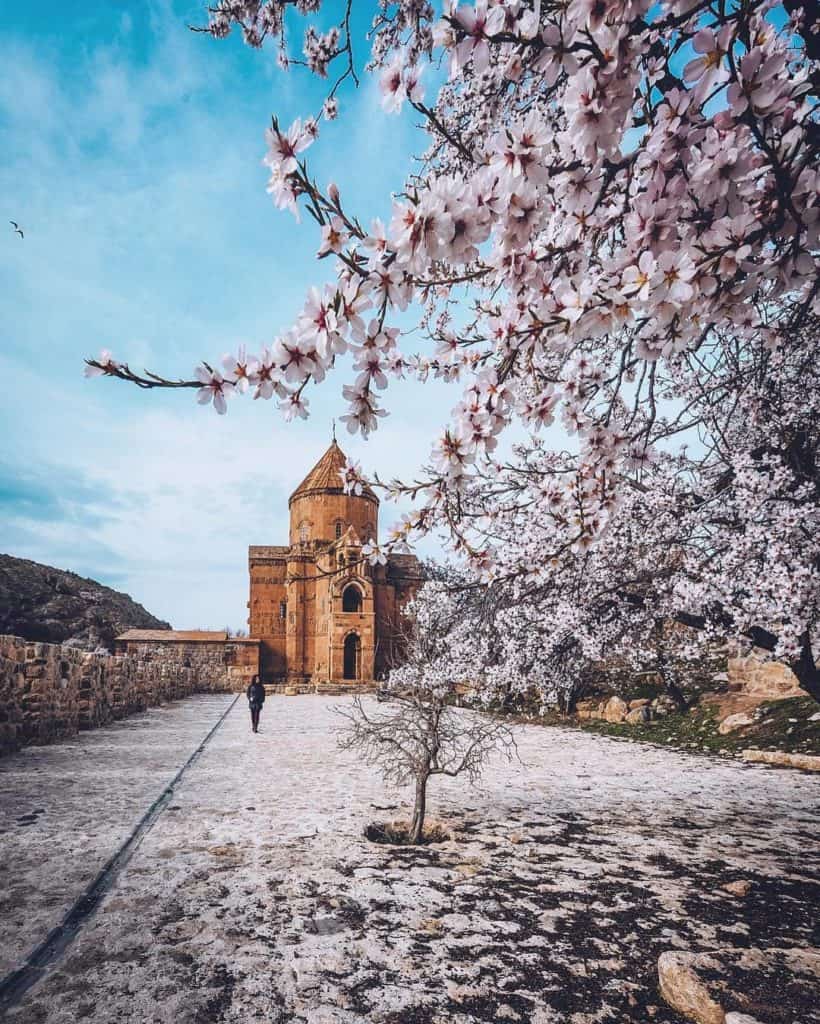 Common FAQs and general things to consider before embarking on your Turkey itinerary are detailed below.
Currency
The currency of Turkey is the Turkish Lira. Of course, as with all currencies, this is subjected to constant fluctuations. As of October 2019, 1 GBP is equivalent to 7.6 Turkish Lira. 1 USD is equivalent to 5.86 Turkish Lira.
Turkish ATMs generally always charge for withdrawals. Try to purchase a small amount of Lira before coming into the country, and when you make a withdrawal, take enough so that you don't have to keep going back to the ATMs and paying more fees.
What to Wear
Turkey is a predominantly Muslim country. Though Istanbul is quite progressive and liberal, other areas of the country are quite conservative. You should err on the side of conservative dress, especially if you are a solo female traveller.
Precise "dress code" in Turkey varies depending on which area of the country you will be visiting, and during which season. For more detailed advice, I have written this guide on what to wear in Turkey.
Booking Hotels in Turkey
Booking dot com is blocked from within Turkey. This is due to the Turkish government accusing Booking of "unfair competition". Other hotel sites work fine.
If you are like me, and you religiously use Booking for your hotels (they give great loyalty discounts!), you should book your hotels before arriving in Turkey, or use a VPN within the country.
Language
Turkish is the national language of Turkey. You will find that Turkey is something of a "mixed bag" in terms of people's language abilities. In Istanbul, you will find many people speak excellent English, yet in other areas, they do not speak a word.
Download Google Translate App on your phone to make communicating with locals easier. You should also consider carrying a Turkish phrasebook "just in case".
I hope that my two week Turkey itinerary has come in useful for helping you plan your exciting Turkish adventures! Have any questions about this Turkey itinerary or about traveling to Turkey in general? Feel free to comment and let me know!
This cross-country Turkey itinerary was originally published on the 18th of April 2018. It was last updated on the 21st of October 2019.
---