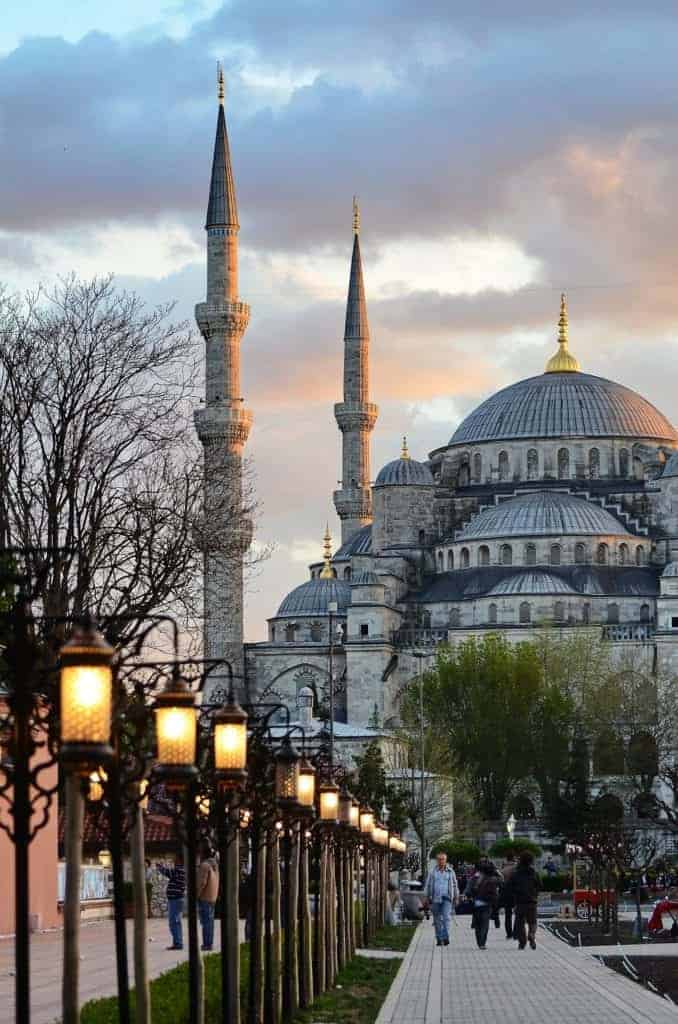 There are so many things to do in Istanbul that it is impossible to see it all in one visit. Straddling the continents of Asia and Europe, Istanbul is situated at a fascinating cultural crossroads of Eastern and Western culture.
From cultural and historical highlights to the best places to stop and admire street art, this post runs through some of the best things to do in Istanbul during your first visit.
Fall in Love with the Intricate Interiors of the Blue Mosque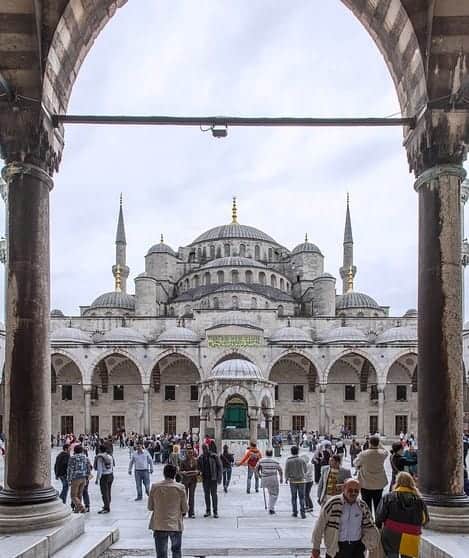 The Sultan Ahmet Camii is a mosque in the heart of historic Istanbul. The mosque was awarded its nickname of the "blue mosque" on account of the intricate blue Iznik tile mosaics that make up its interior. Entrance is free, and non-worshippers can enter the building at various points throughout the day outside of prayer time.
Owing to its popularity and central location, the Sultan Ahmet Camii is always teeming with tourists. Venture here early in the morning to avoid the crowds.
Marvel at the Less Crowded Suleymaniye Mosque
Perched on the top of one of Istanbul's hills, the often overlooked Suleymaniye mosque is one of the grandest Islamic structures in the city. Dating back to the 1550s, the mosque is encompassed by scenic gardens, forecourts, and fountains. The unique thing about this mosque is that many of its original annexes have been renovated and repurposed. For example, the former imaret soup kitchen now houses a lovely coffee shop and tea room.
After admiring the mosque's interiors, venture out to the back garden and admire the view of the Bosphorus from the terrace. You should also take some time to explore the narrow streets surrounding the mosque (Namahrem Sokak and Ayrancı Sokak) where an extensive collection of Ottoman timber houses await.
Drink Strong Turkish Coffee and Read Your Fortune
There is a Turkish proverb that says that "coffee should be black as hell, strong as death, and sweet as love". In Turkey, the coffee culture holds deep roots in history and tradition.
Turkish coffee is black, strong, and dense in texture – much like Arabic or Greek coffee. It is traditionally prepared in a copper briki and poured into small little cups. Once you are finished, tip the cup upside down, put a coin on the top, and wait five minutes before asking a local to help you to discover your fortune.
Admire the Architectural Wonder that is the Hagia Sophia
The Hagia Sophia is undoubtedly one of the most important structures in Istanbul's long history. The original construction dates back to 337bc. Over the centuries, the building has passed hands and changed purpose various times. It was originally a Byzantine church operated by the Greeks, before being transformed into an Ottoman mosque. 
The Hagia Sophia now houses a museum though signs of its religious past still remain. Once inside, look out for mosaics of the Virgin Mary which still exist from the building's time as a church. You can also observe graffiti from the Vikings which has been scratched into the walls. 
Treat Yourself to a Pamper Session at a Turkish Hammam
At the end of a long day of sightseeing, there truly is no better way to relax and unwind than to soak your cares away in a traditional Turkish bath (hammam). Hammams are a centuries-old tradition in Istanbul and once upon a time, there were hundreds of these bathhouses scattered throughout the city. Today, 60 hammams remain, but there are certainly those that stand out among the crowd.
Inside the hammam, visitors sit inside ornate marble steam rooms that get hotter than your average sauna. This is followed by a full hair body wash, an intense body exfoliation, and traditionally finished up with a massage. 
Kılıç Ali Paşa Hamamı
Where: Kemankeş Karamustafa Paşa, Hamam Sk. No:1, 34425 Beyoğlu/İstanbul
The Kılıç Ali Paşa Hamamı provides a traditional hammam experience fit for a Sultan. The building dates back to the 16th century when it was built as part of a mosque complex and was recently restored. Lay back beneath the intricate domes and glistening chandeliers as you enjoy a full-body scrub and massage. 
Reservations at Kılıç Ali Paşa Hamamı are highly recommended and the hammam is gender-separated – serving ladies in the morning and men in the afternoon. Once your treatment is over, enjoy a glass of spiced cay tea in the grounds before continuing on with your Istanbul itinerary. 
Ayasofya Hürrem Sultan Hamamı
Where: Cankurtaran, Ayasofya Meydanı No:2, 34122 Fatih/İstanbul
The grand structure that is the Ayasofya Hürrem Sultan Hamamı is as much of an architectural marvel as it is a wonderful place to try a hammam. Dating back to 1556, the hammam is set in lavish interiors with grandiose domed roofs, winding staircases, and separate sections for men and women. 
It is possible to organise traditional Ottoman rituals here, as well as bathing and massage treatments. Packages offered at the Ayasofya Hürrem Sultan Hamamı also include servings of Turkish mezes and desserts to follow your treatment, in addition, to live private musical performances. 
Mihrimah Sultan Hamamı
Where: Karagümrük, Fevzi Paşa Cad. No:333, 34091 Edirnekapı/Istanbul
The Mihrimah Sultan Hamamı is a beloved favourite hammam among locals and tourists alike. Constructed as part of the Mihrimah Sultan Mosque Complex in the 1500s, the hammam is a great budget option. Treatment packages here cost as little as just 30 TL ($6).
The hammam's wooden interiors are still aesthetically pleasing, despite lacking some of the grandiose atmospheres as the Ayasofya Hürrem Sultan Hamamı or the Kılıç Ali Paşa Hamamı. 
The Mihrimah Sultan Hamamı offers gender-separated facilities and boasts an extensive treatment menu that features everything from dry massages to more modernised spa treatments. 
Watch Local Fishermen in Ortakoy
Head to Ortakoy early in the morning to watch local fishermen reel in their latest catches. If you can get here before the tourists arrive, you can enjoy the serene atmosphere of the Ortakoy mosque and the Bospheros bridge as the sun just starts to peep up over the horizon. 
Lots of charming cafes and coffee shops line the Ortakoy waterfront and are a nice place to have brunch. Be sure to stop by one of the floating restaurants at one point and order yourself a balik ekmek (fish sandwich).
Haggle for Trinkets and Tapestries in the Grand Bazaar
Istanbul's Grand Bazaar is a little touristic and inauthentic, but it is certainly one of the "must-see" things to do in Istanbul. The bazaar is essentially a rabbit warren of narrow passageways where vendors sell virtually everything imaginable – from spices, candied dates, and Turkish sweets, to imitation designer handbags and sunglasses. 
The market is not small and insignificant either. This is the largest covered market in the world and there are over 4000 stores spread across 60 streets here. 
Sip Apple Tea in the Ramshackle Marketplaces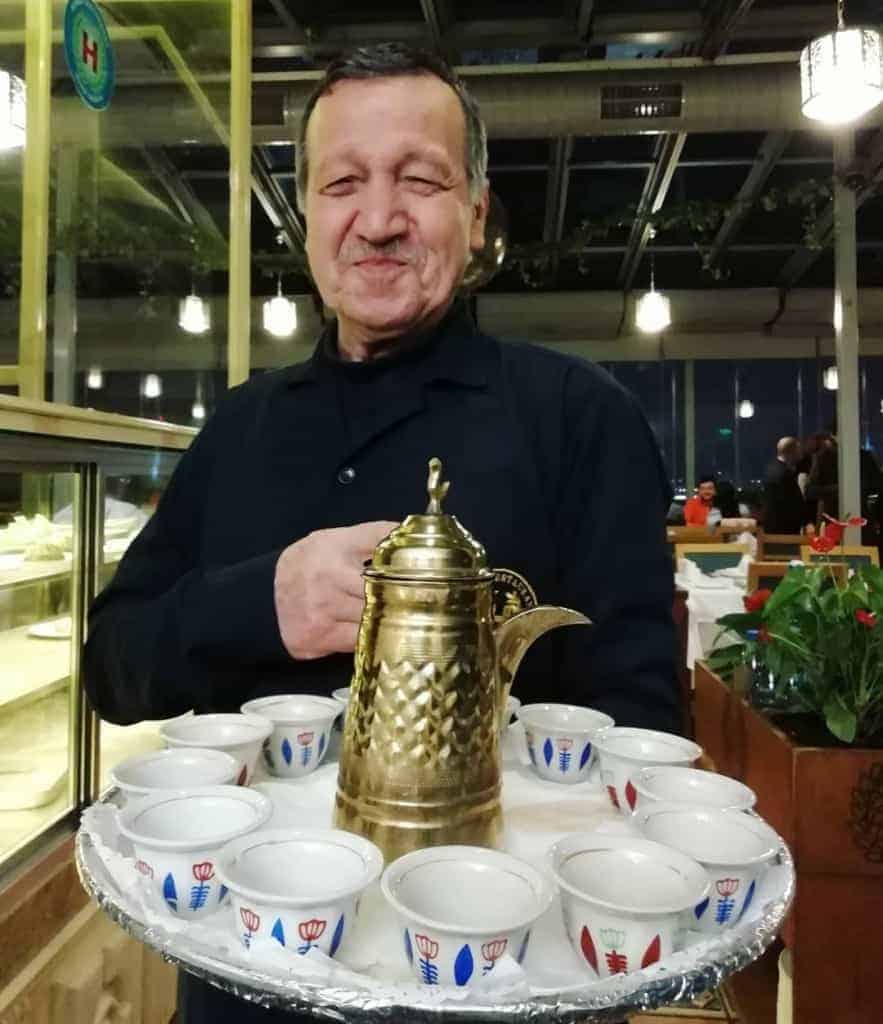 Wander inside any store in Istanbul and chances are that the Vendor will invite you in for a cup of apple tea. While this is admittedly part of a technique to get you to buy something, you are under no obligation to do so. A lot of the vendors simply enjoy having discussions and sharing stories with travellers, and this is a nice experience to have while you are in Istanbul.
Sample Flavourful Turkish Street Food Delicacies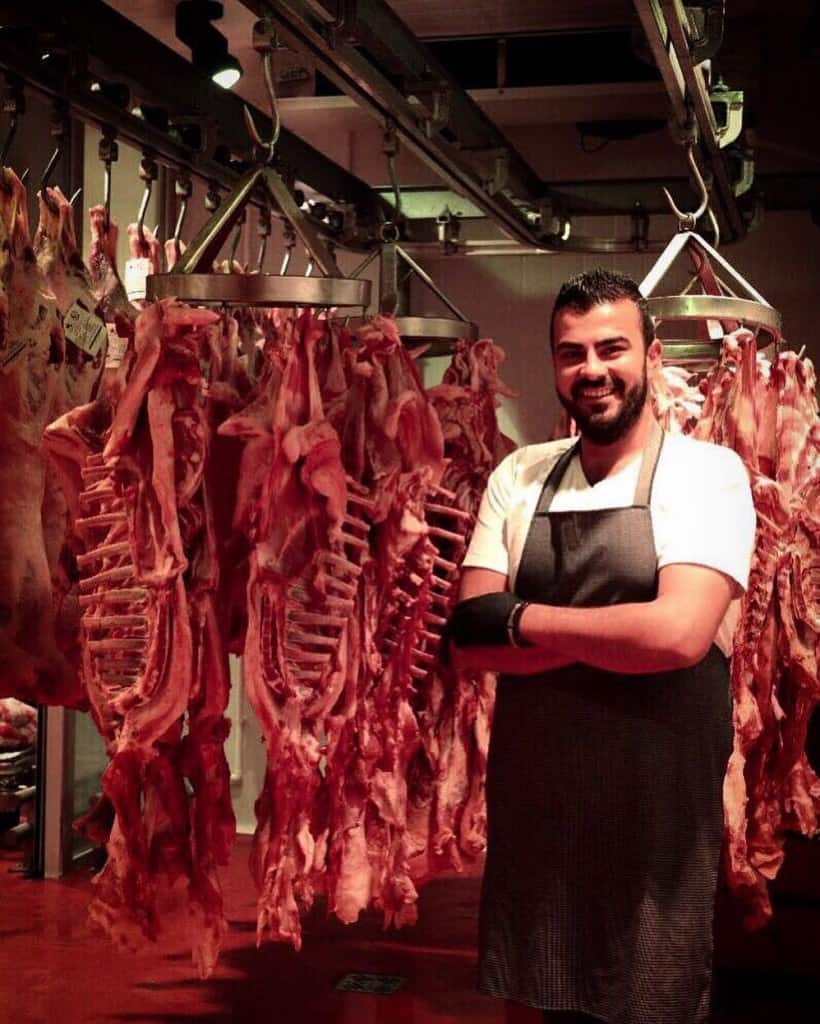 Turkey is a foodie paradise in general. However, aside from the kebabs, marinated meats, and sweet treats that give Turkish food its name, street food is also a big part of the culture. This is especially the case in Istanbul which is home to various delicacies that cannot be found elsewhere in the country. 
In Taksim square, be sure to order an Islak burger – a bite-sized mini burger that is drenched in a rich, garlicky tomato sauce and affectionately known as a "wet hamburger". (It is much more appetising than it sounds).  If you are hungry on the go, you can also grab a kumpir – a Turkish baked potato that is stuffed to the brim with everything from stuffed olives and cheese, to pickles and meat.  
As you move around the city, you may see numerous vendors standing over a giant cauldron-like pot, tending to what look like small mini doughnuts. These are lokma – sweet syrup-soaked pastries that make a nice treat at the end of a day's exploring.

Take a Turkish Cooking Class
There are few things to do in Istanbul that are more memorable than opting to take a Turkish cooking class. Opt to participate in a class held in a local restaurant or at a local's home and learn to recreate classic dishes and desserts such as dolmas or sticky-sweet baklava. Some classes also include tours of local markets to procure the necessary ingredients. When you fly back home, you can wow your friends and family with your international cooking skills! 
Hang Out with Trendy Locals in Cihangir
A short walk away from Istanbul's Taksim Square awaits Cihangir: Istanbul's quirky bohemian neighbourhood. The tree-lined promenades here are filled with coffee shops, art galleries and eccentric tavernas that perfectly represent the creative types that call Cihangir home – mostly writers, artists, and actors. 
Laidback Cihangir is a perfect place to spend a lazy afternoon. By day, grab a flaky borek pastry and a cup of cay from Savoy bakery, before sitting beneath the acacia tree by Firuz Aga mosque to enjoy it. Explore Cihangir's narrow streets and the various vintage boutiques that are hidden away down them. 
When night falls, Cihangir's unpretentious nightlife scene is great for dinner or beers with friends. Meyhane are Turkish-style tavernas where you can enjoy meze platters accompanied by beers.  Hayat and Demeti are two places worth checking out before heading on to Smyrna cafe for drinks and good conversation. 
Enjoy a Kahvalti Breakfast Overlooking the Bosphorus
Turkish breakfast (kahvalti) is a wonderful way to start your day in Istanbul. As I travelled around Turkey, I really started to look forward to the different Turkish breakfasts at each of my hotels. Most hotels serve this, but there are also numerous excellent breakfast spots around the city that are well worth trying – especially those that come paired with a Bosphorus view. 
Kahvalti is comprised of lots of little plates and dishes that serve a diverse "buffet style" array of foods – sliced cheeses, stuffed/marinated olives, cold cuts, sucuk, eggs, and warm pitta bread make regular appearances. Individual breakfasts are laid out in front of patrons buffet-style and some rival banquets fit for a King! 
The best spots for kahvalti in Istanbul are outlined below. 
Mangerie Bebek
Where: Mangerie Bebek, Cevdet Paşa Cd. No:69, 34342 Beşiktaş/İstanbul
Mangerie Bebek is a popular rendezvous point for Istanbulites. The cosy interiors of this place make it feel like you are having breakfast at a family home. Better yet, you can tuck into your breakfast while enjoying a panorama over the Bosphorus. If you are travelling with people who would prefer a western breakfast, rest assured that you can also find classics such as eggs benedict here instead. 
Kale
Where: No:10 Yahya Kemal Cd., Rumeli Hisarı, Sarıyer Istanbul
Kale is a popular kahvalti spot that sits right by the Bosphorus. While the establishment's design is relatively simple, what Kale lacks in luxury it more than makes up for with its large selection of dishes and its seemingly infinite number of plates that will be set before you. Kale is a good breakfast spot if you want to sit shoulder to shoulder with the locals. 
Çakmak Kahvaltı Salonu
Where: Sinanpaşa, Çelebi Oğlu Sk. No:8, 34353 Beşiktaş/İstanbul
Çakmak Kahvaltı Salonu is a happening breakfast spot in Istanbul's trendy Beşiktaş neighbourhood. An assortment of kahvalti dishes, menemen, or western-style breakfast costs as little as 15TL per person. You won't find tourists here, just trendy locals and students stopping by to start their day with a cheap breakfast to the background of classic rock music. 
Watch the Sunset on a Bosphorus Cruise
One of the nicer things to do in Istanbul in order to see the city's main architectural wonders and notable sites all at once is to opt to sail down the Bosphorus on a cruise. Take the cruise by the day to have an excellent photo spot of Hagia Sophia, the Golden Horn, Galata Tower, and the Suleymaniye Mosque from the water. If you prefer to take the cruise after nightfall, some tour organisers offer dinner and dance performance packages. 
Eat Chicken Breast for Dessert
A dessert made from chicken breasts sounds pretty grim but hold on – this is more appealing than it sounds! Tavuk Göğsü is a sweet local delicacy that is made from shredding boiled chicken into little pieces.
Once shredded, the chicken is boiled once more and sugar, vanilla, milk, and rice flour is added before cinnamon is sprinkled on the top. The end result is pretty delicious, and you almost forget that you are eating chicken! 
Get Back to Nature in Peaceful Buyukada
If you have a little longer to spend in Turkey's largest city, it is worth taking a day trip out to one of the Princes Islands. The Princes Islands are a little archipelago located just a stone's throw away in the sea of Marmara. The largest of the islands – Buyukada greets you with beautiful woodlands, peaceful hiking trails, and quaint centuries-old monasteries and churches. 
Ferries run daily between Istanbul's Kadikoy port and Buyukada. The island provides some nice respite from the hustle, bustle, and chaos of big city life. 
Check Out Sultanahmet Square
Many of the most important things to do in Istanbul are scattered around the Sultanahmet district. This area may be touristic, but it is of significant historical importance. The central Sultanahmet Square (Sultanahmet Meydani) was the city's main square and gathering point during the days when Istanbul was Constantinople. 
The crumbling remnants of historic buildings point to Sultanahmet's ancient past. Look out for the sunbleached ruins of the Hippodrome – an old stadium where the Byzantines would watch chariot races. At one end of the square, the Egyptian obelisk of Theodosius towers over the area. The stone column was built at Luxor's temple of Karnak where it sat undisturbed for hundreds of years before being stolen by a Roman emperor in the 4th century BC and transported along the Nile. 
Notable things to do in Istanbul in this area include the Blue Mosque and Hagia Sophia which are situated just off the main square. There are also several museums here that are worth a quick visit if you have more time to spend in the city. Those are the Mosaics Museum, the Museum of Turkish and Islamic Arts, and the Vakiflar Carpet Museum. 
Explore the Eerie Basilica Cistern
The Basilica Cistern is located by the Hagia Sophia and is one of the most underrated things to do in Istanbul. This is just one of many ancient cisterns – a water network that ran beneath the city to provide water filtration for the buildings in the area.
The Basilica Cistern is particularly interesting because after it was constructed by the Byzantines, it was forgotten for several centuries. When it was re-discovered by the Ottoman Turks in the 15th century, they used it as a dumping ground for bodies of enemies and traitors. A visit here provides insight into Istanbul's more sinister history. 
Visit the Former Summer Home of the Sultans
The grand Beylerbeyi palace is similar in appearance to Istanbul's Dolmabahce Palace, however as one of the more "off the beaten path" places in Istanbul, it doesn't share the same crowds and masses of tourists. 
Constructed in neo-Baroque style, the palace dates back to 1865 and was used as a summer home by the Ottoman Sultans. The palace boasts over 30 rooms and features grand marble swimming pools, a traditional hammam, and intricately carved wood furnishings that were handcrafted by Sultan Abdülhamit II. 
Hang Out with Hipsters in Besiktas
While Beşiktaş doesn't have the same glamour and sleek architectural style as Istanbul's more upscale neighbourhoods, this trendy area filled with quirky shops, eclectic coffee places and dive bars oozes hipster chic and is a popular place for young Istanbulites to hang out. 
Venture here on a Saturday morning to browse the Besiktas street market where dozens of local vendors set up shop to sell everything from clothing to street food. There are more than 18 art galleries scattered throughout the district displaying the very best of Istanbul's emerging contemporary art scene. 
Observe the Life of the Sultans at Topkapi Palace
For centuries, Topkapi Palace was the home of various Ottoman Sultans. Construction on the palace first started in 1465, however, the unique thing about the building is that construction has never really ended throughout its long history. Each Sultan that resided within the palace added his own annexes and extensions. Over time, this has lead to a unique and somewhat higgledy-piggledy layout which combines various different architectural styles. 
Today, Topkapi Palace is set out as a living museum. The rooms and hallways are decorated with rich tapestries, ornate furnishings, and classic art pieces. The harem section of the palace requires a separate admission ticket but is well worth a visit. 
Catch a Local Sports Game
As is the case in most of the world, football is a big deal in Istanbul. There are several local teams that have great reputations. Most notable of all though is perhaps Besiktas. Whether football is your thing or not, one great way to live like a local in Istanbul is to get tickets for a Besiktas match. After the game, head into the team's namesake neighbourhood for a few beers. 
Purchase Edible Souvenirs at the Istanbul Spice Market
The spice market (Mısır Çarşısı) in Istanbul's Eminonu district dates back to 1664 and is one of the largest and most important covered bazaars in the entire city. Stepping inside is an attack on all the senses – vendors selling a colourful array of saffron, spices, and Pul Biber chili flakes fight for your attention, as the scent of cumin, coriander, and 10,000 other spices linger in the air. 
Mısır Çarşısı is a great place to pick up an edible souvenir from your time in Turkey. If you don't want to purchase spice mixes, you can instead opt for fruit teas, Turkish delight, or dried/candied figs and apricots which are also sold here.
In terms of searching for a unique Turkish item, there are a few things to look out for. Sumac is a burgundy coloured spice that is widely available at the market and can be added to salad dressings in places of lemon juice for a little extra pizzazz. Pul Biber and Isot Biber are dried red pepper flakes that can be used to season meats and soups. 
Climb Galata Tower for a Wonderful Panorama of the City
Ascend to the top of the 54-foot, 13th century Galata tower for incredible panoramas over Istanbul and the Bosphorus. There is practically always a queue here, however it tends to move pretty quickly and so it is worth the wait. For the best views, head to Galata tower in the early evening so that you can gaze out to the Blue Mosque and the Sultanahmet district both by day, and as the city starts to be illuminated by hundreds of twinkling lights.

Shop for Vintage and Quirky Fashions in Galata
The narrow alleyways and cobbled streets that surround the Galata tower are a great spot to indulge in some retail therapy, particularly if you like thrift shops, vintage stores, and independent boutiques. This is a great place to find one-of-a-kind items that nobody else has. 
Take an Istanbul Food Tour
From dolmas to sis kebabs, and from balik ekmek to pide, there are countless delicacies to sample while you are in Istanbul. That said, a lot of the restaurants in Istanbul's Sultanahmet district, and those that are close to the main tourist attractions are overpriced tourist traps which are distinctly lacking in quality.
To ensure that you are sampling only the very best Turkish dishes at eateries that are frequented by locals, consider embarking on an Istanbul food tour. Such tours help you to find hidden hole in the walls that you may not have discovered alone. 
Catch a Whirling Dervishes Show at Hodjapasha Square
Watching a whirling dervishes show provides a beautiful glimpse into Turkey's culture – especially its Sufi mystic roots. The best place to catch such a show is in the cultural city of Konya, in central Anatolia.
Since Konya is quite a trek from Istanbul and isn't a popular stopping point on most people's Turkey itineraries, the next best thing is to purchase a ticket to see a performance at Hodjapasha Square. This experience may feel a little touristic, however, the dance is so captivating and emotive that you will quickly forget about the other travellers around you. 
Roam the Streets of Balat, Istanbul's Jewish Quarter
Balat is one of the oldest districts in Istanbul. Historically this was home to the city's Jewish population, however, today most of the appeal for coming here lies in the brightly coloured wooden buildings that line the cobbled streets – a photographer's dream!
The atmosphere in Balat is unlike anywhere else in the city. Many of the pastel-coloured buildings have now been transformed into restaurants, antique stores, and cafes. The neighbourhood is quite hidden away. Opt to take a metro to Haliç by the Golden Horn and follow the coastal road through the various parks that lead you to historic Balat, its kooky streets, and its open-air artistic markets. 
Get a History Lesson at the Istanbul Archaeological Museum
If you only have time to explore one museum in Istanbul, make it the archaeological museum complex. The complex is actually comprised of three different museums: the Istanbul Archaeological Museums, the Ancient Orient museums, and the Tiled Kiosk museums. 
Together, the trio contain over a million artefacts which have been recovered from various different regions and civilizations and assembled into fascinating displays. The "Istanbul through the ages" exhibit is particularly interesting, as is the "Neighbouring Cultures of Anatolia, Cyprus, Syria and Palestine" exhibition.

Search for Treasure at the Antique Stores of Cukurcuma
Cukurcuma is a tiny Istanbul neighbourhood nestled between Galata and Cihangir that you would perhaps miss if you didn't know it was there. The district boasts the largest concentration of antique shops in the city. 
Since every other store sells antiques, one approach to exploring Cukurcuma is to simply walk around and see what catches your eye. That said, there are some stores that are worth making a beeline to – including Modern Tarih – a store that focuses on exotic items sourced from Mongolia, China, and Africa, or A La Turca – an exquisite collection of fine Ottoman antiques. If you want a break, duck inside Café Cuma for a freshly baked pastry and a strong cup of coffee.

Ride the Old Street Car from Istiklal to Taksim
As you wander around central Istanbul, you will surely have several encounters with the old street trolley that runs between Istiklal to Taksim. The street cars date back to the 1950s and hopping on board is more for the experience and a slice of nostalgia than it is to get somewhere fast. 
Tread Along the Former Walls of Old Constantinople
Back in the days when Istanbul was Constantinople, the entirety of the city was surrounded by towering defensive walls. Numerous invasions, as well as time and the elements, have worn the walls down over time and so only a small section remains. That said, the remaining portion still extends over 7 kilometers and provides a pleasant walking route through the city.
Befriend the Friendly Felines of Istanbul
Stray cats are everywhere in Istanbul – hogging seats in coffee shops, wandering around the grounds of the Blue Mosque, and essentially running the town and going anywhere that they want. This isn't something to be sad about though – the felines of Istanbul are well looked after and you will often see locals stopping to feed them or to give them the leftovers from their meals. 
See the Tulips at Gülhane Park
Fields of fragrant tulips is something that you associate more with places such as the Netherlands than you do with Turkey. However, during the spring months, the grounds of Gülhane Park come alive with hundreds of beautiful rosy red tulips. Gülhane Park runs adjacent to the Topkapi palace and is worth a stroll through en-route, or as a place to stop for a quick cup of coffee or a picnic en-route. 
Hang Out with Friendly Locals and Expats Via Couchsurfing
If you are travelling to Istanbul alone like I did, then chances are that you are going to want to meet some fellow travellers and friendly locals to hang out with during your trip. While I personally never use Couchsurfing for accommodation, I will often go along to the events and hangouts when I travel.
Istanbul has an excellent Couchsurfing community made up of dozens of locals and expats. They tend to meet weekly for dinner, drinks and language exchanges and anyone can go along. 
Peak into the Lives of Ottoman Royalty at Dolmabahçe Palace
Perched on the shores of the Bosphorus in Besiktas is the Dolmabahçe palace – a grand structure known for its neoclassical exterior and over-the-top interior decorations. Dating back to the 19th century, the palace replaced Topkapi Palace as the home of the Ottoman Sultans. The lavish decorations are quite a sight to behold – the rooms and ceilings are gilded with gold and crystal oozing extravagance.
Try Turkish Delight from a Centuries-Old Candy Shop
There are dozens of Confectioners in Istanbul selling piles of Turkish Delight, among other sweet treats. That said, if you are going to try something new, you may as well try the best of the best. Hacı Bekir is a Turkish confectionery that has been producing sweets since 1777 and has been passed down through the same family for five generations. 
Buy a little box of lokum (Turkish delight) to take home. There are dozens of different flavours available but rose and pistachio are the classics. Kayısı tatlısı is another treat worth trying and is comprised of apricots stuffed with cream. 
Admire the Intricate Frescoes of a 1000 Year Old Church
While modern-day Turkey is a predominantly Muslim country, historically it was home to many people of Christian or Orthodox faith. As such, many ancient churches still remain. One of the most interesting places of worship is the 1000 year old Chora church – a Byzantine Greek Orthodox church whose ceilings and interiors are decorated with bright, vivid frescoes that depict various scenes of Jesus' life.

Take a Day Trip to the Cute Village of Anadolu Kavağı
Those looking for a glimpse into what life in Turkey is like away from the sprawling cities will welcome a trip down the Bosphorus to the cute little village of Anadolu Kavağı. Here, stilted wooden houses sit along the waterfront and have been painted in delicate pastel shades. There are lots of excellent restaurants and cafes here. 
While Anadolu Kavağı looks like a quaint little village, its location means that it is still technically within the city limits of Istanbul, and the port can easily be reached via a boat that runs daily from Kadikoy port.
Smoke Hookah (Nargile) at a Local Shisha Bar
While alcohol is available in Istanbul, a more popular way to unwind with friends at the end of the day is to do so while smoking shisha accompanied by a selection of snacks and treats. It's not difficult to find a hookah spot, especially in the Sultanahmet district where they occupy virtually every street corner. 
The quaint Çorlulu Ali Paşa Nargile Café just outside the Grand Bazaar is a very popular spot housed in a 300-year-old building. Despite being close to many of Istanbul's main attractions, most tourists seem to miss this place. Venture inside and join the locals by ordering some flavoured hookah paired with warm salep. For hookah with a Bosphorus view, head to the chic Lulu Hookah lounge at the Anjer Hotel.
Venture Inside the Little Hagia Sophia
One of the lesser-known things to do in Istanbul is to visit the "little" Hagia Sophia. This building was given its name on account of its resemblance to the Hagia Sophia. It is a former Eastern Orthodox church (the church of Sts. Sergius and Bacchus) that currently operates as a mosque. It is believed that the church was constructed by the same architects that built the Hagia Sophia as something of a pre-cursory project.

Hunt for Street Art in Karakoy
Karaköy is not only one of the oldest neighbourhoods in Istanbul, it is also one of the most interesting places to explore. Aside from its long history, the local art scene is what has really put Karaköy on the proverbial map in recent years. The Museum of Modern Art opened here in 2004 and injected a new lease of life into the area. 
Today the largest concentration of street art in Istanbul lies in Karaköy and the little streets that surrounded the Museum of Modern Art. Turkish artists have built excellent reputations from the art that they have created here, and openly produce graffiti in the streets. Some of the cafes and restaurants here feel like open-air art galleries. 
Learn About Local Culture at the Museum of Turkish and Islamic Art
Istanbul's Museum of Islamic Art is one of several museums that awaits in the city's Sultanahmet square. The vast collection of artifacts, art pieces, calligraphy works, and beautiful carpets are housed inside a former Ottoman palace that dates back to 1524.
See Important Turkish Sites in Miniature 
One of the more alternative things to do in Istanbul is to spend a day exploring the Miniaturk amusement park in the Golden Horn. If you have ever enjoyed strolling around model villages, this place will be right up your street. Here you can see teeny tiny recreations of numerous notable Turkish structures across Istanbul, Anatolia, and other Ottoman territories.
Window Shop in Bagdat – The Champs Elysees of Istanbul
If your shopping preferences are more high end than high street then Bagdat Avenue (Bağdat Caddesi) is the place to indulge in a little retail therapy while in Istanbul. Several notable Turkish and International designers have branches here. 
The laidback tree-lined promenade is often referred to as being Istanbul's Champs Elysees. Bağdat Caddesi is situated on the Asian side of Istanbul providing you with the opportunity to visit the less-explored side of town.

Explore Taksim Square – the Heart of Modern Istanbul
Taksim Square is the beating heart of modern-day Istanbul. The various streets that veer off from here can be considered as being Istanbul's answer to the high street, with renowned retailers like Topshop, H&M, and Zara having stores here.
Have any further questions about the best things to do in Istanbul, exploring Istanbul as a solo female, or Turkey travel in general? I have explored this beautiful country extensively and I have been to Istanbul five times in the last few years. I would be happy to help you as much as I can. Feel free to drop me a comment below. Safe travels! Melissa xo
---