A visit to a Korean jimjilbang is high on many people's lists of things to experience whilst in South Korea. This is a wonderful opportunity to both relax and to learn about Korean culture firsthand.
You may be unfamiliar with the term "jimjilbang" as it is not used outside of Korea. A jimjilbang is a gender-segregated Korean spa and bathhouse.
It is a little like a Turkish hammam, yet on a much, much larger scale. You should certainly carve the time out of your schedule to visit a jimjilbang in Seoul.
What is a Jimjilbang?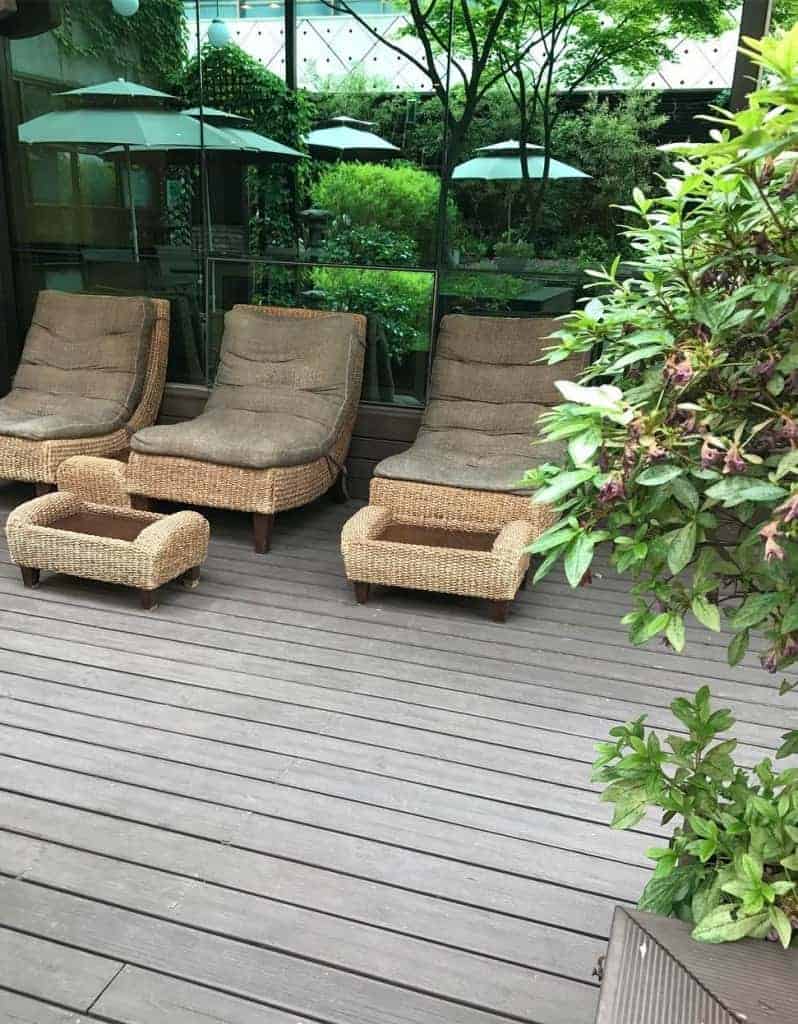 Seoul jimjilbangs are 24-hour pampering facilities spread across multiple floors. These complexes offer a vast array of treatments and entertainment services.
Typically, you can expect to find various baths, saunas, massage facilities, rest areas, and food services within them. Some of the larger jimjilbangs like Dragon Hill in Seoul even offer entertainment facilities such as cinemas.
The number of baths offered depends on the size of the jimjilbang. Some may just have one or two baths of varying temperatures. Large jimjilbangs will boast a wide selection of tubs, each infused with different herbs, and off different temperatires.
Given the above, a Korean jimjilbang sounds like a delightful place. But organising your first visit can be daunting. Why?
A Korean jimjilbang is a naked affair. The baths and treatment are ARE gender segregated so you dont have to worry about that.
But you have to be naked throughout. In western cultures, we are not accustomed to public/communal nudity.
Venturing inside can be intimidating, particularly if you are not local and look different! But visiting these bathhouses is such a regular part of life in Korea, rest assured, nobody will stare or make you feel uncomfortable!
Bathhouses in Korean Culture
Visiting a jimjilbang regularly is something that is very important to Koreans. The vast majority of locals will visit one of these traditional Korean bathhouses at least once a week or once a fortnight.
In general, personal hygiene and taking care of one's body is very important in South Korea. The popularity of jimjilbangs may be, in part, due to the fact that apartments in Korea are very small.
People generally do not have the space for a bathtub in their homes. When your typical bathing routine involves showering over the toilet, why wouldn't you visit a jimjilbang regularly?
Jimjilbang Etiquette
This article will run through what happens at a Korean jimjilbang, and the best jimjilbangs in Seoul. I've broken the bathhouse process down into ten easy steps.
This article relates to my experience at Spa Lei Women's Jimjilbang. However, the process within a jimjilbang is pretty much the same wherever you go.
Jimjilbang Step One:
Collect Your Towels, Gown and Wristband
You need to take your shoes off before you enter the jimjilbang complex. You may be used to this if you have been in Korea a while. It is typical to be expected to remove your shoes before entering most places.
There will be small lockers for you to place your shoes into. Pop your footwear inside, take the numbered locker key, and hand it to the receptionist.
The prices at jimjilbangs are reasonable. Many also offer treatment packages that include massages, facials, manicures, and body scrubs.
If you enter the jimjilbang and then decide that you do actually want a certain treatment, you can just wander up to the relevant station and they will swipe your spa wrist band. This calculates how much you will be billed upon exiting.
You are given a towel, a gown, and a wristband with your locker key attached. Then you are shown to your locker.
You can request an extra towel if you like. They are often provided to you at no extra charge.
By the way, if you haven't yet experienced Korean towels then you're in for a treat. They're the equivalent size of a western hand towel so wrapping it around you isn't an option.
You have to just pat dry the essentials and be on your merry way! For this reason, you may want to consider bringing your own towel along.
Jimjilbang Step Two:
Totter on Down to the Changing Room
Venture on down to the Seoul jimjilbang locker room, remove your clothes, and set them in your locker. Korea is a very safe place but it is best not to bring valuable items and jewelry with you.
Once you are undressed, head into the shower area. You must take a shower before you enter the jimjilbang which is a nice reassurance about the hygiene practices.
Jimjilbang Step Three:
Get Naked and Shower
Take a thorough shower before entering the facilities. You must also keep your hair tied back throughout the entirety of your time in the baths and saunas.
Toiletries are not complimentary. You can either take your own or buy them at the front desk.
It is natural to feel self-conscious at first. On my first jimjilbang visit, the panic and embarrassment kicked in when I dropped my towel and got into the shower.
I dared myself to look around to see the dozens of peering eyes that would no doubt be staring at me since I stuck out like a sore thumb here. As I glanced over my shoulder though, I realised that no one had even looked up from what they were doing.
I got over the self-consciousness of feeling naked and exposed pretty quickly after that. People come in all different shapes and sizes and nobody else cared about how they or anyone else's bodies looked. After that, neither did I.
Try to forget about the fact that you are naked. Everyone is naked! Concentrate on how spectacular it's going to be, soaking in those superheated tubs like a lobster.
Jimjilbang Step Four:
Enjoy the Different Baths
Spend some time trying out the different baths and saunas. Koreans advise that using these in a certain sequence can lead to weight loss. But whether there is any truth to that is debatable!
The exact facilities will of course vary depending on which jimjilbang you decide to go to. Some baths are infused with various different herbs and natural fragrances, each of which possesses a different healing property.
Other baths concentrate on different temperature levels. They range from icy cold to sweltering hot.
Jimjilbang Step Five:
Sweat it out in the Saunas
The majority of Seoul jimjilbangs will at least boast a standard sauna facility. Some also have "ice rooms".
Saunas are fairly standard across the world. The sauna facilities at jimjilbangs should be comparable to what you are used to in your home country
That said, it does get very hot in the sauna rooms so take it easy. Drink plenty of water and don't hesitate to step outside for a few minutes if it all gets a bit too much.
Jimjilbang Step Six:
Try A Korean Body Scrub!
After relaxing in the baths and saunas, treat yourself to a Korean body scrub. You will be asked to lay on a table.
Then, someone will scrub all of the dead skin off your body with an exfoliating mitt. The results were shocking. Prepare to shed like a snake!
My Korean Body Scrub Experience
Even if you are someone that exfoliates regularly, you may be shocked by the results of your body scrub, I think that I must have lost about six pounds just in dead skin!
We are talking about long, grey, pencil-shaped rolls of dead skin with magnificent girth to them. I'm sorry for the graphic imagery, but I need to emphasise the sheer extent of this!
"This is your first body scrub?" the ajumma asked me, chuckling as skin rolls the size of Azerbaijan came from my arms and legs and dropped onto the floor. What an absolute troll I felt!
She was removing dead skin for over an hour. No centimeter of skin was left untouched.
I never thought that I'd see the day that I would lay face down and naked on a table as an old lady spent ten minutes scrubbing my bottom. But I guess that life is full of surprises!
When she had finished, she abruptly stopped and threw multiple buckets of warm water over me before exclaiming "the end!" It was all very relaxing, as you can imagine!
Alternative Step Six:
DIY Body Scrub!
If you don't want to pay extra money to get a body scrub from one of the Spa Therapists at the jimjilbang, the alternative is to do it yourself. After soaking in the baths for a while, use an exfoliating mitt and give yourself a good scrub down!
If you want the experience of a traditional Korean scrub though, it is definitely worth it. A Korean can probably reach places that you cant get to yourself.
If you do decide to self-scrub, don't be alarmed if a fellow jimjilbang-goer offers to help you out. Nudity is less of a taboo here which is nice. There's nothing to be embarrassed about after all.
Jimjilbang Step Seven:
Treat Yourself to Massage Treatments
Seoul jimjilbangs all boast treatment menus that enable you to indulge in various different pamper packages. You may want to treat yourself to a massage and a facial after your scrub.
Like the baths and saunas, the massages vary from place to place. However, things like hot stone massages, Thai massages, and oil massages are very common.
The facial was okay. However, jimjilbangs have more of a "one size fits all" approach to facial treatments.
I would probably recommend you pay a little extra to visit somewhere like Shangpree Seoul if you want to have a tailor-made treatment. This is especially true if you have any skin concerns.
If you visit a specialised skin spa for a facial instead of a jimjilbang, that way you know that whatever goes on your face is prepared specifically with your skin in mind. This is especially important if you have problematic or sensitive skin.
Jimjilbang Step Eight:
Continue or Move On
It's not uncommon for Koreans to spend a full day at the jimjilbang. If after your massage treatments you want to go back for another soak in the tub, it's more than possible. Be mindful that you will need to shower again before re-entering the baths after a massage.
Jimjilbang Step Nine:
Continue Relaxing At The Jimjilbang
Jimjilbangs have "restrooms" where you can take a nap, or just sit and unwind. Since they are 24-hour facilities, many people often opt to sleep here. Pull up a tatami mat, buy an ice tea and some Korean street food, and just sit and relax for a while.
Many jimilbangs are more like sprawling entertainment complexes than just spas. You can find restaurants, TVS, gardens and various relaxation facilities in most of them.
If you want to sleep at the jimjilbang overnight then you can do. Keep in mind that this is not luxury accommodation.
It literally involves sleeping on a tatami mat in a crowded room and hoping those around you aren't snorers! It can be an interesting experience though, and a way to alleviate some accommodation costs during your Korea itinerary.
Jimjilbang Step Ten:
Get Ready & Leave
The facilities at Spa Lei were really lovely. There was a large dressing room that reminded me of those glamorous dressing rooms that you see models sitting in on fashion week coverage.
The walls were lined with mirrors and chairs. The dressing rooms were stocked with an array of styling tools that you could use, along with complimentary cleansing products.
Most jimjilbangs have a similar room. However, standards vary from place to place.
There will be a bin where you can drop your used towels and gown on your way out. When you arrive back at the reception, hand the lady your wristband and she will return your shoe locker key.
If you opted for a treatment package, you would have paid upfront. However, if you decided to have treatments or buy food or drink within the jimjilbang, now is the time to pay.
Additional Advice for Visiting a Jimjilbang
You don't need a reservation to visit a jimjilbang in Seoul or anywhere else in Korea. You can just walk in. Depending on the jimjilbang, if you opt for a treatment package, you may be given a time slot for each treatment.
Don't worry if you book a bunch of packages and you are not sure where to go. More than likely, an ajumma will come out to look for you and call you over.
Weekends are generally busier. This is particularly true of Dragon Hill Spa which is arguably the largest jimjilbang in Seoul, and the most popular among Westerners.
What to Take With you to the Bathhouse
You can purchase toiletries on-site at the jimjilbangs, or take your own. Consider taking (or purchasing) the items detailed below.
Shower gel/soap


Shampoo


Conditioner


Hair ties (women must keep their hair tied back)


A large towel


Toothbrush and toothpaste


Facial cleanser, makeup remover, and other necessary skin products


A moisturising Korean face mask (use while relaxing in the rest area)
The Best Jimjilbangs in Seoul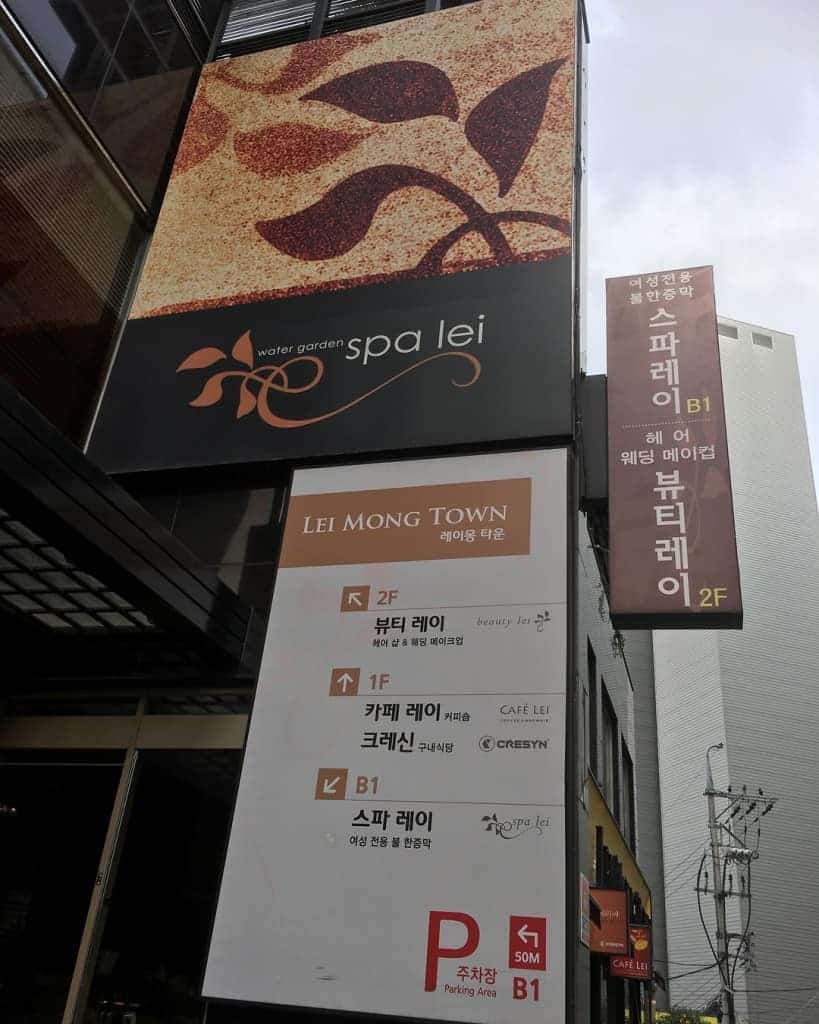 Spa Lei
Address: 8-22, Jamwon-dong, Seocho-gu, Seoul
Spa Lei is a women's-only jimjilbang in Seoul's fancy Sinsa district. The location is perfect for enjoying a soak in the herbal baths as part of a wider girly day out.
The ginkgo-lined streets of Sinsa are filled with quirky coffee shops, upscale eateries, and independent boutique stores.
Although the staff couldn't speak a great deal of English, they were extremely friendly and accommodating. The signs within the facility, their treatment list, and their website are also in English.
Basic Price: 14,000 Won for 12 hours, 1,000 Won for each subsequent hour
LK Spa
Address: 131 Eulji-ro, Euljiro 3(sam)-ga, Jung-gu, Seoul
LK Spa is a fantastic Seoul jimjilbang. It is situated in the heart of the city's Myeongdong district. This location makes LK Spa a perfect place to unwind after a long day shopping in Seoul at the markets of Dongdaemun, Myeongdong, and Insadong.
The spa boasts three sauna rooms and several different baths. The baths are infused with ginseng, jasmine, red wine, and various herbs. These infusions help treat a range of ailments and health complaints.
Hwanggeum Sauna
Address: B1, 19-27, Myeongdong 10-Gil, Jung-gu, Seoul
Hwanggeum is a high-rated jimjilbang in Myeongdong. It provides all of the standard saunas and bath facilities. However, the treatments that make Hwanggeum stand out from the crowd are its facials.
There are a range of facial masks that you can purchase at Hwanggeum. Collagen masks can be used to treat fine lines and wrinkles. Masks infused with chocolate help fight against the first signs of aging.
Dragon Hill Spa
Address: 40-712 Hangangno 3(sam)-ga, Yongsan-gu, Seoul
Dragon Hill has a great reputation in Seoul. Many of the staff speak English, and the spa is popular among the expat community
This is the largest jimjilbang in the city. Dragon Hill Spa features a high number of different baths and saunas, a cinema complex, a gym, and even a horseback riding simulator!
Basic Price: 14,000 Won for 12 hours, 1,000 Won for each subsequent hour
Siloam Sauna
Address: 128-104 Jungnim-dong, Jung-gu, Seoul
From the outside, this place doesn't look like much but Siloam Sauna is also one of the most highly recommended jimjilbangs in Seoul. In particular, Siloam is great for its extensive selection of herbal baths.
Basic Price: 10,000 Won
Smaller Seoul Jimjilbangs
Koreans take their bathing very seriously and many people visit jimjilbangs for a soak and a scrub on a weekly basis. As a result, they can be found on virtually every other street.
Just look for the jimjilbang symbol and you will find places effortlessly. This symbol is a red, illuminated fire icon.
If you can speak a basic amount of Korean, you ought to be fine in these and you shouldn't let being the only westerner put you off. I was the only westerner at Spa Lei, and no one batted an eyelid.
Parting Words
Paying a visit to a Korean jimjilbang is a worthwhile experience to have during your Korea travel itinerary. This may seem intimidating if you are from a country or culture where nudity is somewhat taboo. However, the experience is likely to make you more comfortable with yourself and your own body.
Have any questions about visiting a jimjilbang or the best jimjilbangs in Seoul? Feel free to reach out to me below! I spent two years living in Seoul and trying out all of the best beauty experiences in Seoul.
High Heels and a Backpack is in no way affiliated with any of the businesses in this article.
---