If you're headed to Korea for the first time then I'm sure that you're brimming with anticipation to go shopping in Seoul and get your hands on some Korean beauty products and some super cutesy Hallyu outfits that would put your favourite KPop idols to shame.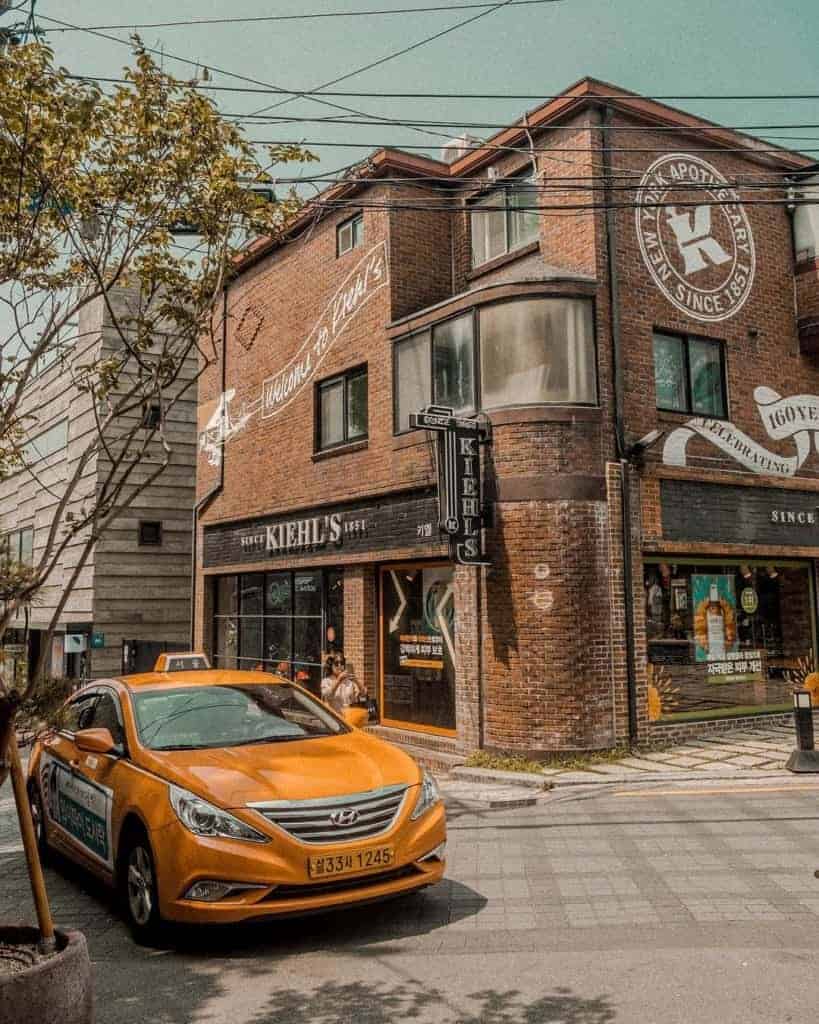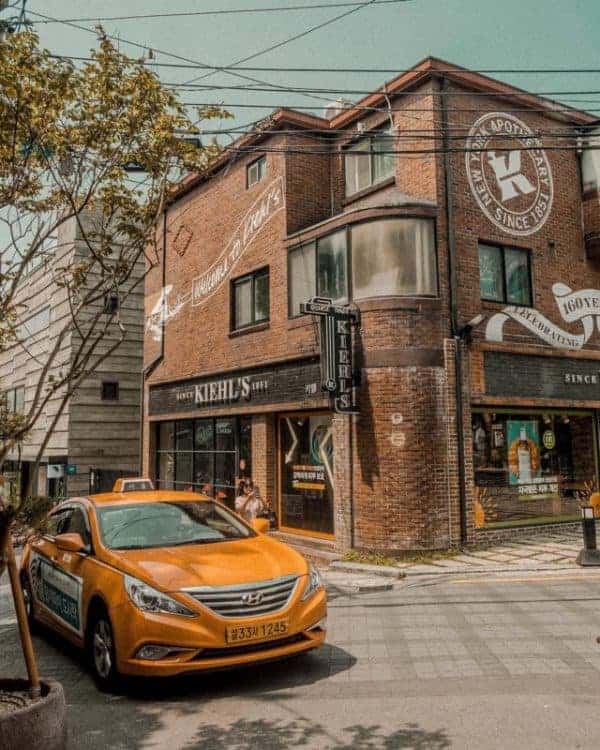 Where do you go for shopping in Seoul? More than likely you will jump straight on the subway to Myeongdong, since it's in all the guidebooks and has been Instagrammed to death.
After you've loaded up on Korean cosmetics and cute clothes, and you've stuffed your face with weird and wonderful street foods, maybe you'll head over to Gangnam for the obligatory "Gangnam style" dancing selfie in front of the street sign and a little window shopping for clothes so way out of your price range they have you crying even more than chopping an onion.
Related Article: A Weekend Seoul Itinerary
Shopping in Seoul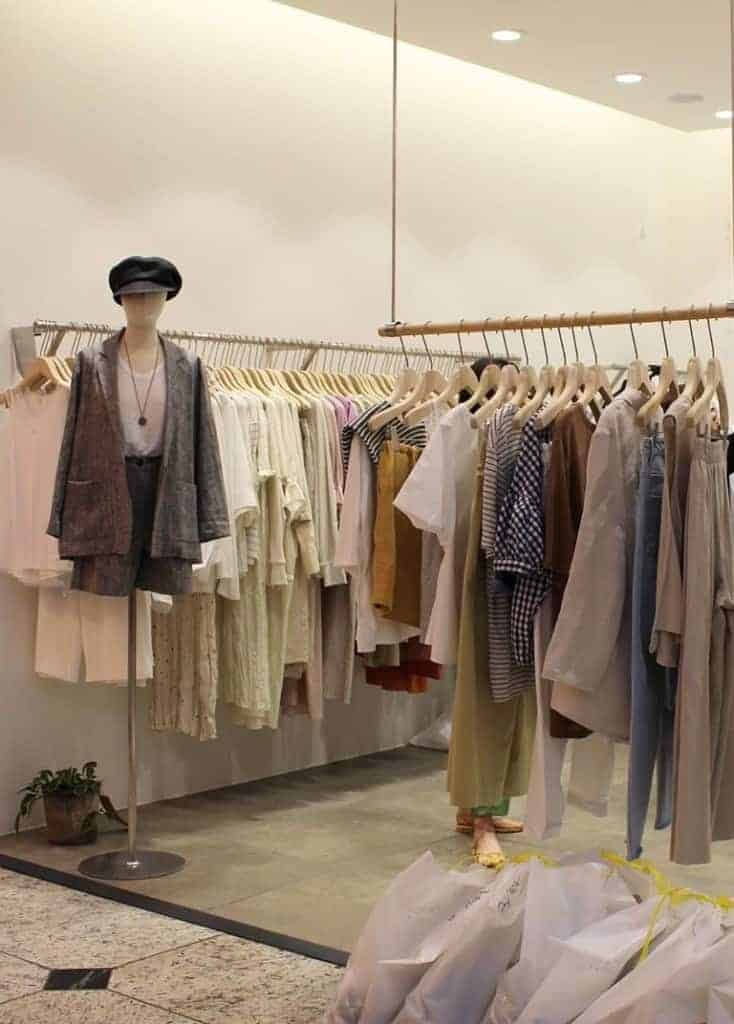 After living in Seoul for several years, I can tell you that my favourite shopping spots are not Myeongdong or Gangnam or any of the other places that tourists flock to first.
This guide offers a run through of some of the best places for shopping in Seoul – from the well-known spots to the off the beaten track districts that you may not have otherwise discovered.
Garosu-gil, Sinsa-Dong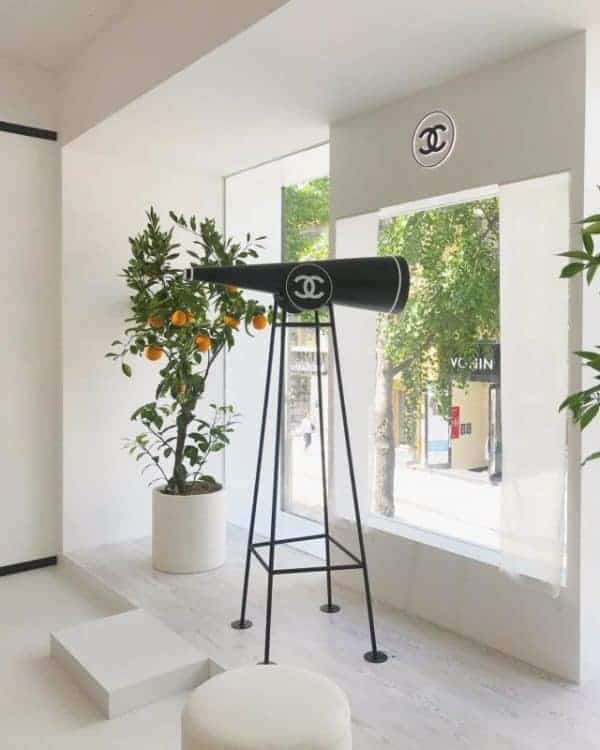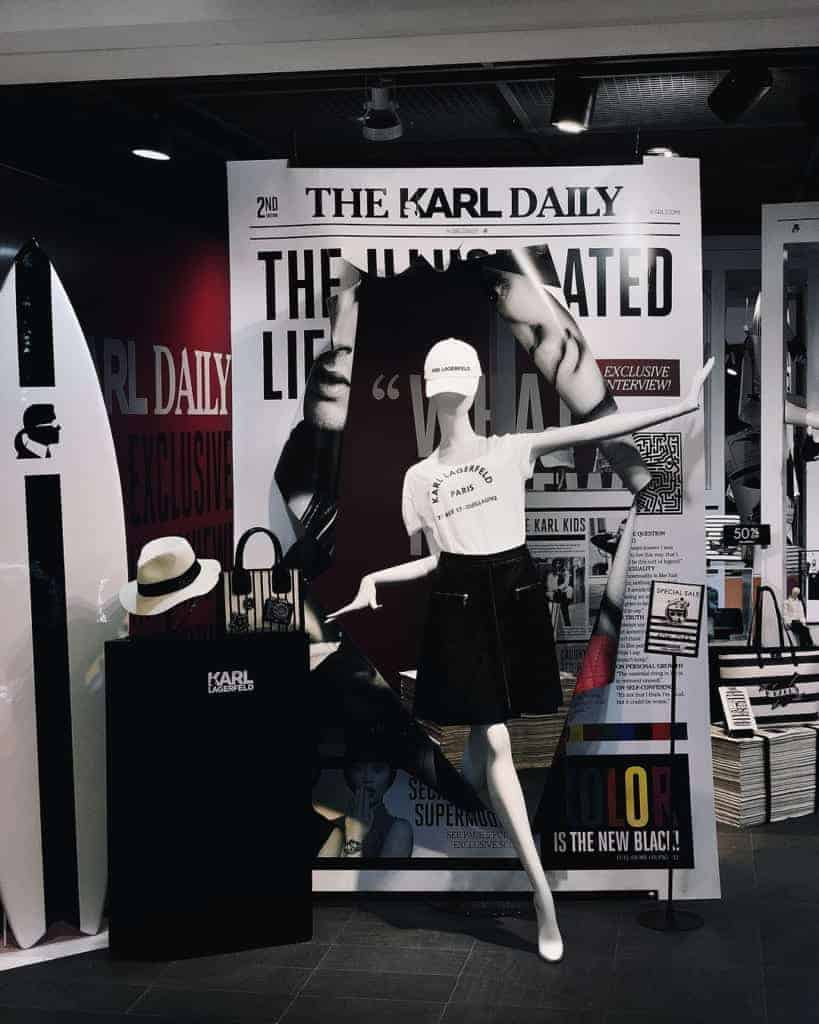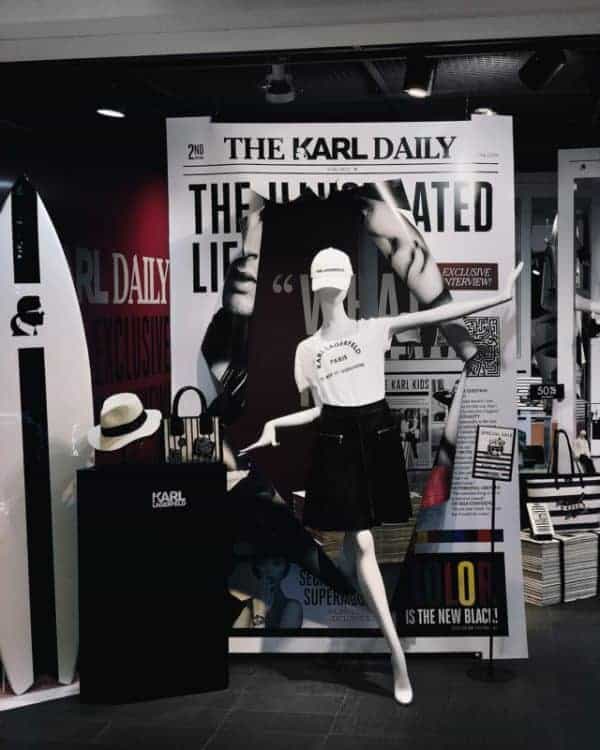 The tree-lined boulevards at Garosugil are every bit as elegant and sophisticated as the shops that are situated upon them. Garosugil has developed rapidly in recent years into a district that lies at the forefront of Korean fashion.
Perfectly dressed and preened locals sip cappuccinos beneath the cabanas of coffee shops here while looking as though they have just stepped right out of a fashion magazine.
Garosugil is not the place for budget shopping in Seoul, but for locating high-quality pieces. The beauty of shopping in Garosugil is that it is home to the boutique stores of many up and coming local Korean designers – making it the perfect spot to pick up a one of a kind fashion piece that no-one else will have.
While Garosugil is home to the Korean flagship stores of international designers and brand labels, the highlight of this neighbourhood is the vintage stores and the quirky boutiques. Don't miss Spicy Color and Nine Owls vintage stores.
Metro Station: Sinsa Station (Subway line 3)
Related Article: Solo Female Travel in Seoul
Bling Night Flea Market
Bling Night flea market is not exactly a flea market in the traditional sense. As a matter of fact, it offers one of the trendiest shopping in Seoul experiences.
Hosted by hip Bling Magazine, this pop-up market is usually hosted on the last Saturday of each month and pops up in different locations around Seoul each time.
Expect live musical performances and sizzling street food stands as you navigate your way around stalls selling second-hand items and crafts from independent designers.
Metro Station: Venue changes each time. Check Bling Magazine's Facebook page for details here.
Cheongdam-Dong and Apgujeong
Straddling (ooh!) both Apgujeong and Cheongdamdong, Apgujeong Rodeo was historically always the place to see and be seen in Seoul – whether it was for having brunch, shopping the latest designer fashions or meeting friends for after work cocktails.
Trendy Sinsa Dong has recently snagged that title, however, Apgujeong Rodeo still has plenty to offer. The stores here are trendy, youthful, and relatively affordable considering the high quality of the products.
For a sweet treat to break up your retail therapy and a unique dining experience, consider stopping by Dessertree – a teeny tiny cafe that serves up some of the most exquisite desserts in Korea.
The restaurant proprietor is a pâtissier who, having studied in Paris for several years, decided to bring decadent Parisian desserts to Seoul. Dessertree isn't just your typical "coffee with a slice of cake" style establishment though; the desserts here are served up in three courses.
Expect to pay approximately 24,00 won for a set three-course menu (circa $24).
From here, don't miss the Cheongdam-dong Fashion Street – the self-proclaimed "Champs Elysees of Korea" – even if your experience here will be restricted to window shopping.
Marvel at the window displays of the most renowned luxury brands in the world – including Cartier, Prada and Louis Vuitton.

Metro Station: Cheongdam Station (Subway line 7)
Lotte Mart
Korean food and snacks are a highlight of travelling to Korea. If you want to pack some snacks in your suitcase to take home with you, or you cannot imagine your life without gochujang chili paste, you need to go to Lotte Mart. 
Lotte Mart is one of Korea's best discount stores. The store sells every item imaginable but most people stop by for the snacks.
Treats like Honey Butter Chips and Peppero sticks can be found in abundance at Lotte Marts. There are stores scattered all over the city.
You don't have to set out specifically to find one, as you will probably pass a handful of them while shopping in Seoul. Just be sure to leave space in your suitcase for snacks!
Myeongdong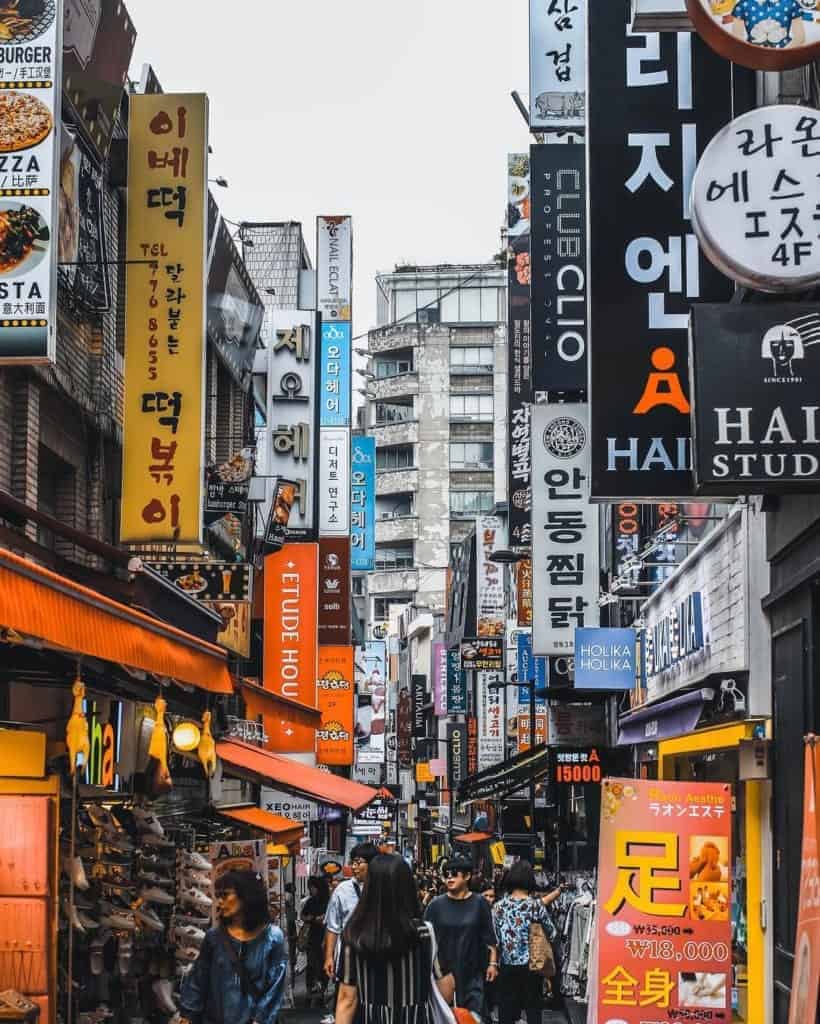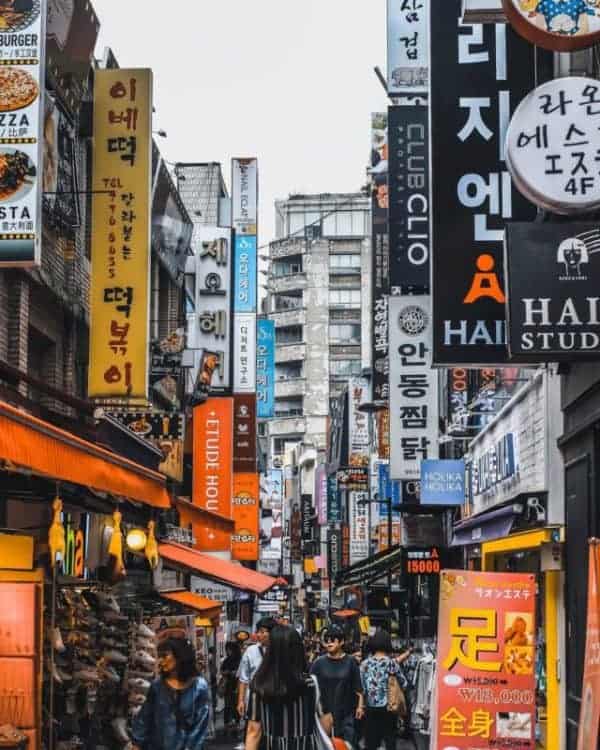 Though it is certainly the most touristic of Seoul's shopping neighbourhoods, Myeongdong is the place that you want to head to if you plan on purchasing any Korean cosmetics and skincare products while visiting Seoul.
Cosmetic stores are situated every few paces in Myeongdong – even stores of the same brand are repeated! Don't miss the local favourites of Innisfree (natural skincare products and cosmetics from Jeju), Etude House, or Nature Republic.
You will notice that there are a lot of deals (such as buy one get one free) on products here.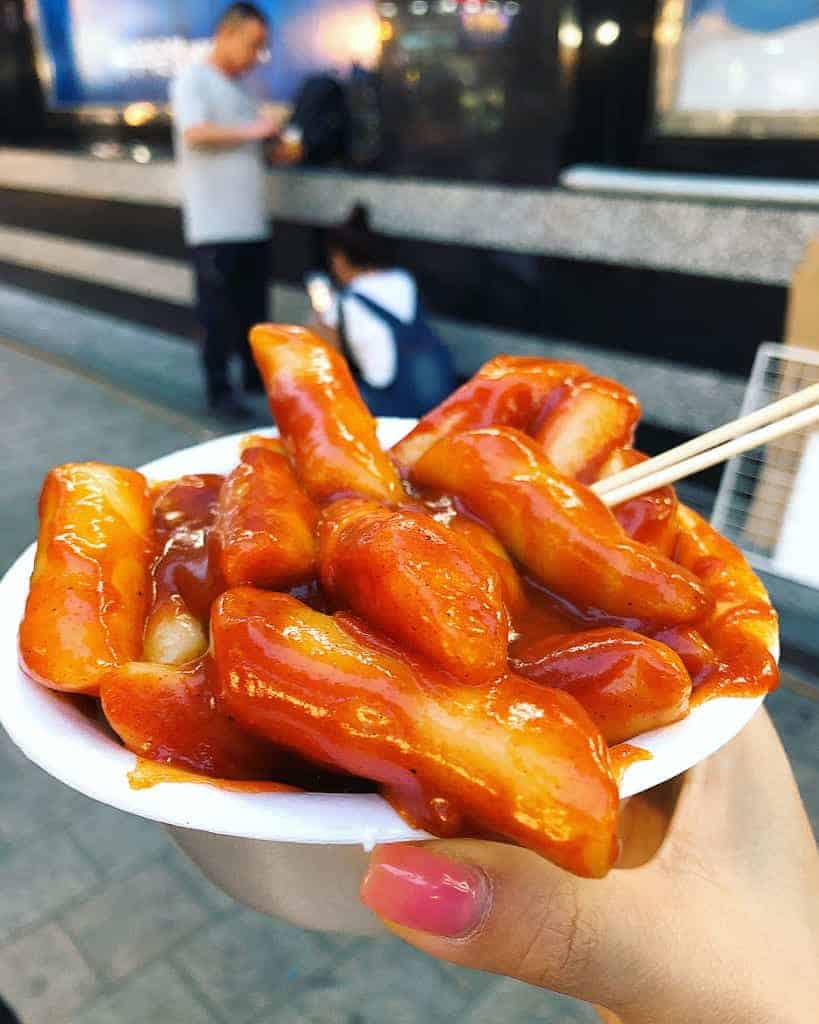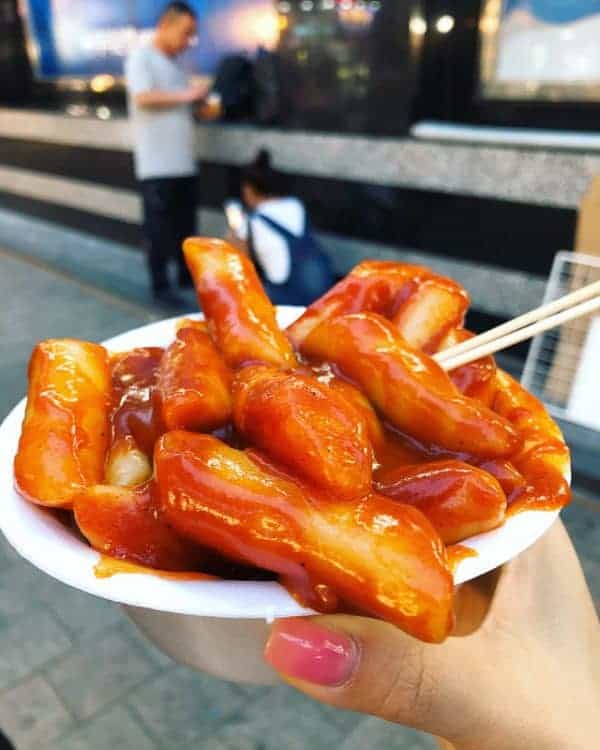 Many of the Korean cosmetic stores in Myeongdong have staff standing out front to hand out free samples on the streets in order to lure you inside. You are not obligated to buy anything, but you can definitely stack up quite a nice selection of Myeongdong beauty freebies by the end of the day exploring here!
It is also important to note that all shops in Myeongdong are tax-free. The shop assistants will hand you a form to fill out regarding your purchases. You can then complete your tax return at Incheon airport.
When your credit card and your feet have taken a beating, be sure to sample some of the weird and wonderful street food delicacies available along the streets of Myeongdong.
Metro Station: Myeong-dong Station (Subway line 4)
Gwangjang Vintage Flea Market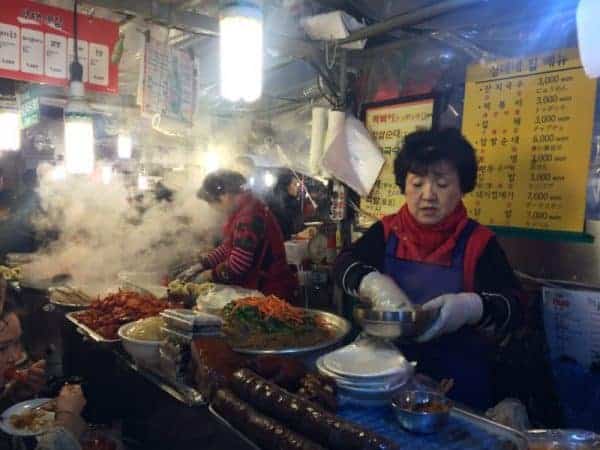 If you love a bargain and a unique find when you are shopping then you will absolutely fall in love with Gwangjang vintage flea market. Most of the clothes here are not Korean but come in from the UK, the USA, Australia and other random parts of the world (which could be good news if you cannot find clothes that fit you in the Korean sizes).
Even if you are not a vintage clothing aficionado, you will surely enjoy the hustle and bustle of navigating your way through the stalls of one of the oldest markets in Seoul.
Gwangjang is more famous for its food market and you should absolutely take the time to visit Gwangjang market, pull up a stool beneath a pojangmacha tent and order a bindaetteok and a cup of soju so that you can feel like a true Korean as you eat elbow to elbow with Korean company men.
Metro Station: Jongno 5-ga Station (Exit 7)
Goto Mall, Gangnam
Goto Mall is Gangnam's best kept secret. The mall is a maze of more than 800 metres of underground stores that branch out from Gangnam station. 
Shopping in an underground subway station mall may sound sketchy. However, locals themselves often consider Gangnam Goto as one of the best places to pick up the latest fashions at a bargain price.

The vendors here sell everything from clothes, shoes, and accessories, to cosmetics and skincare products. You will often find cheaper prices at Goto than you would at retail stores. 

Metro Station: Express Bus Terminal Station (Metro lines 3, 7, and 9)
Ewha Woman's University Shopping Street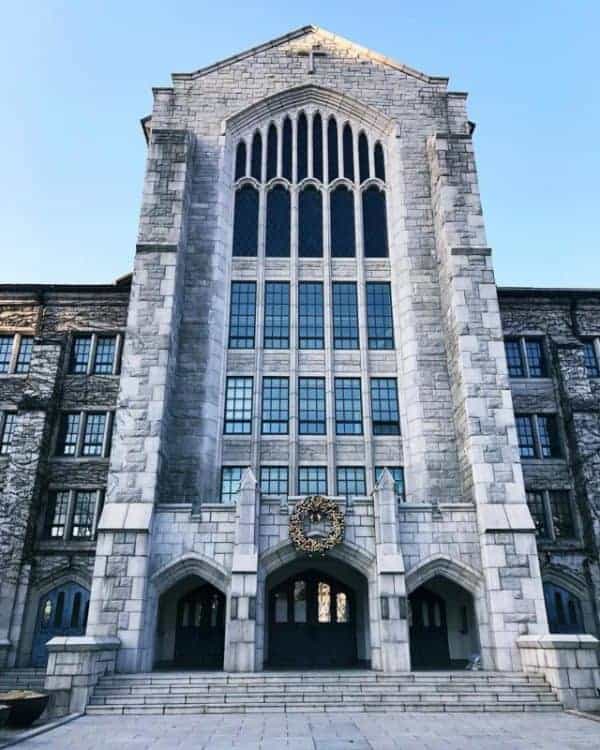 Catering to the feminine and trendy students that study at the street's namesake campus, Ewha Woman's University Shopping Street is filled with boutique stores selling apparel items that are relatively inexpensive, cute and fun!
Think quintessentially Korean short skirts, cutesy dresses and a wide array of accessories and shoes. Many of the Korean skincare and cosmetic brands have stores scattered around the street also and the products tend to be offered at discount prices as compared to other Seoul neighbourhoods.
Metro Station: Ewha Woman's University Subway Station, Exit 2 or 3
Dongdaemun
If there was a place where you could shop for beautiful dresses and carefully crafted handbags any time you wanted, all through the night, even at 4 o'clock in the morning, that would be a heaven, right?
Fortunately, you don't have to imagine such a place since it actually exists in the form of Dongdaemun, one of the most sprawling shopping districts in Seoul. The stores here are open until 5 am – the ultimate shopaholic's fantasy.
It can be difficult to know where to begin in Dongdaemun since the area is not simply a mall, but a sprawling complex comprised of over 30,000 stores, 30 shopping malls and 10 streets. With that said, your best bet is to start at the Lotte FITIN building.
Situated on the top floors of the mall are clothes produced by independent local designers and the price tags here are reasonable and competitive. Another mall worth stopping by is Good Morning City. Spread across a whopping 23 floors, the mall sells everything from electronics to apparel and cosmetics.
Dongdaemun is also a popular spot for bargain shopping so be sure to fight your way through the crowded outdoor market and try your hand at haggling for good deals.
Under the cover of night, dozens of yellow canopies are set up around the Dongdaemun design plaza around 9 pm and operate until dawn. The stalls here sell everything from imitation designer handbags to cheap but cute skirts and dresses.
Metro Station: Dongdaemun History & Culture Park (Exits 12 or 14)
Hongik University (Hongdae)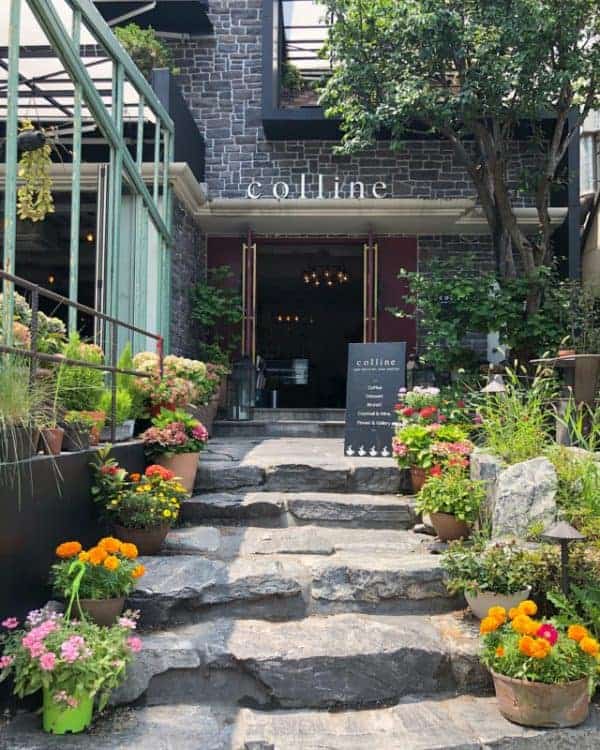 Seoul's Hongdae neighbourhood is often compared to Tokyo's Harajuku – which certainly says something about the style of stores in the region and the crowds that they attract.
Indie fashion trends are prevalent here and clothing items can be picked up in many of the cheap and cheerful stores that line the streets for less than $10.
If you happen to stop by Hongdae on a Saturday, you will have the opportunity to browse the Hongdae free market which runs from 2 pm to 6 pm every Saturday (between the months of March and November).
Items on sale at the Hongdae free market range from clothes (second hand or created by independent designers), handicrafts, and artwork. There is also typically live performances and exhibitions here by young local artists and musicians.
Metro Station: Hongik University Station (Subway line 2)
Itaewon
Itaewon has always been known as the "foreigner district" of Seoul. This neighbourhood is home to the American army base and it is where Koreans often travel to get their western fix. While Itaewon might not be the place to immerse yourself in traditional Korean culture, it is certainly a good spot for shopping.

You can find branches of many international brand stores in Itaewon. There are more than 100 different shops here selling apparel, arts and crafts goods, electronics, and every category of item imaginable.
The Itaewon antique furniture street (이태원 앤틱 가구 거리) is worth checking out. As the name suggests, this street is filled with ramshackle stores that sell antiques. This name was awarded to the strip after American soldiers came here to sell their possessions during the Korean war.
The international vibes of Itaewon make it a great place to stop for a post-shopping dinner. People from all over the world have opened restaurants here. You can have authentic food from whichever corner of the globe you can dream of – Greece, India, Lebanon, Turkey, Thailand, etc. For dessert, don't miss the eccentric "Dondurma" ice-cream seller.

Metro Station: Itaewon Station (Metro Line 6)  
Insadong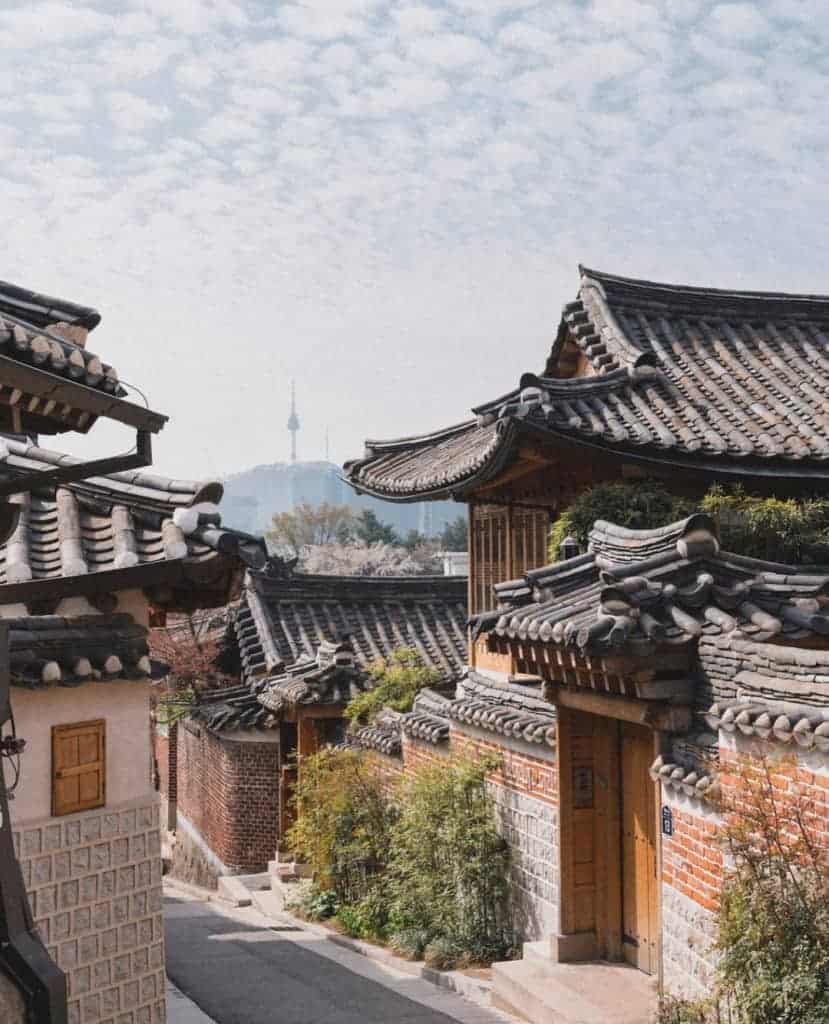 Where: Insadong-gil, Jongno-gu, Seoul
Insadong is the best place in Seoul for shopping for traditional souvenirs and handicraft products. This is one of the oldest neighbourhoods in the Korean capital and despite the daily influx of tourists it receives, Insadong has somehow retained its authentic charm.
The areas of Insadong and Bukchon were once home to Korean nobles. Hundreds of ancient hanok houses line the cobbled streets of Insadong but today they are home to gift shops and coffee places.
Your first point of call when shopping in Insadong should be Ssamziegil – a tiered shopping mall that is filled with stores that sell beautiful artisanal products. If you are looking for a unique reminder of your time in Korea, you could consider purchasing a hanbok – traditional Korean dress. Those who can't imagine an occasion where they would ever actually wear a hanbok could buy a modern, contemporary version of the garment.
For traditional masks, venture into the Tal Bang wooden mask shop. If you are interested in embroideries and soft furnishing products, don't miss the Vin Collection shop.
Metro Station: Anguk or Gyeongbokgung Stations (Metro Line 3)
Common Ground Shopping Mall
Where: 200 Achasan-ro, Jayang 4(sa)-dong, Gwangjin-gu, Seoul
As far as shopping in Seoul goes, the locations do not get more unique than the trendy Common Ground Shopping Mall. After the mall's grand unveiling in 2018, Common Ground has quickly become the go-to hangout spot for young Seoulites.
What's so wonderful about Common Ground mall? Well for starters, the mall is built from hollowed out, bright blue shipping containers that are stacked on top of each other like Lego bricks. Spanning across an area of more than 5300m2, and utilising over 200 recycled containers, Common Ground is the largest container mall in the world.
The stores at Common Ground are a blend of exclusive designer brands and independent stores. On the upper level (floor 3) of the mall, there are several roof terraces, bars, and restaurants. Throughout the week, various performances and exhibitions are hosted here. This is surely one of the most eccentric places for shopping in Seoul.
Metro Station: Konkuk Station (Line 2)
Namdaemun Market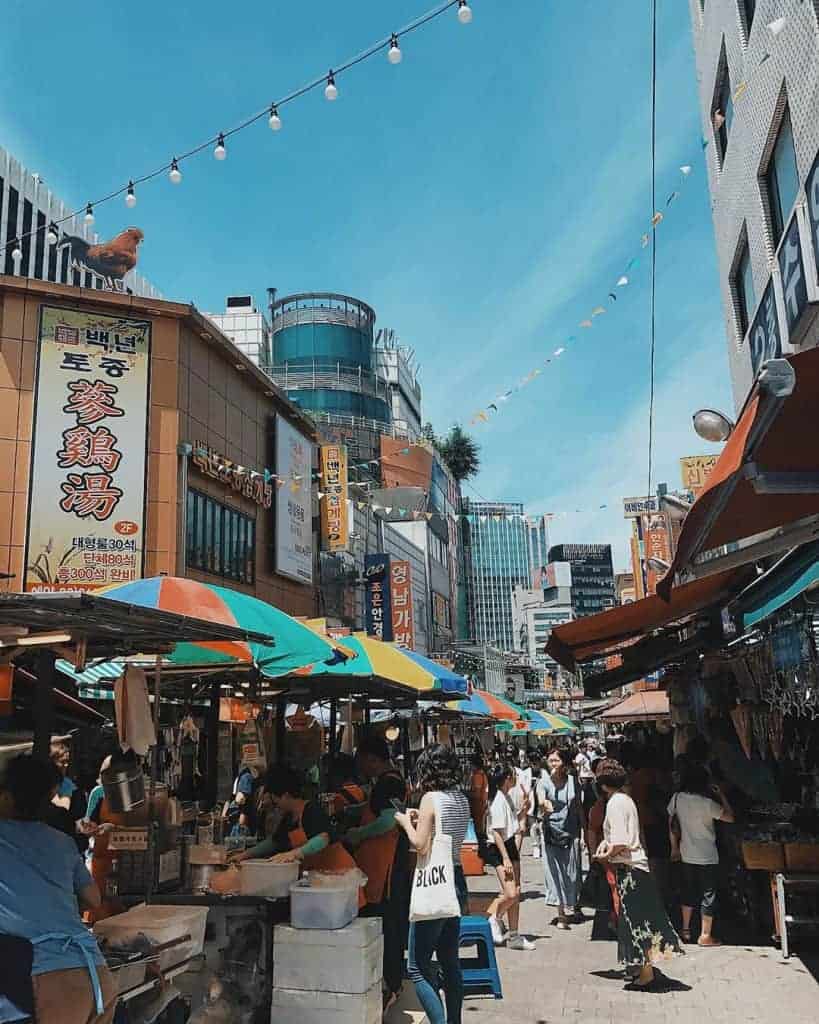 Where: 21 Namdaemunsijang 4-gil, Hoehyeon-dong, Jung-gu, Seoul
Dating back to the sixties, Namdaemun is Seoul's largest traditional market. While this is not necessarily the place to come to for the finest fabrics and the latest fashions, the low-cost market is a great place to pick up casual attire and accessories. Best of all though, the Namdaemun shopping experience is a cultural one.
As you twist and turn through the labyrinth-like network of narrow passageways and ramshackle lanes that make up Namdaemun marketplace, you bypass traditional medicinal halls, makeshift food stalls, and second-hand thrift shops. Experiencing the sights, sounds, and smells of this chaotic district is a highlight of any Seoul itinerary.
Namdaemun is widely regarded as being one of the best places in the Korean capital for sampling Korean street food delicacies. If you are interested in trying sannakji (live octopus), this is a great place to try it. Seafood stalls make up practically every other stand of the Namdaemun food market.
Other popular eats worth adding to your radar while exploring Namdaemun are steamed/fried mandu (the kimchi mandu here is particularly good!), eomuk fish cakes served in a soup (odeng), and kalguksu – a seafood soup.
Metro Station: Hoehyeon Station (Line 4)
Gangnam Boutique Stores & Brands
Where: Gangnam Shopping Street, Gangnam-daero, Gangnam-gu, Seoul
Gangnam is one of Seoul's most exclusive neighbourhoods and for the most part, the stores and malls situated in this area reflect that reality. Numerous high-end international brands have their flagship stores in Gangnam, and the eclectic, instagrammable layouts of the various boutiques here simply exude elegance.
Those interested in checking out the creme de la creme of Korean fashion designers should start their Gangnam retail therapy at Kimmy J – a store owned by Heejin Kim, one of the most important names at Seoul fashion week and a local designer who has won international acclaim for creating streetwear that somehow manages to be both edgy and sophisticated.
Nearby, Rare Market is a concept store that has been known to attract celebrities from Seoul, and across the globe, while "Around the Corner" is a one-of-a-kind store that showcases the exquisite works of both up-and-coming Korean and global designers. Around the Corner sells a diverse array of products – from charming stationary items and interiors to luxury apparel and accessories.
Metro Station: Gangnam Station (Line 2)
Mecenatpolis Mall, Hapjeong
Where: 45 Yanghwa-ro, Hapjeong-dong, Mapo-gu, Seoul
If you prefer shopping malls and the knowledge that everything that you need is under one roof, then Mecenatpolis Mall is a good choice for shopping in Seoul. Branches of both local and international brand stores are located at Mecenatpolis Mall, in addition to a wide selection of cafes and restaurants.
Mecenatpolis is one of Seoul's best-designed malls. Its roof is designed from a canopy of umbrellas, and the glitzy bars and eateries that encompass it attract a chic crowd of Seoulites.
Metro Station: Hapjeong Metro (Line 2)
Starfield COEX Mall, Gangnam
Where: Samseong 1(il)-dong, Gangnam-gu, Seoul
Seoul's Starfield COEX mall is a sprawling mass of luxury stores and boutiques that runs beneath Gangnam. This is the largest underground mall in Asia, and one of the best places for shopping in Seoul due to the vast selection of stores that are concentrated here.
Store directories are scattered throughout the Starfield COEX MAll making it easy to navigate your way around and locate your favourite stores. Both mid-range and high-end shops can be found here.
Additional Information on Shopping in Seoul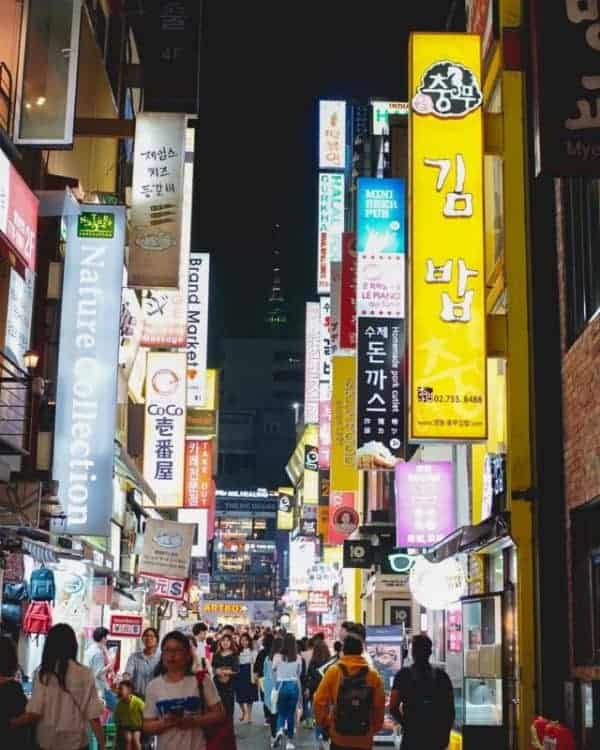 Many stores in Seoul do not let you try things on which is ridiculous, but it happens and not just to foreigners.




If you are wearing makeup, sometimes the store proprietors will not let you try things on.




Clothes in Korea run much smaller than in the west so don't be surprised if you have to take a bigger size than your usual.




Sometimes shoes in Korea come in a "one size fits all" rather than separate sizes.




Shoes in Korea also run small, so if you have wide feet or feet that are bigger than the average, you may struggle to find shoes that you can squeeze your toes into!
Have any questions on my guide to shopping in Seoul, things to do in Seoul, or general Korea travel advice? I lived in Seoul for 2 years and will help you as best as I can. Feel free to drop me a comment below. Annyeonghaseyo! Melissa xo
Disclaimer: High Heels and a Backpack is in no way affiliated with any of the mentions contained in this shopping in Seoul guide. All recommendations are based purely upon opinion.

---