Korean street food is a huge part of Korean food culture. Here, you will find street food stalls on virtually every street corner of every town and city.
Grabbing some Korean street food on the go is not only easy on the wallet, it also gives you a wonderful opportunity to mingle with the locals. Koreans themselves will often head to a Korean street food market or stand to grab a quick and convenient dinner after a long day at work.
If you have any Korean language skills, the vendors are always happy to chat with you and help you to learn more about the history of the dishes they serve. No doubt we love our elaborate meals at upscale Seoul restaurants. However, the street food offerings around the world are the true indicators of the authenticity of the culinary scene of that country.
Sample Korean Street Food with a Tour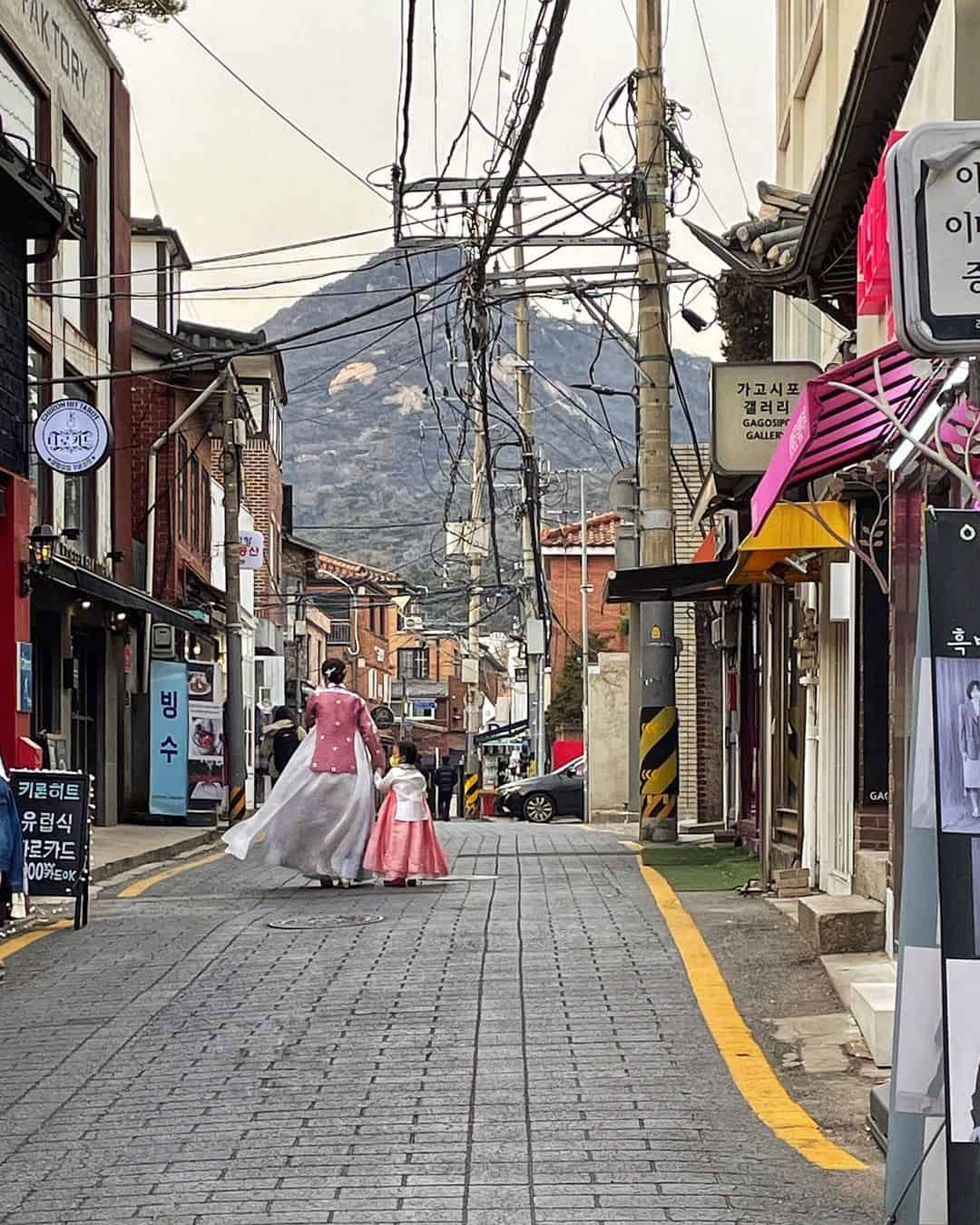 Korean street food can be found in Korean communities across the world. However, for the best of the best, you need to sink your teeth into it in South Korea itself.
If you plan on traveling to Korea, be sure to incorporate a Korean street food tour into your agenda. Taking a guided tour at the beginning of your time in Seoul/Busan/Jeonju/Jeju can really help you to get your bearings in a new place.
You will stumble across eateries and marketplaces that you may not have found independently and which are far away from the tourist hordes. Better yet, having a local on hand means that you have an insider expert that can advise you on the best places to eat, drink, hang out and grab a coffee in Seoul and beyond.
Different parts of Korea are famous for different delicacies. For instance, Busan is famous for its Dwaeji Gukbap (pork soup).

Jeonju is famous for being the birthplace of bibimbap (Korean mixed rice with beef and vegetables) and Gyeongju is famous for Hwangnam-ppang sweet bread. Arguably the best Korean foodie experience comes from taking different street food tours, market tours, and cooking classes in different parts of the country.
Recommended Korean Street Food Tours
A selection of the best Korean street food tours and foodie experiences in Seoul and beyond are detailed below, for your consideration. Book in advance of flying to Korea to secure your dates and avoid disappointment.
Korean Street Food Dishes to Try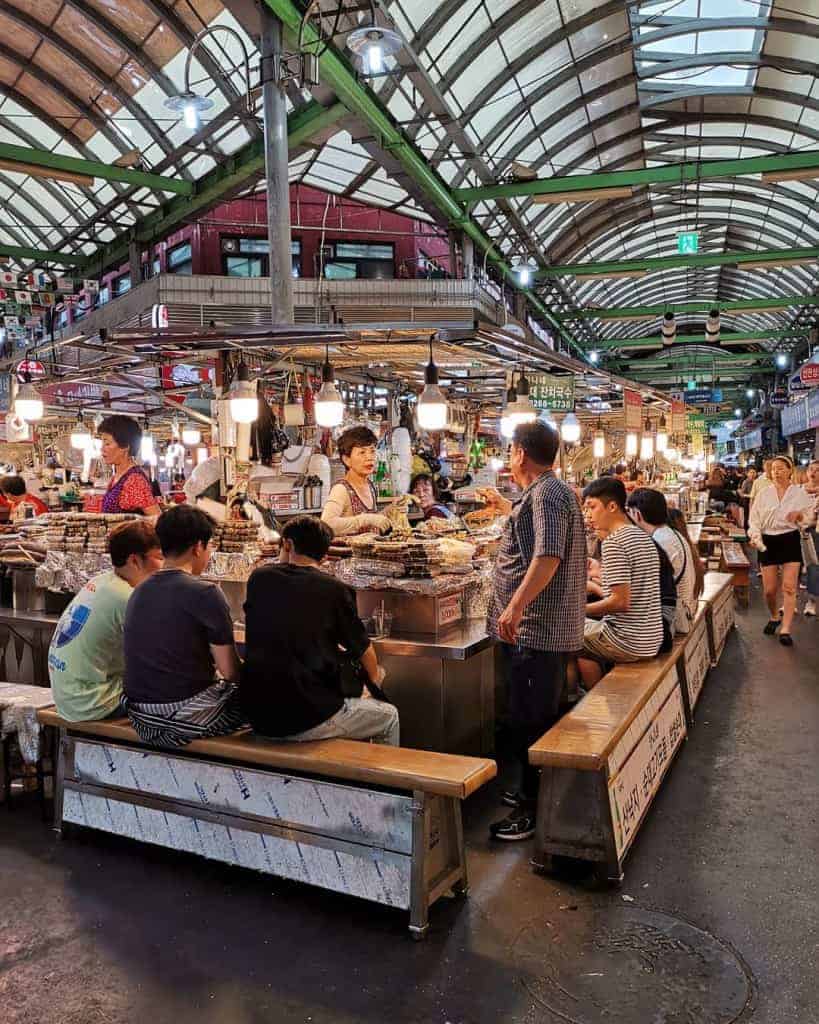 Street food stalls, with inbuilt kitchens and bright pojangmacha (stalls on wheels), have flourished in Korea. So keep your belly empty and get ready to enjoy these lip-smacking dishes from the alleys of Korea.
Myeongdong Specialty Ice Cream
If there is one district that keeps the pulse of Seoul racing, then that is Myeong-dong. This is the place where you can enjoy the electric cosmopolitan atmosphere of Seoul, and savor authentic Korean street food as well.
Having said that, you cannot stroll around this place for long without seeing people walking around with 32 cm tall ice cream cones. They come in a variety of flavours from chocolate, vanilla to green tea, and more.
It isn't only about aesthetics – the taste is really good too! This signature Myeongdong food and a popular local dessert is a must-try during any Seoul itinerary.
Tteokbokki (Stir-Fried Rice Cakes)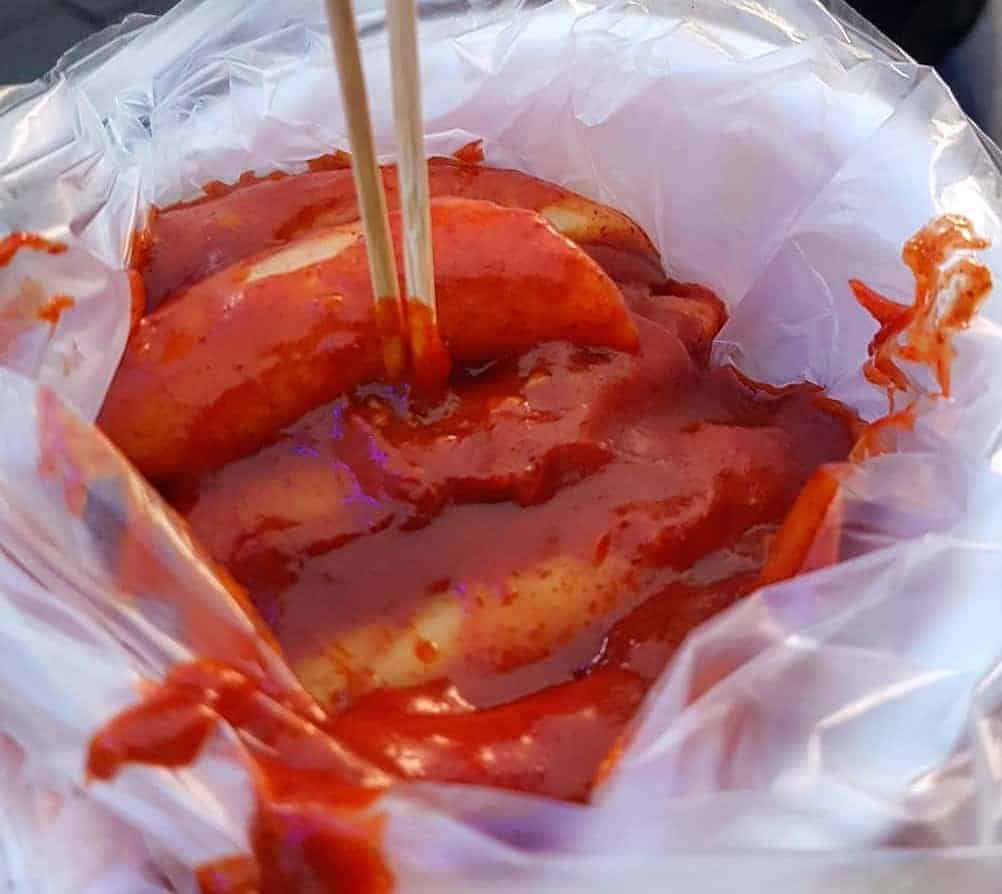 This popular Korean street food can be found on practically every street corner in Korea. You will find it everywhere from the narrow streets of Insadong to the back alleys of Sokcho.
Tteokbokki is best described as cylindrical rice cake noodles. These are stir-fried in a very spicy gochujang sauce.
Spice levels vary from one tteokbokki vendor to another. Some are relatively mild, others are mouth-burning hot. A large paper cup of tteokbokki typically costs no more than 1,000 KRW (approximately $1).
Savoury toppings such as anchovies, sesame oil, and dried kelp are often added to the tteokbokki for a little extra flavour. Wash it all down with a chilled glass of the local spirit soju.
Soju (소주)
Soju is the ultimate thing to indulge in on a night out in Korea and the beverage of choice for most Korean businessmen. It is a clear, colorless distilled alcohol made from rice.
While soju is not a homemade beverage, it is worth mentioning here as you will always find it on sale at Korean street food stalls. It is consumed neat and often has a high alcohol content that reaches as high as 53%.
Soju is usually sold in a green bottle and comes in different flavors. Peach, grapefruit, blueberry and grape are among the most popular.
Sannakji (Baby Octopus)
Your initial feeling when hearing about sannakji may be one of repulsion. Sannakji is a baby octopus that is eaten alive.
Its tentacles still twitch and move as you eat, which can be offputting if you are from a western culture. However, once you taste this salty and sticky seafood delicacy drizzled with sesame oil, you will realise why this is one of the most loved and common Korean street food dishes enjoyed throughout the country.
It is recommended to serve this dish with ssamjang, (red pepper paste and soybean paste) and green tea. Head to the Noryangjin fish market in Seoul if you are interested in sampling the very best version of this dish.
Hotteok 호떡 (Korean Sweet Pancakes)
This healthy and delicious Korean street snack, eaten when hot, is an extremely popular treat during winter in Korea.
A hotteok (hoeddeok) is the Korean answer to the pancake. There are plenty of variations of this dish.
The classic hotteok is made of yeast dough and filled with nuts and brown sugar. The sweet treat is then pan-fried in a little oil. Seeds are often added to hotteok to add extra flavour and health benefits.
Bungeo-ppang (Fish-Shaped Waffles)
This super sought-after winter snack sold on the streets of Korea is actually a bread in the shape of a fish. The treat is then stuffed with sweet red bean paste from azuki beans.
The name bungeo-ppang literally means carp-shaped bread. The crispy exterior and the spongy interior makes for a perfect bite as the sweet paste, pat ang geum, bursts inside the mouth.
Bungeo-ppang is typically sold from food stalls where they are grilled using a waffle iron with a fish-shaped mold. Metro stations around Seoul often sell custard-filled variations of this treat.
Kimchi Jeon (Kimchi Pancakes)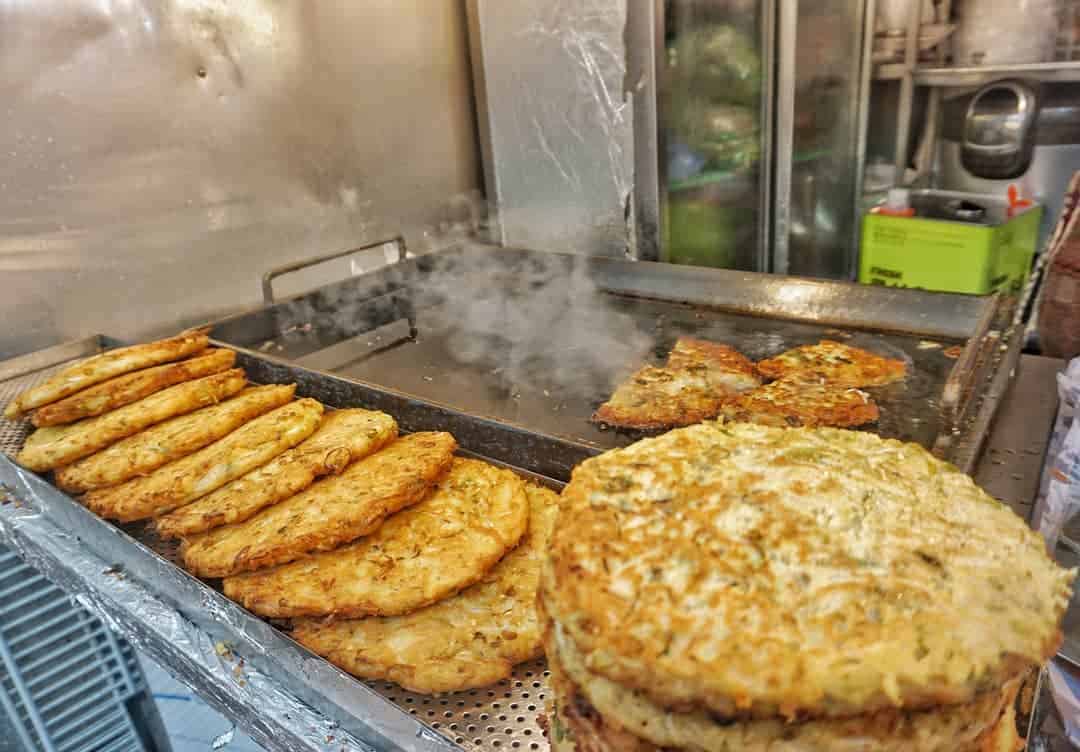 Kimchi Jeon is a Korean savoury pancake. You can find these served as appetisers and starter dishes in restauants and makgeolli houses, in addition to as ligjt snacks in Korean street food markets.
The pancakes consist almost entirely of kimchi (fermented, pickled cabbage), onions for taste, and a mix of egg and flour to bind them together. Once fried in a pan, it is the best vegetarian dish one can enjoy on the Korean streets.
For best results, kimchi juice is used instead of water to make the batter. Kimchi Jeon tastes best when served hot out of the pan. However, it can also be enjoyed as leftovers at room temperature.
Odeng (Fish Cake)
Odeng is basically a street-side snack made from strips of seasoned fish cake, skewered and made to boil in a soup till cooked. This hugely liked dish comes with a bowl of chilli soy sauce and the original soup in which the dish was made in.
Sometimes, a portion of odeng is served with tteokbokki rice cakes. Further seasoning can be added if needed.
Dakkochi (Grilled Chicken)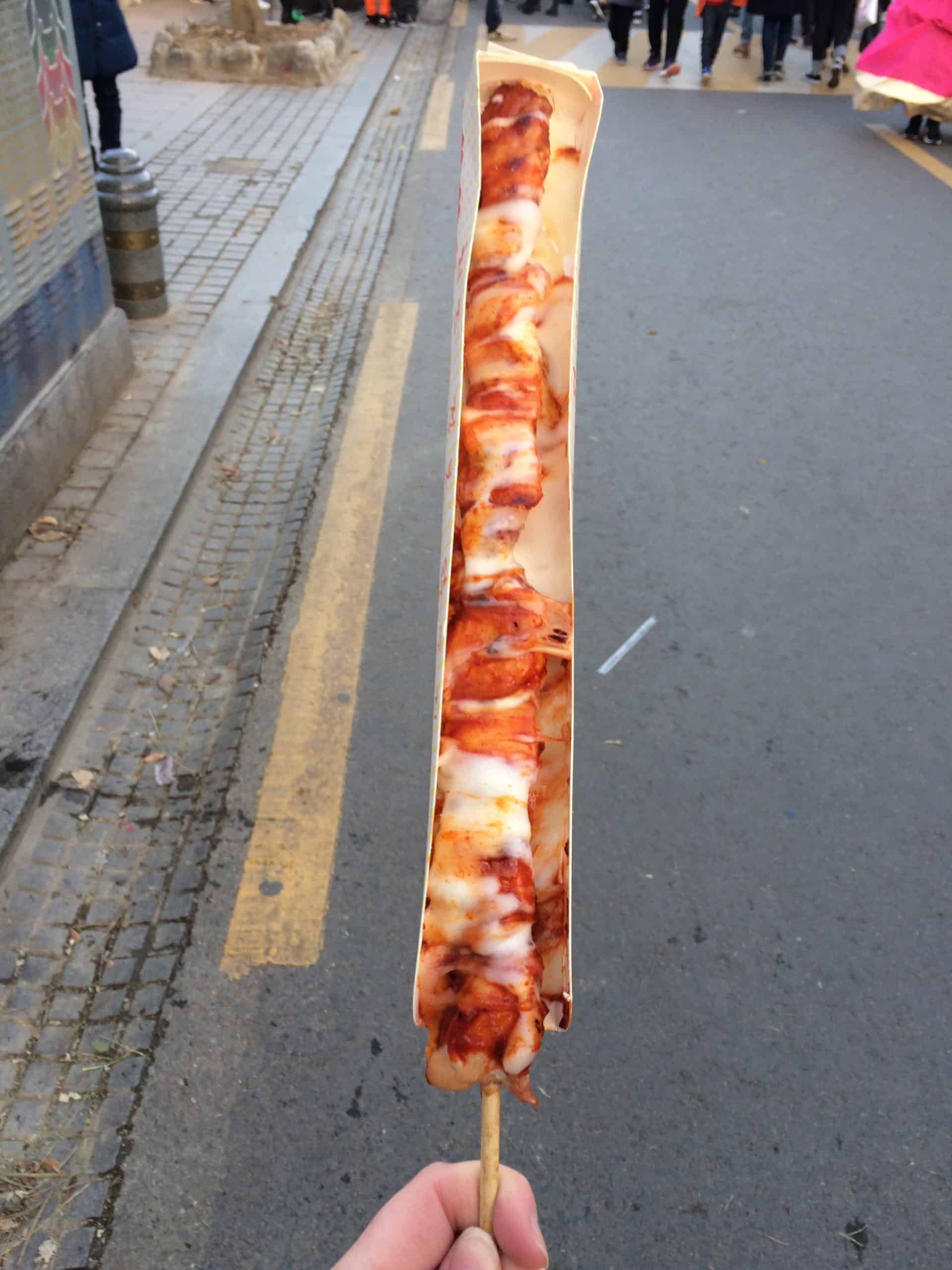 A delicious grilled chicken on a stick recipe, dakkochi, or chicken skewers, make a perfect on-the-go snack while shopping in Seoul. The tender chicken is marinated and glazed with an assortment of sauces before being grilled. The dish can also be enjoyed with rice and gochujang, red pepper paste.
Chi-maek (Fried Chicken & Beer)
This contemporary Korean dish literally means what the name implies: fried chicken and beer. Chimaek 치맥 means Chicken and Maekju, the Korean word for "beer". This dish is far healthier and better quality than the western versions of fried chicken that you may be accustomed to.
There are dozens of chimaek restaurants across Seoul and Busan. The dish comes in a variety of flavours, which may include garlic and soy, or cheese, or just be served extra spicy.
Koreans will often enjoy this meal among friends, and a plethora of alcohol on a Friday or Saturday night. There are many independent and branch chimaek stores around Korea.
One of the most popular branches is Kyochon Chicken 교촌치킨 which has outlets across the country. It also has branches in China, Malaysia, the US, the Phillippines, and various other countries.
Despite being a chain, the quality and flavors here are great. Kkanbu Fried Chicken 깐부 치킨 깐부치킨 신사역점 is another beloved haunt that is worth adding to your radar.
Hweori Gamja (Tornado Potato)
Hweori gamja is an amazing Korean street food snack made from potatoes. This is one of the most iconic dishes in the Myeongdong street food markets and nearby Dongdaemun.
Hweori gamja is also referred to as tornado potato or twisted potatoes. A spiral-cut potato is deep-fried on a skewer. Next, it is brushed with different seasonings such as powdered onion, cheese, etc.
This trendy snack is cut thin enough to hold all the flavoured powders. It is worth ordering one of these for the photo opportunity alone.
Gun-goguma (Roasted Sweet Potatoes)
The sight of a roasted sweet potato stall is considered as a sign that winter is coming in Korea. Sweet potatoes have become quite a trendy delicacy around the world in recent years.
However, in South Korea, sweet potatoes have strong links with the country's culture and history. This dish became popular in the old days when there was no interior heating and Korean families would sit around gas stoves and roast gun-goguma to keep the spirits high.
This cheap snack is served hot. It is enjoyed by everyone since it is so simple yet delicious.
The sweet potatoes are often lightly salted for extra taste. They are slow-roasted until they reach a delightfully soft texture that just falls apart when you cut into them.
Yangnyeom Tongdak (Fried Chicken)
Yangnyeom chicken is a special type of seasoned chicken. It is double-fried and coated with homemade sweet chili sauce.
This is one of the most ordered dishes in Korea and the street sellers in Seoul are famous for it. Traditionally a full chicken is sliced into pieces, coated in batter and fried in a mix of sweet and spicy sauce.
Gyeran Bbang (Steamed, Hot Egg Bread)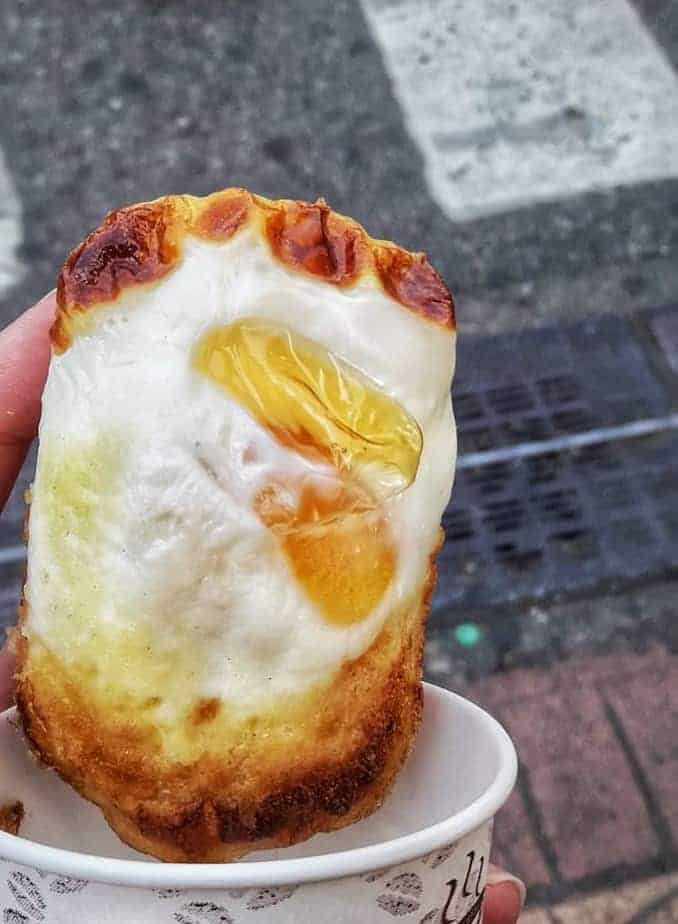 Gyeran Bbang or "egg bread" is a popular Korean street food that makes for a perfect breakfast. The bread is baked in a pan and then each piece is stuffed with a hard-boiled egg.
This too is a great, warming snack to enjoy during the cold weather. Seoul can drop as low as minus fifteen degrees celsius during the winter months, so it is understandable that you would want to order food that warms you up.
The bread used for bbang (and Korean bread in general) can be slightly sweet. Chopped bacon, vegetables, and herbs are sometimes added to enhance the taste.
Milk Boba Tea (Korean Bubble Tea)
While Taiwan may be the undisputed boba capital of the world, Korea is fast catching up as well. Over the years, these delicious cups of sweet, cream and chewy refreshment, also known as bubble tea, have become a popular beverage on the streets of Seoul.
In its basic form, the drink is made from black tea, milk, ice, and chewy pearls of tapioca, mixed together and served with a fat straw. You can also find different flavour variations of bubble tea. For example, chocolate bubble tea, or matcha bubble tea.
Bhopki (Sugar Lollipop)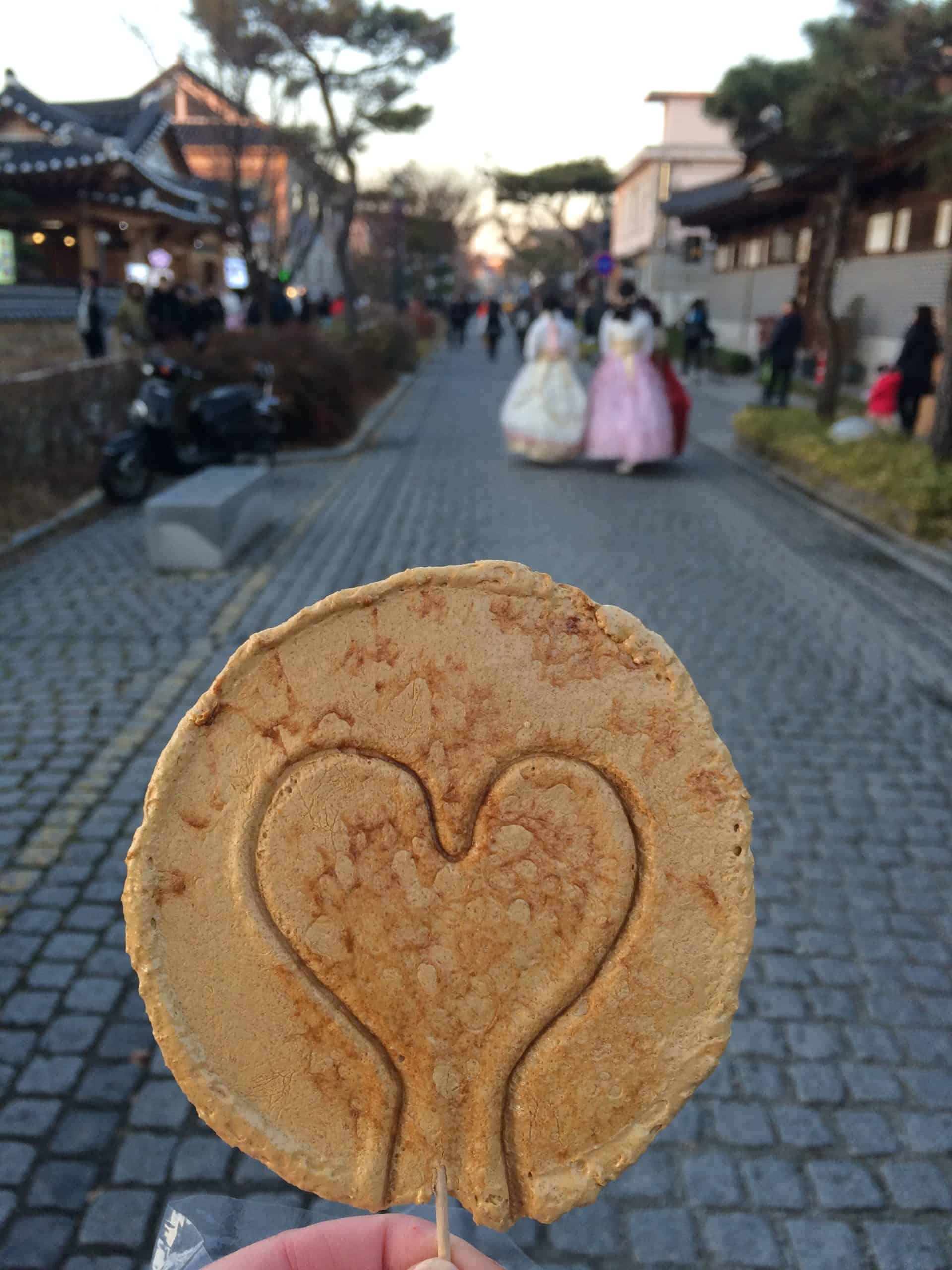 If ice cream is not your style of a dessert then a sugar lollipop might do the trick. Sweet and crisp, these lollipops are made of sugar that has been caramelized by adding a small amount of baking soda to it.
Vendors offer another lollipop for free if you can bite your way through the shapes in the middle without breaking the candy. If you love challenges, give this a go.
Tteok-galbi (Grilled Beef Patties)
A perfect introduction to Korean culinary cuisine can be experienced by enjoying the super delicious dish, tteok-galbi. This dish is prepared by mixing, seasoning, and grilling sumptuous beef ribs. Ground black pepper, onion, red pepper, and soy sauce is then added for taste.
The meat is usually barbecued over charcoal which gives the dish a wonderful smoky taste. Galbi means "rib" in Korean and tteok means "rice cake".
The dish got its name as the same process involved in making a rice cake is used to make tteok-galbi. Tteok-galbi is usually served as a side dish with rice or other main courses.
Dakbal (Chicken Feet)
South Korean street food stalls serve these extremely spicy piles of chicken feet with soju. The chicken feet are chopped at the ankles, broiled or cooked and served whole.
Some outlets offer a deboned option, but dakbal fans prefer to chew them in big piles. Seasoned eaters just pop this clawed delicacy in the mouth and spit out the tiny bones, bit by bit, as they chew.
Ganjang Gejang (Soy Sauce Crab)
This crab dish, marinated in soy sauce, is so tasty that most people cannot stop themselves from going back for second helpings. First-time eaters may find the taste a bit odd.
However, the unique flavour soon grows n you. Ganjang gejang has become increasingly popular with locals in recent years.
Bindaetteok
Bindaetteok is a savoury pancake that is made by pan-frying mung beans and a selection of vegetables. Minced pork is often added.
However, vegetarian versions of the pancake are also widely available. The vendor will usually give you a pot of onions fermented in soy sauce and vinegar to pour over the pancake.
Bindaetteok pancakes have been enjoyed in Korea for centuries. They were historically known as a "poor person's pancake".
The lower classes ate bindaetteok, while the rich ate meat. Today, the pancake makes a mouthwatering and affordable light lunch. You can buy a huge bindaetteok pancake the size of your head for 4,000 Won (approximately $4).
Urechis Unicinctus
Urechis Unicintus is a Korean street food delicacy that is not for the squeamish. This creature is often affectionately referred to as the "sea penis" on account of its unusual, phallic appearance.
You will find several stalls selling Urechis Unicintus at Gwangjang – Seoul's oldest traditional market. The creature is eaten alive and raw. You will be provided with a selection of spicy sauces for dipping.
Yukhoe
Korean yukhoe is a marinated raw beef dish. If you were looking to compare it to a western counterpart, yukhoe shares some similarities with steak tartare and beef carpaccio.
Yukhoe is incredibly flavourful as the beef is served in a tasty marinade that consists of soy sauce, pears, chopped nuts, and sesame oil. Raw meat is not uncommon in Korean food culture. Traditional bibimbap is also made with raw beef.
Bulgogi (Marinated Beef)
If there were a Korean signature dish, bulgogi would be it. This sumptuous marinated meat is a favourite of most of those that travel to Korea. You may find yourself so obsessed with bulgogi that you start ordering it for every meal, trying to eat as much bulgogi as possible during your Korea travel itinerary!
The distinctive tasting bulgogi is made from thin strips of marinated beef sirloin which is then cooked with a mix of sliced onions, garlic, and green peppers. The meat is often cooked over a charcoal fire to achieve a smokey flavour.
It is not too difficult to replicate bulgogi at home. However, it is important to note that the beef should be marinated for at least three to four hours prior to grilling.
Bulgogi marinade is made from a delicious blend of soy sauce, sesame oil, garlic, onions, ginger, and sugar. Most Korean restaurants will leave the beef marinating overnight to allow the ingredients to get completely absorbed.
The dish is often served with leafy vegetables like spinach or lettuce. in which the cooked meat is wrapped and enjoyed with kimchi and ssamjang.
Mandu
Mandu is the Korean version of Chinese jiaozi dumplings. You can find mandu stuffed with a variety of fillings. Ground beef, pork, and shrimp are popular variations.
Korean mandu can be steamed, pan-fried, deep-fried, or boiled. There are also specialist mandu restaurants that serve the dish in a soup.
Soondae (순대)
Soondae (순대) is a type of Korean blood sausage that is popular in both North and South Korea. It is arguably another example of a dish that is perhaps better suited to someone with a more adventurous palette.
However, if you can look past what it is that you are eating, you may be pleasantly surprised. To make the dish, pork blood, noodles, glutinous rice, and a mixture of soybean paste, chili, and spices are stuffed inside a casing.

Soondae is absolutely an acquired taste and the iron taste of blood is quite prominent. The texture is relatively chewy – somewhat comparable to Japanese mochi dessert.

If you like black pudding, you may enjoy soondae. If not, well perhaps everything is worth a try at least once?
Bibimbap
Bibimbap is one of the most well-known and beloved Korean dishes. You will find it served on virtually every menu of traditional Korean restaurants, in dedicated bibimbap eateries, and, occasionally, at Korean street food stalls.
In large markets like Gwangjang, you will find vendors selling bibimbap. The term "bibim" means mixing rice, while the "bap" noun refers to rice.
This is a beef rice hotpot dish. It comes with the ingredients separated – the white rice laying on the bottom of the bowl, topped with vegetables, beef, and a fried egg.
You will be given a separate bowl of gochujang spicy sauce which you then pour into the dish and stir. Be sure to mix it well so that everything is covered in tasty gochujang.
If you don't have much spice tolerance, you can experiment by just adding a little gochujang at first and then gradually adding more. Bibimbap is served with a selection of sides (banchan) like fresh homemade kimchi, radish, and potato salad.  
Cheese Buldak
Cheese buldak is popular Korean street food. Spicy cubes of chicken are grilled to perfection, covered with sauce, and then smothered with cheese.
Yes, this dish is every bit as sinful and delicious as it sounds. Cheese buldak is so popular in Korea that you will even find cheese buldak flavor ramen sold in convenience stores.
A word of warning though. Cheese bulkdak (and all buldak dishes) is spicy! "Bul" means fire in Korean and the word "buldak" literally translates to mean "fire chicken".
Japchae
Japchae is, quite simply, stir-fried Korean glass noodles served with vegetables and a flavorful sauce made by mixing soy sauce and sugar. The word japchae literally means "mixture of vegetables".
Sometimes meat is added to the dish. However, the standard japchae is just noodles and veg.
Parting Words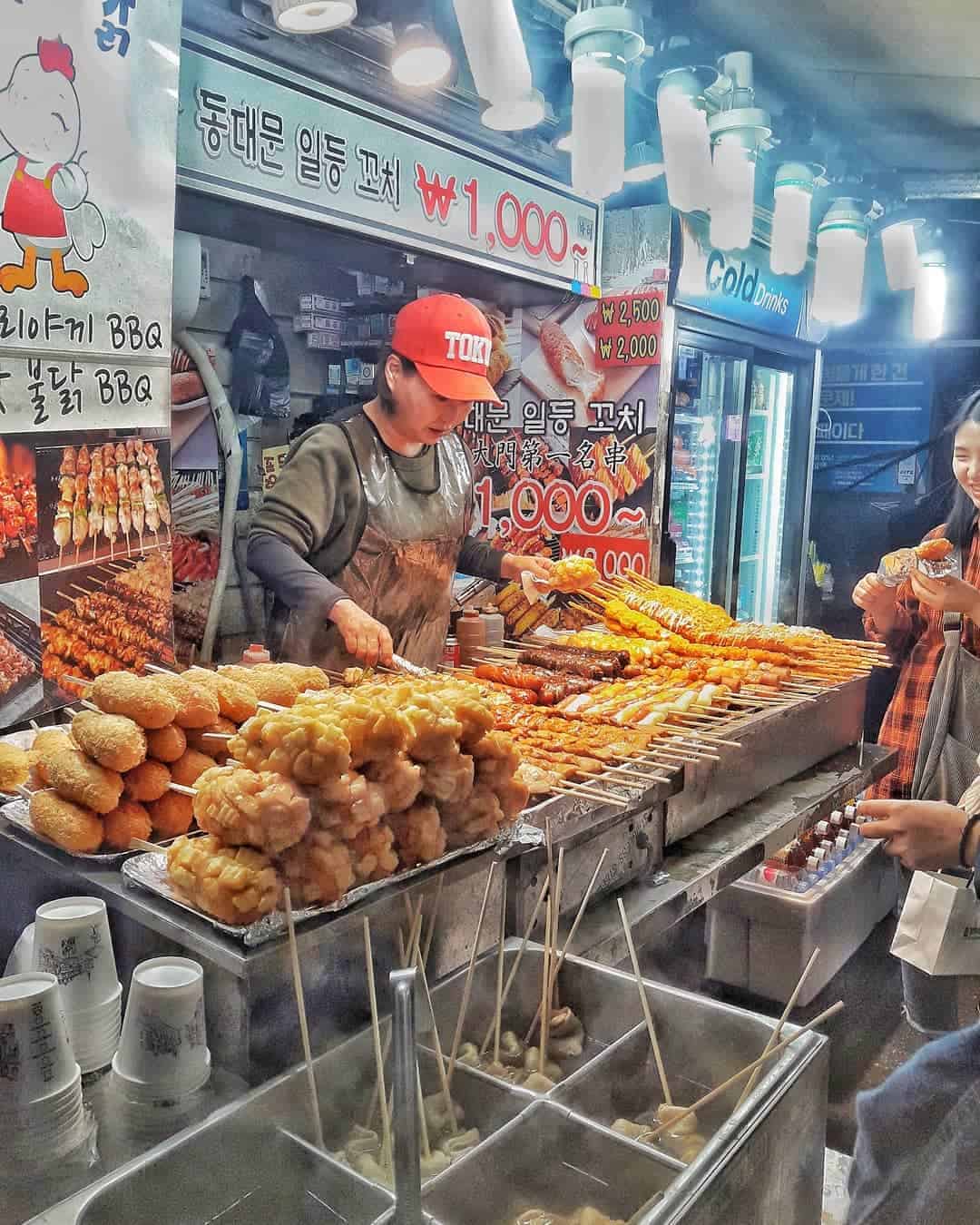 Riding on a culinary wave across Asia and other parts of the world, more and more people are getting exposed to Korean street food. It captures the hearts of all those that try it, even the most seasoned foodie travelers.
That being said, the real deal is to have it in the country itself. Over time, Korea has witnessed many cultural changes.
The country is extremely different today compared to how it was post-Korean war in the 1950s and 60s. The sustained American military presence has changed the landscape of Korean cuisine quite substantially.
Korean street food and cuisine in South Korea are very different from that found in neighboring North Korea. Regardless, the food scene is, and always has been, a major aspect of national identity.
Do you have any additional questions about Korean street food? Please don't hesitate to reach out to me. I used to live and teach English in Korea. Safe travels!
Annyeonghaseyo! Melissa xo
---