This 2 week Malaysia itinerary is the perfect introduction to the beautiful Southeast Asian country for first-timers. Southeast Asia is a popular travel destination for many.
However, Malaysia is often overlooked which is a shame because it is one of the most culturally rich and diverse nations in the region. This Malaysia travel itinerary demonstrates how to spend two weeks in Malaysia. It takes you to the country's best cultural, historical, and natural highlights.
About This 2 Week Malaysia Itinerary
A two-week Malaysia itinerary is ample time for a first introduction to the country. However, Malaysia is so beautiful and diverse that you could easily spend months here and still feel as though you have barely scratched beneath the surface of everything the country has to offer.
If you are short on time, you can also "cherry-pick" and condense this Malaysia itinerary down to seven days. Additional suggestions for extending your time in Malaysia are provided at the end of the article.
This 14-day Malaysia itinerary encompasses a range of different activities to help you get a well-rounded feel of the country. It covers both urban cityscapes, beautiful rural areas, and tranquil beach destinations.
Malaysia Itinerary Day 1:
Kuala Lumpur's Cultural Districts
The Malaysian capital of Kuala Lumpur makes a wonderful first introduction to this vibrant country. Since Malaysia's main international airport is located here, KL makes a logical starting point for your Malaysia itinerary.
The population of Malaysia is incredibly diverse, and a Kuala Lumpur highlight is simply taking the time to meander the streets and passageways of the city's various neighbourhoods.
Sample fresh roti and chapatis prepared at roadside stalls in colourful Little India, experience eclectic coffee shops and themed bars in KL Chinatown, and enjoy the vibrant nightlife and glitzy shopping in trendy Bukit Bintang.
I have written a fairly comprehensive Kuala Lumpur itinerary. I have also summarised some of the city's highlights below.
Consider a Kuala Lumpur Walking Tour
Opting to take a walking tour is a good way to get your bearings in a new city, especially when it is a bustling megalopolis such as Kuala Lumpur. Exploring with a local means that you will be able to obtain more information and context to all of the districts and buildings that you see.
Better yet, you will have an expert on hand to ask for recommendations on the best places to eat, drink, and hang out while you are in town. Spend your first day in the Malaysian capital exploring two of the city's most unique and vibrant neighborhoods: Chinatown and Brickfields (Little India)
Recommended Kuala Lumpur walking tours
A number of excellent, reputable local tour companies offer Kuala Lumpur walking tours. Many follow specific themes. For instance, a Kuala Lumpur food tour, street food tours, market tours, street art tours, etc.
A selection of some of the best KL tour options is detailed below for your consideration. It is advisable to reserve your place in advance of your travel dates as they do sell out during the high season.
China Town Kuala Lumpur
Chinatown is one of Kuala Lumpur´s most interesting districts. The population here is predominantly Chinese-Malay. However, Kuala Lumpur China town is a melting pot of local cultures. Islamic mosques, Taoist temples, and statues of Hindu deities all stand shoulder-to-shoulder in this bustling KL district.
Your starting point should be the Petaling Jaya market. At first glimpse, the market looks as though it is full of backpackers and stalls selling tourist tat.
However, a little exploration reveals that this is one of the best places to sample street food in the Malaysian capital. Handmade meat and vegetable bao buns, durian tarts, and curry puffs should be on your list of things to try.
Nearby, you will find ¨Pasar Karat¨, also known as KL´s "rusty flea market". The market perfectly embodies the idea that one man's trash is another man's treasure. You will find a lot of ornate antiques sold here, as well as second-hand ornaments, knick-knacks, and books.
Late Breakfast/Brunch at Pasar Senai
Pasar Senai metro station sits on the outskirts of Chinatown and despite the fact that this area is predominantly occupied by Chinese-Malay people, it is home to one of the best Indian cafes in the city. Step inside Vinny Jeyaa Banana Leaf Curry House (80, Jalan Hang Kasturi, City Centre, 50000 Kuala Lumpur, Wilayah Persekutuan).
The little restaurant sits directly opposite the Pasar Senai MRT. You won't miss it.
Its vibrant exterior is decorated with colorful mala garlands and paper decorations that hang from the ceilings. This is an affordable, no-frills eatery that serves simple, delicious food.
Having curry for breakfast or brunch may sound like a questionable choice. However once you have had the experience of digging into curry breakfasts in Malaysia, you will likely become an advocate for having curry for breakfast on the regular!
Pick up a metal tray and scoop a few of the curries that take your fancy onto it. This place is particularly known for its fish curries.
Enjoy it with a side of warm, homemade roti stuffed with cheese. Wash it all down with a steaming hot cup of ginger chai before continuing with your day of sightseeing.
Brickfields Kuala Lumpur
Spend the afternoon exploring Brickfields, Kuala Lumpur´s ¨Little India¨. Meander through the colorful streets that exude Mumbai vibes, and window shop at the stores that sell everything from bright, bold saris to spices and flower garlands.
There are several notable churches in this area. In particular, look out for the 1896 Tamil Methodist Church, the 1907 Evangelical Lutheran Church, and the 1903 Church of the Holy Rosary.
You should also pay your respects at the Sri Mahamariamman Temple – the oldest Hindu temple in Kuala Lumpur. You need to dress modestly and cover your shoulders and knees to be able to enter. However, if you forget and you are not suitably dressed, you can rent a sari for a small fee.
Experience Chinatown by night
When you leave Brickfields, freshen up at your hotel before heading back to Chinatown for dinner and drinks. There are many chic cocktail bars here, as well as themed speakeasies.
The Deceased (55, Jalan Sultan, City Centre, 50000 Kuala Lumpur) is a particularly fun place to hang out. This horror-themed bar sits at the top of an eerie staircase and although the entrance is terrifying, the space opens out into one of the best rooftop bars in town.
The drinks are fun to order too. Each cocktail comes with a different haunted gimmick. PS150 is another secret bar to be aware of. It sits at 150 Petaling Street and from the outside, it looks like a retro toy shop.
2 Week Malaysia Itinerary Day 2:
Batu Caves
Spend the second day of this 2 week Malaysia itinerary taking a day trip out to the Batu Caves temple complex. This is a majestic Hindu shrine built inside a network of caves.
Batu Caves is one of the most popular day trips that you can take from Kuala Lumpur and it is somewhere that you have likely seen photographed all over social media. However, nothing compares to getting up close and personal with the temple and seeing it yourself.
The entrance to the caves is made via ascending a colorful painted staircase that is guarded by giant sculptures of Hindu deities. Approximately 7% of Malaysia's population are Indian and a visit to Batu Caves provides an interesting insight into their culture.
Here, barefoot pilgrims sporting tilaka ascend the 272 steps to the main temple to pray. Dozens of cheeky macaques inhabit the stairway, pestering tourists for snacks.
Inside the caves are several Hindu shrines, each one more impressive than the last. A temple has existed here since 1890 when an Indian Trader decided to build a shrine dedicated to Lord Murugan, the Hindu God of War.
Reaching Batu Caves
It is easy to reach the Batu Caves via public transport. You simply need to take the train from KL central to Batu caves. The journey costs just $4 and trains depart every few minutes.
If you prefer to have everything organised for you and not stress over the logistics of getting to and from the caves, you can book a place on an organized excursion. Several reputable Batu Caves tours are detailed below for your consideration.
Malaysia Itinerary Day Three:
Kuala Lumpur Highlights
Dedicate your third day in Kuala Lumpur to exploring the central districts of the city. Start the day by making your day to the Chow Kit wet market.
The Chow Kit Wet Market
Chow Kit is Malaysia's largest wet market. It is a truly local place where KL residents come to purchase fresh meat, fish, and groceries. Although many of these traditional markets have closed in recent years to make way for new towering hi-rises, Chow Kit has withstood the test of time.
The market provides a great people-watching opportunity, particularly if you are new to travelling in Asia. If you are staying in self-catered accommodation, you can pick up a kilo or a half-kilo of fresh fruit and veggies here for just a few ringgit.
Even if you don't plan on purchasing anything, the market is worth a quick browse through. You can watch on as locals haggle ferociously with vendors over the prices of ingredients for their dinner.
Beautifully polished fruits and vegetables are stacked high and you will find everything from spiky rambutans and pineapples, to apples, bananas, and oranges. The fish and meat markets are perhaps not for the squeamish. Here, hanging carcasses line the walkways, and butchers chop slabs of meat with giant cleavers, narrowly missing their fingers.
It is interesting to stop early in the morning as the vendors are setting up shop for the day. The market is a great place to snap photographs of city life, but always ask people's permission if you want to include them in your photos.
Visit the Petronas Towers
The Petronas Towers are Kuala Lumpur´s most iconic landmark. They stand at a height of 451.9 meters, making them the world's tallest twin skyscrapers.
You can go inside the buildings and there is a small luxury shopping mall, along with some office spaces within. If you wish, you can ascend to the top of the Petronas Towers and revel in majestic views from the Skydeck.
Entrance tickets are 80 ringgits per person (circa $18 USD), with concessions available for young children and the elderly. Book your Petronas Towers entry ticket in advance to avoid queuing on arrival. You will be given an allocated timeslot for your visit. On your way out, stop to watch the water fountain show at the KLCC park.
Hang Out in Bukit Bintang
Bukit Bintang is one of the sleekest and most modern parts of Kuala Lumpur. This is the city´s premier shopping and entertainment district and its main crossroads is reminiscent of Times Square in New York.
Several world-class restaurants can be found in Bukit Bintang, serving up cuisines from across the globe. If you prefer to rub shoulders with the locals and sink your teeth into street food eats, head to Jalan Alor food street.
The stalls here sell all manner of tasty delicacies. Come hungry and order a few different things at each stall tapas-style.
The chicken satay drenched in peanut sauce is particularly good here and for the best of the best, order it from Restoran Wong Ah Wah (No 1, Jln Alor). You should also look out for oyster omelets (tastier than they sound!), chicken wings, and Char Kway Teow while you are here. For dessert, grab a coconut ice cream cone at Sangkaya.
Where to Stay in Kuala Lumpur
Opti to stay in Bukit Bintang or Chinatown while you are in Kuala Lumpur. This places you in the heart of the city center where you are close to the city's main attractions and have ample dining options right on your doorstep. Many affordable accommodation choices can also be found in Chow Kit, but you should be careful in this area after dark.
A selection of high-rated KL accommodations to suit every budget and travel style is detailed below.
Mingle Hostel, Chinatown
The Mingle hostel is a modern, stylish hostel on Jalan Sultan, Chinatown. Beds in shared rooms here start from just $15 a night. This is a great, social option for independent travellers and backpackers.
The adjacent Mingle cafe is also a lovely spot for brunch. Check the latest rates and availability here.
Tian Jing Hotel, Chinatown
The Tian Jing Hotel is a lovely boutique hotel that pays homage to Chinatown's oriental heritage. Rooms have been tastefully designed with furnishings and art pieces created by Chinese designers. Browse the latest availability and room rates here.
Malaysia Itinerary Day 4:
Putrajaya
Putrajaya is a scenic city that is situated just 25km south of Kuala Lumpur. The entire city was only constructed in recent years. It was built to be Malaysia's administrative and financial hub.
This makes Putrajaya sound rather dull and corporate. The reality is that this is a beautiful city comprised of breathtaking contemporary architecture and huge sprawls of grasslands and gardens.
The architecture of Putrajaya is more Middle Eastern than Malay and its centre feels reminiscent of Muscat, Oman, or Dubai. This gives the city an altogether more different vibe and culture than the rest of the country. Putrajaya is affectionately nicknamed "the garden city" on account of its breathtaking nature.
Things to do in Putrajaya
Rent bicycles and cycle the fragrant flower gardens and tamans that surround the Putrajaya river


Marvel at the bright pink Putra mosque and its ornate interiors


Enjoy a picnic and a stroll through the Moroccan pavilion and the exotic flower displays at the Botanical Garden (Taman Botani)


Admire the Arabian-style architecture of the Seri Perdana, the Palace of Justice, and the Perdana Putra Administrative Complex


Take a tour of the Prime Minister of Malaysia's home at Seri Perdana


Listen to the call to prayer from the unique Iron Mosque – a mosque inspired by German design and made entirely out of steel!


Sample Malay delicacies at the cafes and restaurants that run alongside the river
Where to Stay in Putrajaya
Putrajaya can be enjoyed on a day trip from Kuala Lumpur. However if you prefer to stay locally, there are plenty of accommodation options available. Most of the hotel choices here are mid to high end.
Dorsett Putrajaya
The Dorsett Putrajaya is a luxury hotel without the luxury price tag. Rooms here start from $30 a night. This four-star hotel is in the best location to enjoy Putrajaya's sights.
It is just a stone's throw away from the Putra Mosque. You can find the latest room rates and availability here.
Cyberview Lodge Resort & Spa
The Cyberview Lodge Resort is a picturesque spot that allows visitors to enjoy the best of Malaysia's Garden City. The hotel is encompassed by 12 hectares of gardens, including an outdoor pool and a fishing lake.
Rooms start from $40 a night. There is an on-site hotel spa where you can get a massage or sweat it out in the sauna after a long day of sightseeing.
Malaysia Itinerary Day Five:
Melaka
Melaka is one of the most picturesque stopping points on this 14-day Malaysia itinerary. It boasts pastel-coloured colonial buildings and beautiful river walks. You can get around the city in vibrant, hand-painted trishaws.
Melaka has a rich history and cultural heritage. This was once a tiny fishing village. Melaka expanded and passed hands numerous times over the centuries. It has operated as a Portuguese, Dutch, and British port town.
Countless museums, ruined churches, and crumbling fortresses are scattered around Melaka centre, telling the tales of its heritage. If your schedule is somewhat flexible, you could enjoy seeing the city at a relaxed pace and spend 2 nights here.
If not, a day is ample for seeing the highlights. There are also several local tour companies that run excursions from KL to Melaka and back.
Note that you will often see ¨Melaka¨ also spelled as ¨Malacca¨. Both spellings are correct and refer to the same place.
Recommended Melaka Tours
A selection of reputable Melaka tours is detailed below for your consideration. If you prefer to explore with a guide rather than independently, be sure to reserve your space online in advance to avoid disappointment!
Best Things to do in Melaka
Visit the 17th-century Cheng Hoon Teng Temple – the oldest Chinese temple in Malaysia


Shop for souvenirs and foodie treats at the lively Jonker Street night market on Jalan Hang Jebat


Admire the Malay and Javanese architectural influences that went into the construction of the pagoda-style Masjid Kampung Kling mosque


Ascend to the top of the Taming Sari Revolving Tower for incredible panoramas over the city and all the way out to the coast.


Browse the artifacts and exhibits at the Sultanate Palace and the cultural museum inside.


Fall in love with charming Villa Sentosa – a living museum with antiques and ceramics from the Ming dynasty.
Where to Stay in Melaka
You can easily travel to and from Melaka in a day if you so wish. Some suggested hotels are detailed below if you prefer to stay locally.
Rosa Malacca
Rosa Malacca is arguably one of the quirkiest boutique hotels in Malaysia. The rooms and communal areas have been designed in a rustic industrial style.

Think exposed brick walls, high ceilings, and hand-carved wooden furniture. This place is a far cry from your average cookie cutter hotel room.
Rosa Malacca is in the beating heart of the UNESCO world heritage city of Malacca. Rooms start from $40 a night. Click here for further information.
1825 Gallery Hotel
Melaka's 1825 Gallery Hotel is set inside a refurbished flour storehouse on the banks of Melaka river. Rooms start from just $30 a night. The hotel is a fabulous mishmash of Malay and British architectural style. Check the latest rates here.
Malaysia Itinerary Days 6&7:
Ipoh
The charming city of Ipoh was recently named by Lonely Planet as one of the best weekend travel destinations in Asia. That said, it is still largely overlooked by the majority of travellers who often skip right past Ipoh and head straight to Penang.
Once a tin mining town, the Perak capital boasts a charming old town where exquisite British colonial structures stand beside rickety white coffee stores and traditional manufacturing workshops.
Ipoh is a great foodie travel destination. This city was the birthplace of several renowned Malay delicacies including Tauge Ayam (beansprout chicken) and Hakka Mee (noodles with soy sauce, pork, and beansprouts). The narrow, ramshackle streets of the city's old town boast colourful murals and some of the best street art in Malaysia.
Ipoh is Malaysia's third-largest city but it oozes a small-town vibe. Its centre is relatively compact and you can explore both its old and new towns in a day. Spend one day of your 14-day Malaysia itinerary exploring Ipoh city, and the second day exploring wider Perak.
Best Things to do in Ipoh
Eat Nasi Ganja at Yong Suan. This addictive Perak delicacy consists of delicious marinated chicken, rice, vegetables, curries, and chutneys


Drink sweet, frothy white coffee at the place that invented it


Visi Sam Poh Tong temple – the largest cave temple in Malaysia


Tread the Ipoh street art trail and search for pieces by Ernest Zacharevic


Visit Gua Tempurung cave. Explore its caverns and unique formations of stalagmites and stalactites


Tuck into brunch at Auds, De Cafe, Burps & Giggles, or another of Ipoh's kitschy cafes


Visit the abandoned Kellie's castle and learn the eerie history behind it


Rent a rowboat and sail down the scening Gunung Lake
For more advice on planning the Ipoh leg of your Malaysia travel itinerary, I've written this comprehensive Ipoh Travel Guide
Where to Stay in Ipoh
Ipoh is divided into two sections: New Town and Old Town. Opting to stay in Ipoh Old Town places you closer to Ipoh's main points of interest.

However, it is easy to take a GRAB taxi from New town to Old town for less than $1. Accommodation options in the New town may be cheaper which is great if you are traveling on a budget.
De Cafe & Rest House
The centrally-located De Cafe & Rest House is a lovely coffee shop and capsule hotel in the centre of Old Town Ipoh. The capsule beds have all of the privacy and comfort a traveller could need – including a private light and plug socket.
Beds start from $15 per night. You can browse the prices and availability for your travel dates here.
M Boutique Hotel
Ipoh's M Boutique is a clean, affordable, and modern hotel just outside the centre of town. The rooms have been decorated with contemporary designs and geometric patterns. Browse the latest rates and availability here.
14 Day Malaysia Itinerary Days 8 & 9:
Cameron Highlands
The Cameron Highlands is one of the most wonderful places to visit in Malaysia, particularly if you are interested in hiking, nature, and immersing yourself in the great outdoors. Here, dense jungles border fragrant tea plantations and rolling hills that extend for miles and miles before you.
The climate is much cooler here than in the majority of Malaysia, on account of the higher altitudes and crisp mountain air. This can be a refreshing change from the heat and humidity, especially if you are traveling during the summer months.
Cameron Highlands is not a very Malaysian-sounding name. That is because this region was founded and named after a British Explorer (William Cameron).
There are many tea plantations scattered throughout the region which are well worth visiting. One of the most famous plantations is the BOH site which offers tours and tastings.
One of the most fascinating sights in the Highlands is the Mossy Forest. This is a forest that is almost eerie in appearance because it has become entirely overgrown with moss.
This is due to the damp conditions in the area. You can spot some pretty unique plants and wildlife here, including the carnivorous pitcher plant which eats frogs and lizards! From the Mossy Forest, you can follow the road uphill towards Mount Brinchang.
Several hiking trails twist and turn through the landscapes of Cameron Highlands. Pick up a trail map at your hotel or one of the local tourism offices.
The trails are not named, but each has numbers. They are well sign-posted and lead you to areas with hidden waterfalls, rushing rivers, and Orang Asli settlements. If you want to conquer one of the more challenging trails, it is a good idea to hire a local guide.
Best Things to do in Cameron Highlands
Go strawberry picking at one of the many strawberry farms around Brinchang. Make a refreshing smoothie with your findings


Learn the story of Jim Thompson, and the theories behind his mysterious disappearance


Enjoy a British afternoon tea, and a selection of clotted cream scones, cakes, and teas at the Jim Thompson tea room or the Smokehouse hotel


Admire the art creations of indigenous people at the Mah Meri mask exhibit


Visit an Orang Asli tribal village and learn about their way of life


Hike the "trail 3" hiking route to the peak of Gunung Berembun at 1,840m.


Take a tour of the mossy forest


Visit a tea plantation and capture some great travel photos in the picturesque tea fields.
Recommended Cameron Highlands Tours
Where to Stay in Cameron Highlands
The Cameron Highlands is not just one town. It is actually a relatively large area comprising several small villages.
Opt to stay in Brinchang or Tanah Rata in order to be close to the main attractions, hiking trails, and tea plantations. Both villages boast a weekly farmer's market. However, Tanah Rata offers a lot more restaurant options.
The Avillion Cameron Highlands
Rooms at The Avillion hotel start from just $30 per night. The rooms are spacious and tastefully decorated in monochrome style.
The nightly rate includes a free breakfast, while the sleek on-site bar and restaurant are a nice place to unwind at the end of the day. You can check the specific prices for your travel dates here.
The Smokehouse Hotel
The Smokehouse Hotel and Restaurant is a charming place to stay if you are looking for something a little different during your time in the Cameron Highlands. The hotel is set inside an English Tudor-style cottage.
The rooms here are quintessentially British and the hotel borders the Cameron Highlands golf course in Tanah Rata. You can enjoy a full English breakfast or a British afternoon tea in the scenic gardens outside. Check the latest rates and availability here.
14 Day Malaysia Itinerary Days 10 & 11:
Penang
One of the major rewards of travelling in Penang is simply allowing yourself time to get lost in the various neighbourhoods, and their labyrinth-like circuit of narrow streets and passageways.
Penang is also renowned as the food and art capital of Malaysia. So, sampling the local street food eats (head to Chulia Street for the best of the best) and admiring the street artwork of world-famous graffiti artists is a must while in town.
Penang is a delightful mishmash of cultural influences. Here, grand British colonial buildings stand beside rickety wooden Chinese clan jetties and brightly painted Hindu temples,
As you wander through the capital of Georgetown, it's not uncommon to see the glistening minarets of mosques in the middle of Chinatown, Chinese pagodas in Little India, and towering ultra-modern skyscrapers standing beside ramshackle old houses. Its eccentric layout and eclectic mix of restaurants and stores are all part of the charm.
Best Things to do in Penang
Take a cooking class at the tropical spice garden and learn how herbs and spices are infused in classic Malay dishes


Marvel at the ornate pagodas and the beautifully manicured gardens of the Kek Lok Si temple – Malaysia's largest Buddhist temple


Spend a morning getting lost in the clan jetties of Lim, Chew, Yeoh, Tan, etc


Ride the old funicular railway up Penang hill. Enjoy the incredible views of Kedah and Langkawi from the top.


Spend an afternoon at Penang National Park. Follow the hiking trails to Kerachut beach, the Turtle Conservation centre, and an old 19th-century lighthouse


Sample the best of Penang's nightlife and bar scene on the vibrant Upper Penang road.
Recommended Penang Tours
Where to Stay in Penang
Opt to stay in Georgetown to base yourself in the centre of the Penang action. There are countless hotel options in Georgetown – from quaint spots that ooze characters, to ultra-luxurious hotels.
Cheong Fatt Tze – The Blue Mansion
Cheong Fatt Tze is a fabulous heritage hotel in Georgetown. This historic building is as much a part of the history of Penang as the Clan jetties or the ancient temples.
The mansion was built in the late 19th century in the traditional oriental style. Today, the hotel maintains its former decadence with ornate interior and artisanal furnishings.
It has been tastefully refurbished and some of the rooms have their own private plunge pools. You can browse the latest room rates and availability here.
The Wembley
If you prefer to stay in a more sleek and modern property, The Wembley is a great choice while you are in Penang. The rooms and suites at this hi-rise hotel are simple yet tasteful.
Guests can enjoy wonderful city panoramas from the hotel's infinity pool. You can find more information on The Wembley here.
Malaysia Itinerary Days 12-14:
The Perhentian Islands
The Perhentian Islands are the perfect place to round up your 2 week Malaysia itinerary. These islands are the epitome of paradise.
The translucent cerulean waters here are perfect for swimming, snorkeling, and scuba diving. Those seeking a little rest and relaxation will certainly find that in the Perhentian Islands.
There are also countless hiking trails that twist and turn through the jungles leading to hidden waterfalls and secluded groves occupied by leaf monkeys. There are actually two islands that make up the Perhentians.
Namely, they are Perhentian Kecil (small Perhentian island), and Perhentian Besar (Big Perhentian island). It's easy to travel between the two islands if you so wish. The small island offers more privacy and seclusion, while the large island is filled with resorts and popular among families.
Things to do in the Perhentian Islands
Scuba dive to see vibrant coral reefs, exotic fish, and black tip sharks


Go snorkelling at Shark Point, Tanjung Basi, and Teluk Pauh


Trek through the jungle on Perhentian Kecil and follow the trail from Long Beach to Coral Bay


Relax on the pristine beaches of Coral Bay, Adam & Eve Beach, and Romantic Beach


Find a secluded spot and watch the sunset over Perhentian Kecil.


Visit Turtle Beach at night for a chance to see baby turtles in their natural habitat


Visit the charming fishing village on Perhentian Kecil for a glimpse of traditional life.


Watch a fire show at Bubu Long Beach
Where to Stay in the Perhentian Islands
If you are looking for peace and seclusion, choose a hotel on the small Perhentian island. If it's raucous nightlife and organised beaches that you seek, base yourself on the large island.
The Alunan Resort (Small Island)
The Alunan is the ultimate indulgence choice on Perhentian Kecil. It sits on a forested hillside beside Paradisiacal Petani Beach.
Spacious rooms here start from $90 a night. You can browse the latest rates and availability here.
Possible Itinerary Extensions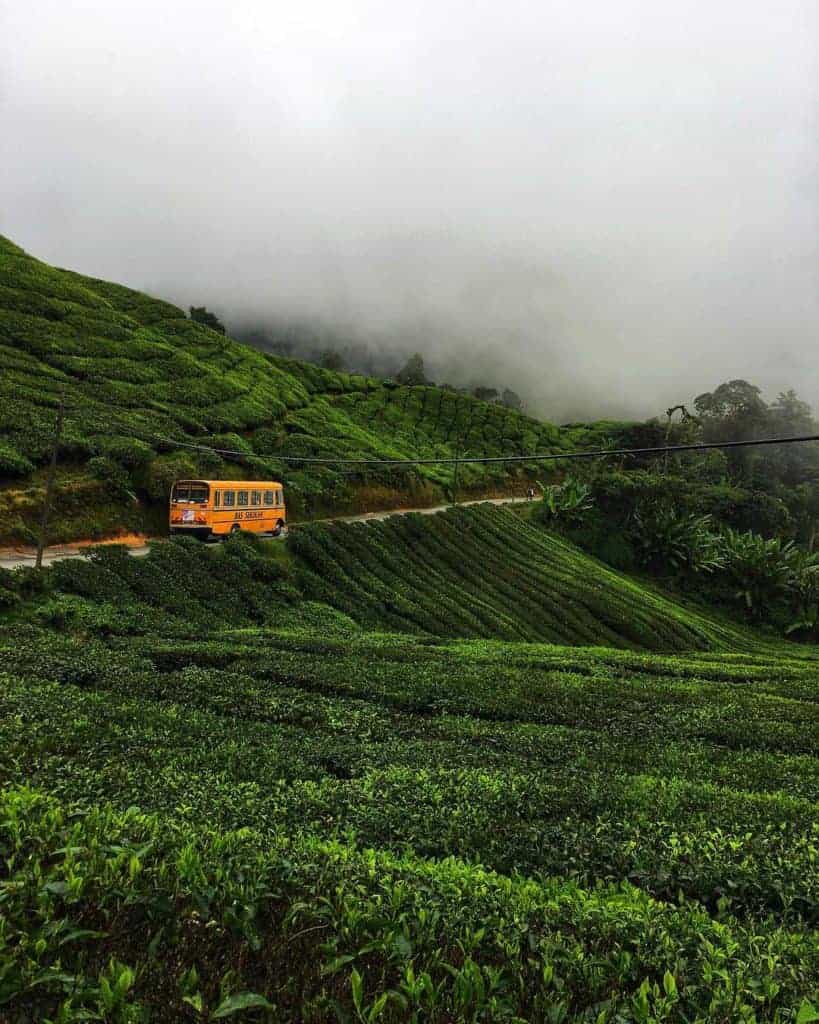 The above 14- day Malaysia itinerary provides a nice introduction to Malaysia in a short space of time. If you have a little longer to spare, you may want to consider extending your trip to include the below.
Laze on the Shores of Langkawi
Langkawi is a great addition to this two-week Malaysia itinerary. It is a perfect spot if you are hoping for a slice of beach paradise somewhere that is not quite as secluded as the Perhentian Islands. Indeed, there are plenty of things to do in Langkawi.
Lovely Langkawi is famed for its pristine sandy beaches and clear waters. Admittedly Langkawi is more popular with tourists than the Perhentians but it is not hard to escape the crowds and find your little corner of secluded paradise.
Amongst the beaches and the sunsets, Langkawi also offers its fair share of culture and outdoor activities. There are plenty of hiking trails, craft villages, museums, and spiritual sites.
Gunung Raya is Langkawi's tallest peak. It makes a wonderful excursion for those who enjoy hiking, while the hot springs of Air Hangat village are a perfect place to relax.
Venture into the Rainforests of Borneo
Borneo is the ultimate Malaysian travel destination for nature lovers. Here, fragrant mangroves grow among the rainforests, and majestic endangered primates swing between tree branches,
From Mount Kinabalu to Sarawak, Borneo is packed with national parks that were seemingly designed specifically for hiking. The eastern area of Malaysia is also a great spot for those interested in participating in conservation work during their extended travels.
Malaysia Travel Budget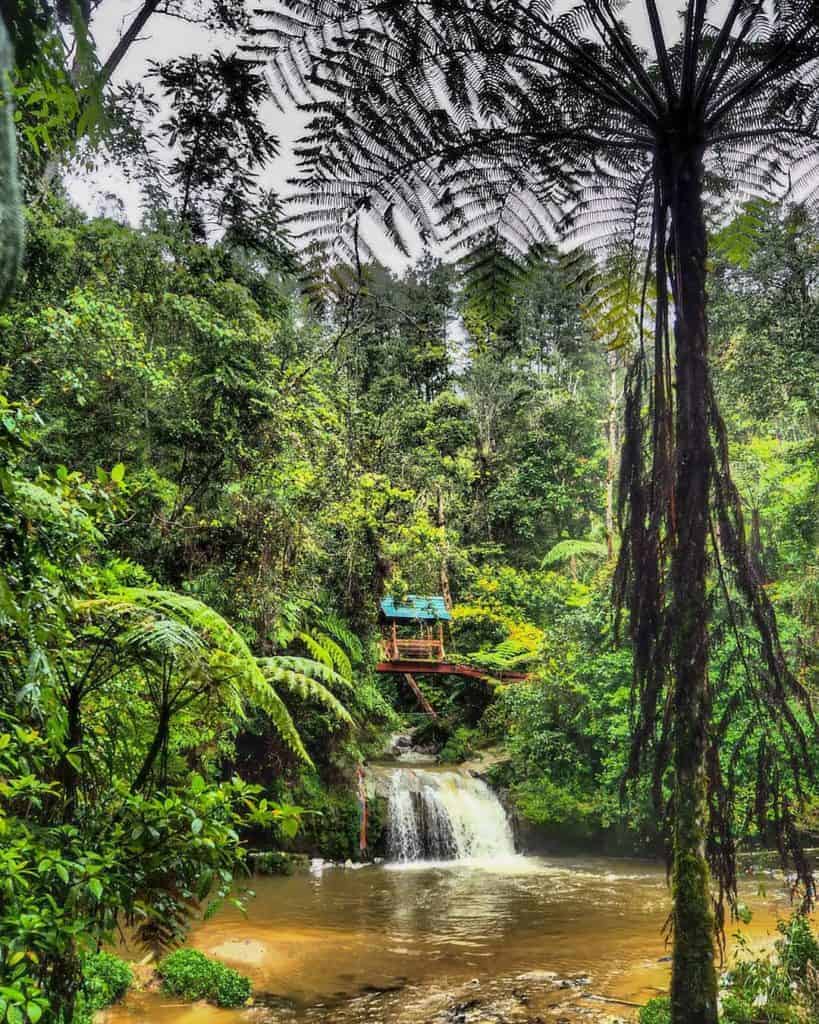 Malaysia is definitely a budget travel destination and this two-week Malaysia itinerary can certainly be done without breaking the bank. If you consider yourself a backpacker or an extreme budget traveller, you will not struggle to keep your daily spending budget under around $15 per day.
If you want to stay in budget hotels, a daily budget of $30 per day is more realistic. Allocate at least $100 per day for more luxurious accommodation options.
For your reference in planning your Malaysia budget, the average prices of a few different items are summarised below:
Light street food meal/snack – 3 RM


Meal at a budget restaurant – 8 RM


Dorm bed at a KL hostel – 30-35 RM


Dorm bed at a hostel elsewhere in Malaysia – 20-25 RM


Budget hotel room in KL – 70-75 RM


Budget hotel room elsewhere in Malaysia – 50 RM


Bus from KL to Ipoh – 20-25 RM


Bus from Cameron Highlands to Penang – 30-35 RM
The other thing to take into consideration when establishing your Malaysia travel budget is the matter of where exactly you will be travelling in Malaysia.
The above cost breakdowns are averages based on travelling in mainland/peninsular Malaysia. If you venture out to Borneo and Eastern Malaysia, it's a different matter.
Although eastern Malaysia is less developed and food/accommodation costs may be cheaper, keep in mind that there is less tourism infrastructure and public transport, so costs of getting from A to B are often higher.
When to Travel to Malaysia
Malaysia has a generally hot, humid tropical climate. While it is technically possible to plan your two-week Malaysia itinerary all year round, some periods are better than others for travel.
It should also be noted that Malaysia as a country is relatively large, and climates/temperatures can vary between the mainland and the Eastern part of the country (Borneo).
Spring and Summer in Malaysia
The spring and summer months (from March to early October) are considered as being the best time to travel to Malaysia. During this time, the rainfall is at its lowest and conditions are not quite so humid.
Owing to its tropical climate, heavy rains are possible at any time in Malaysia. The monsoon season hits different parts of Malaysia at different times.
Autumn and Winter in Malaysia
In October and November, Borneo and Sabah experience their highest rainfall. Meanwhile, the highest rainfall in peninsular Malaysia occurs between December and February.
That being said, even travelling to Malaysia during the monsoon season and found it quite pleasant. The rain does not last for the entire day, and it actually helps in cooling down the temperatures and humidity a little bit.
Getting Around Malaysia
Malaysia's tourism infrastructure and public transport are both excellent. Buses and trains run between major towns at numerous intervals throughout the day.
It is important to note, however, that the latter often have to be booked in advance. This is particularly the case during weekends and public holidays.
Travel through Malaysia by Train
Trains are a great way to get around during your 14-day Malaysia itinerary and the state-operated services are pretty safe and comfortable. There are express trains and "local" trains.
The former are more comfortable and offer various classes (economy, premium, superior), whereas the latter is simple economy seating. It should also be noted that the "local" trains incorporate more stops into their route, and can take almost twice as long to reach their final destination.
Travel through Malaysia by Bus
Buses are a super affordable and convenient way to get around during your Malaysia itinerary. You should still try and book your bus tickets at least a day or so before your intended departure if you can.
Buses in Malaysia run much more regularly than trains. At many Malaysian bus stations, you will see numerous bus operators that offer services to the same destinations.
It is advisable to conduct a little background research on the operator prior to buying a ticket as some have terrible track records for accidents. (Not trying to scare you, but better to be safe than sorry during your two-week Malaysia itinerary).
Malaysian bus operators with "good" reputations include Super Nice, Nice Executive Coach, First Coach, and Aeroline. These are the more upscale providers.
Plusliner, Transnational, and Cityliner are all pretty decent. It is just that the buses are less luxurious and may not be air-conditioned.
Domestic Flights in Malaysia
The best way to reach Borneo from the Malaysian Peninsular is by domestic flight. Domestic flights are also a fast and convenient way of hopping between Kuala Lumpur and Penang/Langkawi.
Budget airlines such as Air Asia offer frequent services between destinations within Malaysia and nearby destinations in Southeast Asia. It is possible to buy one-way tickets for less than $20, provided you book a week or two in advance.
Parting Words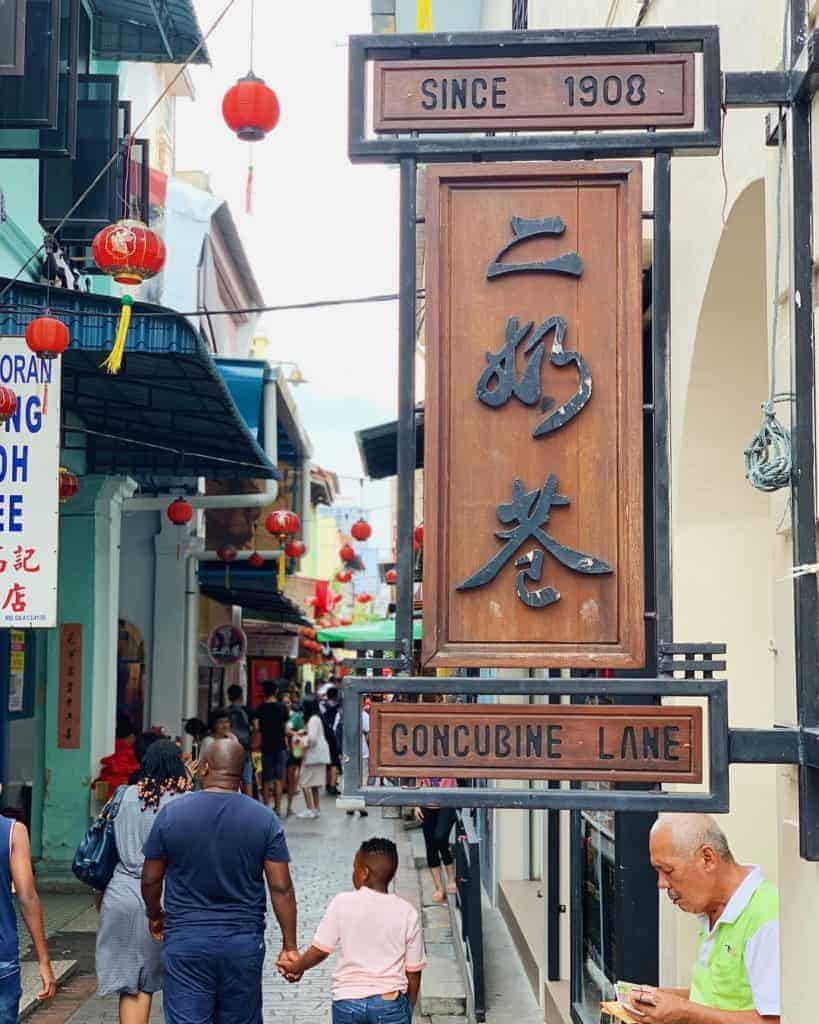 Do you have any questions about this 14-day Malaysia itinerary or Malaysia travel in general? I have travelled to Malaysia several times and most recently spent a month there this past December.
Feel free to reach out to me with any questions you may have. Safe Travels! Melissa xo
---