This Jordan itinerary provides a perfect introduction into the wonderful Hashemite Kingdom. Seven to ten days is the perfect amount of time to scratch beneath the surface of what the country has to offer.
Jordan: The Hashemite Kingdom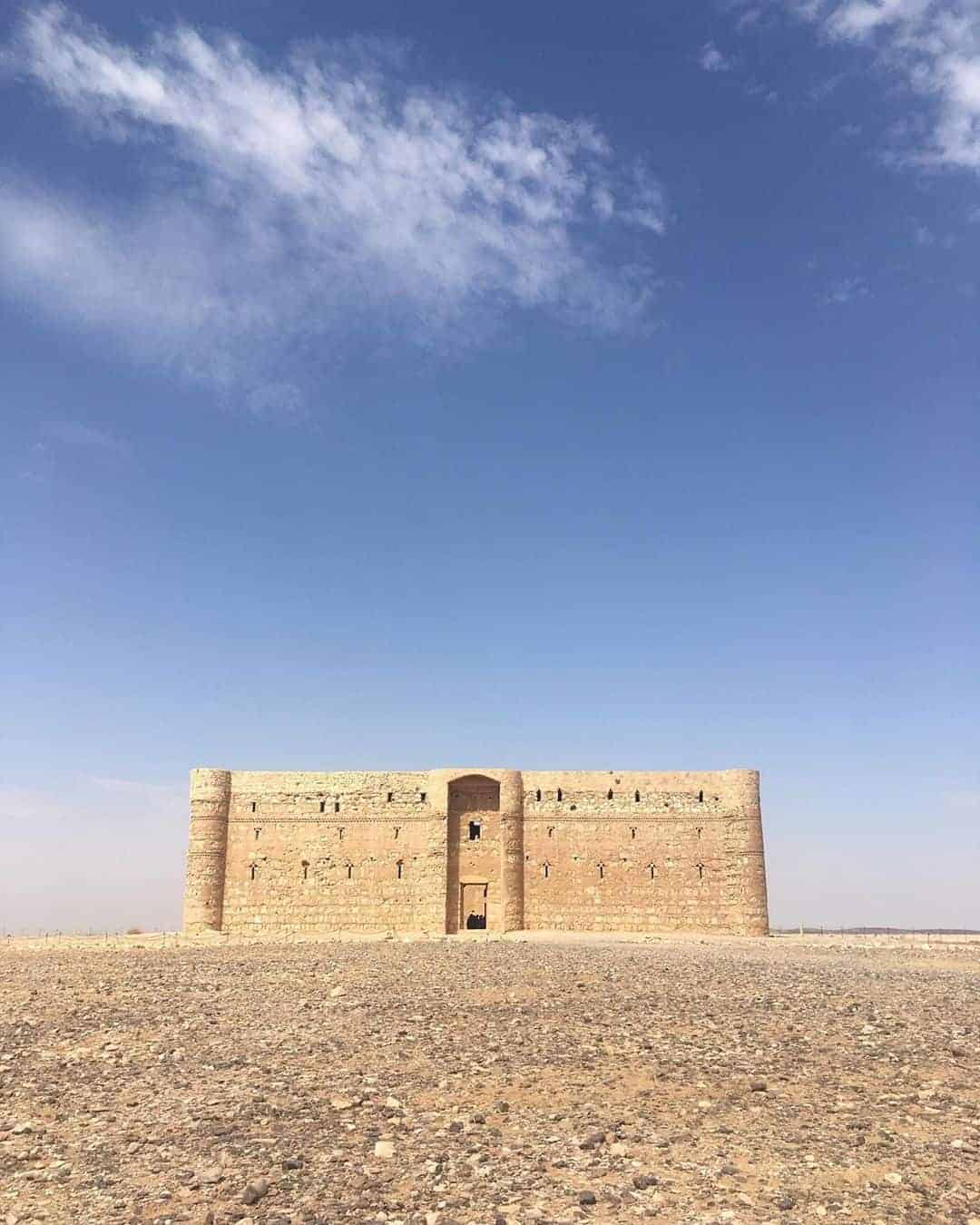 Jordan is the epitome of Middle Eastern hospitality and offers a diverse range of travel experiences. "You're welcome here" is a phrase that you will hear again and again throughout your Jordan itinerary. Jordanian locals are a hospitable bunch, and they want to guarantee that you have a magical time in their country.
Petra is a major draw of visiting Jordan for many people. Explorer Jean Louis Burckhardt discovered the lost city in the 19th century and the site has mesmerised thousands of travellers ever since. However, Jordan is so much more than just Petra. The Hashemite Kingdom is a blend of stunning desert landscapes, sunbleached Roman ruins, UNESCO world heritage sites, and quaint traditional villages.
Disclaimer: This Jordan itinerary may contain affiliate links. This means that I may obtain a small amount of commission if you choose to make a purchase through some of the links contained on this page. This is charged at no extra cost to you.
Getting Around Jordan
It is strongly recommended that you hire a car for your Jordan Itinerary. The public transport network here leaves a lot to be desired. However, if you cannot drive or do not feel comfortable driving in Jordan, you can hire a private driver.
Exploring Jordan by Road
A private driver costs around 70JD a day. In comparison, car rental prices start from 20JD a day. Try to gather some driver suggestions and quotes prior to your trip. Additionally, you may need to haggle over the prices.
Driving in Jordan is not as daunting as it may seem. Firstly, the roads here are very well built and even. Additionally, road signs are displayed in both English and Arabic.
Public Transport in Jordan
It is not easy to navigate Jordan by public transport. There are no trains and the bus network is not comprehensive.
It is possible to get buses between major tourist hubs such as Amman, Petra, and Aqaba. However, smaller towns and desert atractions are difficult to access without a car.
Most buses in Jordan are operated by JETT. You can check their timetables here. Intercity buses tend to cost around 10-15 JD per journey.
A Perfect 10-Day Jordan Itinerary
This 10 day Jordan itinerary takes you cross-country from Amman to the Dead Sea. If you are limited on time, you can "cherry-pick" the destinations and activities that best suit you. Alternatively, those with more time to spare can dedicate a little more time to Petra and Amman.
Jordan Itinerary Days 1 & 2:
Amman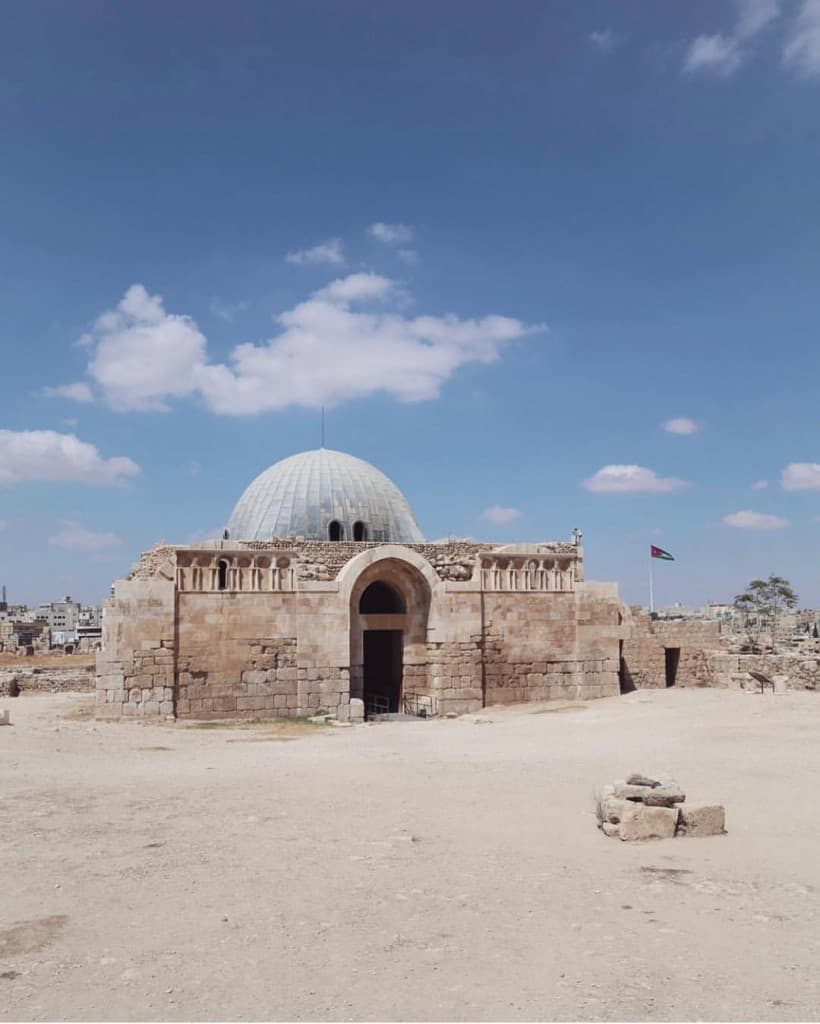 The Jordanian capital of Amman has a history that dates back thousands of years. Indeed, the Amman Citadel is one of the oldest continually inhabited places in the world.
Amman existed under Nabatean, Roman, and Persian rule. As such, the Jordanian capital has a rich history and diverse culture.
There are enough things to do in Amman to keep you occupied for weeks. However, assuming you spend 1-2 days in the city, be sure not to miss the Citadel, the Roman amphitheatre, and the King Abdullah Mosque.
Best Things to do in Amman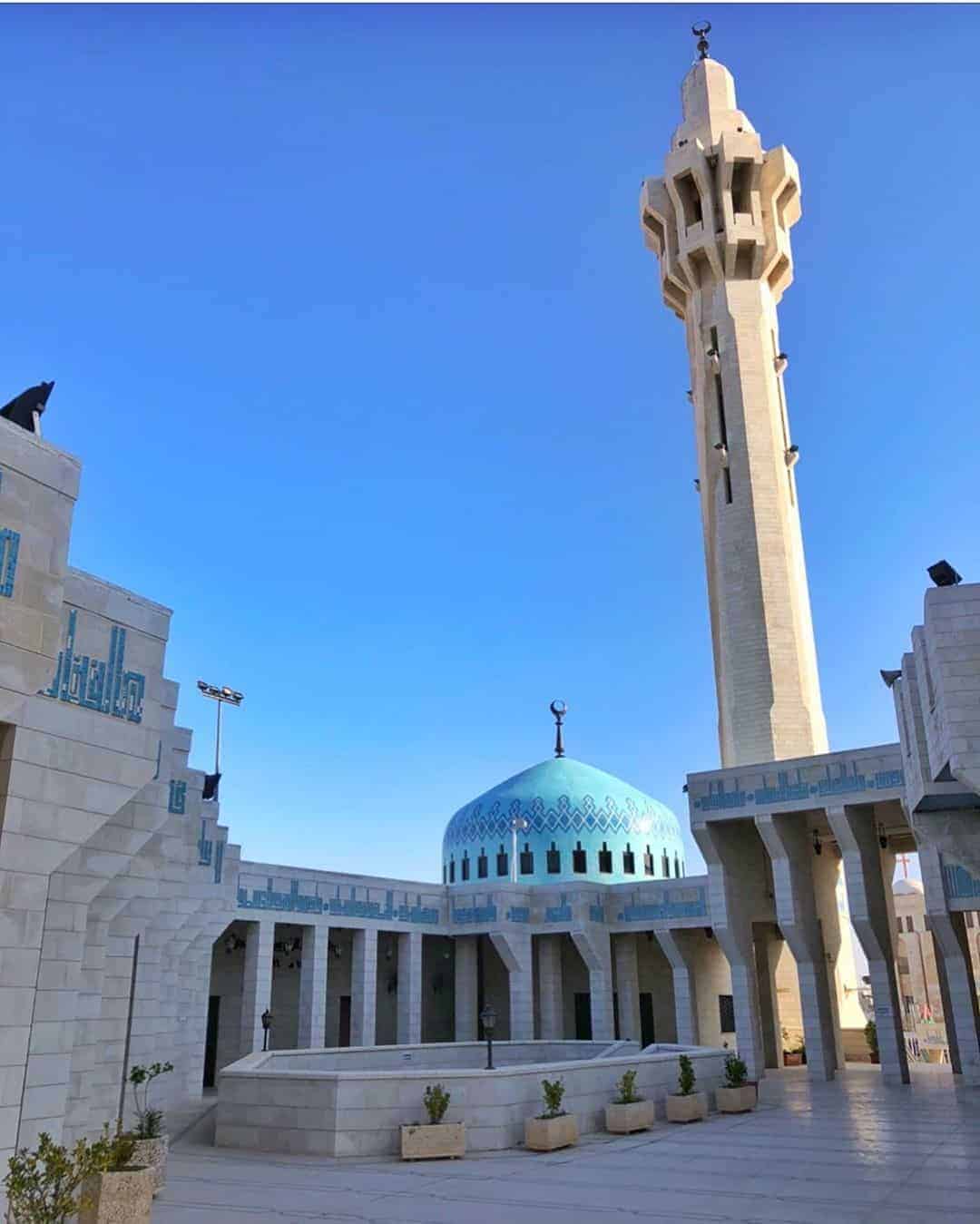 Visit the Amman Citadel and admire the enchanting views from the top


Shop for homemade delicacies and artisanal goods at Jabal Amman's Rainbow Street market


Marvel at the beauty of the blue-domed King Abdullah Mosque


Take a Jordanian cooking class and learn how to recreate recipes like baba ganoush and ouzisurar


Soak your cares away in a traditional hammam bathhouse


Catch a show or a local festival at the old Roman amphitheatre


Discover Amman's contemporary side at art galleries and quirky coffee shops in Upper Jabal Amman.
Recommended Amman Tours
It is entirely possible to explore Amman independently and on foot. Most of the city's attractions are concentrated within the Old Town. However, sometimes you may prefer to explore with the assistance of an experienced local guide. Amman tours that you may wish to consider are detailed below
Where to Stay in Amman
There are ample accommodation options in Amman to suit every budget. La Locanda Boutique Hotel is a great mid-range hotel that doesn't break the bank.
If you are looking for a luxury hotel stay, consider reserving a room at the Amman Hotel Rotana, or the House Boutique Suites.
Jordan Itinerary Day 3:
Jerash & Ajloun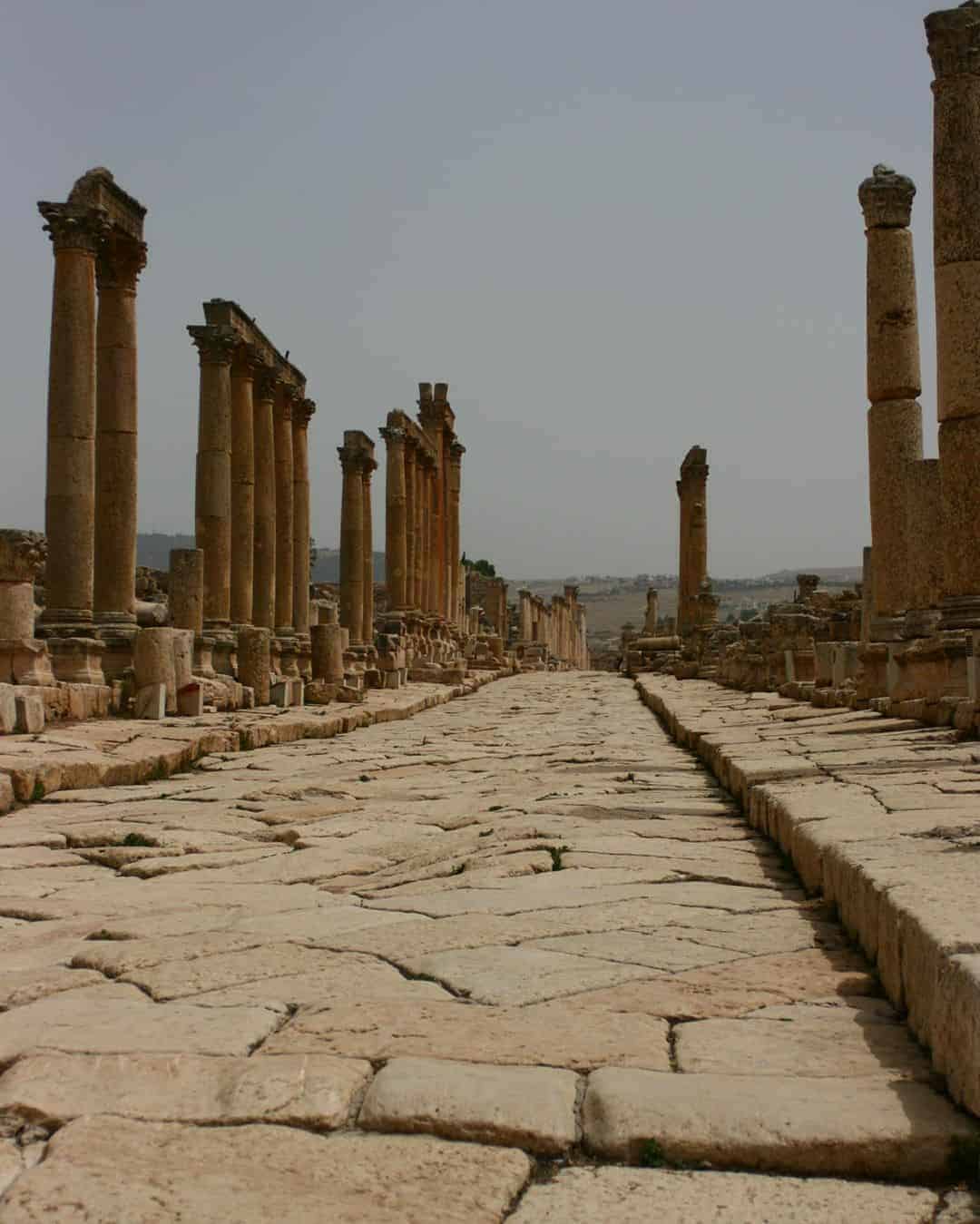 The Ancient city of Jerash is one of the most well-preserved Greco-Roman ruins in Jordan and perhaps, the world. Wandering the collonaded promenades, and sitting on the steps of the old hippodrome make it easy to envisage what life was like here under Roman rule.
Look out for the hippodrome – a huge arena that was used for chariot races and could hold up to 15,000 spectators at a time. Also not to be missed is the Temple of Zeus. Climb the rocks up to the temple for a panorama of the entire site.
It takes approximately an hour to reach Jerash from Amman. You should dedicate at least a day to exploring the archaeological site. From there, it's a 45-minute journey north to Ajloun.
Ajloun is a scenic hilltop town encompassed by stunning greenery. The town's main attraction is its 12th century castle that was built as a defense against the crusaders. After lunch, head onwards to the Dead Sea.
Jerash & Ajloun Highlights
Consider hiring a local guide at Jerash to support locals and receive more in-depth information about the ruins. A local guide costs 20JD at the entrance.


Sample sumptuous Mansaf and other local delicacies in one of the excellent restaurants in modern Jerash


Stop by the Great Ajloun Mosque – an impressive 600-year-old mosque with a stone-dressed minaret


Hike to the Ajloun Castle for incredible views over the Jordan Valley


If you have more time, head north from Ajloun to Umm Qais – a smaller Greco-Roman ruin that overlooks Syria and the Sea of Galilee
Recommended Jerash Tours
Where to Stay
Stay overnight in Amman on day three of this Jordan travel itinerary. On day four, you will drive East to Qasr Kharana.
Jordan Itinerary Day 4:
Desert Castles and the Dead Sea
Day four of this Jordan itinerary takes you to the ruined "castles" of Qasr Al-Kharana, Qasr Amra and Qasr Al Azraq. These early Islamic structures are often referred to as castles. However, the sites had somewhat humble purposes.
Qasr Amra operated as both a defensive fortress and a residence of Umayyad caliphs. Qasr Al Azraq has a fascinating history. This was the location where Sharif Hussein bin Ali and TE Lawrence based themselves during the 1917 Arab Revolt against the Turks. Meanwhile, little is known about Qasr Al-Kharana.
It is possible to see all three castles on a "whistle-stop" half-day tour before continuing on to the Dead Sea.
Highlights of the Desert Castles and the Dead Sea
Admire the ruins and wall paintings of the three castles and learn their mysterious history


Stop at Mount Nebo – Moses' supposed burial place


Check out the vibrant collection of mosaics at the Moses Memorial Church, Mount Nebo


Float in the salty waters of the Dead Sea


Give your skin a pamper treatment with a scoop of Dead Sea mud
Where to Stay at the Dead Sea
The Dead Sea is a great place to treat yourself. The Movenpick Resort and Spa is one of the best luxury choices in the area. For absolute luxury, choose the Kempinski Hotel.
Jordan Itinerary Day 5:
Karak & Petra
The Crusader castle of Karak is one of Jordan's largest desert castles. The structure dates back to 1142 and the castle has been the location of various bloody battles over the centuries.
Medieval crusaders once fought off the armies of Salah Hadid here. Even though Karak is one of the most popular crusader castles among tourists, the site is seldom ever crowded. Wandering through the empty stone hallways has an almost eerie feeling, particularly as some of them are so dark that they require the use of a flashlight.
A couple of hours in Karak is enough to see everything. Next up, the lost city of Petra. It is possible to hire a local guide for 10JD to gain more in-depth knowledge of Karak
Where to Stay in Petra
Try to stay overnight in Wadi Musa. Choosing to book a hotel here places you right on Petra's doorstep. The Petra Plaza Hotel offers a luxury stay without a luxury price tag. Rooms here start from just $55 a night.
The Movenpick hotel is the definitive luxury choice in Petra. There are also many Bedouin campsites if you prefer to sleep beneath the desert sky.
Jordan Itinerary Day 6:
Petra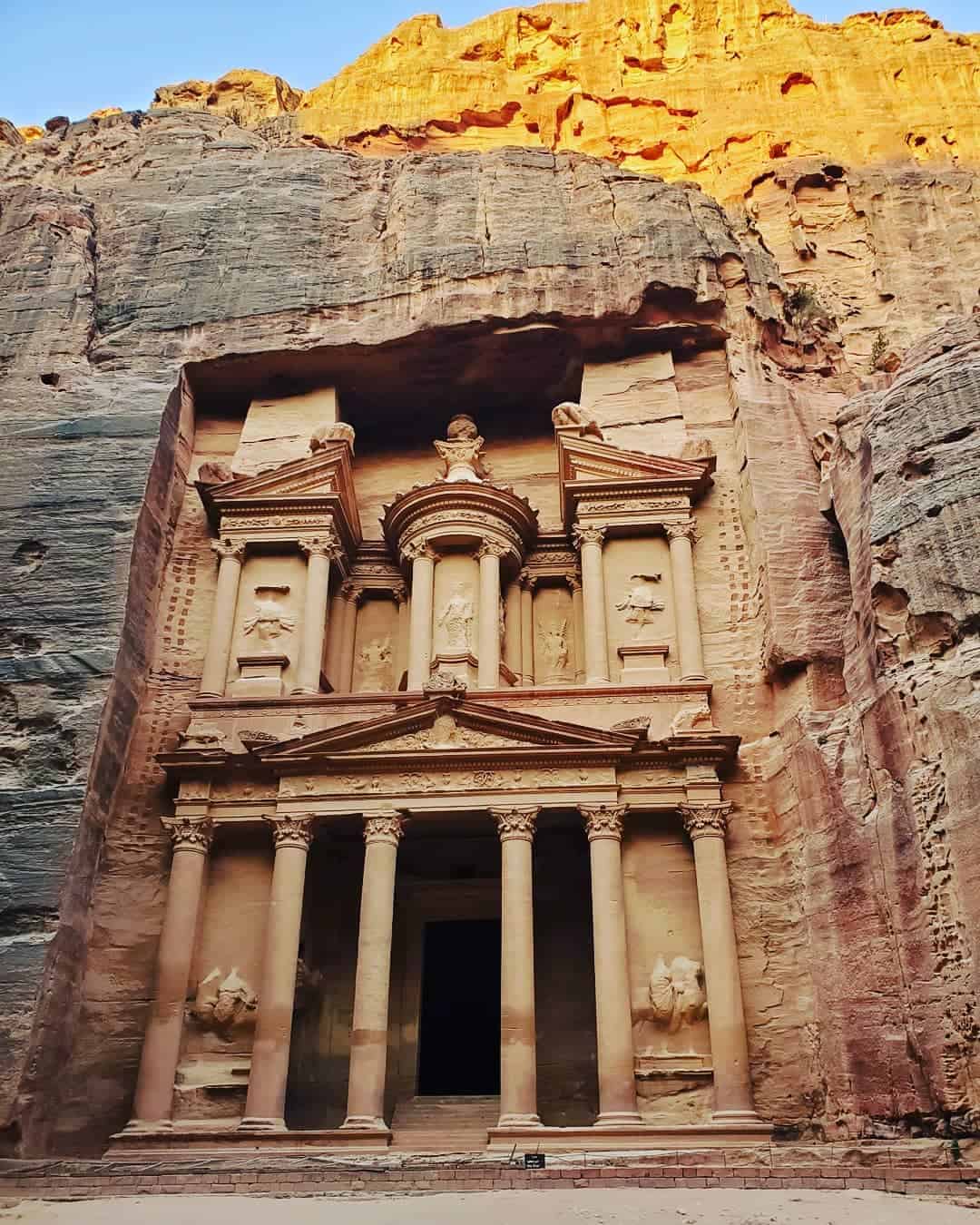 Petra is one of the "new" seven wonders of the world, and one of the world's most valued UNESCO sites. Wake up early to get to the site before the crowds arrive en masse and the intense midday heat kicks in.
The "place of high sacrifice" and the monastery hikes are challenging but well worth it for the spectacular views. The latter route takes you to Ad Deir – the impressive monastery. It is a challenging hike that entails trekking 7km and ascending up 850 steps. However, for your efforts, you are rewarded with a stunning place that has very few tourists.
There is a charming little tea room that has been built into the cave opposite Ad Deir. Here, you can rest from your climb, sip a warm cup of mint tea, and admire the view.
Try to time your trip to coincide with "Petra by Night" if you are able to. This is hosted every Monday, Wednesday, and Thursday, and starts at 20.30 from the Visitor's Centre.
Things to Do in the Lost City
Conquer the challenging hike to Ad Deir, the magnificent monastery.


Browse the various exhibits at the Petra Museum and learn just how advanced the Nabateans were.


Explore the tombs of ancient Nabataean Kings and other notable Royals


Hike to the High Place of Sacrifice and the shrine dedicated to the Nabataean Gods Al-Uzza and Dushara.


Stay with a Bedouin family and learn about their traditional way of life in the heart of the desert


Experience Petra by night and see the entire site illuminated with hundreds of beautiful candles


Spend some time in Little Petra and explore its Nabatean attractions
Suggested Petra Tours
Jordan Itinerary Day 7:
Wadi Rum
Exploring the desert-scapes of Wadi Rum will have you feeling like a modern-day Lawrence of Arabia. Consider staying at a desert camp during your time here. This way you can camp beneath the stars and learn about the traditional way of life that is enjoyed by the Bedouin people
Meander through the siqs (canyons), take a guided tour out to some of the area's unique rock formations, and watch a majestic sunset behind the dunes.
Wadi Rum Highlights
Sleep in a Bedouin campsite beneath the stars


Book a Bedouin experience and learn about traditional Bedouin life and cuisine


Hike or drive out to Wadi Rum's unique rock formations with a local guide


Take a sunset camel tour


Whizz through the desert on an ATV dune-bashing tour
Where to Stay in Wadi Rum
There are many Bedouin campsites in Wadi Rum. Many of these places are family-run and offer an array of tours and activities.
If you are looking for something a little more unique and luxurious, consider staying at a Wadi Rum bubble hotel. Few things are more magical than being able to watch the night sky illuminated by hundreds of twinkling stars from your bed. You can browse accommodation options in Wadi Rum here. 
Jordan Itinerary Day 8:
Aqaba
Day eight of this Jordan itinerary takes you to Aqaba. This is a perfect place to relax and unwind.
Aqaba fortress is an interesting place to look around. However, the main appeal of Aqaba is to relax on idyllic private beaches and dip your toes into translucent cerulean waters.
Those who can scuba dive will be pleased to know that there are more than 25 dive sites around the Red Sea area. Firstly, marine life here is abundant.
You will find vibrant corals, macro, eagle rays, and occasionally, whale sharks. Secondly, there are several unusual things lurking beneath the depths. This includes a shipwreck at Taiyong, and an underwater military museum complete with sunken tanks.
Best Things to do in Aqaba
Snorkel in the azure waters and check out the nudibranchs, the pipefish, the frogfish, and the shrimps


Eat delicious seafood at the restaurants on the seafront


Take a glass bottom boat tour along the coast


Take a scuba course and get PADI certified. (If you have more time to spare at the Red Sea)

Indulge by staying at a luxurious resort and treating yourself to a spa package
Where to Stay in Aqaba
Hotel Prestige is a clean and comfortable Aqaba hotel with prices starting from just $30 a night. The Hyatt Regency Aqaba Ayla Resort should be your go-to luxury choice. Rooms here start from $130 a night.
Jordan Itinerary Day 9:
Dana Biosphere Reserve
Dana Biosphere Reserve is Jordan's largest nature reserve. A vast array of landscapes are encapsulated within the park, including desert wadis, jagged canyons, and sprawling mountain ranges.
The reserve is rich in biodiversity. Hundreds of birds inhabit Dana biosphere, in addition to 25 species of rare animals. Sand cats and spiny tail lizards are just two of the unusual creatures that call Dana Biosphere Reserve home.
Things to do at Dana Reserve
Explore Dana village – a charming 15th century village built in Ottoman style


Stay in an environmentally friendly eco hotel


Go birdwatching and observe the rare species that call Dana home


Organise a Bedouin experience


Venture to some of Dana's 99 archaeological sites – the Roman and Byzantine tombs and churches, old copper mines, and vast cave networks


Conquer one of Dana's many hiking trails with the help of a local guide.
Where to Stay at Dana Reserve
The Dana Panorama hotel is an eco-friendly hotel that is perched on a cliff's edge within the nature reserve. Guests can expect spectacular views that extend for miles. The guesthouse was originally built to house researchers working in the park and has a rustic, homely vibe.
Jordan Itinerary Day 10:
Fly Home from Amman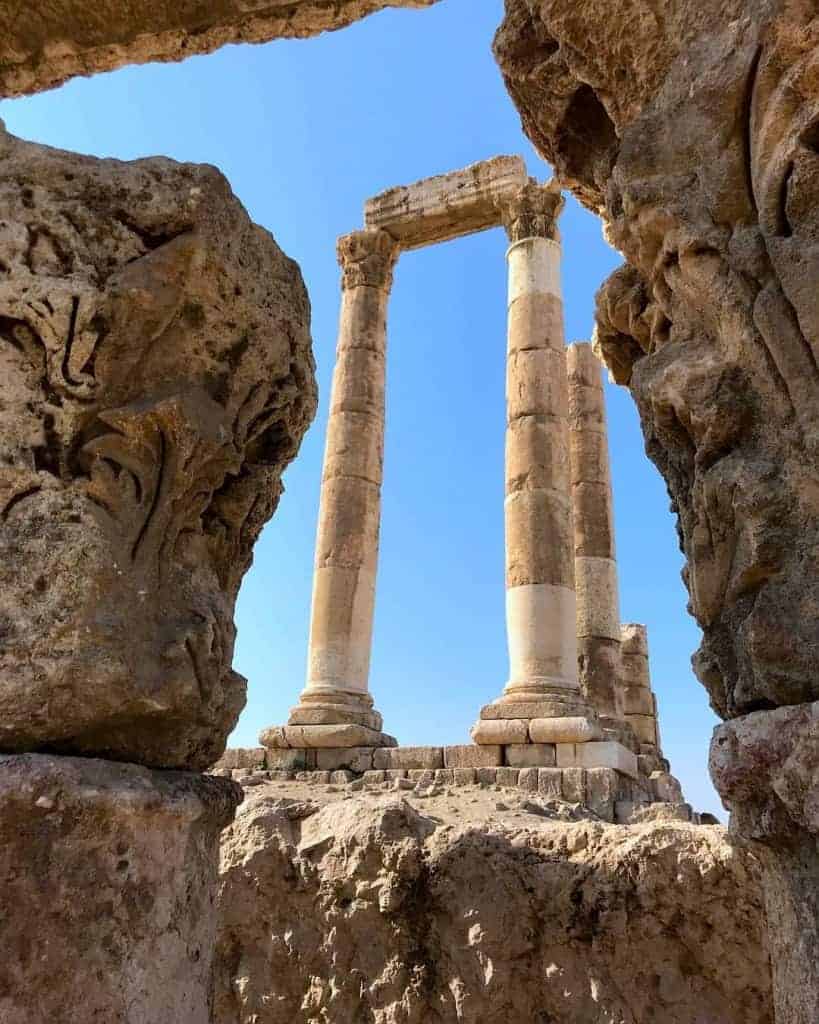 Day ten of this Jordan itinerary is where you say your final goodbyes to the Hashemite Kingdom. It takes approximately two and a half hours to drive back to Amman from Dana. Try to arrive at Queen Alia airport at least 2-3 hours before your flight is due to depart.
Additional Considerations for Your Jordan Itinerary
If you are not on a limited schedule, you can consider extending your Middle Eastern adventure. Jordan and Israel make a nice travel pairing. There are several points where you can cross the land border from Jordan to Israel. Additional suggestions of places to explore in Jordan are provided below.
Madaba – A small town between the Dead Sea and Petra that depict scenes from Jerusalem and the Holy Land

The Ajloun Nature Reserve – A stunning expanse of nature next to the Ajloun castle. The reserve boasts dozens of hiking trails

Ma'In Springs – Natural hot springs close to the Dead Sea

Irbid – A northern Jordanian city with a hip, youthful vibe

Shobak castle – A 12th-century crusader on the edge of the Dana Reserve. Secret passageways and hidden underground dungeons await inside the castle.

Zarqa – Jordan's third-largest city that borders Amman. Zarqa may seem a little rough around the edges, but its souks and markets provide valuable insight into typical working-class life in Jordan.
Is Jordan Safe?
Jordan is a very safe and enjoyable place to visit, even for solo female travellers. The World Safety index consistently rates Jordan as being one of the safest countries in the Middle East.
The crime rate in Jordan is low, and the Jordanian people are hospitable and friendly. I spent ten days exploring Jordan as a solo female and I never once felt unsafe.
Arguably the only thing that you need to be aware of from a safety perspective is overzealous salesmen. Touts at touristic places like Petra can often get a little pushy or flirtatious. Stand your ground, tell them you're not interested and don't hesitate to walk away.
The Best Time to Travel to Jordan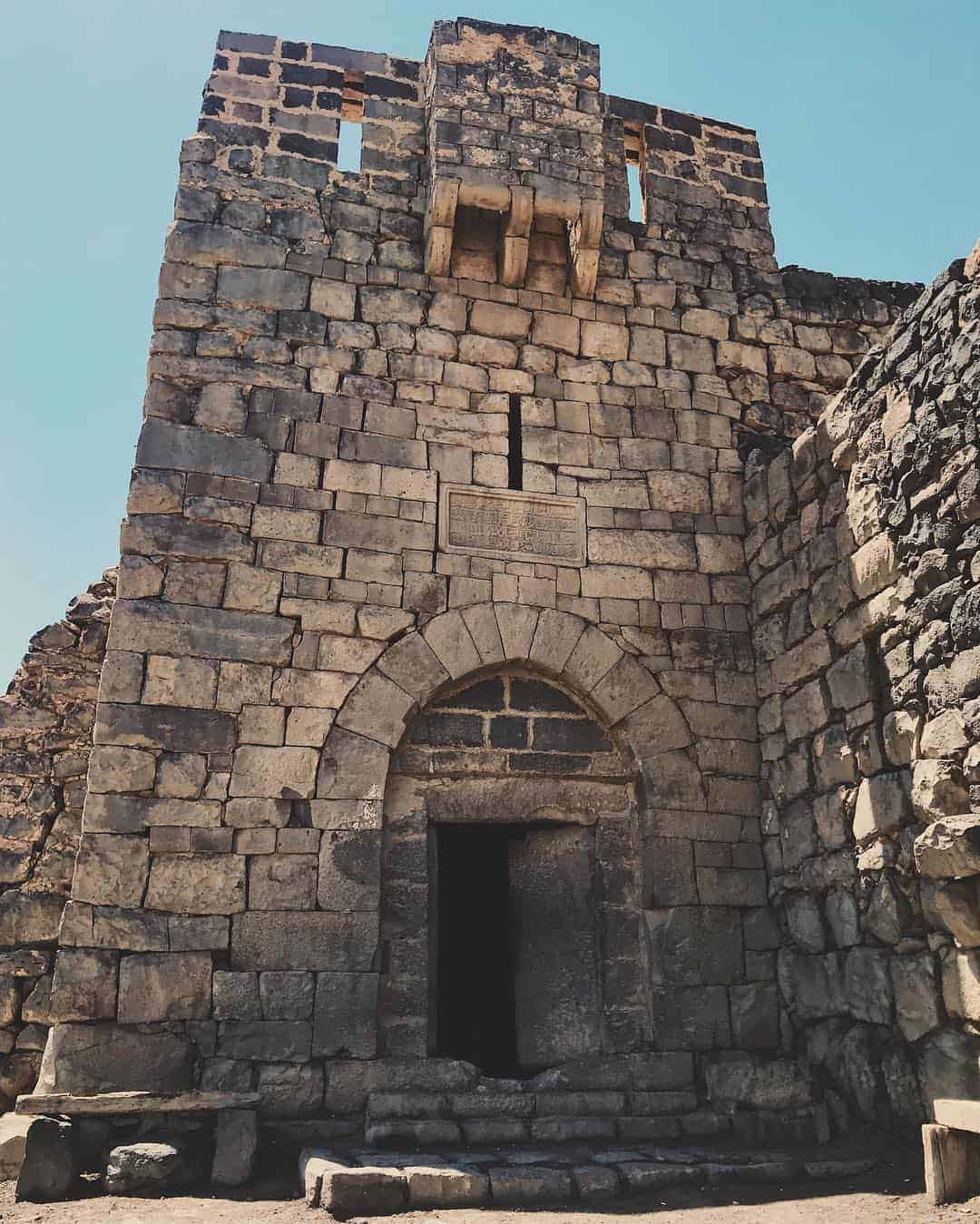 Temperatures in Jordan vary significantly throughout the year. The country is 90% desert and although summers are hot and dry, the winter months can get very cold.
You can expect temperatures that soar up to 35-40 degrees Celsius during the summer months in Jordan. This is not the best time for hiking or spending extended periods of time exploring outdoors. However, prices of flight and accommodation are often reduced during the off-season.
Spring and Autumn are arguably the best months to travel to Jordan. Firstly, the climate is warm yet pleasant and bearable. Secondly, this is the perfect time for hiking. The Fall foliage, and the Spring blooms make for gorgeous scenery and photo opps.
Additional Considerations Before Travelling to Jordan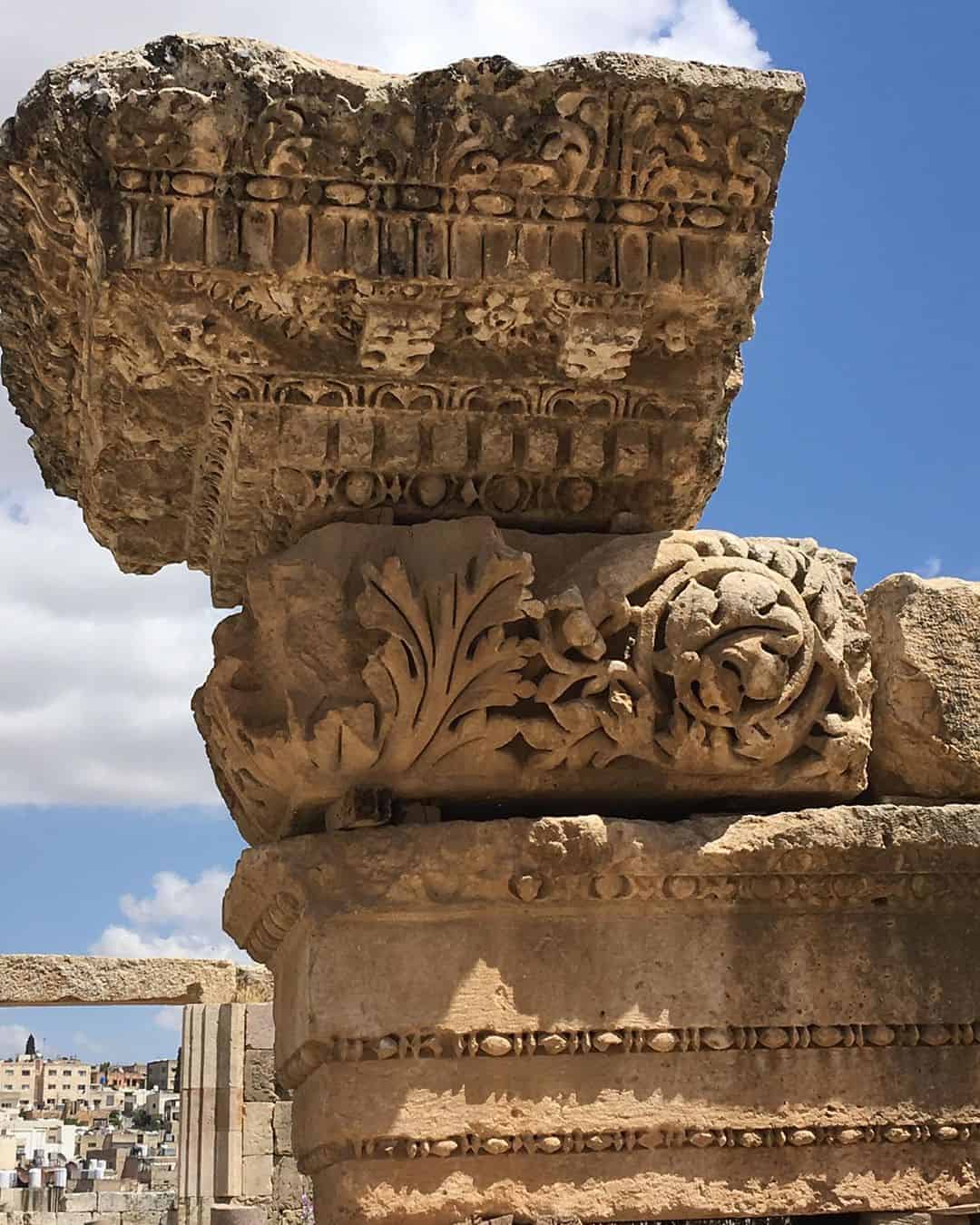 Budget for your Jordan itinerary accordingly. The country is relatively expensive and the Jordanian Dinar is strong.


Female travellers should dress conservatively. Firstly, cover your legs and shoulders. Secondly, be prepared to carry a scarf or a pashmina for entering mosques.


Buy the Jordan pass to save costs on admission tickets. Additionally, book this in advance to waiver your visa costs.


Ensure that you have comprehensive travel insurance before your trip. World Nomads offer excellent cover.


Check your local government travel advice to see if you need a visa for Jordan. Most nationalities are granted a visa on arrival.


Try the local wine to cut down on alcohol costs


Eat delicious falafel, shawarma, and other street food delicacies to reduce your food budget.
Do you have any additional questions about this 10 day Jordan itinerary? Please don't hesitate to get in touch. I will do my best to get back to you as soon as possible. Safe travels! Melissa xo
Pin This 10 Day Jordan Itinerary!
---