This Kuala Lumpur itinerary is perfect for a first-time trip to the Malaysian capital. This is especially true if you consider yourself as being someone who likes to fully immerse themselves in the culture of the places that they travel.
Malaysia's sultry capital is a melting pot of cultures and a fabulous mishmash of cosmopolitan living meets ancient traditions. Here, the city skyline is comprised of colorful mogul-inspired domes, glittering minarets, and towering skyscrapers.
One moment you could be walking along chic promenades that house mega malls and upscale eateries. The next, you are navigating through bustling street food markets shaded beneath the canopies of leafy banyan trees.
There is so much to see and do here that you could easily dedicate a month or more to exploring Kuala Lumpur and still feel as though you have barely scratched beneath the surface. However, if you are short on time and visiting Kuala Lumpur as part of a wider Malaysia itinerary, spending a few days here is enough to get a feel for this vibrant city.
Brief History of Kuala Lumpur and Malaysia
You don't have to venture too far out of Kuala Lumpur's city limits to be met with vast areas of dense jungle. It was not so long ago that the area where the Malay capital was built also resembled this. The city was formed just a few centuries back by Malay and Chinese tin miners who created Kuala Lumpur from an area of virgin jungle.
The 19th century saw the arrival of the British who erected many grand colonial buildings that still remain today. Malaysia declared its independence in 1957 and its capital has grown and modernized rapidly since then. Today, remnants of various ages and cultures remain.
A Country Rich in Cultural Diversity
Many of the highlights of Kuala Lumpur are not attractions specifically, but city districts and neighborhoods. Malaysia has a very culturally diverse population.
Approximately 67% of the residents are Malay Muslim, 24% are Chinese, and 7% are Indian. The remaining percent come from "other" ethnic groups. This diversity split paves the way for sumptuous cuisines and stunning religious structures from various cultural backgrounds.
This Kuala Lumpur itinerary allows you to explore the various neighbourhoods and gain an insight into how these different people truly live.
When to Travel to Kuala Lumpur
Kuala Lumpur has a hot, tropical climate. It is possible to embark on a Kuala Lumpur itinerary all year round and honestly, there is no such thing as a "bad" time to go.
Though Malaysia experiences a wet season with frequent downpours, the showers don't last long and if anything, they actually cool the temperatures down to make exploring more bearable. The rainy season in Kuala Lumpur occurs during March and April, and again in September and November.
The summer months between May and July are the peak times for travelling to the Malay capital. However, expect an increased amount of crowds, in addition to increased travel costs. You can save a lot of money on flights, accommodation and excursions if you opt to wait a few months and travel during the shoulder season.
Kuala Lumpur Travel Budget
Kuala Lumpur absolutely is a budget travel destination. It is possible to visit the city on a budget of less than $20 per day for the entirety of your Kuala Lumpur itinerary. That said, even if you prefer a little more comfort and luxury when you travel, you can enjoy all of that in Kuala Lumpur without breaking the bank.
For your reference, the average costs of various items and services in Kuala Lumpur are summarised below.

Good quality budget hotel in Bukit Bintang or Chinatown – $20-$25 per night


Luxury hotel (such as Melia Kuala Lumpur) – $100 – $200 per night


One ride on the KL metro or monorail – $0.49


One ride on the KL bus – FREE or $0.25 depending on the specific route


GRAB taxi – $1-3 depending on the distance across town


Meal at hawker's centre/Indian canteen – $2.50


Meal at a mid-range restaurant – $8-12


Cup of coffee at a coffee shop – $1.50
A Four Day Kuala Lumpur Itinerary
This Kuala Lumpur itinerary of 4 days allows you to immerse yourself in the local culture, and see more than just the traditional tourist attractions in KL that everyone ventures to. Suggestions for additional days are provided at the end.
If you have more/less time to dedicate to exploring KL, you can chop and change this KL travel itinerary as you prefer.
Kuala Lumpur Itinerary Day One:
Uncovering Malaysia's Rich Cultural Heritage
Day one of this Malaysia itinerary will be spent exploring the city's various ethnic neighbourhoods to get an insight into the cultures of the people who call this wonderful city their home.
Consider taking a walking tour
A walking tour is a great way to get your bearings in any new city and the same rings true for visiting Kuala Lumpur for the first time. When you explore with a t local guide, you will uncover districts and restaurants that you are unlikely to find independently.
Better yet, you have a KL expert on hand to ask for recommendations on the best places to eat, drink and hang out in the city. You can do KL walking tours that follow different themes.
For instance, a KL food tour, a markets tour, etc. A selection of reputable KL tours that you may want to consider are detaield below.
Start the day with an Indian breakfast at Pasar Seni
The first day of this Kuala Lumpur itinerary will start at the Pasar Seni metro station. Depending on where you are staying in the city, you may need to take the metro or monorail here.
Forget bland continental breakfasts or croissants with coffee, breakfast today will be enjoyed Indian style. Try to get here around 8 or 9 am. That way, you can ensure you catch a lot of the action going on in this part of town with vendors setting up stalls and commuters wolfing down an Indian breakfast on their way to work.
Across from the metro station, you will spot a colourful eatery with vibrantly painted walls, fresh flowers hanging from the ceiling, and punjabi rhythms echoing out to the street.
This is the Vinny Jeyaa Banana Leaf curry house (80, Jalan Hang Kasturi, City Centre). It is one of the best Indian restaurants in KL and it is teeming with locals who stop by for breakfast every day.
A classic Indian breakfast consists of an egg roti served with Tarka daal, fish curry, and a selection of curry sauces. The dish is traditionally eaten by hand and dipped into the various side sauces. Vegetarian options are available.
Wash it all down with a cup of Adrak Wali Chai (Indian ginger tea). This is a real local place frequented by Indians residing in KL. It is generally free of tourists.
The icing on the cake? The meal will cost you less than $2!
KL Chinatown: Visit the "Rusty" Flea Market
Pasar Seni is a great starting point because it places you close to many of Kuala Lumpur's main Chinese and Indian sites of importance. From Vinny Jeyaa backtrack to Jalan Sultan street and follow it around.
You will pass by Pasar Karat market. This is a worthy stopping point.
A huge sprawl of graffiti on the wall demonstrates what this area is renowned for – metal working. Pasar Karat is known as the "rusty flea market" and if you pass by here before 10 am, you will see old timers negotiating over various products.
Is Pasar Karat a junkyard or a market? You can decide for yourself!
The ramshackle stores here sell everything from electronics and jewelry items to rusty old workman tools and metal scraps. Spend a few minutes browsing the stores and taking photos, then continue on with your Kuala Lumpur itinerary.
See the street food vendors set up shop in China Town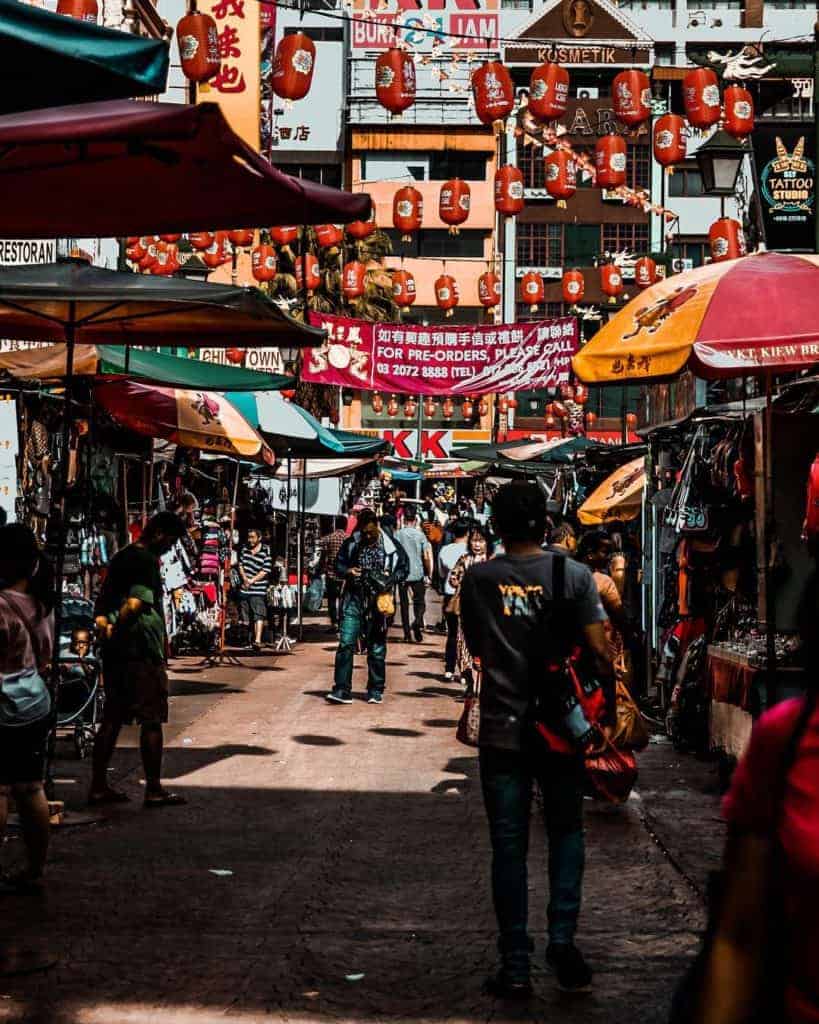 Continue following Jalan Sultan street until you reach Petaling Jaya. A lot of the beauty of Kuala Lumpur's Chinatown district is in people watching and enjoying the various scenes of local life. Allow yourself time to really get lost in this district and navigate its narrow, labyrinth-like streets with no real fixed agenda.
Petaling Jaya is very touristic, but in the narrow alleys and passageways that veer off from it, you can find vendors preparing dishes by hand. The sights are so fascinating to watch that It's like being inside a Nat Geo photo story! Vendors prepare bao (steamed buns), karipap (curry puffs), and other delicacies.
In this area, you can also find some of the oldest Chinese medicine stores in the Malay capital. Whether you believe in Oriental medicines or not, a lot of these places are worth a look inside just to see the weird and wonderful things inside. Everything from tree bark to bird's spit (!!) can be found inside the various jars and bottles.
Wander through the markets of Chinatown
Virtually every Kuala Lumpur itinerary or travel guide will tell you to visit Chinatown's Petaling Street or Central Market areas. While these spots are worth a quick dash through while in the neighbourhood, they are touristic and inauthentic. Expect to see heightened prices for street food and stalls overflowing with fake designer bags.
Head on to Kasturi walk and admire the neo-classical buildings that house quaint Chinese stores and restaurants as a backdrop to the flea market that fills the streets. If you want to sample the questionable durian fruit, now's your chance!
KL Chinatown: Visit the Guan Di Temple
The Guan Di Temple is one of the oldest Taoist temples in Kuala Lumpur Chinatown and in Malaysia as a whole. It dates back to 1887.
Work your way through a haze of fragrant incense as you step inside. The overall interior and exterior of the temple are stunning but the piece de resistance here is a huge guan dao (Chinese weapon) that is on display in the centre.
Worshippers believe that they will gain a blessing by visiting the temple and touching the weapon. It is rumored to have the ability to turn around a streak of bad luck that you may be dealing with.
Treat yourself to lunch in China Town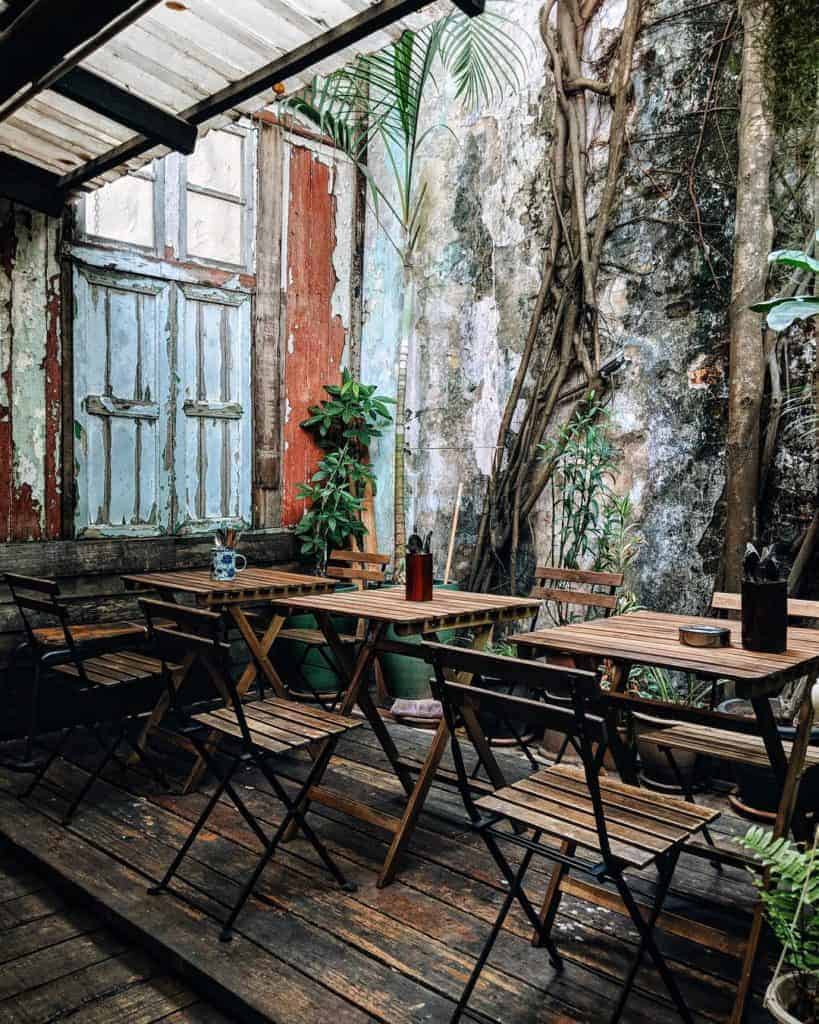 When you start to get hungry, it's time for a lunch break, Chinatown style. There are many excellent chicken and rice restaurants in the area, particularly along Jalan Sultan street.
These are generally distinguishable by the string of chickens hanging in the window. That may sound questionable but the restaurants are pretty sanitary, don't worry!
Feel free to step inside whichever one takes your fancy. Many of these eateries prepare the same dish, although they do so with their own twist and family recipe.
If you see that somewhere is busy and filled with locals having lunch, that is usually a good indicator that the quality is good. There are also plenty of quirky, eclectic coffee shops in this area.
For something completely unique, head to Merchants Lane (150, Jalan Petaling). This is a former brothel turned cute coffee and brunch spot.
Stop by the Sri Mahamariamman Temple
The Sri Mahamariamman Temple is a Hindu Indian temple on the outskirts of Kuala Lumpur´s Chinatown. It was founded in 1873, making it the oldest Hindu temple in the city.
It was built by the same Indian pilgrim and former Trader that founded the Batu Caves temple complex. The site is colourful, and stunning and every building and column is decorated with intricately carved deities and bold, vibrant colours.
Visiting the Sri Mahamariamman temple is a wonderful insight into Indian culture, especially for those who have not yet visited India. A huge gopuram tower looms over the entrance filled with the colourful sculptures of Hindu gods.
The temple contains shrines to Parvati (the Indian mother goddess), Ganesh, and Lord Murugan. You must dress conservatively to enter.
That means no short shorts, no cleavage or shoulders on display. However, if you forget, it's possible to rent sarees from the booth next to the entrance for less than 50 cents. Arguably these make for better photos within the temple complex!
Little India: Explore Brickfields
Kuala Lumpur's "Brickfields" neighbourhood is one of the oldest Indian settlements in the country. It sprawls from Jalan Travers to Jalan Tun Sambanthan.
It is possible to walk from Chinatown to Little India if you like. You will see lots of interesting sites and sounds along the way, just download an offline map like Maps Me to help you navigate. Alternatively, take the metro from Pasar Seni to KL Sentral Station.
It is very obvious when you enter Little India. Fragrant flowers and garlands decorate the passageways of the markets, smiling Bollywood stars adorn huge billboards, and the colorful stores sell spices, sarees, and religious objects.
The Sri Kandaswamy Kovil Hindu temple and the Maha Vihara Buddhist temple are both well worth stopping by. The latter houses a reclining Buddha, almost like a smaller version of Bangkok's Wat Pho.
If you find yourself with a little extra time in your schedule, you can also stop by the enchanting Thean Hou temple. There are also several notable churches in this area.
In particular, look out for the 1896 Tamil Methodist Church, the 1907 Evangelical Lutheran Church, and the 1903 Church of the Holy Rosary. The highlight of Little India though is simply taking the time to get lost in its maze of streets.
Many of the promenades here are lined with painted elephant statues and the stores that seemingly transport you to Mumbai. If you get hungry, head to one of the many wonderful banana leaf restaurants.
Enjoy a Night Cap at Chinatown's Quirky Bars
Head back to Chinatown for a nightcap before bed. As a majority Muslim country, you may not expect Malaysia to have much of a nightlife scene.
However, the bars in Chinatown are owned by Chinese residents instead of Malays and are therefore permitted to sell alcohol. PS-150 (Ground Floor, 150, Jalan Petaling) is a local favourite and is rumored to sell the best cocktails in town. From the outside, the bar is disguised to look like an old retro toy shop.
For something a little different, head to The Deceased (55, Jalan Sultan, City Centre, 50000). This is a spooky speakeasy that has a setting reminiscent of a horror movie, and a cocktail menu themed around Oriental ghost stories.
Keep your eyes peeled if you want to visit as its entrance is not obvious. Look out for an old, dirty-looking yellow door. It opens to a narrow staircase that leads up to one of the most fun bars in the city.
Kuala Lumpur Itinerary Day Two:
A Tourist for the Day
Day two of this Kuala Lumpur itinerary focuses on visiting the city's main tourist attractions. Wake up early, strap on your comfiest walking shoes, grab a quick breakfast at your hotel, and set off to get the train to Batu Caves.
Learn about Hinduism at Batu Caves
You have several options available for getting to Batu Caves. Arguably the most convenient way to get there is by KL Komuter train.
Head first to KL Sentral station and then hop on board. The journey takes approximately 30 minutes. Trains run frequently and a ticket is just $3.
Alternatively, several reputable local tour companies offer private and small-group day trips to the caves. Often, they combine the trip with a visit to nearby Genting Highlands or other points of interest.
This can be a good option if you don't want the stress of managing the logistics of getting from A to B. Usually, someone will come and pick you up from your hotel. A selection of reputable Batu Caves tours is detailed below for your consideration.
Tours to Batu Caves
Exploring the caves
The Batu Caves are famous for the towering golden statue of Lord Murugan – the Hindu God of War. He stands guard at the temple entrance.
No matter how many times you have seen this place photographed on social media, nothing compares to visiting it in person and seeing it for yourself. The Batu Caves complex is actually comprised of a number of various cave shrines and temples.
Entrance to the complex is made by ascending the colorful staircase filled with cheeky macaques that hassle tourists for snacks. There are several caves to be aware of.
The Temple Cave is the main hall of the complex and it contains several Hindu temples. Meanwhile. the Ramayana Cave is a cave displaying Hindu sculptures and depicting the life of Lord Rama, seventh avatar of the Hindu god Vishnu.
Finally, you can tour the Dark Cave, although entrance to this cave is only permitted if you hire a local guide. Many creepy crawlies call this cave their home, including some of the rarest spiders and bats in the world.
Grab a banana leaf lunch at Batu Caves
There are many Indian restaurants at the base of the Batu Caves temple complex. Although this is a touristic place, many of the eateries here are very good.
After all, many Indian pilgrims will stop here on their way to pray. Restoran Rani serves South Indian cuisine – including simple but delicious banana leaf specials, vegetarian thali sets and dosas.
Visit the Skydeck at the Petronas Towers
Return to Kuala Lumpur and head straight for the city's most famous landmark – the Petronas Towers! The towers currently hold the title of being the tallest twin towers in the world.
They reach an impressive 1,483 feet and at one point, they were the tallest buildings in the world. (Today the tallest building in the world is also in Kuala Lumpur – it is the Merdeka 118 which stands at 678.9m).
A luxury shopping mall can be found in the interior of the building along with some office buildings. If you want to ascend to the top floor and see the city from the viewing deck, it's advisable to purchase tickets online or at the ticket booth in advance.
You will be given an allocated time slot for your visit. It is better not to arrive without a ticket and hope to wing it as there is often a huge queue and the SkyDeck reaches maximum capacity. Pre-book them in advance here.
Meander around the KLCC Park
The KLCC park adjacent to the Petronas Towers is a beautiful place to walk around or relax and enjoy the sunshine. You can capture some great photos of the towers from here.
If you can be here again at 8, 9 or 10 pm, there's a wonderful light and sound water fountain show that takes place here each day.
Venture on to Bukit Bintang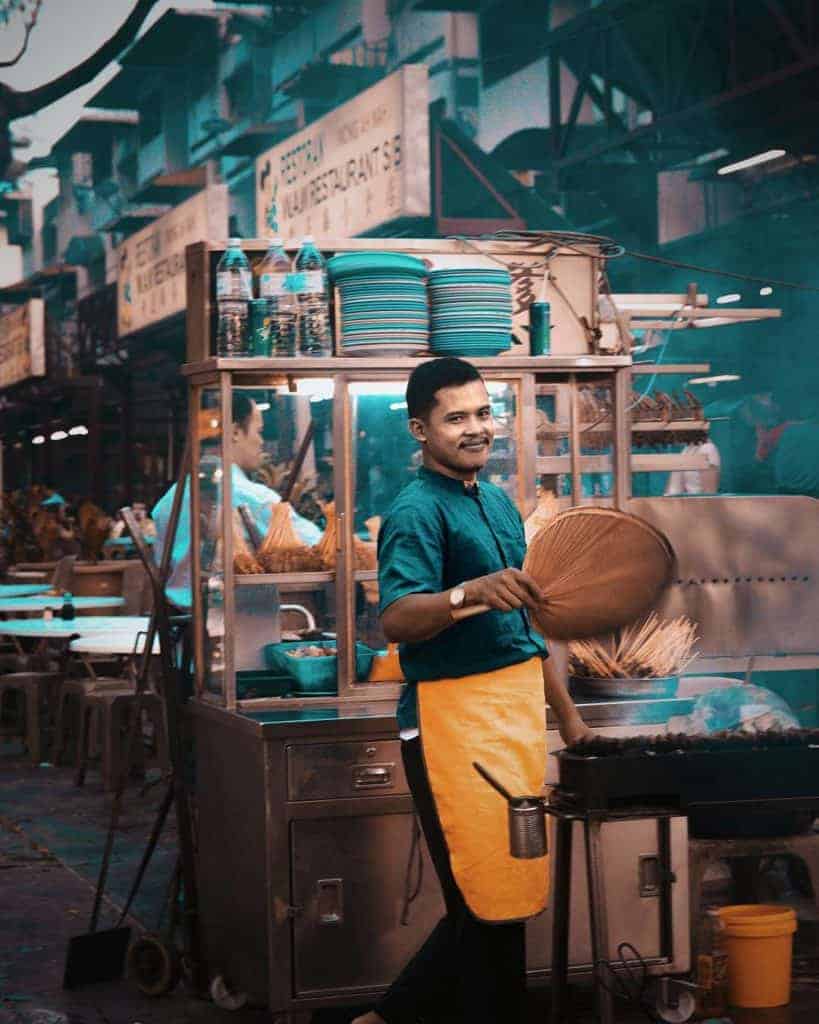 Bukit Bintang is one of the most sleek and modern parts of town. It is characterised by tall, glittery skyscrapers and high-end malls.
Its central boulevard is reminiscent of New Yorks Time Square. If you want to indulge in some retail therapy during your Kuala Lumpur itinerary, this is the place to come.
The KL Pavillion Mall is a local favourite place to shop. It is home to both Designer names and independent boutque stores.
Foodwise there are several highly rated restaurants in Bukit Bintang serving up cuisines from all corners of the globe. If you're on a budget or prefer to rub shoulders with the locals at street food markets, head to Jalan Alor food street.
This is a good spot to try all the classic Malaysian street food delicacies. Everything from beloved satay sticks to adventurous fried frog is served here.
Enjoy cocktails with a view in Bukit Bintang
As the sun goes down, it is nice to head to a rooftop bar and unwind with a beverage or four. Bukit Bintang boasts a wide variety of nightlife options – whether you prefer a quiet mojito with a view or something a little wilder.
Some of Kuala Lumpur's best rooftop bars are situated in this area. Consider checking out the Skybar at Traders KL, Marini's on 57, or the Heli Lounge. The Heli Lounge is arguably the most unique and interesting.
As the name suggests, this bar is quite literally a helipad atop a skyscraper. There are no barriers, no walls, nothing. From up here, you have incredible views across KL and out to the Petronas Towers.
For wilder, more raucous partying in Bukit Bintang, head to Changkat. This is a narrow avenue filled with bars, clubs, and restaurants that is popular with both expats and locals. Many of the bars here have frequent "Ladies Nights" where women drink for free.
Kuala Lumpur Itinerary Day Three:
Postcards from Putrajaya
Putrajaya offers an interesting change of pace from central Kuala Lumpur. The city is essentially an extension of the Malay capital and it is reachable within just 15 minutes by a KL Komuter train from KL Sentra.
This is the centre of Malaysia's government, corporate and financial operations. KL was getting a little too crowded and so… Putrajaya was born!
But Putrajaya is far from being a dull, soulless financial hub. The fascinating thing about this city is that it was not built in traditional Malaysian style, but using influences from Arabian architecture. In some ways, Putrajaya resembles a Middle Eastern city like Dubai or Muscat.

Wandering around the glistening mosques, the innovative structures, and the lush green tamans (gardens) of Putrajaya is a pleasant way to spend a day "off the beaten track" in Kuala Lumpur. Don't miss the cotton candy pink Putra mosque.
Kuala Lumpur Itinerary Day Four
The final day of this Kuala Lumpur itinerary is dedicated to admiring some of the city's natural beauty. Though KL may seem like a bustling megalopolis, it is also home to various gardens and spots of beautiful scenery that are intertwined among the skyscrapers.
They provide a welcome respite from the hustle and bustle of one of Southeast Asia's most bustling megalopolises. The schedule today is a little more relaxed.
See endangered species at the KL Forest Eco Park
Before Kuala Lumpur was formed, this entire area was comprised of rainforests and jungle. When you stop by the KL Forest Eco Park, you can wander beneath 100-year-old rare Jelutong trees. The park provides a glimpse into what this part of Malaysia was like before human construction and intervention.
Here, endangered monkeys, birds, and insect species race alongside you. For scenic views from the treetops, opt to follow the "Canopy Walk" trail.
Stroll through the Perdana Botanical Gardens
The 250 square meter Perdana Botanical Gardens are the oldest gardens in Kuala Lumpur. The gardens provide a calm, tropical oasis in the midst of the concrete jungle.
Enjoy strolling around the lakes beneath the cover of the banyan trees. Consider packing a picnic or grabbing some street food en route before heading to the gardens for the perfect lunch spot.
Haggle your way through the Chow Kit Wet Market
If you have never visited an Asian "wet" market, meandering through the stalls of Chow Kit will be a fascinating experience. Locals venture here each day to pick up the freshest vegetables, fruits, and animal products.
Arguably Chow Kit is not for the faint of heart – animal carcasses hang from the ceilings as butchers wield giant cleavers and narrowly miss their fingers as they chop custom-cuts of meat. In the fish market, octopus flail around in pails of water for their last moments on earth.
A word of warning: don't wear open-toed sandals here! The stench of the meat stalls can be overwhelming, but Chow Kit is worth a visit for the experience alone.
The market is a photographer's dream. Just be sure to ask permission before taking anyone's photo.
Where to stay in Kuala Lumpur
Base yourself in a central part of town during your Kuala Lumpur itinerary. That way, you don't have a huge trek to get to and from the main Kuala Lumpur attractions. Fortunately, the metro system here is excellent, making it easy to get from A to B.
Arguably the best places to stay in Kuala Lumpur are Bukit Bintang or Chinatown. The former is more modern and is home to Michelin star restaurants, mega malls, and glitzy rooftop bars.
Chinatown is filled with old traditional houses. However, staying here places you in a culturally rich area filled with excellent local eateries and quirky coffee shops. Both places are central and safe, even in the evenings. I
Chow Kit also boasts many affordable hotels and accommodation options. However some of the streets here are considered Kuala Lumpur's red light district and it is not advisable to walk around here at night.
Best Hotels and Hostels in Kuala Lumpur
Kuala Lumpur has something for every budget and travel style. A selection of the best hotels and hostels is detailed below for your consideration.
Tian Jing hotel – a charming independent boutique hotel in Chinatown that has been designed by Chinese designers to showcase the best of the areas heritage


5 Elements hotel – comfortable budget hotel offering $30 in the heart of Chinatown


Melia Kuala Lumpur – a chic, luxe hotel in the heart of Bukit Bintang


Mingle hostel – a hip, stylish backpackers hostel near Petaling Jaya
Looking for hostel recommendations? Take a look at this post on the best hostels in Kuala Lumpur.
Getting around Kuala Lumpur
Kuala Lumpur boasts an excellent public transport network of trains, monorails, and buses. Services are efficient and run frequently, with journeys costing as little as $0.25.
KL traffic is notoriously bad. However, if you want to take a cab, download the GRAB taxi app.
It's advisable not to hail down cabs on the street as they will often suggest you a price that is several times more than the going rate. Grab taxis are very cheap and you will see the price displayed before you get in the vehicle. It works in the same manner as Uber and any other ride apps.
Getting from Kuala Lumpur Airport to the City
It's cheap and easy to get from the airport to the city ready to kick off your Kuala Lumpur itinerary. There are a couple of options for doing so, as broken down below.
By Private Transfer
Organising a private transfer from Kuala Lumpur airport to the city and vice versa is arguably the most convenient and comfortable way to travel.That way, you know that someone is waiting for you on your arrival.
If your flight happens to be delayed for any reason, the driver will be waiting and tracking your flight schedule. Private transfers seldom cost much more than an airport taxi and this way, you know that everything is paid for and organised in advance.
Pickups are made in luxurious, air-conditioned vehicles. You can obtain a quote here.
By Taxi
Taking a cab is a pretty affordable and convenient way to get from the airport to Kuala Lumpur city. Cabs that depart from KL airport operate at a fixed rate.
There are no dodgy toots to contend with. It will cost you 75 ringgit (approximately $15) to get from the airport to anywhere in the city. After passing through baggage claim, you can organise your trip via one of the various taxi desks at the airport.
It takes around 50 minutes to get into Kuala Lumpur by cab depending on the traffic. Cabs are available from the airport 24/7.
By KLIA/Metro
The KLIA Express is a quick way to get to and from the airport. However, it only takes you as far as KL Sentral station.
From there, you will need to take a metro or a monorail onwards to your hotel. A one-way ticket on the KLIA express costs 55 ringgit (approximately $12) and a return is 80 ringgit.
It's possible to take a 10% reduction by paying via card at one of the machines. However keep in mind that your bank/credit card provider may charge a fee so that is only really a good idea if you have a borderless bank account.
The high-speed KLIA Express train takes approximately 30 minutes to reach KL Sentral and free WiFi is provided on board. Trains depart from KLIA between 5.30 am and 1 am.
By Bus
The cheapest way to get into the city is to take the bus. Again, they only go as far as KL Sentral so you will need to make a connection to another train or monorail.
The bus costs 10 ringgit ($2.50) per way, per person, and departs every half an hour or so for KL Sentral. Bus tickets can be purchased from Counter 3 of the KLIA Transportation Hub on the ground floor of the main terminal.
Is Kuala Lumpur Safe?
From a safety perspective, Kuala Lumpur seems to have a bad rep. If you read everything that google barfs up when you search "Is Kuala Lumpur safe?" you might make yourself anxious about your Malay adventure.
As with travelling anywhere, you should exert basic common sense when travelling in Malaysia. Bag snatchings, muggings are reported as being common incidents in Kuala Lumpur.
Don't walk alone at night, don't show off valuable jewelry/electronics, and be mindful of your personal belongings in crowded areas. The Chow Kit area in particular has a bad reputation as this is essentially the citys red light district. Try not to be out here after dark.
Kuala Lumpur Itinerary:
Additional Suggestions/Onward Travel
If you have a little extra time to dedicate to your Kuala Lumpur itinerary, there are plenty of wonderful places that are reachable within just a few hours' journey from the capital.
Ipoh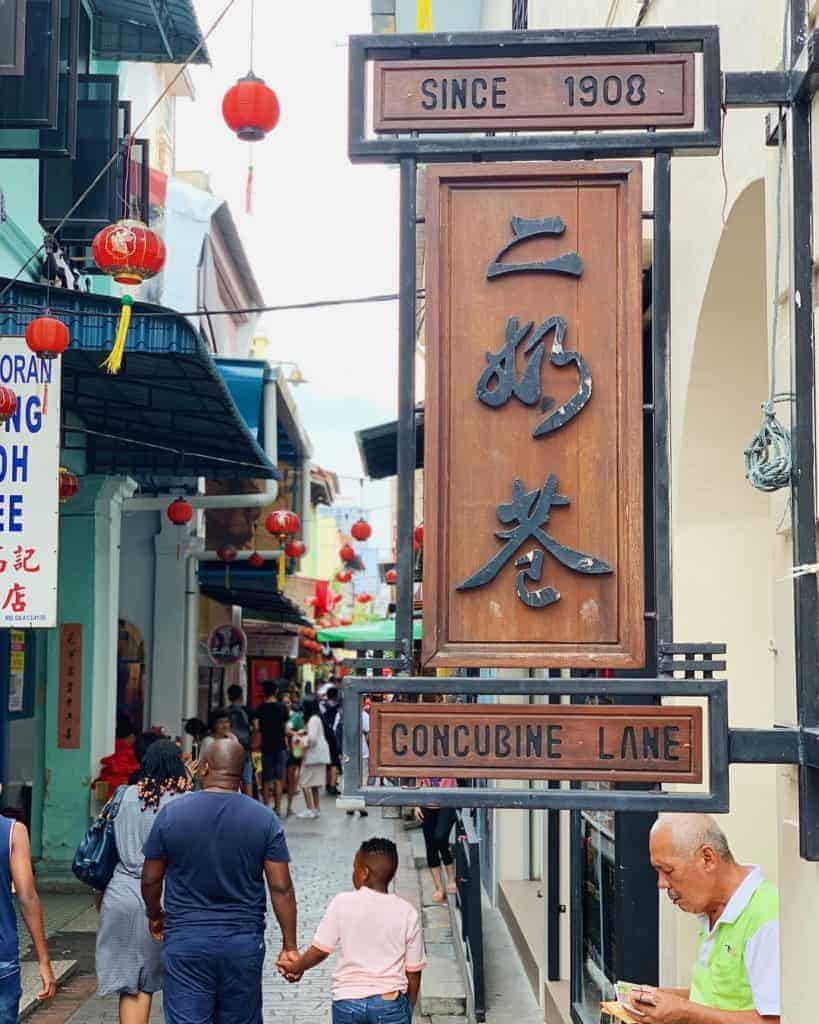 The charming town of Ipoh in Perak can be reached within just two hours by bus or train from Kuala Lumpur. Though you could technically conquer Ipoh in a day, it is worth staying overnight in the quaint old town so that you can enjoy wandering through the narrow streets at a leisurely pace.
Lonely Planet named Ipoh as being one of the best new travel destinations in Asia. Many Malay delicacies such as Ipoh white coffee and nasi ganja originated in Ipoh. As such, Ipoh is starting to rival Penang for the title of being the foodie capital of Malaysia.
Cameron Highlands
If you prefer being at one with nature to navigating the streets of big cities, Cameron Highlands will be the perfect spot for you to travel on a day trip from Kuala Lumpur.
The Highlands are home to the Orang Asli people – the true indigenous Malays who inhabit the jungle. Stunning emerald green tea plantations, breathtaking hiking trails, hidden waterfalls, and challenging mountain peaks are just a few of the reasons to visit Cameron Highlands.
Genting Highlands
Genting Highlands is essentially the Las Vegas of Malaysia. Arguably not a place to come to if you are hoping to immerse yourself in the local culture, but a fun stopping point nonetheless.
Even if you don't want to risk your hard-earned dollars in the casinos, you can check out the strip, visit the theme parks or take in a local show. Some Batu Caves tours also include a stop in Genting Highlands.
Malacca (Melaka)
It is not difficult to fall in love with the city of Malacca. Once the capital of British colonial Malaysia, the centre of Malacca appears frozen in time and boasts crumbling structures dating back to its former Portuguese, British, and Dutch occupations.
The city is teeming with colonial architecture, museums, and historic landmarks. As such, there is plenty to do in Malacca to warrant an overnight stay. Aside from the historic appeal of the city, there are plenty of charming cafes and sumptuous eateries to visit while in the area.
Kuala Lumpur Itinerary Final Thoughts
Have any questions about this Kuala Lumpur itinerary or Malaysia travel in general? Feel free to reach out to me via email or through the comments below! Safe travels, Melissa! xo
---