Looking for the best things to do in Ipoh Malaysia? Look no further.
This comprehensive guide to the best places to visit in Ipoh covers everything that you should see and do in this Little central Malaysian town. Recently, Lonely Planet recognised Ipoh as being one of the best weekend travel destinations in Asia.
However, charming Ipoh is often overlooked from most people's Malaysian itineraries. For the time being, Ipoh still remains relatively off the beaten path.
30 of the Very Best Things to Do in Ipoh Malaysia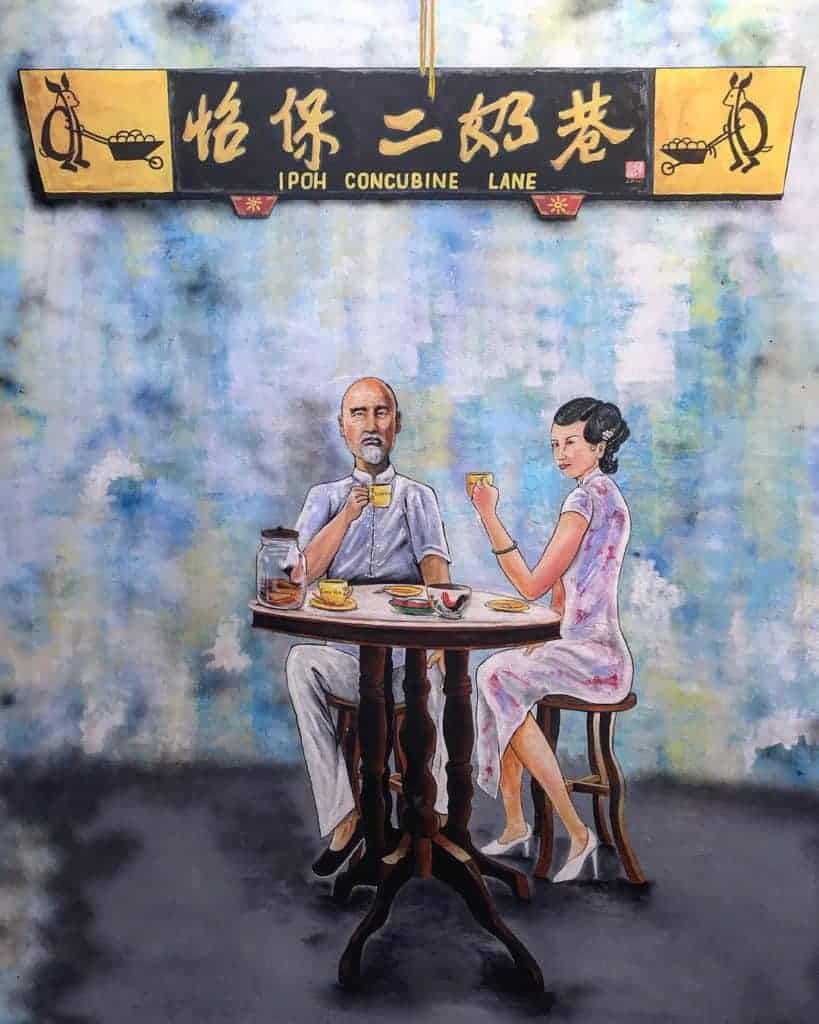 Ipoh has a little something for everything. Part of the joy of visiting the Perak capital is simply found in taking the time to get lost among the narrow streets and passageways, and discovering offbeat Ipoh districts.
Some of the quaint, colorful streets are reminiscent of a setting from a Hayao Miyazaki movie. The old town district is made up of narrow alleyways filled with ramshackle buildings, coffee shops, and beautiful pieces of street art depicting scenes of local life.
The Ipoh food scene is also beginning to emerge in a big, big way. This is almost to the extent that Ipoh is starting to rival Penang as the foodie capital of Malaysia.
With many famous Malay delicacies originating in the region, and plenty of excellent dishes to try locally, Ipoh is a great place to spend a day or two during your Malaysia itinerary.
Stroll down Concubine Lane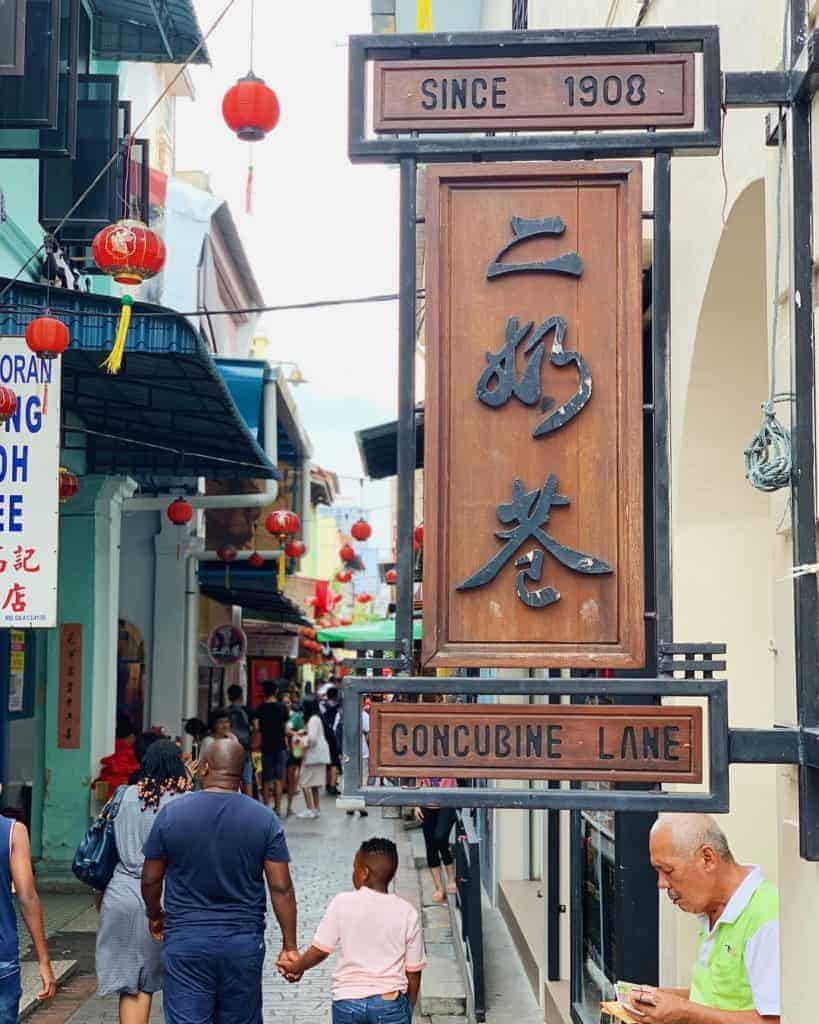 Concubine Lane is the beating heart of Ipoh's old town. The narrow, uneven street has an interesting (and somewhat sleazy) history behind it too.
This street has existed since 1908. Legend has it that Chinese and British officers would keep their mistresses in this area in the early 20th century. Hence the name Concubine Lane!
Today, the old lane is brightly decorated and filled with boutique stores, hawker stalls, and street vendors selling everything from fresh, fragrant flowers to cotton candy. It is a far cry from its sleazy past and is one of the most charming and picturesque parts of town.
Over the past two years, Ipoh's old town has undergone major transformations. Concubine lane feels a little touristy but is charming nonetheless.
It is worth also stopping by the two other Concubine lanes that run parallel to the main strip. They are "The Wife Lane" (Lorong Hale) and "The First Concubine Lane" (Market Lane/San Nai Xiang).
The latter two lanes have retained their gritty authenticity. Instead of stores that cater to tourists, they are filled with antique stores and mechanics workshops.
Eat Nasi Ganja at Yong Suan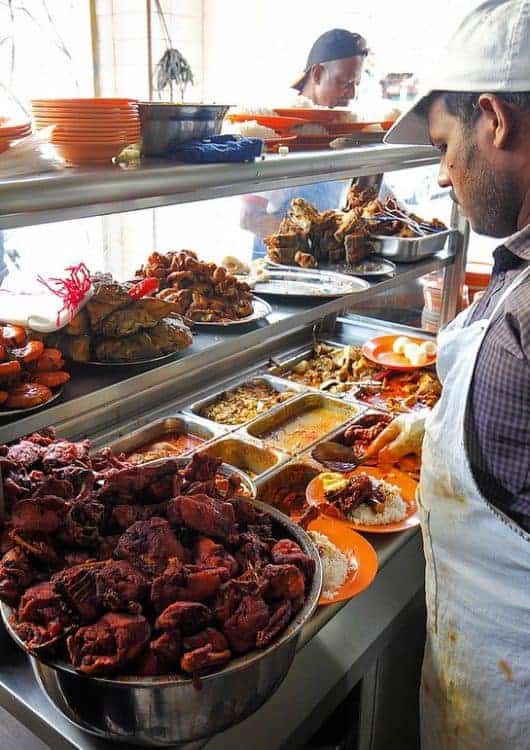 Nasi Ganja is a beloved delicacy in Perak and the locals will tell you that the best place to try this famous dish is at Yong Suan restaurant (4, Jalan Yang Kalsom, Taman Jubilee). The name ¨nasi ganja¨ is an obscure one.
In case you were wondering, nope, there is no marijuana inside the dish. It has simply been awarded its name on account of how addictive it is!
Nasi Ganja consists of beautifully marinated fried chicken served with "addictive" rice and a selection of fresh vegetables, curries, and chutneys. Traditionally, this is eaten by hand but you can request a knife and fork if you prefer not to make a mess. Be sure to pack plenty of hand sanitizer and tissues in your bag for when you eat at these real local places.
Yong Suan is so popular among the locals that if you stop by here at lunchtime, there is guaranteed to be a queue snaked all down the road and around the block! Fortunately, this is just for people wanting to take away and so you can skip this by dining inside. Regardless, Yong Suan is well worth the wait and the effort.
Sometimes when the restaurant is very busy, you may have to share a label with locals. That all adds to the experience!
The food is a little spicy so keep that in mind if you don't have much spice tolerance. You will likely find that you are the only tourist dining here. Yong Suan is as authentic as it gets.
Ride the hop-on, hop-off bus
The hop-on, hop-off Ipoh bus runs in a loop around the city at weekends and was designed to make it easy for tourists to get between the main Ipoh attractions. While you can use the bus to get from A to B, you can also simply enjoy sitting on the top deck of he bus, enjoying the scenery that you pass, and taking photos of the city.
There are 13 stops along the bus route. Tickets cost RM 35 ($7.86) for non-Malaysians and 12 ringgit ($2.70) for Malay locals. You can ride the bus as many times as you need in a 24 hour period.
Pay your respects at Sam Poh Tong Cave Temple
Sam Poh Tong is a beautiful Chinese Buddhist temple situated just 5 km south of Ipoh. If you thought that the Batu Caves in Kuala Lumpur were impressive then prepare to be blown away by Sam Poh Tong.
This site is rumoured to be the largest cave temple in the country. Inside, you will find dozens of grand Buddha statues scattered between dramatic stalactites and stalagmites.
Rumour has it that the Sam Poh Tong temple was discovered in the 1800s by a Chinese monk who was passing through Perak and felt that the cave was a nice place to meditate. To this day, many Buddhist monks and nuns still inhabit the complex. From the entrance, you have excellent views over Perak and Ipoh.
Tread the Ipoh street art trail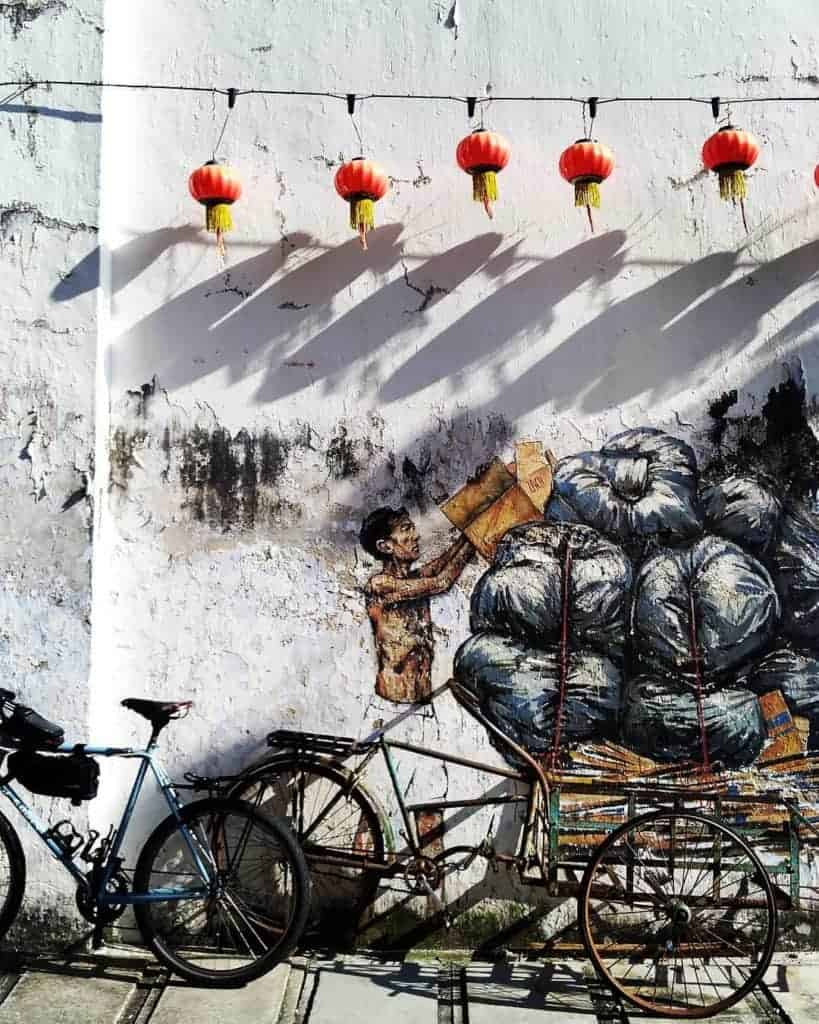 Beautiful murals and street art pieces can be found all over Malaysia. Penang in particular is renowned for its graffiti.
However, while you might have to line up to take photos of street art displays in Penang, Ipoh is relatively non-touristic. You often have the paintings to yourself!
You could easily dedicate an entire morning to going on an artsy treasure hunt to discover the most inspiring pieces. Some Ipoh murals cover whole walls of buildings and local establishments.
Mark the locations of the various street art pieces on your map and set off on a self-guided walking tour to find them. The benefit of embarking on an Ipoh Street art trail is that it will also give you the opportunity to discover various parts of the city that you may not have otherwise thought to venture to.
A lot of the notable Ipoh Street art was created by the Lithuanian artist Ernest Zacharevic. He is also the artist responsible for most of the wonderful paintings in Penang. Zacharevics art has a distinct style because it is effectively "3D" enabling travellers to interact with it.
An example of a Zacharevic piece in Ipoh is a charming image of a local family sitting down to eat noodles. This actually features a little stool adjacent to it for you to join in the meal time. You can get some great photos here.
There are several Zacharevic pieces to uncover. They can be found using this Ipoh street art guide.
Wander down the Ipoh Mural Alley
If you are a big fan of street art, there is more to the graffiti scene in Ipoh besides the Zacharevic pieces. You should also visit the Ipoh mural alley.
This showcases the adorable works of local children and teenagers. It was established by Eric Lai, a local school teacher that was inspired by the work of Zacharevic. Like Zacharevic, Lai's art project focuses on showcasing multicultural Malaysia in a fun and playful way.
Visit Gua Tempurung
Gua Tempurung is well worth a visit if you have a relaxed schedule and a little more time in Ipoh. The cave is close to Gopeng town, which is also an interesting spot to stop for a bite of lunch.
Gua Tempurung is one of the largest caves in peninsular Malaysia and although it does not contain a temple as many of the cave sites in the country, its grand caverns are one of the major attractions in themselves.
It's possible to take the bus from Ipoh to Gopeng and participate in one of the daily tours that run through Gua Tempurung.
Embark on a self-guided walking tour of Ipoh
It is possible to pick up free maps at the Ipoh Information Centre and follow self-guided routes around the most important scenes in the city. They allow you to see everything from the most famous street art to impressive British colonial architecture.
Explore the city with a local guide
Opting to take an organised walking tour is a great way to get your bearings in a new city and Ipoh is no different. Exploring with a local means that you will discover restaurants and neighbourhoods that you would not have found independently.
Better yet, you have an Ipoh expert on hand to ask for recommendations for the best places to eat, drink and hang out in Ipoh. Ipoh tours like this one give you a glimpse into the city's history and culture. They take you through Ipohs various markets and districts, and make it easier to get to more remote Ipoh attractions that are tricky to reach without a car.
Eat brunch at a kitschy cafe
White coffee stores are one attraction of Ipoh. However, so too are the more traditional style independent coffee stores.
They make the perfect place to stop and enjoy a steaming hot latte and a slice of carrot cake when you need a break from sightseeing. Ipoh old town in particular is home to many quirky and eclectic places that seem almost as though they were made for Instagram.
Not all Ipoh coffee shops were created equal. Some of the best spots to add to your radar are detailed below.
Ipoh was actually named as one of the top three coffee towns in Asia by Lonely Planet. When you have a coffee/brunch at the spots on this list, you will understand why!
Auds cafe (97, Jalan Sultan Yusof)


De Cafe & Guest House (35, Jalan Sultan Iskandar)


Plan B (No. 75, Jalan Panglima)


STG Tea House (2, Jalan Taman Kinta, Taman Chateau)
Try the White Coffee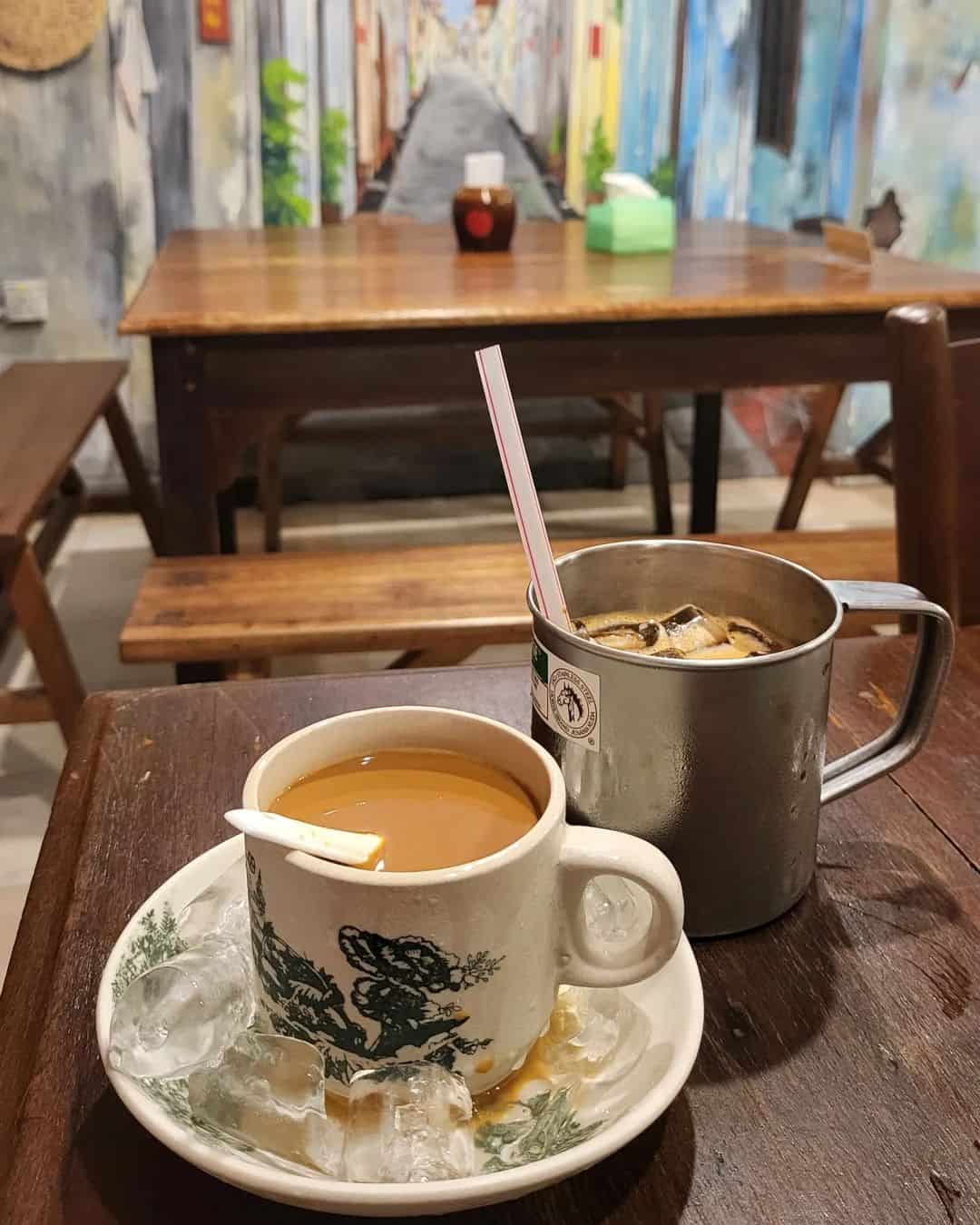 Coffee culture is huge in Malaysia. Not only are there plenty of kitschy coffee shops scattered throughout the country, but white coffee is also a Malay tradition that soared to national fame from its humble beginnings right here in Ipoh.
Malaysian white coffee is not actually white. It is named that due to the frothy white colour that the coffee achieves once milk is added. The coffee is created by roasting the beans with margarine and then adding condensed milk and sugar.
White coffee is known for being very sweet. Many people enjoy it as it is but you can also ask for the servers to prepare your drink a little less sweet if you prefer.
"Old Town White Coffee" branches are scattered around Malaysia. The original store is located at Lorong Taman Ipoh 1 and has a sign outside that reads ¨Old Town Kopitiam".
Traditional white coffee shops (kopitiams) are canteen-style and have a charming atmosphere. Each place prepares its coffee a different way and the best places to drink Ipoh white coffee in Ipoh depend somewhat on personal preference.
White coffee shops to try
Restaurant Ah Chow (Kedai Kopi Ah Chow, 31 Jalan Bandar Timah) is a local favorite. Their coffee is very sweet, even without the addition of sugar, and it is served in delightful little china teacups.
Lou Shang (1st Floor, 101A, Jalan Sultan Iskandar) is a relatively new face on the Ipoh white coffee scene. Unlike traditional kopitiams, this sleek and sophisticated cafe has been decorated in monochrome colors with simple, modern furnishings.
It is a place seemingly made for Instagram. The coffee is excellent, and you can also buy bottles of iced white coffee to go.
The extensive selection of dessert pastries is not to be missed. Order yourself a Portuguese egg tart or an onde cake (soft sponge cake filled with freshly grated coconut and cooked with palm sugar) to accompany your coffee.
Eat chicken and bean sprouts at Lou Wongs
Ask Ipoh locals one thing that you absolutely must try while in Ipoh and they will all tell you the same thing: chicken and bean sprouts at Lou Wongs (49, Jalan Yau Tet Shin, Taman Jubilee). This dish is simple yet delicious.
As the name suggests, this is chicken breast served with rice, beansprouts and drizzled with a dressing of soy sauce and sesame oil. The texture may seem a little oily but that's normal.
A generous sized portion here costs just 10 ringgit ($2.25). This is the most famous place in town to try his Ipoh classic dish.
Visit the eerie Kellie's Castle
If you like eerie abandoned places, Kellie's castle is no doubt one of the best things to do in Ipoh. This is a grand, abandoned settlement that is supposedly haunted by the ghosts of its former owners.
A Scottish businessman named William Kellie had decided to build a grand home in Perak for his wife and children. So, construction work started on this building in he 18th century.
Kellie bought dozens of workers across with him from India to help with the construction. At the time, Malaysia was relatively undiscovered on a global scale.
When his workers all mysteriously died of a disease, a local advised Kellie to build a Hindu temple for them. Kellie himself then passed away while on a trip to Europe to collect some furnishings for the house. His wife decided to leave Malaysia and return home and so, the grand home was never finished.
Kellie's castle is off the beaten track and is seldom busy so it makes for some pretty great photo opportunities. Locals will tell you that Kellie's castle is haunted by the family it was built for and indeed there have been some reported sightings of Kellie pacing around the second floor at night.
How to get to Kellie's castle
It is pretty tricky to get to Kellie's castle without a car and public transport does not follow a frequent schedule. From Ipoh you can take the bus to Batu Gajah.
This route runs past the castle and then requires you to walk part of the way. However, it only runs once every two hours and you don't want to end up stranded.
The best thing to do is to take a GRAB taxi. It costs approximately 25 ringgit ($3.40) to get to Kellie's castle and you can negotiate with the driver to agree on a certain price for him to wait for you and take you back to Ipoh.
Browse the Stalls at an Ipoh night market
Night markets are pretty much a common sight in most Malaysian towns and cities. Indeed, Ipoh plays host to several.
These markets, known locally as pasar malams, are hosted in different parts of the city on different nights of the week. They are a great place to browse, people watch and sample street foods, especially as they are mostly frequented by locals and are not at all touristic.
One such market takes place every night of the week on Jalan Dato Tahwil Azar. The Pasar Malam Gunung Rapat takes place every monday close to Gunung Rapa.
This is one of the largest night markets in Ipoh and there are often close to 100 stalls! Most of the vendors here are Chinese, and this is a great place to try Taiwanese snacks, local fruits (like Duku Langsat, Pulasan and Mangosteen), and fresh vegetables.
The SPPK Pasar Malam is a particularly enjoyable night market for foodies. You can find all of the classic Malay dishes here. For instance, chicken satay, apam balik (peanut pancakes), fried raddish, etc.
Haggle your way through the Kong Heng flea market
Can you really get enough of exploring marketplaces when you are travelling in Southeast Asia? While many of the Ipoh night markets may focus on the sale of street food and everyday goods, the Kong Heng flea market sells a lot of fabrics, artisanal goods and handmade clothing and accessories.
The market takes place every weekend close to the Thean Chun Cafe (73, Jalan Bandar Timah). You will also usually find many street performers here singing and performing songs on their acoustic guitars.
Dont let the ¨flea market¨ aspect of the title mislead you though. This is very much a creative, artsy market and many of the stalls are managed by independent local designers and artisans. This is a good place to shop for souvenirs or to pick up one-of-a-kind apparel items.
Meet Malaysian Locals Through Couchsurfing
It is always fun to meet locals when you travel and Malaysia is no different. One of the best things to do in Ipoh is to meet the local couchsurfing community.
If you are unfamiliar with Couchsurfing, it is a social travel platform that enables you to meet and hangout with other locals and travellers in different cities around the world. There are suprisingly, a lot of users in Ipoh.
It can be great to meet up with Ipoh locals, learn about their culture and what life is like in Perak. Your new friends can probably give you a lot of great recommendations on things to do in the area too.
The Ipoh couchsurfing community often host meetups and events. If you dont see anything posted that coincides with your travel dates, feel free to create your own event! Plenty of people are sure to come along.
Sail Down the Scenic Lake at Gunung Lang
If you enjoy escaping to nature every once in a while and have a little more time to spare in Perak, Gunung Lang is the perfect backdrop to a lazy afternoon.
For just a couple of ringgits, visitors can take boat rides across to the parklands where they can marvel at the natural scenery. Pack a lunch and enjoy a scenic picnic amid the backdrop of limestone cliffs and hidden waterfalls.
Spend a day at the Lost World of Tambun
The Lost World of Tambun is an amusement park situated in the heart of the lush, dense jungle. It is surrounded by natural hot springs and towering 400 million-year-old limestone hills.
A visit to the park can be a fun thing to do if you are visiting Ipoh as a family, or you are basing yourself in Perak for quite a while. Tambun is far more than ¨just¨ another amusement park.
This sprawling complex is made up of several different themed amusement parks, water parks, natural springs, spas, activity centres and shows. Purchase your tickets online, in advance to save money and avoid long lines on arrival.
Go for evening drinks at Durbar
Back when Ipoh thrived as a tin mining town, many of the workers would round off their busy days by having drinks and chewing the fat with their friends and coworkers at Durbar. Durbar (2, Jalan Sultan Idris Shah) is housed inside a century-old building and has been capturing he hearts of locals and tourists alike for years.
The establishment was recently renovated, and explicit care was taken to give Durbar a rustic feel so that visitors can easily envisage what it was like to grab a drink here way back in the tin mining days. You can stop here for food too, and the menu boasts both western and local fare.
Take a day trip out to The Cameron Highlands
The Cameron Highlands are a highlight of any trip to Malaysia. Better yet, they are just a two-hour drive away from Ipoh.
If your schedule permits, you should absolutely spend 2-3 days in this region and stay in a hotel in Tanah Rata. However, if you are short on time, you can also visit the highlands in one day on a day trip from Ipoh.
This district is famous for its tea plantations, flowers, strawberries, and excellent hiking trails. The highlands are nestled in the mountains above Pahang at altitudes of 2000m and above.
The temperatures up here are much cooler and the air quality is much better, making a trip up here a welcome break from the heat and humidity elsewhere in Malaysia. Be sure to tour the scenic BOH tea plantation and enjoy a high tea in one of the quaint country tearooms.
The Cameron Highlands may not sound very Malay. This is because this region is named after British Explorer Sir William Cameron, who mapped the area in 1885.
The Cameron Highlands are also home to the Temiah tribe of the Orang Asli people. These are a group of indigenous Malays who live in the jungle.
Be sure to stop by an Orang Asli village, and, with the help of a local guide, embark on a hike through the Mossy Forest. As the name suggests, this eerie forest is constantly covered with a layer of moss.
The constantly damp atmosphere has allowed a unique ecosystem to thrive here and you may have the opportunity to view some rare, endangered species that call the forest home. In particular, look out for Rafflesias ("corpse flowers").
These strange plants emit a foul odor to attract bugs. They feed off insects and dead meat.
Where to Stay in Ipoh
The great thing about travelling through Malaysia is that the country can be explored on a tight budget. Consider staying in the old town district so that all of the main sights of interest are easily reachable on foot.
A backpackers hostel in Ipoh can be booked for £3-4 a night and a budget hotel room for around £12-15 a night. A handful of reputable accommodation options are detailed below for your consideration.
Getting Around Ipoh and Perak
Getting around Ipoh and the wider region of Perak is relatively easy to do independently. For the most part, the city centre can be explored on foot.
However, it is important to note that Ipoh is essentially divided into two halves: the Old Town and the New Town. Since the old town is where most of the main attractions are, this is the best place to base yourself while you are in town.
At the same time though, there are many great cafes and eateries in the new part of town, many of which are overlooked by tourists and offer a great local experience. You can walk between the two parts of town but the distance is a bit much to do that constantly every day. So, you can also get around by buses and cabs.
Cabs in Ipoh
There are a number of local taxi drivers that offer tours around the region surrounding Ipoh. For instance, Kellie's castle, Gua Tempurung cave, Sam Poh Tong cave temple, etc.
They can help you easily access all sites of interest within a day. It is a good idea to use a cab driver that has been recommended by your hotel or accommodation provider rather than simply hailing a street cab.
Taxi drivers are often a law unto themselves the world over and in Ipoh that is no different. If you get into a random street cab, the drivers are likely to try and overcharge you and assume that you are a tourist with no idea of how much things cost.
Grab Cars
Uber is now banned in Malaysia but Grab taxi is an excellent alternative. In Ipoh, you can take a cab from one side of the city to the other for just 5-6 ringgit (around £1/$1.50).
Prices are pretty reasonable even if you want to travel to places like Kellie's castle and other destinations outside of the city centre. It is only circa 25 ringgit one way from Ipoh to Kellies castle.
Obviously if you are visiting Ipoh attractions out of town, you need to think about your return journey as you may not be able to find a cab in remote areas and public transport options are limited.
So, you should always ask the driver up front if they are willing to wait for you and drive you back to town. Negotiate a price with them for the return journey.
Buses
You may be pleasantly surprised by how reliable buses are all around Malaysia. From the main bus station in Ipoh (Medan Kidd), it is possible to take buses to the various towns and caves in wider Perak.
The public buses in Ipoh are called myBas. They are run by a company called PerakTransit.
The main route to be aware of is the Route F100 (Ipoh Town). This runs in a loop around the old and new parts of town. Buses depart every 20-30 minutes.
The bus fare varies depending on how far you travel. However, regardless, it is never very expensive. You can expect to pay between RM1.40 and RM3.40 for a ticket.
How Long to Spend in Ipoh
You only really need to spend a day or two in Ipoh to get a good feel for the town. You could spend one day exploring the town centre and another visiting the nearby attractions (Kellie's castle, the Sam Poh Tong cave temple, etc).
However, if you are working remotely or traveling at a slower pace, you certainly won't get bored if you decide to spend more time here. Even spending a week or two in Ipoh can be enjoyable as it gives you the opportunity to sample all of the different restaurants and kopitiams in town.
Final thoughts
Have you travelled to Ipoh before? Do you have any additional suggestions for things to do in Ipoh?
The capital of Perak is conveniently located for onward travel to Penang or Cameron Highlands. It can be reached in just 2 hours from Kuala Lumpur.
You are sure to have a wonderful time here. Safe travels! Melissa xo
---