Everyone has different preferences and interests when they travel. As someone who loves nature and beautiful scenery, Cameron Highlands was my favourite spot in Malaysia. With this Cameron Highlands travel guide, hopefully you can also uncover the beauty of the region.
The Cameron Highlands
Cameron Highlands is a region that I had never previously realised even existed in Malaysia. Where dense wild jungle borders the beautiful rolling hills of fragrant tea plantations that extend as far as the eye can see, Cameron Highlands is a vision in green, almost appearing as something that you may expect to see in a J.R.R. Tolkien novel.
Nestled high in the mountains at altitudes of 2000m and above, the temperatures are much cooler up here, offering a pleasant escape from the heat and humidity across the rest of Malaysia.
The conditions up here make Cameron Highlands perfect for farming and indeed, most of the fruits and vegetables that are sold across Malaysia and Singapore come from Cameron Highlands.
The Cameron Highlands are also home to the Orang Asli people – a group of indigenous Malays who live in the jungle. As you travel through the region, you will often see them at the side of the road selling fruits and handicrafts from the depths of the jungle. The Orang Asli people that live in the Cameron Highlands come from the Temiah tribe.
When to Travel to Cameron Highlands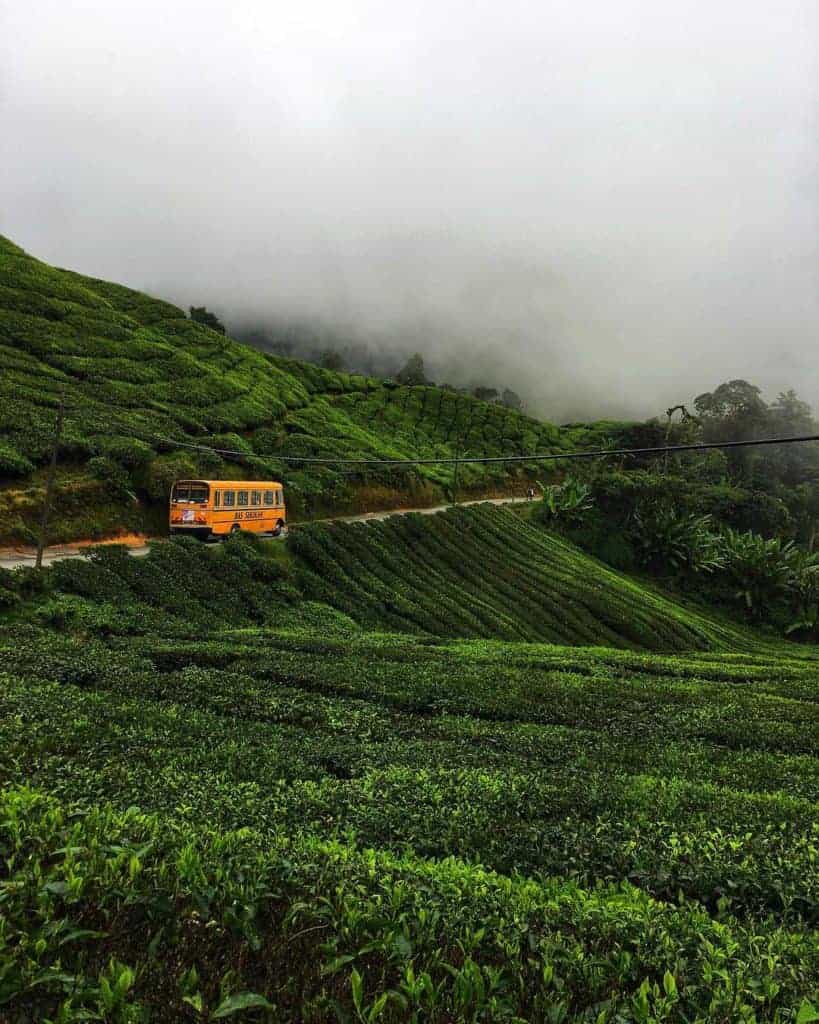 Though the specific temperatures and climatic conditions vary from season to season, travel to Cameron Highlands can generally be enjoyed at any time throughout the year.
May and June are considered as the warmest months (temperatures of around 25 degrees celsius) and November through to February are the coldest (temperatures around 20 degrees).
It rains frequently in the Cameron Highlands, though the winter months are the worst for this. Honestly I travelled to Cameron Highlands at the end of December and enjoyed the temperature. It rained a little in the afternoons, but only a quick downpour and then the skies were clear.
How Many Days to Spend in the Cameron Highlands?
This Cameron Highlands travel guide contains heaps of activities to do in the region. I spent four days here and it was perfect for me.
Honestly how long to spend here depends on how much you enjoy trekking and nature. To see the highlights, one night/two days is sufficient. For more hiking and adventure, I'd advise 3-4 days.
Best Things to do in the Cameron Highlands
If you enjoy nature and the great outdoors, then Cameron Highlands will surely be a highlight of your Malaysia itinerary. You can see the main attractions of the region in just one day, but sticking around a little longer allows more time for hiking, tea tasting, etc.
Visit the BOH Tea Plantation
There are numerous emerald green tea plantations scattered around the region. The BOH tea plantation is one of the most famous though, since it is the largest domestic and international tea seller in Malaysia.
The BOH plantation itself is okay – you can visit the BOH factory in order to learn about how tea is made, followed by heading to the BOH tearoom to enjoy a steaming cup of black tea and a scone as you gaze across the teafields.
The highlight of the BOH plantation for me was simply strolling along the roads next to the tea fields and admiring the stunning emerald green scenery. This is why most people want to head out to Cameron Highlands, right?
Trekking upwards along the road from the BOH plantation towards the mossy forest offers incredible scenic views and photo opportunities, especially as you start to reach the higher points.
Climb Mount Brinchang
Standing tall and proud at 2,032 metres, Mount Brinchang is the tallest mountain peak in the Cameron Highlands. The ascent to the top takes approximately four hours and at the highest point you can enjoy incredible views over Perak and Pahang.
The mountain height may make the climb sound challenging but considering the fact that you are already in the hilly highlands, it is only actually a 500m trek to the peak.
The trail up Mount Brinchang commences at the far side of Brinchang town. From there, the route is pretty well sign posted and it is easy to complete the trek without a guide.
An alternative route that you can take is to walk along the twisting road that leads up past the BOH plantation.
Admire a Unique Ecosystem in the Mossy Forest
The Mossy Forest close to Brinchang was a fascinating part of my Cameron Highlands itinerary. As the name suggests, the trees and plants in this area are all draped in moss.
The constantly damp atmosphere, the low clouds, and the eerie fog that is thick in the air makes the conditions perfect for all kinds of weird and wonderful plants and animals.
From here I was able to spot some pretty unique plant life – including the carnivorous pitcher plant that eats frogs, bugs and small creatures (terrifying eh?) and the Rafflesia – the world's largest flower that eats flies and has the nickname "corpse flower" on account of the horrible stench it emits to attract bugs.
There is a wooden boardwalk that leads visitors on a trail through the Mossy Forest in order to observe this unique environment. During the day of my visit, this was closed for maintenance so I was permitted to walk into the forest but this is not the norm.
Browse the Brinchang Market
The Brinchang market is worth stopping by, especially in the evening. Different stalls set up their wares during the day and the night.
Everything from fresh produce from the local farms, toys, handicrafts and street food items can be found here.
Discover the Region's History at the Time Tunnel
The Time Tunnel is the region's only museum, however its displays and presentation makes it look like more of the collection of a mad eccentric than any kind of organised gallery. That said, it definitely presents an interesting insight into the history of the region.
The museum was opened by local collector See Kok Shan who purchased many old photographs and items of memorabilia from Cameron Highlands before assembling them all in this ramshackle spot in Brinchang.
Go Hiking and Seek Out Hidden Waterfalls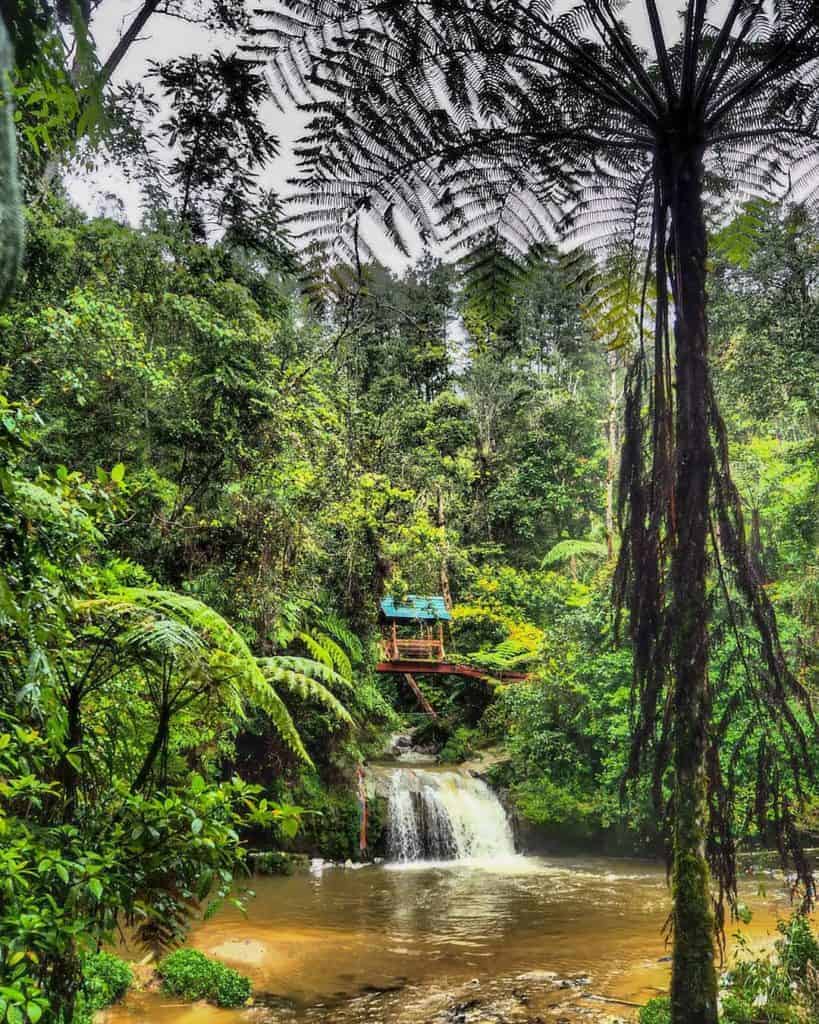 Hiking in the Cameron Highlands region offers something for everyone. Adventurous hikers will enjoy the jungle treks that are accessible only with a guide and a permit that must be obtained a month in advance.
Those who prefer a more casual hike can enjoy the well sign-posted trails that lead to incredible viewpoints and hidden waterfalls. Some of the best routes for trekking in the Cameron Highlands are summarised below.
Trail 10 – A relatively easy hike for beginner/intermediate hikers. Well sign posted and leads to one of the best viewpoints in the highlands.

Trail 3 – An intermediate route that leads you to the peak of Gunung Berembun at 1,840m. The trail is not too well sign posted (use an app like maps.me on your phone for additional safety) and the mountain peak is a little overgrown.

That said, the trail itself is beautiful, leading you across rivers, through rainforests and past waterfalls.

Trail 4/Parit falls – A very short route to Parit Falls: a hidden waterfall nestled in the heart of the Taman Sedia national park in Tanah Rata.

Honestly the park that encapsulates the falls was a little run down and filled with trash, though the falls themselves are pretty.

Trail 9/Robinson Falls – The start of this trail begins close to Tanah Rata and leads to Robinson Falls – arguably the most beautiful waterfall in the Cameron Highlands region.

If you continue along the route, you will end at the BOH tea plantation.

Note: Many tourists and locals reported robberies on trails 9 and 9a. As such I would not advise doing that route alone. I saw very few people walking around the region. Let your hotel/guesthouse know where you are headed before embarking on a trek!
Check Out the Orang Asli Settlements
The Orang Asli (Malay for "original") people are the local indigenous tribes that are native to the area. If you have a rental car and are driving up to Cameron Highlands from Ipoh or Kuala Lumpur, you will pass by many Orang Asli settlements and can stop off along your way.
Of course, be respectful of the locals, but it can be interesting to see a traditional working village.
Many Orang Asli people set up makeshift bamboo stalls to sell fruits and handicrafts made from items they have found within the jungle. This makes for both an interesting souvenir and a nice way to offer support to the local people.
Some indigenous people still live deep within the heart of the jungle. It is possible to visit their villages and learn about their practices of hunting, cooking, playing music and building.
It is necessary to take a guide to these places both for the purposes of locating them and for communicating/translation purposes.
Have a British Afternoon Tea
The Cameron Highlands doesn't sound all that Malay does it? That's because the region was actually founded by British Explorer William Cameron.
Owing to its cooler temperatures, Cameron Highlands was something of a haven for the British during their occupation of Malaysia.
Along with a scattering of British colonial architecture, one British tradition that has still remained is the delight of having an afternoon tea. What better way to soak up the atmosphere of the beautiful green tea fields than with a piping cup of English breakfast tea, lots of teeny tiny scones, cakes, and clotted cream?
Head to the Smokehouse Hotel, or the Jim Thompson tea room for one of the best afternoon teas in town. Just don't think about the calorie count!
Eat Strawberries and Cream at a Strawberry Farm
The conditions at Cameron Highlands honestly reminded me of an English summer – warm, pleasant and breezy but never too hot.
This climate (like in my native UK) is perfect for growing strawberries and along with tea, the sweet red fruit is one of the most popular produce items from this region.
Dozens of strawberry farms are dotted throughout the Cameron Highlands area. It is possible to take a basket at the entrance and pick your own strawberries.
A variety of container sizes are available if you are interested in engaging in a little strawberry picking – from 100g up to several kilos. Honestly I opted out of this as it felt very touristy.
Many tour buses pass through the area every day and with hundreds of visitors heading into the strawberry farms with baskets in hand, it seemed as though there really weren't very many good fruits there left to pick.
Many farms and cafes in the area do boast very strawberry focused menus though and it's worth sampling the homemade strawberry ice cream, the strawberry cakes, or the strawberry smoothies while in town.
Learn About the Mysterious Disappearance of Jim Thompson
Honestly I have a morbid fascination with anything weird and mysterious. If you do too, the case of Jim Thompson will fascinate you.
Thompson was an American businessman that lived in Thailand, traded beautiful silk fabrics within the region and… mysteriously disappeared without a trace one day while walking in the Cameron Highlands.
Many conspiracy theories exist around Thompson's disappearance. Was he eaten by a tiger? Was he kidnapped? The Orang Asli people tried to search for his trails and found nothing!
Some of the older people still residing in the area can speak with you about the event. You can even stay at the moonlight bungalow where he stayed before his disappearance.
Visit the Indigenous People's Mah Meri Mask Exhibit
The Mah Meri mask exhibition in Tanah Rata presents a range of beautifully intricate carved wooden masks that have been handcrafted by the Mah Meri tribe.
The Mah Meri tribe are one of the most mysterious indigenous groups living on the mainland, known for their carving skills and sporting wooden masks of deities and gods.
You can spot this exhibition on the main road in Tanah Rata. It is not really your usual Cameron Highlands tourist destination but a worthwhile learning experience. Tickets cost 35 ringgit.
What to Avoid in the Cameron Highlands
Be mindful of some of the farms and attractions in Cameron Highlands, particularly where animals are concerned. There are many bee and butterfly farms where it seems like the little loves are not treated well.
I personally did not visit either, but heard from other travellers who visited the butterfly farms that they were filled with more dead butterflies on the floor than alive ones. I'd advise not contributing to this.
Getting Around the Cameron Highlands
As the name suggests, Cameron Highlands is a region comprised of various hills. The sights and settlements of the area are relatively spread out and as such, it is impossible to explore the area without a car.
Renting a Car
Your best bet for exploring Cameron Highlands is to rent a car. Public transport here is pretty much non-existent.
There is one bus that runs infrequently from Tanah Rata to Brinchang however I never once saw it during my three days in the region.
Taking a Cab
If you do not drive, or feel uncomfortable doing so, you can hire a taxi to transport you around for 25 ringgit per hour (circa $5). Honestly I think this is a good deal, particularly if there are a few of you.
You can explore Tanah Rata and Brinchang on foot. You only really need a cab driver for 2-3 hours in order to get out towards the tea plantations and the mossy forest.
I do not recommend taking a localised tour. I will expand more on that below.
Tours in the Cameron Highlands
There are several tour companies in the Cameron Highlands that offer full day and half day tours. Honestly there isn't much variety between companies as they all seem to do the same thing.
The tours generally include the BOH plantation, the mossy forest and a handful of the animal/farm exhibitions.
Unless you like being ambled around in a tour group full of other people, I would advise against taking a Cameron Highlands tour. Independent exploration is much more rewarding. I feel that you cannot appreciate the full beauty of the area on one of these crowded packages.
Where to Stay in Cameron Highlands
There are many, many resorts and hotels to choose from in the Cameron Highlands. Some are pretty isolated so it is important to check the location prior to making a booking. I rented a cute little chalet at Casa Loma in Tanah Rata.

I would say that your best best is to book accommodation in either Tanah Rata or Brinchang. Both locations place you close to ample restaurants, coffee shops and convenience stores.
Though many travellers pass through the region, neither town feels touristic or artificial. Brinchang also plays host to a daily night market which is well worth checking out.
In Tanah Rata, you are close to the main bus station. In Brinchang, you can easily explore a lot of the area's main attractions on foot.
Best Hotels in the Cameron Highlands
It's advisable to book your accommodation in Cameron Highlands a little in advance if you can. I booked at the last minute and many places were fully booked.
Of course, the "best" place to stay depends on your budget and travel style so a breakdown is provided below.
Budget/Backpacker
The Sleepbox Hotel is pretty swanky as far as backpackers hostels go. The hotel follows a sort-of Japanese capsule hotel style and features capsule rooms in the form of stacked storage units.
The rooms here contain double beds, lights, plug points, and plenty of privacy. Not bad for $15 a night. You can find other standard backpacker hostels for as little as $5-6 per night.
Mid-Range
Expect to pay between $30-$40 per night for a modest comfortable hotel room in Tanah Rata, Brinchang and other parts of the Cameron Highlands. This should typically include breakfast.
Luxury
For a lavish experience in the highlands, you can consider staying at the Cameron Highlands Resort – a spot that is regarded as being the best luxury hotel in the region.
Stay in an elegant colonial building and enjoy rooms and suites with incredible views and dining options. Rooms start from $100 per night including breakfast.
A pleasant alternative is the Smokehouse Hotel – a recently renovated British property in Tanah Rata.
Stay in a charming Tudor style English hotel that dates back to the 1930s and enjoy traditional English breakfasts and afternoon teas, and evenings relaxing by a wooden fireplace. Rooms start from $70 per night including breakfast.
Getting to Cameron Highlands
The Cameron Highlands is a popular getaway spot for locals and international tourists alike. As such, it is easy to get here by public transport.
Many bus operators run frequent services to Cameron Highlands every day, with departures leaving every few hours from Kuala Lumpur, Ipoh and Penang.
The Bus to Cameron Highlands
It takes four hours to get to Cameron Highlands by bus from Kuala Lumpur. From Ipoh, the journey takes two and a half hours and from Penang, it takes five.
I actually travelled from Ipoh to Cameron Highlands, then back from Cameron Highlands to Kuala Lumpur. Honestly the first road from Ipoh to Cameron was absolutely fine – the roads gradually ascended up the mountain and I had a pleasant time just gazing out of the window admiring the scenery.
On the other hand, the road from Cameron to Kuala Lumpur (and vice versa) is a little nauseating. There are so many twists, turns and bends that feelings of motion sickness are relatively unavoidable. If it is at all possible for you to do so, I would recommend taking the Ipoh to Cameron route.

If travelling from Kuala Lumpur to Cameron or vice versa, I would advise trying to get a seat by the window or near to the front of the bus. This way, you can at least see what is approaching.

Have any further questions about travelling to the Cameron Highlands? Feel free to reach out to me via email or in the comments below!

Disclaimer: This Cameron Highlands Travel Guide may contain affiliate links. This means that making a purchase through one of the links will provide me with a small amount of commission at no additional cost to you. This helps me keep up with the costs of running High Heels & a Backpack.

---